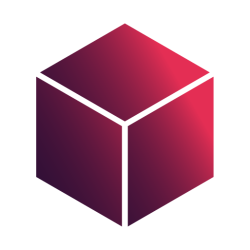 Latest posts by Subscriboxer Team
(see all)
Like most people, I am pressed for time. Being always busy leaves me with little time to spend planning, buying, and cooking meals during the work week. Most nights I am happy just to go home and have a bowl of cereal because it needs two ingredients and takes under five minutes to make.
But as much as I love my cereal, there are often nights that I crave something warm, delicious, and homecooked. Enter Dinnerly. Dinnerly is a meal service that strives to make cooking dinner fun again. Let us find out if they delivered on their promises!
The Company
Dinnerly touts their recipes as being quick, delicious, simple, and affordable. They believe that quality ingredients are the key to delicious, homemade meals.
To accomplish their goal of keeping quality ingredients, they utilize digital recipe cards and simple packaging to cut costs.
For Dinnerly, the focus should be on the food and not wasted on the excessive or unnecessary packaging or gimmicks. In the spirit of keeping things simple, all their recipes contain six ingredients or less.
This means less time in the kitchen and more time enjoying food! With fewer, high-quality ingredients, no unnecessary packaging, and digital recipe cards, the cost per adult serving is only $5! This makes Dinnerly one of the more affordable meal delivery options.
In addition to the simplicity of their boxes, their recipes state that they take 30 minutes or less to prepare, streamlining your dinner. Delicious food should not have to take long, and Dinnerly aims to embody this is every one of their recipes.
Plans and Box Options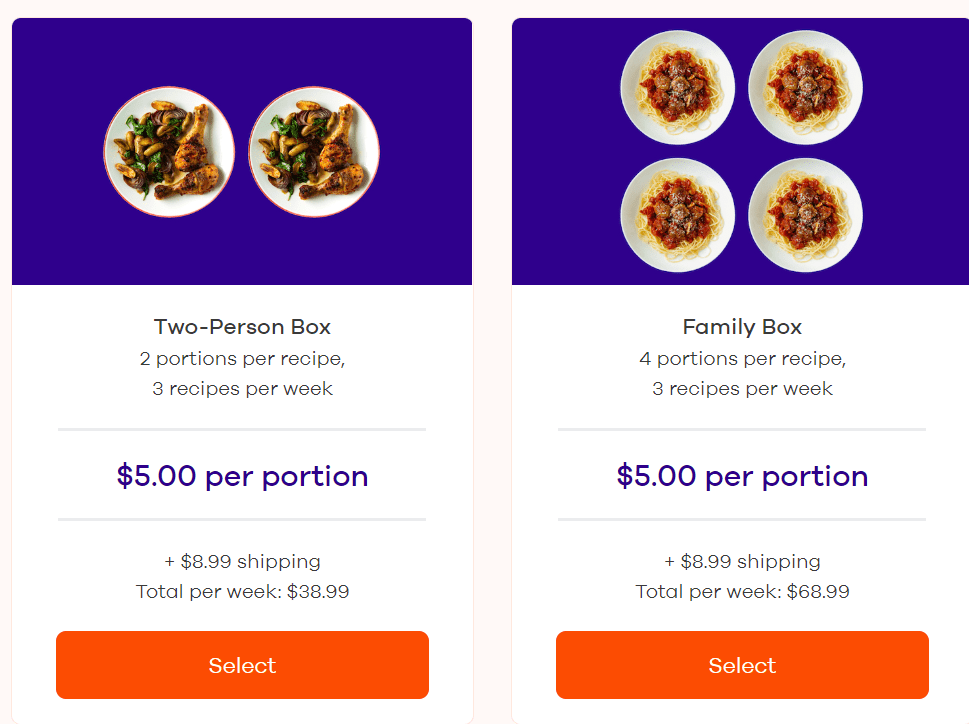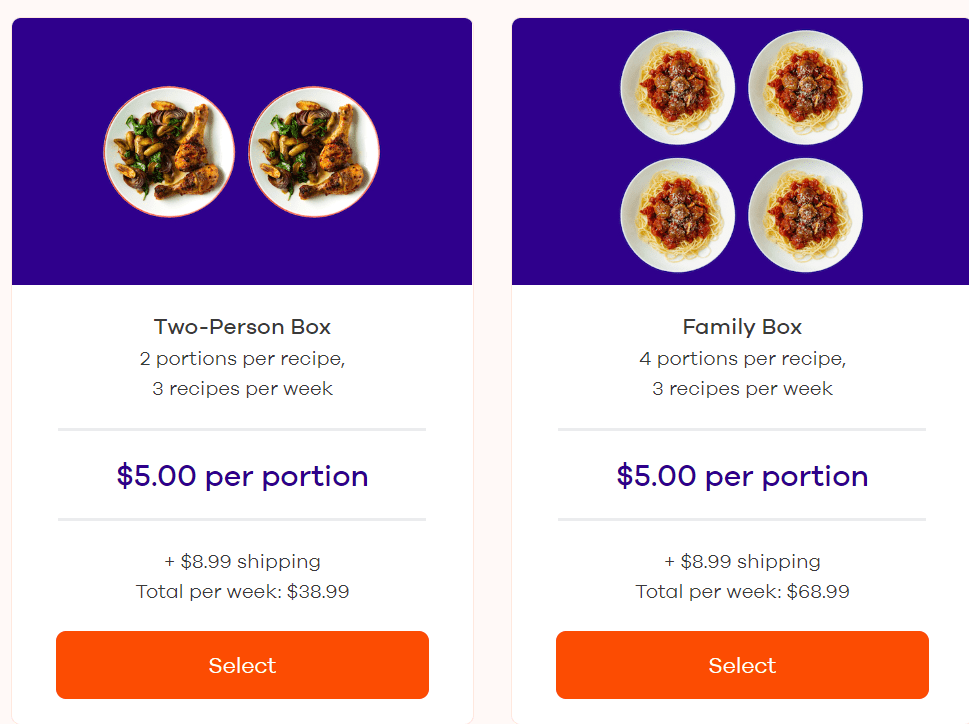 Like many other meal service subscriptions boxes, Dinnerly has two different meal plan options available to select from; you can choose from the plan that feeds two people three times a week, or the plan that feeds a family of four three times a week.
Make sure you check the next week's options as soon as you can—each week you can choose from six different recipes to ensure maximum deliciousness.
In addition to their meal plans, the frequency in which you receive boxes can be changed from your profile on their website. Whether you only want to try Dinnerly for two weeks, need to skip a few weeks for vacation, or want to pause delivery for a week, they have you covered.
You can skip up to eight whole weeks of boxes! This is a great option for people who need a break from constant boxes.
Shipping and Delivery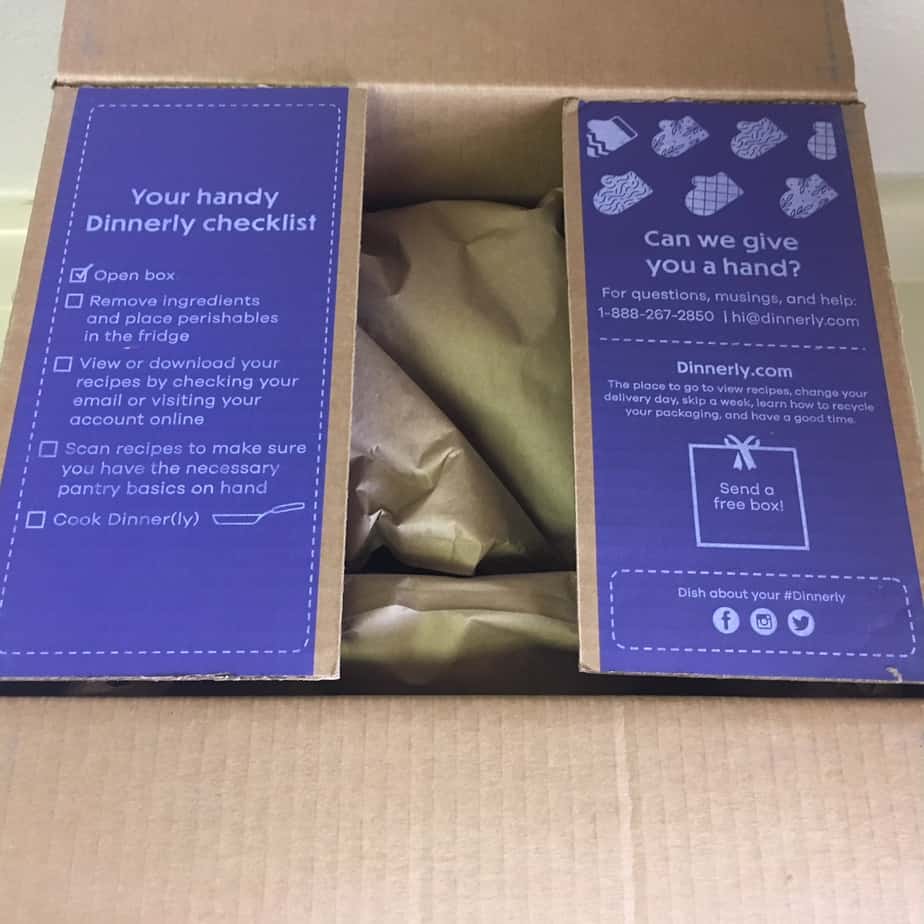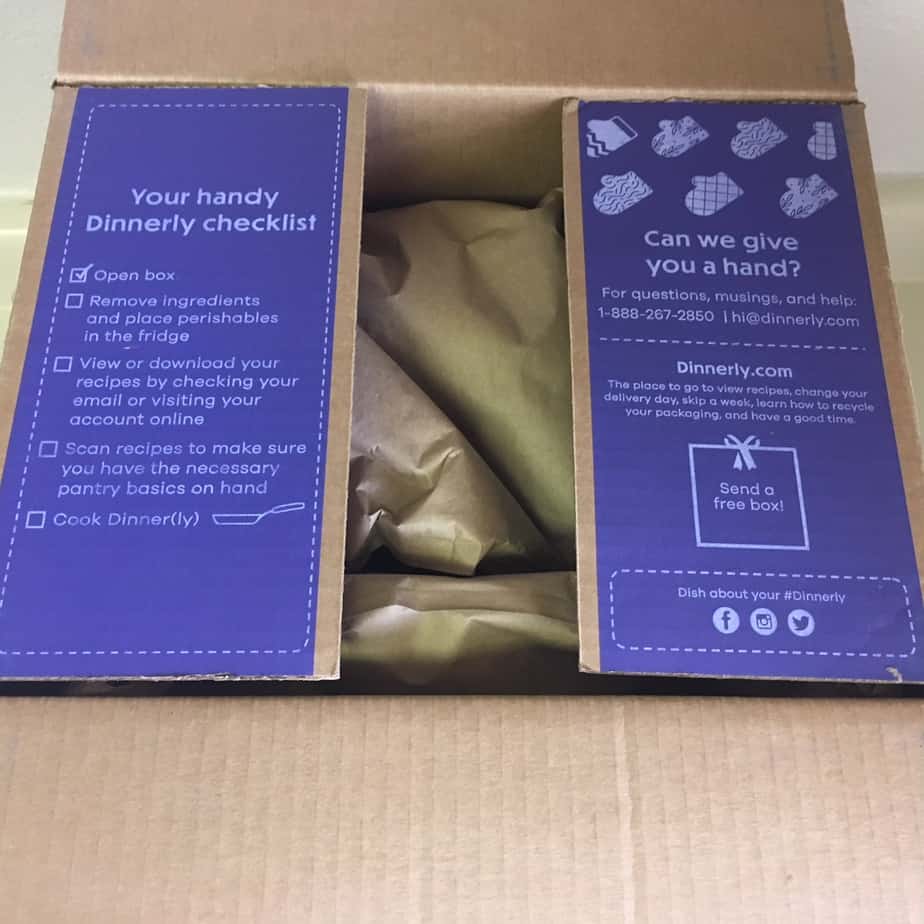 When I first subscribed to Dinnerly, they had a large selection of delivery days, including Wednesday, Thursday Friday, and Saturday. However, after my first box, they changed my location only to provide Wednesday deliveries.
This was problematic because I am generally away from my home most of the day on Wednesday. This would not be as much of a problem for a homeowner, but in an apartment complex, the longer you are away from a package, the more that can go wrong.
I worried that my box may get stolen, or that it would sit too long outside in the heat. Check with Dinnerly to see what options they have in your area to avoid this situation. The delivery was by FedEx which I am not a fan of. In my area, UPS tends to be much better. For my Dinnerly deliveries, I was not surprised by the quality of the delivery.
My Fedex driver barely knocks and leaves the package before you can get the door open. This means that my time sensitive packages sat outside for longer than they should of.
An even more unfortunate event plagued my first box. It was left at my neighbor's door. They were, luckily, not home at the time of delivery, so it ended up sitting outside for a few hours.
I only noticed it on my way to work and brought it inside. If my neighbor had been home, I do not know if they would have stolen it or just left it. As the box is labeled very clearly with the Dinnerly logo, I would not be surprised if it did go missing.
My first box had a rough start. As mentioned, the packaging of the box is obvious. The whole box is labeled as a Dinnerly box and has many paragraphs and pictures on it. I like the design but wish there was a subtle option for apartment living.
Also, the shipping label was tiny and printed in a very tiny font. This may have been the cause for the mistaken delivery.
Delivery and Packaging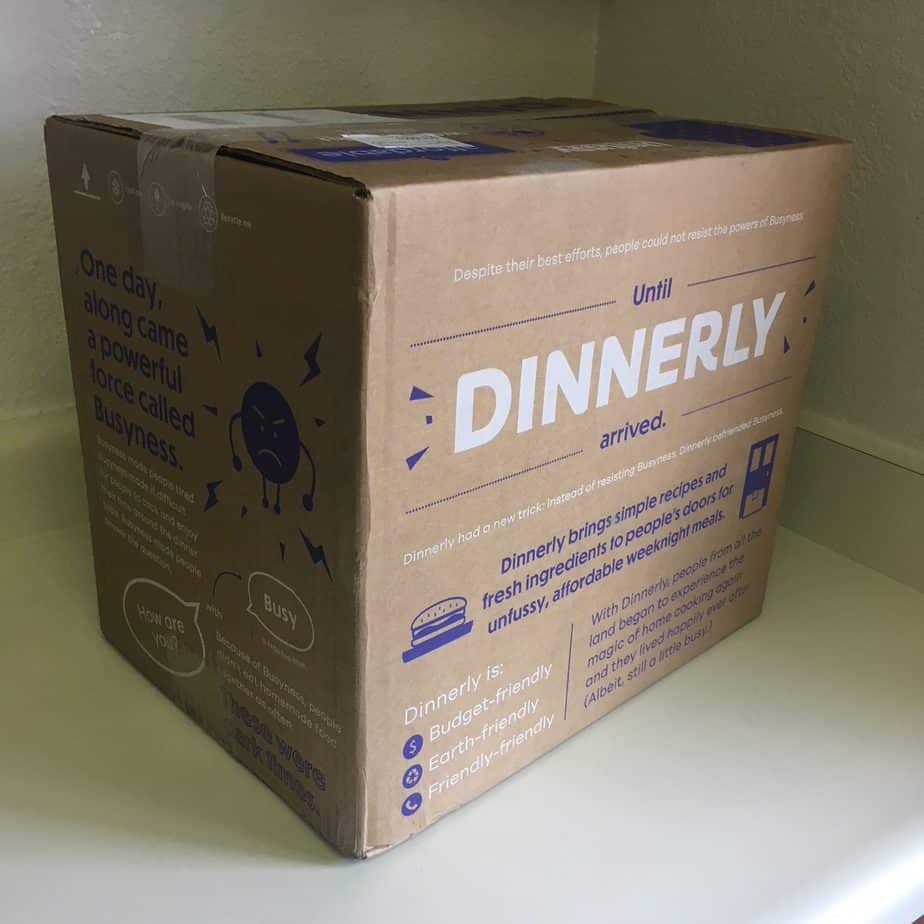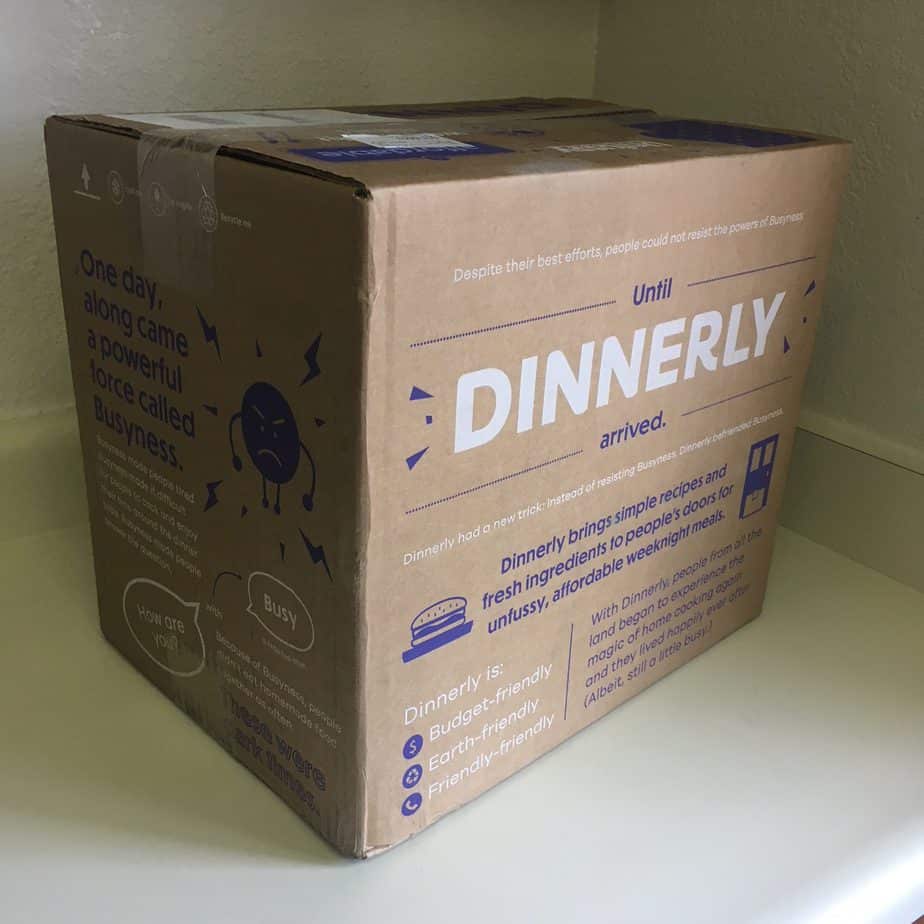 They did not lie when they say they avoided complicated packaging. All the vegetables and fresh produce were in zip baggies. The meat came in single serving packing from their respective suppliers, the vinegar and liquids were in simple bottles, and the sauces were in single-serve source packaging.
The box was insulated with thick padding and had two large water-soluble icepacks in it. The meat was at the bottom, between the two ice packs and separated from the rest of the food with a cardboard divider.
I received both my boxes around 1:00 PM and the contents were still slightly cool. The insulation does not cover the whole inside of the box and leaves some sides without this additional protection. None of the food suffered from the heat, as far as I could tell.
Instructions
As mentioned, their instructions come in the form of digital recipe cards. This helps reduce the overall cost of the box. All their recipe cards break down the recipe into 5-6 steps.
I think that the instructions were my least favorite part of the Dinnerly experience. I appreciate that they are saving paper, but they need to clarify which card to use, make the recipe card more mobile friendly, and break down the steps further.
The reason I had trouble with the first meal is because I used the recipe card on the website rather than clicking the button that brings up the pdf of the instructions. The two instruction sets look identical, except the pdf gives your measurements for the ingredients that they sent whereas the website one does not.
As you can imagine, without measurements because I used the website recipe card, the first meal came out a bit dubious.
They do have a number at the bottom of each card that you can call if you need clarification or assistance while cooking. For the mobile compatibility, it fit my iPad just fine, but the screen was very slow to scroll. Trying to work with semi-messy hands is very hard when it takes a few swipes to move to the next set of directions.
Though their recipes come in 5-6 steps, usually with the 6th step being a bonus step, you would believe the steps to be relatively simple. That is not the case. For example, step one of the BBQ Chicken Sandwich with Grilled Shallots and Crisp Salad is as follows:
"Preheat grill to medium-high if using. With a meat mallet or heavy skillet, pound chicken to an even ½ inch thickness. Trim ends from shallot, halve lengthwise and peel; finely chop 1 tablespoon. Brush remaining shallot halves with oil; season with a pinch of salt and pepper. Split buns. Halve lettuce lengthwise, slice ½ crosswise, discard end (save other ½)."
There are at least six steps in that one step. I understand trying to group similar actions, but to read that all as the first step is rather overwhelming. Personally, I think that step could be broken up into three separate steps rather than just one long one.
In addition to these lengthy steps, sometimes the wording was a bit confusing, and I had to reread a step multiple times to figure out what was being cut, where it was going, and where the other half of it went.
I think that a list-style rather than a card-style layout for the instructions would solve some of these problems.
Cancellation
Since Dinnerly is a weekly, fresh food delivery box, the cancellation policy is very tight. They need you to cancel your next shipment 6 days before it is scheduled to ship.
As someone who forgets rather easily, this quick cancellation can be detrimental. Luckily, they provide options for you to skip weeks in advance.
If you only want to try three weeks of Dinnerly, I would suggest skipping all the weeks after the third week, as soon as you are able. This will avoid any unnecessary charges and surprise boxes.
Plus, if you think ahead and skip weeks, you can decide during those skipped weeks if you want to continue with the service. You can skip up to eight weeks ahead of time.
Just make sure you plan out what you want to do in advance!
The First Box
BBQ Chicken Sandwich with Grilled Shallots and Crisp Salad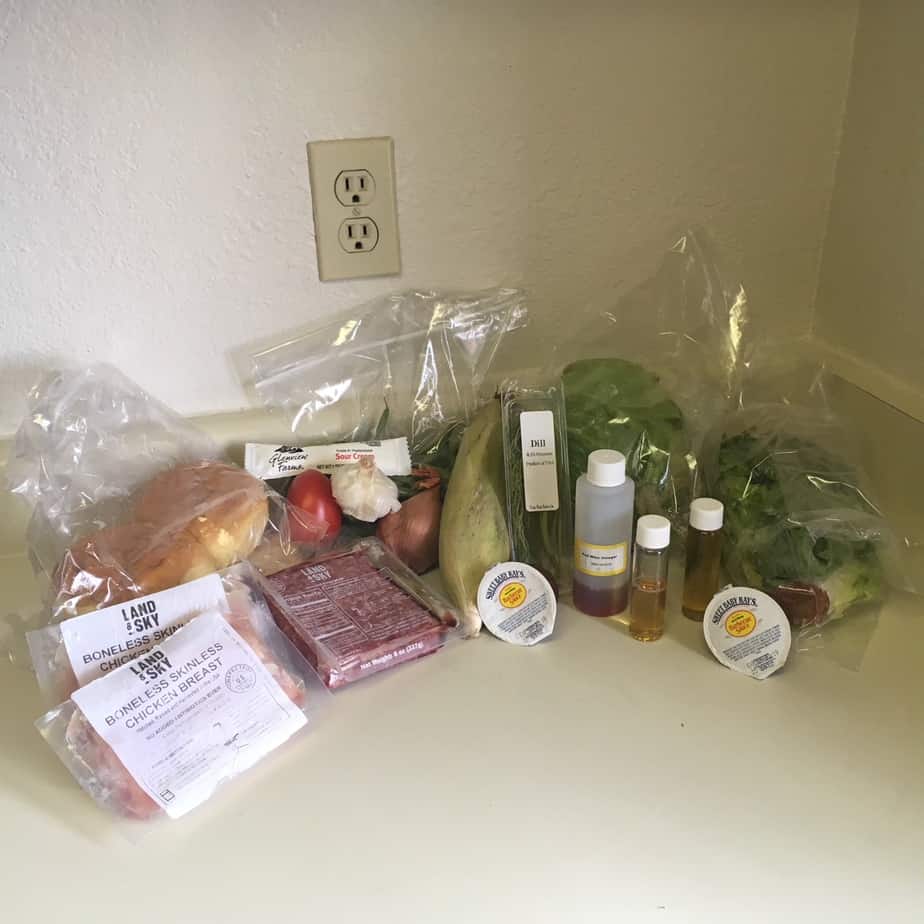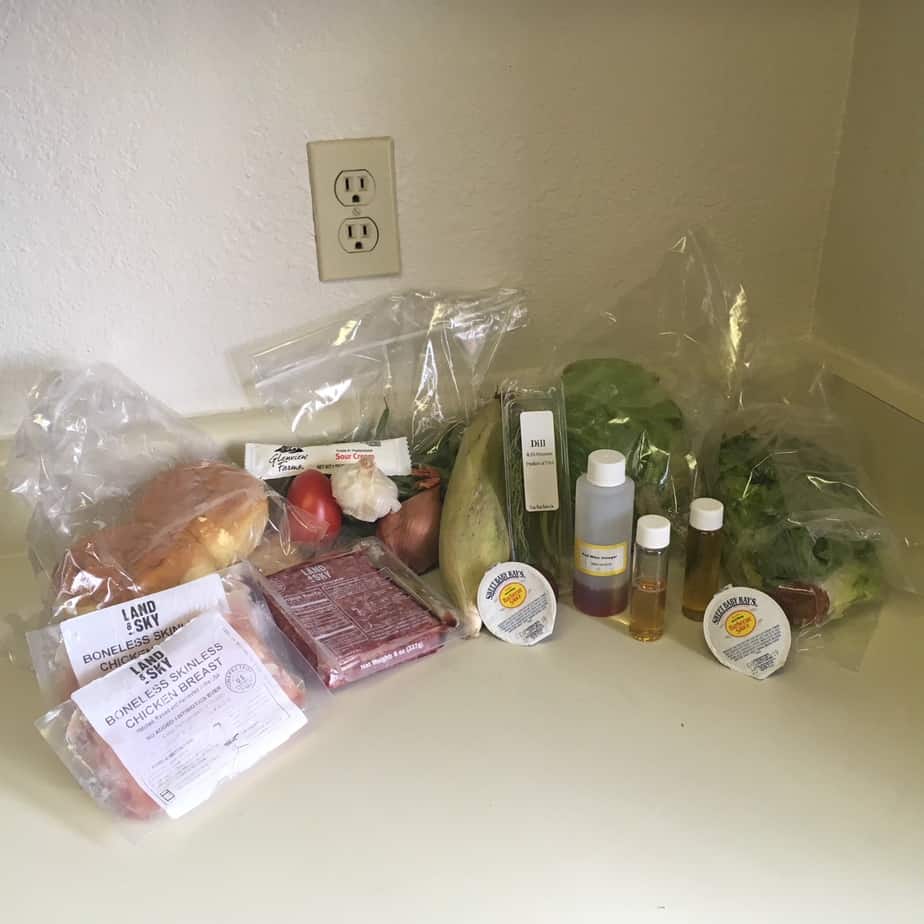 Ingredients Provided: Chicken breasts, shallot, buns, lettuce, apple cider vinegar, barbeque sauce.
Ingredients You Provide: Olive oil, salt, pepper.
Cookware Needed: Meat mallet, grill/grill pan, cutting board, knife, large bowl, plates, oil/sauce brush, spatula, spoon, forks, measuring spoons.
Calories: 467
Cook Time: Estimated at 30 minutes, took me 50-60 minutes.
Ease to Make: Very easy. You only cook the chicken and shallot, then toss the salad together.
Taste: The barbeque chicken sandwich was very standard as far as barbeque sandwiches go; sweet, tangy, smoky, and savory. I would personally season the chicken with more than just salt and pepper and add some more topping.
This was my first time eating a salad with nothing but vinegar and oil on it. I think I poured in the wrong amount of vinegar, so I disliked the salad. It was bitter, oily, and lacked any flavors that wowed me. I would edit the salad to make it more diverse by adding more vegetables.
Would Eat Again: Yes, but I would alter both the chicken recipe and the salad recipe.
Beef Kofte Pita Wraps
Ingredients Provided: Garlic, pitas, tomato, ground beef, berbere spice*, iceberg lettuce, red wine vinegar.
Ingredients You Provide Olive oil, egg, salt, pepper.
Cookware needed: A rimmed baking sheet, micro plane/grater, knife, medium bowl, fork, measuring spoons, cutting board, potato masher, oil/sauce brush, spoon, plates.
Calories: 784
Cook Time: Estimated at 30 minutes, took me 40-50 minutes.
Ease to Make: Easy. It was more involved than the barbeque chicken recipe. You mix, form, then cook meatballs alongside tomato, then combine dressing together.
Taste: Savory and beefy meatballs. Tomato and lettuce provide a nice fresh balance to the greasiness of the beef. The vinegar cuts through the grease as well, cleansing the palate a bit as you eat. The pita helps absorb and keep all the delicious juices from the dressing and meatballs.
Would Eat Again: Yes, but I would alter the dressing by including more nutritious lettuce, leave the tomato raw, and include a sauce for the meatballs. I would also just bake the meatballs rather than broil them; my broiling process almost ended dubiously because I added too much olive oil.
*Note: My box did not include the berbere spice for some reason, so I could not use it.
Seared Chicken and Alabama Sauce with Pickled Green Bean and Corn Salad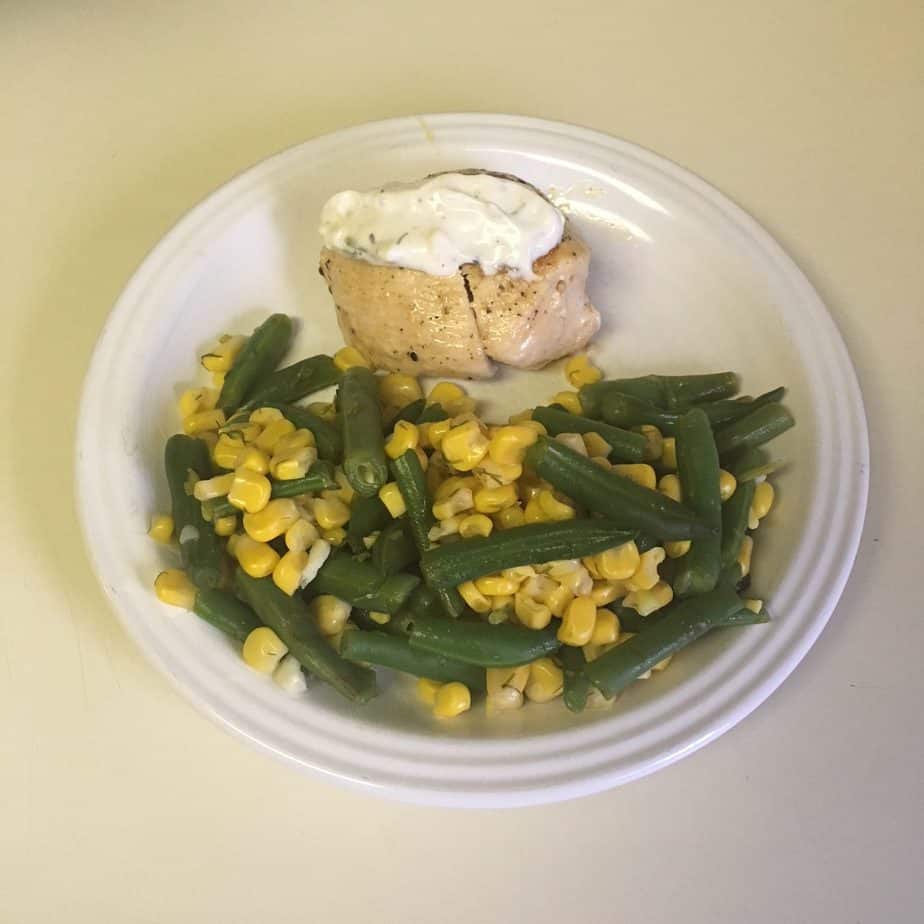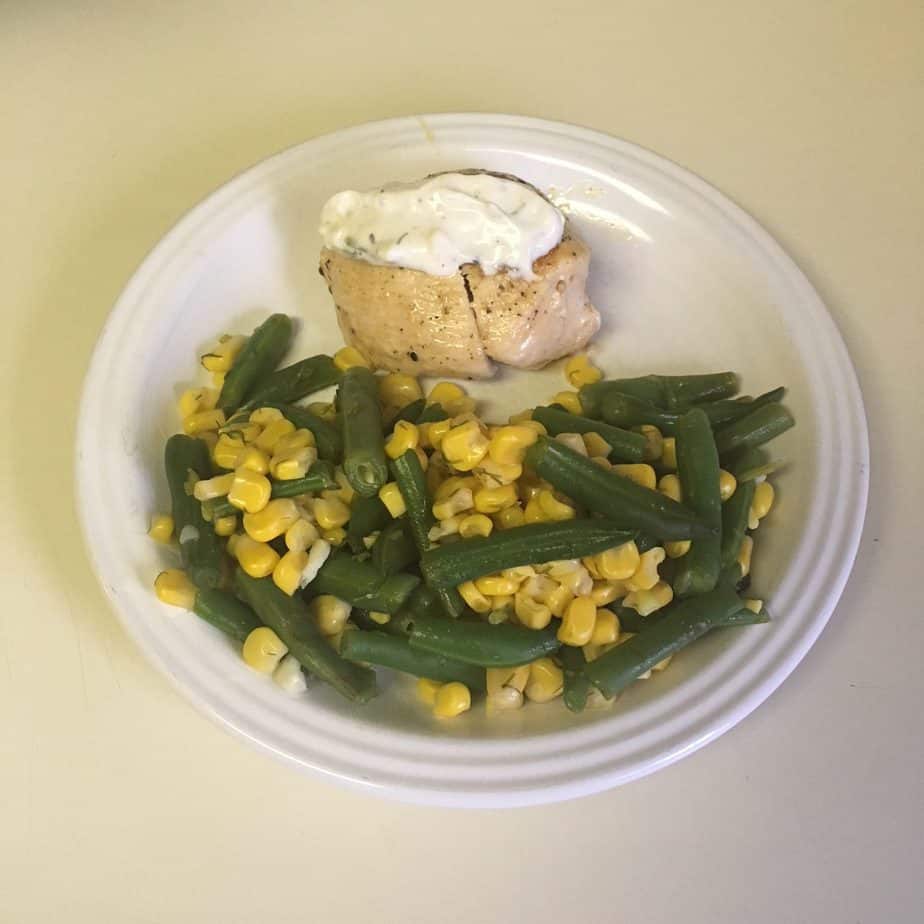 Ingredients Provided: Fresh dill, garlic, green beans, an ear of corn*, apple cider vinegar, a packet of sour cream, chicken breasts.
Ingredients You Provide: Salt, sugar, pepper, vegetable or safflower oil.
Cookware needed: Large saucepan, fine mesh-sieve, medium skillet, knife, medium bowl, measuring spoons and cups, small bowl, cutting board.
Calories: 302
Cook Time: Estimated at 30 minutes but took me closer to 40-50.
Ease to Make: Easy, but with many moving parts. Must cook chicken breasts, green beans, and corn. Then must mix the vegetable with a sauce and mix a sauce for the chicken.
Taste: Delicious, my favorite meal from this box. The sour cream sauce for the chicken was rich, garlicky, and creamy. The vegetable salad was fresh, vinegary and tasty. Both dishes complimented each other in flavor. I could not get enough of this dish.
Would Eat Again: Absolutely! The only thing I would change is how much dill is in the green bean and corn salad.
*Note: The ear of corn I received had black spots in the kernels and the husk, so I ended up throwing it out and using a can of corn.
The Second Box
Open-Face Cheeseburgers with Grilled Squash and Tomato Salad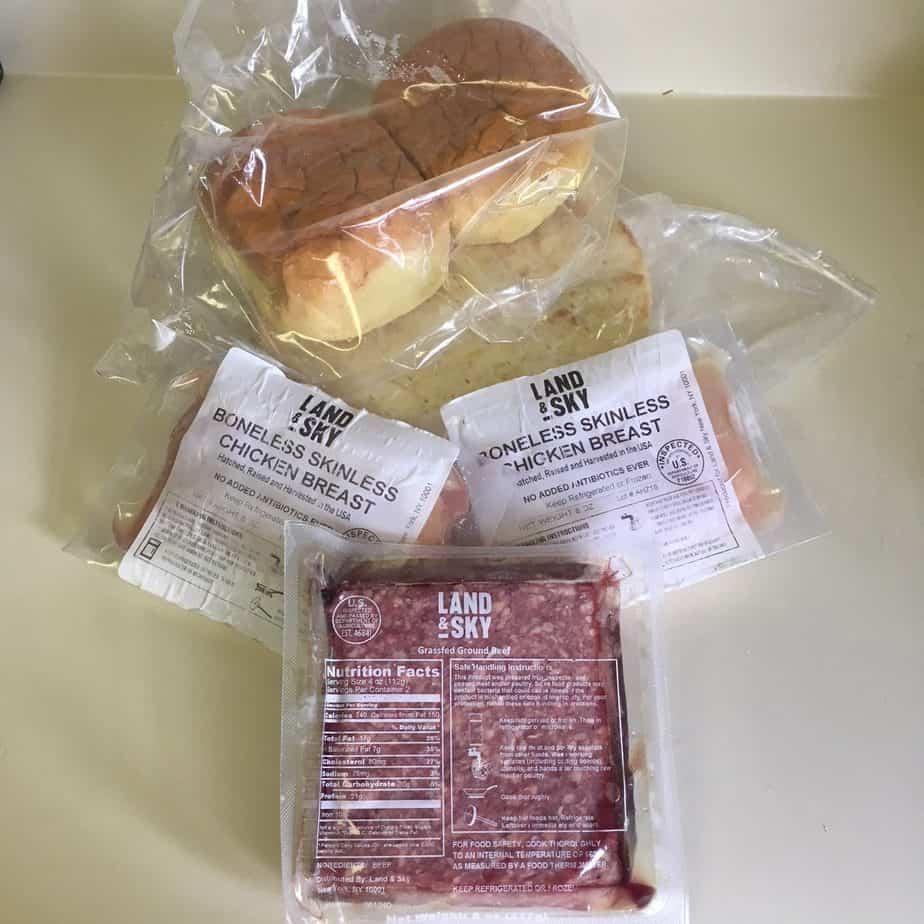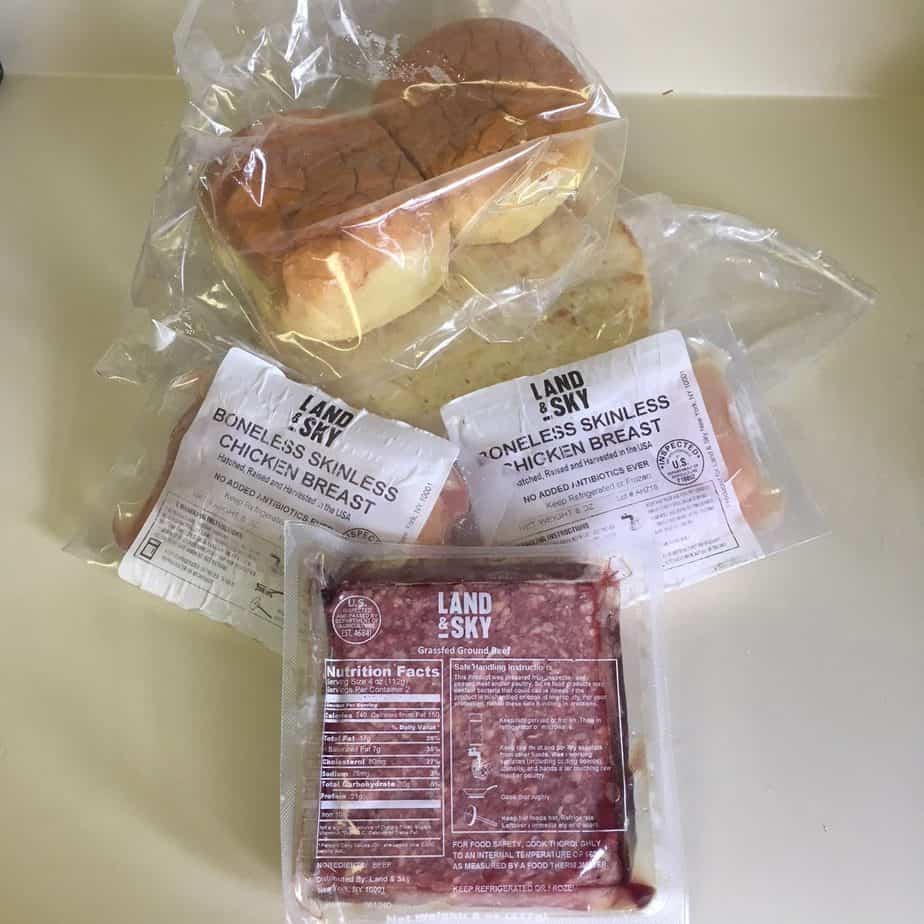 Ingredients Provided: Garlic, yellow squash, ciabatta roll, 1-2 tomatoes, ground beef, fontina, red wine vinegar.
Ingredients You Provide: Olive oil, salt, pepper.
Cookware needed: Grill/grill pan, knife, cutting board, medium bowl, measuring spoons, oil/sauce brush, spatula.
Calories: 599
Cook Time: Estimated at 30 minutes, took me about 40.
Ease to Make: Easy. Only had to cook the burger patties and squash.
Taste: Delicious. Burgers were rich and savory, and the cheese added a layer of creaminess. The squash salad's vinegar cut through the richness of the beef nicely. Squash was soft, tender, salty, and vinegary. My favorite meal from this box.
Would Eat Again: Absolutely, though I would not cook the tomato.
Pork Shumai Meatballs with Green Beans and Sushi Rice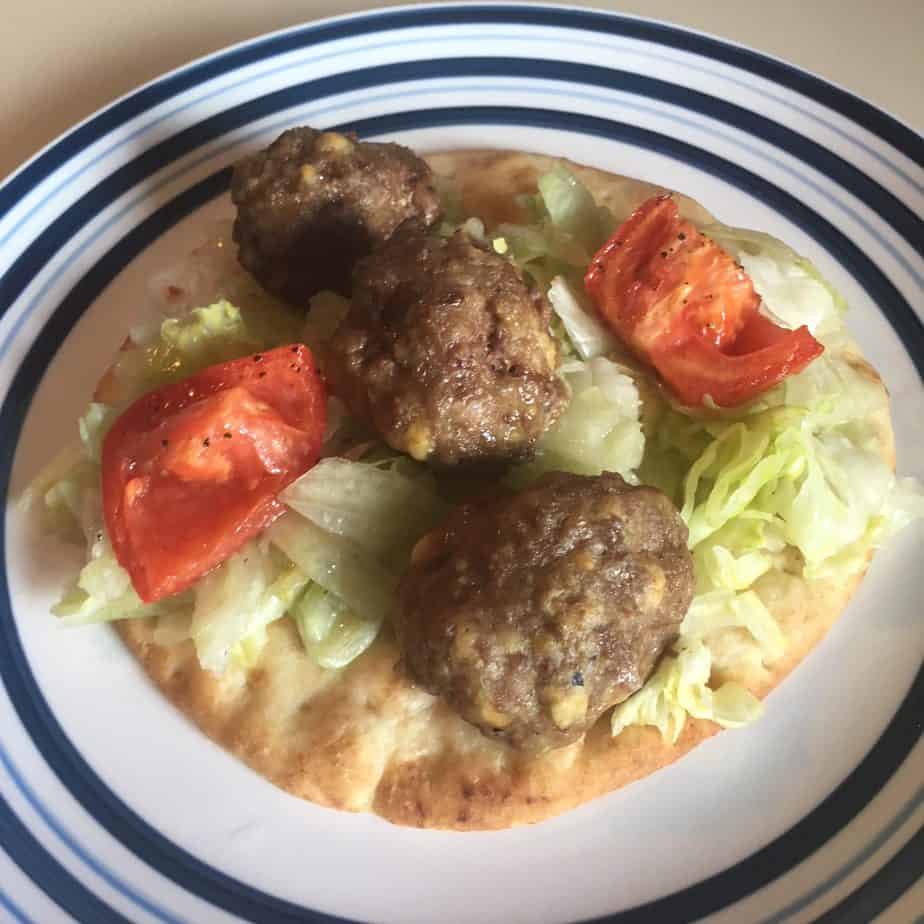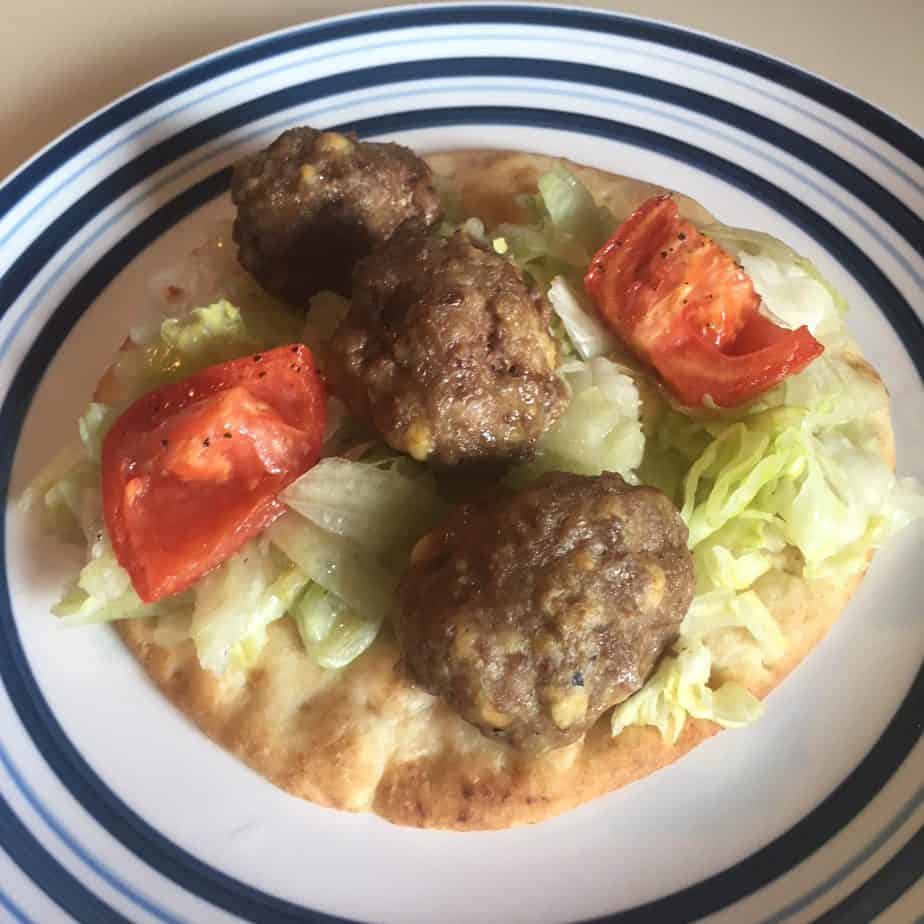 Ingredients Provided: Ginger, garlic, green beans, sushi rice, ground pork, tamari, chili sauce.
Ingredients You Provide: Vegetable or safflower oil, salt, pepper, egg yolk, sugar, all-purpose flour.
Cookware needed: Fine-mesh sieve, small saucepan, medium skillet, knife, cutting board, measuring spoons, measuring cups, fork, medium bowl.
Calories: 744
Cook Time: Estimated at 30 minutes but took me 60 minutes.
Ease to Make: Somewhat easy. The meatballs are more involved than previous recipes, as are the green beans.
Taste: Savory, slightly spicy, a touch of garlic and salt. Rice is sticky; green beans are tender and delicious, meatballs are pretty good, standard meatball. I liked this meal, but the sticky rice was odd.
Would Eat Again: Yes, but I would change the rice out for regular rice.
Panko-Mustard Crusted Chicken with Roasted Zucchini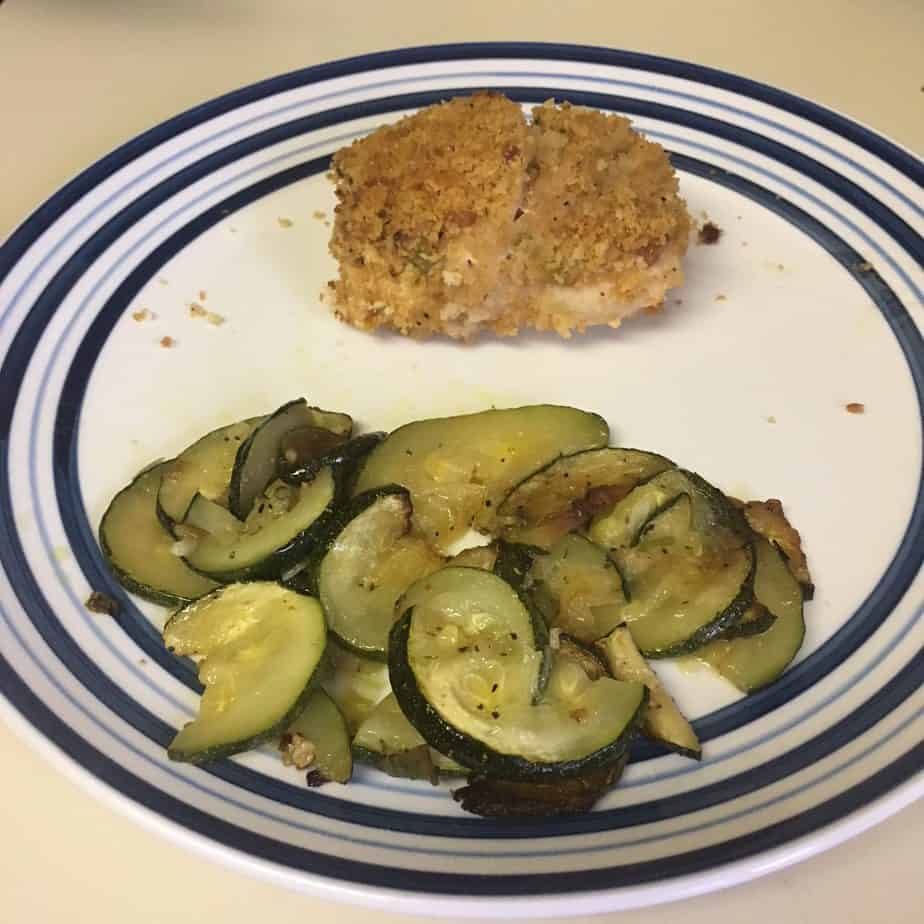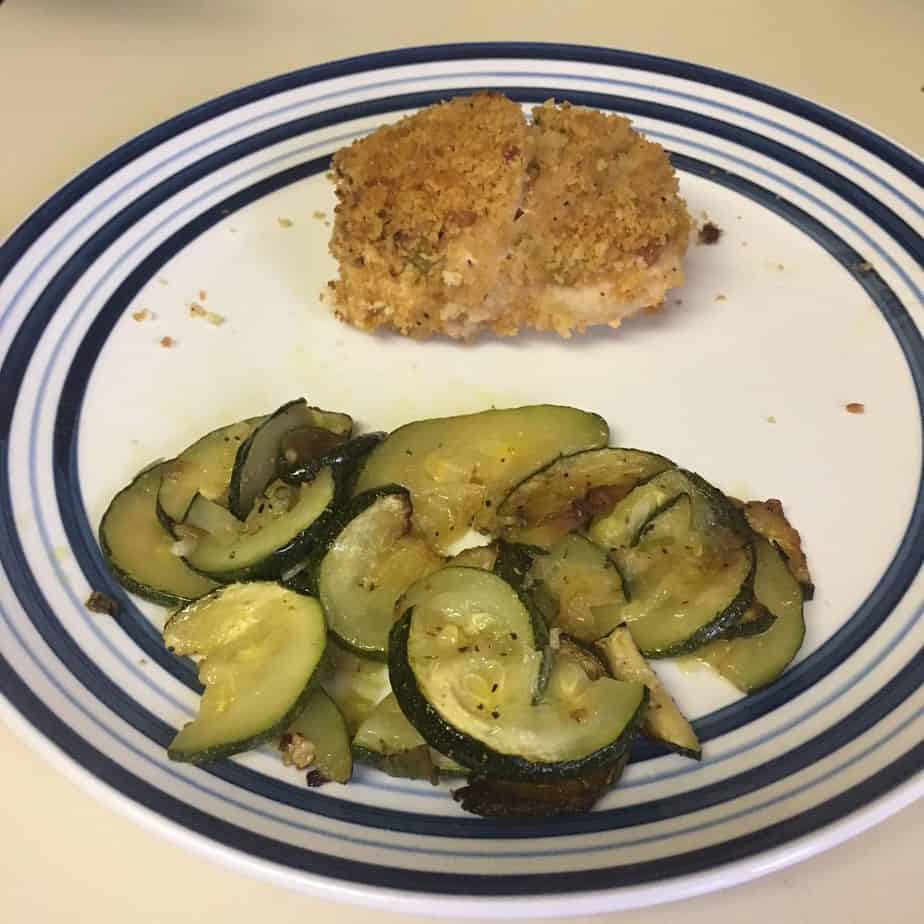 Ingredients Provided: Scallions, zucchini, garlic, panko, chicken breasts, Dijon mustard.
Ingredients You Provide: Olive oil, salt, pepper.
Cookware needed: Medium skillet, baking sheet, cutting board, knife, two small bowls, spatula/stirring utensil.
Calories: 370
Cook Time: Estimated at 30 minutes, took me 35-40 minutes.
Ease to Make: Somewhat easy. You cook the zucchini, sauce the chicken, then put it all in the oven.
Taste: Tasty! Zucchini was tender and garlicky. The chicken had a very crunchy/crispy texture with the panko and was well seasoned. The Dijon mustard was faint.
Would Eat Again: Yes, but I would use more Dijon mustard and cook the chicken a bit before putting it in the oven. It took twice as long as the recommended cook time to prepare the chicken all the way through.
Customer Service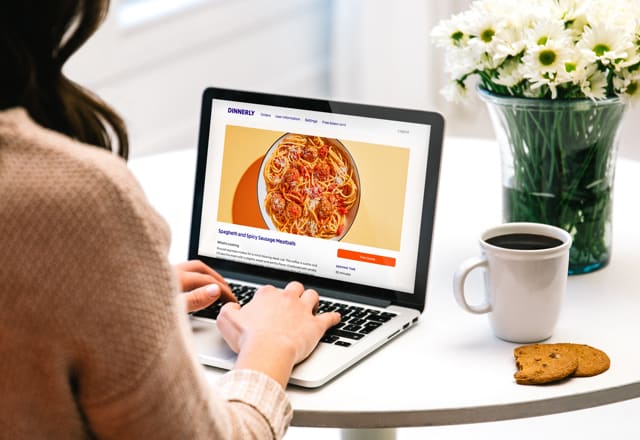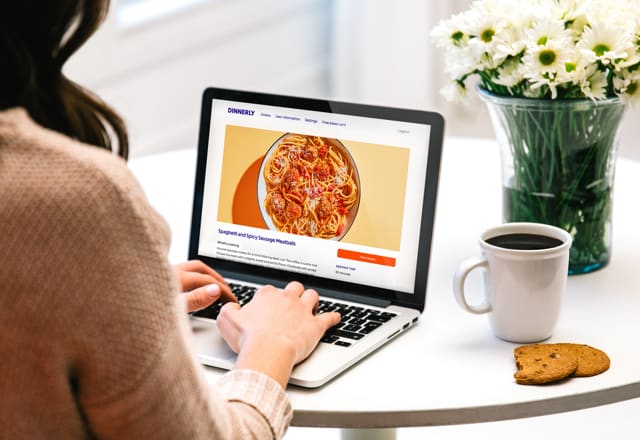 Because of the multiple issues I had with the quality of ingredients, delivery, and lack of ingredients, I was in contact with customer service multiple times.
Every time I dealt with customer service, it was a pleasant experience, and my issue was resolved. I communicated with customer service via both email and instant messenger. For the lack of berbere spice and delivery to the wrong door, I was credited a few dollars. When I messaged about my bad corn and overall disappointment, I was credited once again, and the representative canceled the incoming order for me.
Great customer service experience, especially for such a new company.
The Verdict – Would I Recommend Dinnerly?
Even though I had some issues with Dinnerly, I would recommend the service to those wanting to try out a meal service. The recipes were diverse and overall tasty, and the ingredients were fresh and unique. Plus, the customer service is outstanding!
Besides, Dinnerly is a relatively new service, so it will take some time for them to get everything perfect. I would highly recommend picking what recipes you want to be sent in your box as soon as you can. This will help avoid any issues with disliking what comes in your box. I wish I had done this with the first box, as some of the recipes were just okay.
On a random note, I noticed that they love vinegar for some reason. Four of the recipes out of the six I got had some form of vinegar involved. They also really like lettuce and green beans, because again, four of the meals out of the six had those vegetable included.
Have you tried a meal service before? Tell us about your experience in the comments down below!