There are delivery services for just about anything you can imagine.
You can order subscription boxes for designer clothing; you can get signature socks delivered; you can even get fine wine shipped to you every month.
But did you know you can also get high quality, sustainable, organic meat?
Let's get started with the best home meat delivery service options we've tried…
Best Grass Fed Meat and Organic Meat Delivery Rankings
I'll summarize this list at the end, but these are the best sustainable meat delivery services that we tried:
Porter Road [Best Overall Online Meat Delivery]

Crowd Cow [Best Wagyu Beef Delivery]
Butcherbox [Best Rotating Promo Offers]
Good Chop [Best Meat Delivery for Families]
Cooks Venture [Best Regenerative Chicken Delivery]
Thrive Market [Best 100% Organic Meat Selections]
REP Provisions [Best mRNA Free Meat]
Fossil Farms [Best Game & Exotic Meats]
Snake River Farms [Best High-End Steak Cuts]

Richard's Grassfed Beef [Best Grass Fed Meat Delivery & Grass Finished Ground Beef]
US Wellness Meats [Best Organic Turkey & Duck Delivery]
Campo Grande [Best Pork Delivery]

Sizzlefish

[Best Fish Delivery]
Farm Foods Market [Widest Variety of Meats]
Wild Alaskan Company
Wild Parcel
4. Good Chop [Best Meat Delivery Value for Families]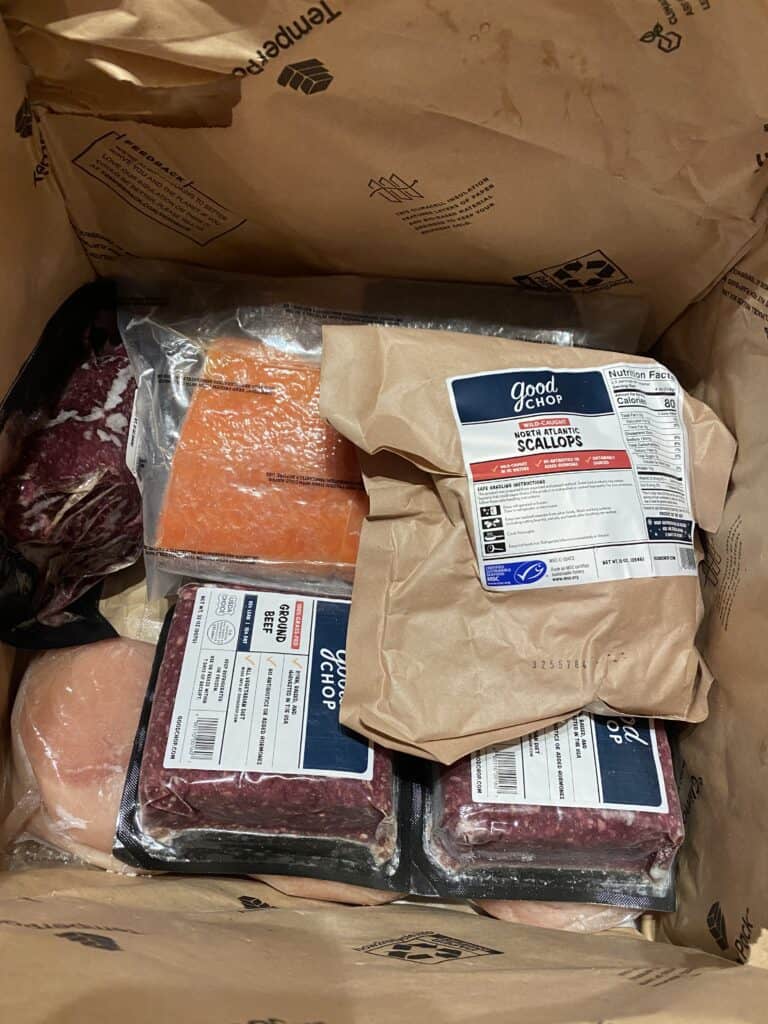 Good Chop prides themselves on offering organic high-quality meat born and raised in the USA. They claim that their meat comes from independent ranchers and family farms located throughout the US.
While their fish is wild-caught off the coast or raised responsibly on farms found in the US, you can be assured that they only offer organic fish products without hormones or additives.
They offer two choices a medium box for $149 that includes up to 36 portions of meat, with the choice of 6 cuts from their menu. The large box costs $269 and contains 72 portions per box with a choice of 12 cuts from the menu.
Full Review: Good Chop Review
5. Cooks Venture [Best Regenerative Chicken Delivery]
Cooks Venture is a new meat subscription box on our radar. We've only tested their chicken yet (due to other meat shortages at the time), but it's regenerative chicken product array is fairly extensive, affordable and with all the sourcing attributes I like to see.
Specifically, their products are non-GMO, pasture-raised and without any use of antibiotics.
They are strictly a delivery box club, so your options are 6 unit ($159) or 12 unit boxes ($289) here.
6. Thrive Market [Best 100% Organic Meat Selections]
Thrive Market is one of the best stocked health good digital grocers out there. While they are also known for a wide array of pantry goods, their direct meat delivery is a hidden gem.
You can choose from a wide array of organic Beef, Pork, Poultry, Seafood, and even plant-based meat products. I particularly love their new wild-caught seafood, including Yellowfin Tuna, Wild-Caught Scallops, Wild-Caught Atlantic Cod, Wild-Caught Jonah Crab Claws (and so much more).
On the flip side, if you just need some quality ground beef, their 16 oz grass-fed packs are a great value buy.
Prices can be incredibly affordable IF you are a member (just $5/month).
REP Provisions is a NEW addition to my list for 2023, but it's a good one! I first heard about REP Provisions after doing some research on regenerative farming, a new trend in the industry.
ALL of REP Provisions meat selections are grass fed, grass finished, or free range. Their farms abide by regenerative farming best practices and use no antibiotics, hormones or mRNA.
I particularly enjoyed their ground beef blends (they even have a heart meat blend for a dense nutrient punch). They also have a good selection of premium steak cuts, although these can sell out quickly.
Pricing is based on what you fill your box with (no subscription required) and free shipping starts at $99 in order value or above.
Farm Foods meat delivery offers a full selection of delicious grass-fed beef and red meat protein, pork, and chicken as well as some wild caught fish and wild caught seafood (salmon, halibut, and rockfish as of this writing).
A great "one-stop shop". While they offer a wide variety of popular cuts of meat like, chops, filet mignon and ribeye, they also offer some more obscure and select cuts like marrow bones (great for bone broth), beef liver, and even beef tongue.
Use code PECS10 to take 10% off your entire order here.
Full Review: Farm Foods Market Review
Top Choice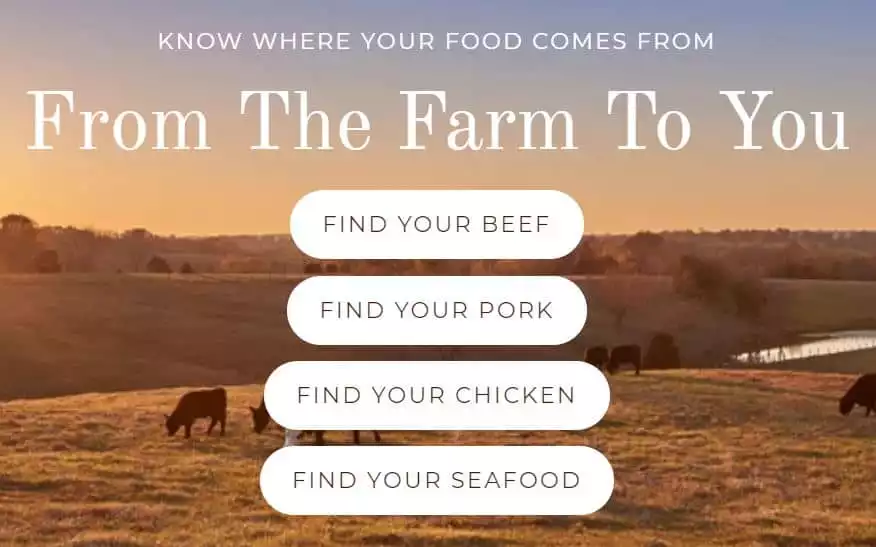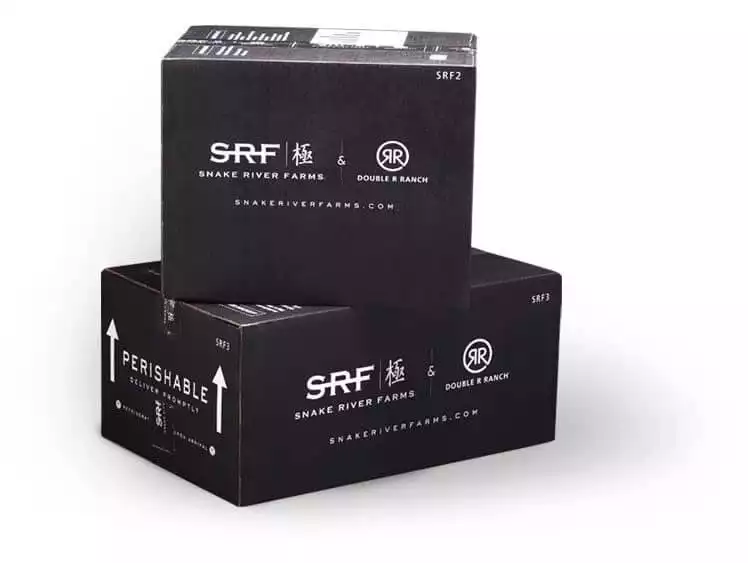 Market House is a wonderful new offering, featuring premium meats & hard to find cuts.
My favorite selections are their extensive American Wagyu collection, King Crab Legs, and high quality USDA Prime grassfed beef inventory. All their selections are certified GMO free.
They also carry some poultry products, shellfish, and seasonal fish, although the most notable catch here is the delicious (and unique) Wild Quinault Coho Salmon from the Puget Sound.
Seasonal promos generally include 15% off select cuts of meat here (on your first order).
Agridime is a pool collective of over 200 farmers in the Midwest and West, helping to bring their quality meats to market, online. Behind all of their products is a clear no antibiotics, no hormones, pasture raised guarantee. All from US-based farms, with no exceptions.
Further Read: Our Good Chop Review & Good Rancher vs Good Chop compared.
Best Organic Chicken Delivery
If you are specifically looking for organic chicken delivery, these are the top options I'd recommend.
These are the best organic chicken delivery services:
Best Organic Seafood Delivery
If you are lookign for high-quality organic fish delivery and shellfish delivery, this section is for you.
These are the best organic seafood delivery services:
Meat Delivery Services to Avoid
This isn't an easy one to write as it's never fun to say mixed things about brands (target, meet back). Nevertheless, it's necessary based on our experience.
Omaha Steaks: There's nothing specifically to fault Omaha Steaks with other than the lack of transparency around sourcing. I've actually had some great cuts from them, but I didn't find much (if any) information on the grade, sourcing methods or even farming region my meat came from. Omaha has also plastered the market with aggressive "discounts" that are really just market prices (price high, discount heavy). I If organic steaks and meat cuts are important, try another service.
Allen Brothers: I don't think Allen Brothers has bad cuts or quality, more so their inattention to detail, problematic shipping quality, and absent customer service make it an "avoid" in my book. You can read the full experience our team member Alizabeth had for the full story.
How popular is organic meat anyway?
Organic meat delivery services are becoming more popular as a sustainable and reliable choice, even if you have never heard of them.
That's in part because the demand for organic meat itself is steadily on the rise. Gone are the days when you only had a choice or two of conventional meat nearby. Gone too, are the days of consumers simply eating without asking questions. While it certainly is still considered somewhat of a niche market, organic meat truly appeals to anyone who is looking to be more health or environmentally conscious.
And the numbers back that up: in 2017, sales of organic meat jumped over seventeen percent and exceeded a market value of over a billion dollars. That fits alongside the rise in organic food and quality meat demand in general, which reached an astounding excess of over fourty five billion dollars.
But even though local meat is also increasingly easy to find, that doesn't mean it's always organic.
Are there really that many delivery services available for organic meat?
In fact, yes. While the options for delivery services for organic meat are admittedly far more limited than for some other options, there are many to choose from–enough that it could be easily a lengthy process to finding the best delivery services possible.
Along with the rise of demand for sustainable organic meat and organic food in general, the prominence of meat subscription box delivery services has also risen, perhaps in part because Americans are increasingly juggling crammed schedules.
Subscription boxes and related services, as a whole, have increased twenty-four percent since 2017, with 3 out of the top six subscription services securing spots for meal kits.
While organic meat itself is just a fraction of the food subscription market, there is enough demand that you now have many different sustainable options.
Why should I look at organic meat delivery services as opposed to full meal kits and meal services?
Subscribing for organic meat delivery services, of course, won't make sense for everyone. Meal kits offer more full-service delivery, with everyone you need, from ingredients to directions, to cooking quick and easy meals.
But the problem is very few kits cater towards organic needs. Even those few that do incorporate organic meat or fish in their meals may not do so consistently. Plus, you'll pay for the extra things you may not want.
If you want to cook your own meals but also want a steady delivery of organic meat, an organic meat service would make more sense. You can customize and add your own sides and prepare them however you like, whereas in meal kits you may not always have control over the exact contents of your meals, nor the quality of ingredients.
Do keep in mind that most delivery services are not necessarily subscriptions–unlike meal kits, most of these services are for one-time delivery services, although you can order again.
Ordering organic meat delivery services is the safest bet if you want to be sure of the quality and consistency of what you're getting.
Why go with a delivery service at all? Can't I find organic meat at the grocery store?
You can, of course, find organic meat at supermarkets–most of the time. However, if you are in a more isolated area, or have a supermarket with more limited options, you may find yourself disappointed.
Normally your best bet for certified organic meat is to shop in a natural food store. But not only can that be just as pricy, but it also can still not carry exactly what you're looking for. Delivery services open you up to organic meat you might not otherwise have access to.
Delivery services, of course, are also a matter of convenience: delivery services can save you a good deal of time, and give you access to meat or fish you truly like.
Of course, delivery services are not for everyone. In most cases, you're likely to pay a little extra overall, and no matter how flexible the services are, you still do not have complete control over when you receive meat. So you do need to determine for yourself whether or not a delivery service makes sense for you.
Why should I care if my meat is organic?
While not everyone is convinced that buying organic over conventional is worth it, there is evidence to back up reasons why buying organic is better for your health. Here are just a few:
Organic meat has up to fifty percent more Omega 3's, are essential to preventing heart diseases and regulating blood pressure.
Organic meats, minus some violations, are free or close to free of pesticides and other chemical agents that are normally digested from crops grown with pesticides
It may taste fresher, too, though this depends on the person whether notice the difference between organic vs conventional
There are, however, a few misconceptions about organic meat. For one, organic meat does not necessarily mean that the animals were raised in a more humane way. While organic overall can be helpful for the environment, the overall effect is a bit more complicated. While chemical runoff from pesticides is a large concern, higher land use can also result in an increase of nitrogen gases being released.
But overall, most science points to the pros of organic meat outweighing the potential negatives.
What should I look for when trying to select the best organic meat delivery services?
There are many factors you'll need to consider when looking for the best organic meat delivery services. If you consider these factors, there is much less of a chance you'll select something you aren't happy with:
Reviews and Ratings:
Always, for all delivery and subscription services, be sure to check our reviews and ratings, both from customers and from professionals. Look at the average ratings, but also look for reasons given for those ratings.
Make sure to seek external ratings rather than internal ratings, which could be biased and selected purposefully. And take note of trends: if there is only one complaint, for instance, it may not be a big issue, but if you notice many consumers making the same complaint, be warned you might very well have the same experience. Better Business Bureau will also tell you if there are any complaints that have not been resolved.
Get to know the Company:
If you don't know who you're buying from, that is a problem. As nice of a website as they have, you need to know a little about who you're ordering from–and in order to do that, you'll need to do some investigating. Find out how long the company has been in business, their cancellation policies and different plans, and how they handle your secure information. Check out FAQs, privacy policies, and customer service. And make sure you read the fine print.
Find out about the meat itself:
Of course, this is really important. Just because they claim they have organic meat doesn't mean you should immediately sign up. Instead, do a little investigating. The meat must be USDA certified (not just USDA Prime) in order to be fully organic. Also, you should know where the meat comes from, and where the animals were raised, and how. In addition, look for an indication of the following labels:
Grass fed vs grain fed– Grain is used to fatten livestock, and often this livestock are kept in poor conditions. Grass fed is healthier for the animals, more likely allows them room to roam, and results in meat that is lower in unhealthy fats but higher in Omega 3's
Pasture Raised Meats: A pasture raised label will tell you that the animals were raised with room to graze and roam, which is important for their health and animal welfare, and overall, what kind of nutrition you'll be getting. It is also considered a more ethical way or raising livestock. Note that pasture raised animals are often grass fed or grass finished (at least in part), but this isn't exclusively the case.
Antibiotic Free: Even if the service claims to sell organic meat, the best organic meat will also come with a certification of antibiotic free. Growth hormones are used to artificially increase the size of livestock to increase revenue. While there are mixed ideas as to the impact of these hormones and human consumption, if you're getting organic meat, you might as well skip the antibiotics (hormones) too.
Meat Cut: What type of cut of meat do you want? For beef, sirloin, strip loin, and rib eye are considered the most culinary approved, while the flank steak is the leanest. For pork, the best cuts are considered to be a shoulder, butt roasts, and rib and blade cuts, as well as ribs.
When receiving the package: Even if you have already ordered, there are a few things you should check for when you get your organic meat delivery. When inspecting the meat, make sure there is no grayish hue. It should also be firm, and not wet. If it smells odd or looks odd, do not eat it and contact the company as soon as possible.
Is the price right?
Keep in mind that organic meat is going to cost you more than conventional meat. And when you add the delivery service itself to the price, you're going to definitely be paying more than you would for conventional meat. Still, it's a good idea to comparison shop. Compare between different delivery services and see what offers the best services at the best prices. And always make sure there is a plan that fits your budget.
What about customer service?
Customer service is important, no matter what the meat itself is like. Make sure there are clear ways to contact the company, including email, phone lines, and even online forms. Make sure there are people you can speak directly with, and ways to post complaints or inquiries.
If nothing else, make sure the organic meat delivery service seems like a proper fit. If you're unsure, continue to look.