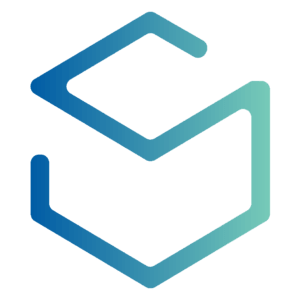 Latest posts by Subscriboxer Team
(see all)
If you love your pet but it's hard for you to find time to buy items for it and maintain your goodie stash stocked, you've come to the right place. Today, we will discuss how to find the best subscription boxes, the benefits of these delivery services, and a list of the best alternatives on the market. So, stay tuned because I guarantee that, if you make the right decision, your pet friend will be delighted.
How to Find a Subscription Box that Your Pet Will Love
Know What Comes in the Box
There are plenty of pet subscription boxes out there. For instance, some contain a mix of toys, treats, and even chew items (dog packages). This is the case of BarkBox which delivers themed collection items. Other options like Meowbox, which is a cat-oriented service, ship between four and six different things in the same box at a time. It all depends on what your goals are. Let's say you need a monthly subscription box that helps you train your puppy. If that's the case, you should try PupBox. If you're a cat lover, then subscribing to CatLadyBox might be one of your alternatives, and this list goes on and on.
Before making any decision whatsoever, you should research both the content and the price tag of several different boxes to make a comparative analysis and see what your pet might like the most. Most packages provide toys, treats, food, other items, or a combination of all these things. Unfortunately, there are situations in which you cannot really find out the content of the box before actually receiving it.
What's best about becoming a subscriber to these types of services is the price advantage. Usually, you will benefit from lower costs. In other words, pet subscription boxes seem like a good deal, especially if you consider the full retail price that sellers apply. The main downside, however, is the fact that many pet subscription programs don't have a refund policy. Simply put, you will have to keep all the ordered items even if your pet doesn't really enjoy them.
Know Your Pet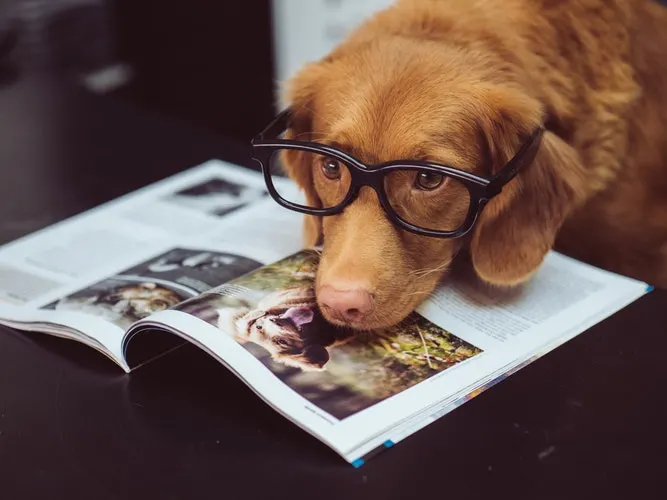 Before ordering a subscription package, you should also find out if this kind of delivery service is suited for your cat or dog. Look back in retrospect about what your pet likes or dislikes. However, it's practically impossible to figure everything out even before you place an order because your little buddy might not enjoy a new treat or toy that you weren't even aware of. What's nice about having a pet subscription box is the fact that you can try new items and foods without paying the full cost of overpriced single products.
All things considered, you still can think realistically. For example, if your dog has certain dietary restriction it must follow, you might want to avoid certain boxes. Also, if a cat has one favorite toy, it might not be willing to try new ones. Still, in the case of large dogs that chew toys pretty quickly, receiving a monthly set of new playthings might be an ideal solution.
Know Yourself
Although it's true that your pet must love what comes inside the package, you, as the pet owner, must also like what you receive. The items should be things you truly value. Besides the price, there's another very important factor that makes people order online pet subscription boxes instead of purchasing those items from a brick-and-mortar store: the lack of time. Nowadays' society is a time-starved one so going to physical shops and looking for different products can be both annoying, stressful, and time-consuming. Therefore, becoming a subscriber and having all these goods delivered at your doorstep is highly convenient.
Discover All Your Options
Before signing up to receive a monthly pet subscription box, you should always research the companies and providers. According to experts, there are several elements one must take into consideration:
Customer reviews – see what other pet owners have to say about a certain brand. Other clients' opinions speak loudly about the real facts and service quality that an e-commerce business offers;
Cancellation policy – search the company's cancellation options. If you agree to a one-year contract but, at some point, you want to cancel your subscription, you should be able to do that. Check the provider's terms and also see whether or not your subscription will be renewed automatically;
Overall online experience – browse the company's website and see if it is easy to navigate and user-friendly. They should feature a FAQ section where you will find a lot of useful information such as how to create a new account and become a subscriber, when you will receive the package and plenty of other details;
Coupons – searching for coupons is important because it might help you find great discounted rates. Some brands even offer a trial period or extra products (a good example is when a company gives you an additional free item if you agree to a longer subscription period);
Mobile apps – some companies have developed their own mobile apps to help you handle your subscription when you're on the go.
The same subscription box can be wonderful for one pet owner while others might not be the ideal option. It all depends on your preferences, your pet's needs, your budget, etc. If you make the right choice, you will end up eagerly anticipating the delivery every single month.
Things to Consider before Purchasing a Pet Subscription Box
The toys – these items are something that your pet should enjoy. Moreover, they must be safe and durable. In other words, no matter how much your pet chews on them, they shouldn't tear apart after just a few uses;
The treats – speaking of safety, pet food, including treats, must suit your little buddy's digestive system. Pay attention to what products the box contains, especially if your dog or cat has food allergies. The best options are the grain-free ones.
Why Should You Opt for a Pet Subscription Box? – Main Benefits
You will get a handful or high-quality toys and treats which are usually selected by experts;
You won't find all these items at pet stores or local grocery stores;
It's very convenient because it helps you skip the effort of single-item purchases;
You will save money due to the fact that subscription packages cost less than those which are marketed at retail prices;
It's fun to open the box and be surprised by what you find inside;
Many companies donate to charities and support a cause.
The Best Pet Subscription Boxes – Top 8 Alternatives to Consider
1. BarkBox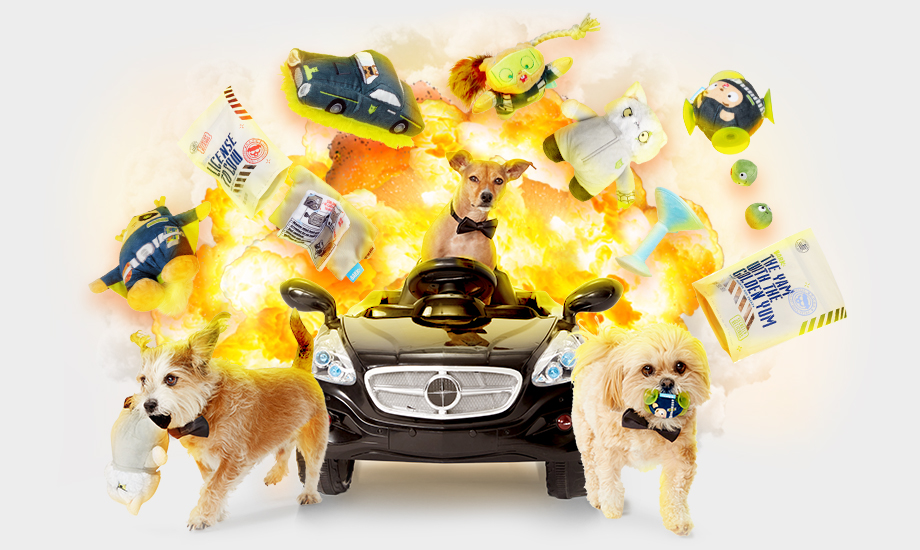 When it comes to the best dog subscription packages, BarkBox is definitely a leader in both brand awareness and revenues. They have built a great reputation due to their high-quality products that are said to make your dog happy. Not only are they a major player on the canine niche market but they are also quite affordable. The company offers fun themed boxes such as Chewrassic Bark, Throwback Thursday, and many others. Every single package contains 2 natural treat bags, 2 toys, and a chew item.
Pros
Their website has a user-friendly interface which is easy to navigate;
If you agree to become a long-term subscriber, you will receive a significant discount;
The shipping is free of charge;
BarkBox donates 10% of the money they gain from each order to rescue organizations;
You can download and use the brand's mobile app which is available on both iOS and Android devices;
Their delivery service is reliable and you can track your order every step of the way;
All the treats are manufactured in either the United States or Canada.
Cons
Subscriptions renew automatically which means that in case you want to end it, you must cancel the membership yourself;
You won't get anything else but toys and treats;
The subscription is a tad pricier compared to other similar providers;
They don't provide cat boxes.
Price
There are several pricing options that you can choose from:
One box – $29;
6-month subscription – $25;
Annual subscription – $22.
2. MeowBox
The MeowBox cat subscription always comes full of pleasant surprises. It gets shipped to your doorstep every month. Your cat will definitely enjoy playing with fun cat toys while also being spoiled with edible items. All the toys and accessories are stimulating and exciting (cat grass seeds, handmade bow ties, catnip bird, squeaky mouse, etc.). The cat treats are sourced from either the US or Canada and they are natural, containing only one ingredient which is healthy and grain-free. Still, the funniest element that your cat might enjoy the most will probably be the box.
Pros
It's an automated delivery service so it saves you a lot of time and effort;
The shipping doesn't cost a thing;
They keep changing their product selection on a regular basis, so you will receive different items all the time;
Every single box is created in such a way that it suits your feline's unique needs.
Cons
The number of products varies each month so one time you might receive 6 items but the next shipping might come with only 4 things;
There's no reference to where the toys are manufactured.
Price
There are two available pricing plans that you can select from:
Monthly subscription – $22.95;
Paying the subscription every other month – $22.95.
Both alternatives work great regardless of how many cats you own. Moreover, they include between 4 and 6 different items and the shipping is always free. Still, these plans renew automatically but you'll be able to cancel them anytime you want.
3. PupBox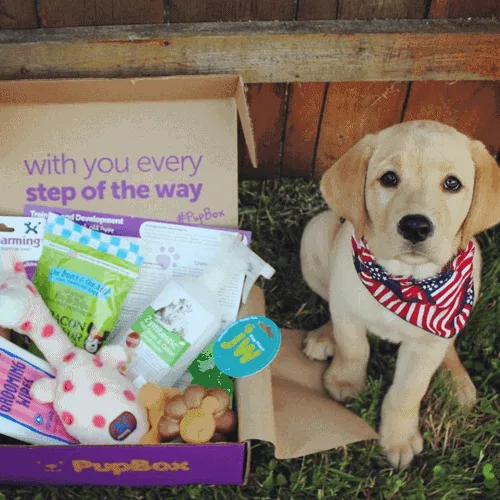 Don't let the name of this particular pet subscription package fool you. Although it is called PupBox, the program provides items that are suitable for puppies as well as adult dogs. Still, the company's main focus is represented by puppies so each package includes between 5 and 7 toys, accessories, and treats that are all appropriate for young dogs. What I like most about PupBox is the fact that they also offer training information that matches your pet's age.
Pros
The box contains more stuff than many other similar subscription packages;
All the items are selected based on your dog's size and age;
There are also alternatives made for adult dogs;
These boxes revolve around dogs' development and training;
According to pet owners, the packages always contain useful products;
All the treats are made in Canada and the US;
All the chew toys are manufactured in one of the following areas: the USA, Australia, Canada, New Zealand, and South America.
Cons
The price of the subscription is a tad on the pricey side;
There aren't any cat boxes available;
You need to cancel the subscription yourself if you don't want to keep receiving these packages because the renewal happens automatically.
Price
Here are all the available payment plans featured on PupBox website:
One-month subscription – $39;
3-month plan – $34 (12% savings);
6-month subscription – $32 (18% savings);
Yearly plan – $29 (25% savings).
4. CatLadyBox
Just like the name says it, this is a monthly delivery service specially designed for ladies who have cats. If you want to receive a lot of goodies to keep your cat entertained, this subscription service might be what you were looking for. The company offers high-quality products and the boxes contain numerous cat-oriented themed items. Every package comes with at least one exclusive or limited-edition product. You can select from the two available options: the Basic CatLadyBox which includes 3-4 items for you or you can opt for the Crazy CatLadyBox alternative which consists of all the things that come with the basic choice plus 2 additional kitty toys.
Pros
There are many items that feature exclusive designs or are limited edition;
You can also purchase individual products if you decide you want more of one or several items;
Your cat will be happy and enjoy the whole package, including the box that the products are delivered in;
The company donates some of its profits to cat rescue organization;
There are gift options available for purchase if you want to surprise a friend or someone close to you who loves cats.
Cons
Although many of the things that come in CatLadyBox are great, some cats might not enjoy all of them;
The company doesn't apply a return policy;
The monthly cost of this subscription program is pretty high;
The shipping is free only for the US.
Price
As I previously mentioned, there are currently two available pricing options:
The standard package – $34.99 per month (the items are just for the pet owners and the box doesn't contain anything for your cat);
The Crazy CatLadyBox – $39.99 (3-4 items for the owner and a couple of goodies for your pet.
The subscriptions renew automatically but you can cancel it anytime you want. The shipping is free in the US but clients from Canada and the UK must cover a delivery fee.
5. Pet Gift Box
Pet Gift Box is a subscription that focuses on shipping holiday-themed packages and the box itself is created to resemble a gift. It even has a bow and everything. Usually, a box contains a couple of treats, a scented candle, and two toys. You're probably wondering what the candle is for. Well, it is supposed to mask pet smells.
Pros
The company markets both cat and dog boxes;
You can customize the package based on your pet's breed characteristics;
Treats are manufactured in the United States and they are simply delicious;
A part of each purchase is donated to a charity;
The shipping is free;
There's a higher level of flexibility due to the fact that you can skip or pause your subscription whenever you want;
You will benefit from the company's 100% satisfaction guarantee policy.
Cons
Unlike other similar services, Pet Gift Box doesn't offer mobile apps or customer phone support;
If you cancel the subscription, you won't benefit from any refunds;
The website is a bit clunky which makes it less user-friendly that one might expect.
Price
A box with toys, full-size treats, and accessories has a variable price, depending on the length of your subscription:
One single box – $29.99;
3-month subscription – $27.99;
An annual subscription – $24.99.
Every order gets you a certain number of reward points.
6. Surprise Pawty
With the boxes from Surprise Pawty, you and your dog will have a reason to party and celebrate every single month. The packages consist of natural and organic treats as well as safe and durable dog toys. The thing that's a bit unusual for a pet subscription is the fact that they don't provide a full-year pricing option. This issue might make some people think twice before making a commitment.
Pros
You will receive a custom design, as well as a special surprise, treat every year, on your dog's birthday;
The company offers both email and phone customer support;
Each package is customized to suit your dog's needs;
They apply a 100% satisfaction guarantee;
Part of their revenues is donated to animal rescue organizations, pet shelters, and other non-profit institutions.
Cons
You won't be able to opt for a yearly pricing plan because there's none;
The shipping fees aren't included in the subscription cost;
The company only sells dog boxes.
Price
Below, I have listed all the company's pricing plans:
One month – $35 per box;
3-month prepaid subscription – $33 per box;
6-month prepaid subscription – $32 per box.
Also, the shipping isn't free. It costs $4.99 within the United States (per box).
7. Bunny Club
Happy Bunny Club is a very popular pet subscription box among rabbit lovers. Every single ordered box comes with a collection of new items that are delivered on the 21st of every month. The package usually contains natural and high-quality treats, toys, and a couple of surprise items. Even the box itself is toxic-free. Besides these products, you will also receive a letter that lists all the ingredients of the treats, the company's charity of the month, and plenty of bunny-related fun, interesting, and exciting news.
Pros
All those interested in purchasing these products can easily order this pet subscription box by entering the company's website. The package will then be shipped to the clients' doorstep;
It appears they have put a lot of thought into creating elements related to packing, packaging, and presentation which shows how proud they are about their products and services;
Every month, they donate part of their profits to a pre-selected charity. They do that by donating products, helping non-profit organizations to raise their awareness, and even offering financial support;
Each box contains a minimum of 6-7 different bunny-friendly toys;
They encourage and promote rabbit welfare;
According to the company's representatives, all their products are free from eggs, dairy, corn, and seeds, which makes the foods safe for bunnies.
Cons
This provider is located in the UK and their international shipping fees can be quite high;
This type of box might not be suitable for those of you whose bunny pets are picky.
Price
There are three available pricing options that clients can select from:
One-month payment – approximately $28-$29;
6-month plans – $24.86;
12-month subscriptions – $22.24.
8. Pet Treater
As a Pet Treater subscriber, you're allowed to choose from 2 different package sizes so make sure you pick the one that matches your pet's weight. Whether you're a dog owner or you have a cat, this delivery provider does its best to offer a wide range of goodies for your pet. Besides the usual treats, accessories, and toys, you will also receive grooming supplies, poop bags, and even tiny outfits. Furthermore, Pet Treater applies pretty affordable prices.
Pros
The website is very user-friendly and easy to navigate;
For every ordered box, the company donates one item to an animal shelter;
All the treats are manufactured in either the US or Canada;
You can purchase boxes that contain only treats or solely toys – these can be ordered as small dog packs;
They also offer packages that are created for cats;
You can insert certain special requests or diet restrictions that your pet deals with.
Cons
If you don't want to keep receiving these boxes, you need to cancel the subscription yourself because the memberships will automatically renew every month;
There aren't any discounted prices for longer prep-paid memberships or multi-dog price offers.
Price
If you're a cat owner, you will be able to opt between the following possibilities:
The standard cat pack – $15 per month (3-4 items);
Multi-cat pack – $25 per month (5-8 items).
As a dog owner, you will have the following price alternatives:
The standard dog pack – $15 per month (3-4 products);
Deluxe dog pack – $25 (5-8 products).
How to Find the Best Pet Subscription Boxes – Final Thoughts
Bottom line, we all love our cute and loyal furry friends and we consider them members of our family. According to science, pets are actually beneficial for our health and wellbeing so why not offer them the best gifts we can afford such as boxes full of goodies. All these subscription alternatives presented in today's article will delight your little buddy. So, make sure you find one that suits your pet's unique needs. Do your research, set a budget, and go for it!
Further read: