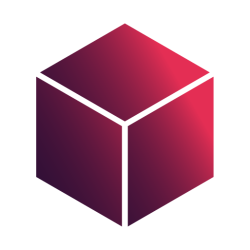 Latest posts by Subscriboxer Team
(see all)
Jewelry subscription boxes come with a lot of perks. As a subscriber, you will get to wear a wide range of beautiful jewelry so you won't get bored that easily.
Also, most of these services are much more affordable compared to store-bought jewelry items. After all, it's quite frustrating and time-consuming to find the proper piece of jewelry that fits both your lifestyle and your budget.
So, with these membership programs, you will get rid of the regular shopping process and all its guesswork. In today's comprehensive article, I'll show you all the best jewelry subscription box options that caught my eye and what each monthly subscription service offers.
Top 14 Best Jewelry Subscription Boxes to Consider This Year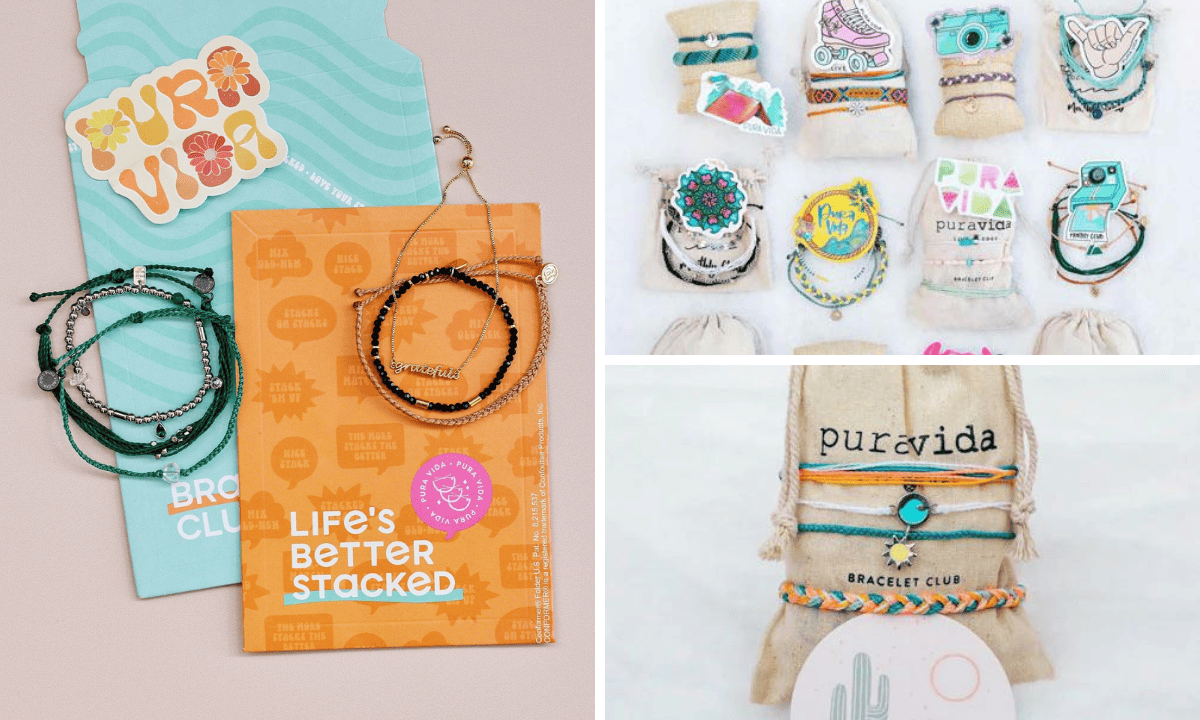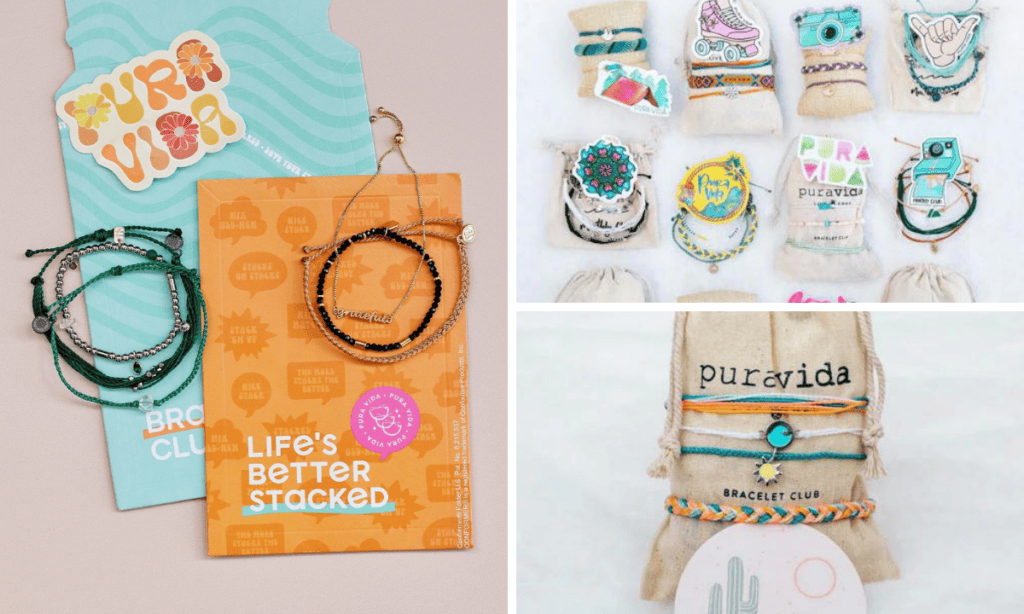 Pura Vida is a bracelet subscription program that offers wrist accessories crafted by talented artisans from all over the globe. Every single month, the company's employees make a selection of stackable and colorful bracelets to add to their collection and then send those products to their clients. Besides the fact that Pura Vida truly supports and promotes artisans, the company also donates a lot of money to charities.
There are three available pricing plans for this beauty subscription box and here they follow:
One-month subscription plan – $14.95;
6-month membership – $12.50 per month;
One-year subscription – $11 per month.
You'll be billed once every month and you can cancel the subscription anytime you want. There are tons of styles and designs, from seed beads and charm bracelets to braided patterns and ankle bracelets.
Check Out the Latest Selections and Pura Vida Promotions Here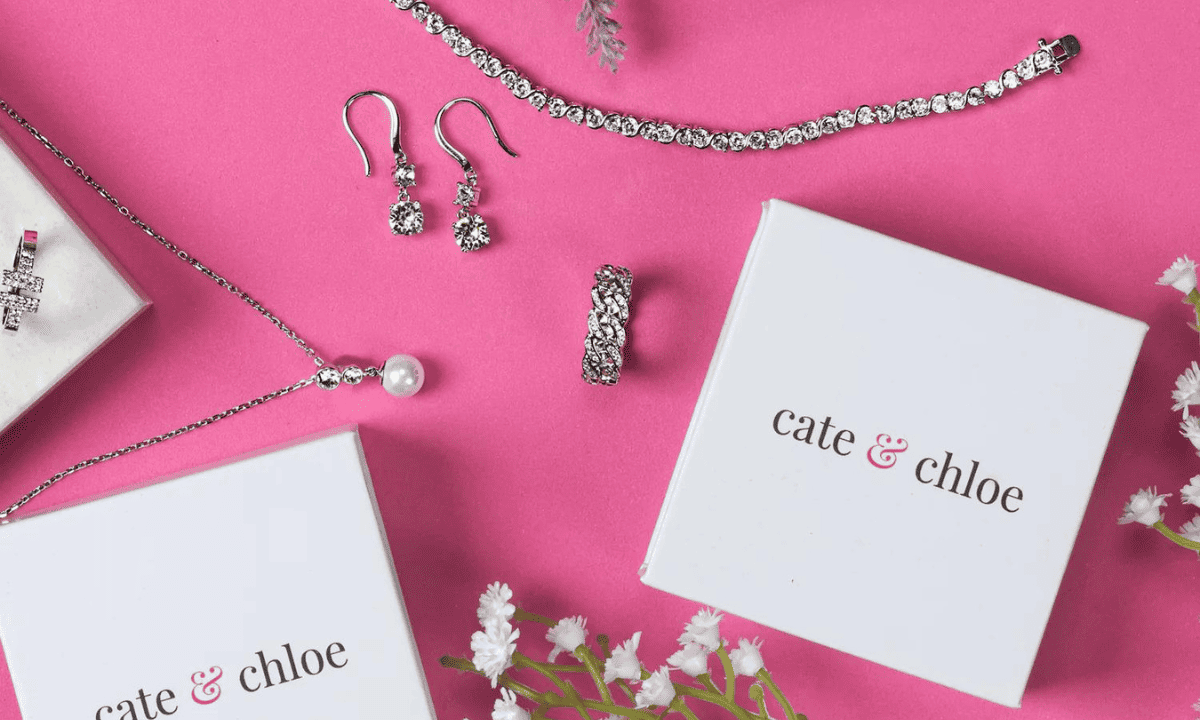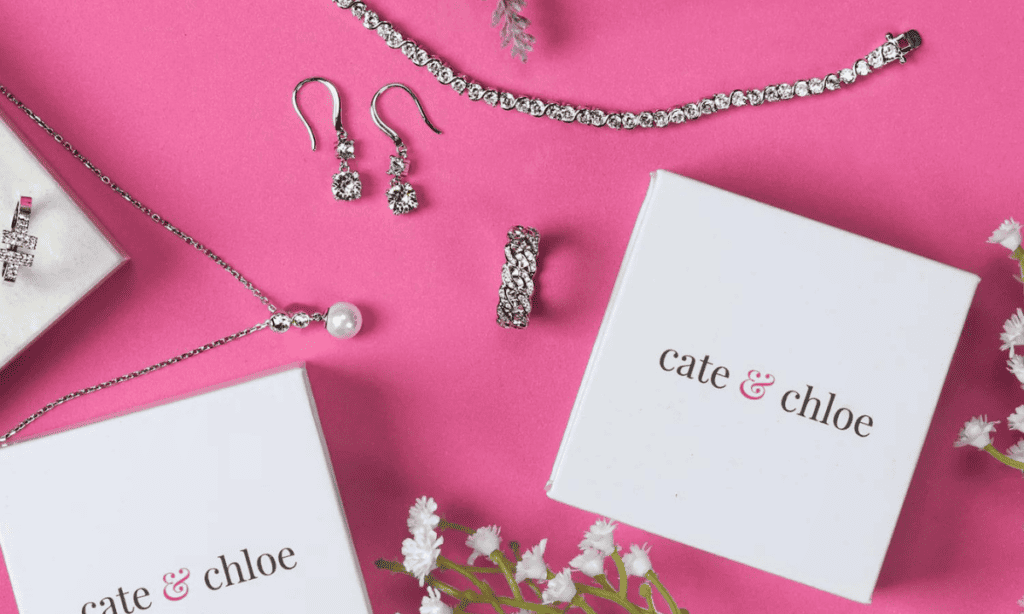 When you join this jewelry subscription box service, you will get between one and three personalized items, based on your preferences and style. Moreover, the company also offers free monthly subscription box gifts like makeup and makeup brushes, scarves, nail polish, etc. There are so many jewelry items to pick from that this must definitely be a girl's digital heaven. Cate & Chloe's website is very well-structured and user-friendly. There are so many collections like bridal, winter wonder, versatile, delicate, Queen, classic, chic, music festival items, statement, modern, etc.
In this jewelry subscription service, you will also find a lot of gifts, credit points, and gift cards. The purpose of the brand's founders was to create and market stylish yet affordable pieces that women of all ages and lifestyles can wear every day. All their accessories are simple, elegant, and versatile and can complete your outfit. Cate & Chloe's Stand Out VIP box contains 1-3 jewelry pieces that are delivered to you every month for only $19.99. The shipping is free of charge. Besides the jewelry, you will also receive one monthly gift. For instance, they are currently providing a free blush powder case from Manna Kadar.
Check the Latest Cate & Chloe Deals
3. Emma & Chloe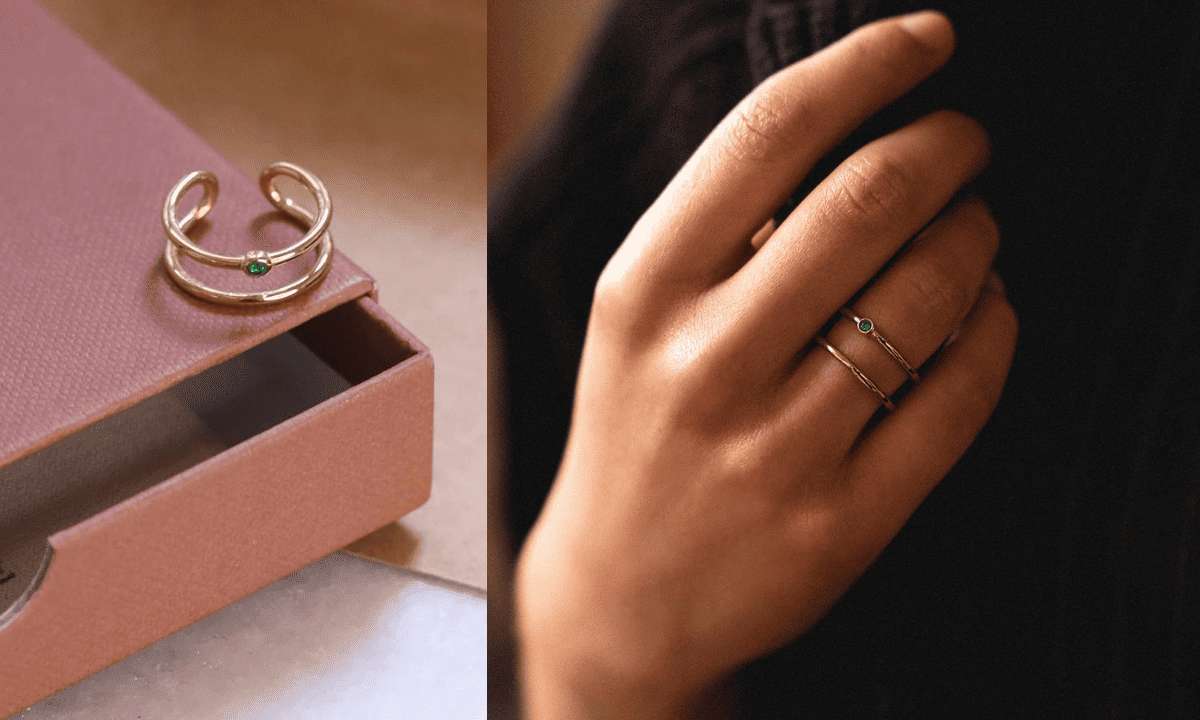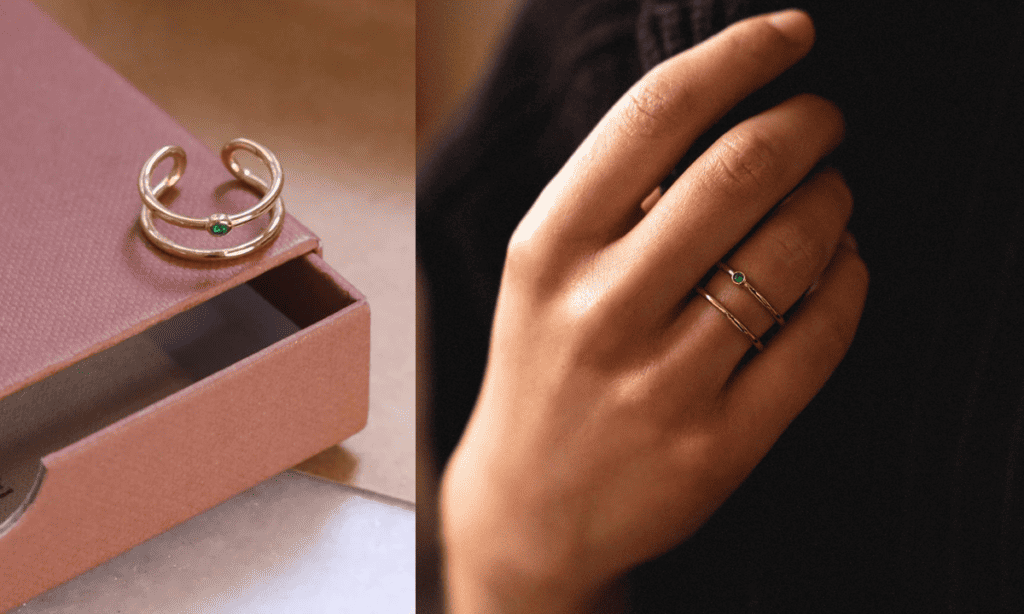 If you decide to become part of Emma & Chloe's client community, you will get a box with a unique jewelry piece each month. According to the company, its products cannot be found or purchased anywhere else in the United States. All the accessories are fashionable and the designs are created by up-and-coming French artists. Furthermore, all the pieces are either dip-coated in silver or plated with gold. These handmade jewelry items are also embellished with semi-precious stones. The company supports independent artisans by selling and promoting their latest trends.
You will find all kinds of beautiful accessories such as necklaces, bracelets, earrings, rings, and more. The domestic shipping is free as long as your order exceeds $50. Here's the list of all their available subscription plans:
One-month subscription – The free bird – $35 per month;
3-month subscription – The Adventurous – $99 (this is the most-wanted plan);
6-month membership – The Daring – $175 (you receive one box for free);
One-year plan – The Passionate – $350 (you receive two boxes for free).
Subscription Steps:
Become a member – log in and create a new account to become a subscriber. Choose a plan and provide your preferences;
Receive and enjoy the items – every month, you will get a new jewelry piece that's valued between $50 and $200;
Share with others – through the company's community, you'll be able to connect with other people and gain access to unique content. The company has created an exclusive group on Facebook.
4. Rocksbox Jewelry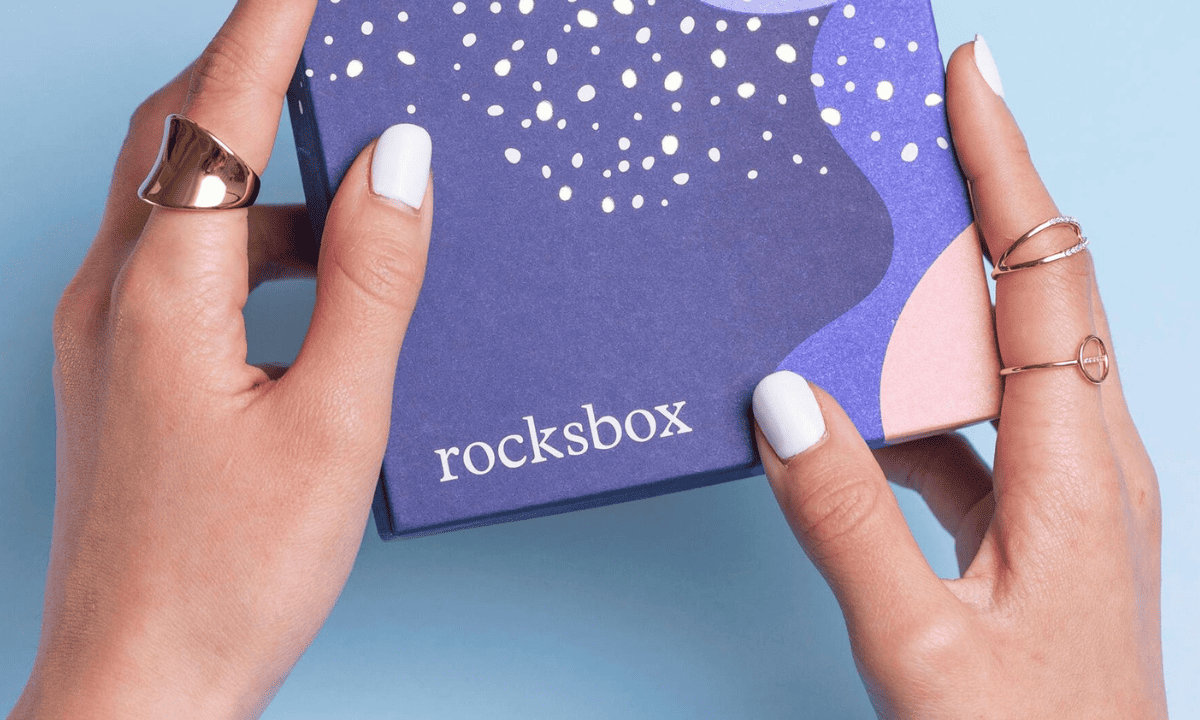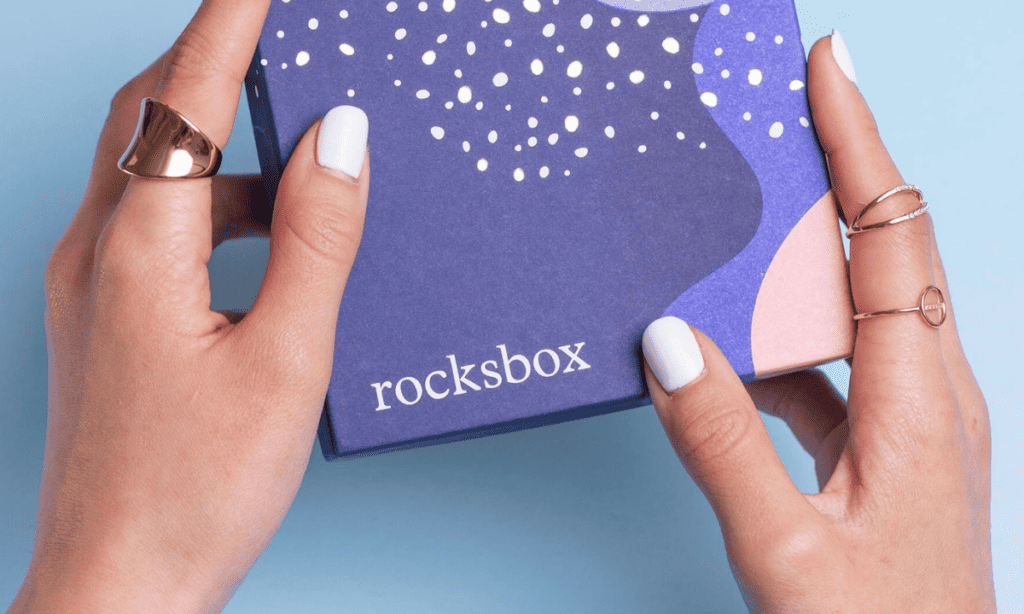 Rocksbox Review: With Rocksbox, you can rent a couple of hand-picked designer jewelry pieces for a pretty affordable monthly fee. You can keep the products and wear them as long as your heart desires. Then, when you're ready to return them, you can swap the items for new ones. You must return the jewelry by placing it in the prepaid envelope that the company offers in all their boxes. These envelopes are specially made for safe shipping. If your budget allows it, you can also purchase some of the items that you like the most.
To subscribe, you must cover a monthly fee of $21. There are promotional codes featured on the website from time to time. Moreover, you will be able to browse through thousands of pieces and exclusive jewelry styles. Clients can create their own Wishlists. The company has dedicated stylists who, based on your preferences, will come up with a suitable set for you. The fun and the interesting part is the platform's survey that you should start with. There are questions regarding your style and personal taste in terms of fabrics and metal tone, necklace styles, bracelet designs, earring models that you prefer to wear, ring patterns, and preferred trends.
5. Earfleek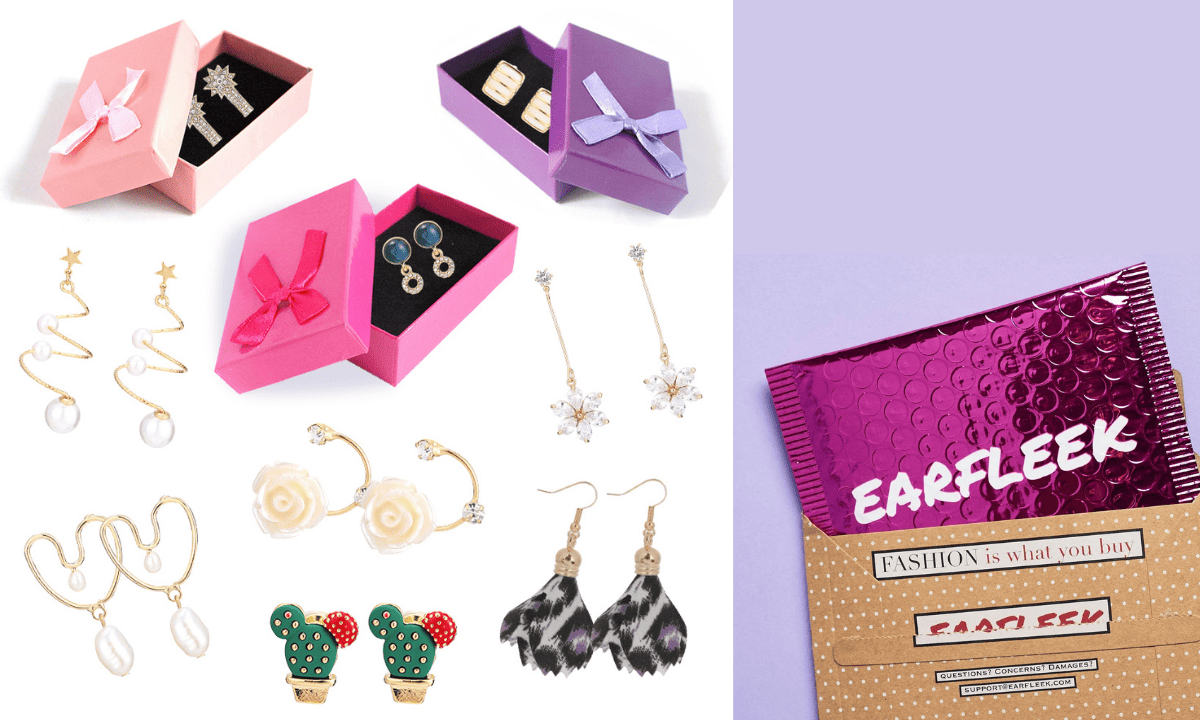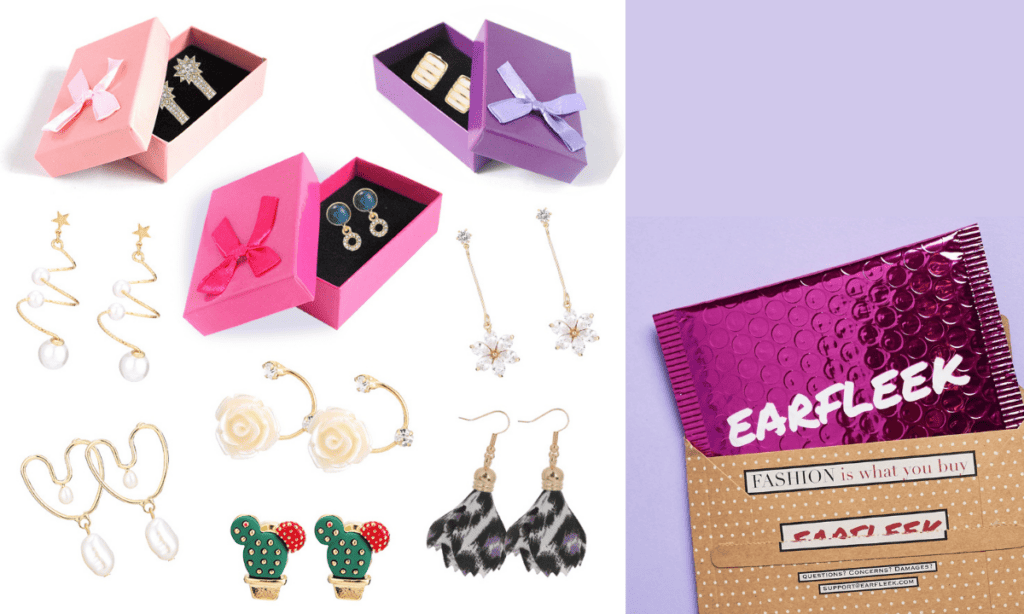 With this jewelry subscription box, you will receive only nickel-free earrings. This subscription box is meant for those who love to wear trendy earrings and feel like this type of jewelry suits their personality. From hoops to studs and dangling pieces of jewelry, there's nothing you cannot find on Earfleek.
Subscribers can select one of the following styles:
Boho babe – bohemian pieces of jewelry with hippie influences as well as modern and unconventional earrings;
Minimalist but groovy style – for those who're into simplistic fashion items; sleek, unfussy, and clean designs;
Silly and fun – playful earring designs in the shape of all kinds of funny things like owls, pineapples, stars, umbrellas, elephants, flowers, kittens, and more.
Regarding their pricing plans, regardless of the style, you decide to choose, the monthly cost of this subscription service will be $3.17 so it's a very affordable alternative. Besides the three styles mentioned above, there's also a fourth possibility that's called "I don't give a hoot." With this option, you will receive a mix of all the other three styles so you won't have to choose for yourself. Instead, you will be surprised with one new pair of earrings every month.
6. Switch Jewelry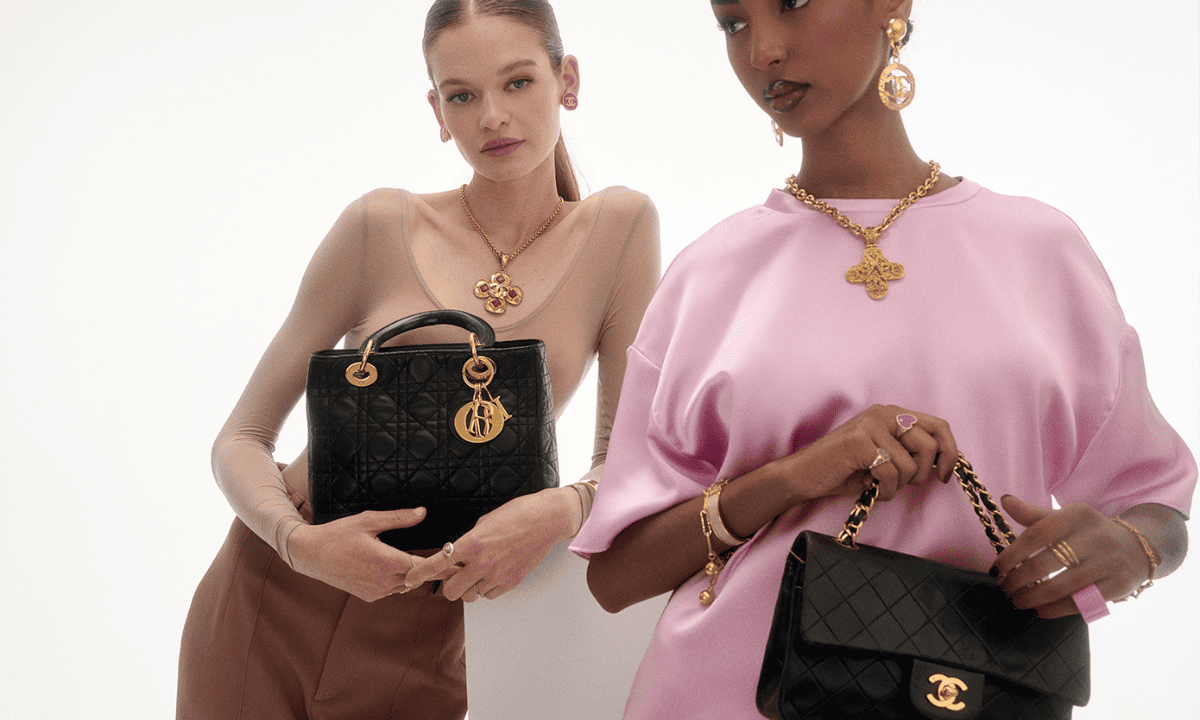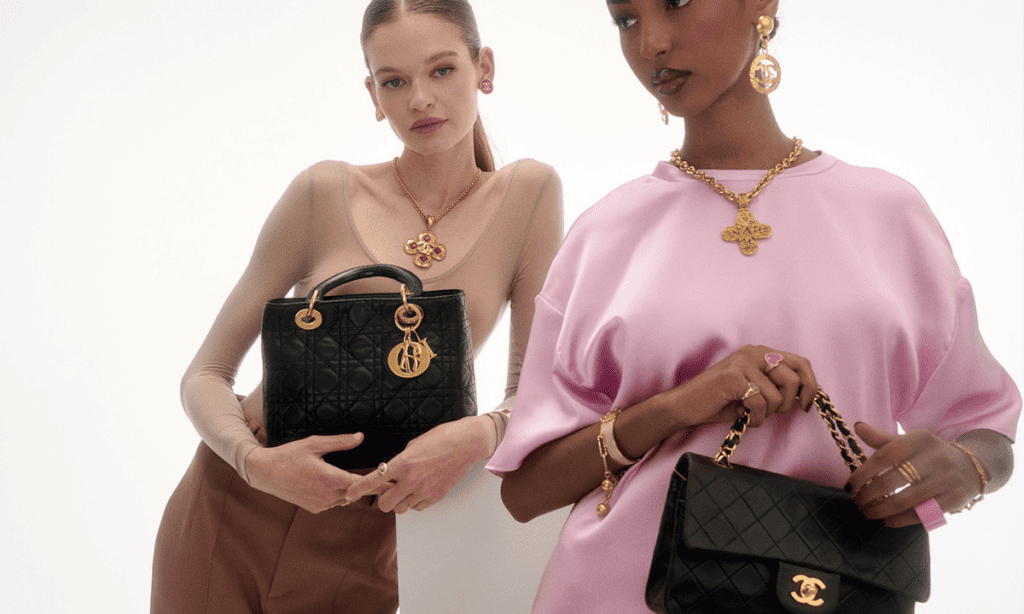 On the Switch website, you will find a wide array of jewelry items, categorized by collection, designer, availability, and occasion. In fact, Switch's platform is one of the best I've seen in terms of navigability, structure, menu placement, and helpful filters. All these elements will truly help clients pick just the product they're looking for. Still, this subscription service works quite differently than most of the other options on the market. As a subscriber, you will be able to purchase premium pieces made by world-renown brands such as Chanel, Hermes, Christian Dior, or Gucci.
If your budget doesn't allow you to buy these items, you can easily choose to borrow them instead. Switch Jewelry box also works that way. For instance, there's this gorgeous Gucci brooch made with red crystals that costs $280 but you can borrow it for only $29 per month. All you have to do to become a member is to sign in or create a new account using your Facebook login details. As a client, you will gain access to all the company's couture brands, iconic fashion house jewelry, and emerging designers. Here are the three steps you must follow:
Become a subscriber – there are 3 available membership plans that start at $29 per month. You can adjust your preferences or cancel the plan at any time;
Style your look – clients receive their first box in just a couple of days since the order. A very nice perk that the company offers is $10 of credit for every month that you remain a subscriber. So, at some point, you will be able to purchase or borrow an incredible piece just with credit money;
Switch – you are free to exchange jewelry items as often as you want. The shipping is both free and unlimited. Once you're ready to wear something new, all that's left to do is to send the products you already have back to Switch along with its pre-paid label. Then, you can choose another item that the company will deliver at your doorstep.
Switch Pricing Plans
Gold – one item at a time ($29 per month);
Platinum – two jewelry pieces at once ($49 per month);
Black – three items in the same shipping ($69 per month).
7. Bezel Box
Bezel Box is a monthly jewelry subscription box that's meant to embellish the outfit of any girl. To sign up, you must first pick your personal style. You will be able to choose from the following alternatives:
Boho – if you're a free spirit who loves eclectic pieces, then this is the perfect choice for you. It comes with colorful and vibrant jewelry that will make you shine instantly. The products are a combination of materials and textures. They are made from wood, metals, and fringe. This subscription plan costs $34.99 per month;
Icon – all the accessories included in this package are timeless and create the perfect classic look. The package usually contains layered and longer necklaces, some of them with statement pendants. Sometimes, there are also shorter necklaces that embellish your neckline in a graceful manner. The price of this subscription plan is $34.99;
Cosmo – for those of you who are girly girls, the Cosmo package is the ideal choice. It will help you make a statement through your accessories. The boxes contain things such as large necklaces that feature bold stones or sparkly gems. Obviously, these products will be completed by matching bracelets or earrings. You will achieve a very fashion-forward look. For this subscription, members must pay $34.99;
Bezel Box Mini – if you like to experience often while also finding out the newest trends, then you should definitely order the mini box which is nothing less than the smaller version of the regular Bezel Box membership. In fact, this particular subscription plan is a mix of all the other boxes. It works great for both casual and contemporary outfits. The cost of this plan is $24.99.
Each box contains between 4 and 5 items and all the accessories that the company delivers are gorgeous high-quality boutique products.
8. Elevated Faith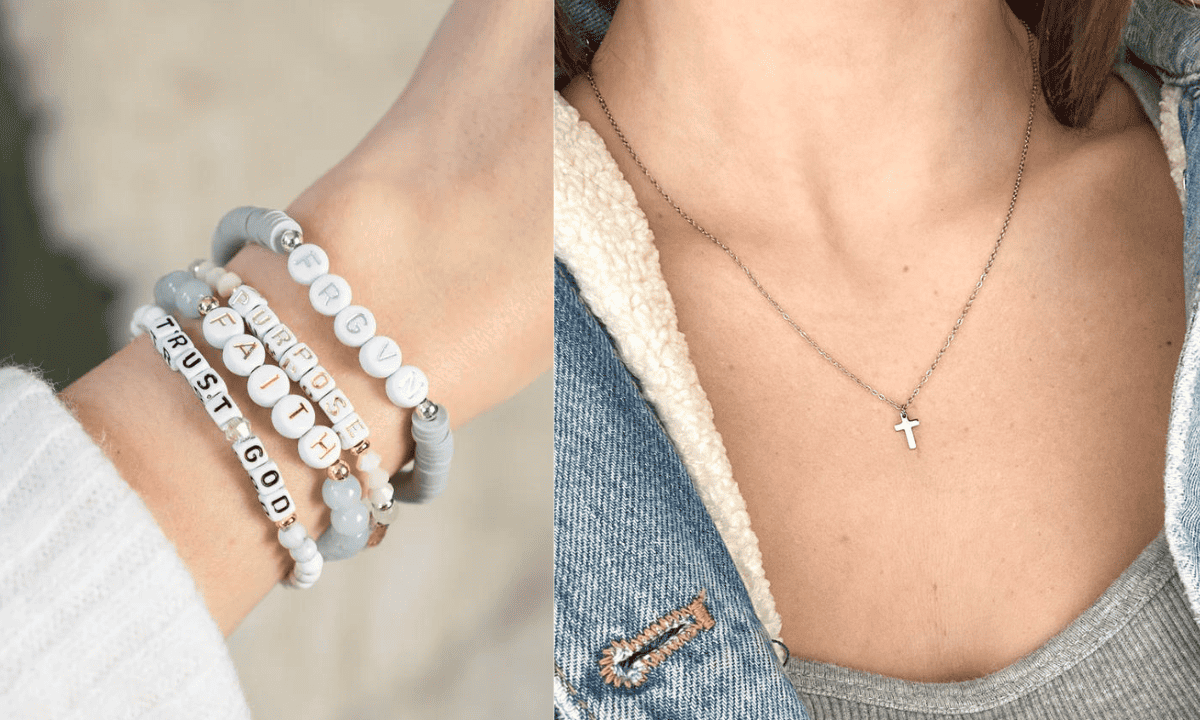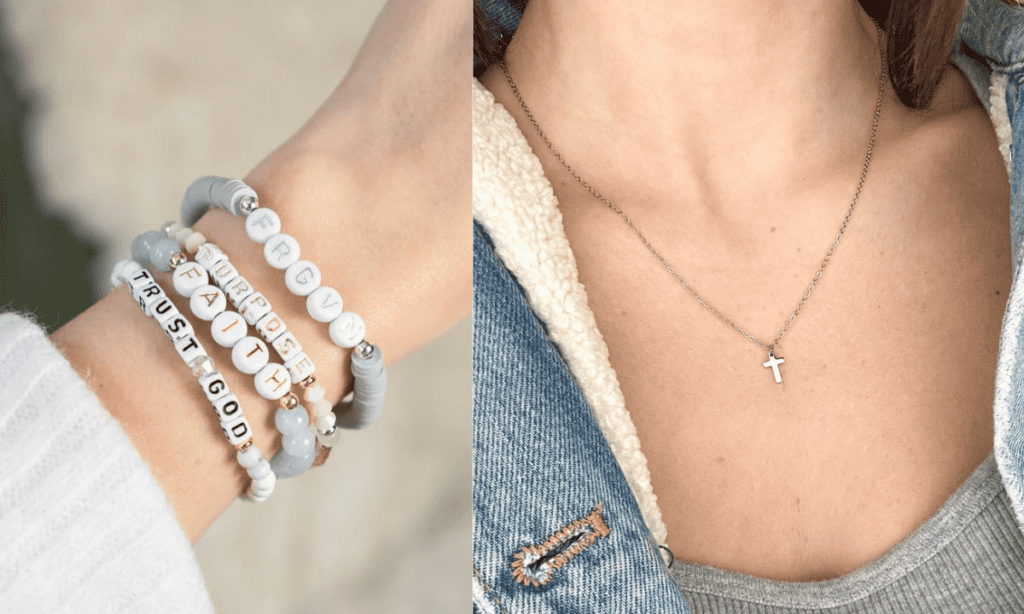 Elevated Faith, as the name suggests, is a jewelry subscription that's based on faith. Every single month, you will get a box with two exclusive bracelets that are placed in a suede bag. All suede bags are limited editions. Besides accessories such as bracelets and rings, you will also find apparel on this website: T-shirts, hoodies, and tank tops. The purpose of this entire business is to open doors and start faith-related conversations. The company donates a part of each sale to charities and many other organizations all over the globe that works to improve people's lives.
Each jewelry item you will receive from the Elevated Faith has its own unique meaning. For orders that exceed the value of $49, the shipping is free of charge. Also, for every order of more than $10, you will get a free bracelet. At the time being, there's a promotional code offered on the website. If you use it at checkout, you will receive one free item for every three purchased products. The company has a very well-thought return and refund policy.
There are two available options published on their website:
You can opt for the Elevated Faith monthly program for which you must pay $19.99 per month to become a subscriber. You'll receive a couple of hand-picked bracelets;
You can choose to join the Elevated Faith Sticker club for which you must pay $6 per month to receive 4 or 5 vinyl sticker with unique fonts and messages.
9. My Jewelry Box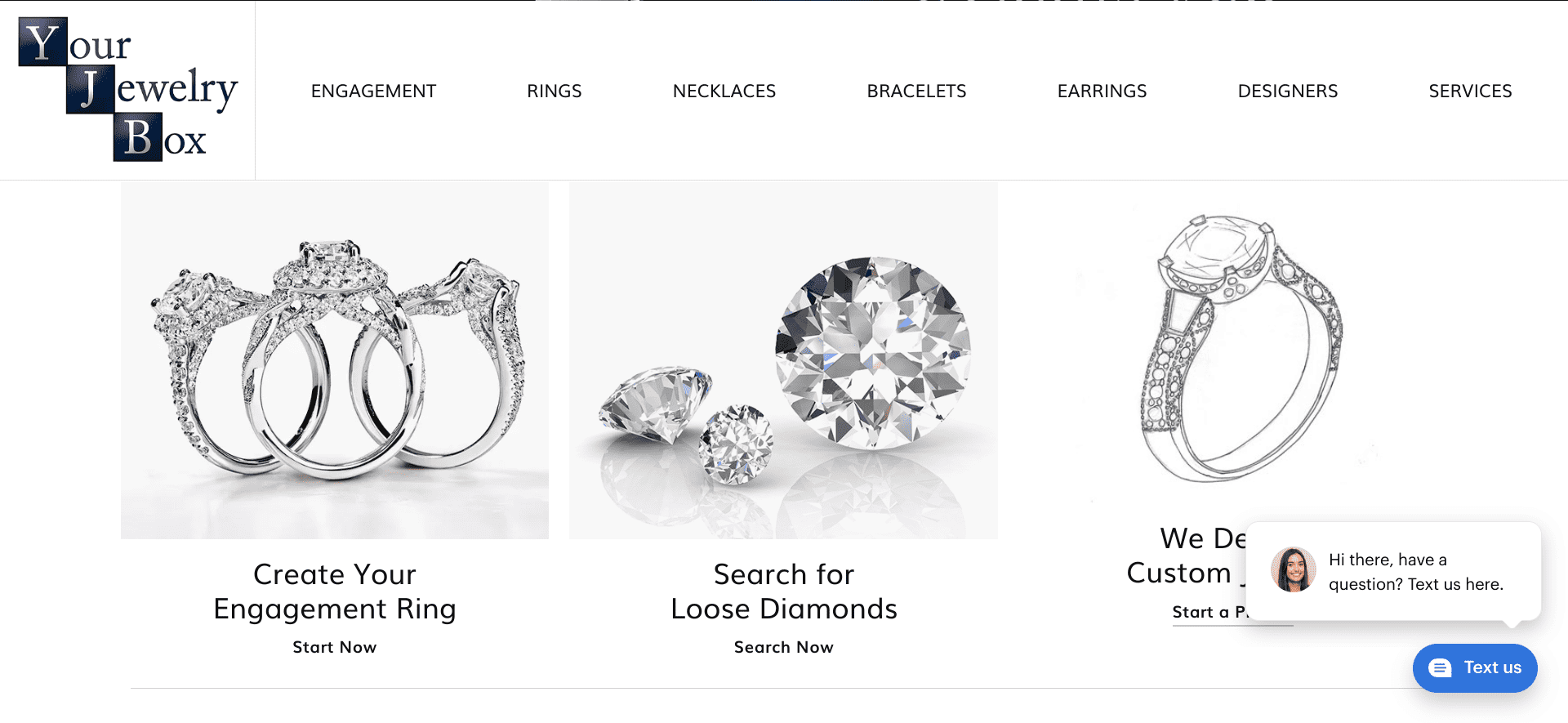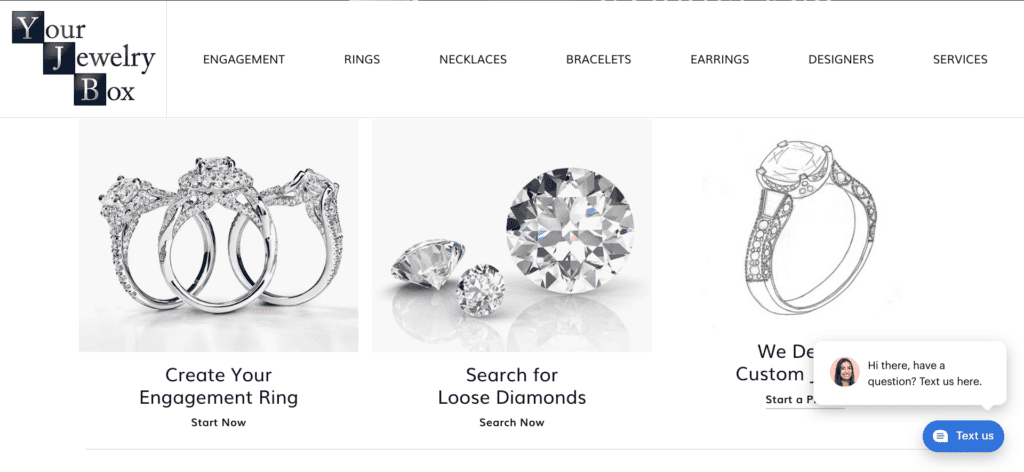 When it comes to online jewelry stores that specialize in gemstone and diamond accessories, My Jewelry Box is one of the leading players on the market. You can use their items for yourself or you can offer them as gifts at anniversaries, birthdays, and other special occasions. There's a signature gift packaging and the company applies a return policy that's risk-free. Each client can use this policy 30 different times.
Once you sign up and become a member of this subscription program, you will receive a monthly box that contains between three and five different products. All of them are high-quality and fashionable jewelry. The monthly subscription fee is $29. The box will arrive on the first day of every month but clients must place the order no later than the 28th of the current month to get the next box. Also, as a member, you are free to cancel your subscription anytime you want.
If you're into trendy boutique accessories, then this subscription box could be your match. Every box comes with three different items. The package is a combination of rings, earrings, necklaces, and bracelets. You'll have to sign up on the Glamour Jewelry Box website to become a subscriber and receive their monthly package right at your doorstep. Clients receive a notification via email every time the company ships their packages. According to the brand's representatives, the total retail value of the products included in the box is situated at over $75 per month.
With Glamour Jewelry Box, you will enjoy wearing high-quality pieces while also benefiting from a convenient service. There are two available pricing plans to choose from:
One-month subscription plan – costs $29.95 plus an additional shipping fee of $3 per box. It renews automatically every month;
Three-month subscription plan – costs $28.29 plus the same shipping fee as mentioned for the previous plan. The auto-renewal is quarterly this time. Long-time commitment subscribers will also receive a VIP discount of 25% for all the accessories in the company's online shop.
11. Jewelry Tree Monthly Club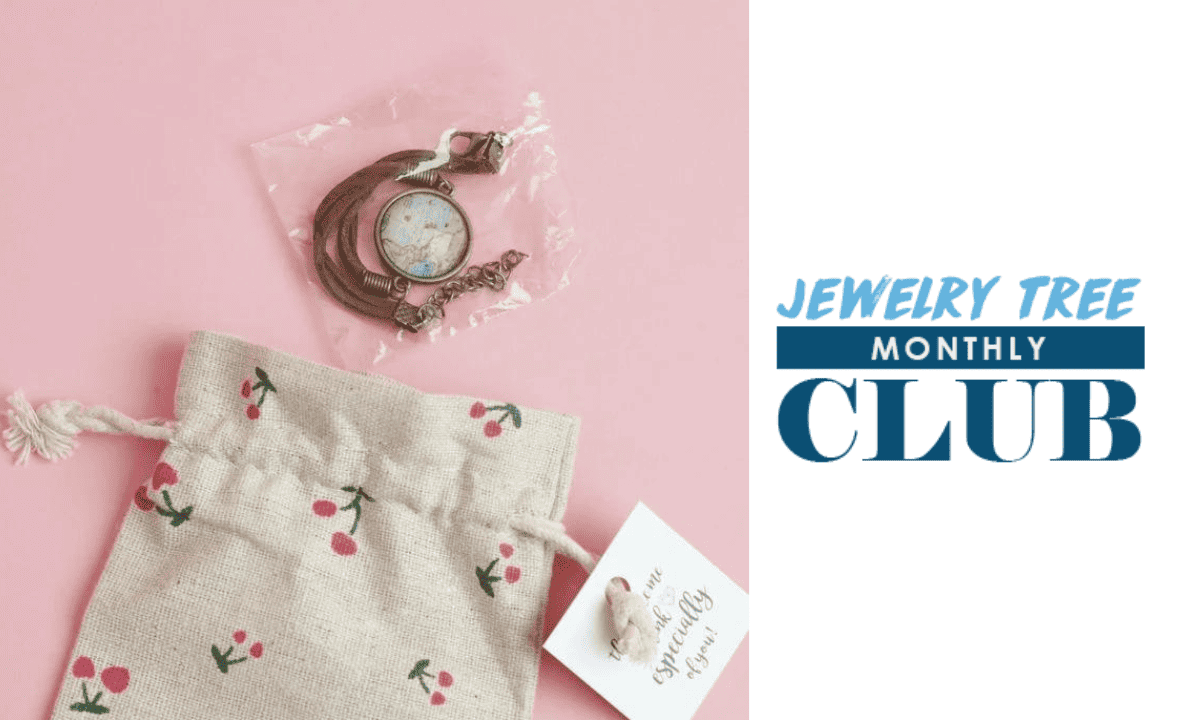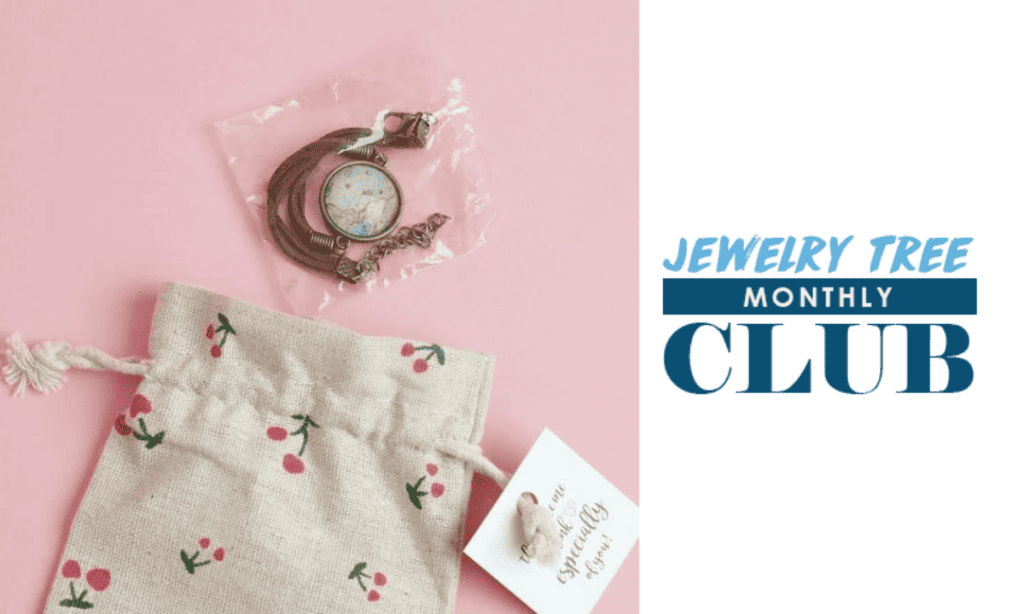 Jewelry Tree is one of the most affordable subscription boxes out there. Every month, you will be able to enjoy a great gift bag that comes with a fun piece of accessory inside. For only $6.49 per month, you can enjoy a wonderful surprise in the form of a fun jewelry item or you can gift it to your best friend. The items you will get will vary in type and style, from one month to the other. The company delivers all kinds of products like watches, earrings, bracelets, and necklaces.
The monthly subscription plan will renew automatically, and, once in a while, the company provides discount coupons and even gift codes. You must first create an account in order to become a subscriber, and then, every time you want to check the website, all that's left to do is log in.
12. mintMONGOOSE Jewelry Subscription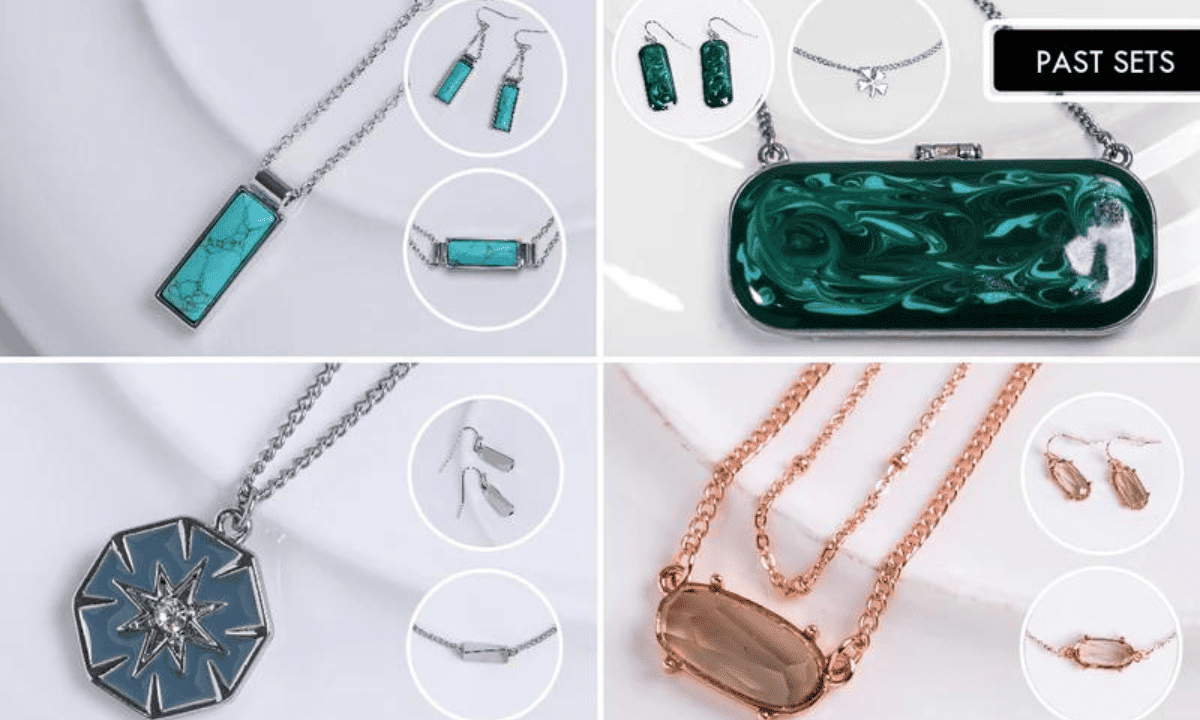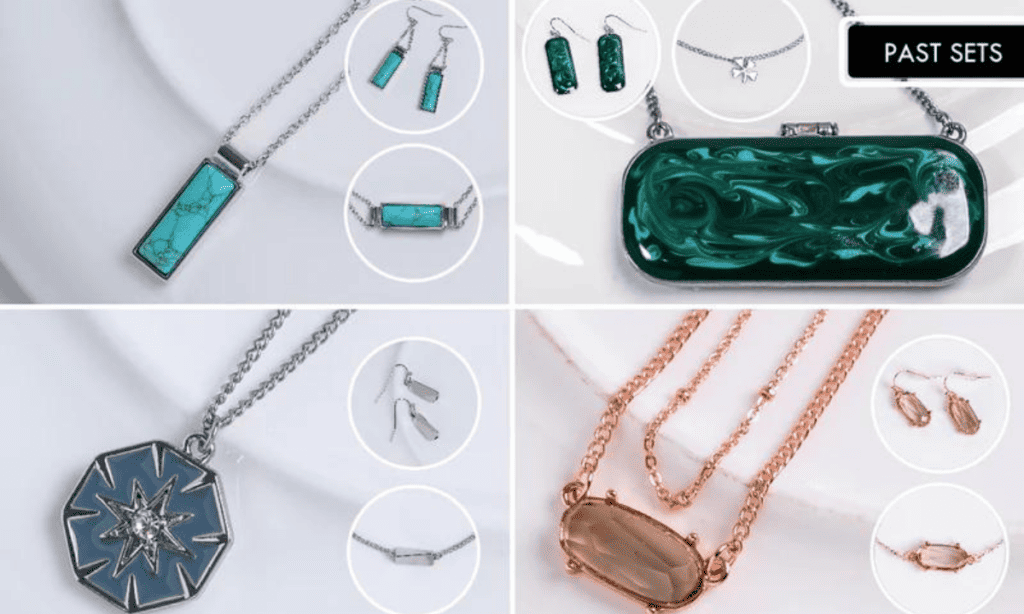 The mintMONGOOSE jewelry items are a must-have if you're into fashion and lovely accessories. You can choose from a wide variety of pieces made of silver, gold, or rose gold. What's even better is the fact that these products come at a very affordable price. All these trendy and stylish jewelry will be delivered at your doorstep every month. According to the company, they're treating all their clients as VIPs. By that, I am referring to certain perks. For instance, all products will come wrapped in adorable packaging. Also, as a client, you will receive a gift once every 3 months.
One of the main advantages of this subscription is its flexibility. There's no long-term commitment which means subscribers can skip a month or cancel their membership in just a couple of clicks. Then, anytime you want, you are able to reactive your account. mintMONGOOSE is a convenient, time-saving, and affordable alternative to store-bought jewelry. From necklaces to bracelets and earrings, there are plenty of fantastic pieces you can find on this website.
There are two available pricing/subscription options:
The standard mintMONGOOSE subscription – $12 per month (you'll get 3 boutique jewelry pieces of customized jewelry);
mintMONGOOSE Black subscription – $22.99 per month (clients receive 4 high-quality customized jewelry items, 2 fun accessories like beauty products, socks, or hygiene products, and the shipping is free all over the United States).
13. Jewel Bits
With the Jewel Bits subscription, you can receive between 2 and 4 jewelry pieces every month. You can personalize the products you want to order to match your style. Moreover, you are able to cancel the subscription anytime you want. Once you create an account, you must follow a simple three-step process: choose a style, select your desired plan, and enjoy wearing these accessories. Clients can easily change or modify their initially-selected styles as often as they like:
Pick your style – there are three available options: Boho Babe (interesting textures, earthy pieces, edgy accents), Glam Gal (sparkling jewelry, lavish pieces), Classic Chic ( elegant and romantic accessories);
Choose a pricing plan – there are three pricing options ($33-$39) but we'll discuss them below.
Jewel Bits' subscription plans are as follows:
One-month membership – costs $39. The shipping is free and you can cancel the subscription anytime you want;
Three-month subscription – costs $37 per month. The shipping is still free but you can cancel the membership only after the three-month period has ended;
Six-month subscription – costs $33 per month. You'll benefit from free shipping just like in the case of the other two options but there's a longer commitment.
14. JennyBelle Designs Earrings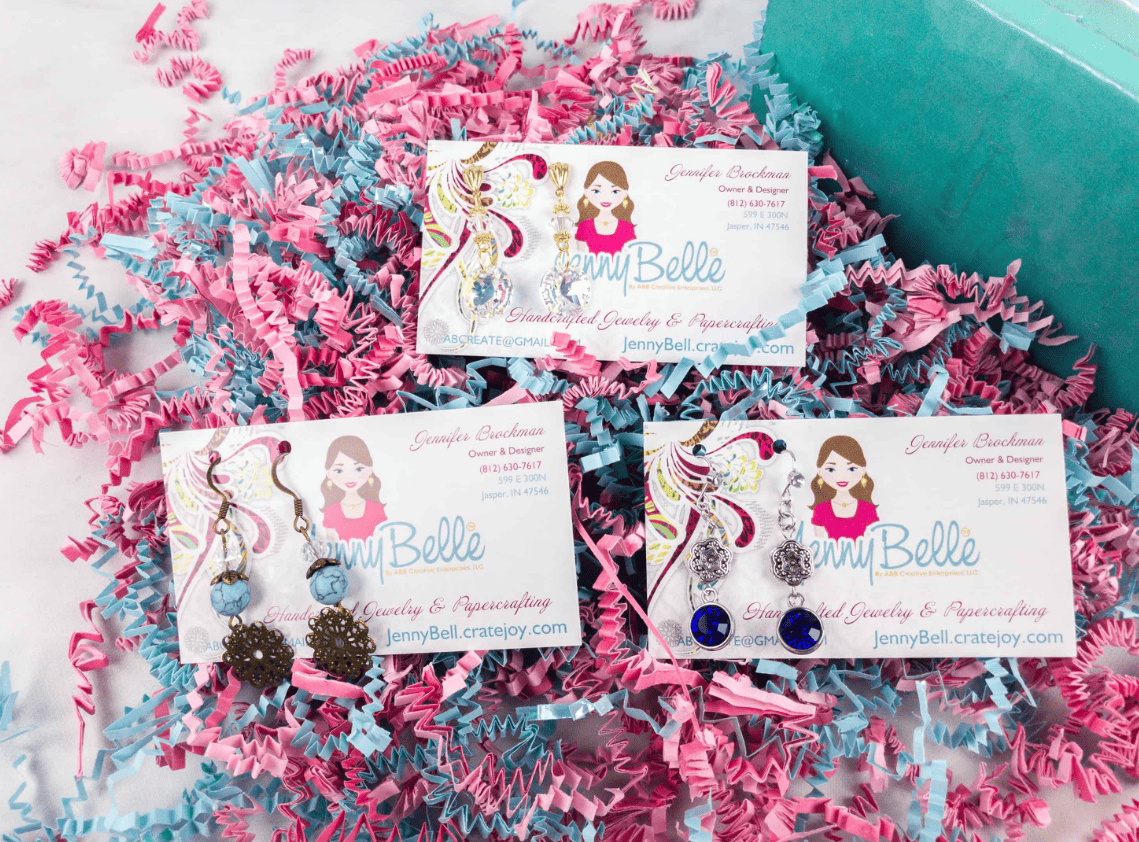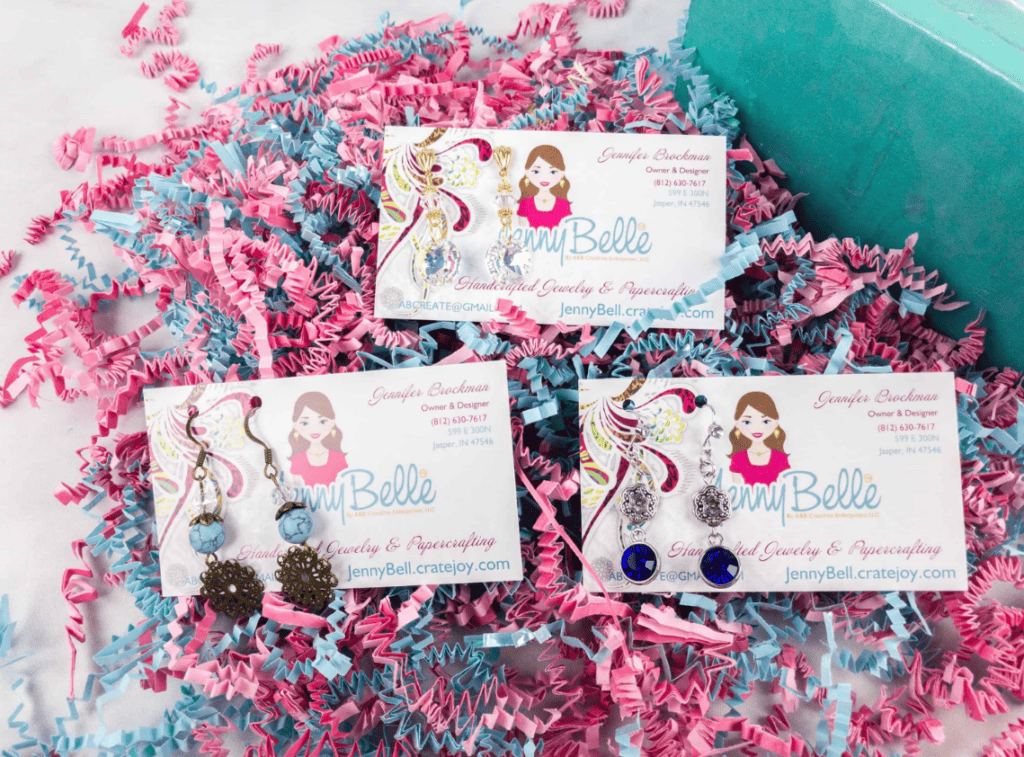 With the JennyBelle membership, you will receive uniquely designed earrings which are truly original and amazing. Every single month, subscribers get one pair of great earrings and sometimes these accessories are made of silver or plated with gold. Also, they come embellished with Swarovski crystals or gemstones. All the items are handcrafted and they feature beautiful models so you can easily offer them as a gift to a loved one.
The price of this subscription is $9.95 per month. All you have to do is sign up, create a new account on the brand's website, choose your preferences in terms of style, and enjoy the accessories and greeting cards that you'll receive. There's even the possibility to send the owner a message in which you tell her exactly how you want to personalize your earrings. You can tell her aspects related to materials, colors, shapes, and more.
In terms of price options, there are three available subscriptions:
$9.95 per month – you'll get one pair of earrings;
$12.95 per month – you will receive a greeting card and one pair of earrings;
$19.95 per month – subscribers get 3 greeting cards.
The Best Jewelry Subscription Boxes to Consider – Bottom Line
Now, that you know all these great jewelry subscription services, it's time for you to really shine and stand out through your properly-accessorized outfits.
I don't know about you and what you will do, but I personally cannot decide which one of these alternatives is the best one because all of them offer unique, fun, cool, trendy, and stylish designs. Hopefully, you'll find the subscription box that suits your personality the best.
FAQs About Jewelry Boxes
Are jewelry subscription boxes worth it?
If you love getting surprised with jewelry that you haven't already seen, then jewelry subscription boxes are truly worth it. They mostly include hand made jewelry from artisians that are just being discovered, so you will definitely be unique with the pieces they send you out.
Does Birchbox offer jewelry too?
In the past, Birchbox had included samples of jewelry, however, nowadays they mostly send samples of makeup, hair or body care.
Is Pura Vida a great jewelry surprise box?
Yes. If you love wearing minimalistic jewelry, then this is the perfect subscription box service for you. Pura Vida mostly features jewelry that reminds wearers of sunny and beach days, but their jewelry also consists of geometrically shaped items with lots of rhinestones that are trendy and easy to combine.
Is Rockbox a great way to experiment with jewelry?
Yes. Before subscribing to Rockbox you will fill a form about your preferred style, so they will send you pieces that you are totally comfortable to wear, plus, their jewelry is exclusively made in the USA and their designers provide unique accessories that you love.
Further Reading on Jewelry, Fashion, and Beauty Subscription Boxes