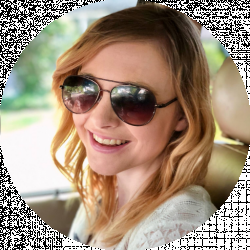 Latest posts by Erin Jamieson
(see all)
At the beginning of the pandemic, I helped my mother take care of my baby niece. Her parents were working in high-risk industries, and there was a lot of uncertainty about what the next months would bring.
During that time, baby formula and food sometimes were hard to find- and now, two years later, other places in the country are struggling with baby food shortages too. Add to that lawsuits against some of the most popular brands like Gerber and it's safe to say that finding the best baby food isn't easy.
On top of that? While many families would love to buy premium organic baby food, it either isn't available at their local grocery store or Target, or it's not affordable. Maybe that's why, now that I have a toddler niece and a baby nephew, I'm more curious than ever about whether a baby food subscription is worth it.
For this review, I undertook a sweeping comparison of different baby food subscription services on the market. From baby formula to food for a 6-month-old to toddler and baby food and even weaning food, let's just say there are many options.
Here's how I found the best- keeping my own family in mind.
Bottom Line Up Front Summary
Baby food subscription services are only growing in number- but that doesn't mean I'd sign up for all of them. To narrow down which baby food subscriptions are worth it, I consider food variety, quality, dietary needs, and safety.
These baby food subscriptions include options for everything from formula to finger food- and many even pose personal questions or quiz you to find the best match possible. 
That said, if I had to recommend just one of these baby food subscriptions, it would be Nurture Life. It's one of the few, high-quality baby food delivery services that offer food for all ages, with finger meals, smoothies, and snacks. I love how every meal is nutritionally balanced and packed with high-quality ingredients- while still sticking to classic recipes that most picky babies, toddlers, and kids will like. 
My Top Picks
My Selection Criteria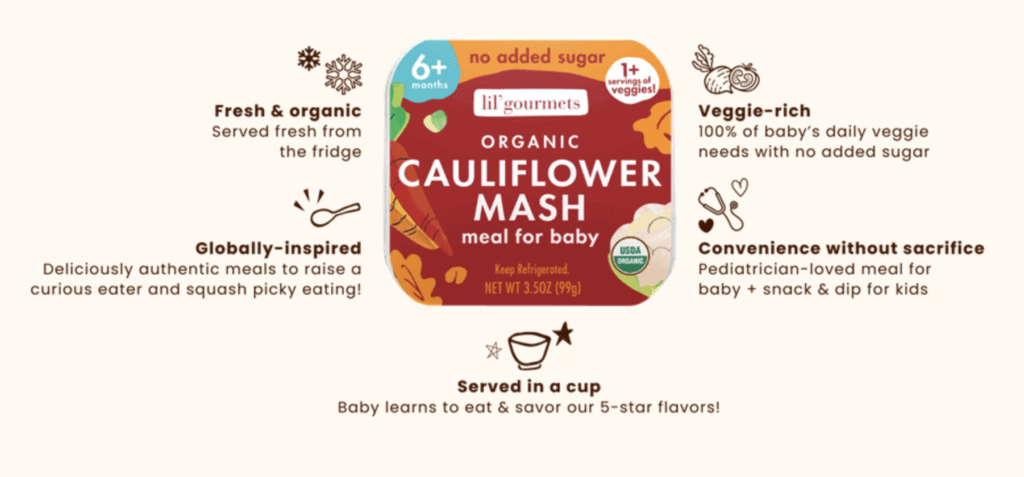 Before I show you my favorite baby food subscriptions on the market right now, I need to explain the choices behind my decisions. While there were more baby food services than I expected, I only wanted to select options that I'd recommend to my own family.
That took some research- and some direct comparison. Here's what was most important to me- and how you can find a baby food subscription for your family.
Pricing
Cheap baby food isn't better- and you should expect to pay a little more for a subscription because you're also paying for the service. But I also want to include more affordable options.
For that reason, I selected subscriptions with a range of prices- but the number one important thing here is that the pricing is clear and transparent. I did my best, finally, to balance the overall value of the food and services and compare it with the quoted price.
Also, considered in that pricing? Any perks, like discounts or free samples.
Subscription Flexibility
Even for regular subscriptions, I like flexibility. But I know for new parents, the ability to pause, cancel and skip at almost any time is extremely important. I know how quickly a baby and toddler's tastes can change, or needs- and I wanted to showcase subscriptions that respect that.
Food Type
Believe it or not, no matter what stage your baby is at, there's probably a subscription for them. To showcase the needs of all parents, I looked for subscriptions offering formula, weaning food, and finger food. Special attention went to subscriptions that offered a range of baby food- you can stick with it from baby to toddler, or use it to feed other young ones.
Food Quality/ Transparency
This is where some baby food subscriptions stand out, especially in comparison to the essentials you find at your local Target. Organic, fresh ingredients and little to no added preservatives are some of the most remarkable options.
But even more important to me? Transparency. I selected baby food subscriptions that include information, insight, and details about their quality, ingredients, and other important information. I wanted to select food that is nutritious and will support your baby's needs.
Especially with the recent concerns about food safety (such as the Gerber lawsuit), I think it's worth it, if you can, to spend a little more for higher quality. Even more conventional options, however, are better than companies that don't have a solid vision for their food quality.
Food Variety
My niece and nephew have particular things they love and don't love. And when I was a toddler, I went through a phase where I'd oddly only eat baked beans and bananas.
Truth is, toddlers and babies have to change taste buds- and it's good to have a healthy and balanced but wide selection to choose from. I took different dietary needs, taste buds, and overall variety into consideration for selecting the most practical and interesting baby food subscription options.
Overall Reputation
This is one step that's easy to skip- but important to determine if a subscription is worth it. Aside from my research and impressions, I also surveyed real customer reviews, company history, and reputation. By looking into praises and complaints, I got a sense of how to narrow down my list to trustworthy subscription services.
Top Baby Food Subscriptions: My Picks
Popular companies I'm not including, due to lack of overall quality, poor reviews, complaints, and independent testing for unsafe ingredients include Yumi, Tiny Organics, Little Spoon, Sprouts Organics, and Cerebelly.
While these companies all have some great things to offer, I felt uncomfortable with their overall reputation, especially for shipping, delivery, and responsive customer service. In other words, my short list I see as an alternative to some of these popular subscription companies.
Little Oak Company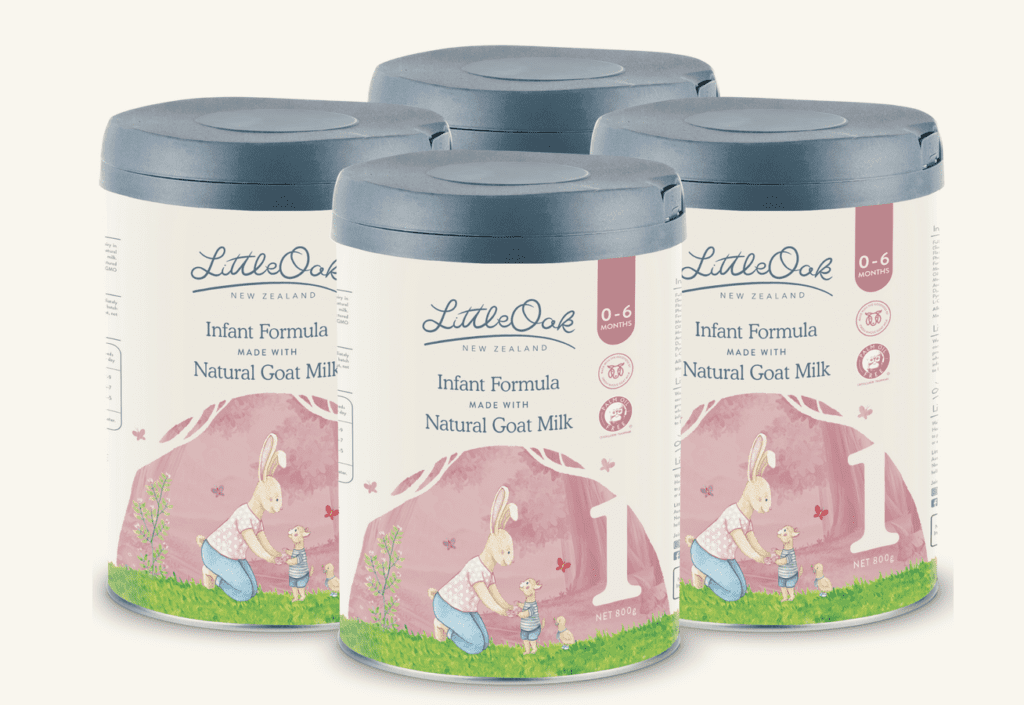 There aren't many options for formula delivery services, which is a shame, but Little Oak Company is truly exceptional. Based in New Zealand but with shipping available in the United States, this company is a great alternative to the typical formula.
Unlike most formulas on the market, it's palm oil free. That's a big deal. Why? Palm oil is often used as a cheap oil substitute, but is associated with health risks and environmental harm. But even if you're not concerned about palm oil, there's also the fact that all their formulas are made with all-natural ingredients.
I've left the biggest surprise for last: it's made with whole goat's milk. This is a great option because it's gentler on the digestive tract. And as someone who had to be placed on milk alternative formula as a baby myself, I love it for all the babies who have regular milk allergies (goat's milk allergies are less common).
Products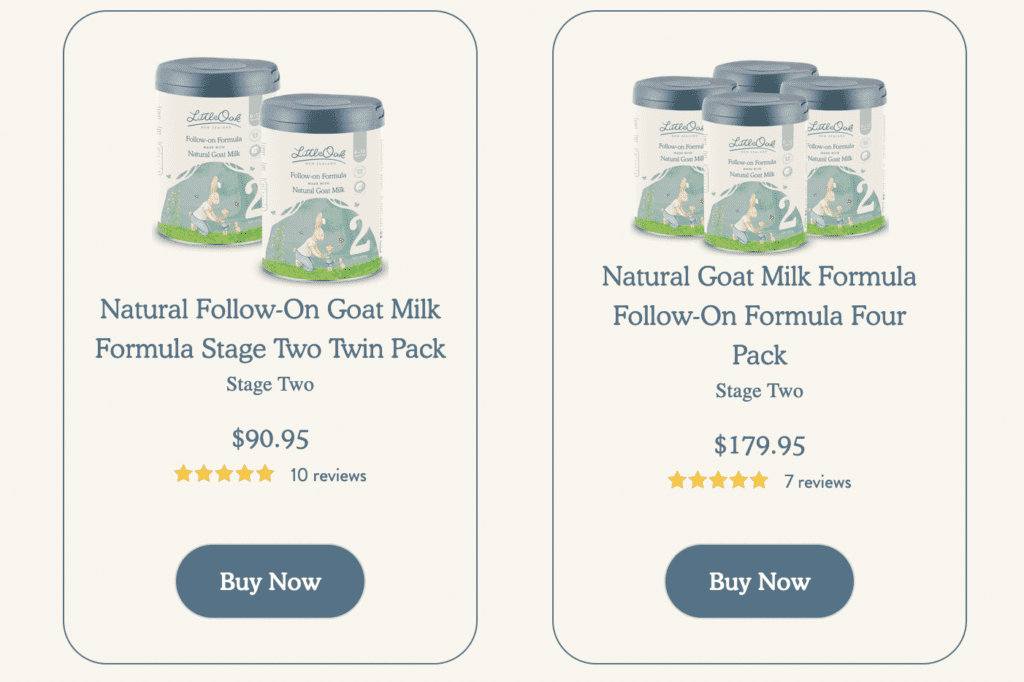 Their formulas cover infants, babies, and toddlers and are all packed with whole goat's milk, Vitamin K, B5, Biotin, Choline, Manganese, and Selenium, and GMO-free ingredients. Stage One, Two, and Three formulas are similar, with different levels of nutrients to satisfy the age of your baby or toddler.
Subscription Options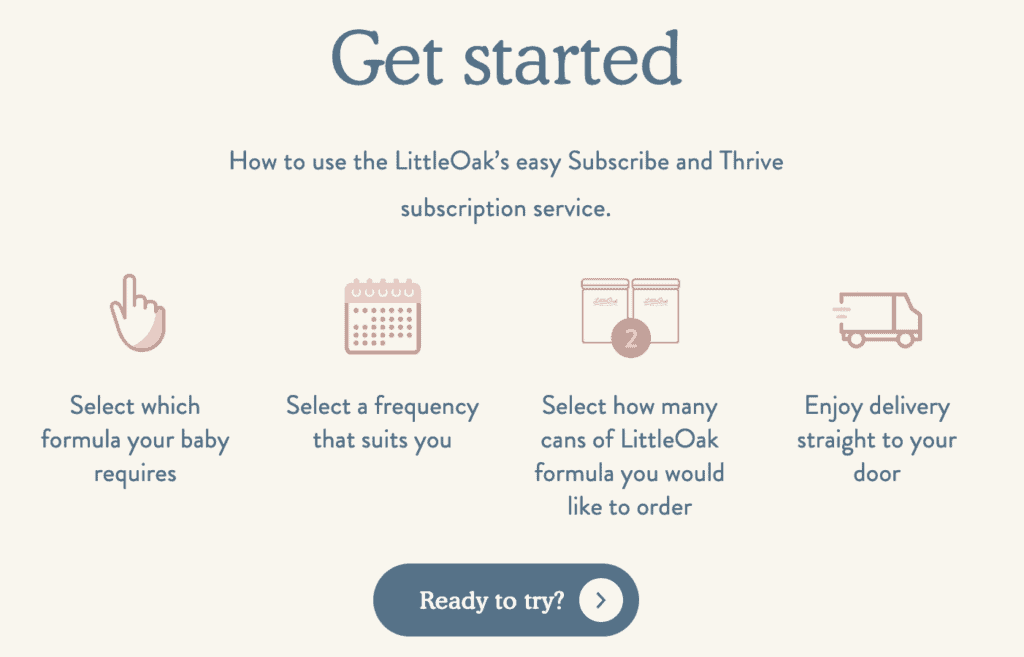 Something that I like about buying from Little Oak is that you can buy a la carte or subscribe and save 5 percent with each order. Subscriptions are monthly, and you have total control over how much formula you want, what kind of formula, and when you want to stop your subscription. ViewPlans Here.
Pros
Whole Goat's Milk with Natural Prebiotics
Palm-Oil Free
The formula for Toddlers, Babies, Infants
All-natural Ingredients
Cons
Not All Babies Will Like Goat's Milk
Expensive
Tiny Human Food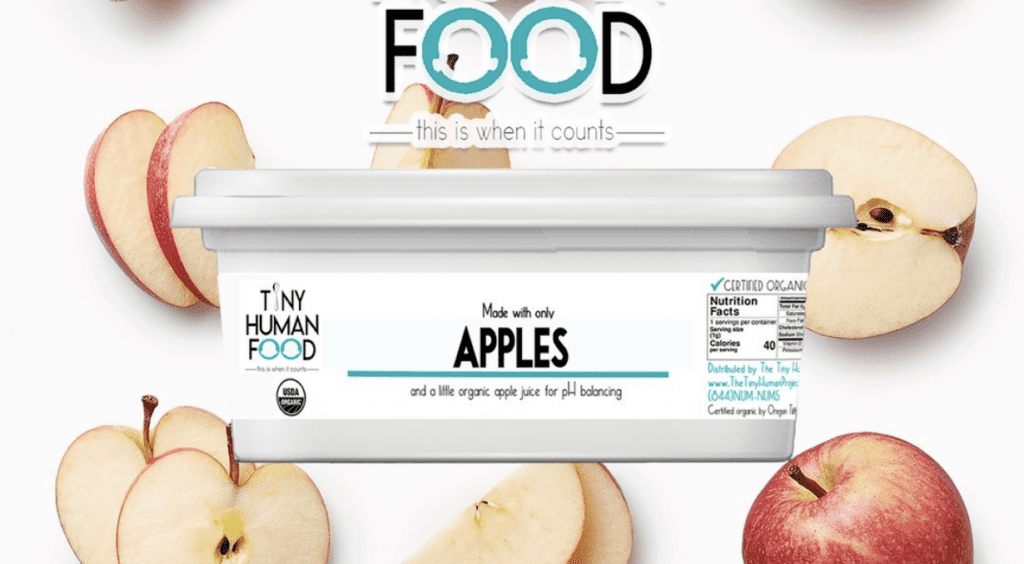 A lifesaver when I was helping my mother take care of my niece in 2020? Fruit and vegetable blends. My niece's favorite flavors were anything to do with sweet potatoes and carrots- not to mention mixed berries.
But she grew to love her veggies too, and the packages we had made them convenient for snacks, no matter how busy the day got. The problem? It was challenging to find high-quality blends. That's where a delivery service like Tiny Human Food comes in.
Tiny Human Food is all certified USDA organic and third-party tested for safety. The founder of the company created these options for the same reason I was happy to find them: to improve the quality of quick and convenient baby food. It's great weaning food for anyone on the go- and you won't have to worry about GMO ingredients or, more importantly, toxic metals.
Products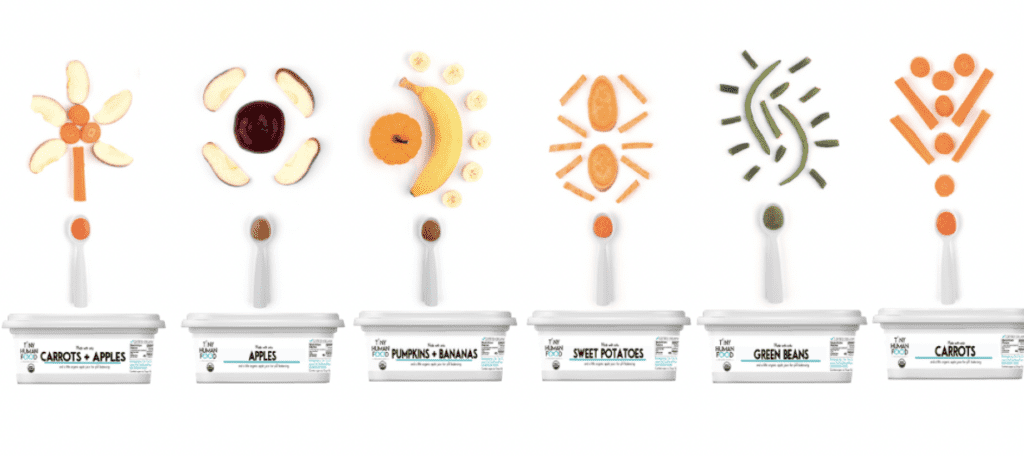 Their catalog of products is small and simple. Sweet potatoes, apples, green beans, carrots with apples, pumpkins with bananas, and plain carrots are on the menu. Each is a 3-ounce container, which, in my opinion, is about the perfect size. Everything is cold-pressed and can be frozen for longer storage!
Subscription Options

Each shipment provides 36 of their fruit and vegetable packs, with free shipping and the option for bi-weekly or monthly plans. Cancel whenever you want, and, as a bonus, the packaging is all recyclable. Subscribe Here.
Pros
USDA Organic
Whole Fruit/ Veggie Blends
Purity Award Winner
Excellent Source of Natural Nutrients
Cons
Limited Products (Only Vegetables and Fruits)
Only in 3 Ounce Containers
Nurture Life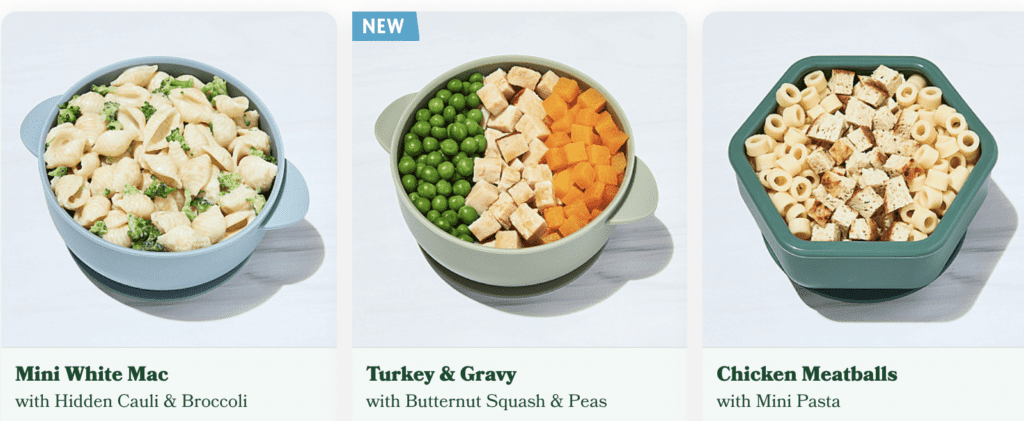 Finger foods aren't easy to have on hand. I know how challenging it can be to have something ready on time and to also make sure those options are nutritious. That's why I love a baby food delivery service like Nurture Life, which is a great in-between as a toddler is learning to eat closer to typical meals. Even better? Nurture Life also sells kids meals, so they can keep eating as they get older.
Finger foods are intended for anyone 10 months or older and are a great transition from fruit and vegetable purees. These dishes are easy to eat yet packed with nutrients, with healthy protein sources, vegetables, and organic, fresh ingredients (never frozen) in every single meal and snack. I love how colorful these meals are, and how they play with popular flavors even most picky toddlers would eat.
And for those will allergies, there's even more good news:  everything is made facility without peanuts and tree nuts, aside from coconut. They also have options to personalize for specific food allergies.
Products

You have your choice of kid's meals, finger foods, smoothies, and even snacks. Those snacks are not only toddler-friendly but a healthy alternative to typical sweets. Meal-wise, I love the variety of classic American fare, from pasta to Shepard's pie.
Subscription Options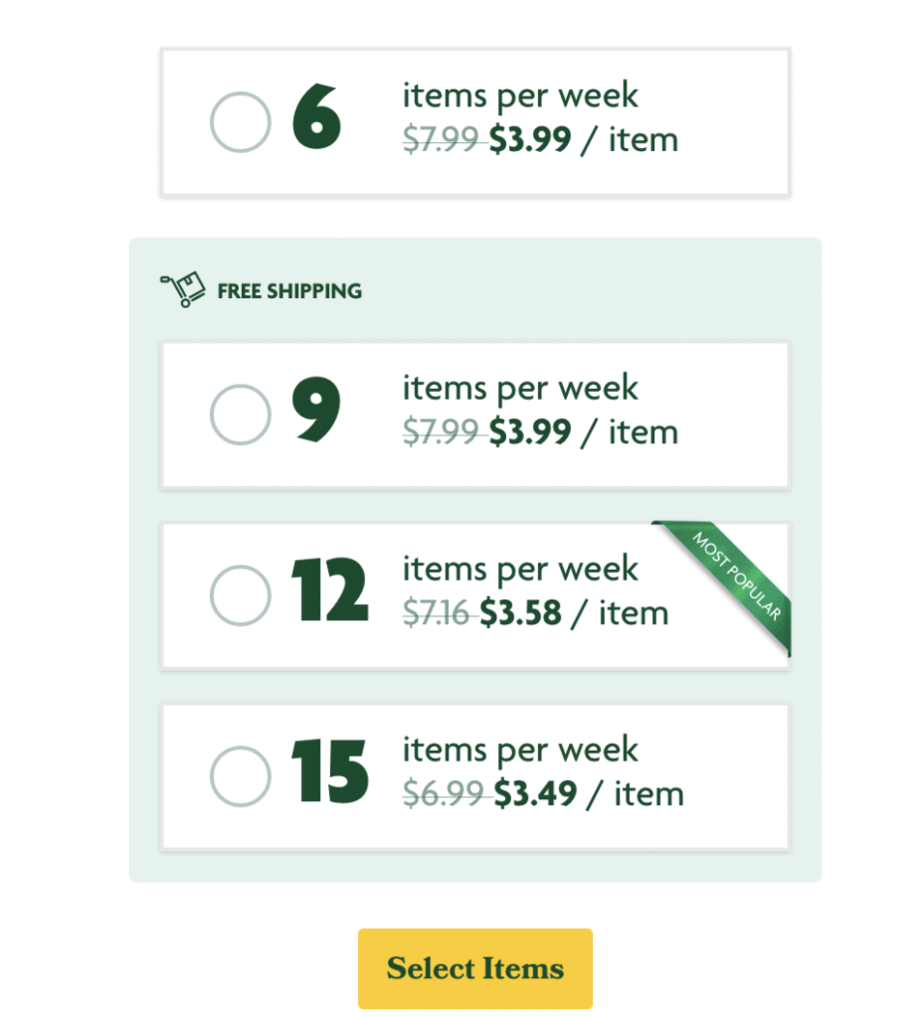 Choose a weekly plan: anywhere from 6 to 15 items per week, each priced from around $7 to $8 per item. You have an option to hand select food to appease picky eaters, Every week you have a chance to skip or change preferences. View Plans Here.
Pros
Finger Foods, Kid's Meals, and Snacks
Organic Ingredients
Balanced Meals
Allergy-Sensitive
Cons
Not A Big Variety of Cuisine (Mostly American Comfort)
Minimum Order of 6 Per Week
Lil' Gourmets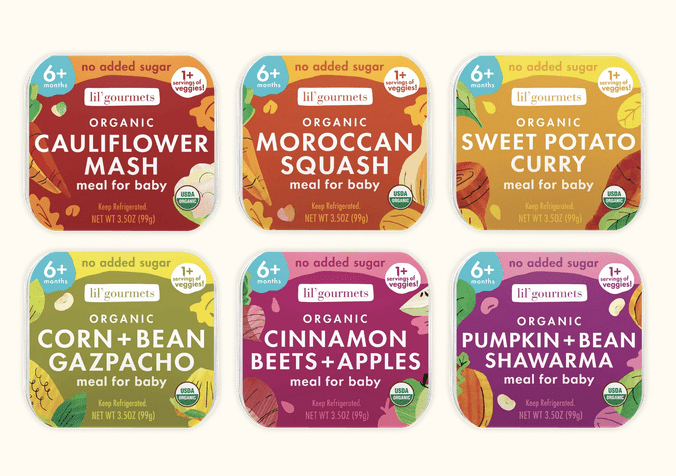 As much as I admire the clean simplicity of Tiny Human products, if you're looking for purees that are a little more unique and adventurous, consider giving Lil' Gourmets a try. Just like Tiny Human, this is a go-to for weaning off of formula and packing in whole food nutrients- all in convenient packs that you can take on the go.
All of these pouches are organic and supply 100 percent of a baby's produce needs. What stands out to me, however, is that these are designed for picky eaters. I know how tricky it can be to get babies and toddlers to eat their veggies, but these fun flavors are worth a try.
Plus, everything is GMO-free, vegan, and gluten-free. Like another pick on my list, they've won awards- including the Clean Label Purity Award.
Plus, I love the message behind this company. It was founded by a working mother in search of healthier and easier ways to introduce healthy foods.
Products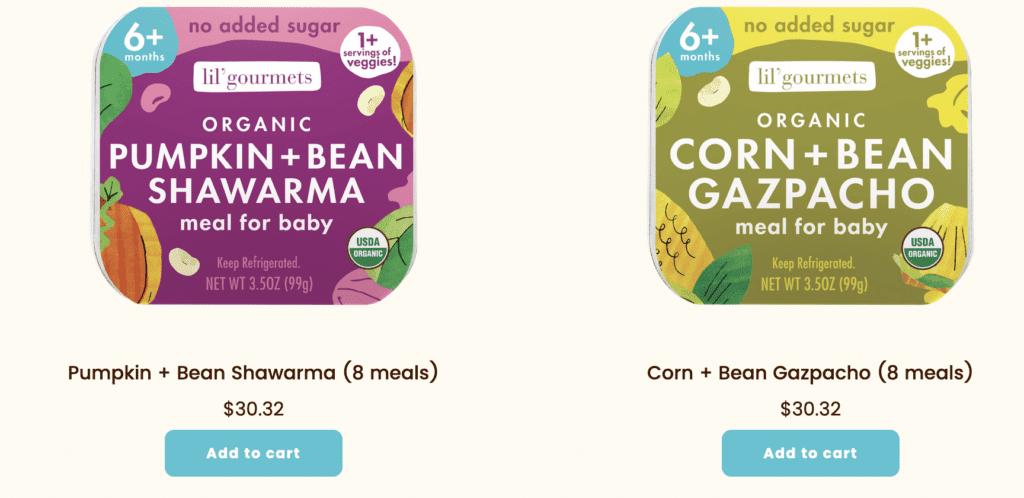 You can find these little pouches in some stores, too! All of their organic blends come in 3.5-ounce pouches and need to be refrigerated (not shelf-stable, which is a sign of nixing harmful preservatives).
You can buy pack bundles, make your pack, buy them individually or subscribe. Flavors include cinnamon beets with apples; cauliflower mash; Moroccan squash; pumpkin and bean; corn and bean and sweet potato curry.
Subscription Options
Their sample subscription provides 16 pouches every 30 days. You can up the order quantity, and you can unsubscribe at any time (it automatically renews). The good news is that you're getting an even mix of all the unique flavors they have to offer. Subscribe Here.
Pros
Flavorful Pouches
Organic, Natural Ingredients
100 Percent Baby's Produce Needs
Award Winning Company
Cons
Subscription Isn't Customizable
Only Purees
Serenity Kids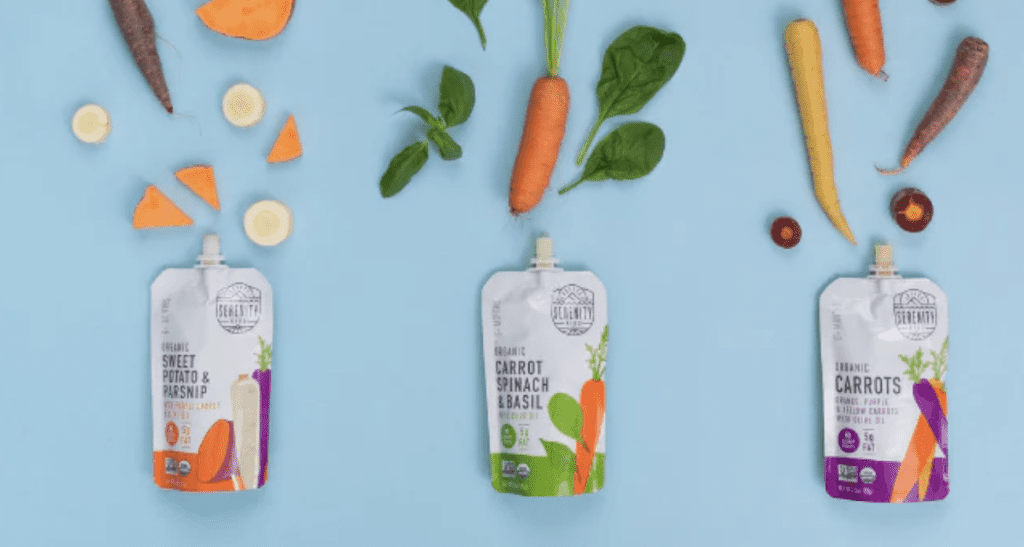 If you want an online marketplace for baby and toddler-specific products, but want both a la carte and subscription options, you may want to consider Serenity Kids. It's a great place for grab-and-go snacks that are superior to your typical grocery store.
My brother and sister and law, even this year, have sometimes struggled with finding healthy and convenient food- and this provides more options, without the overwhelming flood of products where you to shop from somewhere like Amazon.
Low sugar, ethically-sourced meat, and healthy fats are at the cornerstone of Serenity Kids' products. It goes further than that: all meat is grass-fed and pasture-raised. Free of hormones, antibiotics, and GMO feed, you're feeding your toddler or baby excellent nutrition. They also provide organic produce and nix out anything like artificial sweeteners, additives, or preservatives.
Their company simply stands out from so many- and I love their varied catalog to meet the needs of different families.
Products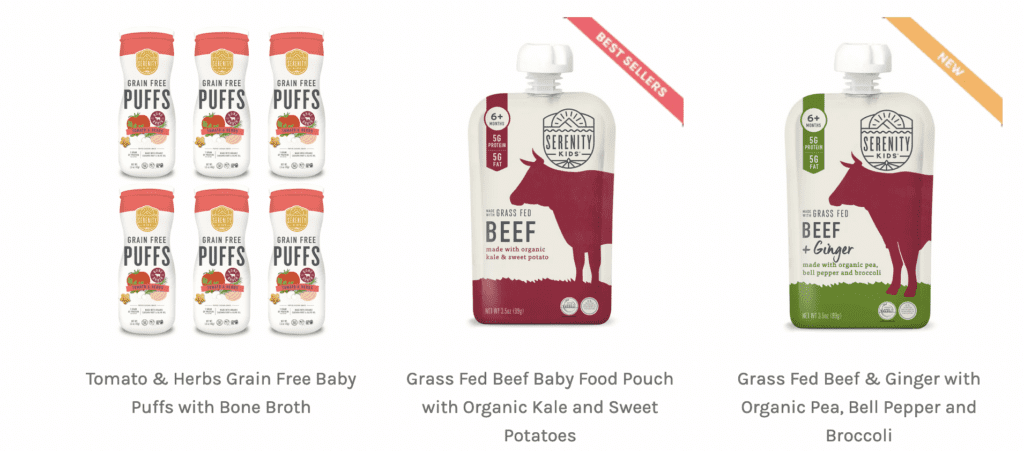 There are enough products that it's easiest to summarize them in a table- but with filters and categories, I love how easy it is to find what you need:
| | |
| --- | --- |
| Product Type | Example Options |
| Baby Food Pouches | General Category- Includes All Products |
| Variety Packs | Available For Most Products |
| Meat Pouches | Meat with Vegetables; Meat Options include: Grass Fed Beef, Grass Fed Bison, Salmon, Free Range Chicken, Tumeric Chicken, Beef Roast, Turkey Bolognese |
| Veggie Pouches | Organic Blends, including these Vegetables: Carrots, Peas, Spinach, Sweet Potato, Parsnip, Squash |
| Grain Free Puffs | Sweet Pepper & Basil, Pumpkin & Cinnamon, Broccoli & Spinach, Carrots & Beets, Tomatoes & Herbs, Variety Packs |
| Baby Formula | A2 Whole Milk Formula (A2 milk is easier to digest) |
In short, this is a great option for babies and toddlers who aren't ready for finger foods yet- while high-quality A2 baby formula is hard to find elsewhere.
Subscription Options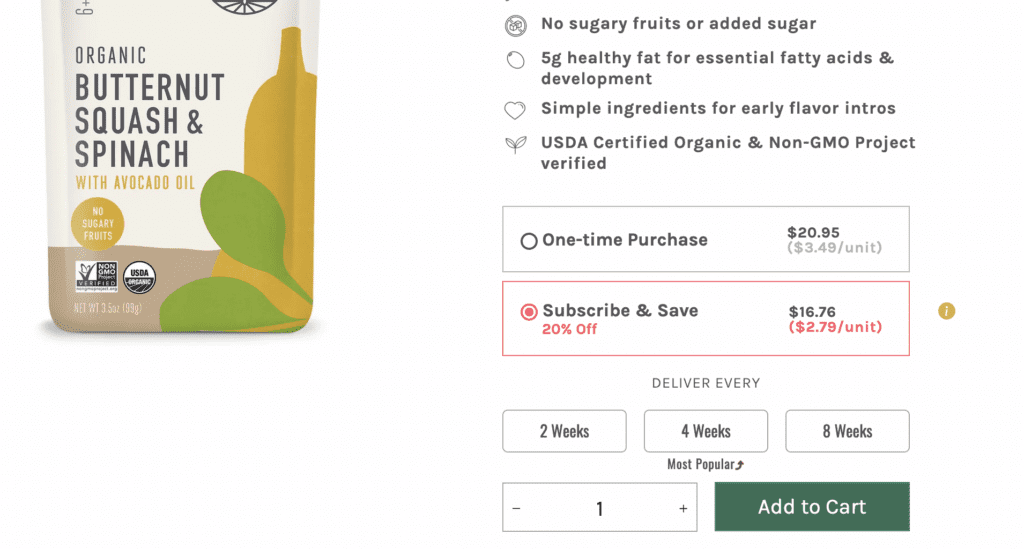 While you're free to buy items individually, you can also subscribe and save 20 percent off each order. For most products, there will be a subscribe and save button. You can select to receive delivery of that product every 2, 4, or 8 weeks.  Plus, you can swap or change items any time before the next delivery. Learn More About Subscriptions Here.
Pros
A La Carte or Flexible Subscription
Organic, Grass-Fed, and Natural
Snacks and Meals
Unopened Pouches Are Shelf Stable (High Heat Process)
Cons
No Finger Foods
Possible Slow Shipping Times
Once Upon a Farm Organics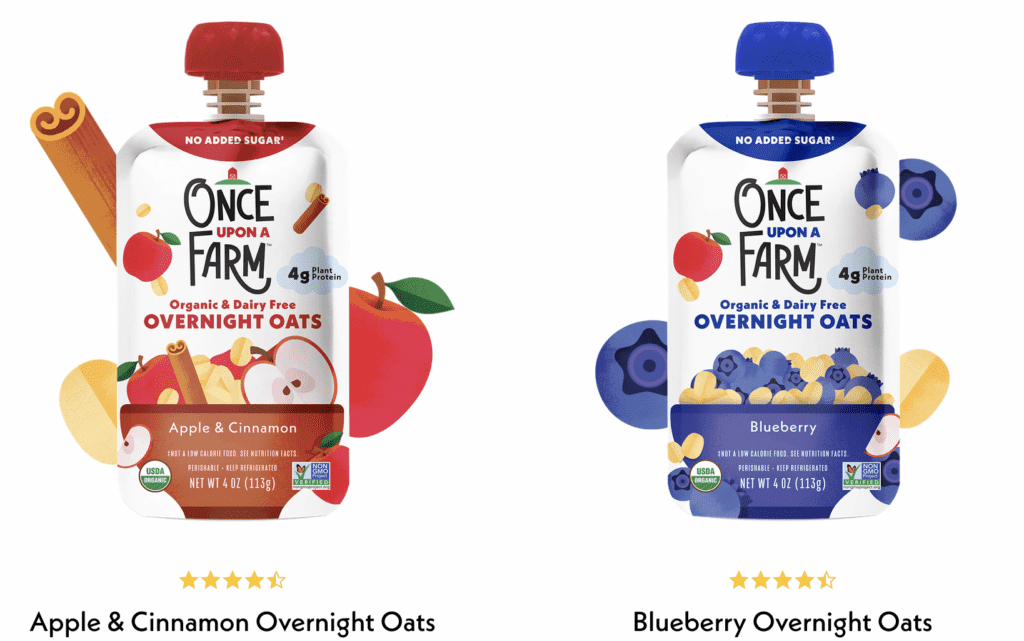 As much as I admire fresh meals, sometimes a frozen meal is simply more practical. It requires little to no planning ahead and often can be heated up in moments. The mistake I made? Assuming frozen meals were for older kids and often high in sodium and heavy on preservatives. That's why a company like Once Upon a Farm Organics is refreshing for busy parents.
All meals are frozen and heated up within 10 to 12 minutes, packed with nutritious, organic ingredients. Intended for 6 month-year-olds and up, every meal is flash-frozen. I love that because flash freezing ensures far fresher food than regular batch freezing- and also retains the most nutrients. Their other products are prepared to be shelf-stable or refrigerated.
With BPA-free packaging and great blends for morning to evening, this is a go-to service for anyone cramped for the time but still wants balanced meals for their baby or toddler.
Products
Fruit and veggie blends, dairy-free smoothies, overnight oats, variety packs, and younger baby food are the main products, all in handy 3.2-ounce squeeze pouches. The flavors are unique and throw in 'superfoods' and 'immunity blends' for a powerful punch of nutrition:
| | |
| --- | --- |
| Product Type  | Options |
| Fruit & Veggie Blends | Apple, Cherry & Elderberry; Mango, Banana & Spirulina; Pineapple, Banana & Dragon Fruit; Raspberry Pear & Kale; Pear Blueberry & Spinach, Bananas, Apples & Greens; Kale & Apples; Wild Avacado; Blueberry; Strawberry |
| Dairy-Free Smoothies | Strawberry Banana, Berry, Greens, Mango, Tropical |
| Overnight Oats | Apple and Cinnamon; Blueberry; Sweet Potato, Banana & Dates; |
| Meals | Quinoa, Pineapple & Caulifower; Carrot, Cauliflower & Hemp; Broccoli, Pea & Navy Beans; Quinoa, Cauliflower & Kale; Mango, Carrot & Navy Bean; Pea, Zucchini & Basil; Squash, Quinoa & Banana; Sweet Potato, Raspberry & Coconut; Black Bean, Red Pepper & Cilantro; Sweet Potato, Mango & Coconut; Quinoa, Banana & Spinach |
Subscription Options

You can choose between a pouches or meals subscription- but you can't blend products between the two. You get 16 pouches in each shipment, or 16 or 24 meals (you pick). You hand select your box, which will be delivered every 1 to 4 weeks, depending on what you choose. With pricing at around $5 a meal, it's one of the chapter's organic options. 5 days before your next shipment, you'll get an email to remind you to change your selections if you want, a feature. Explore Meal Subscriptions Here or Pouch Subscriptions Here.
Pros
Organic Ingredients
Lead-Tested
Quick Heat Flash Frozen Meals
Competitive Price
Cons
Many Flavors May Be Adventurous For Picky Eaters
May Not be Allergen-Friendly
Frequently Asked Questions
Question: How Long is Yumi Baby Food Good for?
Answer: Yumi baby food lasts a week in the refrigerator or up to 2 months in the freezer. But once you open a Yumi baby food container, you'll need to consume it within 24 hours.
The reason for the relatively short shelf life is because the baby food is made with organic ingredients and doesn't have the preservatives and additives that other baby food does. It's not shelf stable like conventional baby food and should remain cooled.
Question: Is it Cheaper to Buy Baby Food or Make it?
Answer: It's no surprise to most that making baby food is far cheaper than buying it. That's true for conventional baby food in your grocery store or signing up for a baby food subscription.
That's because you're paying for both the preparation and individual packaging- not to mention any preservatives and other additives to make baby food shelf-stable. That said, making baby food takes a lot of time, and striking the right balance of nutrients is essential for your baby's health.
Question: Why is Baby Food so Expensive?
Answer: Baby food prices cause a financial strain on many Americans- and that strain has only been exacerbated by supply chain issues since the beginning of the pandemic.
Even without these, a lot of factors go into the high prices. Baby food is often individually packaged, it's always in high demand, and many parents go with name-brand staples, like Gerber's. This continuous innovation with flashy new flavors and product types is only increasing the cost of baby food.
Question: Why is Gerber Being Sued?
Answer: In 2021, a lawsuit was filed against Gerber, citing the heavy level of toxic metals in Gerber's baby food. The suit alleges that Gerber knew about the dangerous levels of metals- pointing to potential health concerns like neurological disorders.
Arsenic, lead, mercury, and cadmium were all reported to be above safe levels. You can read about the lawsuit here. The lawsuit appears to be still pending, and Gerber baby food is still being sold on store shelves. This lawsuit and other concerns have led many consumers to ask what is the safest food for their baby.
Final Thoughts
The reason why I love these options for baby food subscriptions is that they can truly help transform lives. That may sound sensational, but it's hard to find quality food and have it ready when juggling a young family and work.
While a baby food subscription isn't the best fit for everyone, my shortlist of best baby food subscription services offers quality food or stand-out features that could help make your life a little easier. Even more importantly, many of these baby food subscriptions go above and beyond in terms of quality, flavor, and variety.
Final Recommendations
While all of these baby food subscriptions offer something unique, there is one that stands out to me. For the average household, I recommend Nurture Life. This is a plan that will grow with you; I love the smoothies, snacks, and finger foods. There's just enough variety to please different taste buds, but it's not as adventurous as other meal plans (a plus for picky eaters).
Recommended Reads: