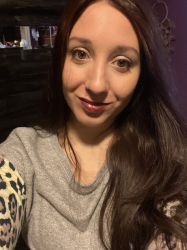 Latest posts by Stephanie Jensen
(see all)
If you love exercising like me, you understand how important it is to wear high-quality fitnesswear.
No matter if you do yoga or lift weights, the right clothing will make exercising more comfortable. Plus, there are so many cute fitness clothing styles, and they can double as leisure wear!
When talking about yoga and fitness wear, Lululemon reigns. They make some of the best quality items, and their leggings are buttery soft. But I'm a fan of alternatives and comparing brands, which is how I found Athleta.
So, which brand is better? Here, I compared the pros and cons of both Athleta and Lululemon. Continue reading my Athleta vs. Lululemon compared guide to discover which is the best brand!
Bottom Line Upfront
Athleta is my choice out of these two companies. I love how they're sustainable, give back to women's charities, and offer inclusive sizing. Plus, Athleta doesn't only sell clothes for yoga, they make items for all fitness activities. The only downside is Athleta has a weird return policy.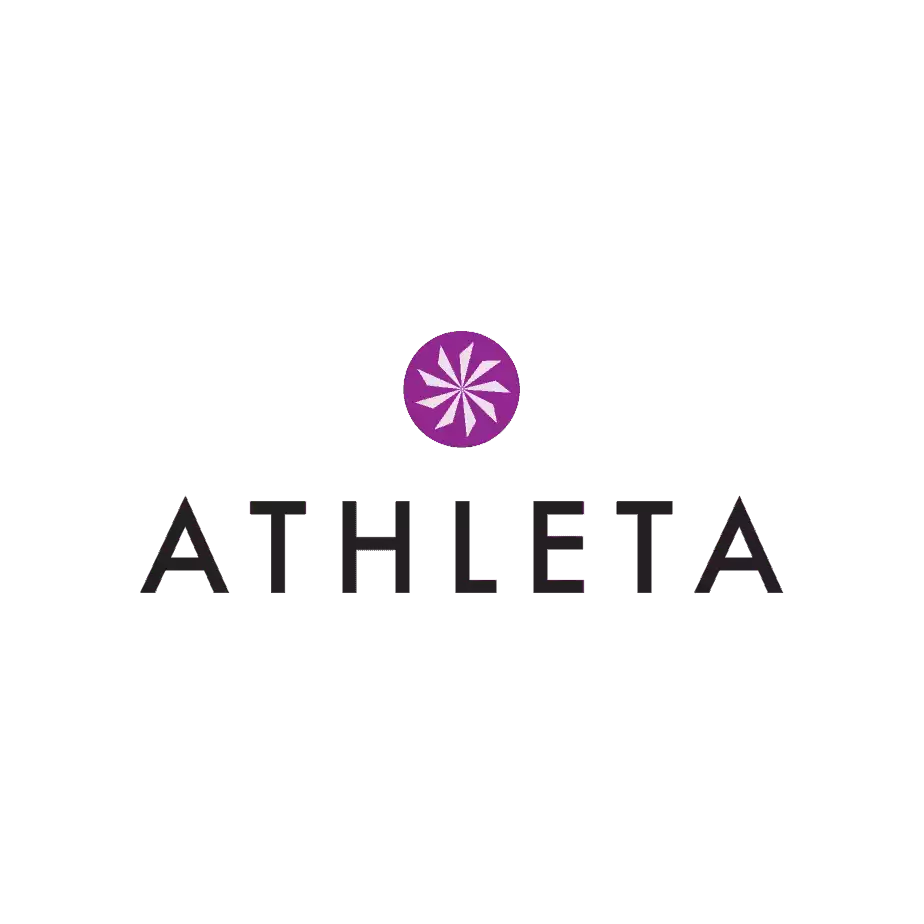 Main Differences Between Athleta vs Lululemon
The main differences between Athleta vs Lululemon are:
GAP owns Athleta, whereas Lululemon is owned by multiple shareholders
Athleta is size-inclusive, whereas Lululemon only offers sizes 0-14
Lululemon offers a more comprehensive quality guarantee, whereas Athleta doesn't
Lululemon is geared toward serious yoga enthusiasts, whereas Athlets's customer case is more versatile
Athleta creates fitness clothing for all activities and sports, whereas Lululemon mainly creates yoga clothing
Athleta carries more than fitness clothing, whereas Lululemon doesn't
Lululemon makes clothing for men, whereas Athleta doesn't
Lululemon has more trendy color and pattern options, whereas Athleta is very basic
Athleta offers more frequent sales, whereas Lululemon rarely hosts sales
Lululemon is known for its innovative Mirror program, whereas Athleta's Obe is lacking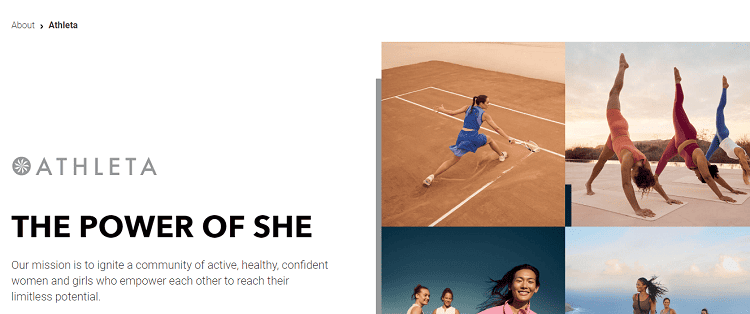 Athleta started as a solo brand. They were formed in 1998 and specialized in selling women's workout clothes. It was purchased by Gap Inc. Family in 2008 and opened its first store in 2011, and now has over 160 stores.
Today, Athleta is a B Corp, which is a type of nonprofit business structure. They're committed to giving back to the environment and to women.
I also really like how Athleta sells inclusive sizing, which ranges from XXS to 3X. They also sell clothing for all sports and fitness activities and even sell items for non-fitness use.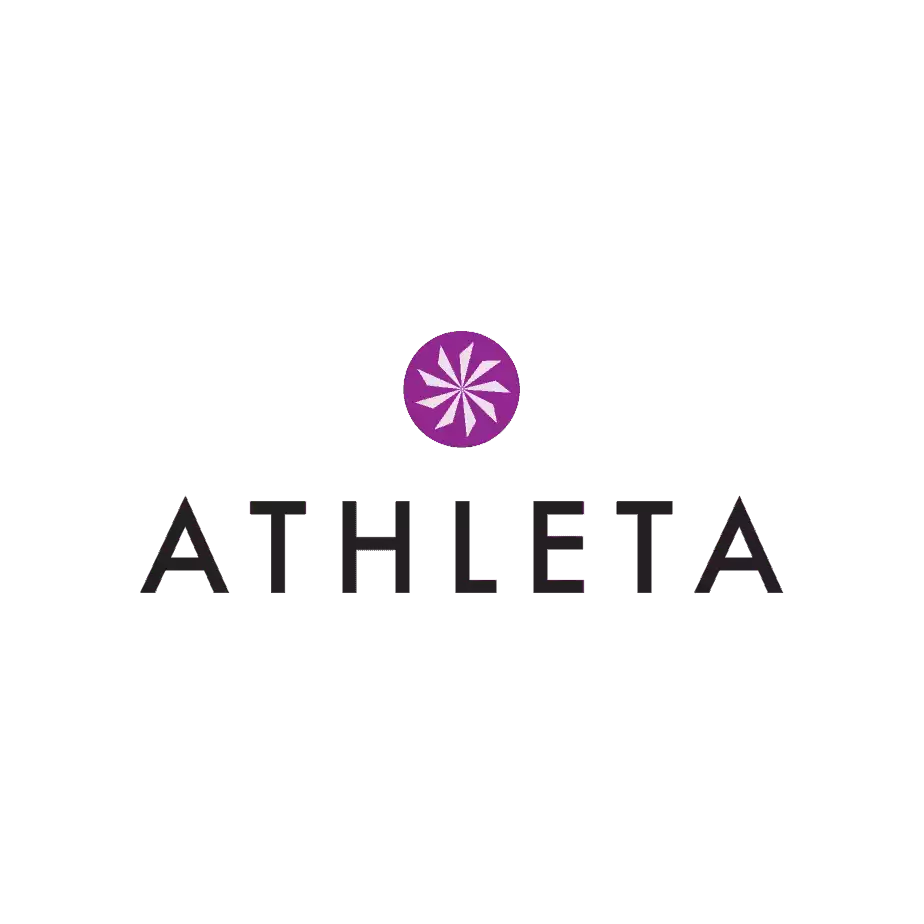 Pros
Inclusive sizing
Great quality
Often hosts sales
Durable and long-lasting clothing
Physical and online stores
Cons
Quality
Athleta is my pick for high-quality fitness clothes–especially if their items go on sale. Looking at their Salutation Tights, they're made of a Nylon/Lycra material.
Nylon is what gives the leggings its silky-soft feeling, while Lycra makes the pants elastic enough for any type of workout. The leggings are also sweat-wicking, which pulls extra moisture away from the skin and evaporates on the fabric.
Bottom line: Athleta offers great quality clothing made of comfortable yet durable materials. They use sweat-wicking fabric on their tights, so you don't have to worry about excess moisture when exercising.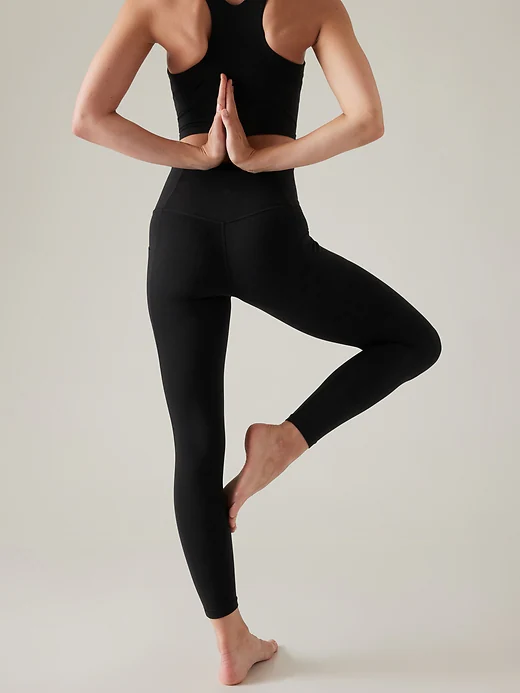 Salutation Stash 7/8 Tight | Athleta
Designed with buttery-soft Powervita fabric, side stash pockets, and a supportive high-rise waistband.
Check Price
We earn a commission if you click this link and make a purchase at no additional cost to you.
Price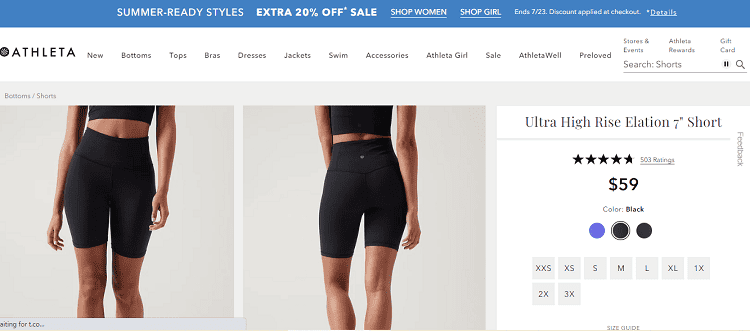 Looking at their prices on Google Shopping, Athleta is pretty expensive compared to most brands. On average, a pair of biker shorts on
Athleta costs $59.
I'm wearing a
pair of biker shorts from Target,
and I paid only $25.
There are reasons why I would fork over the extra cash for Athleta biker shorts. For example, they have cuter styles. The ones I'm wearing from Target aren't stylish, and I mainly got them for lounging around.
The ones from Athleta also have that Nylon/Lycra fabric blend, while the ones from Target are made of Nylon and Spandex. Nylon is more durable than Spandex, so those shorts would last longer than the ones from Target that I'm wearing.
Athleta also stands out for another reason–they often host sales. If you search "Athleta sale" on Google, you can find clothing items marked down as much as 50% off! This makes them just as affordable as Target and other competitors while still getting a high-quality product.
Bottom line: Even though Athleta is more expensive than other fitness brands I wear, you still get a better quality product. In that case, Athleta is worth the money. Plus, they host sales, so you can save money while wearing some of the best fitness wear.
Returns
This is really the one place where Athleta doesn't shine–they have a rigid return policy. You have 30 days from when you purchased the product to return to stores (60 days for online orders).
You can return used, damaged, or defective clothing. If you purchased an item in-store, you can only return it in-store. You can return items in-store if you purchased them online, except if you purchased the item on Facebook, Instagram, or mail-only.
I don't know, this return policy is strange. While I do like how they accept items that are damaged or even used, how to initiate the return is what boggles me. Why should it care if I purchased an item on Instagram and want to return it to a store?
Bottom line: Athleta has a really weird return policy. While you can return an item you wore or was damaged, it's strange how they're particular about where you can return an item.
For example, you can return an item to a store that you purchased online…except on Facebook and Instagram? Weird.
Sizing
It's so difficult to find inclusive sizing in the fitness industry, so that's why I love Athleta's wide size selection.
Looking at a pair of joggers, their sizes range from 0 to 26, which is awesome! They also have regular, petite, and tall sizes; I'm short, so I would definitely shop in the petite section.
The only issue is Athleta doesn't have clothing or sizing options for men.
Bottom line: Athleta doesn't only have a wide size selection, but they also offer sizes by height. Unfortunately, they also don't have clothing and sizing for men.
Subscription
Athleta doesn't offer a subscription box option like many of the brands we feature here. However, they do have a loyalty rewards program. To join, members can do one of two things: open up a credit card or earn points on purchases for free.
There are many cool perks that members get, such as a trial subscription to Obe Fitness, which is a live, on-demand fitness platform. You also get access to the AthletaWell program, early access to sales, and free and fast shipping on orders $50 or more.
Bottom line: I wish Athleta offered a subscription box option, but you get access to cool fitness benefits by joining their loyal program.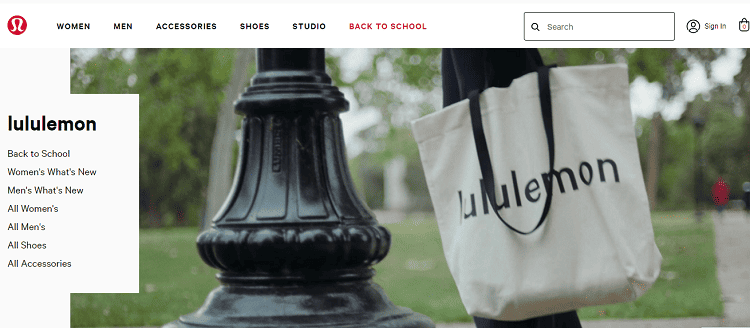 Like Athleta, Lululemon also opened in 1998. They were formed by Chip Wilson in Vancouver, Canada, starting as a design studio by day and a yoga studio by night.
They started making yoga clothing for women and perfected their fabric blend after receiving feedback from brand ambassadors, guests, and athletes.
They eventually opened their first Vancouver standalone store in 2000 and expanded to the U.S. in 2003.
Today, Lululemon is a global brand, making them one of the most recognizable in yoga apparel. They have hundreds of stores and are known for creating innovative yoga clothing.
Lululemon also has a different structure than its beginnings. In 2013, Wilson stepped down as chairman. They're now owned by CEO Calvin McDonald, who's making the company more innovative.
Lululemon invested in a company called MIRROR, an at-home fitness company that displays workouts on its interactive screen. MIRROR is now part of their subscription service, which I will cover later.
Pros
Variety of yoga clothing
Great quality clothing
Decent return policy
In-store and online shopping
Made of durable materials
Cons
Expensive
Sizing isn't as inclusive
Quality
There's a reason why Lululemon is notorious–they boast some of the best-quality fitness clothing. Like the Athleta leggings, Lululemon's leggings are made of a Nylon and Lycra blend.
This means the leggings have that buttery-soft feeling but are extremely durable.
Bottom line: Lululemon is known for the great quality of its fitness clothing, specifically its leggings.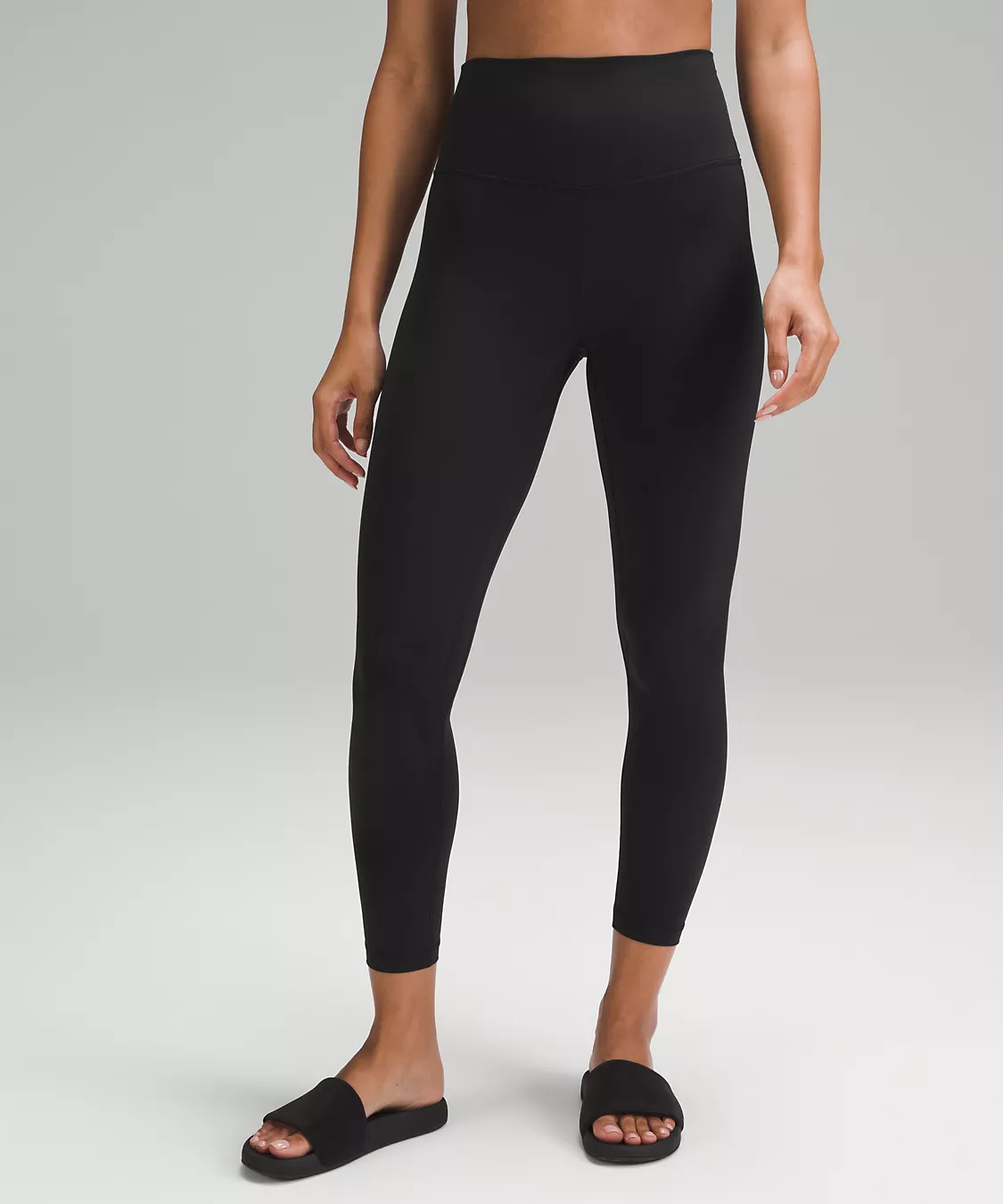 Price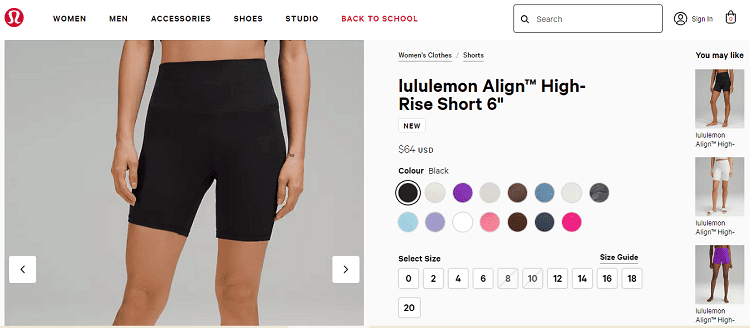 Because Lululemon has high-quality clothing, you'll pay a pretty penny for their products. Lululemon has some of the most expensive clothing out there.
A pair of biker shorts costs $64, which is even more expensive than Athleta. Not only that, but Lululemon doesn't often host sales. They do have a "We Made Too Much" section where you can find priced-down items, but they don't often host many sales on full-priced items.
Bottom line: Lululemon is one of the most expensive fitness brands out there, even more expensive than Athleta. They have an outlet section but don't host too many sales on full-size products.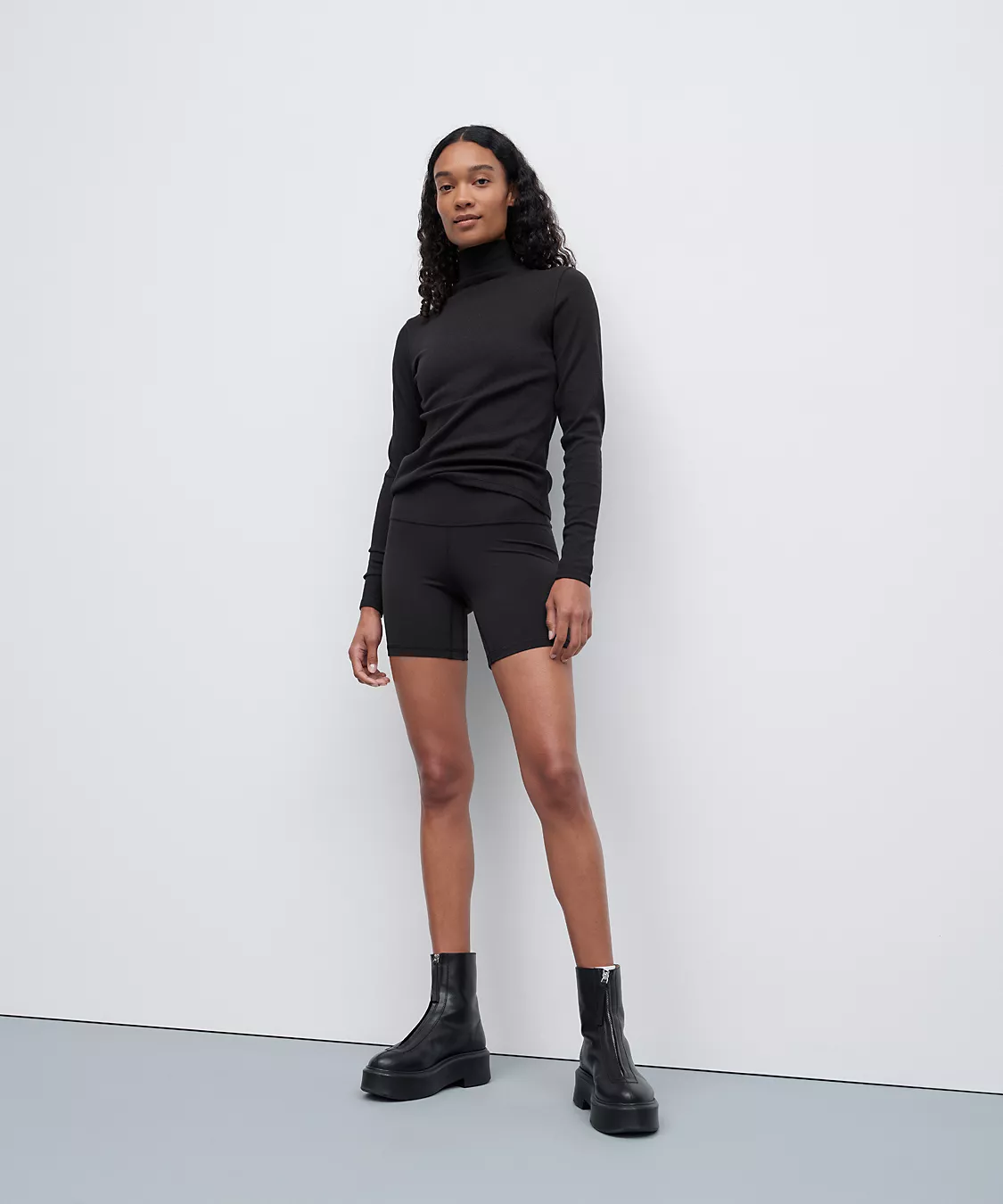 Returns
Lululemon has gotten better about their sizing, but I'm still not as impressed with their sizing as I am with Athleta's. I found a pair of joggers that are sized 0-14, which could be better.
They also have a plus-sized section, which I hate because it ostracizes women who don't fit the typical "fitness" body. One pair of "plus size" leggings only go up to a size 20, which still excludes many women. Some of their pants have different length options, and others don't.
On a positive note, Lululemon does offer clothing and sizing for men. Still, the sizing for one pair of joggers ranges between XS and 3XL, with different length options. It seems like their clothing for men is more inclusive than their clothing for women.
Bottom line: Lululemon doesn't have as inclusive sizing as Athleta. They have a "plus-sized" section, but one pair of leggings in this category only goes up to a size 20. They also don't have many length options. Lululemon does have men's clothing, and Athleta doesn't.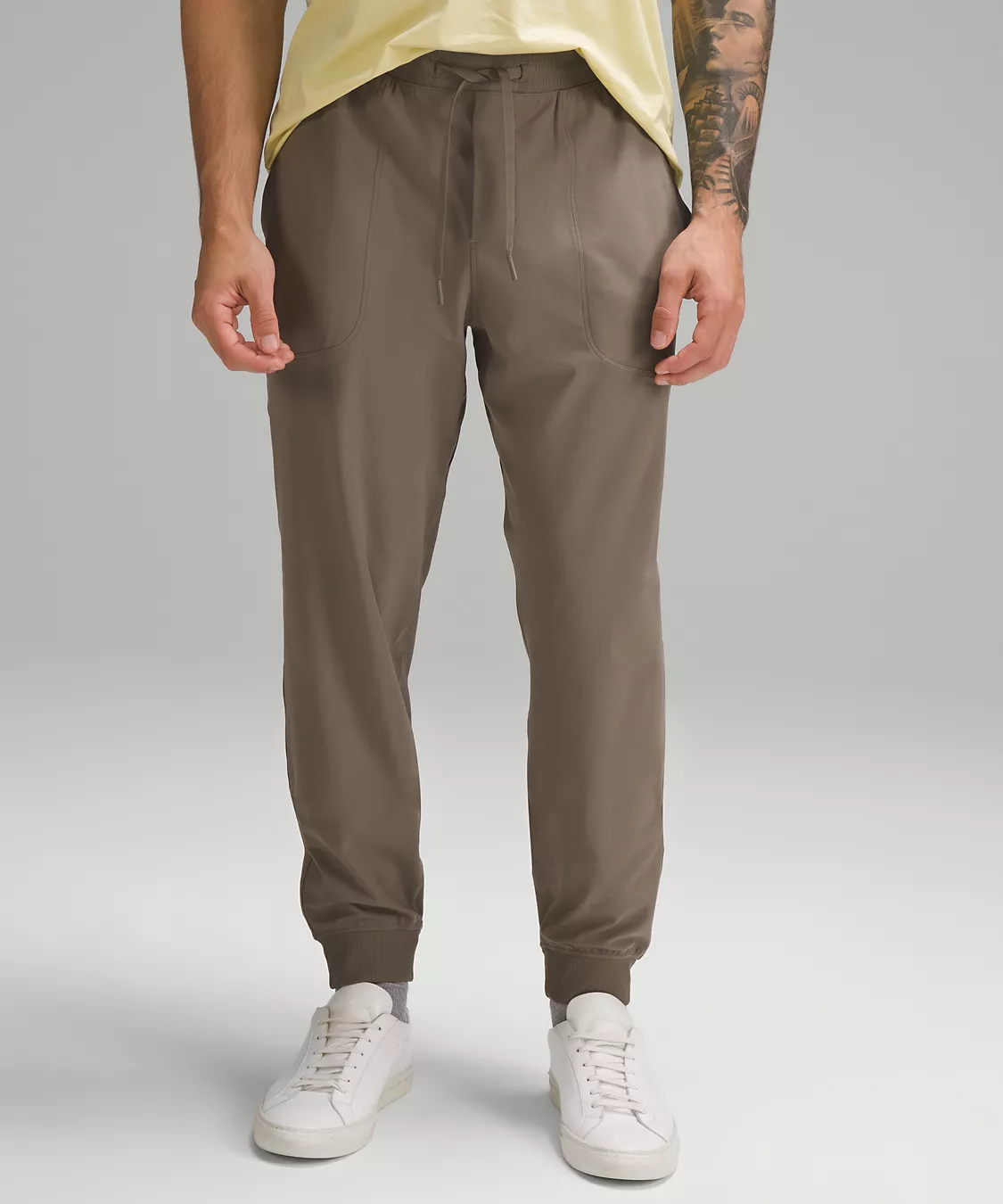 ABC Jogger | Lululemon
Features Perfectly Sleek Fit. Drawcord tucks discreetly into the lay-flat elastic waistband.
Check Price
We earn a commission if you click this link and make a purchase at no additional cost to you.
Sizing
Lululemon has gotten better about their sizing, but I'm still not as impressed with their sizing as I am with Athleta's. I found a pair of joggers that are sized 0-14, which could be better.
Lululemon has gotten better about their sizing, but I'm still not as impressed with their sizing as I am with Athleta's. I found a pair of joggers that are sized 0-14, which could be better.
Subscription
Lululemon also doesn't offer a subscription box, but they have a membership. The Essential tier is free, but the next two tiers, Studio App and Studio All-Access, come with a monthly price.
The Essential membership comes with some decent benefits, such as exchanges on sale items, early access to new products, virtual community events, select classes, free hemming, and receipt-free returns.
The Studio App Membership includes access to over 10,000 fitness classes, 10% off gear (but only once a year), early access to events, and unlimited experiential store classes.
The Studio All-Access membership comes with all these benefits, plus 20% off partner studios and 10% off all gear.
Bottom line: Lululemon has three membership tiers, a free one, and two paid ones. I personally don't think the paid subscriptions are worth it since you get decent perks with the free one.
Alternatives
Did you read this article and realize neither Athleta nor Lululeon are right for you? I personally don't like how these companies don't offer a subscription box option. Here are a few fitness subscription boxes to consider.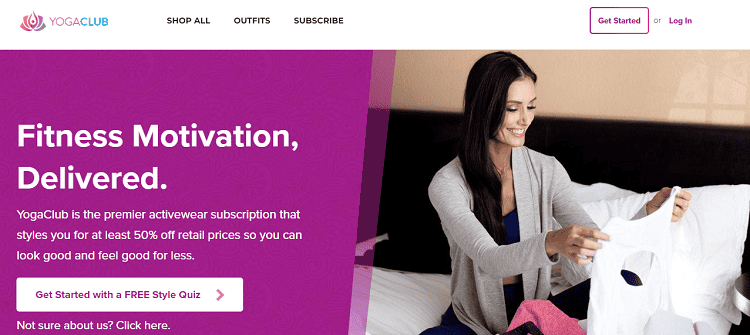 If you want more of a traditional fitness and yoga subscription box, I suggest joining Yoga Club.
The box costs $79/quarter (though they have a monthly option), and you get three items: usually a pair of leggings, a tank top, and a hoodie. You can also cancel anytime. Keep in mind that this company is only available in the U.S. and Canada.
What I like about Yoga Club is how they include items from different brands–not necessarily one brand like many of these companies.
The brands they include are all high-quality and have pretty expensive items, so you're getting a good deal by subscribing to this box.
My issue with these companies is I have a particular style. According to color charts, I'm an autumn, so vibrant-colored yoga clothing doesn't look good on me at all.
Yoga Club offers a style quiz, and a style expert curates outfits to your unique preferences. You can still exchange any items you receive, which would give me a piece of mind.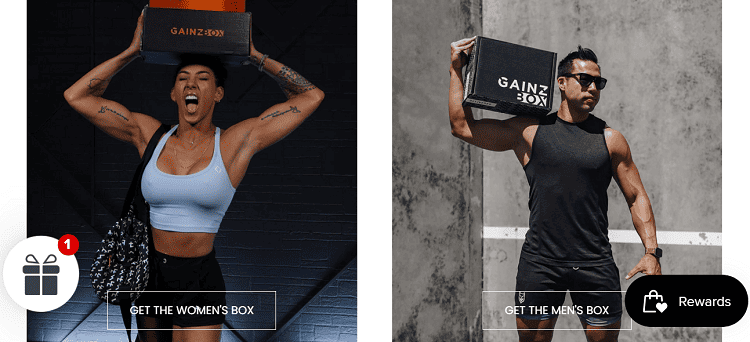 Even though I shop at "yoga" clothing companies, I never do yoga. Instead, I always lift weights and exercise at the gym. That's why I wanted to include another box for those who may benefit from a general fitness box, as opposed to a yoga-only box.
That's exactly what Gainz Box is. In each box, you'll receive clothing, accessories, supplements, snacks, and other items that gem-goers use, such as hygiene products and reusable water bottles.
You have two subscription options with Gainz Box: monthly ($39) and quarterly ($99). The female subscription is only quarterly, which is a huge bummer.
They also have a non-binary option, but don't go into too much information about it. And other than your gender and size, there aren't too many customization options. This one is also only available in the U.S. and Canada.
I suggest choosing this box if you want more than clothes from your subscription box and aren't too picky about the clothes you receive.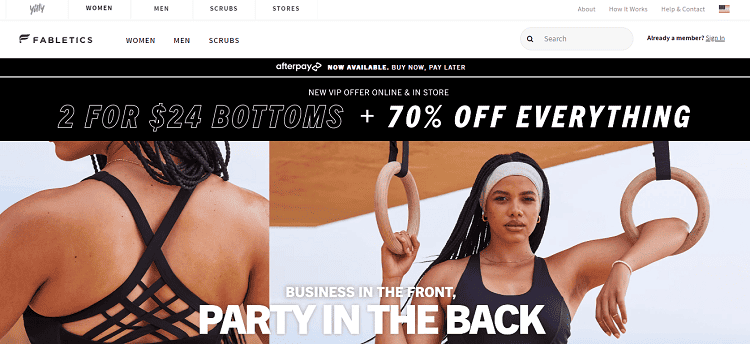 Fabletics is a unique subscription business. You pay a membership price every month that turns into clothing credits. From here, you pick out a two-piece outfit of your choice.
The membership costs $59.95 per month, and you can skip as many months as you like.
I'm iffy about this one. I think this is a better option for athletes and those who are serious about going to the gym and tend to go through workout clothes like crazy. Two-piece fitness sets are not cheap, so getting an outfit for $60/month is a pretty good deal.
But if you only casually exercise like me, I suggest considering the other two subscriptions. That is, unless you prefer having new fitness clothes every month–trust me, I wouldn't blame you.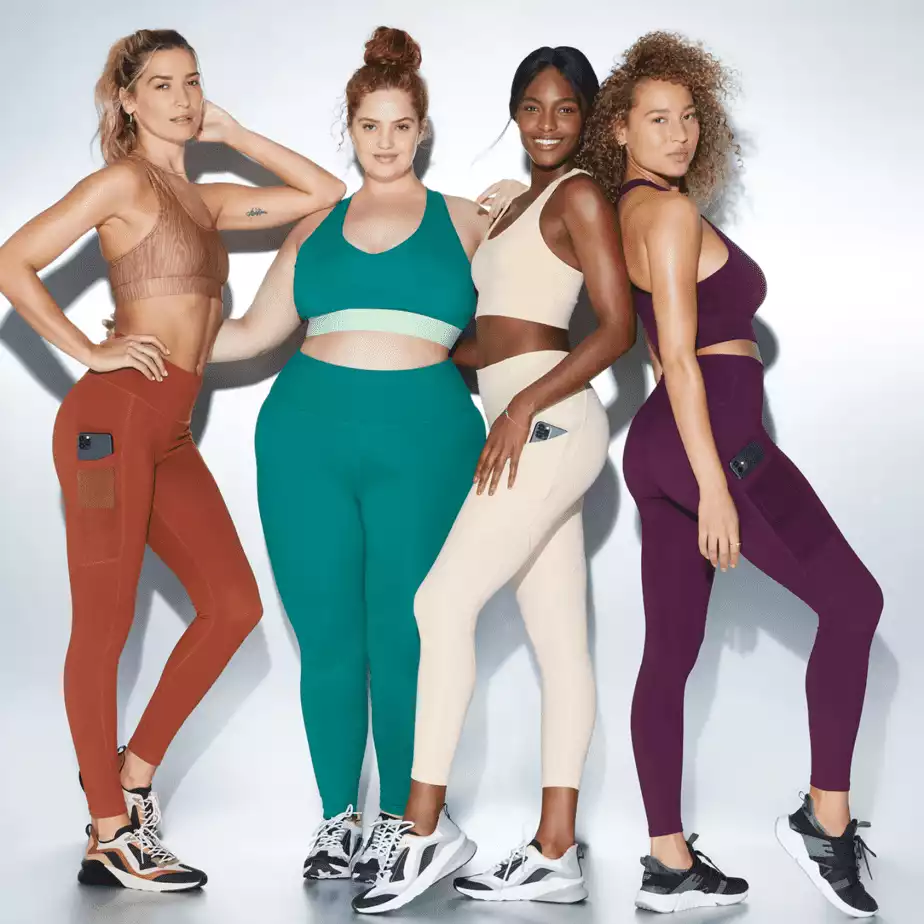 FAQs
Question: Does Athleta Have as Good of Products as Lululemon?
Answer: I would argue Athleta is better. They make their clothes with a similar fabric blend as Lululemon, but they also make clothing designed for many sports and fitness activities. Because of this versatility, Athleta has a better catalog.
Question: Which is more popular, Lululemon or Athleta?
Answer: They're both really popular. Both companies not only have stylish activewear, but their clothing is perfect for yoga.
Question: Are Athleta and Lululemon Competitors?
Answer: Yes, many say their each other's biggest competitor. Other competitors to mention are Victoria Sports, Prana, Under Armour, Adidas, Nike, Sweaty Betty, and Puma.
Bottom Line
Athleta is my choice between the two companies. I love how they make clothing for all fitness activities, not just yoga. All their clothing is high-quality, even comparable to Lululemon.

They also have inclusive sizing; I wish they made clothing for men, but at least all women of any size can find items at this store. They're expensive, but at least Athleta often hosts sales.
Even though Athleta is owned by GAP, they're still dedicated to supporting the environment and women. While I'm not a fan of their weird return policy, that's the only major flaw this company has.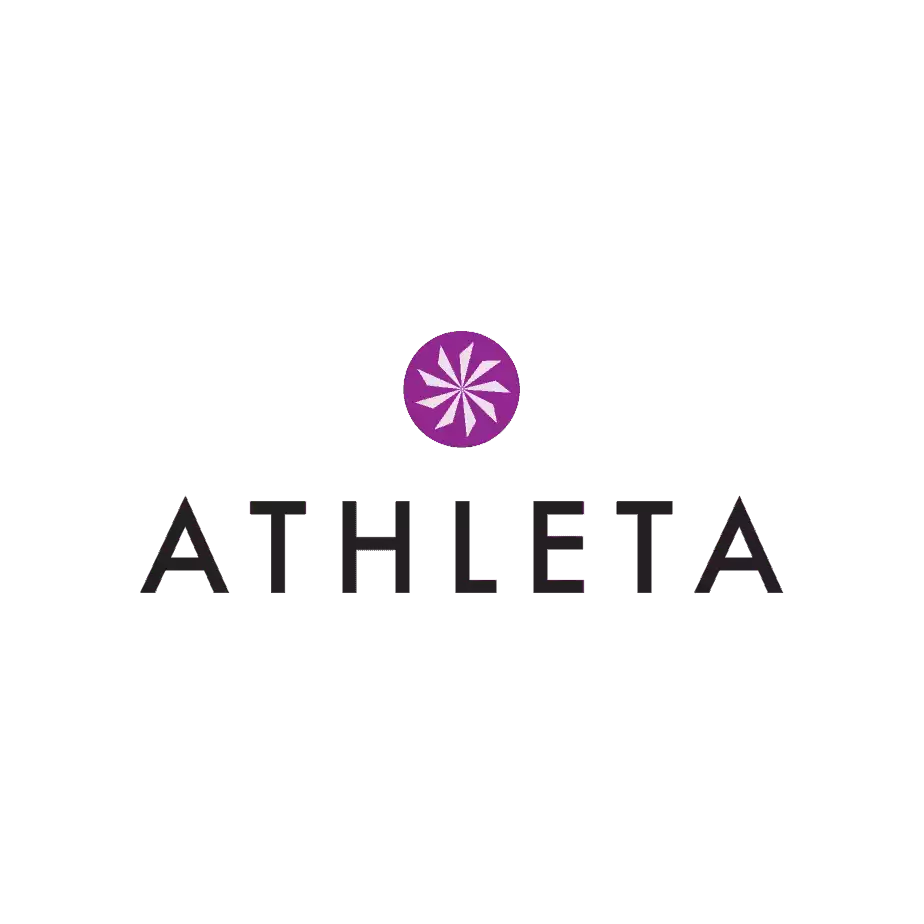 I also suggest checking out these subscription boxes as alternatives!
Read More: How to Find the Best Clothing & Fashion Subscription Services