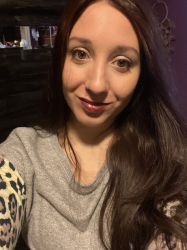 Latest posts by Stephanie Jensen
(see all)
I'm writing this article during my favorite time of the year: Halloween! There are so many reasons why I love this time of year, but I especially love how it gives me an excuse to eat candy. I have to admit I have the biggest sweet tooth ever. But when I went out and bought Halloween candy, I couldn't believe how expensive it was to buy candy at the store.
And every store has the same brands and types of candy. Don't you love walking into a candy store and seeing all the different sweets and treats you never saw before?
All of this gave me a brilliant idea: shopping around for candy subscription boxes! This way, you can try new types of candy, discover old favorites, or maybe find treats that align with your diet.
And with the popularity of subscription boxes, I wasn't surprised when I found several options available. Plus, you can give away any candy you don't eat–including to trick-or-treaters!
Take a look at the best candy subscription boxes and don't be afraid to let your sweet tooth get the best of you!
Recommended reading for this Halloween: 9 Best Horror Subscription Boxes for Horror Thrills.
Bottom Line Upfront
If you're simply craving candy and are unsure which subscription box to choose, I suggest Candy Club. They offer a combination of chocolate, gummies, and desserts in every box.
I also mentioned many niche candy subscriptions I suggest checking out. While I'm a chocolate lover and would likely choose one of those boxes, Old Time Candy and German Snack Box are also piquing my interest.
How I Chose These Candy Subscription Boxes
There are so many good candy subscription boxes out there — and the pictures alone left my mouth watering! However, I did take some factors into consideration when choosing these boxes. These included:
Plan and pricing options: Subscription box pricing varies, and the cost often includes certain factors like quality and rarity. However, I personally wouldn't pay more than $40-$50/month for a candy subscription box. I also looked for different discounts, such as first-box sales. All subscription boxes have different plans; some will send you a box monthly while others are quarterly. I looked at all these factors to ensure you find the best box to fit your candy-craving needs!
Candy type: All candy enthusiasts have a favorite type of sweet! For me, that's chocolate, but others prefer gummies, lollipops, hard candy, chewy candy, licorice, caramel, peanut butter, and the list goes on.
Variety: While I looked for boxes that had many candy options, I also sought out ones that specialized in a certain type of candy.
Gift options: There have been so many times where I found the perfect subscription box…but for someone else. More subscription boxes are offering gift options, so I prioritized the ones that let you purchase boxes for a loved one.
Shipping: One of the many benefits of subscription boxes is they ship directly to your door. However, all subscription boxes have different shipping lengths, some arriving sooner than others. Some boxes may even offer expedited shipping for an extra cost. I prioritized the subscription boxes that offered versatile shipping options. Even if you only stick to the free shipping, I ensured your box will still arrive quickly.
My Favorite Candy Subscription Boxes
Are you craving candy? If so, check out these awesome and flavorful candy subscription boxes!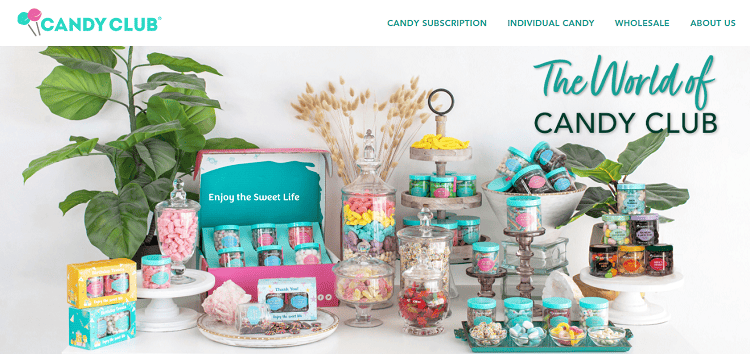 I will mention many fancy, specialty, and niche candy subscription boxes. But if you're looking for a subscription box to simply satisfy your sweet tooth, Candy Club is the best choice.
Every box contains something different — specifically, chocolate, other candies, and what they call "bites" (a mix between candy and traditional desserts). I love how Candy Club not only offers treats from famous candy makers but also partners with smaller manufacturers and artisans to deliver one-of-a-kind sweets with every box.
When you sign up for Candy Club, you can choose a sweet or sour-specific box. Candy Club's Fun Box features six cups, all six ounces in size. If you don't like any of the candy you receive, you can return it at no extra cost. You can also cancel your subscription at any time.
The only downside about the subscription is it's really expensive. The Fun Box costs $39.99/month; I wouldn't pay for six small containers of candy at that price. Fortunately, you can buy each Candy Club container individually.
The containers are all in the 4-6 oz size range and cost around $7 for each. You can find these individual candy containers on the Candy Club website and their Amazon page. They also offer special-edition holiday candy — including a Halloween-themed section!
Do you want to gift Candy Club boxes to a loved one? You can buy a gift box individually; I prefer this over buying a subscription for a loved one in case they don't like the box.
Pros
Different types of candy
Option to purchase a subscription or individual containers
Can order an individual box as a gift
Choose between sweet and sour candy
Works with major and small candy manufacturers
Can return candy you don't like for free
Cancel your subscription any time you want
Cons
The subscription box is expensive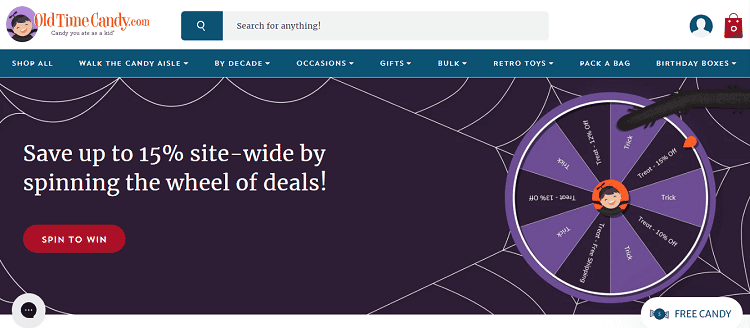 One of my favorite things to do when I'm at Cracker Barrel is to walk around the vintage candy section and go back in time to old-fashioned America. Fortunately, you don't have to drive to your nearest Cracker Barrel to get that nostalgia trip — you can subscribe to Old Time Candy and savor your favorites without leaving your home.
Old Time Candy centers their subscription box around candy from the 1990s and earlier. I'm a 90s kid, so looking at their shop took me back to a simpler time.
Some of the classic favorites I spotted were Blow Pops, Airheads, Baby Bottle Pops, Hubba Bubba Bubble Tape, and my ultimate favorite — Andes Mints! You can also filter the website by decade; they even have candy available before the 1920s!
You can either purchase individual favorites from the website or subscribe to their box and receive retro candy regularly. For the subscription, you can choose to receive your box during these durations:
Monthly
Every two months
Every three months
Every six months
Yearly
You'll only be charged when your box is about to ship. The nice part about Old Time Candy is you save on subscription costs. Plus, you can choose the decade in which you'll receive the box.
If you don't want a subscription, you can purchase individual boxes. They have boxes for each decade and have special options, such as for holidays and birthdays.
I love this service, not only to re-live your memories but to introduce the younger generation to the candy you ate. My mom used to buy me her favorite candy as a child (black licorice, mmmm), and that candy was hard to find even when I was a kid.
I'm sure the younger generation never heard of the candy I loved as a kid, such as Runts and Candy Blox.
Pros
Sells retro candy that's hard to find
Option to buy individual candy or purchase a box
Boxes have subscription or individual buying options
Can filter candy and boxes by the decade
Sells candy from the 90s to before the 1920s
Candy arrives in cold backs so they don't melt
Cons
Don't sell all retro candy since some companies went out of business, but Old Time Candy does recommend modern alternatives
Best for International Candy: Universal Yums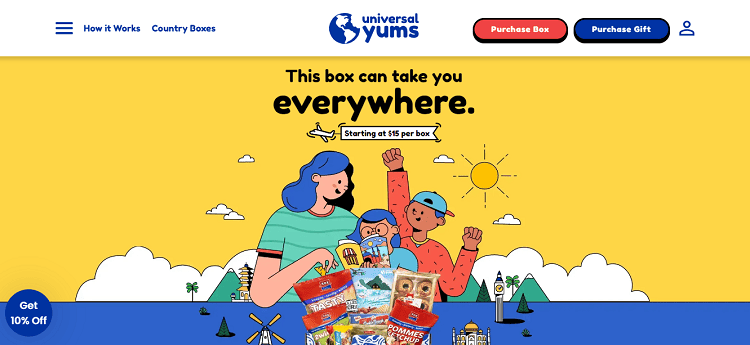 Do you love trying snacks from different countries as much as I do? If so, you will love Universal Yums! With every box, you receive candy and other treats from a different country.
You'll also receive a booklet with recipes, games, and country trivia, so you'll learn more about the nation featured and the local cuisine. You can choose the country box you want every month.
I have to say, candy was other countries is so yummy! I'm kind of jealous.
You can choose from three different-sized Universal Yums boxes:
Yum Box: 5-7 snacks
Yum Yum Box: 10-12 snacks
Super Yum Box: 15-18 snacks
When you choose the size box you want, you can choose to pay for a full year or monthly. You'll save more when you pay yearly; for example, the Yum Box costs $15/month for the year plan and $17/month for the monthly plan. Universal Yums offers free shipping to the continental US, and they also ship to Canada, the UK, Australia, and Israel.
Don't want to subscribe to the entire box? You can buy snacks individually. On the website, you can filter the snacks by country and treat type.
Pros
Candy and treat box with an international focus
Different-sized boxes to choose from
Can choose the country for each month
Good mix of treats in each box
Individual candy and treats for sale
Cons
Can't choose the exact snacks in the box, just the country
Best for Japanese Candy: Bokksu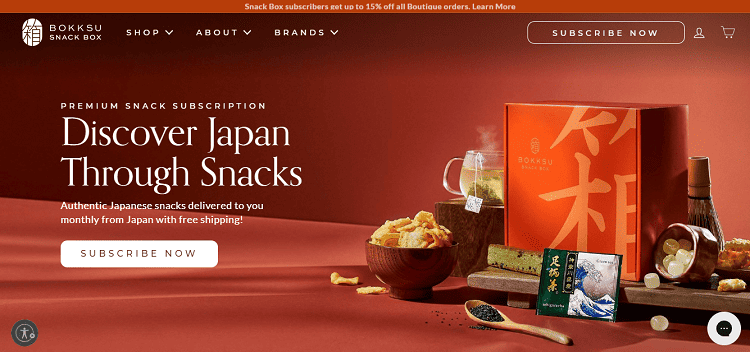 We all have that friend who's obsessed with Japanese candy and somehow always went to school with the tastiest treats from the other side of the world (I'm based in the USA). If you have a Japanese candy obsession or want to try some new sweets, Bokksu is an easy way to get your hands on some of the most delicious treats from the region.
What I find interesting about this box is it's more than just candy. You'll receive tea with every box, and Bokksu works with family-owned businesses in Japan to bring you the most authentic flavors. Bokksu also offers themed boxes, such as for holidays, brands like Hello Kitty, and even focusing on specific parts of Japan.
Bokksu has a billing plan options:
Monthly: $49.99/month
Three months: $45.99/month
Six months: $43.99/month
Yearly: $39.99/month
Regardless of the billing option you choose, you'll receive your box monthly. All boxes include free shipping — and they're all shipped from Japan!
Pros
Candy and treats from Japan
Works with family-owned businesses to deliver hard-to-find and unique flavors from the region
Free shipping
Different pricing tiers
Themed boxes
Gift box options
Each box contains at least 20 items
Perfect for a Japanese candy enthusiast or someone who wants to try new treats
Cons
Only affordable if you buy the yearly plan
Doesn't ship to every country
Items are non-refundable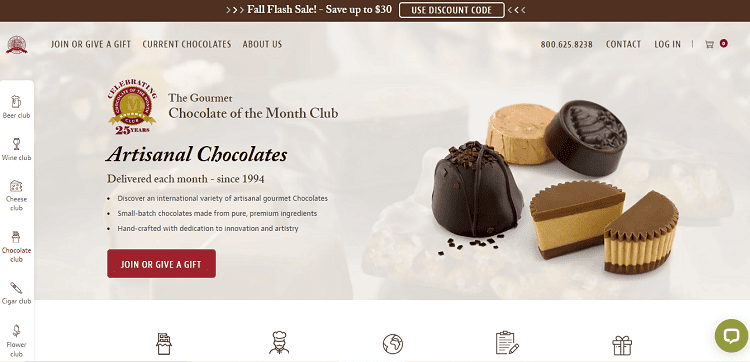 Move over fruity and sour candy! I'm a chocolate lover through and through. There was no way I was going to write this article without including a chocolate subscription box.
There are a lot of them out there, and I will be including another one later in the article. But if you're not picky about the type of chocolate you want and would rather focus on quality, I suggest Gourmet Chocolate of the Month Club.
They handpick artisanal chocolates from all over the world, so you'll get the highest quality chocolate every month. The chocolatiers selected are boutique companies, so you're also supporting small businesses.
I also appreciate the unique flavors you receive in the box. For example, I'm looking at the current month's chocolate, and they're featuring Four Brothers Chocolate — who makes their chocolate with habanero sea salt and Earl Grey tea!
Want to subscribe for someone else? You can choose the gift option when you sign up. I also really like their customer service. Their representatives are really helpful, and you can use their live chat, call them by phone, or fill out the contact form.
Pros
High-quality chocolate
Hand-selected by the company
Made by small chocolatiers
Each box includes a pound of candy
Includes different types of chocolate
Can find some unique flavors
Perfect to give as a gift
Can skip any chocolates you don't like
Cons
Pretty pricey — starts at $49.95/month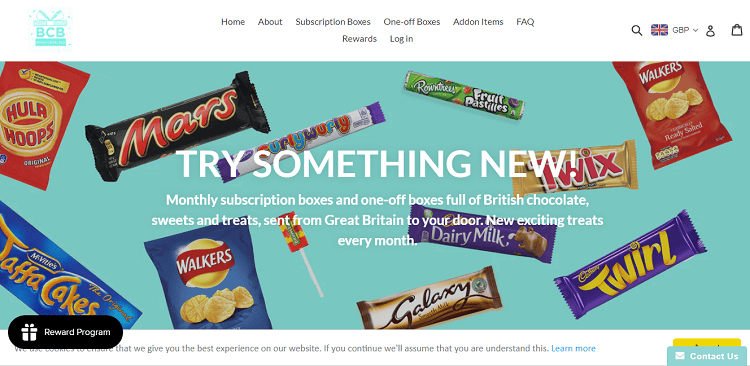 When I visited London several years ago, I was shocked by all of the yummy candy and snacks I found! That's why I was really happy to discover British Candy Box.
While you'll see some familiar treats in this box, such as Cadbury Eggs, you'll also receive some sweets you can't get outside of the UK. In addition to candy, you'll also find biscuits in your box (don't forget, those are cookies).
There are two British Candy Box options:
The Great British Box: 20 GBP (24.30 USD)
The Ultimate British Box: 28 GBP (34.02 USD)
You can also add on an item for an extra price! British Candy Box also offers a specific snack box for 25.50 GBP (30.98 USD). Don't want to pay for a subscription? British Candy Box also sells one-off boxes.
Pros
Two different-sized boxes
Also has a snack box
Can buy one-off boxes
Add-ons are available
Wide variety of candy
Makes a great gift
Cons
Can't customize your box
Shipping isn't free
Not a lot of candy in the box
Don't have the best packaging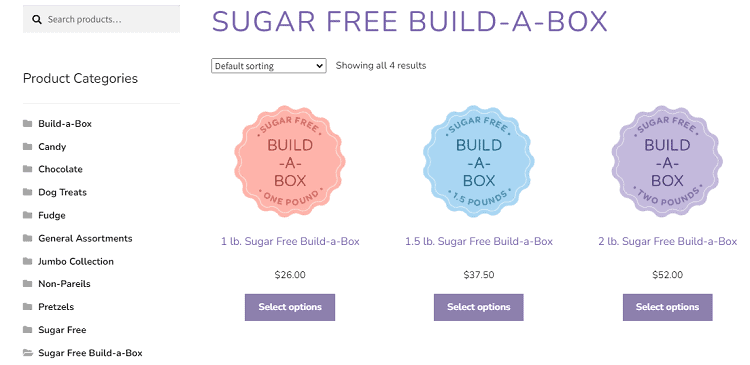 I understand that not everyone can eat sugar, but you'll still want to indulge in some treats. Fortunately, Maryland-based Bomboy's Candy offers a box dedicated to sugar-free candy.
You can build the box yourself, choosing between sweets such as sugar-free caramels, chocolate-covered almonds, and more. Bomboy's also offers pre-built sugar-free boxes, and you can buy individual candy.
This is a small business; when you buy from Bomboy's, you're truly buying hand-crafted and high-quality candy. The only problem is this isn't a subscription box, but I wanted to include something sugar-free here.
Pros
High-quality sugar-free chocolate
Bomboy's is a small business
Lots of sugar-free chocolates
Can build your own box or buy a pre-made box
Cons
Not a subscription box
Risk chocolates going stale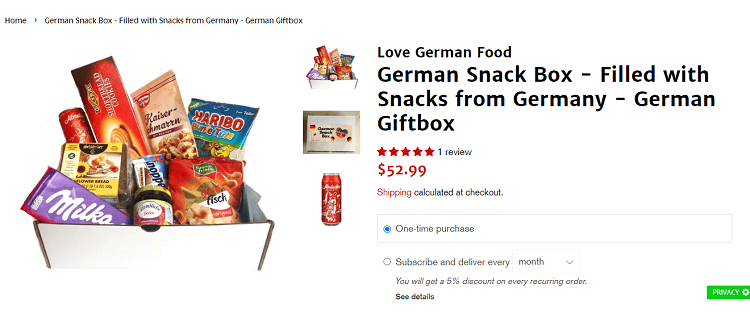 I went to Berlin several years ago, as well, and I couldn't believe how much candy was in that country! No matter where I was, there was an entire Haribo section! You probably figured this out, but my friend and I ate candy the entire time we were there (and drank beer, but that was beside the point).
While I can't find a German-specific candy box, I did find one dedicated to German snacks. Each box contains nine hand-selected German snacks, from Haribo to cheese snacks.
This is also vegetarian-friendly; the box contains meat, but you can choose one of the non-meat themes (such as pancake or kaiserschmarrn mix). You can buy one box for $52.99 or subscribe and save 5%. I really like how you can buy one box as a gift instead of buying an entire subscription.
Pros
The box contains nine snacks
Contains German candy and snacks
Can choose the theme
Authentic
Can buy one box or subscribe and save
Makes a great gift
Cons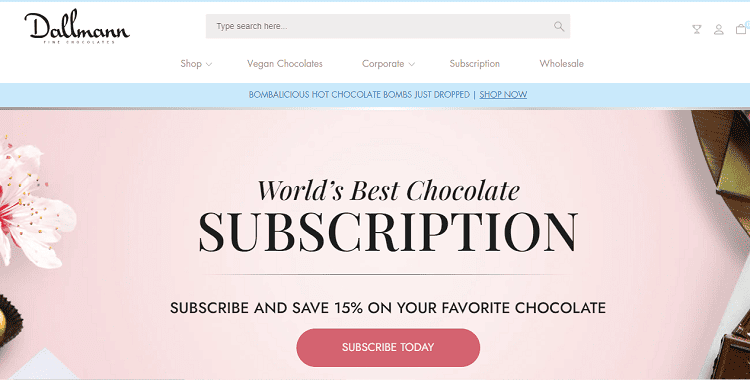 As I stated previously, I wanted to recommend another chocolate subscription box. But I didn't want to include just any chocolate subscription. There was a time when I was vegan, and it was SO HARD to find chocolate made without any animal ingredients. That's why I dug around the internet to find the best vegan chocolate subscription box.
Dallmann offers a subscription for different types of chocolate; in addition to their classic box, they have one for vegan, sugar-free, exotic, chocolate to pair with wine, and more.
How does Dallmann make their chocolate vegan? Easy — they replace cow milk with vegan alternatives, such as rice or almond milk. Their vegan chocolate also isn't made with any other animal ingredients, such as whey.
And should I emphasize how delicious the chocolate is? For the vegan box, you can choose between so many flavors such as fleur del sel, cardamom & orange, triple chili, and so many more.
You have a few subscription options:
Two-week delivery
Three-week delivery
Four-week delivery
The cost depends on the number of chocolates in your box. Here are the pricing tiers:
9: $25.50/box
16: $42.50/box
25: $51/box
50: $93.50/box
When you support Dallmannn, you're supporting a woman-owned business that's been operating since the 1950s. They're truly masters at their craft.
Pros
Can choose different sized boxes and delivery times
The 9-piece box is affordable
Specialty vegan chocolates
Unique flavors
Other chocolate types available
Woman-owned business
Can buy a standalone vegan chocolate box
Cons
The build-a-box option is difficult to navigate
Exotic flavors aren't as tasty
FAQs
Question: Are Candy Subscription Boxes worth it?
Answer: Many people get plenty of uses from subscription boxes. Even if you don't eat the candy, you can save the boxes and give them out as gifts. That said, I recommend candy subscription boxes to those who love sweets and want to try different ones. That said, always consider the cost of the box and your budget to ensure you can afford it.
Question: Do snack boxes also contain candy?
Answer: Some do! I mentioned a few here, such as Universal Yums, that contain both snacks and candy. Others, such as British Candy Box, also have a snack option. If you want a box that offers snacks and candy, I suggest looking at past boxes or asking customer service.
Question: Are candy boxes the most popular subscription?
Answer: Surprisingly not! Streaming services, specifically Netflix, are the most popular subscription service.
Bottom Line
If you want to subscribe to a candy box but aren't sure which one to choose, I suggest trying Candy Club. Each box is different but contains a mix of chocolate, gummies, other candies, and even desserts. They also support artisanal candy manufacturers, so your subscription is supporting small businesses.
I also found many specialty and even regional candy subscription boxes to satisfy more specific cravings. For example, I know many people in the West love Japanese snacks, and Bokksu is a fun way to get treats from Japan every month.
For me, I would choose the Gourmet Chocolate of the Month Club, Old Time Candy, or the German Snack Box (specifically if they have a Haribo one). I do see myself buying the Dallmann subscription box for my friend's birthday, especially since she's vegan and is always looking for new sweets!
Continue reading:
Love with Food vs. Graze Box: Battle of the (Healthy) Snacks!
Try the World Review: Snacks at Your Door. Yes, Please!