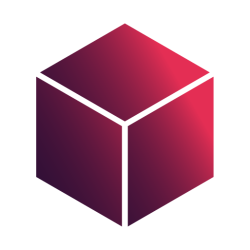 Latest posts by Subscriboxer Team
(see all)
Our Verdict on Foodstirs
I really appreciate the high-quality ingredients that Foodstirs provides and I am sure most parents would agree that it's great to find a company that is committed to making natural products. I would suggest Foodstirs to anyone who wants to make healthy and tasty Pinterest worthy treats that are a fun and easy project! Sign-up here to see for yourself!
====
Foodstirs is a baking kit subscription box that helps to make baking easy and fun. They formulate their mixes and kits with wholesome ingredients like organic baking flours and fair trade chocolate so that their treats are healthier than the average box mix.
They have simple stuff, like a brownie kit and Pinterest worthy projects made easy like emoji cookies that are almost too cute to eat. The company was started by actress Sarah Michelle Gellar, from the TV show Buffy, along with her business partners, Galit Laibow and Greg Fleishman.
Their website includes many things available for a one time purchase, but they also have a subscription called their Baker's Club. For $14.99 per month plus shipping and handling, you will receive one kit (check here for the latest price), which usually has an adorable seasonal theme like monster cupcakes for this October.
The more months you sign up for in advance the cheaper the kits become at check out, so if you want to make baking a regular thing it pays to sign up for this service.
I was really excited to tackle my Foodstirs baking project with my daughter. I think this subscription is great for anyone who loves to bake from time to time and wants to do it with fresh, high-end ingredients.
It's also great for anyone who loves the idea of making awesome themed baked goods but doesn't have the time to research recipes and shop for the ingredients that go along with that.
It's super convenient to have everything you need come right to your door with foolproof instructions and online videos to help you along the way. I have had enough Pinterest-fails to know how valuable that is!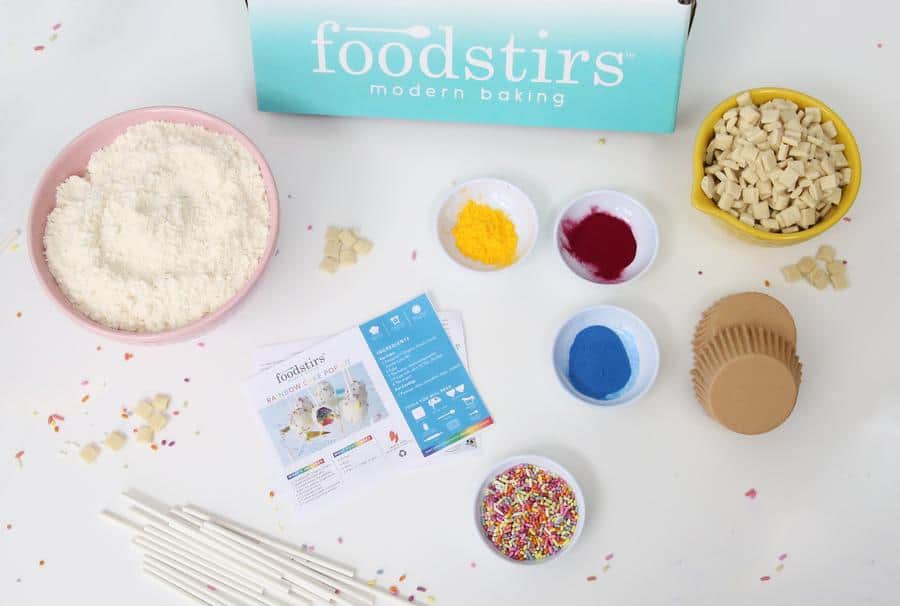 I received the Rainbow Cake Pops Kit and I was beyond excited to make them. Like I said, I really love baking, but I never attempt to make things that are this pretty! It's enough of a challenge for me to make something that tastes good!
I was a little bit nervous that my cake pops would not come out as picture perfect as the ones on the recipe card, especially since my assistant is five years old. The instructions and the video made it seem so easy, but I was not yet convinced!
Once we started the baking process I was surprised to see that I needed a few items that I have never needed for the typical grocery store box mix. The Foodstirs Organic Simply Sweet Vanilla Cake Mix, which was the base of the cake pops, required eggs, butter, milk and 6 tablespoons of plain or Greek yogurt.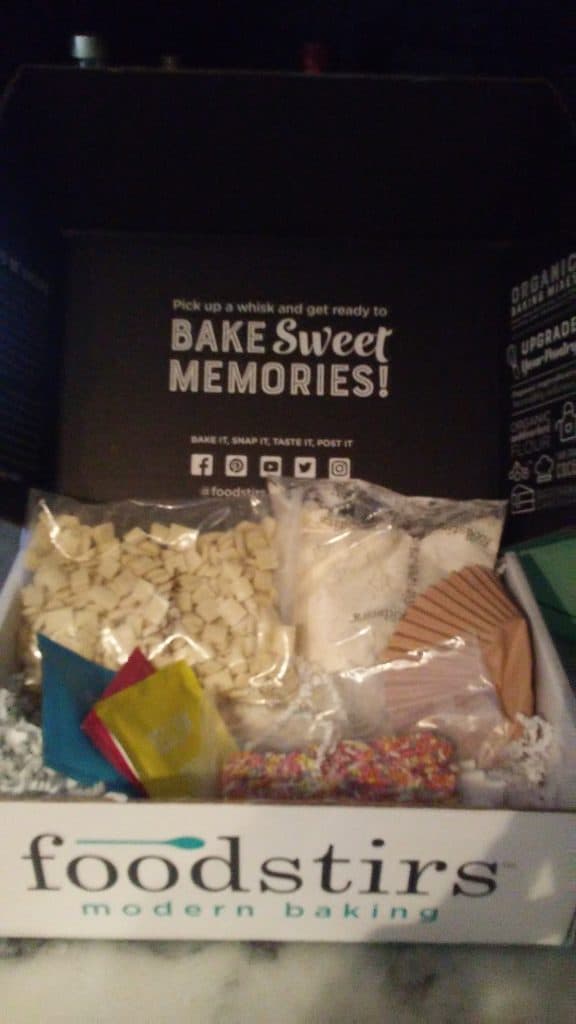 My Foodstirs Baking Box!
I was a bit thrown off by the yogurt, but luckily I had just enough to make it work! The box cupcake mix came together in a snap (true to the modern baking name).
While the cupcakes baked the fun really started. For the next step, we would be mixing powdered dye to add color to the cake after it was baked. This would create the rainbow look inside of the cake pops. Much more fun than plain old vanilla cupcakes!
I was happy to see that the food coloring was actually dye-free, meaning that it was a more natural version of the stuff you typically find in the grocery store. The colors were made with beet powder, turmeric, and spirulina.
I loved that I was sneaking healthy smoothie ingredients into these cake pops, but I know that for some parents avoiding food dyes is a big concern. Many people avoid dyes because they connect them to behavior issues and health problems.
These dyes are in all types of unexpected foods, but because it's a growing movement to avoid them many companies are creating colorful, natural treats. I think it's great that Foodstirs makes a product that parents can feel good about giving their children.
This dye mixing step was also really fun for my daughter. The color mixing was definitely a teachable moment when we talked about color mixing and the color order of rainbows. Soon after we finished mixing the dye the cupcakes were finished baking.
The cupcakes looked and smelled delicious. It was hard to resist trying one before moving on to the next step. We took a little break while the cake cooled and then I crumbled 2 cupcakes into each bowl of dye. This part of the experience was a bit messy but so fun for my daughter that I really didn't mind the crumbs piling on my floor.
Next, it was time to get our hands dirty and form the cake pops out of a bit of cake from each color. Some came out prettier than others, but the rolling method in the instructions was easy and plastic wrap kept our hands clean.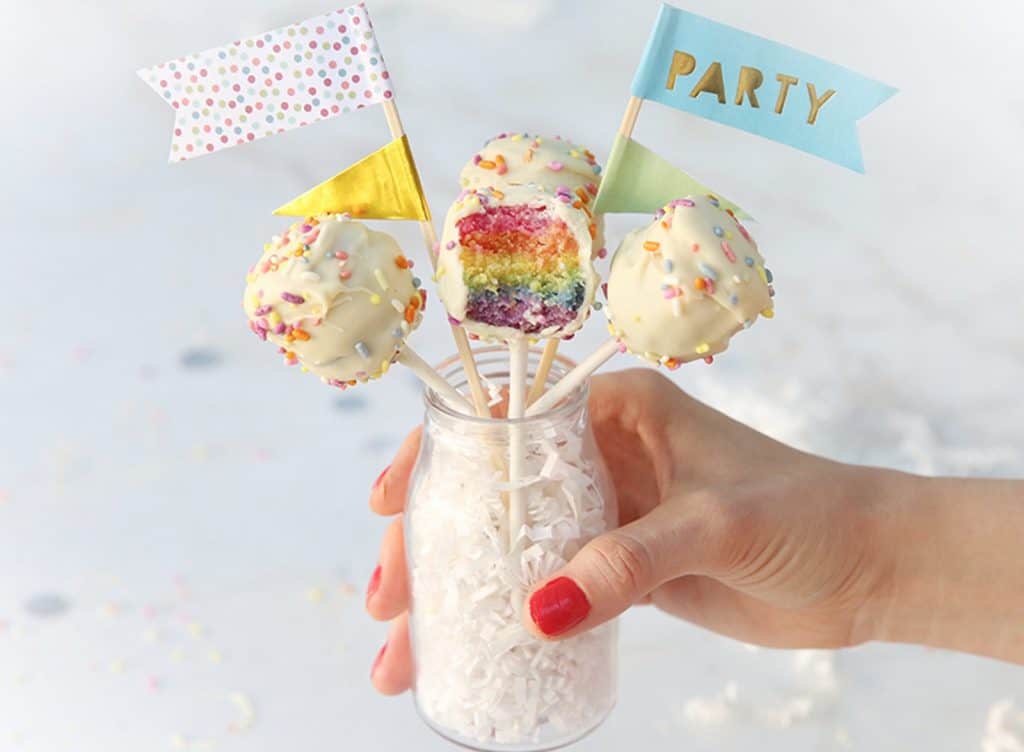 The next step was the candy coating. My daughter's attention span had run out by this point, so I did this part on my own. Because of that, this step went by quickly.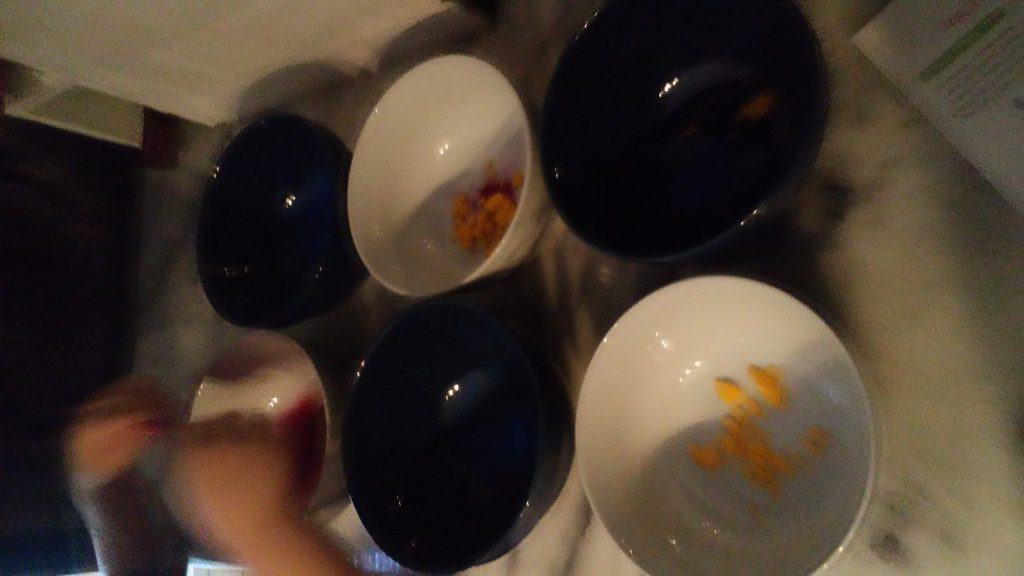 Time to get our hands messy!
The Foodstirs white chocolate chips didn't look like your average chip, they were funny little rectangles, but they were so delicious and not overly sweet like the candy melts I have used in the past to do a white candy shell.
The color was like a flecked vanilla bean which looked gorgeous with the multi-colored sprinkles that topped them off. By this point my daughter got back into it and sprinkled away!
As the cake pops candy coating set in the freezer I looked around my kitchen. The floor was a mess and I had a lot of dishes to wash! The process of making the cake pops was lengthy too, but they would have come together much more quickly if I had been making them alone.
It took us over an hour, but we were taking our time along the way. The recipe was more intensive than anything I would have attempted on my own. The experience was really fun too, and while my daughter lost interest for some of the time she was engaged for almost the entire recipe which really surprised me.
This colorful, unique project kept her attention more than any other baking project that we have done together. I think that Foodstirs would be an especially good subscription to join during the winter months.
These projects are a great way to keep kids occupied for long days indoors. Next, we would taste test the final product and judge whether or not it was all really worth it!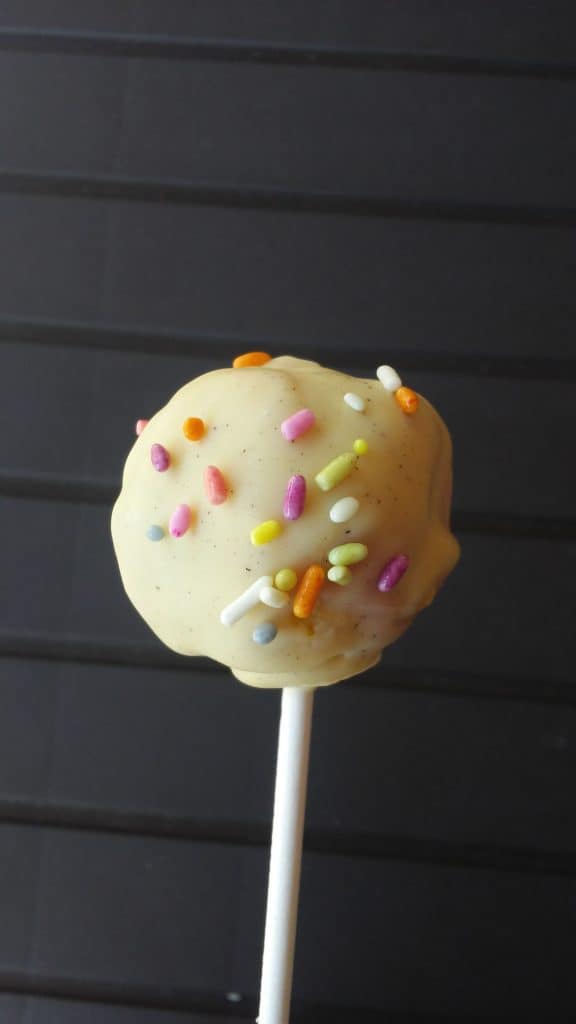 Voila! The finished cake pop!
The cake pops were absolutely delicious. They weren't over the top sweet like I was bracing myself for. I do like sweets, but the extreme candy coating and sprinkles kind of sweet is usually not for me. These cake pops were different though.
I could taste the vanilla flavor in the moist buttery cake instead of just a shot of sugar. My daughter was obsessed with them. These cake pops were sweet, delicious and indulgent, but I also felt good knowing that they weren't loaded with artificial dye and that they were organic.
Overall Assessment of Foodstirs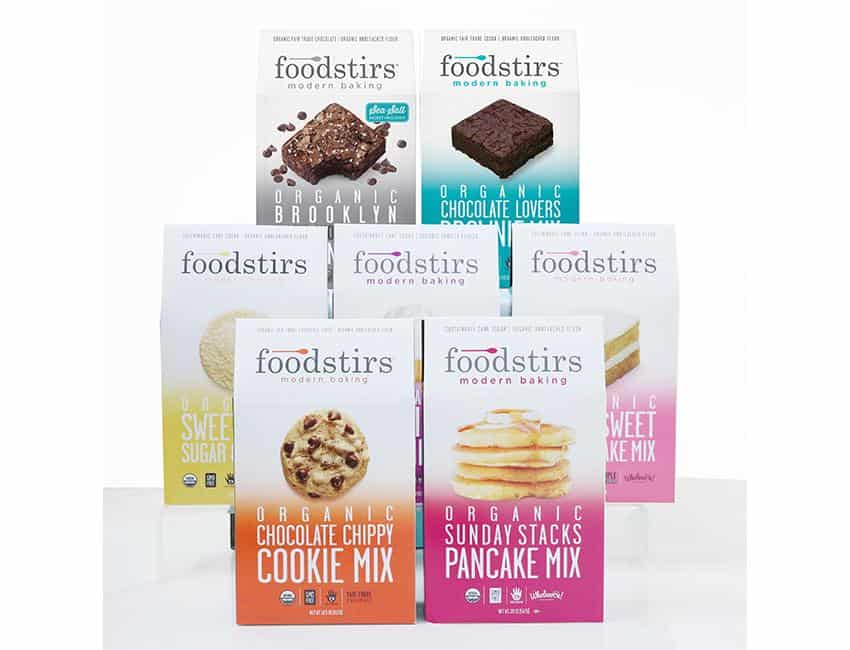 Pros and Cons of Foodstirs
Pros
Delicious final product!
Adorable seasonal themes
Makes baking prep easy because you don't have to shop or find recipes
Makes baking a fun project that occupies and educates little ones
Uses the best ingredients so the treats are guilt-free!
Easy to follow instructions
Very giftable.
Cons
A little messy (but it's all part of the experience!)
A little time consuming (but we loved every minute of it!)
Foodstirs Alternatives- What else is similar?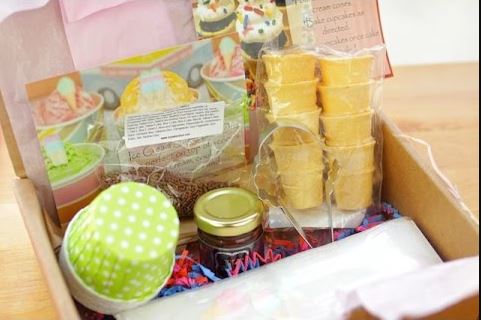 My Bakers Box is a monthly baking subscription that also introduces fun themes with each box. This service costs $18.95 (check here for the latest price). This box is different from Foodstirs because it doesn't include any ingredients.
You get two recipes and supplies like cookie cutters, but when it comes to flour and sugar you have to buy your own. To me, this takes away the convenience that I loved about Foodstirs, but I would still be interested in trying My Bakers Box for cookies and more.
So Bakeable is a bi-monthly baking subscription box. Each order contains two kits and costs $36.95. This subscription includes the non-perishable ingredients as well as detailed instructions. I liked that you can tailor the subscription to fit your tastes with options like "chocolate lover" or "fruity".
Another great detail about this service is that they email you before your box ships so that you know what ingredients you need to provide for yourself like butter or milk. I would love to give this box a try.
Final Word on Foodstirs
I loved our experience with Foodstirs just as much as I enjoyed the sweet results! I love that the process was broken down with simple instructions and even included an online video. The process was fun and educational for my daughter and because it was easy for me to execute it was stress-free so it was a great bonding experience for us.
I think subscribing to Foodstirs would be great and I know I would look forward to seeing their cute themes each month. I am considering sending these out to friends with kids as a holiday gift.
Our Verdict: I really appreciate the high-quality ingredients that Foodstirs provides and I am sure most parents would agree that it's great to find a company that is committed to making natural products. I would suggest Foodstirs to anyone who wants to make healthy and tasty Pinterest worthy treats that are a fun and easy project!
For more information check out their website.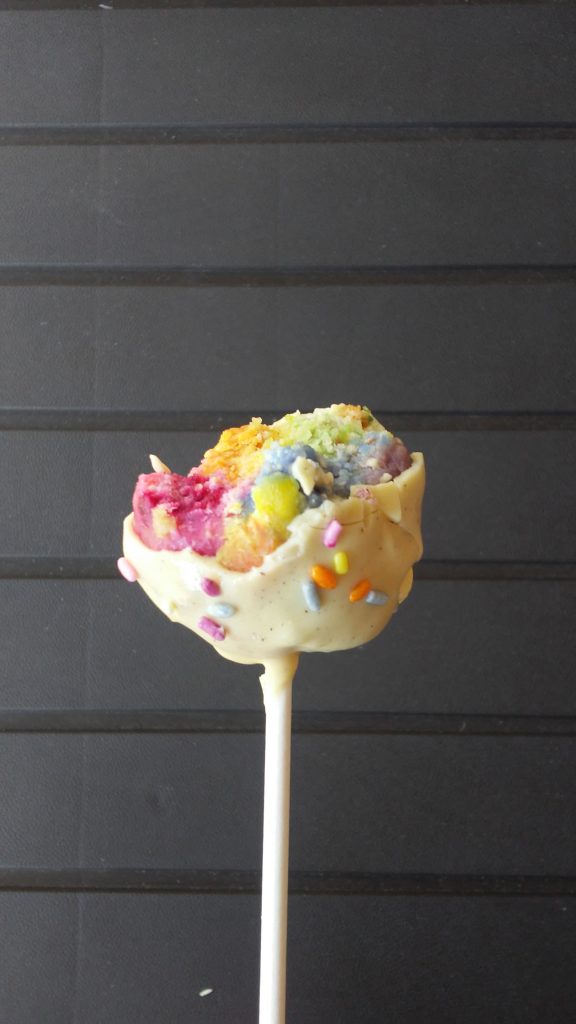 Enjoying the fruits of my labor! Yummy!