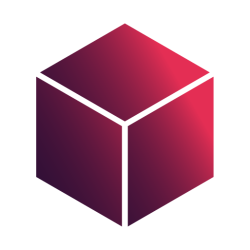 Latest posts by Subscriboxer Team
(see all)
Like any pet owner, I love to spoil my furry babies. Whether it be through a new treat or a new toy, I am continually seeking out ways to provide new experiences for them.
Treats are easy enough, as the variety at pet stores is huge. From dry to wet and in between, any form of meat, dairy, or vegetation imaginable can be found to delight your pet's palate. But one thing that I have noticed, especially with cats, is the lack of simple and unique toys. Go down the cat toy aisle at any big box or pet store, and you will always find three things; a jingly ball, some rope/boa on a stick, and a stuffed toy.
Though these toys are solid staples for cat enrichment, they become boring repeats of each other. Sometimes the colors or patterns change, or a new feature is added like a bell, while the base structure remains the same. An issue arises when there are new, original, and adorable toys, but they are overpriced compared to their traditional counterparts. The price can go up if something as simple as the pattern is changed.
Many of these repetitive toys are also cheaply made, so they don't last very long. I have had this issue with multiple stuffed toys being gutted within a day, or boas being shredded into pieces within a month of purchase. All these factors have led me to wonder if there are any sturdy, cute, and functional toys out there. In my quest to find good cat toys, I found KitNipBox and decided to give the service a try.
The Company – KitNipBox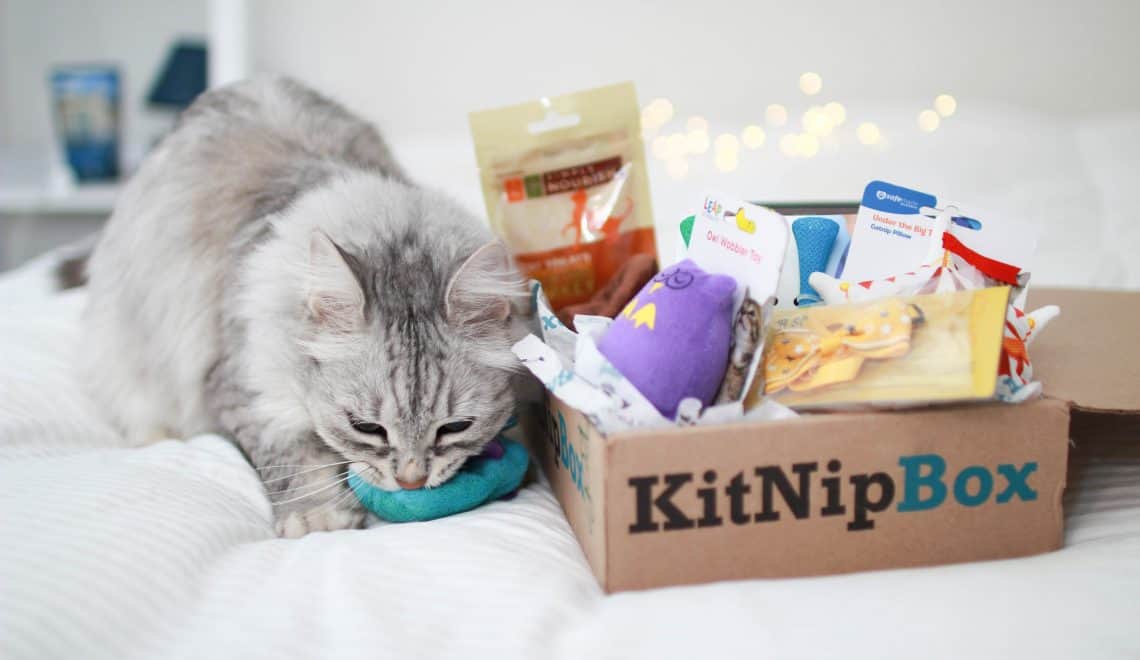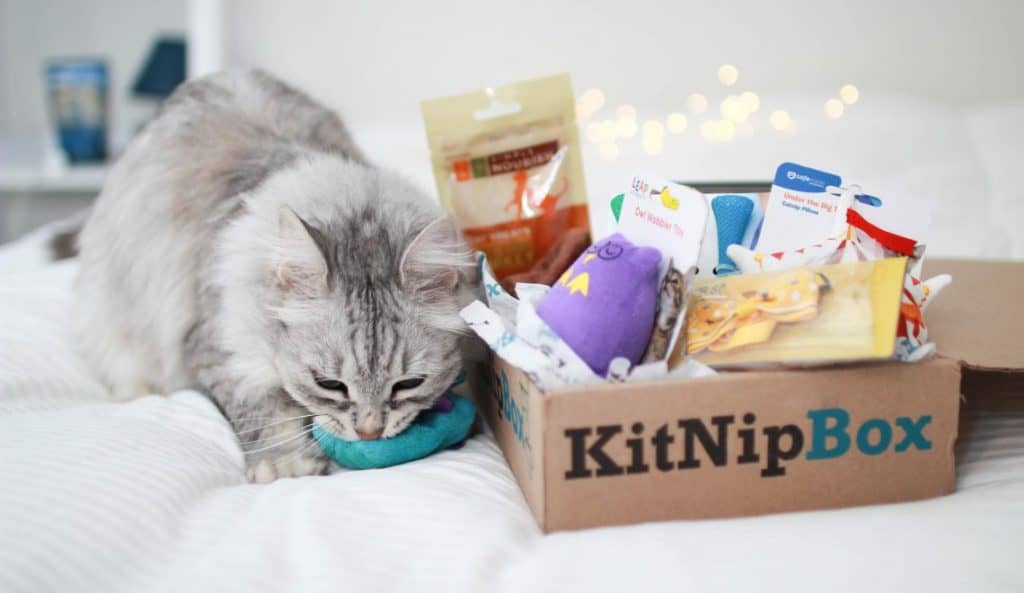 KitNipBox is a monthly cat toy subscription box service based out of New York City. Their boxes supply cat owners with high-quality cat toys, natural cat treats, and other cat-related goodies.
Aside from providing toys and treats to passionate cat owners, they also support over 100 animal welfare organizations across the United States. Each month they donate a portion of their proceeds and products to these rescues and shelters. All their products suppliers meet rigorous standards to provide the highest quality toys and organic treats for your kitty companion.
Plans and Types of Boxes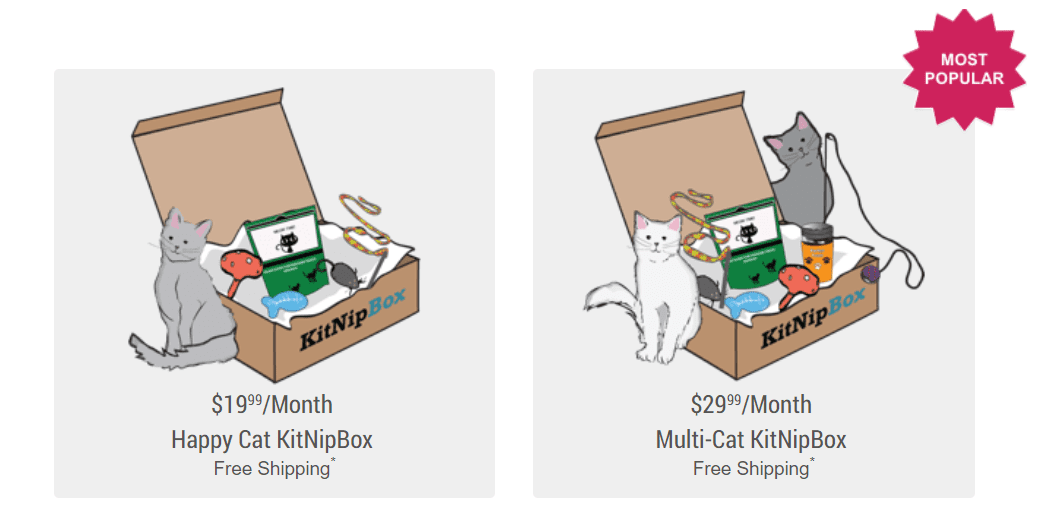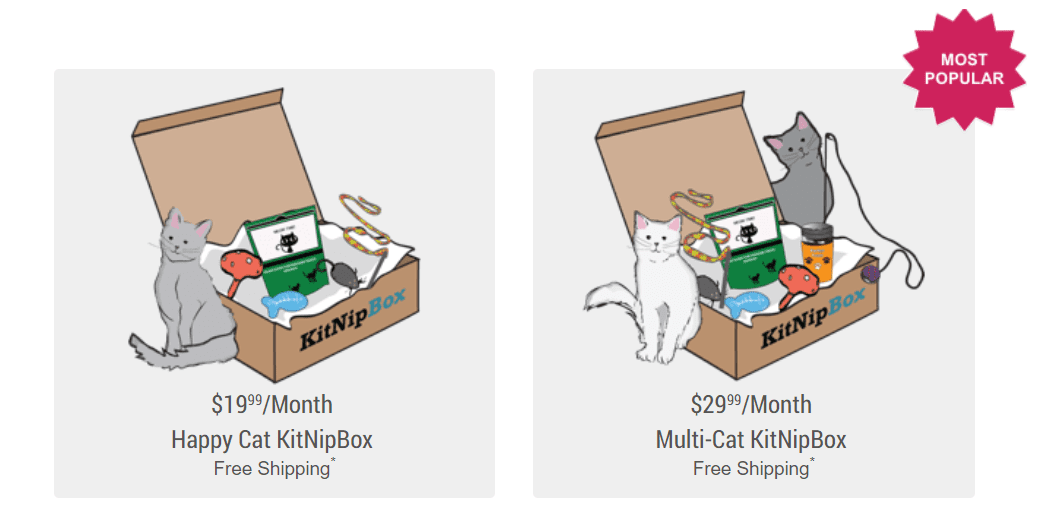 They have two different types of boxes available. The first is the "Happy Cat KitNipBox" which comes with five mystery goodies and costs $19.99 a month. The second box available is the "Multi-Cat KitNipBox" which comes with seven mystery goodies and costs $29.99 a month. These options allow pet parents to pick the best box for their cat or cats. If you have a particularly spoiled cat, perhaps you will opt for the "Multi-Cat KitNipBox" box rather than the "Happy Cat KitNipBox."
Though they say that all their boxes come with edible snacks or treats, if you have a kitty with a sensitive stomach, you can choose the replacement option. For this option, they will replace any food item with another toy.
I decided to order the "Happy Cat KitNipBox" because, even though I have two cats, one of my cats does not play with toys often. You can cancel your subscription service for free at any time, just make sure you cancel your service at least seven days before the next box ships. If you cancel after seven days, you will still receive one final box.
Shipping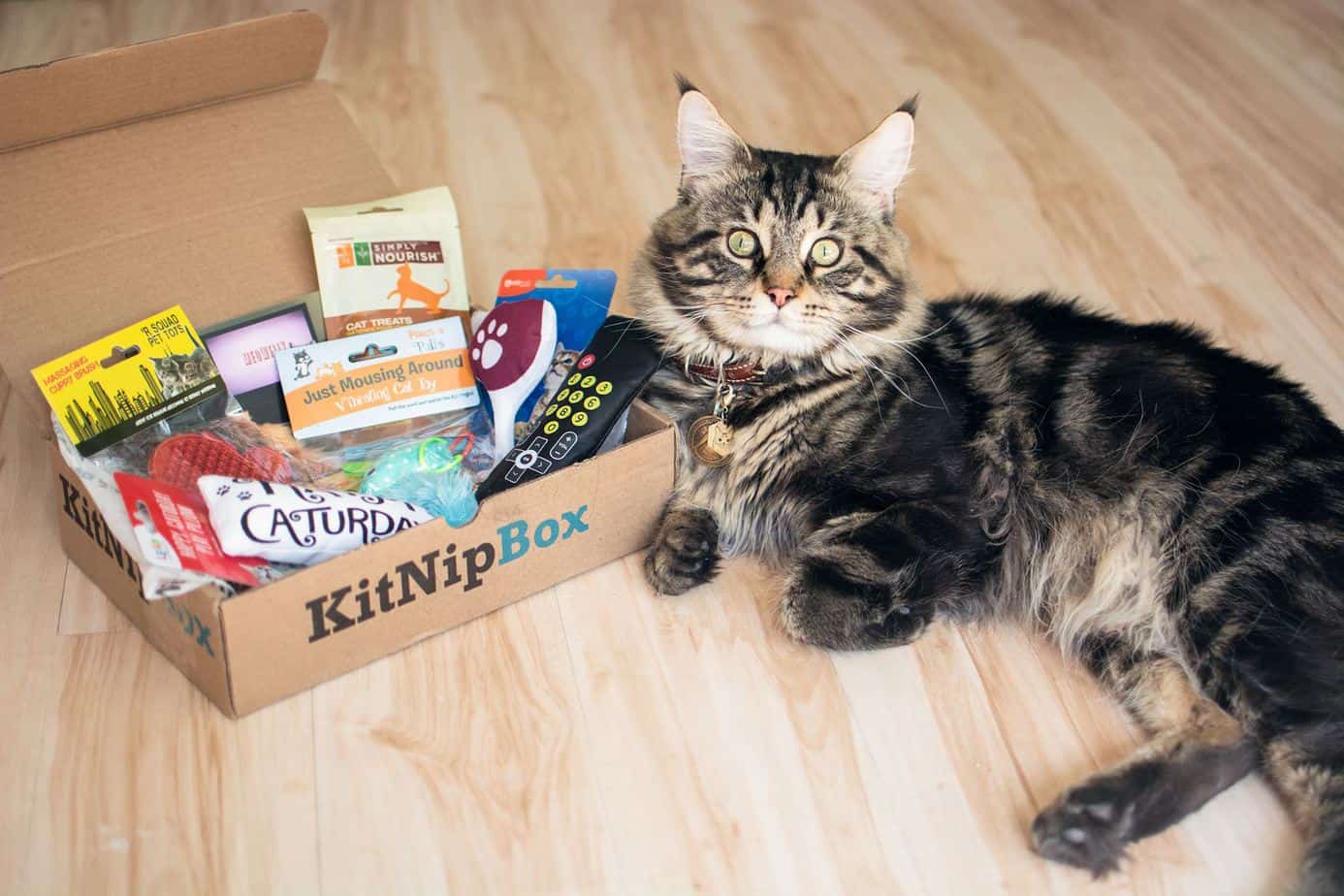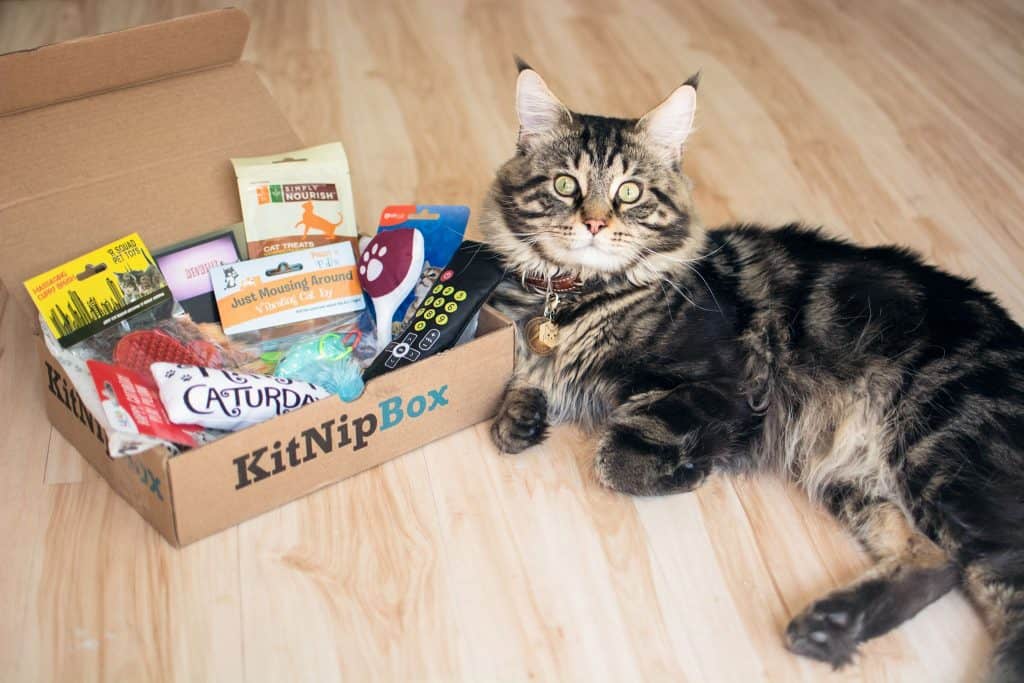 Shipping is free to the United States. They charge a $6.95 shipping fee for orders sent to Canada, and a $7.95 shipping fee for orders shipped to Australia.
They do not mention their shipping costs for Europe, South America, or any Asian countries. With that said, they do encourage interested customers who are not located in the United States, Canada, or Australia to email them to see if they can provide accommodations.
Deals
KitNipBox offers a 15% discount on your next KitNipBox for every referred friend who signs up for the service. Other than this, however, they do not offer many deals on their website. Worry not! Many other websites do have various discount and promotional codes for KitNipBox. A quick Google search will yield these options.
Keep in mind that these websites may not always work, so be prepared to pay full price for your box.
The Box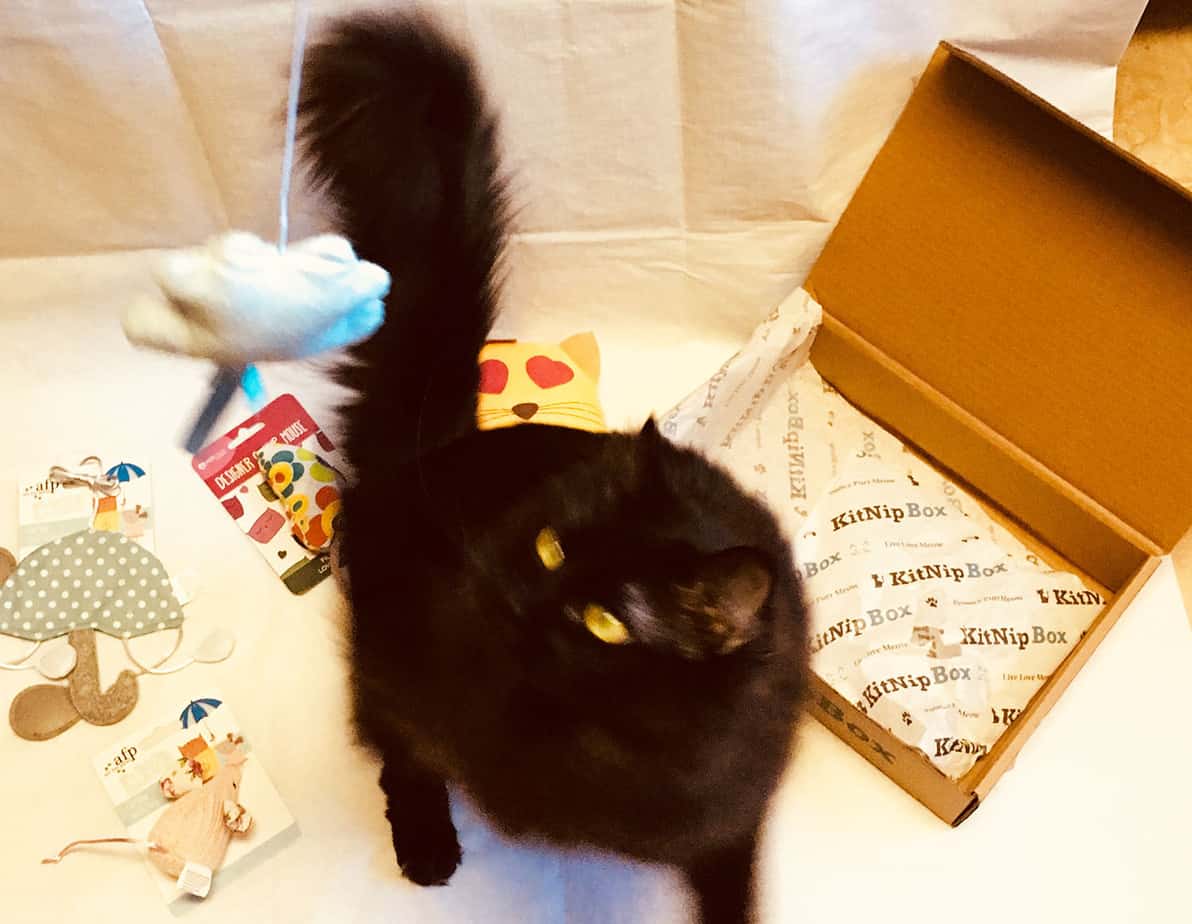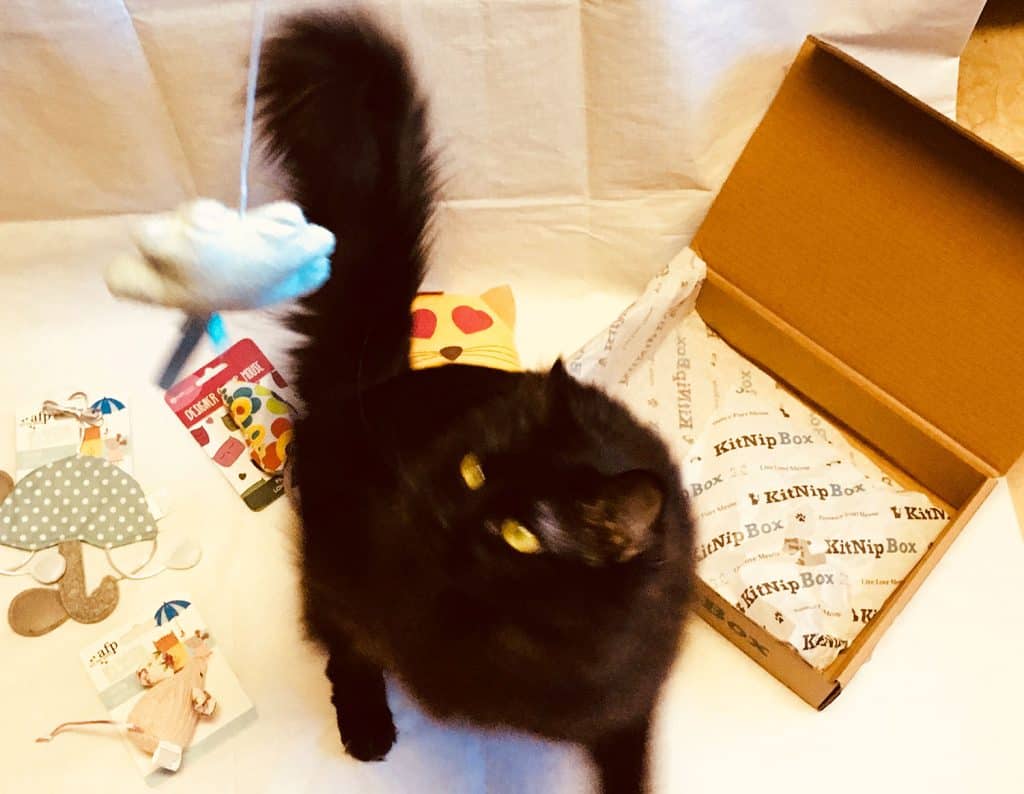 I ordered the "Happy Cat KitNipBox" and chose the toy replacement option because one of my cats is overweight. My box shipped on April 30th and arrived May 8th. I appreciated the quick shipping and the fact that it shipped at the beginning of May. Many other subscription services ship out half way through the month, and frankly, I like to get my boxes near the beginning.
I may have been spoiled by some of my previous snack box subscriptions because when I received the box, I was a bit underwhelmed by its appearance. The box itself was a plain brown cardboard box with the KitNipBox logo on the sides. Opening it, I was pleasantly surprised by the lovely presentation of the toys. The toys were wrapped in some adorable tissue paper and sealed with a big cat sticker.
On top of this neat little bundle was an adorable information card. The front of the card features charming art depicting the theme of the month, while the back breaks down each toy contained within.
Each toy is briefly described, and the price per item is listed next to each description. The costs add up to well above the price of the box, making it a solid deal. If you opted for the treats to be replaced by toys, you could narrow down which toy is the replacement because it will not have information on the card.
My Cats
Before we dive into the toys, I want to explain a bit about my cats and their temperament. I have two sweet cats that vary in age, size, and nature.
My first is Miss Mabel. She is essentially a rambunctious four-year-old kitten. She loves to play and explore. Frequently she is getting into places she should not and is a terror of the night. She will play with almost anything but prefers feathery boas, mice, and the laser pointer.
My second is an overweight eight-year-old named Mister Banana. He loves to eat and sleep but is known to play on the rare occasion. Usually, he plays with the random object he finds around the house, such as pencils, rulers, and plastic bags. He also likes to try and gnaw on cardboard boxes. By far his favorite toy is the laser pointer.
What's Inside?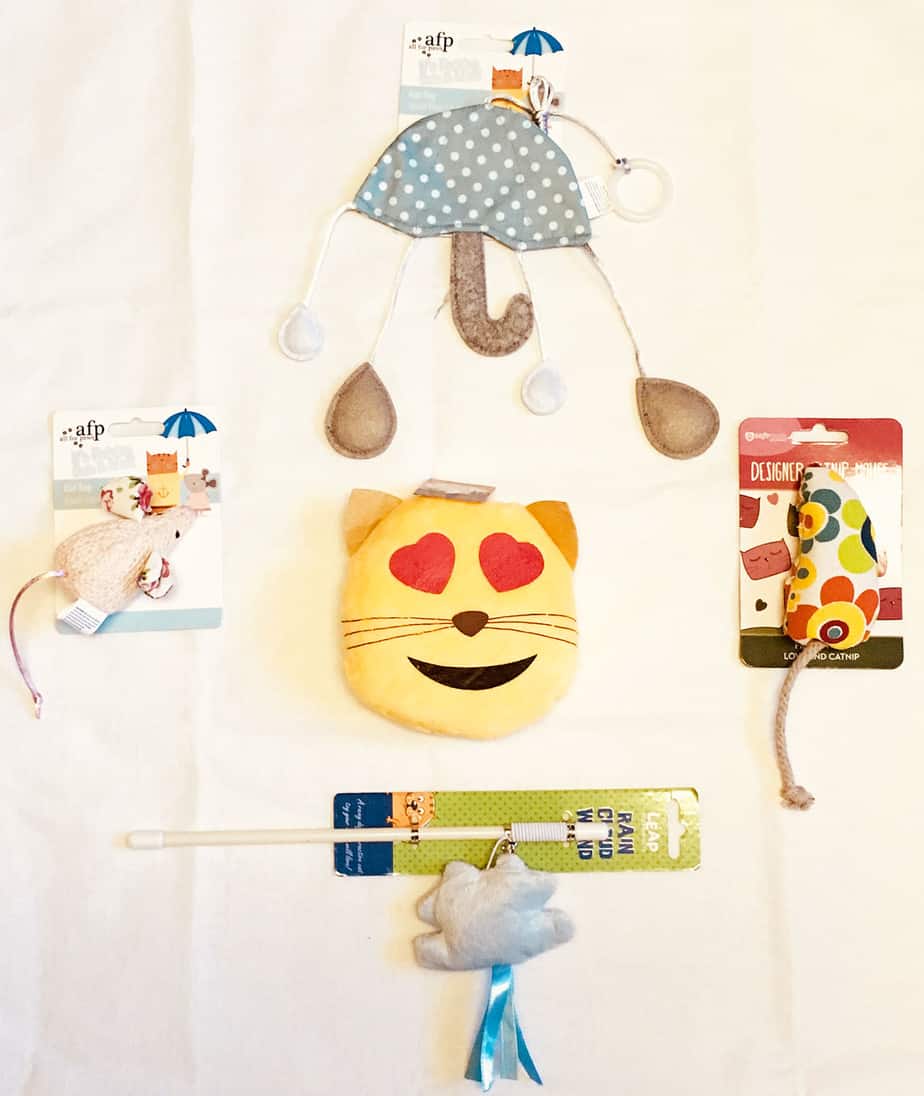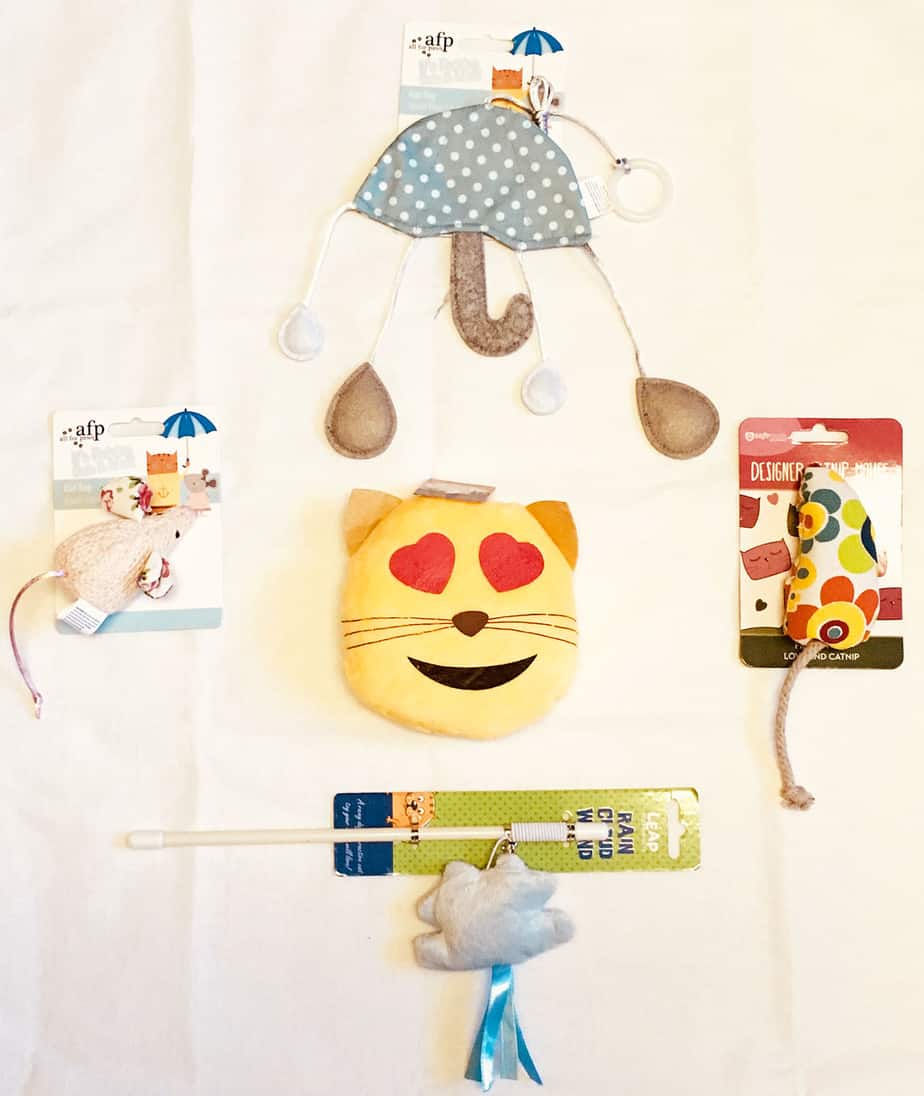 All for Paws Umbrella Dangler
LEAP Cloud Wand
Paws 'N Purrs Emoji Cat Pillow
All for Paws Rain Drop Mouse
Designer Catnip Mouse (This was my treat replacement toy)
Right away I noticed how unique all the cat toys were. They varied in colors, shapes, qualities, and sizes.
Aside from them being different from each other, they were also very different from what I am used to seeing in pet stores. They all fit the cute rain theme in some regard as well, and I thought this was a nice touch. I work with a cat rescue, and these toys were unlike anything I have worked with before. I was both surprised and happy with this selection.
Reviews
All for Paws Umbrella Dangler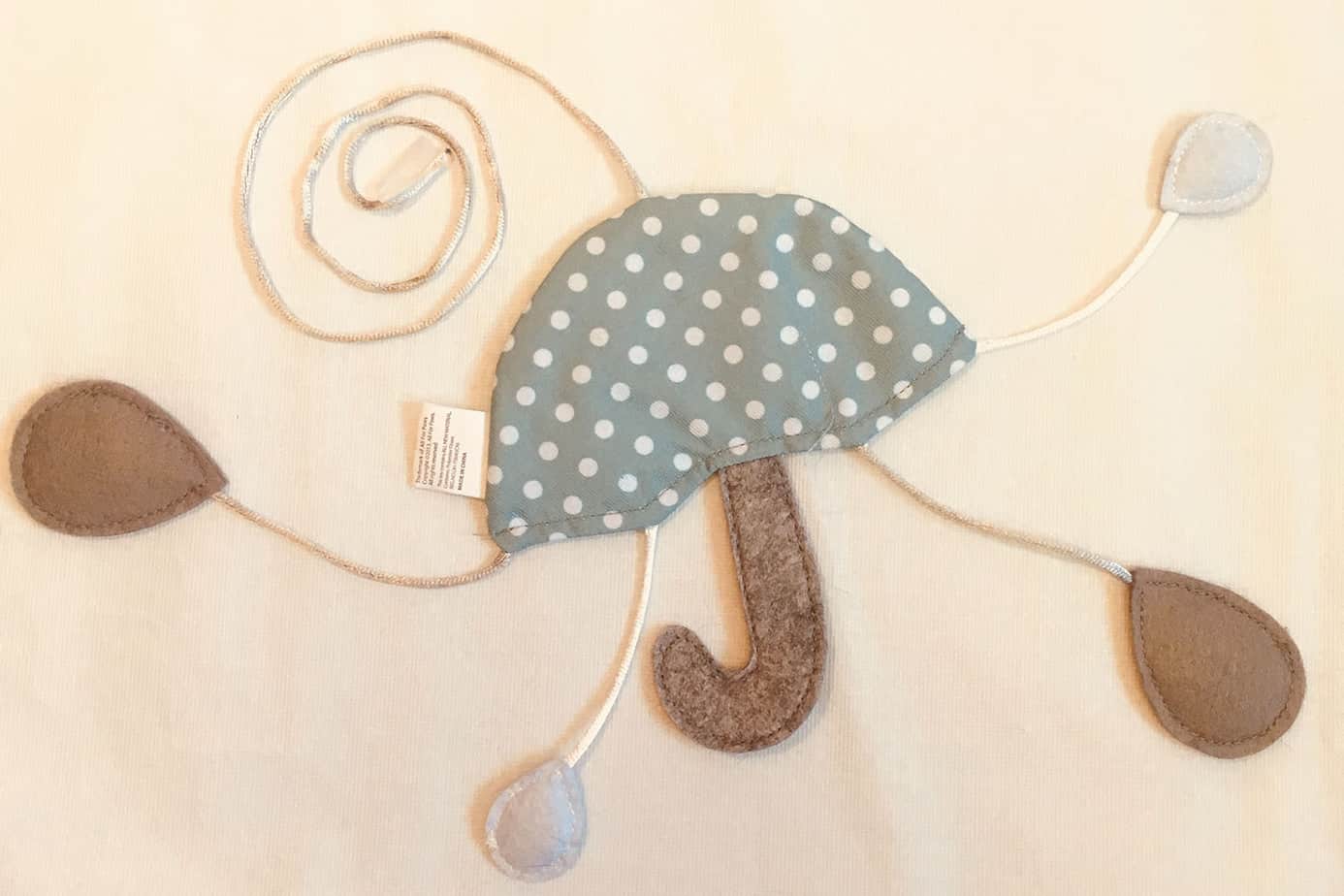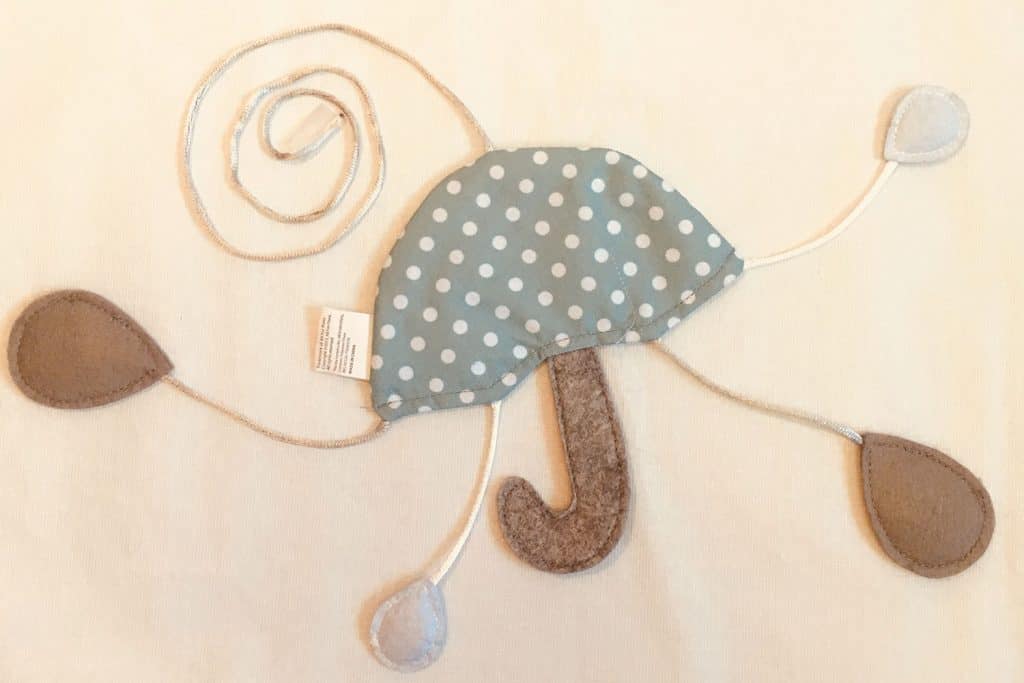 Size: 30 inches total length (about 76 centimeters) with the broadest umbrella part measuring at 5 ½ inches (about 14 centimeters).
Features: 21-inch string (about 53 ½ centimeters). Plastic ring to secure the string to, for easy hanging. Four dangling raindrops. The umbrella is crinkly.
Material: The the string, umbrella, and drops are all different textures. The sting is silky, the raindrops and handle of the umbrella are felt-like, and the umbrella is a smooth fabric with the crinkly texture packed inside.
Functionality: This toy can be tied to a cat tower or used as a rope type toy. Very versatile.
Noise: Crunches and crinkles like a chip bag. This toy is somewhat noisy if they get going. May not be the best toy to keep in the bedroom overnight due to the noise.
Durability: As this toy has a lot of different features and textures, it has a lot of stitches. In my experience, the more aspects a toy has, the quicker it is to fall apart. My cats have not played with it too much, but already some of the stitches are coming loose. I have noticed this mainly on the umbrella part of the toy.
Interest: Surprisingly, Mister Banana was the first to approach this toy. He pawed at it laying on the ground and would chase it when I ran with it. He also played with it when I attached it to the cat tower. Miss Mabel however, will only play with this toy if she sees Mister Banana playing. Otherwise, she is disinterested.
Review: I enjoy the look of this toy. It is cute, functional, and diverse. I was surprised to see both of my cats play with it. They will not play with it for long, but they do play with it in furious bursts. I think Mabel will not play with it by herself because she is overwhelmed with the large size of the umbrella. Not a bad toy.
LEAP Cloud Wand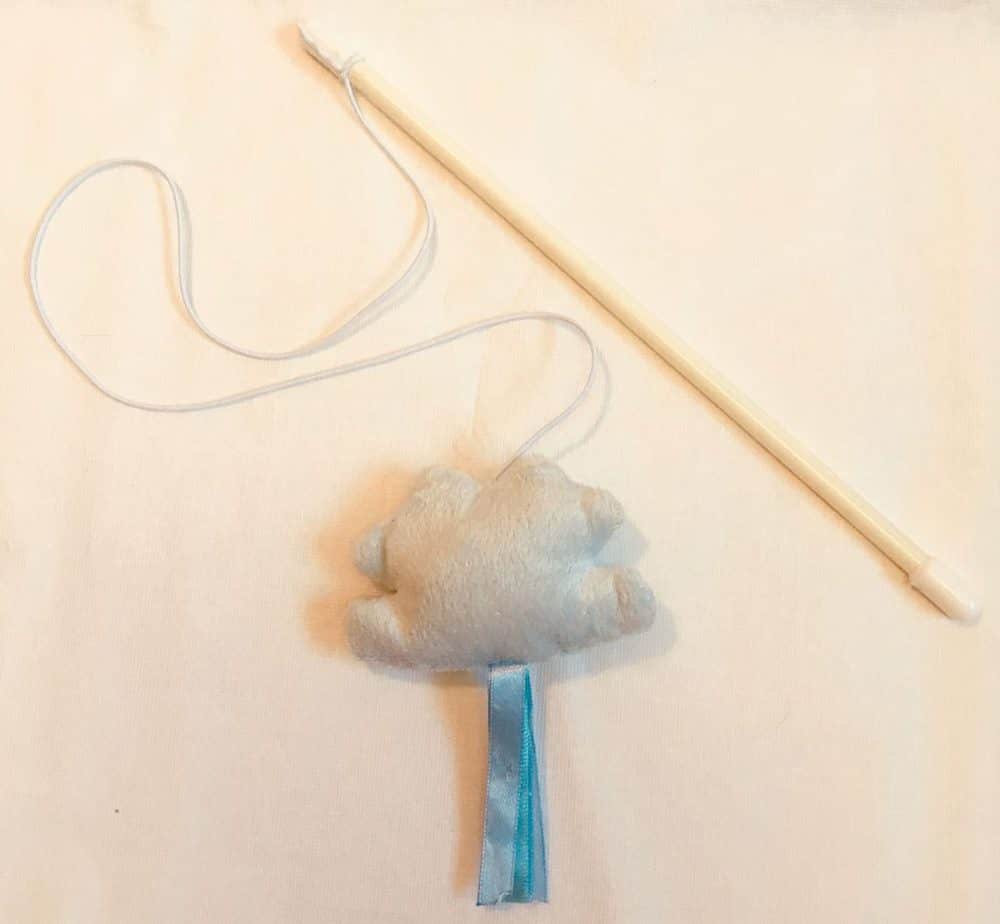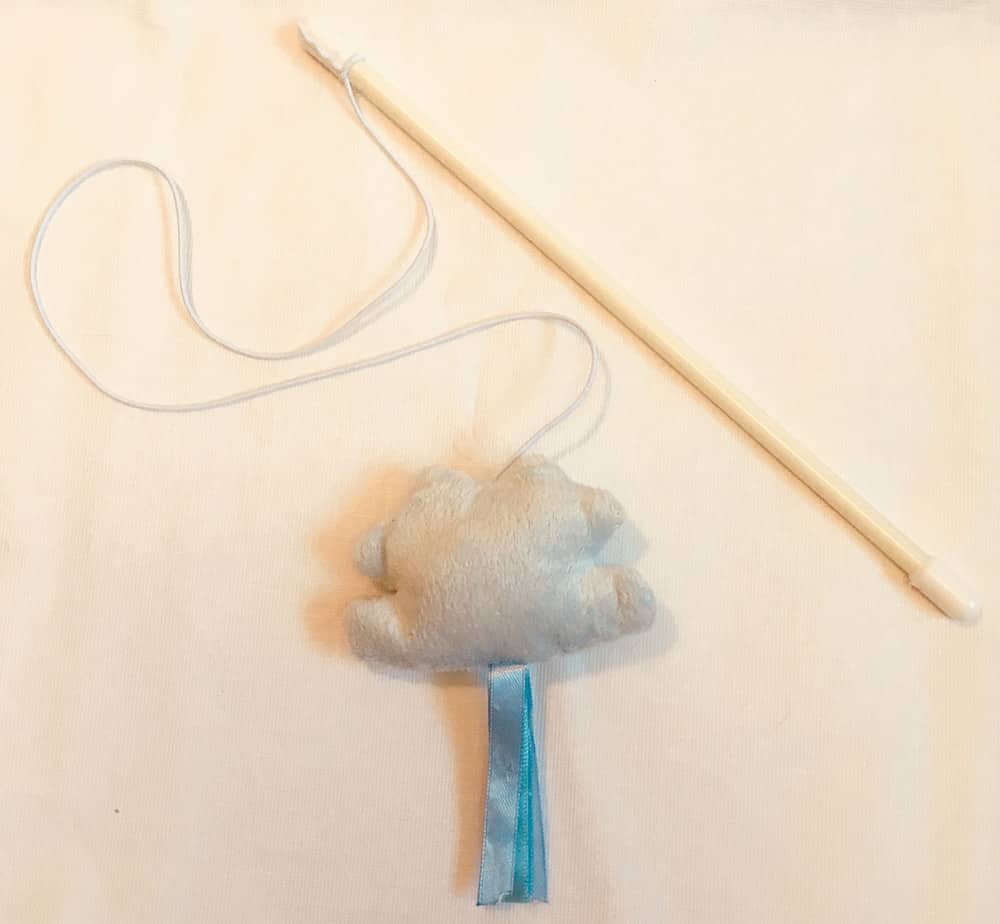 Size: 34 ½ inches in total length (about 87 ½ centimeters) with the widest part being the cloud which measures at 3 ½ inches (about 9 centimeters).
Features:19 ½ inch long string (about 50 centimeters). The string is stretchy; I can stretch it up to 55 inches (about 140 centimeters) before it feels taut. Has a 10-inch stick (about 26 centimeters). A bundle of a ribbon is attached to the end of the cloud. The cloud itself has a jiggly bell inside it.
Material: String is stretchy. Stick it plastic. Cloud is a plush, soft fabric, like the kind you find on microfiber blankets. The ribbon on the end of the cloud is standard ribbon, shiny and smooth. The bell inside the cloud is hard and feels like plastic.
Functionality: This toy is best when used with vigor. Use is comparable to that of a boa or other wand toy.
Noise: It is quiet except for the bell. Again, you may want to keep this toy out of your cats reach at night.
Durability: So far this toy has held up well. With only three parts, it should last a while. I have noticed, that in my household, string toys go faster than stuffed or balls toys.
Interest: Miss Mabel loves this toy. She will chase it and swat at the cloud. When I shake the toy to ring the bell, she will come in from another room. When I am not playing with her, she will paw at it as it lays on the ground. In rare cases, she has brought me the toy so that I will play with her. Mister Banana could care less, he will just walk away from it.
Review: I really appreciate the details of this toy. The stretchy string allows for very engaging play time. The ribbons add a nice fluttering effect which Mabel loves, and the bell keeps her attention. She locked on this toy right away, and even crashed my photoshoot to play with it! It lives up to the "LEAP" in its name, as Mabel will jump after this toy with gusto! I like the texture of the cloud because you can easily rub catnip on it, and it will hold on to the catnip for hours.
Paws 'N Purrs Emoji Cat Pillow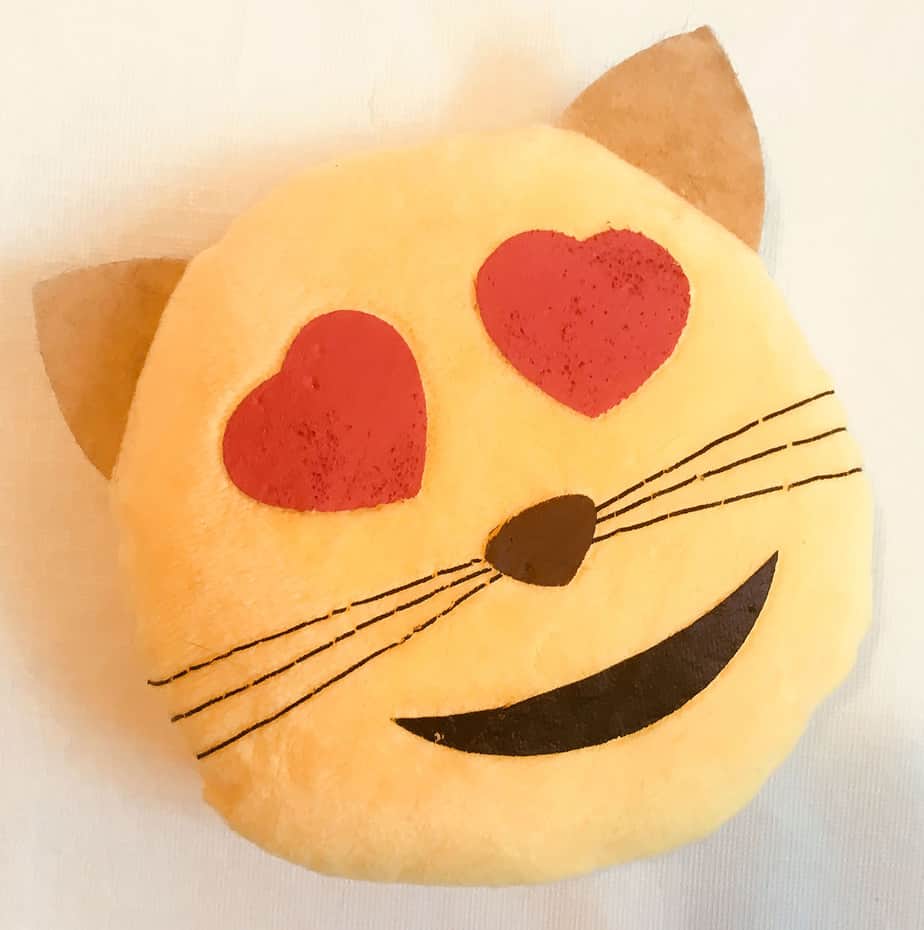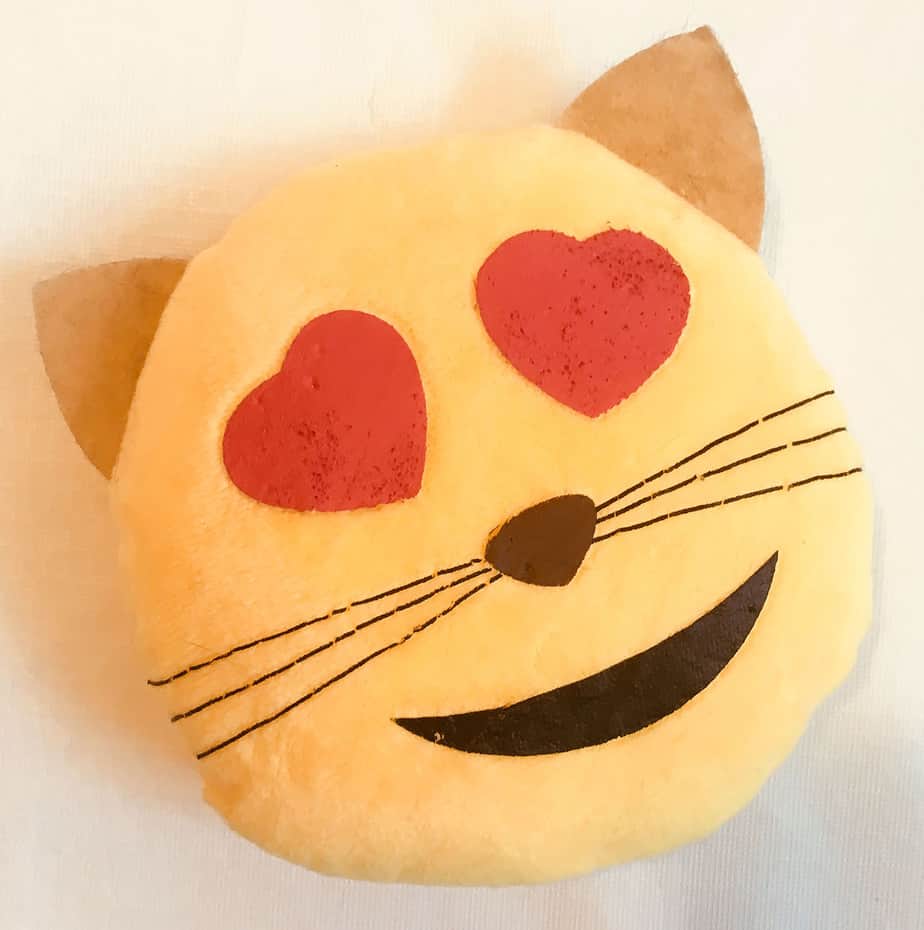 Size:5 ½ inches by 5 ½ inches (about 14 by 14 centimeters).
Features: Two felt ears on the top. A printed emoji design on the front. A crinkly pad in the back.
Material: The two ears are a sturdy, rigid felt. The outside is a plush fabric, similar to the fabric that the previous cloud toy was made of, soft and microfiber like. A large crinkly pad is sewn into the back. Rest of toy is stuffed.
Functionality: A toy for cats to play with on their own. You can encourage play by squishing the toy to make noise, but the cats will play with it by themselves.
Noise: Loud like a bag of chips. If you are a light sleeper, put this one away at night, as it is quite loud.
Durability: Sewn nice and strong. There are not many pieces, so it holds together well. The printed cat emoji pattern on the front, however, is a different story; it has already started to fray and peel off.
Interest: Miss Mabel is intimidated by this toy—it is too large for her. This was by far Mister Banana's favorite toy from the box. He is a lazy boy and rarely plays, but if he walks by this toy, he will play with it almost every time! He really loves the crinkling sound it makes. Like the previous toy, this one is also great for extra catnip.
Review: I did not have high hopes for this toy. I thought it would be too big and my cats would ignore it. I was very excited to see that Mister Banana enjoyed this toy. This is the first toy in a while that he has legitimately liked. I can really get him moving around the house if I throw this for him.
All for Paws Rain Drop Mouse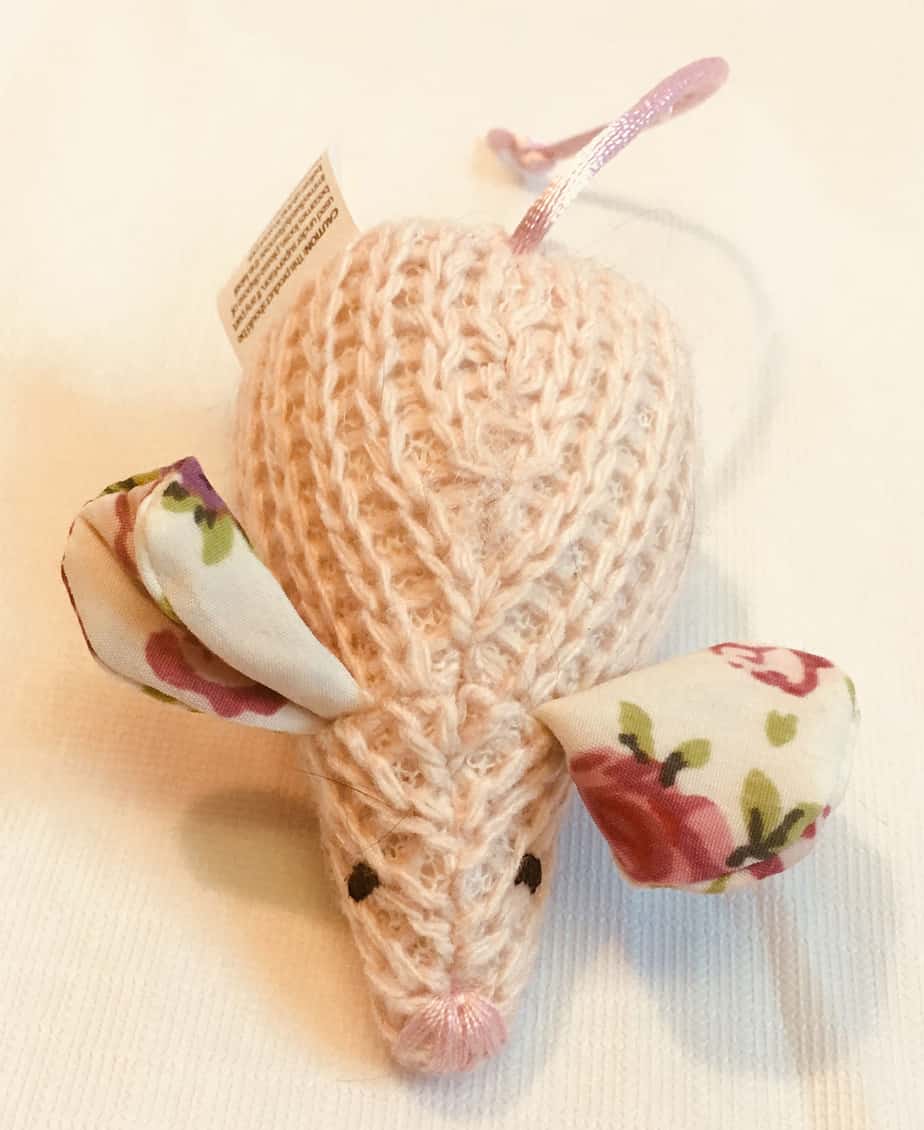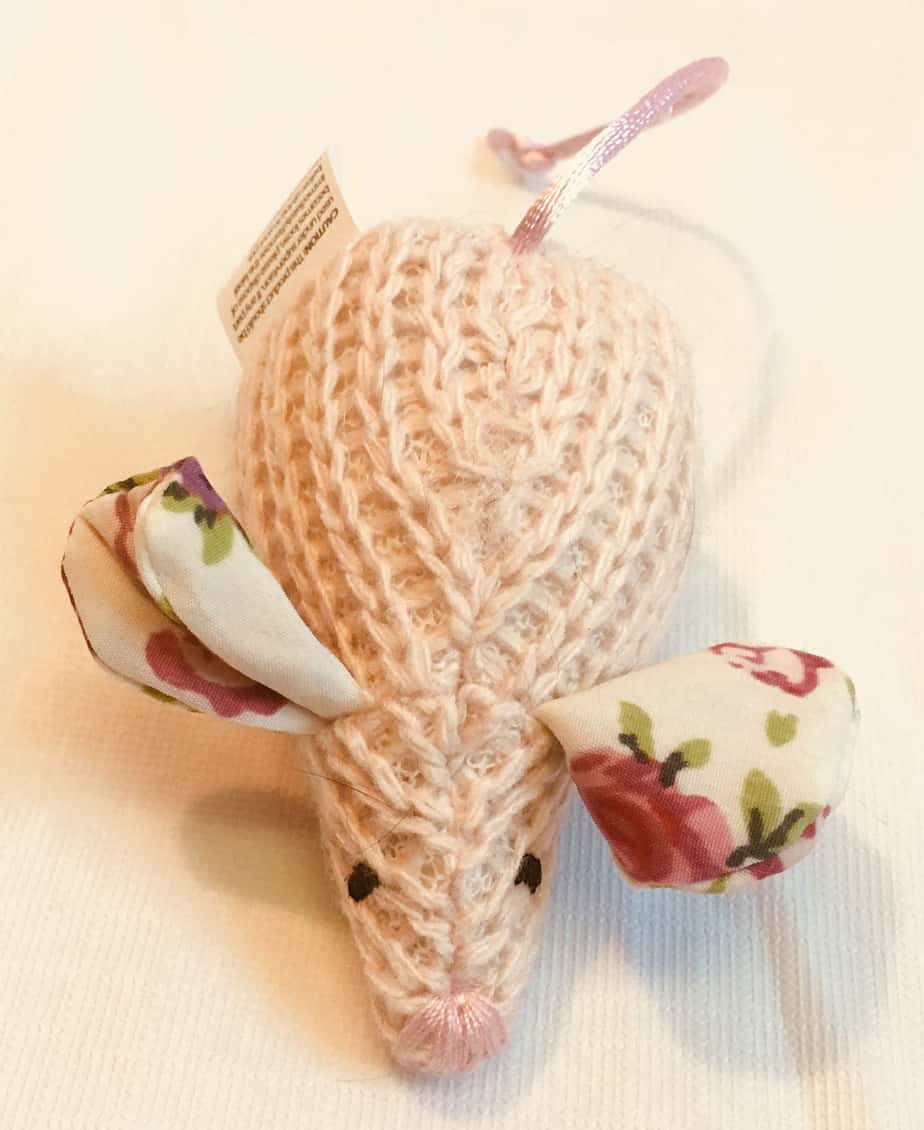 Size:7 ½ inches (about 19 centimeters) from nose to tail. 2 inches (about 5 centimeters) at its widest part and ½ an inch 92 centimeters) at its narrowest.
Features: String like tail. Crinkly ears. Sewn nose and eyes. Knitted body. There is an adorable floral pattern on the ears.
Material: Sturdy knitted body. Soft cotton ears with crinkly pads sewn in. Silky rope tail. Firmly stuffed.
Functionality: This is a great toy to throw. It is light and goes far. Lone play toy.
Noise: Hide this one at night, the crinkly can become annoying while trying to sleep.
Durability: This seems like the most durable toy from the box. All the different pieces, the ears, and tail are sewn on very tightly. The knit fabric is resistant to teeth and claws for the most part.
Interest: Both my cats were relatively indifferent to this toy. I tried throwing it, dousing it in catnip, dangling it in front of them, and dragging it along the ground. Miss Mabel has played with it on occasion, but Mister Banana ignores it.
Review: This is a rather adorable, but quite run of the mill cat toy. I enjoy all the different features that make it cute and visually pleasing, but my cats have many toys like this one. This toy is very durable which is a plus, but since my cats do not play with it, there is not much of a perk to its durability. The knitted texture is fantastic for catnip; it gets ground into all the nooks and crannies. I had high hopes for this toy because of its many textures and features, but my cats were not interested.
Designer Catnip Mouse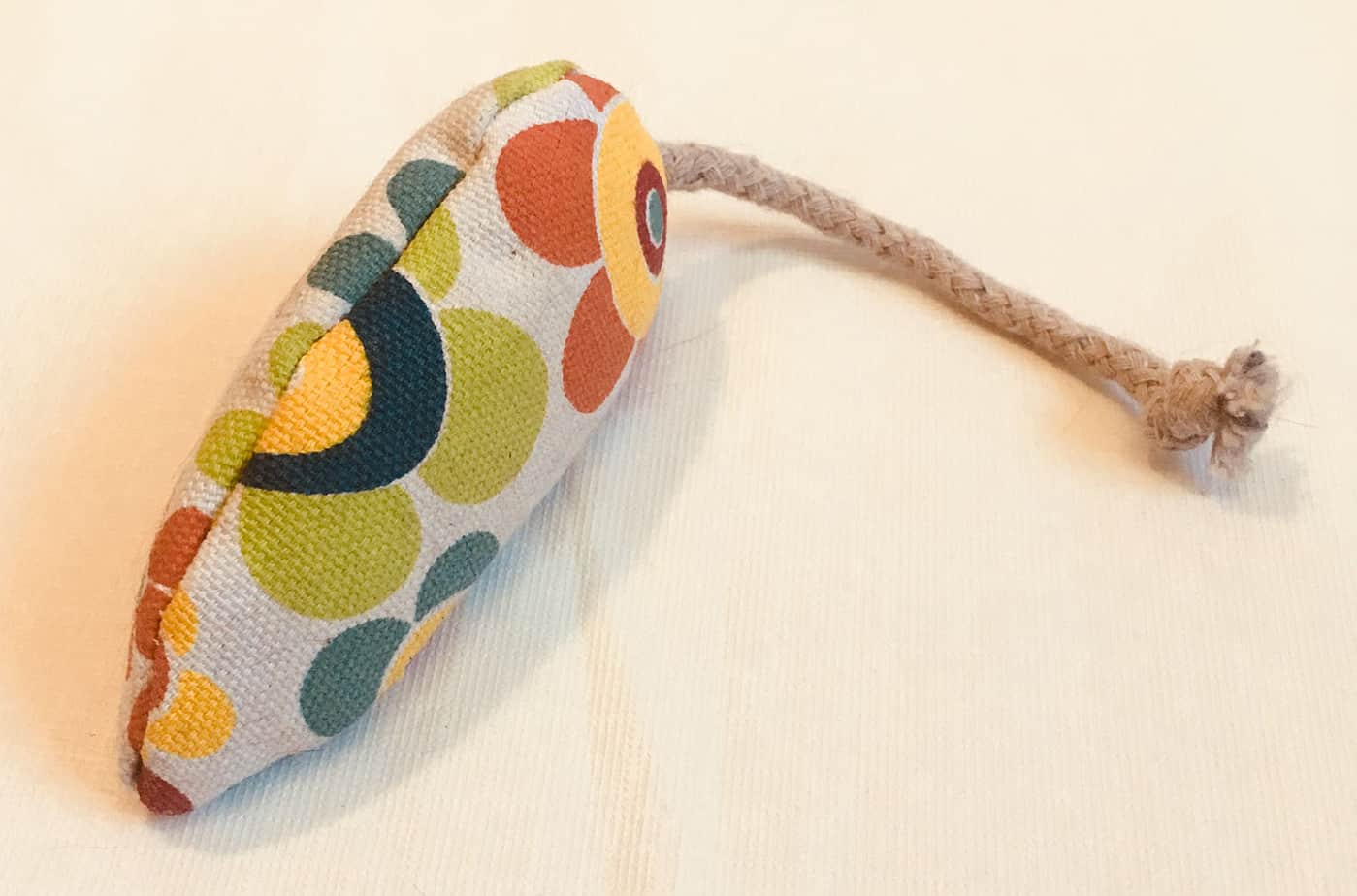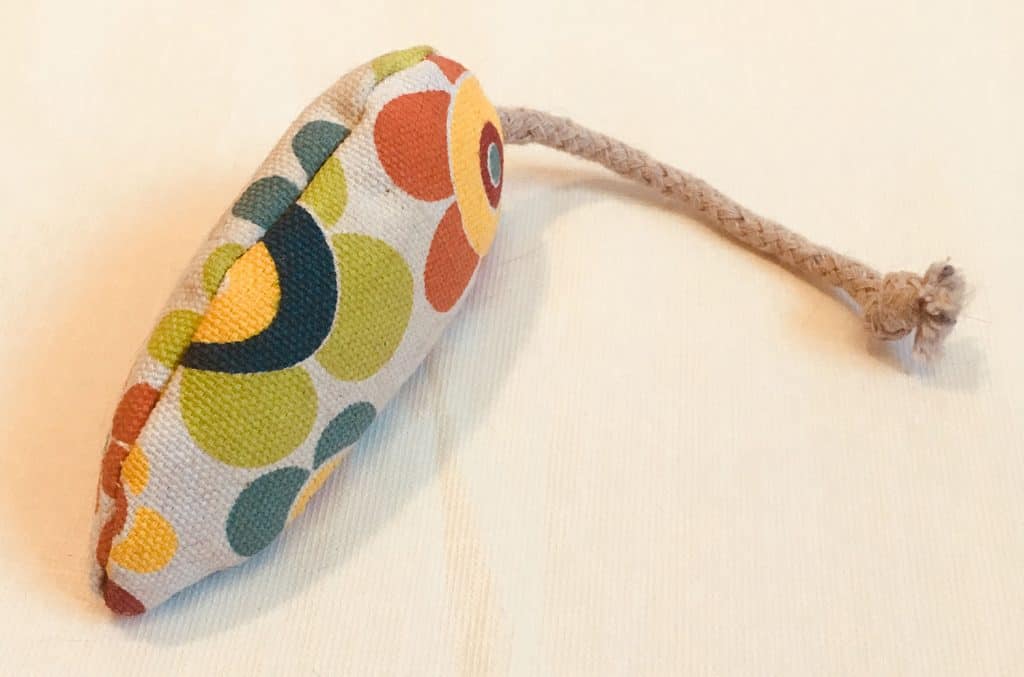 Size:8 inches long from nose to tail (about 20 ½ centimeters). 2 inches (about 5 centimeters) at its widest part and ½ an inch 92 centimeters) at its narrowest
Features: Rope tail. Filled with a stuffing that rustles. Cute floral pattern.
Material: Sturdy cotton type fabric. Braided cotton rope tail.
Functionality: Great throwable toy, it is lighter than the previous mouse. Lone play toy.
Noise: Very quiet. This toy would be an excellent 24-hour toy, as it does not make much noise.
Durability: Though the fabric is durable, the construction is not. It has not been played with too much, but the seams all along the outside are fraying rather intensely.
Interest: Again, like the previous mouse toy my cats were relatively disinterested in this toy. I threw it across the room, tried to flail it behind objects, and rubbed it in catnip. The catnip got Miss Mabel to play with it for a bit, but then it was left alone.
Review: All the qualities of this toy should make it a hit, but it wasn't. I think that because this toy is like other toys on the market, my cats are used to it, and thus do not play with it. I think the noise has good potential, as well as the fabric, but my cats treat this as one of their many other toys. Most of the time it is ignored, but they occasionally paw at it when walking by. Catnip seems to be the key for this toy.
Price Per Toy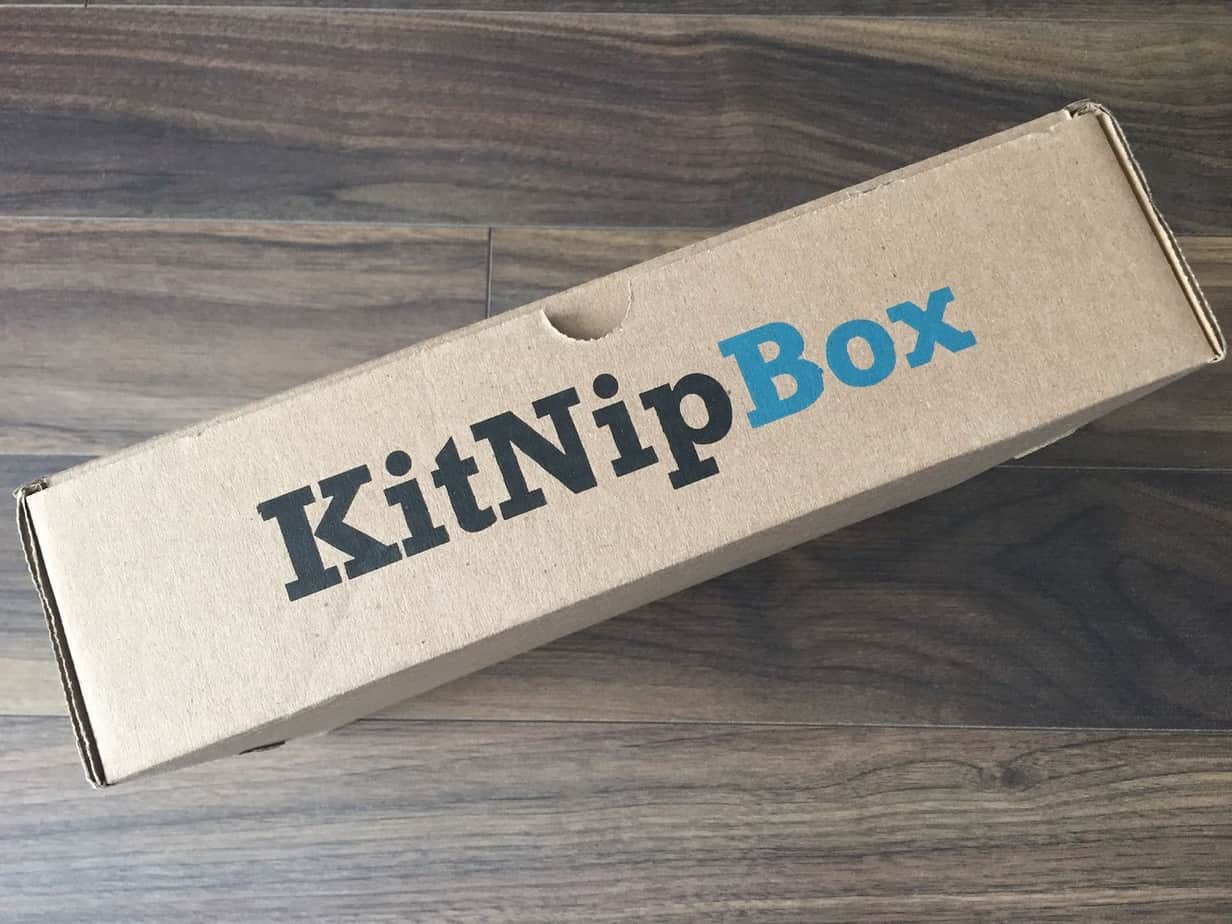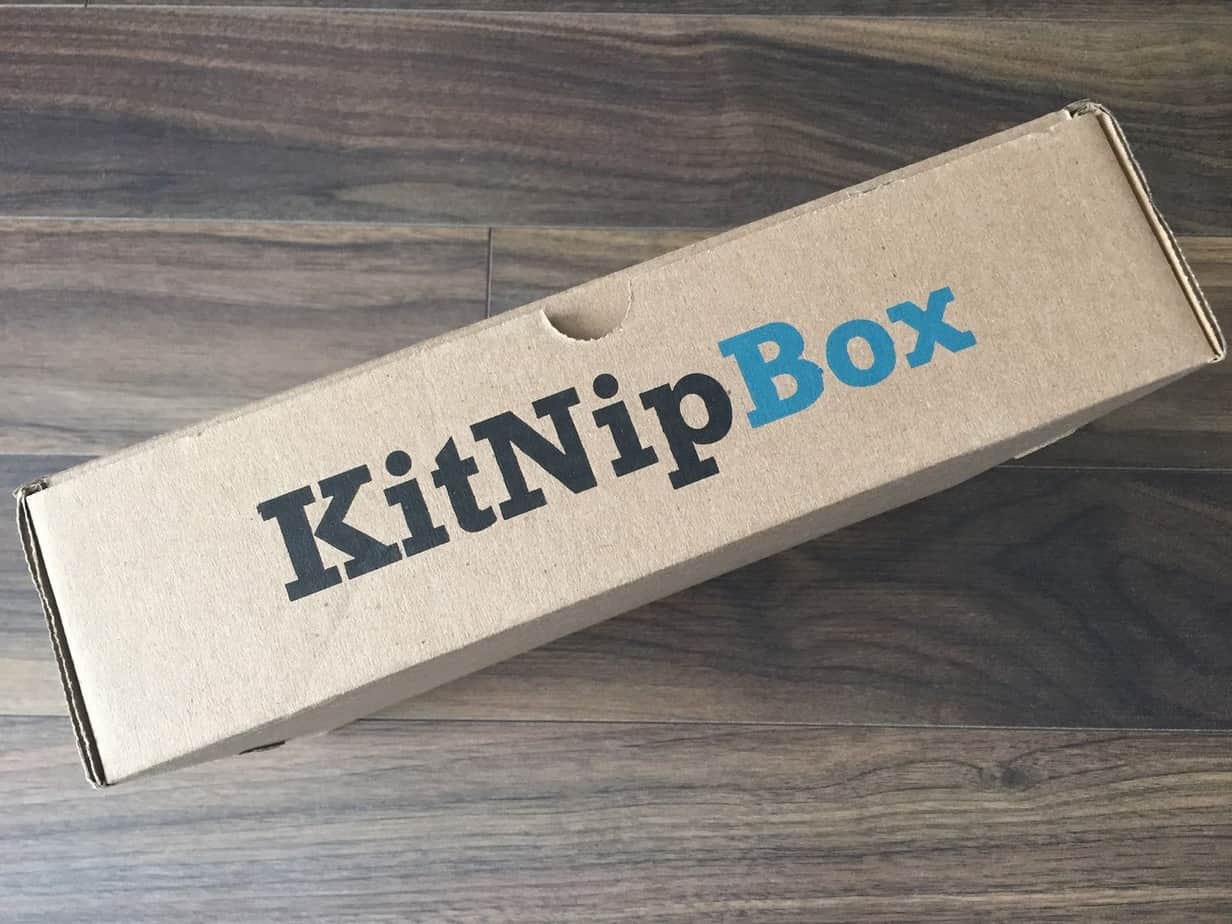 On the card inside the box, they layout the price per each toy.
All For Paws Umbrella Dangler – $7.00
LEAP Cloud Wand – $6.00
Paws 'N Purrs Emoji Cat Pillow – $6.00
All for Paws Rain Drop Mouse – $4.00
Designer Catnip Mouse – $?.??
The total for the known toys is $23.00. Because of its similar size and construction, I think it would be safe to assume that the Designer Catnip Mouse is probably $3.00. This brings the total estimated price of this box to $26.00. This box was purchased for the price of $19.99 and came with five toys. Breaking this down, each toy ends up costing about $3.99 which is well under their estimations.
I think that this is a fair price per toy, especially considering the variety that you get.
Concluding Thoughts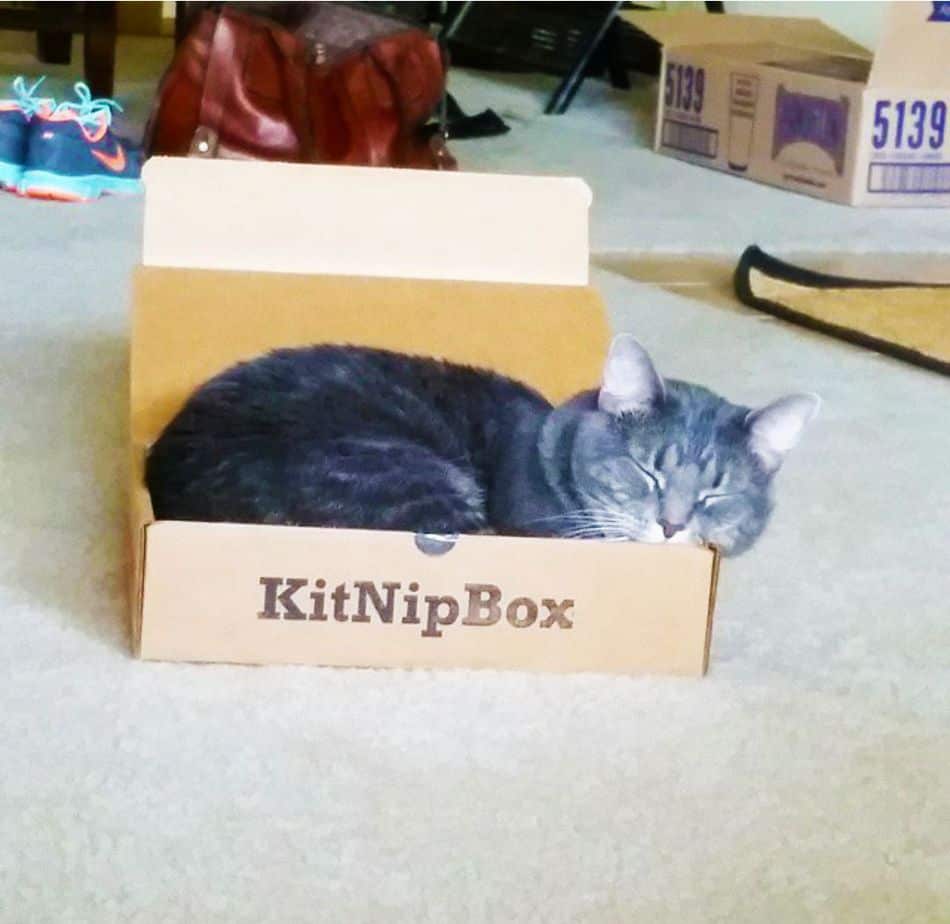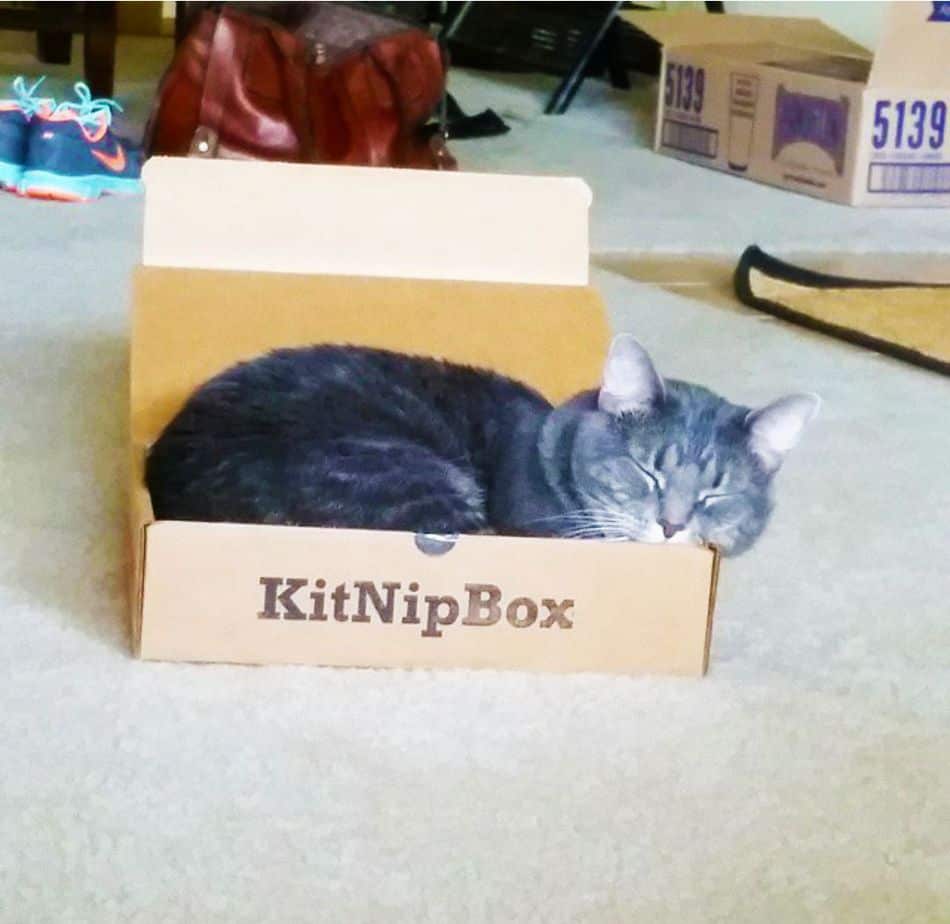 I was pleasantly surprised by this subscription service! I did not have too high of hopes, as I was expecting your run-of-the-mill cat toys, but was pleasantly surprised. These toys were unique, aesthetically pleasing, and practical.
Both of my very differently tempered cats found a toy that they absolutely love. They both continue to play with their favorites on a regular basis. They even occasionally play with the ones they were not too fond of.
The KitNipBox shipping, ordering, and service experience were all enjoyable and straightforward. I had no problems receiving or canceling my service. I will not be continuing my subscription service with them, but this is just because of my cats. They're not the kinds of cats who need a lot of toys to play with. They usually find two or three good toys and stick with those. If you have a cat who loves to play, loves a lot of toys, then this service is for you! If you have lots of energetic cats, then that is even better!
Have you tried a KitNipBoxbefore? Did you cat(s) like it? Tell us in the comments below!