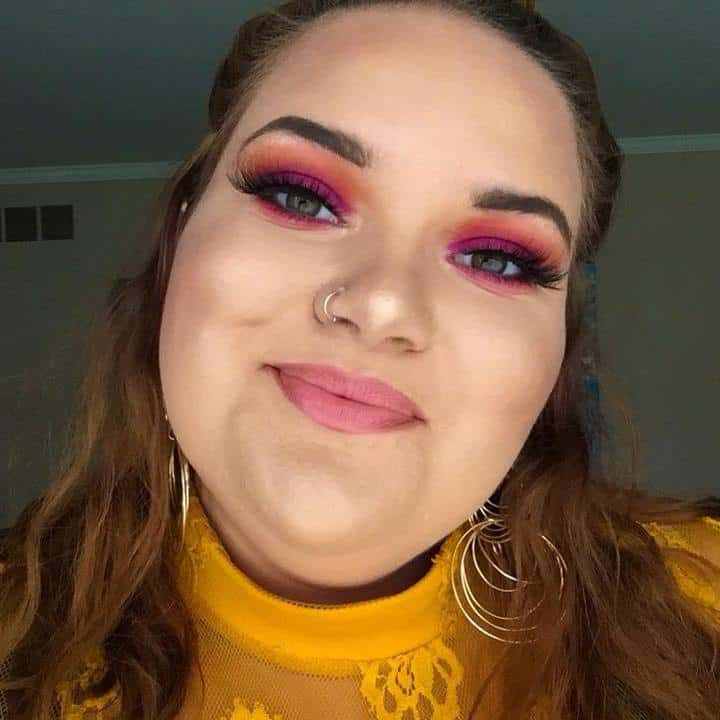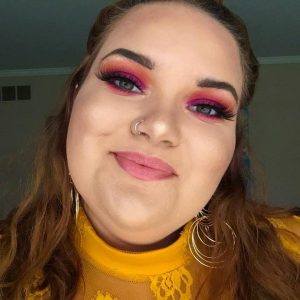 Latest posts by Alizabeth Swain
(see all)
December Boxyluxe Unboxing and Review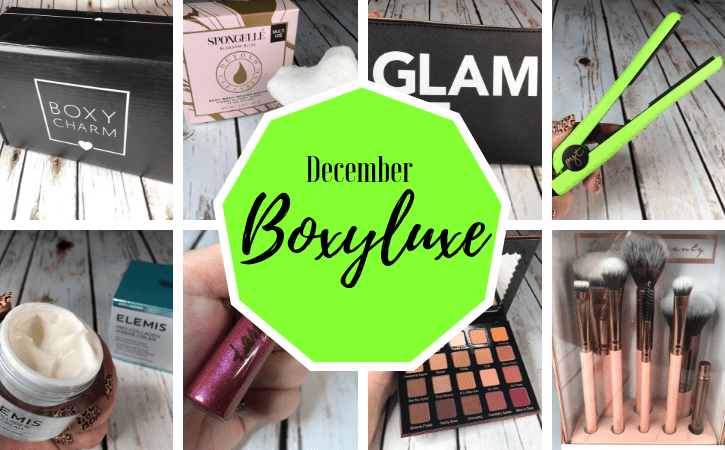 Boxycharm is one of the best beauty subscription boxes available in the current subscription box market, sending out subscribers four to five full-sized products for $21 every month (no sample sizes with Boxycharm)! Boxycharm recently released a new subscription box called Boxyluxe, which is a $49.99 quarterly beauty subscription box that has over a $300 in every box. Just like Boxycharm, Boxyluxe is filled with full-sized products and never includes any sample or travel sizes!
In today's review, we're going to look at:
The value of the box
The variety that's inside of Boxyluxe
The types of products in this season's box
The size of the products in the December Boxyluxe
December Boxyluxe
How much is it? $49.99 a quarter
The total value of my December Boxyluxe: $386
What I got in my December Boxyluxe:
Luxie Rose Gold Complete Brush Set- $65
Tarte Glitter Lip Paint- $20
Violet Voss Pro HG Palette- $45
Spongelle Body Wash Infused Buffer- $20
Elemis Pro-Collagen Marine Cream- $89
Wander Beauty Dusk to Dawn Blush and Highlight Palette- $26
Lorac Royal Treatment Mascara- $24
PYT Mini Hair Straightener- $75
Crimes of Beauty Wristlet with Portable Charger- $22
Everything about Boxyluxe is so much bigger than Boxycharm! The box and the card for Boxyluxe are almost triple the size of the box and card that come with Boxycharm.
First item: PYT Mini Hair Straightener
The PYT Mini Hair Straightener that I received is a bright green color, which is such a fun color for a travel size high straightener! I have really short hair and haven't yet been able to straighten my hair since I've gotten my hair cute because all of the hair straighteners that I own are too big for my hair, which means that the ceramic plates get too close to my scalp for me to feel comfortable using it. I didn't know that mini hair straighteners were a thing, so thank you so much Boxyluxe for sending me a product that I didn't even know I needed!
The PYT Mini Hair Straightener is the perfect size for my short hair, but it's also the perfect size to throw in your bag if you're planning on traveling or just to throw in your purse if you want to fix your hair for a surprise girl's night out! This hair straightener comes in a Velcro felt case for convenient storage, which I thought was really handy because I hate dealing with cords (the carrying case has a little storage spot for the cord).
This mini hair straightener maxes out at 400 degrees and has floating ceramic plates, but Boxyluxe says that you can use this mini hair tool to straighten, curl, and fix your baby hairs! I really enjoyed how the grip part of the hair straightener had texture, making it a lot easier to hold onto! I've never received any sort of hair tool in any subscription box that I've ever had, so with this being the first high-end hair tool that I've ever owned, you could probably guess that I'm very excited about this PYT Mini Hair Straightener!
Second product: Spongelle Body Wash Infused Buffer
Spongelle Body Wash Infused Buffers are so relaxing to use in the shower or a hot bath, but it's been a while since I've seen Spongelle in any of my subscription boxes, which made it a pleasant surprise to see in my December Boxyluxe. This multi-use star-shaped sponge has yuzu extract, edelweiss extract, and vetiver extract, but I picked up a sweet vanilla scent when I used it in the shower. At first, I thought the words 'multi-use' meant that this sponge was recommended to be used on the face, body, legs, arms, and possibly even hair, but I later read that Spongelle named this body wash buffer 'multi-use' because this buffer will cleanse, exfoliate, massage, and nourish your skin.
I love using Spongelle sponges on my legs before I shave, as it gives my skin a gentle exfoliation and leaves enough soap my legs so that I don't have to use any shaving cream (which means I'm saving money and creating less waste). Not only do the Spongelle Body Wash Buffers have incredible lather, but this sponge smells absolutely incredible and the scent lingers around on my skin for a while after I rinse off all of the soap. Plus, my legs feel soft thanks to the gentle exfoliation of this sponge and they feel nice and hydrated!
The only complaint that I have is that I wish that the sponges lasted a little longer, as I've used all of the body wash inside of my sponge by ten washes. With the Spongelle Body Wash Infuser Buffer being priced at $20, that basically averages at $2 a shower/bath to use this body wash buffer. I can buy a bottle of body wash for $2 and that bottle would last me a lot longer than ten washes, so I do think that the Spongelle Body Wash Buffer is very expensive. But at the same point, it's a very luxurious item to get inside of my Boxyluxe!
I used to hate having shaving cream, in-shower moisturizer, a loofah, and exfoliating cubes laying around in my shower because not only did it take up a lot of space, but it also took such a long time to go through each step to get silky legs after I shaved. I also really love the star shape of this buffer because of how easy it is to hold. This Spongelle Body Wash Infused Buffer eliminates my need for shaving cream, exfoliating cubes, and an in-shower moisturizer, so all I have hanging in my shower is this star-shaped loofah.
Third product: Crimes of Beauty Wristlet and Portable Charger
When I saw that I was being sent the December Boxyluxe, I was expecting to get an eyeshadow palette, eyeshadow brushes, a highlighter, a few other miscellaneous makeup products. I was not expecting to get a beauty-themed wristlet, but I most definitely wouldn't have believed you if you told me that Boxyluxe was also sending out beauty themed portable chargers in the December Boxyluxe. I will admit that I've used the Glam AF wristlet every day since I've received this season's Boxyluxe, but I haven't yet used this portable charger (for good reason).
I've seen a lot of reports on Twitter and Instagram about the portable charger that was sent out in December Boxyluxe exploding when charging phones. While I think that the charger itself is super cute and I love how it's compatible with both iPhone and Android devices and how you can charge this portable charger through any USB port, I don't want to take the risk of destroying my phone.
However, the wristlet is so incredibly cute! It's a pretty big wristlet; I'm able to store my iPhone 8 Plus, my headphones, a lipstick, a compact powder, my wallet, and a powder brush inside of this clutch, with a little bit of wiggle room, left over. I was expecting this wallet to be cheaply made and break apart within a few uses, but the material of the wallet itself is very thick and sturdy. The strap is attached to the clutch with a metal clasp, but the strap itself is also very sturdy.
I tend to break things fairly quickly as I'm not the most careful person, but this Crimes of Beauty wristlet is very well built and hasn't broken or even started to look worn! I'm so happy to get a lifestyle item inside of my Boxyluxe that isn't cluttered or a knick-knack, but rather is a useful item that I've been keeping essentials inside of for the days that I don't feel like carrying around a bulky purse.
Fourth product: Elemis Pro-Collagen Marine Cream
Boxyluxe is full of surprises for their December box and I'm not even half-way through my unboxing! The Elemis Pro-Collagen Marine Cream is the first full-sized collagen cream that I've ever owned, so that's a huge win for Boxyluxe in my book. Elemis states that their Pro-Collagen Marine Cream has been clinically proven to reduce the appearance of wrinkles after 14 days of consistent use. With a blend of padina pavonica, ginkgo biloba, chlorella, rose, and mimosa the Pro-Collagen Marine Cream helps to moisturize your skin and reduce the appearance of fine lines, while also leaving your skin feeling soft and radiant looking.
When I opened up the Pro-Collagen Marine Cream, I was greeted with a very pleasant scent, although I haven't figured out what the scent is or what is comparable to the scent of this cream. As someone with oily skin, I found that this Marine Cream didn't work for me, especially as a day cream. I normally don't mind using heavier anti-aging creams at night, as the extra hydration or the oily residue that some anti-aging creams leave behind have time to soak into my skin while I'm sleeping.
But for the Elemis Pro-Collagen Marine Cream is a day cream, it was very heaving feeling and left an oily residue on my face that never seemed to soak into my skin. Boxyluxe recommended using this day cream after toning, but to use before the application of primer and foundation to help give your skin a flawless, healthy finish. This anti-aging cream left my skin too greasy to be able to do this, but if you are someone who has dry or combination skin, I think that this Elemis Pro-Collagen Marine Cream would work a lot better for you and your skin type.
Even though this skin care sample didn't work for me, I almost never receive skin care in my Boxycharm boxes. I think that it was really nice that Boxyluxe had one full-sized skincare product in the box, instead of the December box being filled with nothing but makeup. I know skin care isn't as exciting as makeup is, but taking care of your skin is very important! I would never buy an $89 cream, but considering that I only paid $50 for the December Boxyluxe, the pricing of the Elemis Pro-Collagen Marine Cream covers the cost of this season's Boxyluxe!
Fifth product: Luxie Rose Gold Complete Face Brush Set
What brushes came in the Luxie Rose Gold Complete Face Brush Set:
Luxie 532 Round Top Blender
Luxie 522 Tapered Highlighting
Luxie 680 Pro Precision
Luxie 229 Tapered Blending
Luxie 213 Eye Shading
Luxie 221 Flat Definer
Luxie 201 Brow and Lash Spoolie
Luxie 160 Lip Brush
Luxie 532 Round Top Blender Brush
The round edges of the bristles on this round top lender make this brush (when using in a buffering motion) a dream to blend out your cream or liquid contour or your powder foundation.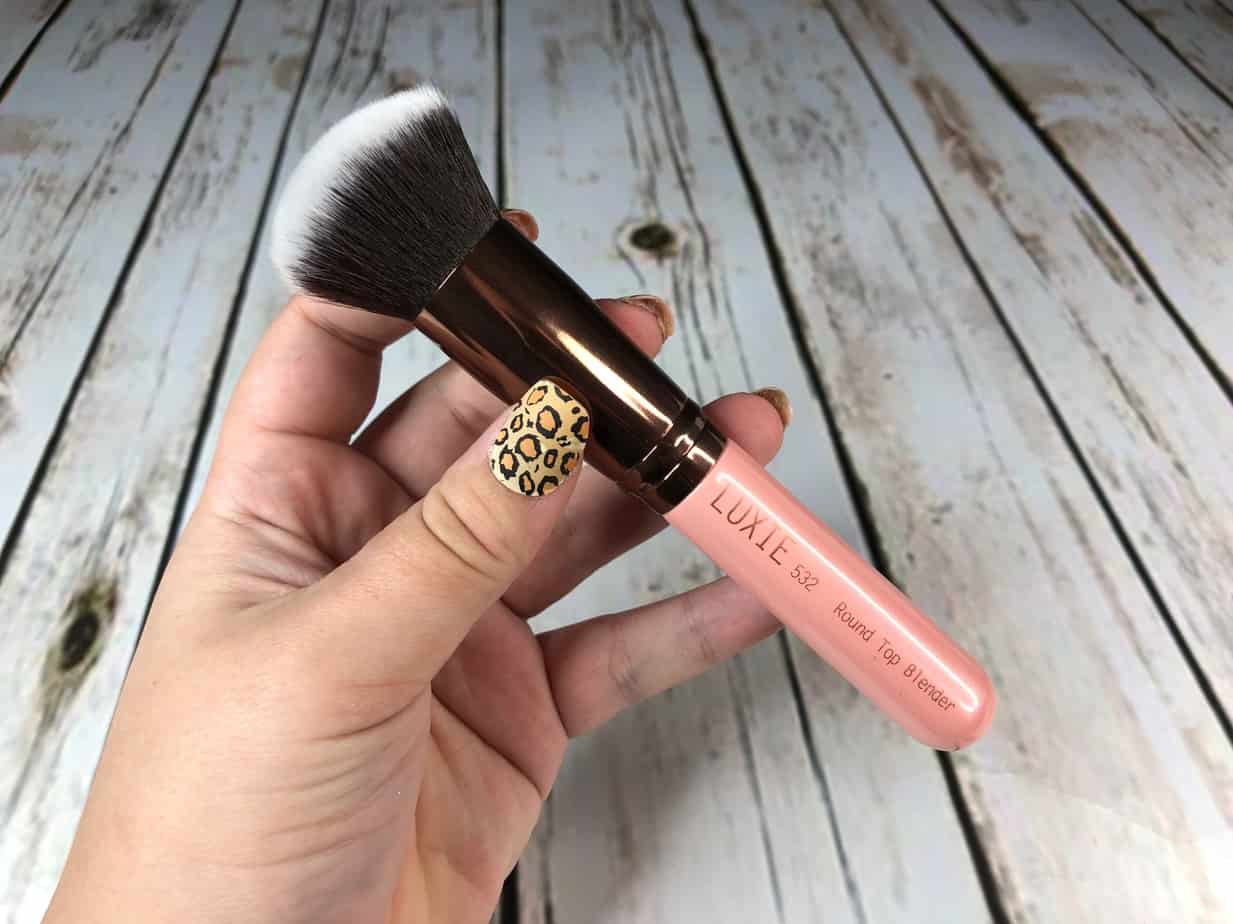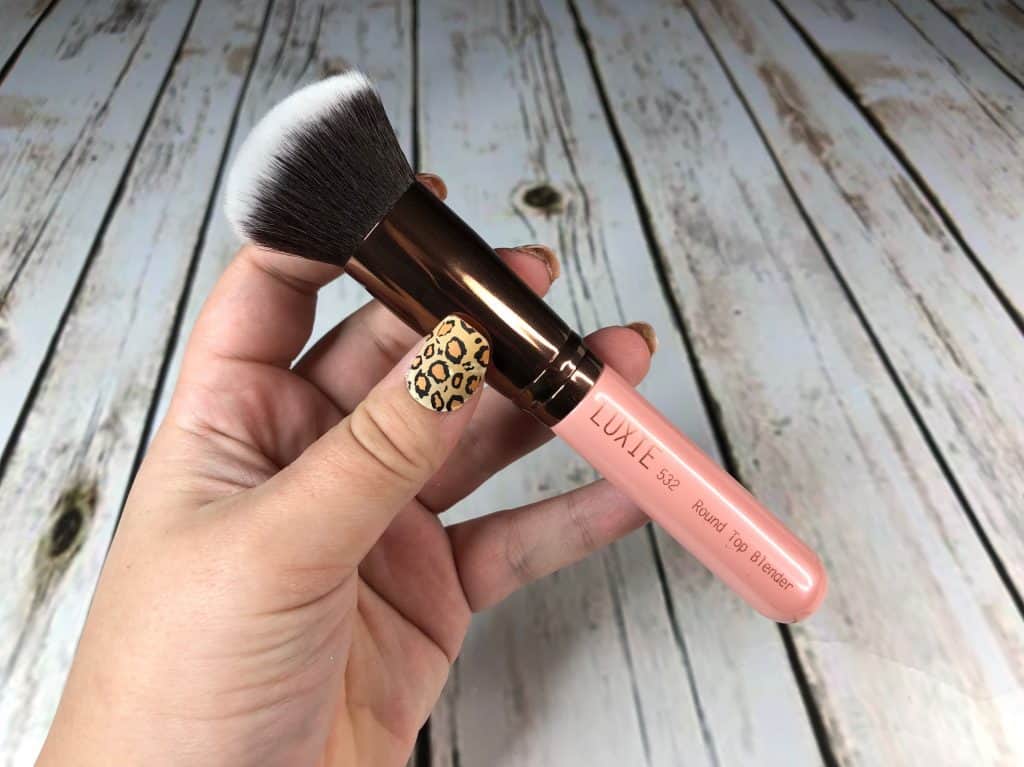 Luxie 522 Tapered Highlighting Brush
This is one of my all-time favorite highlighting brushes! It's a super fluffy, tapered brush that blends our highlighter edges so you don't have a streak of glow across your face but still leaves your cheekbones with a strong glow game. You can also use this brush to get your under-eye area, but I love using it highlighter.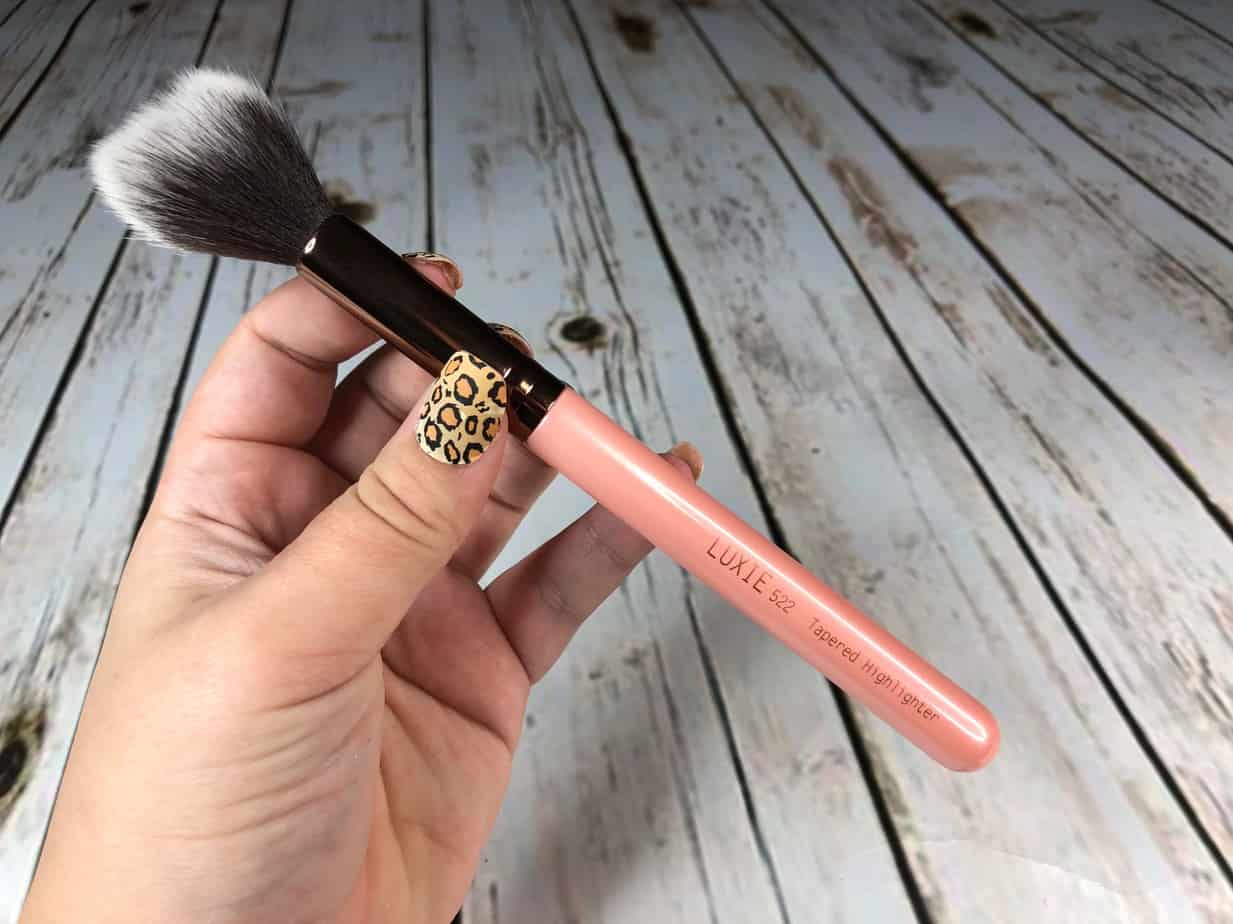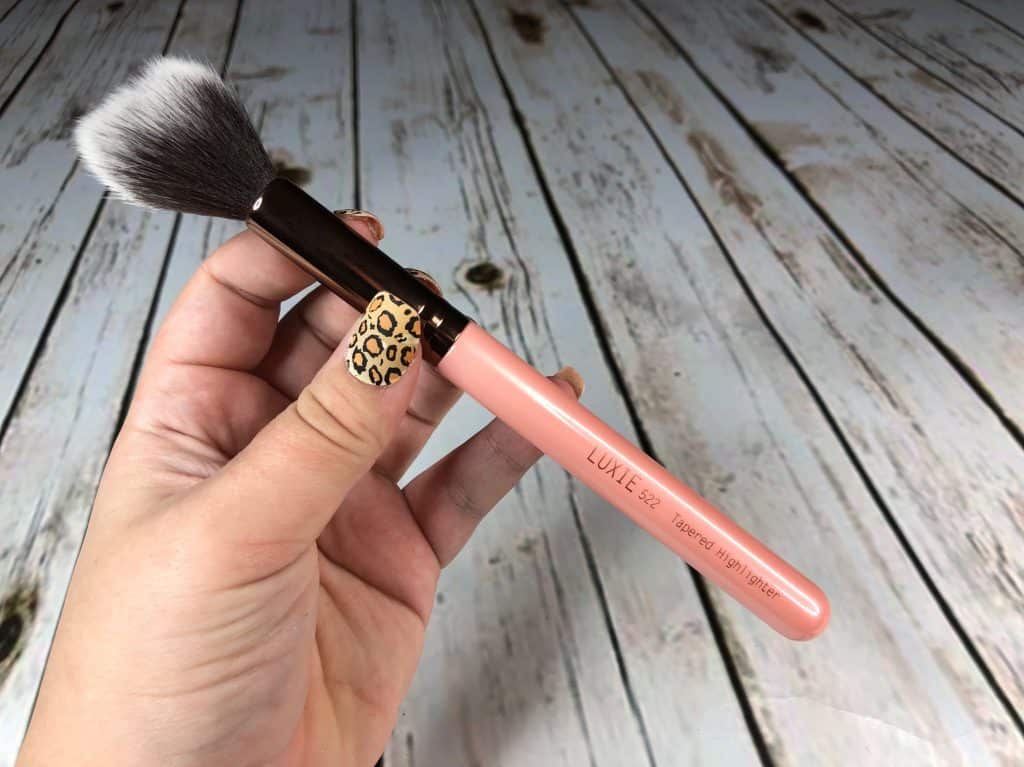 Luxie 680 Pro Precision Brush
If you're looking for a new makeup tool to use to apply your favorite foundation products instead of a Beauty Blender, the 680 Pro Precision Brush is a great brush to use to blend out complexion products in hard to reach places.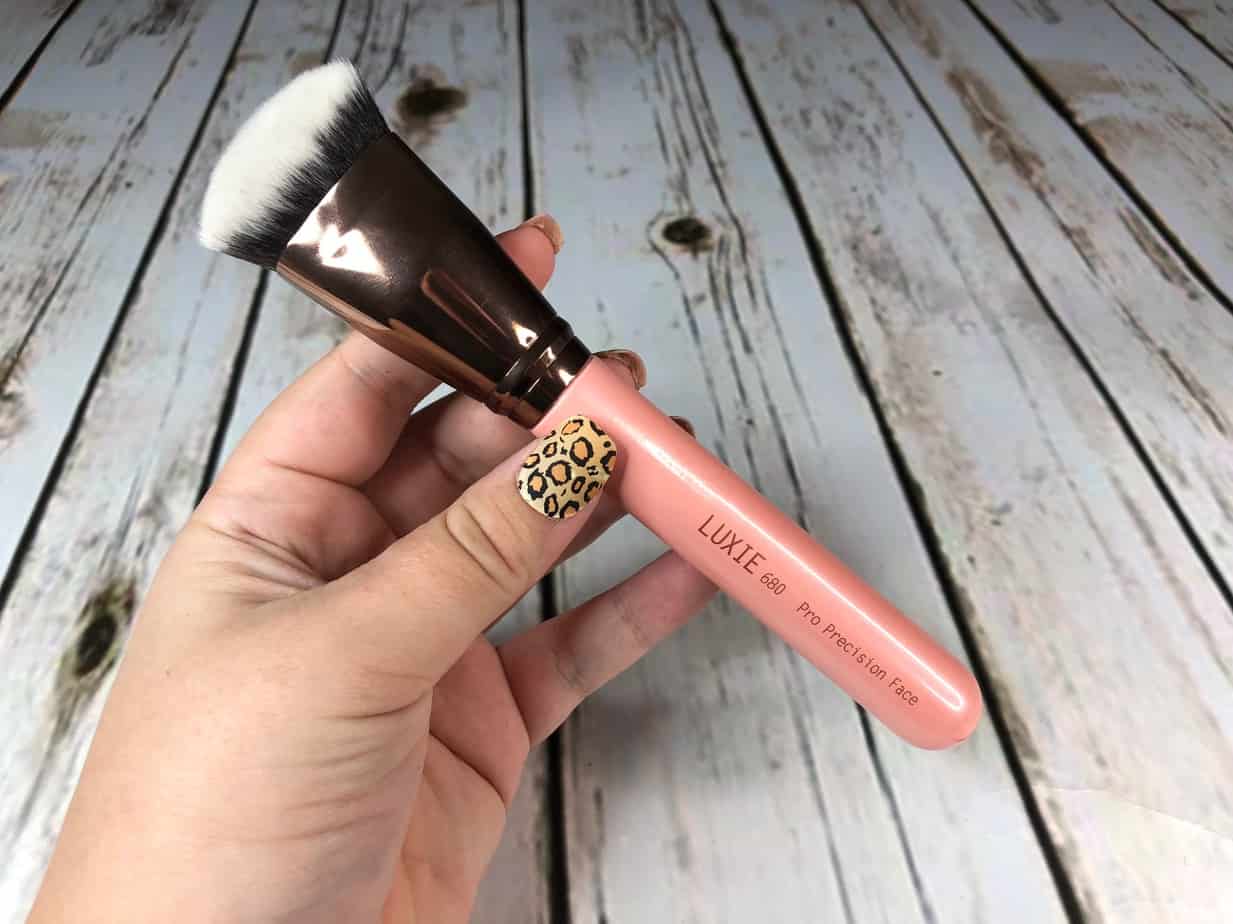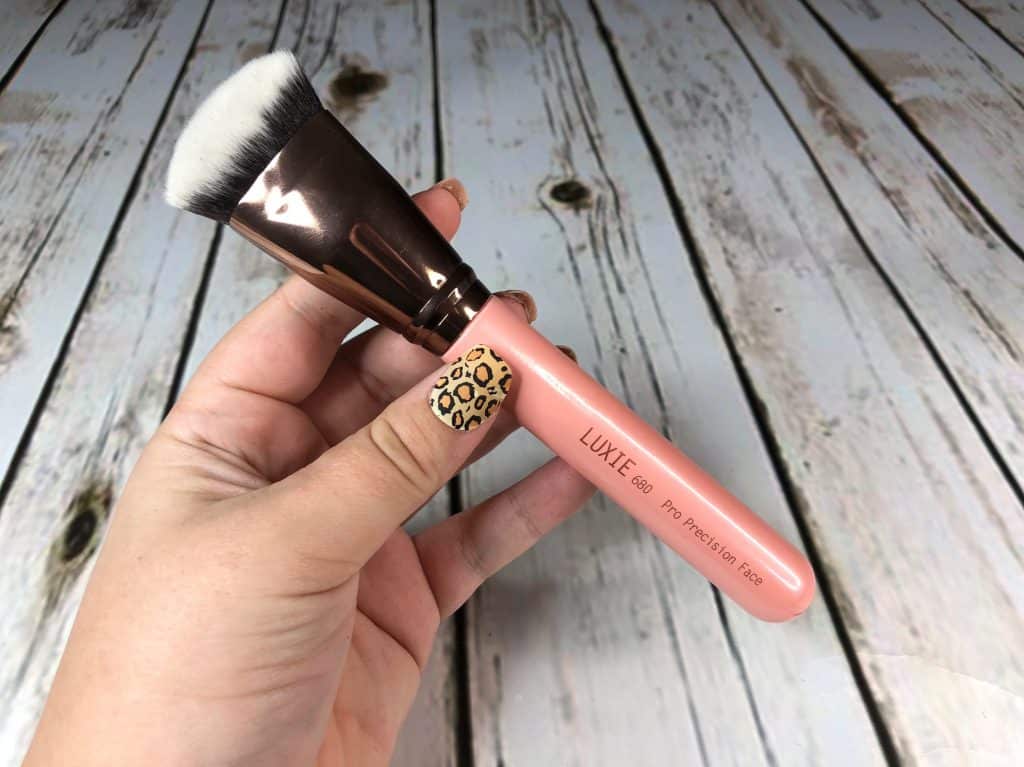 Luxie 229 Tapered Blending Brush
The tapered blending brush is a soft blending brush that seamlessly blends out any harsh edges on your eyeshadows, but also can be used to add a transition shade into your crease for a flawless base for your eye makeup.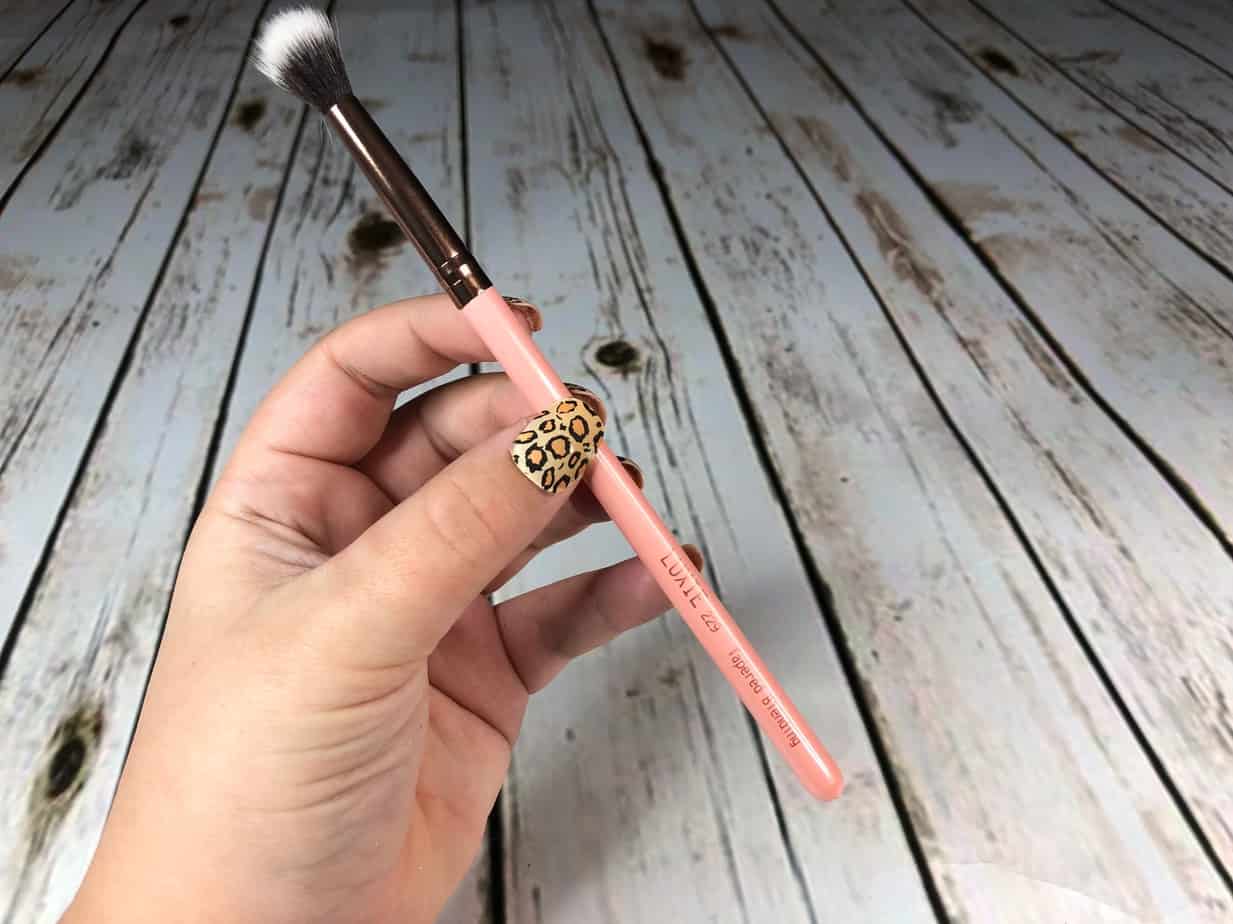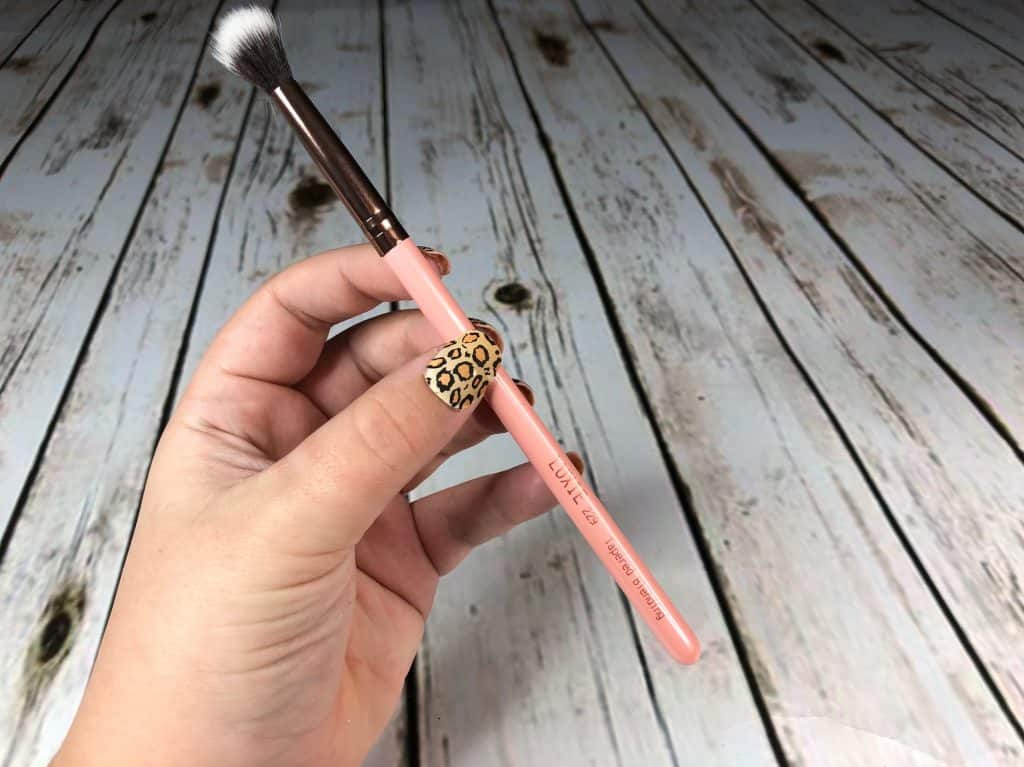 Luxie 213 Eye Shading Brush
One of my favorite brushes to pack on pigment to my eyelids for a seamless halo smoky eye is the Luxie 213 Eye Shading Brush. Thanks to the shade and density of the bristles on the 213 shading brush, this brush also is wonderful to use for concealer, applying a wet base on your eyelids, or setting your wet eyeshadow base with powder. It's quite a handy little brush to have in your arsenal!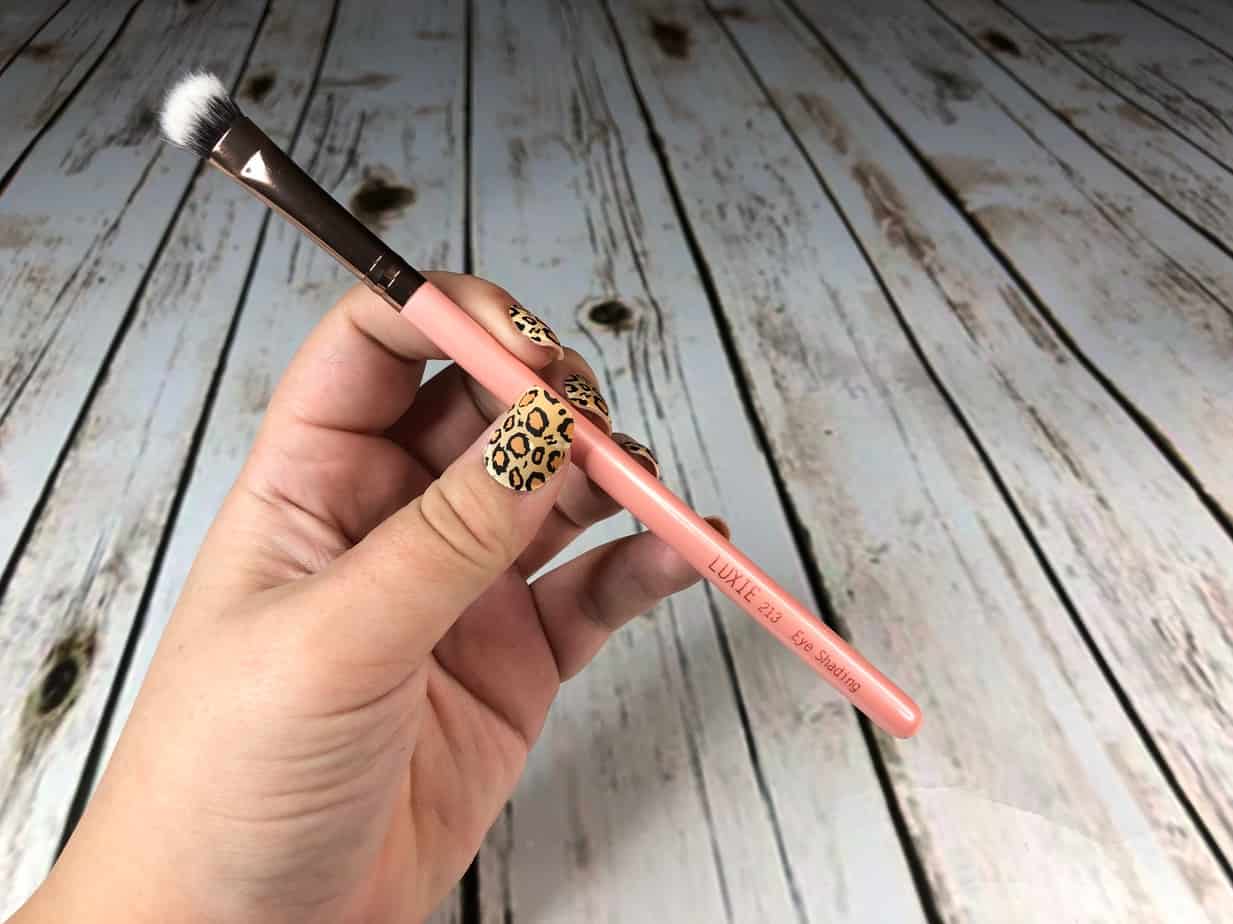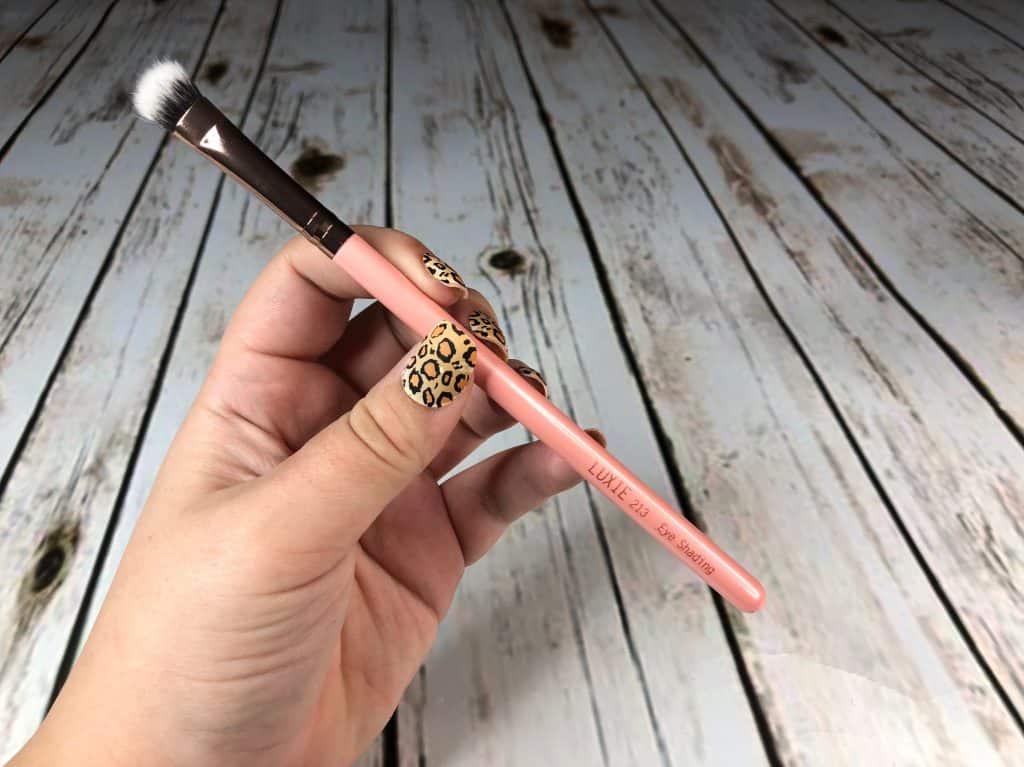 Luxie 221 Flat Definer Brush
The Luxie 221 Flat Definer Brush has been absolutely wonderful to have in my brush collection for smoking out my bottom lash line, but I've also used this brush to clean up the edges of my winged eyeliner for a sharp wing. I didn't know that this was a brush that I needed in my collection, but it's so incredibly useful!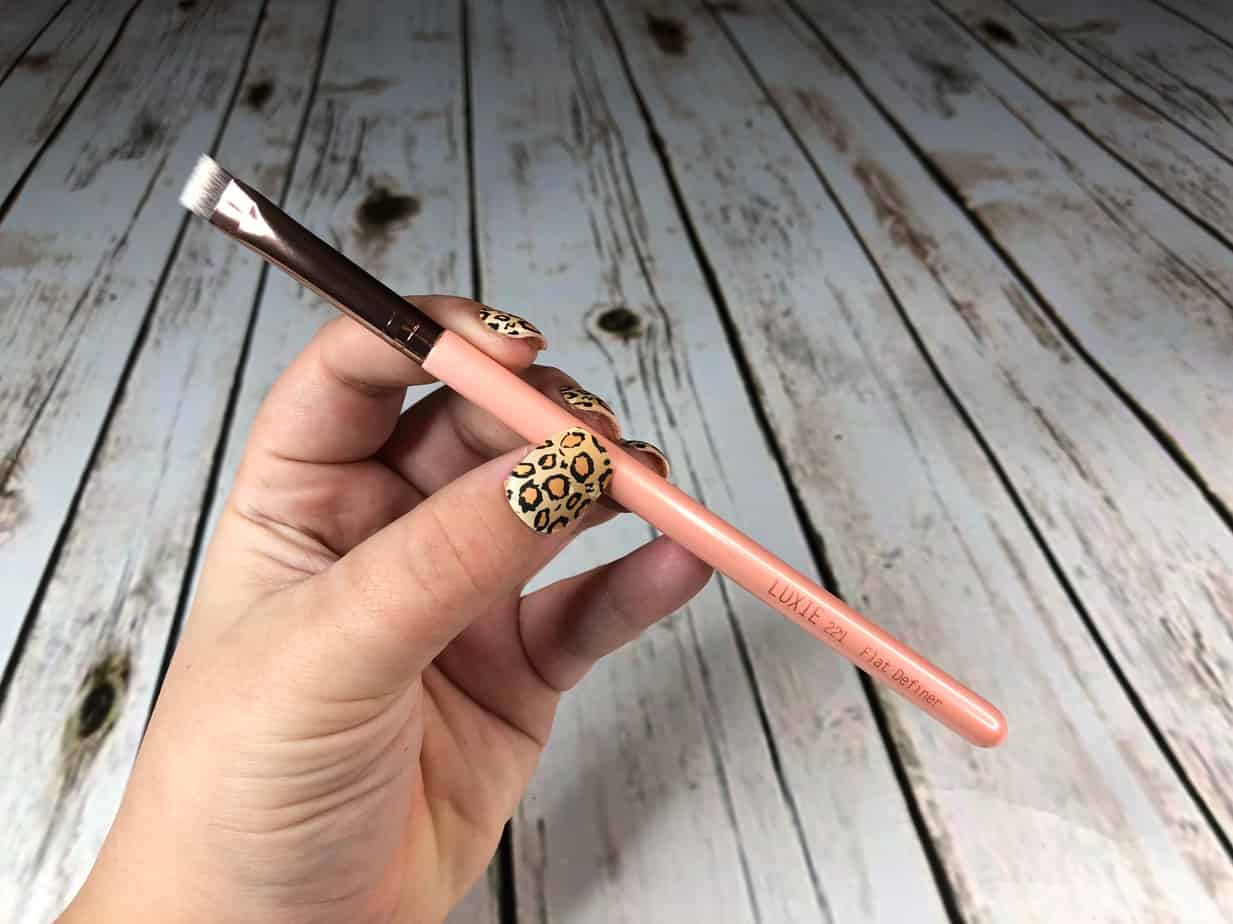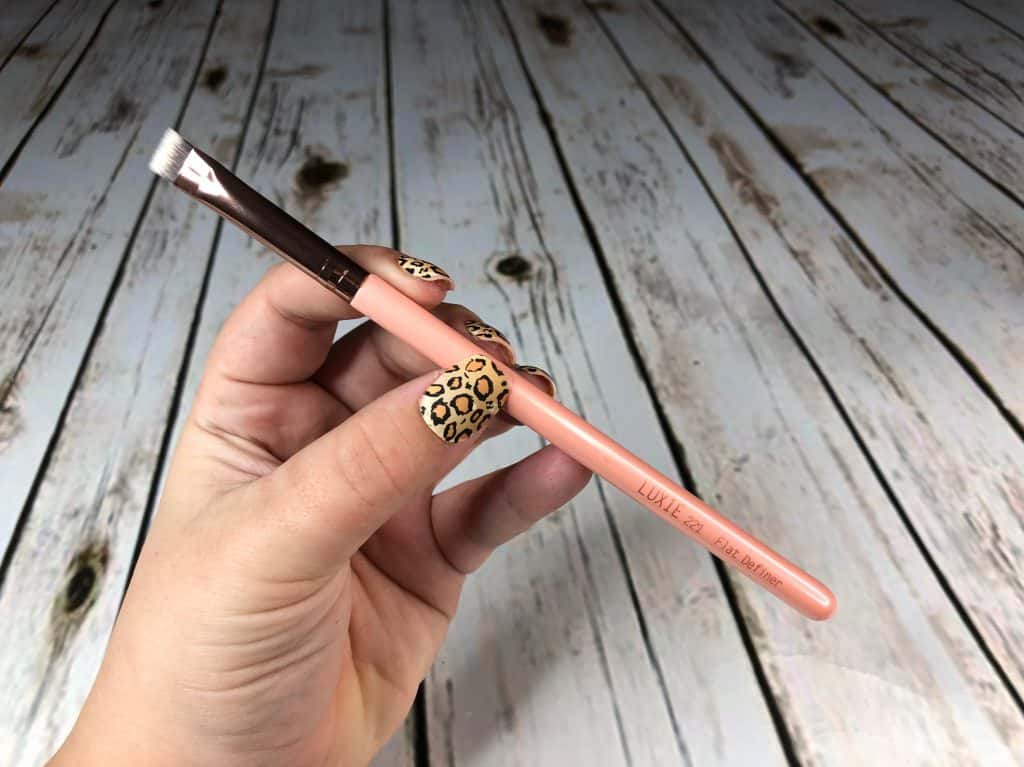 Luxie 201 Brow and Lash Spoolie
Who doesn't need an extra spoolie in their collection? I have a spoolie that I use for my brows and a spoolie that I use to remove the clumps of mascara in my bottom lash line, which also helps to give my bottom lashes a feathered effect. There isn't anything super special about this brush (I mean, it's just a spoolie) but it's still an essential brush to have in your collection if you don't have a brush collection or if you have a very small brush collection!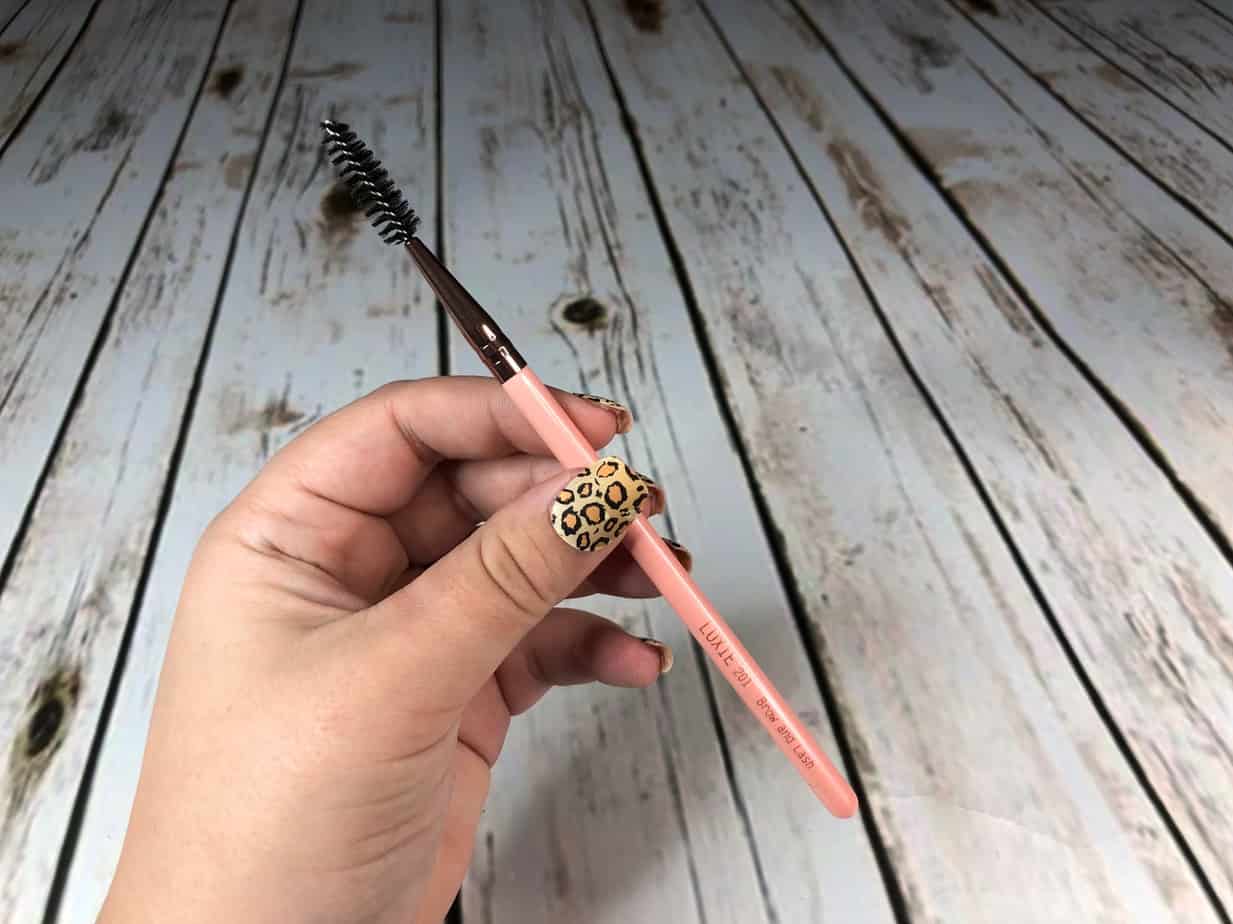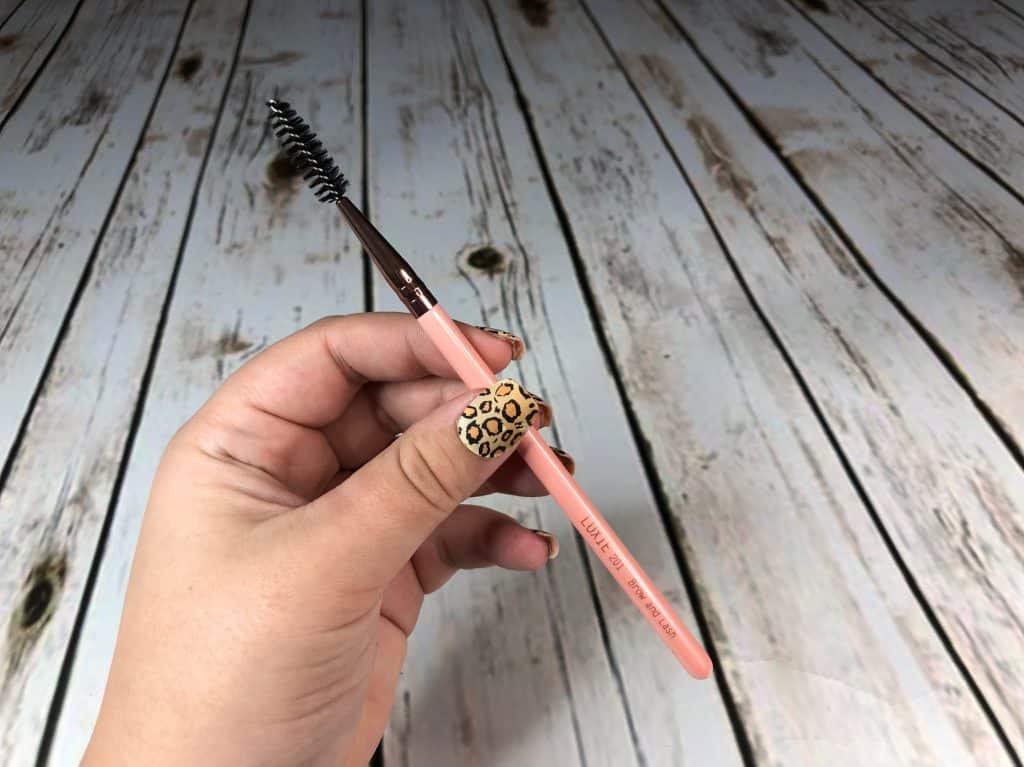 Luxie 160 Lip Brush
I don't have a lip brush in my makeup collection, but I have found that using the Luxie 160 lip brush has come to be extremely handy for getting a flawless application on the areas that I struggle with the most when applying lipstick. Plus, this lip brush is retractable, so it's convenient to throw in your purse (along with your favorite lipstick) for future touch-ups without needing to clean the brush off (if you're in a rush).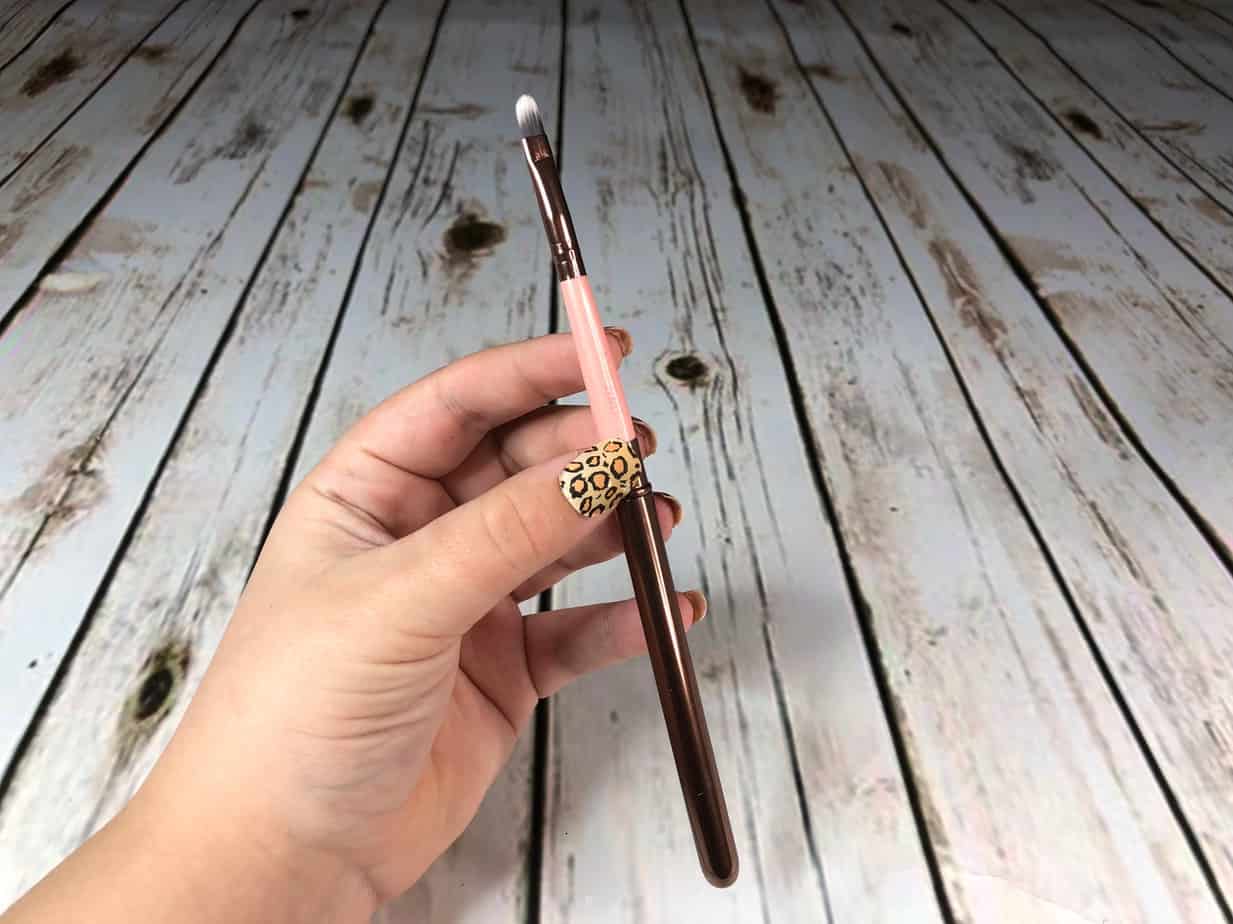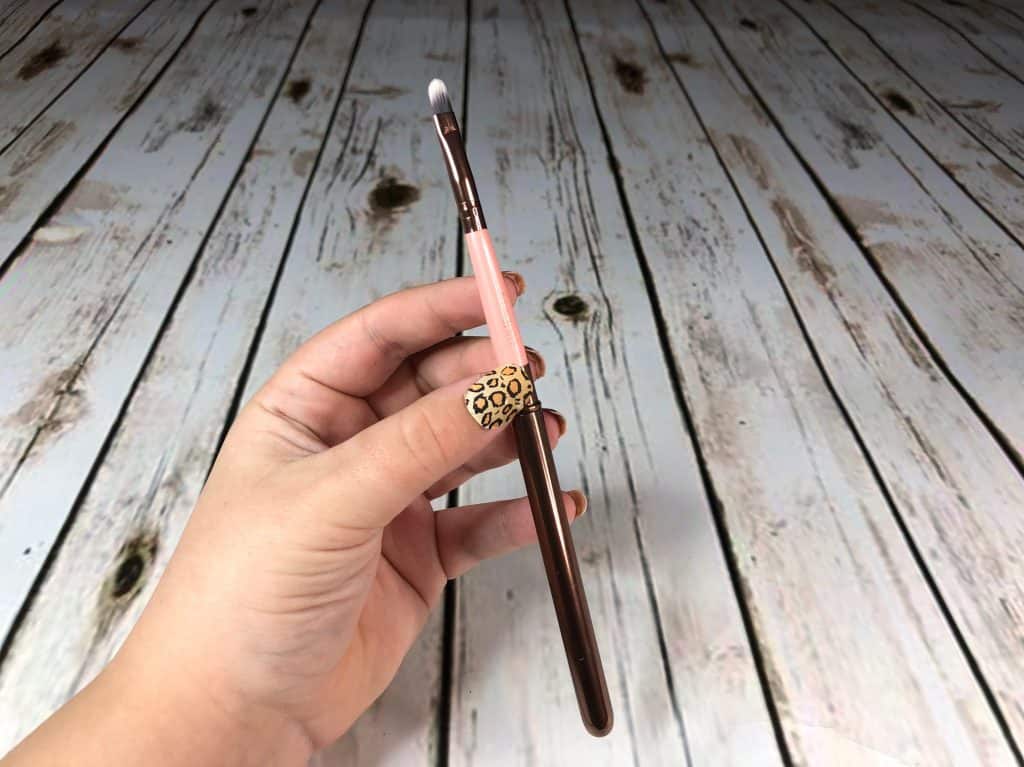 All of the brushes in this Rose Gold Complete Face Brush Se are cruelty-free, which is always really exciting to see in a makeup subscription box! I love how versatile this makeup brush set kit is; there are so many brushes in this box that can be used for several different purposes, which just increases the overall value of this brush set kit in my opinion. All of the brushes are so soft and I feel like they all are really useful, but I'm also really happy that this wasn't just an eye kit and that it actually included a mix of face and eye brushes.
One thing that I love about Luxie brushes in comparison to Morphe brushes is that I haven't had any problems with the bristles on Luxie brushes falling out or sinking back into the ferrule (the metal part) of the brush. This was a common problem that I ran into with Morphe brushes, where the bristles would fall out in clumps so that the brush wasn't useable or that the bristles would literally sink back into the ferrule, so that half of the brush has long bristles, but the other half had bristles that were barely sticking out.
With Luxie brushes, I've never had a problem with the bristles doing any of these things. The only complaint that I have with Luxie brushes is that it seems like the eyeshadow brushes stain pretty easily, but I know that that's a common problem in the beauty community and it isn't just a problem that you'll run into with Luxie brushes.
I did just receive a set of Luxie brushes in my November Boxycharm but considering that this is Boxyluxe, which is a different subscription box even though it's from the same company, I'm at least happy to see that these brushes are from a different collection that Luxie created. These brushes don't feel expensive, but I'm so happy with the value of this entire box that I almost feel like it's undervalued! $65 for all of these brushes is almost a steal, especially considering how amazing the quality of Luxie's brushes is!
I also wanted to mention that the box that Luxie sent their Rose Gold collection out in is a storage container for your makeup brushes! Just flip the rose gold front half of the box around and insert it into the white back and you'll have a closer container to hold your brushes in that's convenient to store away if you don't have room for a beauty table or a vanity. I think that this was such a genius storage idea from Luxie, as not only does it provide beauty lovers who don't have tons of room to store make up a convenient (and cute) spot to store their new brushes, but it also cuts back on waste. Double win!
Sixth product: Tarte Tartiest Shimmering Lip Paint in 'Flaming Hot'
Tarte is one of my favorite high-end brands, so I was stoked to see a Tarte lip product in my Boxyluxe. I will admit that I was expecting this lip paint to be a liquid lipstick, as liquid lipsticks seem to be the only thing that makeup subscription companies seem to be sending out. Upon further opening, I was really excited to see that this was actually a glitter lip gloss in stunning pink color!
While I understand that not everyone likes lip glosses, this lip gloss doesn't feel like a lip product that was just thrown into the December Boxyluxe just to increase the overall value of the box. I don't get a lot of lip glosses in my subscription boxes, so I'm really excited that not only did I receive a lip gloss from one of my favorite brands, but I got a glittery lip gloss!
I was worried that this was going to feel like a cheap lip gloss because I haven't heard a lot of beauty bloggers review the Tarte Shimmering Lip Paint. I received shade 'Flaming Hot', which I was also expecting to be a bright red. But, Flaming Hot is a pink lip gloss with micro-fine purple glitter in it; the glitter is fine enough that I literally don't feel it on my lips and it didn't chunk up when I applied several layers of this gloss on my lips. As for the actual lip gloss formula itself, this lip gloss isn't overly thick and it isn't sticky or tacky feeling at all. The gloss has a lightweight feeling to it and doesn't clump up in the corners of my lips when I drink water.
The only complaint that I had about this lip gloss is that I wish it was more opaque, even though I love using this shimmering lip paint as a glitter lip topper overtop my favorite lipsticks. I absolutely love the color of the lip gloss in the tube, which is the only reason why I wish this lip gloss was more opaque, but maybe Tarte has a lip paint in a very similar color to Flaming Hot!
Seventh product: Lorac Royal Treatment Mascara
The Lorac Treatment Mascara was the most disappointing product in my December Boxyluxe, as this mascara didn't last on my lashes for very long. Boxyluxe describes the Lorac Royal Treatment Mascara as a primer and mascara duo, with one end featuring a blue primer to prep your lashes for mascara application to help you achieve dark, full lashes. The blue primer has both nourishing and conditioning properties, claiming to help encourage the growth of your natural lashes.
On the other end of the duo, you'll find that the Lorac mascara sports a slim want to allow you to get in close to the base of your eyelashes, ensuring that you can cover your lashes from root to tip with mascara. Boxyluxe says that the thin mascara wand also helps to volumize and thicken your lashes, without leaving behind any clumps of mascara.
I've never tried out mascara primer before and I've never been able to find it in store, but I was pretty excited to see how long this mascara was going to last me with the aid of the mascara primer. With my thinking, I know that face primer helps to make my foundation stay on longer, so I was thinking that using a mascara primer would have the same effect.
Let me tell you, the Lorac Royal Treatment Mascara is the biggest flop of the December Boxyluxe. I have to admit that I went into using this primer and mascara duo with high expectations, but I was severely disappointed in how ineffective this mascara was. The primer was fun to put on my lashes, as it applied on my lashes blue, so I had blue lashes for a little bit! I gave the primer a minute to dry (as written as a tip by Boxyluxe) before I applied the mascara formula.
This formula is the flakiest and clumpiest formula that I've ever used before. Have you ever applied mascara from a tube that's old and the formula on the inside is super dry- you know how the mascara is really clumping? Imagine that, by like five times worse with this mascara. I normally don't have any time with mascara weighing my lashes down (I have thick, curly lashes naturally) but this mascara made my eyelashes stick thin.
The Lorac Royal Treatment Mascara literally only lasted me three hours before it started to flake off. During the application process, the mascara formula was very clumpy, but I was able to brush that out with a spoolie so my lashes didn't clump together. Boxyluxe said that if I didn't give the mascara primer enough time to dry, that I could experience some problems with the mascara formula clumping.
I'll take the blame for the mascara being clumpy, but the formula literally just flaked off my lashes within three hours of wear. I hadn't rubbed my eyes, it wasn't raining, it wasn't humid, so I really don't know what outside effect would have caused the mascara to flake off as it did. It literally looked like I had little bits of pepper ground underneath of my eyes.
The Lorac Royal Treatment Mascara didn't work for me, but this is the first item in the December Boxyluxe that has been a flop for me. Hopefully, this is the only one!
Eighth product: Wander Beauty Dusk to Dawn Blush and Highlight Palette
Wander Beauty is a brand that I was first introduced to thanks to Boxycharm, but is a brand that I quickly fell in love with once I started testing out their products. The Wander Beauty Dusk to Dawn Blush and Highlight palette contains two blush shades and one highlight shade, but all three of the shades in this blush palette have gold glitter flecks in the formulas.
I think that the packaging for this palette is super cute and I love how if you take a look past the Wander Beauty name brand, there are pink clouds that decorate the rest of the package. I also really like how sturdy the packaging for this palette feels in my hands and how the pans don't slide around inside of the palette. I also love how this palette comes with a mirror and is compact enough for me to be able to throw in my purse or bag to carry around when traveling and am in the need for quick makeup touch up.
I don't like how glittery the blush shades are, but I do think that these shades would work a lot better on my lids. The pigmentation for the blushes literally melts into my skin with how well they blend out, but the glitter is still very prevalent on my cheeks, which what I'm looking for when I'm wearing the blush.
I love the gold highlighter, but I do find that it's too dark for my pale skin tone. The highlight shade in the Dusk to Dawn palette only looks good on my skin when I apply a thin layer of the powder, but because the layer is to thin, there isn't any reflectiveness to the highlighter (or enough to give me the blinding glow that I'm always looking for in my highlighters).
I tested these pigments out on my eyes and was able to successfully make a beautiful day time appropriate pink smoky eye with little effort! The blush shades blended out seamlessly and I didn't have too much of a problem with excessive fall out, although the gold sparkles were still prevalent in the blush shades. The gold sparkles in the blush shades don't both me in eyeshadow pigments, but I just wanted to give you the heads up that you can still see them when you use this blush and highlighter palette on your eyes, just in case you really don't like sparkly eyeshadow.
Ninth product: Violet Voss Pro HQ Palette
It's always been a dream of mine to own the Violet Voss Pro HQ Palette, but with all of the new product releases that are constantly coming out, it's really easy to get swept away from buying something that you've wanted for a long time and purchasing one of the hottest new products in the beauty community. The Violet Voss Pro HQ Palette has 20 highly pigmented eye shadow pans, with a mix of creamy matte, bold metallic, and silky satin eyeshadow formulas.
With this palette being price at $45 for 20 pans, you're basically paying $2.25 a pressed pan (for those of you who are wanting a breakdown of cost)! The entire Violet Voss Pro HQ Palette is vegan and cruelty-free, with finely milled pigments, helping to ensure a smooth application (this means easier blending)!
This is the biggest eyeshadow palette that I've ever received in a subscription box and with 20 shades, it was hard to get all of the entire palette swatched on one arm. I also wanted to take a second to point out the stunning holographic finish on the palette itself and the size of the mirror inside of this palette! It's so easy to do a full face of makeup with this mirror, which may be part of the reason why I keep reaching for this palette.
The tip that Boxyluxe left for the Violet Voss Pro HQ Palette is that the shade Toffee makes a great highlighter shade for darker skin tones, while the shade Crystal makes a wonderful highlighter for lighter skin tones. I have been reaching for this eyeshadow palette on a daily basis, as it's the perfect palette to create a plethora of daily time/work appropriate makeup looks, but also has the darker shades and intense metallic to give you the perfect Friday date night glitz and glam.
Glamping, Cranberry Splash, and Wine N Dine are my go-to shades for creating a sultry smoky eye that I've been wearing every day for my grungy winter makeup, but I have played with R U Kitten Me, Bestie, and How U Doin' to create a soft day time makeup. This is the largest eyeshadow palette that I own, but I love playing with it because there is so much potential hiding behind all 20 of the shades in this palette!
I haven't yet run into a shade that I've been disappointed in, even though Wine N Dine did have a lot of fallout. All of the shades in this palette are absolutely gorgeous, easy to work with, easy to blend, and all pair exceptionally well together, making it easy to release my creativity and create a large assortment of eye looks!
Final thoughts on the December Boxyluxe:
The total value for the December Boxyluxe box was $386, but I only paid $49.99 for everything that I received in this box. At $50 for this entire box, here is what the cost for each item breaks down to:
Luxie Rose Gold Complete Face Brush Set- $5.05
Tarte Tartiest Shimmer Lip Paint- $2.59
Violet Voss Pro HG Palette- $5.83
Spongelle Body Wash Infused Buffer- $2.59
Elemis Pro Collagen Marine Cream- $11.53
Wander Beauty Dusk to Dawn Blush and Highlight Palette- $3.37
Lorac Royal Treatment Mascara- $3.10
PYT Mini Hair Straightener- $9.72
Crimes of Beauty Wristlet and Portable Charger- $2.85
Here's a look at what the cost of each item is retail value vs how much I paid per an item thanks to the help of Boxyluxe!
| | | |
| --- | --- | --- |
| Item | Retail cost | Boxyluxe cost |
| Luxie Rose Gold Complete Face Brush Set | $65 | $5.05 |
| Tarte Tartiest Shimmer Lip Paint | $20 | $2.59 |
| Violet Voss Pro HG Palette | $45 | $5.83 |
| Spongelle Body Wash Infused Buffer | $20 | $2.59 |
| Elemis Pro Collagen Marine Cream | $89 | $11.53 |
| Wander Beauty Dusk to Dawn Blush and Highlight Palette | $26 | $3.37 |
| Lorac Royal Treatment Mascara | $24 | $3.10 |
| PYT Mini Hair Straightener | $75 | $9.72 |
| Crimes of Beauty Wristlet and Portable Charger | $22 | $2.85 |
The December Boxyluxe was absolutely amazing! I'm so impressed with the value that I received out of this box, especially because I do feel like a few items inside of this box were undervalued (especially that Luxie Rose Gold Complete Face Brush Set). Even if you aren't in love with every item inside of the December Boxyluxe, you still get an incredible discount on the products that you are interested in by getting a Boxyluxe box. You may find that you like the other items in the box (or learn to love them) once you officially try them out; but for the items that you aren't interested in it all, you can always give the products away to a friend, save to give as a birthday gift, or donate to someone in need!
I'm absolutely blown away by everything that Boxyluxe managed to stuff inside of this box and I'm even more impressed with the quality of everything that I got! Even though I think that Boxycharm is the best subscription box in the entire world, I really was expecting to have at least half of my box filled with disappointing or poor quality products in my box. The only product that I received in my box that I wasn't happy with was the Lorac Royal Treatment Mascara, but I can always use this mascara as a base for the underneath of my false lashes.
Overall, the December Boxyluxe was an absolute hit in my book! Without a doubt, I got my money's worth out of this box, but with how well built this Boxyluxe was, I can't wait to see what is going to be sent out in the next box!