Latest posts by Alizabeth Swain
(see all)
My TL;DR: Here's the top affordable meal delivery services I'd recommend (and have tried) and why:
Are you dreaming about the taste of restaurant-quality food but don't want to cook and clean up afterward? 
Same. 
That's what I love about signing up for meal delivery services. They're a great way to get delicious meals without having to do any of the hard work of prepping and meal planning!
Not only are they convenient, but there are also tons of cost-effective options available, too – ranging from healthy frozen meals to gourmet feasting that'll have you questioning why you wasted money on takeout last month.
I know when I was first signing up for a meal delivery service, I thought getting a regular subscription was going to cost me an arm and a leg. But, with grocery prices constantly increasing, I've found that some of these meal kits can actually help save you money!
Here's the dish: Everyplate is my favorite cheap meal delivery service. I love the creativity in the meals offered by Everyplate, and the quality of the ingredients never disappoints! 
Affordable + Big Taste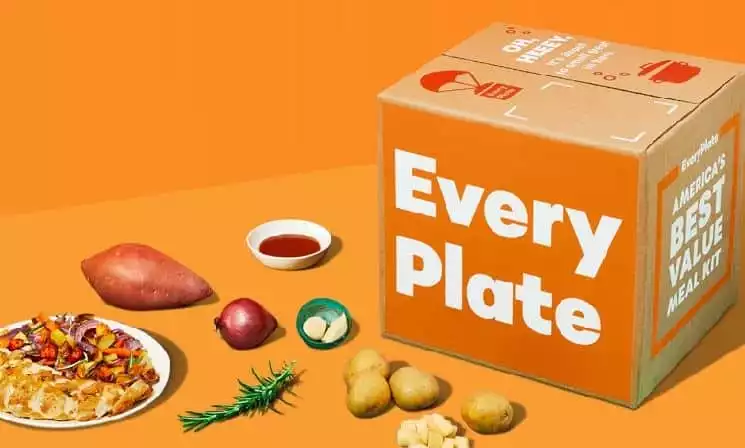 Why Go with EveryPlate?
Big taste, little price meal kit delivering familiar, pre-measured ingredients with simple recipes. I love EveryPlate for busy families looking for crowd pleasing favorites, on a budget.
Sign Up
We earn a commission if you click this link and make a purchase at no additional cost to you.
Tips for Finding the Best Cheap Meal Delivery Services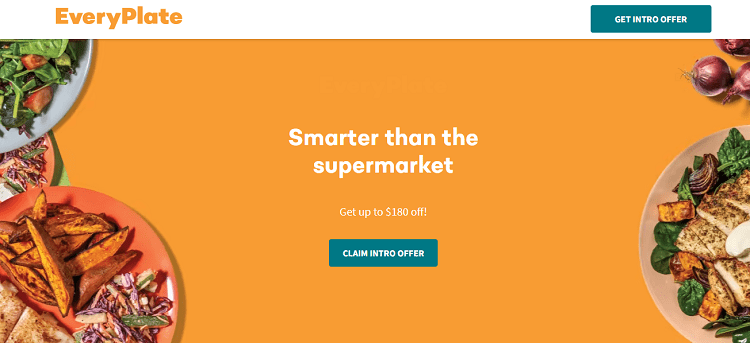 Let's face it; there's really nothing quite like chowing down on a delicious meal without having to spend hours in the kitchen or on your phone trying to find creative (and healthy) meals to feed your family.
I know how much I hate meal planning, so you probably do too! For me, that's where the beauty of a meal delivery service comes in. I'm a dedicated fan and will always recommend meal delivery kits to any busy mama!
But with so many meal delivery services out there, finding the best one that I know my family could afford felt like a daunting task.
If you're in the same boat – fear not! After some serious trial and error, I've discovered some tips for finding the crème de la crème of affordable eats.
Do Your Research
I know; this probably sounds like a bad tip. But, I can only make recommendations that I know, love, and trust for my family's dietary needs and budget.
If you have a family member who has unique allergies or your family has a unique diet, do your research to see what meal kits on the market cater to your family's specific needs. 
Believe it or not, customization in a meal kit is very important. It's even more important if you have a family of picky eaters! Make sure to look into the service you're considering to make sure it allows you to personalize your meals to your liking.
Try Out a Box with Promotions
Are you afraid to jump in and spend a chunk of money on a meal delivery service?
Don't be! I've often found great deals and discounts by keeping an eye out for promotionsMany services offer discounts on your first order or even free meals.
You can look around online for coupon codes or deals offered by different meal delivery services to save yourself a couple of bucks and try out a service! I would also highly recommend you consider signing up for emails and following the subscription boxes you're considering on social media.
This way, you can stay in the know on the latest updates on sales and promotions the subscription box you're interested in trying is offering!
Consider the Cost Per Meal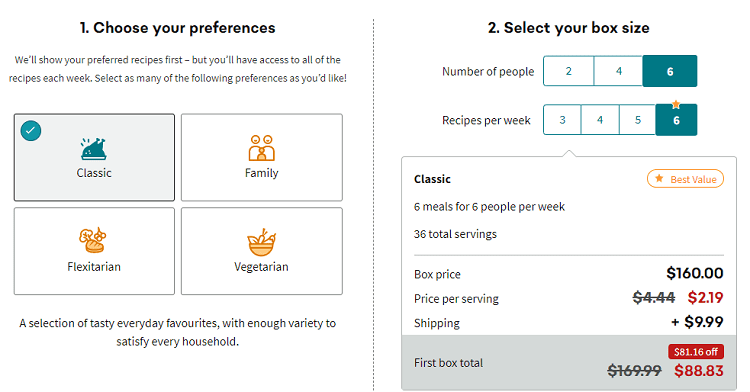 I like to break down the total cost of each plan by the number of meals provided to get a clear idea of the actual cost per meal. This helps me make more informed decisions about which service provides the best value for my budget.
But don't forget about shipping costs when you're figuring out the cost per meal. I always make sure to factor in shipping costs when evaluating meal delivery services to know how much I'm actually spending. Free or low-cost shipping options can make a significant difference in the overall affordability of service.
Double-Check Portion Sizes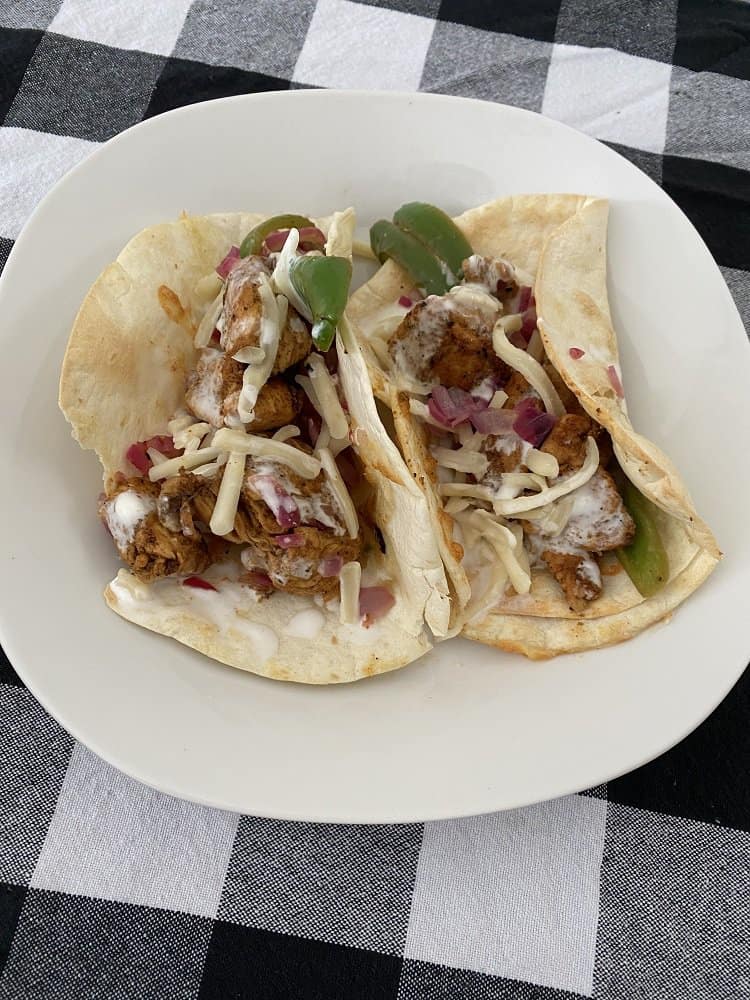 To ensure I'm getting the most value for my money, I like to look for services that offer generous portion sizes. This not only keeps me satisfied but also stretches my budget further by providing leftovers for the next day.
I always take it as a personal victory when I'm able to serve my family leftovers for lunch with a meal I've made from a meal delivery kit!
Experiment
Don't be afraid to experiment with different services until you find the one that fits your taste buds and budget.
Trust me, the savings and convenience are worth it once you find a box you're completely in love with!
How I Chose My Favorite Affordable Meal Delivery Service

I'll admit it; I'm a bit (okay, a lot) of a foodie. I love trying new flavors and dishes, but as a working mama, I don't always have time to cook up a storm.
That's where meal delivery services come in handy. I know I can trust to have an idea for dinner and meal prep taken care of for me by a meal delivery company, but I'm still able to cook with love and serve my family a healthy dish.
I love how much I learn more about meal delivery services, too; I don't have a ton of experience cooking, and so I'm always learning new things when I'm kitchen.
I refuse to break the bank on my meals. After trying out various options, I finally discovered my favorite affordable meal delivery service. Here's how I chose my favorite meal delivery services:
Quality: The dishes are always fresh, the flavors are bold, and the prices are unbeatable.
Customer Service: The customer service from each of the companies I've listed below is top-notch.
Adventure: I want to feel like a culinary adventure every time my delivery arrives at my doorstep. I want affordable meals to taste delicious and not be boring!
Affordability: I made sure each of these meals cost less than $10 per serving.
My Favorite Affordable Meal Delivery Services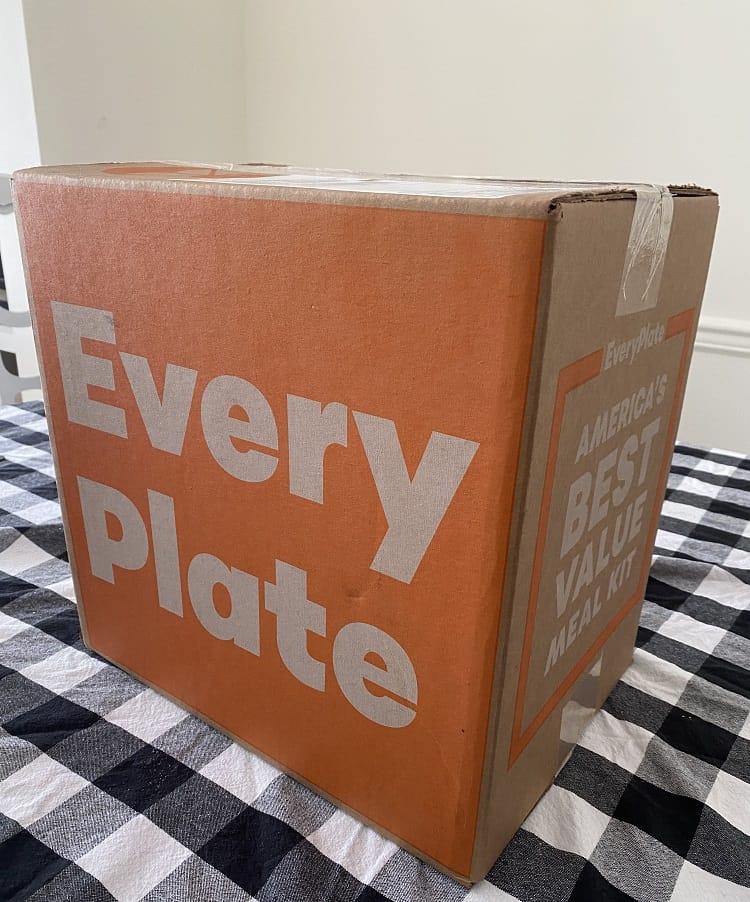 Averages $4.99/serving

Best for American food
Great for families
As someone who is always on the go, I was excited to try out Everyplate, a meal delivery service that promises to make cooking easy, fast, and affordable.
I first found Everyplate while I was scrolling through my Facebook feed, and I saw an ad that claimed they were "America's best value meal kit ."I didn't really believe their claim at first, so I decided to order myself an Everyplate box and give it a try.
Boy, was I wrong!
First off, the meals were all delicious and easy to prepare. In one of my most recent orders to Everyplate, I ordered the Cajun chicken sandwiches and the blackened shrimp salad. If you're getting ready to place your first order, I 10/10 would recommend the blackened shrimp salad. It's addictive!
I was pleasantly surprised by the variety of options they offered, ranging from classic comfort food like Italian linguine and meatballs to more exotic dishes like sriracha pork stir-fry with peanuts.
Each meal came with step-by-step instructions that were easy to follow, and I was able to create a restaurant-quality meal in just under 30 minutes.
Each meal comes with step-by-step instructions that are easy to follow even if you don't have a lot of experience in the kitchen (me, lol).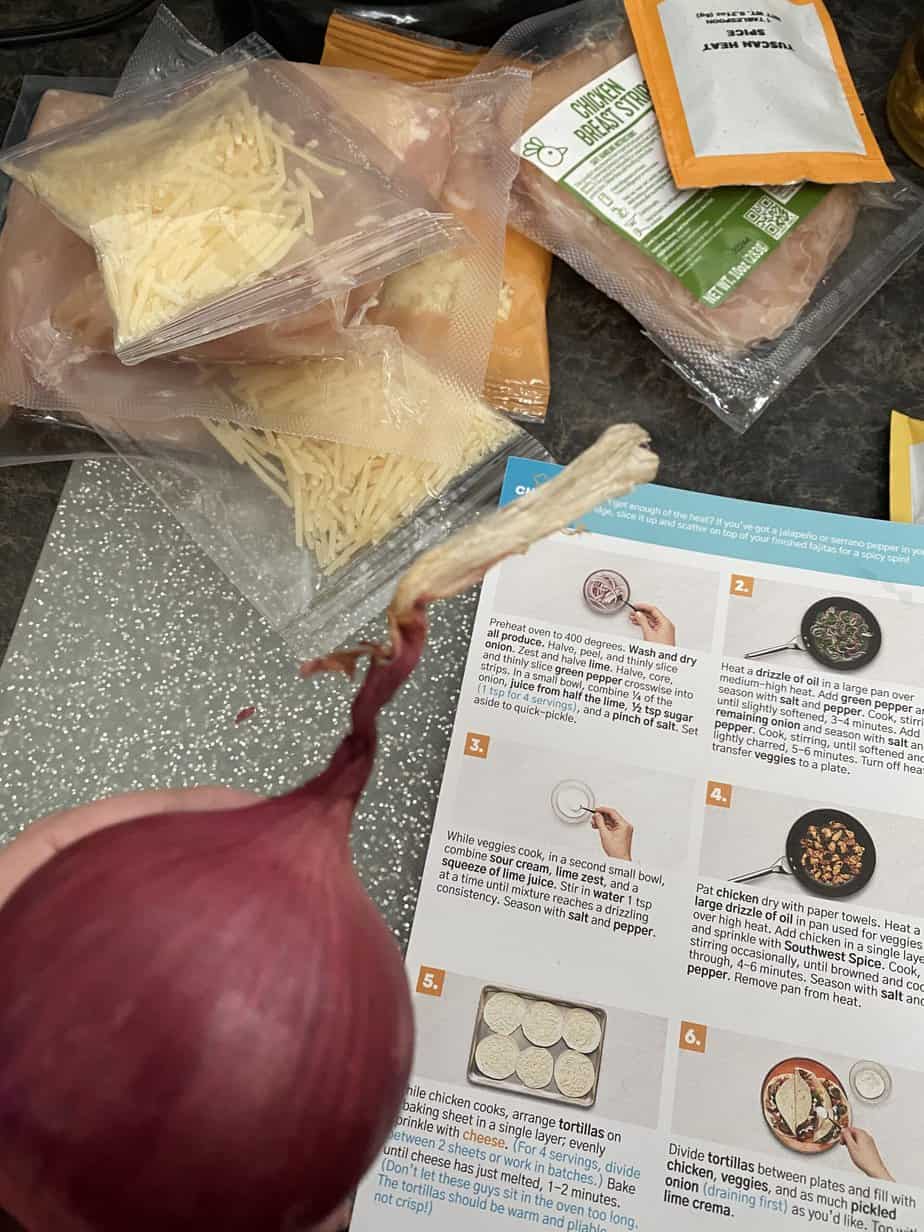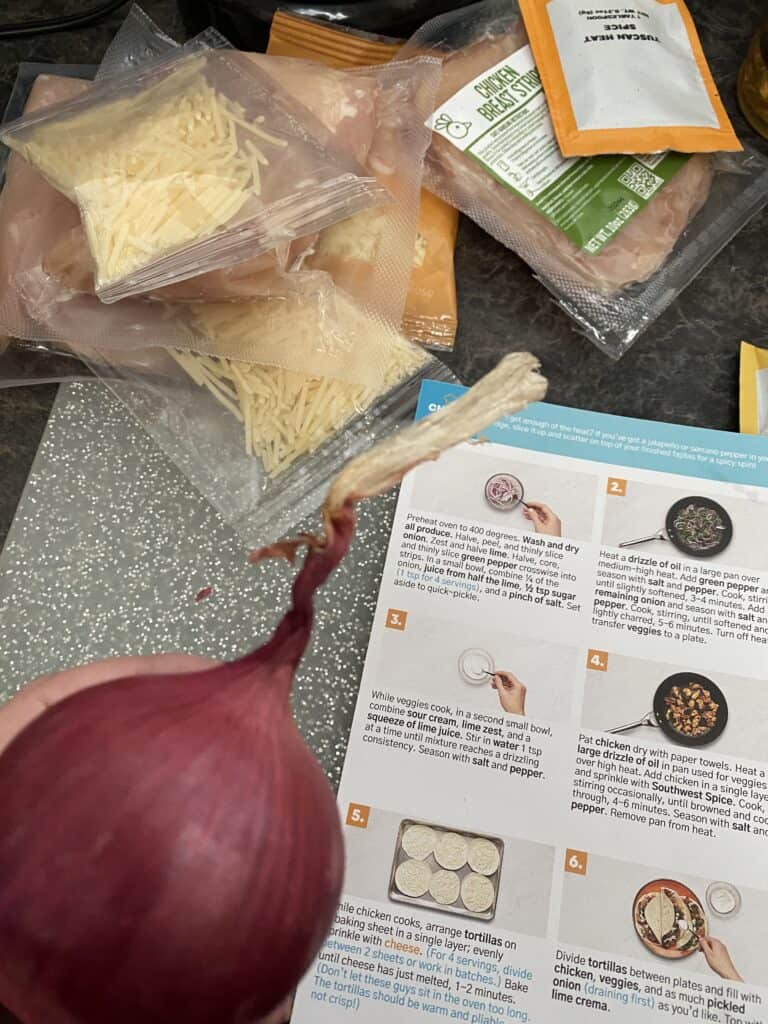 Of course, I really appreciated the easy-to-follow recipe cards that came with each meal. The step-by-step instructions were clear and concise, and I didn't encounter any issues while preparing the meals.
As a busy mom, I don't have 20 minutes to try to understand what a complex recipe is trying to tell me to do. Thankfully, this wasn't a problem I had with Everyplate's meal cards!
All of their ingredients are fresh and of high quality, which makes for tasty end results. The ingredients were fresh, and the flavors were well-balanced. Sure, some dishes were more memorable than others, but overall, I found the meals to be satisfying and enjoyable.
Also, I have to say; I was pleasantly surprised by the portion sizes. Each meal had enough food to keep me satisfied without feeling overly stuffed. Since this is an affordable meal delivery kit, I was expecting the portion sizes to be pretty small. But this wasn't the case at all.
The delivery experience was also seamless. Everything arrived in a well-insulated box, and all the ingredients were clearly labeled and organized, making it easy to unpack and store. I also appreciated the eco-friendly packaging materials.
Plus, the pricing structure is transparent – no hidden fees or surprises when it comes time to check out. So whether you're looking for budget-friendly dinners or gourmet comfort food to impress all of your friends with, Everyplate truly has it all!
EveryPlate definitely lived up to its promise of being budget-friendly. The pricing is very reasonable, especially when compared to other meal delivery services. At just $4.99 per serving, Everyplate is a great option for anyone looking to save money on food without sacrificing taste or convenience.
EveryPlate won me over with its budget-friendly prices, tasty meals, and easy-to-follow recipes. While it may not have the most extensive menu or cater to specific dietary preferences, I believe it's a fantastic option for those looking to save money without sacrificing flavor or convenience.
Affordable + Big Taste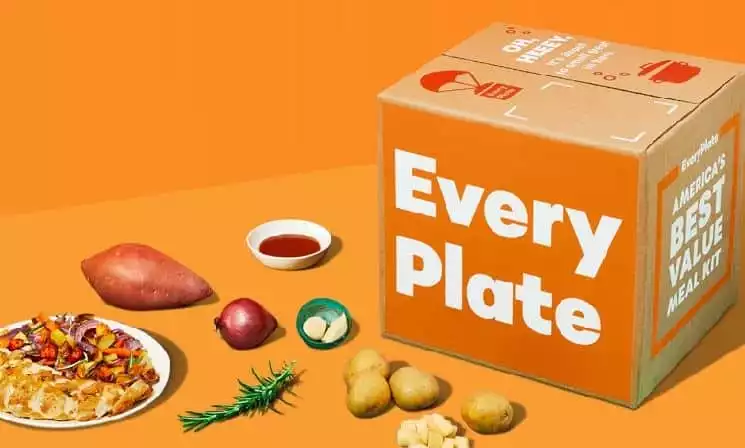 Why Go with EveryPlate?
Big taste, little price meal kit delivering familiar, pre-measured ingredients with simple recipes. I love EveryPlate for busy families looking for crowd pleasing favorites, on a budget.
Sign Up
We earn a commission if you click this link and make a purchase at no additional cost to you.
EveryPlate Competitors Compared
Here's how EveryPlate compares to popular competitors: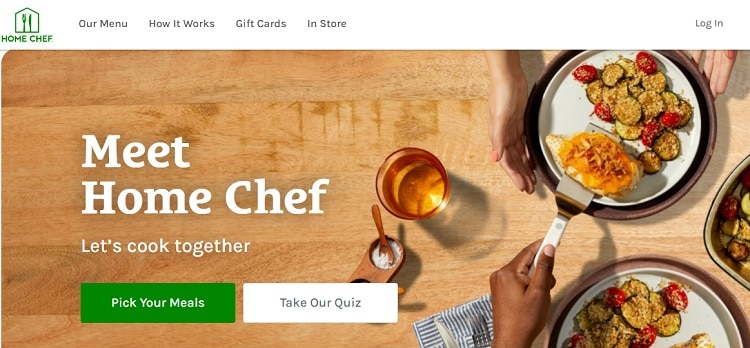 Averages $6.99/serving

Best for those looking for specific diet preferences
Good for picky eaters
Home Chef is one of the first meal delivery services I tried, and it saved my taste buds from boring meals when I was feeling super uninspired in the kitchen!
From crispy Parmesan-crusted chicken to delectable shrimp scampi linguine, Home Chef has yet to disappoint me with its meal selection. The best part?
The simple yet detailed recipe cards make even the trickiest dish feel like a cooking show challenge. I have a whole cookbook now of different recipes! I've shared some of these recipes with friends and family too, who have also fallen in love with the dishes I've re-created from Home Chef.
I also love Home Chef's versatility; they offer meal plans for nearly every diet and taste preference. While I don't have a family of picky eaters, I think they have some awesome options for those with pickier eaters.
Home Chef's pricing is slightly higher than other meal delivery services, starting at $6.99 per serving. However, I found that the quality, taste, and customization options justified the slightly higher price tag. I think Home Chef is a great option if you want to upgrade your kitchen skills and have some fun in the process. 
Home Chef Compared to Peers
Here's where Home Chef places compared to alternatives: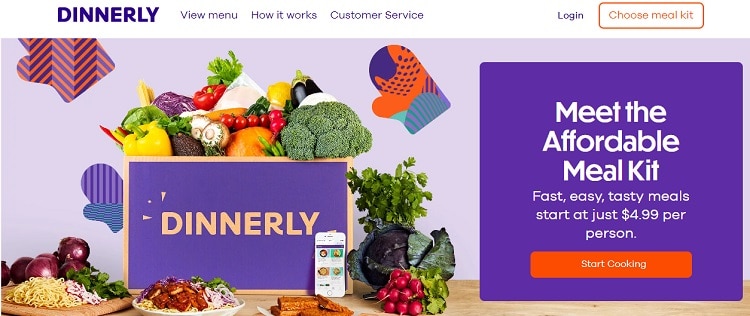 Averages $4.69/serving

Great for those who aren't interested in a ton of variety
Best for couples
Dinnerly definitely lived up to their claim of being affordable, as they're one of the most recent cheap meal delivery services I've tried out. I recently gave this meal kit delivery service a try, and let me tell you, it did not disappoint.
Not only are the recipes easy to follow, but they are also delicious and affordable. I was able to whip up a tasty stir-fry in under 20 minutes, which was perfect when you have a fussy toddler who is ready for dinner time!
Their recipes are simple yet delicious, and the ingredients come pre-measured, making meal prep a breeze. I really enjoyed my experience with Dinnerly, and I'll definitely be a regular customer from here on out.
Dinnerly uses digital recipe cards instead of printed ones, which I found to be an eco-friendly and convenient approach. Accessing the recipes on my phone or tablet was easy, and the instructions were clear and easy to follow.
Where I was expecting to have some "trouble" with Dinnerly is the quality and sizing of their meals because their kits are so lowly priced.
However, I was pleasantly surprised by the taste and quality of the meals. The ingredients were fresh, and the flavors were satisfying. While some dishes were more basic than others, the overall quality was pretty good for the price.
If you're looking for a fun and easy way to elevate your dinner game, give Dinnerly a try! Dinnerly's packaging was mostly recyclable, and I appreciated their efforts to minimize waste. However, like with most meal delivery services, there's still room for improvement in terms of reducing plastic use.
I would recommend Dinnerly to anyone seeking an affordable and convenient solution for home-cooked meals.
Although the menu variety and recipe complexity might not be as impressive as some other services I have on this list; the affordability and decent quality make it a great choice for those looking to save money on meal kits. 
Dinnerly contrasted to top competitors: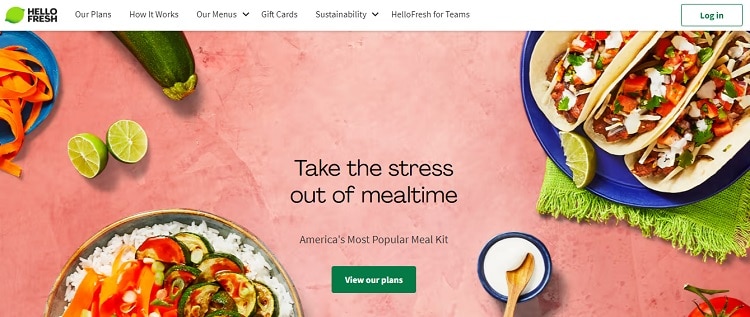 Averages $8.99/serving

Great for those looking to learn how to cook
Awesome choice for those who want to experiment with high-end cooking concepts
After I got deep into trying all of the meal delivery kits out there, I knew I had to sign up for Hello Fresh! They're one of the biggest and most popular kits out there, but it's for a good reason. Some of their meals live up to the hype!
I was blown away by the wide array of choices available on the HelloFresh menu. They cater to various dietary preferences, offering vegetarian, calorie-smart, and family-friendly options. The menu changes weekly, so I never got bored and could always find something enticing to try.
With their pre-measured ingredients and easy-to-follow recipes, I've been whipping up dishes I never thought possible. Plus, the variety of meals keeps things interesting – one night, I'm chowing down on Thai coconut curry, and the next, I'm savoring a hearty steak dinner.
And let's be real; the best part is not having to worry about grocery shopping. I can't wait to see what delicious meal awaits me in my next Hello Fresh delivery!
Oh, how I adore HelloFresh's recipe cards! They're colorful, well-designed, and come with step-by-step instructions and photos that made my cooking journey a breeze. Just like with Home Chef, I have a whole binder of recipes dedicated to Hello Fresh recipes.
And let me tell you, these meals are not your average dinners. I've been whipping up dishes like butternut squash risotto and mozzarella pesto chicken, all in the comfort of my own kitchen. Plus, it's actually fun to cook and experiment with new ingredients! I feel like a top chef every time I finish one of these meals.
Also, HelloFresh gets a thumbs up from me when it comes to packaging. The majority of their packaging is recyclable, and they make an effort to minimize waste. Of course, there's always room for improvement, but it's clear they're taking steps in the right direction. 
 If you're looking for a way to spice up your kitchen routine and put a little fun back into cooking, I highly recommend giving Hello Fresh a try. Trust me, your taste buds won't regret it. 
Here's how HelloFresh compares vs some of their top peers: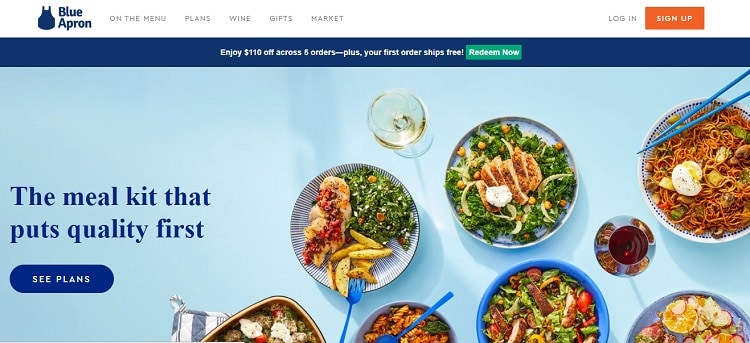 Averages $7.49/serving

Good option for those interested in learning the basics of cooking
Good option for those looking for date night meals to DIY at home
I'll admit it; I was hesitant to try Blue Apron at first. As someone with a love-hate relationship with cooking, the idea of recreating restaurant-level meals in my own kitchen was daunting.
But I'm happy to report that my first experience with Blue Apron was a success. Let me tell you, the taste and quality of Blue Apron's meals did not disappoint!
The ingredients were fresh and of excellent quality, and the dishes I prepared were nothing short of delectable. Each meal felt like a true culinary adventure, and I couldn't wait for the next one.
Plus, it was so much fun to feel like a fancy chef in my own home. Overall, I'd definitely recommend giving Blue Apron a try if you're looking to up your cooking game without leaving the house.
My experience with Blue Apron was a culinary rollercoaster in the best way possible. Their unique and delicious recipes and high-quality ingredients made for an unforgettable home cooking experience.
I would wholeheartedly recommend Blue Apron to anyone looking to spice up their home cooking routine and indulge in some gourmet delights!
Here's how Blue Apron stacks up against competitors:
FAQs
Question: Where is Everyplate available? 
Answer: Everyplate is available in most of the United States (except for Hawaii and Alaska). However, I would highly recommend you check out your local area to see if it's covered.
I was going to ship a package to my friend's house, but delivery wasn't available in their area. So, before you get your hopes up, make sure Everyplate is available in your area!
Question: How long do Everyplate meals stay fresh? 
Answer: I love how Everyplate focuses on keeping their meals fresh! Everyplate keeps their meals fresh for up to a week after delivery. Just make sure you keep these meals properly stored in the fridge, and you'll be all good to go! 
Question: Can I choose the meals I receive with Everyplate? 
Answer: Yes, that's a great thing about Everyplate! You have the option to choose from a bunch of different meal selections.
Everyplate menu changes every week, so you'll always have a ton of variety to choose from! Depending on your dietary restrictions, you may feel like the menu is pretty limited. Another great thing about Everyplate is if you don't find any of the meals offered, you can skip them! 
Finding the Best Affordable Meal Delivery Service For You and Your Family
Well folks, after much trial and error, I can confidently say that I have found the best affordable meal delivery service for me and my family.
Everyplate is the meal delivery service kit that won my heart and wallet over.
So, if you're in the same boat as me and need a little help in the meal planning department, don't fret. There's an affordable option out there for you! My tummy and dinner table will forever be thanking Everplate. 
Affordable + Big Taste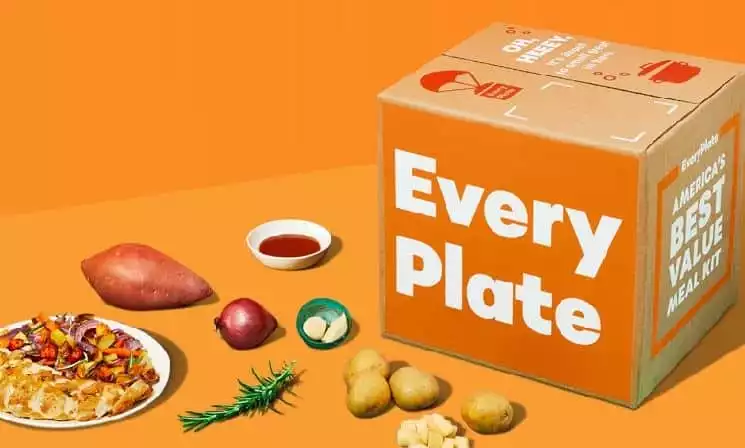 Why Go with EveryPlate?
Big taste, little price meal kit delivering familiar, pre-measured ingredients with simple recipes. I love EveryPlate for busy families looking for crowd pleasing favorites, on a budget.
Sign Up
We earn a commission if you click this link and make a purchase at no additional cost to you.
Looking for Other Meal Delivery Kits?
Our team has tested an ungodly amount of meal kits over the years and below are some specific recommendations based on use cases you might have: