As of this writing (early 2023), Hello Fresh does not yet accept EBT payments for home meal delivery.
Our editorial team is closely monitoring the modernization of the SNAP programs and will update this page as soon as we know more.
Continue reading for some other options for using EBT to get food delivered to your door.
What Payment Types DOES Hello Fresh Accept?
As of this writing, Hello Fresh accepts the following for payment:
Visa
Mastercard
American Express
Discover
PayPal
Do Any Meal Delivery Services Accept SNAP EBT Payments?
No, not yet. And this is unfortunate as there are many reasons why someone may need assistance with partially or fully prepared meals, but can't go out in person to shop. Meals on Wheels can't be the only option!
Grocery Delivery Services that Accept SNAP EBT
While meal delivery services are still not integrate into EBT, grocery delivery services are moving much more quickly to integrate with SNAP.
It's not the same as meal delivery, but many of these grocery stores do have fresh food or ready to eat sections that may qualify for delivery.
Instacart EBT: Easiest to Use & Most Selection
Instacart aggregates ALL of your local grocery stores (and conveniences stores, pharmacies) and just coordinates the local delivery to your doorstep. Instacart is my top recommendation here in lieu of Hello Fresh because they generally have the widest selection of supermarkets, which include many ready to eat meals.
The process is fairly easy to setup, as long as you have your EBT SNAP card. Once uploaded to Instacart, it's credited to any participating in-network store.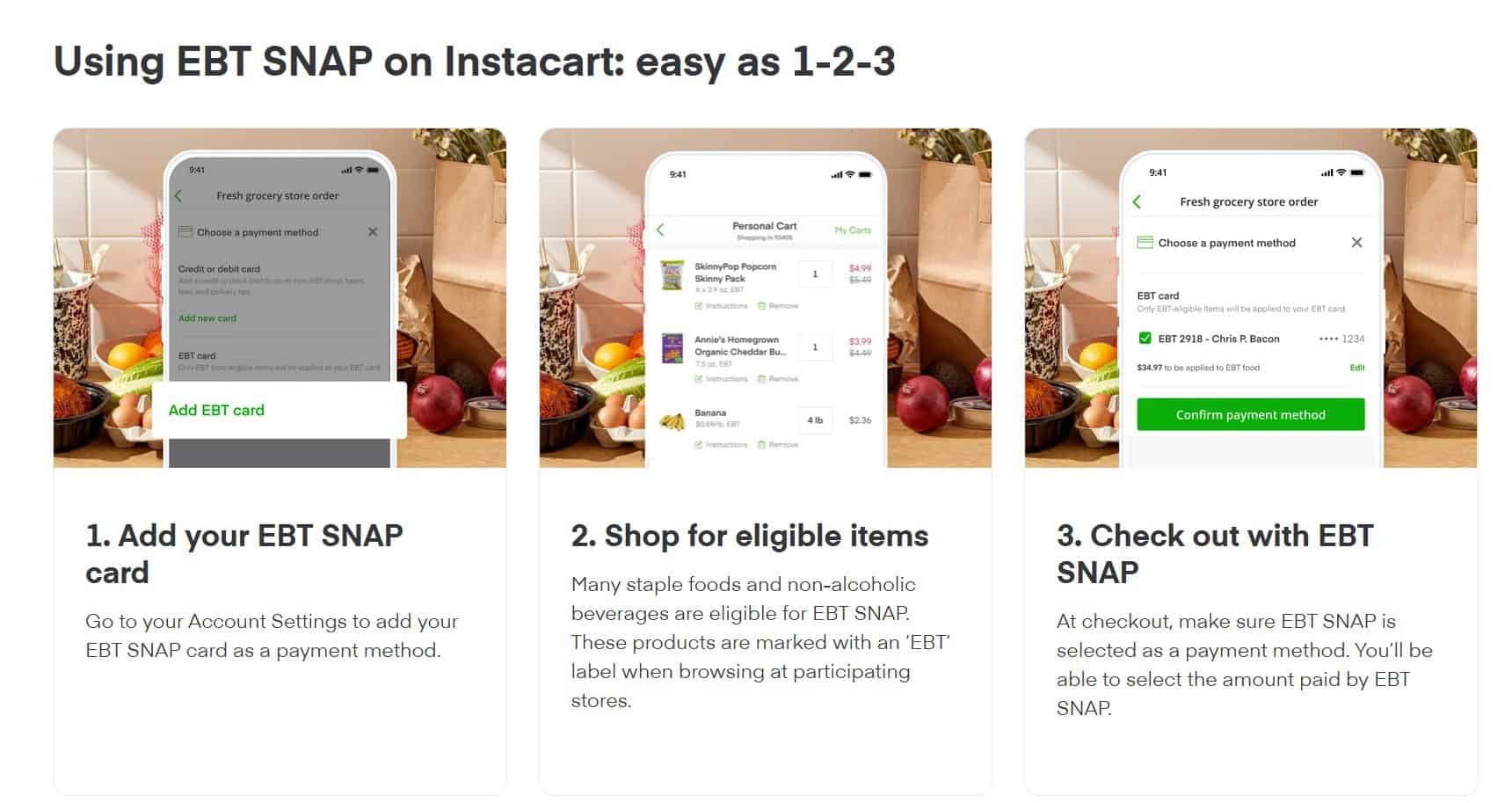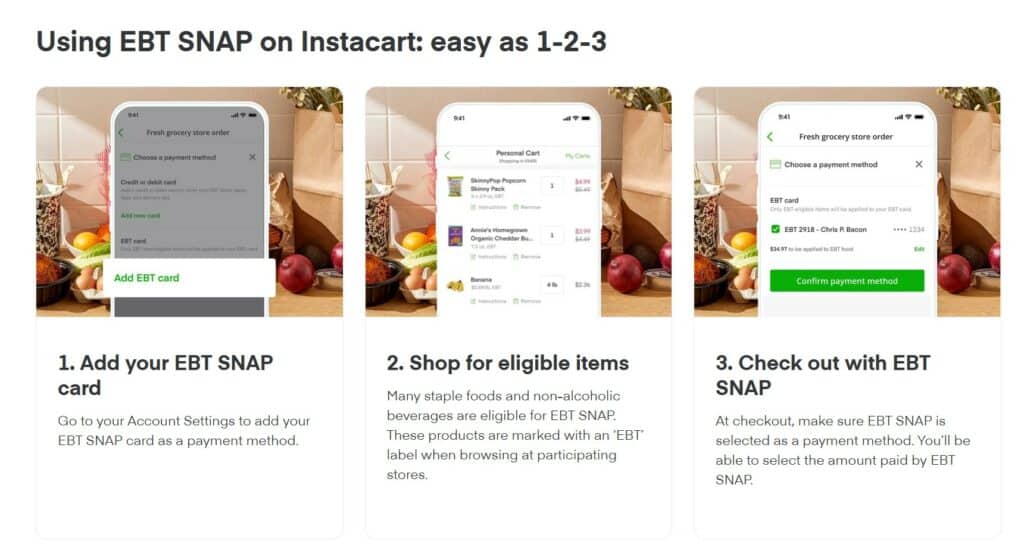 In practice, Instacart just services supermarkets that themselves participate in SNAP EBT. These retailers are:
Publix
ACME
Albertson's
Shaw's
Sprouts Market
Wegmans
Food Lion
Price Rite
ALDI
Hannafords
Market 32
Price Chopper
Safeway
Select local Co-ops
Check out this Instacart page for a local and live listing of the options available to you.
Within the last year, Instacart has also waived all delivery and service fees for EBT SNAP orders, meaning that you can pay $0 out of pocket (better than Amazon Wholefoods delivery, see below).
The problem is that while Instacart is widespread, it doesn't cover every location, particularly some rural and urban "food deserts".
Check your location here to see if Instacart covers you.
If you have an ACME near you, they have a simple integration process for EBT cards. Orders can be setup online for either delivery OR "DriveUP & Go" orders.
Albertson's recently launched an easy to use online EBT ordering process. You can now easily filter by SNAP items, so you don't have to be reading the fine print on everything.
Check out the 4-step process to apply EBT here.
Look for the label specifically for "SNAP or EBT Eligible" to see which products can qualify.
Important to note, the shipping fee for orders <$25 is not covered by SNAP & is only covered if you are an existing Amazon Prime member.
Shaw's now also offers a simple online EBT process, very similar to Albertson's.
Check out the Shaw's process to apply EBT here.
Safeway is one of the most widely available discount grocer that has it's own online delivery + takes EBT + operates in lower income areas. This makes it an excellent choice for those who are homebound and/or don't have the ability to otherwise visit a supermarket in person.
The process for applying your EBT card is very easy, can be done entirely online for delivery, or scheduled ahead for in-store pickup.
Unfortunately, Amazon Fresh is fairly limited in it's geographic footprint to major metropolitan areas (see if you can access in your market here). For example, it doesn't deliver to my residence in the Raleigh, Durham, Chapel Hill vicinity of North Carolina – a fairly accessible and well populated area.
Top Box Foods was created specifically to address the shortage of online delivery options for fresh produce for lower income families and individuals. The nonprofit is still only live in specific cities:
Chicago (Cook County)
Atlanta
Rockford
New Orleans
Baton Rouge
Top Box Foods generally overs 6-7 different boxes, from fresh vegetable medleys, to soups, chicken, steak, and fish. Generally whatever is in season and more affordable than usual. All delivered to your doorstep, assuming you live in one of the served metro areas.
Currently only live in a few areas of the Bronx, New York as a pilot program. We'll update this section when/if things change.
Restaurants That Accept SNAP EBT Payments
In some areas, restaurant pickup or delivery might be an option for fully prepared meals. In this case, there are some select national chains that do participate in the EBT program.
States Participating in the SNAP Restaurant Meals Program
First off, not every state participates in the SNAP RMP offering (Restaurant Meals Program). To date, only 7 states have opted in with 3 pending or under consideration. They are:
Arizona (widely available – over 670 chain locations across the state)
California (widely available – use this locator to find a place near you)
Hawaii (select cities – there's not much information here but there IS a hotline)
Rhode Island (select counties – mostly Subway restaurants so far)
Michigan (select areas – about 18 different locations so far, not just fast food)
Maryland (select cities – so far it looks like just 1 location)
Virginia (implemented in 2022)
New York (law signed in 2021, currently being implemented)
Illinois (implemented in 2022, currently a handful of Chicago eatery's participating)
Missouri (proposed, under legislative consideration)
Final Note on EBT for Hello Fresh & Other Meal Delivery Services
Many of the federal and state food assistance programs are struggling to catch up with the pace of technological innovation, particularly in the food delivery space.
I fully expect this to change in the coming months and years, so be sure to bookmark this page & check back regularly. This includes Hello Fresh and other meal prep delivery companies, specifically as it becomes more logistically feasible and widespread.
As soon as we have updates, we'll update this page.