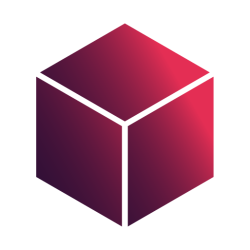 Latest posts by Subscriboxer Team
(see all)
Expack is a snack box that is designed to make expats feel like they are back in their old country. Subscribe to the box that represents your country to receive food items, and occasionally toiletries, that will remind you of home. Current options include Canada, which ships internationally, and France, Germany, and the UK which ship to the continental US only. They also have a Serbian box that's coming soon.
I am from the US, but I was still interested in trying some snacks that would be new for me! I opted for Germany because I had just spent the holiday season eating piles of pfeffernusse, so I figured why stop now! German people know a good snack, so I felt confident in my choice. I was super excited to see what my delivery would bring to my doorstep.
Even though I wasn't signing up for the nostalgia factor, I absolutely loved the idea of Expack for that very reason. My husband is from Eastern Europe, and I know that he would have loved to sign up for a subscription like this if it had included his home country. My in-laws travel nearly an hour to purchase some of their favorite back-home items in Brighton Beach, Brooklyn, and even there they can't find everything that they miss.
I think that a subscription like this would be an excellent gift for a friend who longs for their favorite treats back home.
My package arrived just when I was craving a snack, so I was excited and ready to dig into my new German finds. I couldn't wait to see what my Expack shipment would include.

Surprise #1 Kinder Bueno
I was psyched for this item because Kinder bars and eggs are a familiar item here in the USA, so I knew that I would be enjoying some delicious chocolate. The Bueno bar was terrific! The package contained two bars that were each sectioned into four break-away pieces.
Inside of the chocolate coating were light, crispy wafers and within that was a creamy, luscious filling. The bar reminded me of cookies and cream. I am so glad that they carry them at my local bodega because I am definitely addicted now! However, the fact that they are available stateside kind of kills that nostalgia factor for any actual German subscribers! Maybe the rest of my snacks would be harder to find around here.
Pro- Creamy, dreamy and delicious!
Con- Readily available to expats in the NYC area.
Surprise #2 Kartoffelland 15 Kartoffel Puffer
This item wasn't at all familiar to me. In fact, it took me a minute to figure out that it was a box of potato pancake mix. The back of the package included an English version of the nutrition information and cooking instructions, which seemed simple enough (mix with water and fry in oil). I am a big fan of potato pancakes, though I rarely actually make or eat. I don't usually have a lot of fried food, but I was excited to give these a try. They were easy to make and were almost like a cooked mashed potato patty which is basically heaven.
Pro- Quick to make and delicious.
Con- Very different from what I was expecting, but actually in a good way!
Surprise #3 Rugen-Krone Herring Fillets in Aspic
Remember that Eastern European husband that I mentioned? Well, because of him and his lovely family I am probably more familiar with canned fish items than your average American girl. They also serve plenty of aspics, which are foods suspended in gelatin or animal fat.
I don't think I've ever had pickled herring and aspic combined though! When I opened the can, I found the fillets and a few carrot slices along with the yellowish savory wiggly gelatin. The herring was flavorful and zesty, but I kind of avoided the jello part of the stuff. I could see how this would be something that someone might miss here because it's so far from the American palate.
Pro- Flavorful and hard to find in the USA.
Con- Fish jello.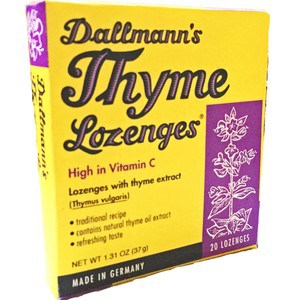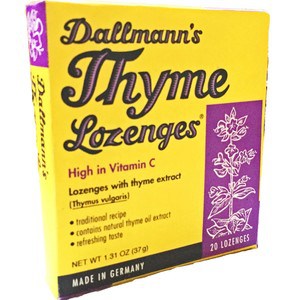 Surprise #4 Dallmann's Sage Lozenges
It really caught me by surprise to receive an item that I thought of as more of a drug store thing than food or snack, but it was also kind of cool. I love exploring pharmacies for beauty items whenever I travel outside of the US, and I figure that expats must miss those familiar items too.
When you aren't feeling well, you just want some soothing item that you associate with home and childhood. Being without those things would be sad. The packaging said that these lozenges have been trusted since 1889 so I figure they must be pretty well known in Germany. They were actually great, and I enjoyed them so much more than the overly mentholated type that I've had here in America. These were great!
Pro- Soothing and herbaceous.
Con- Now I will have to see if I can order this in the US!
Surprise #5 Hengstenberg Horseradish
This horseradish was pungent and zingy with a nice thick, creamy texture. I think that the texture aspect is what set it apart from the typical jar of American horseradish. This brand looked familiar to me, and I learned that they are well known for their mustards as well.
One great thing about this item is that it paired really well with the potato pancakes. I'm not sure if that's a standard combo, but it worked for me! I think that this horseradish is a great kitchen staple that Germans would be happy to find in their box.
Pro- Spicy and tangy, with much better quality than the American version.
Con- Nothing bad to say!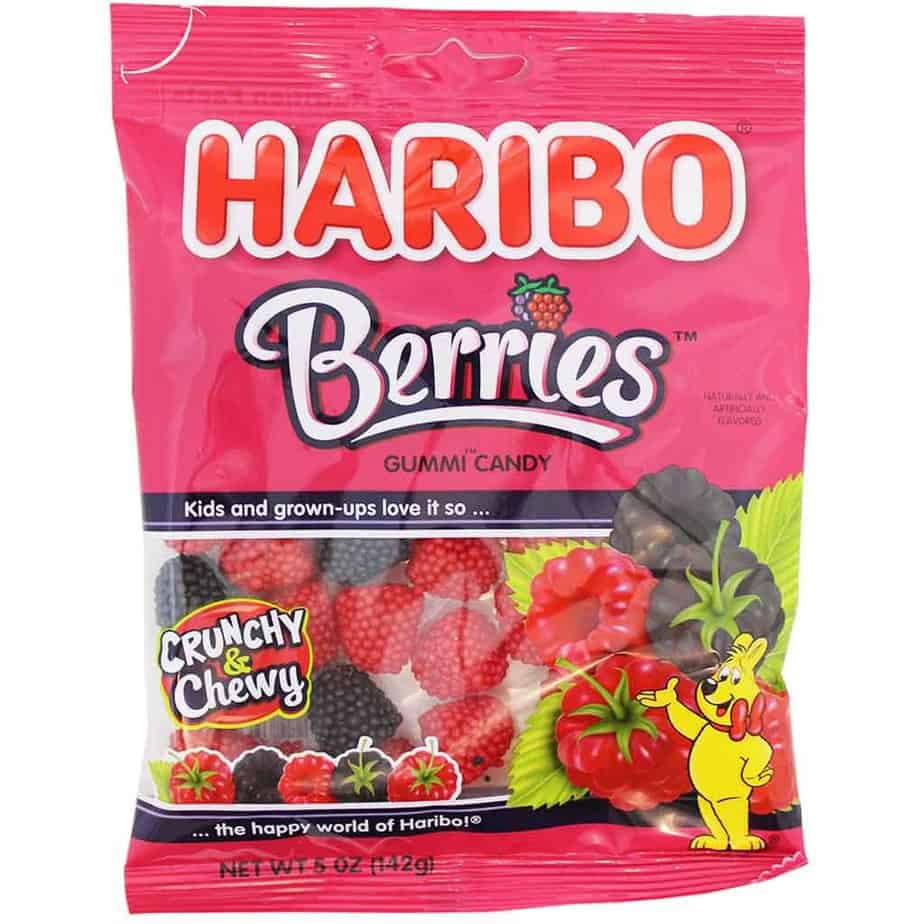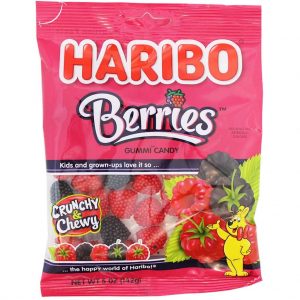 Surprise #6 Haribo Berries
How did I know that I would receive a Haribo item in this Expack box?! This is one brand that I instantly associate with Germany and that I also associate with deliciousness, so I was happy to find this item. The little berries tasted like the real thing, and I loved that they were chewy and crunchy at the same time. They were definitely just addictive as the gummy bears that I love so much.
Pro- An awesome treat!
Con- A destroyer of diets!
Overall Assessment of Expack German Box
Pros
Good Value
Great variety of items
Very giftable to any German expat.
Full of new flavors for me!
Excellent value
Great customer service
Cons
Some items might be accessible in the US without this subscription.
I wish they offered more countries! A Russian box would be great!
Expack Alternatives to Consider- What Else is Similar?
German Food Box is another option for people looking to explore the tastes of Germany. This box is $49 per month, and I saw some Kinder and Hengstenberg items in past boxes, so they seem very similar to Expack when it comes to content. One cool thing about German Food Box is that it seems like they include a recipe card in each box so that you can become a German chef as well! This box differs from Expack because they only have one country available.
BritBox is designed just for British expats, and it has the same concept as Expack, but again, they only offer this box instead of a variety of countries. For $39 per month, you can enjoy items like Marmite and Cadbury chocolates that are hard to find stateside.
Final Word on Expack
I totally enjoyed my Expack German box even though I have never been to Germany in my life! In fact, some of the items that I received were so good that it made me want to book a flight.
Aside from the great items that I got to try, I think that the concept of this box is just as sweet as the Haribo gummies. I think that it would be a great subscription for anyone who misses their home country and all of the flavors that they can't find here in the United States.
It would make a perfect gift for a friend who is missing home as well. I would love to see what future months have to offer, but what I noticed in my particular box is that it was very well curated. It had some sweet treats, some spicy and savory items, and even a drug store remedy in the mix. I think that is added a nice balance, even though I would have been happy with a pile of candy!
My only real criticism of Expack is that I hope that they grow when it comes to the variety of countries that they offer to subscribers. I think that this company has such a great concept that they should share it with even more potential subscribers. All of my international friends and family would adore this box if it represented their homelands. In fact, I will sign up in a heartbeat when they decide to do a Russian box!