If you are like me and recently found some recurring charges from Thrive Market and want to cancel, this article is for you.
Unlike many other subscription services, Thrive Market really doesn't make it easy to cancel your subscription. There is no button to push!
Instead, you have to contact them directly and work through the back and forth.
Yes, you can cancel your membership, but make sure you have 10-15 minutes available to do so.
In this post, I'll walk you through the steps to take and how to get it done quickly.
Steps to Cancel Your Thrive Market Membership
If you've decided to cancel your Thrive Market subscription, you'll be pleased to know that the process is fairly simple. Thrive Market offers various ways to terminate your membership, allowing you to choose the most convenient method. At present, you can cancel your subscription by email, over the phone, or through the Thrive Market website.
Cancellation Via Email
Email cancellation is a popular option due to its ease. This method is particularly advantageous for those who prefer not to communicate directly and are more comfortable sending an email. To cancel via email, simply send a cancellation request to [email protected] and await their response.
Cancellation Over the Phone
If you prefer a quicker process, you can opt to cancel over the phone. Contact Thrive Market at (866) 419-2174 and request the cancellation of your subscription. Ensure to call during their operating hours, Monday to Friday between 6 AM and 3 PM, to promptly terminate your membership.
Cancellation Through the Thrive Market Website
Another straightforward way to terminate your subscription is by utilizing the Thrive Market website. Here are the steps to follow:
Visit the official Thrive Market website.

Access the FAQ section.

From the section that features Membership-related questions, click on "How do I cancel my membership?"

A chat window should appear in the bottom right corner of the screen.

Use the chat to communicate with a Thrive Market representative and request the cancellation of your subscription.
I personally cancelled via the website. This is where I've seen the most aggressive retention offers. Just keep in mind you might spend a bit more time this way, but could end up with some deals (if you care about that or CAN be retained).
Thrive Market Retention Tactics
When I tried to cancel my Thrive Membership this past year, I was met with some interesting retention tactics.
Namely, they'll try to first get you confirm that you don't want "the savings". They'll highlight their guarantee to a credit if you don't save more than the membership costs at the end of one year.
If this doesn't work, they'll try and offer escalating "free months". The best offer I received was a full year with no membership fees.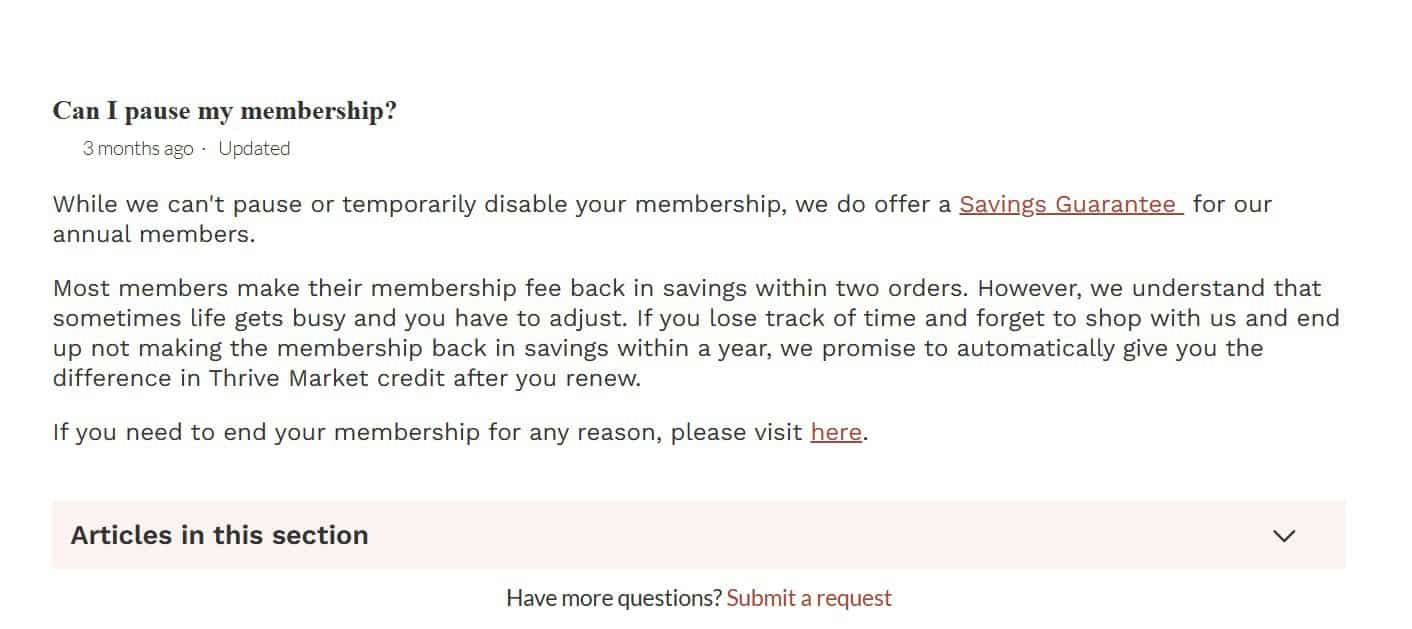 This was very tempting, but at the time the things I needed from Thrive Market were cheaper via my local supermarkets.
They also do offer a generous "rejoin" offer of $60 of free groceries IF you purchase an annual membership.
What You Can't Do
While Thrive Market offers several ways to cancel your subscription, there are methods that are not available.
You cannot cancel your Thrive Market membership in person or by sending a letter. The only approved methods for cancellation are via email, phone, or their website.
Why You Might Want to Cancel Your Subscription
There are many reasons to consider cancelling your Thrive Market membership, but here are the most common ones I hear about:
Membership Cost: The annual membership fee might not be affordable for everyone, especially if you're not using the service frequently.
Limited Selection: While Thrive Market offers a wide range of products, they may not have everything you're looking for, especially specific brands or specialty items.
Shipping Delays: Some customers have reported longer than expected delivery times which can be inconvenient.
Local Availability: If the same organic and healthy products are available at your local supermarket or another online retailer at a comparable or lower price, there may not be a need for the membership.
Auto-renewal: The automatic renewal of membership can be a surprise to some, especially if they no longer want to use the service.
Prices Not Always Cheapest: Some customers have found that despite Thrive Market's claims of lower prices, some products are actually cheaper elsewhere.
Exploring Alternatives to Thrive Market
If Thrive Market did not meet your expectations for healthy and organic foods, that doesn't mean you should abandon similar services. Here are some alternatives to consider:
Does Thrive Market offer a free trial?
Yes, Thrive Market offers a risk-free 30-day trial, which auto-renews into a paid subscription.
Can I pause my Thrive Market subscription instead of canceling it?
Unfortunately, Thrive Market does not allow pausing or temporarily disabling memberships.
Does Thrive Market prorate their cancellations?
Yes, Thrive Market prorates their cancellations. After cancellation, you'll still have access to the benefits of the Thrive Market subscription until the paid membership period ends.
Conclusion on Cancelling Thrive Membership.
Canceling your Thrive Market membership is an uncomplicated process. You can choose to cancel over email, the phone, or through the official website.