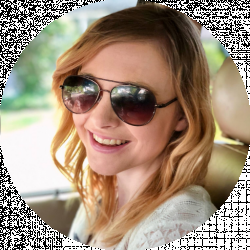 Latest posts by Erin Jamieson
(see all)
If you've ever searched for organic or 'humanely-raised' meat at your supermarket, chances are you aren't left with many options. I grew up lucky enough to be near a specialty butcher and seafood store, but it was more of an occasional visit because cuts were often overpriced and the location wasn't nearly as convenient.
But unlike when I was growing up, there are now countless delivery options for supposedly higher quality meat. Two of the biggest businesses in that area? ButcherBox and Thrive Market.
While both ButcherBox and Thrive Market intrigued me, I was curious if either was worth the money. From shipping to gifts, sourcing quality, and some downsides, I'll break down a direct comparison of ButcherBox vs Thrive Market.
My suggestion for where to order meat may surprise you- and hopefully, it'll open your eyes to more options, whether you're looking for something as simple as ground beef, ground turkey, or a specialty like venison.
Bottom Line Up Front Summary
ButcherBox and Thrive Market are both compelling options for ordering meat online. If you've had a similar experience as I have- and aren't entirely satisfied with the options at your local supermarket, there's no doubt both companies offer better options for organic and humanly sourced meat.
But in a direct comparison between the two, I have to recommend Thrive Market. Thrive Market has more options overall, provides more spending flexibility, and has a far superior average customer satisfaction rating.
Main Differences ButcherBox vs Thrive Market
ButcherBox is a mostly subscription-based service while Thrive Market provides a la carte options with its subscription fee
ButcherBox sells beef from Australia, while Thrive Market sells beef from Chile
ButcherBox carries popular cuts of meat, while Thrive Market has a larger variety of products
ButcherBox has had complaints about quality and customer service, while Thrive Market has had some complaints about what you get with its subscription fee
Is Thrive Market or Butchebox Worth It?
Thrive Market and ButcherBox sure have made a name for themselves. And while I'm excited to see more options for high-quality meat, there's no question that there are substantial differences between the two companies. To investigate those differences, I'm comparing them side by side, from customer service to the quality of their meat options.
Company Mission and History
If you're considering Thrive Market or ButcherBox, I'm guessing you're like me and care about the quality of the products you're getting. While I'll touch on meat quality as well, I wanted to start by looking at why these companies exist, their history- and how that might or might not align with higher standards.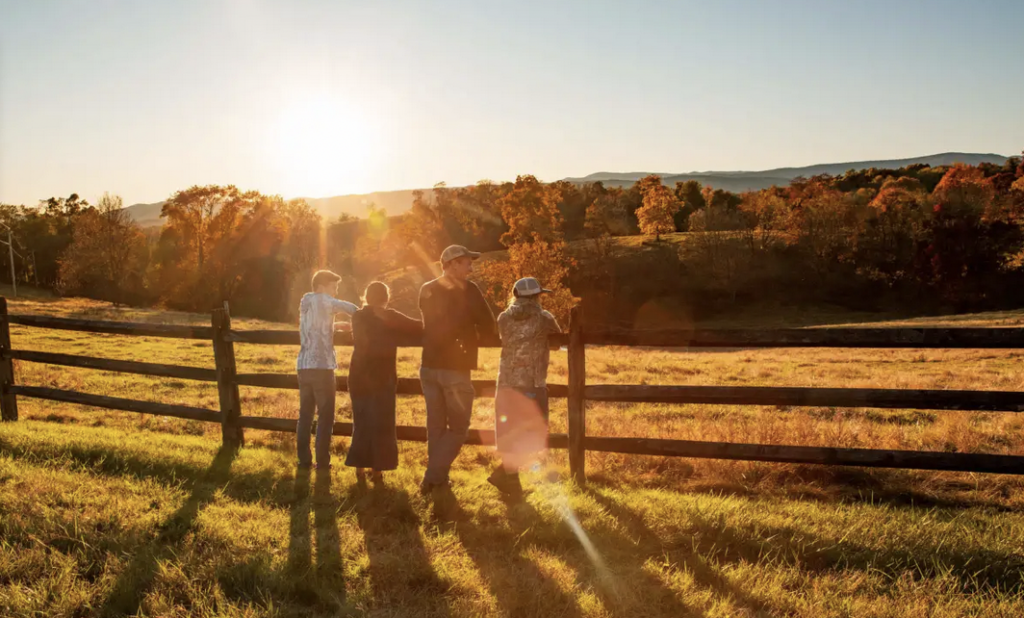 ButcherBox's mission is pretty hard to miss: they want to deliver 'humanely raised' meat that tastes delicious, straight to your door. They appear to be passionate about sourcing and working with partners to deliver higher-quality products to more people.
I like their key values of animal welfare, helping farmers, and providing an inclusive environment. What I noticed is that these aren't just empty words.
Instead, ButcherBox lays out its ambitions in detail, offering sustainability and traceability reports, as well as placing itself thitselfnder the scrutiny of both B Corporation Certification and Global Animal Partnerships.
They've been pretty open with media outlets too and featured in publications like Food and Wine and The New York Times. They're even working towards net 0 carbon emissions. What I can say is this: a lot of companies have nice catchphrases, but ButcherBox shows how they're living up to them.
Thrive Market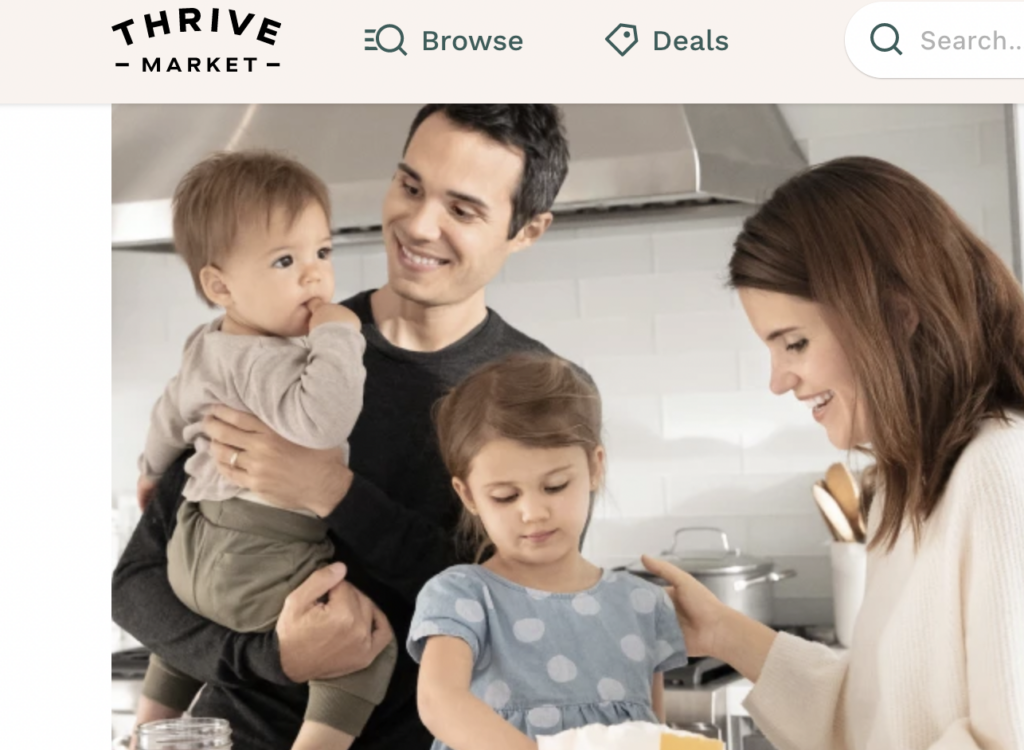 Thrive Market is a broader delivery platform, so I suspected its mission might be a little less centralized or specific than ButcherBox. The founder grew up in the Midwest during the 90s (something I certainly relate to, as I was born in the 90s in Ohio) and mentions how it was a difficult task for their mother to bring healthy meals to the table.
Thrive Market was created to make healthy options more accessible and take some of the weight off of busy families. But they also have high standards for all of their products- from sustainability to partnering with ranchers for more humanely sourced meat.
Winner: Tie
I was impressed with both ButcherBox and Thrive Market's mission statements, even more so than I expected them to be. While ButcherBox goes into a bit more detail for their ambitious standards, Thrive Market covers more and adds a personal touch. Both companies do a great job of making their message and passion clear.
Delivery and Buying Options
I love that both ButcherBox and Thrive Market give you access to more meat and more quality options than you'd find at the grocery store. If your local store is anything like mine, you'll mostly have pretty conventional choices. But there's a pivotal difference between ButcherBox and Thrive Market that everyone needs to know about.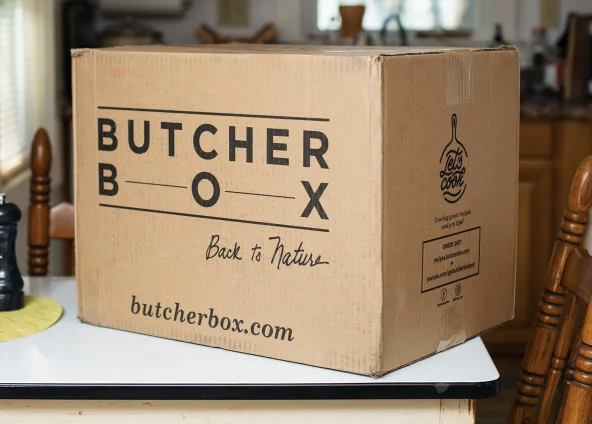 ButcherBox is first and foremost a meat delivery box. That means you have a few plans to choose from but are shipped a box of meat and seafood. While you can select what goes into that box somewhat, it's more of an ongoing delivery than an a la carte experience. The only exception is their curated gift boxes- which are about the same price as their plans but don't allow you to customize its contents.
ButcherBox is free to all 48 continuous states, stays cool for 6 to 8 hours after delivery, and is shipped frozen in an insulated container with dry ice. What's nice is that the amount of dry ice you get is calculated based on where you live. So long as your meat is still 40 degrees (dry ice can evaporate) it's safe to use.
Thrive Market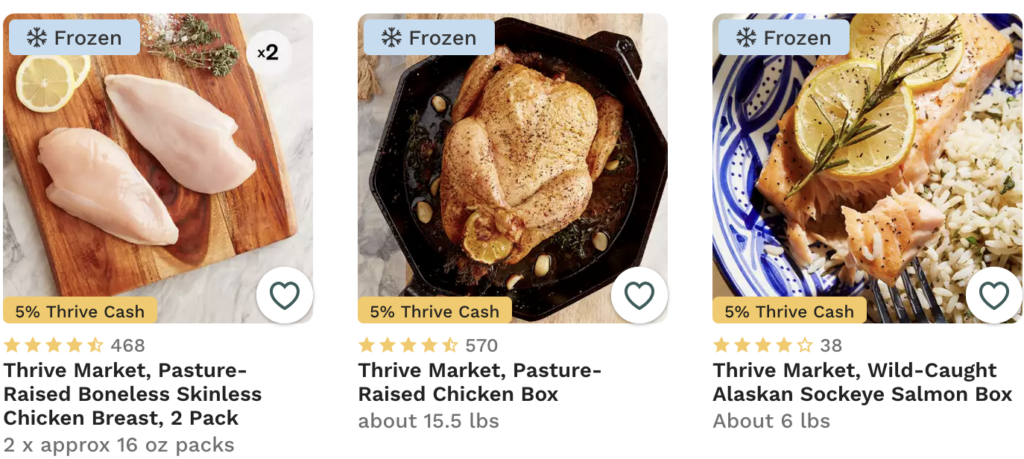 Thrive Market, on the other hand, will feel comfortable for any Amazon or Costco shoppers. Once you're a member, you have access to a la carte items (frozen and fresh), including meat- and it's up to you to search for new products.
However, you can also set up auto-deliveries too- and you can shop by preference, so it's not as time-consuming as regular online shopping.
Thrive Market gives you free shipping on any order over $49, which I think is pretty reasonable, and they also ship to 48 states. Like ButcherBox, you're getting an insulated package with dry ice and a lot of it is recyclable, too.
Winner: Tie
Shipping is pretty much even for both of these companies, so the buying options are the main difference. The problem is it comes down to personal preference. Thrive Market is better for discovering new meat and buying as you would from a grocery store. Meanwhile, ButcherBox still gives you choices but may be a go-to for someone who just wants a mix of meats.
Subscription Plans Compared
Subscriptions are a big part of both the Thrive Market and ButcherBox models. While obviously, these subscriptions are different, I still want to compare the two in terms of flexibility and cost- and I have some opinions about the pros and cons of both.
ButcherBox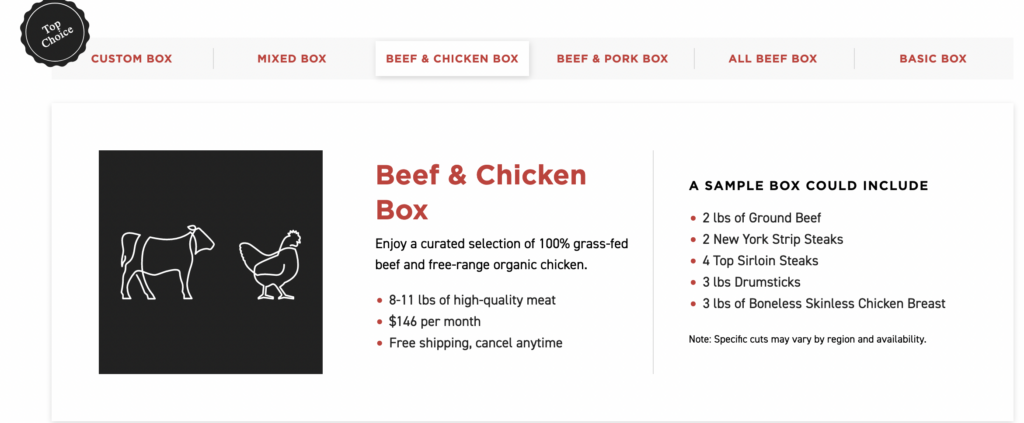 I have to say, I like how many options there are for different meat boxes from ButcherBox:
Basic Box (cheapest; 7 to 7.5 lbs of meat)
Custom Box (most expensive; 9 to 14 lbs of meat)
Mixed Box (8 to 11 lbs of beef, chicken, pork)
Beef and Chicken Box (8 to 11 lbs meat)
Beef and Pork Box (8 to 11lbs meat)
All Beef Box (8 to 11lbs meat)
For ⅚ of these, you'll get a curated box- so different products for different months. If you want more flexibility, you're looking at around $20 more per box for the custom box. But in my opinion, you're better off saving your money, because ButcherBox still gives you a lot of freedom to swap in or out items. I also really like to delay your next subscription whenever you need to (just log into your account).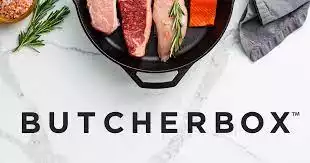 Meat Delivery Subscription | Butcherbox
ButcherBox delivers 100% grass-fed beef, free-range organic chicken, humanely raised pork, and wild-caught seafood directly to your door. Sign up today and get $20 off each box for your first 5 months.
Check Promos
We earn a commission if you click this link and make a purchase at no additional cost to you.
Thrive Market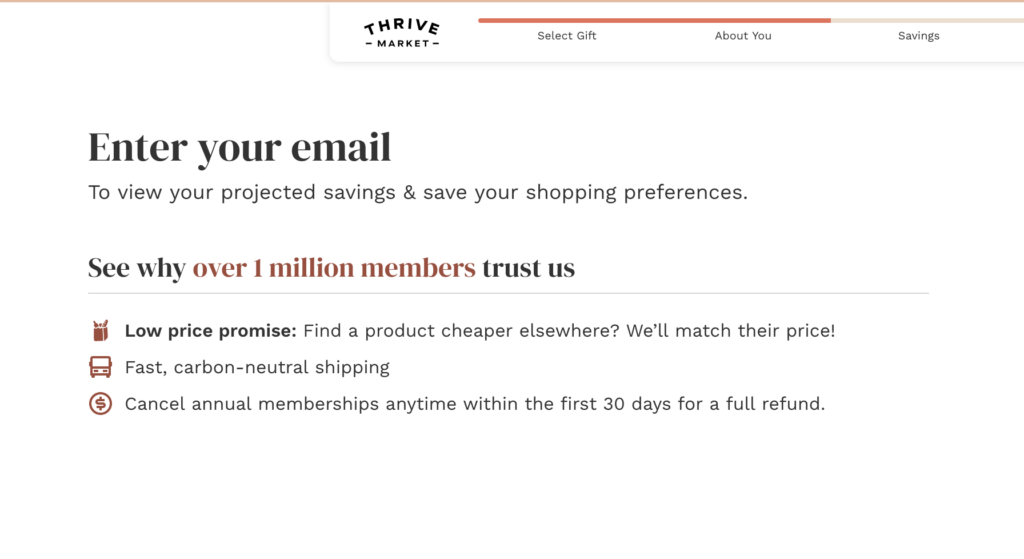 Thrive Market cost vs ButcherBox cost is pretty hard to compare. At just $5 per month for its subscription, I know it's tempting to think Thrive Market is far more affordable- but it depends.
While I think it's easy to spend less on Thrive Market- and you aren't locked in to spend a certain amount- it's also easier to spend more. That $5 is like your entry fee to a Costco: you have access to everything, but you'll have to pay for individual products. It's pretty easy to sign up or cancel and you can order whenever you want.
Winner: Thrive Market
As much as I hate to call a tie again, both Thrive Market and ButcherBox do what they do well. You have just a little more flexibility for how much you spend with Thrive Market, though- and it's going to be a better option if you either eat less meat than ButcherBox offers or just will have some months you want to cut back- which is why I'll give this one to Thrive Market.
Meat Variety
For meat variety, I just wanted to take a look at the selection ButcherBox and Thrive Market offer. Already, I expected more options from Thrive Market, but more isn't always better. Depending on what you're looking for, I could see an argument for either Thrive Market or ButcherBox becoming a favorite.
ButcherBox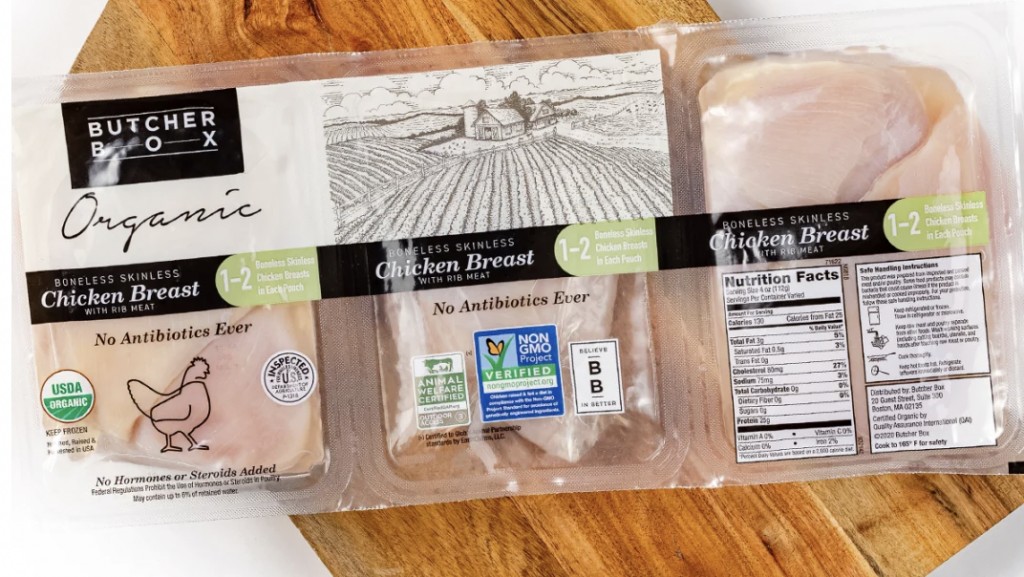 ButcherBox offers beef, chicken, pork, and some seafood, like salmon. I was happy to see fairly versatile and popular options, such as pork chops, tenderloin, strip steak, ribeye, drumsticks, chicken breasts, and sirloin. There's nothing truly innovative or exciting, but you'll have a good variety to enjoy.
Thrive Market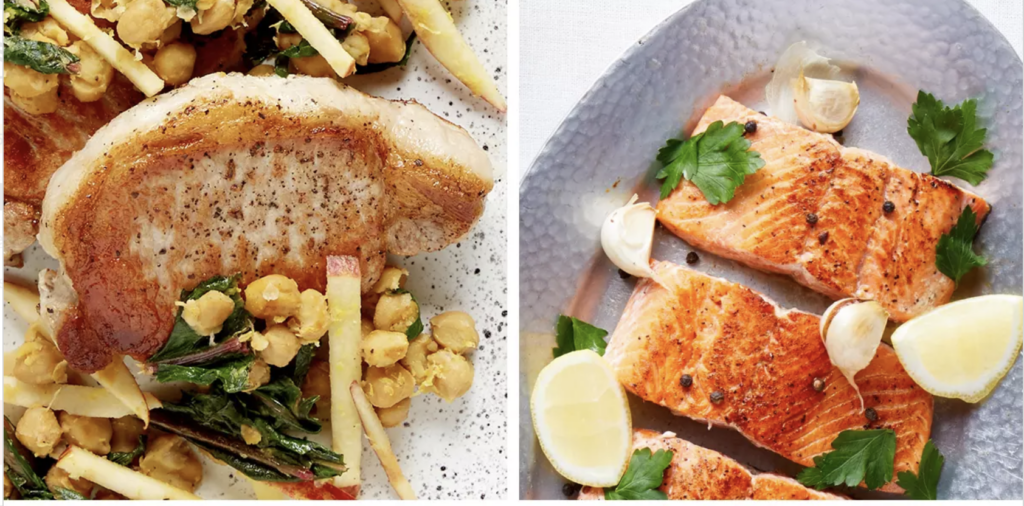 With over 7,000 options to choose from (including meat and seafood) and a continuously changing inventory, there's no doubt that there's far more variety to choose from with Thrive Market. To be fair, it's simply a different model- but it's easy to find everything from ground turkey to more unique options. If you can't find meat here, it's going to be difficult to find it elsewhere.
Winner: Thrive Market
Once again, I'm not sure it's an entirely fair comparison, because I could see both of the companies being a great fit for different people. If you just want versatile favorites, ButcherBox does a nice job.
But you're going to get far more variety and interesting choices through Thrive Market. The only downside is if you're a little indecisive like me, you could almost feel a bit overwhelmed.
Meat Sourcing & Quality
I had high expectations for both Thrive Market and Butcherbox's quality and sourcing standards. Since both heavily market towards people looking for higher quality products, I expected those standards to be true for their meat. But what I was less certain about was how they would compare- and the truth is rather interesting.
ButcherBox
ButcherBox lays out its sourcing standards, and each is a little different based on the meat, but still heads above most meal delivery options, all laid out under their Sourcing Standards Page:
| | |
| --- | --- |
| Meat Type | Standards |
| Beef | Grass-Fed, Grass-Finished, Antiobitoc Free, Pasture-Raised, Humanely Raised in Australia |
| Pork | Crate-Free, No Antibiotics, Nor Hormone, Vegetarian-Fed |
| Chicken | USDA Organic, GAP3 Certified, Antibiotics Free, Hormone Free, Free-Range |
While not all of their meat is organic, these are pretty high standards. The only thing I'd love to see is a list of specific ranchers and sources they work with.
Thrive Market
Because Thrive Market has all kinds of products and sources, there's variety. Those options include grass-fed beef, pasture-raised pork, and USDA organic chicken. I learned that most of their beef is from Chile, but I think they could do a better job of explaining all of their sourcing- especially to anyone who hasn't signed up for a membership yet.
Winner: ButcherBox
I love how companies like ButcherBox and Thrive Market are slowly changing the way we think about our food, and both are superior to most options. That said, ButcherBox has a traceability program and gives you more information about their meat upfront.
Customer Experience
As much as I want to give you my honest opinion about Thrive Market vs ButcherBox, I also wanted to make sure I was looking at the whole picture- and that included doing a deeper dive into the average customer experience. I sorted through complaints and reviews for both Thrive Market and ButcherBox. Here's what I found.
ButcherBox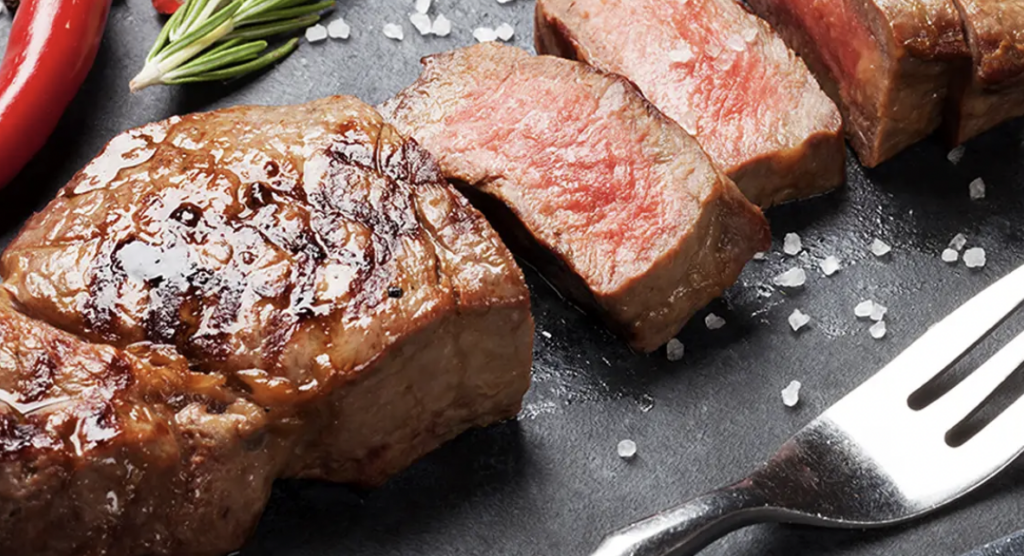 ButcherBox has an A-plus rating through the Better Business Bureau- which is impressive, given that a lot of delivery companies fell in ratings during the height of the pandemic.
But I was sad to see external reviews have dipped some. On TrustPilot, most customers weren't happy with their experience, citing sub-par meat, non-responsive customer service, and bad service. While some still enjoy the service, it looks like ButcherBox hasn't kept up with its quality as I'd hoped.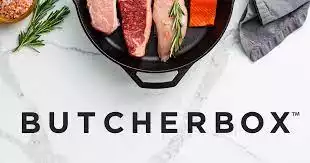 Meat Delivery Subscription | Butcherbox
ButcherBox delivers 100% grass-fed beef, free-range organic chicken, humanely raised pork, and wild-caught seafood directly to your door. Sign up today and get $20 off each box for your first 5 months.
Check Promos
We earn a commission if you click this link and make a purchase at no additional cost to you.
Thrive Market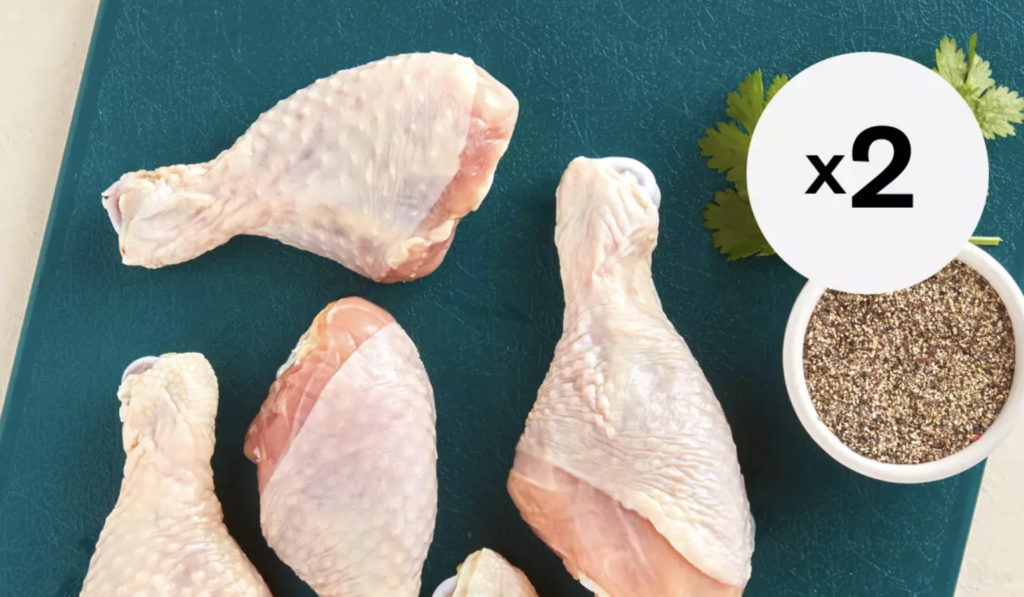 Thrive Market also has an A-plus rating on BBB, but customer experience is simply better overall. On Trust Pilot, over 80 percent of customers gave their experience a good or excellent rating, though it's worth noting that 11 percent rated it as poor. Most of those complaints were not being pleased with the products offered, while others cited shipping delays.
Be careful that you understand their terms and conditions: you are automatically signed up for an auto-renewable subscription, so it's up to you to cancel. But I didn't see anything about the complaints that would make me personally back away.
Winner: Thrive Market
If you'd asked me a year or two ago, I would have thought this would be close. ButcherBox used to be better regarded, so I'm sad to see recent experiences have been less positive. Thrive Market isn't free of complaints, and it's not for everyone, but overall, customers are more pleased with both the service and product quality.
Plus, I noticed Thrive Market responding to reviews and complaints, with offers to contact for more support- rather than being defensive as I sometimes see from other companies.
Frequently Asked Questions
Question: Is Thrive Market Owned by Amazon?
Answer: Many believe that Amazon owns Thrive, but Amazon owns what it sees as its main competitor: Whole Foods. Since Thrive Market offers online delivery for organic and natural foods, it saw an opportunity to challenge Amazon's model.
The mission was to offer more unique products with tighter sourcing standards. A 2020 analysis found that Thrive Market was around 18 percent cheaper than Whole Foods.
Question: Is Thrive Cheaper than Costco?
Answer: Thrive Market is usually cheaper for shelf-stable items, but in other areas, it's more expensive than Costco.  Thrive Market has far more organic and ethically sourced products, while Costco is a better bet for buying in bulk.
Because of this, you'll spend more with Thrive Market- not so much because it's more expensive, but rather because they have more products that would be more expensive regardless.
Question: Is ButcherBox High Quality?
Answer: Compared with most meal delivery services, the quality of ButcherBox meat is superior. ButcherBox ditches the conventional meat model in favor of grass-fed beef, organic chicken, wild-caught seafood, and pork that's been raised with greater care.
They may not have the most unique meats possible,  but their sourcing standards are impressive and far different from the meat that's available in your local grocery store, or competitors like Omaha Steaks.
Question: Where does ButcherBox get its Meat From?
Answer: ButcherBox meat is sourced from the United States, Australia, and Canada- though they promise that everything is from humane and sustainable sources. In this way, ButcherBox acts as the third party provider, carefully selecting who they source from and arranging delivery to you.
Still, the sourcing standards are certainly a step up and better than most meat delivery options. Because they source from Canada and Australia as well as the US, not all of their meat is USDA certified.
Final Decision: Give Thrive Market A Try
I can see why both ButcherBox and Thrive Market are popular options for ordering higher-quality meat online, but I have to recommend Thrive Market over ButcherBox. As much as I love Butcherbox's mission statement and sourcing standards, Thrive Market offers greater variety, flexibility, and a better customer experience overall. Subscribe to Thrive Market Here.
Final Recommendations: Other Delivery Services to Try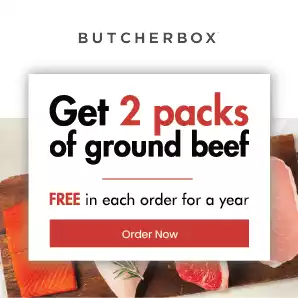 Try ButcherBox Now!
ButcherBox delivers 100% grass-fed beef, free-range organic chicken, humanely raised pork, and wild-caught seafood directly to your door. Get 2 packs of ground beef FREE in each order for a year.
Order Now
We earn a commission if you click this link and make a purchase at no additional cost to you.
Further Reads: