Latest posts by Crystal Schwanke
(see all)
I was nervous going into this Kencko review because I thought there was a good chance these smoothies would be a grainy disaster. I wondered if the gummies would be a sad attempt at a healthy snack.
Anything for health hacks, though, right? A powdered smoothie you can shake up with water sounded good. I don't travel much and I work from home, but there are points throughout the month when a beyond-easy smoothie would be perfect.
Heck, sometimes I'm just too exhausted to make a regular smoothie because I'd have to take so many ingredients out, then have extra dishes to do, so I reach for cookies. Oreos require nothing of me. But they make my fatigue worse, so I really should be going for the energy-giving smoothies more often.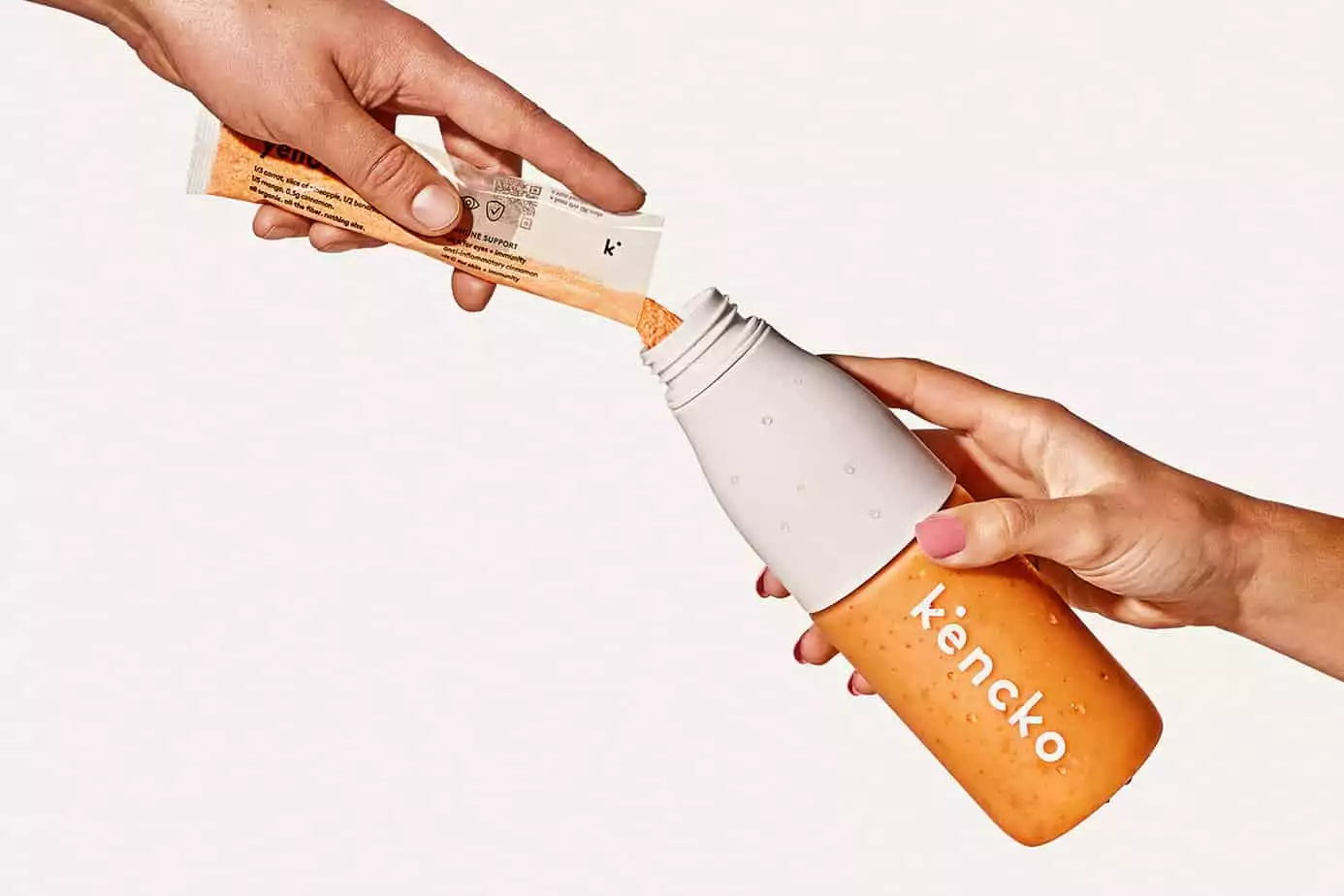 Meet Your New Healthy Start | Kencko
Get your daily dose of fruits and veggies, fast. Nutritious, delicious smoothies, meals and treats that make healthy habits easy.
Get Started
We earn a commission if you click this link and make a purchase at no additional cost to you.
I've tried all kinds of healthy shakes, smoothies, and snacks, from Larabars to MLM products because I enjoy trying new things and want to feel healthier and more energetic.
So not too long ago, there I was, with a whole box of Kencko smoothies and four packets of gummies, alternating between feeling hopeful and dubious.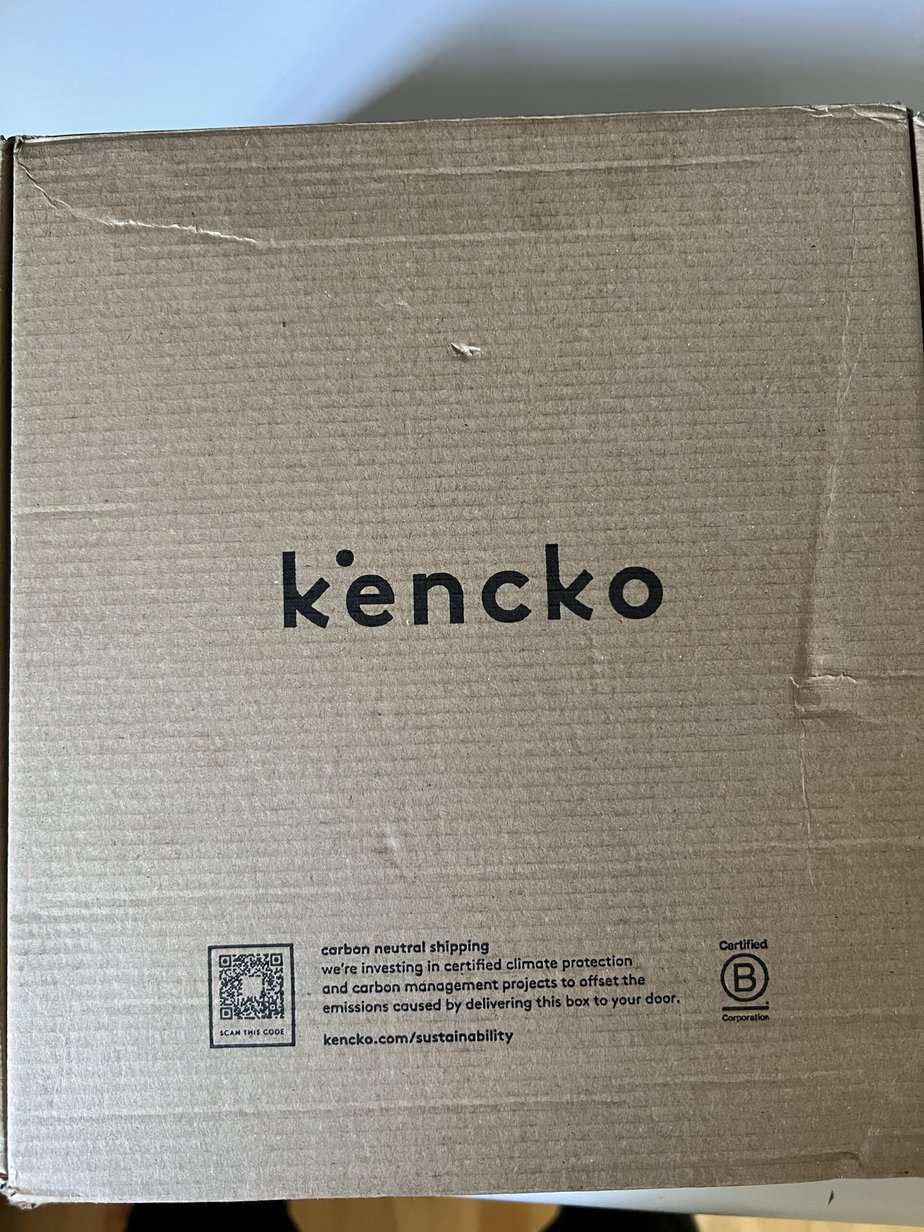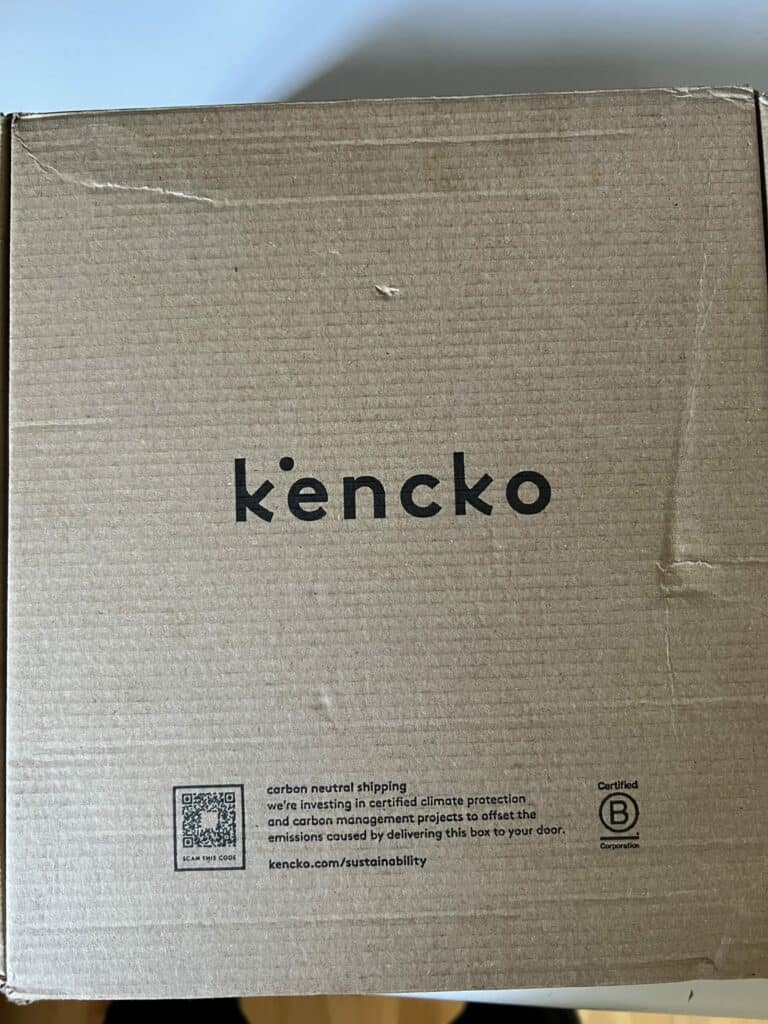 My Thoughts, Right Off the Bat
First impression: Meh. I didn't go into it with high hopes anyway, so Kencko smoothies were better than expected, but they still didn't wow me.
I thought the texture of the first one I tried, Crimsons, was off-putting, and the flavor was too watered down, even though I followed the recommendations on the pack. It wasn't bad, but it wasn't something I'd recommend, either. (Keep reading for the "but"!)
I loved the Gingerella gummies, which were the first ones I tried. No surprise there–I'm obsessed with ginger. Give me all the ginger things! I can't get enough. I wish I'd ordered 82 pouches.
As I worked my way through all the flavors of both products, my opinion balanced out. I think they're a good idea if you choose your flavors wisely. A little on the expensive side, but depending on your lifestyle and budget, it might be worth it.
Some smoothies were better than others in flavor and/or texture. I legitimately enjoyed some flavors and wanted more when they were gone. I didn't just think they were "pretty good" and finish them off for the sake of good health, which is something I have done with different greens powders, smoothies, bowls, etc. One flavor went straight down the drain, though.
I'm still ecstatic about the gumdrops. All the flavors were good, but the ginger stood out. I recommend tossing some of these into your order if you try the smoothies or bowls (I didn't try the bowls).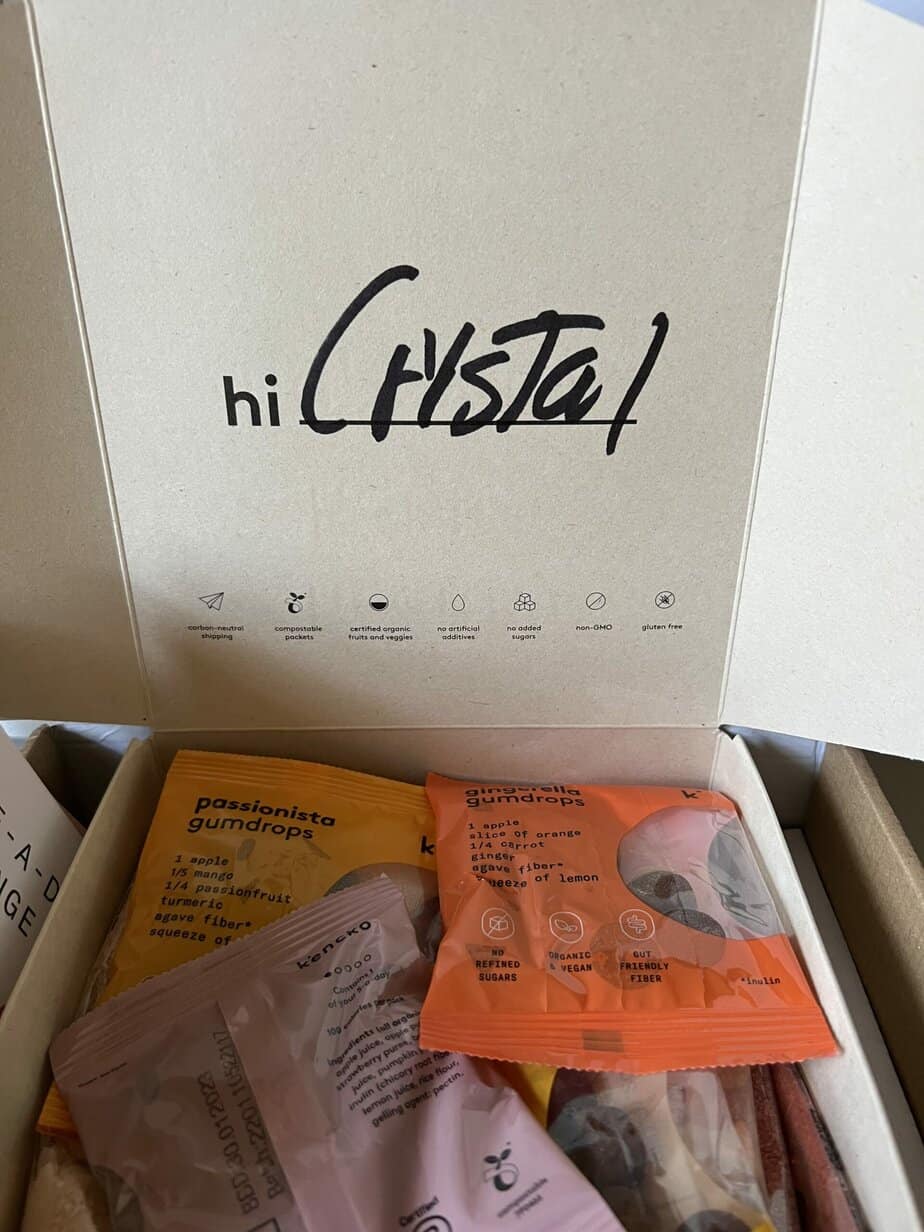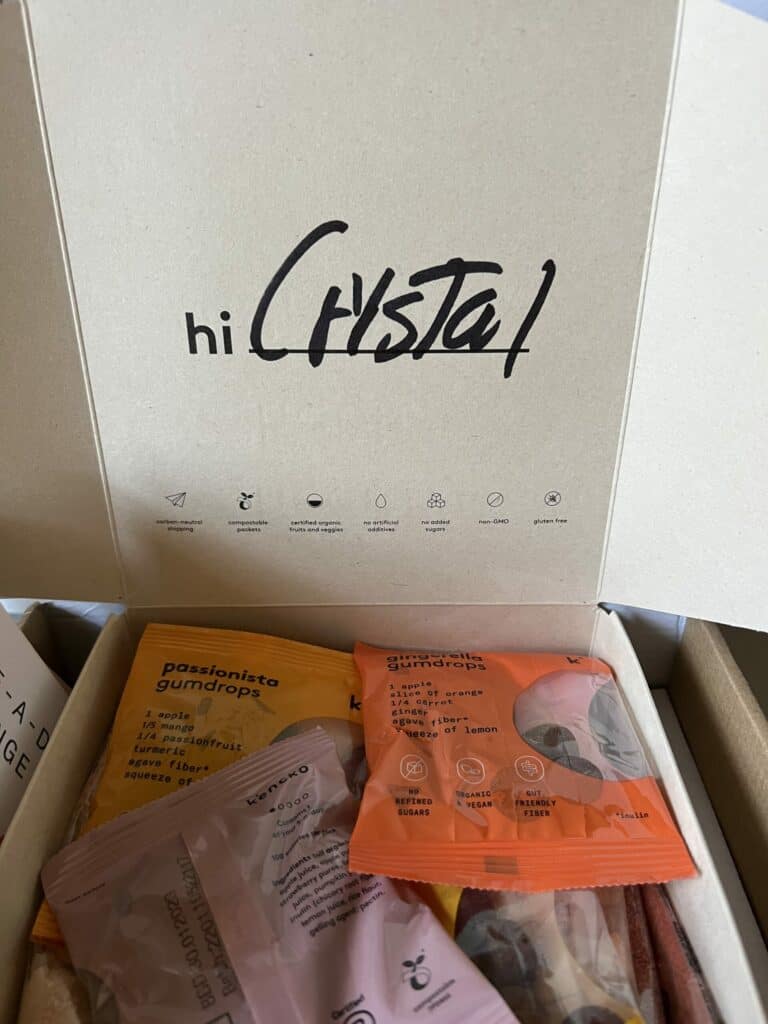 The Allure of Kencko, and What Their Goal Is
The obvious allure of Kencko is convenience. They're a low-effort way to get your fruits and veggies in.
You don't have to:
Remember to order each month

Go to the store (unless you're out of milk and don't want to use water)

Worry about produce going bad

Find a place to store all that produce in your fridge

Take a lot of ingredients out (or chop them) when it's time for the smoothie

Clean up more than a shaker cup when you're done
The Kencko goal is to help people consume five cups of fruits and veggies daily. One smoothie covers half of that. They give you a five-a-day challenge card with your box to check the circles off each day you meet that goal.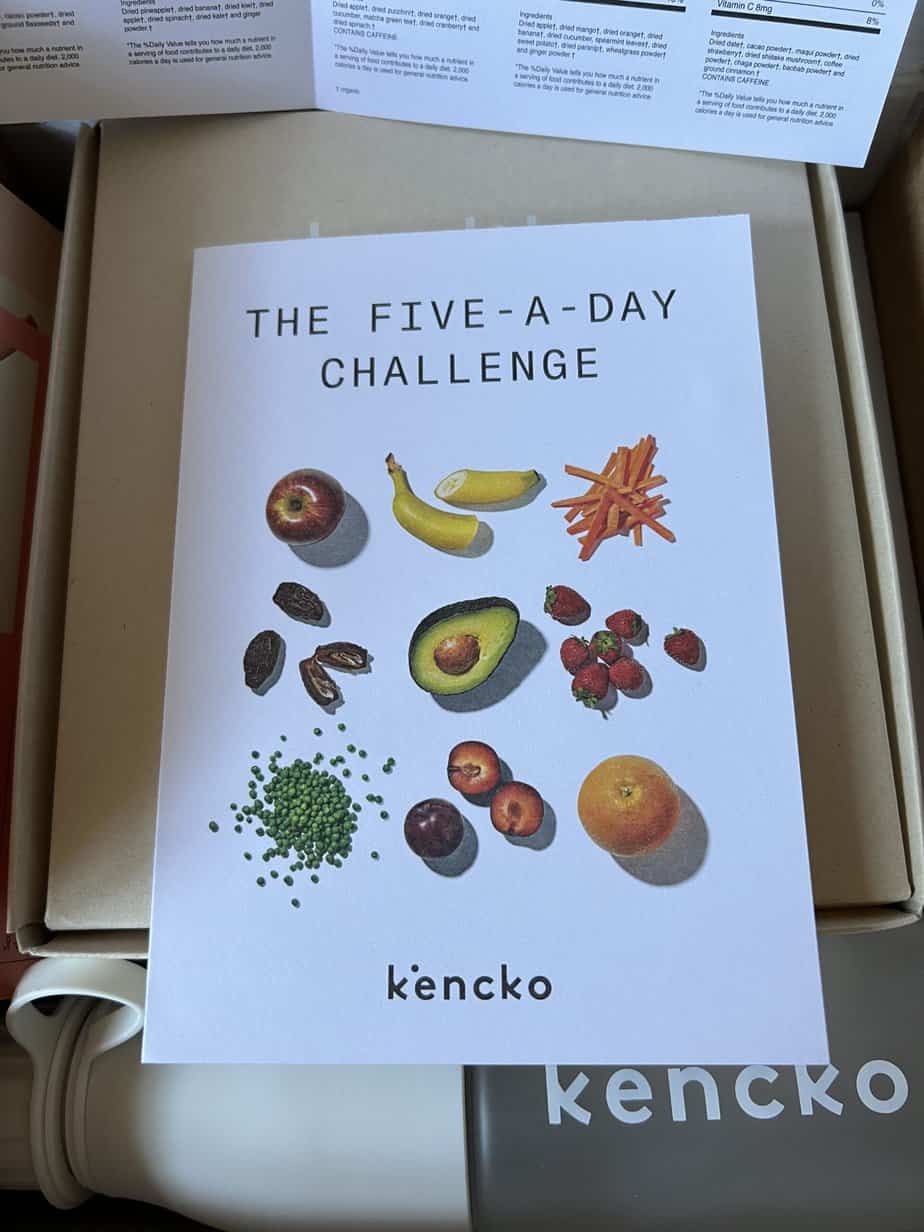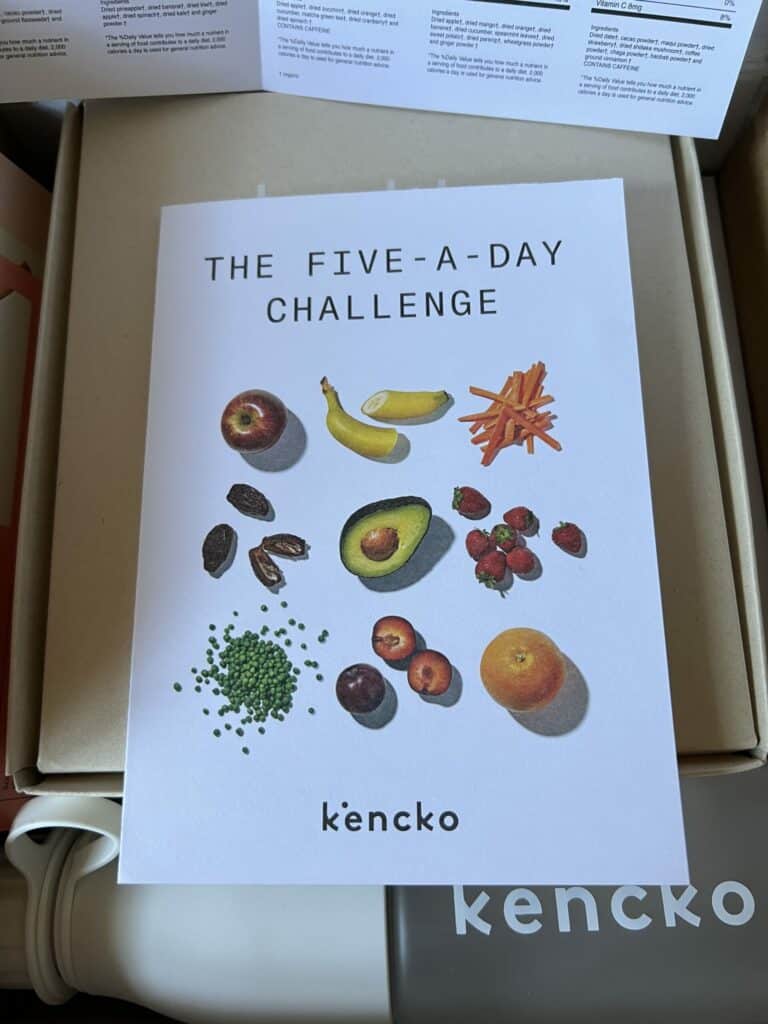 Who They're Good For
Kencko smoothies (and, to a lesser degree, gumdrops) are good for:
Parents who focus on their kids' nutrition and tend to overlook their own in the process

On-the-go people or people who travel a lot who would love to eat better but feel options are limited

People who struggle mentally (as someone with depression, I'm speaking from experience, not as a health professional) because pouring powder into a shaker cup of water is so much easier than finding the energy or will to make a smoothie–or anything healthy–the traditional way.

People who struggle physically, who feel like lugging produce from the fridge and wielding a knife to chop it to blender-friendly size, then dealing with a potentially annoying lid on a blender, is too daunting

People at school or work without access to a refrigerator who can still take a packet and a shaker cup with them to fill with water

People looking for a healthier pick-me-up than regular coffee with cream and sugar (check out Mochas)

People who want to work with a nutritionist (I wouldn't sign up

just

for this, but it's a perk)
What to Expect from Your Kencko Subscription
Signing up is straightforward. You choose whether you'd like the smoothie, gumdrops, or bowl subscription.
Select how many you'd like to receive in each monthly box.
What'll Ya Have?
Decide if you want any add-ons (I was able to snag some gumdrops to try, and there was an option for a protein add-on that I didn't take them up on). Don't forget to look around for codes. I got a free shaker bottle this way.
While You Wait
Enter your shipping and payment information, checkout, and wait.
While waiting for your smoothies, gumdrops, or bowls, you'll start receiving emails that set you up for success. This was when the nutritionist emailed me to introduce herself and invite me to sign up for a free 60-day nutritional coaching package.
Exploring Your Account: Brain Food and Additional Support
When you set up your account, you'll be able to control your subscription from the dashboard and get in touch with the nutritionists.
You'll find helpful articles about building your plate, healthy snacks, and transitioning to a plant-based diet, plus recipes.
Even though I've been studying nutrition and experimenting with different ways of eating for years, I found this section helpful and organized.
These articles will be absolute gold for nutrition newbies. They're straightforward, in-depth, and give you actions to take (make the recipes!).
What I Like About Kencko
Let's state the obvious first: I like convenience.

There's no added sugar or weird sugar substitutes (eww, those wreak havoc on my body).

There is fiber.

Most of the flavors are balanced–not too sweet, not too "healthy" (you know what I mean–only one tasted overly "green").

It gives you a good head start or fills the gaps in getting your fruits and veggies each day.

The gumdrops are delicious and make a good snack.

You don't get stuck with all the flavors if there are some you don't want to try or if you want to have several of one or two favorite flavors.

The presentation is lovely–I liked the box with all the additional information inside.

You get free help from a nutritionist for a limited time after you sign up.

Plans are flexible–you can get seven, 10, 20, 30, or 60 smoothies at a time. You can adjust as necessary.

Ingredients are paired to give you specific results, like mental clarity, energy, glowing skin, etc.; each is labeled so you can choose the one you feel like you need that day.

You can change the flavors you get in each box as you find what you do and don't like.
Where Kencko Could Improve
The texture of some of the flavors. Still, as I drank my way through the box, it bothered me less (it started to remind me of a smoothie with blackberry seeds–those have texture, too). I figured out how to work around it (smooth things out on certain flavors with coconut-almond milk rather than water).

Sell subscriptions with fewer smoothies right from the get-go. The price per smoothie isn't horrible, but when you need to buy at least 20 of them per month as part of the subscription, it's a lot to commit to. I'd like to see them sell boxes of 10 right out of the gate without bumping the price per smoothie up too much. When you first sign up, your options are limited to 20 ($2.99/each), 30 ($2.69/each), or 60 ($2.49/each) smoothies.

Similarly, the gumdrops are available in 20-, 30-, or 60-packet options. They're $2.69, $2.39, and $1.99, respectively, per packet. That's a big financial commitment for a box of gumdrops.

Add more fruit to the Ultra Greens flavor just to take the edge off the broccoli and peas.

Sampler packs would be nice before you sign up for a whole subscription box. I'd like to see a kit that lets you choose a few flavors from each of their offerings–smoothies, gumdrops, and bowls. I want better nutrition in my life and don't really care which form it takes as long as it's easy and tasty.
Why I Wanted to Try Kencko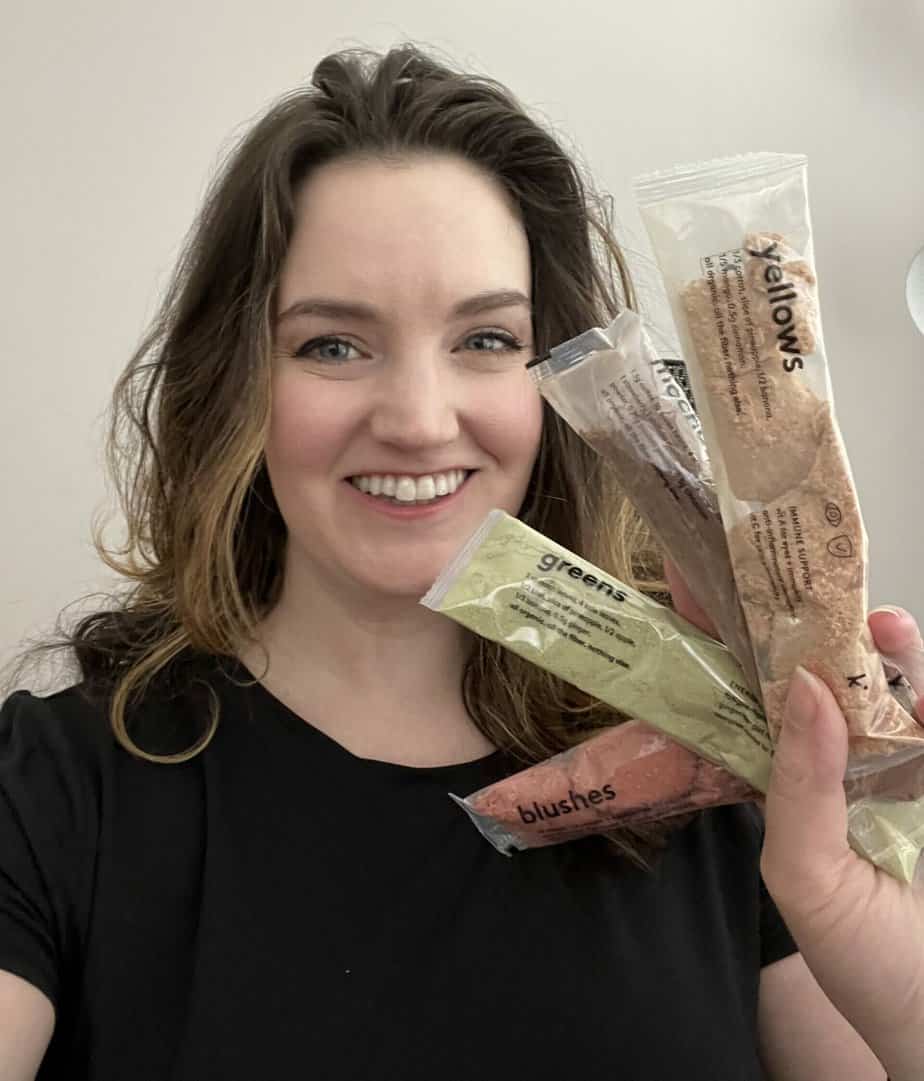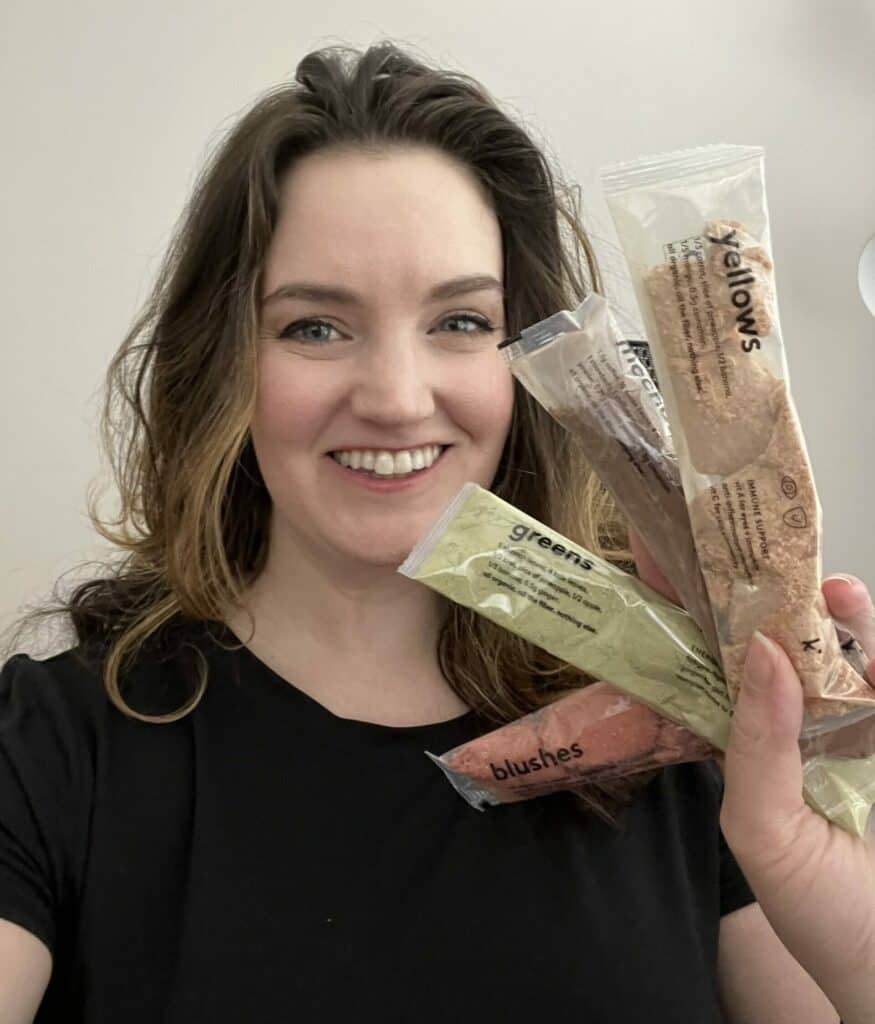 I used to have unstoppable healthy habits that were such a part of my life, I didn't even have to think about them. Fast forward to some health issues that made it hard to keep up with the cooking, cleaning, and working out, and I've fallen into convenience mode. If it's not easy to make and keep up with, there's a chance it's not going to happen.
You could argue that pre-washed celery sticks are just as convenient as cookies. I wouldn't argue back. However, combined with stress and the reawakening of my sweet tooth, I'm not choosing hairy water when presented with these choices.
I would, however, be tempted to shake up a flavorful good-for-me smoothie that tastes better than celery and doesn't floss my teeth as I consume it. I like to be healthy. I like fruits and veggies. I like smoothies. They can even help with cravings. I just don't always have it in me to whip something up.
And that, my friends, is how a box of Kencko smoothies and gumdrops showed up on my porch.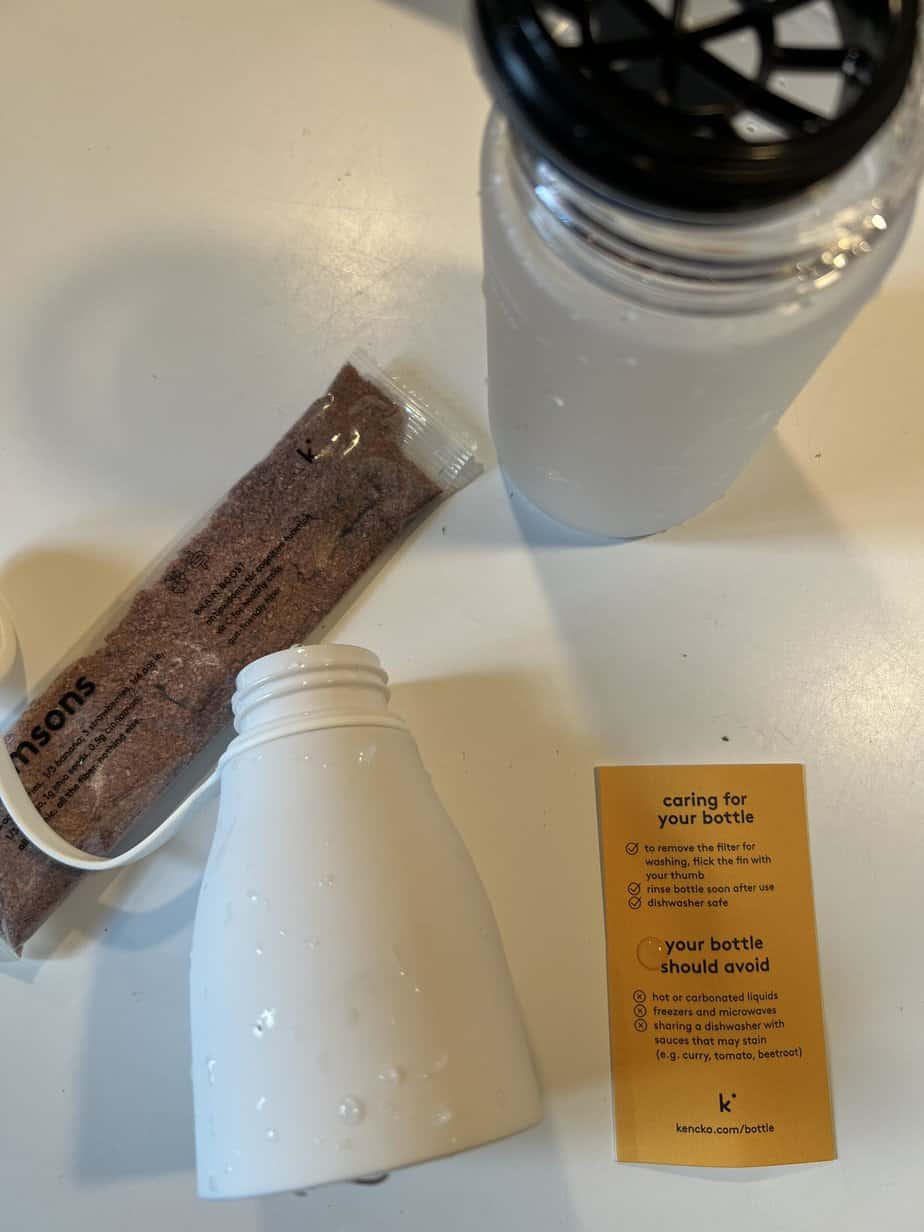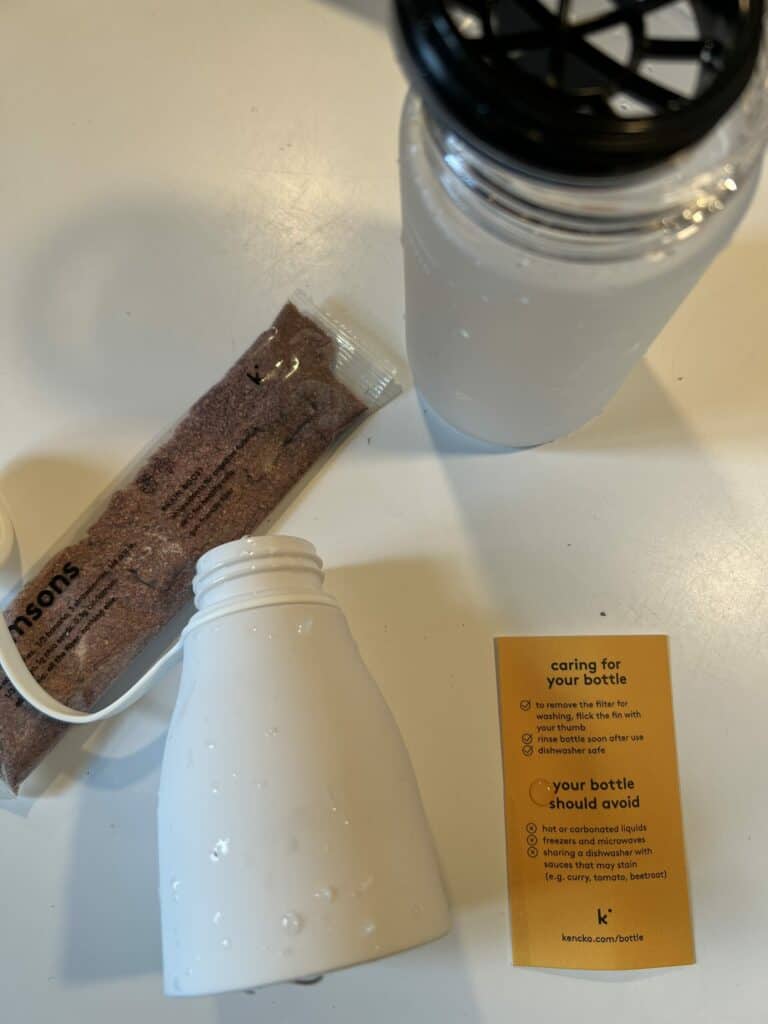 Easy-peasy:
Massage the packet to break up the clumps.
Check the side of the packet to see whether you should use milk or water and pour about 10-12 ounces of that liquid into a shaker cup.

Pour the contents of the packet into the water, pop the lid back on, and shake.

Enjoy.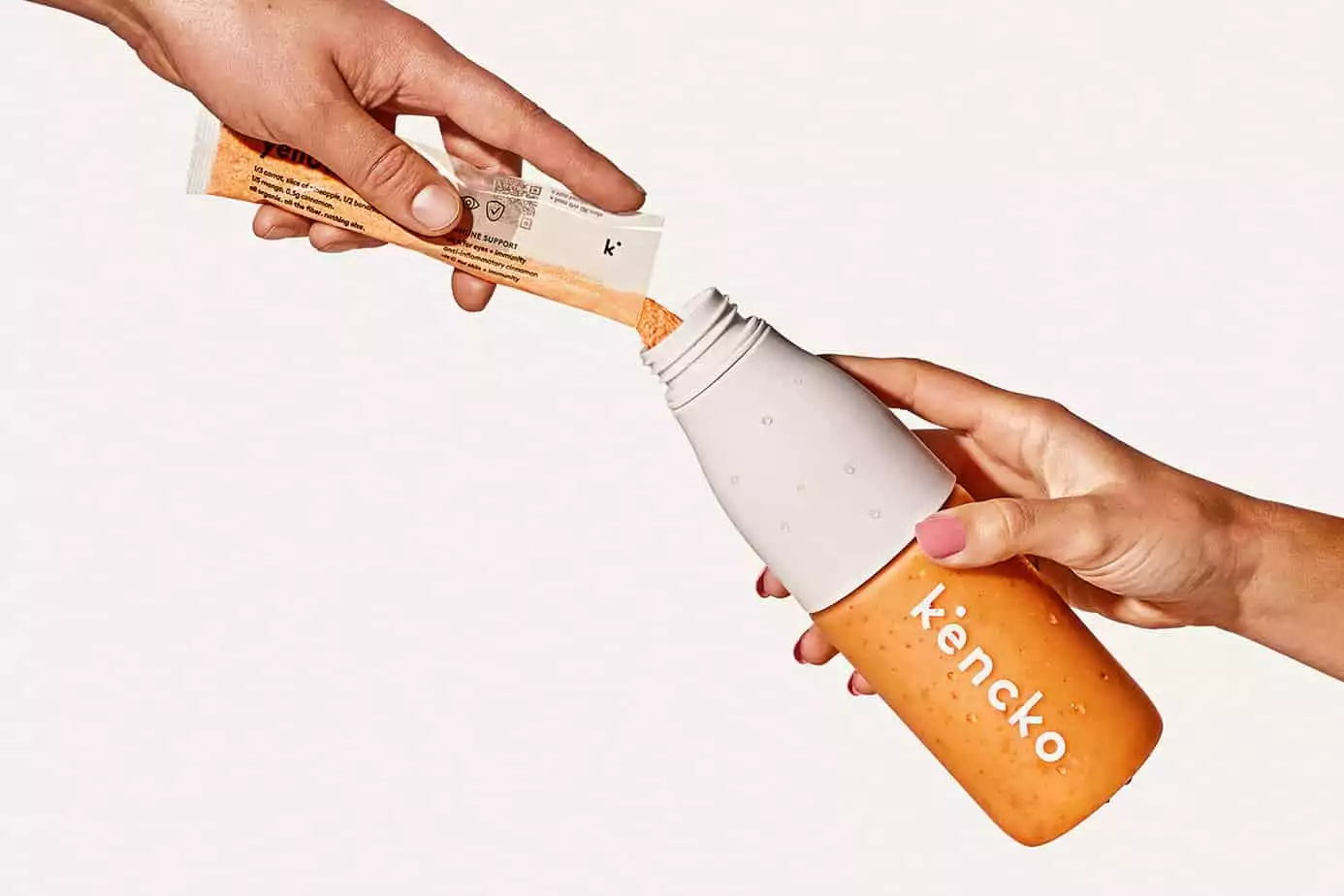 Meet Your New Healthy Start | Kencko
Get your daily dose of fruits and veggies, fast. Nutritious, delicious smoothies, meals and treats that make healthy habits easy.
Get Started
We earn a commission if you click this link and make a purchase at no additional cost to you.
First Impressions: Chilled Smoothie, Lukewarm Response, BUT…
The first Kencko smoothie I tried didn't make a great impression (not a bad one, either), but my opinion changed as I worked through the box.
Ease of Use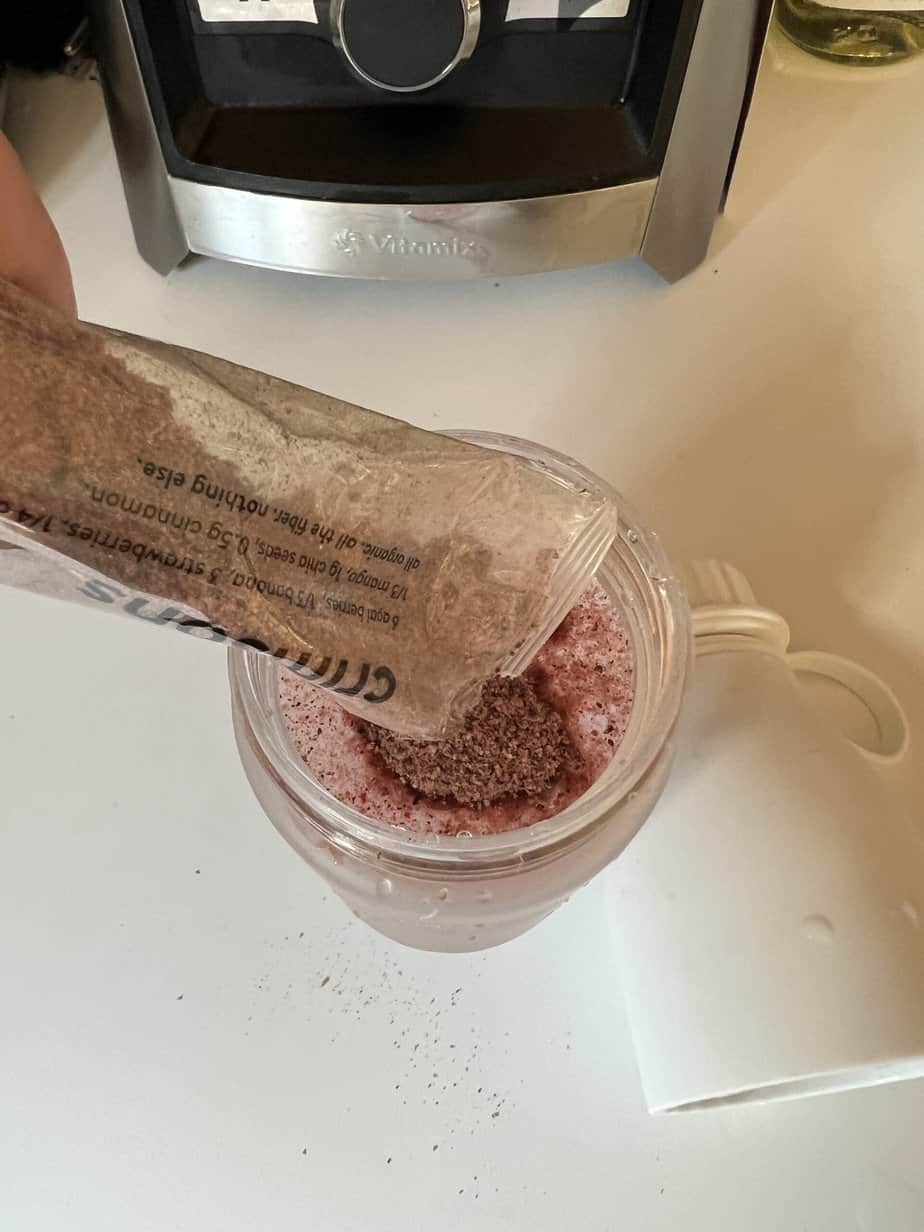 They are so easy to use. Pour the packet contents into liquid in a shaker cup, shake, and drink. 10/10.
Texture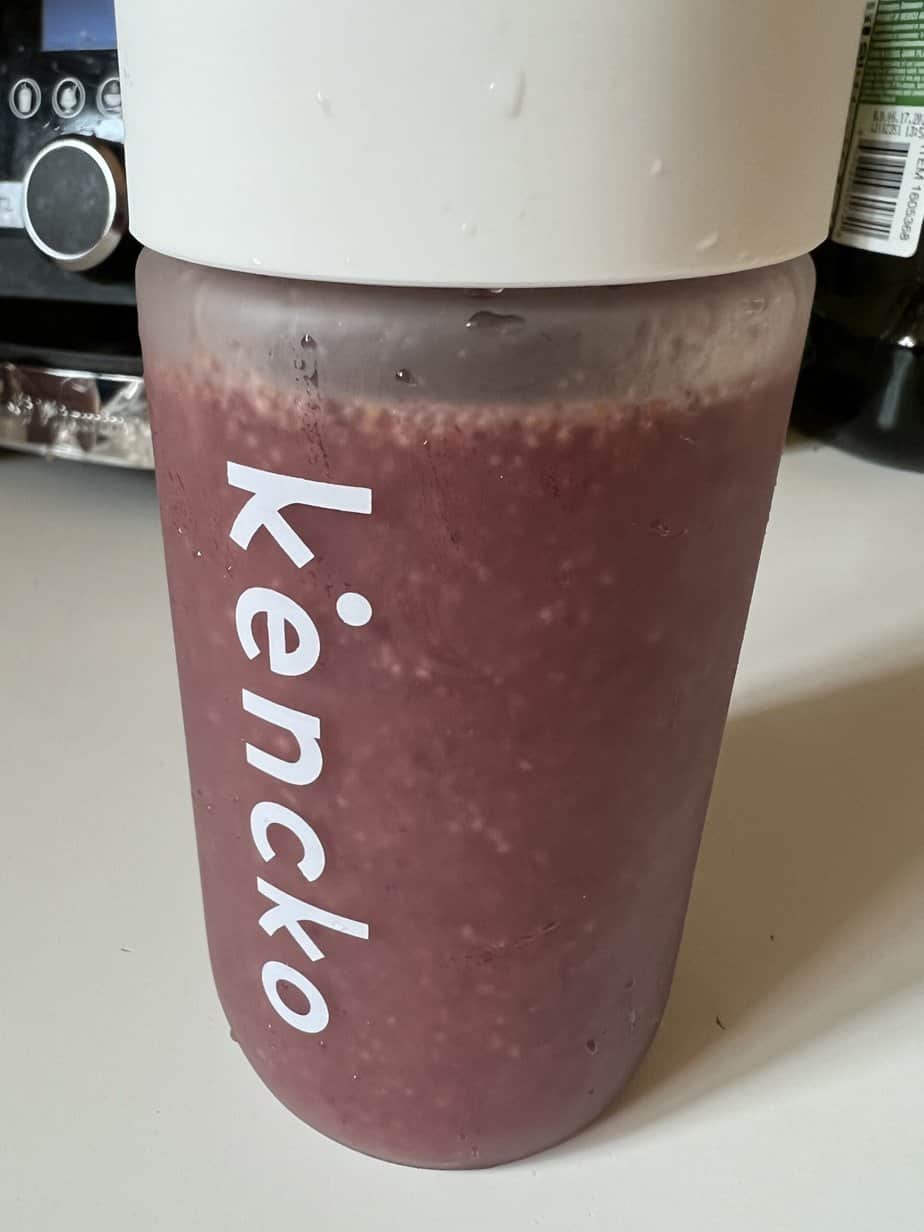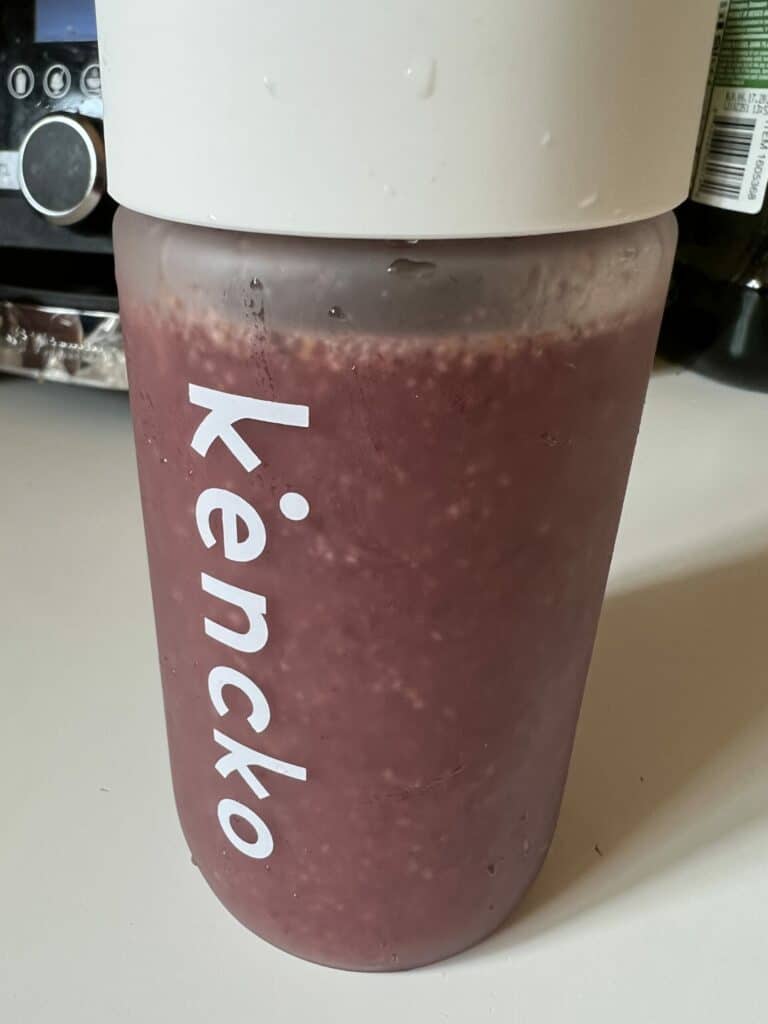 It varied from flavor to flavor. Some were smoother, chunkier, or chalkier than others. All of them (except one, based on its flavor more than texture) were at least tolerable. Overall, the texture didn't bother me.
Every now and then, I had the impulse to chew.
Mixing them with coconut-almond milk seemed to disguise the texture sometimes. Still, I made most of them with water, and it was fine.
Flavor Overall
I didn't love every flavor, but there was only one I couldn't make it through–Ultra Greens. I could've choked it down but decided against it. I wasn't crazy about Golds. Some of them tasted a little weak, like Crimsons, but I could probably adjust the amount of water and fix that.
There were a few I could drink daily, and I'm craving another Purples as I type this.
Breakdown By Flavor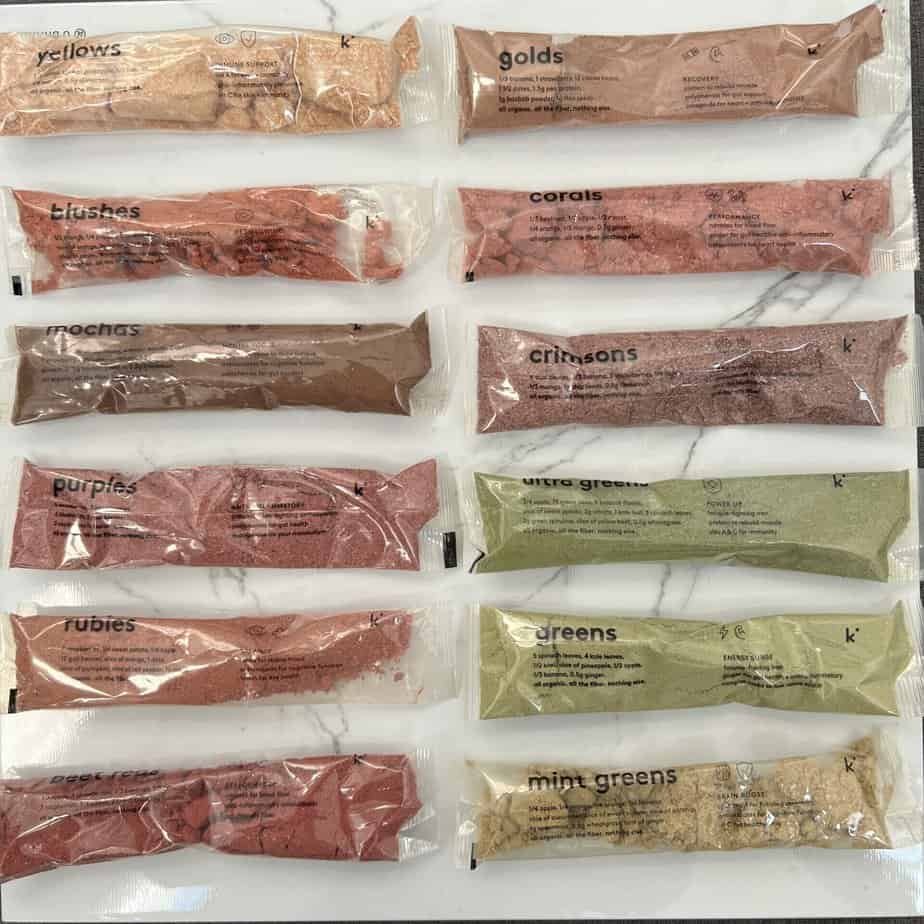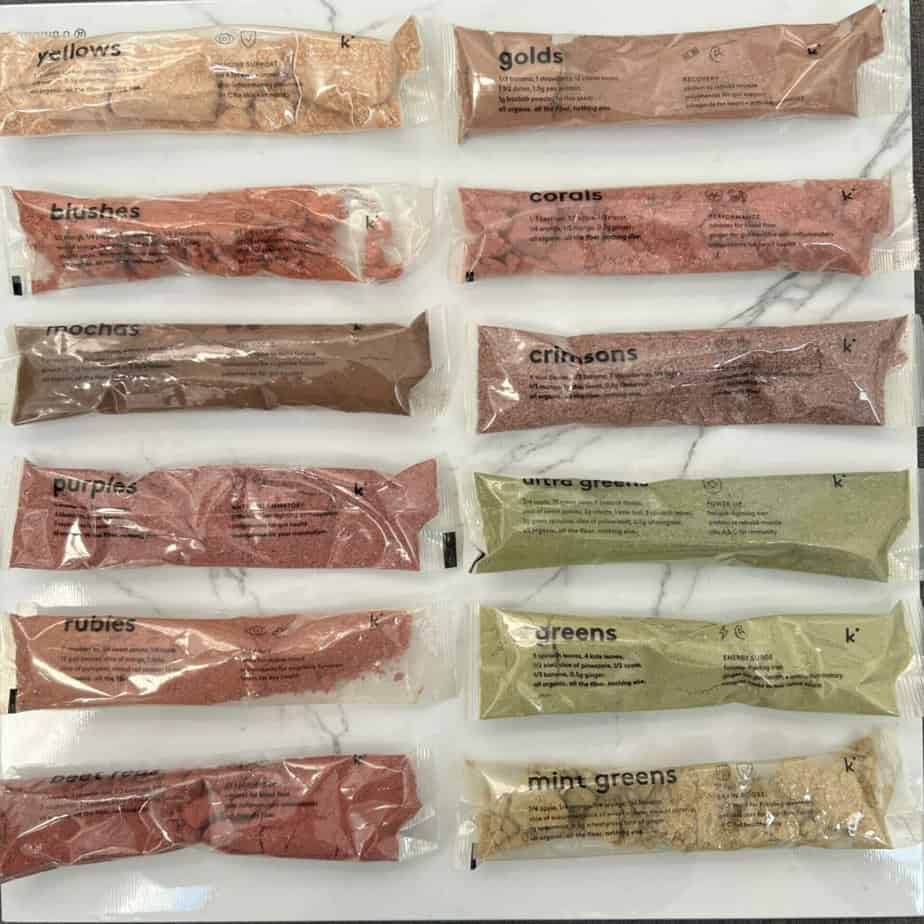 I got 20 smoothies and tried most of the flavors Kencko had available at the time. It says I tried 12 of 18 flavors on my dashboard. When I signed up, I thought I chose them all, so I'm not sure what happened there.
Here's what I thought of them:
The flavor was too light, mixed with about 10 oz water, but it was predominantly apple with some strawberry. The texture was thin but flaky. In hindsight, it wasn't that bad, but it didn't make a good first impression.
Ingredients: 6 acai berries, 1/3 banana, 3 strawberries, 1/4 apple, 1/3 mango, 1g chia seeds, 0.5g cinnamon

Good for: brain boost
I didn't love the smell because of the banana. It didn't mix as well as Crimsons, but the flavor was surprisingly good compared to what I expected. It was still light, but it felt refreshing, not lacking. I mixed it with water.
Ingredients: 3/4 apple, 1/4 mango, 1/4 orange, 1/4 banana, cucumber slice, sweet potato slice, parsnip slice, 1g spearmint, 0.5g wheatgrass, ginger

Good for: brain boost
It smelled like raisins with a savory twist, and I mixed it with water. There was less of a texture issue here. A few chunks didn't mix in the shaker cup. It reminded me of a watery (in a good way) version of grocery store smoothies (Naked) and had a refreshing flavor.
Ingredients: 7 raspberries, 1/4 sweet potato, 1/4 apple, 12 goji berries, orange slice, date, pumpkin slice, red pepper slice, 1g maca

Good for: balance (mood)
I expected to like this before I even opened it because I love beets and all the other ingredients. It immediately took me back to my days of drinking Mountain Berry Kool-Aid (I think that was the flavor), which was my favorite growing up. It was a little chunky but had a delightful, sweet, fruit-tinged, earthy flavor. It wasn't flaky but had some chunks. It was a little thicker than the others I mixed with water and had a more robust flavor. I wish everyone could try this one.
Ingredients: 1/3 apple, 3 strawberries, 1/3 beetroot, 1/5 banana, 7 raspberries, 3/4 carrot, 2 cranberries, 2g lucuma

Good for: performance
I took the time to massage the packet more than I did with all others except Crimsons. It smells confusing, like fall holidays, but it's mostly pineapple, banana, and mango. There's some cinnamon. It tasted like fall and summer simultaneously, so it was confusing to my tongue, but I finally decided it reminded me of apple chips. It was sweeter than most. Still has a texture issue like Crimsons, plus a few clumps, but the extra massage time seemed to help.
Ingredients: 1/3 carrot, pineapple slice, 1/2 banana, 1/5 mango, 0.5g cinnamon

Good for: immune support
The afternoon I decided to try this one, I needed the caffeine boost, so it was welcome. Less massaging was necessary since this one is basically a powder (think of how protein powder looks). I shook it with 10 oz. of Califia Farms Toasted Coconut milk (coconut-almond blend).
The texture was better than most, which I should've expected since I didn't need to massage it much. The flavor was a little "sharp," which I attributed to the baobab powder. Obviously, it wasn't as enjoyable as drinking an iced mocha, but it was definitely drinkable and not full of sugar. Nothing stood out flavor-wise. It was one of my favorites because of the texture and the pick-me-up.
Ingredients: 1/5g coffee, 10 cacao beans, 4 maqui berries, 2 dates, 1 strawberry, 1 shiitake mushroom, 1.5 chaga mushroom powder, 0.75 baobab power, 0.5g cinnamon

Good for: mental focus
I mixed Purples with Califia Farms Toasted Coconut milk, too.
It was grainier than others but had a pleasant, fruity taste. The texture reminded me of the berry protein shakes I used to make with a blender that didn't quite do the job, but the texture wasn't off-putting. Instead, it reminded me of a smoothie with blackberry seeds. Tart. Lightly sweet. The flavor reminded me of mixed berry yogurt. Another fave. I could taste the banana, but it wasn't overpowering.
Ingredients: 5 strawberries, 3 blackberries, 6 blueberries, 2 raspberries, 2 cranberries, 1/2 banana, 1/2 date

Good for: anti-inflammatory
Golds had a similar texture to Mochas, and I mixed it with the same Califia Farms Toasted Coconut milk. I'm not a fan of the flavor; it seemed confused. There was something bitter but also sweet.
Pea protein can be hit or miss for me. Here, it was a nice addition, but I didn't see it as beneficial at just 1.5 grams.
There were some clumps, maybe because I massaged it less since it seemed like the powdery Mochas. It was drinkable, but the flavor really did seem all over the place. I kept picking up on the one strawberry. Maybe the baobab powder was giving it a boost. It left a chalky feeling on my tongue.
Ingredients: 1/3 banana, 1 strawberry, 12 cacao beans, 1.5 dates, 1.5g pea protein, 1g baobab powder, 1g flax seeds

Good for: recovery
Corals needed a lot of massaging! The beet scent was front and center. The texture didn't look bad in the shaker cup even though it was so high-maintenance in the package. I noticed some texture when I drank it.
The flavor was earthy in a good way. Still, the apple, orange, and ginger brightened it back up without making themselves evident. I thought I was tasting lemon instead. Mango gave it a hint of sweetness. It reminded me of healthy Kool-Aid and my favorite juice (a beet, carrot, apple, and ginger blend).
Ingredients: 1/3 beetroot, 1/2 apple, 1/3 carrot, 1/4 orange, 1/5 mango, 0.2g ginger

Good for: performance
I did not look forward to this one. There is really no redeeming ingredient and it just kinda smelled…green. At first whiff, I definitely detected broccoli and peas in the scent, and they were persistent throughout the whole experience. It was more powdery than others though.
Mixed, it looked like Athletic Greens, but the flavors were worlds apart. I couldn't even drink this one in the name of health, and I used to grow and juice wheatgrass (full disclosure: that only lasted a few days, too, once it was time to juice). Ultra Greens' texture was similar to Crimsons, but there was no fruity flavor to override it. It felt chalky on my tongue and scratchy in my throat. This was the only failure.
Ingredients: 3/4 apple, 75 green peas, 5 broccoli florets, sweet potato slice, 2g alfalfa, 1 kale leaf, 3 spinach leaves, 2g green spirulina, yellow beet slice, 0.5g wheatgrass

Good for: power up (fatigue-fighting, rebuilding muscle, and immunity)
Greens wasn't as similar to Ultra Greens as I feared. It had kiwi, pineapple, apple, banana, and ginger to break things up. Actually, it had more fruit than greens in it, so I'm not sure why it's called Greens. After the last one, I was okay with that.
Greens needed more massaging than it seemed to in the packet. I noticed some clumps as I poured it into my shaker cup.
It smelled fruity. There was some of the flaky texture a few others had, but it was bothering me less by the time I got to this flavor. Maybe it was the contrast between Greens and Ultra Greens.
I enjoyed the balance between green spinach and kale leaves and all the fruit. I could drink this all day if it wouldn't cause stomach pain. Tasted healthy, not gross. I actually wish there were more greens here without sacrificing much flavor. I'd order a box of mostly this one.
Ingredients: 5 spinach leaves, 4 kale leaves, 1/2 kiwi, pineapple slice, 1/2 apple, 1/3 banana, 0.5g ginger

Good for: energy surge
Blushes needed a lot of massaging! I thought I escaped the papaya, but it was in this one. I was hoping I wouldn't taste it much because I got food poisoning the last time I ate papaya. I can't even stand to look at pictures of them anymore. Let's just say I was glad this was the final flavor I needed to try.
Now I remember deciding to take one for the team after a bit of a mental struggle while choosing flavors to include in my box.
It tasted very tropical fruity with unmistakable orange. I didn't detect any cayenne, so if you can't do spicy, don't worry. The texture wasn't the worst I've had, but I felt I sometimes needed to chew it.
Ingredients: 1/2 mango, 1/4 papaya, 5 strawberries, 1/4 passionfruit, orange slice, 2g lucuma, 1/3 carrot, beet slice, apple slice, cayenne pepper

Good for: glowing skin and eye health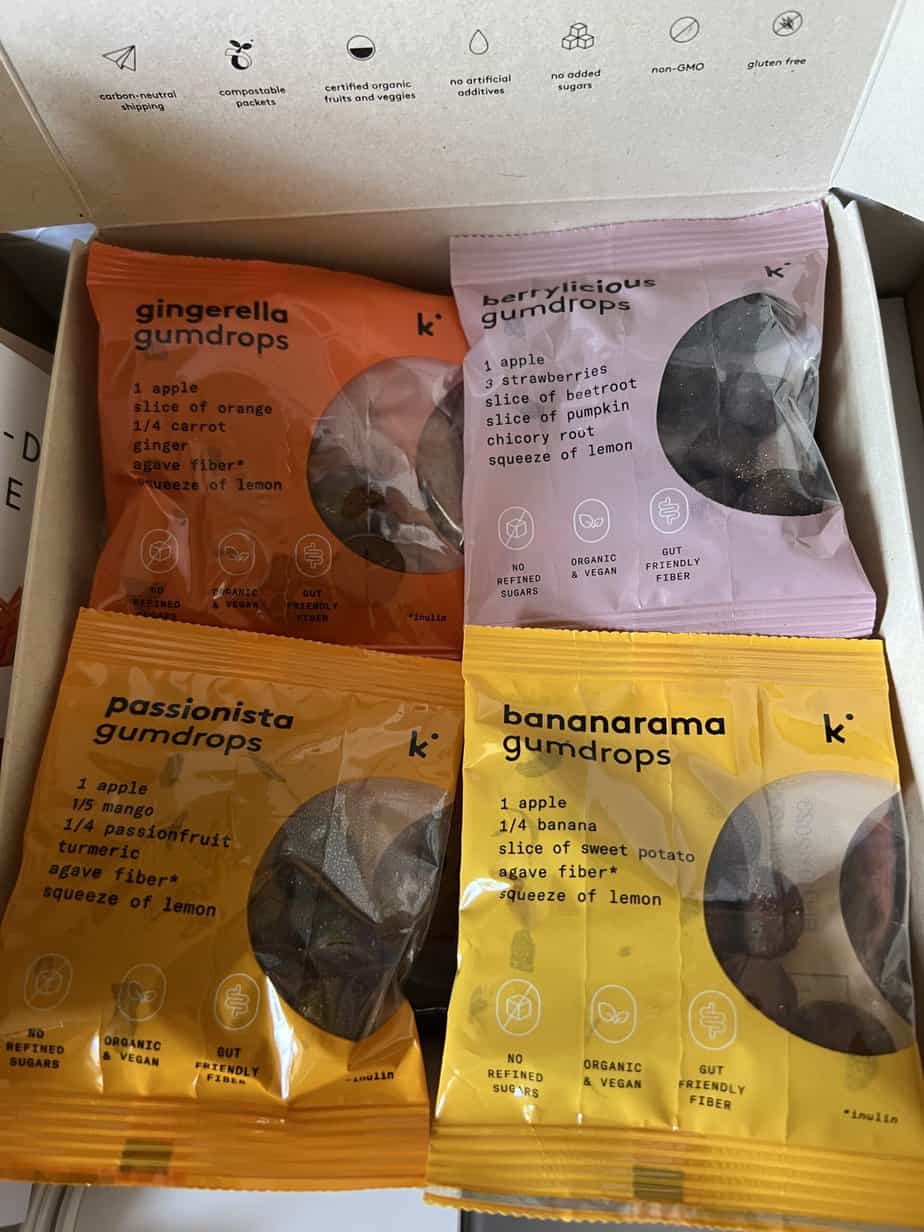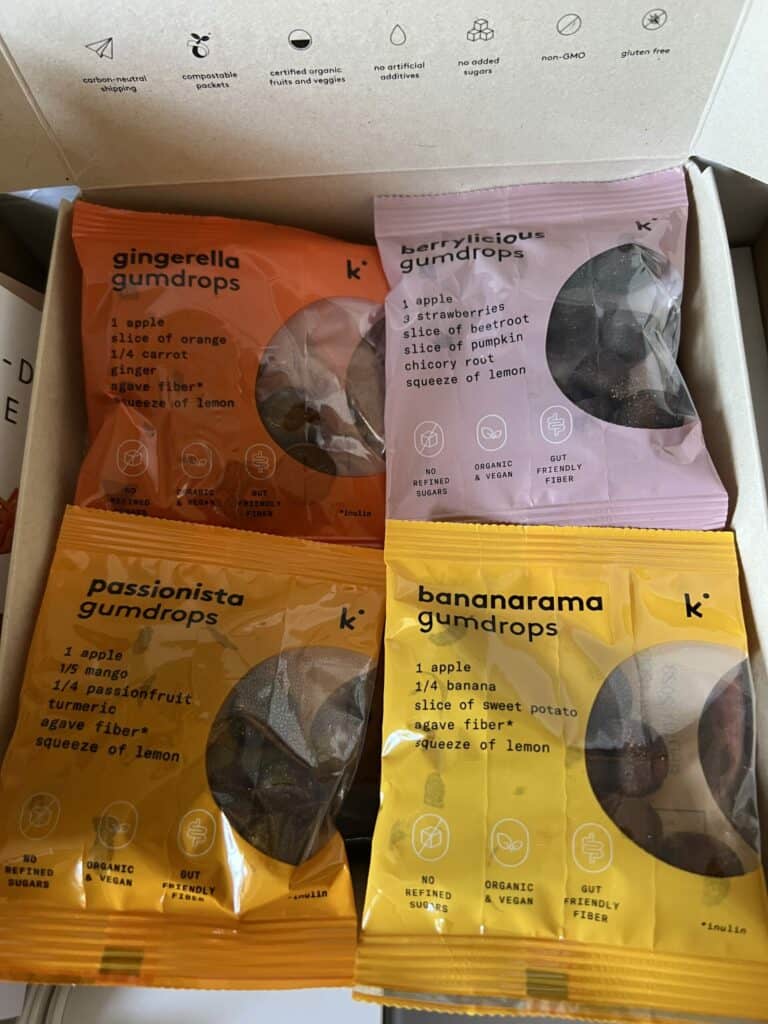 I just got a few of these to try, so I'll keep it quick:
Where to Get Kencko
Subscribe at Kencko.com.
How to Decide If Kencko Is for You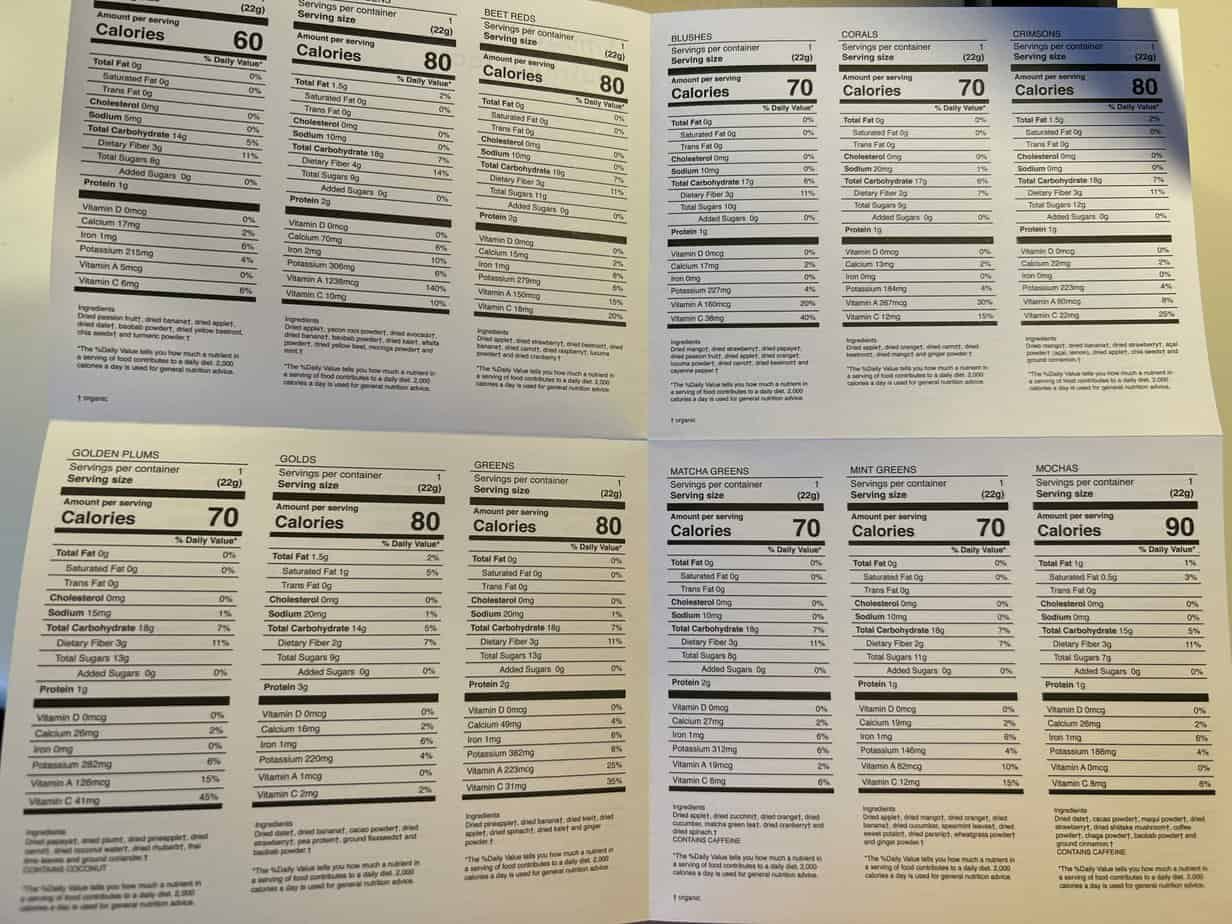 Kencko is expensive, but it removes a lot of hurdles that might be standing between you and a healthier diet. These aren't meal replacements, even when mixed with milk, so you'll still need to whip up some healthy meals.
Suppose you've got room in your budget to add a Kencko subscription or you have a habit you could swap for one, like daily sugar-laden drinks that cost you around $3.00/day. In that case, you could give it a try.
If you're looking to add more fruits and veggies to your day (whether you change anything else in your diet or not) but need them to be convenient, Kencko could be your new best friend.
If you're looking for a meal replacement, I don't recommend Kencko smoothies (the bowls might work for you, though). They won't fill you up, and there aren't enough calories for a meal. You could use gumdrops or smoothies to replace a sugary snack.
What Else to Try
Evive is the closest thing I can think of to Kencko, but these come frozen and can be purchased at the grocery store. You don't need a blender for them. You drop the smoothie cubes into a glass, cover them with water or your choice of milk or juice, wait about 20 minutes, and stir or shake for a delicious, slushy dose of flavor and nutrition. The ingredient lists and flavors remind me of Kencko's offerings.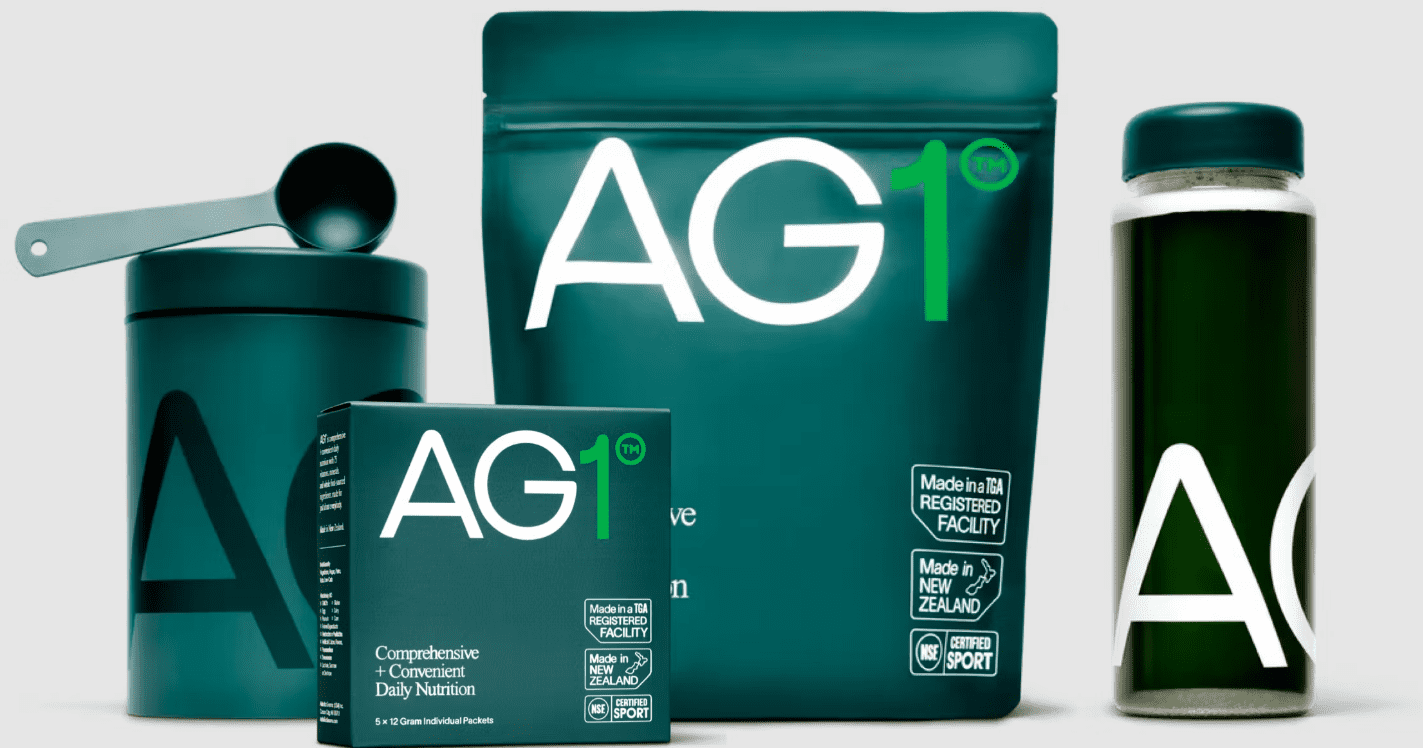 Athletic Greens claim to promote gut health, support immunity, boost energy, and help recovery. There's only one flavor, which seems to be love-or-hate, and it's full of superfoods, probiotics, digestive enzymes, and more. I didn't care for how it tasted at first, but I didn't think it was terrible. After a few days, I craved it and noticed a boost in energy and clarity. It tastes "green" with a fruity edge and mixes well when shaken with water. It's not exactly a smoothie, but it's a nutritional supplement that offers similar benefits.

The Mixhers Hersmoothies allow you to tackle specific issues and health needs, like focus, electrolyte balance, sleep support, gut health, multivitamins, and greens. You can choose to get it once or sign up for a monthly box of 15, 30, or 60. You won't have as many flavor options as you would with Kencko, but there's something for everyone.

You can put powdered Sunfood Superfood Smoothie Mixes into water or milk, mix, and enjoy. A bag of six servings is just under $20.00, so you would come out better per smoothie to go with Kencko. Other than not coming in individual packets, this option is just as convenient as Kencko. There are only three flavors to choose from, but you get more protein (and more calories, though still not enough for a meal) with Sunfood's option.
5. DIY Frozen Smoothie Packs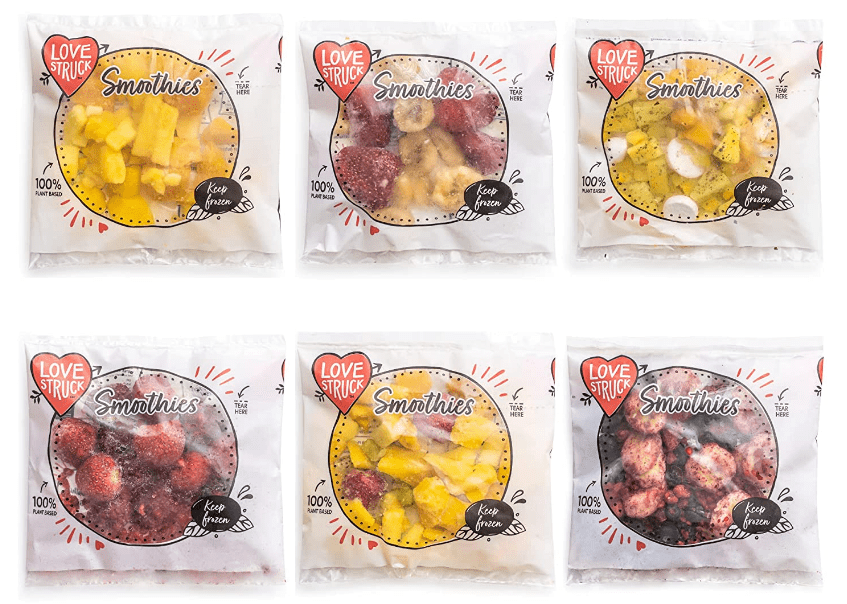 If you have the time, produce, freezer bags, and a strong blender, you could make your own smoothie packs with the ingredients you like. Just set some time aside to chop your fruits and veggies, freeze, and pour the bag's contents into the blender with the liquid of your choice. Of course, this does take more time and energy than the other options.
FAQs
Question: Is Kencko a meal replacement?
Answer: No, it's a snack or a quick pick-me-up, but there won't be enough calories here–or protein or fat, for that matter–to make a well-rounded meal.
Question: Is Kencko better with water or milk?
Answer: Either one. I'd consider it a toss-up based on personal preference in most cases. Some flavors work best with milk, while others work with either one. If the texture bothers you, you might prefer milk (I used a coconut-almond blend for some of mine). However, water is more convenient for on-the-go and works well with most flavors. Each packet has recommendations on the side. I followed those and chose water when it said either would work.
Question: How much does Kencko cost?
Answer: You have options. When you sign up for the smoothie subscription, you can choose from 20 ($2.99/each), 30 ($2.69/each), or 60 ($2.49/each). If you want gumdrops, you can choose from 20 packets for $2.69 each, 30 for $2.39 each, or 60 for $1.99 each. Bowls are $4.99 each, and the only subscription plan they have for that one includes 14 of them.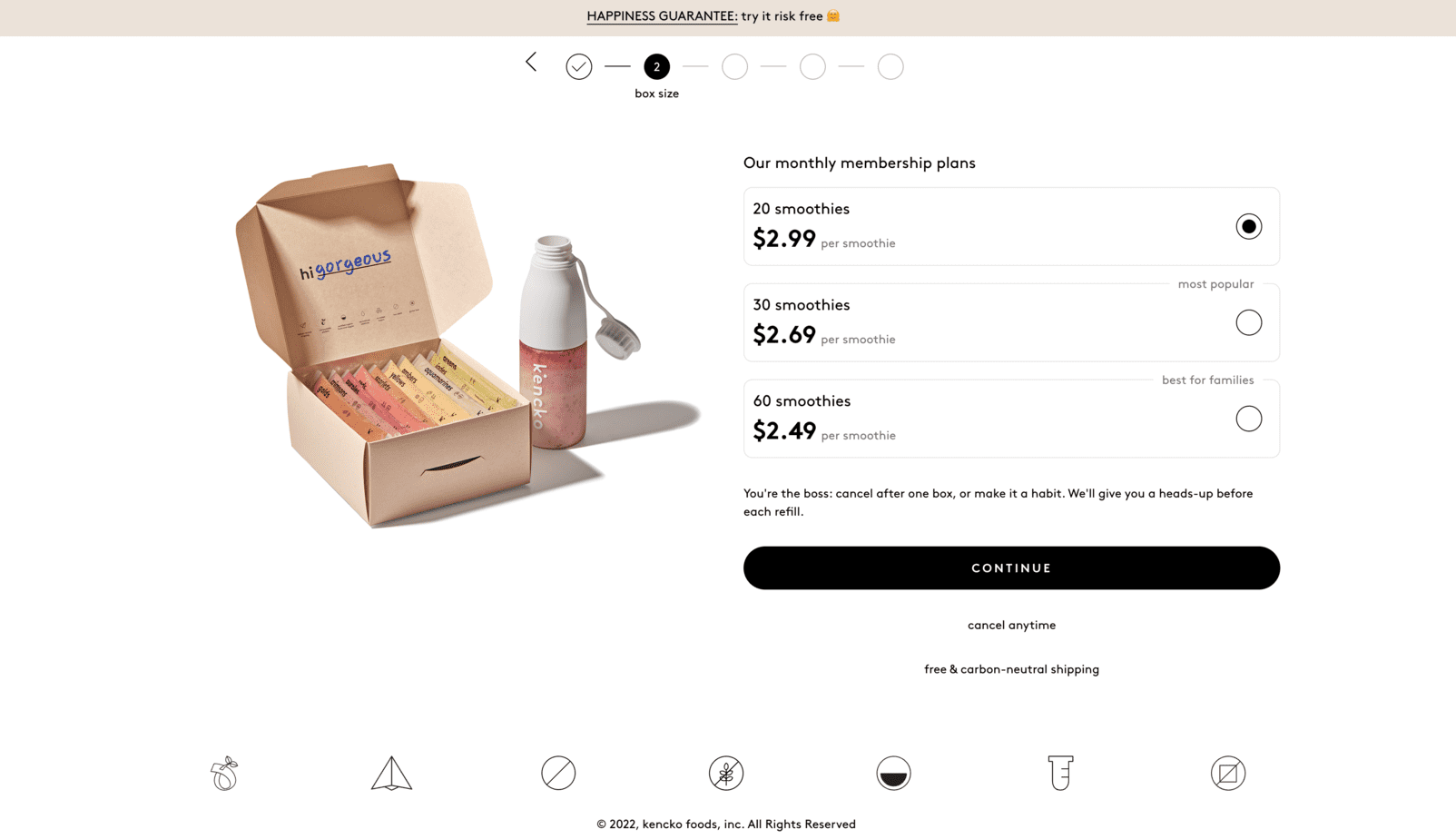 Here's the pricing information for Kencko smoothies.
Question: Where is Kencko based out of?
Answer: Kencko is based in New York but has a processing facility in Lisbon, Portugal.
Question: Does Kencko have sugar?
Answer: There's no added sugar in Kencko smoothies.
Question: Do Kencko smoothies have fiber?
Question: How often should you drink Kencko?
Answer: Once a day is good. That's what they recommend, and based on my experience, that's what I recommend, too. I tried to sample more than one flavor daily and experienced bloating and discomfort.
My Final Verdict
I was a little harsh at first, but they grew on me as I worked through all the flavors I got. I probably won't buy more because I'm at home most of the time and don't need an on-the-go option as much as I would if I had to be away from a stocked fridge, freezer, and blender. They're not so good that they'll make me spend the money when I have cheaper options I can enjoy at home.
If you're away from home a lot, I think they could be a good choice. You don't have to keep them refrigerated, so there's almost no planning involved. Just make sure you'll have access to about 10 ounces of water at some point, and take a shaker cup.
If you have the mildest interest in the gum drops, get them! The Gingerella ones are incredible (if you like ginger). I would order giant bags of them if they were available that way, but it's probably good they're in snack-size bags.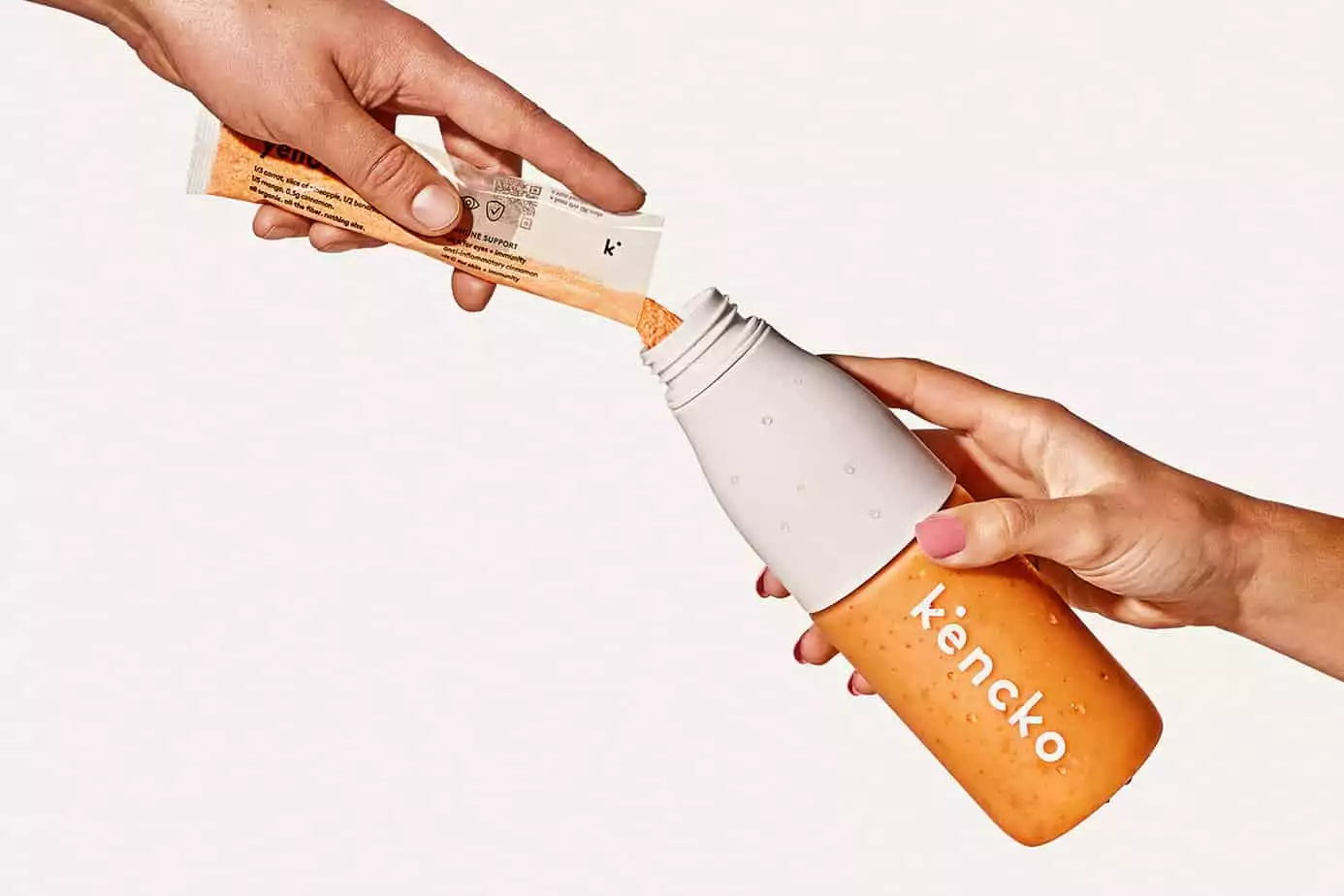 Meet Your New Healthy Start | Kencko
Get your daily dose of fruits and veggies, fast. Nutritious, delicious smoothies, meals and treats that make healthy habits easy.
Get Started
We earn a commission if you click this link and make a purchase at no additional cost to you.
Recommended Reads: