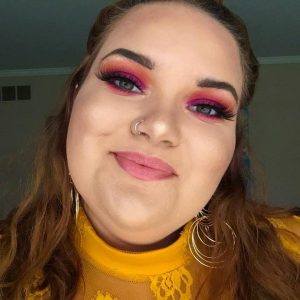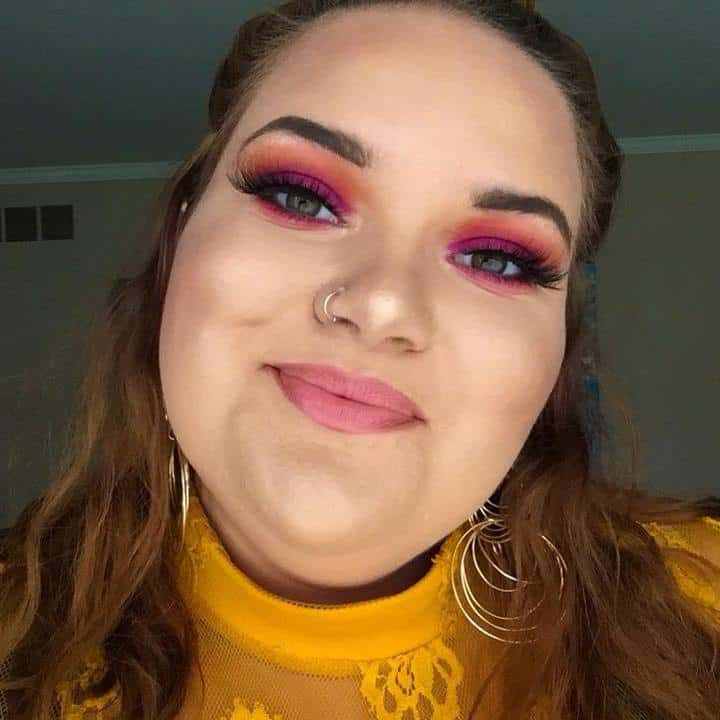 Latest posts by Alizabeth Swain
(see all)
I'm all about trying new subscription boxes, which is why I was so excited to try out the Good Chop Meat delivery service. One of my favorite types of subscription boxes to try is food and meal subscription boxes. There are so many different experiences you can have with a food subscription box.
I love the idea that you can unbox a meal subscription box and discover a brand new world of flavors and possibilities that can change your life. Plus, they make my life so much more convenient too – what isn't there to love?
I've recently tried out a new subscription box that's called the Good Chop. This is a subscription box that delivers high-quality meats right to your front door. The Good Chop subscription box delivered a variety of meats right to my front door.
Now that I've tried out all of the meats in my subscription box with the Good Chop, I'm so excited to tell you about the unique experience I had with this subscription box!
Exclusive Offer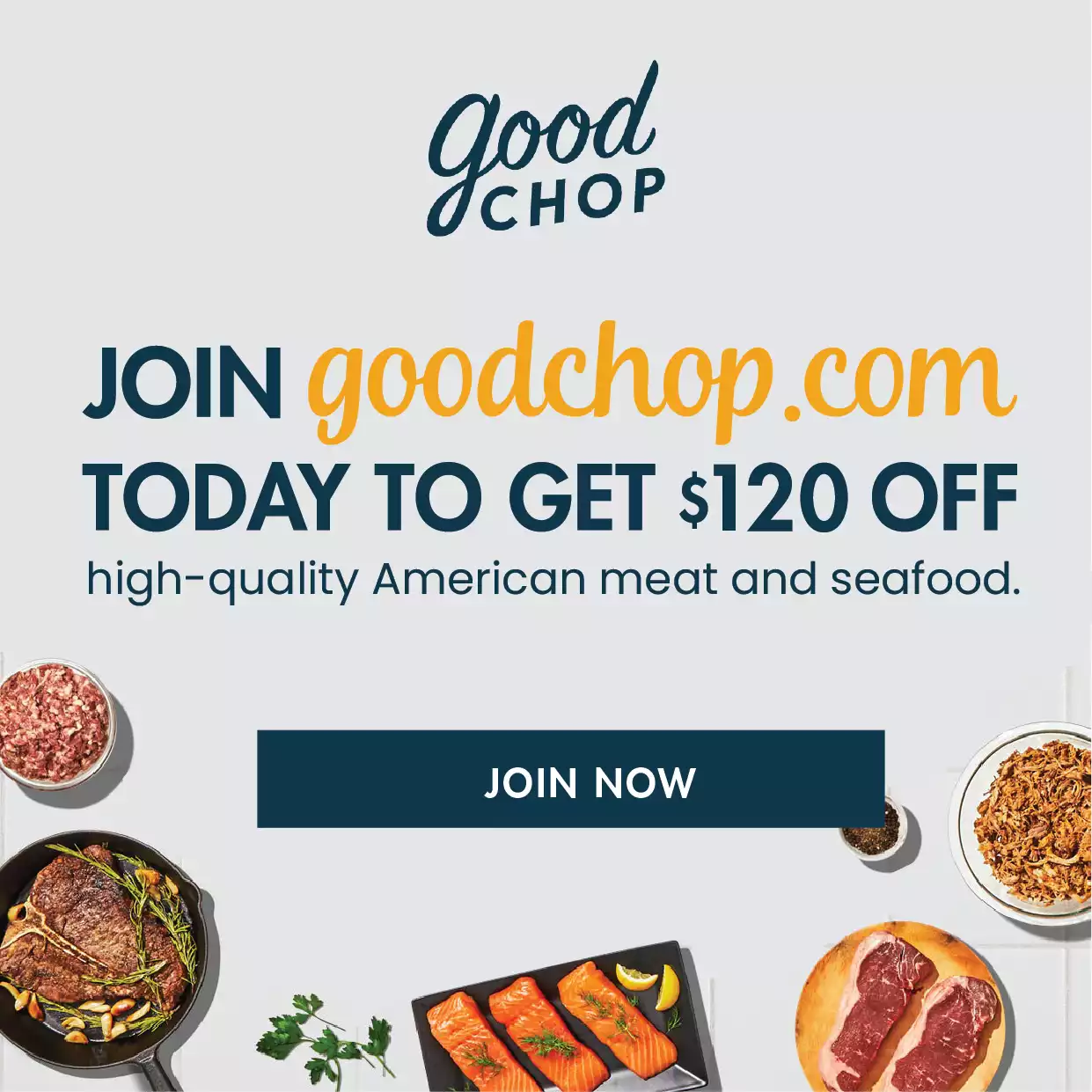 I'm sure you're excited about learning what's inside of the Good Chop subscription box. Let's get into it!
What is the Good Chop Subscription Box?
Before we get too far into this review, there is one thing I want to mention about my experience with this box. I have a pork allergy, so my box won't contain any pork products.
The Good Chop subscription box is a high-quality meat subscription box. When you sign up for the Good Chop subscription box, there are two different subscription box options for you to choose from.
Medium Box
The first option is the Medium Box, which is $149. Good Chop says this subscription is great for small families, with three people eating. Next, they say there are 36 portions inside this subscription box, which runs you $4.14 per serving.
In addition, Good Chop says you can store everything inside of this subscription box inside of your freezer for up to one year. There are six items you get inside of this box.
Large Box
The other option for you to choose from is the Large Box, which is $269. Good Chop recommends this option for large families, with 6 people. There are 72 serving sizes inside of this box, running you $3.74 per meal. You can also store the meats inside of this subscription box inside of your freezer for up to one year. There are 12 items you get inside of this box.
With either subscription option from Good Chop, you'll get a box every four weeks. I really like that Good Chop allows you to pause your subscription or cancel your subscription anytime you want, no questions asked.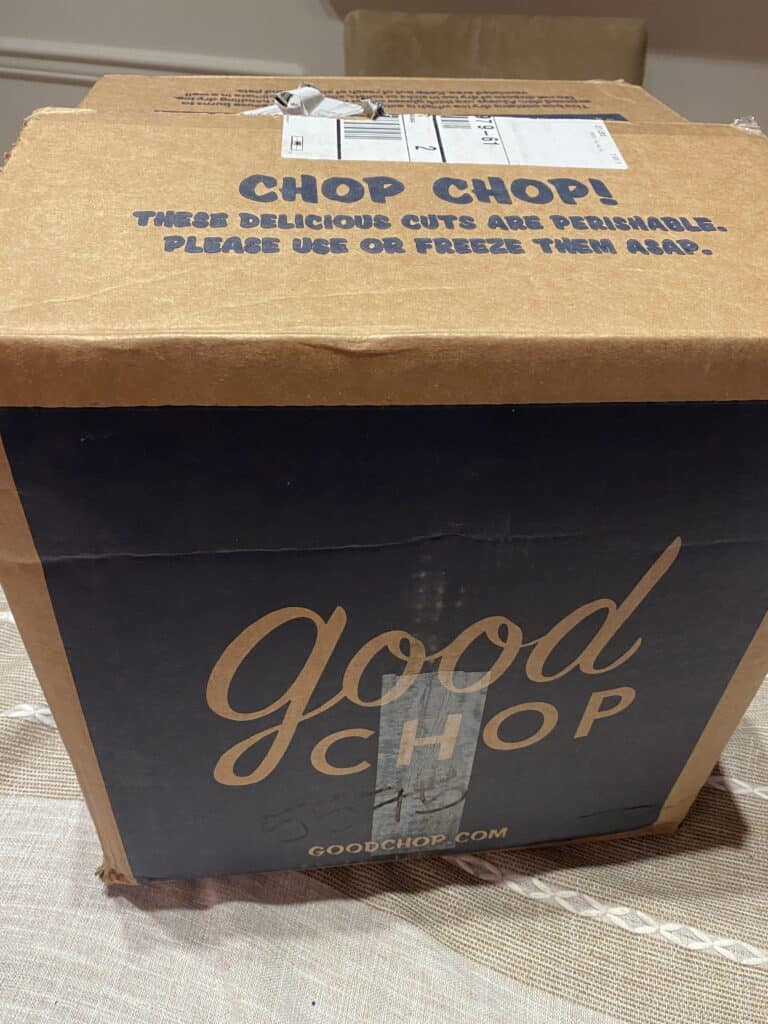 The Good Chop subscription boxes aren't for everyone. There are definitely people I wouldn't recommend this box to. If you're someone who needs to stick to a strict budget, this isn't the box for you.
The meats in here aren't something I would label as "affordable." However, I understand this subscription box focuses on producing sustainable meats, so I'm willing to pay more money for these meats.
Also, if you're in immediate need of meats (like, your freezer is empty), I wouldn't recommend this box as a fast solution but the box does come the week after your order, so I recommend planning a bit ahead and stuffing your freezer full when you do order!
I would also recommend this box to people looking to find high-quality meats but who don't have a butcher shop in their area. I personally loved this subscription box because it delivered all of the meats right to my doorstep. I only had to worry about bringing the box inside and getting everything put away in my freezer.
I LOVED that I didn't have to worry about portioning everything out inside of bags for me to freeze. Instead, everything came perfectly portioned and ready to be thrown inside of my freezer.
I really want to emphasize that this is a wonderful subscription box for people looking for high-quality meats. I've had a lot of meat in my life, I've tried a lot of subscription boxes, I've been to a lot of different restaurants. But I've never had steaks as tender as the meat I got inside of my Good Chop subscription box.
What I Got Inside of My Good Chop Subscription Box:
Inside of my subscription box, I received:
North Atlantic scallops

Wild-caught sockeye salmon

Grass-fed ground beef

Grass-fed beef filet mignon

Ribeye steak

Boneless skinless chicken breast
What's the Quality of the Meats Like the Inside of a Good Chop Box?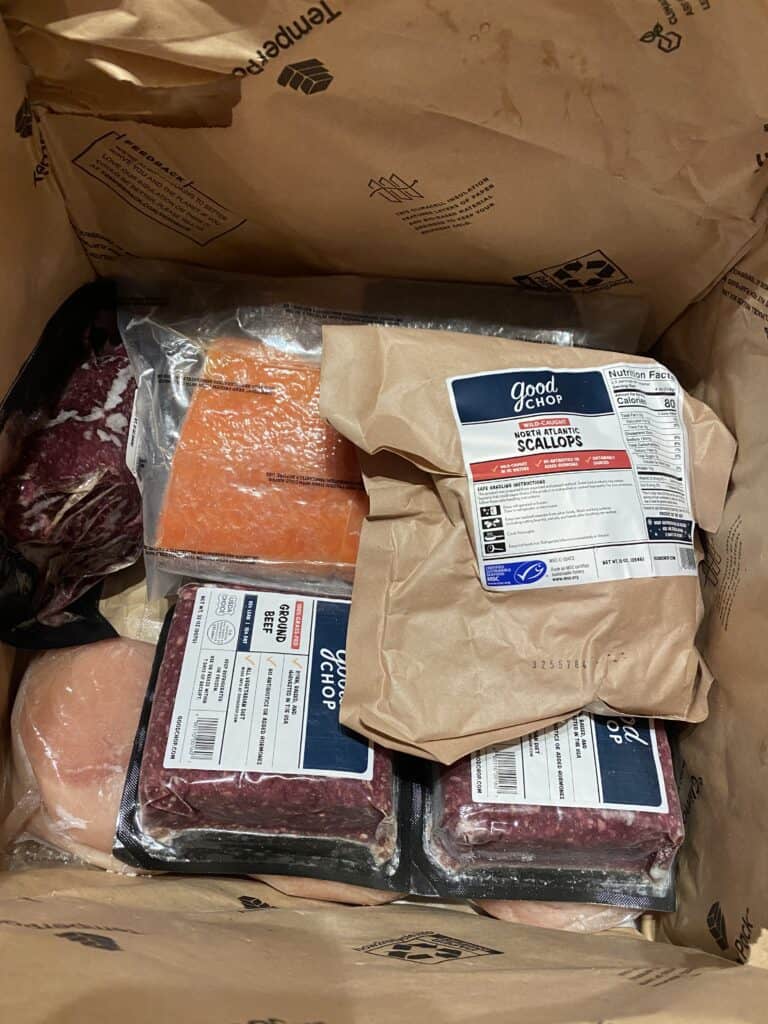 There wasn't a slice of meat I was disappointed in inside of the Good Chop box. Personally, I was very impressed with the grass-fed filet mignon and the chicken breasts.
Inside of the grass-fed filet mignon, there were two serving sizes available. Each serving was inside of a vacuum-sealed bag, and it already came portioned out. At the time of writing this review, I recently gave birth.
With a two-week-old and working full-time again, I have little time for anything else. I was so grateful that the meats were already portioned out, as it took so much less time for me to cook up a meal.
My husband cooked up the filet mignon, and it was so tender. It was absolutely amazing! I would definitely get another box again just to get the filet mignon again. Overall, the filet mignon was tender, juicy, and jam-packed with flavor.
The salmon didn't have a fishy taste to it at all. It was juicy and flaky. I was super impressed with the seafood I received inside of the box. I admit I was a little nervous about the seafood options inside my box, mainly because Good Chop seems to focus on high-quality red meats. Do you know that saying where you shouldn't try sushi from a steakhouse?
That was kind of my thought process behind trying the seafood inside of the Good Chop box. However, I wasn't disappointed at all!
The chicken was amazing too. There's one grocery store in Maryland where I go to to get high-quality chicken. There's a lot of grocery stores in this area that doesn't deliver on fresh or quality chicken, so I know where the standard's at for bad chicken. Yet, the Good Chop subscription box gave me outstanding quality chicken breasts.
There wasn't anything inside of my subscription box that I was disappointed in. But the filet mignon won my heart out of all of the options! My husband's favorite option was the wild-caught sea scallops.
What Was the Good Chop Delivery Like?
Exclusive Offer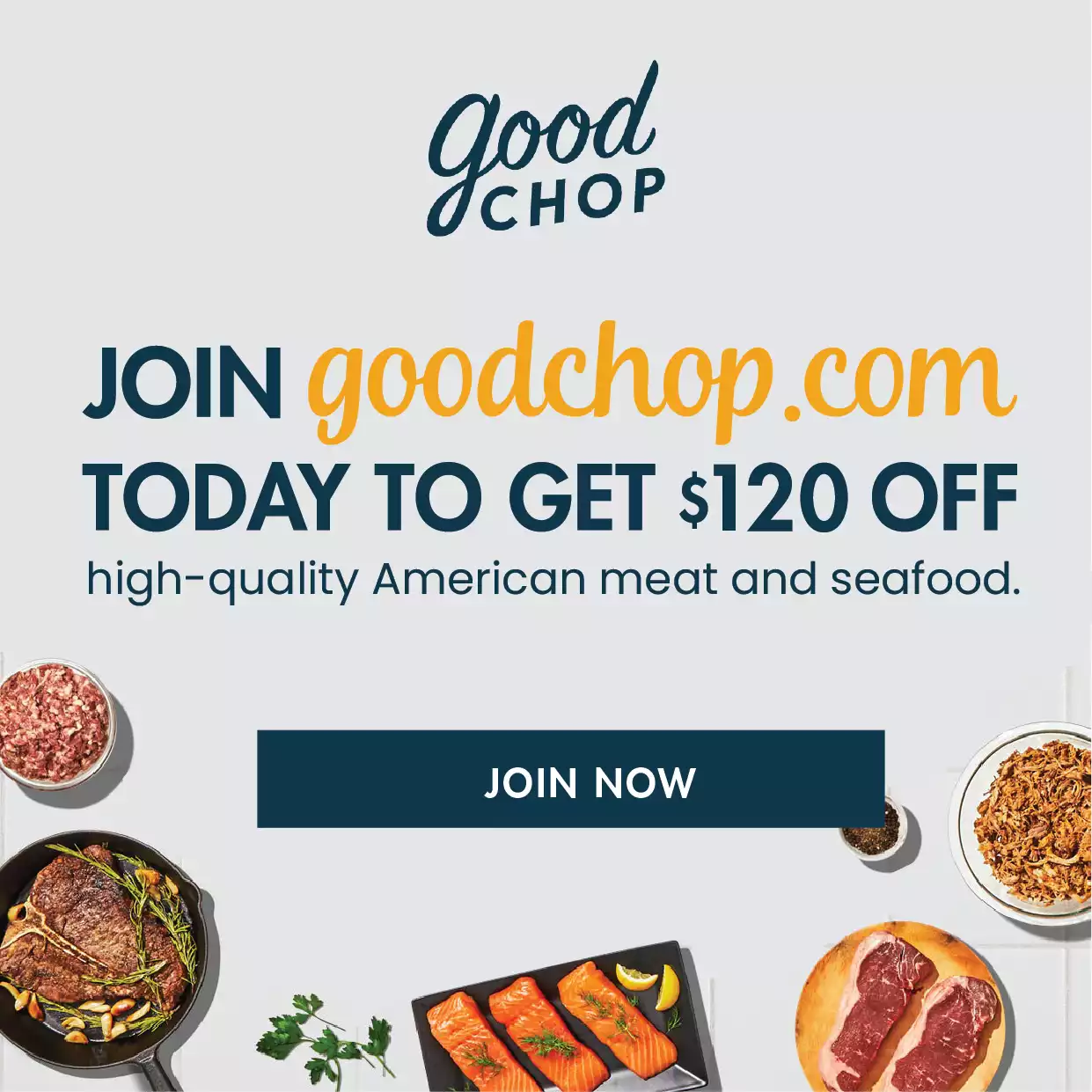 I'm grateful that there weren't any problems with my delivery. I've had problems with other food and meal subscription options where I've had to reach out to the company's customer service. Yet, I didn't have to do that with my Good Chop box.
For me, the most exciting part of the delivery was seeing how my box was packaged to keep everything cold. Inside of my box, there was dry ice. I wasn't expecting to receive this because a lot of companies send out recyclable ice bags. I loved getting dry ice in my box because it was fun to play around with.
Good Chop Packaging – What's it Like?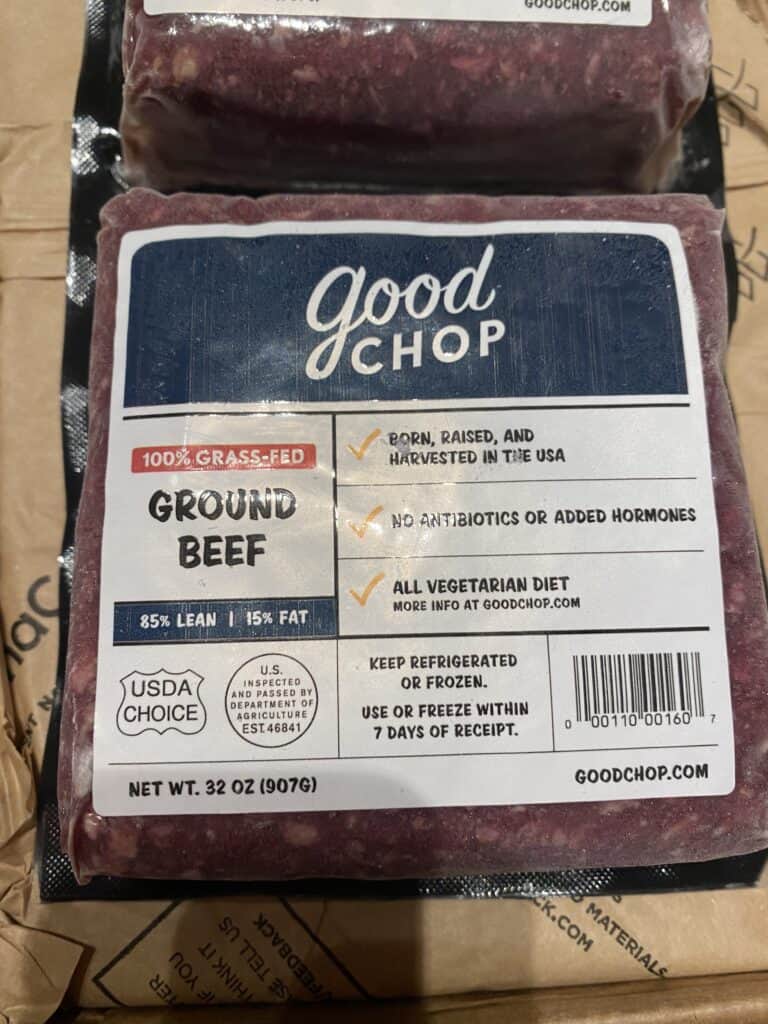 However, there was a lot of plastic that went to waste because the dry ice was packaged inside plastic bags. So, I think there could be a better way for everything to get packaged inside of the box to keep the food cold.
For a company that focuses so strongly on being sustainable, I would think they would find a way that uses less plastic to keep the food cold. Also, I wish they would've highlighted a clearer way to recycle everything.
A lot of other meal delivery companies I've tried break down how to recycle the packaging materials with printed instructions on the materials or on an info card. Yet, there wasn't any information about the recycling instructions for the plastic bags.
And there were so many plastic bags inside of this box. It did make the packaging for the box a little laughable, in my opinion. Especially considering the main concept behind the company.
I'm not sure what time I got my box delivered, so it could've been sitting outside for several hours. I didn't have a lot of dry ice left in my box. However, I got this delivered in the middle of October, so it wasn't too hot outside. But, it was really nice to still have some dry ice left in my box because I didn't have to rush to get everything inside of my freezer.
What Options Can You Get Inside of a Good Chop Subscription?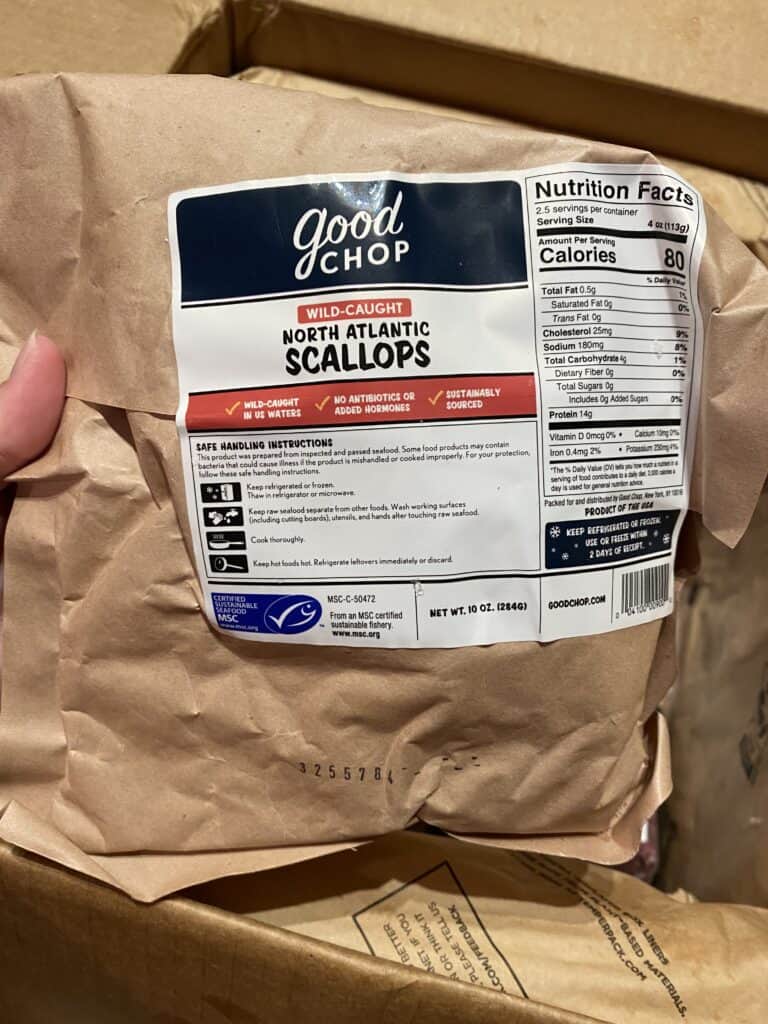 Here are all of the menu options you can choose to receive inside of your Good Chop subscription:
Boneless ribeye steaks

100% grass-fed filet mignon

Top sirloin steaks

Wild-caught Alaskan sockeye salmon

Boneless skinless chicken breast

Boneless pork chops

100% grass-fed ground beef

Ground beef (85/15)

Thick-cut uncured bacon

⅓ lb burger patties

Stew beef

Wild-caught rockfish

Ranch steaks

Bavette steaks

100% grass-fed bavette steaks (a second option they offer, in alternative to the bavette steaks)

Porterhouse steak

Filet mignon

Pulled pork

T-Bone steak

Bottom of the round roast

Flat iron steaks

Boneless skinless chicken thighs

Pork tenderloin

Boneless pork butt

Ground Italian pork sausage

Pork loin roast

Wild-caught Pacific cod

Whole organic turkey

Wild-caught Pacific coldwater shrimp

Wild-caught sea scallops
Pros and Cons of Good Chop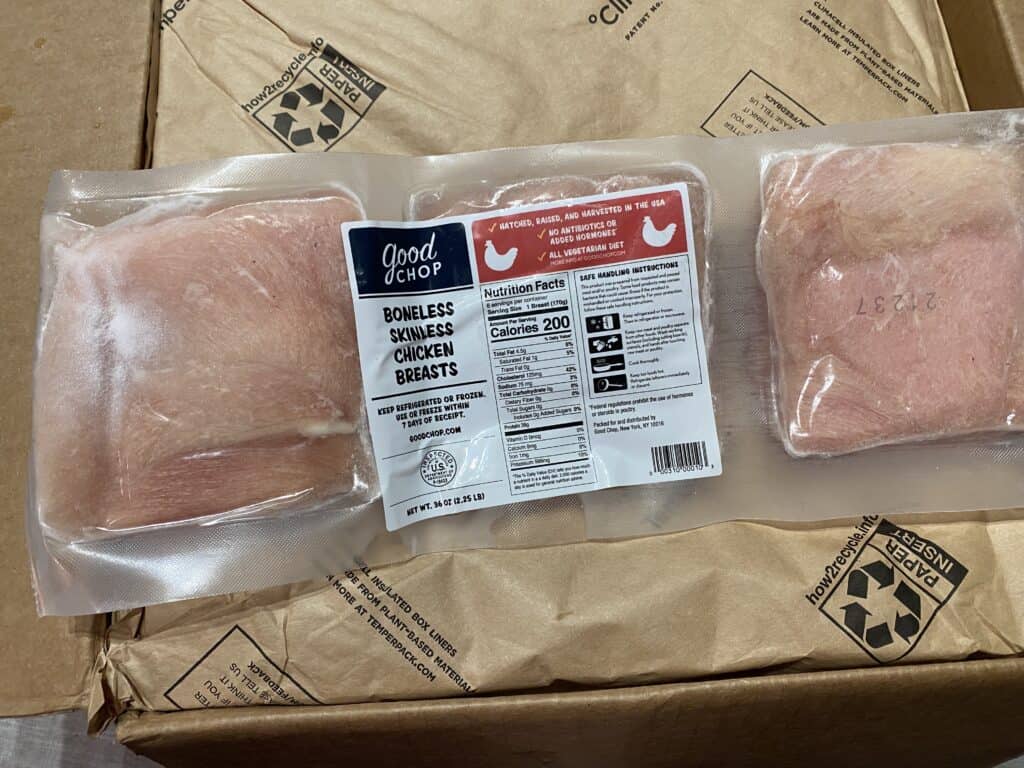 Now that you have a better idea of what the Good Chop subscription box is like, let's take a closer look at the pros and cons of Good Chop.
Pros
Even though a slice of meat comes with several portions, the "one" item you get includes several portions of the meat. As an example, the filet mignon had two servings but only counted as one item

You can schedule future deliveries on the date you want

No antibiotics or added hormones into the meats

Seafood is sustainably sourced

Meat is raised responsibly

All of the meat and seafood comes from the USA
Cons
Not all of their beef products are grass-fed; only select products are

Expensive
Exclusive Offer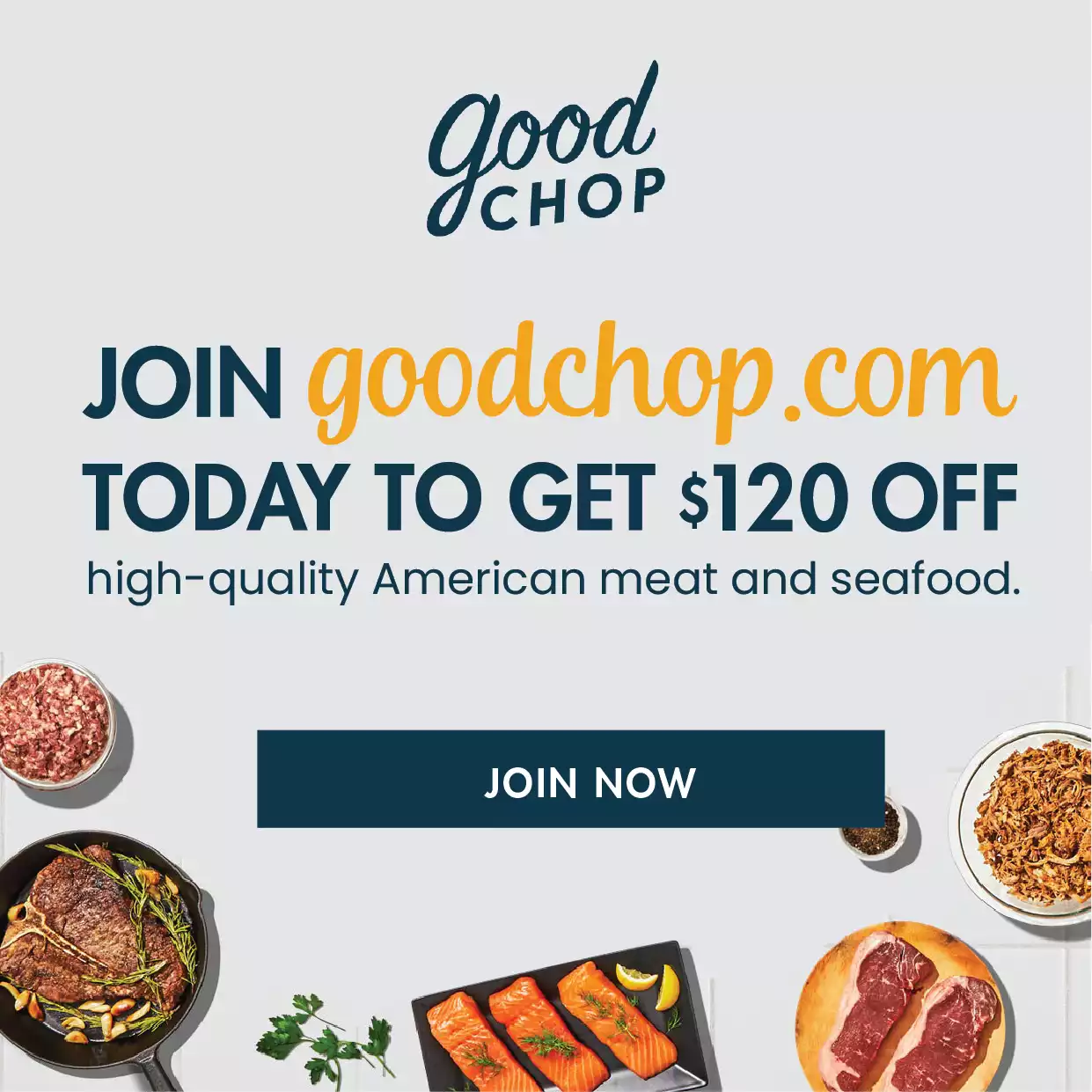 Other Alternatives to Consider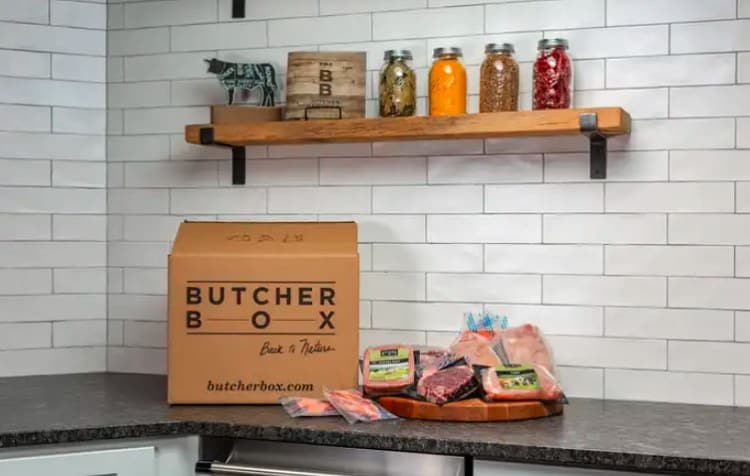 If you aren't set on Good Chop, there are other subscription box options for you to consider. Here are a few that I believe are similar to Good Chop:
ButcherBox – A subscription box that focuses on grass-fed beef, free-range chicken, wild-caught seafood, and pork that's been humanely raised pork.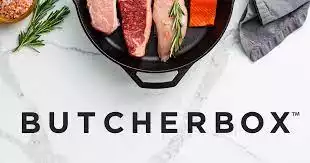 Snake River Farms – A family-owned and operated company that focuses on eco-friendly packaging and responsibly raising beef on family-owned farms.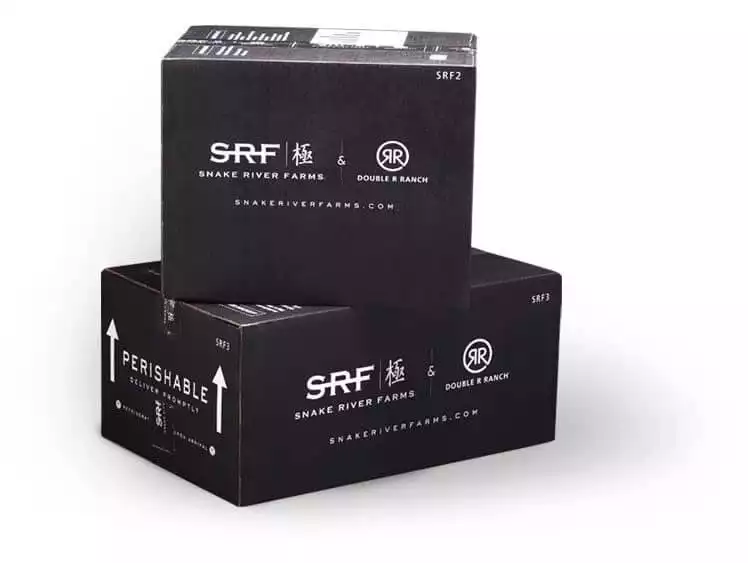 Crowd Cow – A subscription box that delivers pork, chicken, beef, and seafood with a focus on humanely-raised meats and sustainability.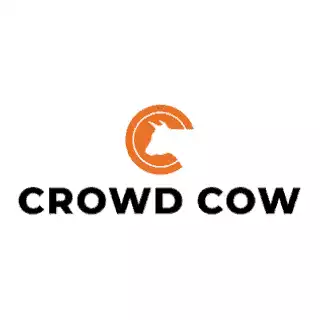 Online Meat & Seafood Delivery | Crowd Cow
Get grass fed steaks, pasture raised craft beef, pastured chicken, heritage pork and more meat you can't find anywhere else ― delivered right to your door.
Build Your Box
We earn a commission if you click this link and make a purchase at no additional cost to you.
Good Chop FAQs
Question: Do I Have to Commit if I Sign Up for Good Chop?
Answer: No, you don't have to commit if you sign up for the Good Chop subscription box. You can pause or cancel your plan with Good Chop if you want to, any time. They don't ask any questions. You just have to be sure to cut your subscription box off before the cutoff period for each month.
Question: Is the Good Chop Beef USDA-graded?
Answer: Yes, Good Chop says their beef is USDA-graded. Also, they claim their beef is from all Angus breeds, so you can always entrust you have amazing marbling in all of your cuts.
Question: Where Does Good Chop Get Their Meat and Seafood Cuts From?
Answer: Good Chop claims all of the animals they use were born and raised in the USA. Also, all of the harvesting for their meats happen in the USA too. They claim all of their meats come from independent ranchers and family farms that are located in the United States.

In addition, Good Chop says their fish are caught in the wild of American coastlines. Any of their fish and seafood that isn't caught in the wild are raised and harvested on farms in the United States.

By working with farmers, producers, and harvesters in the United States, Good Chop aims to reduce pollution caused when international transportation happens. Also, Good Chop wants to support the local economy in the United States.
Is Good Chop Worth It?
Yes, absolutely! I would highly recommend the Good Chop subscription box. For me, the convenience of this subscription box really makes my life so much easier, so it's worth it to pay a little more. But, the taste of the meats inside of my Good Chop is the other important factor in my decision-making process in deciding whether or not this subscription is worth it.
With a lot of meal subscription box options, a lot of the meats tend to be extra watery, tough, or have a lot of fat in them. However, I didn't have this problem with any of the meats or seafood I received from Good Chop.
I loved the flavor of everything I received. The meats didn't have a gamey taste to them and were all super tender. The meats nearly melted in my mouth. As for the seafood, nothing had a fishy flavor or smell. Everything was tender and delicious!
If you're looking for high-quality meat you can trust, I would recommend you check out Good Chop.
Exclusive Offer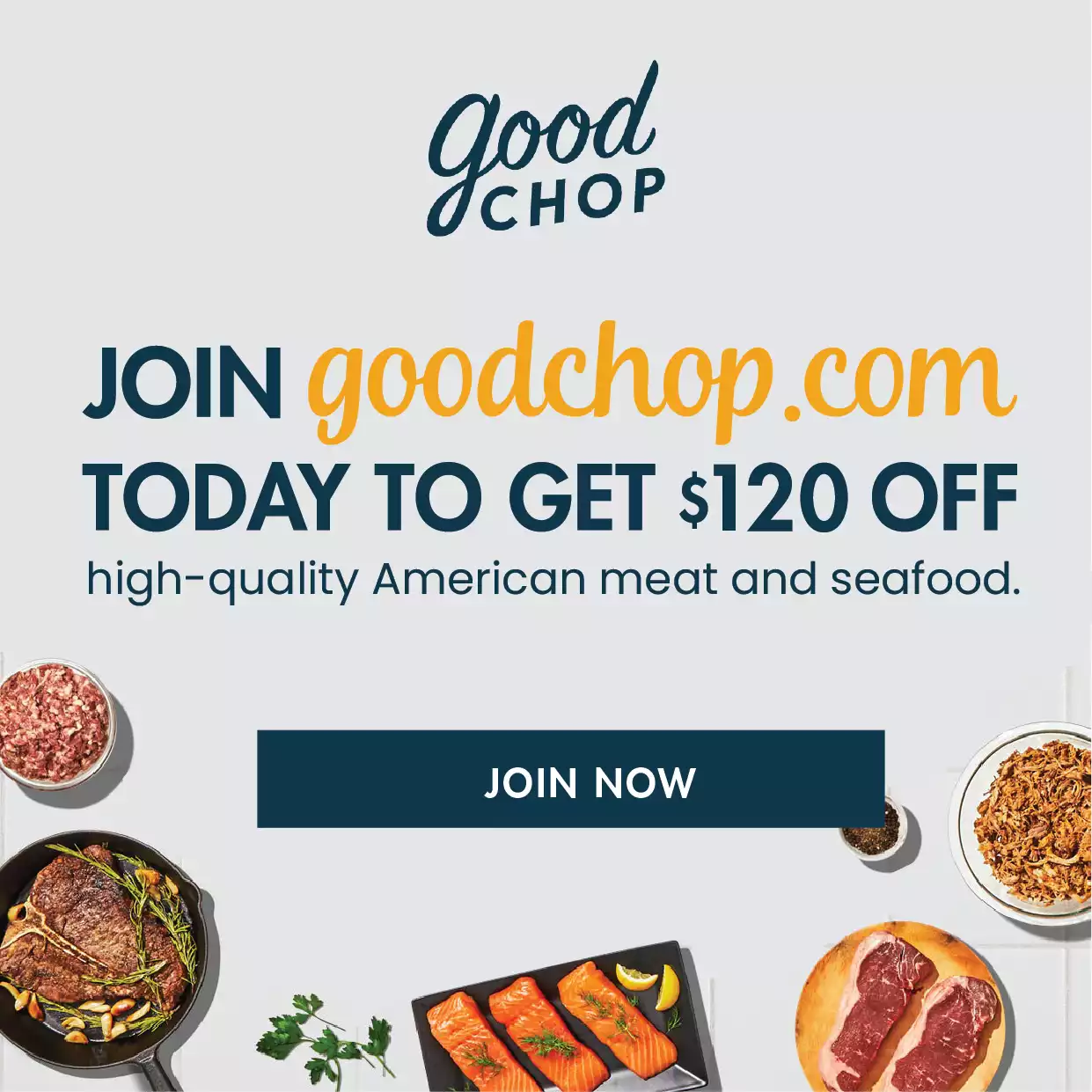 Recommended Reads: