Latest posts by Crystal Schwanke
(see all)
One of the first things I noticed when I started looking at Misfits Market vs. Thrive Market, compared, is that each one has its own focus. Technically, there could be room for both in your kitchen.
I like to try everything, so I've been exploring companies like Misfits Market and Thrive Market for at least five years. With so many grocery and meal delivery options, deciding which one to try first can feel confusing and chaotic. I'll take you behind the scenes so you can get a better idea of what to expect before you sign up for an account.
I started paying more attention to nutrition and the quality of my food and home products about 16 years ago, when the internet showed me everything I "needed" to try but couldn't find in my town. Once I finally made it to a store with those items, I had to be picky about what I bought because the prices were higher. The novel ingredients could quickly push the grocery bill outside our budget.
I'm so happy that services like Misfits Market and Thrive Market exist to address the cost and accessibility of healthier options now.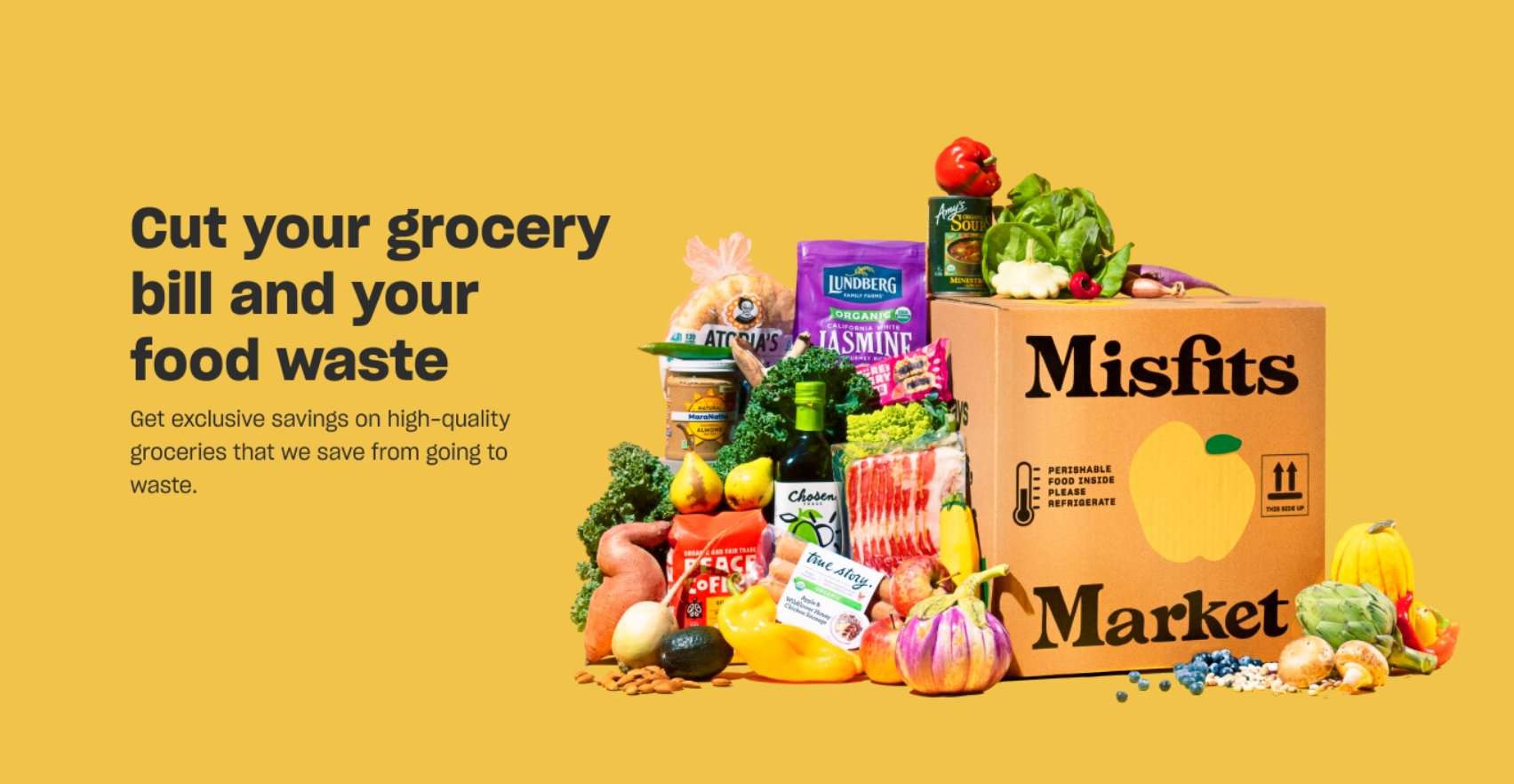 Bottom Line Up Front
Deciding between Misfits Market vs. Thrive Market is easier than it may seem. Both offer ways to save and send healthy items to your door, but what you hope to stock up on routinely will drive your decision.
If you're looking for fresh produce, Misfits Market is best. Want a holistic wellness approach and looking for frozen foods, pantry items, kitchen staples, home items, and options other than fresh produce? Give Thrive Market your attention. (Not all members have access to Thrive Market's fresh produce as of this writing; I don't.)
Either option could save you up to 30 to 40 percent off grocery store prices.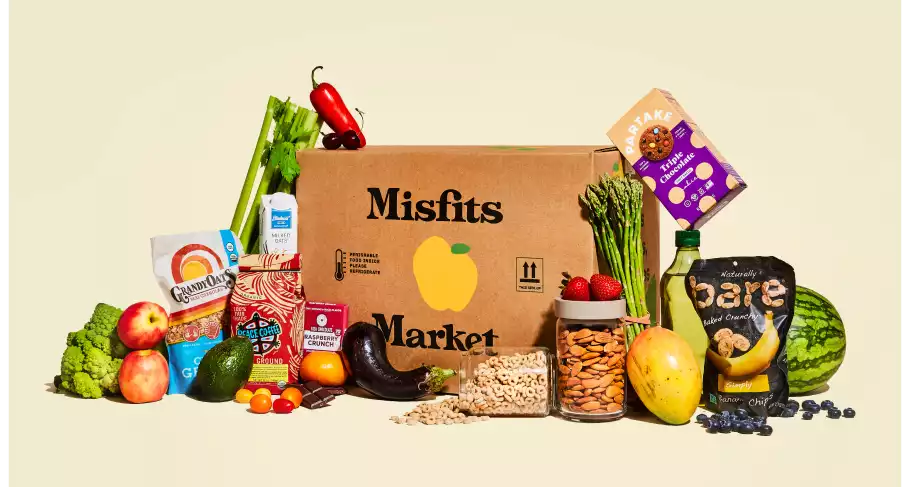 Farm-Fresh Finds: Unleash Flavor with Misfits Market!
Embark on a culinary adventure like no other as they bring you a vibrant array of deliciously imperfect produce, delivered straight from the farm to your doorstep. Embrace the uniqueness, savor the flavors, and transform every meal into a celebration of sustainable, fresh, and extraordinary ingredients.
Get Started
We earn a commission if you click this link and make a purchase at no additional cost to you.
How to Decide Which One Is Best for You
Make a grocery wishlist. If you could change the types of foods available to you, what would be on it? Are you looking for more pantry items, frozen foods, or fresh produce?
Consider your values. Both companies try to do good for the environment while sending you high-quality foods at a discount, but their goals and approaches are different.
Would a highly filtered search that shows you the things that fit best with your preferred way of eating be beneficial, or do you have that part down pat, and you're just looking to save money?
Do you want help building your shopping cart and the ability to have a new box auto-shipped to you every one or two weeks?
The Main Differences between Misfits Market and Thrive Market
Misfits Market limits your shopping window to just before your next box is scheduled to ship, whereas Thrive Market allows you to shop any time.
Misfits Market focuses on fresh produce, bakery items, and pantry staples, whereas Thrive Market has more boxed, canned, and frozen goods (plus pantry items, household supplies, home items, and even home fitness items).
Misfits Market does not charge a sign-up fee, whereas Thrive Market does.
Misfits Market auto-ships after they fill your cart and give you time to make changes each week, whereas Thrive Market only auto-ships what you tell them to and generally leaves the shopping and checkout up to you.
Misfits Market has a minimum order, whereas Thrive Market only does if you order frozen food ($65.00).
Misfits Market only offers free shipping if your order is $90.00 or more, whereas Thrive Market's free shipping starts at $49.00 for groceries ($120.00 for frozen and $79.00 for wine).
Misfits Market encourages browsing (if there's a search bar, I have yet to find it), whereas Thrive Market's search function is prominent and goes above and beyond to help you narrow your selection down to just what you need.
Misfits Market uses Veho for deliveries (which went smoothly), whereas Thrive Market relies on Lasership (which did not).
What They Have in Common
Both start with a quiz to see what to recommend.
Both are focused on making wellness more accessible by offering healthy items at lower prices than you might find elsewhere.
You can shop with them anywhere in the contiguous United States. Misfits Market may have areas they don't cover when you get down to the zip code level, but they're available in the lower 48 states. Even my tiny hometown in middle-of-nowhere-Georgia is covered.
Both have ways to earn money for your next shopping trip, whether with points, their affiliate programs, or completing a task.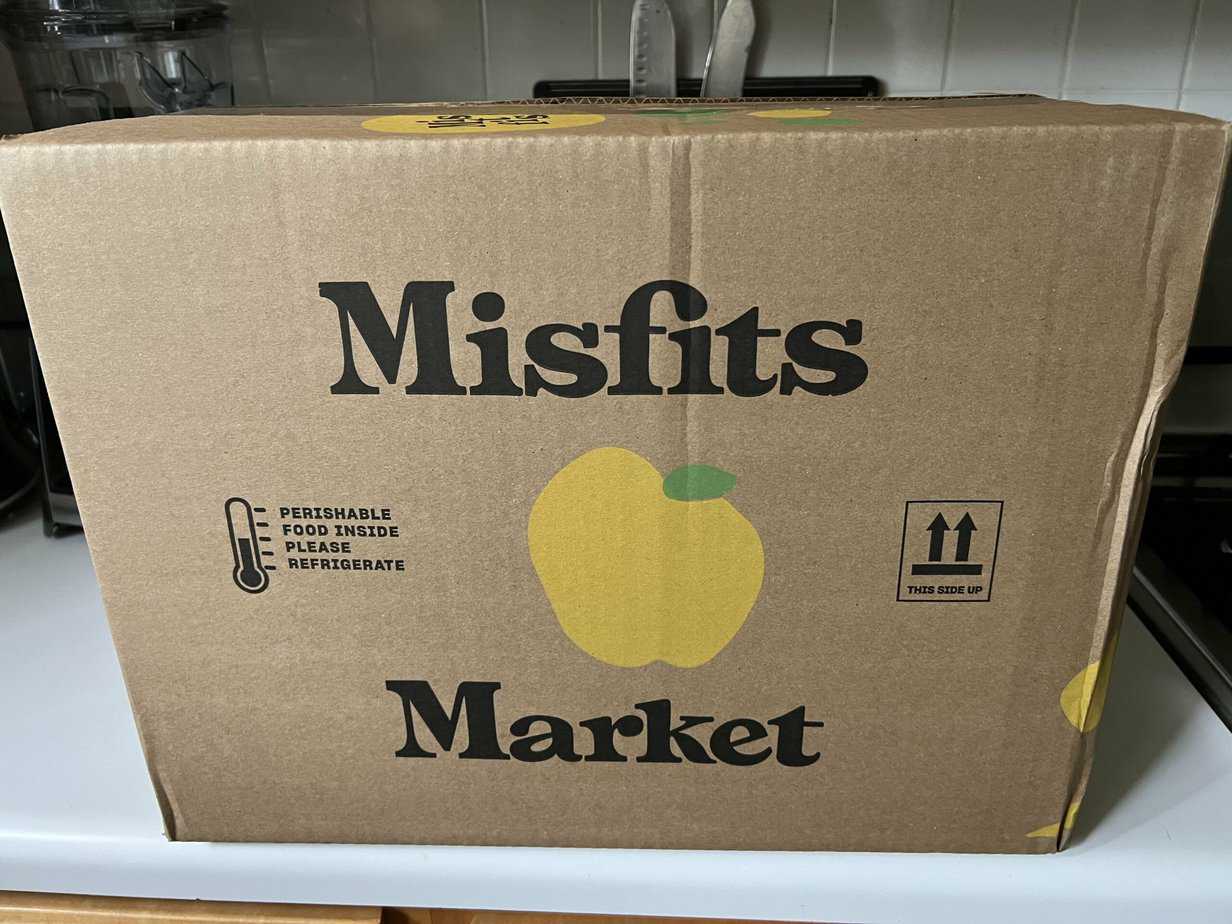 Misfits Market sells "funny-looking," mostly organic produce directly to customers. There's nothing wrong with this produce (it's not on the verge of being thrown out because it's old), and everything I got in my box looked darn near perfect.
Where does this produce come from? Straight from the farmers and food makers because it didn't live up to supermarket standards due to size or some other aesthetic "flaw." In some cases, they had too much.
Though known for its produce, Misfits Market also carries pantry, bakery, beverage, meat, seafood, dairy, eggs, snack, deli, and vegan items.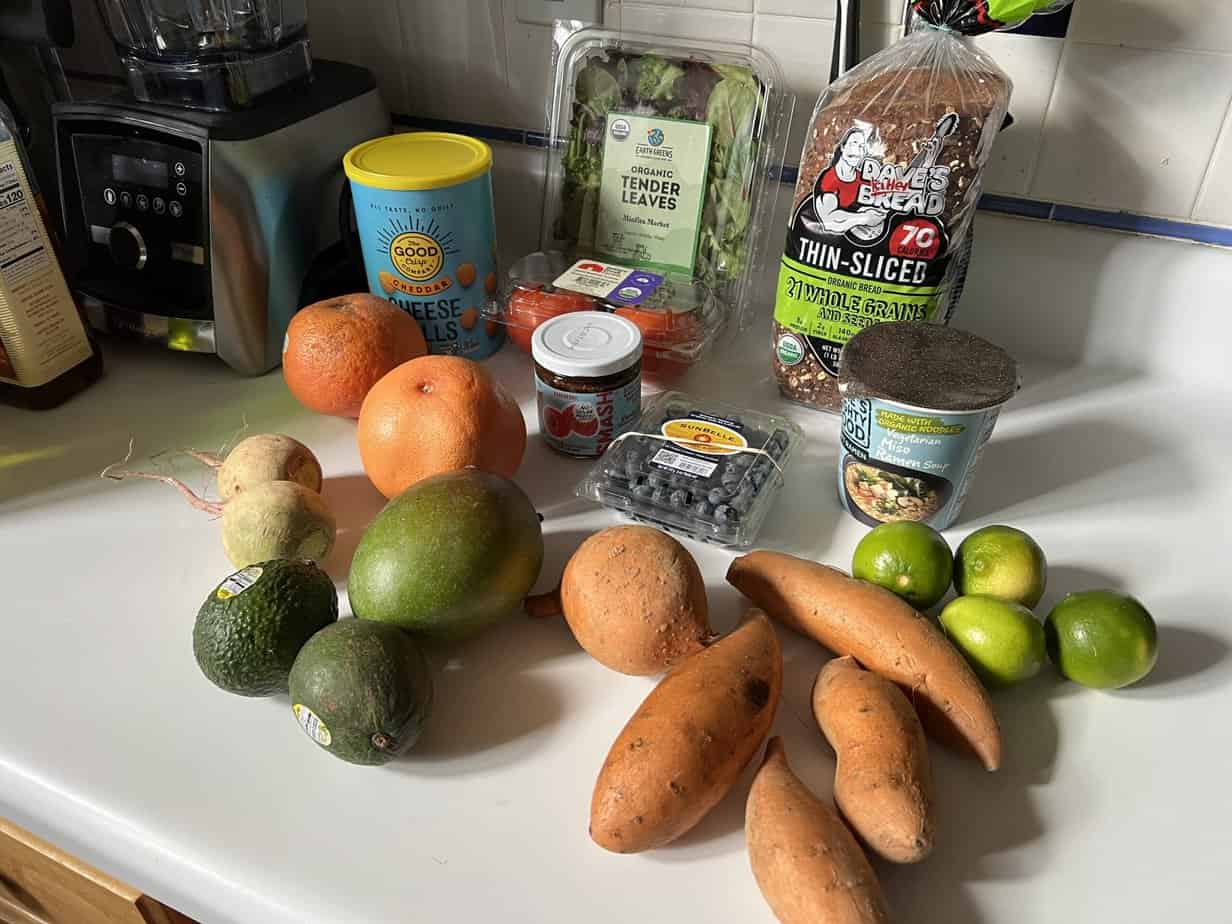 How It Works
When you sign up, you tell them what kinds of products you're looking for each week and how many people you're shopping for so they know what to put in your cart. For example, if you want fruits and vegetables but no snacks, pantry items, or baked goods, they'll just put those in your box. Each category has a price range to stick within, and it'll only fluctuate a few dollars weekly.
As you stack categories, you'll see the price per box increase, so you can stay within budget even if you forget to make changes before the next shipment.
You get a shopping window each week. This will allow you to check out your pre-filled cart, make changes, and get the meal-planning gears turning in your head. I love this prompt because I rarely feel inspired when it's time to plan the week's meals. I got a little giddy when I saw the text that my shopping window had opened–seeing what's in the cart is a fun surprise.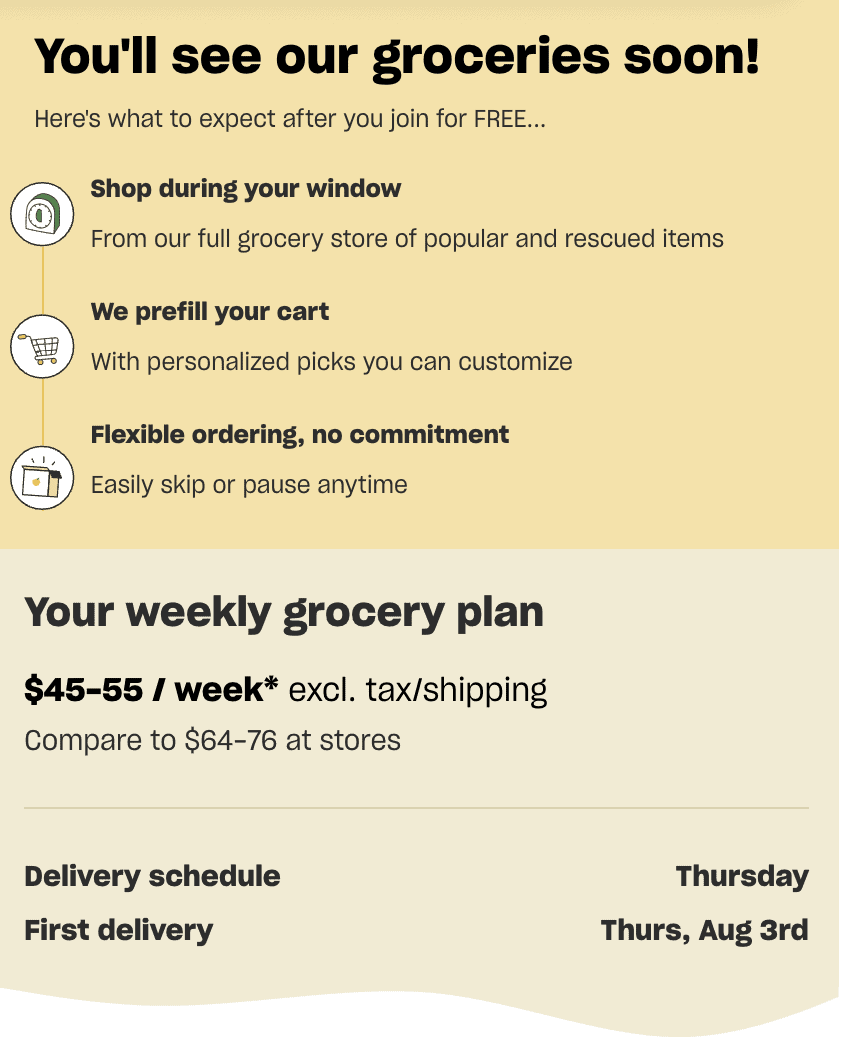 Pros
You start saving money immediately–there's no sign-up fee that you hope to make back over time.
You can shop with points earned from previous orders or make money to apply to future orders by referring friends to the service. With the grocery subscription, you get double the points you get on the Flex plan.
My box arrived on time, late morning, and just in time for lunch. Veho let me know it was on the way, then delivered it to my porch and sent me a photo to let me know.
You don't have to remember to checkout. You edit your cart in the allotted window. Then it automatically ships and appears on the pre-selected day of the week.
You can recycle your packaging by setting it outside before your next delivery. It reminds me of how glass milk bottles were recycled in the 1950s and 60s.
All the food was fresh and looked delicious. I was worried about the salad greens I ordered (I worry when I order through Instacart, too, for what it's worth). Still, they were better than what I get at the grocery store. I'm shocked by how long the extra tomato has lasted in the fridge.
Delivery is predictable, which makes planning easier.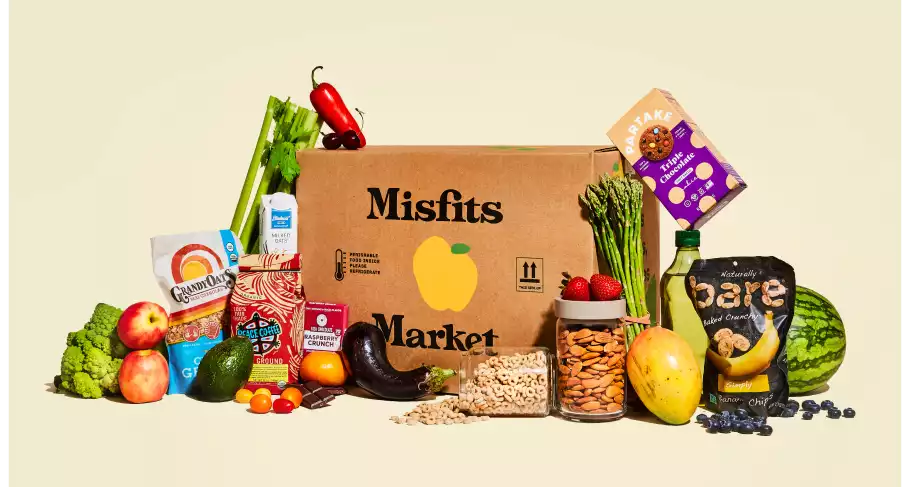 Farm-Fresh Finds: Unleash Flavor with Misfits Market!
Embark on a culinary adventure like no other as they bring you a vibrant array of deliciously imperfect produce, delivered straight from the farm to your doorstep. Embrace the uniqueness, savor the flavors, and transform every meal into a celebration of sustainable, fresh, and extraordinary ingredients.
Get Started
We earn a commission if you click this link and make a purchase at no additional cost to you.
Cons
You won't always get exactly what you ordered, even from your curated cart, because some items may be out of stock before your box ships. I didn't get the cucumbers I ordered (not a big deal since I wasn't charged for them, and they let me know immediately). I ordered two sweet potatoes and got five small ones.
I like to "graze" shop all week–think of meals and snacks throughout the week and add them to a cart on my phone–so the meal plan and list are partially done when it's time to buy the food. There's a 2.5-day window when you can edit your cart. This drives me a little crazy.
You don't get free shipping until you hit the $90.00 threshold. That will be easy to reach if you buy groceries from several categories. However, if you plan to use Misfits Market to supplement your other grocery trips, it could be more of a challenge, and you'll be spending at least $6.99 to ship each order.
There's a minimum order of $45.00.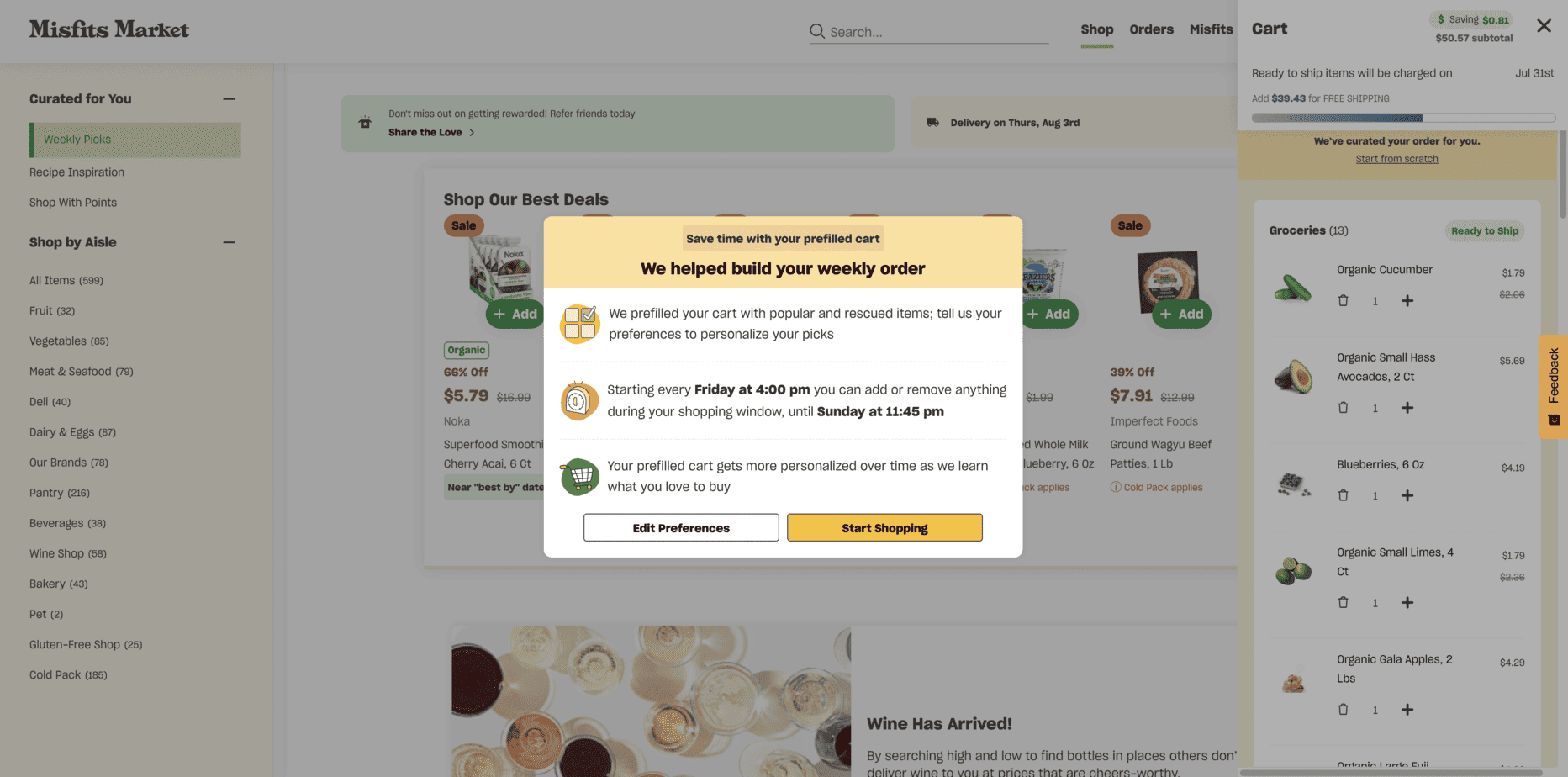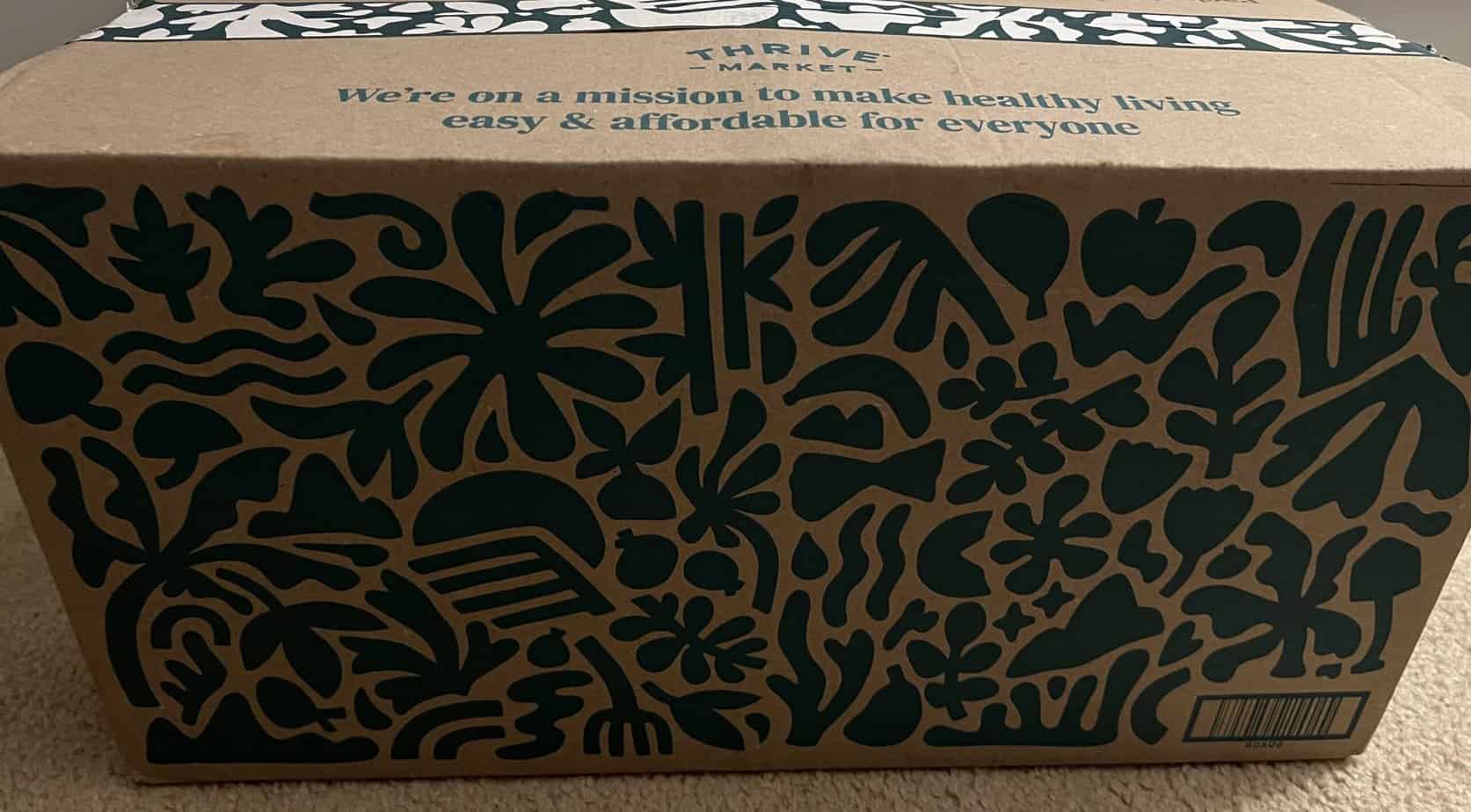 You can get frozen foods, meat, seafood, snacks, pantry items, beauty items, candy, chocolate, beverages, household items, canned and packaged food, sweeteners, spices, and more. I love stumbling across surprises I don't find at the average grocery store, like shirataki noodles.
They make it incredibly easy to find exactly what you are looking for. There are 90 filters you can apply to discover the items that fit your preferences.
They have curated lists you can use for inspiration or you can browse their blog for recipes. This is one of my favorite things. The meal-planning burnout is real right now.
Their selection goes beyond a regular grocery trip. Thrive Market has unusual products like fermentation kits to make kefir, vegan yogurt, or cheese. You can find home accessories, like candles made from coconut wax and essential oils.
I don't think I've gone more than a couple of days without a coupon in my email from them that'll save me even more. As of this writing, it's an extra 25 percent off over 300 Whole30, Keto, and Paleo items.
You can set your staples up on a four-, eight-, or 12-week auto-ship schedule.
Pros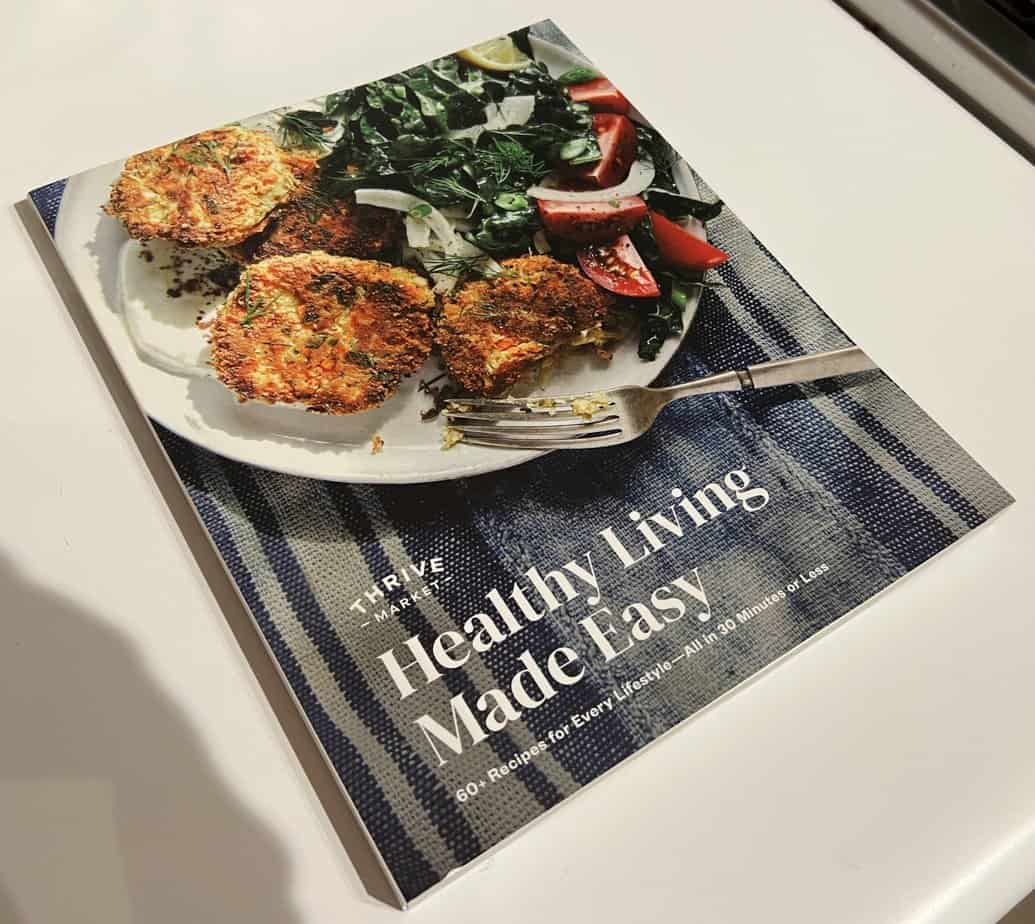 If you time it right, you get a generous gift with your annual subscription.
You don't have to wait for a shopping window.
You can shop by diet, including vegetarian, vegan, gluten-free, organic, Paleo, Whole30-compatible, keto, Mediterranean, low FODMAP, raw, and AIP. This is helpful because we all follow different diets in my house. I can find what works for all of us and use that as a starting point for the weekly menu.
You can shop by ingredients, like non-GMO, dairy-free, plant-based, grain-free, high in protein, salt-free, etc.
You can also shop by environmental and social concerns, like recyclable, BPA-free, sustainably farmed, sourced directly from farmers, cruelty-free, etc.
If you sign up for annual and aren't happy, you can cancel and request a refund within the first 30 days.
If you sign up for the annual membership and don't save at least that amount of money over the year, Thrive Market refunds the difference.
Careful packaging prevented my spray bottle of wood cleaner from leaking on food items.
When you buy an annual membership, it covers a free membership for a family in need.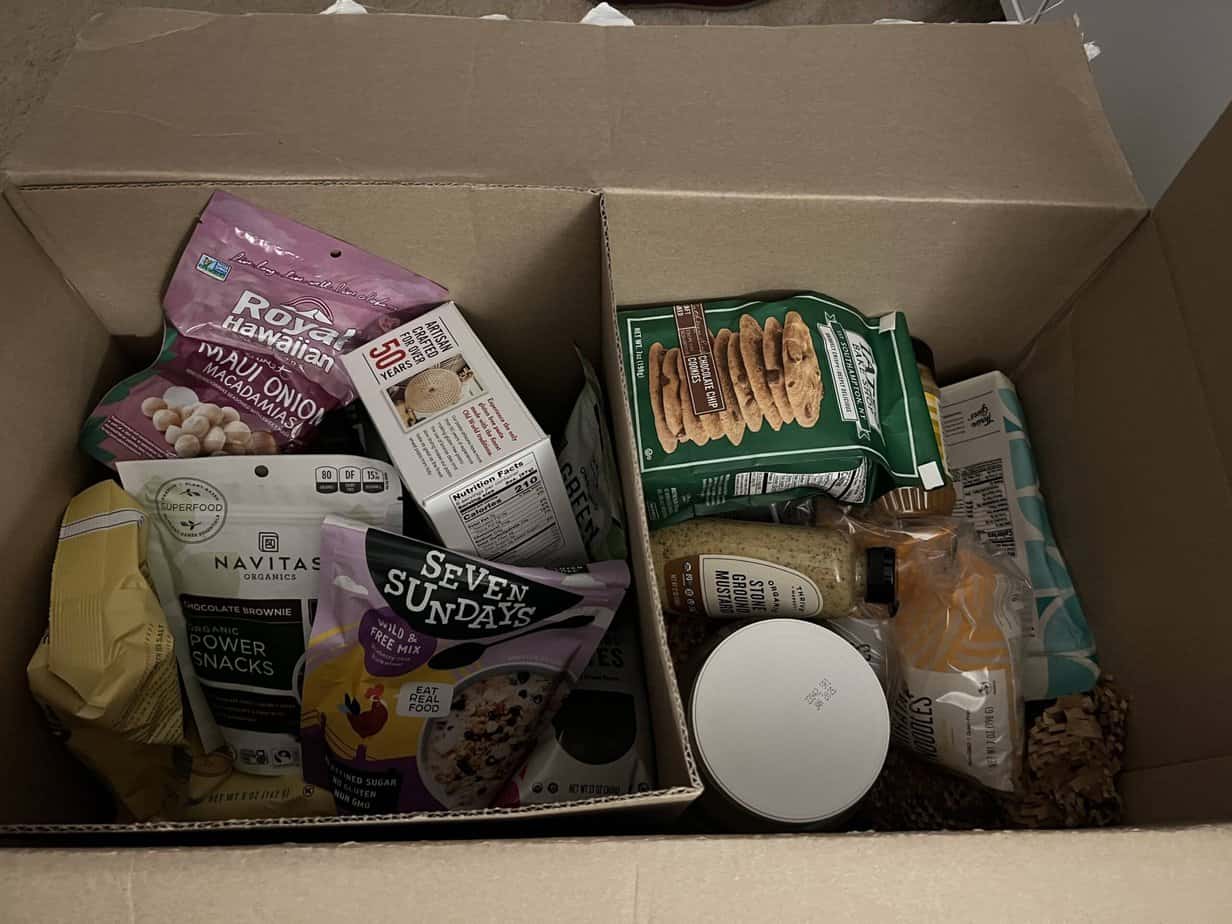 Cons
You have to pay to sign up, and you might not be interested in any of the free gifts.
Not everyone has access to their fresh produce, so you probably won't do all of your shopping here.
The delivery discouraged me from ever ordering anything that might melt or spoil in the heat.
The optional additional $1.95 charge labeled Worker Health & Safety fee didn't sit well with me. I felt like I was being guilted into paying extra because of how it's worded (like I was depriving hardworking people of health benefits and safety on the job if I didn't pay). However, it's the company's job to take care of that without asking for an extra two bucks on each order.
You won't get free shipping unless your order costs at least $49.00.
They ship fast, but you won't know that your food will get there on a specific day of the week. It could vary.
Items aren't always cheaper than they would be elsewhere. For example, I buy snacks at Target, so I compared the 12-count KIND Bars. At Target, they're $15.49. At Thrive Market, a one-time purchase is $16.79, which they list as a 12-percent discount. Auto-ship can save you another five percent.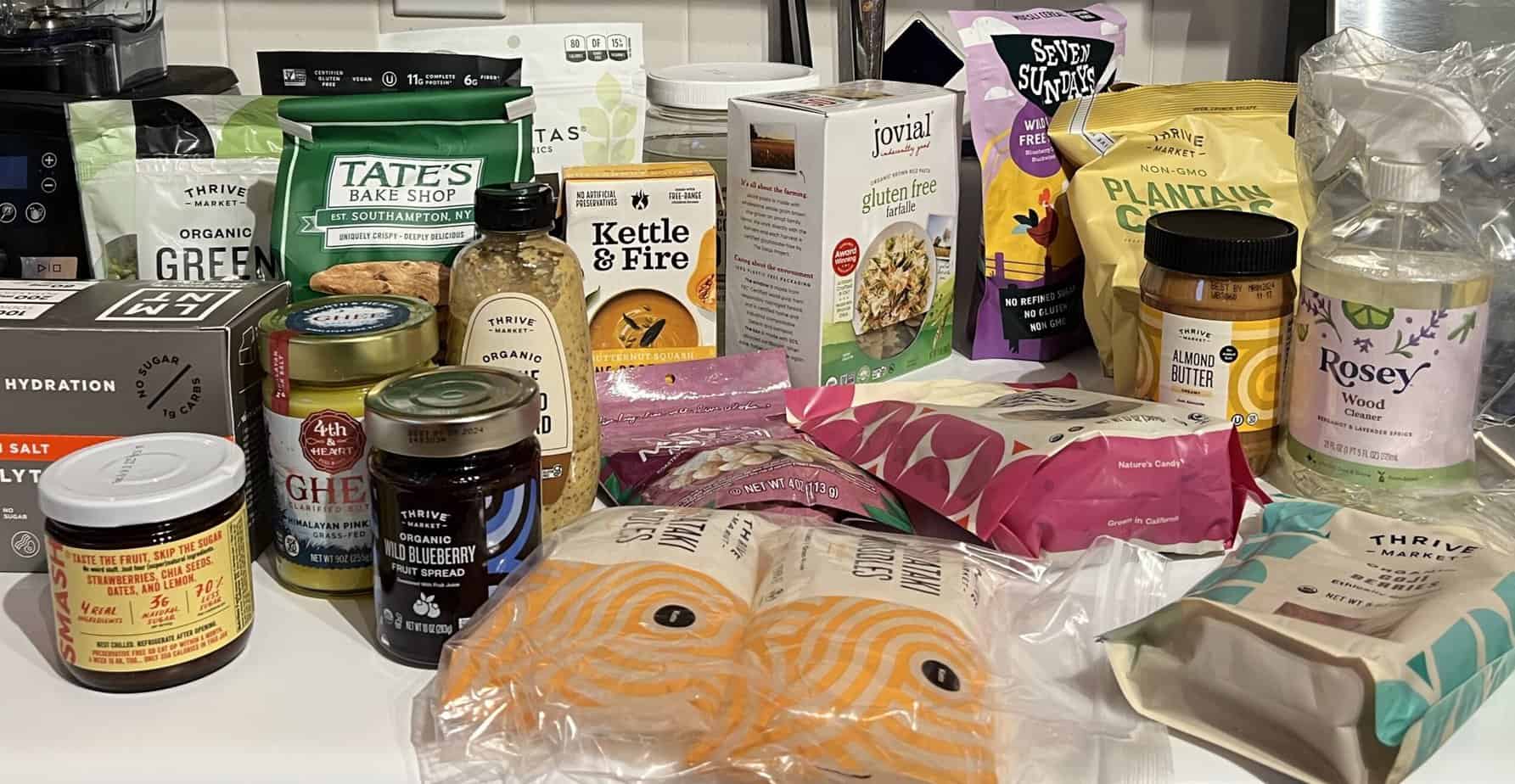 Price Comparison
It's not always possible to compare apples to apples when it comes to Misfits Market vs. Thrive Market because they focus on different things and don't carry many of the same brands, but pricing's similar on the items they both have.
For example, Lesser Evil Himalayan Pink Salt Popcorn is $3.49 at Thrive Market and $3.99 at Misfits Market. Considering the membership fee at Thrive Market, that 50-cent difference matters less.
Another price comparison: Chia Smash (raspberry) is $6.99 at both Thrive Market and Misfits Market.
Misfits Market has the familiar McCormick brand of paprika (2.12 oz) for $4.99 (on sale for $4.59 as of this writing), and Thrive Market has a 2.24-oz. pouch of their own brand's organic paprika for $3.49.
A 13.5-oz can of organic coconut milk is $2.49 at Misfits Market (Imperfect Foods brand) and $2.79 at Thrive Market (Thrive Market brand).
My overall impression regarding the pricing at Misfits Market and Thrive Market is, where you pay less for one item, you'll pay more for another. Savings will probably be close to the same over time. However, there's still that Thrive Market membership fee to factor in.
Shipping
My Misfits Market shipping experience was flawless. I knew when my order was out for delivery. It showed up on time, right by my front door, and I got a photo via text to show me it was there.
My Thrive Market box was supposed to be delivered by 9:00 but came around 11:30 PM. By then, I'd given up and gone to bed, so I didn't see the delivery notification until 6:30 AM, and it wasn't on my porch when I looked for it. It was in front of my garage door, where I'd have backed over it if I hadn't checked my phone first.
In this case, the worst things that happened were: I probably scared the neighbors by going outside in my "literally just rolled out of bed" look, and the heat (because it was early August) had caused my coconut oil to turn to liquid. It somehow managed to leak even though it still seemed sealed up.
Alternatives to Try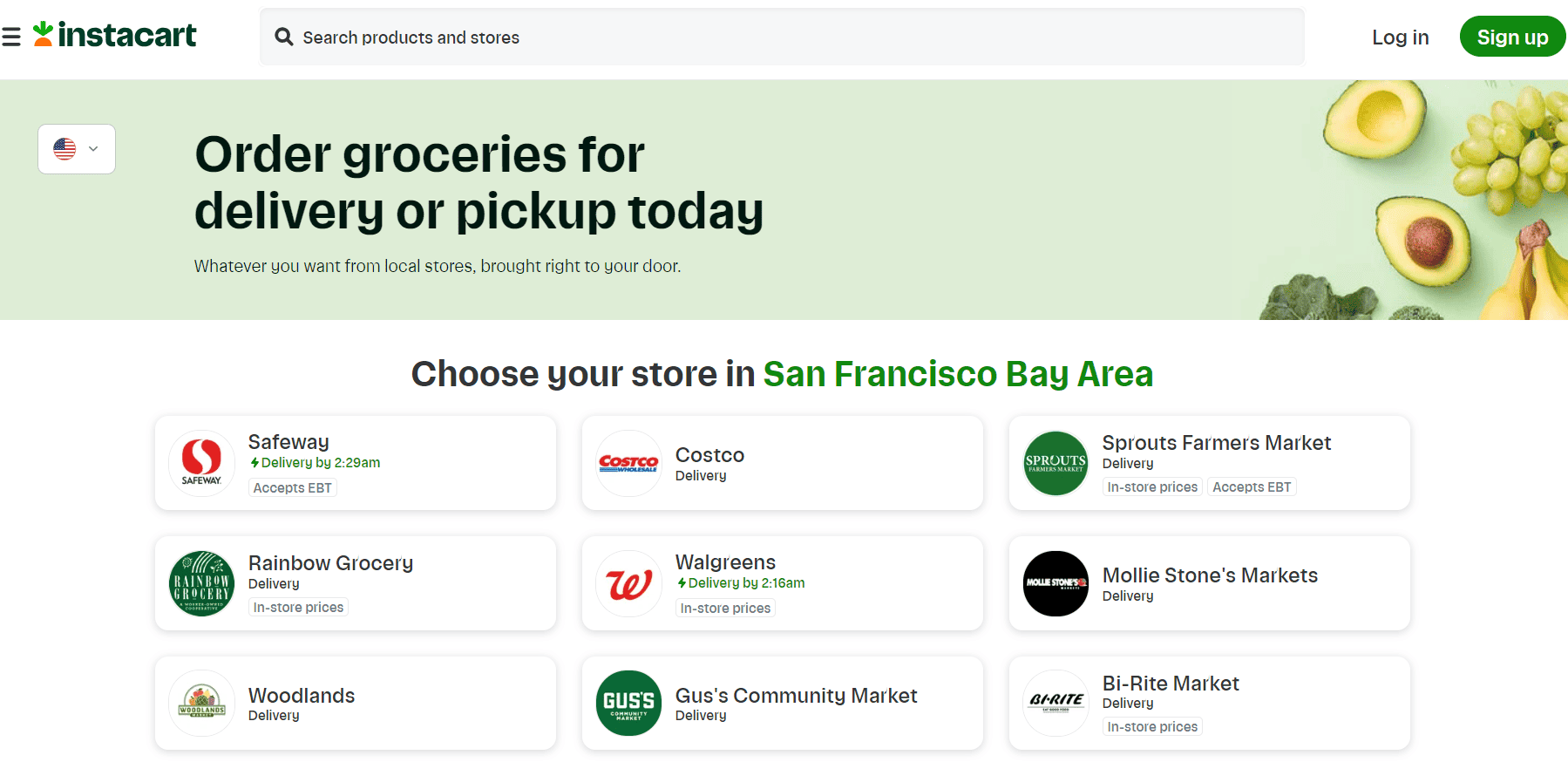 I like using Instacart because I only need to plan ahead by about two hours if I'm really in a pinch, and I can access several stores at once. You get delivery and pick-up options. I use it to shop at Publix and pick up my order (curbside), so it's still a convenient time-saver. I love using the delivery option for the stores that are farther away from my house when I'm short on time, but you'll spend more with this option than Thrive Market or Misfits Market.

There are two options here: Amazon Fresh and Whole Foods (you can find both in the drop-down menu on the left side of the Amazon search bar). Amazon Prime members can access either of these but still have a delivery fee on each order under $150.00. They've just opened Amazon Fresh up to non-Prime customers. My favorite part about this is the option to have your items in just one or two hours, but fees make it expensive.
Imperfect Foods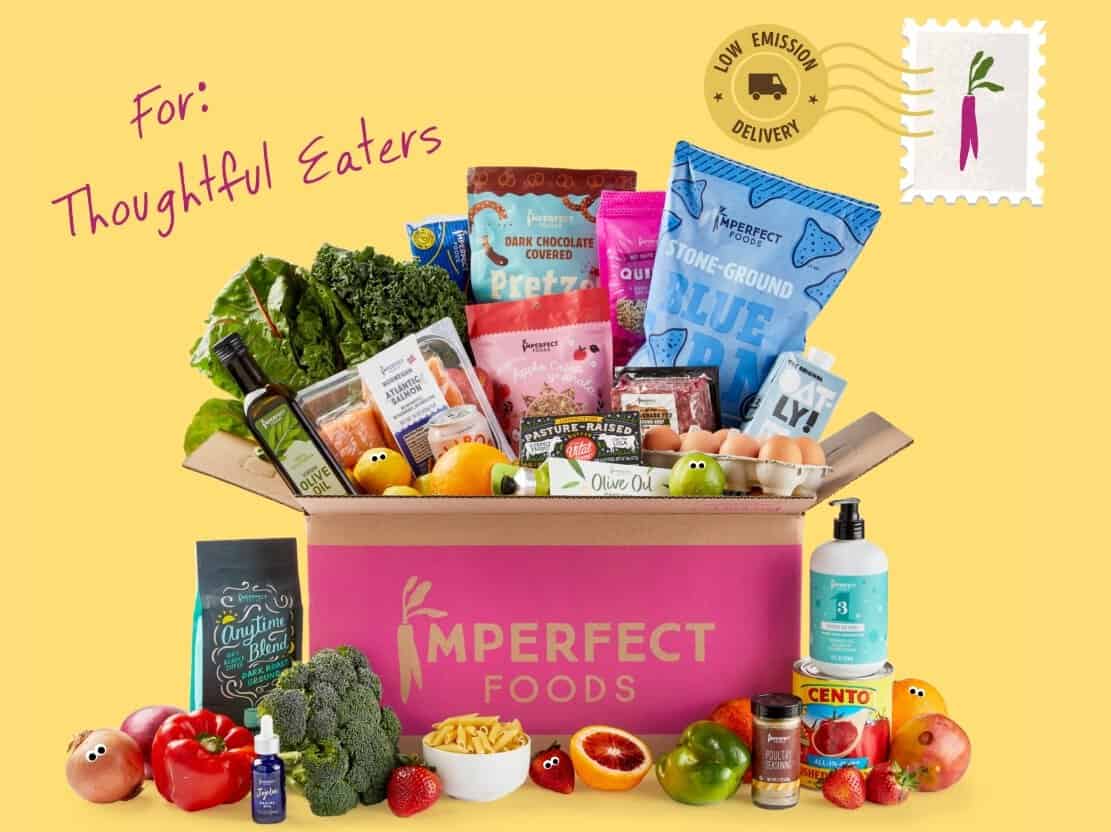 Misfits Market owns Imperfect Foods. However, there's no membership fee or minimum purchase, and they have more conventionally grown produce than Misfits Market. That might be useful to you stick to guidelines like the Dirty Dozen and don't exclusively buy organic produce.
The delivery area is spotty, though, which is a big drawback. You'll find limited options when it comes to delivery days. When I set up an account, they could only deliver on Wednesdays.
Costco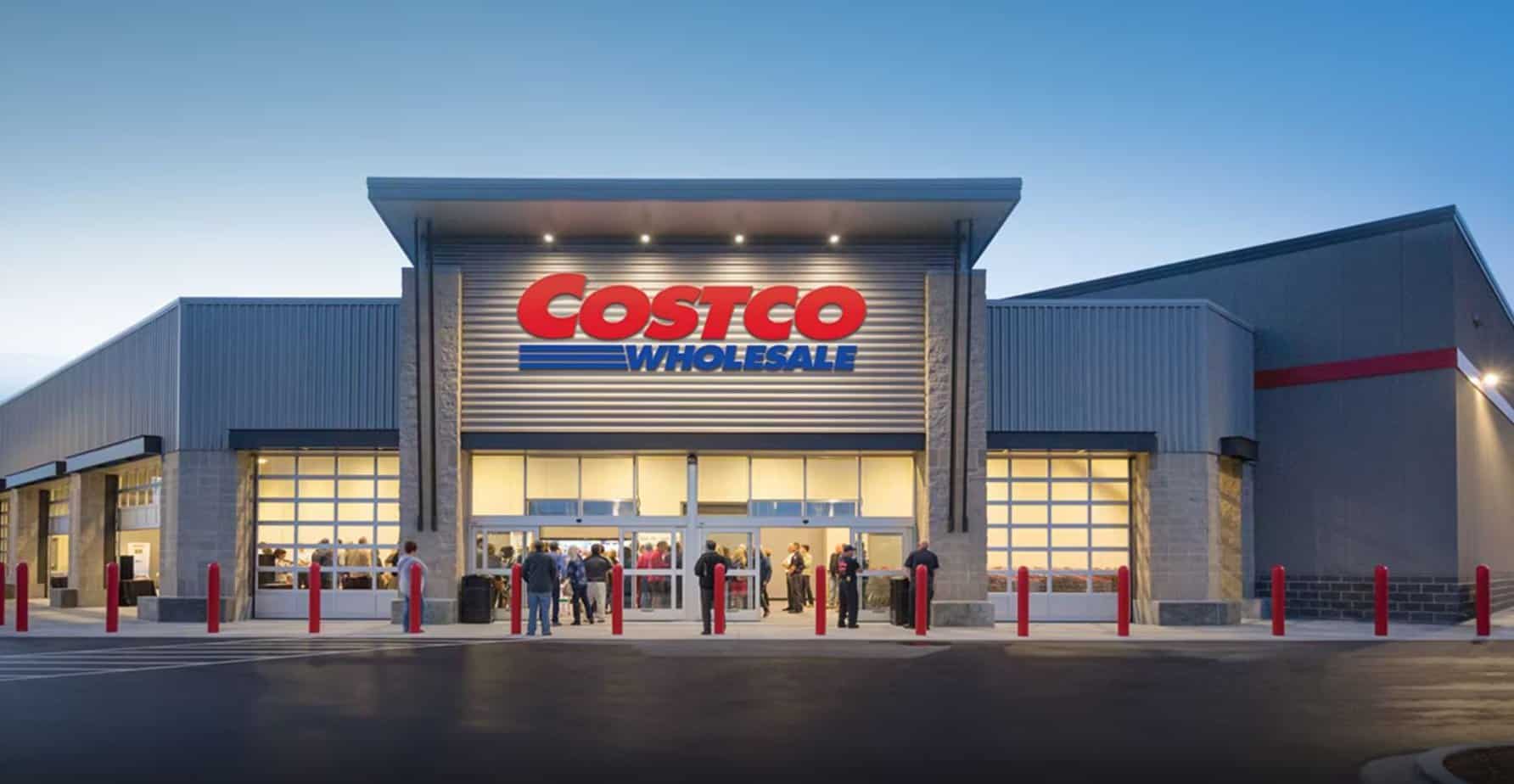 Like with Thrive Market, you must pay a fee to sign up for a Costco membership. How much you buy over the year will determine whether the fee is worth it.
You can buy in bulk with a Costco membership, and there's also the option to save on items like furniture, electronics, and clothing.
FAQs
Question: Is Misfits cheaper than Trader Joe's?
Answer: On average, they're close in price.
Question: Does Misfits Market actually reduce food waste?
Answer: Yes, they take what farmers and food makers can't sell in more traditional ways and find homes for it. Perfectly good food that would get tossed out for cosmetic or overstock reasons ends up on someone's plate.
Question: How much is Misfits a month?
Answer: It depends on which categories you want to shop (fruits, veggies, bakery, etc.) and whether you're shopping for one to two people or 3+. When I signed up, I said I was shopping for one to two people and wanted a mix of fruits, vegetables, and snacks. That made my total $45.97 to $54.97 per week, which is about as low as you can get.
Conclusion: Which One Should You Try?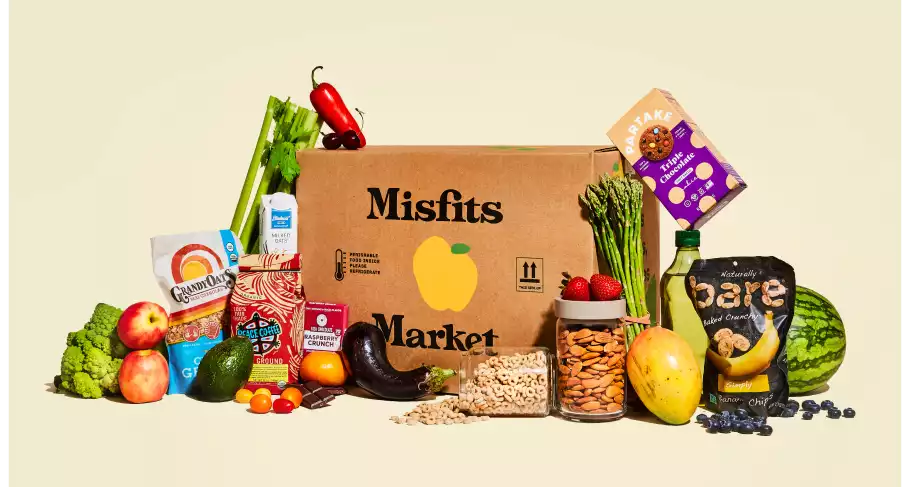 Farm-Fresh Finds: Unleash Flavor with Misfits Market!
Embark on a culinary adventure like no other as they bring you a vibrant array of deliciously imperfect produce, delivered straight from the farm to your doorstep. Embrace the uniqueness, savor the flavors, and transform every meal into a celebration of sustainable, fresh, and extraordinary ingredients.
Get Started
We earn a commission if you click this link and make a purchase at no additional cost to you.
If it's fresh produce you're after, or you like the idea of rescuing food from farmers and food makers, Misfits Market is the one for you. If you like having access to products you might not be able to get locally or want to explore new ways to save money on groceries (especially unusual options) outside of fresh produce, Thrive Market is best.
I like Misfits Market and Thrive Market for different reasons, but I'm likelier to stick with Misfits Market because I want to focus on fresh produce. Healthier products are more accessible where I live now, and the extra fees make me question whether Thrive Market's worth it for my family. Plus, the shipping issue limits what I'd feel comfortable ordering from Thrive Market, pushing me further toward a vote for Misfits Market.
Continue reading:
Thrive Market Review: Is it Worth it?
How to Cancel Thrive Market Membership Quickly