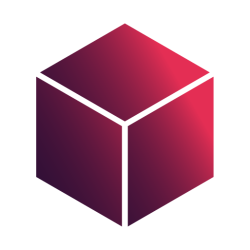 Latest posts by Subscriboxer Team
(see all)
The Sun Basket box is a weekly meal basket subscription service. Subscribers receive a box that includes all of the ingredients they need to make Sun Basket meals. The box also includes a complete recipe card with full instructions for the meals.
I was excited to try the Sun Basket box even though I don't think I'm their usual target customer. I actually love to cook. It helps me unwind at the end of the day. Trying new delicious recipes and brainstorming meal plans is really fun for me so on this occasion, I am sharing with you the full Sun basket Review.
In my mind the usual customer for this kind of meal kit service is too busy to shop, doesn't have much cooking experience and turns to Sun Basket because eating take out every night doesn't do much for a healthy lifestyle.
My fears with meal kit delivery service like theis were that they are often overpriced compared with grocery shopping, over-packaged (The idea of receiving a teaspoon of cumin wrapped in layers of plastic drives me crazy), and use overly fussy recipes instead of simple, tasty food.
I was glad that Sun Basket provides organic ingredients grown by sustainable farmers. Because of the quality of ingredients, the $69 price (check here for the latest price & discounts) for 3 dinners of their Chef's Choice recipes for 2 didn't seem that bad. The packaging is 100% recyclable which made me happy as well.
I took a look at the website and found that their recipes were unique, but not so out there that I considered them fussy. Executive chef Justine Kelly, who has been in Gourmet Magazine and on the TV show Iron Chef, says that she likes to let the ingredients shine.
The company also includes meal categories like Paleo, Gluten Free, and Vegan meal plan. They offer a Family meal kit plan as well. I went with the Chef's Choice category for me and my husband because we have no dietary restrictions. You are able to choose your family menu or classic menu from a selection of about 10 dinners.
The week that my Sun Basket was set to come ended up working out perfectly. We were just coming back from a trip so the fridge was uncharacteristically empty. It was a relief to only do light grocery shopping for essentials.
I didn't have to take the time for meal planning. This experience could spoil me. As much as I love cooking it can get tiring to plan. I could see how a subscription-like this could still give me my chill time in the kitchen while eliminating the stresses of making dinner.
The day my Sun Basket was scheduled to arrive I got an email so I could track my meal delivery. I knew that my ingredients would be carefully packed to keep cold, so I didn't stress the fact that the box would be sitting on my porch for a while. Once I arrived home I opened the box up and found that all of my goodies were protected by cotton insulation.
The recycling instructions seemed easy enough. The ingredients were in labeled brown bags. The packaging included a booklet with my three recipes plus all of the other selections for the week.
I thought that was a nice touch because now I can DIY the meals that I regretted not being able to pick! I could see how someone who is less culinarily inclined could see that as paper waste, but for me it was a little extra cookbook for inspiration.
Meal #1 Thai-style Salmon with Peach and Cabbage Slaw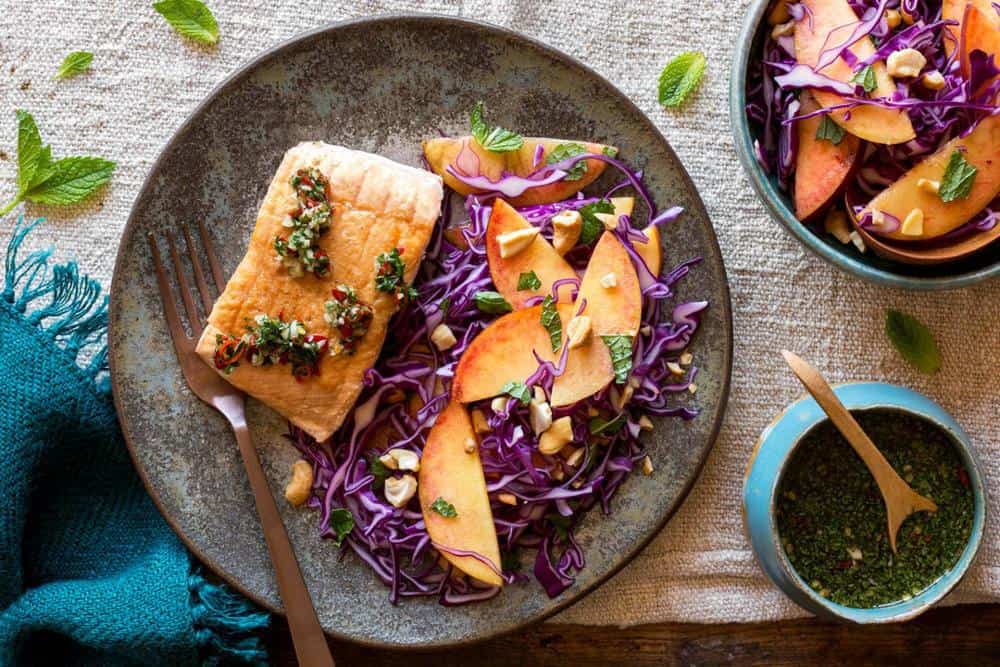 Thai-style salmon with peach and cabbage slaw was this meal plan recipe that I decided to make on the first night. The recipe came together faster than the 25-35 minute estimated time despite a few setbacks. I was really into the fact that they included fresh herbs like mint and cilantro.
I was interested to see what the ingredient combination would be like along with lime, ginger, garlic, roasted cashews and Thai chili pepper. The salmon was pan-fried which was quicker to make than my usual baked version. It was a little bit awkward to chop the cashew nuts.
I ended up losing a few as they rolled off the counter or shot away from me while I was chopping. Despite a bit of a mess, everything looked great!
As I was plating the meal I noticed that it didn't include any carbs, which some people might think of as a positive because it's lighter, but I didn't select the gluten-free or diet option so I was a little bit sad.
In the end, I had a messier kitchen than I usually do, but I also ended up with an excellent meal. The flavors of the dish were amazing. I was surprised that it was a super satisfying meal even without the starchy side dish that I had been hoping for.
PRO– Yum! Inventive, healthy and quick to make!
CON– Messy to make as well!
Meal #2 Grilled Chicken Breasts with Salsa Verde and White Bean Salad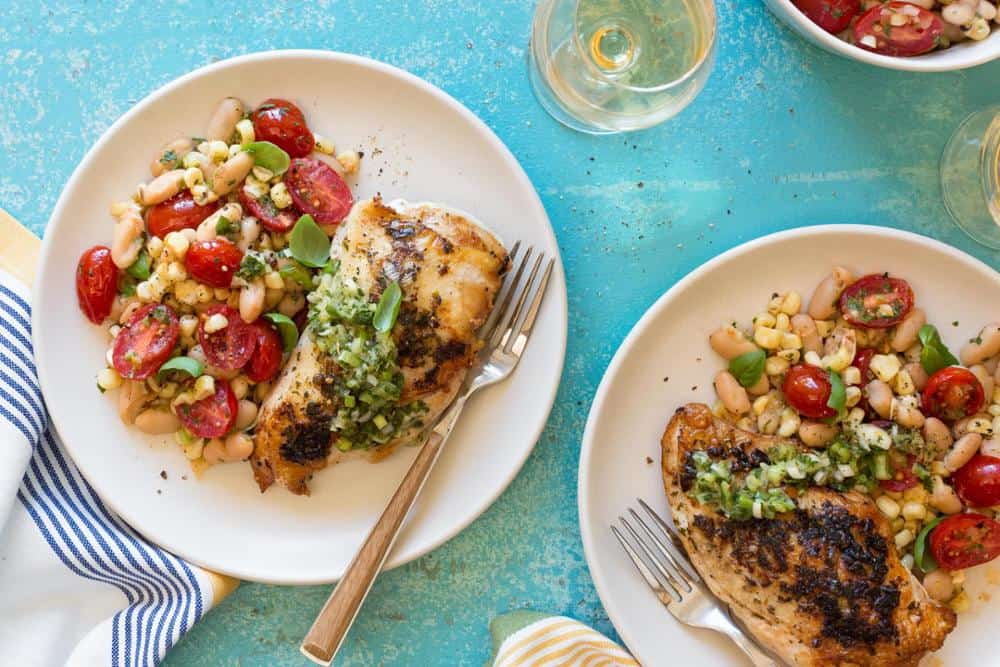 For my second night, I enjoyed another gluten-free meal, but the bean salad looked hearty. It was another quick and easy dinner with similar problems to the ones I ran into on the first night! The corn in the bean salad was messy to cut from the cob. Kernels were flying around. Luckily my dog was happy to clean up the floor!
I also dirtied a lot of dishes in the process of making this meal, but I was glad that I could use the same pan for the bean salad that I used for the chicken. The salsa verde was delicious. It was perfect with the juicy chicken and the warm bean salad.
I love that Sun Basket seems to rely on a lot of fresh herbs for flavor instead of tons of salt and butter. It was a great healthy meal, but once again I was missing my carbs and thought these ingredients would make for a great taco night!
PRO– Flavorful fresh herbs make this a tasty meal.
CON– I want tacos.
Meal #3 Italian Sausages with Warm Cauliflower-Frisee Salad and Artichoke Romesco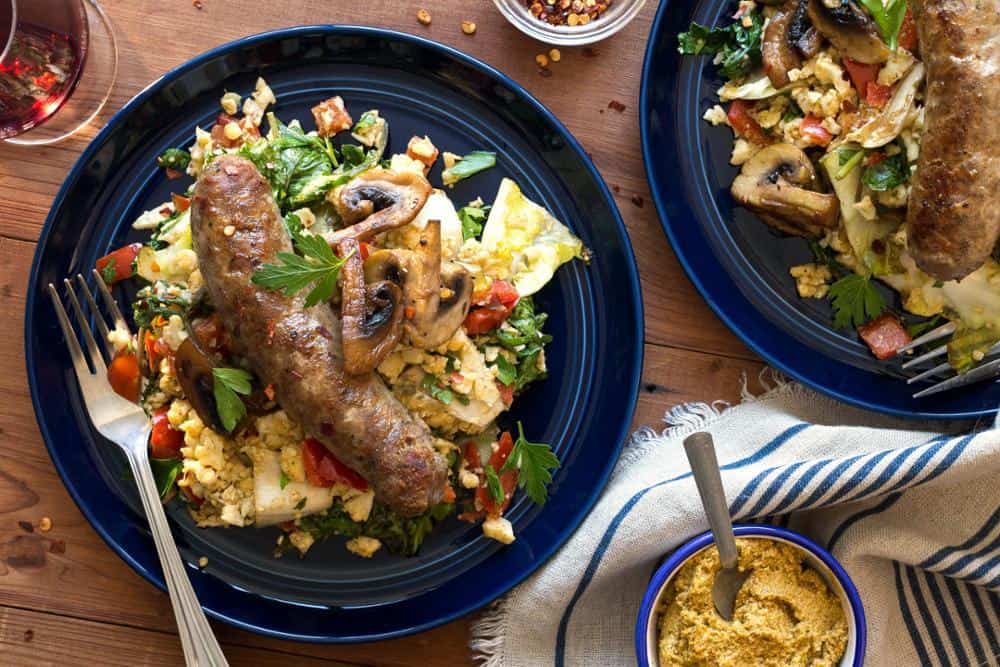 On my final night with Sun Basket I almost ordered delivery because I was just not in the mood to cook or do anything. Then I remembered I had my final Sun Basket meal to review and I figured since the other two were pretty quick to make I would just power through and cook.
When I opened the ingredients I was confused to find a big bag of curly endive in place of the Frisee. They included a little note that said when working with small farms they sometimes end up with surprises.
The substitution didn't bother me at all, but since Frisee is right there in the name of the dish I could see how this could upset some Frisee loving subscribers. This meal was easy to make when it came to prep work. The mushrooms, green, and pepper were simple to chop while the cauliflower came "riced" and bagged.
I was into how veggie-heavy this meal was while still being the comfort food I craved after a long day. This meal came with a pre-made sauce that added flavor. When I dove into my beautifully plated meal I discovered that the sausage wasn't cooked through, so I cooked them a bit longer than suggested.
Because of this, the meal took longest to prepare out of all my Sun Basket meals. In the end, it was so worth it because it was also my favorite meal of the three! I love cauliflower rice and it was so easy to just open a bag and have a big batch of it ready. I also loved that the dish was packed with greens. My husband said it was his favorite too.
PRO– Amazing, veggie-heavy comfort food
CON– The cooking time was a little off.
Overall Assessment of Sun Basket
Pros
Helps you avoid the grocery store
Easy to follow recipes
Healthy and organic meat is used in the recipes, as well as other organic ingredients too
Delicious, simple meals
Saves money compared to take out
Cons
A little bit messy to prepare.
I somehow missed the memo that it is all gluten-free low carb meals, but I ended up enjoying them!
Sun Basket Alternatives to Consider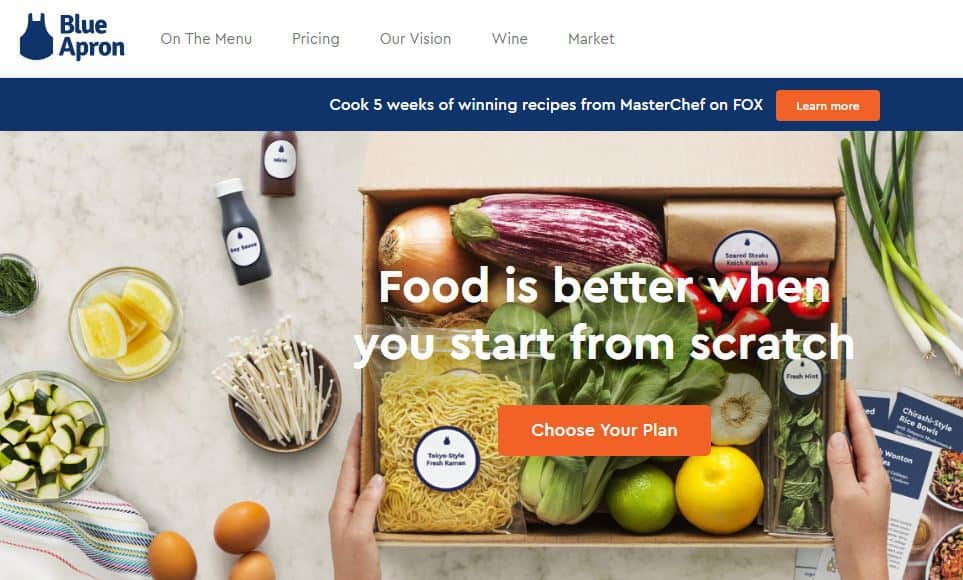 The meal subscription service with the biggest name recognition for me is Blue Apron. I know a lot of people who have tried Blue Apron and it seems similar to Sun Basket from what I have heard. Blue Apron is a bit less expensive at about $60 for a plan similar to the Sun Basket one that I tried.
It seems like Blue Apron puts less emphasis on organic ingredients than Sun Basket does, so that explains the price difference. Hello Fresh is also very popular. Plans start at $9.99 per meal. This service seems pretty similar to Blue Apron. Both Blue Apron and Hello Fresh are available nationwide and offer a wine pairing.
FAQs About Sun Basket
How many meals does Sun Basket send in a week?
Usually Sun Basket provides 3 meals and you can choose if you would like 2 or 4 servings.
Why is Sun Basket pricier than other subscription boxes?
Sun Basket is a kit delivery service that uses organic products for every meal option, so this is why this box comes a bit pricier than other food subscription boxes.
Can I cancel Sun Basket easily if I don't like it?
Yes. Canceling the subscription is very easy in case you think the meals are not for you. You can do that easily on their website without any hidden costs or hassle.
Final Word on Sun Basket
Sun Basket won me over. I see the value in signing up for a service like this because you get healthy home cooked meals and the fun of cooking without the annoying parts like figuring out what to make and lugging everything home. You can't beat the convenience factor.
Sun Basket is great for busy people. It's also a great option for anyone who is in a cooking rut because it will encourage you to change up your routine and try some new recipes as well. I loved that I was able to cook delicious organic meals quickly and easily. I would easily recommend this delicious meal kit service!