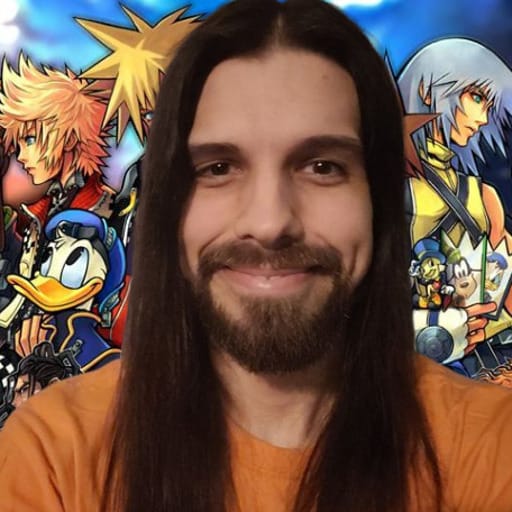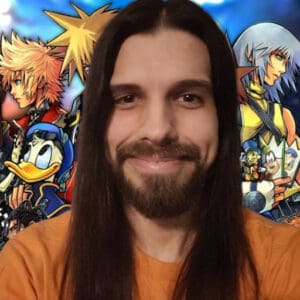 Latest posts by Trevor Abbott
(see all)
So you've finally decided to plunge into the clothing subscription world? That's good news because we will discuss two of the most popular online options to get started.
Choosing between them can be challenging, so I'm your informed expert on the topic to help reveal the differences so you can weigh them effectively!
There are many benefits to choosing a clothing subscription service like Wantable vs Nadine West, and one of the main ones is fewer trips to the store.
You can also establish your style and get tailored results when shopping online with a more straightforward process. You get all the details with both experiences, including your style and size, but some key differences must be highlighted.
This comparison will help you while on the fence about either service, and I will reveal the core elements so you can confidently make an informed decision! Let's jump into it and thoroughly analyze both subscriptions side-by-side.
You'll be happy you read this article before making the final decision, and it's my pleasure to aid you during the deliberation process!
Bottom Line Up Front
Wantable and Nadine West are clothing subscription services that allow you to get suitable clothing kits sent straight to your door without heading to the store.
Overall, Wantable is the two options' more expensive and prestigious service. Nadine West is way more affordable, which will still appeal to many on a budget.
For instance, Wantable has a 20$ fee for styling, unlike Nadine West, which has no fee.
Making your choice comes down to your stylistic desires and how much you're willing to spend. In the end, they are both viable options with rewarding clothing.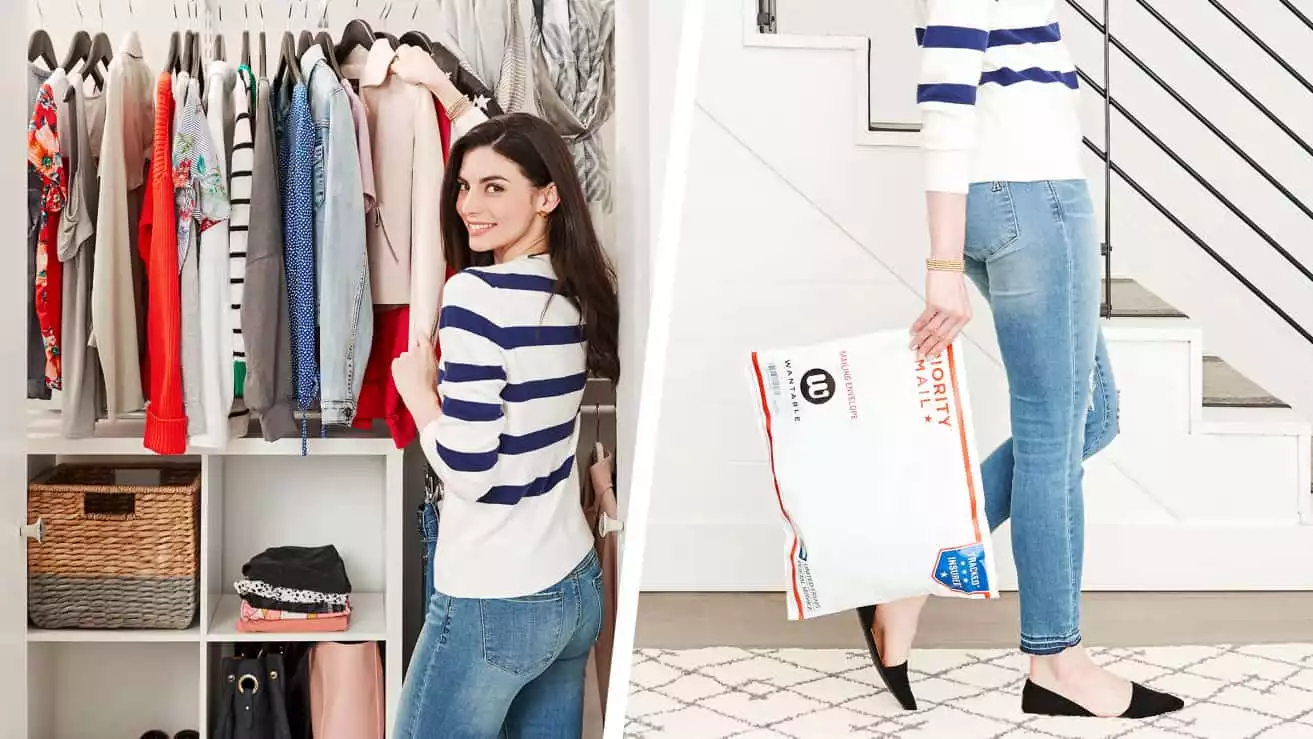 Expert Personal Stylists | Wantable
Wantable is a try-before-you-buy online retailer. Personal stylists create one-of-a-kind relationships with customers to fuel their confidence with looks geared to their unique tastes, needs and wants.
Check Prices
We earn a commission if you click this link and make a purchase at no additional cost to you.
Main Differences Between Wantable vs Nadine West
The main differences between Wantable vs Nadine West are:
Wantable is the more expensive subscription service, whereas Nadine West is highly affordable.

Nadine West has no on-trend clothing, whereas Wantable focuses on current fashion trends.

Wantable intensely focuses on high-quality brands, whereas Nadine West offers lower quality.

Nadine West sends a random amount of items, whereas Wantable will send you a precise amount.

Reviews for Nadine West are relatively poor regarding customer service, whereas Wantable seems more reliable.

Wantable has superior-quality clothing, whereas Nadine West is underwhelming and of lesser quality.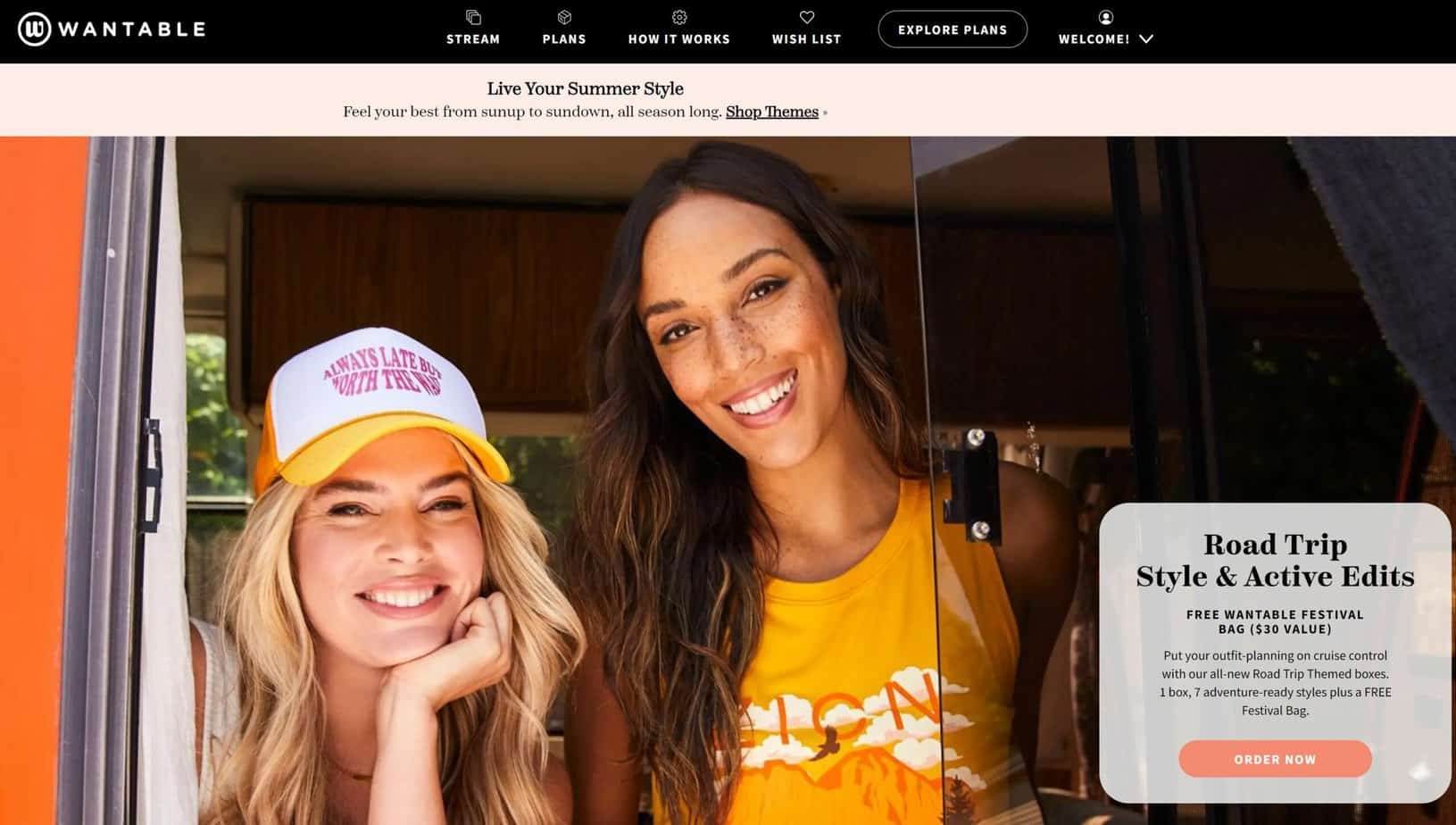 Main Services Offered
Wantable offers you the standard services you expect from a clothing subscription service but with much sweet icing on the cake with a more refined shopping experience.
They offer delivery of a clothing package to your door without stepping foot in a store. Wantable considers the standard details, including your style & size, so you can feel encouraged that the package arriving will have something favorable to wear.
However, if you're unsatisfied, you can keep whatever you cherish and return the clothing you don't.
Their main service emphasizes on-trend items that are in fashion and look exquisite with well-known designer brands. They offer a wide selection of various clothing types, and the quality is superb, making it worth the higher price.
Personalized Style Profile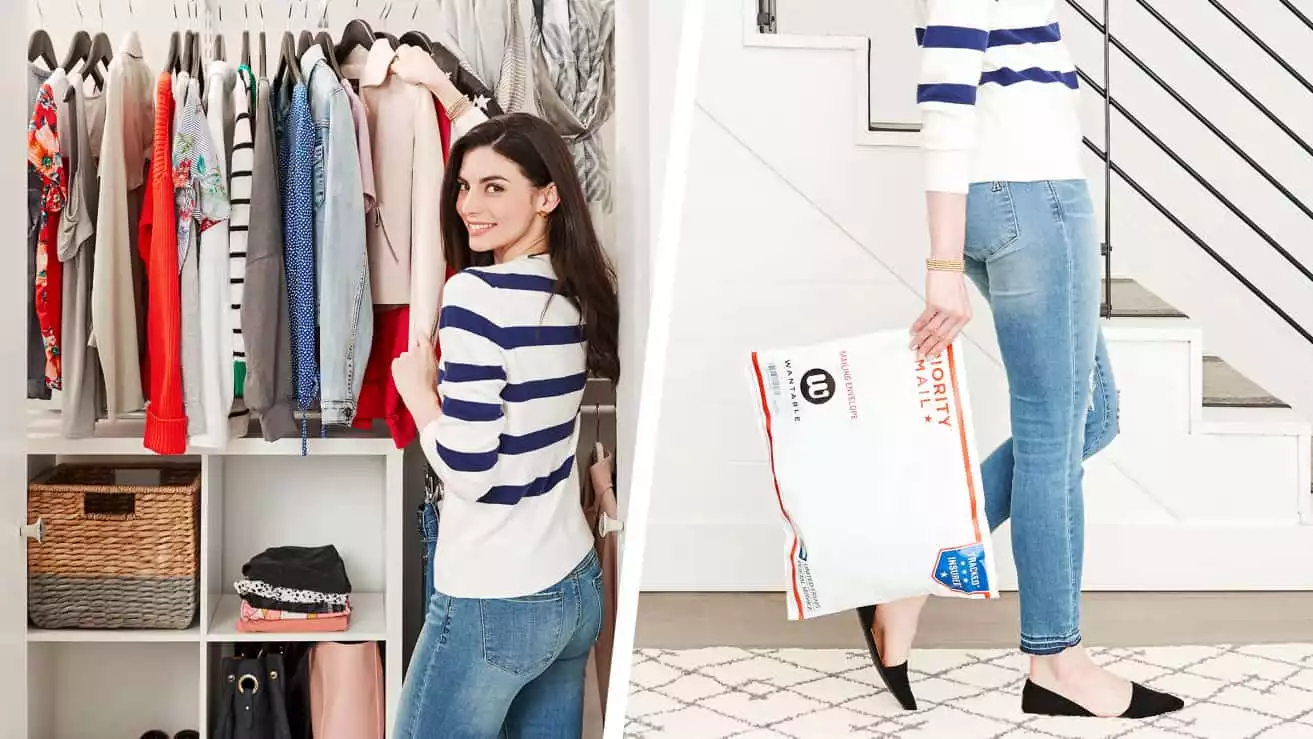 Expert Personal Stylists | Wantable
Wantable is a try-before-you-buy online retailer. Personal stylists create one-of-a-kind relationships with customers to fuel their confidence with looks geared to their unique tastes, needs and wants.
Check Prices
We earn a commission if you click this link and make a purchase at no additional cost to you.
There are some imperative details that Wantable will need to assess before piecing together your personalized clothing box.
Your customized style profile will establish your size and style preferences. The program's foundation will set the stage for equipping you with a beautiful clothing selection!
After you have given the necessary information, they will start your box to be sent expediently based on your style profile. This means that each customer is different, and it is a staple of the business for them to know their customer's needs.
When it comes to clothes, this is a critical step that they do incredibly well to assess your needs so you can thrive in clothes you adore!
Cost & Styling Fee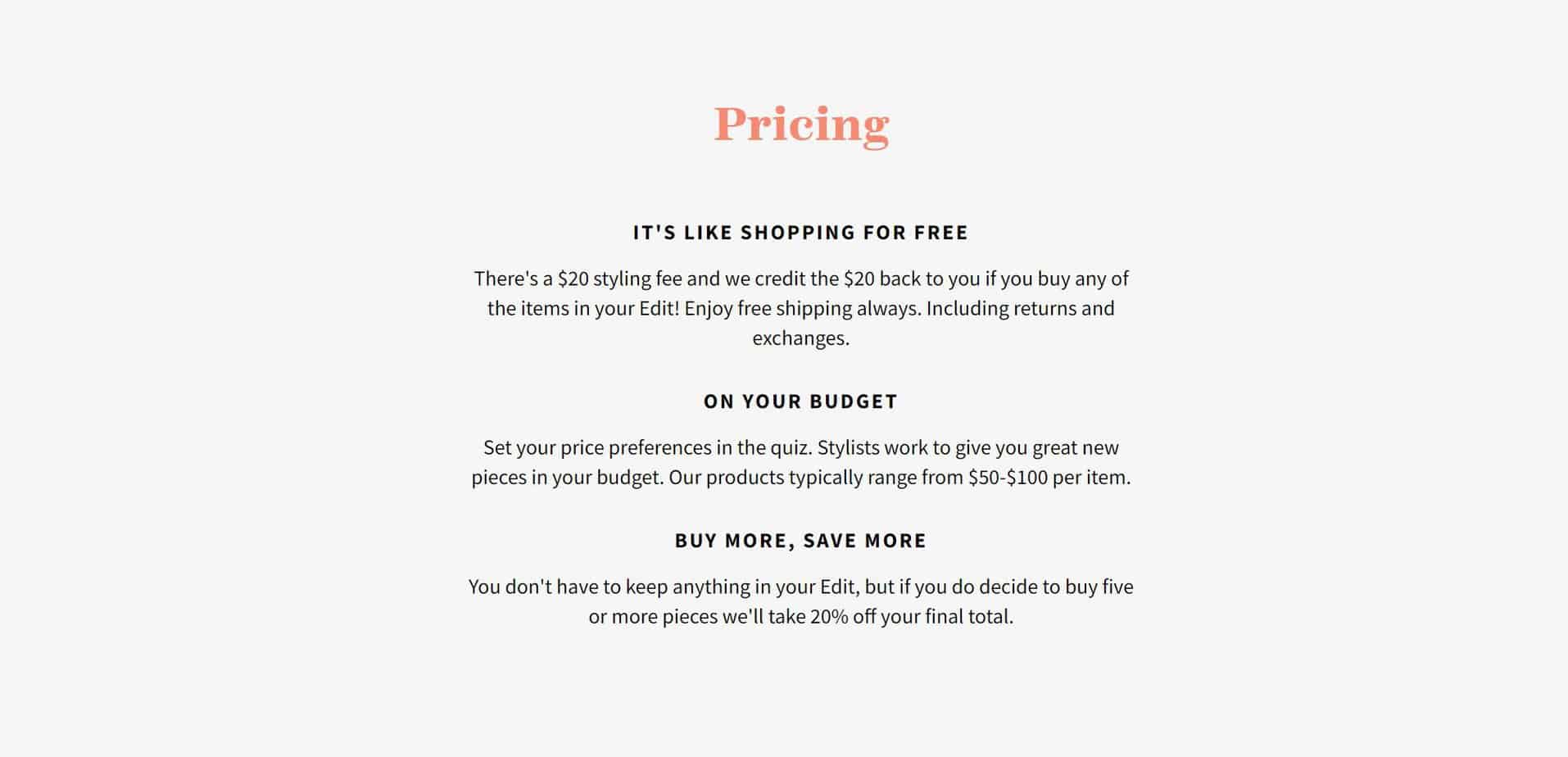 The cost is always a concern, obviously out the gate, and Wantable isn't cheap. However, many clothes are overpriced in person unless you get a convenient sale.
At least here, you know you're getting high-quality brands and trending clothing without lifting a finger. Many pieces will come as a welcome surprise and will most likely be worth it if you can afford the higher price range.
You will be charged a $20 styling fee for each edit you do with Wantable. However, there's a silver lining: you can get 20% off purchasing five or more clothing items.
Since this service is the more expensive, it would be wise to take advantage of this offer and get more stunning clothing for a discounted price!
Various Outfit Edits Available
Style Edit:

This is their category for women and helps you settle on petite or plus-size options with various accessories and attractive apparel

Active Edit:

This outfit edit focuses solely on women looking for sporty clothing that accommodates an active lifestyle and vigorous activities.

Sleep & Body Edit:

This edit offers women nighttime clothing and underwear to stay comfortable and accommodated, including panties, bras, pajamas, & various other loungewear.

Men's Active Edit:

This edit is for either men's leisurewear or appropriate workout clothing.
What to Expect In the Box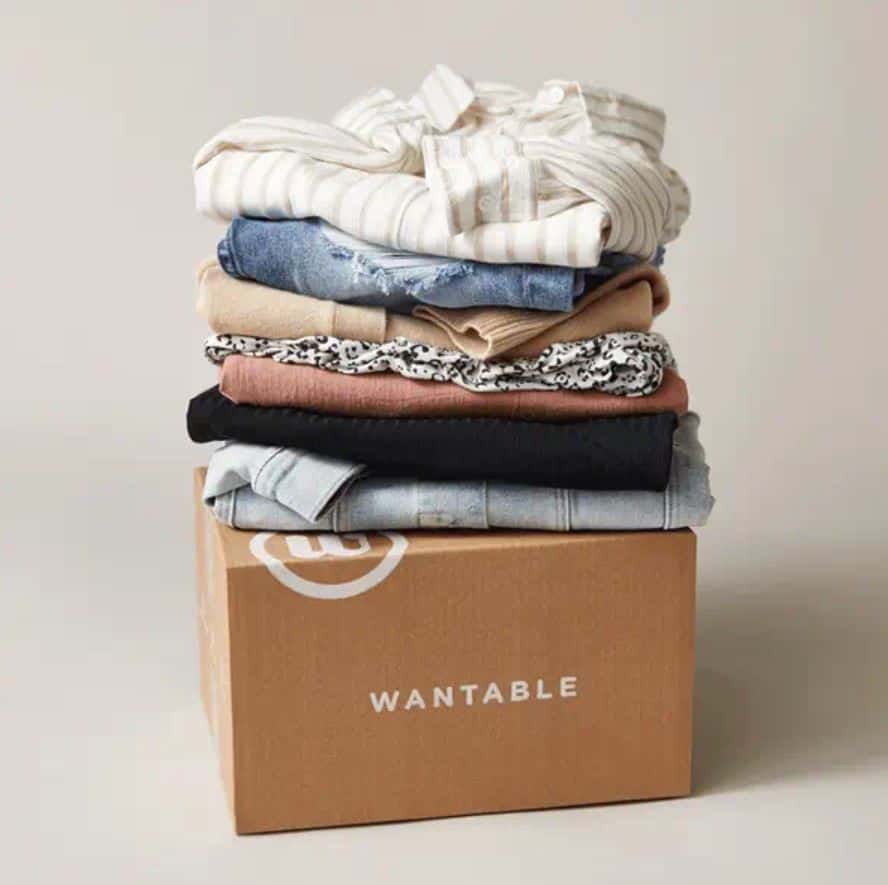 Type & Quantity of Items
With Wantable, you will receive various item types, including accessories, clothing, and dazzling jewelry to complement any piece.
Remember that Wantable doesn't send shoes, so that might be a dealbreaker for some. However, they have all the other standard clothing categories, and I have listed them here for you.
Activewear
Outerwear
Tops
Sweaters
Necklaces
Handbags
Bracelets
Brands & Sizes
Wantable will have specific sizes available to you, and it's important to know what they are so it's a good fit. They include Women XS-3X (0-24W) and petite sizes but with no maternity.
Men's sizes are S-XXL regarding sportswear. They carry various brands as they are partners with hundreds of recognizable fashion companies. I can't list them all here, but these are some prominent ones to consider when deciding.
Cupcakes & Cashmere
Kut From The Kloth
Onzie
Beyond Yoga
Rhone & Alternative Apparel
Wear It To Heart
Hudson
Overall Service Pricing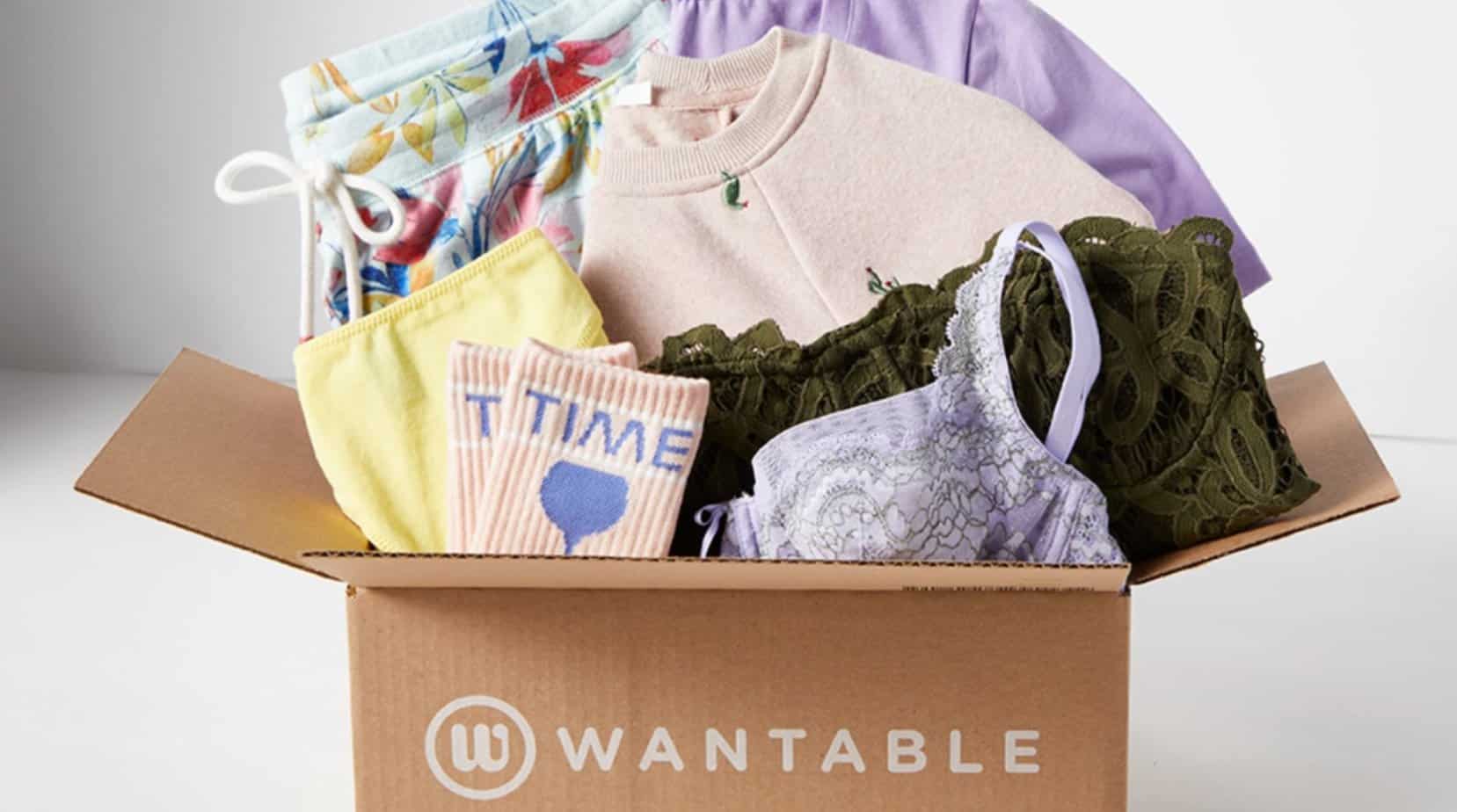 You can expect individual items to be around fifty to one hundred dollars, but in some cases, it can be even lower at approximately thirty.
This is encouraging because it means you can compromise and get some cheaper clothing even if the price is higher for this service overall. Men's activewear and individual items are around thirty to seventy dollars per.
If you're looking to reduce the pricing of this service, then pay close attention to your style quiz when conducting it.
They will only send you the items you have liked or loved during this assessment. Another unique feature of Wantable is that they will lower the price if you find another retailer offering it for less than their listing.
Pros & Cons Of Subscribing To Wantable
Pros
Higher quality items and reputable brands
Opportunities to save money with discounts
A comprehensive style assessment to get what you need
The ability to send items back if necessary
Excellent customer service & a good online reputation
Cons
Pricier than average, but you get your money's worth
It may take a while to get things sent
Online shopping means you can't try them on until they arrive
There is no guarantee you will like everything that arrives
Main Services Offered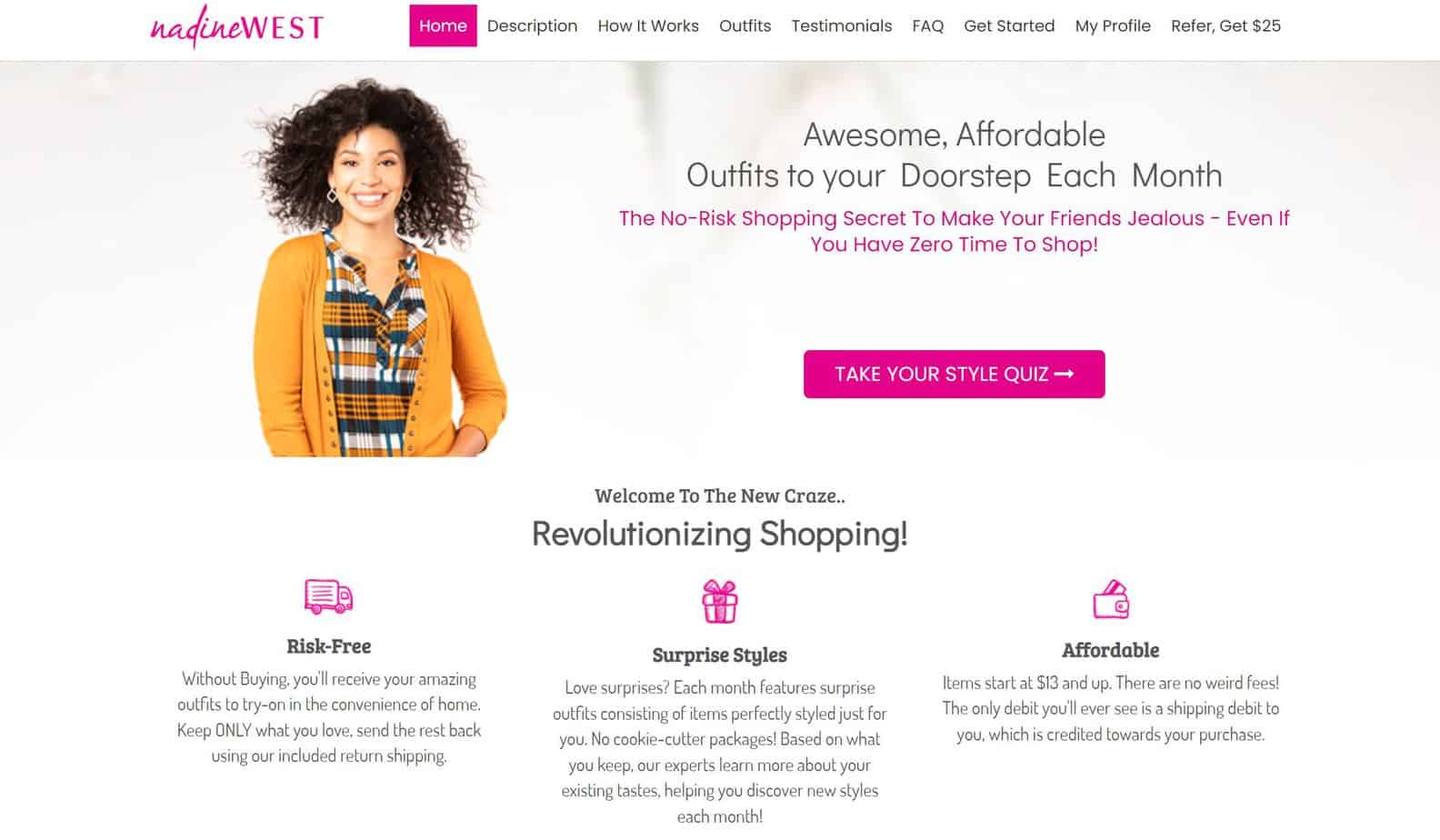 Nadine West offers clothing boxes that equip you with a random selection of items based on your style assessment.
This is the first task they'll ask you to complete so they can better understand your needs and assemble a special box for you. They offer you the standard for clothing quality and will deliver them to your door without worry.
Nadine West will also allow you to return items, just as Wantable does, if you aren't satisfied. However, there have been some reports of issues regarding getting your money back.
Not everyone has this problem, but it's worth noting so you can be aware. The services offered here are lower-quality, but that doesn't mean it's terrible.
Personalized Style Profile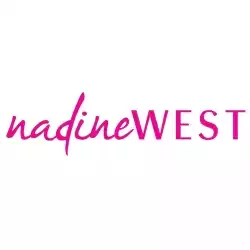 Your Personalized Fashion Curator | Nadine West
Nadine West is a popular subscription-based fashion service that simplifies the shopping experience. With Nadine West, you receive personalized clothing and accessories selections delivered to your home, allowing you to discover new styles and update your wardrobe conveniently.
Take Your Style Quiz
We earn a commission if you click this link and make a purchase at no additional cost to you.
When you reach the Nadine West website, you will start the process by taking your style quiz.
This is critical to moving forward because it allows them to establish a personalized strategy for you. During the construction of your customized style profile, you will give adequate information about your preferences, prints you adore, colors you avoid, top and bottom size, favorite metals, and even areas you wish to conceal.
This helps narrow the options so that you are more likely to receive things you'll appreciate and keep. After all, we all have different bodies and styles, which they understand intimately through this exchange of information in light of your needs.
Cost & Styling Fee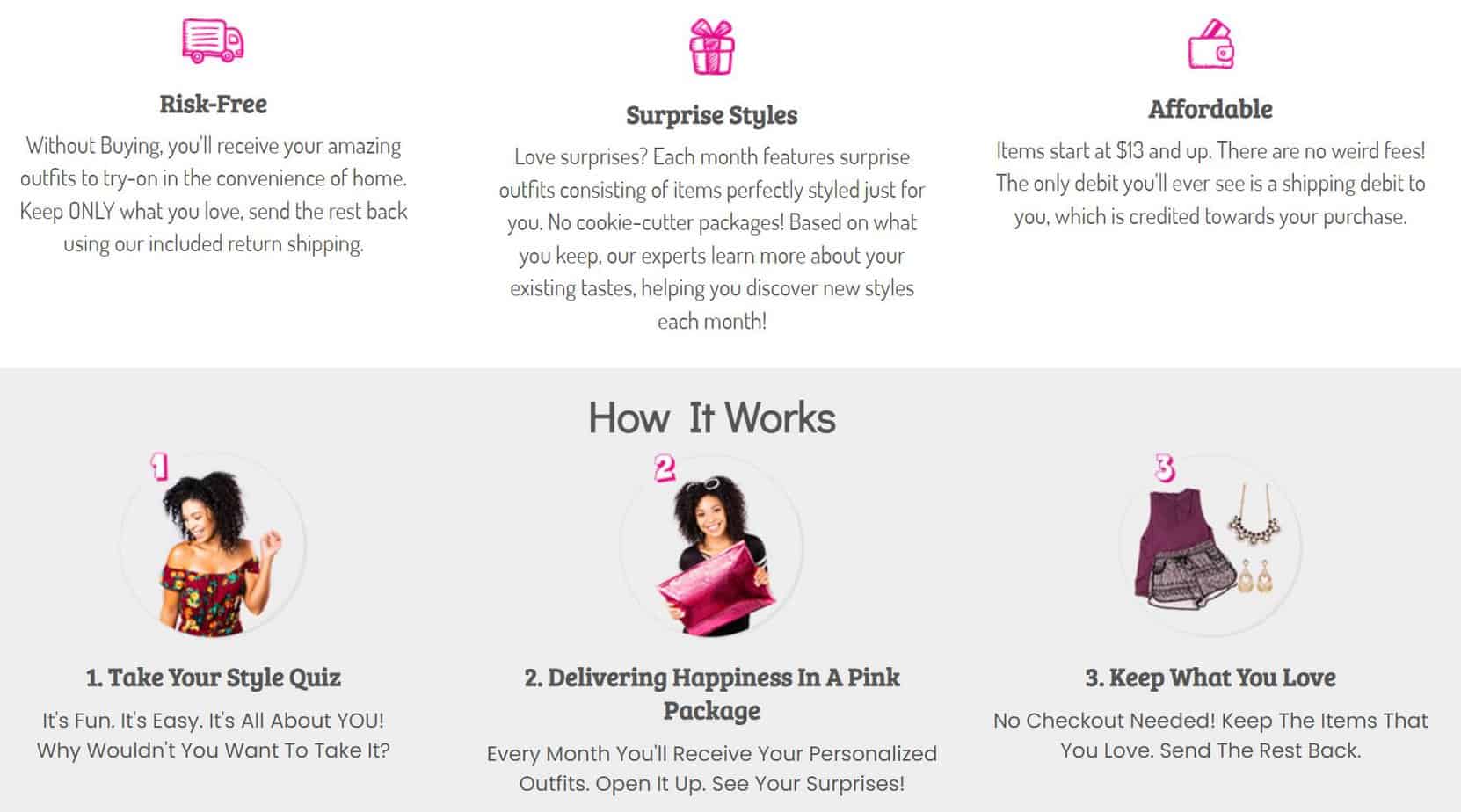 You'll be pleased that Nadine West doesn't charge you a styling fee. However, you must pay around ten dollars for shipping if you keep any delivery. If you don't like the entire shipment, it can be returned in full without a shipping fee.
This is a more affordable option, but the quality will be less. It's slightly concerning, though, because when you pay a styling fee, they will put more heart and consideration into selecting your items.
Here, you may run the risk of it being somewhat halfhearted in its selection process.
What To Expect In The Box
Type & Quantity of Items
Nadine West doesn't have a set amount of items you receive with any purchase. This means you'll get more or less sometimes, depending on their combinations.
Whatever fits in the box is what they send, but rest assured it will be lower quality than ordering from Wantable. Still, increasing items is attractive, knowing you get more clothing.
Brands & Sizes

As far as I can tell, no name brands are offered from them, but that's okay, considering off-brand products still work well, and sometimes people don't even know the difference.
However, you'll be sorely disappointed if you're a brand fanatic and only buy the best. The size range for Nadine West is Womens: XS-3X (0-24W) for your reference.
Overall Service Pricing
You will find that the items from Nadine West are exceptionally affordable and fall into the ten to thirty-dollar range.
This is much easier to obtain. With a subscription service, price matters because you're continually paying for it. The lower price reflects the quality, but if you're not picky or believe clothes are clothes, it's the perfect service with a more manageable price range.
Pros & Cons Of Subscribing To Nadine West
Pros
Potentially receive more clothing than the average subscription box
You can return your clothing if you don't like it without paying shipping
A decent selection to choose from
Affordable clothing without the chore of shopping
Style Quiz to assess your needs and tailor the experience
Cons
No name brands are available here
Some reported issues with customer service
Lower price means lower quality
Limited sizes & no men's apparel
Other Alternatives To Consider
These are just two clothing subscription services you can find online, but there are countless other alternatives if you didn't find your home in either. Sometimes it takes a while to weigh the options, but here are a few more to consider trying to broaden your horizon.
Nothing stops you from having multiple clothing subscriptions if you have the money. Here are some alternative services to consider:
The Collective Child
Me, My Suit & Tie
Short Story Box
Urbane Box
Five Four Club
Elizabeth & Clarke
Bombfell
FAQs
Question: Will I get cheaper or lower-quality clothes if I subscribe to Nadine West?
Answer: The old cliche rings true, "You get what you pay for." Don't get me wrong, Nadine West has some suitable clothing if your concern is only functionality and getting some convenient new pieces.
Still, you sacrifice the quality and lose out on stylish brand names that could enhance your wardrobe further.
Question: Would it be good to try them both before deciding?
Answer: There are incredible benefits to a first-hand experience with each clothing subscription service. Then you might find some more differences in your comparison.
You will most likely stop one of them after choosing, and it comes down to personal preference. If you're still having trouble deciding, ordering them a single time might help.
Question: Why is Wantable more expensive, and is it worth it?
Answer: Wantable is more expensive than Nadine West, but you get added perks and more versatility when choosing trending clothing.
That being said, the increased price doesn't come without worthy benefits, making it a more prestigious experience for those who can afford it. It's all about discovering your clothing standard.
If you have a lower standard, then Nadine West is more suitable. If you care deeply about style & quality, then the Wantable subscription is calling your name!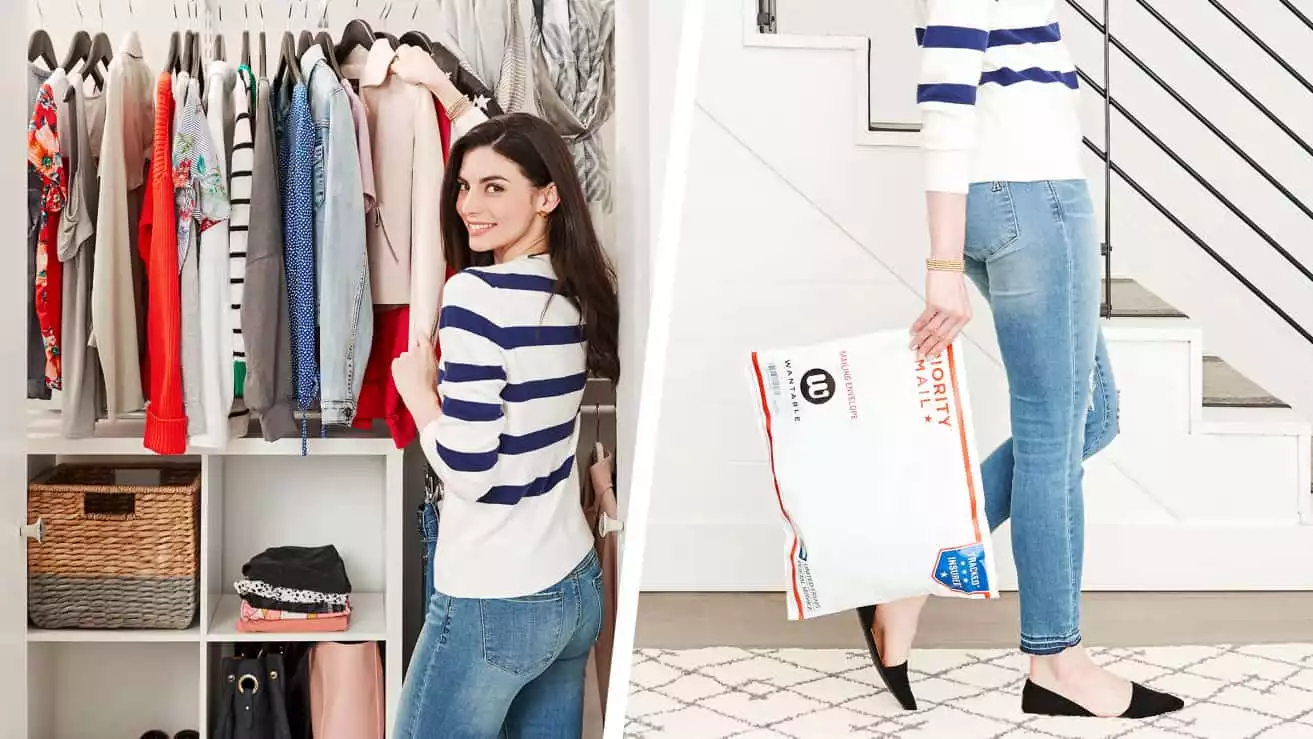 Expert Personal Stylists | Wantable
Wantable is a try-before-you-buy online retailer. Personal stylists create one-of-a-kind relationships with customers to fuel their confidence with looks geared to their unique tastes, needs and wants.
Check Prices
We earn a commission if you click this link and make a purchase at no additional cost to you.
Wantable vs Nadine West Compared: Conclusion
You can't go wrong with either subscription, but Wantable offers higher-quality trending items! Choosing either Wantable or Nadine West comes down to determining your needs, and you should have a grasp of the differences by now.
We have gone through a comparative analysis of each company so you can make the right decision. Each one has redeeming qualities and is worth trying, even if it's just for a month.
First-hand experience is more powerful than any article, but one of the services most likely stands out more than the other to most. In my opinion, Wantable is the better service overall, it's just not the most affordable, and that's a prominent variable to consider with your budget.
You will undoubtedly get higher quality items from Wantable, but you will spend more money.
Take your time when making the final decision; reviews can also help illuminate potential problems with either service.
They allow you to gather perspective from someone who has already tried either service. It has been my pleasure to compare both sites so you can make the appropriate choice and stay stylish year-round!