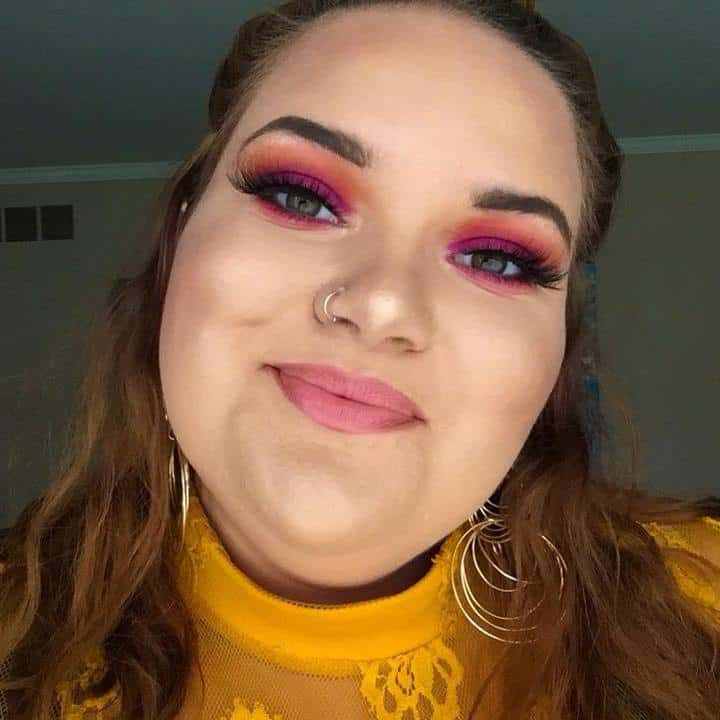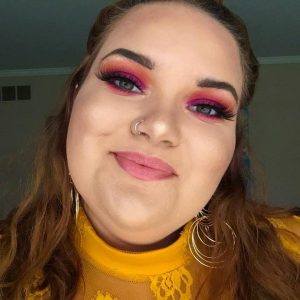 Latest posts by Alizabeth Swain
(see all)
Are you looking around for a meal kit delivery service that will help to make your life easier?
I'm in the same boat as you. There are so many different meal kit subscription boxes that are typically very expensive, and I'm not really interested in showing a lot of money for something that I'm possibly going to be disappointed in.
That's why I decided to try EveryPlate. If you are here to see if EveryPlate is a meal delivery kit that is worth ordering, you are in the right place.
My EveryPlate Verdict: Will I Be Ordering Again?
As someone who has tried a ton of meal delivery kits, I would have to say EveryPlate is one of my favorites. They promised tasty meals at an affordable rate and they delivered! While I wish I had more options for special diet requests, I found that there were a ton of choices in meals I could make and they were all delicious. I would definitely order EveryPlate again!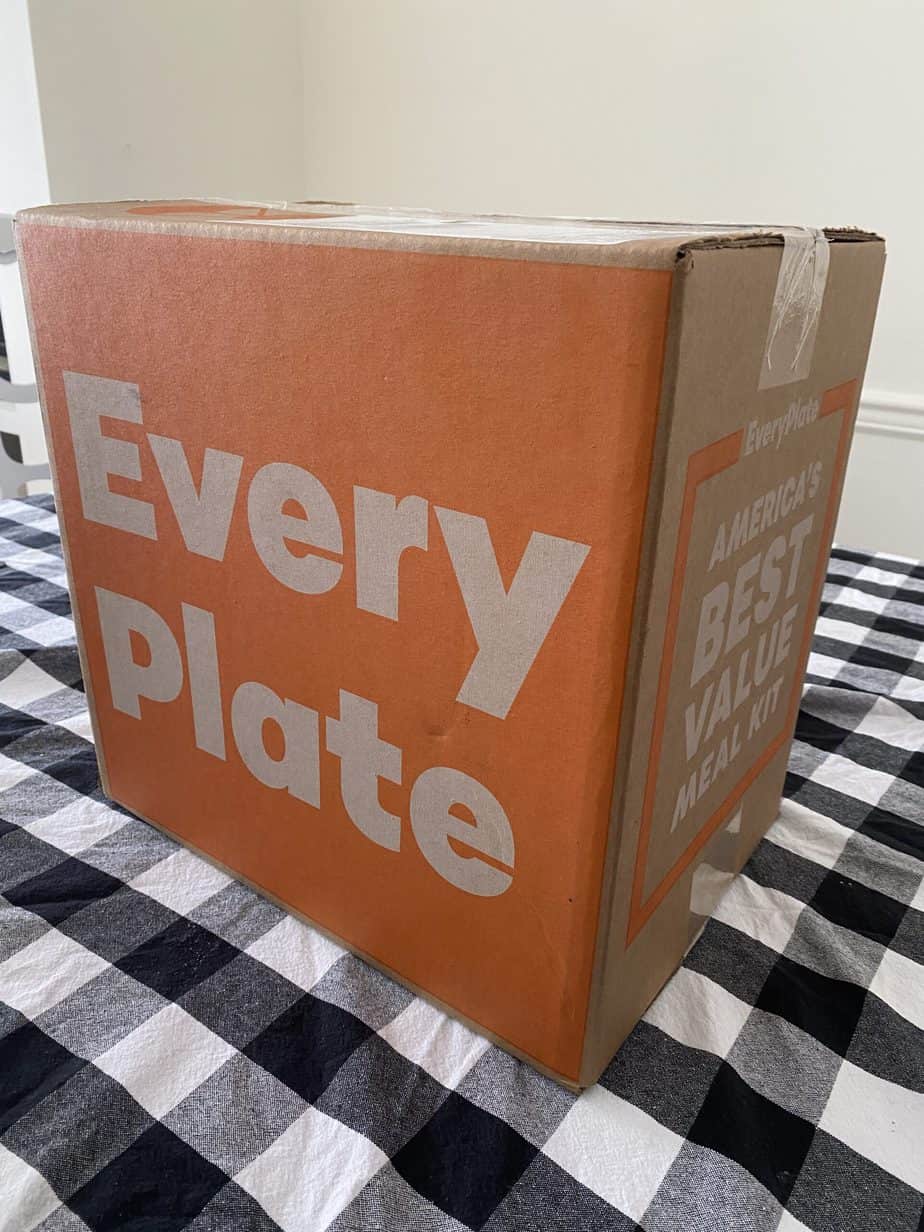 Choosing a Meal Delivery Service: Why I Chose to Try EveryPlate
There are not that many meal kit delivery services that can actually deliver true value compared to buying the ingredients yourself at a grocery store. But, if you are looking for convenience and want to try some new meals, meal kits are a great way to go. I've tried dozens and dozens of meal kits and have found that most of them are not as budget-friendly as I'd like.
There aren't many meal service options available on the market that truly cater to a cost-affordable option. If you've got a family of four or five to feed, spending $8 or more per serving just isn't affordable. And even though I don't have a family of four to feed, I'm also not looking to shell out a lot of money per serving unless I'm investing in quality ingredients or fancier meals. And, yes, the meals have to be easy to make and taste really good!
I find that not every meal kit delivery service caters to specific diet requests. I personally follow a low-carb diet, but there weren't any meal kit options out there that were cost-affordable, with less than $5 per serving and no carbs. Maybe, I may just be asking for too much.
There were only a handful of options for me to go and choose from. So, I ended up choosing the one that had the cheapest meal options I could find.
So, I ended up ordering from EveryPlate. If you've been looking around on the market to learn about EveryPlate and what their service has to offer to you and your family, I'm here to help you make the best decision for you and your family.
I've treated this complete guide to breaking down my shipping experience, my ordering experience, the cooking instructions, the overall meal quality, and if I would order from their company again. Plus, I'll also help break down some of your FAQ so you can better understand whether or not this may be the best meal kit option available to you. Keep reading to learn more!
My Ordering Experience with EveryPlate
When you go on their website, you'll see that EveryPlate describes itself as a company that offers crowd-pleasing meals that can be made at home. When I first clicked on the website, I noticed that they allowed users to choose from 14 different affordable recipes.
It's also important for you to know that the recipes they offered change up every week. So if you find a recipe but you're really interested in trying, make sure that you get it. This is because it likely won't be available to you the following week.
After you go through and select the meals that you like to receive in your kit, everything will be shipped to your door. EveryPlate says all of the meal options they offer can be cooked in your home in less than 30 minutes. A big promise, will they deliver?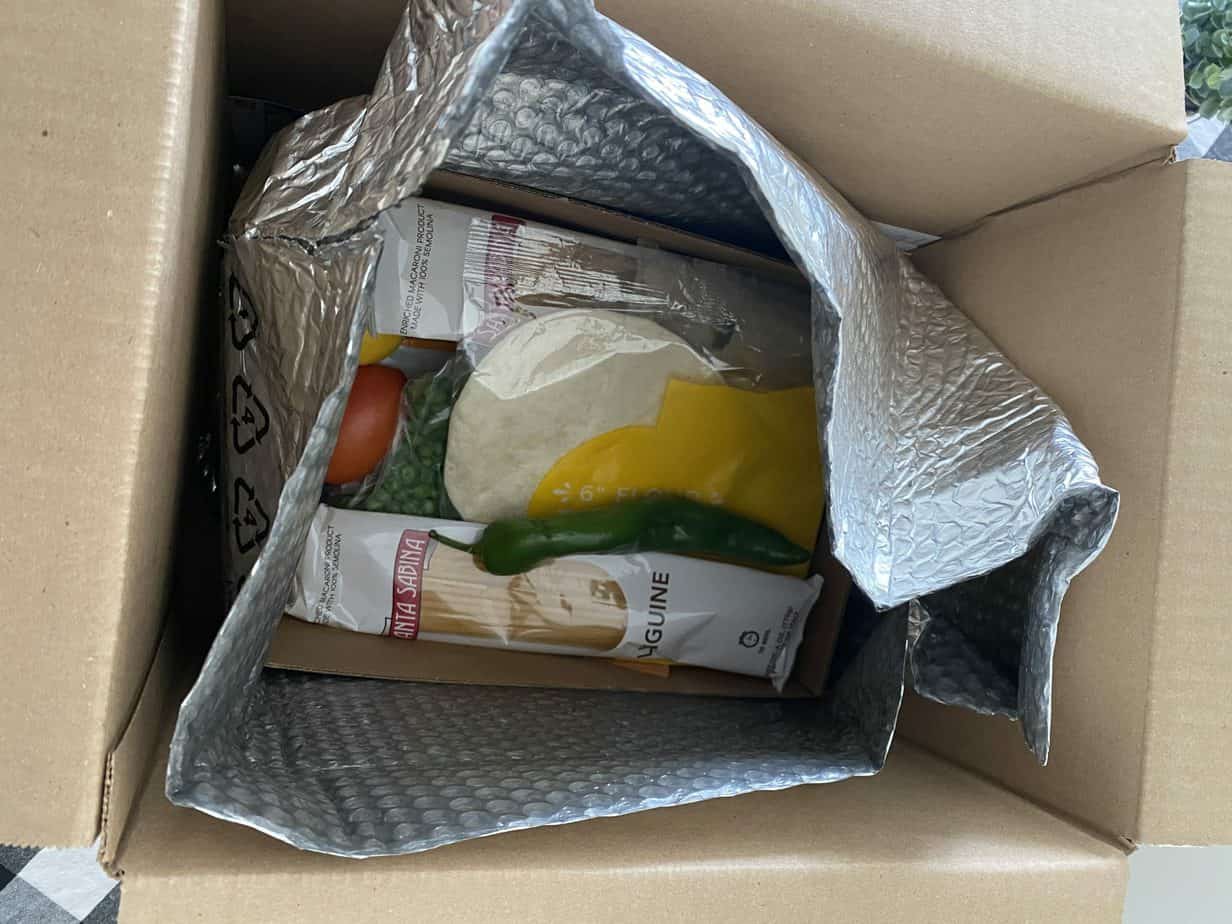 EveryPlate says that choosing a box subscription is a great idea because it will help you to skip the need to go to the grocery store. So, they say that you won't be wasting as much time grocery shopping, and you won't have to wait in line to check out with your groceries.
Their promise is that you will save yourself money because you won't be spending as much on groceries. They claim that their dinners only cost $4.99 a serving. Plus, they also claim that their recipes are super easy to cook. EveryPlate says that each recipe they have only takes six steps to cook.
When you first sign up for your subscription, you will have to choose how many people will be eating your meals. Plus, you'll also get to choose how many meals you want to be delivered per week.
Now, there was something that I didn't really like about the available options they had. You can only choose between having two or four people on your plan. It's you've got a huge family; this is not a subscription option that would really work out for you. Or, if you're single and only looking for meals for yourself, you will be eating the same meal two days in a row. Or, it might be a good thing if you're single because you can make yourself lunch and dinner for the next day.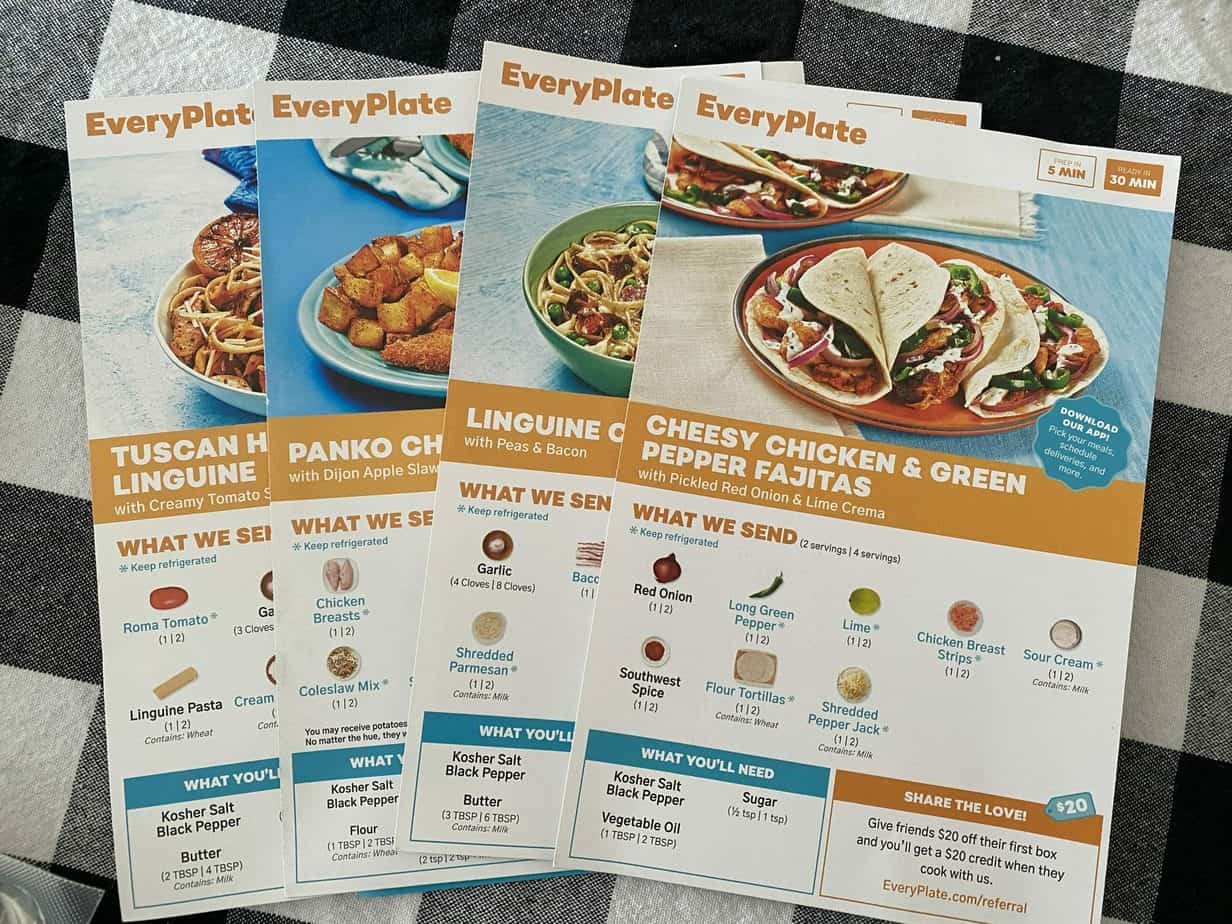 With meal options per week, you can choose between three meals, formulas, or five meals. Also, you don't have to worry about committing to EveryPlate. That's because you can cancel or pause your subscription any time that you want, no questions asked.
After you choose how many meal kits you're interested in receiving and how many people you're looking to feed, you'll have the option to choose when you would like your delivery to come. You will have the option to choose between Monday, Tuesday, Wednesday, or Thursday.
After signing up the first time, you will get to choose the first day you receive your EveryPlate plan. Plus, you can highlight any delivery instructions that you would like the delivery driver to follow. For example, if you want your delivery driver to leave your subscription box at the front door, you can choose the "leave at front door" option available on the drop-down menu.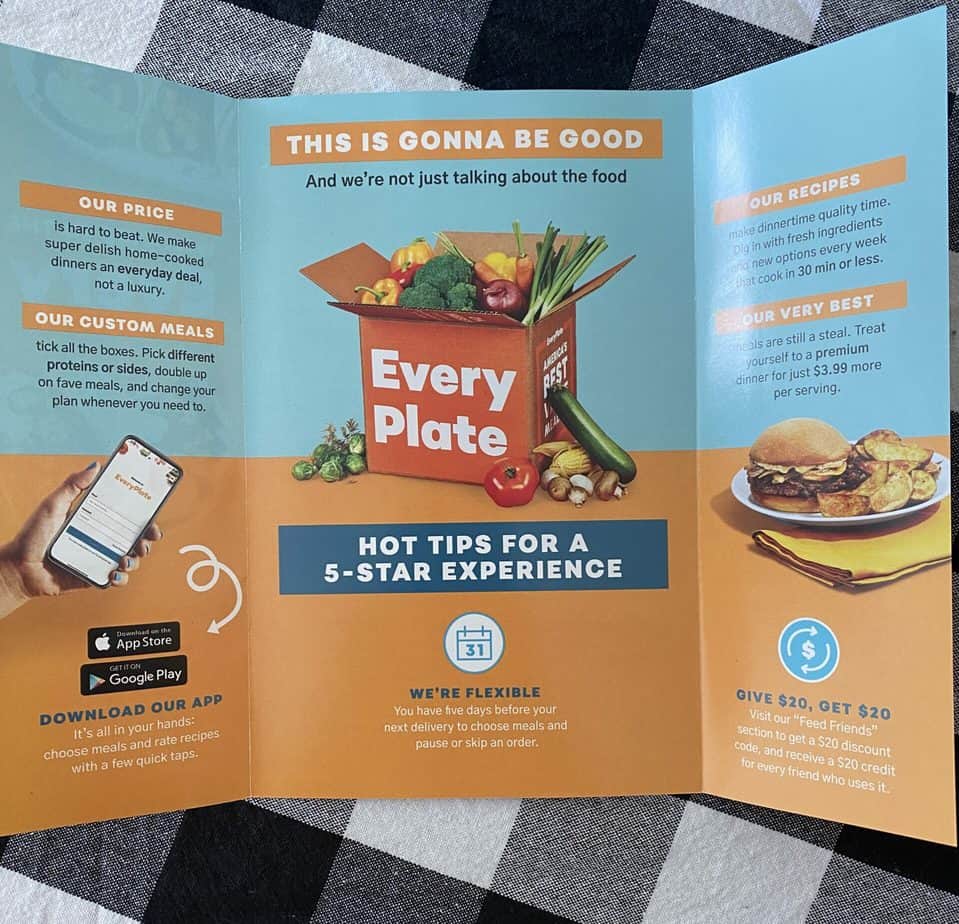 For example, if you are going to need to feed four people for four days, you will be getting recipes in your box. At $4.99 per serving, the grand total for dinner for four people for four recipes is $79.85. Also, you will be charged $8.99 for shipping. So, that'll leave your grand total for the four recipes for four people at $88.84. Now, let's do some math and break down the actual cost per serving when you include shipping.
Total = $88.84
4 recipes x 4 people you're serving = 16
$88.84/16 = $5.55/serving
My Shipping Experience with EveryPlate
Well, I actually didn't have any problems with EveryPlate shipping. I did order my subscription a week before a major snowstorm was set to hit us. Unfortunately, the snowstorm did end up hitting me when I was supposed to get my EveryPlate box. Thankfully, I was still able to get it delivered right to my door!
There are other subscription companies out there that I have used that didn't deliver during a snowstorm. So, I was very happy, but I still got my box come on even though there was a snowstorm on the way.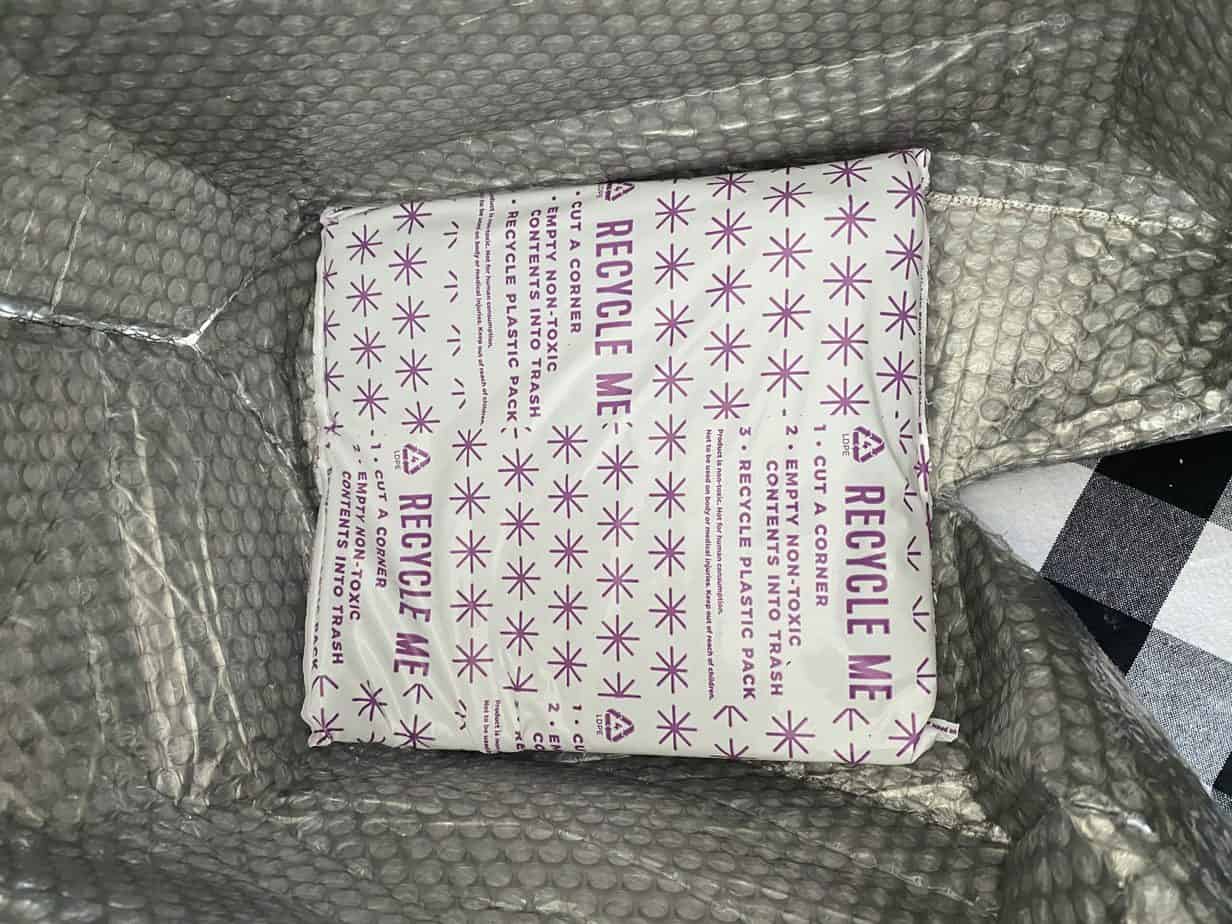 My box didn't arrive with any damage. The shipping was fast, and the tracking was accurate. I know that FedEx, USPS, and ups are still having shipping difficulties because of the effects of Covid. However, I can say that I am grateful enough that I didn't have any problems with my order from EveryPlate.
On the outside of the box, it had the classic EveryPlate Orange coloring. The box says EveryPlate, America's best value kit.
My Unboxing Experience with EveryPlate
After I cut open the box, I was able to peek inside to see my package. At first, I was greeted by a large silver bag that contained all of my ingredients. On the side of the silver bag, there were my recipe cards.
I love getting recipe cards! It's really convenient to have them when making meals at home and I like to save the meals I love to try to recreate again later.
At the very bottom of the box that I received inside the bag was an ice pack. The giant ice pack had instructions and how to recycle it. I did keep my EveryPlate outside all day before I brought it inside, but I received this in February. It wasn't hot outside, so I can't really test how well the ice pack keeps all of the ingredients cold and fresh.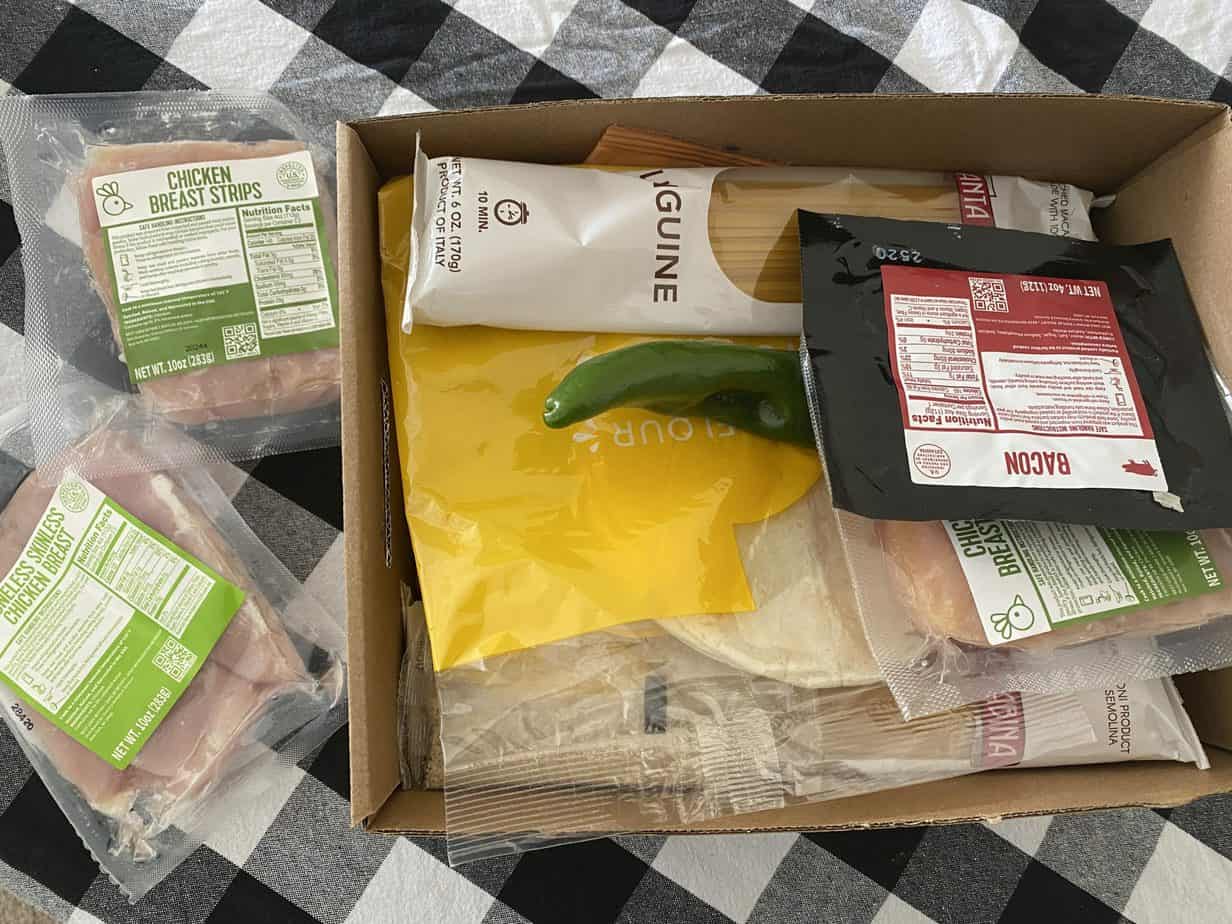 On top of the ice pack was all of my meat. Inside the cardboard box were the rest of the ingredients, including seasonings, pasta, tortilla shells, and vegetables.
After pulling everything out, I did notice that some of the products didn't look very fresh. For example, I received an apple that had a big dent in it and some scraping.
My peppers look a little shriveled, and some of my coleslaw looked a little too wet. I was disappointed to find that some of the ingredients included were what reminded me of something that I would get inside of the cafeteria.
The Philadelphia cream cheese that I received reminded me exactly that's something that I would get along with a bagel and a cafeteria. It didn't make the kits feel special or like it was anything unique.
My EveryPlate Cooking Experience
I grew up knowing how to cook. I grew up watching my mom, a professional baker and food blogger, put together all sorts of meals. So, I definitely have experience in the kitchen. I know how to make things work. I'm just looking for a meal kit that already does the meal planning for me because that's what I find is the most stressful part about cooking.
Figuring out what to eat every night, and making sure that it's something exciting, different, and healthy, is so overwhelming.
Cheesy Chicken and Green Pepper Fajita
The first recipe that I tried out was the cheesy chicken and green pepper fajita with pickled red onion and lime crema. Now, I love anything that has a lime crema on it. So, this was the first recipe that I really wanted to try.
I really like the EveryPlate instruction cards because it highlights the prep time, the cooking time, and what ingredients need to be refrigerated. For this cheesy chicken and green pepper fajita with pickled red onion and lime crema, I would have 5 minutes of prep time.
They said that the recipe would be ready in 30 minutes. Some of the ingredients did have allergen warnings, but I didn't have the option to include the foods that I'm allergic to on the website when ordering. I happen to be allergic to pork, and while I did my best to order meals without pork, there weren't enough meal options, so I was left with some pork meals.
I ended up customizing my box and choosing options with meals that didn't have any pork products or by-products in them. But, for the flour tortillas, EveryPlate warned me that it contains pork. And for the shredded Pepper Jack, if they warned that the cheese contains milk.
Also, they told me that before I started cooking, I would also need to grab a few other ingredients. They told me that I would need to grab kosher salt, black pepper, sugar, and vegetable oil. Also, they gave me different sizing measurements depending on how many people I was cooking for. For example, if I was cooking a big enough meal for two servings, I would only need one line. But if I was cooking for four people, I would need four limes.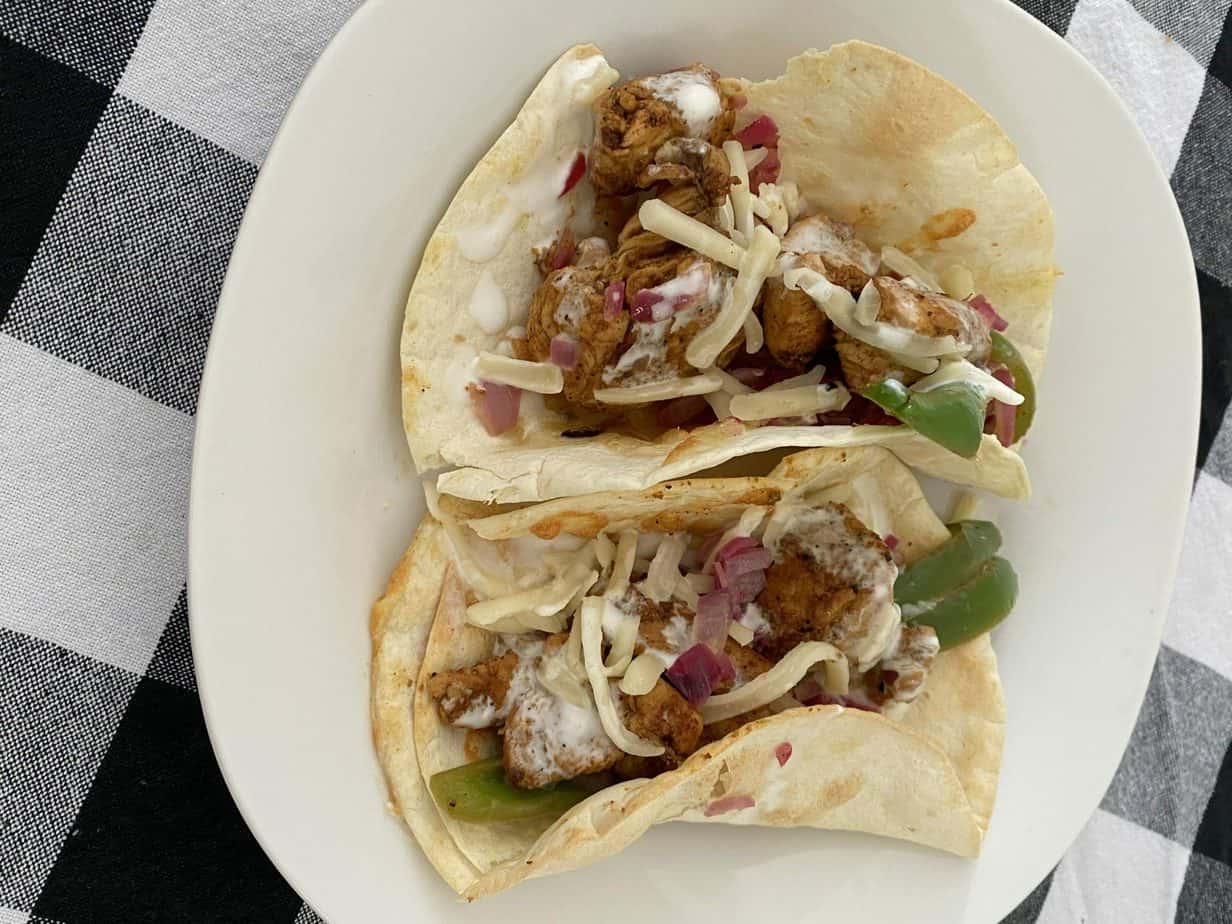 Another thing that I would like to call EveryPlate out for is their instructions. They say that each recipe only requires six steps. However, each step has a lengthy amount of other steps involved.
For example, the first step for the Cheesy Chicken and Green Pepper Fajitas was to preheat my oven. I was also told to wash and dry all of my produce. Then, I was told to have, peel, and thinly slice my onion. I was also told his desk and 1/2 a lime. Next, I was told to have core and thinly sliced green peppers and wire strips. Next, I was told to combine a quarter of the onion, juice from half of a lime, half a teaspoon of sugar, and a pinch of salt in a small bowl. That was all of the steps included in step 1.
The next five steps were similar in the instructions. While it's true, they did break everything down into six steps; they're still smaller chunks of work left inside each step.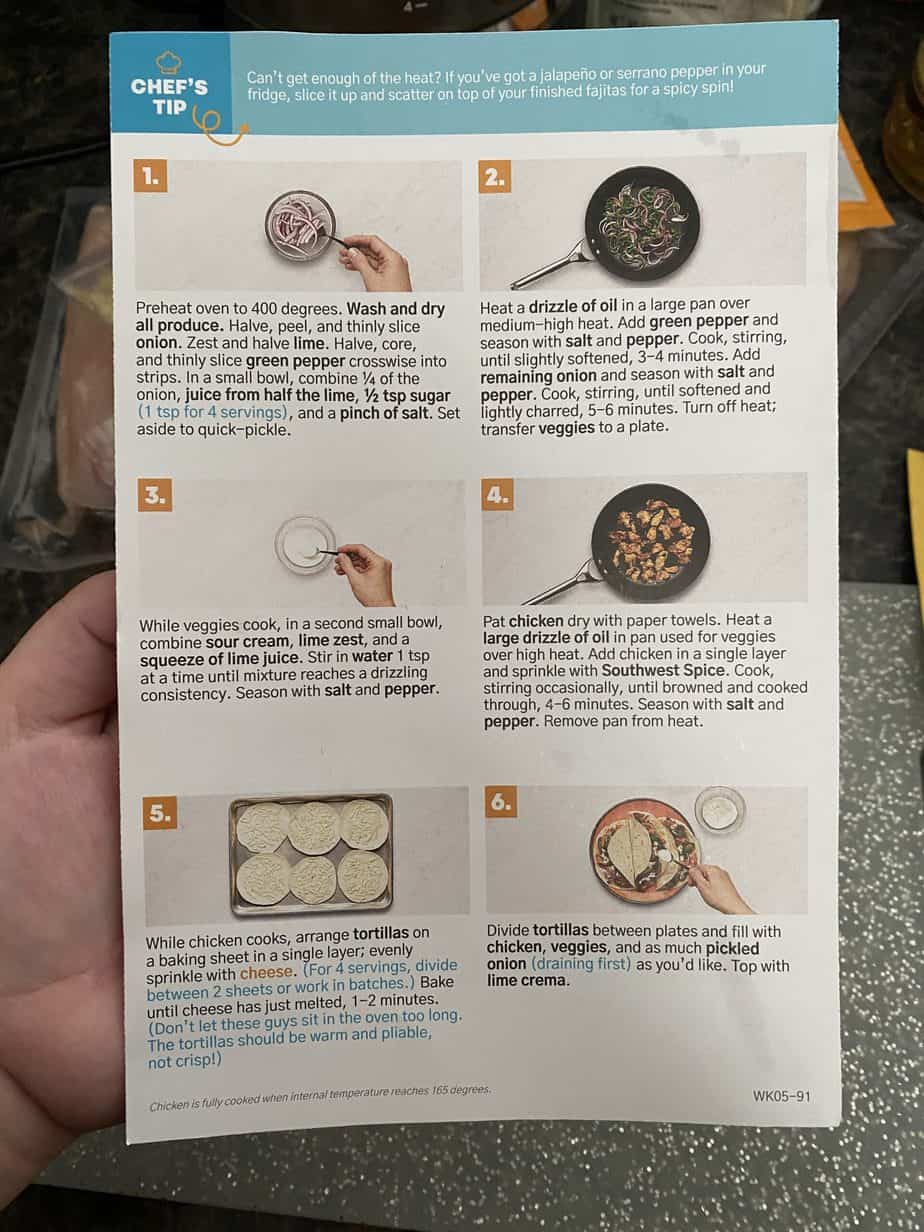 I really enjoyed the taste of this recipe, although it was spicy. My favorite part about this recipe was the lime crema because it mellowed the spice levels (which I enjoy). I could see this being a family-friendly recipe and you can adjust the heat to your liking as well.
The Other Recipes That I Received In My EveryPlate Box Include:
Tuscan Herb Chicken Linguine with Creamy Tomato Sauce and Charred Lemon

Panko Chicken Paillard with Dijon Apple Slaw and Smoky Roasted Potatoes

Linguine Carbonara with Peas and Bacon
With a carbonara that I received, there weren't any other options available on the website, and didn't have pork. So, I only had three meals to choose from that didn't contain any pork products.
My husband has always wanted to try carbonara, and I've never gotten around to making it for him because I don't buy bacon. So, I ended up making this meal for him, and he really enjoyed it.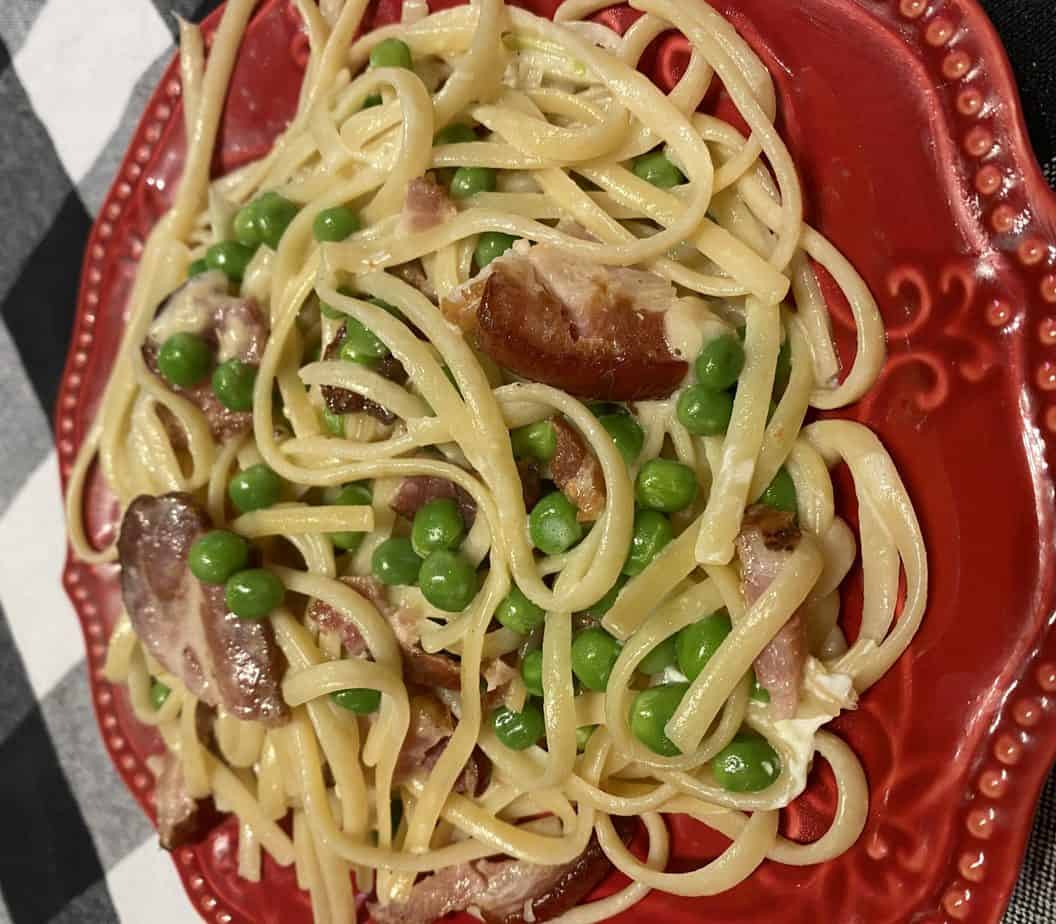 For the Panko Chicken Paillard with Dijon Apple Slaw and Smoky Roasted Potatoes, I really enjoyed this meal, the prep time was 10 minutes, and it took more like 45 minutes for me to finish cooking everything. However, every place has its only should have taken me 30 minutes. However, my favorite part of this meal was the Dijon Apple slaw, as I've made several times since I've received this box.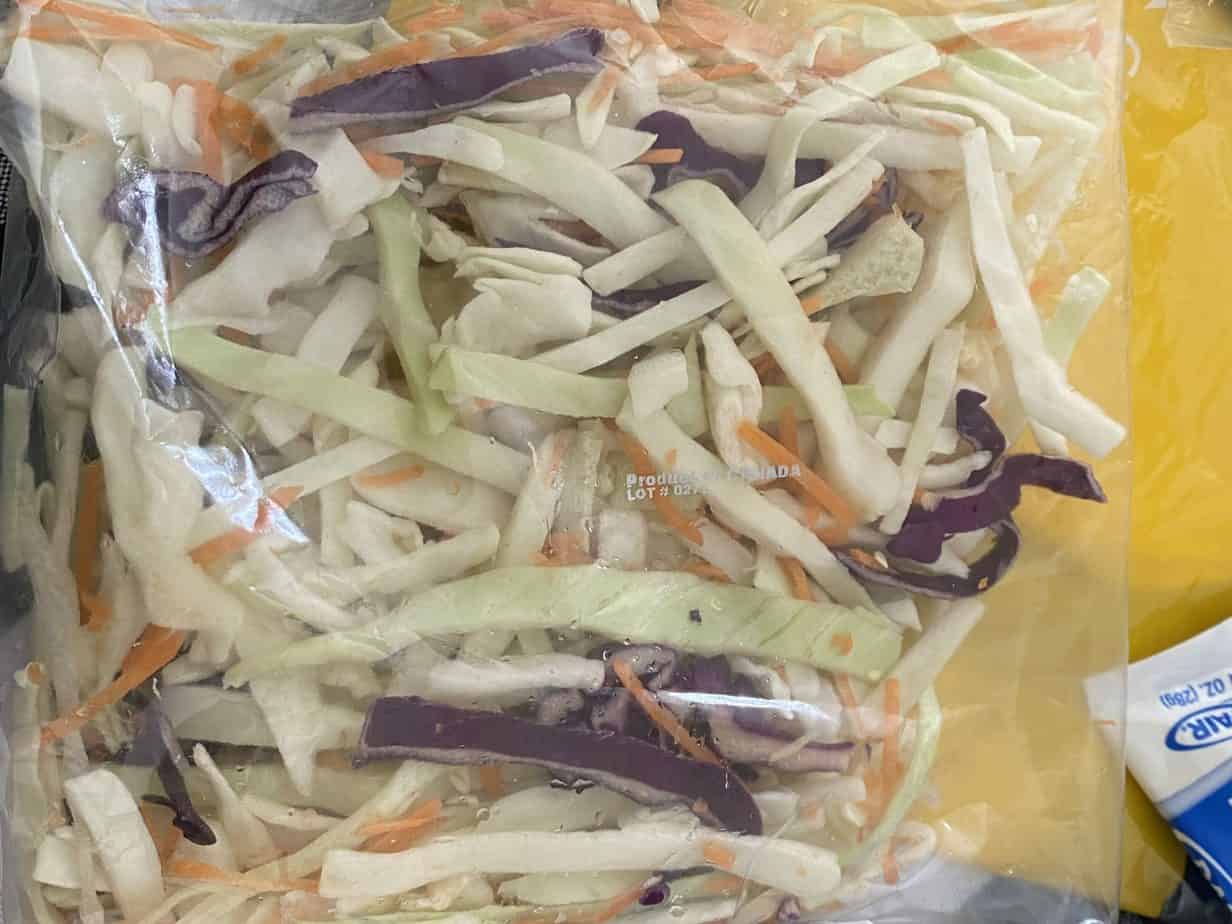 The Tuscan Herb Chicken Linguine with Creamy Tomato Sauce and Charred Lemon was an exciting meal because I've never tried cooking with charred lemon. However, I really like the different tastes that brought them a meal, is it really added an interesting element to the flavor. But, what I would say as my favorite part of the meal was at the linguine's texture. I've never had linguine that had such a soft but chewy texture. I really enjoyed that out of this pasta.
What I Liked and Didn't Like with EveryPlate
So, now that we've gone over the entirety of the EveryPlate box that I received, I'd like to go over with you something, but I did like and that I didn't like.
Pros:
Affordable

Fast shipping

Ingredients that are easy to find in the grocery store so that I can replicate meals that I create

I received recipe cards

I like how the recipe cards have pictures of all of the ingredients you need in a recipe

I really enjoyed the spice mixes that I received
Cons:
There are a lot of extra ingredients that you need to make these meals. We'll definitely need eggs, salt, pepper, vegetable oil, butter, flour, and olive oil in your house to make these meals. If you're somebody that's on a very strict budget or you just moved in somewhere, you may not have these ingredients on hand to finish making these meals. So, I do wish that EveryPlate had included these things in the box.

The chunks they put the recipe in we're very overwhelming with information. So, if you weren't very careful with how you read the recipe, it would be easy to skip over important parts of the recipe.
Personal Favorites
One of my favorite parts about the EveryPlate cards that I received for the chef's tips included on the tops of my cards.
For my Tuscan herb chicken and linguine, the chef's tip really helped me. They said that they'd understand that I may have limited kitchen space, so they're never going to tell me to purchase a mini non-contact infrared thermometer for me to be successful with my recipes.
The chef's tip did recommend that I buy a microplane zester to zest my lemons. I didn't have that tool, but I made it work.
With the Panko Chicken Paillard, they told me to use both hands when dredging my chicken with the beaten egg in the panko. They said that using one hand to dip the chicken into the egg and the other hand for coding will help make less of a mess. Plus, it'll help to prevent me from getting breaded fingertips. I liked this tip and it was super fun to make! I can imagine getting the kids involved with these fun recipes. One could dredge the chicken into the egg mixture, one kid could do the breading!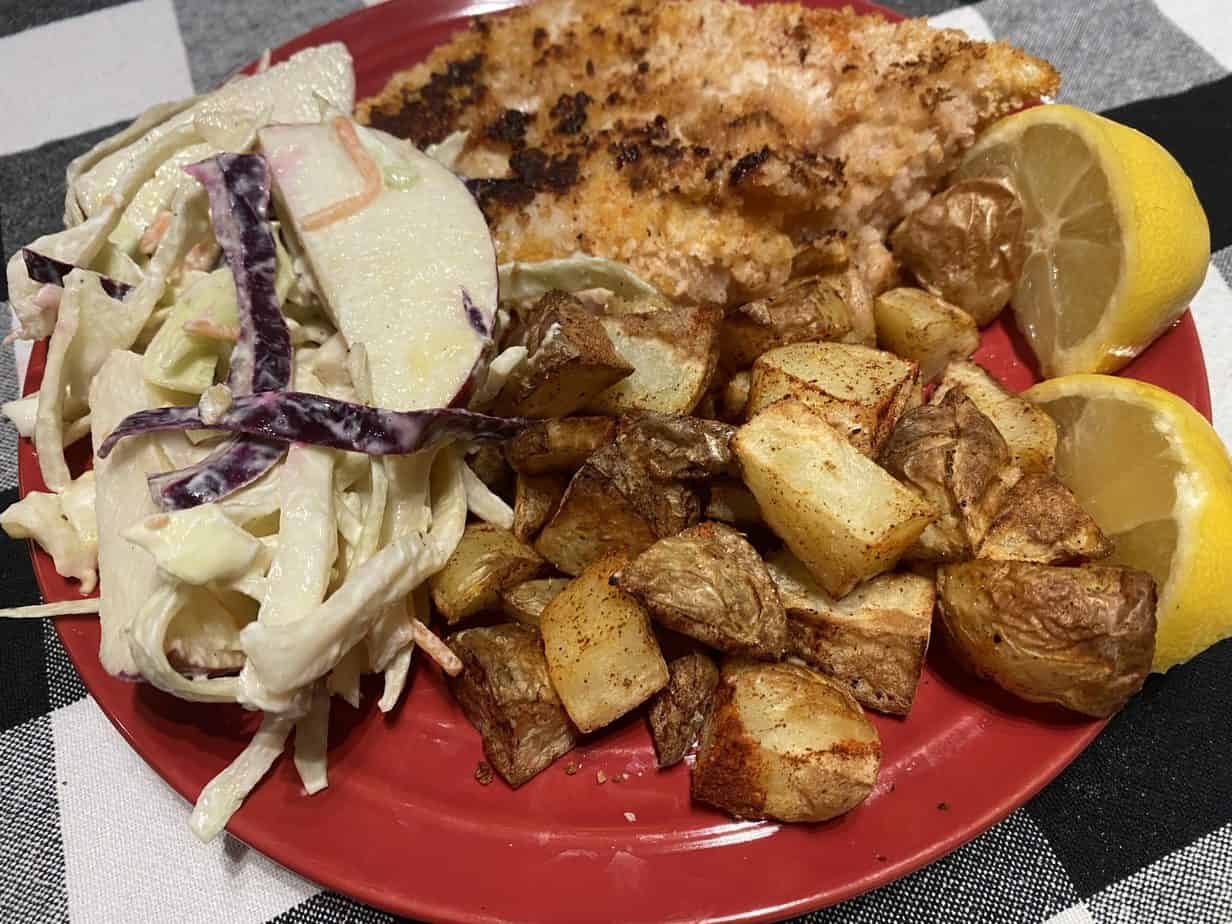 For the linguine carbonara, they told me to save the pasta water that I was cooking, which would help make the sauce creamy and would stretch the sauce to coat the pasta.
Lastly, my chef's tip for the cheesy chicken and green pepper fajitas was that I could use a serrano pepper or a jalapeno pepper if I had it in my fridge if I wanted to turn up the heat. I love that they gave me a tip to adjust the spice level, but I didn't have any extra peppers to chop up. It would be great to add pickled peppers on top as well; that would be delicious!
EveryPlate FAQs
Do you have a few questions about EveryPlate before you're ready to hop on board the commitment train? I'm here to break down the answers to some of your epic use to help you get a better understanding of whether or not this is the best meal subscription for you.
Question: Is EveryPlate owned by HelloFresh?
Answer: Yes, EveryPlate is owned by HelloFresh. This meal-delivery service was launched in 2018 to offer a lower-cost alternative to their other meal subscription. 
Question: Why is EveryPlate so cheap?
Answer: EveryPlate works to lower its costs by offering smaller selections of recipes for you to choose from. Also, a lot of the recipes that they offer are created around inexpensive proteins like chicken breast, sausage, or pork chops. If you want to enhance your meal and get steak or shrimp added, you will pay an additional $2.99 a serving. 
Question: Is EveryPlate healthy?
Answer: A lot of the meals that this meal subscription company offers are healthy. All of the ingredients that you'll be getting in your box are responsibly sourced and are fresh. However, keep in mind that there aren't any special diet plans that they follow or specialty items. Also, there aren't any vegetarian or vegan options provided by this company. 
Question: Is EveryPlate legit?
Answer: Yes, this meal subscription company is legit. It's an affordable meal delivery service better offers you cheaper options than other meal subscription services on the market. Also, the meals that you'll be getting in your box are a lot healthier than what you would be getting out if you were to buy fast food. 
Question: Where does EveryPlate deliver?
Answer: This meal-delivery subscription delivers to most of the continental United States. However, you should make sure that they deliver to your area by entering your ZIP code into the checkout option. No matter how many meals you buy, the shipping cost will always be $8.99. It doesn't matter how many meals you order or the quantity of your order, you'll always be charged that same flat rate. 
Question: How easy is it to cancel EveryPlate?
Answer: I found canceling my subscription with them was very easy. I didn't have to send an email out to anybody and I also didn't have to worry about making any phone calls. I was simply able to hit the cancel button on my account information and I wasn't receiving any Amor boxes from them and my card wasn't charged.
EveryPlate Alternatives To Consider
Are you trying to figure out if there might be another meal delivery service available on the market that's a much better option for your needs and preferences? We're here to break down some of the other available options to you so you can find the best fit for your needs.
HelloFresh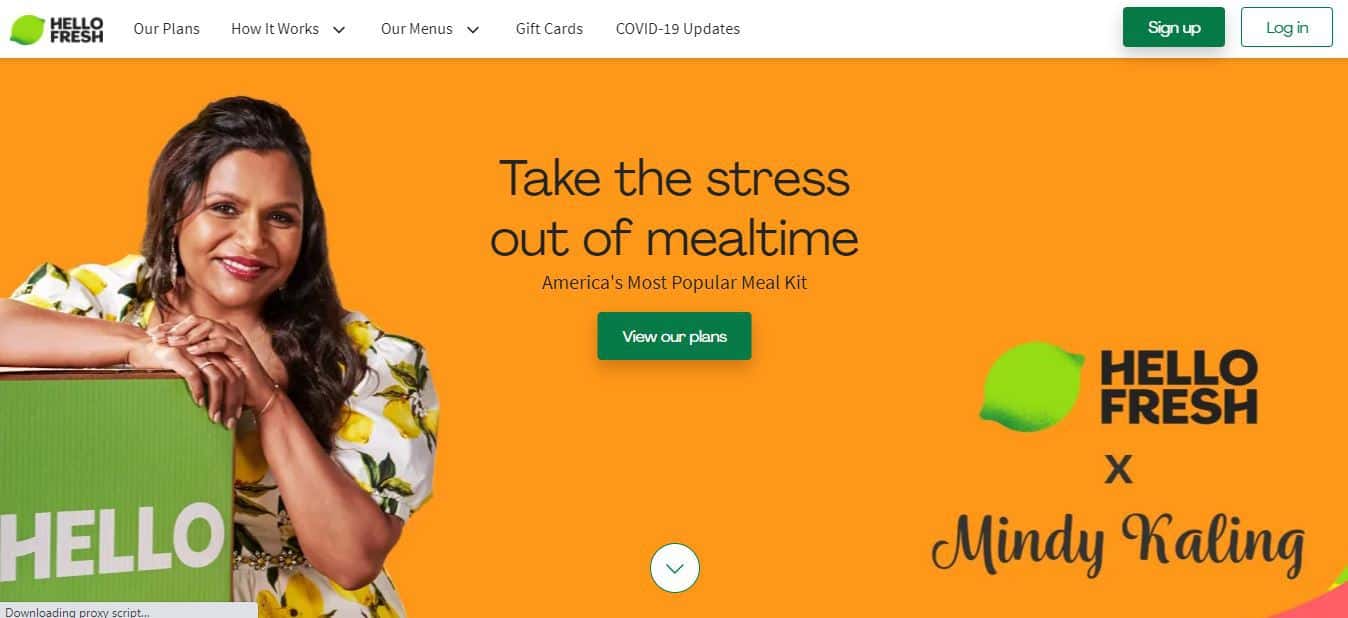 HelloFresh is an expensive option that will have your average meal price going up from $5.55 A serving to around $8 or $9 per serving. However, the ingredients that you get in your HellFresh are very high quality. I still have yet to find another meal Subscription Service on the market that offers to-steam quality meats that I've received in my HelloFresh box.
Blue Apron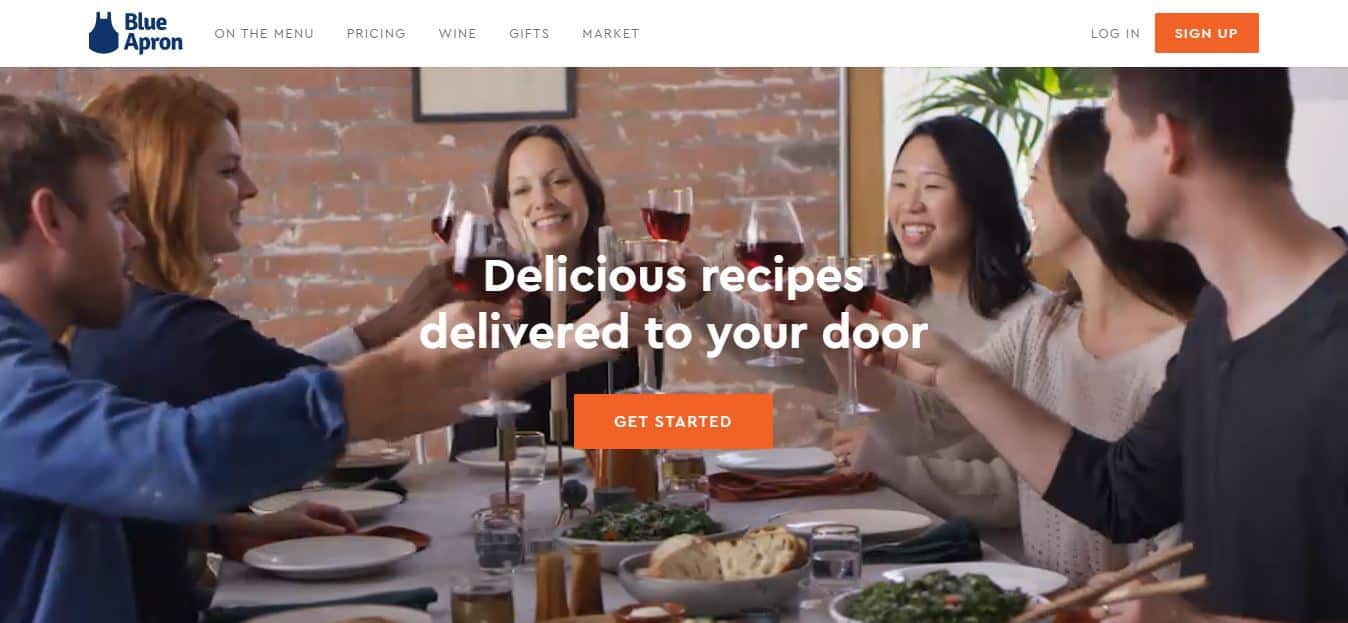 Blue Apron is another alternative to EveryPlate, but it's another option for you to consider. While it does have expensive servings, it may be another meal option you're looking for if you want more Americanized meals.
Dinnerly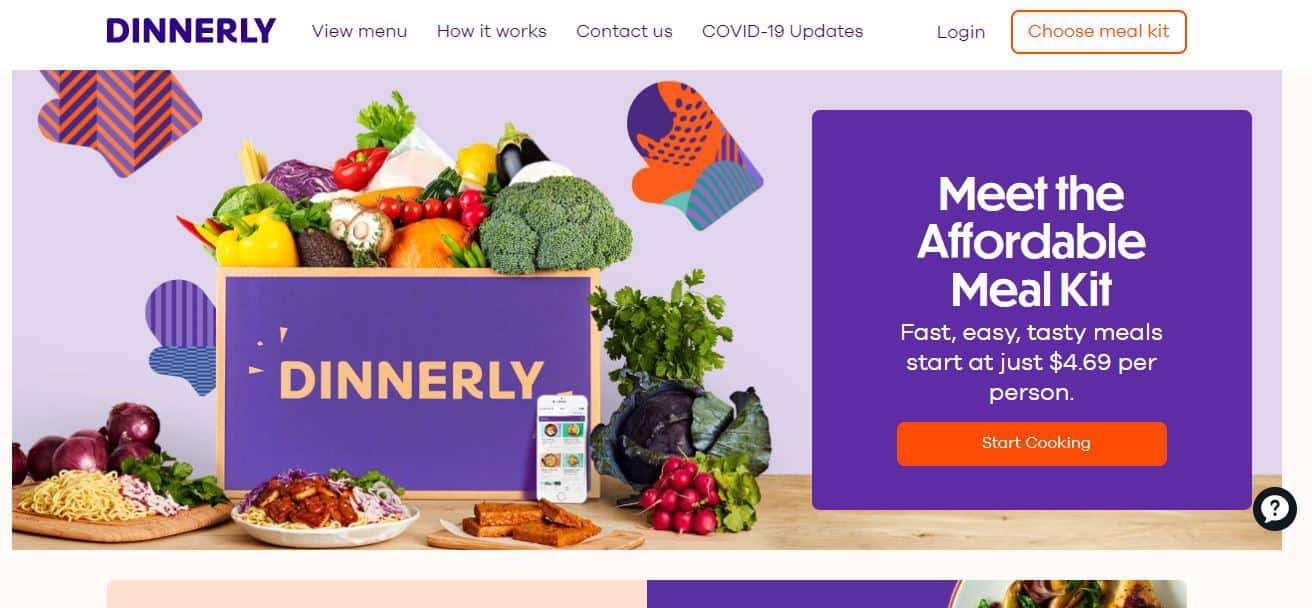 Dinnerly is another meal delivery service option available that offers cheap meal servings. They are around the same price range as every two plates meal serving prices are. However, you shouldn't expect Dinnerly to have the same quality ingredients that you would see in HelloFresh or Blue Apron.
My Final Thoughts On EveryPlate
Overall, I wasn't disappointed with EveryPlate. I do find that the most frustrating part was I wasn't able to select that I had an allergy, so I was forced to get a meal that did have something that I'm highly allergic to in it.
Thankfully, I don't have a contact allergy to it, so I wasn't in any danger by cooking with it. But, I do wish that I could have chosen an option for a meal that my husband and I could have eaten together instead of me having to find something else to eat because I was allergic to the meeting ingredients in the meal.
However, I would happily get EveryPlate again. I have some tasty meals and a lot different from the type of meals that I normally cook. So I wasn't at all disappointed with the variety of the emails that I got, and I really enjoyed having the recipe cards. That's because I saved them in my binder and actually made a few of the meals since I've gotten my box.
What do you think of EveryPlate? We'd love to hear your thoughts in the comments below if you've tried their subscription in the past.
Further Read: