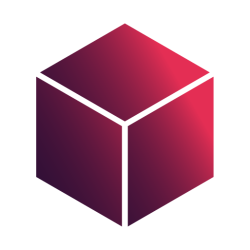 Latest posts by Subscriboxer Team
(see all)
Field to Cup is a tea subscription service that helps members discover new teas. Each shipment contains a small amount of several loose teas so that you can sample plenty of flavors. The teas come with specific brewing instructions and information about the flavor notes. If you fall in love with one of the teas that you receive you can purchase larger sizes through Field to Cup as well. Here is my full Field to Cup review, let's look inside.
Inside the Field to Cup Box
I opted for the Tea Discovery Box Plus, which was on sale for $29.97 from its usual price of $39.97. This box allows subscribers to make a choice about what type of tea they want for their extra 2 ounces that are the "Plus" part of the subscription.
You can pick from Black, Green or Herbal/Wellness tea. Subscribers can change up their choice at any time, so you can get black tea one month and green tea the next if your mood changes. I picked the Herbal/Wellness option because I've been on a health kick lately and I love incorporating healing teas into my routine. I hoped to discover something new with my extra 2 ounces, and with Field to Cup in general.
When it comes to tea I usually just switch between a small collection of favorites, but I had discovered tea subscription services as a way to grow the range of flavors that I enjoy. Since Field to Cup sends out multiple types of tea in each order I knew that I would find something that I would love!
This particular box would include enough tea to brew 60+ cups. It would also include member perks like a 15% discount on all store items and a whopping 40% discount on the teas that I would be receiving in my shipment. I thought that was a great motivator to shop the box!
Soon after I ordered I received my Field to Cup box. I was so ready to tear it open and enjoy a cup of tea. I was stoked to see that I received so many varieties to sample!
Surprise #1 Chocolate Cake Black Tea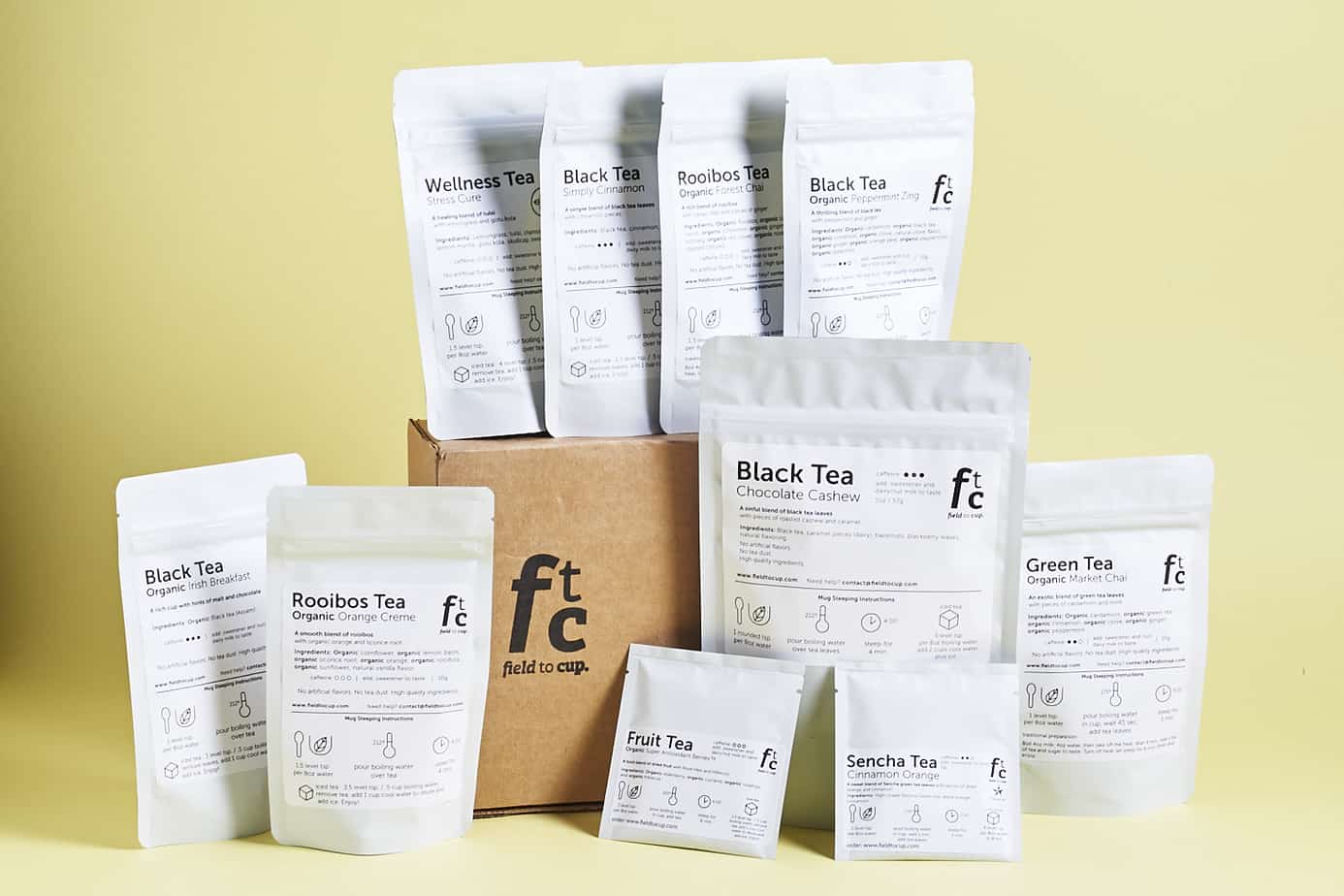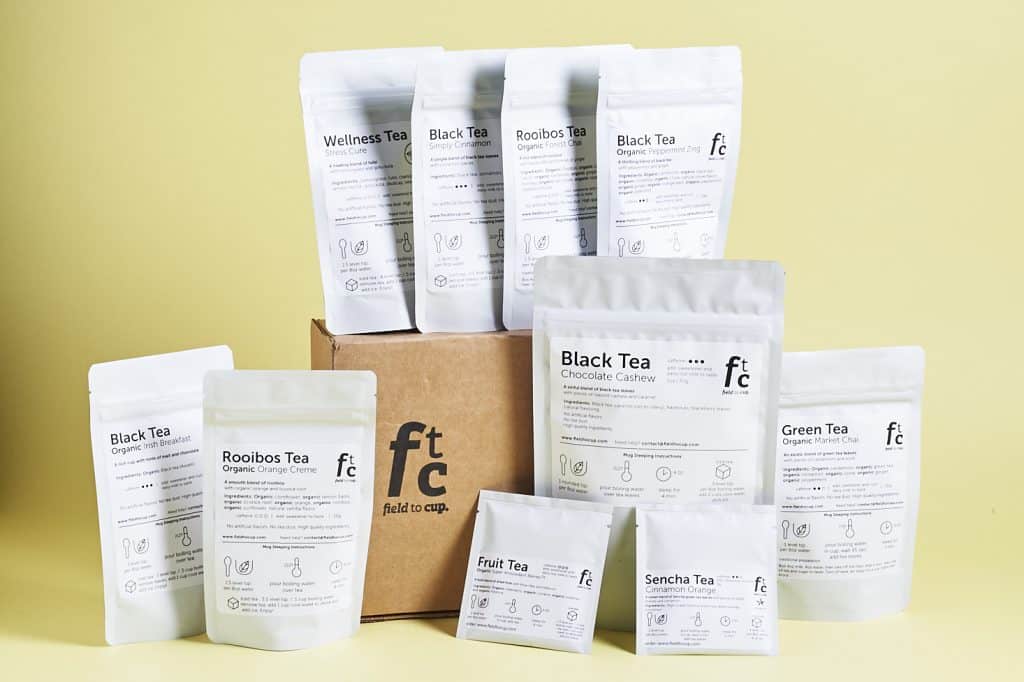 As soon as I saw that name I just knew that this tea would be the first one that I sample. I have a sweet tooth and I had recently discovered how fruit teas can be a good, healthy indulgence. I had yet to try any cake flavored teas and I was interested to see how it was. I opened the bag and was surprised at how sweet and chocolaty it smelled.
I looked at the ingredients and was shocked to see that actual chocolate chips were listed as the second ingredient! So much for avoiding sugar, but this tea was so decadent and delicious.
Pro– Fewer calories than cake!
Con– Not a way to totally cut out sugar.
Surprise #2 Mango Nut Cluster Rooibos Tea
This flavor also appealed to my sweet tooth. I love mangoes, so I was into the idea of this one. I made myself a cup and read over the ingredients. With whole pieces of dried mango, I felt like I could snack on the tea itself. I loved the subtle nutty flavor with the tropical fruit.
Pro– Mango is my fav
Con– A bit of loose tea came through my mesh strainer, but it wasn't a big deal
Surprise #3 Frangipane Cream Green Blend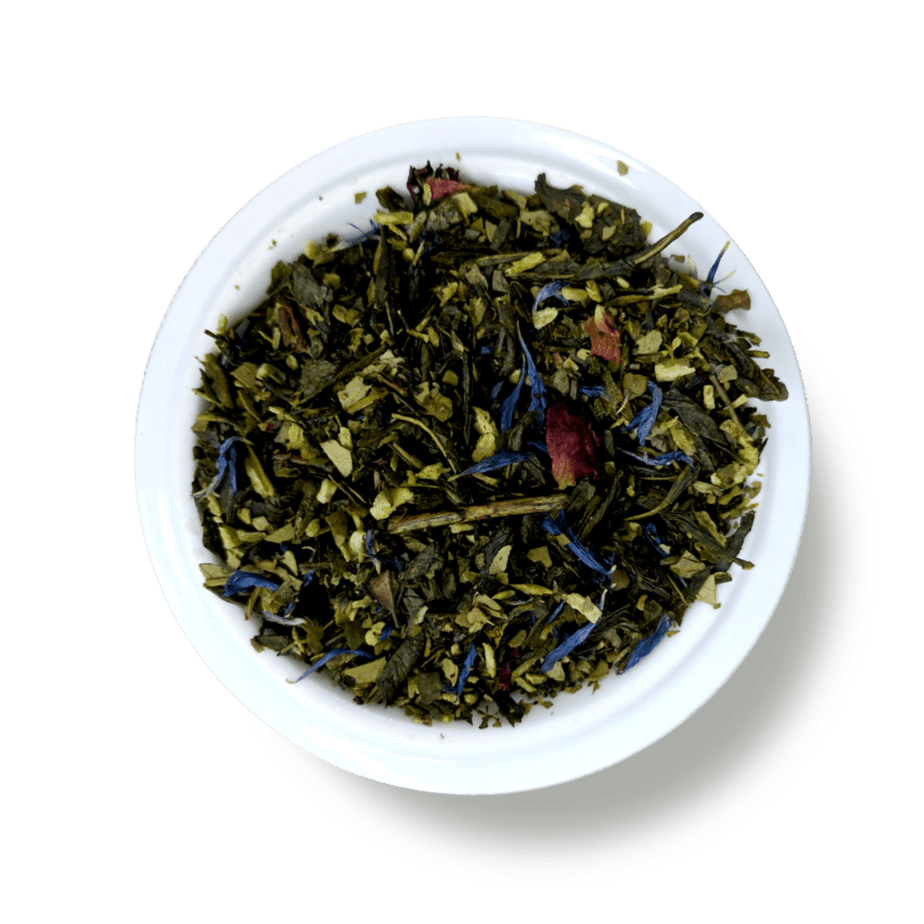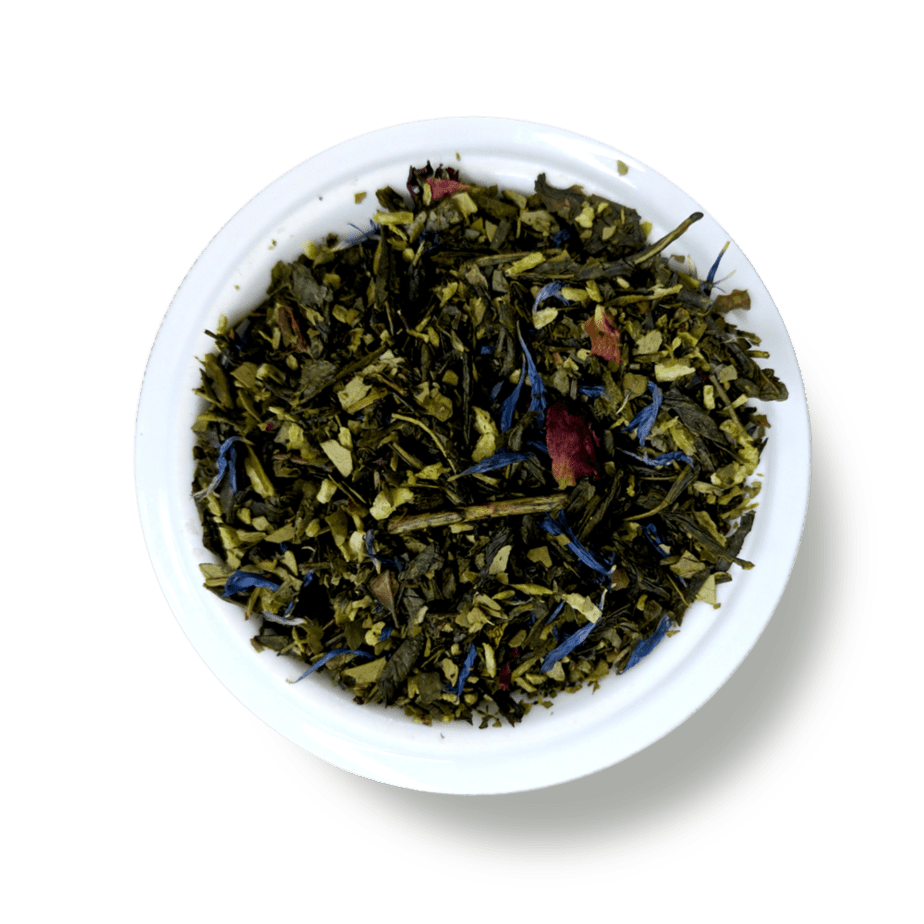 This was the first tea that I tried out iced. Field to Cup sends their teas out with thorough instructions on how to brew the tea and the iced version of this one was phenomenal. I loved the creamy coconut flavor with the green tea. I think this is my favorite so far!
Pro-Sweet and delicious
Con– None at all!
Surprise #4 Pure Romance Wellness Tea
With rose buds and passion flower as main ingredients, this tea definitely one the award for prettiest! With cinnamon, clove, and chicory, the tea itself had a nice spiced appeal as well. This one was one of the best and I am so glad that I picked Wellness Tea for my bonus tea!
Pro– tasty and gorgeous
Con– The floral notes might be perfumey to some
Surprise #5 Island Breeze Fruit Tea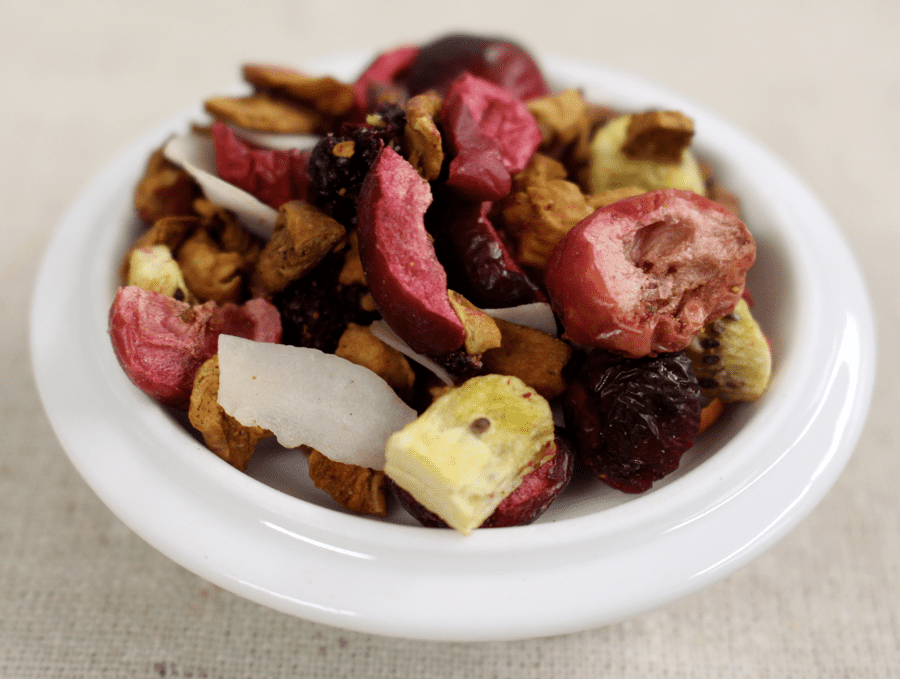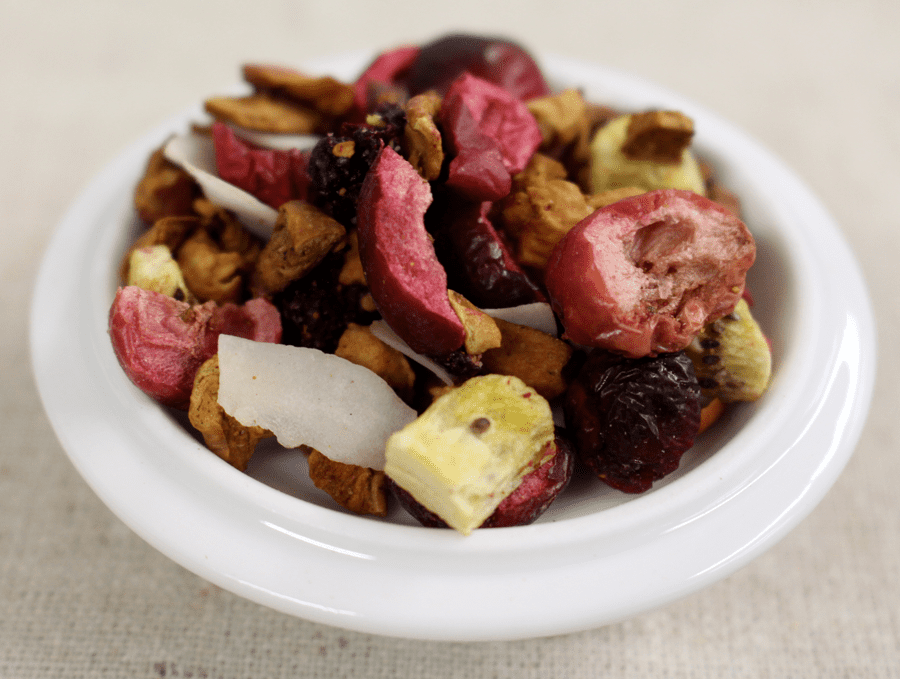 This was another tea that looked like a bag of trail mix. It was composed of different dried fruits and it was really tropical and flavorful. I was starting to think that fruit might be the theme of my Field to Cup shipment, and this one was the fruitiest of them all.
Pro– Tropical and yummy
Con– I was getting a bit tired of fruit
Surprise #6 Fruit Stand Black Tea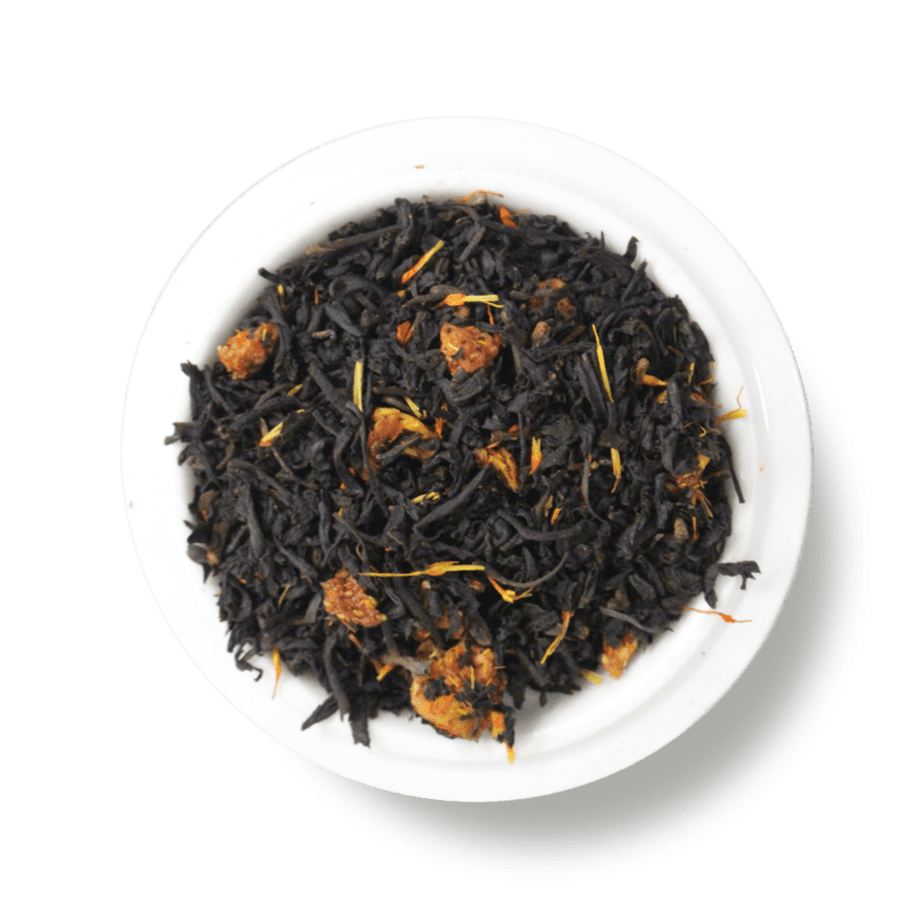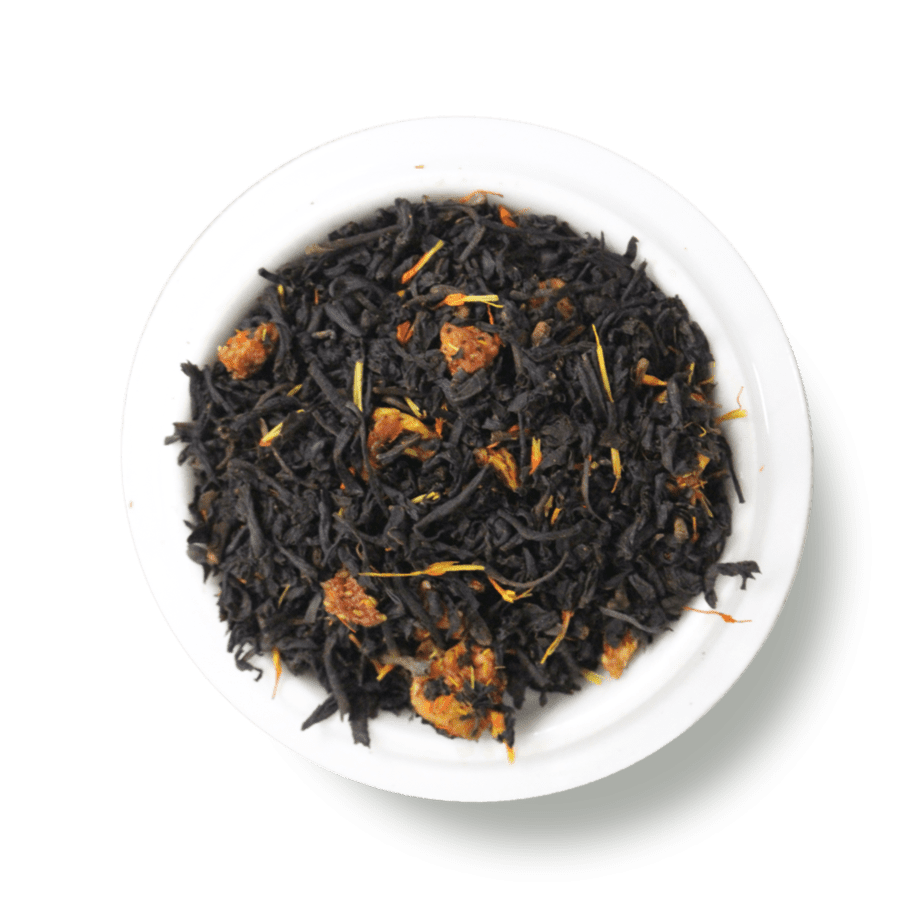 The theme continues! This tea had a more subtle fruit flavor that was blended with herbaceous notes. I really liked this version of a fruit tea and the jolt of caffeine helped me get through my afternoon slump!
Pro– On theme in a good way
Con– None for me!
Surprise #7 Nuts For Lychee Black Tea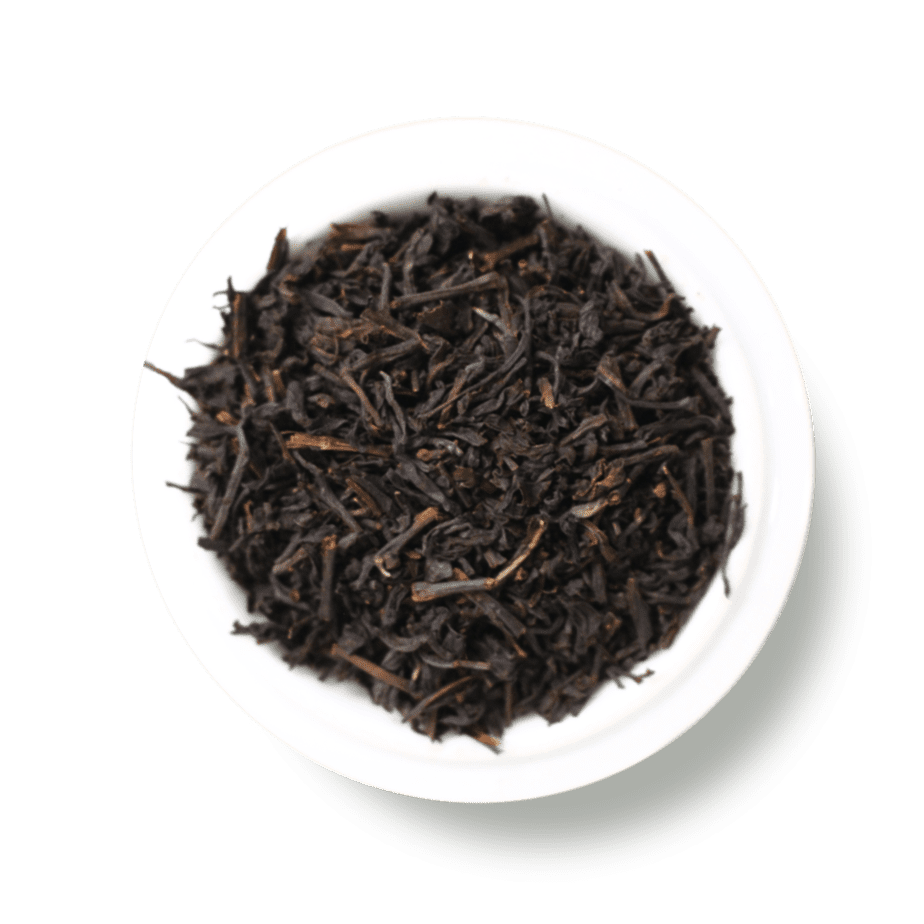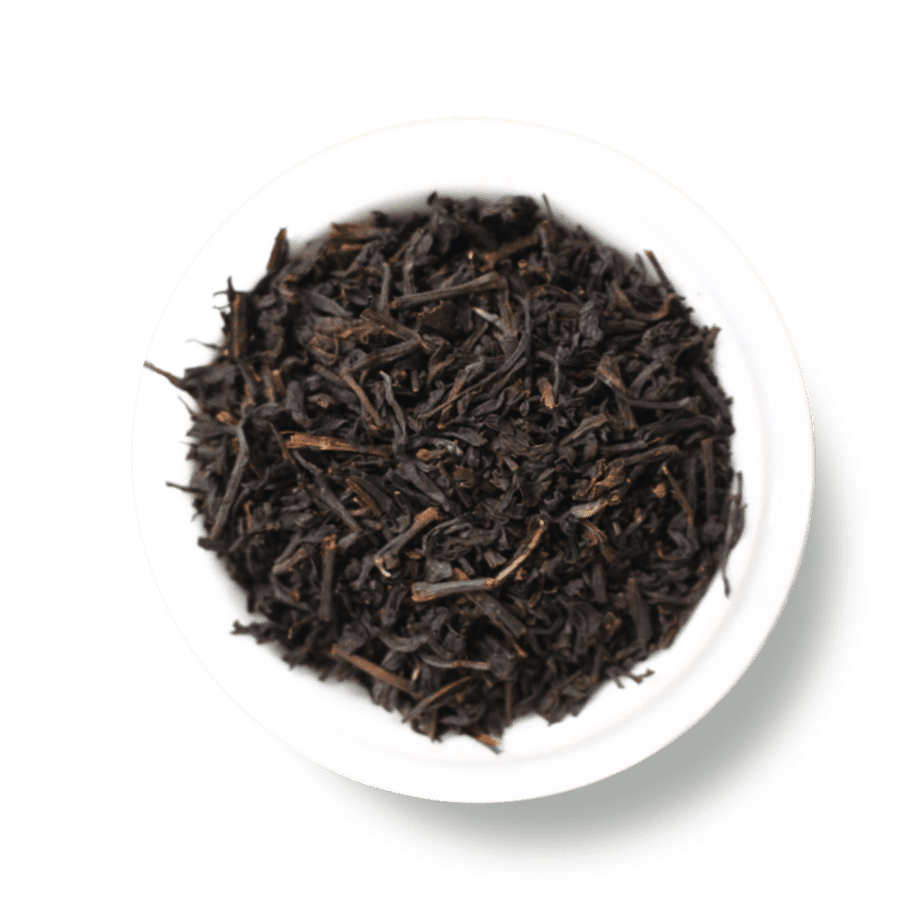 This simple black tea was infused with lychee. The name made me expect nuts, but there weren't any and I didn't mind that at all. After what felt like a lot of fruit salad, it was nice to have one flavor rule my cup of tea. I really enjoyed this one.
Pro– A nice black tea with a hint of fruit
Con– Misleading name
Surprise #8 Tropical Twist Fruit Tea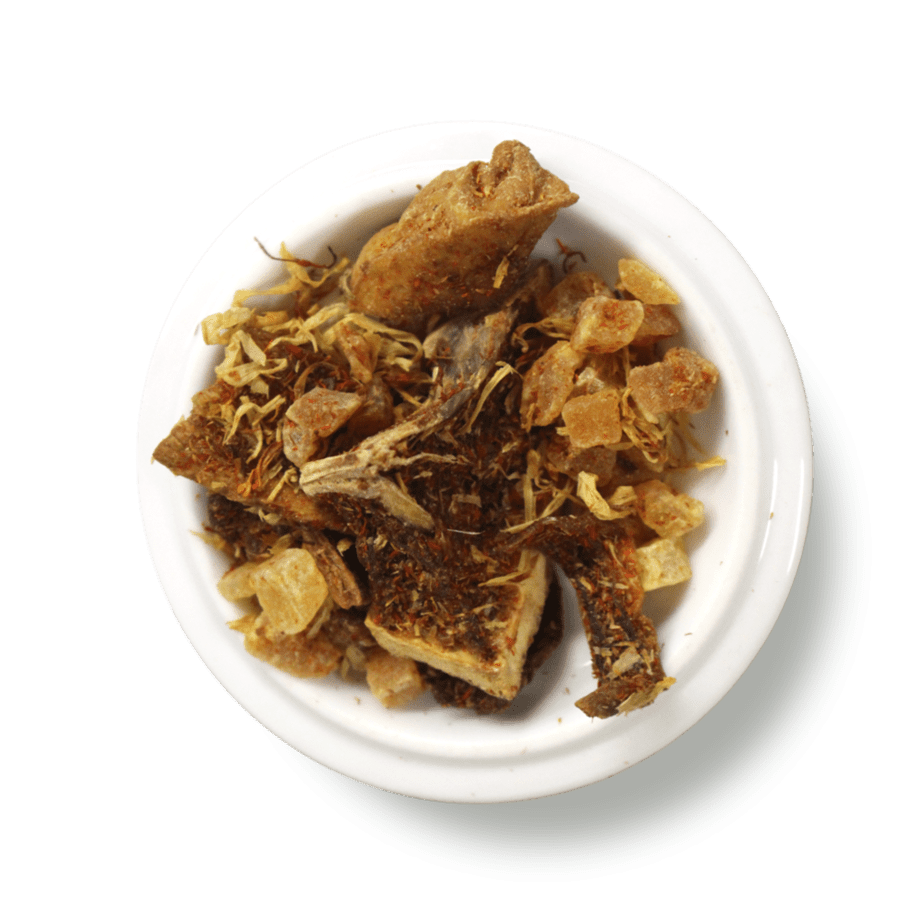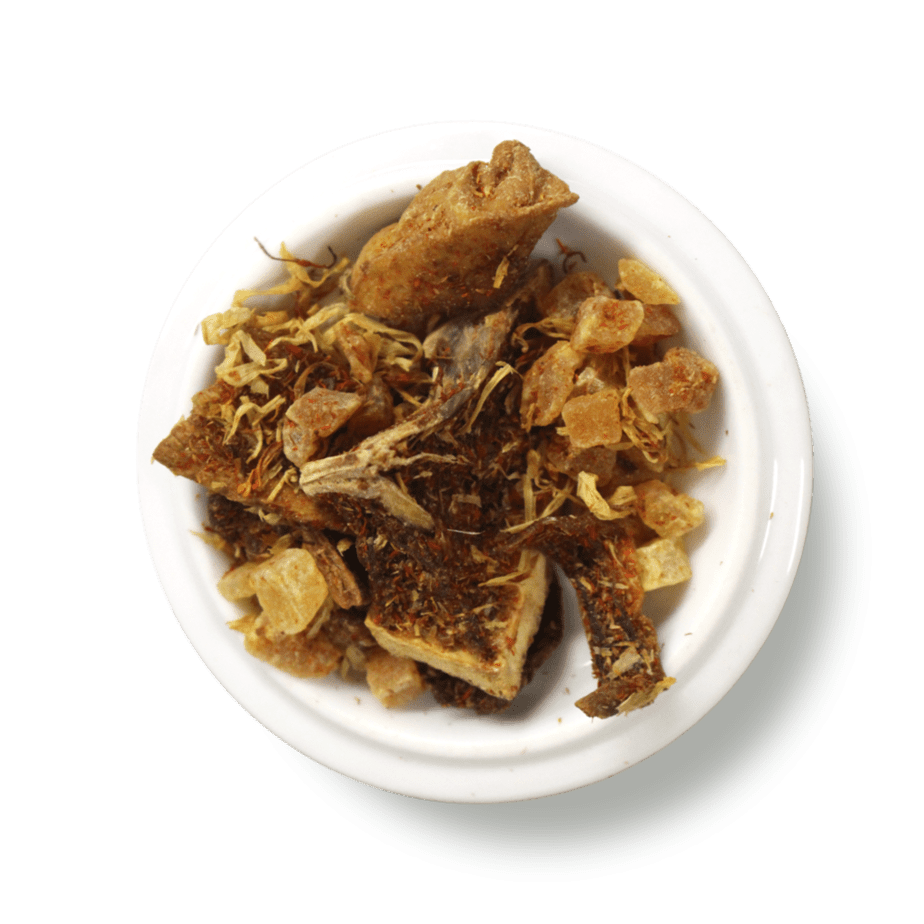 All of the teas that I reviewed so far were in 10-gram resealable bags. The contents looked like it would brew up about 4-6 cups. This tea was the main event in my subscription shipment since it was the only one in a larger 2-ounce size.
This was another gorgeous tea to look at. It contained big chunks of dried tangerine along with plenty of other fruits like pineapple and mango. Marigold blossom enhanced the orange hue and also gave the tea more of a unique flavor. It was super fruity and had a nice citrus quality. I didn't mind having a larger amount, though I do wish that I had received a great big bag of the green tea instead!
Pro– Citrussy and sweet
Con– I would have rather had a large bag of the Frangipane!
Overall Assessment of Field To Cup
Pros
Great teas delivered right to your door
A huge assortment of flavors in each shipment
Some customization options
Membership discounts are an excellent perk
Makes a great gift
Cons
The fruit theme was a little over the top
I would love if you could pick your 2 ounce tea!
Some teas contained sugar which many people try to avoid
Field to Cup Alternatives to Consider- What Else Is Similar?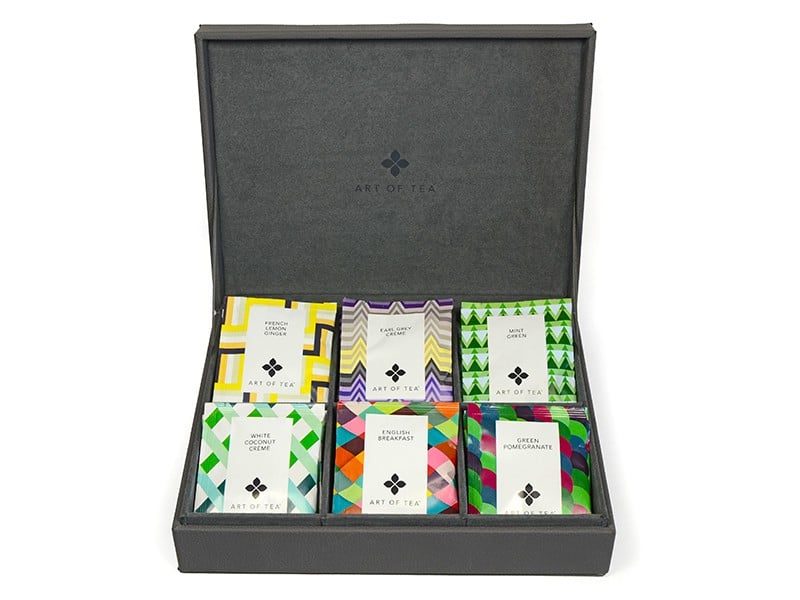 One tea subscription service that I have tried and enjoyed is The Art Of Tea. They offer 3, 6 and 12 month subscriptions starting at $54. Their teas are high quality and beautifully curated. I have found myself wishing that they had a format that is similar to Field to Cup where you can opt for many teas in small quantities instead of just one big package of a single tea, but I think that the actual tea that I have gotten with this subscription is such a great quality that I can't complain!
Teabox is another similar service that looks great. For this one has a three-month subscription is $85.50, which is a bit expensive for me. They send out themed boxes that include a variety of flavors. I think that makes this one somewhat similar to Field to Cup since they seemed to do an unofficial theme.
Final Word on Field to Cup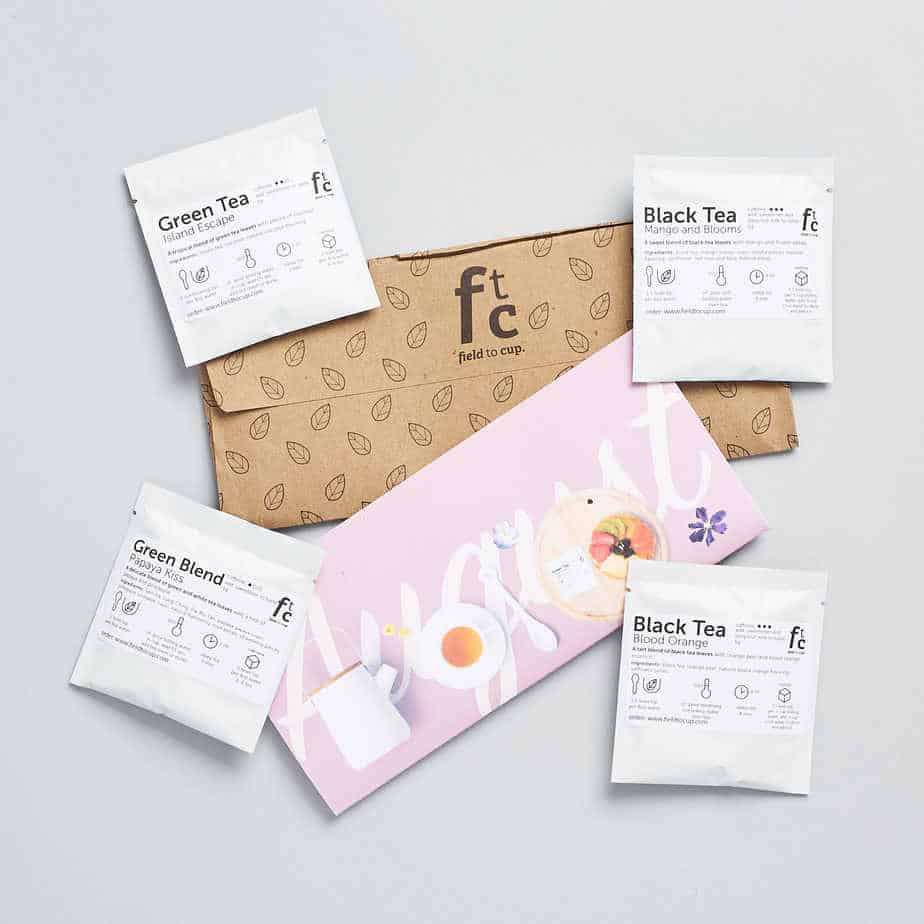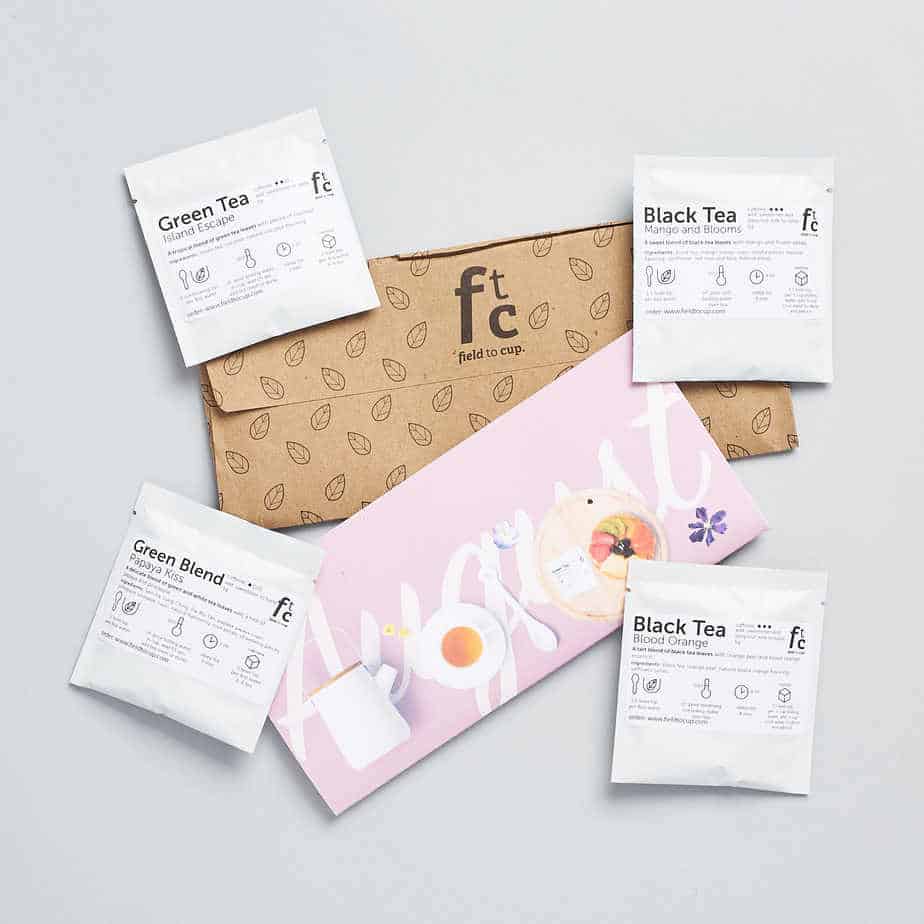 I really enjoyed trying all of these teas. I was impressed with the number of options that came in just one box. I also think that this box has a good value since I have seen plenty of tea subscription services out there that are quite expensive. I think that this box was really fun to sample and because of that, it would make a great gift for anyone who likes tea.
I did find myself getting a bit bored of the fruit theme, but I am happy to have a nice variety of fruit teas on hand thanks to Field to Cup. Though I do think that they will sit in my cabinet a bit longer than the green tea and the spicy floral that I received. But that's just how it goes when you receive surprise items and you have no choice in the matter. It was still really fun to try all of them out. This discovery box absolutely helped me to discover teas that I have never tried before.
One thing that I thought was worth mentioning again is that several of these teas listed sugar as an ingredient. Some of the fruits had added sugar and the chocolate cake was almost as sweet as hot cocoa. I'm sure a lot of tea drinkers out there want to avoid sugar so this is something to consider. I would avoid adding any honey to any of these!
All things considered, I really enjoyed my experience with Field to Cup and would suggest it to anyone!
Further read: