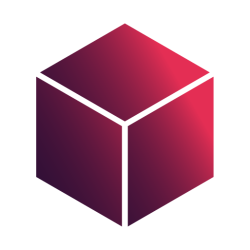 Latest posts by Subscriboxer Team
(see all)
Look up in the sky! It's a bird, it's a plane, it's…the monthly subscription box that will get your nerdy heart beating faster than a speeding bullet.
If you've been searching throughout land, space and sea for a mystery box filled with goodies from your favorite movies, tv, and video games; look no further than LootCrate. Your one stop shop for all things geeky.
So what is LootCrate to be exact? Well, according to their website, LootCrate "offers up a unique monthly box of awesome for every fandom, enthusiast group and style. Pick your crate and get excited." Let's dig in with this Loot Crate review…
Basically, this box offers cool, collectable items once a month from varies fandoms: Starwar, Marvel, DC, etc. Each month there is a different theme based around a singular word: Primal, Revolution, Magical, etc. Plus, a new, popular, nerdy release coming out that month.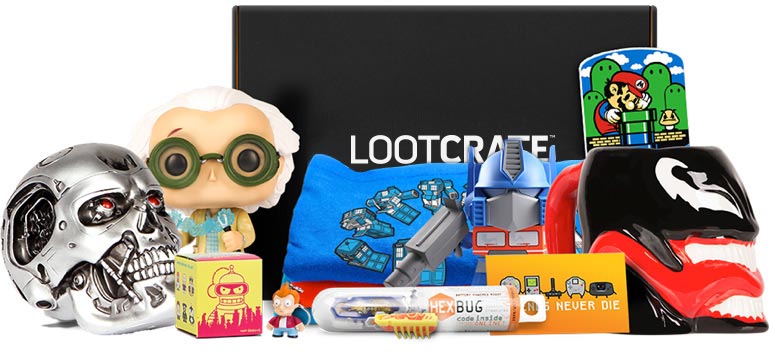 For example, May box theme is "Guardians" and most of there boxes with focus on the release of the new Marvel movie: Guardians of the Galaxy vol 2. However, they will also have stuff from other fandoms that fit the theme of the word like Star Wars, The Goonies, and Destiny.
LootCrate tells you these themes in advance so you can better decide if you want to purchase this crate or skip that month.
What makes LootCrate different from most geek culture boxes you find on the market is the sheer variety of it. LootCrate has really created an empire here, having four different sections of crates: Pop Culture, Gaming, Films+TV, and Apparel. You think that be enough right? Wrong! In addition to these sections, they have subcategories to this.
For example, the pop culture section has an amine and a pet section. Gaming has exclusive Halo and Mass Effect boxes. Film+Tv has Harry Potter and Firefly. Apparel has a variety of clothing items: socks, undies, tees, and "wearables" and LootWear for Her, with is an item for the lady subscriber. You also the options to bundle items in the apparel.
Most of these crates vary in price and most are once a month and stick to the main theme (with the exception of Harry Potter, Firefly, Halo, etc which are bi-monthly and have they're very own theme). So, if anyone has cornered the market of all thing fandom, it's LootCrate.
With the fear of having your spin faster than the little girl from The Exorcist from all these buying options, I'll stick to reviewing the standard crate.
Your basic LootCrate is a once of month box that comes towards the end of the month. It comes with over four items based on the monthly theme and the fandoms that are mentioned in the months theme.
While you know the franchises that will be featured, the actual items are a mystery, though a shirt will always be included(you pick the size) The cost of the box is $15.99, plus shipping and handling, though they do give out coupon codes. LootCrate claims that the value of these boxes are over $45 and are collectible and licensed product.
You can cancel your subscription at any time and can skip months. The latest you can order is one day before the boxes are scheduled for shipment. So if you're the kind of person who waits to the last minute (like me) this subscription has you covered.
Here are some examples of different standard boxes that LootCrate has done in the past.
This is August 2016 Anti-Hero theme crate. This box features: A Harley Quinn figure(also called a Q-Fig), An Archer T-Shirt, Hellboy Coin Bank and a pair of Kill Bill socks (Photo from lootcrate.com)
This is November 2016 Magical theme crate. Inside this box is Doctor Strange Q-Fig, (note: not all boxes come with Q-figs) Fantastic Beast tee shirt, Game of Thrones journal and Big Trouble in Little China Comic. (Photo from lootcrate.com).
As you can see, each crate has some variety with the items it features.
LootCrate Pros
Pick your size. Because you get a shirt with every box, you can pick out your perfect shirt size. There are men sizes from small to 5XL and women sizes from small to 3XL. This is a plus for me because most boxes just have unisex sizes and I really prefer women sizes because they are more flattering and fit me better.
Variety of Fandoms. There is a lot of variety with each box, and LootCrate doesn't feature the same franchises each month. There's not going to be three Batman boxes in a row. They also pay attention to franchises that don't have a lot of mass market producst. For example, they used Twin Peeks in their last box and did Gone in 60 Seconds for their September box. They are not super popular, merch-wise, than other things like Harry Potter or Deadpool so fans will have incentive to purchase.
Licensed goods that are exclusive. LootCrate has deals with popular franchise such as StarWars and Marvel so the items you're getting in the box come directly from those companies and not some knock off, so the quality is good. Plus, these items are usually exclusive so that's a plus if your a collector or just don't like mass product things that everyone
Good Price. For $15.99 plus shipping, it's one of the cheaper boxes on the market. Most boxes of this genre are around 25-30 dollars, so price + exclusivity is really cool and a good deal. Also, some boxes have different pricing and some boxes (like LootWear for Her, have free ship). In apparel, you have the option to bundle clothing items (socks+wearable or tee+socks+undies) so you get more for your money.
Tells you Franchises in advance It's super cool of LootCrate to not only give you the theme, but the fandoms that go with it. If you're like me. when you buy a mystery crate you worry that you might not like the fandoms you get. Knowing in advance takes a lot of guesswork out of things and makes it easier to skip crates you don't want. Plus, you are able to give LootCrate as a gift, so if you know someone who likes the featured pop-culture shows or comic for that month, you can order and know that that person will be happy with their gift.
Great Customer Service: Their staff is knowledgeable and generally response if you have any issues with your order (including needing a refund) or questions.
LootCrate Cons
A little masculine While there are women sizes and a LootWear for Her section, it's targeted mostly tp guys. Like the undies are for guys, the socks are more for guys. A lot of the items are for guys. I wish the LootHer could be bundle with things. I also think a girl Pop-Culture box would be cool.
Almost always a video game franchise. Okay so I am a self proclaim nerd(I read Harry Potter 9 3/4 times and watched ALL the Star Wars films) but I'm not a gamer, at all. This is a problem for LootCrate because there is almost always a video game franchise in the box, if your not into gaming, that's one item that will have no meaning to you.
You have to be into a lot of different nerd things. As I mentioned above, I'm a big nerd, but I have very selective taste and I'm only into certain shows or fandom, so it hard for me to find a box here that has all the fandoms I like. Example:March's theme was Primal, (putting the spotlight on the movie Logan that came out that month. The fandoms that were featured were: Overwatch(never played) Wolverine(not a huge fan) Jurassic World (liked), and Predator(never seen) 1/4 fandoms. Kinda a waste for me.
Alternatives to LootCrate are Fanmail and NerdBlock. Fanmail is basically Lootcrate for girls. It comes every other month and has a vary between 21.99 and 23.99 (depending on what size you order) plus shipping. They curate a variety of items such as shirts, jewelry, accessories, comic books, household items, vinyl figures, artwork, etc.
Past boxes have been "Familiars and Companions" "Legends of the CW 2.0" and "Magical Mystery". This box comes with around eight items (usually has a shirt) and everything looks really cute.
NerdBlock is similar to LootCrate where they have 4-6 items(t-shirt in every box) and tell you the fandoms in advance. The price for one month(a regular monthly loot crate subscription) is 19.99 plus shipping but it's a 60 dollar value. Also like LootCrate they have different types of boxes(classic, comic, horror, sci-fan, gamer).
What's different is they have a NerdBlock jr for both boys and girls. This would be a really cool gift for a kid, and if your terrible at shopping for children, this would be a super smart idea.
Overall, I think for the price and variety of this box, LootCrate is a great crate to subscribe to if you are a huge nerd and like a lot of different fandoms that aim more towards the standard nerd(comic books, science fiction, etc). The variety that this company has gives you a lot of options so it will be hard to not find a box you would like.
Plus, the quality is nice and theres a right amount of mystery. So if you like that, grab one today and life long and prosper. However, if you're a little more of a girly nerd, than you might search for something else.
Further Reading on Nerd and Gamer Crates