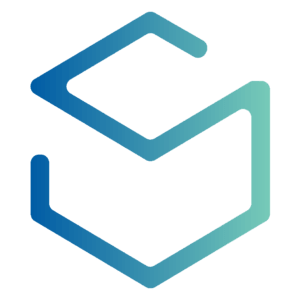 Latest posts by Subscriboxer Team
(see all)
As someone who hates searching endlessly through the grocery just to find something new to try, I understand how hard it is to find snacks that are both healthy and delicious.
These monthly snacking subscription boxes, Love with Food and Graze Box, provide a quick solution to this dilemma.
Both services are centered around snacks that are health conscious and tasty—but which one is better? I have compared both subscription boxes to try and determine which one may be a better choice for you!
The Companies
Graze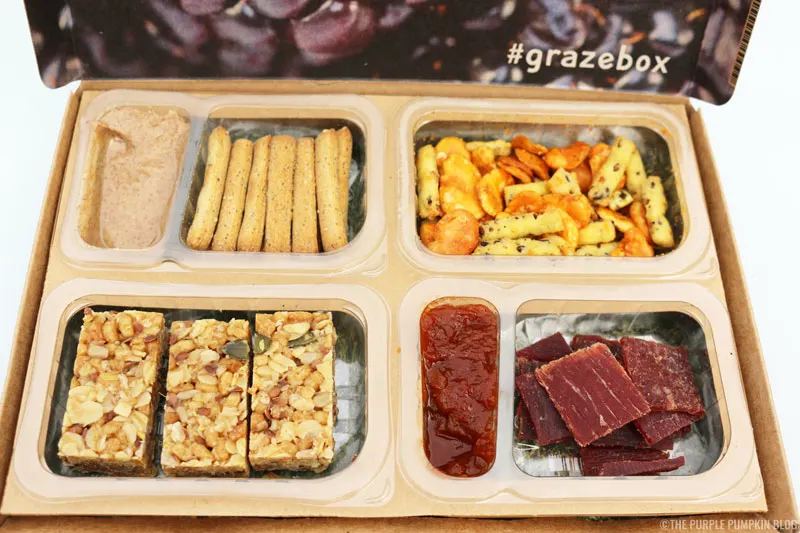 This company was founded in 2007 by a group of seven friends who were seeking scrumptious and healthy snacks. Tired of searching for what they couldn't find by traditional means, they took it upon themselves to create their very own snack service!
They craft custom snacking experience with both their own inspiration, as well as with feedback from the Graze community. Veggie chips, Graze flapjacks, and kern pops are just a few of their interesting options.
Not just content with innovating delicious snacks, they launched a farming school in Uganda. This program teaches the locals valuable farming skills so that they can provide food for themselves. They provide a $1 donation coupon in their boxes for any customers who want to donate to help fund this program.
Love with Food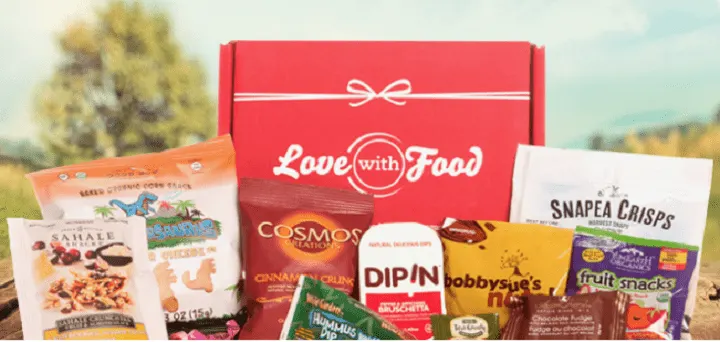 Inspired by life's ability for positive change, Aihui Ong founded Love with Food with the intention to grow small, and healthy food producers by way of the internet. She believes that the food industry needs to catch up to modern times, and she is taking steps to usher in a new era of food consumption.
Each month a collection of healthy mystery snacks is sent out in themed boxes. The snacks range from modern twists on tasty classics, like brownie brittle, to completely new snacks like peanut butter corn puffs. Essentially, the goal of this snack box is to allow you to taste products before you buy full sized versions.
Love with Food incorporates their determination for change into their business practices. Each box purchased results in one to two meals being donated to a local food bank. The meal donations go to food banks in your area. This means that donations happen across the country and are not just limited to one area. So far,1,009,167 meals have been donated.
Types of Boxes
Graze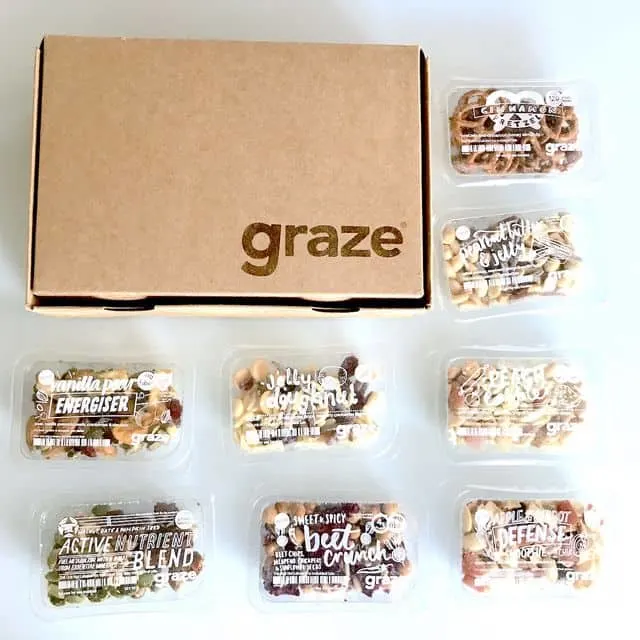 They offer three different varieties of boxes: the 8-snack variety box, the calorie count box, and the protein box. Each box comes with eight different snacks, but the snacks you get to choose from are limited in the calorie count and protein boxes.
The 8-snack variety box is essentially their regular box, having the largest selection of snacks whereas the snacks in the calorie count box are under 150 calories, and the snacks in the protein box all (obviously) contain protein.
The 8-snack variety box allows you to choose from 92 different snacks, the calorie count box allows you to choose from 45 different snacks, and the protein box allows you to choose from 32 different snacks.
Love with Food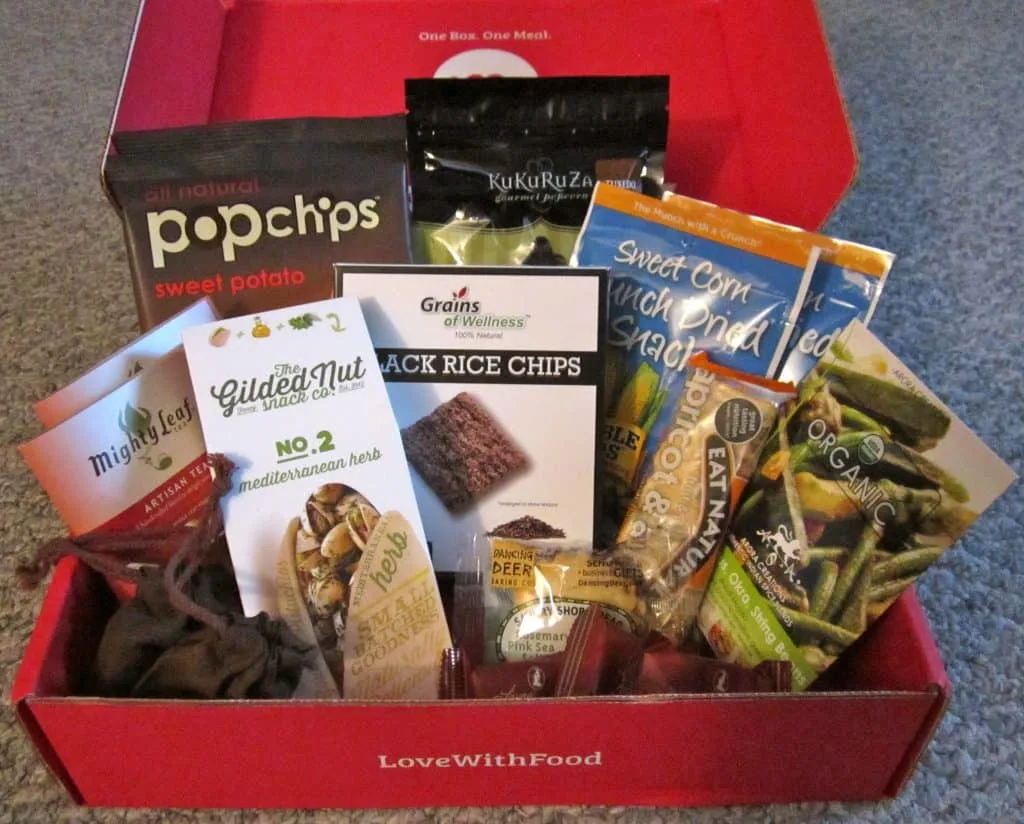 There are three different types of boxes they offer the tasting box, the deluxe box, and the gluten-free box. The tasting box is the smallest of the boxes, coming with 7 plus snacks whereas the deluxe box is their large box, coming with 15 plus snacks. The gluten-free box is right in the middle, coming with 10 plus snacks.
Interestingly they also offer plans for businesses; a company or workplace can order one or two trays a month. Each tray comes with at least 65 snacks, with 10 snack varieties in each.
Plans
Unlike other subscription services that deliver monthly, Graze has multi-monthly options. You can choose to get snacks delivered to your door every week, every two weeks or every 4 weeks. There are no long-term plans, like annual or 3-month plans.
Love with Food has quite a larger variety of plans to choose from. All the different boxes they offer, including the office boxes, come in month-to-month, 3-month, 6-month, and annual plans. All the boxes are delivered once monthly, except for the two-tray office plan.
Graze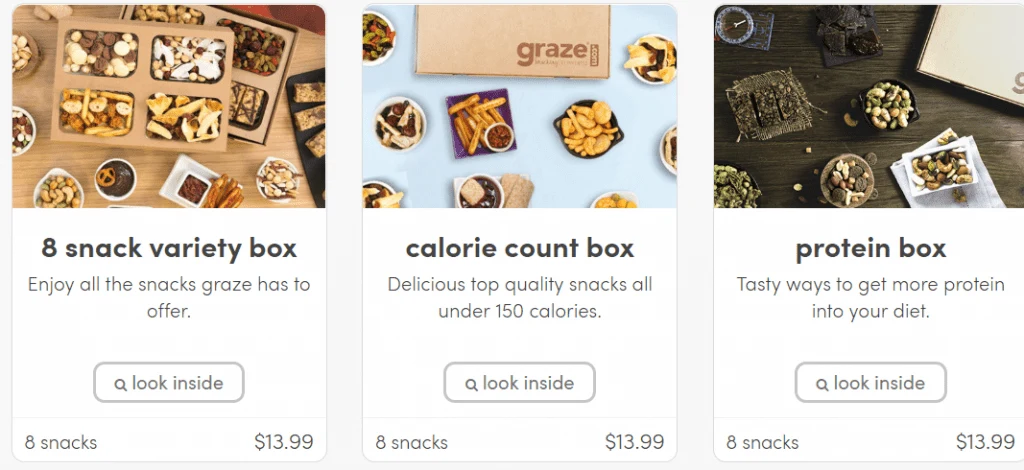 Like their plans, Graze goes for simplicity with their prices; all three box varieties cost $13.99 per box. When getting boxes every two weeks, or bi-monthly, this ends up being $27.98 per month, excluding tax. If receiving one box a week, or four boxes a month, the price is $55.96.
Love with Food

The price for each box fluctuates depending upon the type of plan you subscribe to. The cheapest option across boxes is the annual subscription where you can save 17-20% per box. Alternatively, the most expensive option for any of the boxes is the month-to-month subscription, where you do not save any percentage on the cost of the box.
Regarding which box is most expensive, the month-to-month price is the quickest way to get a general idea. The tasting box costs $9.99, the deluxe box cost $19.99, the gluten-free box cost $24.99, a single business tray costs $129.00, and the double business tray cost $258.00.
The individual box price goes down from these initial prices depending on the size plan you purchase—the larger the plan the better the discount per box.
Types of Snacks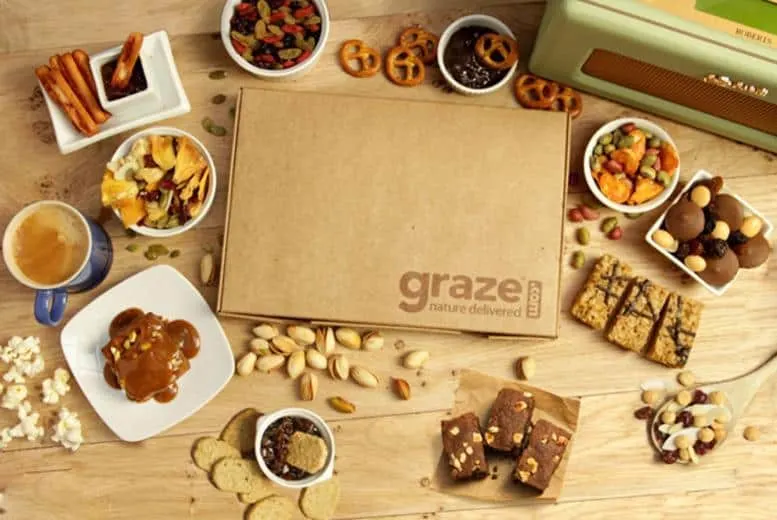 The differences in prices are not the only thing that set these two services apart; they also supply very different types of snacks.
Graze's snacks seem to be the traditional idea of healthy snacks, granola, dried fruit, seeds, popcorn, and nuts. Their main selling points for these snacks are their flavors—like barbeque and cheese—which are reminiscent of more traditional snacks.
Love with Food's snacks are what I would consider more traditional snacks, but with a healthy twist. For example, they have sent out corn-based snacks, chip alternatives, meat sticks, protein bars, and breakfast cookies. All these types of snacks I could find myself eating far more frequently than Graze's snacks.
Despite the difference in snack-type, both services pride themselves on providing high quality, delicious, and healthy snacks that are free of the traditional junk found in most commercial snacks. Love with Food procures organic, all-natural, or gluten-free snacks for their boxes, whereas Graze delivers preservative free, artificial color free, and artificial flavor free treats.
Deciding which services to choose is more based on personal snacking preference since both companies are health conscious.
Variety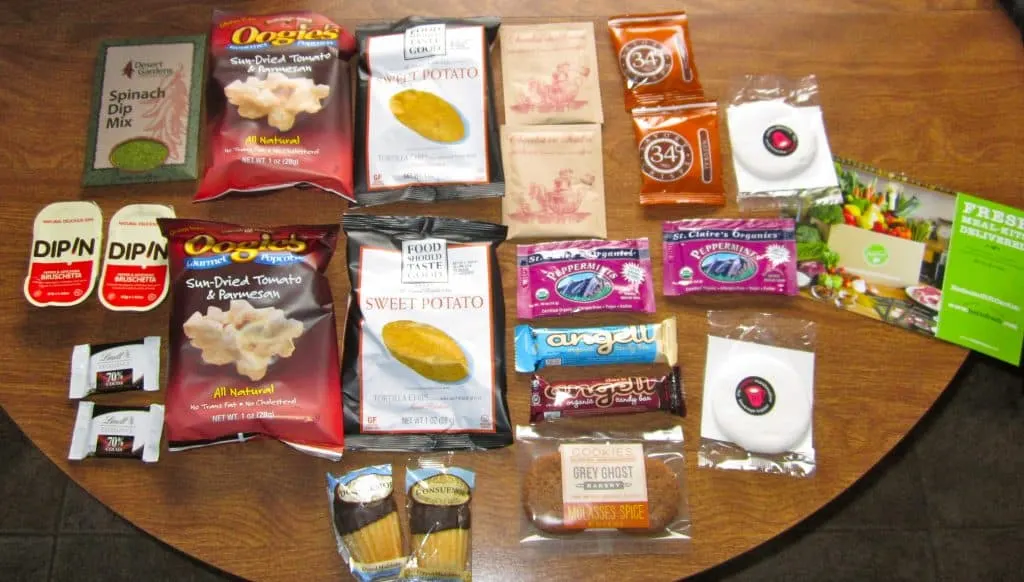 As far a variety goes, I would have to say that Love with Food is more diverse. This is mainly because Love with Food works with small companies to get their products into their boxes. If there are new healthy start-up food companies, Love with Food will constantly have new snacks to deliver.
Graze is continuously developing their own snacks, and they have a large selection consisting of over 100 snacks, however, they are the producer. This means that they are limited to their production speed and rate of development, and though they have a large variety, once you have tried a lot of their snacks, you may run out of new things to try.
Overall, I think the variety boils down to the goals of each company. Love with Food wants to get small producers into the hands of potential consumers, while Graze wants to produce and deliver great snacks directly to their customers.
Amount of Snacks
Graze
Graze is different from monthly subscription boxes because they have different intra-monthly delivery frequencies available. As mentioned above, they have once a week, bi-weekly, and once every four weeks.
If you get the once per month plan with any of their boxes, as each box comes with eight snacks, that is about one snack per four days. However, if you elect to get their four per month plan, you will receive 32 snacks, which is a little over one snack a day depending on the length of a month.
This is nice because you can control the frequency and quantity of snacks you want to receive. Whether you want to just try the service, or go all in, the options are there.
Love with Food
Love with Food is a monthly service, which means you get one box a month. Depending on which type of box you get changes how many snacks you receive each month. If you get the deluxe box—the highest snack count box, aside from their business trays—which comes with 15 plus snacks, that's a rate of one snack per every other day.
For the casual snack lover, this is the perfect amount, as you can try something new very frequently. If you want more snacks than what they give you in the monthly box, you can always order past boxes or bulk snack packs from their store.
Online Stores
Graze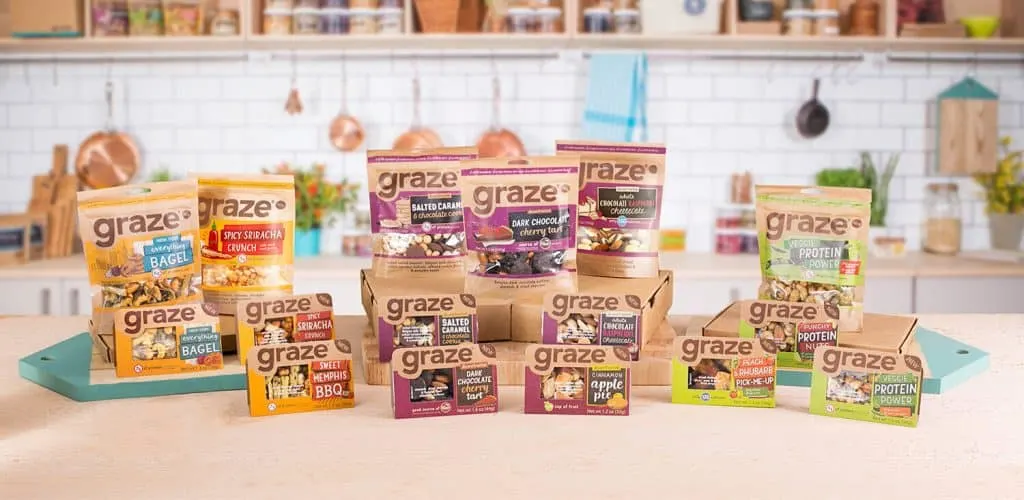 This store is perfect for people who want more of a snack from their box. Graze's shop sells all their snacks in larger quantities, from shareable bags to packs of 6, the options are endless.
One huge plus is that you don't have to worry about breaking the bank with their shop. All their snacks come in affordable, typically priced groups. They range from $3.99 to $8.99 in price, which is a great deal.
Love with Food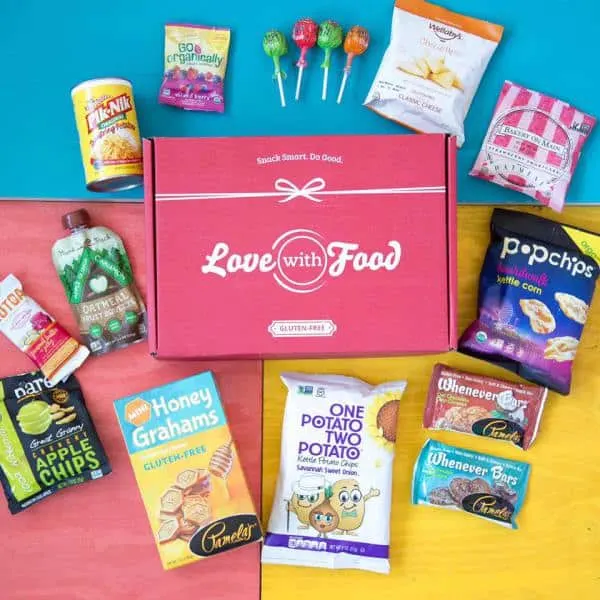 Love with Food's store is a bit different than Graze's. Their overall goal as a subscription service is to get people to sample snacks from up and coming companies, so when customers want to seek out more of these snacks, their shop is ready to meet these snacking needs.
Unlike Graze's shop, Love with Food's shop is more bulk based. Almost every snack comes in multiple packs, so the price tends to be higher around $30 to $50. This is great if you need a lot more of a snack that you can't live without, but for lighter snack lovers, this may be a deterrent.
They also sell previously released boxes, so you can pick up a box you missed or get another that you loved. Their shop selection is not limited to the products in their boxes either, they sell a ton of health-related foods like bread, cake mix, and artichoke hearts to name a few.
Rewards, Deals, Shipping, and Cancellation
Graze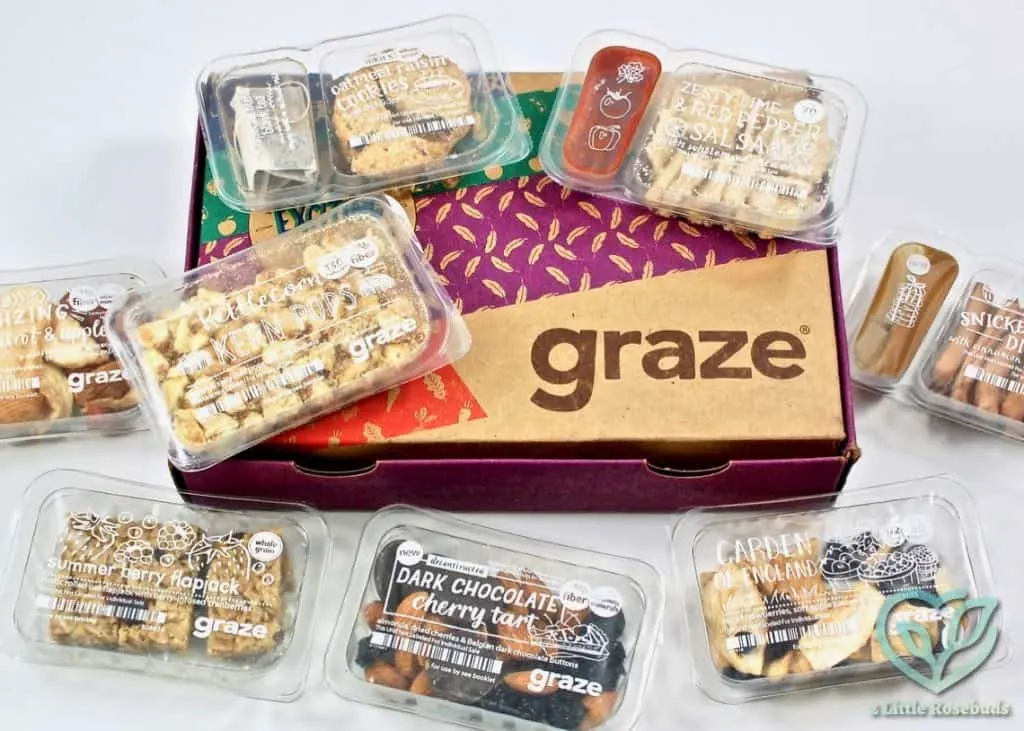 Graze does have a point/rewards program where you can earn points via buying products, reviewing products, or referring friends. These points can then be redeemed against the cost of your order to help lower it.
They also have plenty of deals such as half off your first box, and a free box coupon for new customers. These free-box coupons usually come in mailers when you buy something online. The free box offer is exclusive to new customers, so keep an eye out for this if you are interested in signing up for Graze.
Shipping on orders over $20 is free, and anything under that is shipped for $4.25. This for standard shipping. If you want quicker delivery, premium shipping is also available.
Cancellation is quick and easy, they even have a page to help you through this process. It is free to cancel anytime, as long as you cancel before the cut-off date of when your next box is set to ship.
Love with Food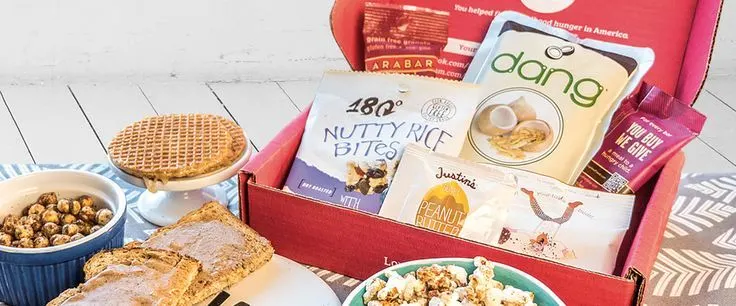 Like Graze, Love with Food also has a point/reward program. You earn points the same ways, but the points can only be redeemed in their "rewards pantry." Here you can order slightly larger packs of previous snacks, or even snag a previous box. You just pay a small shipping fee for these orders.
Love with Food is crazy about deals. Their monthly plans have saving built in, as the price per box gets cheaper the longer the plan is. They also have seasonal sales where you can save money on longer plans, sometimes they will throw in a free box as well. Refer a friend and get a free box in addition to a $10 credit.
If you live in the United States or US territories, shipping is always free for all of their plans no matter the size of the box that you get. International shipping is $3.99 per month. You do have to pay to ship orders from their shop. One thing I personally noticed about their shipping is how fast it is; my boxes always came in before there were estimated to, usually within 5-7 days of the shipping date.
Again, like Graze, cancellation is simple and free. Love with Food doesn't change any fees and you can cancel anytime. Just make sure you cancel before the next billing period!
Mystery or No Mystery?
One of the biggest distinguishing factors between these two services is the difference in the customer's knowledge of the products.
Love with Food is basically a mystery box chalk full of delicious, innovative, and healthy snacks. With Graze, you know what snacks you could get, as they are all up in their store.
If you love trying new things and the excitement of not knowing what you will get, Love with Food is perfect for you. But if you like to know what you bought and prefer things your way, Graze is ideal for you.
I enjoy the mystery aspect of subscription boxes, so I prefer Love with Food.
Breakdown Summary
Graze

Founded a farming school in Uganda.
8 snacks per box, 3 types of boxes.
$13.99 per box.
Boxes contain dried fruit, granola, pretzels, nuts etc.
Constantly developing new snacks.
Multiple plans available per month.
Convenient store to buy more snack size packages of products.
Rewards program.
Deals are readily available.
Free shipping on orders over $20, $4.25 shipping for orders under $20.
Cancellation is free.
You know what to expect in each box.
Love with Food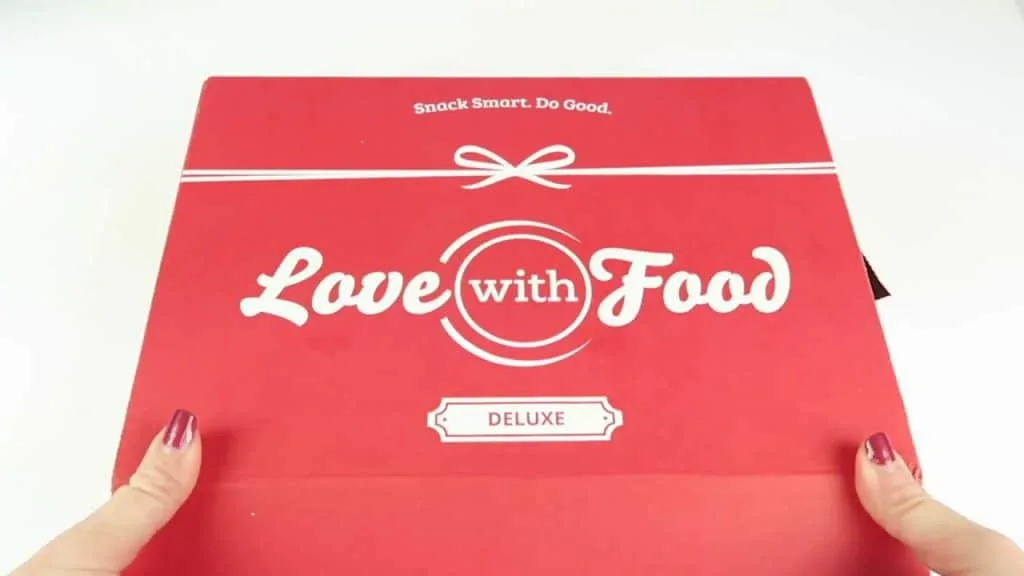 Donates meals to food banks.
7-15 snacks depending on the box, 3 boxes available. Also offers business sized trays.
Prices vary based on box and length of the plan, prices range from $9.99-24.99 with month-to-month The prices only get cheaper from there.
Boxes contain more traditional snacks like cookies, candies, chips, protein bars, etc.
Continuously working with companies to get new products into their boxes.
Multiple subscriptions length options.
A store that lets you buy your favorite snacks in bulk or grab previous months' boxes.
Rewards programs.
Deals are readily available.
Free shipping to US and US territories. $3.99 shipping for international orders.
Cancellation is free.
Each box is a mystery!
And the Winner Is…!
Well, that's up to you! It all depends on which snacks you prefer.
Whichever service you believe fits you better is your personal winner. If you can't decide, it doesn't hurt to try both!
Personally, Love with Food is my preferred service because of the types of snacks and mystery aspect of each box.
Have you tried these services before? Tell us about your experience below
Recommended Reads: