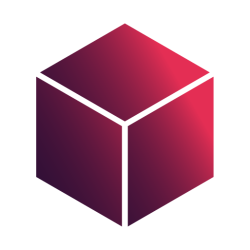 Latest posts by Subscriboxer Team
(see all)
Graze is a subscription snack box including 8 seasoned and delicious snacks weekly.
The snack box is perfect for people who are on the go or looking to snack healthier. Graze is one of the most convenient subscription boxes on the market since there is no signature required upon delivery and the box can fit in your mailbox. Whether it's your home or work, you'll never have to go snackless!
2023 UPDATE: Graze Box is no longer available for ordering in the US (I'm not sure why)! However, our team has reviewed some good alternatives worth considering instead like Delicious Door, NatureBox, and Vegancuts.
Graze, advertised as "healthy snacks delivered to your door" interested me enough to try out the subscription long enough to taste a good amount of their zestful products.
Graze was founded by seven friends who were sick of eating boring snacks such as potato chips and plain pretzels. The group banded together to create 100 different healthy snacks that can be packaged, boxed, and shipped all around the country.
While 100 different snack varieties may not seem like much, each box whether shipped weekly or bi-weekly contains 8 different delicious snacks that are rotated out relatively each time it ships to you. Each box is perfectly and individually packaged for your snacking pleasures and is an extremely convenient and delicious subscription to join.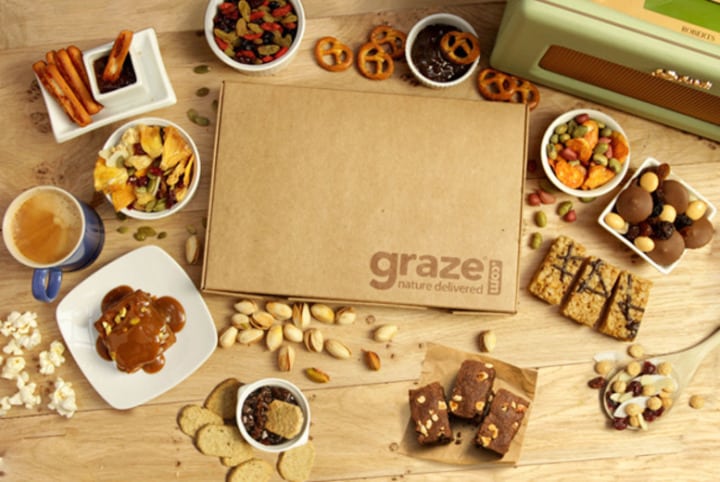 The founder's of Graze wanted to give people the chance to experience new flavors and healthier versions of snacks. Graze works with a nutritionist to hand-pick snacks that contain vitamins, proteins, and/or minerals so you won't have to feel guilty about snacking. Now you don't have to carry celery and peanut butter wherever you go in case hunger hits between lunch and dinner.
Each package is perfectly proportioned as one individual size so if you're an over-snacker you won't have to worry about eating too much. Be warned though, you won't find potato chips packed in one of your subscription boxes but you will find tasteful treats like cinnamon pretzels, apple cinnamon, and honeycomb flapjacks, and apple crumbles bits, raspberry and coconut muffins, and jelly doughnuts which consist of a dried fruit medley. There's also berry compote with shortbread and q cheeseboard which contains nuts and crouton-like small, savory bites.
Past Snack Boxes:
Pictured below are past boxes and up-close shots of some of the delectable snacks Graze has to offer. Each box comes with 8 individual packaged snacks in total, stacked 4 snacks on top of 4 snacks so the package can fit in any sized mailbox.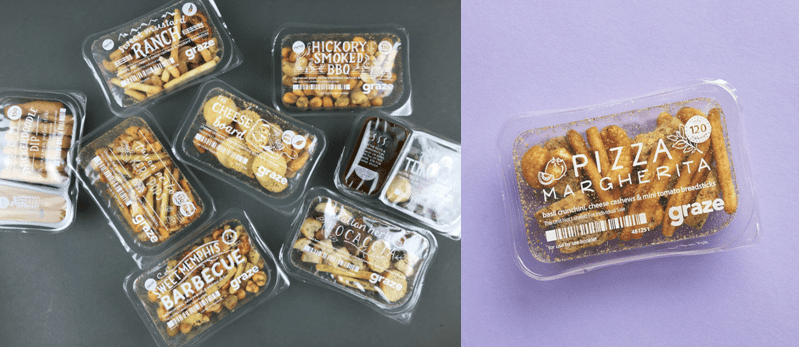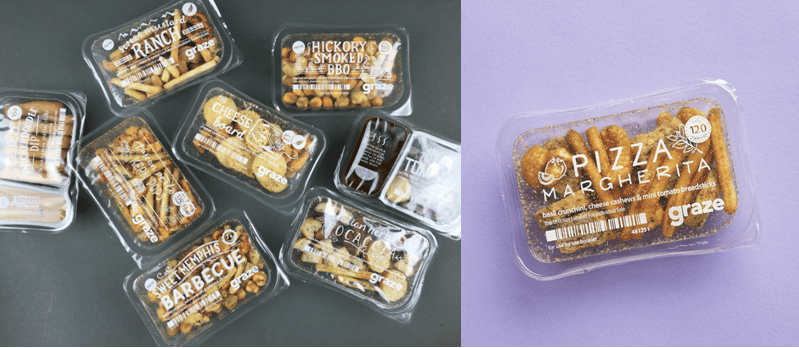 As any box does, Graze has its list of pros and cons when it comes to their products. Although there were, in my opinion, just as many cons as there were pros, I think Graze is one of the better boxes on the market.
Pros:
Delicious snacks
Easy to open the packaging
Perfect for on the go
Healthier snack options
One person-portions
Different varieties of snacks
Can be shipped anywhere in the U.S.
Cons:
You don't get to choose which snacks you get
Often times there's a lot of packaged nuts in each box
The portions can be a bit small
The subscription can be expensive over time
You can get a lot of repeat snacks
No expiration dates on packages
Having tried Graze for six months, I realized I was receiving a lot of items I wasn't eating and ultimately decided to cancel the subscription. Having had bi-weekly subscriptions for 6 months, I definitely had an accumulation of nuts and seeds I didn't eat. After a final count, I had over 12 packages of nuts, seeds, and granola I had no interest in eating any time soon. I think the worst part of it all was that there were no expiration dates on the packages which I found to be upsetting.
Some of the packages that I did want to snack on had dips in them and, having been in my cabinet for months, I wasn't sure if I should eat them especially that the dips looked a bit dried out. I made the decision to throw them out and the nuts too since no one seemed interested in individually packaged nuts and seeds.
That was a big disappointment, however, if you're the person who is going to eat all eight packages before the next box arrives this probably would not affect you.
Pro tip: you can log in to your account and check off that you have allergies – having no allergies to nuts I never did this, but looking back that might have a been a good idea since I'm not a huge nut or seed fan.
On the plus side, the snacks were absolutely delicious. Some of my favorites were all of the flapjacks, the snickerdoodle dips, the caramel sauce with stick dippers, the fruit mixtures that tasted like dessert, and the shortbread mixtures.
I found myself reaching for those specific items all the time but when I received my box and they weren't in there it would be very disappointing to see seeds or nuts or something I wasn't crazy over instead. The peppered popcorn, seasoned popcorn kernels, and herb breadbaskets were delicious too. If you like crunchy snacks I would definitely recommend trying them. These items seemed to come in most of my boxes.
Beyond the obvious, that it's exciting to receive something like Graze in the mail each week or month, it was also fun to anticipate what treats I would be getting in that box. Would it be something new? A repeat of something delicious for the week ahead? Or something I wasn't too crazy about?
Each time I'd receive a box half would go in my cabinets to be packed for work or eaten at home and the other half would be stashed in my car for the long commutes to and from work. Graze gives the perfect size portions for when I got out of work starving, or was running to yoga in the afternoon, or doing some errands and didn't feel like stopping to pick up food and wait on a long line.
Convenience and taste are priorities for me and Graze absolutely delivered. If only someone could deliver fully prepared cooked meals whenever I was hungry – now that would be just perfect. As an added bonus, if you visit their websites at www.graze.com you can check out some of their delicious recipes that include their snacks like strawberry and cream froyo pops with their strawberry and cream protein toppers and their summer berry compote.
This is a major bonus since sometimes you can receive items that are perfect for snacking or pairing with other foods like froyo. The site also posts recipes such as their chocolate protein brownie pancakes and banana protein waffles which you can check out without even subscribing.
In addition, Graze offers free shipping on weekly and biweekly boxes, allows you to purchase additional snacks that you love in packs of 6, and offers free shipping on your additional snacks if they total over $20. And each package is nutritionist-approved with a stamp on each snack packaged so you can snack endlessly without worrying about losing nutrients, protein, or vitamins.
Graze Box Alternatives | Other Subscriptions to Try:
If you love Graze or are still undecided about trying them, there's a bunch of other snack subscription boxes that offer a variety of healthy snacks.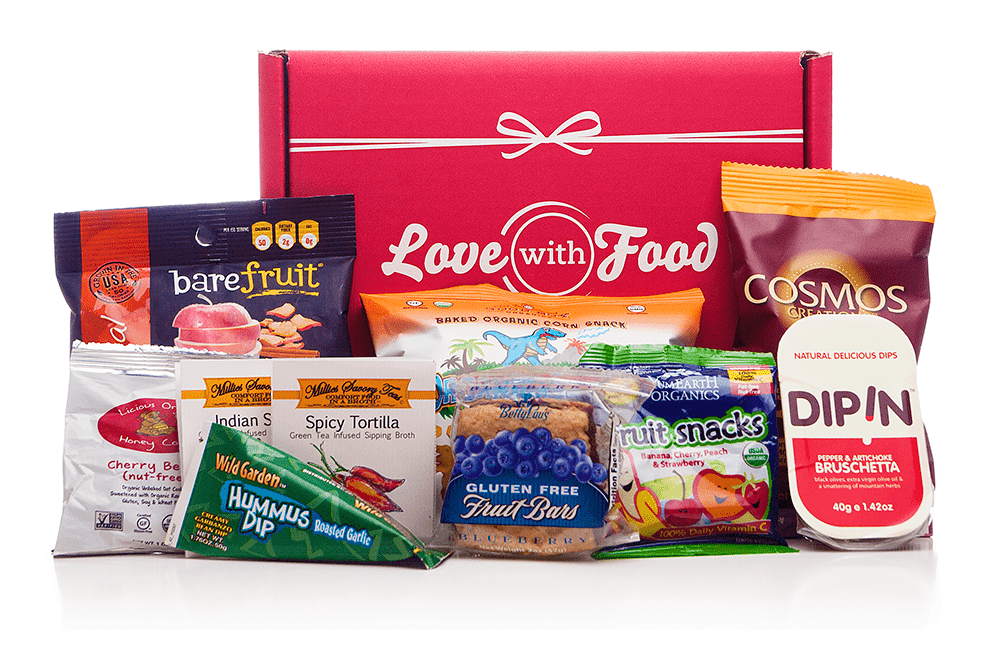 Love with Food priced at around $7.99 per month is a subscription box like Graze which allows you to try eight or more all-natural or organic snacks. If you have dietary restrictions such as gluten or prefer only organic foods they offer personalized customization so you don't have to worry about your diet needs. Love with Food fights against child hunger and donates meals to food banks every month as a thank you to their subscribers with over one-million meals donated. Not only are you curing your hunger by subscribing to Love with Food but your also curing child hunger with every box.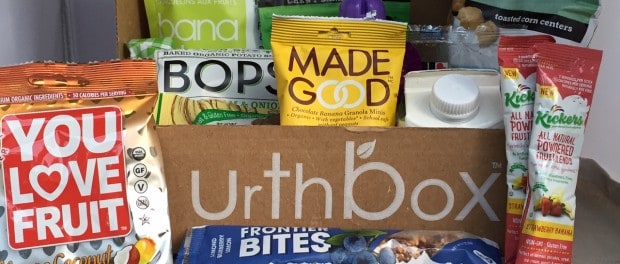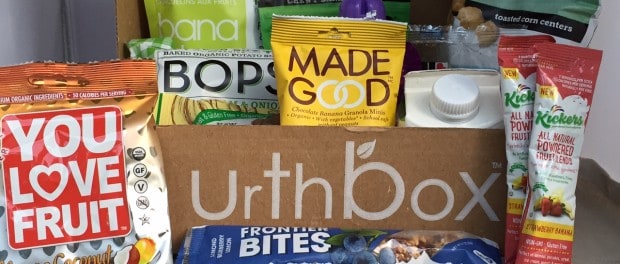 Urthbox is another healthy snacking option. This box allows you to choose gluten-free, vegan, and even special diet boxes tailoring each box to your dietary needs and taste. The box starts at $19.99, which is pricier than some of its competitors, but on the up-side, it offers full-size products unlike Graze, Naturebox, or Love with Food. Some of their noted products include coconut water, granola, dried meats, nuts, and healthy shakes just to name a few.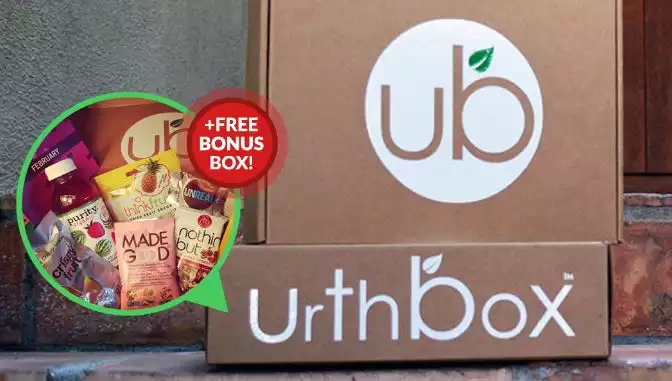 Healthy Snack Subscription Box | Urthbox
UrthBox is the best way to discover healthy new nongmo foods, beverages, snacks and more delivered to your door every month.
Check Prices
We earn a commission if you click this link and make a purchase at no additional cost to you.
And lastly, another box to try if you're interested in Graze is Healthy Surprise, which offers full-size products that are all natural, organic, and non-GMO and are delivered to your home monthly. Healthy Surprise offers gluten-free, soy free, and corn free vegan boxes as well. This subscription offers different box sizes from classic to paleo and range from $42.49 to $74.99. Although a bit more expensive than Graze, Love with Food, and Urthbox, this subscription offers more products and can be tailored to even the strictest dietary needs.
My Overall Recommendation: Should You Subscribe?
Overall, if you don't mind shelling out a few dollars to try the Graze I would definitely recommend it. If you know you don't like something like nuts or seeds, it would be beneficial to note that in the beginning so you don't end up with tons of mixtures you're not interested in eating. Graze allows you to adjust how often you receive your subscription and will open your taste buds to a whole new way of snacking. And, like most subscription boxes, you can cancel at any time without any hassles making Graze an obligation and hassle-free choice and one of the best snack boxes on the market.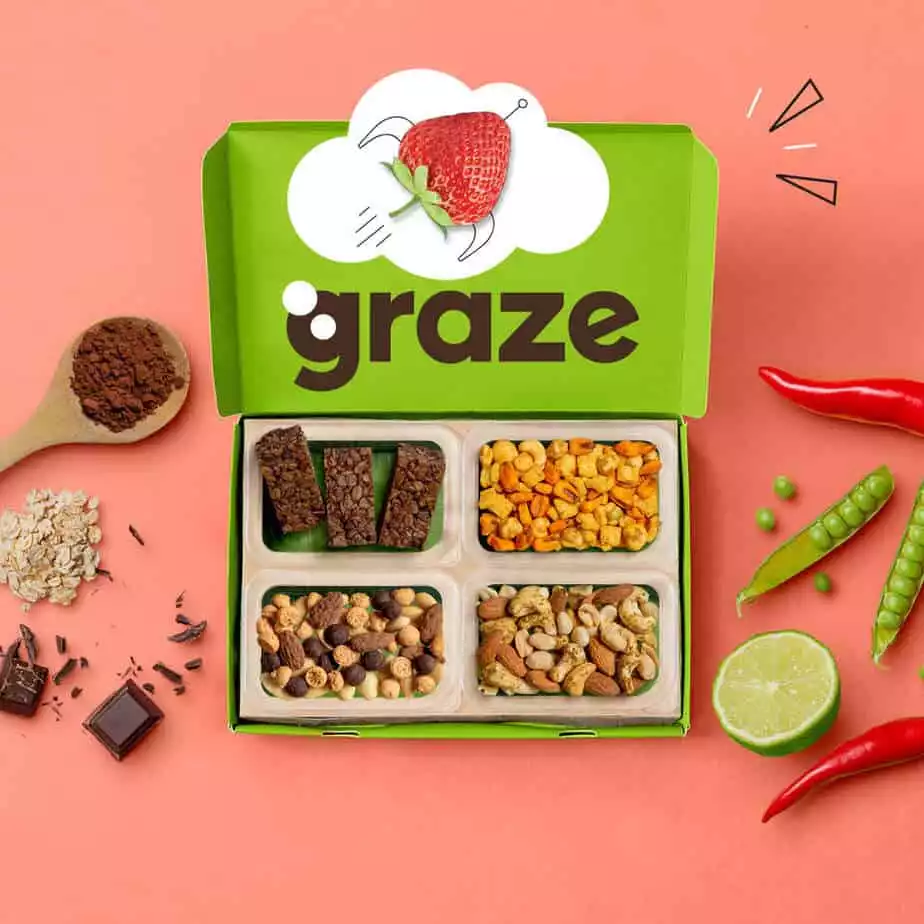 Healthier Snacks by Post | Graze
What if better snacking started here? Graze.com reimagined snacking by using wholesome ingredients to create something downright delicious.
Get Started
We earn a commission if you click this link and make a purchase at no additional cost to you.
Further read: