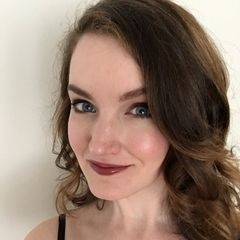 Latest posts by Crystal Schwanke
(see all)
Misfits Market vs. Imperfect Foods, compared, could be a tough choice if you live in the delivery area for both services. Their mission is basically the same: reduce food waste and save you money at the same time. There are still some notable differences between the two, though.
Let's just say grocery shopping in an actual store is…not my favorite way to spend time. But I'm the one in charge of food at my house.
There are three things I love about the meal-planning and grocery-purchasing process when it comes to delivery services like these: the way saving money feels like such a win, having groceries sent to my door, and cutting down on food waste.
As the person who does the planning, shopping, and most of the cooking at my house, I had to investigate these options.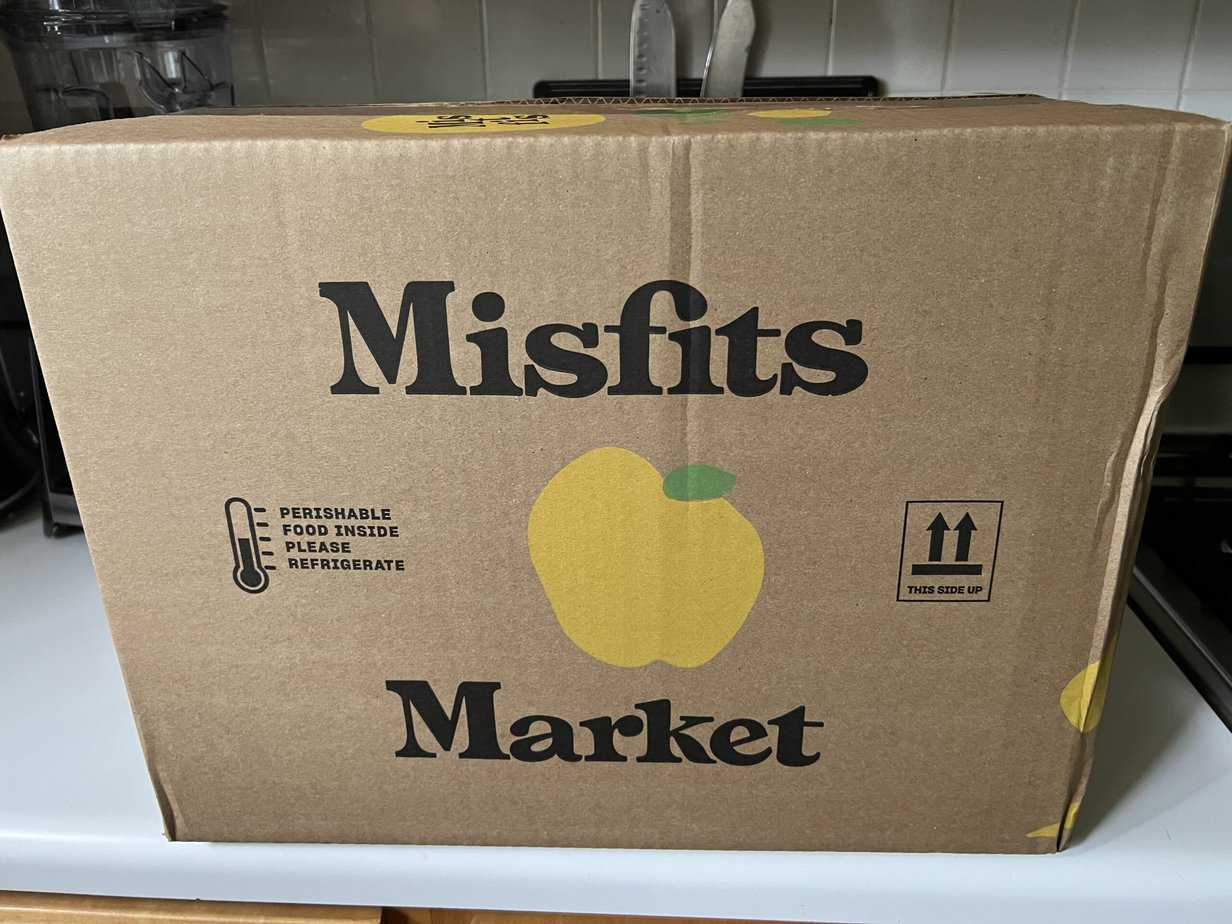 Bottom Line Up Front
Misfits Market and Imperfect Foods have a lot in common. Their mission and values are similar. They set out to accomplish their goals the same way. Once you compare Misfits Market vs. Imperfect Foods, it'll probably seem like they're basically the same company. That's because they are.
If you've been interested in one, you can't go wrong with either of them, but there are still a few differences to consider, like the types of products they carry (organic vs. conventionally-grown, for starters) and where they'll actually deliver.
Because I'm focused on cleaning my diet up as much as possible, the curated cart they gave me immediately gave me meal-planning ideas, and the delivery area's much broader, I'm partial to Misfits Market. However, I can see Imperfect Foods being the perfect solution for a lot of people.
Is Misfits Owned by Imperfect Foods?
It's the other way around.
Misfits Market acquired Imperfect Foods in September 2022. This allows Misfits Market to expand their reach across the country. The suppliers may be different from one region to another, based on the previous coverage maps and relationships, which could influence what's available in certain areas (or make some items available to a wider area because of the acquisition).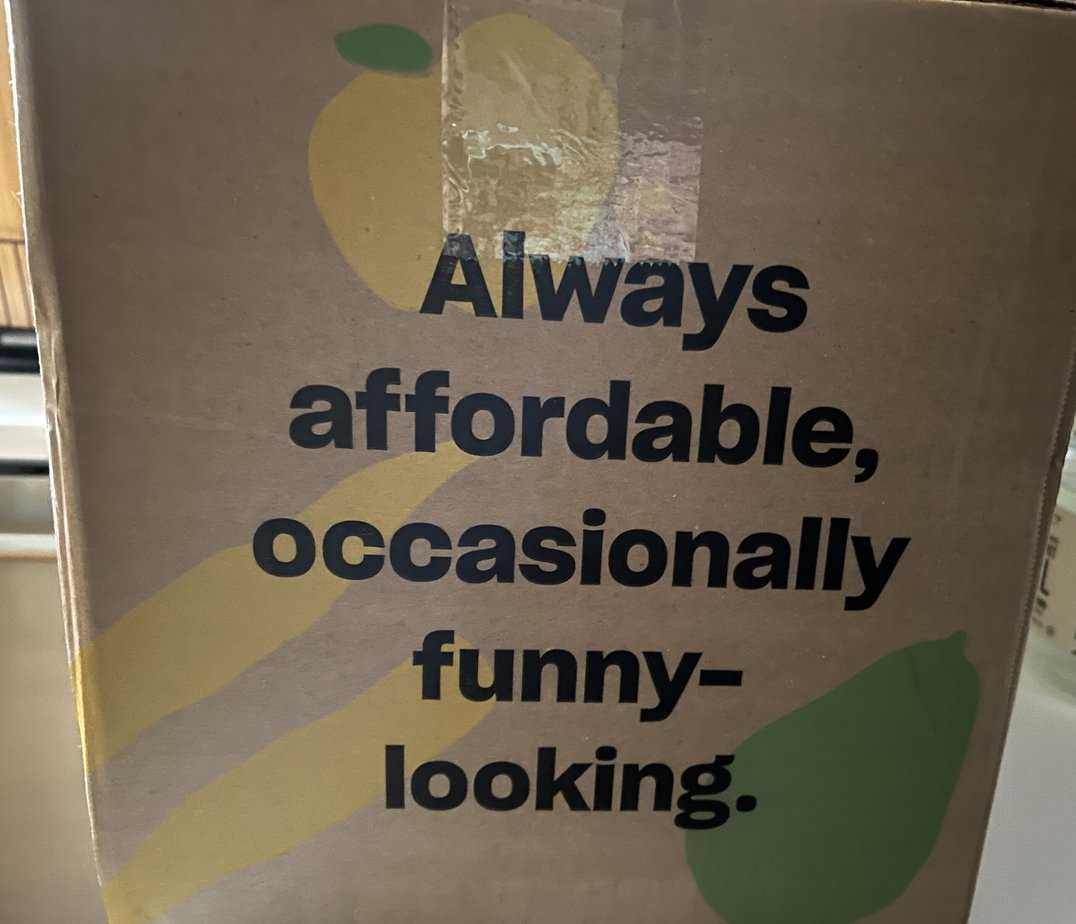 The Main Differences Between Misfits Market and Imperfect Foods
Misfits Market mostly focuses on organic options, whereas Imperfect Foods offers more conventionally grown produce and seems to have a wider selection of non-food items, like pet supplies, home, and health.
Misfits Market's delivery map covers most of the country, whereas Imperfect Foods is more limited (and it may tell you Misfits Market does their delivery for them when you enter your zip code).
Misfits Market gives you a little wiggle room to change your delivery day (at least in my experience), whereas Imperfect Foods tells you the one day of the week they deliver to your area.
Misfits Market has about 500 items, whereas Imperfect Foods has about 300.
Misfits Market has an order minimum of $45.00 (this could vary by region), whereas Imperfect Foods has no order minimum.
Misfits Market charges based on the categories of things you want in your box (though you can add individual items from other "aisles" later without adding on a whole new category), whereas Imperfect Foods determines the size and type of box you'll need based on your preferences (for example, you can choose "A little of everything" or be more specific), whether you want organic vs. conventionally grown produce, and the final weight of the box.
A visual representation might help: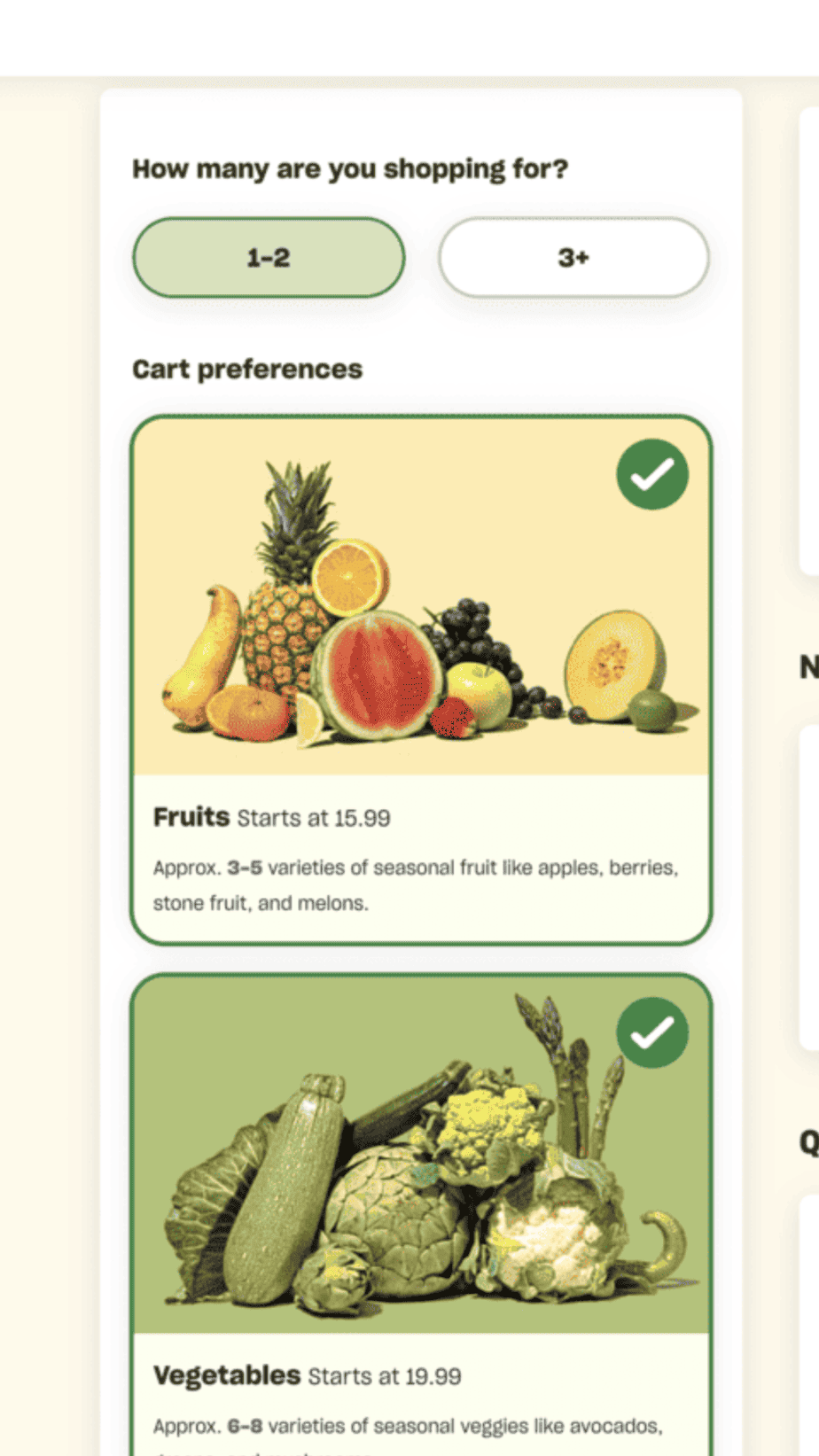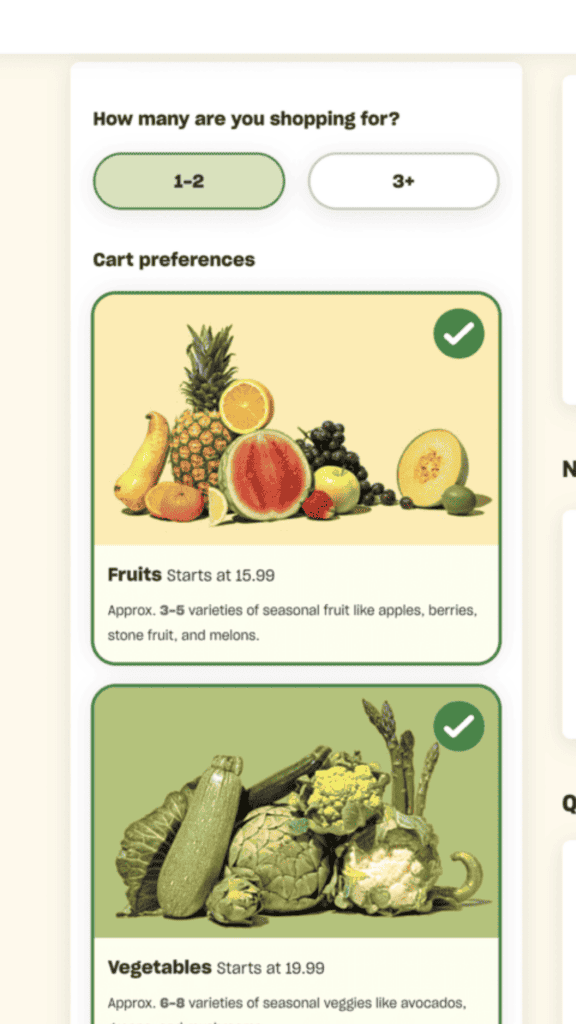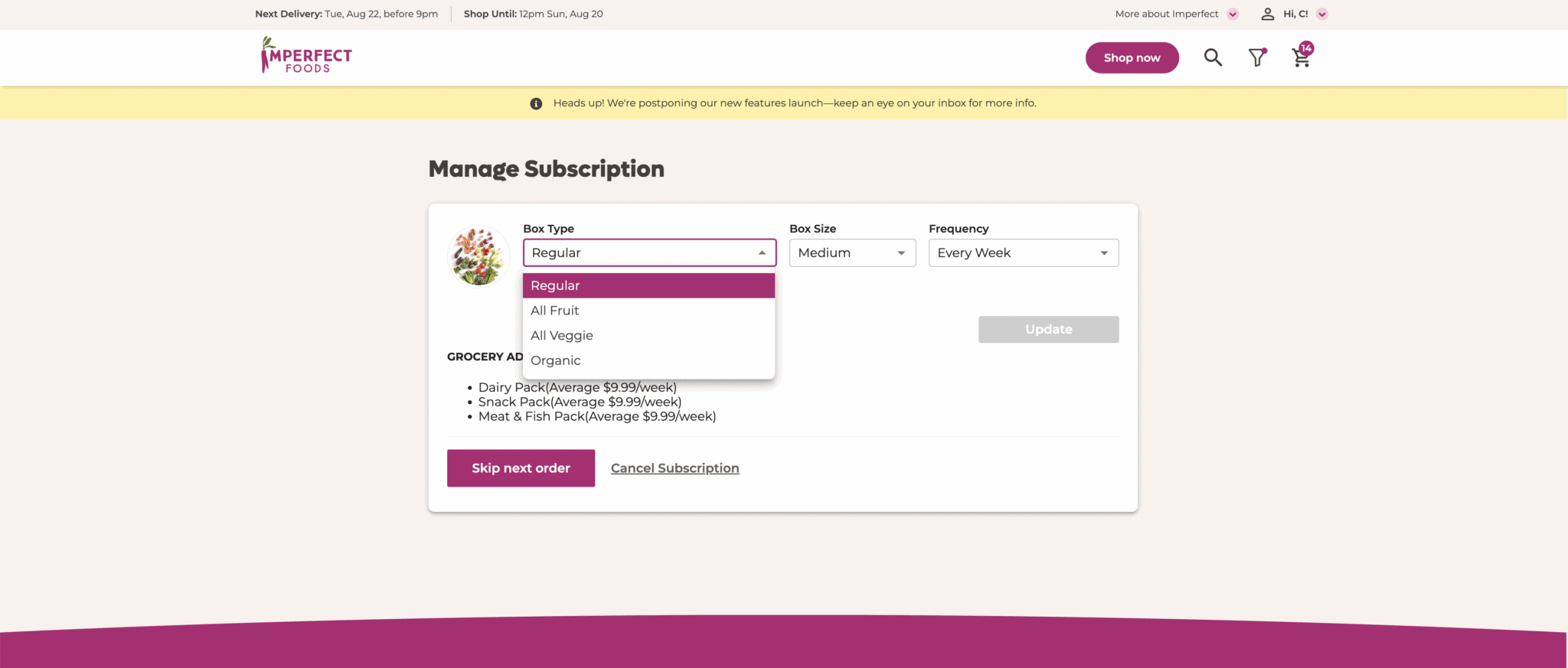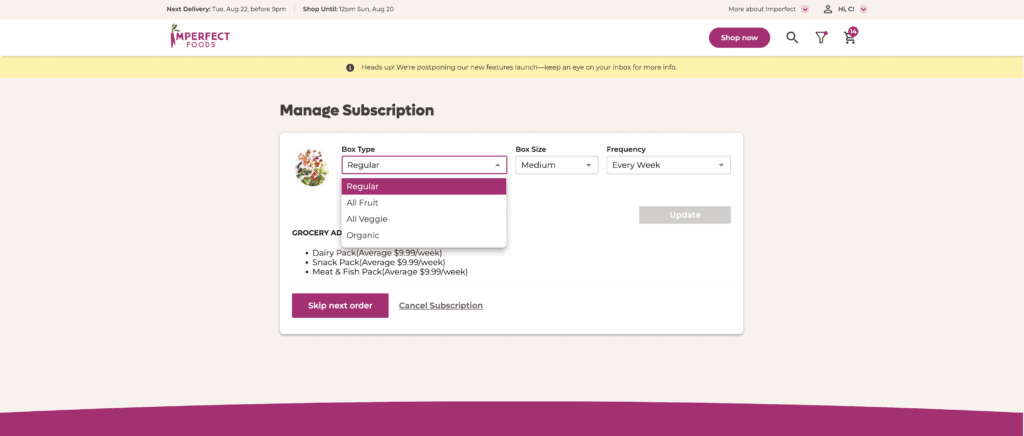 What They Have in Common
Both deliver fresh, discounted produce and other items straight to your door every week or every two weeks.
Both are easy to cancel. It just takes a few clicks inside your account. No hassle.
Both have recyclable packaging you can leave out for them to take away when they drop off your next box.
You can donate your orders.
Misfits Market rescues high-quality, primarily organic, grocery items to prevent them from going to waste, and then sells them at more affordable prices than most grocery stores. They're still fresh, they just don't live up to the aesthetic standards for grocery stores or are part of excess inventory.
When you sign up (for free), you let them know what you like, and they curate a cart for you. You have the option to make changes before it ships.
Prices are based on how many people you're feeding and what types of items you want in your box (veggies, fruit, bakery, etc.).
Boxes of food are shipped right to your door on the same day of the week each week (unless you decide to skip, which is easy to do from inside your account).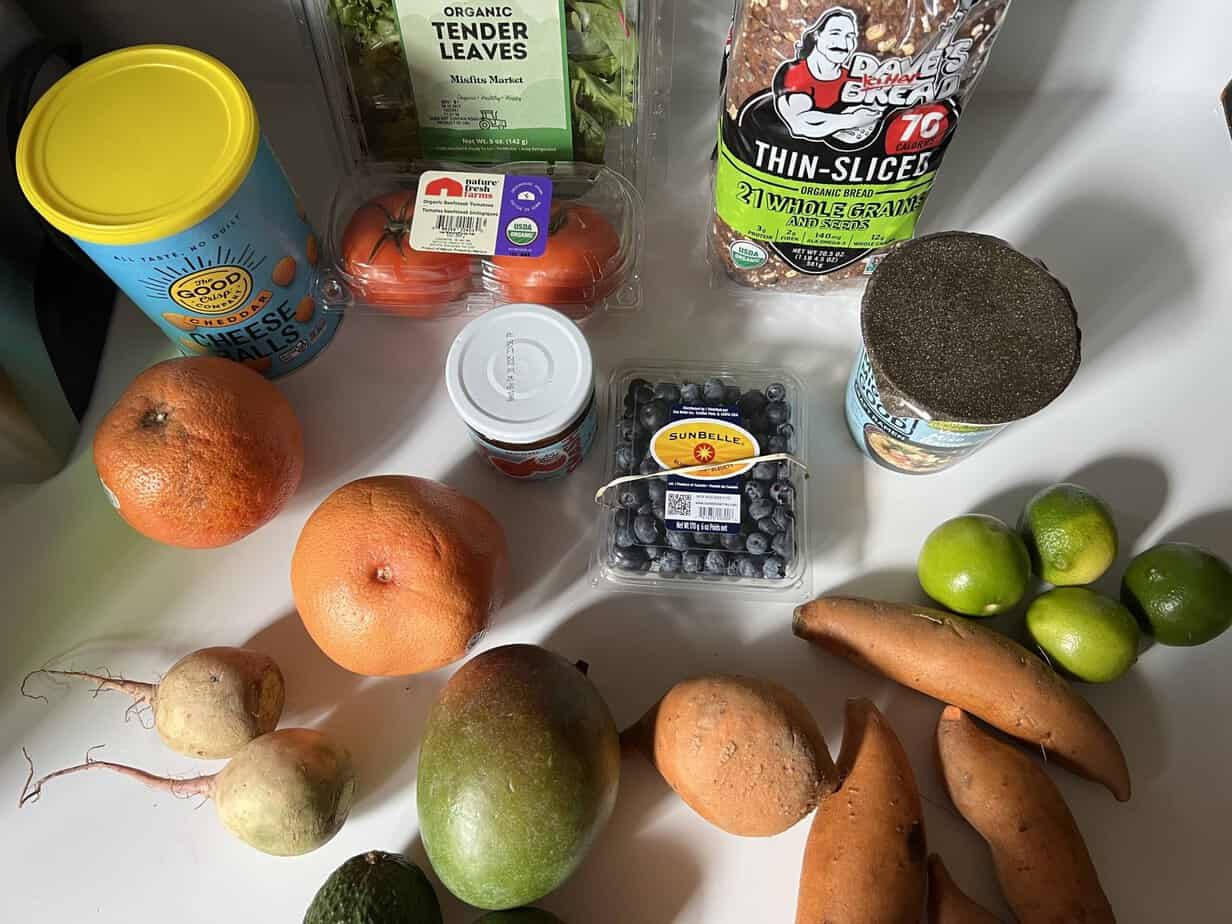 Pros
Smooth shipping and delivery process.
It's practically impossible to forget to update your order before it ships–I've gotten texts and emails to let me know they're ready for me to shop.
You really can save money and get high-quality, mostly organic food at the same time.
The produce I got wasn't even that "ugly," so there was nothing to cringe about when it was time to cook.
The produce can be on the small side (that's part of what makes some items "misfits"), but they made up for it by sending me extra.
You can edit your curated cart, so you're still in control.
It helps you eat more produce that's fresh and in season.
Cons
Having a shopping window is annoying because I like adding things to my cart throughout the week.
You can only shift your delivery by one day, at least in my experience. My original day was Thursday, and when I went in to change it, it said I could choose Wednesday for my next order. I usually shop on Sundays, so figuring out how to work it into my weekly meal planning and grocery ordering long-term will take some thought.
There's variety, but they won't have everything all the time like a regular grocery store would.
The minimum order requirement could make things difficult if you only need a few things.
You have to plan ahead a bit–no last-minute orders.
My second cart was similar to what I'd bought in the previous order, and I would've preferred to see more variety.
Pricing
With Misfits Market, I started out buying for one to two people (fruits, veggies, and snacks) because only two of us were going to be home that week. My total was $45.97 to $54.97 per week.
Switching to 3+ people bumped the weekly price up to $64.97 to $73.97.
If I clicked a few more options (to make it more like the "a little of everything" option at Imperfect Foods) to include all categories except the one with strictly vegan items, the price jumped to $171.91 to $201.91 per week.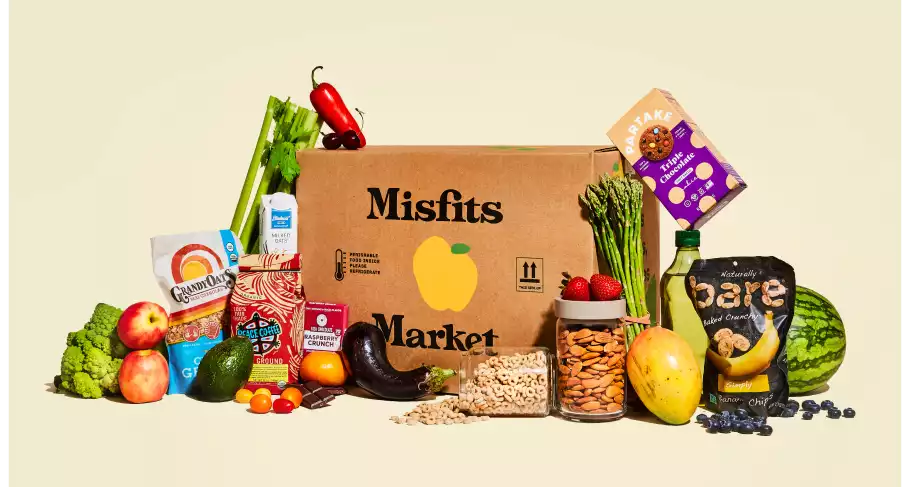 Farm-Fresh Finds: Unleash Flavor with Misfits Market!
Embark on a culinary adventure like no other as they bring you a vibrant array of deliciously imperfect produce, delivered straight from the farm to your doorstep. Embrace the uniqueness, savor the flavors, and transform every meal into a celebration of sustainable, fresh, and extraordinary ingredients.
Get Started
We earn a commission if you click this link and make a purchase at no additional cost to you.
Delivery Area
They have an impressive delivery area. It's most of the United States. Just no Hawaii or Alaska.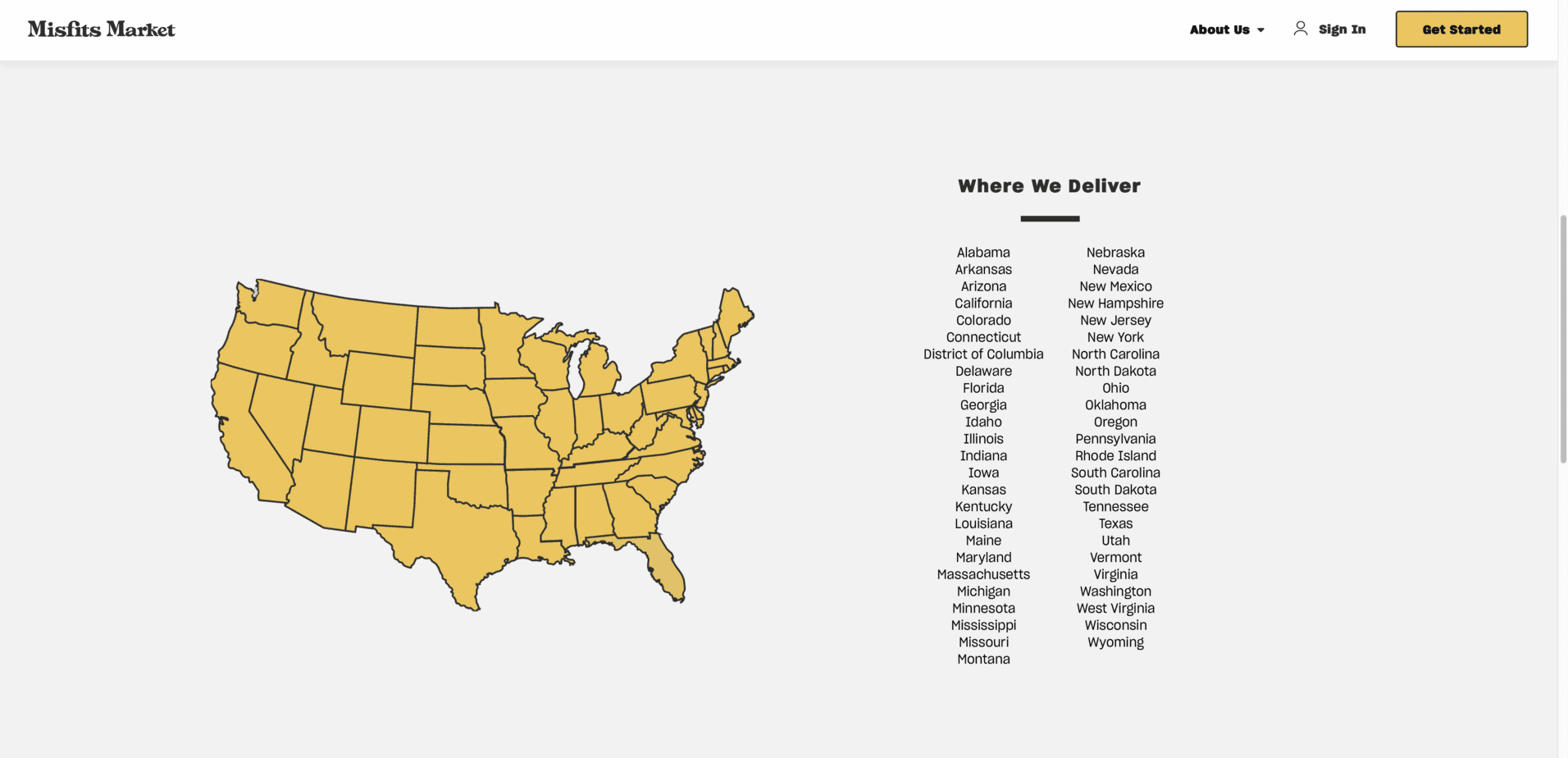 Misfits Market's Curated Cart
To keep my total around $50.00 to $60.00, I chose only three categories from Misfits Market. My cart had cucumbers, avocados, two kinds of apples, mango, sweet potatoes, blueberries, chips, and more–most, if not all, of it was organic. Other than the chips, everything would easily fall into the "healthy" category (even the chips and crackers are organic, though, and don't have a lot of mystery ingredients that make you wonder what they are).
I swapped out a few things and added items that didn't fit the pre-selected categories, like a loaf of Dave's Killer Bread. I was still able to stay within budget.
Adding an item from another category doesn't change the plan you've selected. You're simply charged for the items that are in the cart when it closes for the week.
Features of Imperfect Foods
Like Misfits Market, they sell produce and other grocery items that wouldn't cut it in the grocery store due to their imperfections (there's nothing "wrong" with them, but they might look a little funny, be too small, etc.). You take a quiz regarding your preferences, then they fill your cart with things they think you'll like (you can edit it).
There's no sign-up fee or minimum order, so you can order as much or as little as you'd like.
You can choose to have deliveries on auto-ship every week or every two weeks, and you can still skip deliveries. You can downgrade to the Flex plan if you prefer not to use the subscription option.
The subscription price is based on how many people you're feeding and what you'd like to have sent to you. The cart they create for you will be within a specific range with only a few dollars between the low-end and high-end, so it's easy to budget.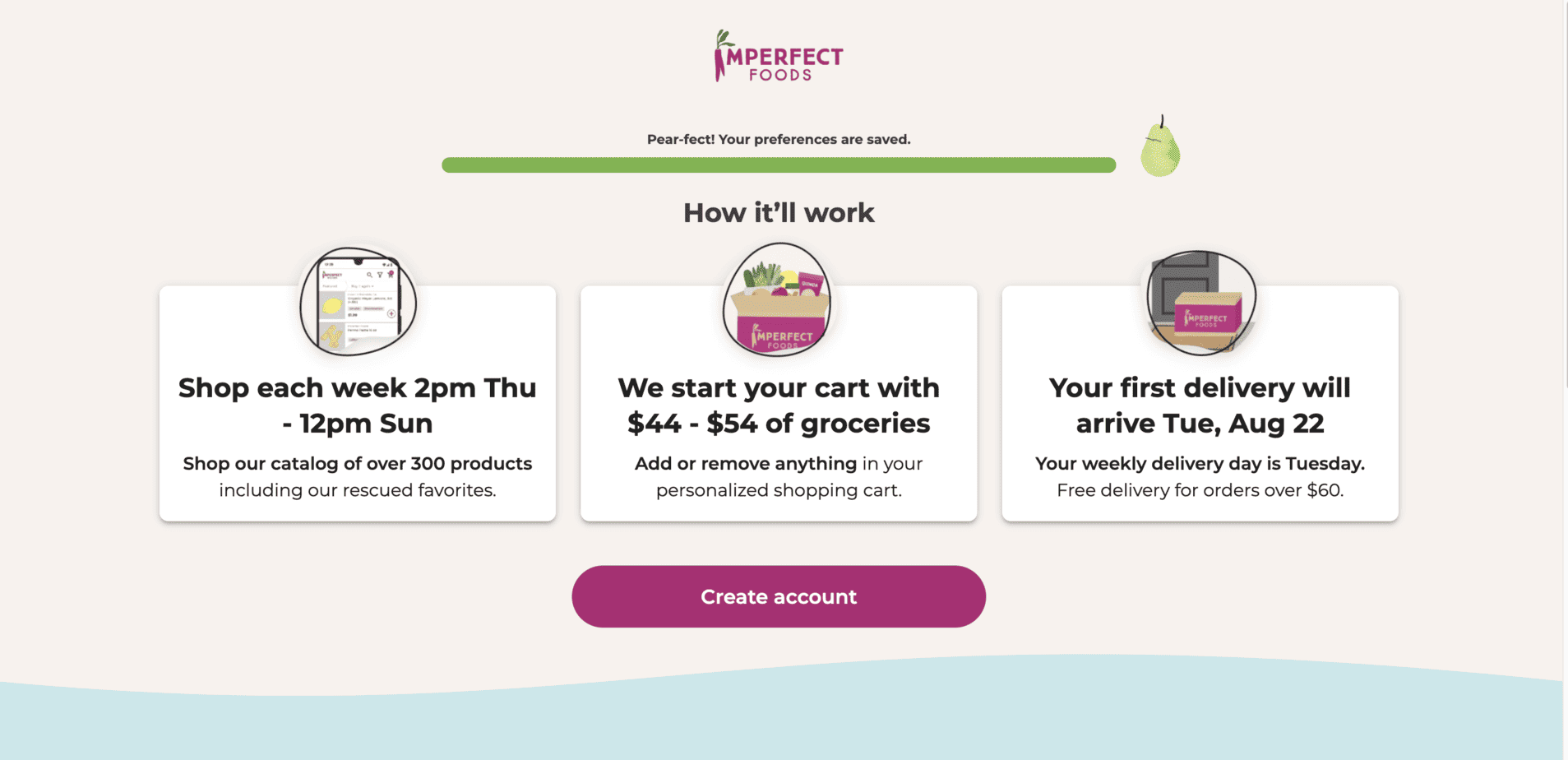 Pros
Delivery is free if you spend more than $60.00. (It's $5.99 if you order less than that.)
There is less focus on organic food, which could be a pro for some and a con for others, but it'll most likely be less expensive.
They have a packaging return program, so you're tossing even less in the trash.
You can add things you love to your "Recurring Order" list and get them every week as long as they're in stock.
I like the sliding scale in the sign-up quiz that asks how much conventional vs. organic produce you tend to buy. That gives you a little more control over the prices.
They have an incredible variety of products here, including pet supplies to bath & body care.
Cons
You can't see what items they have available before you sign up for an account. Their selection changes frequently, so what you'd see while you were checking out the site wouldn't necessarily match what they had later. Still, a general idea would be helpful in deciding whether to set up an account at all.
There seems to be less of a focus on healthy ingredients here than Misfits Market that goes beyond organic vs. conventional. I found Pillsbury Seasonal Cream Cheese Frosting and Perfectly Pumpkin cake mix at Imperfect Foods and didn't see anything like that at Misfits Market (wouldn't expect to). There's nothing wrong with this frosting and cake mix; it just doesn't fit the "health food" profile of Misfits Market and demonstrates the range of options Imperfect Foods has, even though they have fewer items to choose from overall. The reason it's a con, then, is that shoppers are most likely most interested in healthy foods at a lower price point if they're comparing Misfits Market vs. Imperfect Foods.
Pricing
When I signed up at Imperfect Foods, I said I had two adults and one child to feed, tend to buy a little of everything, don't have any dietary restrictions, and pushed the marker just slightly to the conventional produce side of the scale. My price range came to $36.00 to $46.00 per week.
Delivery Area
The delivery area is much smaller than Misfits Market's. It's concentrated in the Midwest, parts of the Northeast, eastern Texas, Louisiana, and parts of the West Coast.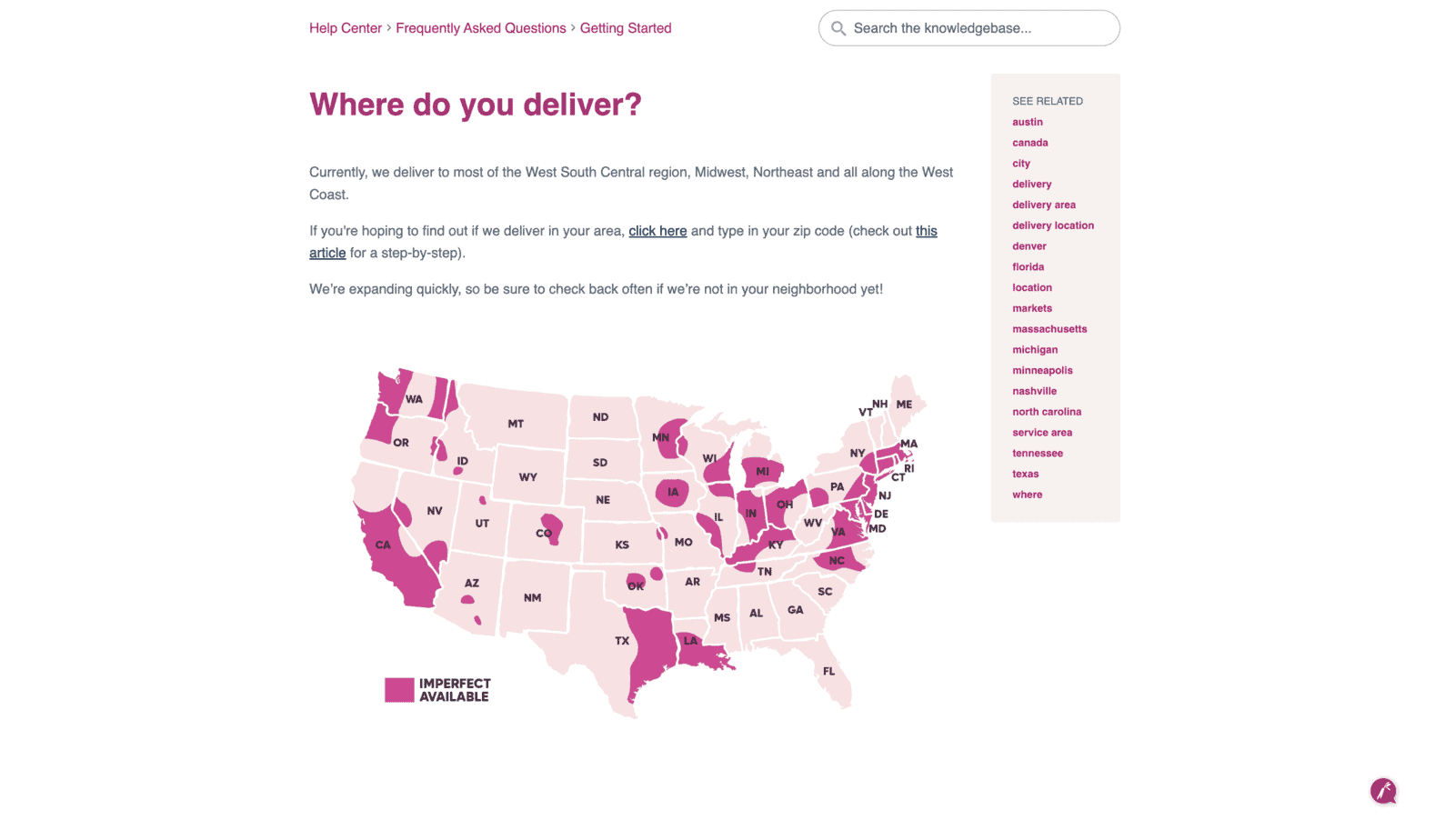 Imperfect Foods' Curated Cart
Because of the way the quiz questions are worded at Imperfect Foods and how they ship boxes based on type and weight vs. specific categories of foods, I was able to say I wanted a little of everything and still keep the prices low.
The cart they created for me had all kinds of things, like squash, fennel, cilantro, uncured hot dogs, ground lamb, carrots, gruyere cheese, half and half, cherry tomatoes, baby bella mushrooms, cheese spread, tortilla chips, sweet potato puffs, hot sweet potato fries, and more. I was delighted to see that much variety for such a low price.
If you want additional items outside of your selected box, you can choose to add on other categories, like dairy or beverages, for an additional $9.99 per week.
Which Had the More Inspiring Cart?
I had mixed feelings comparing Misfits Market to Imperfect Foods here. I like the way Imperfect Foods prices their boxes–you can get a mix of things without stacking categories to a point that reaches outside your budget.
However, there was such a mix because I was tempted by the "little bit of everything" option, I didn't feel as inspired by the cart as I did with Misfits Market's. Items didn't seem to go together as easily, so I didn't just take one look at the cart and know exactly what I wanted to make.
The randomness could increase the odds of the food going to waste in my fridge. I need a plan; I won't get inspired by a random single item and then whip something up with miscellaneous pantry items I already have. That's not how my brain works, but my husband's does. Maybe yours does, too. It's something to consider. I love variety and trying new things, but I need some structure.
Alternatives to Try
FAQs
Question: Which one is better, Misfits Market or Imperfect Foods?
Answer: It depends on your preferences and where you live. Misfits Market has a larger delivery area and more options to choose from. However, Imperfect Foods is actually perfect if you live within their delivery area, appreciate the idea of no minimum order, and prefer conventionally grown produce.
Question: Is Misfits cheaper than the grocery store?
Answer: Overall, I would say yes, it's cheaper than the grocery store. The pricing is most similar to what you'd find at Trader Joe's, Aldi, or Lidl.
Question: How much does Misfits Market charge for shipping?
Answer: The shipping fee starts at $6.99.
It's a Close Call, but Misfits Market Wins
Misfits Market and Imperfect Foods, compared, is a tough choice unless you live outside the delivery area for Imperfect Foods. In that case, it's obviously Misfits Market. Because their delivery area is so much larger and they have almost twice as many items to choose from on average, Misfits Market wins, but only barely.
If you prefer mixing in more conventionally grown produce and like having no order minimum, start with Imperfect Foods.
They're so similar, you'll save money and prevent food waste with either one.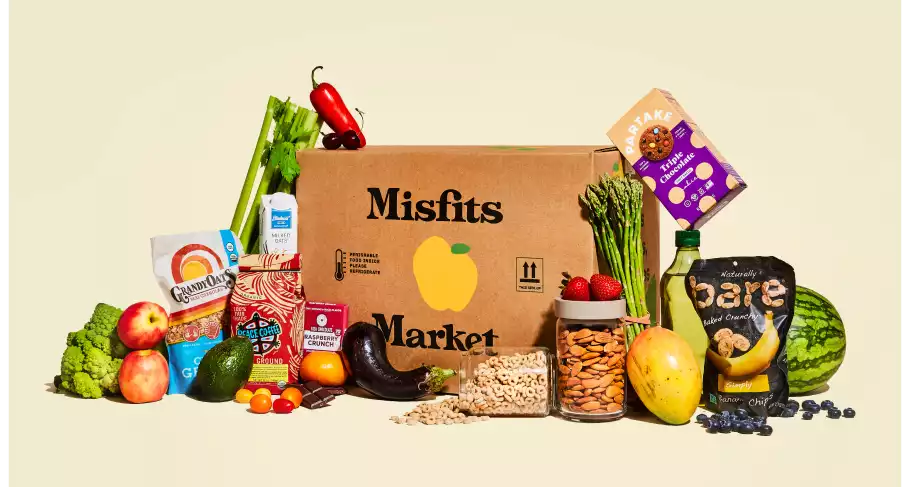 Farm-Fresh Finds: Unleash Flavor with Misfits Market!
Embark on a culinary adventure like no other as they bring you a vibrant array of deliciously imperfect produce, delivered straight from the farm to your doorstep. Embrace the uniqueness, savor the flavors, and transform every meal into a celebration of sustainable, fresh, and extraordinary ingredients.
Get Started
We earn a commission if you click this link and make a purchase at no additional cost to you.
Continue reading:
Misfits Market Review: Is It Worth It?
Misfits Market vs Thrive Market Compared: How Do You Choose?