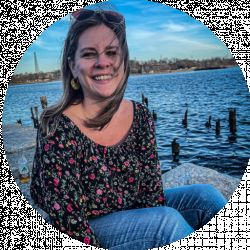 Latest posts by Thea Engst
(see all)
In a world where there seems to be less and less time to shop, plan, and meal prep, the idea of getting any sort of groceries delivered is so much more than tempting—it's downright necessary. Wild Pastures is one company that answers the call of making life a little less stressful while maintaining a high-quality diet. I ordered a box from them to try so you don't have to. Here's what I learned.
Bottom Line Up Front
Wild Pastures is worth your money. No, don't think twice about it, it is. Order one box and look at how your weekly grocery bills plummet. Meat is expensive, but you can get high-quality meat delivered every four to six weeks without even thinking about it. Wild Pastures is one bill of all the meat you could need. It also makes meal planning fun!
Wait wait, Wild Pastures—what is it?
Wild Pastures is a subscription or one-time order box for organic meat and wild-caught seafood. They promise 100% grass-fed and finished beef (meaning the meat comes from cattle that only consumed grass which they foraged throughout their lives—in wild pastures!), pasture-raised pork, and pasture-raised chicken.
They deliver anywhere in the country because their goal is to make high-quality, organic meat more accessible to the entire United States. They are therefore located all over America because, as their website states, "Wild Pastures is a network of highly principled farmers in the USA raising animals outdoors on lush grass pastures—the way nature intended. No feedlots here!"
So now you know the name of the game, take a look at what I ordered, how it arrived, what I did with it, and most importantly: how it all tasted!
My Experience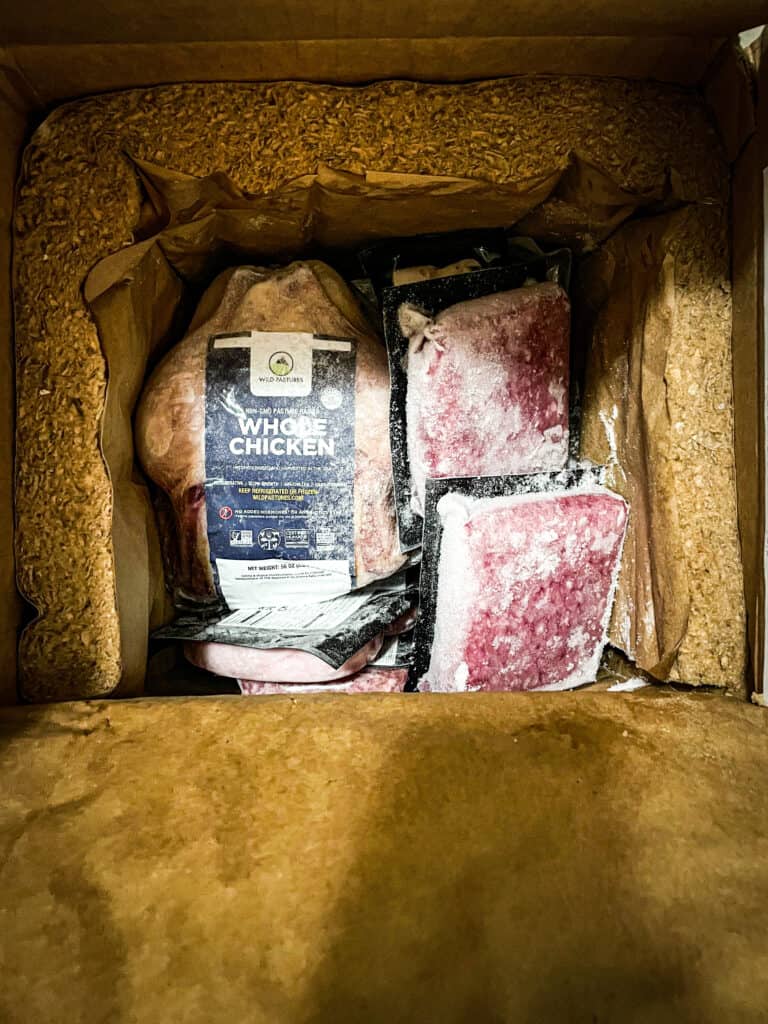 The Ordering Process
I wanted to order a one-off box (I'm not the type to commit without trying first!) so I ordered a one-time mix of meat (no seafood). The total came to $178 for a total of fifteen pounds of meat.
The specifics were: two pounds of ground beef (in separate, one-pound packages), two pounds of ground pork (also divided into two separate packages), two pork chops, one pound of ground pork breakfast sausage, one pound of taco seasoned ground beef, one whole chicken of three-and-a-half pounds, one pound of sugar-free bacon, three chicken thighs, and two pounds of brisket. All in all, it amounts to about $12 per pound of meat.
The website offered upgrades or to choose larger portions of some of the meat, and to cut out a type of meat you don't want (you need to choose a substitute though). I stayed true to the variety chosen for me, I wanted to try what they recommended. The ordering process was very simple and easy, they even offered a cookbook for an extra $9.99. This was tempting, but I decided to rely on the good old internet and friendly advice instead.
Wild Pastures made it very clear on the website that they were doing their best to keep up with demand and that they'd ship their products as soon as possible. With that message, I didn't expect my package to be delivered so quickly! They sent emails letting me know the package had shipped, where it was in transit, and when it arrived.
The package arrived on time and in a 100% recyclable box (even the insulation was recyclable). All the meat was frozen solid, there was no fear of any kind of defrosting that happened while it waited for me to collect it off the porch. This, as you can imagine, was very reassuring. All the meat was also packaged well, with no tears in any of the plastic. I promptly put it all in the freezer, making the tough choice of where to start.
It was the taco meat, obviously.
Recipe 1: Taco Tuesday
I'm a taco enthusiast. I mean, I eat them at least once a week. I even worked at one of the best Mexican restaurants in Boston for three years, so I consider myself a little bit of a taco snob. To prepare for this meal, I got the necessities: corn tortilla shells, avocado, sour cream, cilantro, salsa, queso, and my homemade pickled red onions. I even snagged a couple of small bags of Fritos to make Walking Tacos.
The taco meat needed no seasoning, everything was already added. (I love this!)To cook, I just broke up the ground beef in my cast iron skillet and stirred it off and on it while it cooked slowly. Meanwhile, I did the easy prep work making the guacamole, heating up tortilla shells, and searing some queso fresco in a separate skillet.
I made a couple of tacos with guacamole, cilantro, pickled red onions, sour cream, and oh my goodness! This was delicious. The meat on its own wasn't spicy but just full of yummy, warm Mexican flavors. After the tacos, I opened a small bag of Fritos and poured in some meat, chili con queso, guacamole, cilantro, and sour cream. I stirred this up to make my little Walking Taco and it was as delicious as the first tacos.
This was a tough act to follow. Pre-seasoned, organic, antibiotic-free ground beef? I hate to say it, but I was already sold. Still, I worked my way through the rest of the box.
Recipe 2: Cast iron-seared pork chop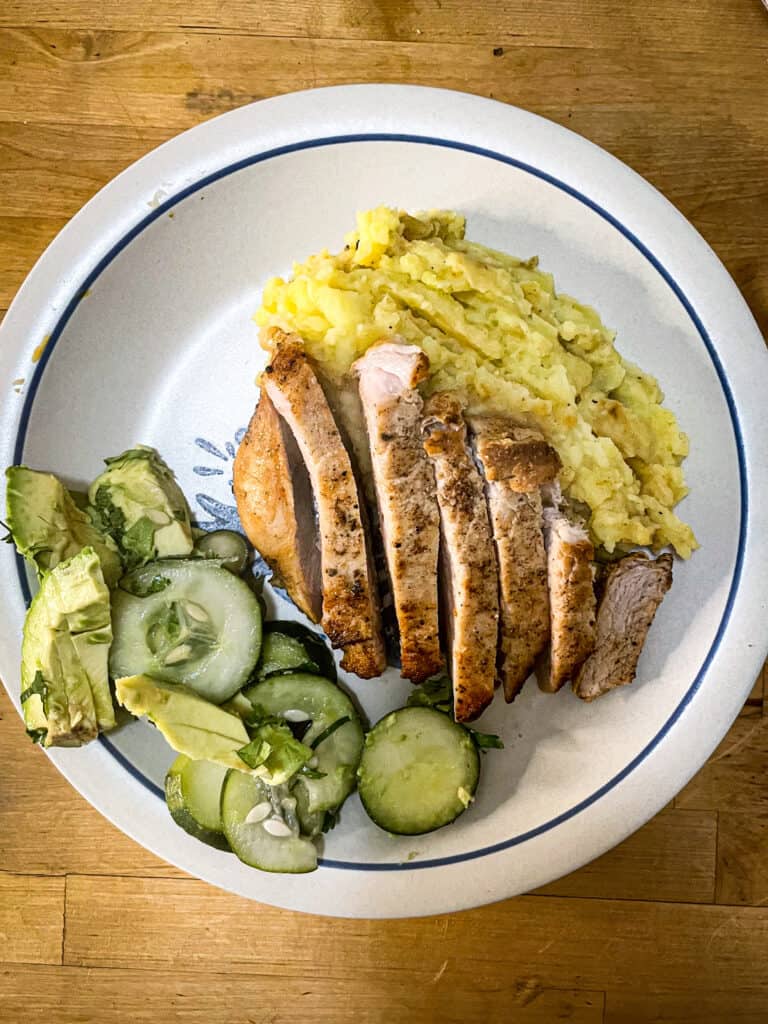 On night two I went for the pasture-raised, grass-fed pork chops. I wanted to go super simple with preparing this, as I had with the taco meat, so as to really experience the flavors of the meat. I seasoned the pork chops with salt, pepper, and garlic salt. I heated up my cast iron skillet with butter, chopped some potatoes and put them in water to boil for mashed potatoes, and got going on this delicious, super easy meal.
Once the skillet was hot, I put the pork chops in to get a little sear. I let it cook on each side for just about six minutes (the chops were nice and thick). After the first six minutes, I added more butter and tilted the skillet to spoon the butter over the pork chops periodically as they cooked.
As the pork chops finished cooking, I took some quick-pickled cucumbers, leftover cilantro, and avocado and made a light salad to pair with the heavier parts of this dish. When all is said and done I had this light salad, mashed potatoes (which I made with some of the butter I cooked the pork in), and this seared pork. I was ready to dine!
It is not even an understatement when I say this was a delicious meal. This pork was the cleanest cut of pork I have had in recent memory. The light seasoning was perfect for this high-quality meat. Paired with the potatoes and avocado salad—please insert chef's kiss here!
Recipe 3: Pasta night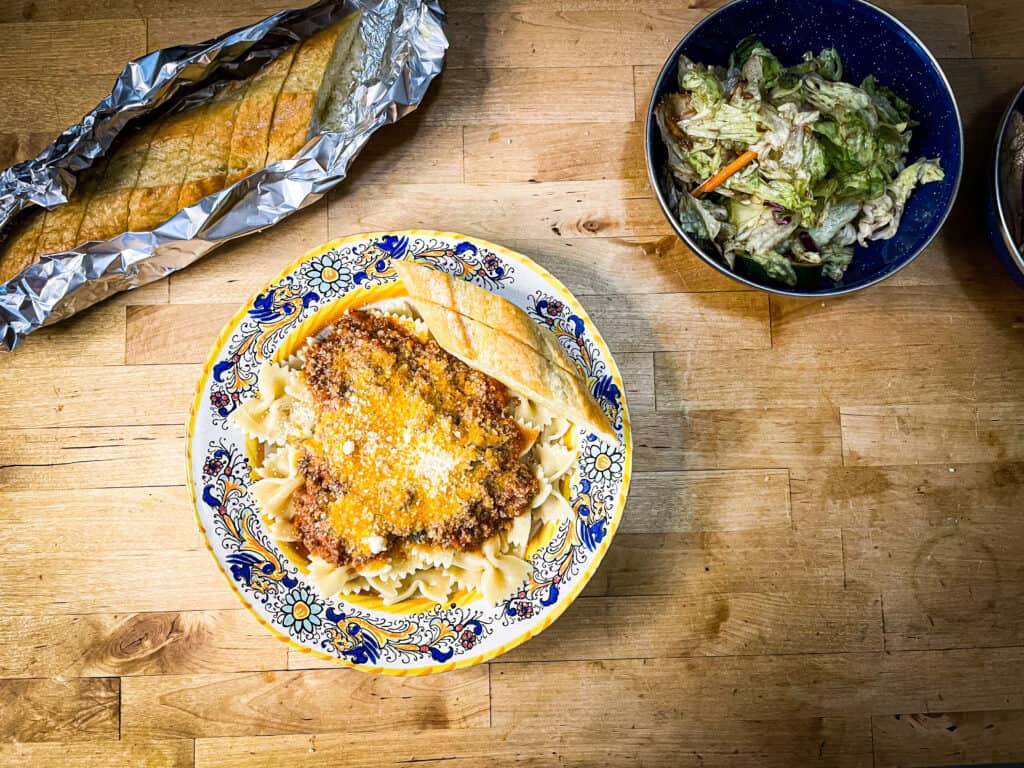 For night three of delicious, pasture-raised, grass-fed meat, I decided to go with a simple meat sauce. I'd love to say I made this from scratch, but I am no liar. I cooked the ground beef from Wild Pastures in a Dutch Oven with olive oil which I had been infusing with garlic cloves my father grew in his garden.
Once the beef was browned, I added salt, pepper, oregano, basil, and marinara sauce. I brought the sauce to a boil and let it simmer for about an hour. Ideally, I'd have left it longer, but I started the sauce too late in the day, and my boyfriend and I were in no mood to wait.
Despite not letting the flavors infuse for as long as I'd like, this sauce was wonderful. I put it over pasta and paired it with garlic bread and a simple salad. The sauce really carried the meal, because of the quality of the meat. I stored the leftover sauce in the freezer, for an even easier meal down the road!
Recipe 4: Middle Eastern inspired pork burgers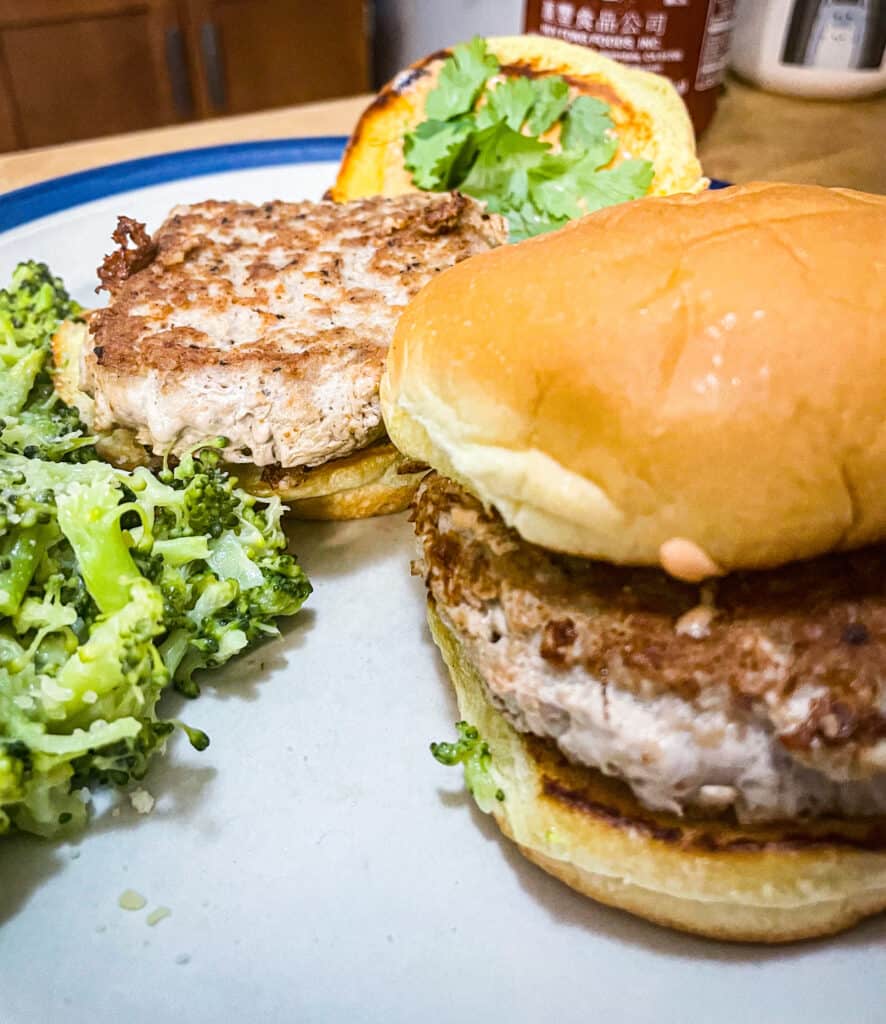 For my fourth recipe, I decided to make burgers with the ground pork from Wild Pastures. I went with a Middle Eastern-inspired recipe, adding za'atar, sumac, onion powder, salt, pepper, one egg, and three cloves of white garlic from my father's garden. I mixed the meat with the spices and egg and cooked them in my cast iron skillet. Meanwhile, I toasted potato buns on the griddle with butter, steamed some broccoli, and made a sriracha aioli.
Once the burgers were cooked, I assembled them on the buns, and topped them with my sriracha aioli, and chopped fresh cilantro. (I will never not add cilantro if I can help it…) I kept the broccoli simple with salt and pepper and mixed some parmesan on my boyfriend's veggies—who couldn't possibly go a night without any cheese.
The meat was once again, very clean. The spices came through just enough without overpowering the quality of the meat. The sriracha aioli offered a hint of spice that was balanced nicely with the buns and fresh cilantro. I really need to pat myself on the back for this one, this was a great dinner!
Recipe 5: Chicken thighs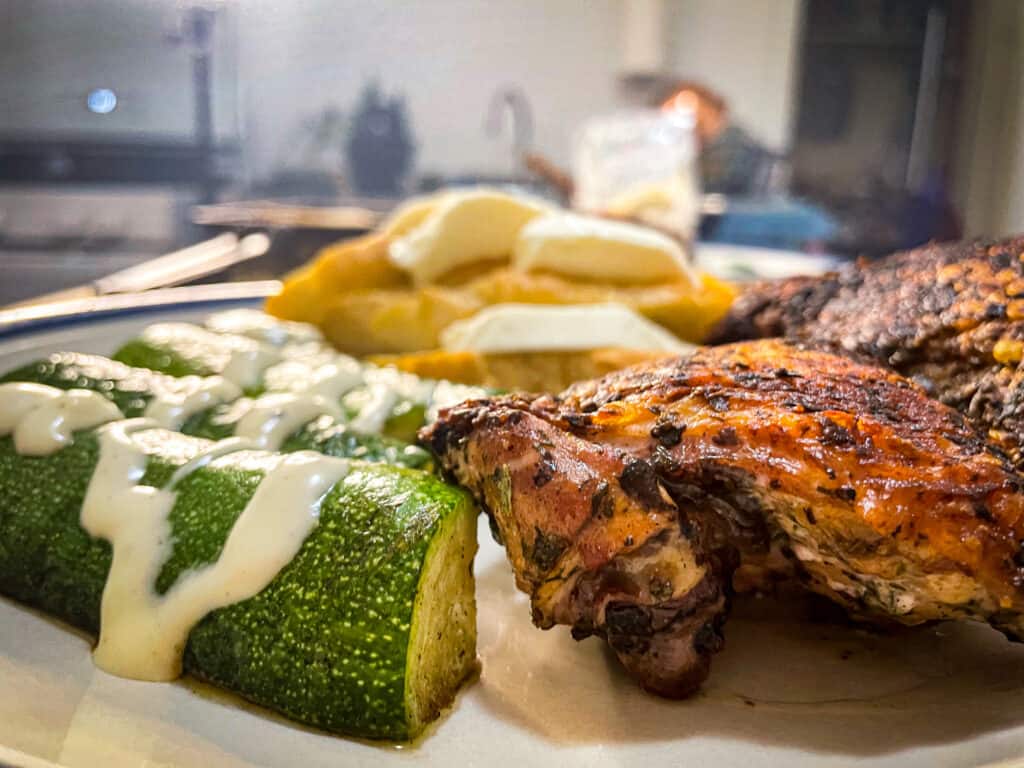 I was really confident going into chicken thigh night because making chicken thighs in a cast iron skillet is one of my specialties. It's one of the first recipes I mastered in quarantine when I was learning how to cook. The day before I cooked the thighs I let them sit in a dry marinade of Herbes de Provence.
This is not my recipe, I got it from Bon Appetite's website. You sear the thighs skin down in a hot skillet before lowering the temperature for about twelve more minutes and then putting it in the oven for another twelve to thirteen minutes. Then, you flip the thighs and give them five more minutes before removing them and letting them sit for five minutes. All in all, very easy.
I love the way this recipe crisps the skin of chicken thighs. And I really love the way this recipe worked with the organic, pasture-raised chicken from Wild Pastures. The result was a crispy, fatty, delicious mix of white and dark meat. It was rich and flavorful, better than any I've had in a grocery store.
I paired the chicken with truffle aioli-drizzled grilled zucchini. I couldn't resist toasting the leftover baguette from pasta night with Herbes de Provence-infused olive oil and topping it with fresh mozzarella. This meal was French and fabulous!
Recipe 6: Brisket
Rest in peace Thea's brisket. This was a total fail for me. I am so sorry to say that I did not plan well and wasted this piece of meat. What happened? Must I relieve it? I must…
I put the brisket in the oven at 225 degrees, with beef broth in the pan below it to lock in flavorful moisture. This meat just would not soften for me though. I let it go for hours and it wasn't working. I don't think that my aluminum foil was sealed enough and I don't think I gave it enough time. By the time I gave up, it was about 10:30 PM. I hate wasting meat but I really needed to get to bed.
This was my failure entirely. I did not do enough research before I started cooking. I'd like to add that the brisket looked wonderful and smelled amazing too. I just didn't have the time to cook it properly.
Recipe 7: Whole chicken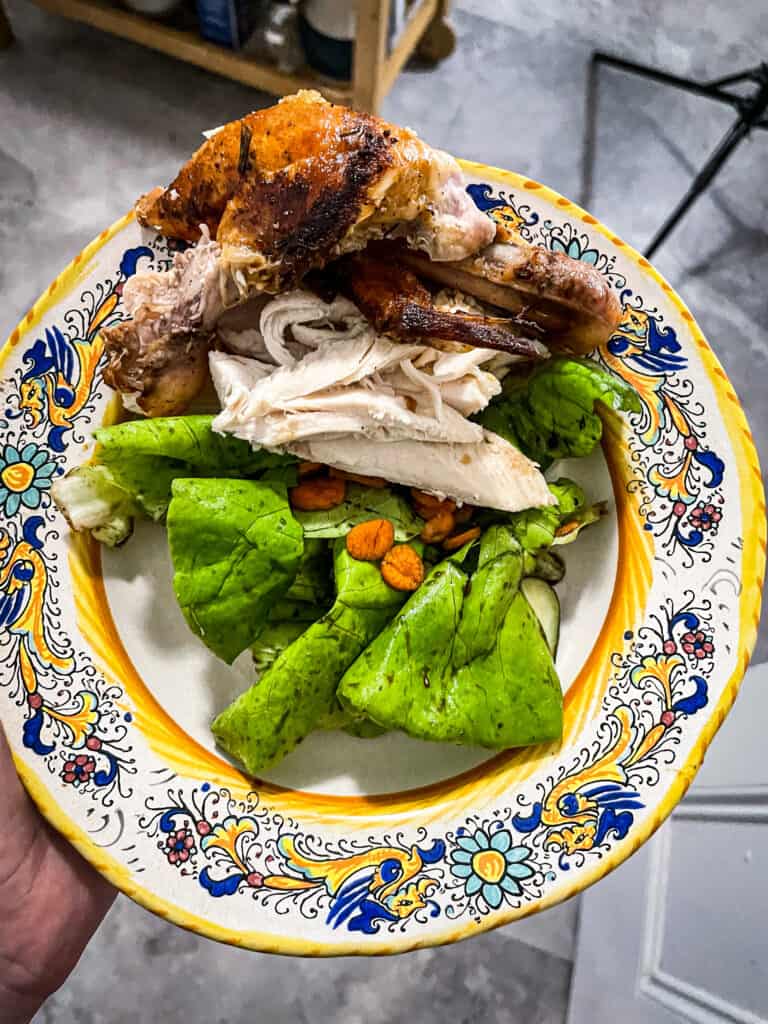 As I said earlier, I only started cooking during quarantine. The fact that I had a whole chicken to cook and had just had a massive failure with the brisket was very daunting for me. I have a friend who is a wonderful cook though and had made this recipe from Bon Appetit for me before. She sent it along to me and I got to cooking. It is called Chicken al Mattone and I highly recommended checking out Bon Appetit if you'd like to try it yourself.
Using this recipe from Bon Appetit, I started by spatchcocking the whole chicken which was—not for the faint of heart should I say? Spatchcocking means I cut the spine out of the chicken and discarded it so that I could butterfly the chicken and really sear it flat in the cast iron.
While the recipe asked for me to let the chicken marinate in a simple rub overnight, I totally spaced on this and did not do it until I was about to cook the chicken. I felt this was a happy accident though because a lighter marinade would let the quality of the meat take center stage. The rub was olive oil, salt, pepper, rosemary, and lemon juice. Meanwhile, I preheated the oven to 400 degrees and began heating up the cast iron skillet with olive oil in it.
Once the skillet was hot, I put the chicken in and let it sear for seven minutes. Then, I weighed it down with another cast iron. Once again I had a happy accident where my smaller skillet was, well, too small.
So I took another, larger skillet, which I had been storing in the oven for more stovetop space (#apartment living), to put on top of the chicken. This cast iron was hot so when I put it on top of the chicken, it seared the chicken skin right away. Unplanned deliciousness anyone?
The chicken then sat for thirty minutes at 400 degrees. After thirty minutes, I took the chicken out of the oven, flipped it, weighed it down again, and let it cook for another fifteen minutes. The chicken was done after fifteen minutes.
Let's just say, I was redeemed from my brisket failure. Oh my goodness this chicken was good. When I went to try it and remove the drumstick, the meat fell completely off the bone. That's a sign of perfectly cooked poultry!
I paired this with another simple salad and I'm glad I went light, because the chicken was so good, we finished the entire thing.
This chicken was moist, flavorful, and had a perfect texture. The marinade flattered the meat without overtaking it. This might be my favorite meal yet! Am I a chef now?
Recipe8: Bacon Burgers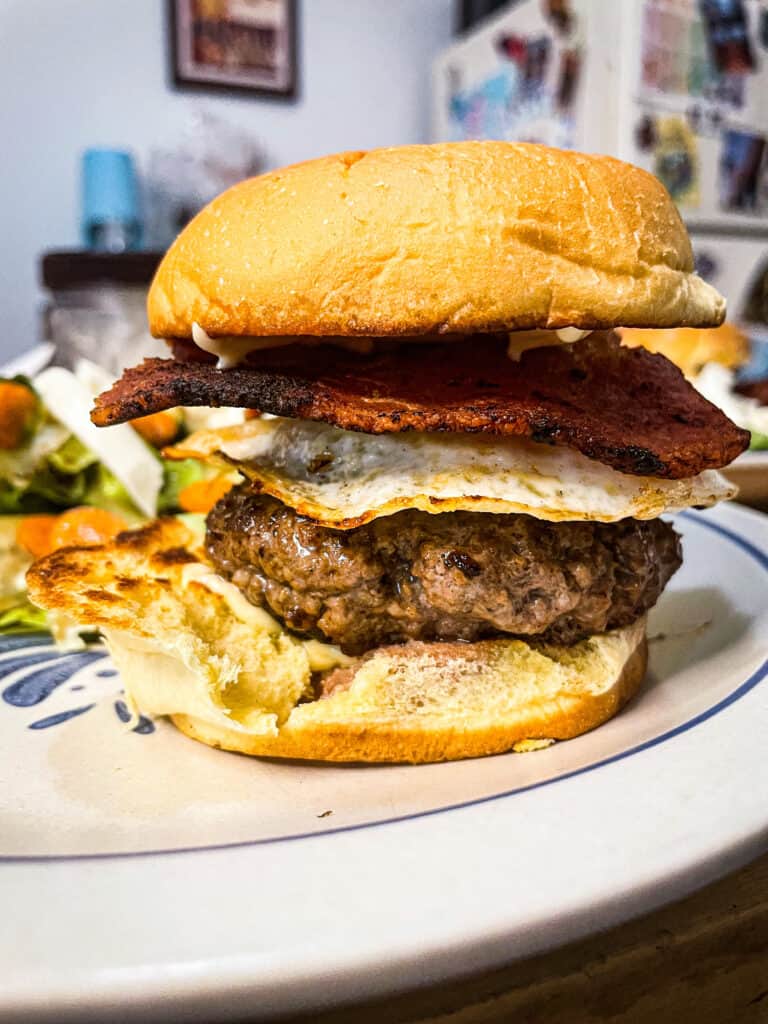 Next, I decided to use the leftover potato buns and remaining ground beef to make burgers—but! I had bacon too. So yes, you guessed it, I fried up the bacon in a cast iron skillet and made bacon burgers. I seasoned the beef with garlic, salt, and pepper while I cooked the bacon. Once the bacon was done, I cooked the patties in the bacon fat. I'm cooking for taste, not health, don't judge me.
As the burgers got close to being done, I threw the potato buns on the griddle with butter to toast them. Then I fried up an egg really quickly (I love a burger with an egg on it!). I put a little Kewpie Mayo on my bun, and topped it with the patty, bacon, and fried egg. I paired it all with another light salad because life is about balance.
While I will admit I overcooked the burger (I usually like it medium rare, but this was more medium well) the flavors were wonderful. The crispiness of the bacon added a great texture to the burger. It was salty, garlicky, crispy, and delicious.
Recipe 9: Breakfast sausage scramble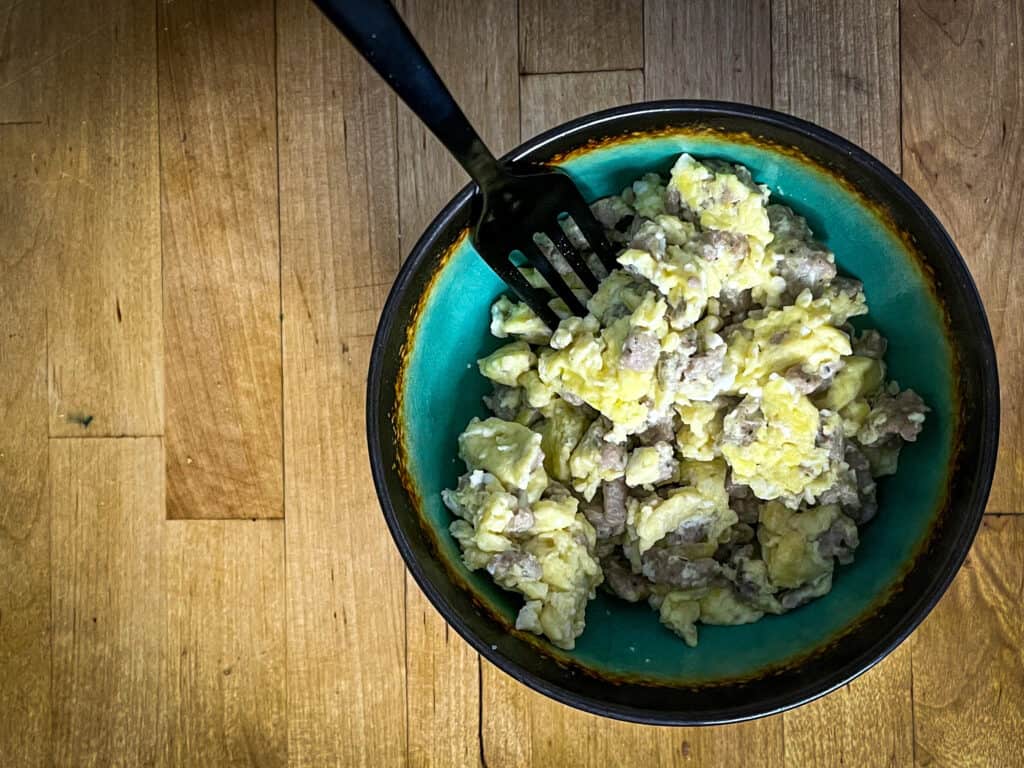 I decided to finish my Wild Pastures box with the pork breakfast sausage. I went simple with this, once again wanting the flavors to pop above anything I added. I cooked the pre-seasoned ground pork in my trusty cast iron skillet and broke it up, cooking it on medium heat until all the pink was gone.
I tasted a little of the meat then and was really surprised at the yummy flavors that this pork already carried. Like the taco meat, this required no additional seasoning and I really love that added convenience to the subscription box concept.
Meanwhile, I scrambled two eggs and added the breakfast sausage to a separate pan (I couldn't eat the entire pound of pork alone). I added the eggs and cooked them through with the meat.
This simple scramble was anything but boring. The flavors of the pork were fabulous, very familiar, breakfast-sausage-flavors. It was like Jimmy Dean but times about a hundred because the texture of the meat was also so good.
Pros and Cons of the Wild Pastures Subscription Box
Pros
The boxes include meat and/or seafood that you can choose
The protein is high-quality, organic, non-GMO, and pasture-raised
The seafood is wild-caught
The box the protein comes in is 100% recyclable
This supports American farmers and the American economy
It is very convenient to have delivered
The packaging held up in delivery
The frozen meat stayed frozen beyond the delivery
Cons
Due to the high-quality meat, this is an expensive box (it amounts to about $12 a pound for the one-time purchase)
You only save about four dollars if you subscribe to this
Wild Pastures Alternatives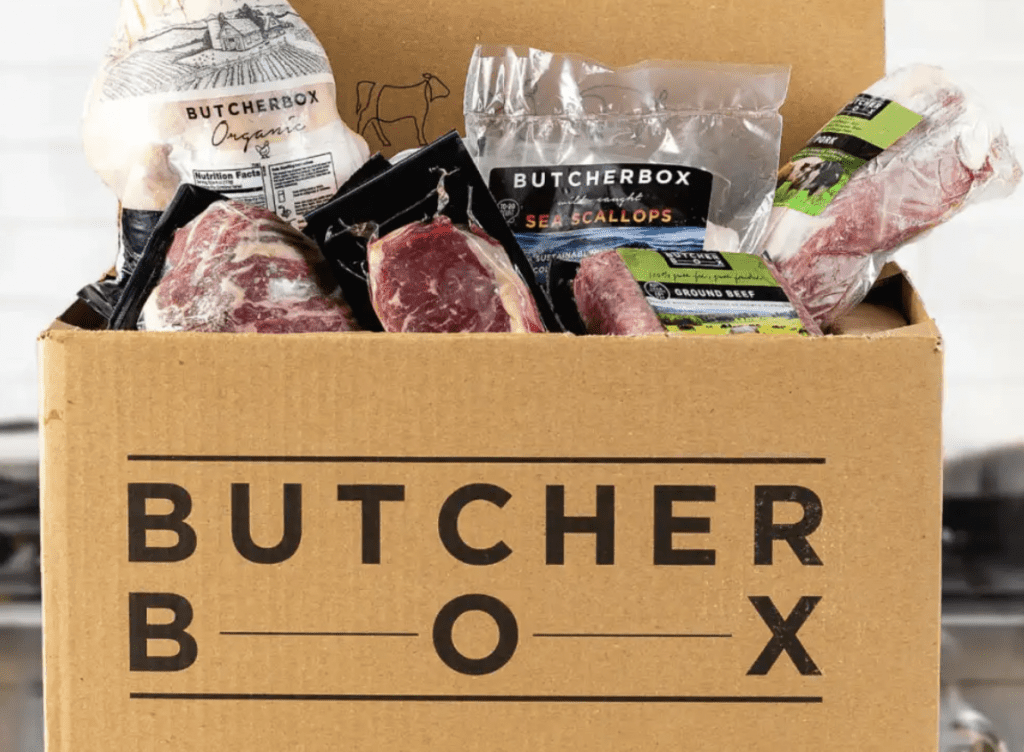 FAQs About Wild Pastures Subscription Box
Question: How does Wild Pastures stack up, financially, to other meat and seafood subscription boxes?
Answer: Wild Pastures is a little more expensive than Butcher Box (about $5) but Butcher Box has smaller box options. Goldbelly is a bit more expensive, but has a lot more options too.
Question: Would you Buy a Wild Pastures Box Again?
Question: Would you Subscribe to Wild Pastures?
Answer: Absolutely. I loved the way this one-time payment brought down my weekly grocery bills and I loved being able to trust the meat I was consuming. I think that's actually one of the biggest pluses for me with this box.
Question: Where is the Wild Pastures farm?
Answer: All over America! Wild Pastures sources from farmers all over the country. How cool is that? Take a look at this awesome quote from their website: "Could we charge a premium for the quality of meat we provide? Absolutely. However, we wholeheartedly believe that nourishing, sustainable, pasture-raised meats are both better for our health and the environment.
We want to help transform the meat industry but that also means that more people need to be able to choose meat raised right. Therefore, we offer the highest quality meat at the lowest prices."
Final Thoughts on the Wild Pastures Subscription Box
Putting this whole amazing experience together, I'm sure it's no surprise to you that I am a fan of Wild Pastures. Would I recommend it to friends and family? I already am. Would I purchase a subscription for myself? I am doing that once I'm finished writing this.
In the end, Wild Pastures is a great company that supports the American economy and American farmers. This is important work they're doing and the product speaks for itself. Try it once and you'll see what I mean.
Happy shopping!