Latest posts by Haley Parker
(see all)
People have recently become more aware of what they put inside their bodies because of all the preservatives, chemicals, and processed ingredients they put in everything nowadays. I'm the type to treat my dog like my child, so I've started looking beyond my food into my dog's food. That's when I came across the Nom Nom dog food subscription.
Nom Nom dog food is an alternative to the traditional kibble we have fed our pets before. It's very clearly more expensive than kibble dog food, so I'll be reviewing if this food is actually worth the extra cost, from the actual subscription to the ingredients inside the food.
Is Nom Nom Worth It Up Front
Nom Nom can get expensive, especially if you have a larger dog like me. Although, Nom Nom food is way better than any kibble you'll ever buy. Nom Nom is worth it if you can afford to spend more on your pet's food. You no longer need to worry about how much to feed or when to get more food because Nom Nom pre-portions meals and automatically ships them.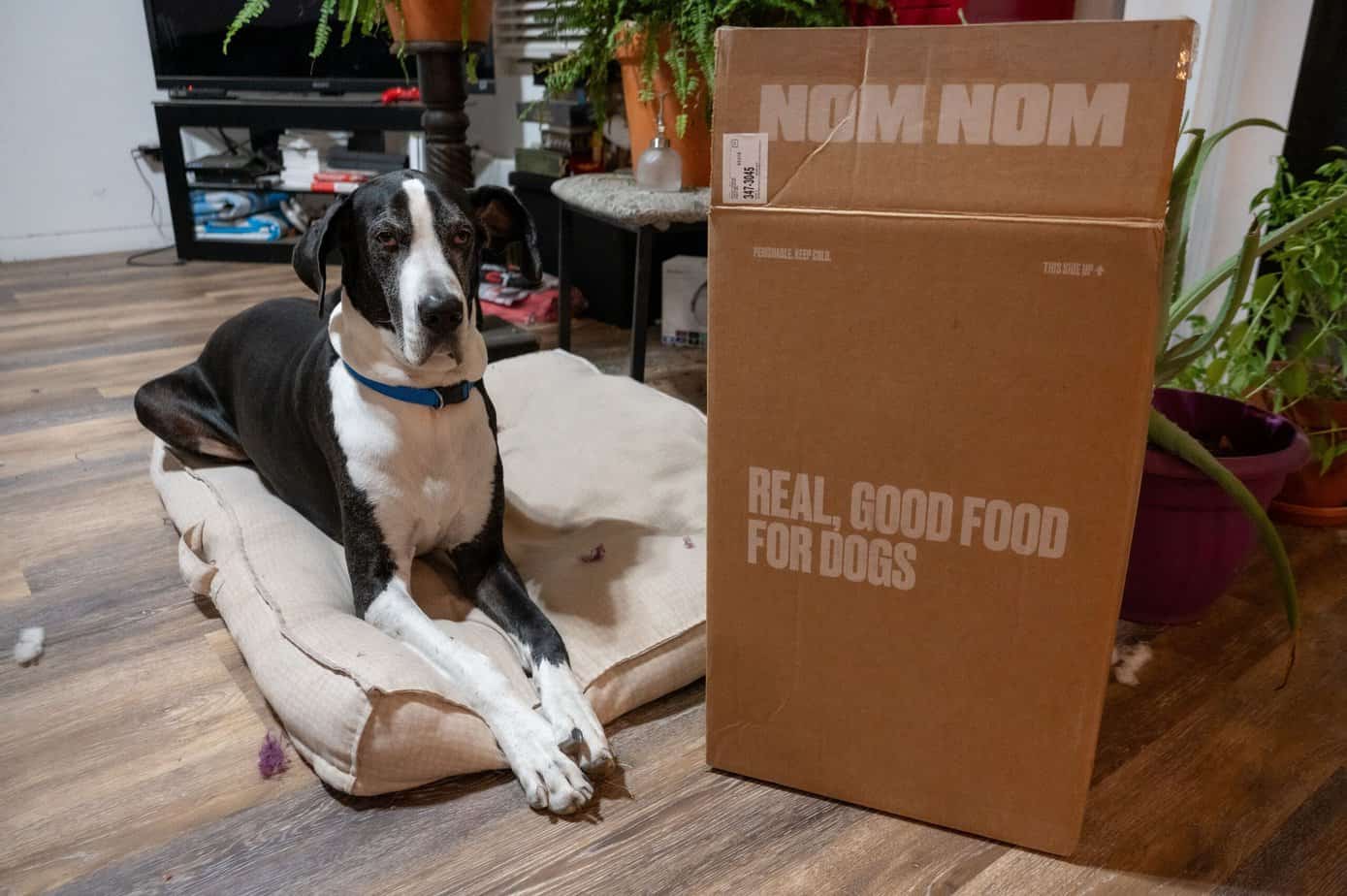 Pros
The recipes are personalized for your pet by a veterinarian nutritionist.
Your order is highly customizable.
Pet allergies are taken into consideration when formulating your food.
There are multiple ways to save money on a Nom Nom subscription with half-portions and a flexible meal plan.
Meals are individually bagged in the portions you feed your dog.
You can see the different ingredients inside the food.
Skipping a shipment or canceling your subscription is super easy.
My picky dog was more excited about this food than her usual kibble.
Cons
Nom Nom is expensive compared to other natural pet foods.
How Nom Nom Works
Nom Nom sends you fresh dog food on a regular schedule that you choose. By fresh, I mean natural ingredients with no fillers or chemicals that Nom Nom personalizes, cooks, and mixes depending on your pet's needs. It's like giving your dog a home-cooked meal without having to do any of the work.
Sign Up
The first step in signing up for the Nom Nom subscription is to fill out a quick quiz about your pet. They ask you simple questions like their sex, breed, weight, and age.
Next, they will ask you a few more specific questions, including whether they have any allergies, are picky eaters, or have a dull coat. You can then choose the recipes you would like to try. You can select all four recipes if you want to give your pup some variety, but they give you a recommendation based on your quiz.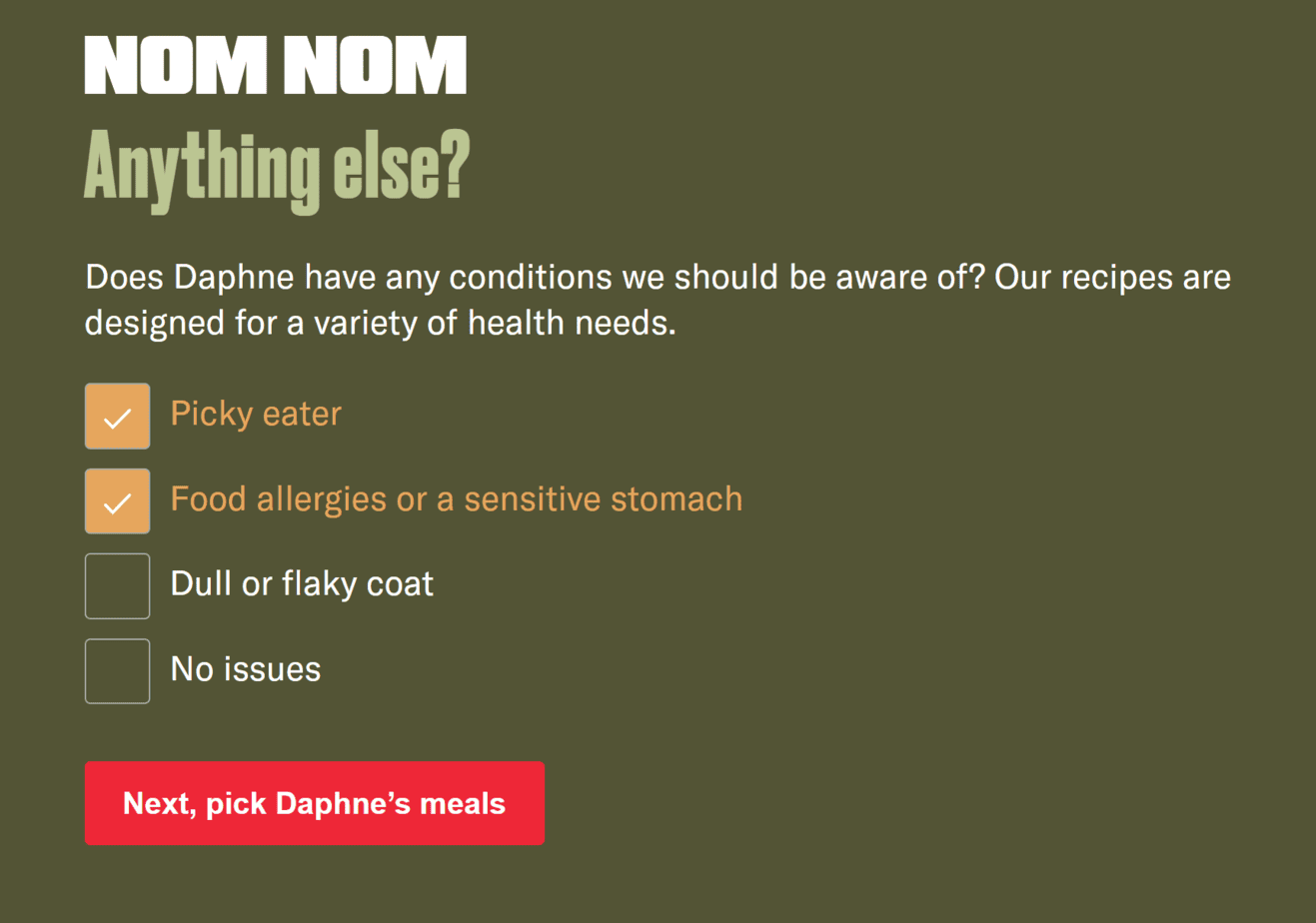 You can add as many pets as you want to the order. They'll go through the same quiz for each pet you add. Then, they will ask if you wish to add any add-ons to your order, such as probiotics or natural treats.
Once you are done with your quiz, they ask for all the usual stuff, like your address and billing information. You can also choose between full or half meals if you have a larger dog in this section. Half meals are mixed with your regular kibble to save you about 35% to 45% on your order.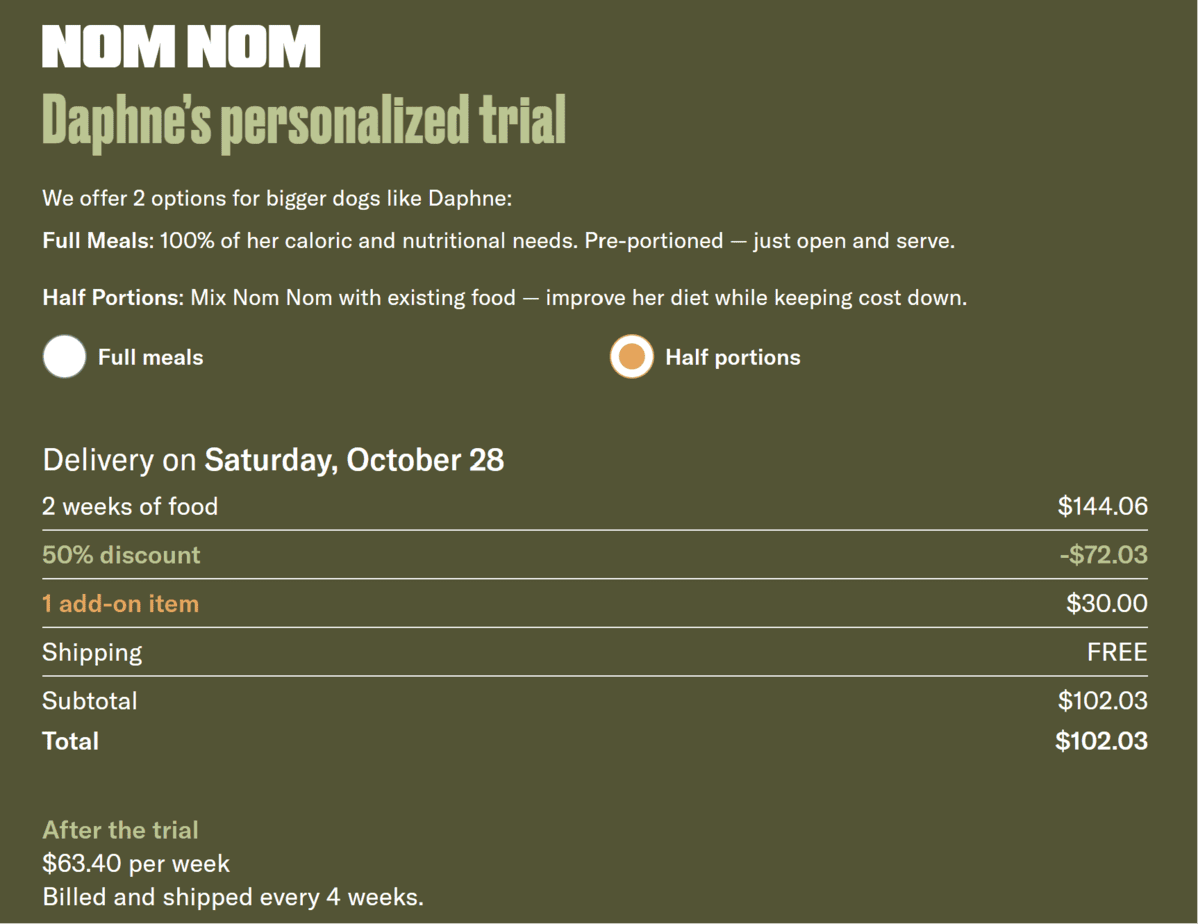 Customize Your Orders
Your first order gives you two weeks' worth of food to try out. From there, meals are automatically sent under the Personalized Plan every four weeks. The Personalized Plan pre-portions your meals based on your pet's needs and sends the appropriate amount for a month's worth of food.
However, you can change the frequency at which meals are sent and the amount of each flavor you want sent under the Flexible Meal Plan. With this meal plan, you get to choose how much of each flavor you get at your desired frequency.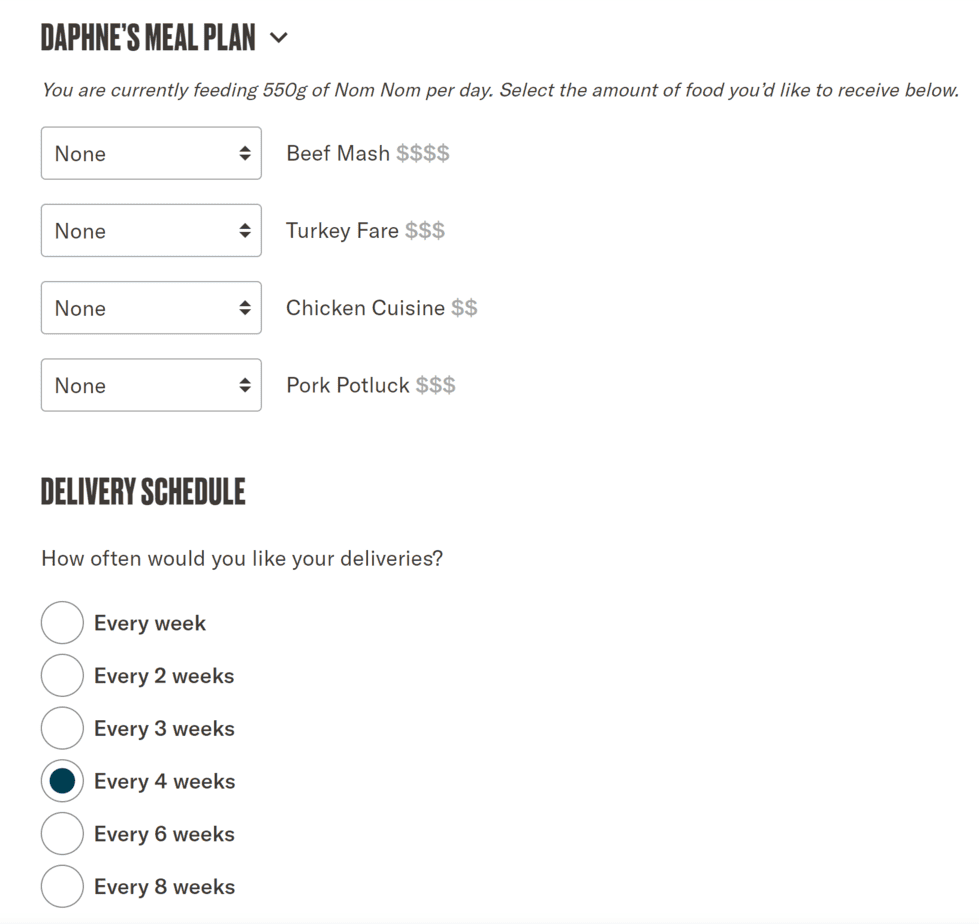 This allows you to save a little money while feeding your pet Nom Nom food however you want. You can add as much as you want to their current kibble or give it to them like a treat.
How Much Nom Nom Costs
The Nom Nom cost depends on what plan you choose, the size of your dog, and the flavor of food you choose. Their typical Personalized Plan with full pork and chicken flavor portions costs me $469.68 for a month's worth of food for my 114-pound Great Dane. A tiny 5-pound dog's food in full portions of chicken will cost about $90 per month.
Your first order will be a two-week trial, and Nom Nom gives you 50% off this order. That way, you can decide if the food is worth the cost.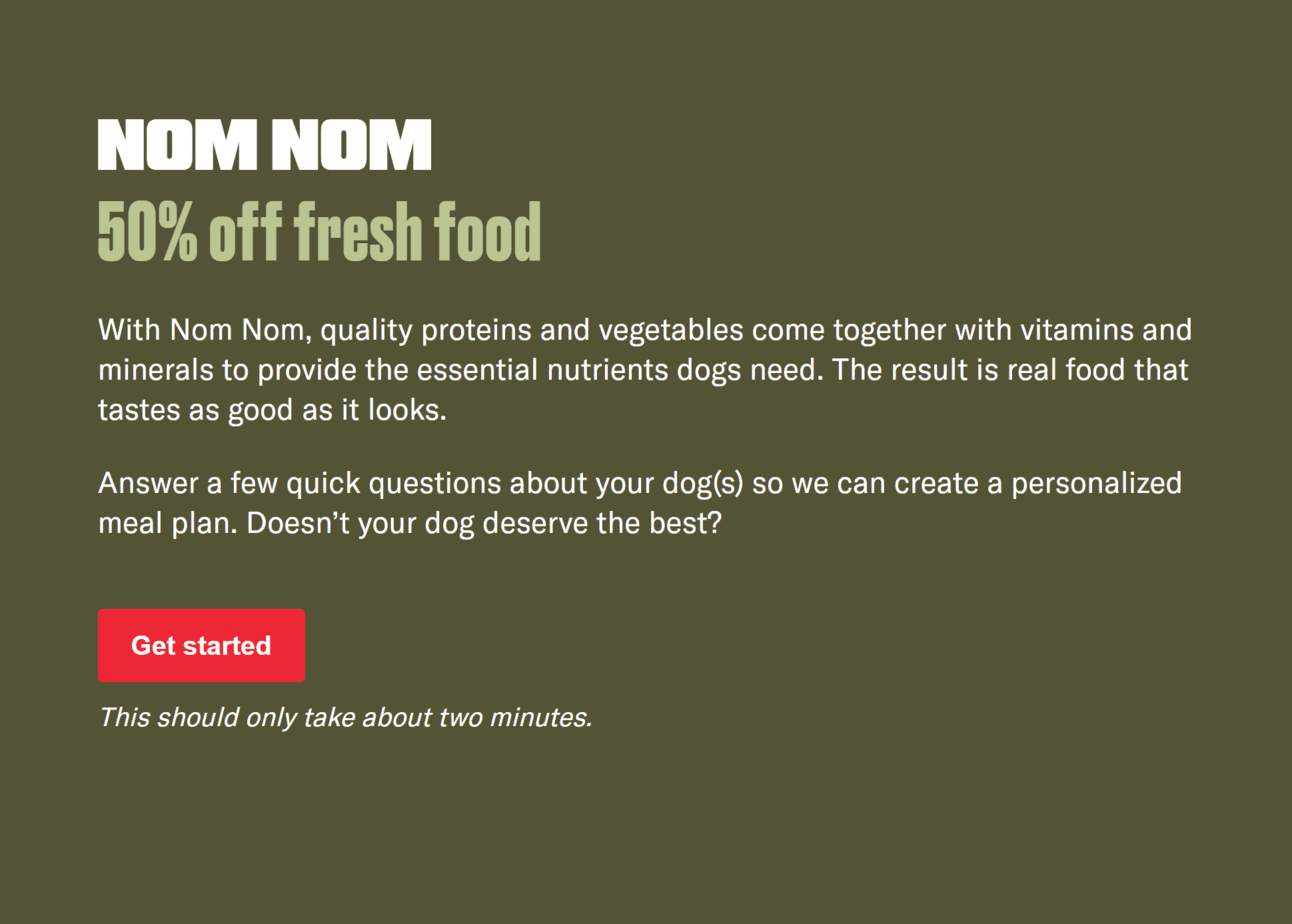 There are other ways to save money on a Nom Nom subscription. If your dog is over 40 pounds, you can serve your dog half portions in the personalized plan, which you mix with your pet's current kibble.
Nom Nom also has a Flexible Meal Plan where you choose exactly how much Nom Nom food you want. You can select an amount and frequency at which the food is sent that fits your budget.
Canceling Your Subscription
Canceling your Nom Nom subscription can quickly be done online. Go to your account tab and scroll to the bottom of the page, where you'll find a "Cancel Subscription" button. They will ask you why you want to cancel and offer you a few other options, including a discount on your next order and the flexible plan.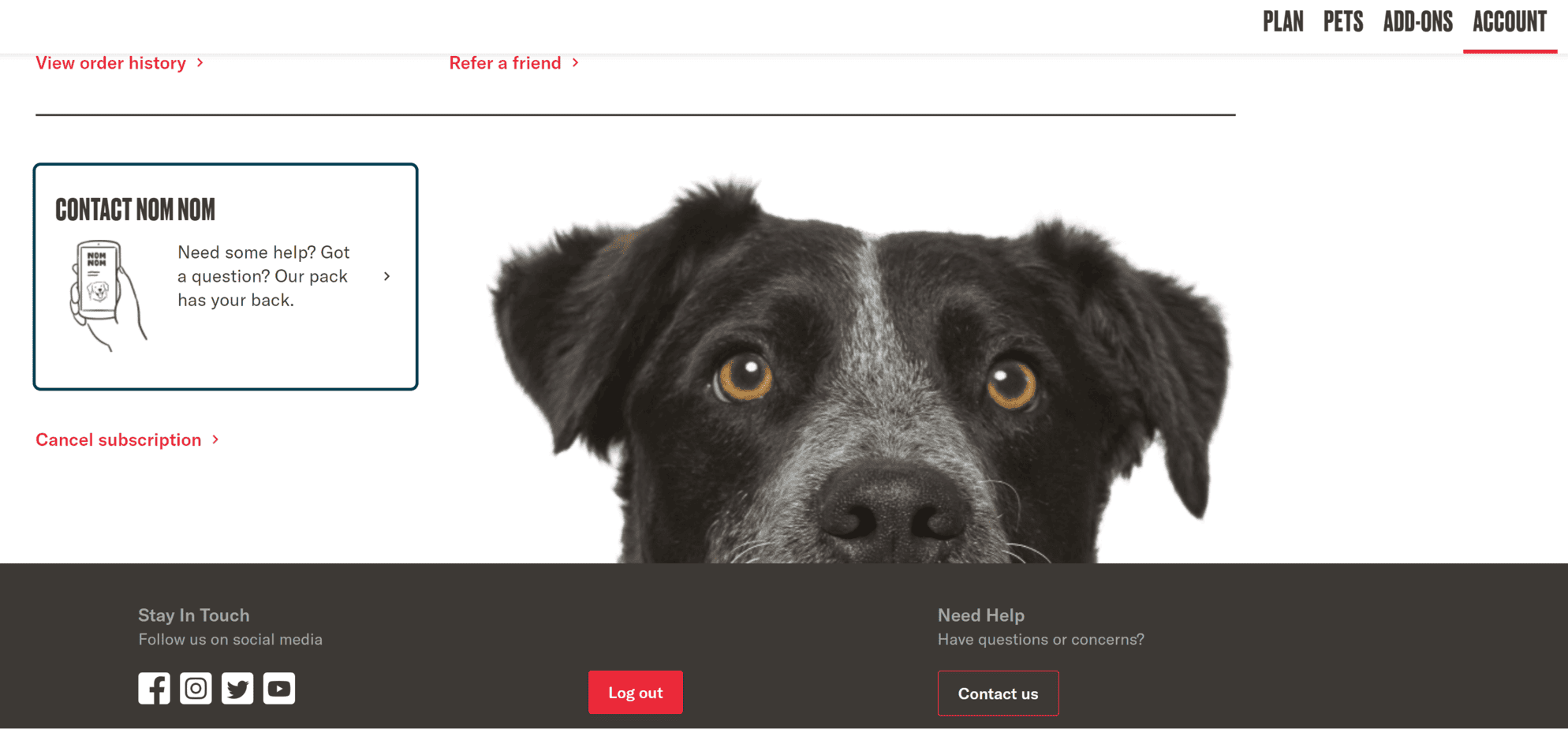 If you don't wish to utilize these other options, scroll to the bottom and click "Cancel my subscription."
My Nom Nom Dog Food Subscription Experience
My dog, Daphne, is a super picky eater and has become more difficult to please as she ages. She's so picky that I watched her turn down a hot dog once. If Daphne enjoys Nom Nom dog food, any dog will enjoy it.
Signing Up for the Subscription
I started by taking the quiz and putting in all of Daphne's information. When asked if Daphne has any particular issues, I could click both a picky eater and sensitive stomach. You can click every option they have if you wish.
From there, Nom Nom recommended the Pork Potluck recipe for Daphne, which they said is suitable for sensitive stomachs. I chose that and the chicken flavor to give her a little variety. I know she loves chicken and sweet potatoes, both ingredients in the chicken recipe, so I'm sure she will love this one.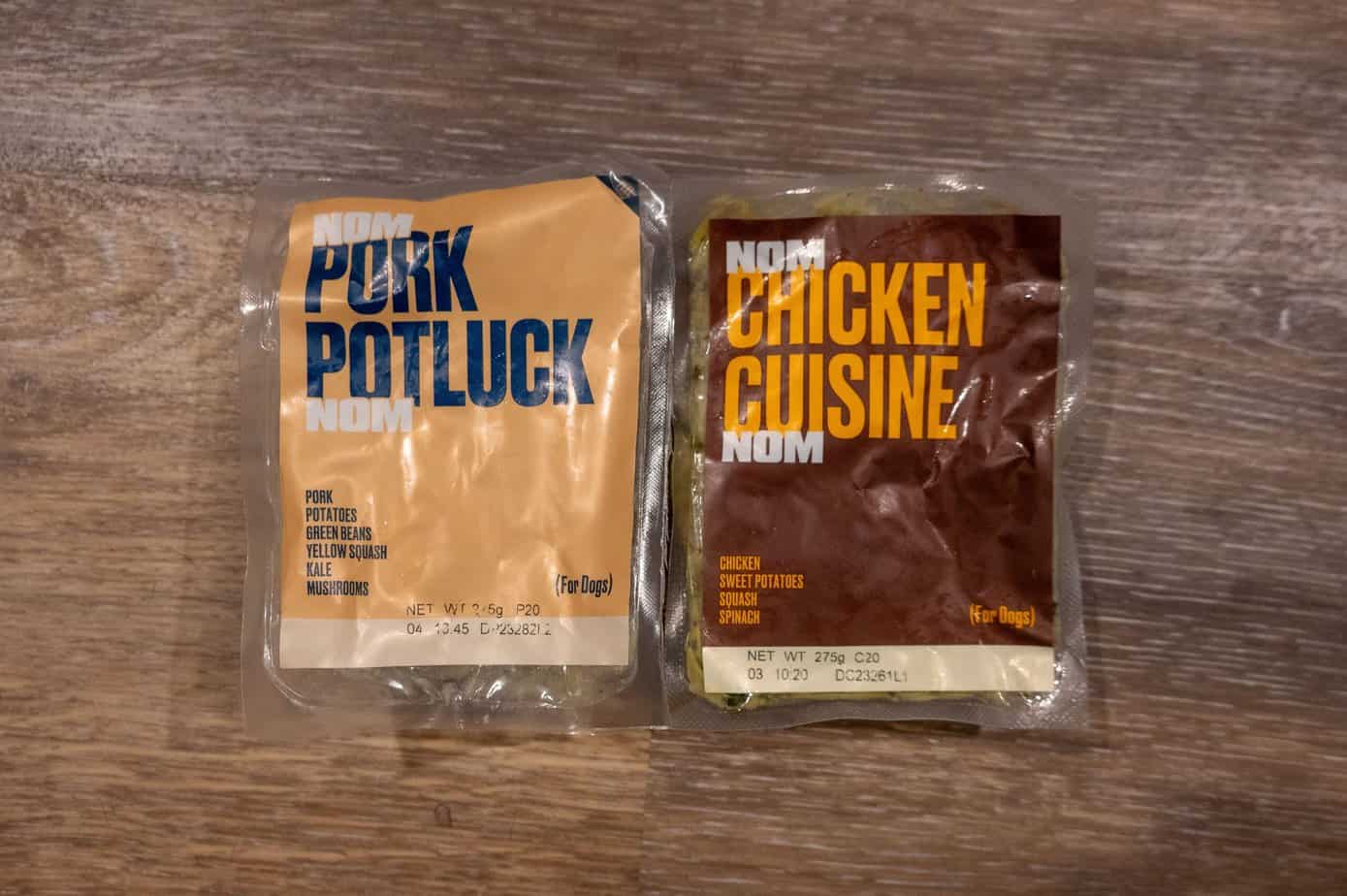 For Daphne's two-week trial period, I chose to go with half portions instead of full portions. I saved about 40% by doing so, and it isn't as big of an investment if Daphne doesn't love it. I can mix this with her kibble to get your tummy used to the transition.
Two weeks of half-portions for Daphne at 550 grams of daily food add up to $144.06. With the 50% off sign-up promotion, I paid $72.03. I also added the Full Spectrum probiotic for $30 to help improve her digestive health.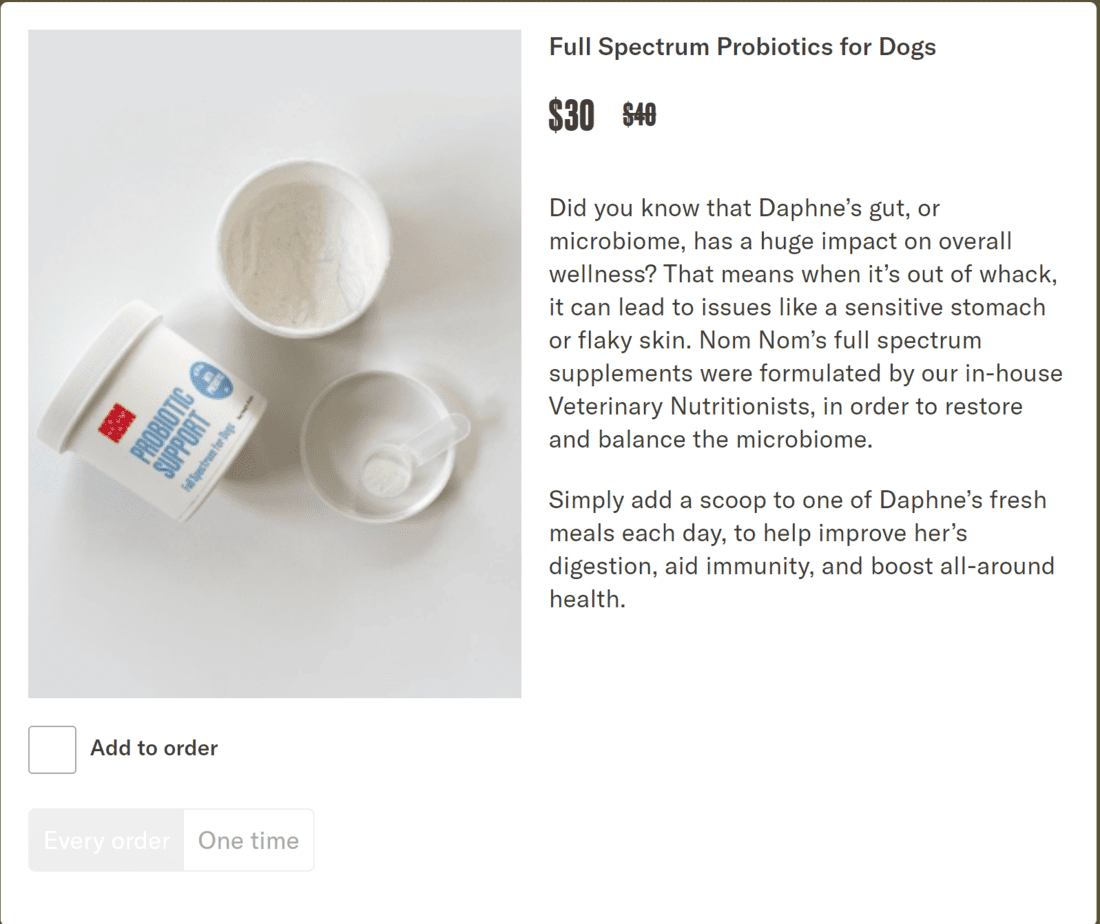 Unboxing
It took about a week and a half to get Daphne's food delivered, which is a little longer than the standard delivery time for anything else. However, Nom Nom did estimate my delivery date to be a week and a half out, so it came in the promised time frame.
The food inside is insulated with dry ice to keep it cold and fresh. While the food wasn't frozen, it was still cold when I removed the packages. The packages are individually portioned, so I simply dump one bag of food into Daphne's bowl and mix it with her kibble twice daily.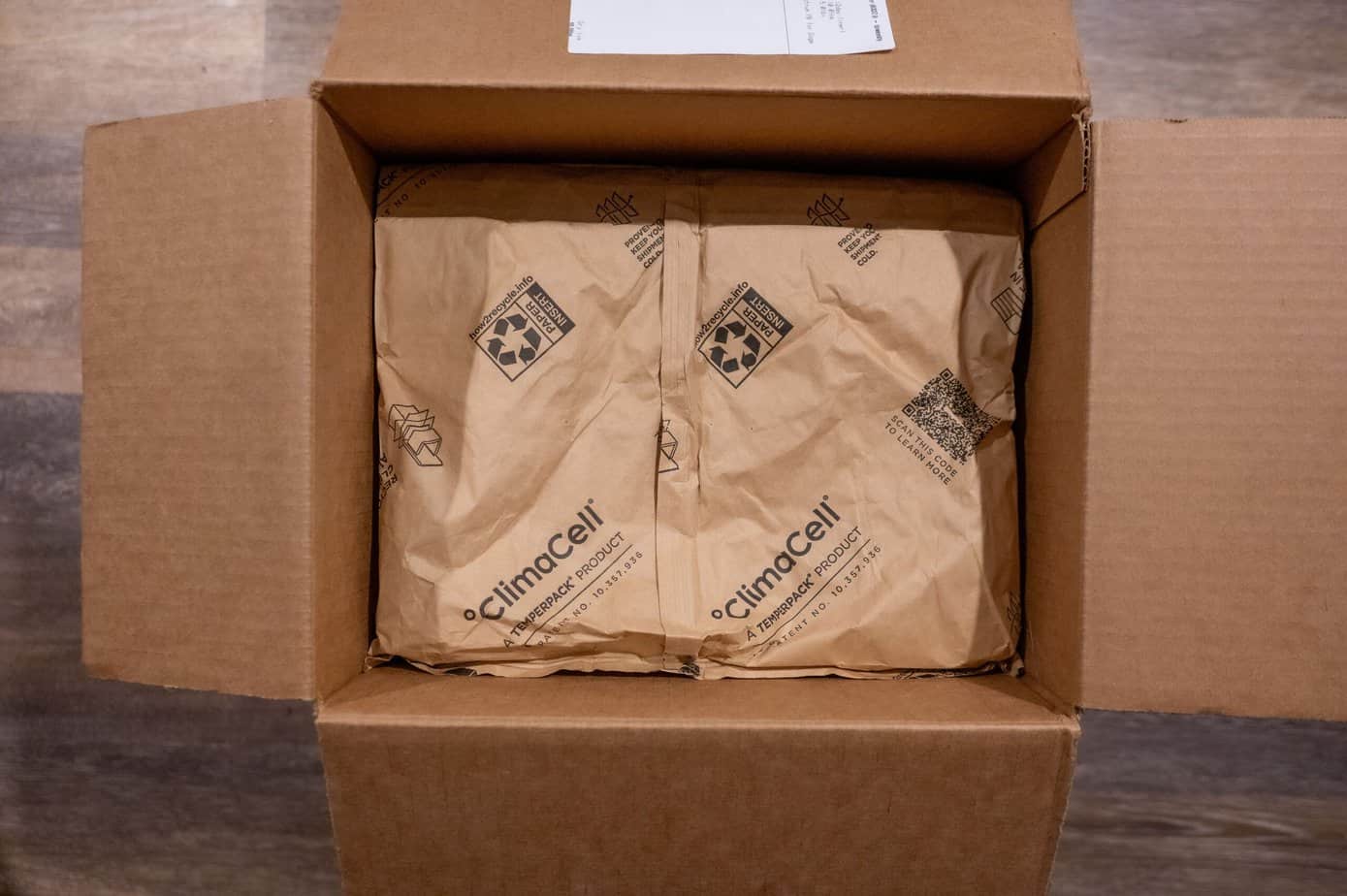 I got 14 packages of the Chicken Cuisine and 14 packages of the Pork Potluck. They are bundled in groups of seven bags with rubber bands to keep them from moving around too much inside the box. You can also clearly see the ingredients on the label of each package.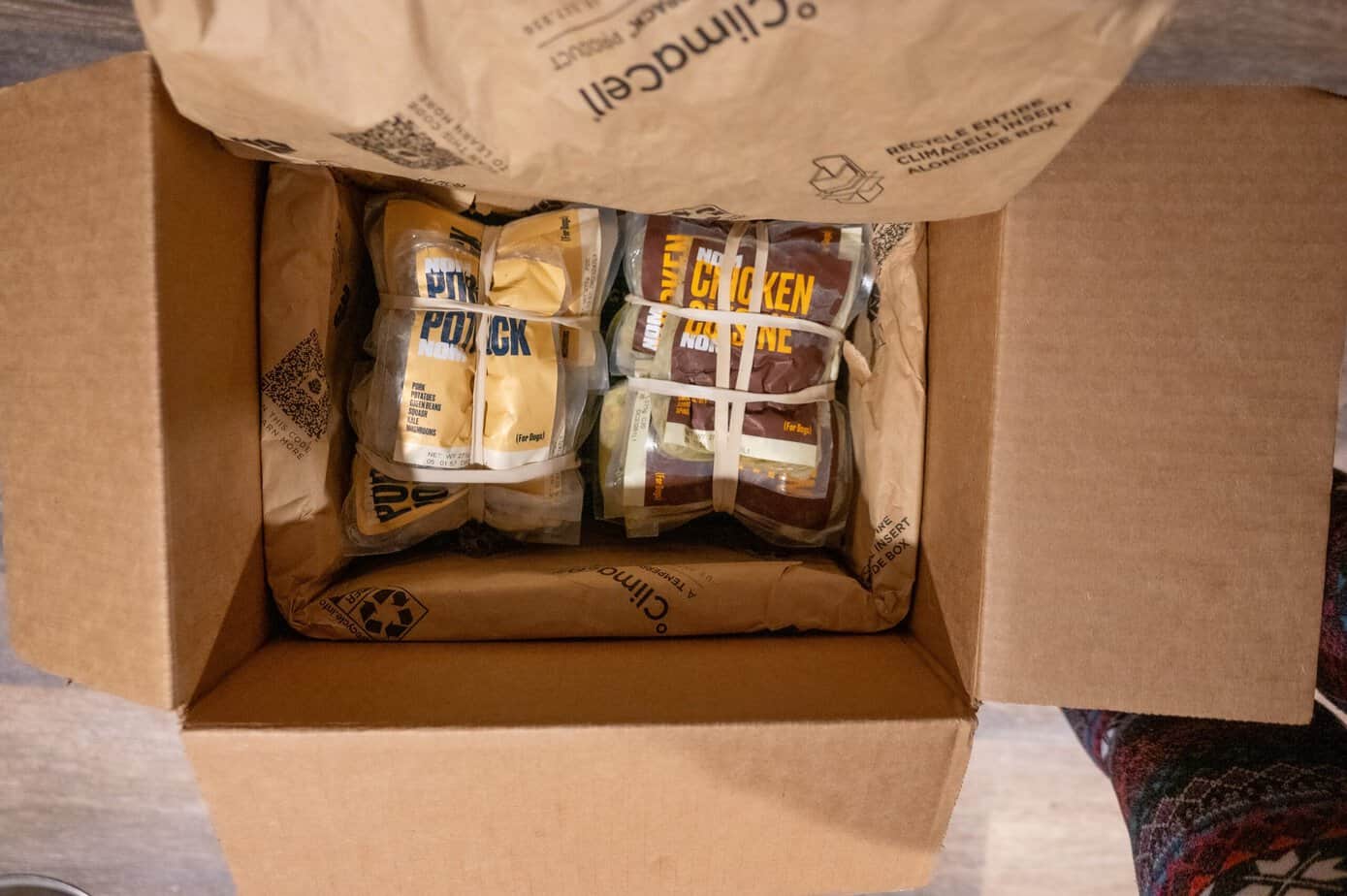 Trying Out The Food
Since Nom Nom recommended the Pork Potluck for Daphne, we tried that one first. I typically feed Daphne two cups of kibble twice a day. So I added one cup of kibble to her bowl and then mixed in one bag of the Pork Potluck because I got the half portions.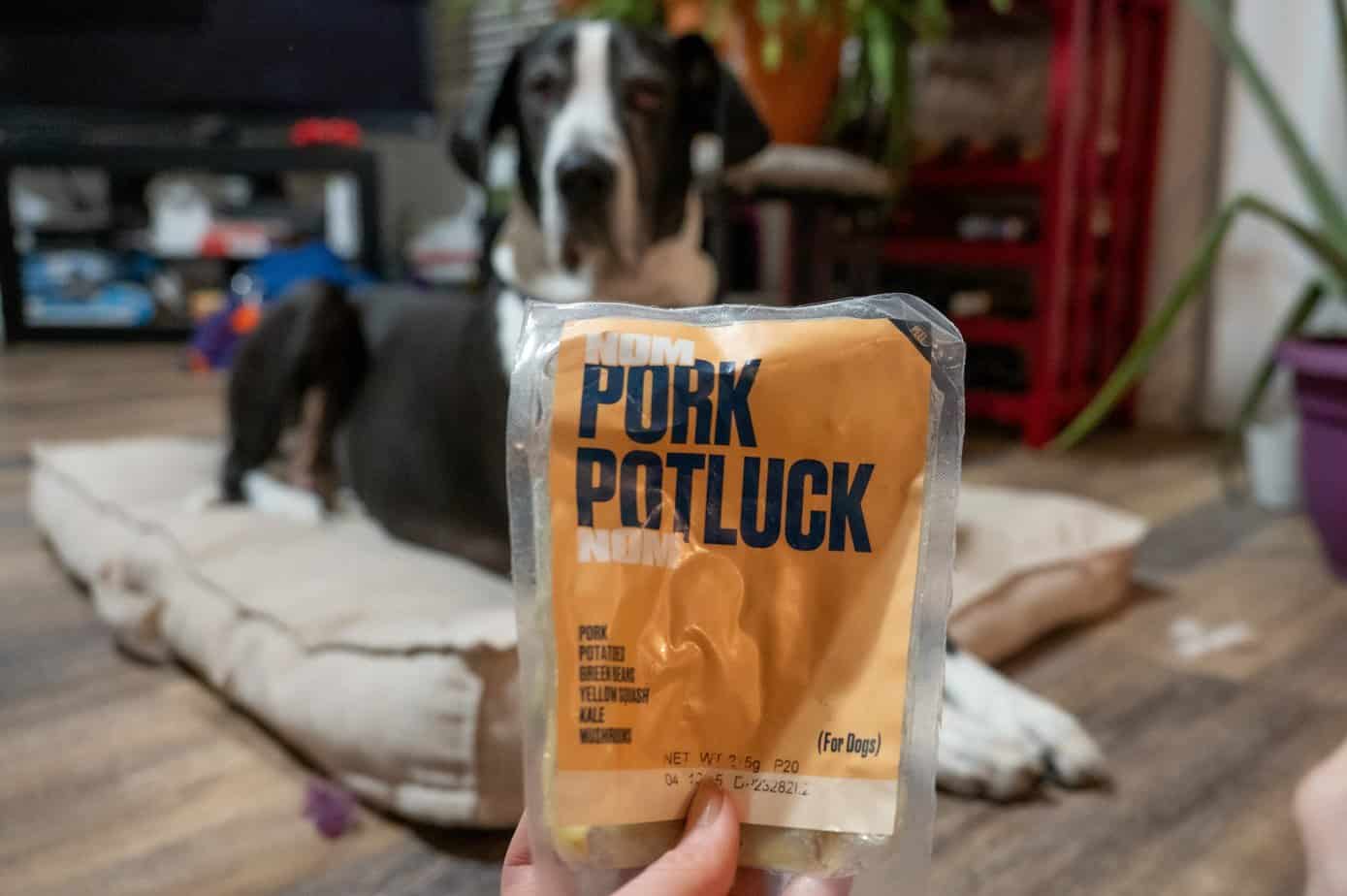 The Pork Potluck bags have an easy open peel-back tab on the plastic. Once I figured out you peel it from the outside corner instead of the label where it says "peel," it was super easy to open and dump in. The Chicken Cuisine bags did not have this easy open feature. I don't know if that's a newer detail, but Nom Nom should definitely put it on all their bags.
You should know that Daphne is so picky that she will spit food out if it doesn't meet her standards. She didn't immediately dive into the Pork Potluck and even spit out one of the potato pieces upon first taste. Although, once she figured out what it was, she dived in, gobbled it up, and licked her bowl clean.
When I introduced Daphne to the Chicken Cuisine at dinner time, she immediately plunged into it without hesitation. I don't know if she remembered what it was from her breakfast or liked this flavor better. I have made her special chicken and sweet potato meals in the past, so she may have simply recognized the smell.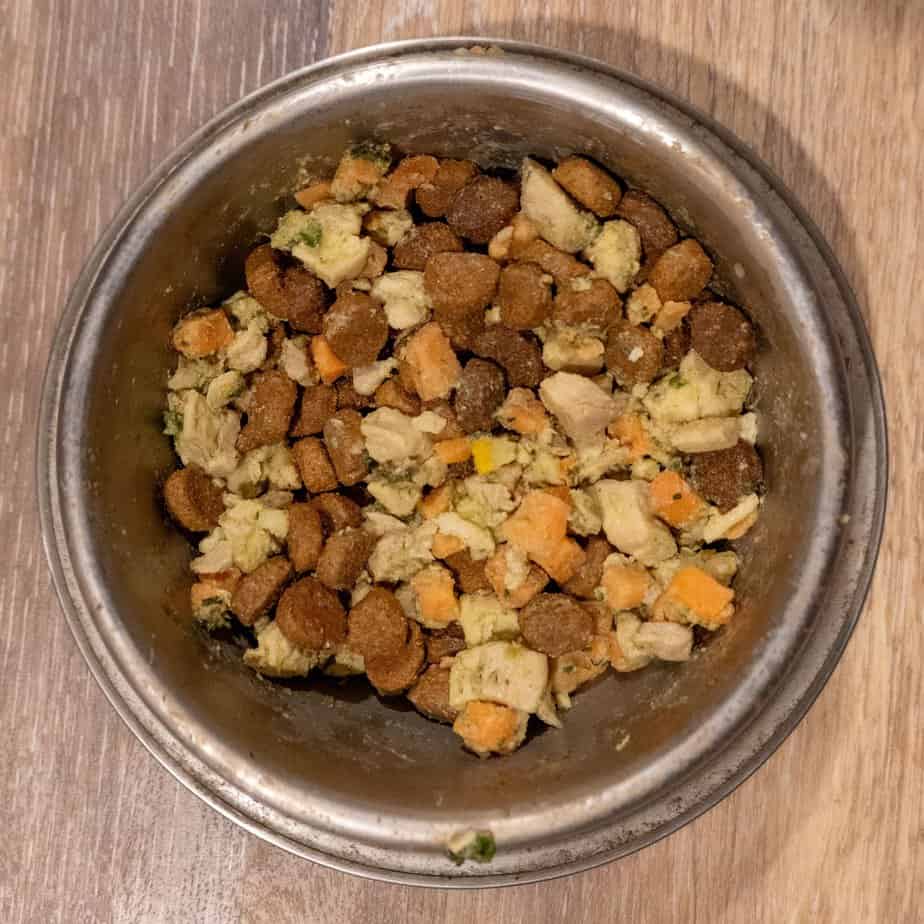 Dog Food Subscriptions Like Nom Nom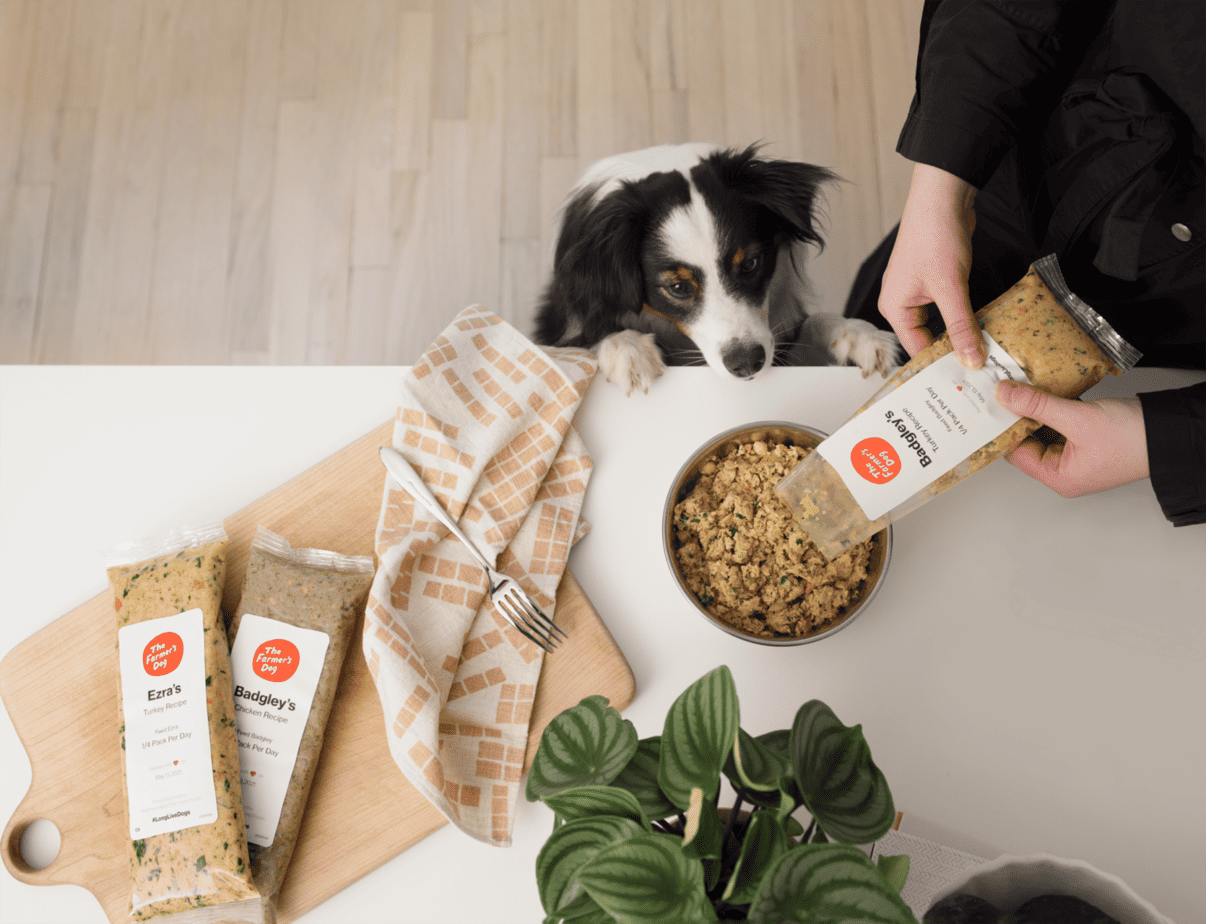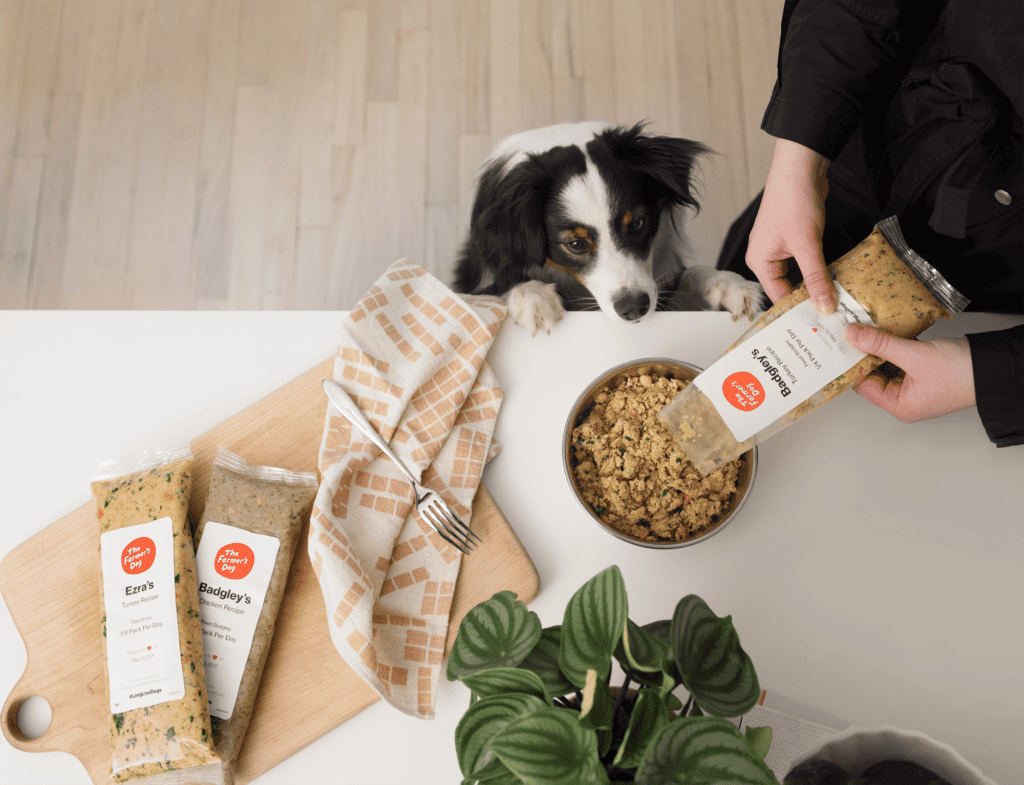 The Farmer's Dog is highly similar to Nom Nom, with four similar recipes, a one-week trial at 50% off, and each recipe formulated by vet nutritionists. This subscription and Nom Nom are about the same price for my dog. However, they go into more depth on the personalization, asking about very specific issues in the sign-up quiz.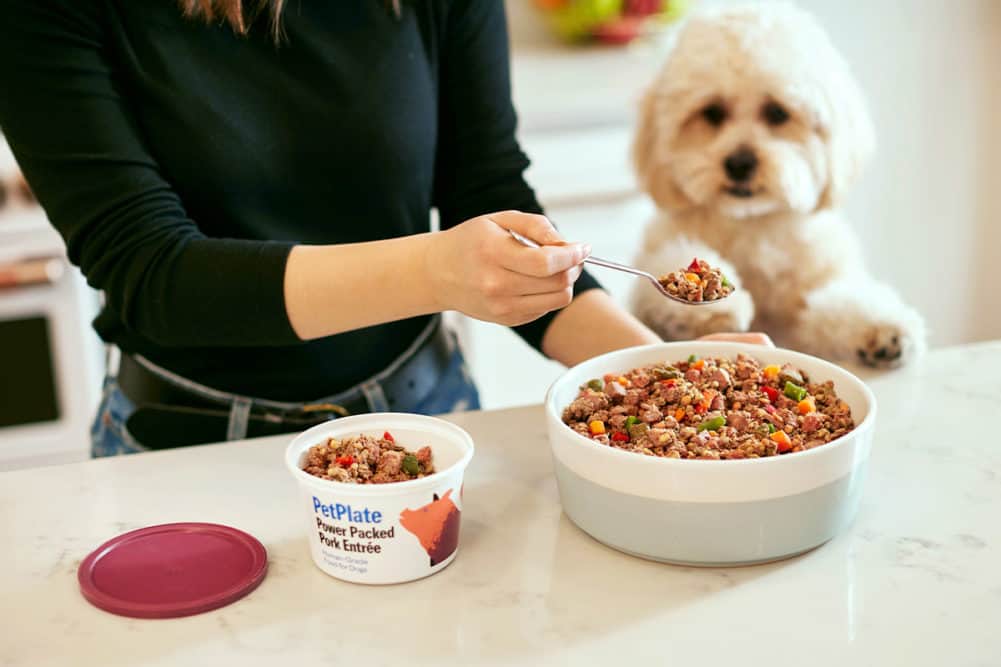 Pet Plate also makes fresh dog food with all-natural ingredients that you can find in a grocery store. They have way more options than Nom Nom or The Farmer's Dog, with eight recipes and loads of treats and supplements. You can choose between lightly cooked meals or oven-baked meals. The oven-baked meals are a great way to save, costing me about 25% less for my dog.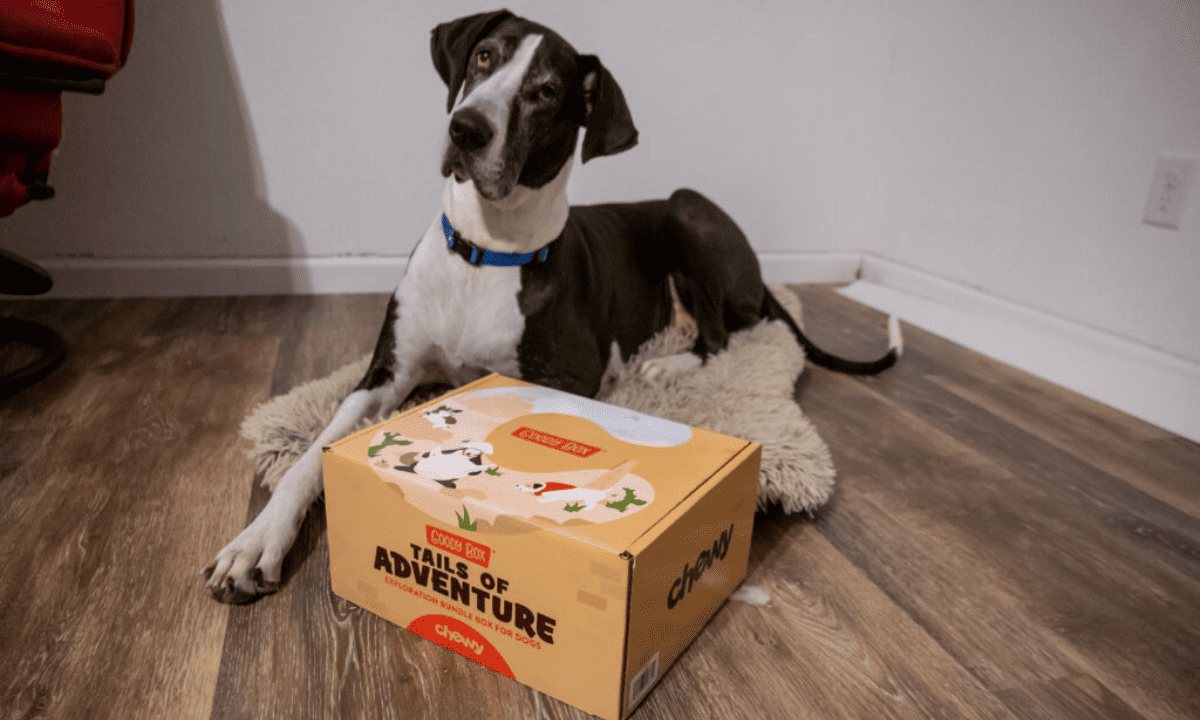 Chewy is your one-stop shop for everything your pet needs. With their auto-ship option, you save 5% on each order, which makes it like a subscription. This is the most economical way to go because you can choose whatever dog food they have available on their site, whether you want your dog to eat highly affordable kibble or fresh food. You can find Pet Plate on Chewy, Just Food For Dogs, and Vital.
Nom Nom Dog Food FAQ's
Question: Do vets like Nom Nom?
Answer: Nom Nom recipes are formulated by board-certified vet nutritionists. You can't get more vet-approved than that. These veterinarian nutritionists ensure that each meal has all the essential nutrients your pet needs, plus all the extras that help your pet with everyday issues.
Question: Can you cancel Nom Nom subscription?
Answer: Yes. Nom Nom makes it super easy to cancel your subscription. You simply go to your account and click "Cancel subscription" at the bottom of the page. You must do so at least four days before your next shipment to not be charged for the following month.
Question: Does Nom Nom food come frozen?
Answer: Your Nom Nom food will most likely not be frozen when you receive it. It will be cold to the touch and may have some frozen bits in the middle of the packages. If you want to serve the dog food immediately and there are frozen bits in the food, you can warm the packet by putting it in hot water for a little while.
Question: Is Farmer's Dog cheaper than Nom Nom?
Answer: The Farmer's Dog and Nom Nom are about the same price for my large dog. They were only a few cents off from each other on a per-day cost basis. Monthly, The Farmer's Dog is about five dollars cheaper.
Does Daphne Approve of Nom Nom?
After testing this food for about a week, Daphne still really enjoys it. I switch between the Port Potluck and Chicken Cuisine daily, and she's always there to gobble it right up. She also hasn't had any digestion issues since starting her on this food.
Overall, Daphne approves of Nom Nom dog food, and so do I. It is quite a bit more expensive than I'm used to spending on her food. I'll probably continue to do half portions, so it fits within my budget a bit more.
I also love that everything comes pre-portioned and automatically ships in time for her to get more food. That way, I no longer need to worry about her skipping a meal because I forgot to get her food before she ran out.
Continue reading:
KitNipBox – Is This Subscription Box Purrfect for Your Cat?
Chewy Goody Box Review: Different from Other Subscription Boxes