Latest posts by Alizabeth Swain
(see all)
I feel like I'm always talking about my son whenever I write a review.
I love my son more than anything else I've ever loved before. I'm willing to sacrifice anything I can to ensure he's happy and laughing. Until I became a mom, I never realized how much having a son would change my life.
But all of the sacrifices I'm making aren't always a good thing.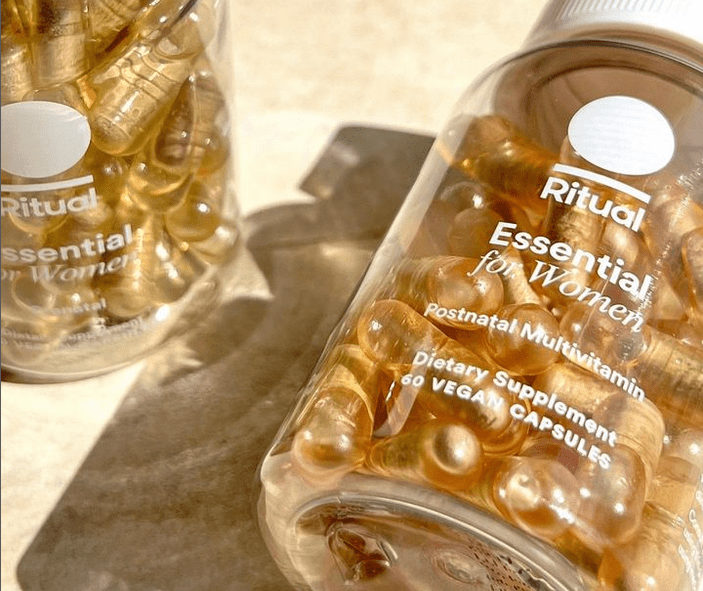 One thing I sacrifice a lot is my health. If I'm completely honest with you, that's one of the first things I tend to sacrifice. Now that my son is getting older and becoming more independent, I'm definitely feeling like my lack of focus on my health is catching up to me.
A couple of weeks ago, I brought this up to my husband, and he told me he was feeling the same way. Together, we made a commitment to focus on our health again.
Adding a regular supplement into our diet was an essential step for us getting our health back on track. I've always seen a lot of good things about Ritual vitamins and recently saw they added a new multivitamin for men into their offerings.
It's been a whole month since my husband, and I have taken the Ritual vitamins together. I'm here to detail the good, the bad, and the great! Let's jump right into this Ritual Multivitamin Subscription Review.
TL;DR: There's something different about the multivitamin compared to every other vitamin I've ever tried before. My husband feels the same way. I've tried tons of vitamins in my life, and this is the first time I've actually noticed a difference in how I feel, look, and how well my brain is performing!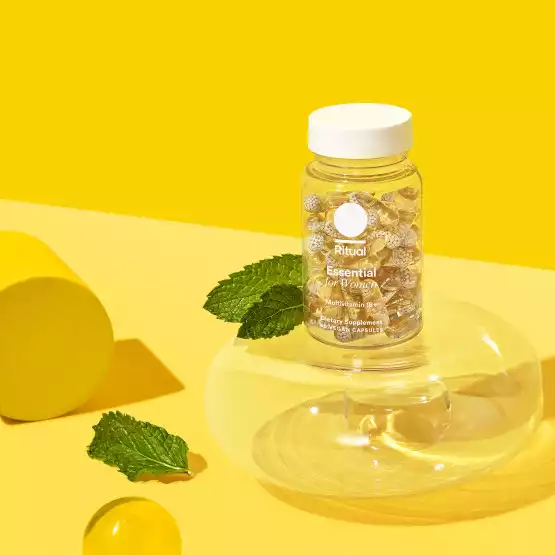 The Future of Health Is Clear | Ritual
Meet your Ritual subscription that flexes with you. Easy-to-start. Easy-to-cancel. Their team of scientists and nutritional experts are on a mission to turn your new healthy habit into a Ritual.
Check Prices
We earn a commission if you click this link and make a purchase at no additional cost to you.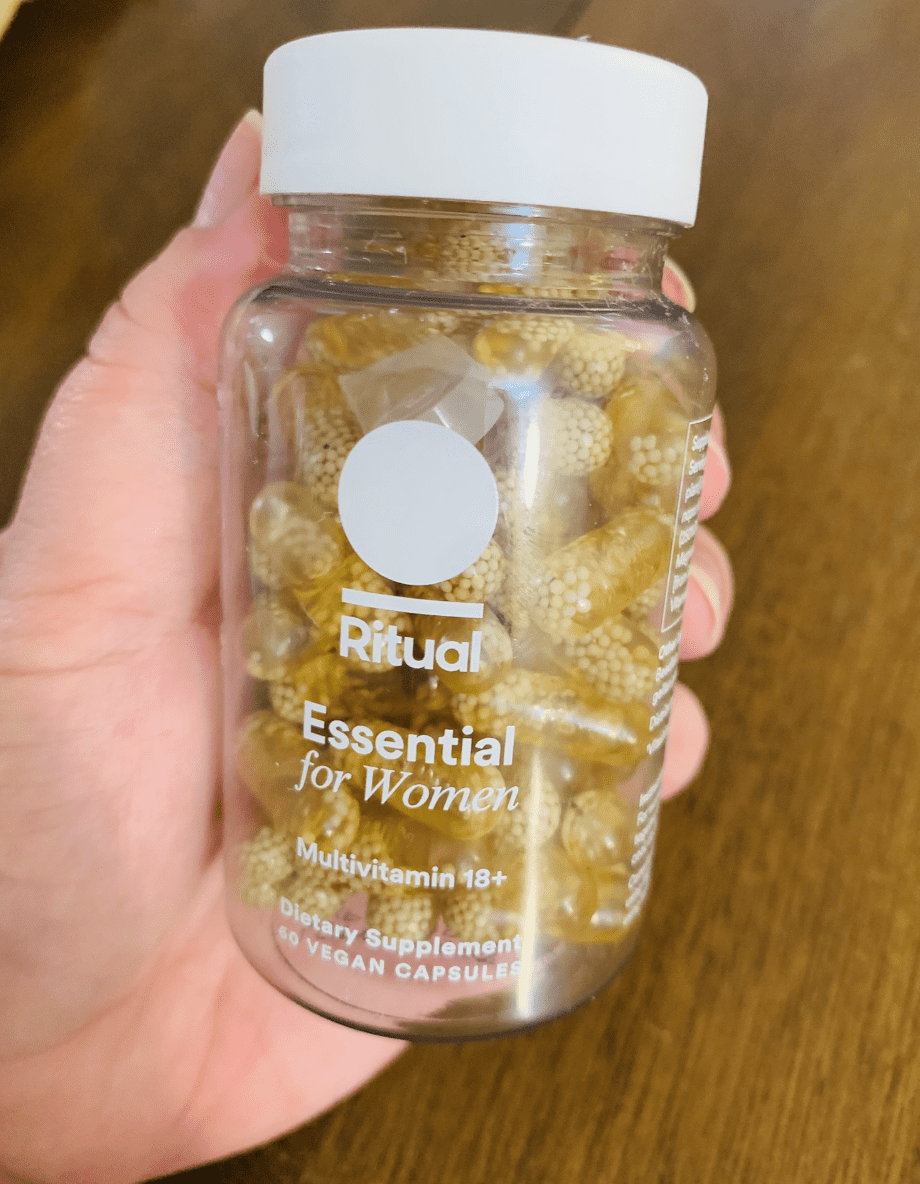 Ritual is a health and wellness company that was founded in 2015 by Katerina Schneider. The company's original mission was to offer high-quality, science-backed supplements that are specifically tailored to women's nutritional needs (a true women's multivitamin). Back in the day, you could go through a couple of scrolls on your Instagram feed and see an ad from Ritual.
I remember when Ritual first started out, they were all the rage of the beauty and wellness bloggers in my feed. Ritual's OG product was their Essential for Women multivitamin, which contains nine essential nutrients that are often lacking in the modern diet, including folate, vitamin D3, and iron.
While Ritual initially started as a company that offered vitamins specifically designed for women, they have since expanded its product line to include vitamins for men. Do we love an inclusive brand? Their Essential for Men multivitamin contains 13 essential nutrients that are specifically formulated to support men's health, including vitamin D3, vitamin K2, and zinc.
One of my favorite things about Ritual and what sets them apart from other brands for me is how much they focus on transparency. Ritual clearly lists the sources and forms of each ingredient on its website. I also love that they use only the highest-quality forms of minerals and vitamins in each of their supplements.
All of the vitamins offered by Ritual have traceable ingredients, have third-party testing done, are vegan, don't contain any artificial colorants, and are non-GMO. Plus, the packaging for these vitamins is SO cute! But I'll get into that later.
Like their Essential for Women multivitamin, Ritual's Essential for Men multivitamin is designed with transparency in mind, I love how Ritual clearly lists the sources and forms of each ingredient on their website, and they use high-quality, bioavailable forms of each nutrient. Ritual also publishes all of its clinical research and provides information about its manufacturing process.
I love Ritual's take on vitamins too. In a pamphlet they send out with their orders, they talk about how you can't "overnight your way to study bones" and that aging well doesn't mean having a good body for your age, but instead focuses on supporting your body for your age. Building a habit for yourself and making a promise to take care of your health is turning your self-care routine into a Ritual. How cool is that?
A Closer Look at Ritual's Subscription Process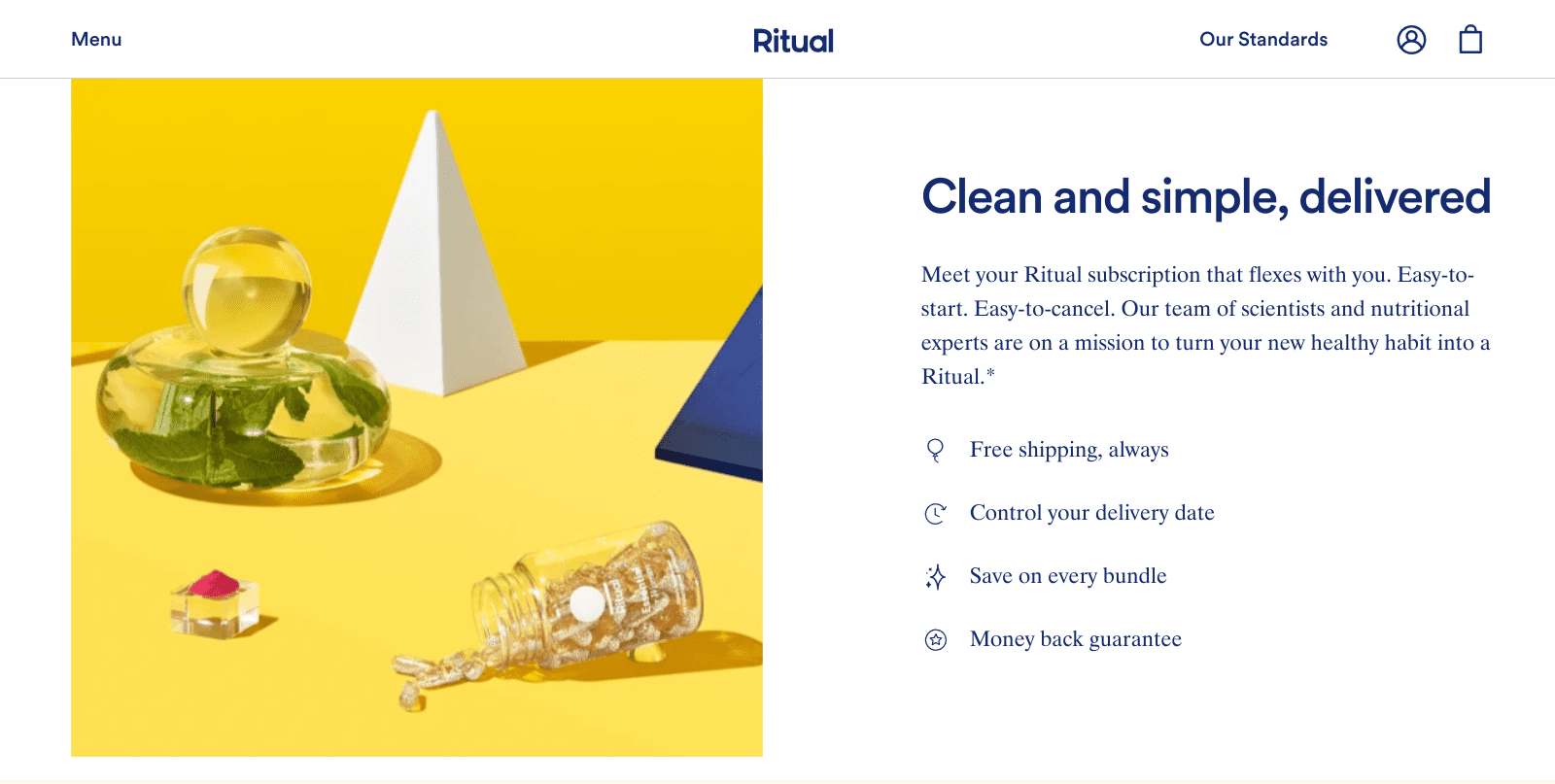 If you're anything like me, you'll spend a little bit of time on social media and walk away completely influenced. I can spend a couple of minutes on TikTok and have added at least ten new items to my Amazon card that swear they'll transform my life or make it easier.
Thanks to the not-so-honest promises of beauty bloggers and other social media influencers, I had a decent amount of product letdowns. That's what's always scared me off from trying out ritual vitamins. I've seen many Wellness and Beauty bloggers talk about how much the ritual vitamins changed their lives.
Plus, I'm one of those people who sucks at being consistent when it comes to taking medication. I'll usually get on my kick for a week or two, where I'm consistent with taking my multivitamin, but after a few weeks, I'll forget, and it'll sit in the back of my medicine cabinet.
That's part of why I love ritual vitamins so much. A subscription option helps me stay much more consistent with taking a multivitamin. The reminder in my inbox reminds me right around the time when I normally start forgetting to take the supplement.
I'll be honest; I didn't think that when I first signed up for the subscription, the subscription option would help keep me consistent and take the supplement. However, having their multivitamin on a subscription is a nice added benefit. It's a win-win for me.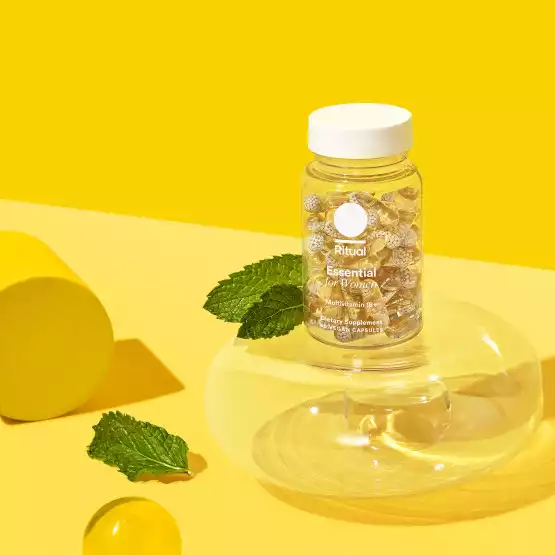 The Future of Health Is Clear | Ritual
Meet your Ritual subscription that flexes with you. Easy-to-start. Easy-to-cancel. Their team of scientists and nutritional experts are on a mission to turn your new healthy habit into a Ritual.
Check Prices
We earn a commission if you click this link and make a purchase at no additional cost to you.
Signing Up
There are a ton of options available on Ritual's website, like a multivitamin, protein supplements, supplements that support your gut health, Prenatal supplements, postnatal supplements, and more.
Ritual offers a discount if you bundle multiple vitamins in order. When I was shopping around for myself, I went through to look for their multivitamin offerings. Ritual has Multivitamins for men and women for 18+, a multivitamin for 50+, and multivitamins for teenagers aged 13-17.
I also love that they offer a sugar-free multivitamin gummy that's safe for kids aged 4 to 12. You can get something for everyone in your family on their website, which is really awesome. It makes prioritizing the entire family's health much easier and takes one more responsibility off your shoulders.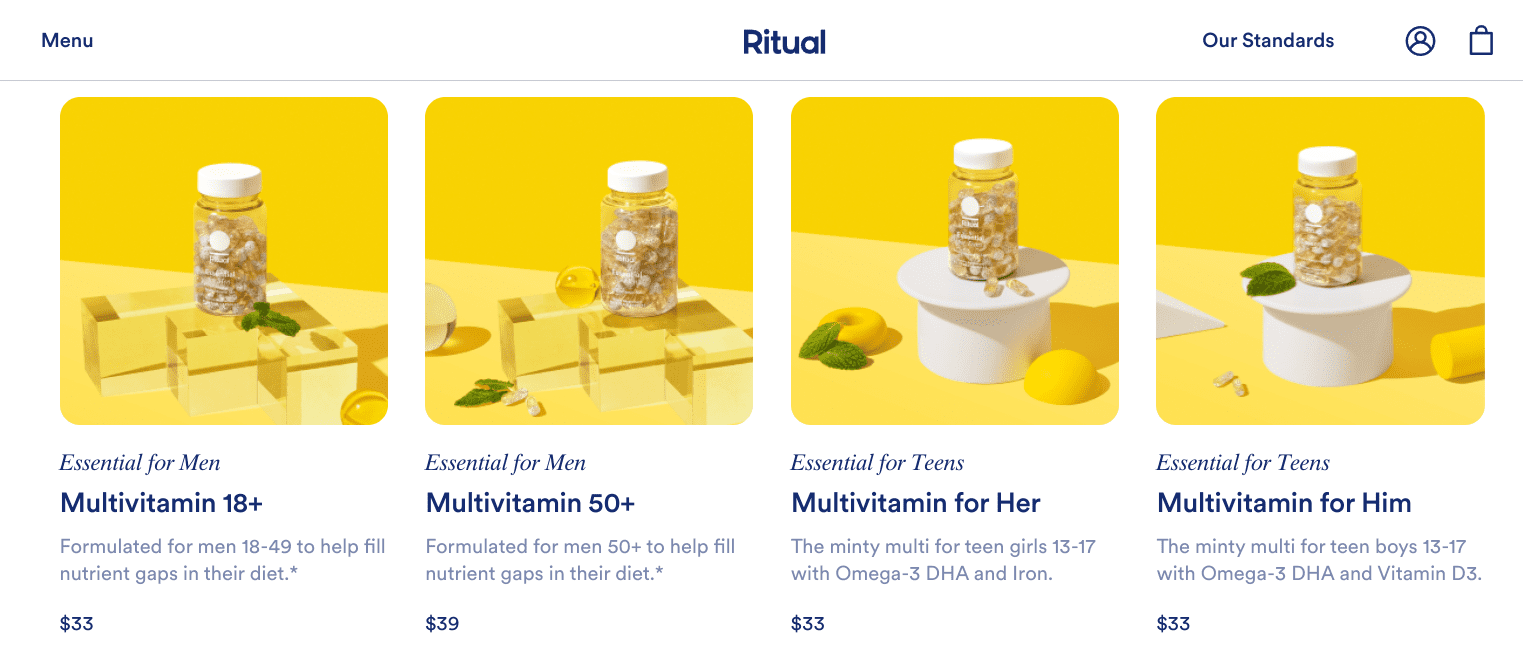 When you click on the multivitamin that you want to purchase, it leads you to the main product page that highlights the supplemental facts, Clinic study, and all of the other fun information you may want to look into before you commit to purchasing. Once you add the vitamins to your cart, you can check out and choose to sign up for a subscription. The sign-up for the subscription is super easy!
I love Ritual's subscription option because it is convenient to get a fresh supply of multivitamins delivered monthly. It's also nice knowing I have the power to cancel or pause my plan anytime. I do wish there was a 'pause' button on my dashboard, as contacting Rituals' customer service every time could be better. However, I don't anticipate needing to pause frequently. Also, I love the subscription discount offered too!
What I Ordered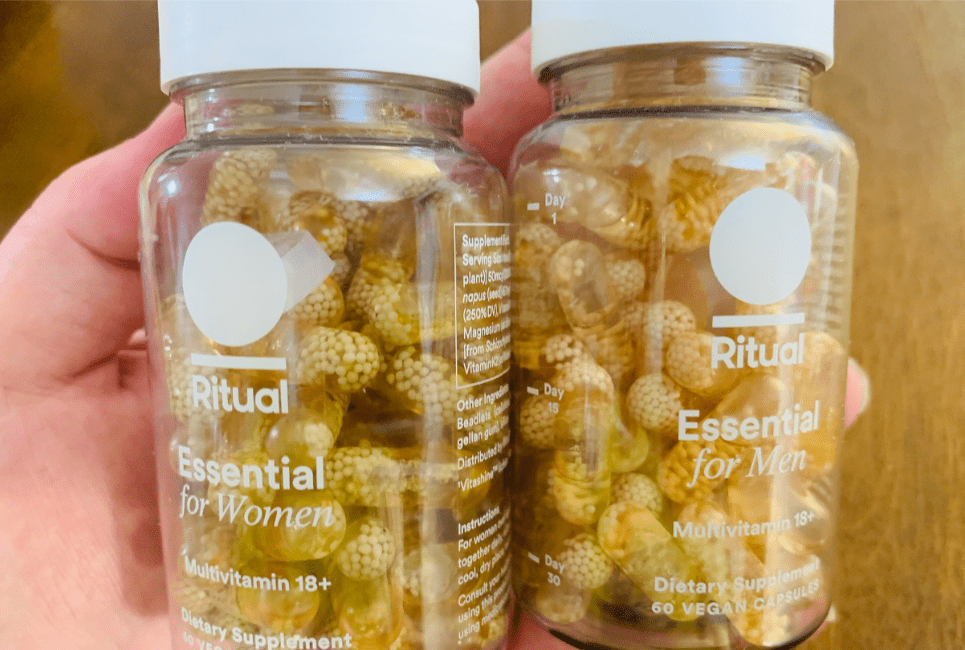 The Women's 18+ Multivitamin
The Ritual women's 18+ multivitamin does more than support the growth of your hair, skin, and nails. It combines Omega-3 sourced from microalgae and methylated B12 to support your brain health.
It also contains methylated folate-insulated iron to encourage the development of red blood cells, as well as magnesium Boron and vitamin D2 to support your bone health.
Lastly, it contains a mixture of antioxidants and vitamin E to fight against free radicals in your body to keep you nice and healthy. Pretty simple, right?
The Men's 18+ Multivitamin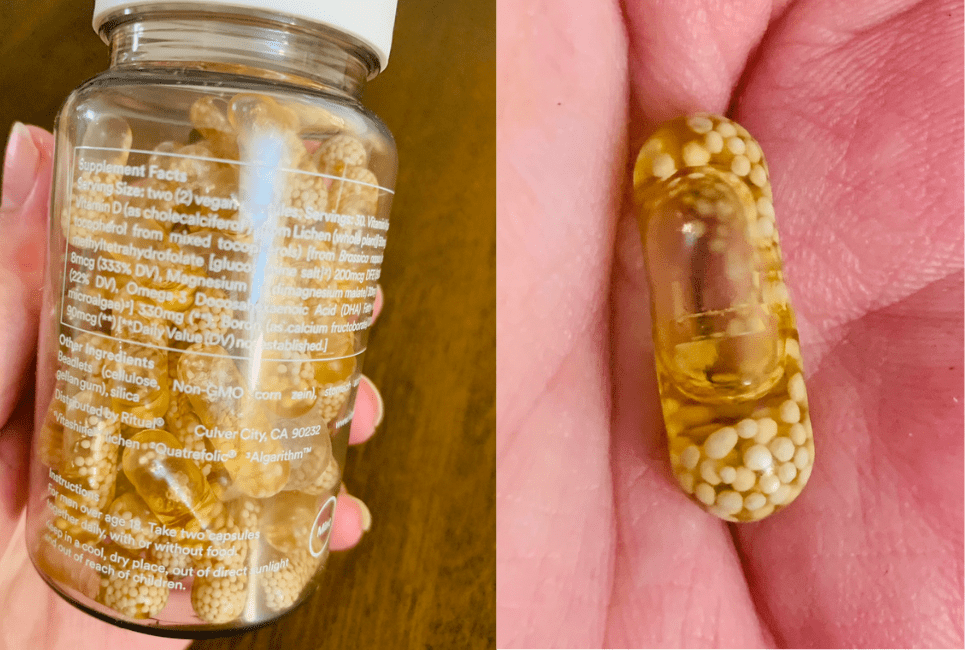 The Ritual men's 18+ multivitamin has a delayed-release capsule design, is gluten-in major allergen-free, doesn't contain any artificial colorants, and is non-GMO and vegan. Inside the men's multivitamin, you'll find non-soy vitamin K2 and omega 3 DHA sourced from microalgae to support your heart health.
In addition, the omega-3 DHA supports your brain health too! You'll also find vitamin D3 from Legend magnesium, but both work together to support healthy muscle development. Chelated Zinc, Vitamin A and Vitamin D3 all work together in the Men's multivitamin to keep your immune system at tip-top level.
The Ritual Multivitamin Unboxing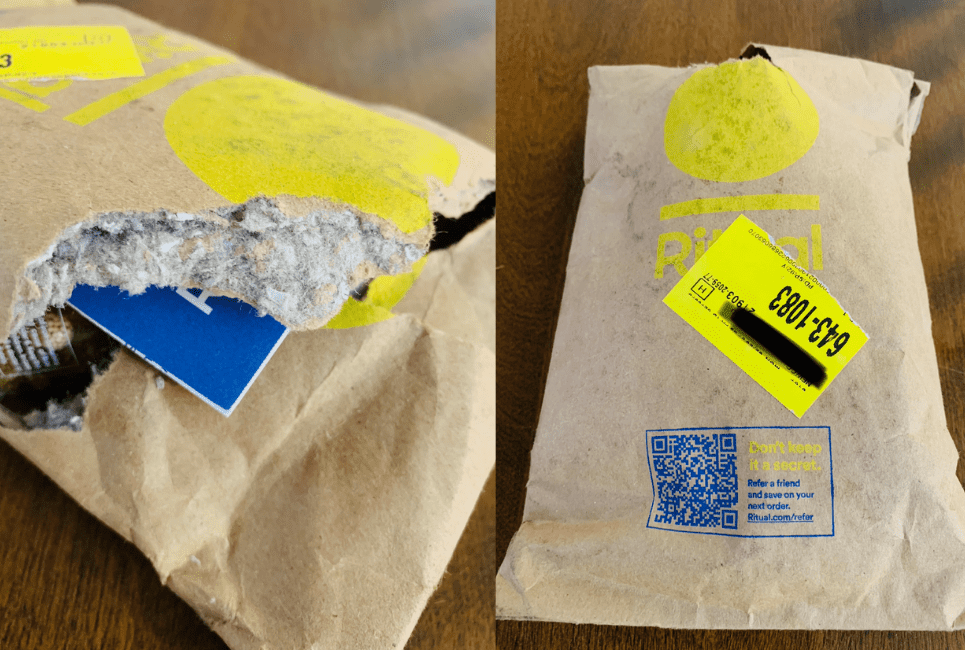 My order arrived so quickly. I was surprised to see my mailman drop off a package only a few days after placing my order. While I did get an email notification letting me know my order had shipped, I thought it would take a bit of time!
While my entire unboxing experience was short-lived, it was very pleasant. After all, I only had to worry about pulling two pill bottles out of a mailer. However, it's clear to me that Riutal cares about sustainability based on how they packaged my order.
They used an environmentally-friendly mailer filled with sustainable materials to fill my order. I love how the packaging is made from plant fibers and recycled newspapers. I didn't have any plastic I had to worry about throwing away, which is great!
My bottles were made with recycled materials, which is also a great thing. Nothing was damaged or wrong with my order, so all's good in the unboxing and shipment department!
I love that the vitamins are packaged in a clear plastic bottle; it really adds to the whole transparent look of the entire brand. I'm so proud to display this out in the open for my friends and family to see, it's so cute!
My Experience & My Husband's Using Ritual Multivitamins
Ritual has formulated its multivitamin to fill all of the Nutrient gaps your diet is currently missing. I like how some of the ingredients that Ritual has included in their multivitamin are nutrients that are difficult to get from food alone.
I really like how transparent Ritual is with the entire multivitamin. I'm talking about more than just the transparency with the ingredient list and how their multivitamin is formulated. I love how the whole form of the pill is transparent too. It's really cool, and honestly, it makes me feel like I'm taking a super clean multivitamin.
When I opened my pill bottle for the first time, I noticed it smelled slightly of bubble gum. I don't know if this was intentional or if my sense of smell was that accurate. And how could you not think these capsules are super cute?
The Ritual vitamins do wonders for my overall wellness, and I love how put together I feel when taking them. They're the first aesthetic multivitamin I've ever taken, and I love how cute they look sitting on my nightstand.
My favorite part about taking the multivitamins from Ritual is how they've designed the capsule. I was able to take these multivitamins with or without food, and I didn't have any problems with acid reflux or an upset stomach.
This is something I normally have happened when I take a multivitamin, no matter how high quality it is or the brand of it. Ritual is the first brand I've ever tried, where I don't have to worry about what time of day it is to take my vitamin.
How We Feel After Taking Our Vitamins
After taking these multivitamins for a couple of days, I noticed a difference in how sluggish I was feeling. Magnesium deficiency is the most common deficiency in the world, and I definitely felt a difference in how I felt having a regular dosage of magnesium in my body.
Not only did I have a bit more energy, but I was also sleeping better, and I noticed I wasn't feeling as achy as I normally do. The difference wasn't drastic at first, but over time, I realized that I didn't have to depend on caffeine as much to get through the day. It was a gentle change over time.
My husband also had a bit more energy but felt like he was sharper mentally. He also felt his muscles recover much faster from heavy labor when he's normally sore for days. While I can't speak for him in terms of how much this vitamin helped him, I was surprised at how quickly I noticed a difference in him. I noticed a difference in how well my husband felt (and acted) compared to when I started feeling a difference myself.
By the time my month's supply was up, I did feel different. I wouldn't say I noticed a huge difference from beginning to end in how different I felt (I mean, vitamins can only do so much when you're lacking sleep), but it feels good to know I'm actually taking care of my body. Don't get me wrong, I did feel a difference in how I felt as I had more energy, my brain felt a little more focused, and I was sleeping better through the night.
Plus, I felt better about myself. I felt like one of those cute Instagram bloggers with a whole cute aesthetic morning routine. Sure, Ritual made me physically feel different too. But it felt nice to be able to afford something I always see those social media stars always recommend too. I commend Riutal for not making their products overpriced once they went Viral.
Ritual Vitamin Alternatives I'd Recommend
Persona Nutrition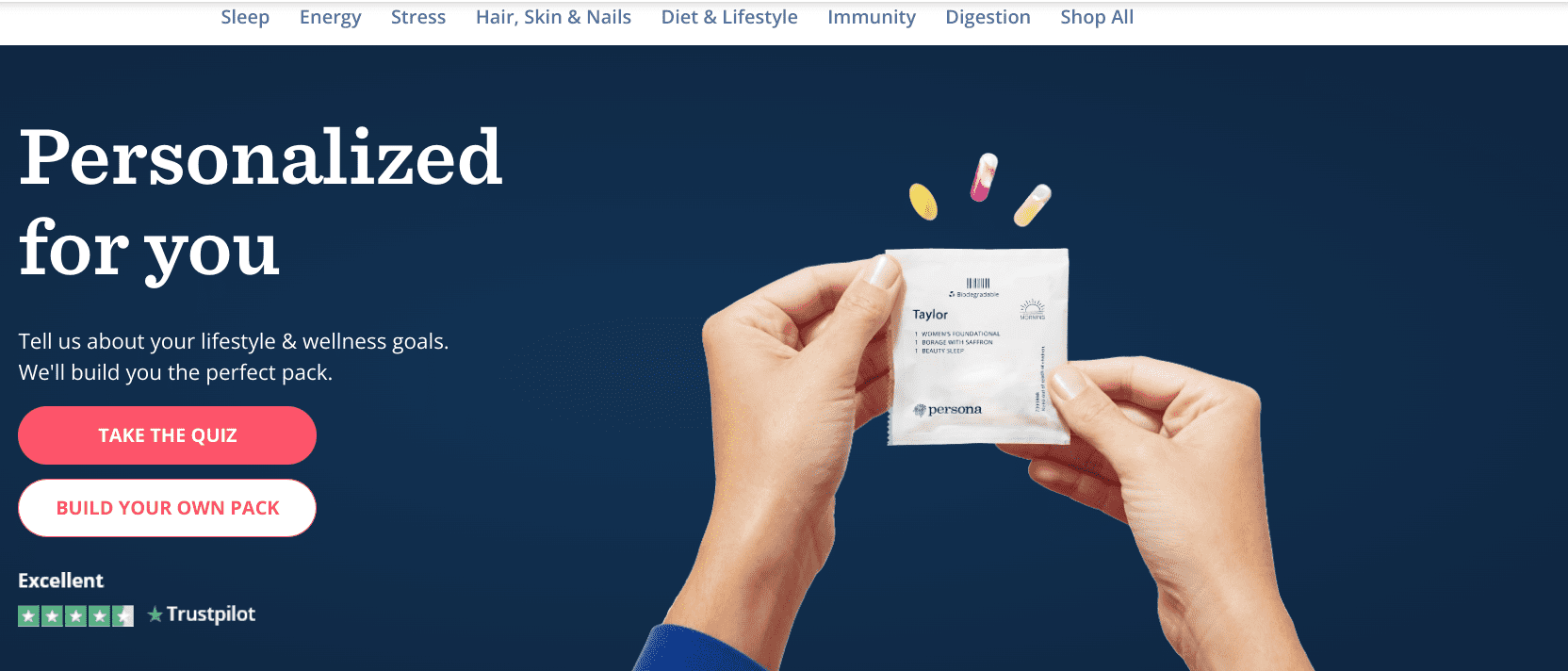 Persona offers individualized vitamins For men and women of all ages. I really like that they offer vitamins that are specifically tailored to different diets, including vegan and paleo options.
Plus, they even cater nutritional supplements towards the 12 most common allergens. I love that you can input your test results from 23 and me to get customized nutritional supplements (personalized vitamin pack) to support your health if you're predisposed to any health risks.
Vitafive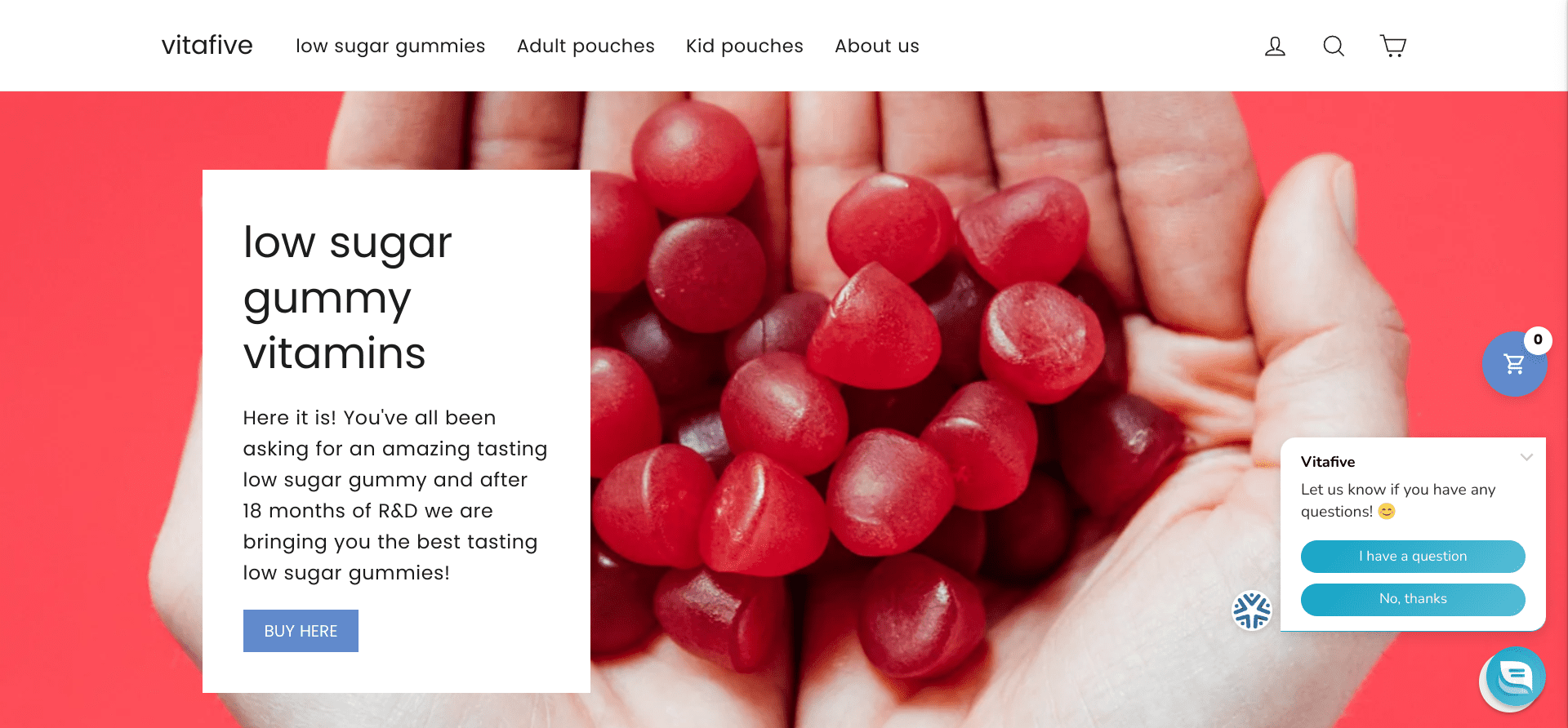 Vitafive Is a cheaper supplement company that makes daily packs of vitamins that come and gummy form. You get everything inside a pouch. While their selection is a bit more limited than Ritual, I think they offer a pretty good selection of basic vitamins and minerals that everybody needs in their diet.
FAQs
Question: How Long Will it Take to Start Seeing Results From Ritual Vitamins? 
Answer: I wouldn't necessarily say that you'll see immediate results from Ritual vitamins, but I know that you'll feel them after a couple of weeks. This multivitamin isn't designed to transform your physical appearance but is used to support the health of your brain, heart, and bone. So while you may not notice a physical change in your body after starting ritual vitamins, you'll definitely be able to feel a difference in your brain's performance and how well you feel overall. 
Question: Do Ritual Vitamins Have Side Effects? 
Answer: Yes! You're going to feel so much better. 
With any supplement, it's possible to have side effects. It's always best to consult with your physician before taking any new supplement, including the multivitamin offered by Ritual. However, this multivitamin was specifically designed to pose minimal risks and side effects, so it's unlikely that there will be any side effects besides feeling better. 
Question: Are Ritual Vitamins FDA Approved? 
Answer: No, Ritual Vitamins aren't FDA-approved, like most of the other vitamins and minerals on the market. However, Ritual works closely with medical advisors to specially formulated their multivitamins. Plus, they make sure to publish all of their clinical research on their site for complete transparency with their customers. So even though these vitamins aren't FDA approved, you can feel safe and confident knowing the effectiveness in the quality of their ingredients. 
Final Ritual Vitamins Review: Are Ritual Multivitamins Worth It?
Yes, I absolutely believe they are worth it! Just between you and me, Ritual is undercharging for the amazing quality of these vitamins. Plus, these vitamins are affordable compared to a lot of other multivitamin options on the market. I love how cute and aesthetically pleasing they are, and the best part is their effectiveness.
My husband and I are so happy with our Ritual Vitamins!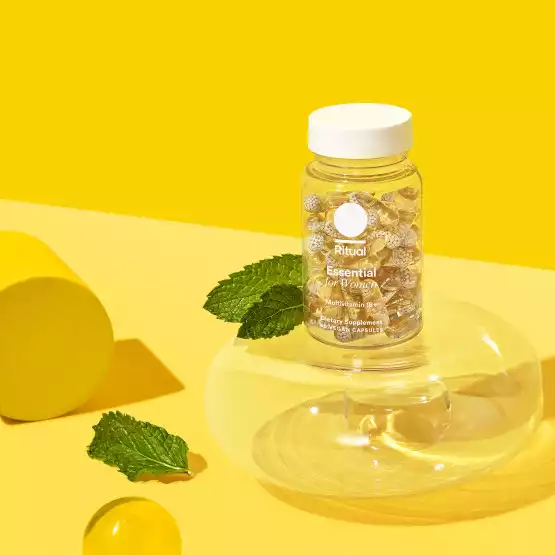 The Future of Health Is Clear | Ritual
Meet your Ritual subscription that flexes with you. Easy-to-start. Easy-to-cancel. Their team of scientists and nutritional experts are on a mission to turn your new healthy habit into a Ritual.
Check Prices
We earn a commission if you click this link and make a purchase at no additional cost to you.
Related Reads