Latest posts by Erin Jamieson
(see all)
The main differences between the Gwynnie Bee and Le Tote are:
Pricing. Le Tote costs more per month but also includes accessories
Who it's for. Le Tote offers regular and maternity sizes; Gwynnie Bee offers plus sizes.
How you select. You select on your own with Gwynnie Bee, but with Le Tote, you first take a style quiz
Americans have a reputation for collecting things and buying into mass consumerism. But a new recent trend, showcased by a drive towards clothing subscription rental services like Gwynnie Bee and Le Tote may be changing that.
Minimalism is being embraced more and more, especially by younger generations. While certainly not the mainstream trend as of yet, the desire to waste less and live more simply is not unfounded. According to a report in HuffPost, eighty-one pounds of clothing were thrown away by Americans last year.
Add to that material from clothing, such as rubber, textile, and leather compromise just under ten percent of solid waste in the United States, and embracing a more minimalistic style makes sense, at least for many.
Traditional stores have seen sales declining, just as online shopping explodes–but it's not online purchases many have their eyes on, but clothing subscription services, especially like Rent the Runway that allow you to wear clothes and return them without cluttering your closet.
But what is this minimalist idea, and is it the only reason to consider a clothing subscription service? And when compared, does Gwynnie Bee or Le Tote stack up as the stronger option?
What is minimalistic living?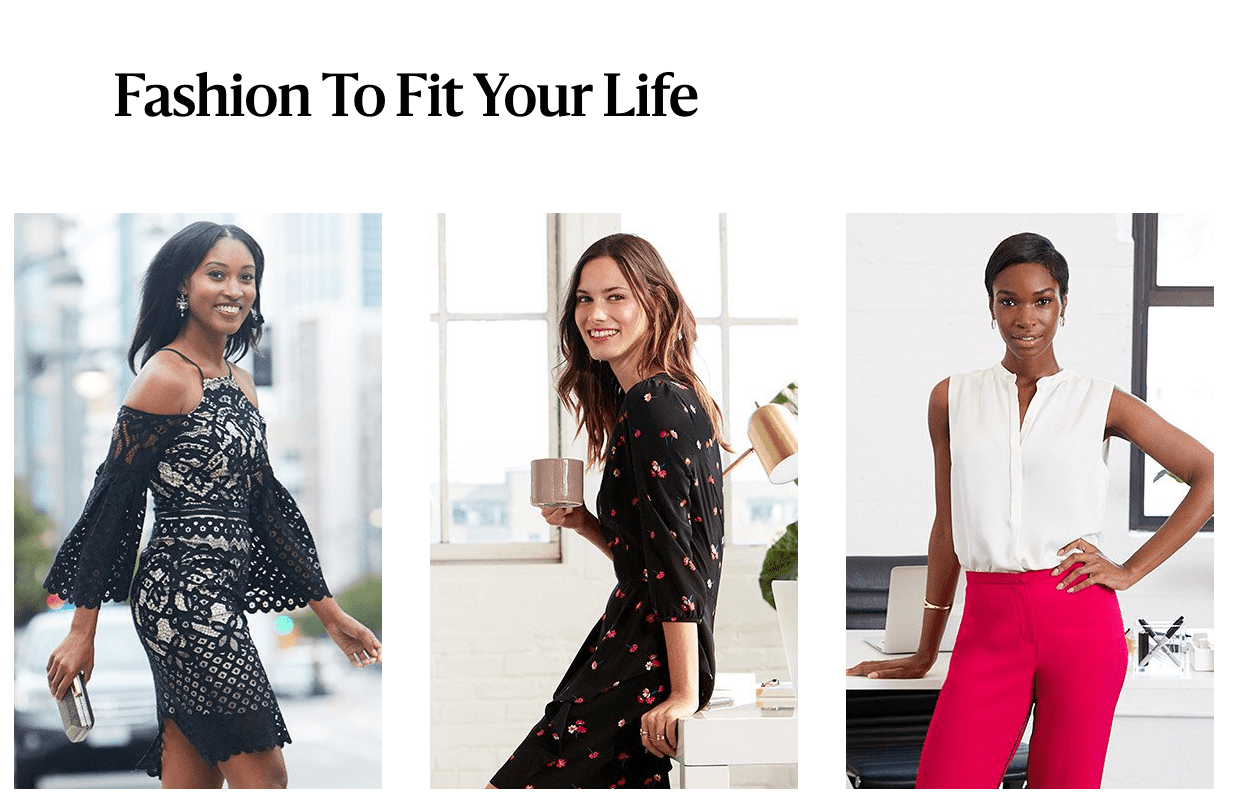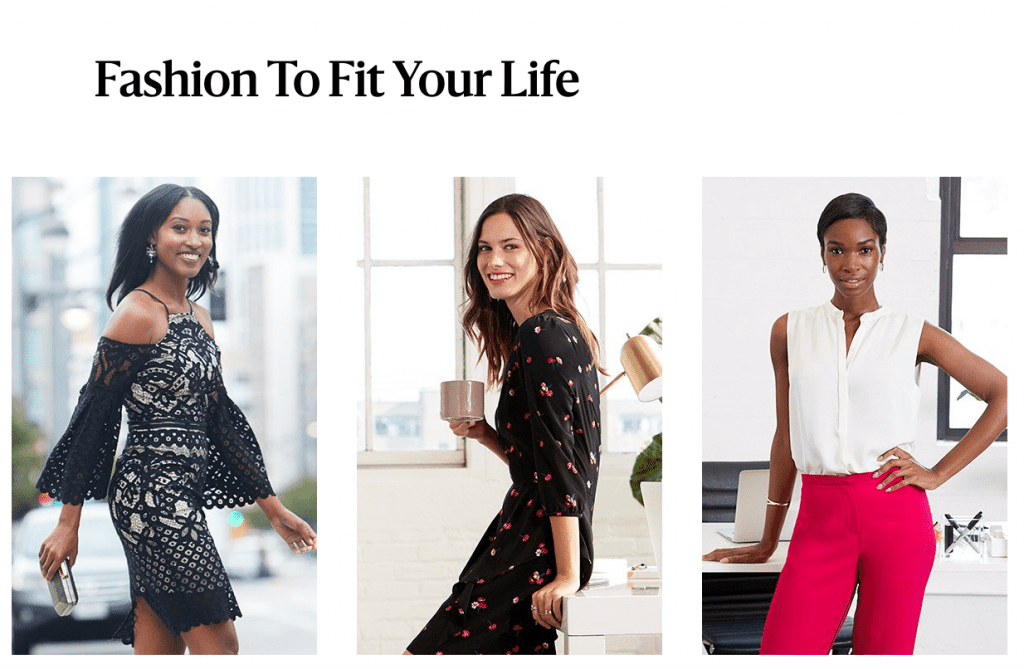 Minimalistic living can mean different things to different people. As you probably guessed, in general, it means cutting down on the possessions you own and trying to love more simply, by appreciating what you have.
How that translates depends upon your own interpretation and what practice makes sense for you. For some, it means simply cutting back on shopping trips and possibly downsizing, while for many it means selling items and possessions they no longer are using.
While there are some things–such as meals, and even health and beauty products–that are difficult or even impractical to practice much minimalism, clothing is one area many find they can.
Despite its reputation as simply being a fad, minimalism isn't about eschewing any material possessions, but gaining a greater appreciation for what you already have by cutting back on the clutter, becoming more cognizant of waste, and trying to get back to paying attention to what makes you happy. Advocates of minimalistic living argue that, through owning fewer possessions, you can free up your living space but also regain balance in your life.
Why would I want to consider cutting back on my possessions?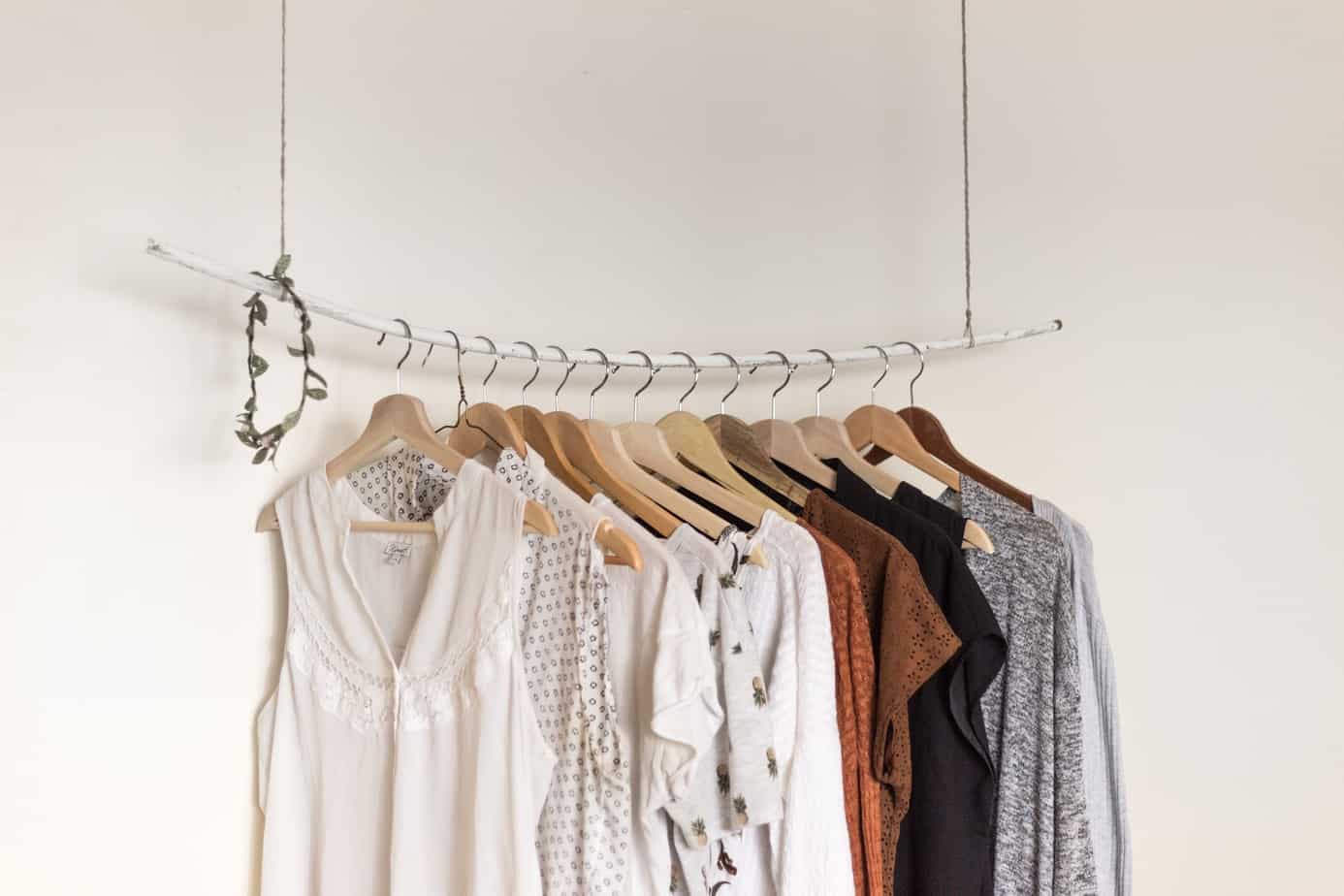 Why minimalistic living may seem appealing to some, for others it may seem downright unappealing or even unrealistic. But the truth is you don't even have to embrace an entire minimalist way of living to experience some benefits.
Just cutting down on some possessions, or even making sure you truly enjoy what you're wearing or eating, can help you waste and spend less, and potentially even make you feel happier. Benefits of minimalistic practices include:
Reducing financial strain
Freeing space from clutter
Reducing environmental impact
Help you focus on more important things, such as personal relationships
Sharpen your focus by providing a cleaner environment
Free up money to spend on trips or other experiences
What are the benefits of clothing subscription services?
This ties into clothing subscription services well in that one of the main benefits are that you aren't as likely to settle for clothes you don't truly love or don't fit. In addition to presenting a much more convenient way to shop, many clothing subscription services embrace finding clothes that providing a better fit for your body and personal style through personalized style quizzes, and/or advice from stylist consultants.
And then there are also models that allow you to rent clothing and return it when you're finished wearing it–ensuring that you don't let clothes go to waste in your closet. Through many clothing subscription services, you have the ability to wear and enjoy a variety of different clothes on a fairly regular basis without letting them go to waste.
Even clothing subscription services that aren't rental based could help you cut back on waste–it's easy for many to get caught up on a sale, but by receiving a few clothing articles at a time, it's easier to evaluate if you really want to purchase.
Plus, with catered advice, you're more likely to find clothes that suit you and perhaps even discover new styles–which is part of appreciating what you already have and a tenet of minimalistic living.
Some have gone as far as claiming subscription services are the future of fashion. Subscription services for clothing are compared to video streaming services like Netflix and Hulu, arguing that companies like Le Tote and Gwynnie Bee offer consumers a chance to:
Try new styles
Worry less about sizing and uncomfortable shopping trips
Allow for more versatility
Provide a more continuous supply without the clutter
Introduce you to clothing you may have not otherwise tried
What are Gwynnie Bee and Le Tote?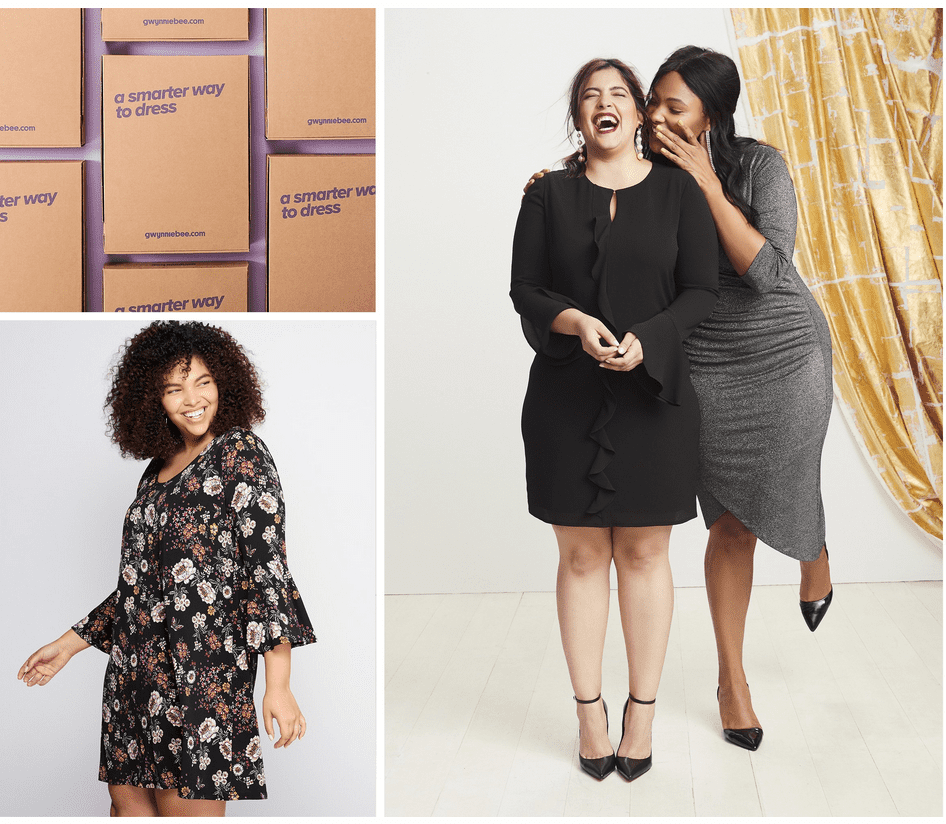 In case you've made it this far and aren't sure, both Gwynnie Bee and Le Tote are well-known clothing subscription services. While we'll be going over some specific comparisons shortly, a major way they overlap is that both offer clothing in plus sizes for women–though Le Tote offers other sizes as well.
The principle behind both companies is to send you clothes you've either selected or been guided to select, so you waste less and find clothes that truly fit you. In addition, both offer to ship boxes straight to your door, meaning there's no going to a store on your part, and you can ship packages back on your own time.
And they both happen to be major players in the subscription market, which was worth over two and a half billion dollars as of 2016. In terms of annual revenue, though, there is a bit of a difference. While Gwynnie Bee takes in a respectable two million dollars a year, Le Tote takes in more than double that–about five and a half million.
Of course, that isn't to say that Le Tote is inherently better. By offering to clothe solely for plus size women, Gwynnie Bee is a more niche service. It is interesting to note that, while Gwynnie Bee employs over one hundred and thirty, Le Tote has just over seventy employees.
Limited Time Deal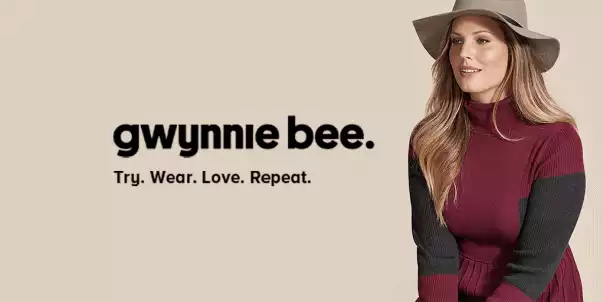 Save 50% Off Gwynnie Bee
We LOVE Gwynnie Bee and are THRILLED to be able to offer 50% off your first order. Try it out and see how it goes! It's easy to cancel.
Try Gwynnie Bee
We earn a commission if you click this link and make a purchase at no additional cost to you.
What's the best way to compare Gwynnie Bee vs Le Tote?
While it's true that Gwynnie Bee and Le Tote have a number of things in common when compared, there are also some key differences that can help guide your decision to see which–or if either–clothing subscription service is right for you.
In order to compare the two services, the best way to have set criteria. Each category may be more or less important to you personally, but all should factor into your decision.
Who's behind the company? Or in other words, who runs the company and what's the company's history? Do they employ expert stylists? Is there an easy way to contact should you need to? The more transparency, the better.
Who is the subscription service for? What genders and sizes do the company offer? This is not a value judgment so much as a deciding factor if a company does not offer your size.
What brands can you select from? Here, we aren't just focusing on quantity but also variety. What different brands can you select from, and is there a nice variety to ensure you can find the clothes you like?
How do you select your clothing, and how personalized is it? What degree of autonomy you want from a clothing subscription box is up to you–do you want a subscription service where you select every piece of clothing yourself or one where a stylist does it for you? Some offer a style profile quiz and even a chance to chat with a stylist in order to guide you to the best choices.
What pricing and plans are available? Different subscription services operate on different kinds of pricing. Some require a monthly fee (often to rent clothes) and many add a stylist fee. Some are true subscription services, while others allow you to order when you would like.
How much flexibility is included in the plans? When it comes to flexibility, how easy is it to switch, cancel, or skip certain months?
How satisfied are customers? Looking at accreditation, complaints filed, and finally, customer reviews from external sites are all wise to look into.
Compared, is Gwynnie Bee or Le Tote a better option?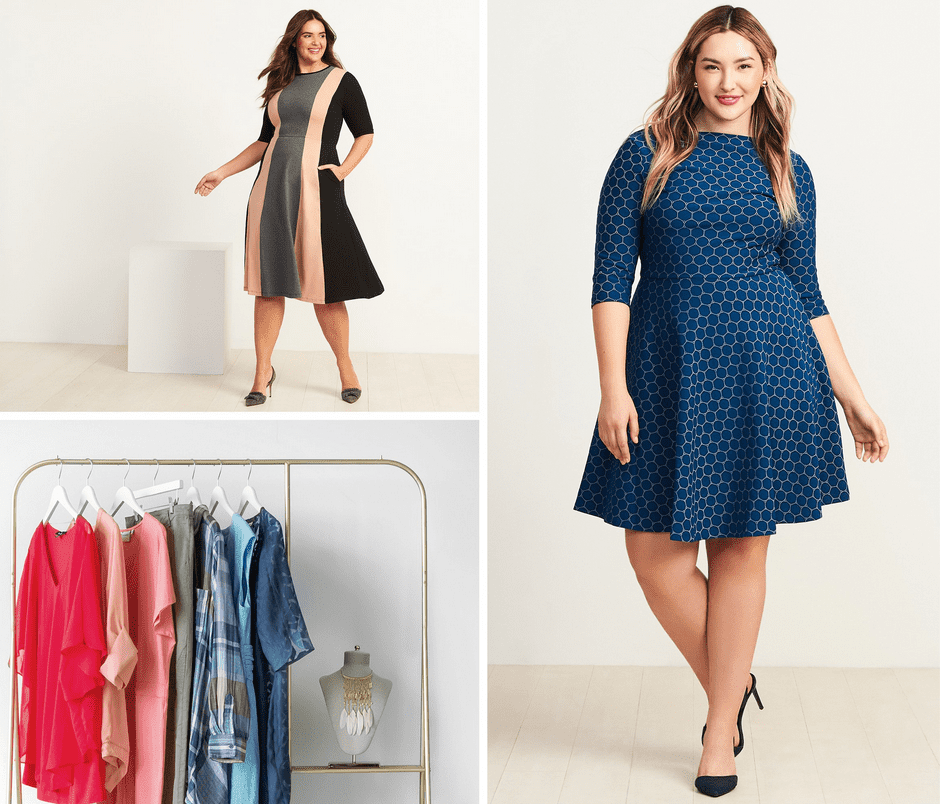 Now let's take a look at how the two subscription services compare on each factor.
Who is behind the company? Gwynnie Bee, which was founded in 2011 by Christine Hunsicker, who remains the CEO. By January 2016, three million boxes have been shipped. Ms. Hunsicker graduated from Princeton University with a Bachelor of Arts in 1999 and has experience with e-commerce and algorithms, and has starred on a spin-off of Project Runway. She is also an active promoter of size inclusivity in the fashion industry. The company employs over one hundred, including stylist consultants.

Le Tote was founded under the current CEO, Rakesh Tondon in 2012. His inspiration came when his wife was shopping for maternity clothes and he realized what many Americans wanted was an easier way to shop, but with ample variety. He and Brett Northat both come from backgrounds in finance. Mr. Tondon formerly was employed as an associate an analyst with J.P. Morgan.

Who is the subscription service for? Gwynnie Bee, from its conception, has touted itself as a clothing service for plus size women. However, they actually offer some small sizes as well. In general, their sizes range from 10 to 32, which CEO Hunsicker says is where a larger majority of Americans fall. Recently they did introduce some clothing sizes below that, but they do not carry any line of clothing that does not also offer plus size. Still, the focus and most choices are offered in sizes 10 and up.

Le Tote is a bit more expansive in its offerings, though not as focused on plus size. Offering clothes for women, sizes range from 0 to 16, so there is only a small portion of clothing sizes that dip into plus size. They also offer a maternity line.
Which one? Le Tote is the better option for anyone searching for maternity clothes and for traditional sizes. Gwynnie Bee will offer more when it comes to plus size options.

What brands can you select from? The sheer variety of both subscription services makes it next to impossible to list every brand, but in a nutshell, both Gwynnie Bee and Le Tote offer excellent variety. With Gwynnie Bee, you can select from over one hundred and fifty brands, all of which are clearly listed. Examples include Kensie, Leota, Tahari, Gili, and Johnny Was.

Le Tote offers 'hundreds' of brands, though the number is not specified. Examples include French Connection, Calvin Klein, and Vince Camuto. The bad news is that it's hard to see the actual brands until you're into the sign-up process.
Verdict: Both offer a nice variety–but Gwynnie Bee is more transparent. On face value, both offer plenty of brands to select from, but Gwynnie Bee lists all available brands for you to easily peruse. We'd like to see the same transparency from Le Tote.

How does the clothing selection process work? Gwynnie Bee is very much self-driven, meaning that you select your own clothes. You're able to browse different categories of clothing, such as dresses, blouses, pants, and also by occasion. After you select your clothing and sizes, you add them to a virtual closet. You're required to replenish that virtual closet yourself so that your next box is ready to ship with the clothes of your own selection. You do have an option to work with a stylist or get individual outfit recommendations by contacting an email address.

Le Tote is a bit more of a guided process, but it combines your ability to select on your own and get some guidance. You start off the process by taking a style quiz, which then will produce suggested items, as well as current relevant trends for your box. However, you are also allowed to switch out, select and exchange any items before the box ships. While they have stylists on staff, there is not a clear option when it comes to consulting with one.
For this category, it's a draw. While Le Tote provides a great service in allowing you to select but also offering suggestions, it does not appear to offer the opportunity to speak with a stylist, as Gwynnie Bee does. Gwynnie Bee's requirement to keep the virtual closet stocked may feel cumbersome, while Le Tote's personal quiz may be an imperfect way to offer suggestions.

What pricing and plans are available? Gwynnie Bee is mostly a rental subscription service, though you do have an option to purchase items you love at a reduced price. You'll pay sixty-five dollars a month for unlimited clothing, after an initial thirty-day free trial.

With Le Tote, referrals and occasional promotions can give you discounts. It's the same subscription model, in that you can rent clothing and return it back–with an additional option to purchase any you clothes you like at a discounted price. For the classic plan, you'll spend seventy-nine dollars a month minimum, which includes five articles of clothing as well as three accessory pieces. Plans go up to over one hundred dollars a month, for ten articles of clothing.
Gwynnie Bee is a better value. Though Le Tote costs less, with Gwynnie Bee you can ship back and return as many items a month as you like, but Le Tote is limited to how often you sign up, and the items you receive in the Tote. Though Le Tote does add accessories and jewelry into the mix, for renting purposes it's definitely a more expensive option.

How much flexibility do subscriptions offer? For both Le Tote and Gwynnie Bee, you can access your account online or contact customer service to cancel or change your subscription plan. Le Tote allows you to skip months, and Gwynnie Bee also offers a chance to 'pause' a membership. In this category, the two services are equal.
What do customers have to say? Gwynnie Bee, which is under the parent company, CaaStle, and is not accredited through the Better Business Bureau but holds an A-plus rating based upon consumer complaints. On sitejabber, a customer review site, customers gave the service an average of three out of five stars based upon over three hundred customer reviews, though it was fairly oddly split, with around a hundred awarding it the highest rating possible and just under ninety awarding the service a mere one star. Those pleased with Gwynnie Bee loved the clothing variety, the no pressure sales model, and found it a great way to revitalize their closet. Complaints stemmed from customer service. Many cited trouble canceling subscriptions upon short notice, and others said they were charged even when they canceled.

Le Tote is also not accredited by the Better Business Bureau and hold an unofficial A-minus rating. On Trustpilot, the company holds an average of four out of five stars based on just under three hundred customer reviews, but a large portion of customers–over sixty percent–awarded it the highest rating possible, and a mere five percent gave it the lowest rating. Satisfied customers said the style suggestions were really to their taste and the freedom to select or swap out was also appreciated it. Complaints were not centralized; some customers had account problems, while others felt the clothes were not as good of condition.
Overall, Le Tote has more positive reviews. While both have complaints, Le Tote has less of them and they seem more on an individual basis, where there's a clear trend of issues with customer service for Gwynnie Bee.
Limited Time Deal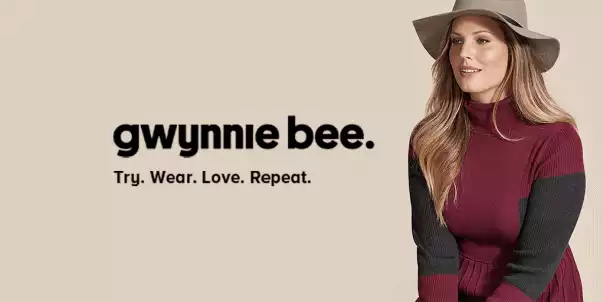 Save 50% Off Gwynnie Bee
We LOVE Gwynnie Bee and are THRILLED to be able to offer 50% off your first order. Try it out and see how it goes! It's easy to cancel.
Try Gwynnie Bee
We earn a commission if you click this link and make a purchase at no additional cost to you.
Which service should I sign up for?
Compared, Le Tote is the better option in most cases. Le Tote overall has less consistent complaints and it offers more guidance in terms of selecting clothing items. In other areas, the two services are fairly evenly matched, though it's a close call.
However, for Plus Sizes… Reasons, why you should select Gwynnie Bee over Le Tote, include if you're plus size (though some options are available through Le Tote) and if you're on a tighter budget.
Further Reading on Clothing Subscriptions