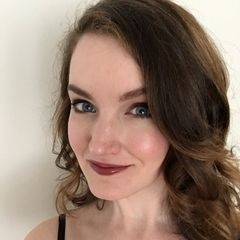 Latest posts by Crystal Schwanke
(see all)
In my experience, one of the biggest challenges of starting a new way of eating–whether your goal is to lose weight, gain muscle, or tackle specific health concerns–is learning all the guidelines and then doing the planning and counting required to adhere to them.
That's where the best keto meal delivery options come in. Keto was one of the more challenging diets for me because of food sensitivities and the fact that I was cooking for my family.
Using a keto meal delivery service to ease into a new way of eating could be the key to success.
Though you still want to know all the guidelines of what you should be eating and why, options like these take out some of the calculating, the planning, and the wondering if what you want to make will taste good.
There are different options to fit your lifestyle, whether you want all the guesswork taken out or prefer some flexibility and room to make your own food choices.
Most of the best keto meal delivery options are individual meals that you reheat, so they'll save you time in addition to a lot of the mental work of choosing which meals fit your days.
My Top Picks at a Glance
Healthy AND Easy Pick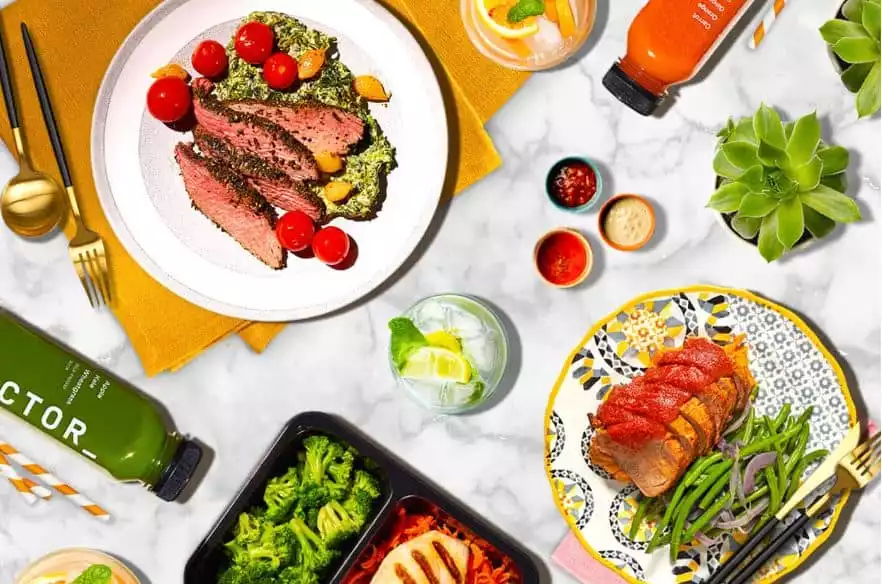 Why Go With Factor?
Just heat, eat, and enjoy. Factor makes eating healthy, EASY. Honestly, the hardest part about eating healthy are MEAL PLANNING and MEAL PREP. Factor removes both as an excuse and is interesting enough to stick with over the long term.
Check Current Seasonal Promo!
We earn a commission if you click this link and make a purchase at no additional cost to you.
How I Chose the Best Keto Meal Delivery Options
There were a few things I considered when choosing the best keto meal delivery options:
Price

How easy it is to find keto meals on the site

The assistance you get in setting and achieving goals

Variety in recipes and flavors

Packaging

Who they're suitable for (singles vs. families, convenient vs. time-consuming; I wanted a mix)
Keto Guidelines
At its core, the keto diet is low-carb, high-fat, and moderate-protein. For most people, the goal will be to limit carbs to somewhere between 20 and 50 grams per day.
That said, the number of carbs you should eat is different for everyone and will depend on how many calories you consume daily.
Five to ten percent of your calories should come from carbs, 70 to 80 percent from fats, and 10 to 20 from protein.
The 6 Best Keto Meal Delivery Options
Here are the six best keto meal delivery options I've found: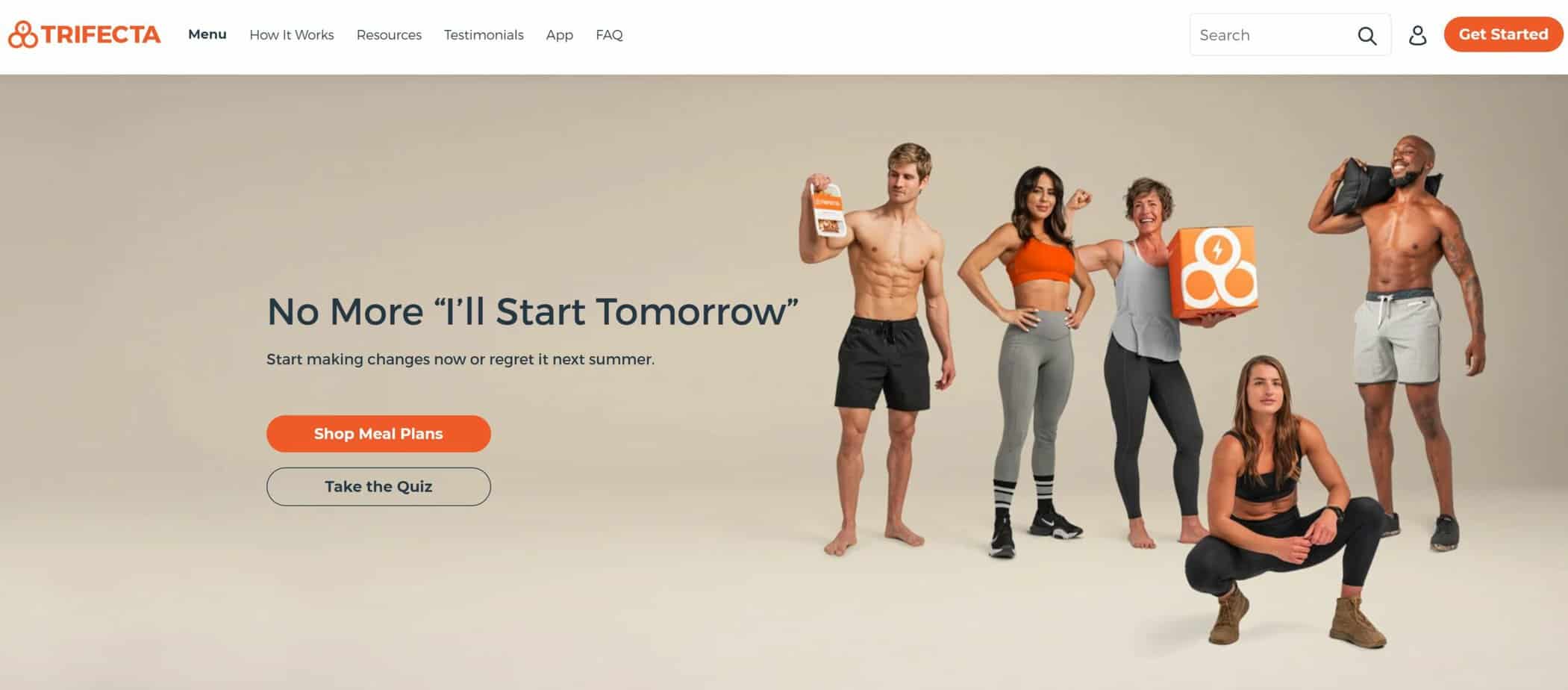 Trifecta focuses on weight loss and athletic performance, and keto is one of the six meal plans you can choose there.
When you select the keto meal plan and click on the image, it'll show you the average breakdown of meals: 400 calories, 32 grams of protein, 10 grams of carbs, and 28 grams of fat.
You can choose whether you want five, seven, 10, or 14 entrees in each delivery, and then you can decide whether you want five, seven, or no breakfasts added.
You can only get five breakfasts when you choose five or 10 entrees. You can get seven breakfasts when you order seven or 12 entrees.
Best for: Individuals with weight loss and/or fitness goals, beginners (whether new to keto, macro-counting, or both)
Pros
Even within the keto plan, you can exclude ingredients you'd prefer not to consume (beef, pork, shellfish, tree nuts, turkey, or whole mushrooms)

There's a

money-back guarantee

for up to seven meals of your first order, so trying it out is low-risk.

The packaging is recyclable.

The keto ingredients are sourced as locally as possible.

When you use Trifecta, you get access to nutrition coaches, a community (Facebook group), and additional resources that help you achieve your goals with the keto diet. They help you create the plan (with macros tailored to your body and lifestyle).

The high-protein options will be the perfect solution for some people, especially those with specific fitness goals.

The meals, like Turkey Bacon Cheddar Frittata, Beanless Chili Con Carne, and Grilled Salmon with Pesto are sure to be crowd-pleasers and typical keto fare. They're full of flavor, and overall, they'll appeal to various palates.
Cons
It's on the more expensive side. If you want seven entrees and no breakfast, the average cost per serving is $15.86. It's only a little less if you go for 14–$15.71 each. If you decide to go all-in with as many meals as possible, the average cost is $14.81. This is all before shipping or taxes are calculated. As of this writing, there's an option to save $120.00 shown on the website, which might take the sting out of trying the service.

Delivery days are limited to Fridays and Saturdays.

The high-protein meals may only fit some people's ideal version of the keto diet. It boils down to your goals and what your macros are.

Not being able to see the menus before you sign up is annoying, but a response from them on a social media comment stated that's supposed to change near the end of June 2023.
Five One Eight Kitchen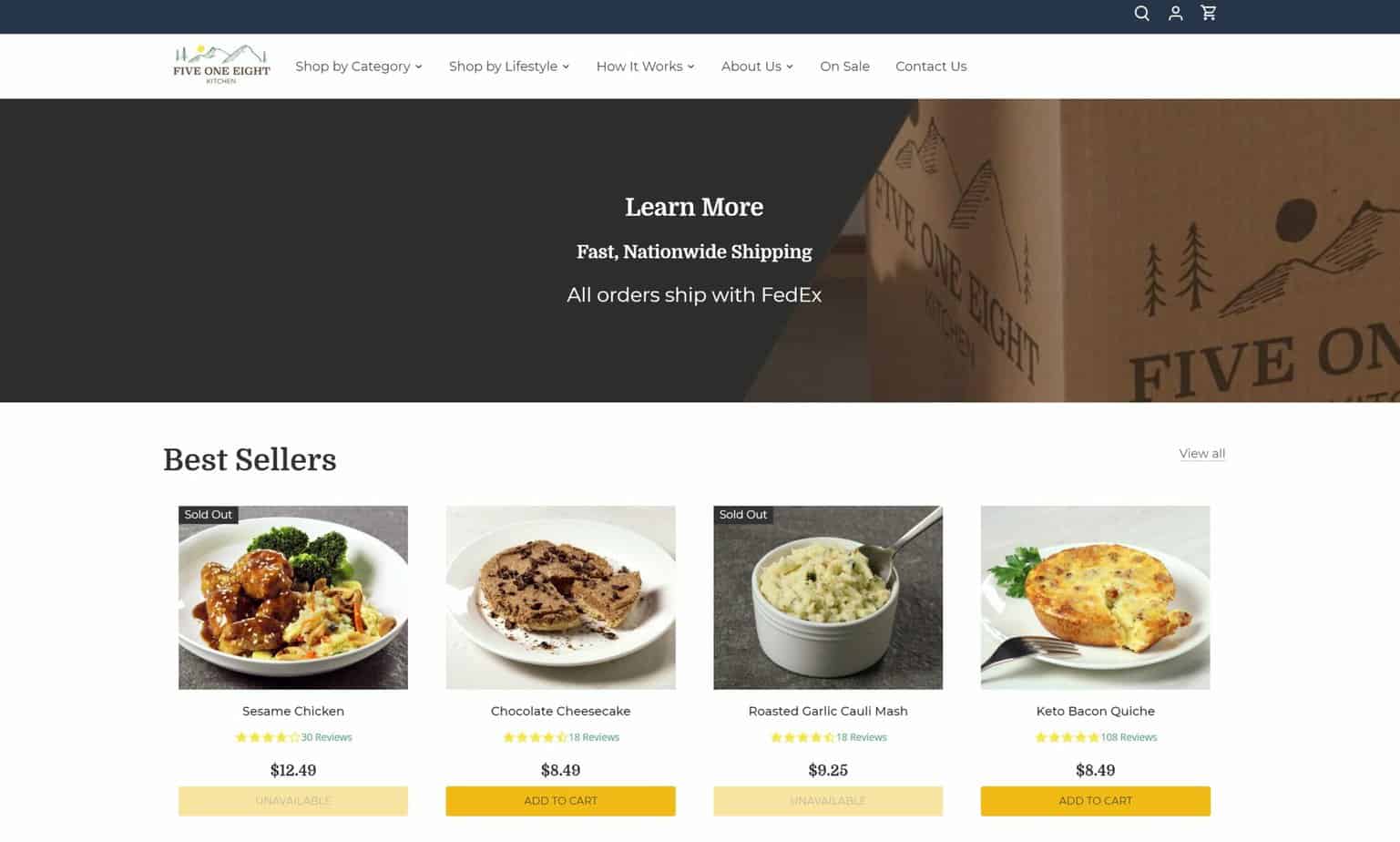 Five One Eight Kitchen is focused on keto, keto-friendly, and low-carb meals. You can filter the meals and see keto-only if you'd like. The whole menu is gluten-free.
Instead of having a meal plan put together for you, or even a number of meals you commit to per week, you go through and shop for the meals and snacks that sound good, order, and wait for them to show up at your door.
Best for: Adventurous eaters, people who love the keto diet but don't mind keto-"friendly" or low-carb options on less strict days, those who want the freedom to choose their own meals and snacks–and as many of them (and any combination of them) as they'd like
Pros
You can't scroll through the menu without drooling if you're a sucker for exciting flavors. For example, I see Everything Bagel Bites, Curried Lamb "Shepherd's Pie," Lamb Saag, Shrimp and Asiago "Grits," and so much more. There are still more classic options, like Shrimp with Afredo Sauce, Veggie Quiche, and Chicken Fajita Bowls, too, though.

Did somebody say dessert? Fat bombs? Yep, you can order those too.

Meals are flash-frozen, so they'll be fresh when you get them, but you won't feel like you're racing the clock to eat all the food before it goes bad in the fridge.

It's easy to get an overview of each meal's macro percentages. When you hover over a meal, you'll be presented with a pie chart.

There's a first responder and military discount available.
Cons
Some of the items that I was most interested in were sold out.

I'd like the pie chart that gives you an at-a-glance look at the macro breakdown to show the actual numbers. However, you can still access the Nutrition Facts label and get that information by clicking through.

Some meals can be a bit pricy, like the $19.99 Salmon with Lemon Butter and the $15.99 Shrimp and Asiago Grits. The average entree price is around $13.00.

There's a $75.00 minimum.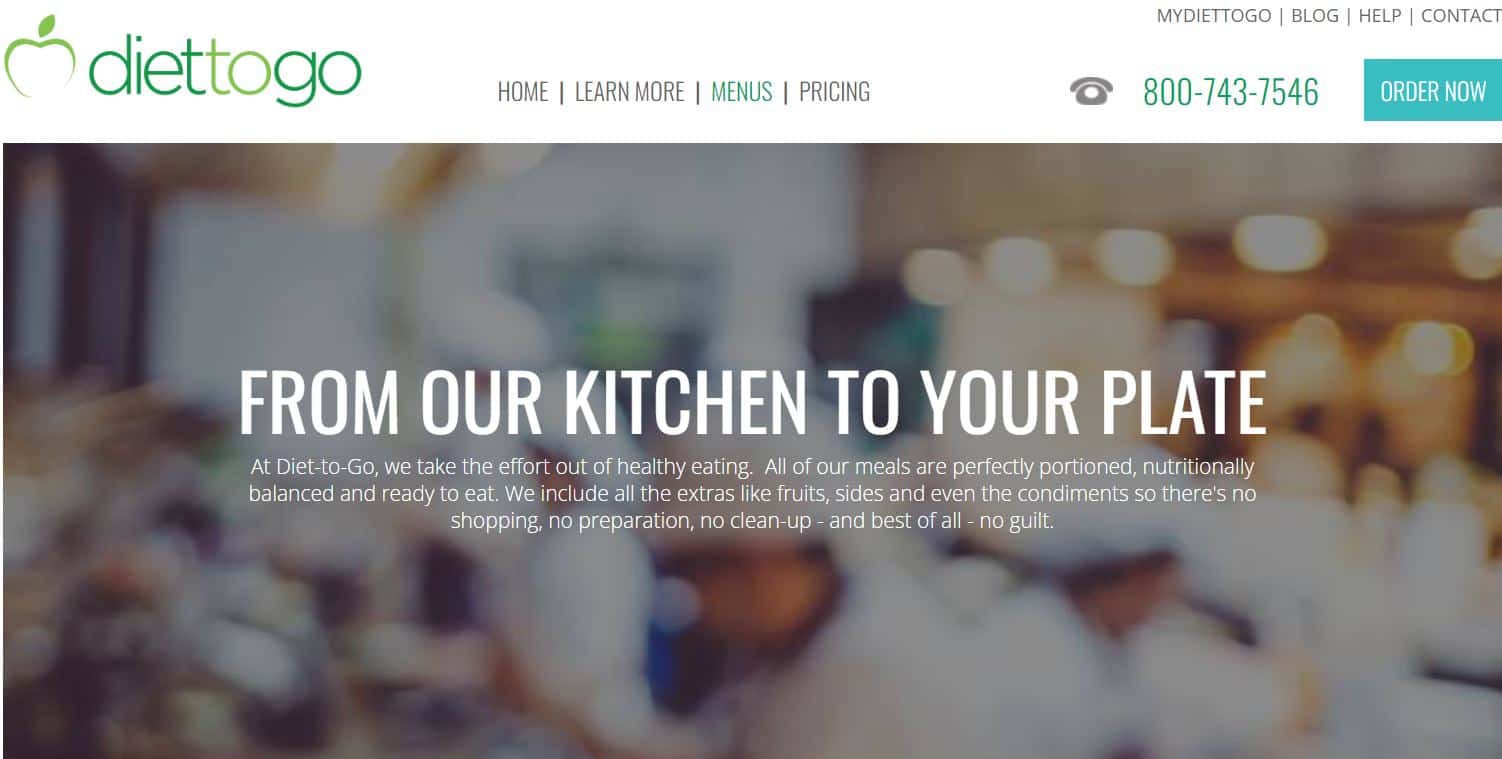 Diet to Go's Keto-Carb30 plan averages about 30 net carbs per day. Where you'd typically see carbs (in other meal plans), you'll see fats.
Check out the sample menu and then click on the meals that don't look good to see if there are better options. I was pleased to see a substantial list of substitutions available for some of the meals that didn't excite me.
Best for: Those who want all or most of their meals covered and put into a meal plan format for them to keep things easy, people easing into the keto lifestyle, those with experience with the Atkins diet who want something similar
Pros
You're told what to eat for each meal, which takes most of the guesswork out. As long as you're happy with the macros given and feel comfortable filling in any gaps with your own snacks, this will free you from the stress of meal planning.

You can preview a five-week meal plan before you offer any of your information to them, so if you decide not to choose them, you won't be getting any emails asking you to come back and make a purchase).

As of this writing, you'll see a 20 percent discount when you choose a weekly plan.

Not a fan of seafood? You can let them know before you get too far into the checkout process.

You can choose from two plans: five or seven days per week. Then you can choose whether you want two or three meals per day. The two-meal plan leaves out breakfast.

Even after you've used the discount, the price is pretty decent. If you choose three meals, seven days per week, the average cost per serving is $10.76. If you go lower, say five days per week with just two meals per day, you'll pay more (about $15.20 per serving).
Cons
You can only choose your meals and customize your menu after placing an order. Still, the menu is on a five-week meal rotation, which suggests there needs to be more variety. You can see a sample menu before you share any debit or credit card details; they only charge you after you've had a chance to customize. Still, I'd prefer to see what I can get and set up my whole order before handing over any payment information.

I'd like to see more exciting cuisines and flavors, but these seem like recipes that satisfy most palates.

The only customizations you can make to the Keto-Carb30 plan before checkout are: Original or No Seafood are the only options, other than five or seven days per week.

The shipping cost is painful. For me, it was $19.98.

It's not immediately evident that you can view the nutritional information and potential substitutes from the sample meal plan, but you can click on any of the recipes for that information.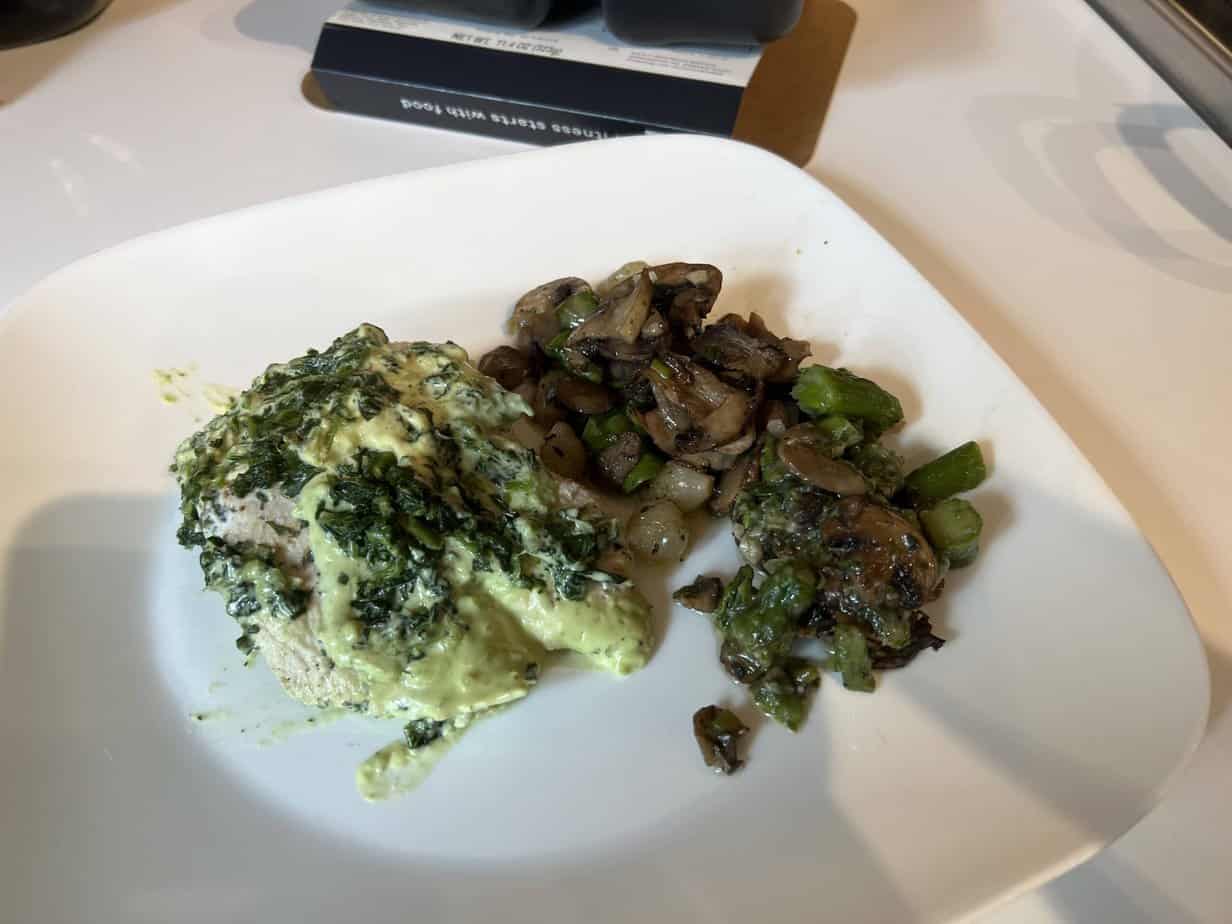 I love not having to cook. I also love not needing to compromise my dietary needs or health goals.
I'll sacrifice some flavor for convenience, too. Luckily, with Factor, there's no need to give up any of that–it's a convenient option with plenty of flavor and keto meal options.
If you live with someone who follows a different diet, you can get separate meals for them. Factor has high-protein, vegetarian, vegan, and calorie-smart options, too. That way, you both get to stay on track with your goals.
Healthy AND Easy Pick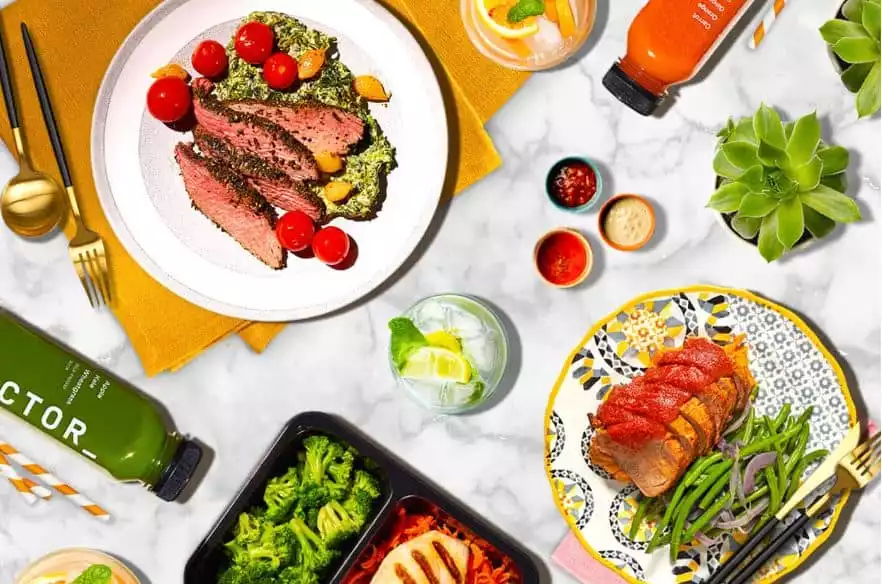 Why Go With Factor?
Just heat, eat, and enjoy. Factor makes eating healthy, EASY. Honestly, the hardest part about eating healthy are MEAL PLANNING and MEAL PREP. Factor removes both as an excuse and is interesting enough to stick with over the long term.
Check Current Seasonal Promo!
We earn a commission if you click this link and make a purchase at no additional cost to you.
Best for: Singles (sometimes couples), busy people, and those who want their meals to be as quick and easy as possible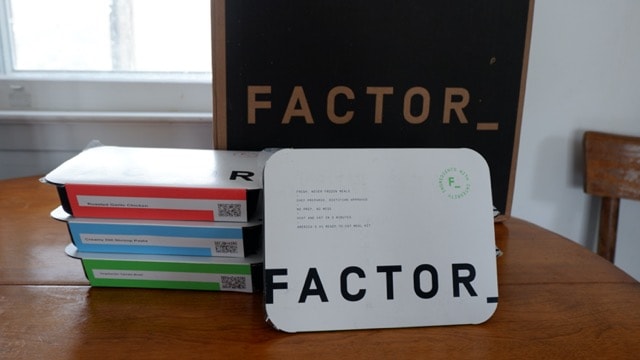 Pros
Every meal is individually packaged, making tracking what you're consuming easier.

There's variety in flavor here, but the meals are still healthy and within a reasonable macro/calorie range (of course, what's "reasonable" will vary from person to person, depending on their goals and needs). I was wowed by every meal I ate. Here's a sample breakdown of a meal, the Blackened Salmon with Smoked Gouda "Grits" and Broccoli: 44 grams of fat, 14 grams of carbohydrates, and 39 grams of protein. This meal is labeled Keto and Protein Plus.

The packaging is strong–nothing was open when I got it, nor did I feel like it was a close call.

These are quick to heat and eat, making them convenient and manageable even on the busiest (or laziest) days.

Keto-friendly meals are marked and easy to identify on the site; plus when you sign up, you can select the keto plan, which will make it easier.
Cons
Not ideal if you're feeding a family since every meal is individually packaged.

There's a lot of packaging.

Factor has something for everyone, which means it's not all keto. Though they have plenty of keto meals each week, who wouldn't want to see more options for their specific diet?

Most of the keto meals I looked at were also marked "Protein Plus," which means they have 30 or more grams of protein per serving. This isn't a con on its own, but if you struggle with the keto diet because you tend to go over on protein, this might not be the best combination, and options may feel limited.

This won't tell you which meal to eat, and when, and it doesn't cover all the meals and snacks for the day, so you'll still need to fill in some gaps and do some math to ensure you're hitting your goals.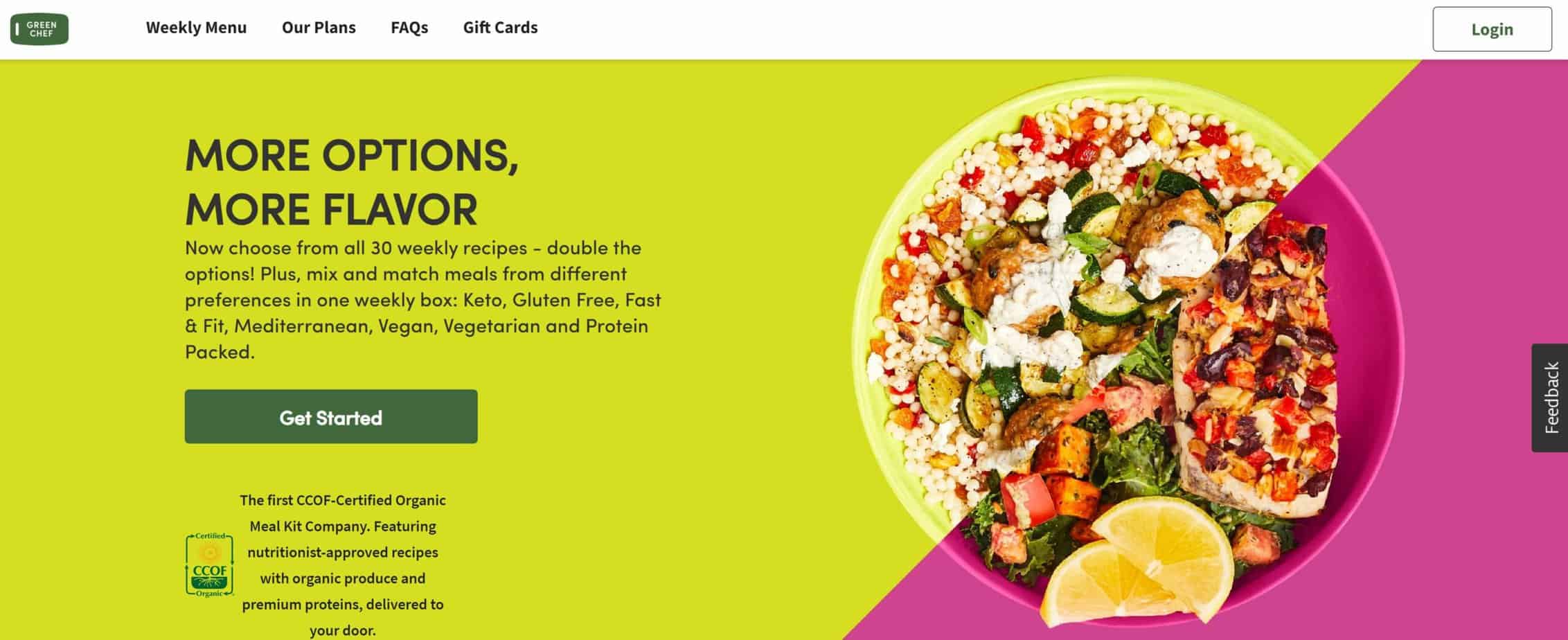 Green Chef is a happy medium of all the best keto meal delivery services (and healthy meal delivery services in general). You still have to cook, but you don't have all the extra packaging of individual meals.
Some similar meal delivery options offer low-carb or keto-friendly options you have to search for, but Green Chef allows you to choose a keto plan. You'll still be able to see all the options and choose any of the meals you'd like, though.
You can cook one meal for your family to enjoy together, and everything's already pre-measured and sometimes even prepped.
Best for: Keto newbies, families, and people who don't mind cooking quick meals as long as most of the planning, measuring, and shopping is done for them
Pros
A whole

keto section

minimizes the time you'll need to look through meals that don't fit your diet.

You can get a whopping 60 percent off your first box, plus free shipping.

You can feed up to six people with their meals.

The regular price per serving in a box of keto meals is around $11.00 to $13.00 (in the first box, it's around $5.00 per serving because of the discount).

There's a lot of variety. I love that they have some "Adventurous Eats" meals because I love trying new foods and flavors.

A lot of the recipes take 25 to 30 minutes to make.

Ingredients are pre-measured, and some are prepped for you when they arrive.

You can address other preferences, too, like gluten-free or protein-packed.
Cons
You can only choose three or four meals per week (just getting two meals becomes an option if you're feeding four people).

When you look at the menu before you sign up, you can't filter for keto menus even if you've entered from the keto page. This isn't a huge deal since they're all labeled well and you don't have to click into a recipe to see the nutrition facts, but it's one way they could improve the user experience.

Some options are a little higher in calories than I would like, but that's my personal preference, and if the meals are more filling, you will want to snack less. That could make it easier to stick to the grocery budget.

Since these aren't cooked when you get them, you'll have to allow for cooking time.

Even the keto meals may be a bit high in carbs (and calories) for some people. For example, the Middle Eastern-Style Beef & "Rice" Bowl has 24 carbs (plus 34 grams of protein and 78 grams of fat) and 930 calories. If one of your goals with the keto diet is weight loss, I'd look elsewhere or consider adjusting the serving size on higher-calorie meals.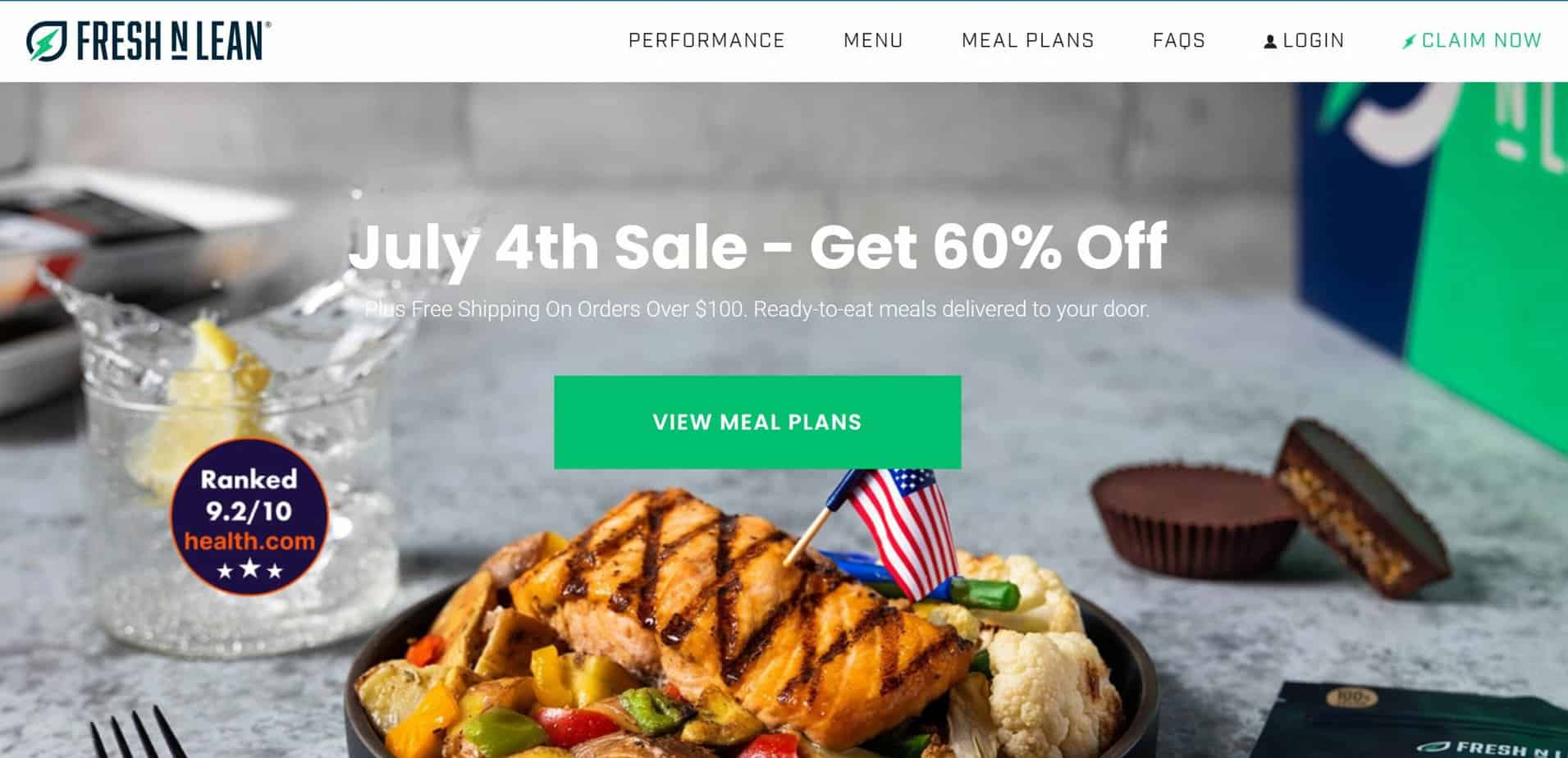 Fresh N Lean makes keto feel more manageable for beginners and busy people. Even choosing the meals is a more streamlined process than anywhere else.
They filter out the meals that wouldn't work for your diet plan of choice, do the prep and cooking for you, and deliver them to your door. I wish I'd had this when I explored the keto diet, but I had to calculate, plan, prep, and cook everything myself.
Best for: Singles or people looking for quick, convenient meals to heat up and eat when busy
Pros
As of this writing, you can take $20.00 off your first week when you sign up.

The average keto meal here has 30 grams of protein, 10 carbs, and 32 grams of fat (roughly 460 calories).

They have a

keto-specific area

, which makes choosing meals less of a headache.

The site is a breeze to navigate, with the different diets listed at the top of the menu for the week. Just click on Keto, and it'll show you the meals that are right for you.

The keto breakfasts are no joke. They're full meals you won't see everywhere, with choices like frittatas, chili beef and eggs, and shakshuka.

They say you can freeze their meals to extend their shelf life. Not all companies recommend that, and it's nice to think you can tuck them away for later if your plans change and you won't be able to eat them all in a week.

Pricing is reasonable. You'll pay around $11.00 per meal (prices vary depending on your plan, but this is for the keto option).
Cons
Because everything is individually packaged, it's not ideal for families. Unless, of course, everyone wants to have their own meal (but that would be expensive and use a lot of packaging every day)

They mention snacks on their site, but the selection is limited. You'll see granola, almonds, breakfast muffins, and (as of June 2023, the site says desserts are coming soon).

The cost can add up quickly, especially if you want breakfast, lunch, and dinner. However, it's still not completely unreasonable, considering they've done all the work for you, and the meals are shipped to your door.

If you don't want all keto meals, you won't be able to mix and match between diets easily. This could be remedied by choosing only a few keto meals and then shopping for additional meals elsewhere to fill in the gaps.

There's not a

ton

to choose from every week. Currently, there are 10 entrees and six breakfasts within the Keto tab.

Some meals are low in calories–you'll probably want to snack, and because that section of the site is limited, you'll be on your own. If you're new to macros, that could be temporarily stressful (but don't worry, you'll get it).

Meals show up on Fridays unless you choose a different day of the week, which costs extra.
Advice for Choosing Your Perfect Meal Delivery Service
You can't go wrong with any of these, and the "right" one for you will boil down to:
How much guidance do you need to choose the suitable meals for the keto diet, calculate your macros, etc.?
Suppose you're brand new to macros or keto. In that case, you'll like individual servings like most of these services offer, or even the support of coaches and the community that Trifecta has.
How much time do you want to spend cooking? Almost all of these services send you meals to reheat, but if you love spending time in the kitchen and/or you're trying to make one meal for the whole family, Green Chef could be the best one for you.
Do you want all your meals to be keto, or are you interested in mixing things up for other family members' preferences or simply because you're not 100 percent keto every day of the week?
Pay attention to which ones will let you mix it up (like Factor and Green Chef) versus the ones that lock you into a keto meal plan.
FAQs
Question: Who makes the best keto meals?
Answer: Factor's keto meals taste amazing and are pre-cooked, so you only need to reheat them. If you love flavor and trying meals inspired by a variety of cuisines, consider Five One Eight Kitchen.
Question: Can you order keto food online?
Answer: Yes, absolutely! Consider Trifecta, Factor, Fresh N Lean, Five One Eight Kitchen, Diet to Go, or Green Chef.
Question: How many carbs a day on keto?
Answer: It'll depend on how much you're eating because how many carbs you eat on a keto diet is based on percentages.
Generally, you could eat anywhere from 20 to 50 grams of carbs per day, depending on your goals and overall calorie intake.
Aim for roughly five to 10 percent of your calories to be from carbs, according to the Harvard School of Public Health.
Conclusion: Trifecta Wins
I love that Trifecta does so much of the work for you and then backs it up with coaches and a community to keep you on the right path.
That type of support is incredibly valuable to people who are new to the keto diet, but having like-minded people to bounce ideas off of and ask for advice when something changes (moving, a new job, a new workout routine, boredom, stress…the list goes on) even after you've been following it for a while can be the difference between continuing on toward your goals or veering off-course.
The average macros on Trifecta's keto meals will also fit most people's goals, especially if you aim to lose fat without sacrificing muscle.
The meals are low enough in carbs to easily fit into the 20- to 50-gram guideline that most people on the keto diet shoot for.
Read More: Factor vs Trifecta: The Ultimate Keto Meal Delivery Service Showdown