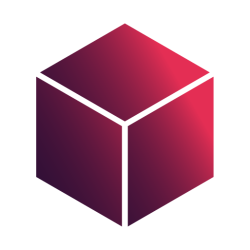 Latest posts by Subscriboxer Team
(see all)
Factor is a healthy meal delivery subscription service that provides food without gluten, soy, GMOs, hormones, antibiotics, and preservatives.
The factor meal delivery service delivers pasture-raised and grass-fed meats. All ingredients are organically grown. I signed up for 4 meals for around $60 (check here for the latest price & discounts).
Factor meal kits can be either lunch or dinner options. I picked my meals from over a dozen choices based on what sounded the most delicious, but you can filter options based on dietary restrictions and preferences. They had paleo, vegetarian, and a healthy diet.
So What Happened After I Signed Up? Factor Unboxing
The day after I signed up I received an email from one of Factor's prepared meal delivery service registered dietitians offering me a complimentary 30-Minute Nutrition Consult. This meal selection service is included for all first-time subscribers. Factor says this type of service typically costs $70-200 per session in private practice.
I was interested in what my personal dietitian would teach me about building an individualized lifestyle plan healthy eating. Consultations are done via phone call or Google Hangout. This extra perk made me feel like Factor is more than just a meal delivery service. I was excited to get started on the journey of this prepared meal delivery service!
My factor meals came cold packed in recyclable insulation. Each one of the meal selection was individually labeled with heating instructions. I was glad to see that they included oven instructions as well as microwave instructions for the particular recipe.
Factor Meals Prepared
Healthy AND Easy Pick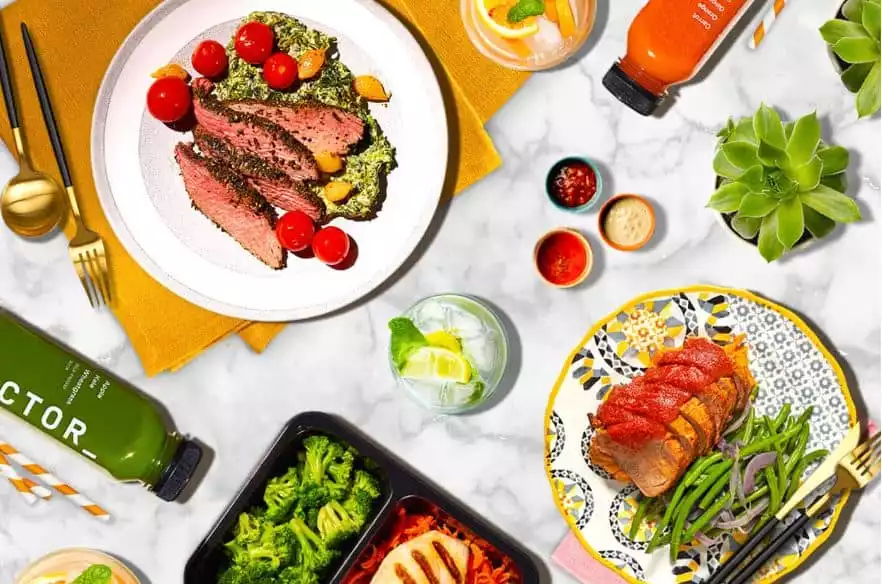 Why Go With Factor?
Just heat, eat, and enjoy. Factor makes eating healthy, EASY. Honestly, the hardest part about eating healthy are MEAL PLANNING and MEAL PREP. Factor removes both as an excuse and is interesting enough to stick with over the long term.
Check Current Seasonal Promo!
We earn a commission if you click this link and make a purchase at no additional cost to you.
On my first day, I was working from home and it was really convenient to know that I had an easy lunch ready to go that would be healthier than the freezer section alternative. I never buy those, so I can't compare Factor to something like that, but I am sure that because of the ingredients list Factor is much better!
When I'm at home I usually make pretty healthy lunch choices, but I don't often sit down to a real meal. I was really happy to have a hot lunch that was wholesome and quick.
The meal options are favorites of the "clean eating" crowd, and the subtle mix of flavor and simplicity is a key attraction here.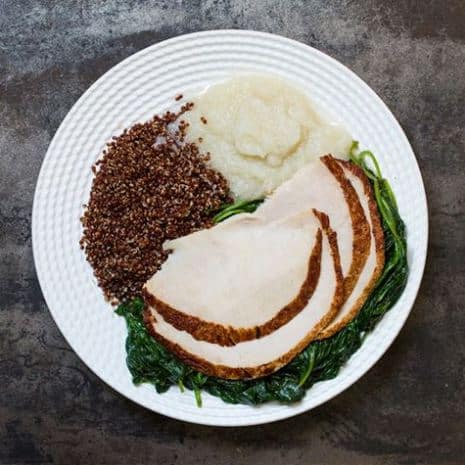 The first meal that I selected was Roast Turkey with Greens and Quinoa. It was super good! I mean, I would love to stock my fridge with these and have this meal for lunch every day. It was ready in minutes and it was like a healthy version of Thanksgiving!
The celery root puree was amazing. I wasn't even dreaming of mashed potatoes while I ate it. The turkey wasn't at all dry like I feared. It was a surprisingly hearty lunch and it made me really optimistic about the rest of the Factor meals that I would be trying as the week continued.
PRO– Hearty, wholesome and nutricious.
CON– None. I don't even miss the net carbs.
That evening I had my consultation with my personal dietician, Tom Smurr. He told me that most of his clients come to be Factor subscribers because they are hoping to lose weight. He says that they come from all different backgrounds and he uses the consultation to assess their lifestyle and their needs.
He councils everyone from gym rats to cancer patients about how their diet choices affect their bodies. One thing that we discussed was cutting carbs, but Tom said that with nutrition nothing should be omitted, it should be replaced. He talked about the importance of healthy fats.
He explained a little bit about the keto meal diet which uses fat as the primary fuel source for the body instead of carbohydrates. He said that people on this diet report weight loss and increased energy levels. Getting the ratio of 70% fats, 25% lean protein, and 5% carbs sounded difficult to me, but I suppose that with a service like Factor it would be much easier.
I'm not convinced that the keto diet is for me, but Tom also gave me some tips about how to make healthier choices when I go out to eat. He emphasized that Factor is all about education and awareness when it comes to nutrition. The next day I would be having Steak and Sweet Potato Fries. Usually, when I have a quick solo dinner I don't make myself anything special so I was glad that I had Factor. Once again I was impressed.
The steak was perfect. My meal came with a big dollop of herb butter to add to the meat. Even though Tom taught me that fat is a good thing I only used a tiny bit of it. The buttery herb flavor was incredible paired with the steak. The broccoli had a little bit of bite to it which I liked. I hate mushy, overcooked broccoli.
My only complaint would be about the sweet potato fries. They were fry-like in shape, but not in texture. Still the flavor of them was delicious with the steak and the broccoli.
PRO– Seriously delicious to the point that it doesn't feel like "diet food".
CON– Slightly mushy "fries"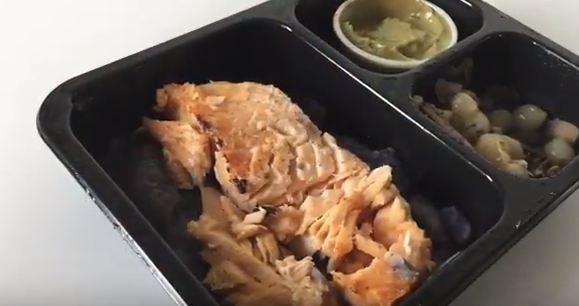 Next I had the Chicken Apple Bowl. This is the only meal that I made in the microwave, but despite that the meat was juicy perfection. I don't know how they do it, but each one the proteins in my Factor meals tasted freshly cooked.
They also somehow manage to keep the veggies crisp as well. This meal came with an apple and radish mixture that paired well with the crunchy walnuts and sweet and sour sauce. All of this was tossed with rice noodles. It was really good, but the turkey and steak were even better. No complaints though.
PRO– Tasted freshly made with fresh ingredients.
CON– Not my favorite, but still so good.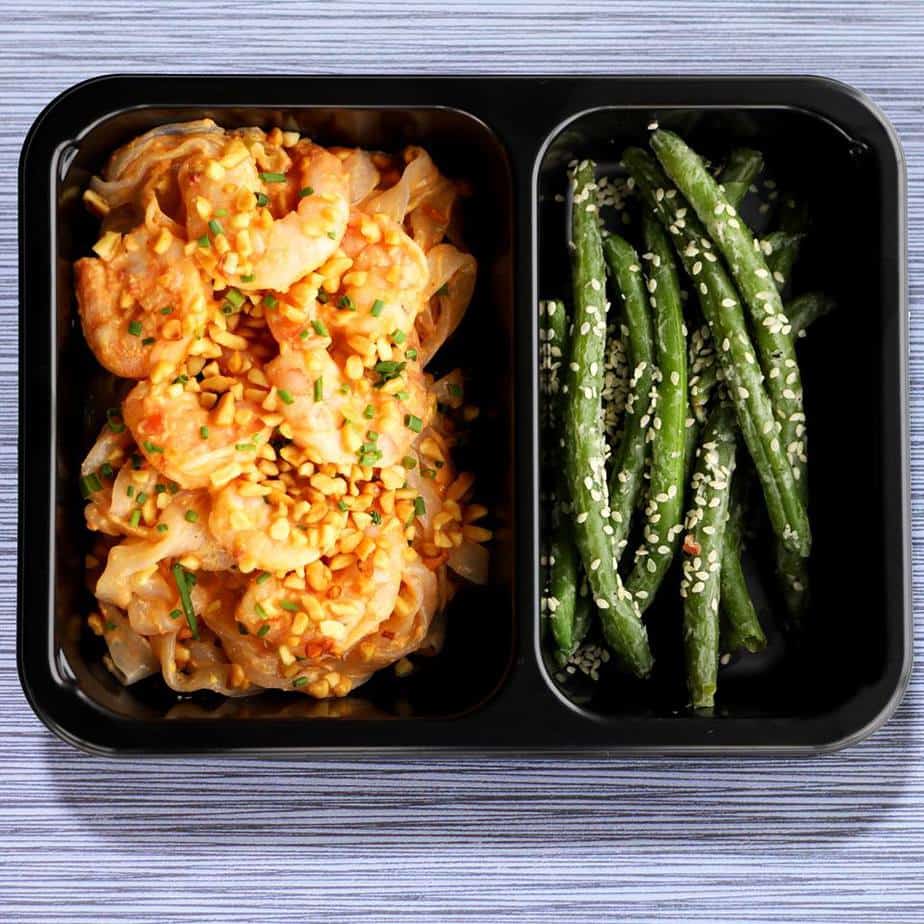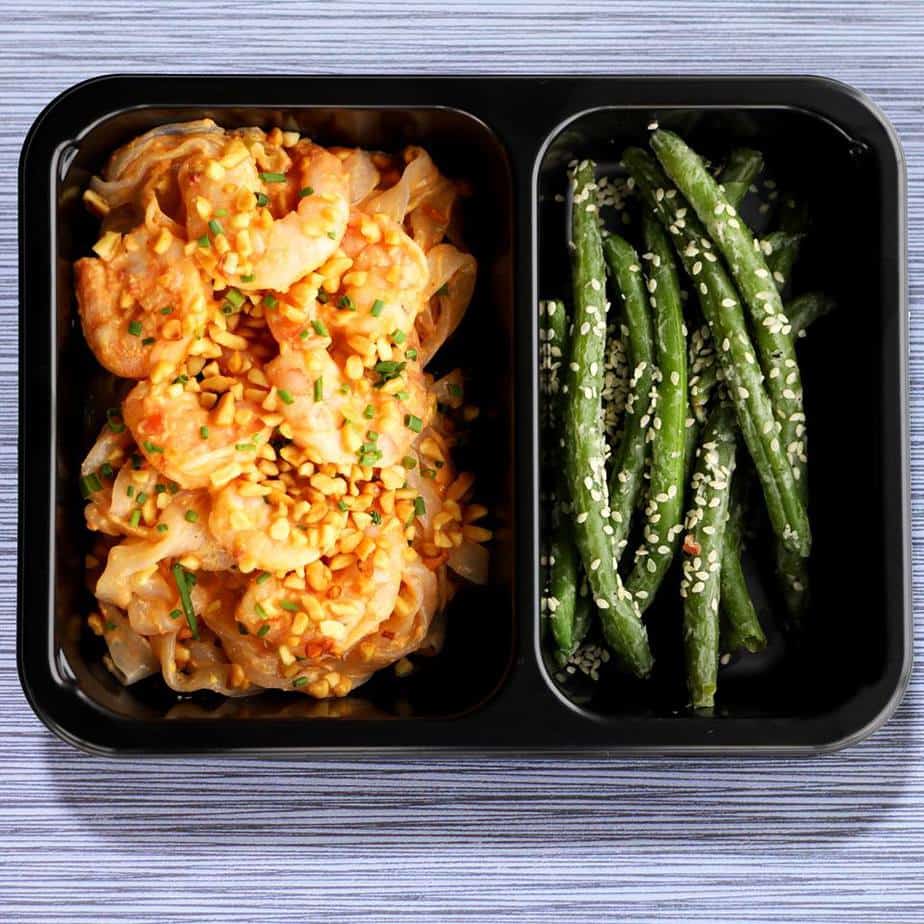 On my last day I was feeling really sad that my time as a Factor subscriber was coming to an end. I was ready to cry into my Shrimp Pad Thai because I was going to have to start cooking for myself again. I was doing the math to figure out if $15 daily lunches would work on my budget.
Then I tasted the Pad Thai and changed my mind! This one was not for me at all. I hate to end my time with Factor on a negative note, because everything else was ridiculously good. I think that part of the problem was that reheated egg is just never ok. The sauce wasn't my favorite either, but I do have to say that the shrimp was good and plentiful.
They also did the right thing and removed the shrimp tails, because who wants to end up with Pad Thai fingers. This was definitely my least favorite Factor meal, but I loved the other ones so much that it was a great experience overall and I chalk this one up to personal taste.
PRO– No shrimp tails.
CON– Reheated eggs.
Overall Assessment of Factor
Pros
Easy and Convenient
Eliminates the prep work, cooking and clean up of lunch or dinner!
I didn't feel like I was eating sad diet food.
Healthy
Educational nutrition consultation.
Customized from over a dozen choices.
Great customer service and easy cancellation.
Cons
Not every meal will be your taste, and you won't know until you're eating it.
The price is a little bit steep at $15 per meal.
Best Factor Meal Plans
Factor now has a variety of preset meal paths to choose from based on diet characteristics or restrictions. They are as follows:
My favorite Factor meal tracks are the "Protein Plus" and Keto options. These are harder to find with most popular meal plans and Factor does GREAT job of incorporating deliciously compliant meal plans for fitness forward audiences.
Factor Meals Alternatives to Consider
Trifecta: Trifecta is a relatively new meal delivery service that more squarely takes aim at the Factor demographic. They are a "fitness forward" meal delivery service meets diet program. Think a combination of Hello Fresh and Nutrisystem, but for updated with the latest health and nutrition best practices.
Green Chef: Green Chef is another all-natural meal delivery service serving meals with organic ingredients. They have plans for virtually any diet which include many meals such as vegan meals, keto meal delivery, grain-free, paleo meals, gluten-free meals, etc… Read my full Green Chef review here.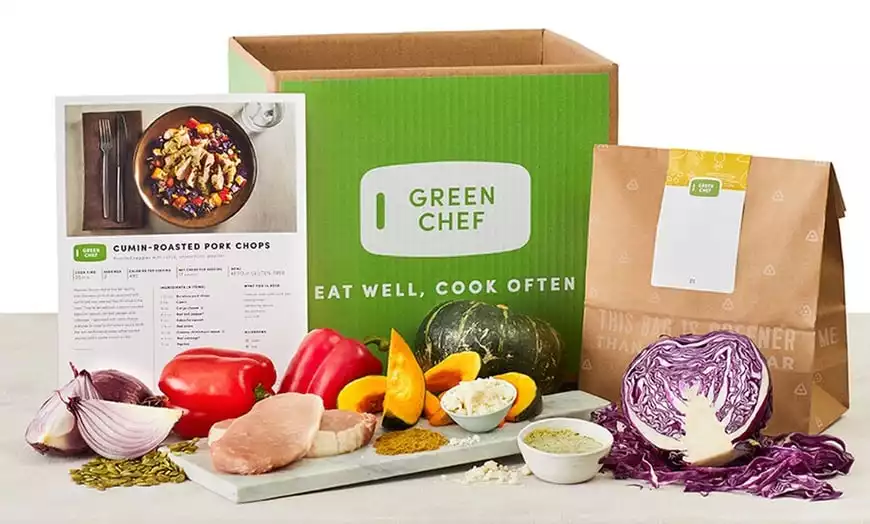 Why Go With Green Chef?
Green Chef is a meal kit service that delivers boxes filled with fresh ingredients on a weekly, biweekly, or monthly basis to make chef-curated meals. Diet and allergen friendly options, are one of the reasons I love Green Chef.
Choose Your Plan
$250 Off for Cyber Week Here
We earn a commission if you click this link and make a purchase at no additional cost to you.
Sun Basket: Sun Basket is another great option. I was actually able to compare it directly to Factor here, so definitely worth checking out.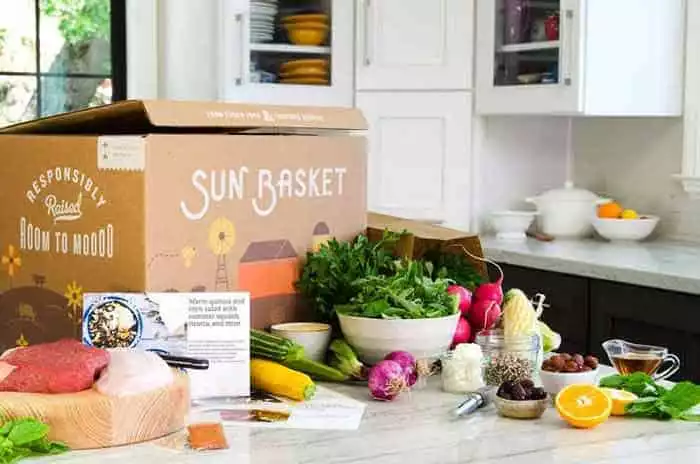 Eat Well with Healthy Meal Delivery | Sunbasket
Sunbasket is a meal delivery service that offers flavorful, fresh, and healthy meals produced using mostly organic, sustainable ingredients.
Get Started
We earn a commission if you click this link and make a purchase at no additional cost to you.
Sakara Life: Sakara Life is a similar service that provides breakfast, lunch, dinner and multiple snacks for their subscribers. Their plans start at $420 per week, which could literally feed a family for a month, but the food looks so fresh and healthy and beautiful. Each and every item is just begging to be photographed for Instagram.
It's probably the most luxe of all the meal delivery plans considering that it has various Victoria's Secret models as subscribers. This service is all about clean living and resetting your body for better health.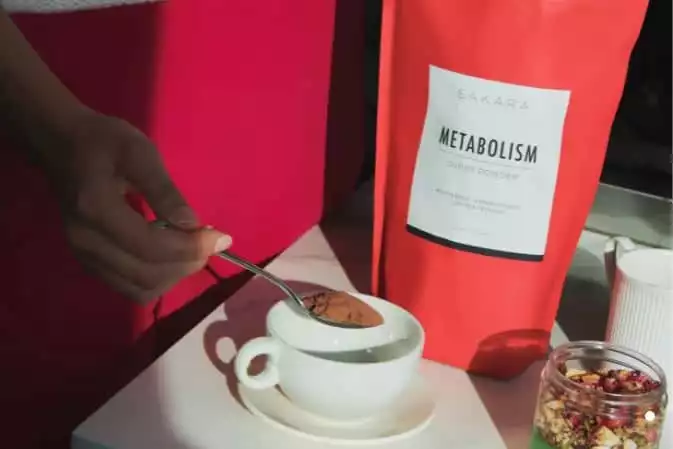 [UPDATE: Freshly is now discontinued as of 2023]: Freshly: Another similar meal delivery service that I would like to try is Freshly. They also provide ready to heat and eat meals that are healthy. They boast that you can have your meal in 2 minutes or less, so they definitely understand that the fast and easy factor is important to their customers.
They also make low carb high protein meals. Their price point is a bit lower at around $50 for 4 meals per week.
Final Word on Factor: Is it Worth it?
I really enjoyed Factor. The ease of simply heating up ready-made prepared meals and the variety of healthy menu options is hard to beat. I never put much effort into making myself lunch so it was really nice to have these more elaborate meals and to know that they were probably healthier than the stuff that I usually grab.
This is a great service for people who are busy, but still want to prioritize their health and wellness. In my opinion it is definitely worthwhile to try Factor for food delivery. You might not love every meal, like me with the Shrimp Pad Thai, but I think that 3 out of 4 outstanding meals isn't bad!
I think that the dietitian consultation that Factor included really sets them apart from other services that are out there. It gives subscribers the opportunity to individualize their meal plan and set their goals. Tom answered all of my questions and gave me some great tips.
Bottom Line: I would recommend Factor for anyone who is seeking a healthy meal delivery service, with a fitness friendly focus (keto, paleo, clean eating, etc…) and easy low prep prepared options.
Healthy AND Easy Pick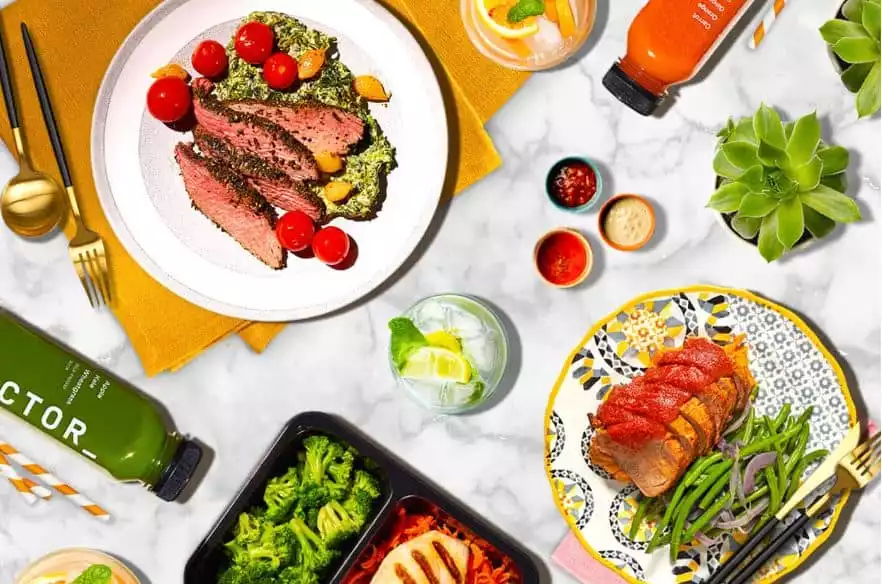 Why Go With Factor?
Just heat, eat, and enjoy. Factor makes eating healthy, EASY. Honestly, the hardest part about eating healthy are MEAL PLANNING and MEAL PREP. Factor removes both as an excuse and is interesting enough to stick with over the long term.
Check Current Seasonal Promo!
We earn a commission if you click this link and make a purchase at no additional cost to you.
FAQs About Factor
How much does Factor cost?
Factor offers different plans that start with 4 meals per week (cost per meal is $12) and ending with 18 meals per week (cost $11 per meal.)
Is Factor worth it?
Yes. Factor is a great subscription box that offers different diet plans including the paleo meal plan, keto etc. for people who want to try something new, healthy and easy to prepare, and they also offer plenty of diverse dishes so you don't always end up eating the same things every week, in case you decide to stick with them for longer than a week.
Is Factor meals easy to prepare?
Yes. The whole purpose when opting for subscription service is to eat healthily but also choose meals that are already made just for you to heat them up. The company offers excellent instructions for oven or microwave, so you will have the perfect breakfast, lunch or dinner in under 15 minutes.
Further Reading On Meal Delivery Companies & Prepared Meal Options