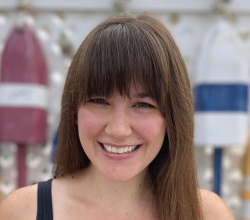 Latest posts by Lauren Vigdor
(see all)
When it comes to eating healthy, breakfast and lunch have always been my downfall. I know how to make the food decisions that will make my body feel its best. I understand nutrition and the importance of hydration and variety in the foods that I eat.
Still, when I'm groggily trying to start my day or when I'm in the middle of work, and my stomach starts to rumble, I'm the type of person who can't even be bothered to cook some eggs or throw together a salad.
For me, the key to sustainable healthy eating during the work week has to be about convenience, which is why healthy meal delivery services are the perfect solution to my problem.
The only catch about healthy meals is that "healthy" looks different for different people. Some people consider a healthy meal to be plant-based, whereas others think it should be high protein and low carb.
For that reason, I decided to look at various healthy meal delivery services and choose some of the best. Because regardless of what healthy means to you, it's probably not eating half a bag of plain pita chips for lunch (I know, I'm a monster).
Bottom Line Up Front
The best healthy meal subscription for you will depend on your individual needs and lifestyle.
I was completely enamored with Thistle, especially since I'm trying to incorporate more plant-based meals into my diet, and their fresh, hearty salads are the perfect solution to my lunchtime laziness—all I have to do is open the package and dig in.
That being said, you might be looking for something that's higher in protein, fits a keto diet, or is easier to customize to your specific needs. Check out my top picks below to see which meal delivery service might work best for you.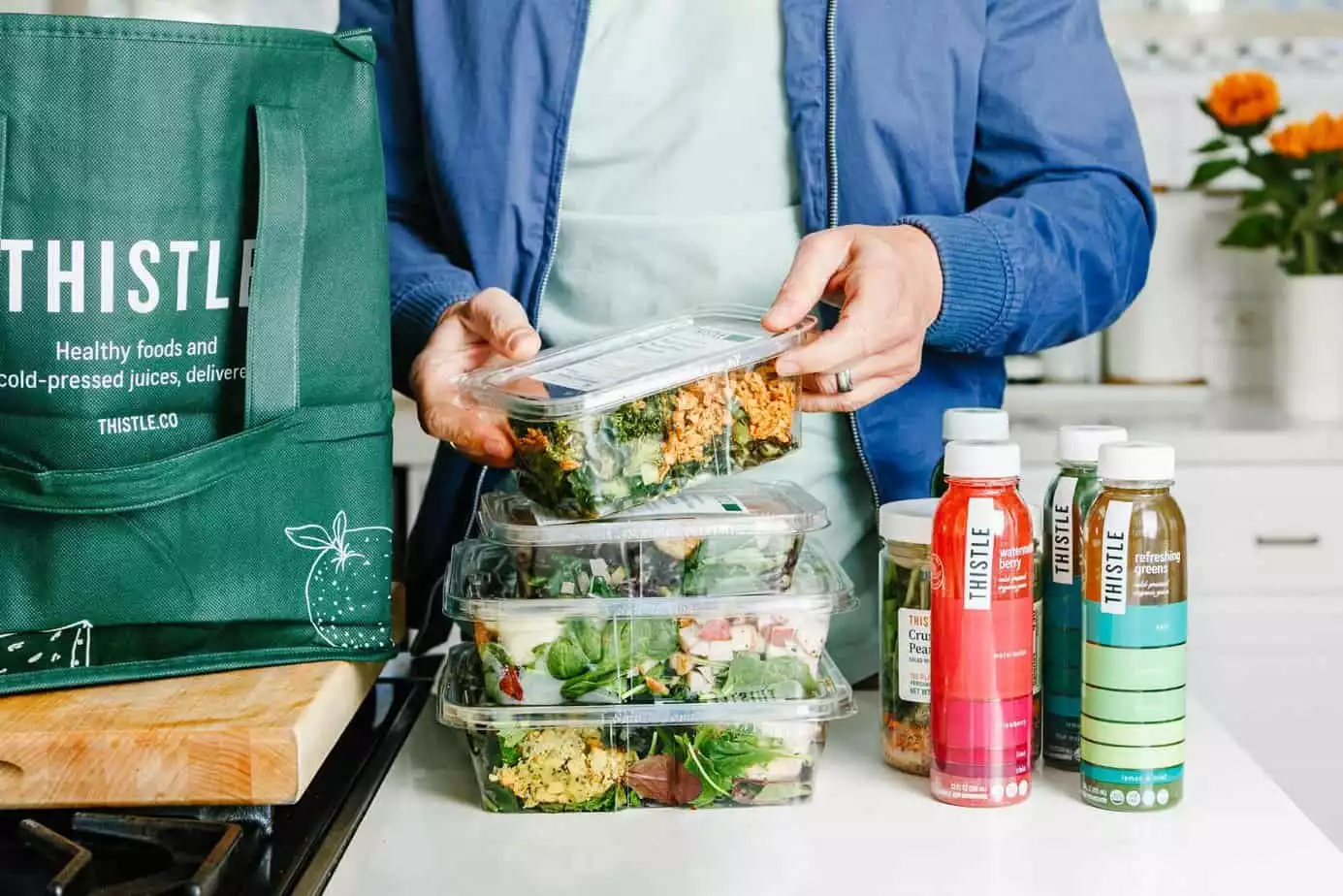 Top Picks at a Glance
How to Choose a Healthy Meal Delivery Service
There are a few things to consider when choosing a healthy meal delivery service.
First and foremost,

what does "healthy" mean to you?

Are you looking for a specific diet, such as plant-based or keto? Are you trying to cut calories, or are you just trying to add more vegetables and better-quality ingredients to your meals?

What does your budget look like?

For some people, meal plans will be more expensive than their weekly groceries; for others, they'll actually be cheaper and less wasteful. Take a look at your budget and determine how much you're willing to spend on your meal plan and how many meals you'd like to get out of it.

Do you prefer fresh or frozen meals?

Some meals, like salads, are considerably tastier when fresh, but frozen meals offer the convenience of not having to eat them right away and the ability to stock up.

How customizable do you want your meals or meal plan?

Do you want the ability to swap out dishes? Whole ingredients? Do you want a meal kit that you can cook and customize yourself?

Don't forget to pay attention to

delivery fees, cancellation policies, and all the other little things we tend to forget about

when signing up for a subscription.
Selection Criteria
In order to even be considered for this list, the meal services I looked at had to meet certain criteria:
It almost goes without saying, but they had to be

healthy

in some capacity. We already established that that may look different for different people. Still, the meal delivery services I looked at all had to

contain minimal to no processed ingredients, use as many whole foods as possible, and cater to a specific healthy lifestyle, such as plant-based, low carb, low calorie, etc.

They had to offer

complete, filling meals,

not just snacks or smoothies—we're looking for healthy food here, people; we're not looking to starve or deprive ourselves.

They had to offer the option of

multiple meals per day

for those looking for help with an overall meal plan or lifestyle change.

They

did not necessarily have to promote weight loss.

Eating healthy is not only about losing weight. Many of the meal plans I looked at could be worked into a weight loss or management plan if that's what you're looking for, but I paid more attention to meal services that focused on things like nutrition, promoting heart health, better quality ingredients, increased variety of produce, and other things like that.
My Picks for the Best Healthy Meal Delivery Services
And now, the good part! Below are my picks for the best healthy meal subscriptions.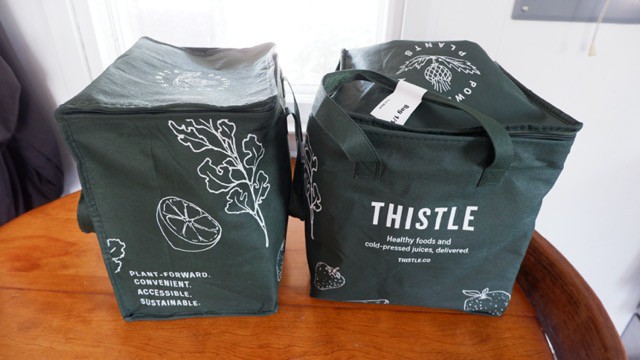 Thistle is a plant-forward meal delivery service that focuses on healthy, sustainable meals. All of their meals are dairy-free, gluten-free and contain at least five or six unique vegetables.
They offer a weekly rotating selection of breakfasts, lunches, dinners, and snacks, as well as add-ons like small salads, soups, juices, and wellness shots.
Most of Thistle's lunch and dinner items are available as plant-based meals or with meat added, but either way, the meal will be plant-forward, with the bulk of the meal coming from veggies and plant proteins.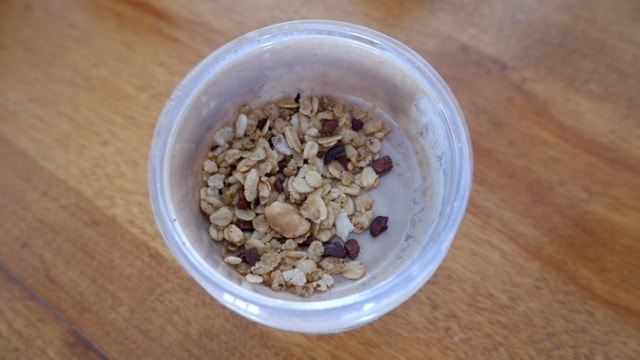 I absolutely loved the meals that I tried from Thistle. Everything was so unbelievably fresh and delicious. My favorite things that I tried were the Beet Poké Bowl lunch and Okinawan Sweet Potato Bar snack, and I could definitely see meals like this solving my lunchtime convenience dilemma.
Key Info
Meals cost around $11 to $14 per serving plus $4.95 per delivery.

The minimum order is just one item, but prices decrease per item as you add more.

Most lunches and dinners give you the option to choose a plant-based or meat-added version of the meal. If you input your dietary restrictions and food allergies when you sign up, Thistle will customize your shipments to exclude or replace certain items.

You can cancel any time without incurring any fees.

All meals are gluten and dairy-free and can be plant-based.

Everything is delivered fresh.
Pros
I love that many of the meals (and most of the breakfasts and lunches) require no prep. You can eat them out of the container, straight out of your refrigerator. Actually, all of Thistle's meals are fully cooked and can be eaten cold, but those that are better reheated do come with heating instructions.

They have options for omnivores and plant-based diets.

They can accommodate many of the most common food allergies and dietary restrictions.

Their packaging is recyclable, and a portion is made from post-consumer recycled plastic.
Cons
Thistle's meals are on the pricey side—lunches and dinners cost around $12 to $14 for plant-based meals and $14 to $16 for meals with meat.

I love the fact that everything arrived fresh, but it does add some pressure to eat certain items (like the fresh salads) before they start to wilt.
Who should try Thistle? Thistle is an excellent choice for anyone following a plant-based diet, flexitarians, or those looking to incorporate more superfoods, micronutrients, and plants into their diet.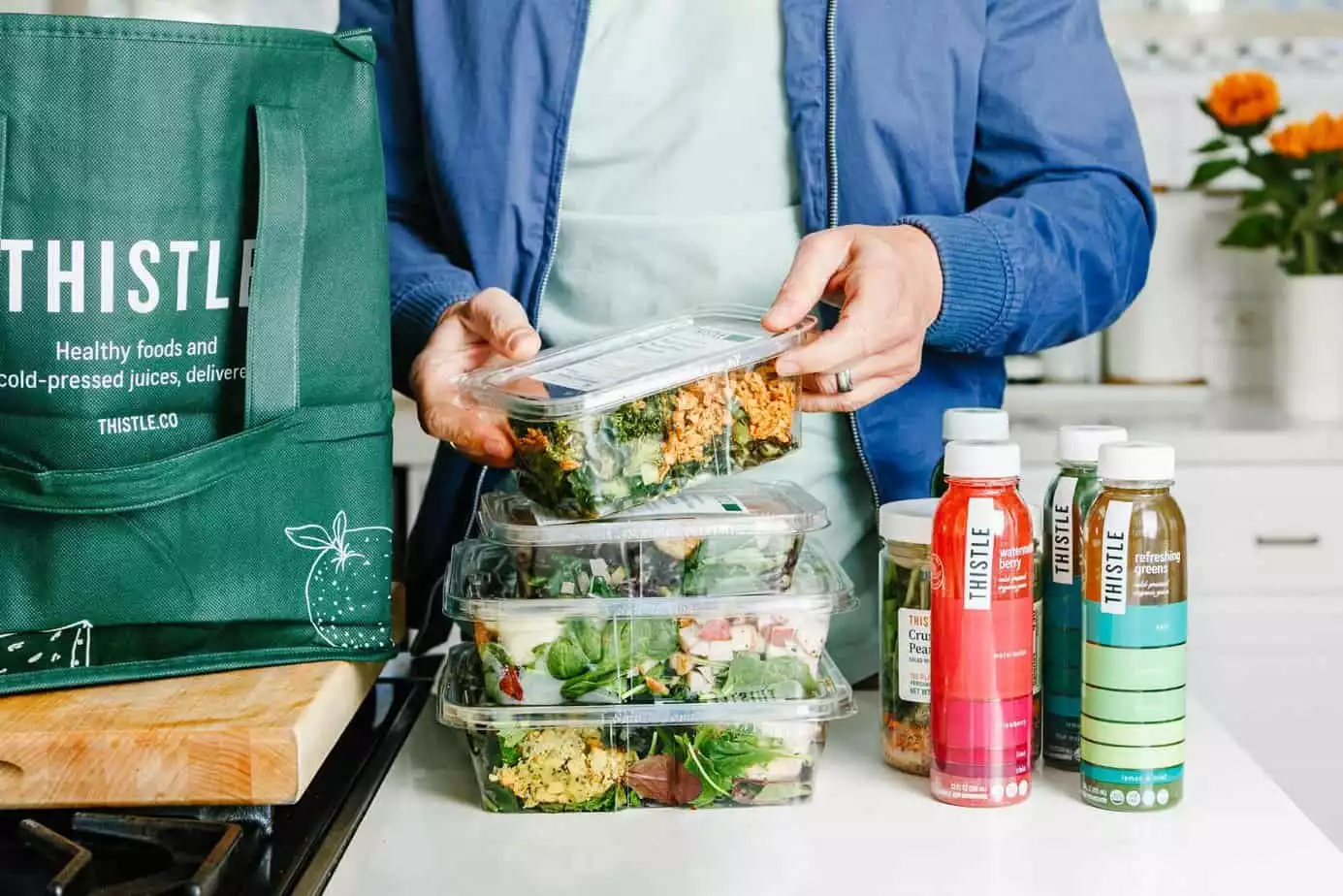 Check out our full review here: Thistle Review & Unboxing

Daily Harvest may be best known for its smoothies, but the fruit and vegetable-forward meal company also delivers grain bowls, baked entrées, flatbreads, and more. Unlike some subscriptions, the menu doesn't change weekly.
You choose your plan (based on the number of items you want to be delivered) and then fill up your box from the dozens of options available at any time. Items are shipped frozen with dry ice, and you can choose to receive deliveries weekly or monthly.
Daily Harvest's food is simple, tasty, and healthy. The bowls are easy and filling (though some can be a touch watery when you reheat them), and the smoothies are some of the best in the business.
Like many meal subscriptions, the cost per meal is most likely going to be more than what you'd spend if you shopped and cooked everything yourself, but at around $9 to $12 per item, it's lower than some competitors.
One advantage to having everything frozen is that you can stock up on a large order and save yourself some money. For more info on Daily Harvest, check out our review.
Key Info
Most items cost $11.99 or less, but there is a fee of $9.99 on each delivery.

Boxes of nine, 14, or 24 items are available.

Individual meals are not customizable, but there are dozens of options to choose from when building your box.

You can cancel your plan at any time, but to cancel from the website, they make you pause your plan first for some reason. After your plan is paused, you'll have the option to cancel it.

All Daily Harvest meals are dairy-free, gluten-free, and plant-based.

All meals arrive frozen.
Pros
I love the variety of categories Daily Harvest offers—in addition to the standard meals, smoothies, and snacks, they offer things like the grain bowls, which make fantastic weeknight sides to a protein cooked at home; baked entrées, which are more substantial than the average meal, lattes; and "mylk"—plant-based milk substitutes that just needed to be blended with water to make instant almond or oat milk!

I love that they have a description of what each dish tastes like on their site. For example, the Tart Cherry and Raspberry Smoothie tastes like "fresh berry sorbet," and the Sweet Potato and Wild Rice Hash Harvest Bowl tastes like a "breakfast burrito bowl."

Although I don't love that you have to blend the smoothies yourself (see below), I do like that they provide suggestions for what type of liquid or milk will best complement each flavor.
Cons
While Daily Harvest's bowls are slightly more affordable than some of their competitors, their smoothies are pricier.

I appreciate that you can see all the frozen chunks of real ingredients in their smoothies, but I wish they would have saved me a step and just blended it up themselves. The thought of washing my blender is probably my biggest deterrent to just making a smoothie from scratch in the morning.

I'm all about adding more plant-based meals into my lifestyle, but some omnivores might miss options with meat.
Who should try Daily Harvest? Daily Harvest is especially awesome if you're a smoothie fan. They have a ton of interesting, delicious, and convenient options to choose from. I think it's also a great subscription to stock your freezer with convenient meals, snacks, and even a few lattes or "mylks."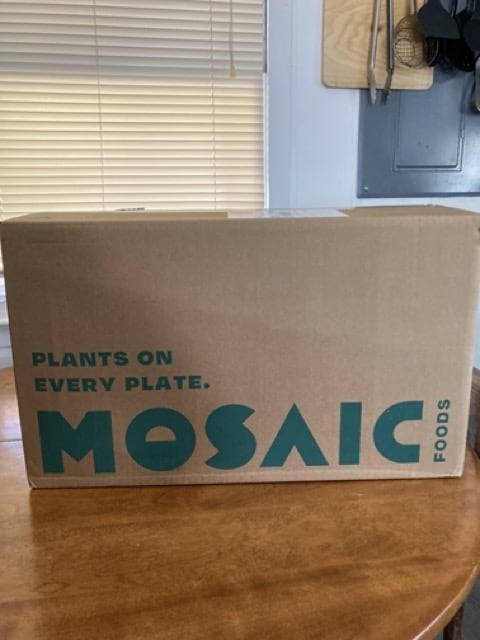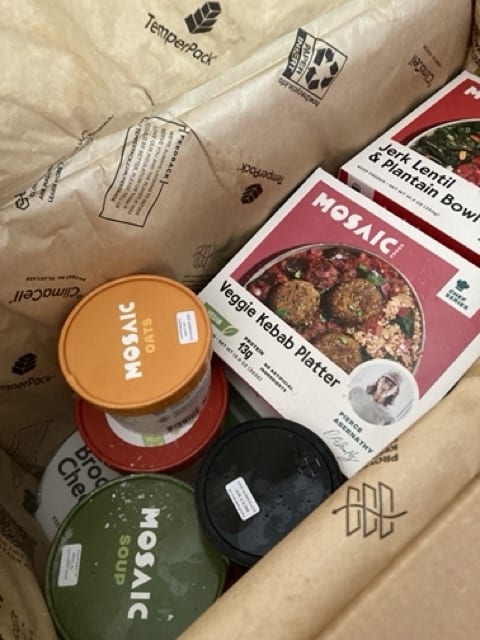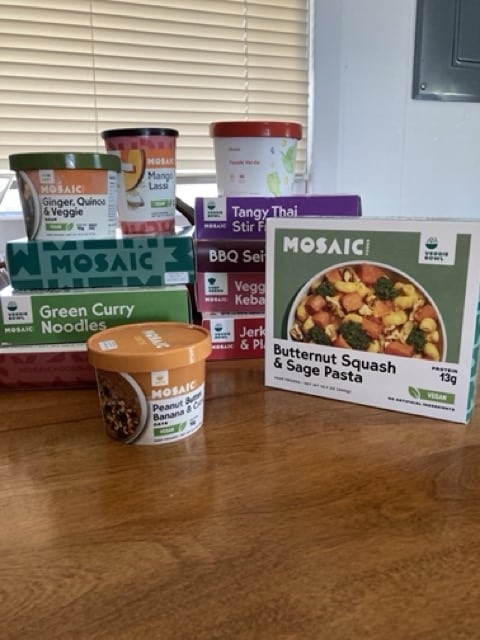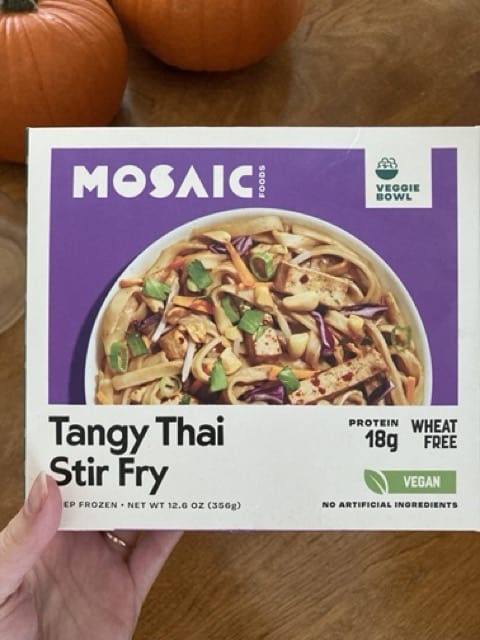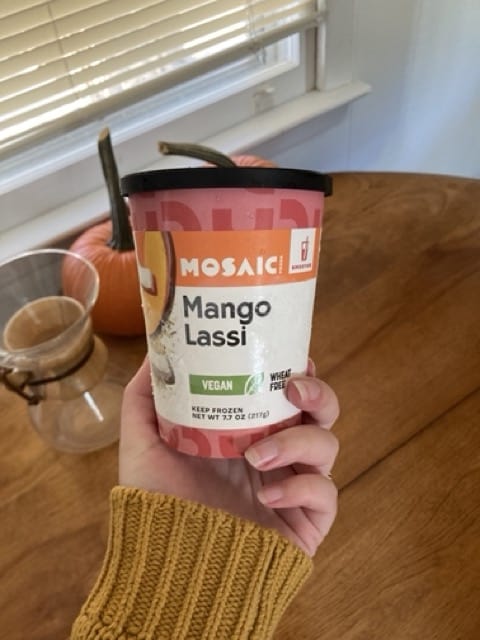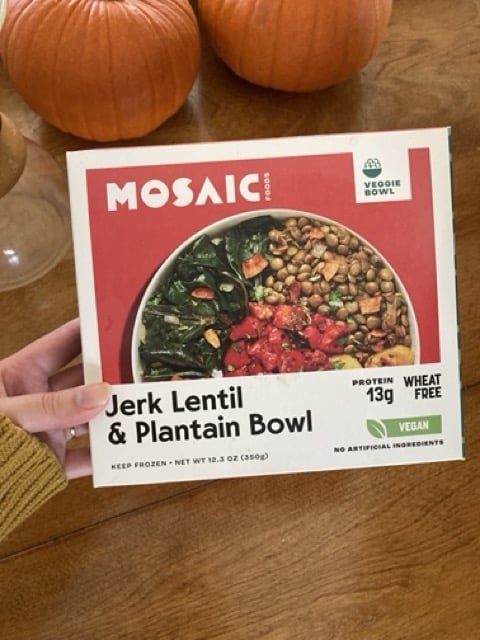 Mosaic Foods delivers meatless meals that are ready to heat and serve.
Meals arrive frozen and don't need to be defrosted before reheating, which makes them especially convenient if your schedule can be unpredictable—you won't need to worry about a meal potentially going bad in your fridge if your plans change, and you don't get to eat it right away.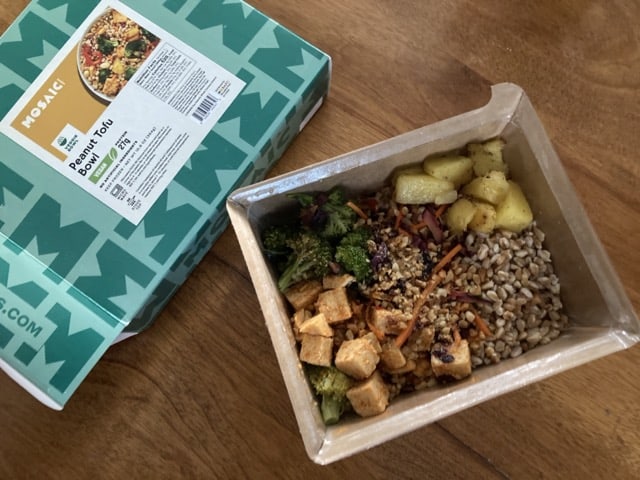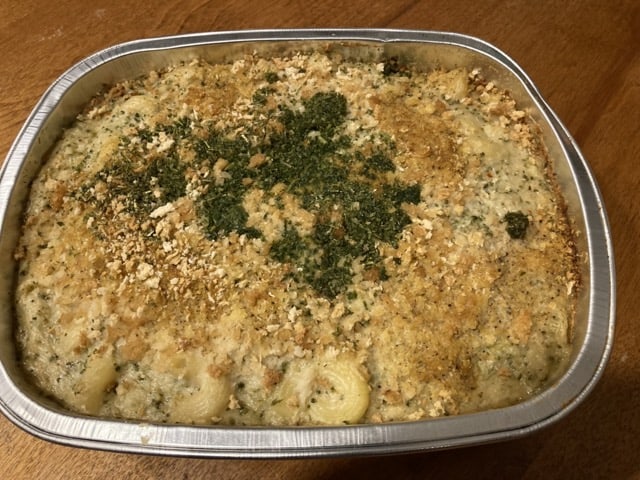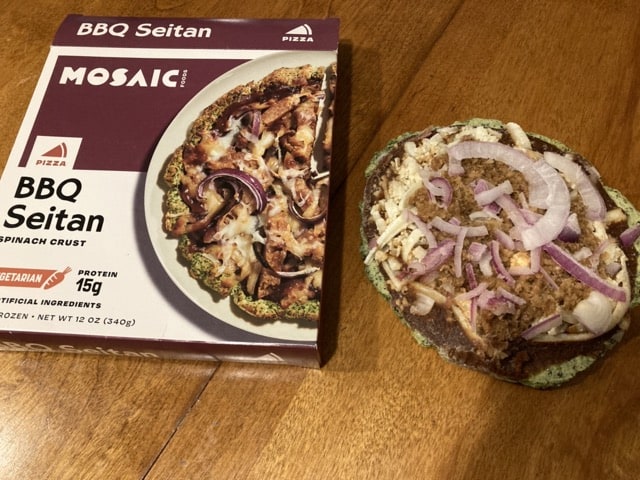 You can add single-serving "veggie bowls," chef-created "Mosaic+" meals (also single serve), pizzas, smoothies, soups, oat bowls, and oven-ready "family meals" to your box.
I like that this gives you the option to tailor your subscription to you and your family's needs—you can add a few smoothies and oat bowls if you want quick breakfasts on a busy week or add a family meal on a week where you expect dinner guests.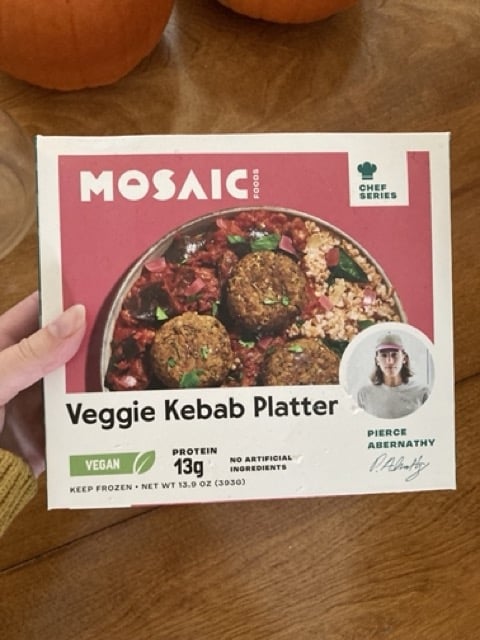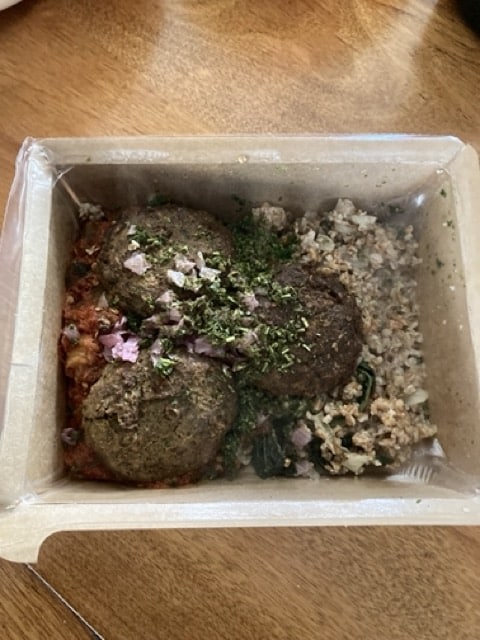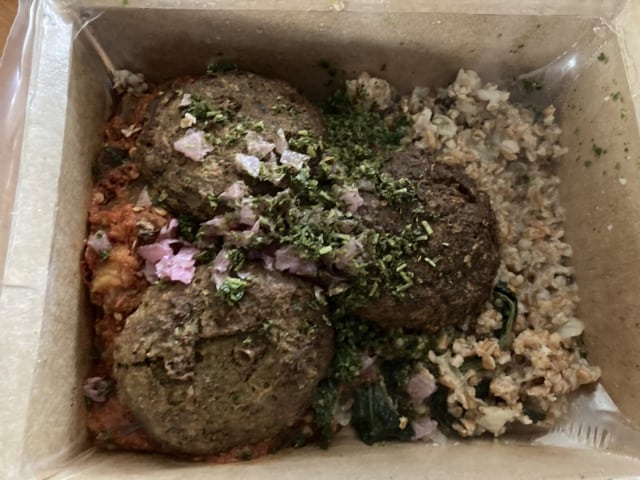 I found several of the Mosaic meals I tried a little under-seasoned (quickly remedied with a sprinkle or salt or some spices), but I loved how hearty and fresh they tasted—especially for a frozen meal.
The saucier dishes were among my favorites (I think they hold up a little better to microwave reheating), and I'm still dreaming about the Mosaic+ Veggie Kebab Platter.
Sometimes I have a plan in place for dinner, and by the time I should start cooking, I'm just too tired or busy with other things—having a few of these meals on hand in the freezer would be perfect for anyone with an unpredictable schedule. You can read my full review of Mosaic Foods here.
Key Info
Entrées average around $10 to $12 per serving, and shipping is free on orders over $100 ($7.99 for smaller orders).

You can order boxes of six, 12, or 18 items.

Mosaic's meals are not customizable, but since they don't switch up their menu each week, they offer a larger selection than the subscriptions that do.

You can cancel your plan at any time without any fees or penalties.

All of Mosaic's meals are vegetarian, and many are vegan.

All meals arrive frozen.
Pros
For every box sold, Mosaic donates two pounds of food to New Yorkers in need through the nonprofit City Harvest.

They source their produce locally from New York's Hudson Valley.

The fact that the meals are frozen means you can easily stock up.

I love that they offer larger family-sized meals.
Cons
Their smoothies come as cups of frozen ingredients (think chunks of fruit and veggies). You have to add your own liquid and blend it yourself. While some people may prefer this ability to customize your smoothie with the amount and type of milk of their choice, I prefer the convenience of a grab-and-go smoothie (like Thistle's or Factor's).

Although Mosaic does claim to add new menu items seasonally, most of their menu seems pretty stagnant. You do have a relatively wide selection to choose from, but unlike most meal subscriptions, the menu doesn't change week to week.

While everything I tried from Mosaic tasted surprisingly fresh, I found that some of the dishes lacked seasoning.
Who should try Mosaic Foods? Mosaic is a great choice for vegetarians and anyone with an unpredictable schedule who might not get to eat fresh meals before they start to spoil. Mosaic's family meals make it an excellent choice for families looking for healthy meal deliveries. 

Sunbasket delivers ready-to-eat meals and meal kits that can be prepared at home. They sustainably source all of their meat and seafood and aim to use at least 98% USDA-certified organic produce.
In addition to meals, Sunbasket has a vast selection of snacks, sides, and organic/sustainably sourced proteins that you can add to your shipment each week.
Sunbasket is one of the best meal delivery services if you're looking for something that covers a variety of dietary restrictions. They cater to paleo, gluten-free, dairy-free, soy-free, vegetarian, vegan, and pescatarian diets.
They also offer diabetes-friendly meals, meals with no added sugar, high-protein meals, and those that fall under the Mediterranean diet.
All of their meals are delicious, though the quality of their ingredients does mean their prices are higher than some of their competitors. You can read more in our Sunbasket review.
Key Info
Meals start at $9.99 for ready-to-eat "Fresh & Ready" meals and $11.49 (per serving) for meal kits, but if you're only interested in receiving a few meals a week, you'll most likely pay closer to $12 to $14 per meal. Shipping is free for your first order but costs $9.99 per box after that.

Fresh and Ready meals are single servings, and meal kits serve either two or four. The minimum for delivery is two meals.

Individual meals and meal kits aren't customizable, but there are enough options and variety to choose from that you shouldn't have a problem tailoring your box to your needs. One nice thing about meal kits is that you can adjust the recipe to fit your needs as you make it—even swapping out ingredients for things you already have in your fridge or pantry.

Cancellation is a little more complicated than other services—you need to fill out a form online.

Meal kits arrive as a basket of ingredients with a recipe for you to follow, whereas Fresh & Ready meals arrive refrigerated and can be heated in the microwave or oven.
Pros
Sunbasket donates food to several nonprofits that provide healthy food to underserved communities

Most of their packaging is recyclable or compostable, and they're working toward 100% recyclable/compostable packaging

They use more organic and sustainable ingredients than most meal delivery services
Cons
Although Sunbasket caters to many different dietary restrictions, their meals and ingredients are processed in facilities that process many of the most common allergens, which means they may be at risk of cross-contamination and may not be suitable for anyone with severe allergies.

They're a bit pricier than many of their competitors.

They have less variety of heat-and-eat meals each week than some of the other subscriptions on this list, though they do also offer a large selection of meal kits.
Who should try Sunbasket? Sunbasket is an excellent option if you're looking for a subscription that uses high-quality, organic, and sustainable ingredients. I also love the flexibility of a subscription that carries both meal kits and ready-to-eat meals.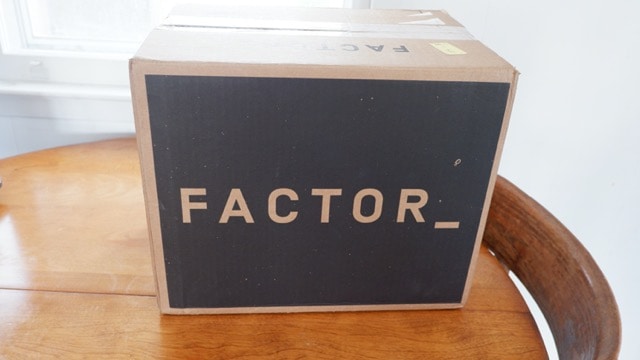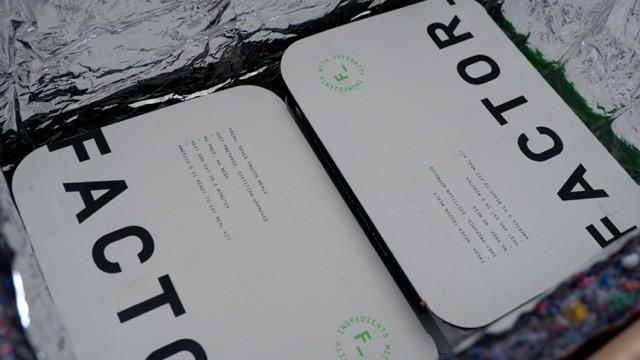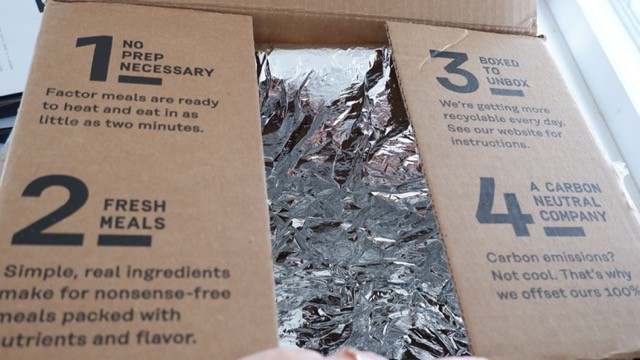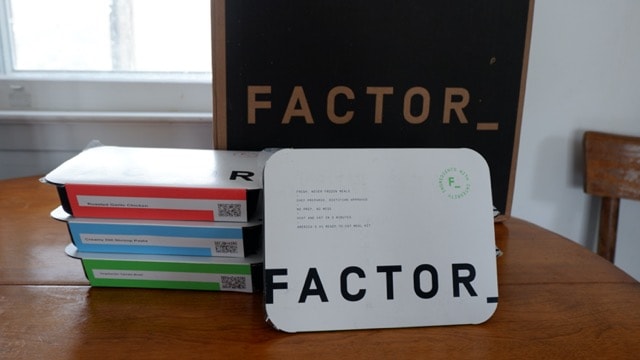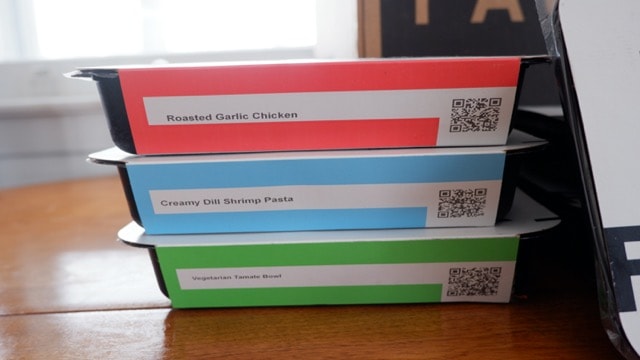 Factor is a heat-and-eat meal subscription that specifically caters to certain lifestyles and diets. Meals are hearty comfort foods that tend to be high in protein and low in complex carbs.
There are a ton of keto-friendly meals as well as some vegan and vegetarian options available each week. In addition to meals, which arrive fresh, Factor offers add-ons like breakfasts, juices, smoothies, sides, and a la carte proteins.
When you sign up for a Factor subscription, you'll be invited to a free consultation with a dietician via phone or google hangout. They'll help you build a nutrition plan that works for your lifestyle. It's a nice added perk that sets Factor apart from other meal services.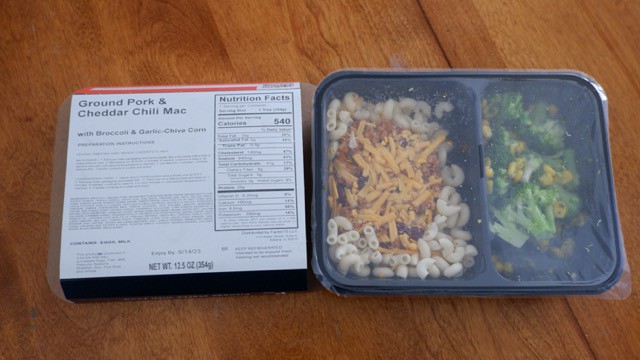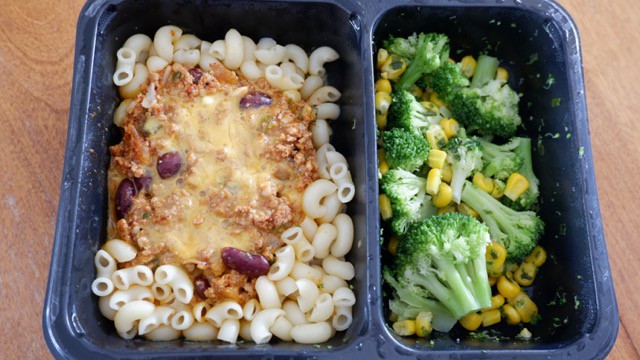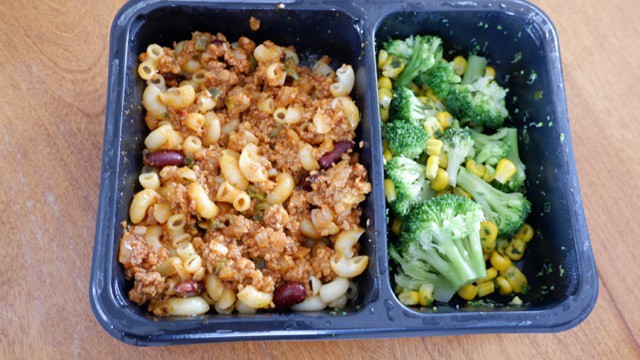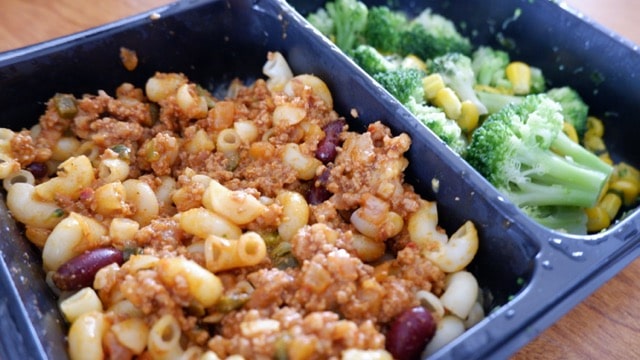 Factor's meals are hearty, nutritious, and flavorful. They taste home-cooked but are super easy to prepare in either your microwave or oven, but still feel healthy.
I was surprised at how delicious the Ground Pork and Cheddar Chili Mac was without it being heavy or too salty tasting. You can read more in our Factor review.
Key Info
Meals cost around $10.99 to $14.49 per serving, depending on how many you order. Standard shipping is $9.99 per order.

You can order subscriptions of six, eight, ten, 12, 14, or 18 meals per week. You can also subscribe to add-ons or just add a few to your box whenever you want them.

Individual meals are not customizable, and although Factor does list ingredients and allergens for each meal on their site, they don't do much beyond that to cater to food allergies.

You can deactivate your account at any time from the settings menu.

Factor has options that cater to keto, low-carb, low-calorie, vegetarian, and vegan diets.

All meals arrive fresh and can be quickly reheated before you eat them.
Pros
Ingredients are antibiotic, hormone, and GMO-free.

The included consultation with a nutritionist is a really nice added benefit.

They cater to several different diets.

It's a great option for those focused on fitness, strength training, and the like, since you'll definitely be getting enough protein.
Cons
Factor's meals tend to be high in fat and sodium.

Meals can be pricey, especially if you only want to eat them for lunches or only want a few meals a week.
Who should try Factor? Factor is perfect for anyone following a high-fat or protein and low-carb diet like keto. It's not great if you're worried about your sodium intake. 
FAQs
Question: Is Meal Plan Delivery Worth it?
Answer: Depending on your budget, a meal delivery service can definitely be worth it. They provide you with easy, convenient meals while minimizing food waste. 
Question: Are Pre-made Meals Healthy?
Answer: Not all pre-made meals are healthy. Many tend to be full of filler ingredients, preservatives, and added sodium. However, you can feel confident knowing that all of the meal services on this list can fit into a healthy lifestyle. 
Question: Are Meal Delivery Services Fresh or Frozen?
Answer: That depends! Some meal services will deliver frozen meals, while others will deliver fresh ones. Meal kit services will deliver a basket of fresh ingredients that you use to cook the meal yourself! 
Final Thoughts
The most important thing to consider when choosing a healthy meal delivery service is what type of diet you're looking for.
Right now, I particularly like the plant-forward flexitarian options provided by Thistle, but there are times in my life where I've needed more protein (like when I spent 17 hours a day running up and down the stairs of a rooftop bar), and the filling, high-protein meals from Factor would have been perfect.
Hopefully, this guide helped you to hone in on which subscription will best suit your lifestyle.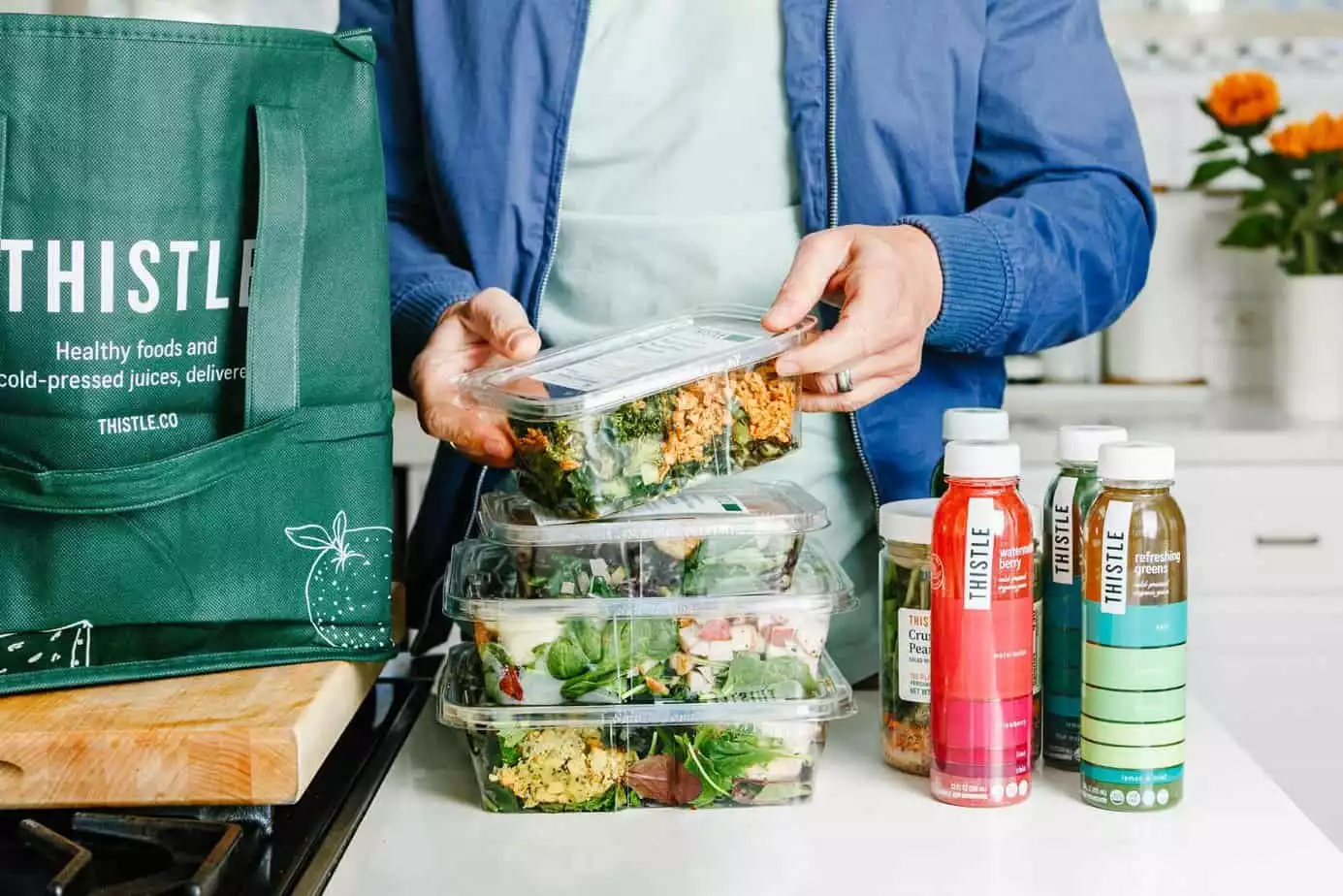 Related read