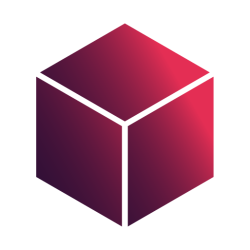 Latest posts by Subscriboxer Team
(see all)
You've tried Nature Box and liked it, but are there other nature box alternatives out there? You may be surprised at how many there are to explore! That said, picking a new healthy snack box can be difficult. There are tons of services out there competing for your attention and business; it can be a challenge to figure out which one is a good match for your lifestyle.
Worry no longer! Below is a thorough buying guide that covers eight healthy snack subscription services that are similar to Nature Box to help you make the right decision.
Let's get started!
Graze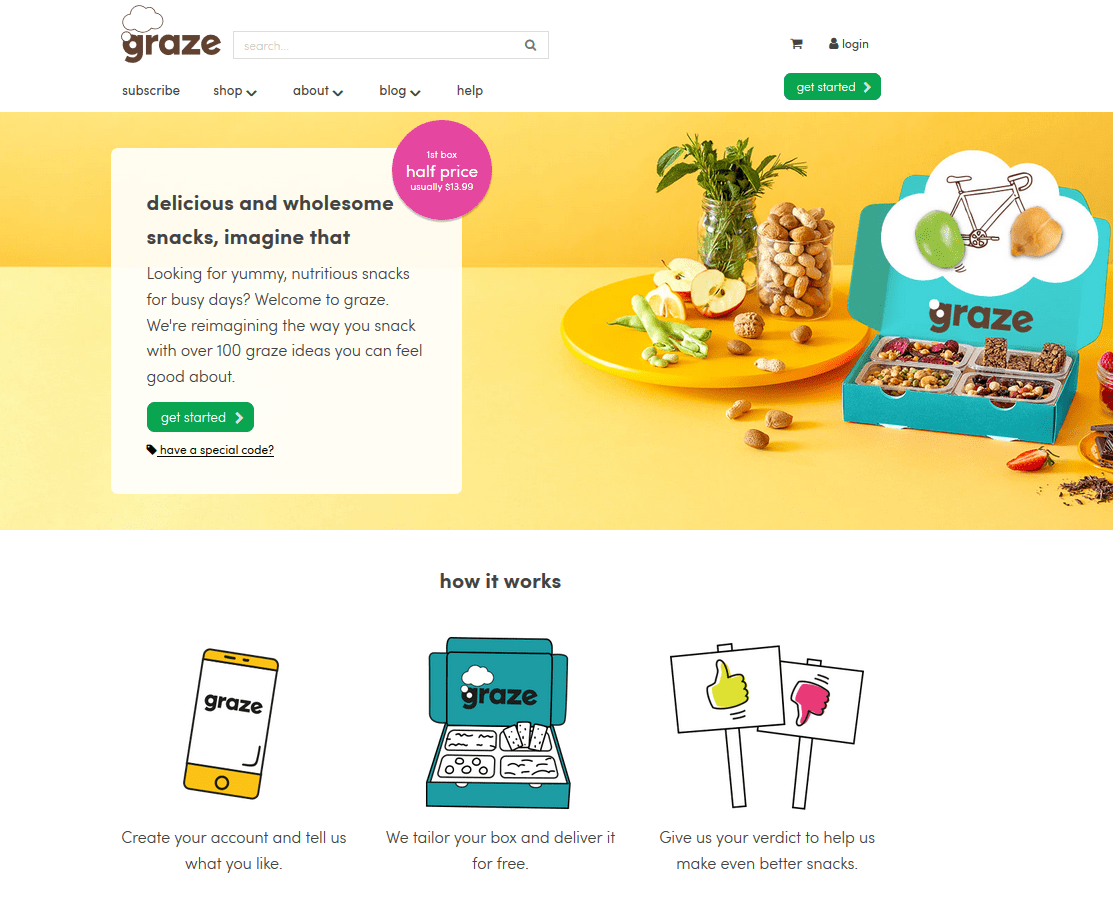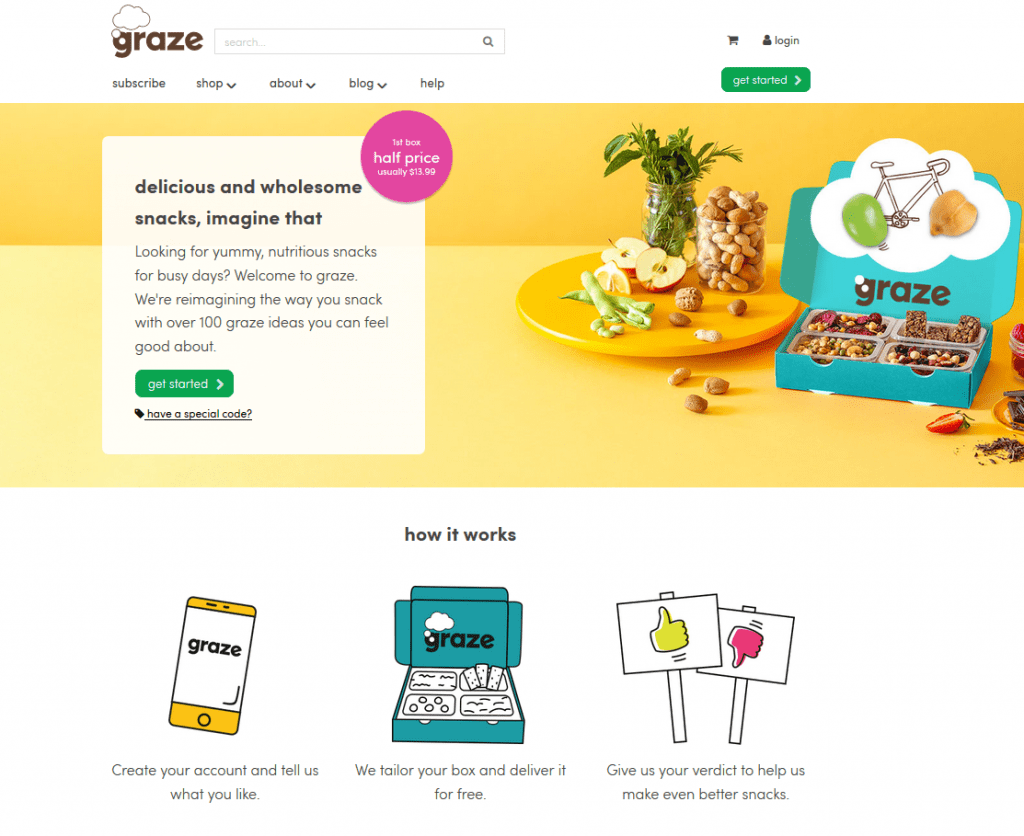 Goal of the Box
Graze is all about delivering a healthy, accessible, and cost-effective snacking experience to consumers who crave tasty treats. They take the idea of traditional healthy snacks and turns it on its head but creating new and unique snacks like kern pops and flapjacks.
In addition to creating delicious snacks, they have also founded a farming school in Uganda.
Boxes and What's Inside
With three distinct boxes to choose from their options are vast. They offer the standard 8-Snack Variety Box, the Calorie Count Box, and the Protein Box. With each box, the range of snacks available changes.
When choosing the standard 8-Snack Variety Box, there are over 90+ snacks available to choose from. Whereas the Calorie Count Box has 45 to choose from and the Protein Box has 32 to choose from. Since each box can only hold eight snacks, there are still plenty of snacks to choose from for each box type. For example, with the Protein Box, you can get three completely different boxes before you must start selecting snacks you have tried before.
As far as snack type goes, they have dried fruit, seeds, popcorn, and nuts. These snacks come in classic flavors like barbeque and cheese for those that crave a healthy snacking experience with a tasty twist.
Prices and Plans
Every single box costs $13.99 per box, and this does not change with frequency options. Different from other snack box services, they have multi-month plans available. You can choose to receive a box once a month, bi-weekly, or once weekly.
If you find yourself in love with their selection, you can always start with a monthly box; they graduate up to a weekly or bi-weekly box if your cravings cannot be sated.
Rewards/Membership and Online Store
Graze does not offer a membership program but does have a reward system. You can earn points by reviewing, buying, and referring. These points can then be applied to an order to reduce the overall price of it. Their online store is a great resource for repeat purchases of specific snacks.
They offer multi-pack options in addition to larger, shareable sized snacks. The prices on these individual products range from $3.99 to $8.99. This shop can be a great way to get repeat snacks without getting a multi-month box.
Shipping and Cancellation
Any order over $20 is eligible for free shipping. Any order that totals under $20 ends up costing around $4.25 in shipping fees. Both the free shipping and shipping fee are for standard shipping, if you need your snacks to come quicker, they have premium shipping options for additional shipping costs.
Cancellation is free and simple. Cancel before your specific cut-off date to avoid charges for an upcoming box. If you are having trouble figuring out how to cancel, they have a helpful page to assist you. If you want to compare further check out more Graze Box Reviews.
Love with Food
Goal of the Box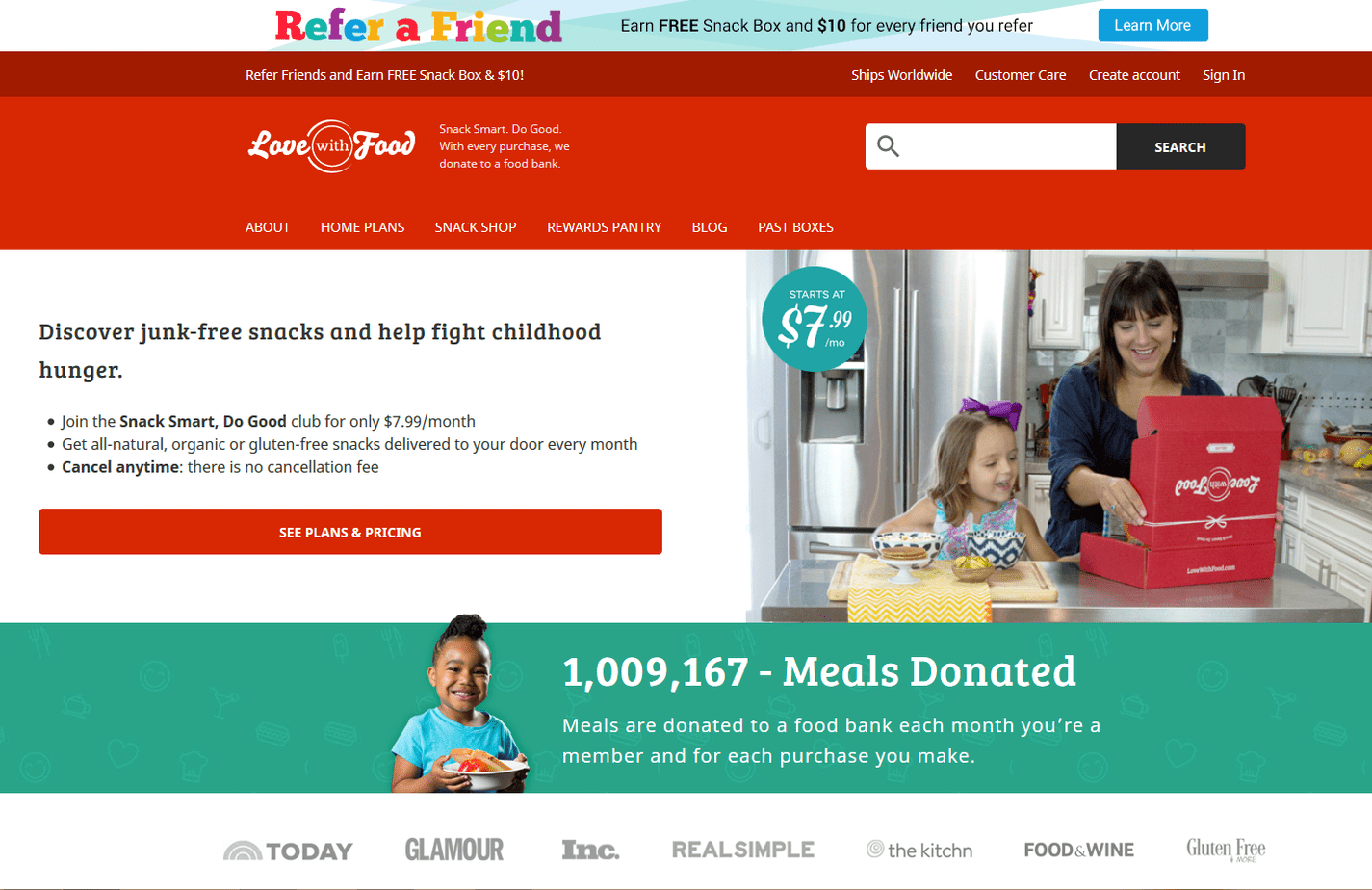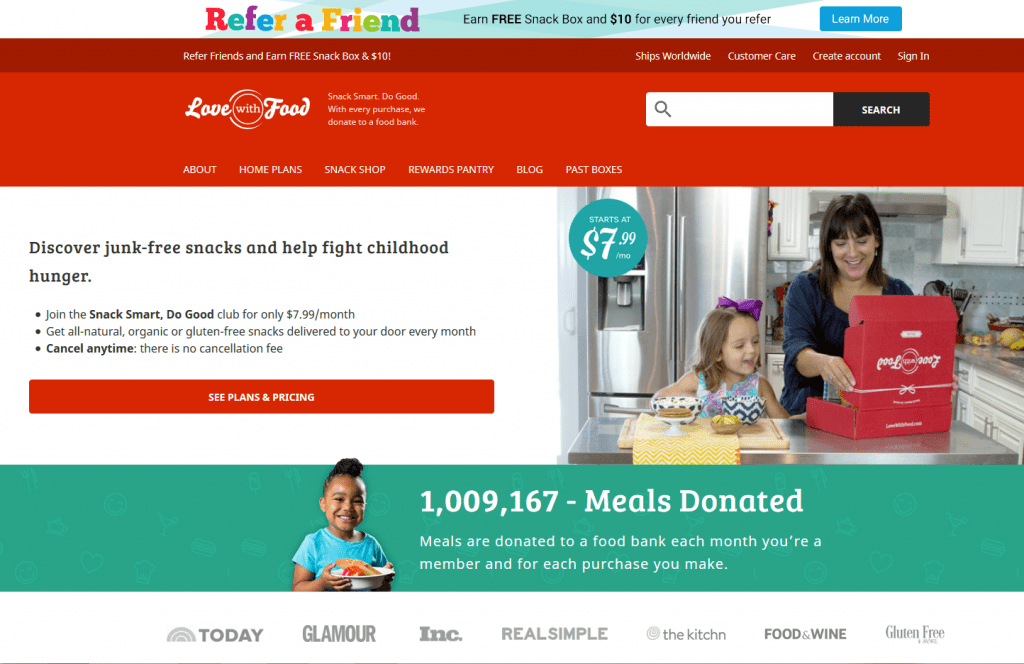 The founder of Love with Food was tired of searching store after store for delicious, healthy alternative snacks. She wants healthy snacking and the people who crave it to move the food industry into the modern era.
By directly delivering snacks to customers who want them, businesses can have a larger audience and impact their products. They can find their audience, and consumers can find their new favorite tasty treat. The snacks in their boxes are modeled after more traditional snacks like cookies and chips rather than health food staples like nuts and granola.
With every box purchase, they donate meals to local food banks. It is good to know that a little good in the world with every tasty purchase.
Boxes and What's Inside
Healthy snacks with a traditional snacking twist are the kinds of products you will find in these boxes. Whether it be high fructose corn syrup free cookies or GMO-free chips, these products are sure to be delicious and health conscious.
All the snacks that are selected for their boxes contain no artificial colors, artificial flavors, MSG, trans fat, hydrogenation, or high fructose corn syrup. Snacks can also be gluten-free, natural, or organic. The variety of snacks is massive. You could get brownie brittle, rice crackers, jerky, fruit snacks, freeze pops, chocolate, chips, puffed snacks, and much more!
Since Love with Food works with snack producers, they have an ever-growing selection of products to put in their boxes. The fact that they work with third-party companies means that they will always have new and exciting snacks to put into their boxes. Love with Food offers three different boxes: The Tasting Box, the Deluxe Box, and the Gluten-Free Box.
The Tasting Box comes with seven-plus snacks, the Deluxe Box comes with 15+ snacks, and the Gluten-Free comes with 10+ snacks. Every box you get is a mystery of delicious delights! To compare further check out Love with Food vs Nature box.
Prices and Plans
Their different box selection is ideal for curious new snackers, adventurous snackers, and even snackers with gluten restrictions. If you want to just try out Love with Food, a single month of the Tasting Box will only run you $9.99, which is a fantastic price for a snack box.
If you are feeling more adventurous, you can get the month-to-month Deluxe Box for $19.95 or the Gluten-Free Box for $24.99. Like many other subscription box services, they offer month-to-month, three-month, six-month, and annual plans for all their box types. For the Tasting Box it costs $9.99 per month for the month-to-month, $8.99 per month for the three-month which saves 10%, $8.50 per month for the six-month which saves 15%, and $7.99 per month for the annual which saves 20%.
The Deluxe Box costs $19.95 per month for the month-to-month, $18.99 per month for the three-month which saves 5%, $17.99 per month for the six-month which saves 10%, and $16.50 per month for the annual which saves 17%. Finally, the Gluten-Free Box costs $24.99 per month for the month-to-month, $22.99 per month for the three-month which saves 8%, $21.99 per month for the six-month which saves 12%, and $19.99 per month for the annual which saves 20%.
If you think you will fall in love with any of these boxes, it may be better to get the lengthier plans to save some money.
Rewards/Membership and Online Store
Love with Food offers both point rewards and membership bonuses. Every purchase and review of a subscription box or product earns points. They have a special section on their website where you can redeem points for full-sized products or even a previous month's box. They are quick and simple to earn and can stack quite rapidly if you are an avid snacker.
Your membership status effects shipping prices when redeeming points or ordering from their store. The higher your status, i.e., the more you buy, the cheaper the shipping rate for separate purchases. Their online store selection is massive. You can find products that have been featured in boxes in addition to generally healthy products.
That said, it can be difficult to navigate their shop if you delve too deeply. This is because they do not remove sold out listings, which makes the store flooded with products you are unable to purchase.
Shipping and Cancellation
You would think that with a low price for their boxes, their shipping would cost more. Surprisingly, this is not the case. When ordering a subscription box shipping is free to the United States and its territories.
If you live internationally, you cannot get the Tasting Box, but you can get the Deluxe Box or the Gluten-Free box for the low shipping cost of $3.99 per delivery. Cancellation is free and easy! Make sure you cancel before the scheduled monthly shipping date to avoid any extra, unwanted charges.
Boxtera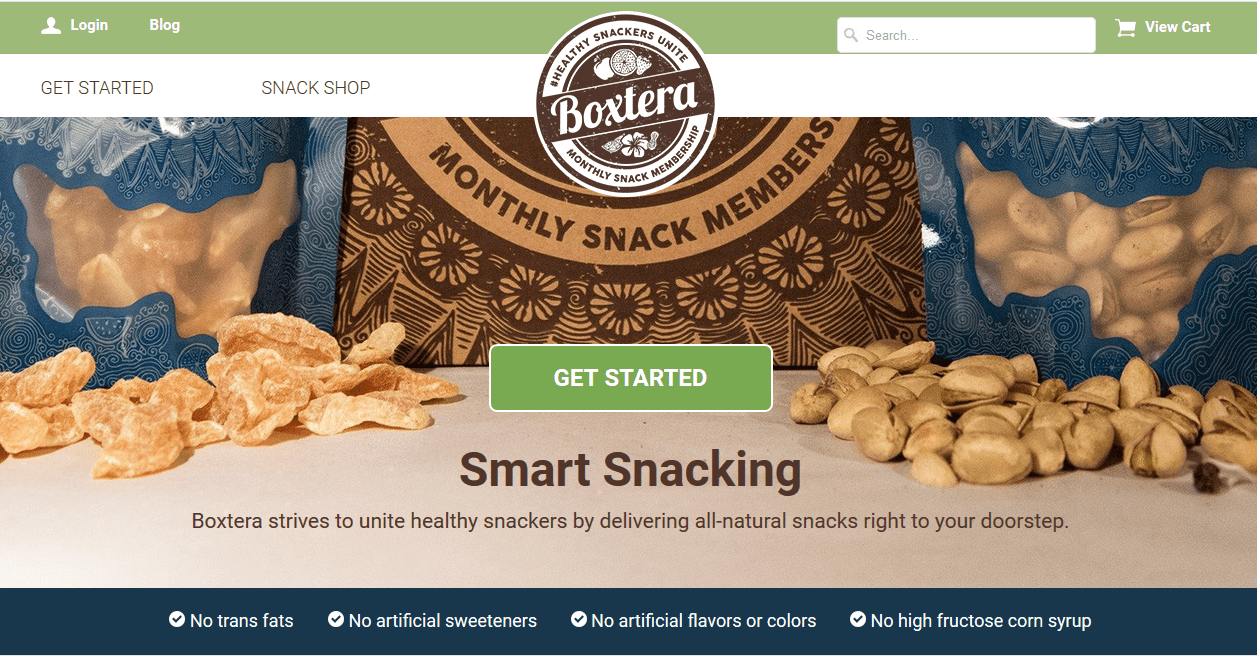 Goal of the Box
Boxtera aims to create a delicious unity between healthy snacks and healthy snackers by delivering products right any snacker's front door. All their snacks are free of trans fat, artificial sweeteners, artificial colors, artificial flavors, and high fructose corn syrup.
Boxes and What's Inside
This subscription service offers four different types of boxes, two are mystery boxes, and the other two are completely customizable. Choose from the One Time Discover Box and the Monthly Discovery Box.
The One Time Discovery Box is a single installment of gourmet snacks from Boxtera whereas the Monthly Discovery Box is a selection of five of Boxtera's favorite monthly snacks. The Monthly Discovery Box is full of the best snacks from the specific month it is ordered, these snacks can range from sweet, savory, spicy, salty and even sour!
If the mystery is not your thing, they also have the Standard Monthly Box and the Monthly Family Box. The only difference between these two boxes is the number of snacks you can select. A Standard Monthly Box comes with a five-snack selection, and a Monthly Family Box comes with a 10-snack selection.
Boxtera offers a unique snack selection when compared to other health-focused subscription boxes. They have tasty staples like dried mango and chocolate covered espresso beans, but these snacks are the least interesting of their full offerings. Touting an eclectic collection of dried green peas, muesli, peanut butter hemp bites, hibiscus flowers, and black bean stix, their assortment is a delight to browse for the adventurous snacker.
Prices and Plans
Boxtera has a healthy number of plans to choose from; whether you want a single box or a reoccurring box, they have you covered. Starting at their smaller selections, they offer a One Time Discovery Box for $24.95, a Monthly Discovery Box for $19.95 per month, and a Standard Monthly Box for $19.95 per month.
For larger bulk deals, they have three-month, six-month, and 12-month options that start at $74.95, $104.95, and $209.95 respectively. If you need more snacks per box, they also have the Monthly Family Box which starts at $34.95 a month. Check their store to see if any of these box options are on sale!
As someone who goes through periods of massive craving quantities of snacks, it is exciting to note that they have an option where you can email them for larger gift plans.
Rewards/Membership and Online Store
They do not offer any rewards and do not function as a membership program, but they do have a large online store. In their store, you can get individuals of snacks for $4-7. They also offer coffee for $14.95 and hibiscus tea for $7 in addition to their snack selection.
Shipping and Cancellation
They do not advertise any shipping deals, so you can most likely expect standard shipping rates. As you buy most of their boxes as one-time purchases, there is no cancellation pay up front. It is difficult to discern if there are any penalties for cancellation, so proceed with caution.
Healthy Surprise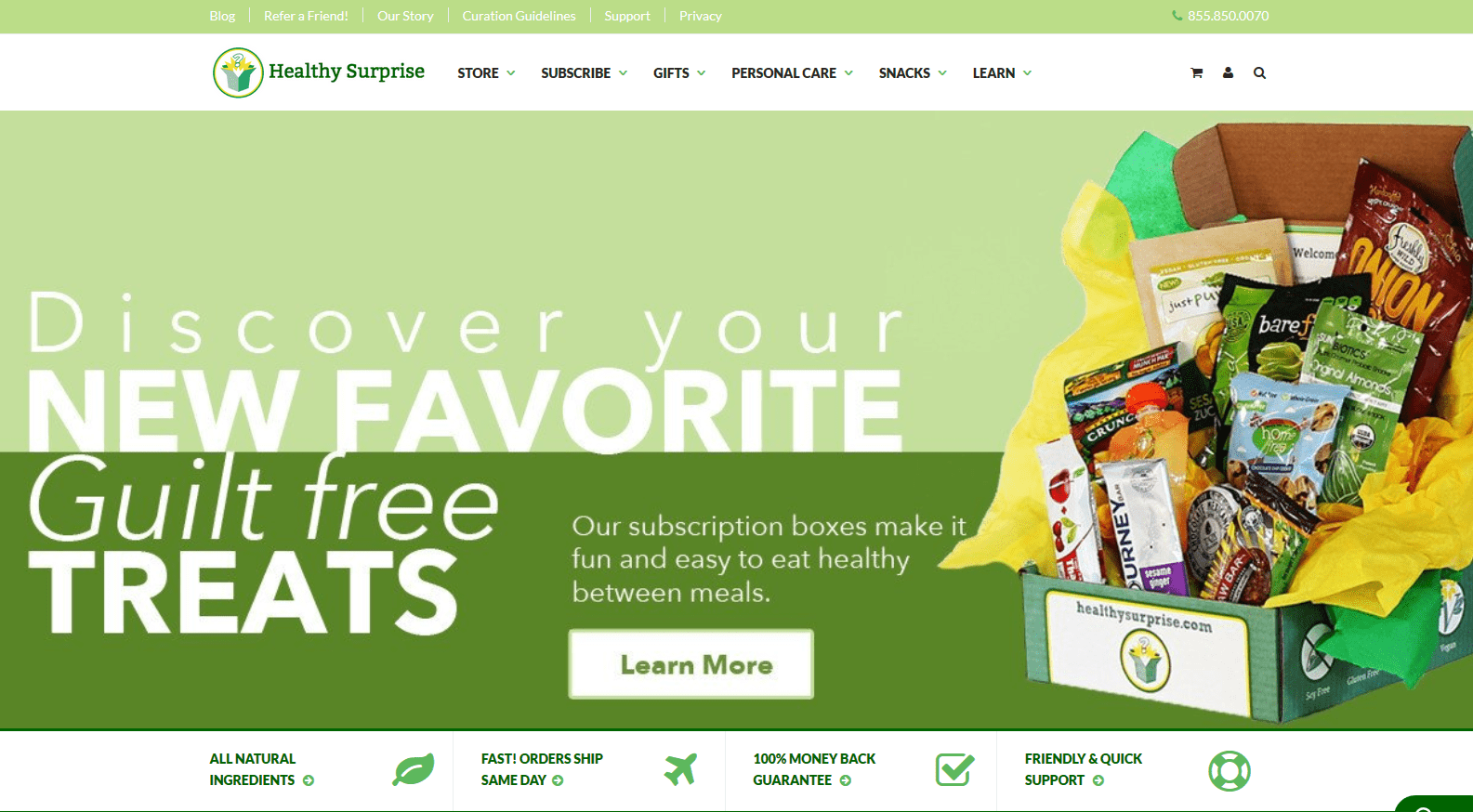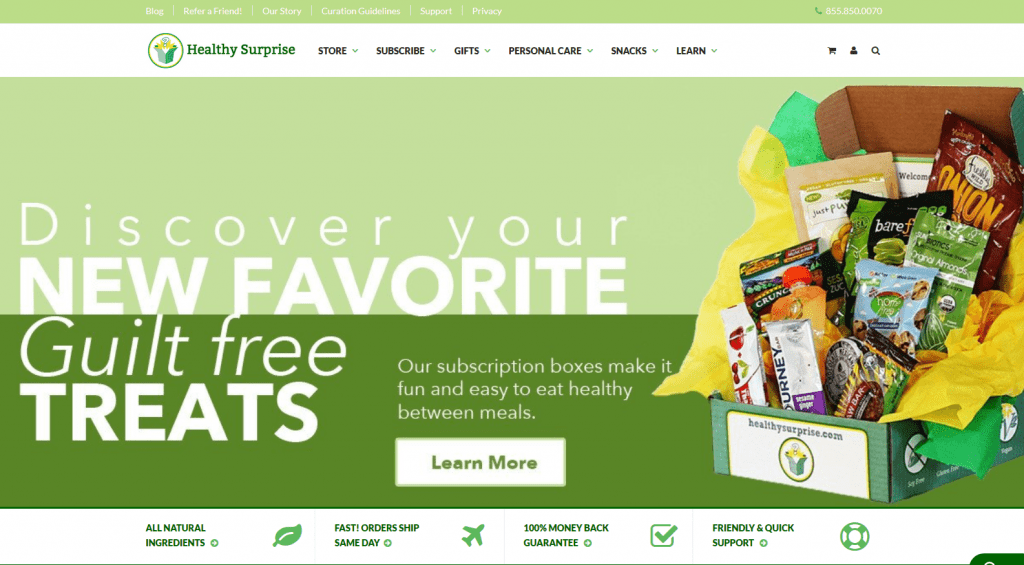 Goal of the Box
Keeping the body healthy is a difficult task to manage. You must eat well, exercise, and maintain healthy daily habits. Healthy Surprise wants to make living healthy easy by producing strictly vetted, good for the body snacks.
Get out what you put in with their natural, gluten-free, GMO-free, soy free, corn free, and wheat free snacks! All their snacks are made in the United States of America are free of artificial sweeteners, artificial colors, artificial flavors, MSG, yeast extract, high fructose corn syrup, partially hydrogenated oils, dairy, peanuts, and shellfish.
They want the goodness of their snacks to be consumable by everyone, even those with food allergies.
Boxes and What's Inside
Healthy Surprise offers three different box options: The Classic Box, the Big Box, and the Paleo Box. The Classic Box is a plant only vegan box that comes with 15 snacks and the Big Box is a larger version of the Classic Box and comes with 21 vegan snacks.
The Paleo Box is different from the previous two as it comes with some meat products. This box comes with 17 snacks that are free of grains, legumes, and refined sugars. All the snacks that come in these boxes are clean, delicious and healthy. Each box contains full-sized products that consist of bars, fruits, drinks, sweets, exotics, kale, veggies, chips, and nuts.
They have subscriptions for these boxes, as well as gift options.
Prices and Plans
As mentioned above, they offer three core boxes with either subscription or gift options. The cheapest option for those looking to sample this subscription service is the gift of the Classic Box which is a one-time purchase of $49.99.
Regarding the other gift options, both the Big Box and the Paleo Box cost $74.99. All their subscription options for these boxes save you 15% per box. This means that a Classic Box costs $42.49 a month while the Big Box and the Paleo Box both cost $63.74 each month.
For their subscription plans, they offer a one month, a three month, a six month, and a 12 month. They tout that every month they have new snacks in each box, so each month is a surprise!
Rewards/Membership and Online Store
They do not have membership or rewards programs available. Their online store is a bit lackluster. They have very few products available for purchase; in total, they have 12 products to choose from, half of which are the subscription boxes themselves.
Shipping and Cancellation
Healthy Surprise has amazingly fast shipping which is all laid out on a page of its own.
For purchases in the southern California region, it will take one business day, for major United State Metropolitan areas it will take two business days, and for all other United States destinations, it will take three business days. The shipping price scales with weight with four prices available; for orders up to one pound, it will cost $4.99 whereas for orders that are 20 to 75 pounds it will cost $14.99.
Canada and international shipping ranges from $9.99 to $49.99 depending upon the weight of the order. They have a 100% money back guarantee on their boxes and cancellation is free all the time.
HealthyMe Living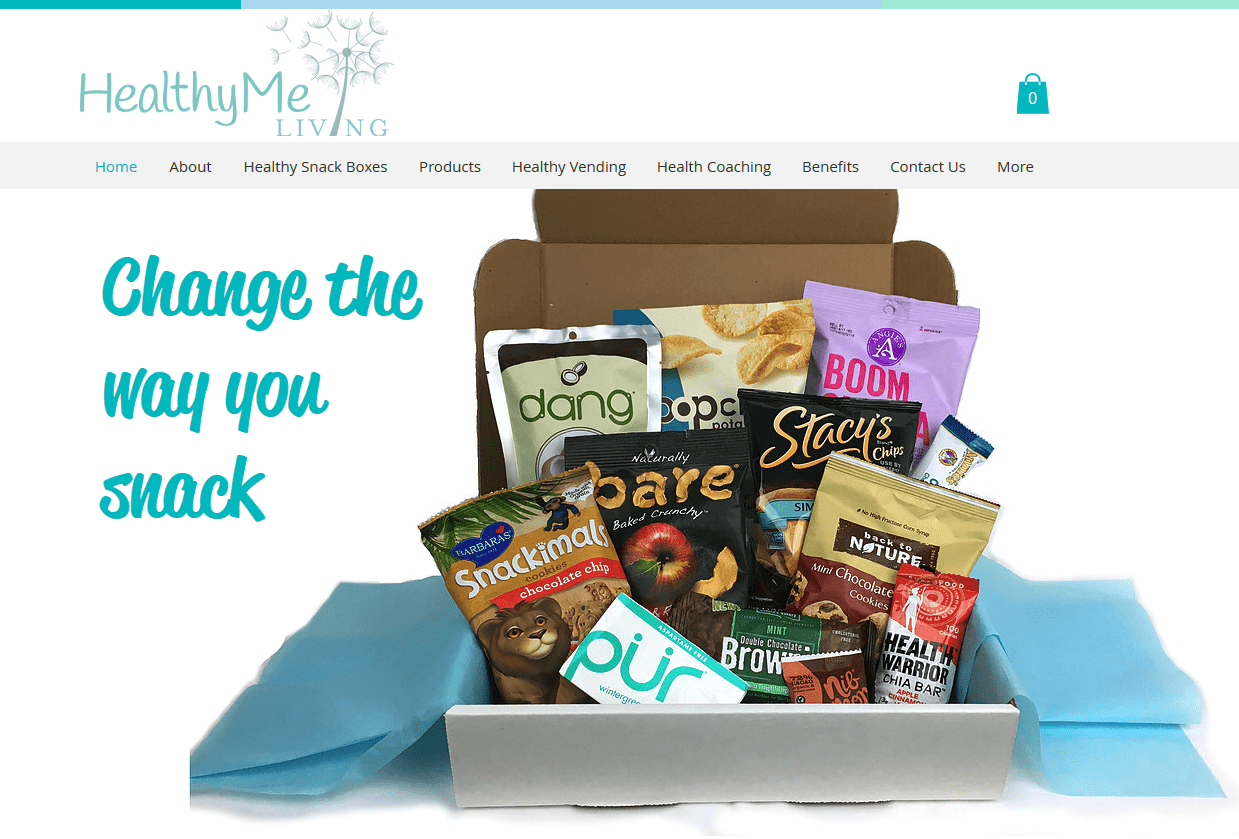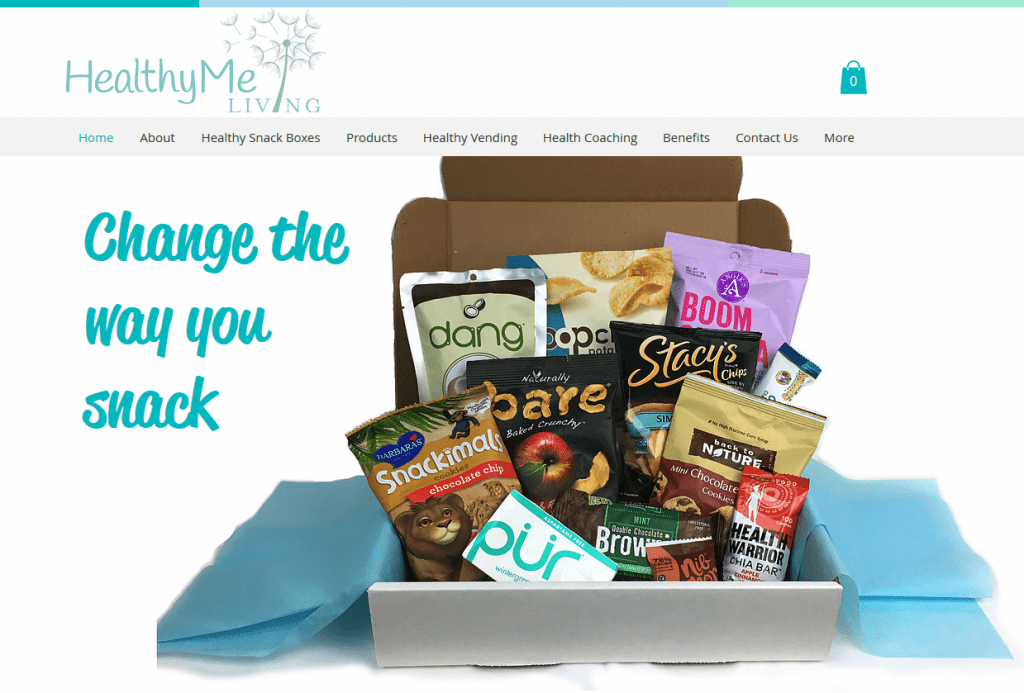 Goal of the Box
Healthy snacks are hard to find, especially at workplaces or on school campuses. HealthyMe Living started as a one vending machine project and developed into a full-blown company.
By placing vending machines stocked with healthy options into businesses, fitness studios, and schools people have more access to delicious and conscious products. Why stop at businesses when you could deliver the same tasty treats to people in their homes? That is precisely what founder thought to do, and now HealthyMe Living offers a subscription box service.
Boxes and What's Inside
Unlike some of the previous companies, HealthyMe Living compiles boxes for their subscribers. They do not make the products they send out, but rather they curate various options. The range of snacks selected offers a potential treasure trove of tasty benefits.
For example, on their subscribe page, their sample box has products that are nitrate free, free range, hormone free, antibiotic free, paleo friendly, gluten free, non-GMO, cholesterol free, free of added sugars, nut and dairy free, fair trade, and USDA organic. As a standard however, all their products have no artificial ingredients, are natural or organic, are non-GMO, have no trans-fat, are nutritionally beneficial, and have no high fructose corn syrup.
Each box comes with 7-10 snack sized products. The selection of products ranges from cookies, chips, bars, gum, dried fruit, chocolate, and pretzels to name a few. New snacks are continually being added.
Prices and Plans
Since each box is random, there are no box options to select from. Each box is a complete mystery and sent out once a month. They offer monthly, three-month, six-month, and annual subscription plans as well as a one-time trying option. For the monthly subscription, the price is $29.99 per box. The three-month is $86.97, the six-month is $167.94, and the annual is $299.
You only save money on the three-month, six-month and the annual subscription box options; on the three-month, you save three dollars, for the six-month option you save about $10 and for the annual you save about $60. The one-time snack box is $29.99 per box, and you can order up to 10 boxes at once.
Rewards/Membership and Online Store
HealthyMe Living does not offer a rewards or membership program. Their shop is rather lacking luster as you can only buy the single purchase snack box, gift cards, and virtual health coaching. The best bet for this snacking service is to try the products that you receive and seek out more either at the grocery store or via each producer's website.
Shipping and Cancellation
Shipping is most likely standard shipping, and it seems to range between seven to twelve dollars depending upon where you live in the United States. Like many of the other services, plans renew automatically, but you can cancel at any time. For the more extensive plans, you only pay once with prepay, so you do not have to worry about canceling.
Watanut – Nut of the Month Club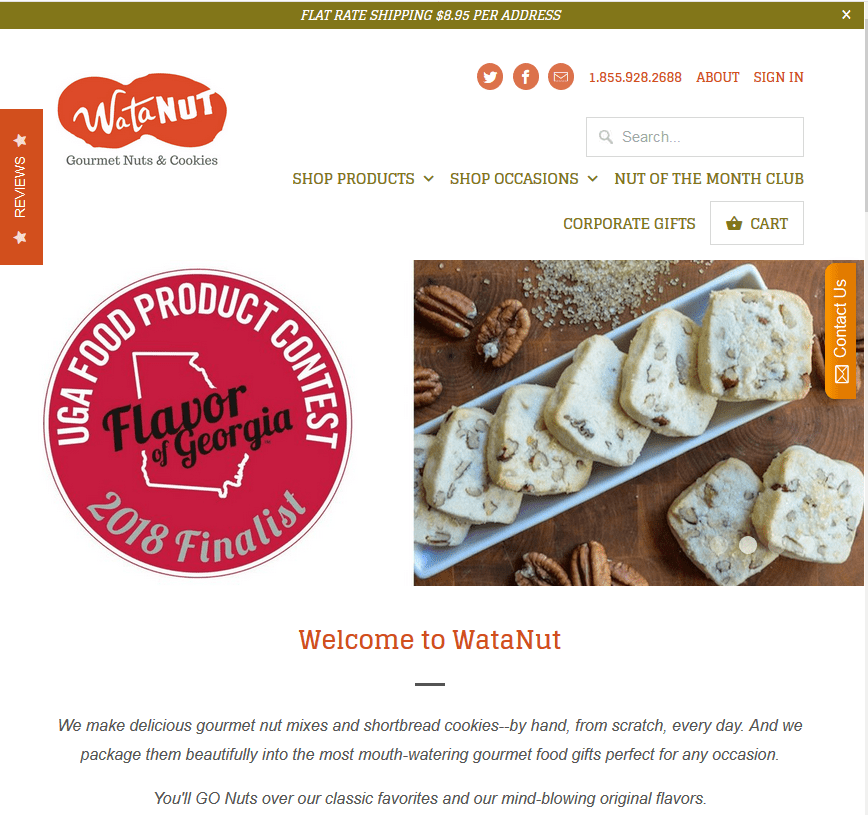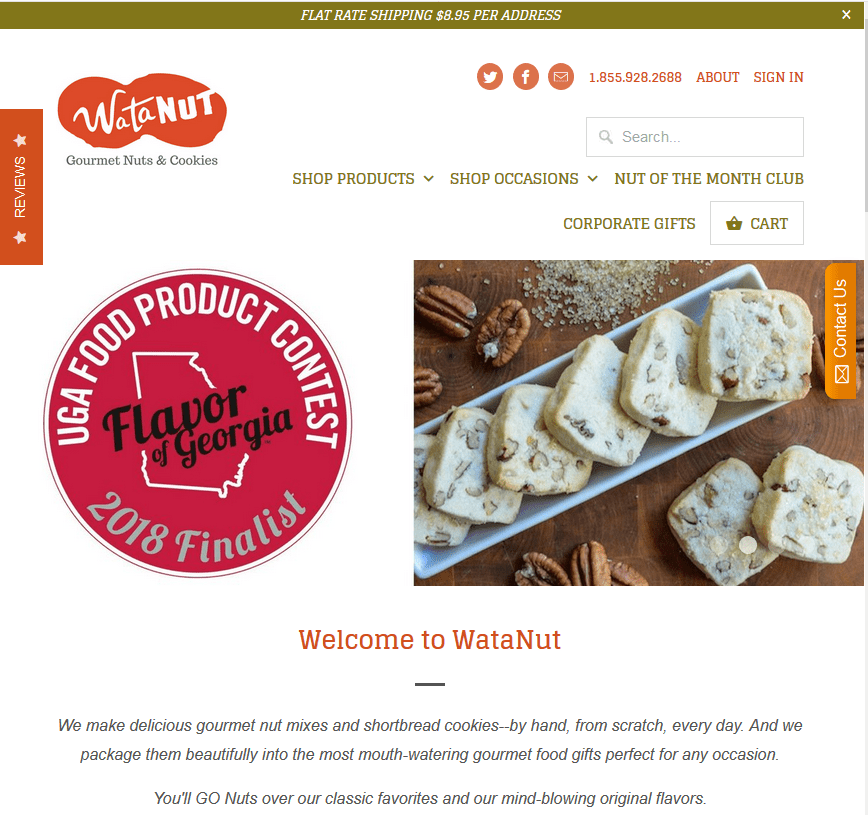 Goal of the Box
Whenever people think of healthy snacks, one of the staples that come to everyone's mind is nuts. Peanuts and almonds specifically. Watanut understands the appeal of tasty nuts, but they go a step further by utilizing often overlooked nuts like pecans and infusing them with delicious flavors.
They want their customers to receive delicious cookies and nuts via their Nut of the Month Club.
Boxes and What's Inside
The Nut of the Month Club delivers four nut mixes and cookies in each box monthly. You get a mystery box full four of the products that Watanut makes.
Choose from the 12-ounce or the 24-ounce size options for your box. In your box, you may find pecan sandy cookies, salty chocolate cookies, salted pecans, praline pecans, cinnamon pecans, cranstachio cookies, and cocomac cookies to name a few of the tasty options. Alongside these single flavored pecans, they also offer unique mixes like Ale Yeah, Honey Badger BBQ, How 'Bout Them Apples, and Nut Nog. Many of these mixes contain a variety of pecans, almonds, cheddar cheese bits, pretzels and more!
Whether you are feeling savory or sweet, their fun selection has many options available.
Prices and Plans
One of the exciting parts about the Nut of the Month Club is that there is no monthly scheduled shipping date like other companies; when you order you can pick the delivery date.
No longer are you at the mercy of scheduled delivery days, you just pick and go! The cheaper plan, the 12-ounce plan, has monthly, three-month, six-month, and 12-month plans available. The monthly 12-ounce plan will cost $24.95 per month, the three-month plan will cost $74.95, the six-month plan will cost $149.95, and the 12-month plan will cost $299.95.
If you want more nuts and cookies than just 12-ounces a month, they have a huge 24-ounce option available in all the same plans: the three-month, six-month, and 12-month. These larger, 24-ounce plans are $32.95 per month, $99.95 for a three-month plan, $199.95 for the six-month plan, and $395.95 for the 12-month plan.
Watanut's variety of plans and prices makes their Nut of the Month Club a great way for people to try tasty cookies and pecans.
Rewards/Membership and Online Store
They do not offer rewards or have a membership program. Their online store, however, is amazing. They have gift boxes, gift tins, cookies, nuts, nut mixes, and even a make your box option!
Anything you get in the box from the Nut of the Month Club can be found in their online store and purchased in larger quantities. If you are curious to try their products, a short subscription may be a good option for you to explore their products monthly in a fun way.
Shipping and Cancellation
They offer free shipping for the Nut of the Month Club; they may charge standard shipping on other one-time orders of their products. If you ever get tired of receiving your Nut of the Month Club boxes, you can cancel for free at any time.
Clean.Fit Box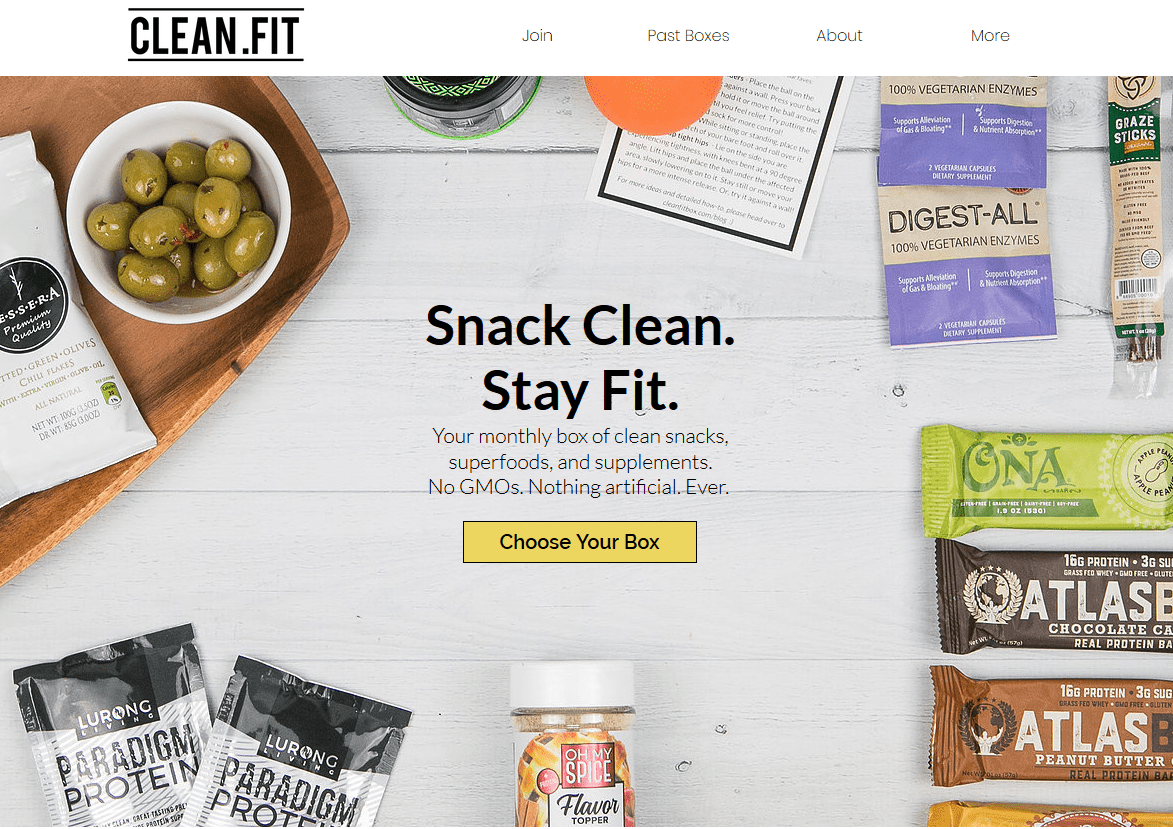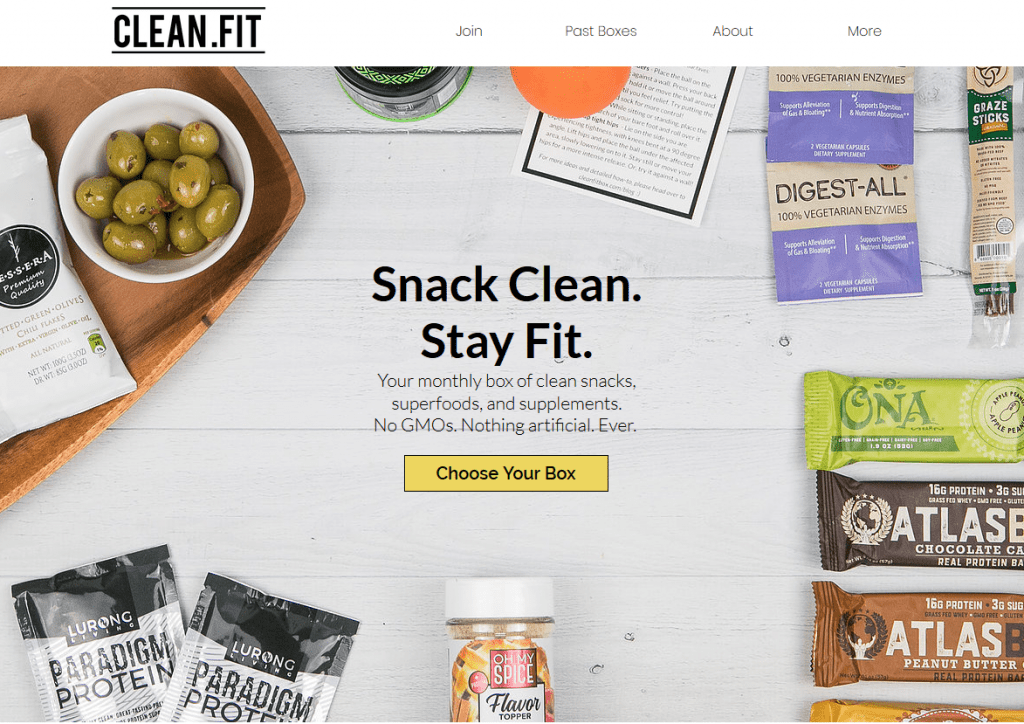 Goal of the Box
Wellness is often more than just what you put into your body, it is also what you do with your body. Clean.Fit Box understands that, and they want their subscription boxes to reflect their beliefs.
With a Clean.Fit box you are getting clean snacks that are healthy alongside supplements that encourage exercise and fitness. Put in the work, see results, save time, and eat clean; you will receive the best results from your body. Who said that eating clean, superfoods had to be hard?
Boxes and What's Inside
In each box, you will find delicious, all-natural, hand-curated, clean, superfood and supplements that are free of artificial colors, artificial flavors, artificial preservatives, trans fats, partially hydrogenated oils, fake sweeteners, and high fructose corn syrup.
Like both Love with Food and HealthyMe boxes, the products in Clean.Fit's boxes are from other companies. These products are then compiled into a monthly mystery box. Expect five to seven different premium products in every box!
Even though this is mystery type subscription box, they do offer three distinct types of boxes: The Vegetarian box, the Original Box, and the Gluten-Free box. Their selection of different boxes is great for active, health-conscious people who have dietary restrictions.
Prices and Plans
As mentioned above, they offer three distinct boxes for a variety of diets. However, unlike other companies who price their different boxes unevenly, all their plans for any of their box options are the same price.
No longer do you have to pay more for dietary specific boxes! Their monthly rate starts at $34.95 a box, with the three-month costing $33.20 per box, the six-month costing 31.45 per month, and the 12-month costing $29.70 per box.
The lengthier the plan, the more money you save; the three-month saves you 5%, the six-month saves you 10%, and the 12-month saves you 15%. You can buy the month to month, which automatically renews, or you can buy the larger prepay subscriptions and not have to worry about the service automatically renewing.
What is unique about Clean.Fit's service is that they list what came in previous boxes on their website. Some companies only list a previous box's contents if it is for sale in their shop. Browsing previous boxes is a great way to see if you feel this service is a good option for you.
Rewards/Membership and Online Store
Clean.Fit does not have a rewards or membership program. They also do not have an online store. Since they put other companies' products in their boxes, you will always have to order more via the manufacturer's website or find these products at a grocery store.
Shipping and Cancellation
The shipping date for every box is the 15th of each month. If you order after the 15th, you will have to wait until the 15th of next month to receive your box. Shipping is calculated based upon where you live. Plans automatically renew, and you can cancel for free at any time. Just make sure you cancel before the 15th to avoid extra charges.
Conclusion
Whew! What a ton of information to digest. With this complete guide, you are sure to find your perfect subscription box match, whether you like the mystery-type boxes or the boxes where you choose the snacks. Have you tried any of these services? Tell us in the comments down below!