Latest posts by Trevor Abbott
(see all)
You don't have to be a full-time vegan to enjoy a taste of the plant side, and these best vegan meal delivery services will be convincing regarding flavor & stimulating better health. The ingredients are diverse and satisfying with these meal kits, and they stand out among the rest. I've tried them sporadically with impressive results if you know where to look. It's my pleasure to be here as your trusted guide through the world of these vegan meals conveniently delivered to your door. I'm here to help you gain insight into a life-changing experience and make decisions easier.
Even at these services' top echelon, subtle differences must be explored. Why scramble around the internet when you have me to elucidate the facets of each high-tier company? I aim to get you on track to wellness and improve your life. Each one brings something new to the table, and you will be surprised at the results because they are all dedicated to giving you a more sustainable meal plan that adapts to individual preferences & eating patterns.
Whether you're making a change or a devoted vegan consistently, you will indeed find something suitable to try with this comprehensive list I've selected for your benefit. We will get our bodies and minds more in tune with nature together while weighing the pros & cons of each service so we can compare them properly & come to our conclusions. After all, it would be best to think for yourself regarding food because each person's dietary needs are unique. I'm here to open doors of vegan wisdom, but it's up to you to choose and go through! Let's examine what ingredients make up the top vegan meal kits available today!
Bottom Line Up Front
Many vegan meal kits are on the market today, but it's essential to do your research before trying one so you end up with one that's worth your time. Weighing your options carefully against your needs is crucial to success when choosing between vegan meal delivery services. Confiding in a trustworthy & suitable company makes you happier and healthier with more transparency. The ones discussed here include Green Chef, HelloFresh, Sprinly, Mosaic Foods, Factor, Veestro, Cook Unity, & Revive Superfoods. Overall, the best service to consider, in my opinion, and many others based on the reviews, is Green Chef. However, any of these will be a viable option with healthfully delicious results.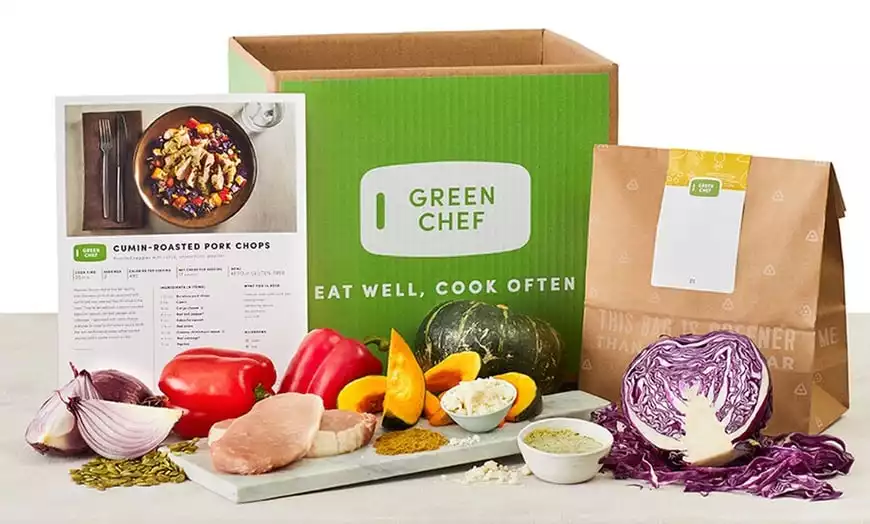 Why Go With Green Chef?
Green Chef is a meal kit service that delivers boxes filled with fresh ingredients on a weekly, biweekly, or monthly basis to make chef-curated meals. Diet and allergen friendly options, are one of the reasons I love Green Chef.
Choose Your Plan
$250 Off for Cyber Week Here
We earn a commission if you click this link and make a purchase at no additional cost to you.
Selection Criteria
Before we dig into the juicy details of each vegan meal service, it's ideal to explain how I selected them to give you a broader outlook & understand how these are most rewarding. They certainly stand out from the crowd with the online reviews, and I've tried many of them to attest to their validity in taste, quality, & convenience. The following are my selection criteria for your reference.
All services must have superb taste for vegans & non-vegans

They need to nurture good health while maintaining diversity

Must cater to individual lifestyles & have a sense of flexibility

All vegan meal services must be accessible for kitchen novices with minimal prep time

Each service must have positive reviews from trusted members of the Vegan community

All meals must be Vegan or have convenient vegan options
My Top Vegan Meal Delivery Picks
Now, we can dig into my top picks for vegan meal delivery services that will keep you returning for more after that first satisfying bite. This list will turn the hearts of meat lovers to appreciate veganism more, even if they choose to stick with their current lifestyle. You'd be surprised what nature can dish out when handled with fresh ingredients and strict vegan standards. It's time to savor every bite as we explore what makes each service worth your investment. Some may not be for everyone, but I'm confident you'll find a home with one of them; I know I did with Green Chef!
Green Chef: The Top Pick Out Of Them All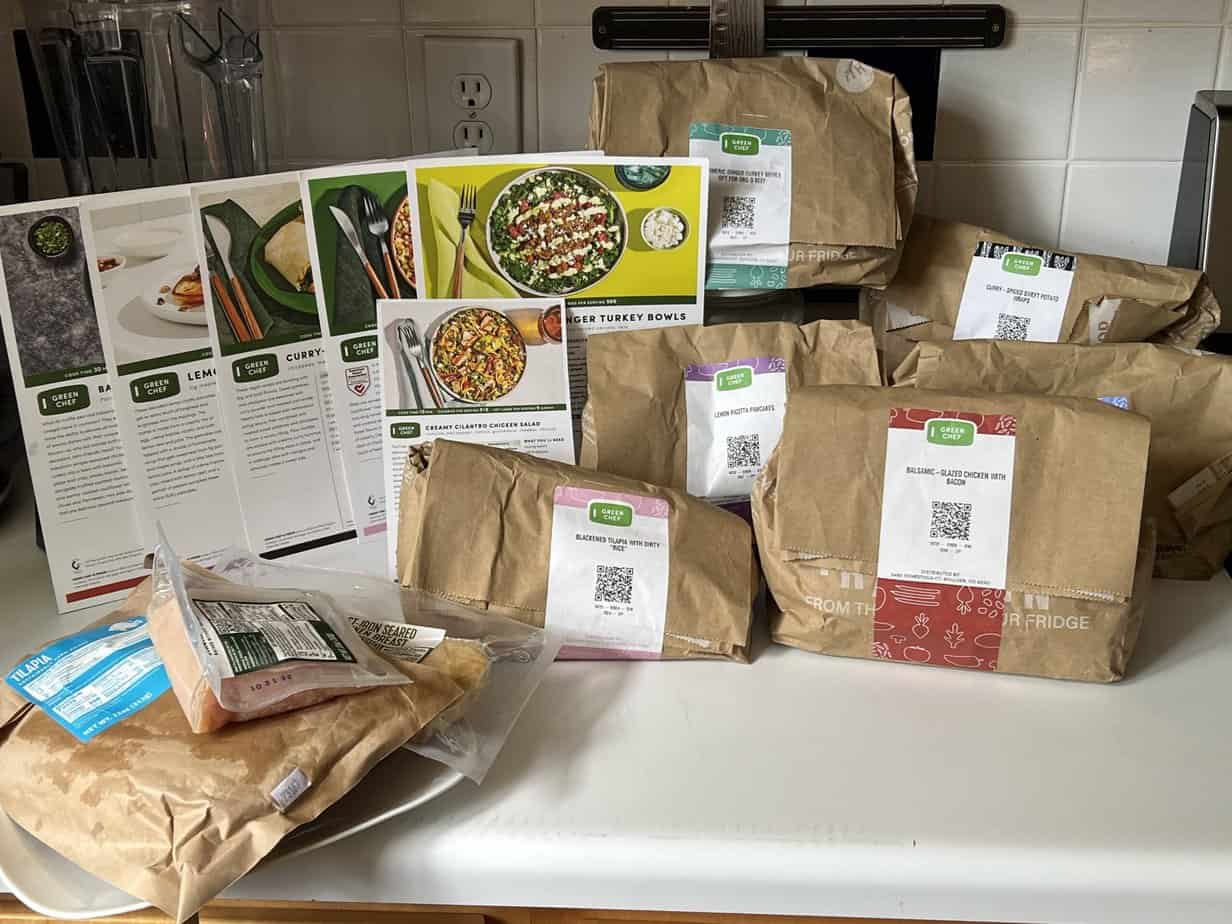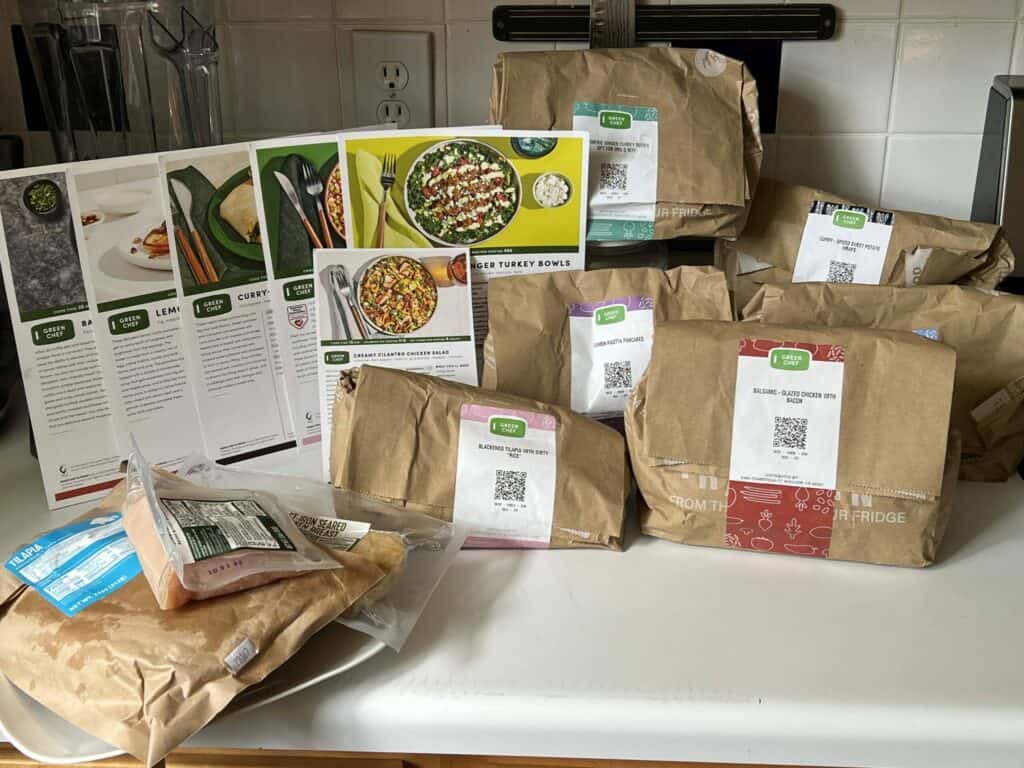 This list wouldn't be the same without the legendary Green Chef service that keeps making waves with positive reviews and is one I've tried first-hand. Green Chef originated back in 2014. The iconic HelloFresh later acquired it in 2018, and it has been a massive hit with people from all eating backgrounds, including Vegan. Green Chef brings you premeasured ingredients with easy instructions to craft some excellent vegan meals that will blow your mind!
The meals are easy to prepare and give you a higher sense of freshness than pre-prepared or frozen meals that lack taste. They offer six meal plans, so you know they're versatile and can accommodate your needs. You can choose "Vegetarian and Vegan meals featuring organic produce & plant-based proteins." They aim to move towards "clean plates and a clean planet, working closely with farmers to supply responsibly grown organic ingredients."
Although they're not strictly vegan, this can be seen as a good thing, considering they're a more versatile company for a broader range of customers. The vegan options here are excellent and satiating while providing a sustainable meal kit that goes a long way for your body and mind with tastes out of this world! Organic lovers will have a home with Green Chef because they bring trustworthy & fresh ingredients to your doorstep with informative recipe cards to follow and replicate in the future. It's certainly praised as one of the best vegan meal kits around!
Cost
Two Servings A Meal
Three

meals a week:

$13

for a serving

Four

meals a week:

$13

for a serving
Four Servings A Meal
Two

meals a week:

$13

for a serving

Three

meals a week:

$12

for a serving

Four

meals a week:

$12

for a serving
6 Servings A Meal
Three

meals a week:

$12

for a serving

Four

meals a week:

$12

for a serving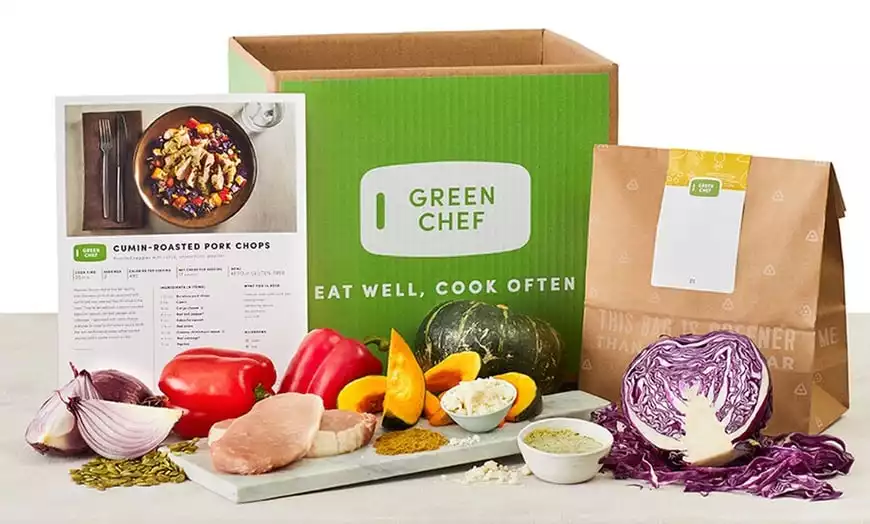 Why Go With Green Chef?
Green Chef is a meal kit service that delivers boxes filled with fresh ingredients on a weekly, biweekly, or monthly basis to make chef-curated meals. Diet and allergen friendly options, are one of the reasons I love Green Chef.
Choose Your Plan
$250 Off for Cyber Week Here
We earn a commission if you click this link and make a purchase at no additional cost to you.
Pros
An eco-friendly company that cares about a sustainable environment

Exquisite taste that will convert you to veganism & give you more confidence

Has certified gluten-free meal plans available

Suitable for vegan or vegetarian lifestyles

Adapts to various dietary restrictions with reliable precision
Cons
It's more expensive than other vegan meal kit services

The shipping charges aren't fun to deal with

You don't know if you'll like the meals until you try them

Isn't as convenient or quick as premade meals found with other services

Sometimes, it might be too flavorful or overwhelming for sensitive tastes
Read our complete Green Chef Review and Guide here: My Real Green Chef Review: Should You Order This?
HelloFresh: Excellent Organic Vegan Meals Available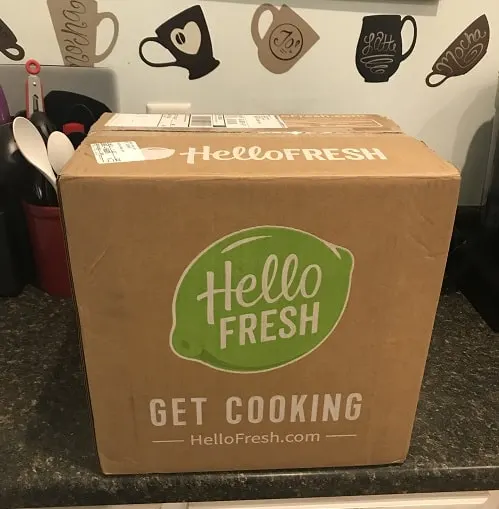 Where would vegan/vegetarian meal kits be without the iconic and ever-popular HelloFresh? It's a popular option for a good reason: they over-deliver with quality recipes that stand out. If you don't have the time to cook at home or go to the store, then HelloFresh has you covered by delivering ingredients with comprehensive instructions straight to your door for a reasonable price. It's a family-friendly service that's good for introducing plant-based vegan options or ones with organic animal products if you prefer.
Their service ships boxes weekly to your location with outstanding ingredients and instructions to ensure you have a quick preparation process without the stress involved. The elements of each kit are pre-portioned with the necessary additions like sauces, spices, and unique garnishes to make each meal taste special. Choose from meals with rotating recipes so your taste buds never tire of the same thing.
Hellofresh is committed to "bringing together the finest produce with a wealth of unique vegetarian recipes designed just for you while combining tastes worldwide to give you more choices delivered directly to your door." They are also flexible in adjusting your meal schedule and suitable for a hectic lifestyle where you feel fast food is the only option. Those days are over with this outstanding brand that has everyone talking about their personal vegan meal choices!
Cost
HelloFresh Meals:

$9-$12.50

for each person per meal.

Six

recipes a week for

four

people gets you a lower price

Three

recipes a week for

two

people:

$9.99

a serving or

$60

a week

Shipping Cost:

$9.99

per meal kit. Discounts are available, and free shipping for the first few shipments
Pros
It is much more convenient than planning a meal at the grocery store

Flexible subscription options that are easy to modify or cancel

Suitable for the vegan & vegetarian lifestyles with many healthful plant-based options

It gives you immense variety, with new flavors around every corner

Appropriate for families with young kids or couples

New menus are offered each month
Cons
It doesn't get rid of the need to prepare food and cook

There are no gluten or allergen-free meals

Not the most ideal for vegans, but it gets the job done as a viable option

The meals become somewhat repetitive and similar at times

The ingredients might be missing or spoiled, but very rarely
Read our complete Hello Fresh review here: Best Hello Fresh Alternatives & Competitors
Sprinly: Expertly Crafted Vegan Meals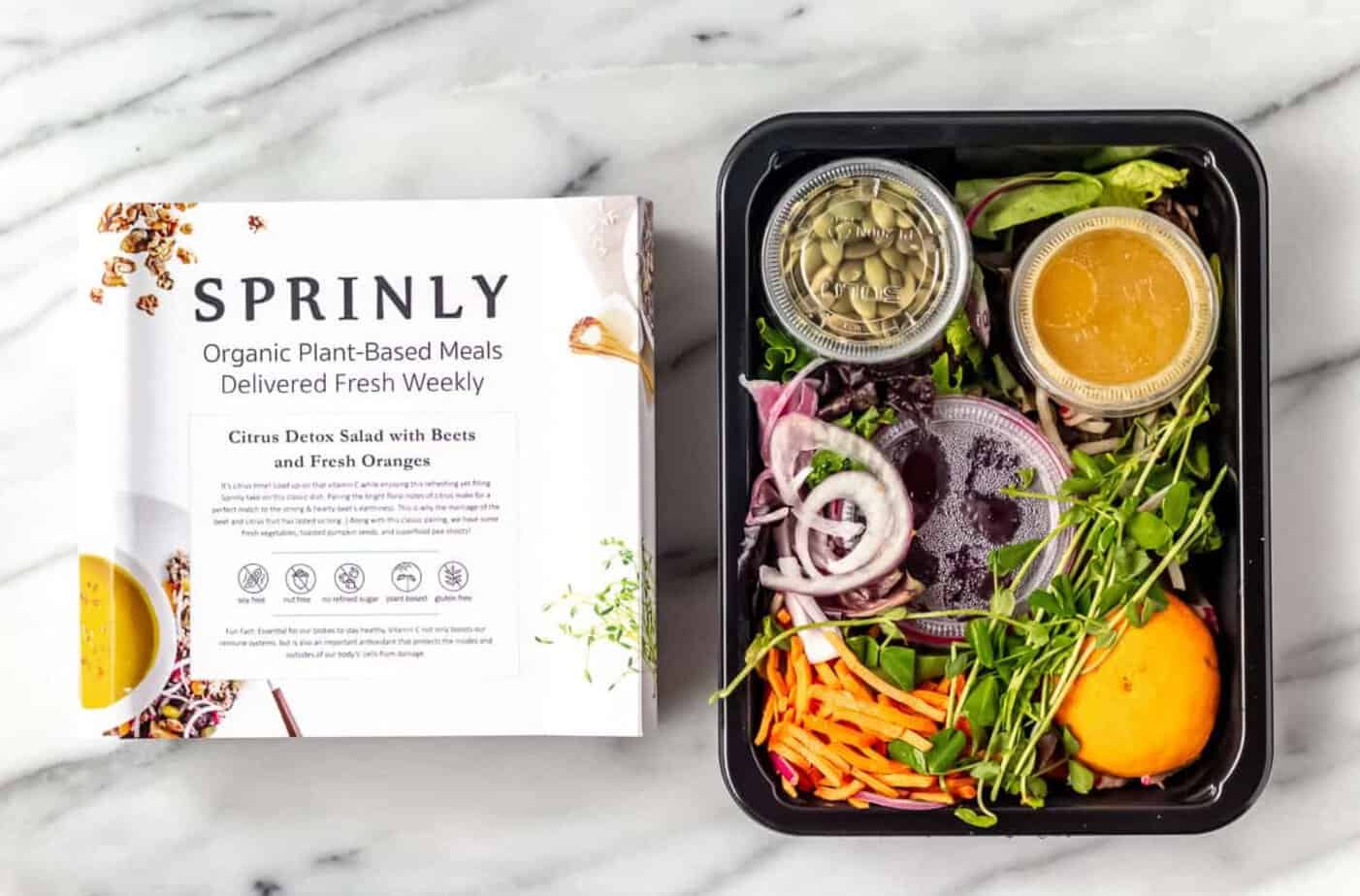 Sprinly is in the business of offering you exquisite gluten-free meals made of 100% plants, and they are not messing around with exemplary ingredients. I'll say right off the grill that this is one of the more expensive services, but it's well worth your time and consideration if money isn't an issue. Sprinly makes healthy living a more straightforward process by mitigating the factors of shopping and planning that can take hours of your day and wreak havoc on your nerves with a busy schedule, as most are accustomed to. They have vegan & gluten-free dishes that can help you live a better and healthier life with control over what you consume instead of being left in ignorance.
The ingredients are fresh and of the highest quality, so you know you're not paying for something sup-par. They have a few subscription plans to help you choose the one according to your specific dietary preferences, and sometimes, these can be life or death if you struggle with particular ailments. These meals are ready to eat, so you won't have to worry about extensive prep time. Even 30 minutes can be a chore for some, and not everyone has a short time window in their day.
Sprinly uses organic vegan ingredients that are nutritiously dense and contain a variety of flavors that will have you smiling with delight. It's easy to create a custom meal plan with six weekly options. They have "meals crafted by chefs & nutritionists for omnivores, vegans, and everyone in between." Sprinly firmly believes that "living an honestly healthy lifestyle should be easy to start and maintain."
Cost
Six Meals
$109

a week or

$18.17

per meal
Twelve Meals
$199

a week or

$16.58

per meal
Eighteen Meals
$289

a week or

$16.06

per meal
Pros
Fresh meals that are plant-based and suitable for vegans or vegetarian lifestyles

Meals are free of artificial preservatives and excessive sugars.

The meals are crafted in gluten-free conditions.

The weekly menu gives you the ability to mix up your meals

Takes pride in the use of primarily organic ingredients
Cons
Rather limited with only six menu options per week

The servings are somewhat expensive for not enough food

Paleo and Keto aren't available here

The price might not be worth it if

you're

on a budget
Mosaic Foods: Your Go-to Vegan Frozen Service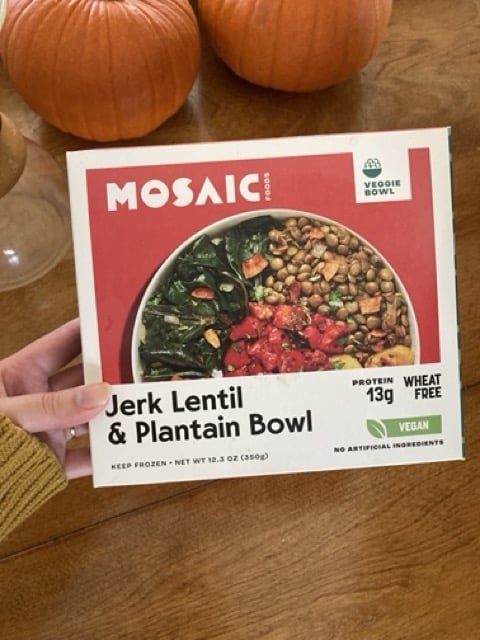 Look no further than Mosaic Foods to discover globally-inspired dishes that keep your taste buds happy with mouth-watering results. They are all plant-based frozen meals, so you don't have to trifle with any preparation that consumes time. Mosaic Foods is on a mission to provide you with meals that are "heavy on plants and rich in hearty, whole-food ingredients." They also have an admirable policy regarding your satisfaction that states, "If you don't like your food, we'll give you a refund, no questions asked."
So you have nothing to lose with this plant-based service emphasizing hearty foods with no strange additives. Ingredient preparation isn't for everyone, so I suggest considering this option if time is scarce. The meals come packaged simple and uncomplicated without sacrificing flavor. You don't necessarily have to heat it in the microwave either, and I highly suggest using the oven instead for a better appeal.
The food isn't your standard frozen quality and is always frozen at the freshest state with significant consideration. Whoever claimed that a TV dinner couldn't be healthy, fresh, & delicious? With Mosaic Foods, you get convenience without tasting terrible, like so many standard frozen options that don't match the picture on the box. One notable feature is their family-packed meals, perfect for giving your kids their daily veggies in one delicious package.
Cost
The meals at Mosaic Foods cost between $4.99 & $10.99 for a serving. You'll need to spend at least $70 when shopping with them online and cover a shipping fee of $7.99. They will shave off the shipping charge if you exceed $100 on your order.
Pros
An astounding variety and a chance to taste various cuisines

Recipes that are forged by professional chefs for higher-quality flavors

The portions are filling and worth the money

Each dish has a high nutritional value that keeps your body healthy

They have 100% vegetarian & vegan dishes to enjoy
Cons
The flavors are rather inconsistent at times and sometimes too exotic for some.

You may have some heating issues with cool spots and uneven temperatures.

The price isn't the greatest, but you get decent dishes with higher-than-average portions at least.

Frozen meals aren't ideal, even when conducted with care and precision.
Read our complete Mosaic Review here: My Week of Mosaic Foods: Review & Guide
Factor: Healthy Organic Meals Made Easy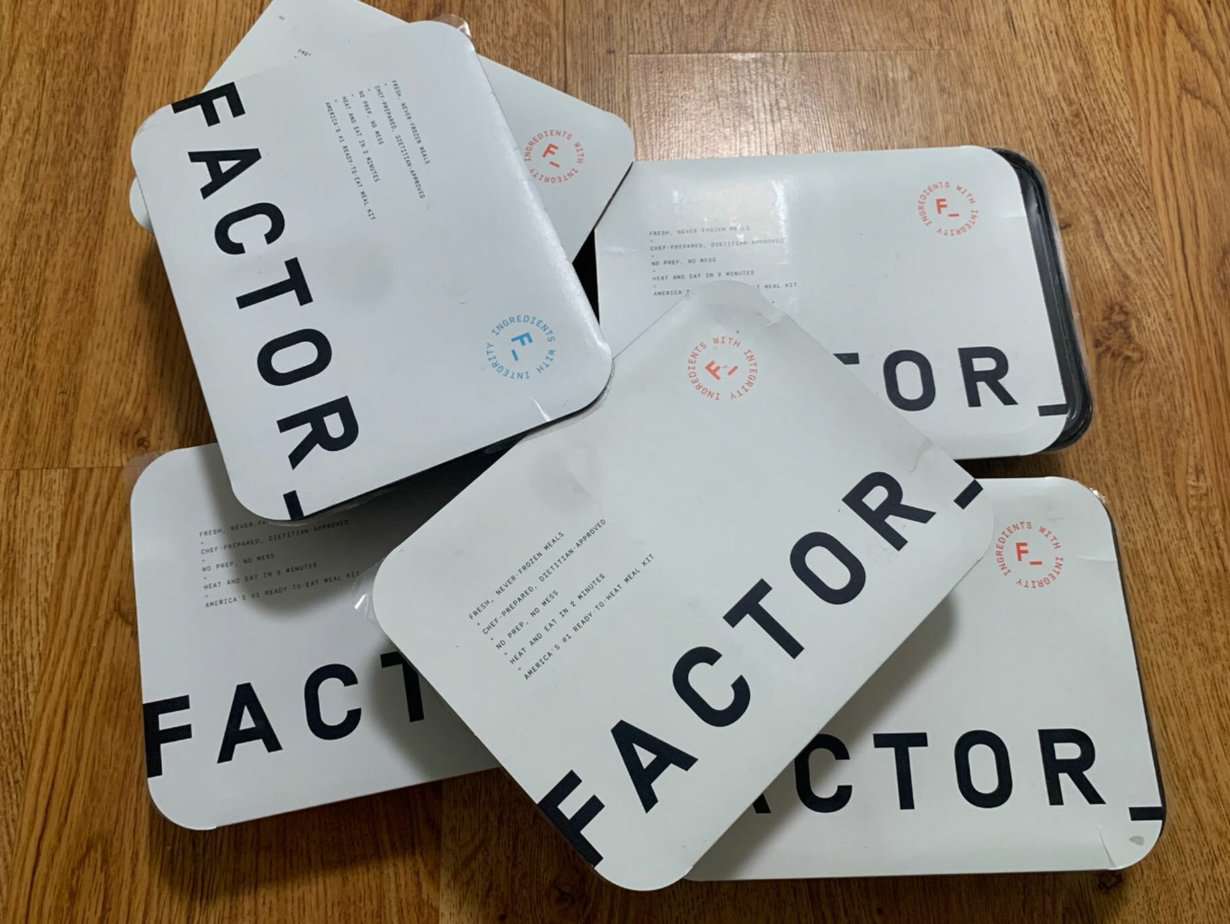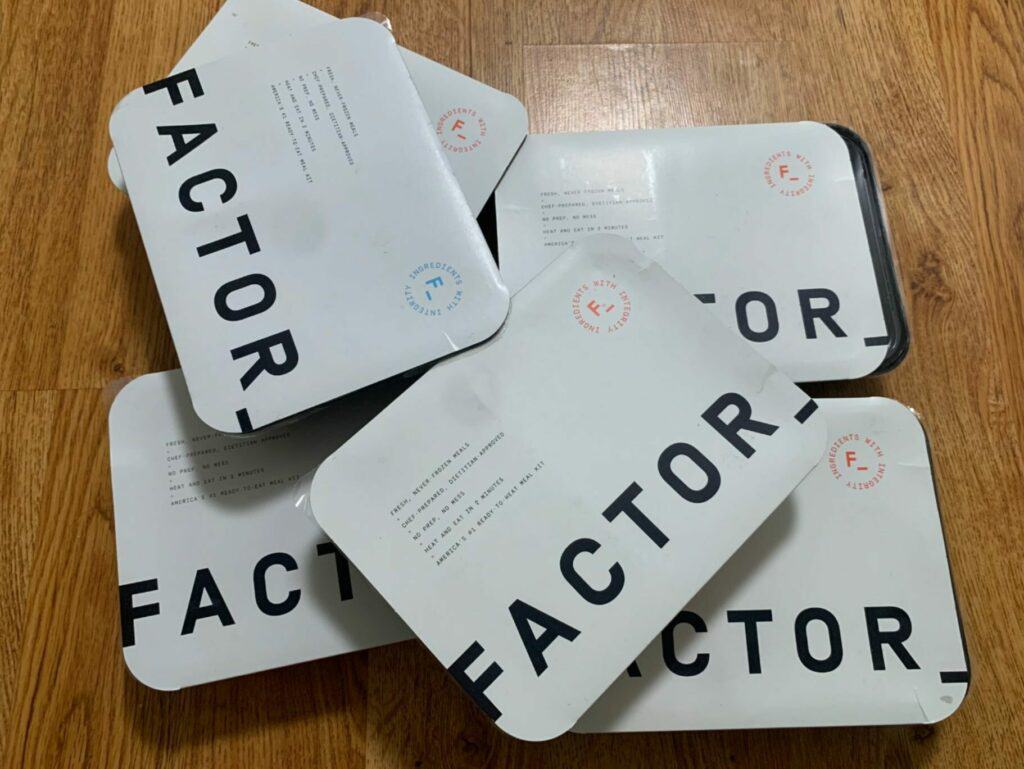 Factor is a premade meal service company that makes your wellness their business with a rotating menu of enriching dishes that help you conquer daily challenges. You can trust this as a top company to get your vegan meals because they work with registered dieticians to ensure each meal is up to a higher standard. Their culinary experts are also a staple of their process so that each dish is memorable and contains revitalizing flavor profiles.
Factor is a meal service focusing on people with more active lifestyles who need a higher level of nutrition and meal integrity than the standard diet. If you're active, you know that accurate portions are important, and they are highly accurate when counting calories. They realize you don't have time in your daily fitness routine to waste preparing a meal for a couple of hours, so you can easily pop one in the microwave before any training session to get that perfect boost of vegan nutrition.
According to Factor, their meals "contain variety and a delicious quality that will make daily living much easier when you don't have time to spare. There are 2-3 vegetarian options on the menu every single week. Many of these vegetarian meals are also considered vegan, which means they are designed to be free of all animal products." You can perceive that they take your health seriously with vegan, fresh, and never-frozen options crafted by expert chefs who care about the customer experience.
Read our comparison between Factor and Green Chef here: Factor vs Green Chef
Cost
Base Price:

$11

per meal

Meals per box:

4-18

Availability: Nationwide

48

states
Pros
Zero-prep meals that are ready to eat in two minutes

The meals are never frozen & always fresh upon arrival

Everything is preservative-free, with no harmful GMOs

Amazing add-ons to spice up your meals and make them more enjoyable

High-protein and low-carb meals are ideal for a lean diet
Cons
They don't have recipe cards if you like to cook and learn new recipes.

Is often more expensive than purchasing groceries at the supermarket

They only have single-serving meals, which isn't ideal for families

Not as many plant-based options as you might expect initially
Veestro: Incredible Vegan Meals, Just Heat & Eat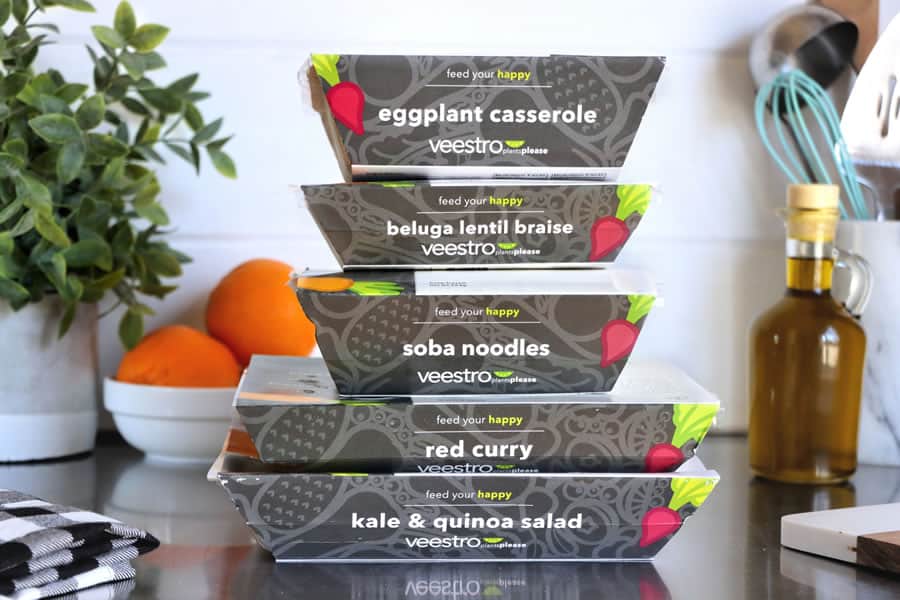 Another notable ready-made vegan meal delivery service worth considering is Veestro. They have both a la carte & subscription options to choose from with delicious healthy foods. They deliver high-quality meals that are fully plant-based without any contamination. They differ tremendously from pre-packaged grocery store meals because the flavor is far superior and worth the extra money to enjoy regularly.
At Veestro, they encourage you to "dig into fresh (not frozen) chef-prepared meals powered by plants to keep you feeling your best." You can choose the specific quantity of your meals within any given week to meet your needs more flexibly. Their cooks handle the complex aspects of cooking and send the vegan foods to your door with haste and a fresh quality that can't be denied. Each meal has dense nutritional benefits that go a long way compared to a standard diet with many common deficiencies.
The ordering process is straightforward so that you can get your product quickly without convoluted details. This is a simplistic service to consider if you want stress-free checkout and delicious results. You can skip or cancel at any point, which is perfect for a hectic schedule if one week doesn't call for their services. Their model of no commitment is perhaps the most refreshing aspect of this company and is worth exploring for a more unrestricted experience.
Cost
Ten Meals
Twenty Meals
Thirty Meals
Pros
The service covers many different diets for most people

A commendable extensive menu experience with many different vegan options

You have a choice between single or recurring orders, so you don't need to commit

A la carte ordering is highly convenient
Cons
There are no customization options with Veestro

Reheating can be a pain to execute properly

There is limited information regarding the sourcing of ingredients
Cook Unity: Perfect Portions & Fresh Vegan Ingredients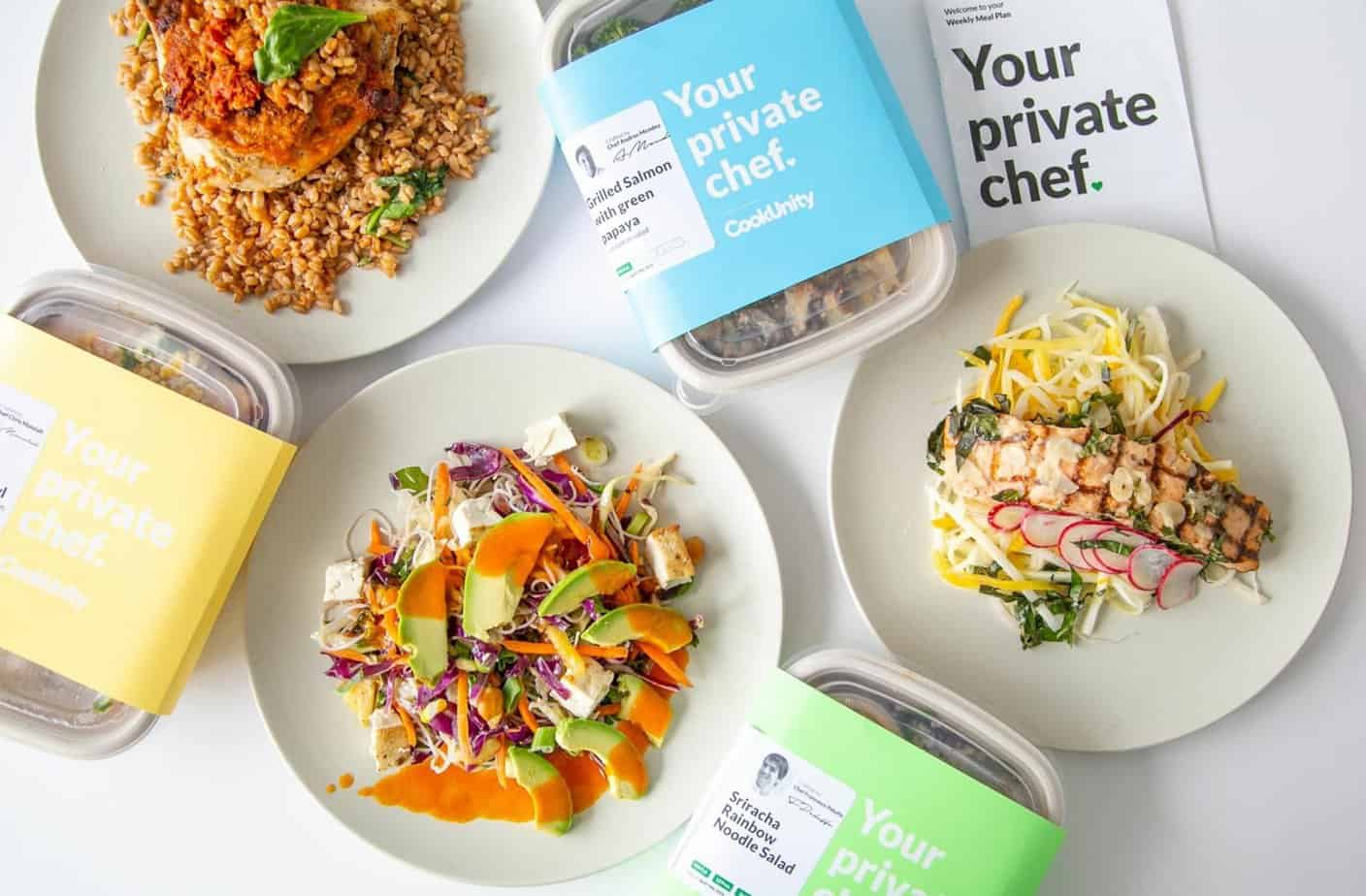 Cook Unity is an attractive vegan meal service that partners with skilled and famous chefs who work overtime to bring the best to your table with extreme flavor and convenience. These are restaurant-quality meals ready to heat and eat upon arrival without the unpleasant surprise of an overpriced bill to trigger indigestion. With over 70 chefs at their disposal, you will get access to some of the most advanced flavors across hundreds of unique dishes that keep you encouraged for the long term.
You can taste the various cuisines worldwide by utilizing Cook Unity as your go-to vegan meal service. It's an excellent opportunity to see how versatile the vegan diet can be. This helps to reduce the stereotypical perception that you must sacrifice good food to eat well as a vegan. Cook Unity proves you can have the best of both worlds with various meal choices and preferences.
They "offer a wide range of organic, fresh, and nutritious ingredients with plant-based meals that expert chefs carefully craft to provide a balanced and nutrient-rich diet." You will be given two ways to heat your meals: Chef's or fast. I suggest going with what the chefs say for the most flavorful experience. If you're busy and don't have the time or money to eat out, then the meals from Cook Unity are perfect for your life and wellness!
Cost
The cost starts at around $10 per meal, but here is the price model for your reference. The more meals you order, the less it is per meal, so keep this in mind if you want to save money and have more meal longevity. First-time customers get a 30% discount on their order.
Four Meals a Aeek
Eight Meals a Week
Sixteen Meals a Week
Pros
Expert chefs craft these meals that are restaurant-quality

A vast array of menu options for your consideration

Accommodates many different dietary preferences

Details about the ratios & macros make for an informative service
Cons
It is not the best service if you need to feed a family

They only have single-serving portions

The selection might be slightly overwhelming at times
Revive Superfoods: Nature's Powerhouse Of Revitalizing Vegan Foods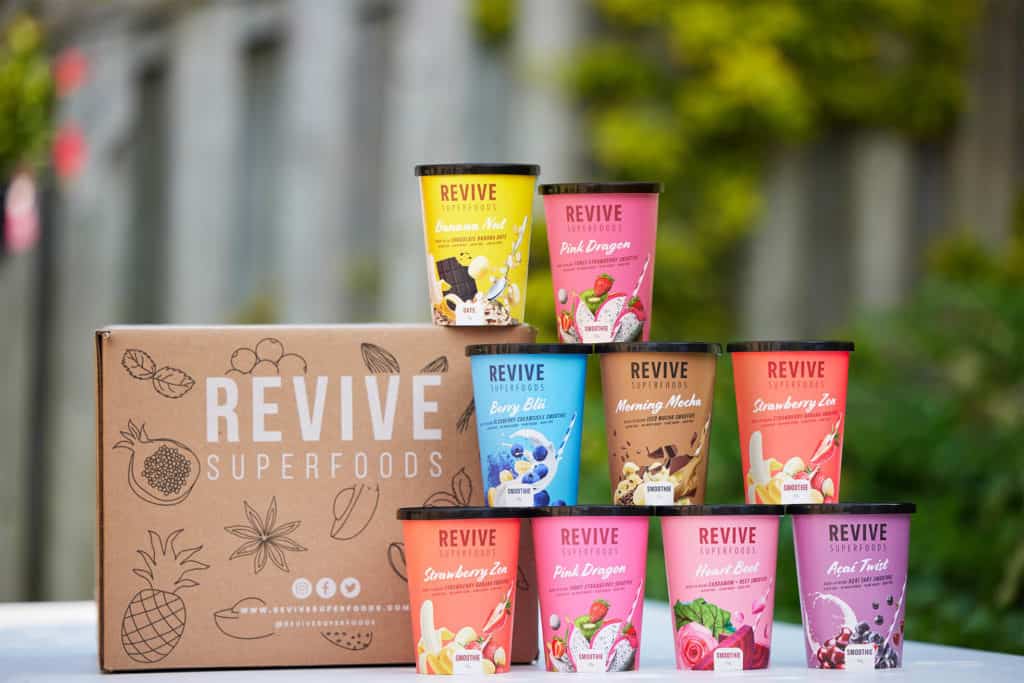 Revive Superfoods will do precisely what the name implies: it will revive your body and mind back to a healthy state with various snacks, meals, & decadent smoothies. With Revive Superfoods on your side, you can access more plant-based foods for your diet, which is ideal if you want to be Vegan and take it more seriously. They have weekly and monthly plans so you can mix and match your most coveted items seamlessly.
After signing up, you can customize your box and select delicious pre-proportioned meals that usually only require a single step for preparation. They source all ingredients locally to ensure optimal fresh quality that is hard to beat. If you're in the market for more superfoods to charge your body and mind, this is a safe bet and one of the best vegan meal services to encourage overall vitality. They offer a complete ingredient list on the menu, so you're never left in the dark about what you eat. Their primary mission is to "provide accessible superfoods that are sustainably sourced without compromising taste and price."
The insulated packaging is top-notch and keeps the food fresh upon arrival so you can enjoy nature's powerhouse of vegan foods. I suggest trying out their "super meals," packed with veggies, fruits, whole grains, & legumes. The smoothies will also boost your health to a considerable degree while stimulating unrivaled taste.
Cost
The cost of Revive Superfoods isn't set in stone, and it will vary depending on what you order. You can choose 9-24 cups per month, influencing the final price. Items range from $5.99 to $6.99, and they offer free shipping throughout the USA & Canada.
Pros
A wide variety of plant-based vegan meals, smoothies, and delicious snacks

It may help you lose weight with the right exercise program

A much more affordable alternative with high quality to back it up

Higher-quality ingredients reliably sourced from local suppliers
Cons
Not everything is organic in the produce department

You may not find what you're looking for regarding various dietary restrictions

Not friendly if you're looking for a low-carb diet
Which Vegan Meal Service Is Best?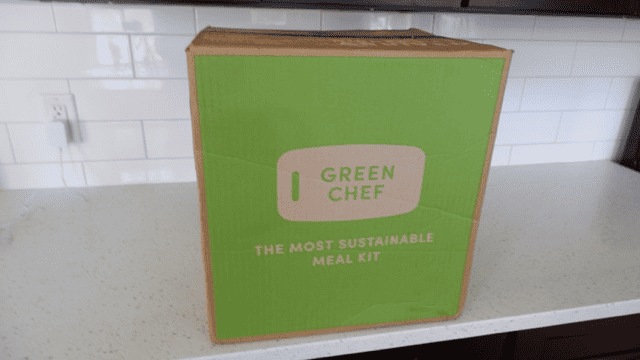 Overall, I recommend Green Chef because of its quality, taste, & sustainably sourced ingredients. They are superior on the review scene, and everything is of a higher caliber. This doesn't mean it's the only vegan option worth your time because the other services might suit your taste better. Green Chef stands out to me and others, and the heftier price tag is worth trying because you pay for better quality vegan food!
Frequently Asked Questions
Question: Will trying these vegan meal delivery services help you on the path to full-time veganism?
Answer: Starting on the path to veganism is no easy task because you have to adapt to new tastes, textures, & effects that fresh foods have on the body. This can often be uncomfortable if you've been eating animal products all your life, but these services can make the transition smoother. Many flavors are incredibly satiating, and you'd be surprised what is possible from a vegan diet. They will encourage you to push forward and enjoy being a full-time vegan if you desire but haven't attained it.
Question: Can you lose weight by trying vegan meal kits?
Answer: I like to think of meal delivery services as an aid to losing weight rather than an immediate solution. You can easily overeat and still struggle with the best vegan foods, so portions and self-control are essential when ordering any meal kit service because these are all exceptionally good. If you couple these meal plans with regular exercise & staying away from the treats, you will notice your body can keep up and digest things quicker. I've found that vegan meal delivery kits increase the metabolic rate and allow you to burn fat more efficiently instead of weighing down your digestion with heavier traditional comfort foods.
Question: Will you save time & energy when using these services regularly?
Answer: Saving time & energy is a given when using a vegan meal delivery service because that's essentially one of the main points for your convenience. However, there might still be some road bumps when preparing them. In this case, you can turn to a fully prepped vegan meal service to make meals more of a breeze. You will undoubtedly save a lot of stress traveling to the grocery store for a couple of hours each time you need new ingredients. It reduces the mental clutter and makes it more desirable for the ingredients to arrive hassle-free. Even if it's more expensive than conventional groceries at times, it's worth that sigh of relief.
Conclusion: These Are Some Of The Best Trustworthy Vegan Meal Delivery Services Within Your Reach!
These are all viable options for you, but certain factors might make you favor one over the other, such as the ability to feed a family. These are all the industry creme de la creme; new ones are always starting to be discovered. These top vegan meal delivery choices will uplift your life with new flavors and a healthier lifestyle approach than sporadically eating bad foods. If you commit to one of these vegan meal services and stay away from the pig troff, I guarantee you will see a difference in the quality of daily living.
These services mitigate the inconvenient factors of shopping in person, and it's a perfect solution if your life is already hectic and you need a viable solution. Try one or all of them to compare the flavors truly and understand which is best. It will make life much easier knowing your vegan meals are accounted for and that there's a charted course toward plant-based wellness with each anticipated delivery!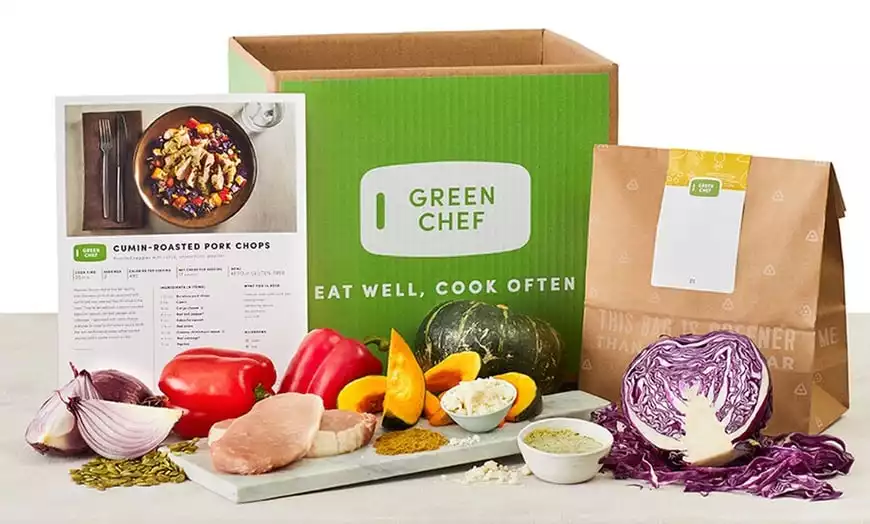 Why Go With Green Chef?
Green Chef is a meal kit service that delivers boxes filled with fresh ingredients on a weekly, biweekly, or monthly basis to make chef-curated meals. Diet and allergen friendly options, are one of the reasons I love Green Chef.
Choose Your Plan
$250 Off for Cyber Week Here
We earn a commission if you click this link and make a purchase at no additional cost to you.