Latest posts by Lauren Vigdor
(see all)
I love to cook, and I've been cooking my entire life. I got my first cooking injury while helping flip pancakes as a toddler (just a minor burn — I was fine!) My mom owned a catering company when I was young, and even after she began a career in teaching, she would cook holiday meals for our huge extended family. I took the knowledge I learned from her and ran with it, and after college spent more than a decade working in restaurants.
As I said, I love to cook, but then again, sometimes I hate it. Sometimes I'm hungry and tired and cranky, and the simple act of cutting some vegetables or adding oil to a pan feels like an insurmountable task. And then there are the dishes. The only thing stronger than my love for cooking is my abhorrence of washing dishes.
That's why I was excited to try Mosaic Foods. A box full of healthy, easy meals delivered to my door, and it comes in packaging that I can eat out of and recycle? Yes, please!
Bottom Line Up Front
While I didn't dislike Mosaic Foods, I probably wouldn't order from them again. I loved how easy and convenient everything was, and I especially loved that I could pronounce everything on the ingredient labels, but I found most of the dishes I tried underwhelming. I think Mosaic is an excellent option if you're someone on the go in need of quick, healthy vegetarian lunches, and even better if you live in an area where it's difficult to access fresh produce, but as someone who works from home, I think I'm better off doing my own meal prep.
What is Mosaic?
Mosaic Foods is a meal delivery service based out of New York. They specialize in healthy, vegetable-forward meals that are full of nutrients and easy to prepare. They source their produce locally from around New York's Hudson Valley, and for every box sold, they donate two pounds of food to New Yorkers in need through the City Harvest nonprofit.
All of Mosaic's meals are vegetarian, and many are vegan. They aren't meal kits but are ready-to-eat meals that can be cooked from frozen with no preparation (other than opening a box!)
What Does Mosaic Sell?
Mosaic's food is broken down into seven categories:
Veggie Bowls

are single-serve portions of plant-forward meals. They can be cooked in a microwave or on a stovetop and cost $9.99 each.

Family Meals

are a complete four-serving dinner in one tray. They come in an aluminum tray that can be popped in the oven for easy preparation. A family meal costs $19.95.

Pizzas

are the newest addition to the Mosaic lineup. They're small, personal-sized pizzas (each is actually two servings) on veggie crusts that can be baked in the oven. They're $11.99 each.

Smoothies

are individual-serving cups of smoothie ingredients. You need to add your own liquid and blend the smoothie. They cost $7.99 each.

Mosaic+

is Mosaic's line of chef-collaborative meals. They're similar to the veggie bowls, but each recipe was developed by a different local chef. They cost $11.99 each.

Soups

are single-serve lunch-sized portions made to heat and serve. They cost $8.99 each.

Oat Bowls

are hearty breakfast bowls that can be heated in a few minutes in the microwave or stovetop. They cost $5.99 each.
According to their website, Mosaic adds new items to their menu every few months. Each month you'll have the option to change which items you want delivered in your subscription box.
Ordering a Mosaic Subscription
Signing up for a Mosaic subscription is easy. Once you enter your contact information, you can choose from three different box sizes: six items, 12 items, or 18 items. I went with the most popular plan of 12 items per box, which also includes free shipping.
They gave me the option to auto-fill my basket with their suggestions. I clicked it to see what they chose but ultimately decided to select items myself. The suggested fill seemed to be a mix of Mosaic's most popular dishes, and many of them ended up making their way into my basket anyway.
I had the option to receive shipments every one to four weeks and could choose deliveries on Tuesdays or Fridays. I could pay via credit card, PayPal, or Google Pay.
My Week Eating Mosaic Foods
My food was delivered a few days after I ordered it. It arrived in a huge cardboard box lined with biodegradable insulation and packed with dry ice. Everything I ordered was still frozen when it got to me, and I transferred everything directly to my freezer to try throughout the week.
I really appreciated the fact that pretty much all of the packaging was recyclable. Most of the single-serve meals can be microwaved and served in their recyclable paper packaging.
Tangy Thai Stir Fry
The first meal I tried from Mosaic was the Tangy Thai Stir Fry. It was sort of a spin on Pad Thai, with rice noodles, veggies, peanuts, and tofu in a tamarind sauce. I followed the instructions to heat it in the microwave.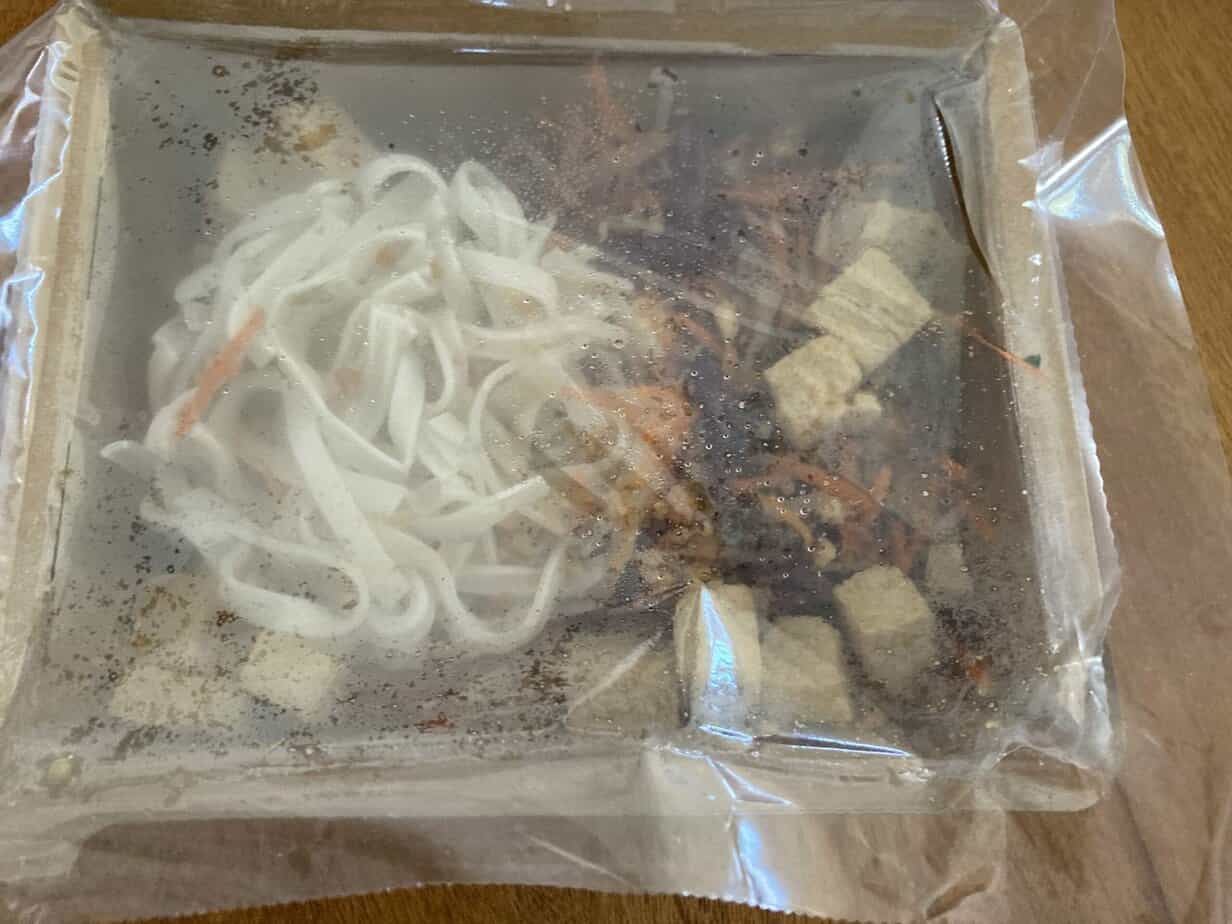 The first thing I noticed was how surprisingly good the texture was. I assumed that a noodle bowl that had been frozen and reheated in the microwave would be a little mushy, but it wasn't! The noodles were soft but had some chewy bite to them, and the strips of carrot, cabbage, and bean sprouts added a nice crunch.
However, the flavor of the stir fry was somewhat lacking. The tanginess of the sauce was nice, but there wasn't really any depth to the flavor. All in all, it was fine but fairly bland. My favorite part was the baked tofu, which absorbed more of the sauce and was much more flavorful than the rice noodles. I didn't hate this, but I most likely wouldn't order it again.
Important Info:
My Rating:
Texture: 7/10

Flavor: 6/10
Green Curry Noodles
The next thing I tried was the Green Curry Noodles. It was described as a "Thai-inspired green curry dish" and consisted of rice noodles with cubes of sweet potato, tofu, and asparagus spears in a green chili, coconut, and lemongrass sauce.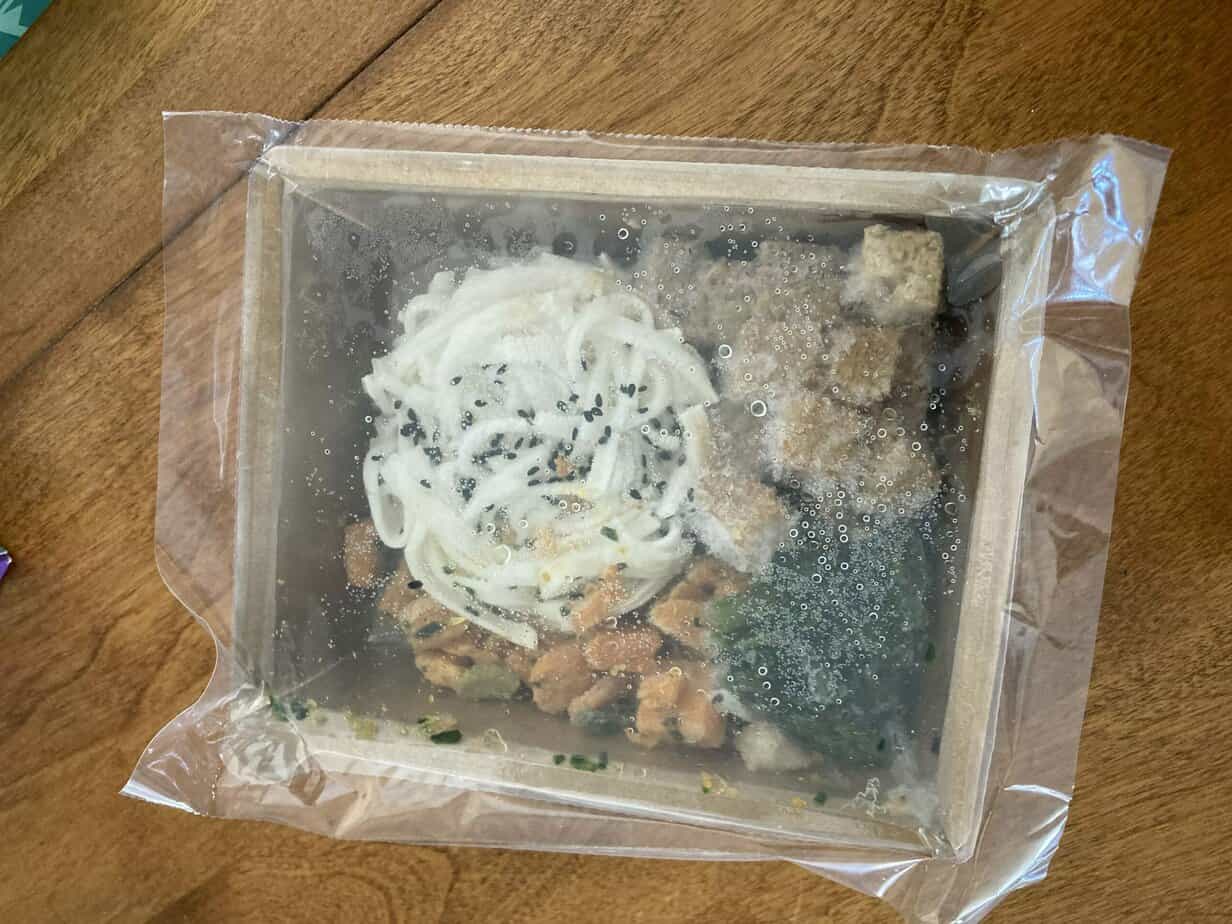 The curry wasn't nearly as vibrant green as the picture on the box, but that didn't really bother me. The noodles had a nice mild coconut and lemongrass flavor, but I was missing the "spicy green chili" kick that was promised in the product description. Just like with the Tangy Thai Stir Fry, the texture was surprisingly good. The sweet potatoes had just the slightest amount of crunch to them, and the noodles weren't mushy at all. Some of the asparagus was just barely overcooked and slightly mushy, but that was forgivable.
Unlike the tangy stir fry, however, the tofu didn't absorb the sauce nearly as well as the noodles and tasted pretty bland. While the tofu was my favorite part of the first dish I tried, it was my least favorite part of this one. That being said, I preferred the flavor of this sauce to the tangy stir fry.
Important Info:
Vegan

Wheat Free

Nut Free
My Rating:
Texture: 7/10

Flavor: 7/10
Mango Lassi
I wanted to try some of Mosaic's breakfast options, so I included the Mango Lassi smoothie in my order. At $7.99 each, I thought the smoothies seemed a little overpriced, especially since most of the veggie bowls were $9.99. I chose the Mango Lassi because it was a little different from the smoothies I tend to make at home with frozen berries, greens, and protein powder.
The smoothie is made from mango, coconut yogurt, dates, orange juice, coconut oil, hemp seed, coconut, rosewater, salt, and cardamom.
It arrived in a paper cup with a reusable plastic lid. The instructions said to open the cup, fill it with your liquid of choice, dump everything into a blender, and blend it before dumping it back into the cup. The cup was super convenient for if you're on the go. I liked that the lid popped back on and had a hole for a straw.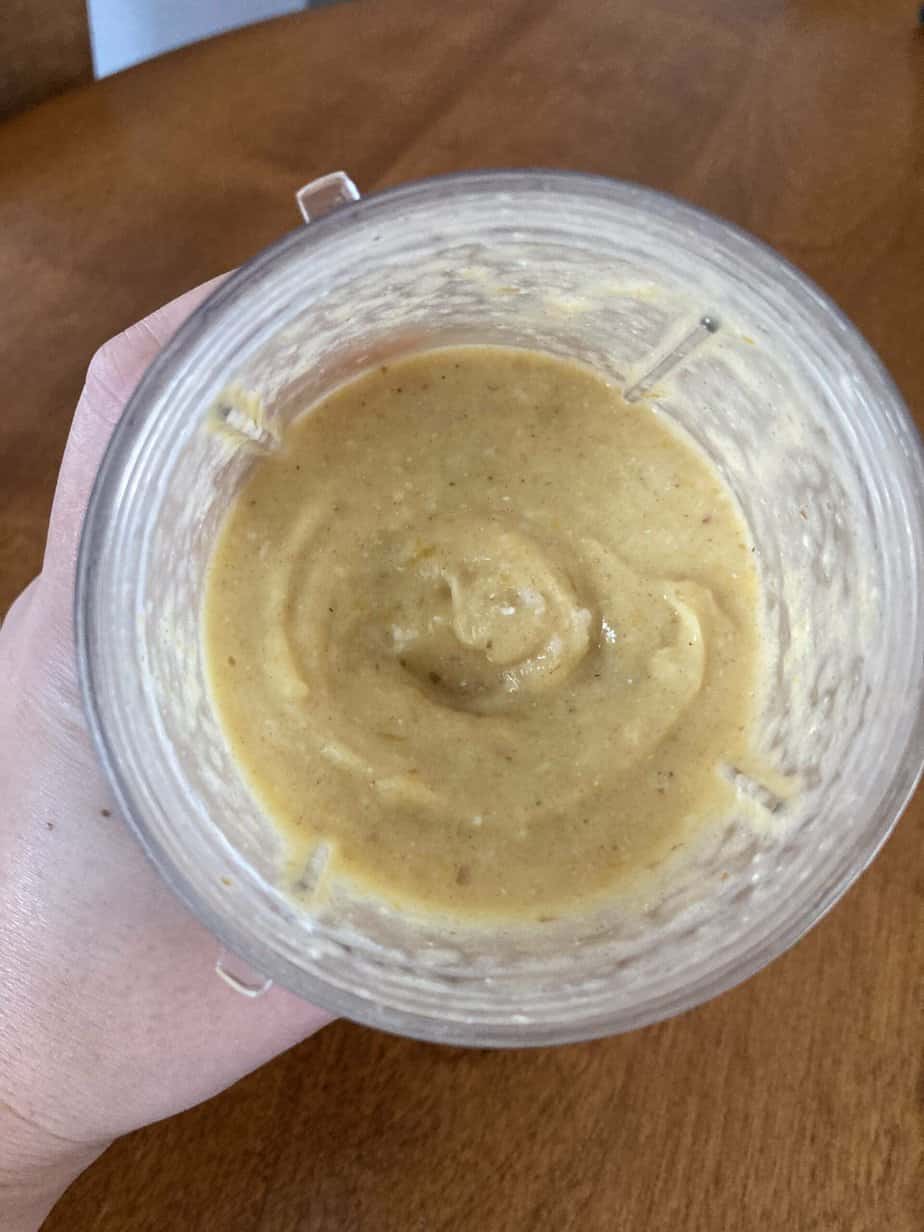 I opened the cup and found it full of chunks of fruit and coconut yogurt. There was no fill line on the cup, so I poured in some almond milk using my best judgment. I suppose not having a fill line isn't a huge deal since it's nice to be able to adjust the consistency of your smoothie to your liking anyway. My smoothie originally came out very thick, like the consistency of a smoothie bowl, so I ended up adding a splash more almond milk to make it easier to drink.
When I dumped the smoothie ingredients into my blender, a lot of the fruit stuck to the bottom of the paper cup. I was able to dig it out with a spoon but had to be careful not to puncture the cup. I ended up pouring my smoothie into a glass to drink out of anyway, so it didn't really matter, but you may want to be wary of this if you intend to take your smoothie on the go.
The flavor of the Mango Lassi was only ok. I wanted more ripe mango flavor, and I was excited about the cardamom but couldn't really taste it. I'm not a huge fan of rose in foods and find that even small amounts can taste overpowering, so maybe I just chose the wrong smoothie. The mango and rose flavors tasted a little flat or even 'wilted' to me. The texture wasn't as smooth as I would have liked. It had some small bits of coconut and hemp seed that gave it a sort of soft grittiness, almost like the texture of ground nuts. The color was a pale beige/peach, which didn't bother me but definitely didn't look like the picture.
I must not have blended everything well enough because I ended up with a small chunk of frozen coconut oil at the bottom of my smoothie, which was pretty gross to bite down on. Of all the things I ordered from Mosaic, this was the one I was most disappointed in.
Important Info:
Vegan

No Added Sugar

Wheat Free

Nut Free
My Rating:
Texture: 6/10

Flavor: 5/10
Peanut Butter, Banana, & Cacao Oats
I ordered one oat bowl from Mosaic, which I guessed was probably the most popular. It was made up of a pretty classic combination of peanuts and bananas along with whole grain oats, dates, hazelnuts, cacao nibs, quinoa, chia seeds, hemp seeds, coconut palm sugar, and salt. I popped it in the microwave and ate it warm.
This one smelled really good, kind of like a peanut butter banana muffin. It wasn't very sweet but still tasted decadent. It wasn't overwhelmingly peanut butter or banana flavored, but instead was a nice, subtle balance between the two. The cacao nibs added a pleasant bitterness to the bowl.
It was very hearty and filling, with a lot of textural variation.
Sometimes I find the peanut butter/chocolate/banana combination a little boring. It's not that I dislike it (it's pretty objectively a good combination); I just think it's not that exciting. However, I liked this a lot more than I expected to! I liked that it had more of a roasted peanut flavor than a sweet peanut butter flavor to it. If you like natural peanut butter, you'll love this. If you're looking for something that tastes a little more dessert-y, you might be disappointed.
Important Info:
My Rating:
Texture: 9/10

Flavor: 8/10
Jerk Lentil & Plantain Bowl
The Jerk Lentil & Plantain Bowl is a rustic, Caribbean-inspired bowl with rice, lentils, plantains, charred peppers, and swiss chard. It's seasoned with jerk seasoning and cooked with coconut milk.
This one smelled SO GOOD. I could smell all the spices in the jerk seasoning as well as the sweetness from the plantains. It looked a bit watery when I first pulled it out of the microwave, but once I gave it a stir, the rice absorbed any liquid in the bowl. The color was gorgeous and vibrant, especially compared to the other things I had tried so far.
The flavor was excellent, though I wished it was a little bit spicy. I didn't get much heat at all, even with jalapeños listed as an ingredient. My favorite part of the bowl was the plantains. They were sweet and soft but not mushy. The strips of coconut added a nice textural element as well. This was definitely one of my favorite things I got in my Mosaic box.
Important Info:
Vegan

No Sugar Added

Wheat Free

Nut Free
My Rating:
Texture: 8/10

Flavor: 9/10
Butternut Squash & Sage Pasta
I saved the Butternut Squash & Sage Pasta for a chilly fall day, knowing I would probably want something comforting and seasonal for lunch. It consisted of cavatappi pasta tossed in a butternut squash sauce with cubes of roasted squash, caramelized onion, walnuts, and sage pesto.
This one was not nearly as pretty as the packaging. Once I heated it and stirred it all together, the sage pesto combined with the butternut sauce to form a kind of watery brownish-green sauce. It smelled great, though! Sage was definitely the dominant aroma once I pulled it out of the microwave. It really smelled like fall!
The texture of the pasta was good. They were fairly thick noodles, and although they weren't quite al dente, they weren't mushy. The squash cubes were just slightly crunchy but tender, which was really nice. I was pretty surprised at how large the pieces of walnut were; I had expected them to be chopped but pulled out full walnut halves.
Just like the smell, the flavor of the pasta was predominantly sage. It wasn't bad — it was creamy and comforting, but fairly one note. I would eat this again but probably wouldn't go out of my way to get it.
Important Info:
My Rating:
Texture: 7/10

Flavor: 7/10
Ginger, Quinoa, & Veggie Soup
It's been getting colder where I live, and we had a few rainy and windy days, so I thought it would be a good time to try some of the Mosaic soups I ordered. The first was the Ginger, Quinoa, & Veggie Soup, a chunky vegetable soup with quinoa, chickpeas, spinach, and sweet potato in ginger, lemon, and turmeric broth.
Unlike the veggie bowls, this soup took considerably longer than the package directions said it would to heat up. I ended up dumping the whole thing into a microwave-safe bowl so that I could break up the frozen soup into chunks to get it to thaw faster. While doing this, I noticed a ton of grated ginger in the broth, which I was excited about.
The soup had a fragrant, gingery smell and a soft ginger flavor. It tasted healthy and homemade but needed a little salt. All of the flavors and textures were great together, but it definitely could have used some more seasoning.
Important Info:
Vegan

Wheat Free

Nut Free
My Rating:
Texture: 10/10

Flavor: 7/10
Pozole Verde
The other soup I tried was the Pozole Verde. I love pozole, so I was really excited about this one. It's made with a tomatillo and roasted pepper base studded with black beans, hominy, and yellow sweet corn.
Unlike the other Mosaic foods I tried, the package directions for this one had me transfer it to a microwave-safe vessel before cooking. The instructions recommended running the paper cup of soup under warm water for 30 seconds to defrost it slightly before transferring it to a bowl. Just like the other soup I tried, this took several minutes longer than the suggested time to heat up.
The soup had a nice roasted poblano and chili smell. The flavor was delicious, more tomatillo than pepper though the poblanos and cubanelles were detectable. It was a little tangy from the lime juice, but I once again found myself wishing for more heat. There were both serrano and jalapeño peppers listed on the ingredients list, and I would have loved a little smoky, charred spice.
The soup wasn't the most appetizing color, but it was what I expected. The broth had an almost "broken sauce" look to it, with the liquid slightly separated from the solids. Despite the lack of spice, this was another of my favorite things I ordered. I would definitely eat this again.
Important Info:
Vegan

Wheat Free

Nut Free
My Rating:
Texture: 9/10

Flavor: 8/10
Peanut Tofu Bowl
The next thing I tried from Mosaic was the Peanut Tofu Bowl. I had a feeling that this might be one of their most popular items because when I selected to autofill my basket with popular picks, this was the only item that they gave me two of. The bowl features roasted tofu, broccoli, peppers, charred pineapple, and crushed peanuts on a bed of farro.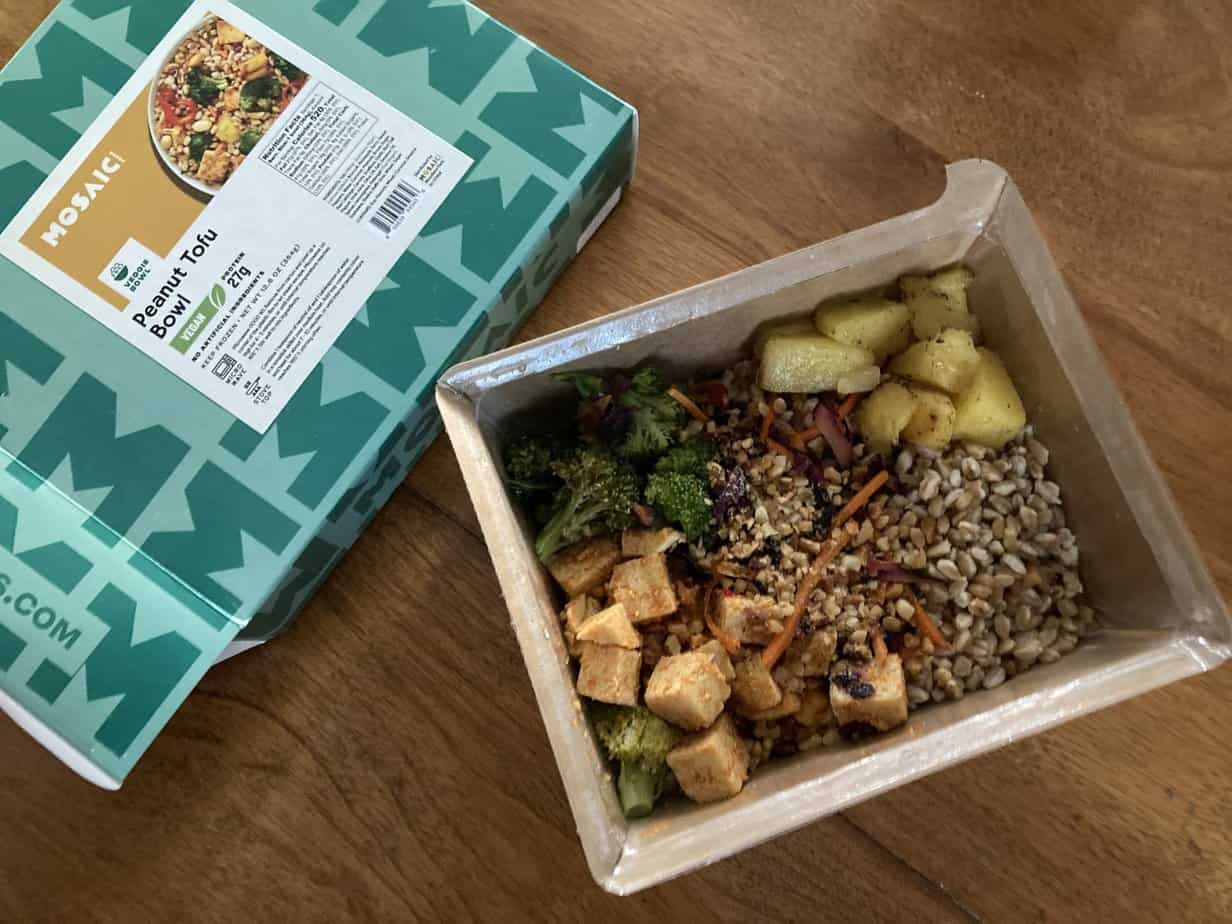 This one smelled really sweet. I was expecting some sort of sauce or dressing on the bowl, but there wasn't one. The website's product description mentioned a blend of "coconut curry and savory Thai spices," so I can only assume that was the marinade on the tofu.
The tofu was mildly peanutty tasting but fairly dry. Nothing in the dish tasted bad, but it felt somewhat disjointed. It felt like something I would throw together on a clean-out-the-fridge day rather than a cohesive dish. I did enjoy the burst of sweetness that came from the pineapple.
Important Info:
My Rating:
Texture: 6/10

Flavor: 6/10
Veggie Kebab Platter
The Veggie Kebab Platter was the only thing I ordered from the Mosaic+ collection, and I immediately wished I had tried more of the chef-created dishes. This one was hands down my favorite thing in the box. It featured falafel-like "veggie kebabs" made of chickpeas, lentils, and veggies on a bed of bulgur and roasted eggplant in a garlicky tomato sauce.
The dish smelled amazing. As soon as I took it out of the microwave, I was hit with the smell of mint, parsley, and onion. It smelled like fresh tabbouleh.
My only complaint was that the kebabs were soft and a little bit mushy. While I wish they were crispy, I understand that would be pretty hard to achieve in a microwaveable meal. Cooking this on the stovetop might have crisped it up a little more, especially if I had removed the kebabs and cooked them in a pan separate from everything else, but I was going for convenience, and sacrifices had to be made. The flavor of the kebabs was outstanding. They were well-seasoned with plenty of herbs and spices.
The roasted eggplant and garlicky tomato sauce were another absolute win. I'm very picky about eggplant because I think when it's not cooked properly, it tends to be slimy and mushy, but the texture of this was perfect, and the flavor was even better.
Important Info:
My Rating:
Texture: 8/10

Flavor:10/10
Broccoli Cheddar Mac Family Meal
I wanted to try one of Mosaic's family meals, and I couldn't resist ordering the mac and cheese. It's made with cavatappi pasta and broccoli tossed in a white cheddar and russet potato sauce and topped with panko breadcrumbs.
Unlike their other products, the family meals are packaged in aluminum trays and reheated in the oven. It took about an hour total to bake the mac and cheese, so it's definitely not a quick meal like the veggie bowls, but it was just as simple with no prep. All I had to do was remove it from the package, cover it with foil, and pop it in the oven. Honestly, I love to cook, but some nights that's about all the effort I can muster to make dinner, so I could see how meals like this could be a game-changer.
The mac and cheese wasn't as gooey and cheesy as I was hoping it would be. It was more like a noodle casserole with cheese in it. The crispy, herbed breadcrumbs on top were nice. I was a little surprised that there weren't any big chunks of broccoli in the dish; there were just very fine pieces scattered throughout the sauce.
The mac had a nice garlicky flavor, and I actually liked that it wasn't too heavy or dairy-laden. I love cheese, but I definitely don't feel great after eating a ton of dairy! It wasn't the mac and cheese of my dreams, but it was a solid and simple meal that was extremely easy to prepare. I served it alongside the BBQ Seitan Pizza (below) and split it between three adults — we ended up having at least a full serving's worth of leftovers.
Important Info:
Vegetarian

No Added Sugar

Nut Free
My Rating:
Texture: 8/10

Flavor: 9/10
BBQ Seitan Pizza
Finally, I wanted to try one of the newest Mosaic offerings: pizza! I chose the BBQ Seitan Pizza because I was intrigued by the broccoli crust and wanted to see how successfully Mosaic could create a veggie version of a traditionally meat-based dish. According to their website's product description, this pizza is an attempt at recreating the "iconic BBQ chicken pizza at the restaurant chain in your hometown mall." It features strips of seitan, red onion, Monterey jack cheese, and BBQ sauce on a broccoli crust.
I have to say, this pizza didn't look super appetizing, but it surprised me! The BBQ flavor of the sauce was really good, and I enjoyed the texture of the seitan. It really did taste like BBQ chicken pizza!
The texture of the crust was a little dry and chewy. I would have liked it a little crispier, but that may have been my fault. I checked on the pizza in my oven and saw the dark color of the sauce and thought I had burnt the whole thing. I probably could have given it a minute or two longer, but I panicked and pulled it out.

I will say that the pizza was smaller than I expected, even smaller than what I would consider a "personal pizza." It was only maybe eight inches in diameter, but according to the nutritional information on the box, it contains two servings.
Important Info:
My Rating:
Texture: 6/10

Flavor: 8/10
Canceling My Mosaic Subscription
Canceling my subscription was very easy. First, I logged into my account, which showed my current box items and delivery frequency (I had the option to update either). It also showed my last shipment date and tracking info, with a button for "delivery problem" in case I had an issue with my last shipment. My account also showed my next shipment date, along with options to reschedule or skip it.
All I had to do to cancel was select "account" from the menu at the top of the window and click "cancel subscription." I really appreciated that Mosaic didn't require me to call customer service or spend a lot of time searching for a well-hidden cancellation button!
Pros & Cons
Pros
The sustainable packaging!

Everything from delivery to preparation was very convenient.

I loved that I could pronounce every ingredient on the label!

I appreciated the variety of options.
Cons
I don't think Mosaic would be a great choice for people allergic to tree nuts, coconut, or soy. Your options will be very limited.

For the most part, everything tasted under-seasoned for my liking.
Alternatives
If Mosaic Foods isn't right for you, you may want to consider one of these alternatives:
Splendid Spoon

– This is a very similar service to Mosaic. They sell healthy, plant-based meals that simply need to be reheated before eating. Their selection is similar to Mosaic's and includes noodle and grain bowls, smoothies, and soups. Their prices are also comparable to Mosaic's. You can read our full review

here

.
FAQ
Question: Is Mosaic Food organic?
Answer: Mosaic Foods is not certified organic, but they do use many organic ingredients in their meals. All of the organic ingredients are listed on the nutrition label. 
Question: How long do Mosaic meals last?
Answer: Mosaic meals last at least three months if kept frozen. All of the meals have a sticker with an expiration date on them. 
Question: How much is Mosaic per meal? 
Answer: Mosaic's cost per meal varies depending on the product, but most fall within the $6 to $12 range. 
Would I Order Mosaic Foods Again?
My favorite part of my Mosaic order was definitely how easy and convenient everything was. The food tasted good, but for the most part, nothing really wowed me. I don't know if I would order from them again, especially since I work from home, but I will probably try to recreate some of their recipes at home, especially the jerk plantain bowl and the veggie kebab platter.
I do think Mosaic Foods is a great option for people too busy to cook and those living in areas where they don't have regular access to fresh produce. While I was underwhelmed by Mosaic's seasoning, the quality of ingredients and cost of the product were both great, and I think, depending on your situation, a subscription could be a great supplement to your regular grocery shop.