Latest posts by Alizabeth Swain
(see all)
Hi there! My name is Alizabeth! I'm plus-sized and pregnant. Sadly, there's a shortage of companies that offer plus size maternity clothing. But, that didn't stop me from trying to find options available for me during my pregnancy.
At the time of this writing, I'm six months pregnant. I really started showing around 22 weeks, but my belly gets progressively larger as the weeks go on. As you can imagine, I've had a few sob sessions over the difficulty I've had finding clothes that fit me.
For me, it hasn't been the struggle of finding clothing that fits over my belly. Instead, I've run into problems having tops fit my bust.
So, I've started on the long (and stressful) journey of trying to find plus size athletic wear that'll fit me. Why athletic wear? My thinking is, is it'll give me the support that I want and need during all of the stages of my pregnancy.
If you're looking for an open and honest review from a plus size babe, comparing Athleta vs Fabletics, you've come to the right place. Let's hop into what you need to know!
TL;DR: This comparison wasn't particularly close as the more inclusive sizing (up to 4X), money back guarantee, and member discounts is definitely with the Fabletics brand here. That said, if you do need some swimming activewear, Athleta does have a good selection (while Fabletics does not have any).
Main Differences Between Fabletics vs Athleta
Fabletics offers options for members who are interested in subscriptions and one-time purchases, whereas Athleta only offers one-time purchase options

Fabletics goes up to a 4x, whereas Athleta goes up to a 3x in their plus size section

Fabletics offers a 45 workout guarantee, whereas Athleta doesn't offer a guarantee

Fabletics doesn't offer athletic wear for swimming sports, whereas Athleta does

Fabletics offers member credits, whereas Athleta doesn't

Fabletics is more cost-affordable, whereas Athleta charges more for a lot of their clothing
Inclusive Sizing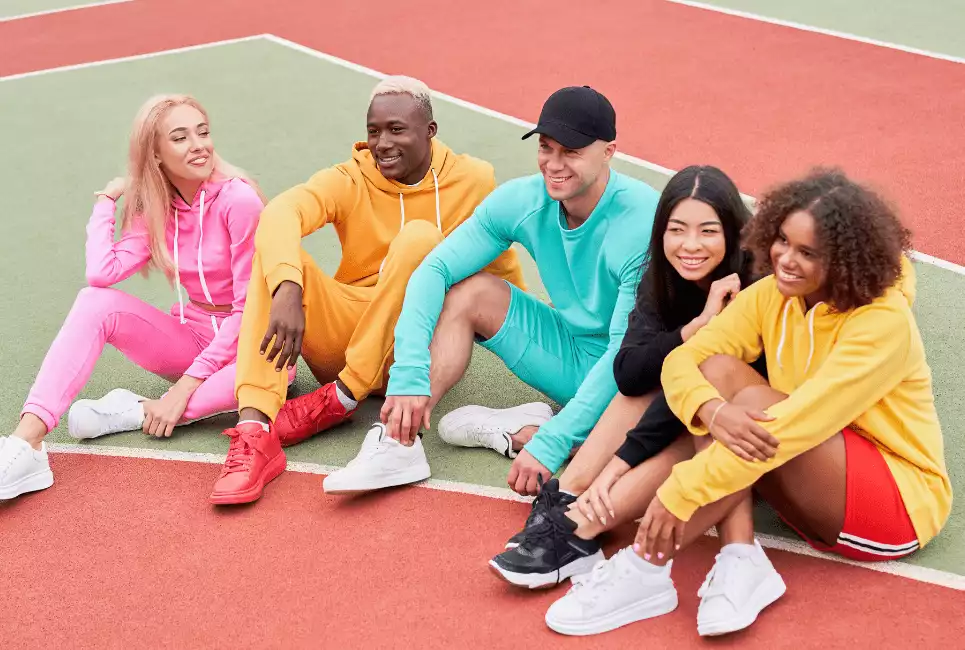 Why Go with Fabletics?
The hardest part about finding activewear you LOVE, is getting the sizing right. Most companies just want to reach a "certain customer", but Fabletics offers sizes up to 4X AND more color combinations than competitors.
Check Current Special Offers
We earn a commission if you click this link and make a purchase at no additional cost to you.

First, I'm going to start off by telling you about my experience with Fabletics. Fabletics is an athletic wear company that caters to both straight size and plus size bodies. Plus, they offer athletic wear for all sorts of different sports and activities.
What makes Fabletics stand out from other companies on the market is not only do they cater towards plus size bodies, but they also offer affordable athletic clothing.
You can save even more money on your athleticwear purchases from Fabletics by signing up for their subscription.
The subscription that Fabletics offers is what they call their VIP membership. There are many benefits that come with their VIP membership. One of the biggest perks (in my opinion) is the big discounts you get off of the clothing they offer.
However, you can also receive reward points with your VIP membership. Lastly, you get early access to the sales they have.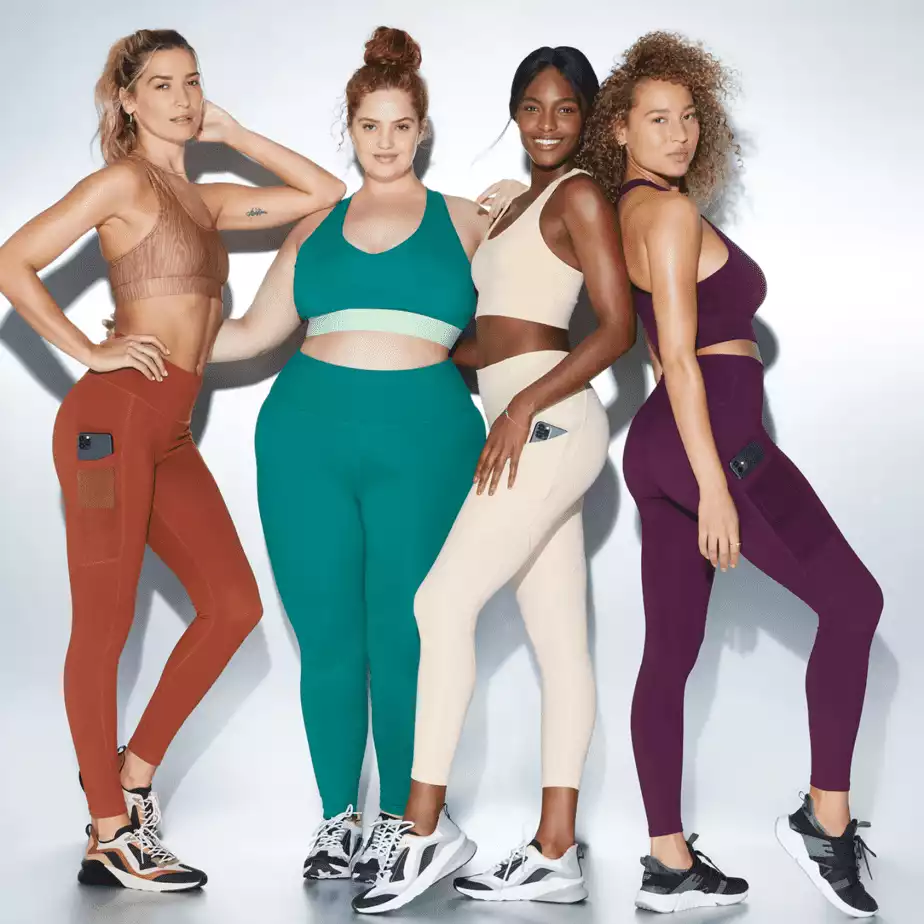 What is Fabletics?
Fabletics is an athletic wear company that offers affordable and stylish pieces of athletic wear to bodies of all sizes. If you're looking for clothing that'll fit your active lifestyle, Fabletics is where you should look. They've got tons of different colors, designs, and patterns for you to choose from.
Plus, they have clothing that'll fit different activity levels, such as yoga and swimming. I also really like that they offer comfortable clothing, such as crop tops and sweatsuits.
You can choose to shop for Fabletics in person or online. If you want don't want to pay full price for their clothing, you can pay for the VIP membership program they offer. This membership program will offer you all of the clothing they offer, but at discounted prices.
What's the Fabletics VIP Membership Like?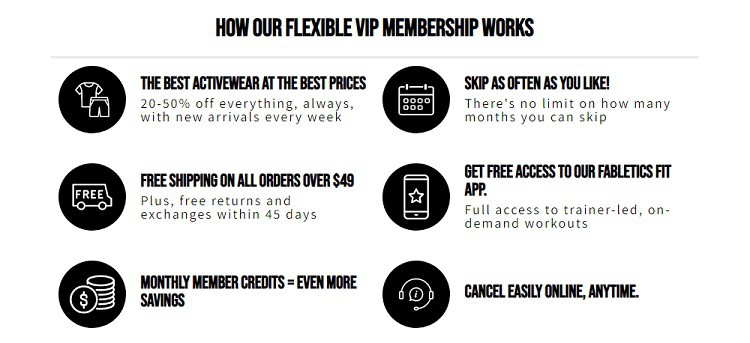 The Fabletics VIP membership would send a text to my phone every few weeks. They would text me when my monthly collections arrived with a cute graphic and a link to my monthly collection.
Also, they would send me a text message with a heads up about when they've released new arrivals. Plus, I would get texts whenever they had sales going on.
So, I would get early access to the sales. Even after I've canceled my subscription with the VIP Fabletics membership, I'm still receiving text messages about their sales and VIP exclusives.
The VIP membership gave me between 20% to 50% off the regular prices they had for individual pieces and for outfits. Also, there are new arrivals that come each week with the VIP membership.
For the months that I didn't want to receive anything, I was able to select an option that allowed me to "skip" the month. This means that my card wasn't charged on the months that I wanted to skip. But, I also didn't receive any points or rewards for those months.
For you to skip over the month, you'll need to hit the "skip this month" button on your account before the 6th of each month.
If you don't choose the "skip this month" button, you'll be charged $49.95 for the month. The benefits that you get with your credit will give you the discount on outfits.
The VIP membership also comes with access to the Fabletics fit app. This is something I never see talked about in commercials or advertisements for Fabletics. But, the app was full with workouts that were lead by professionals trainers.
Lastly, you'll get free shipping on all orders over $49. You can get free exchanges and free returns if you aren't completely happy with what you've ordered.
Can You Buy Fabletics without a Membership?
Yes, I was able to purchase Fabletics with and without a membership. If you don't have a VIP membership, you will still receive reward points. When you go to check out with the i tems in your cart, you'll have to unclick the 'VIP membership' box that's automatically clicked. Checking this option will ensure you're able to check out as a guest and you won't get charged for a VIP membership.
My Fabletics Experience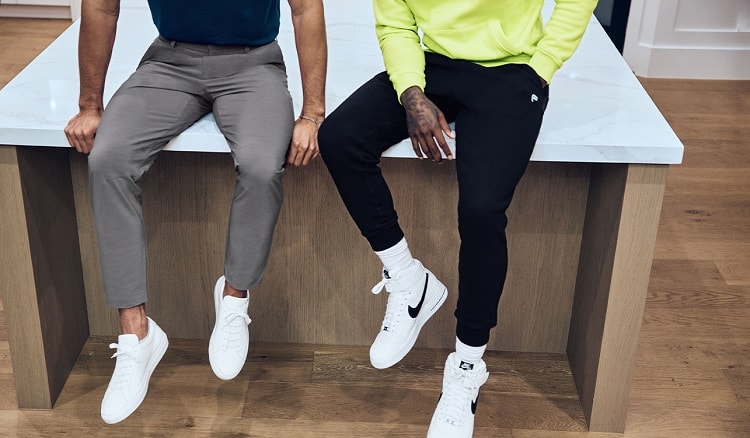 If you're new to signing up for Fabletics, you may want to take advantage of the offer they provide for the 2 for $24 workout leggings deal. When I first signed up for Fabletics, I ordered two outfits. I made the $49.95 for my membership. Then, I went in and went shopping around. I ordered:
Kessler Medium Impact Sports Bra in a 2X ($44.95)
No-Bounce Sports Bra in a 2X ($49.95)
The Boost II High-Waisted Strappy 7/8 2X ($54.95)
High-waisted PureLuxe Maternity Legging 2X ($69.95)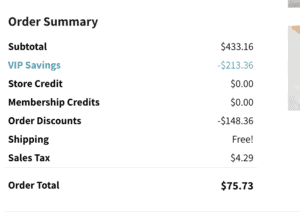 Fabletics stated that my order subtotal was $33.16. With my VIP membership, I saved $213.36. I didn't have any store credits or membership credits.
I also received another $148.36 off with order discounts, which I believe are the coupons I used from my Honey extension. This put my order total at $75.73, including sales tax.
Then, the waiting game began.
Fabletics Shipping
I did receive a heads-up from Fabletics about the possibility of it taking extra time to receive my order. The reason behind is because they said it may take them extra time to ship my order because of COVID-19.
I ordered on May 11th and it took until July 16th to get my order, because of shipping delays cause by COVID. However, I understand these shipping delays aren't the result of Fabletics. My package just kept getting lost with USPS.
Unboxing my Order
I received my Fabletics activewear order in an unmarked bag. When I tore open my bag, all four of my clothing pieces were wrapped individually in plastic bags. Also, I had a few different cards that felt out of my polymailer too.
The first card was for a Firstleaf advertisement, which was for a wine subscription box. The next card was an advertisement to receive 14 free meals from Hello Fresh. Lastly, I received a sample from IT Cosmetics, one of my all-time favorite cosmetic brands.
I really loved that I got a skincare sample in my order, as that was something I really wasn't expecting to receive.
All of the bags I received my clothing in were made with 100% recycled and biodegradable materials. I LOVED that I got this type of bag in my Fabletics order! It made me feel so much less guilty about all of the plastic that came with my order.
Also, the bag claims that it'll break down in 12 to 18 months, which is much faster than how long it takes for other plastic products to break down. This was the best part of my unboxing, personally!
Outfit #1
The first outfit that I bought together was this super cute tye-dye duo. The sports bra is the Kessler Medium Impact Sports Bra in blue/lemon creme.
I ordered this in a size 2X for $44.95. The leggings that I ordered with this sports bra are The Boost II High-Waisted Strappy 7/8 in blur/lemon creme. I ordered these in a 2X for $54.95.
This first outfit will probably fit me a lot better once I'm not pregnant anymore. It doesn't fit badly, it's just not flattering.
The seam of the leggings hits right across my belly, so I have this weird little lump that forms in the leggings while I'm wearing them. It's because the seam cuts in hard into my rounded belly, so I don't feel super confident in them.
Put that aside and I'm really happy with this first outfit. I would still have to wear light colored underwear, as dark blue or black undies would be see-through. Also, I love the support that this sports bra has to offer.
It's comfortable enough to wear out for grocery shopping. I would still wear a regular bra underneath (I'm a 40DDD, so I want the extra support). The straps weren't confusing to put on either.
Outfit #2
This outfit wasn't made to go together, but I'm really happy that I got it. I ordered the maternity leggings in a dark green shade to match with the cheetah print sports bra top.
The maternity leggings are SO comfortable! I definitely think these leggings will get me through the rest of my pregnancy without a problem. They aren't see-through and they're super easy to put on.
Are the leggings plus size pregnancy approved? YES!
As for the sports bra, I enjoyed the support from this bra much more than I did in the first outfit. When I'm wearing a sports bra, I want my breasts kept tight to my chest.
I understand that I bought a medium impact sports bra in my first outfit, so I'm not upset about it at all. But, the extra support in this second bra is what I always look for in my sports bras. The second outfit is an absolute win for me!
Fabletics Pros and Cons
Pros
Affordable
Huge selection of sizes, from an XXS to a 4X extended sizes
Massive selection of patterns, colors, and cuts of clothing
Different types of clothing depending on the different intensity levels
Sales and VIP membership perks
Clothing felt really great quality
You can shop online and in person
Shoppable via activity you're participating in
Have plus size models modeling their plus size clothing
Environmentally conscious
Offer shoes and other accessories for you to choose from
Cons
The number of emails and texts I would receive from Fabletics was annoying
There's really only one con I can think of. I seriously loved every aspect of my Fabletics shopping experience!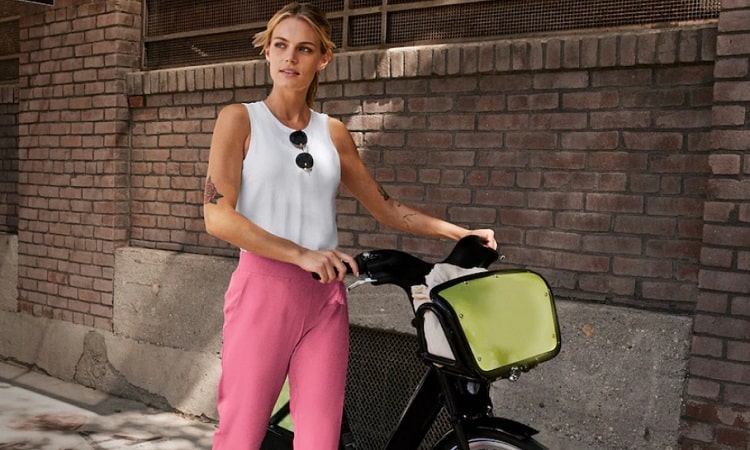 Now, Fabletics set the bar really high in terms of my expectations. I ordered Athleta on the same day I ordered Fabletics. So, I had my initial Fabletics impression to go right alongside my first experience with Athleta.
What is Athleta?
Athleta is an activewear brand that focuses on producing athletic wear for women, made by women. Not a lot of people know this, by Athleta is a brand that was developed by GAP Inc.
If you're plus size and looking to purchase athletic wear, you may notice that there's a shortage of companies that offer options.
Not to mention, it can seem impossible to find a company that offers affordable options. A lot of plus size companies online that say they offer athletic wear end up only offering loungewear.
A browse on the Athleta website and you'll find that they offer an interesting mix of clothing options from athleisure clothing to workout clothing. There are shorts, wraps, tank tops, tee shirts, jumpsuits, skorts, dresses, legging selections, and joggers for you to choose from.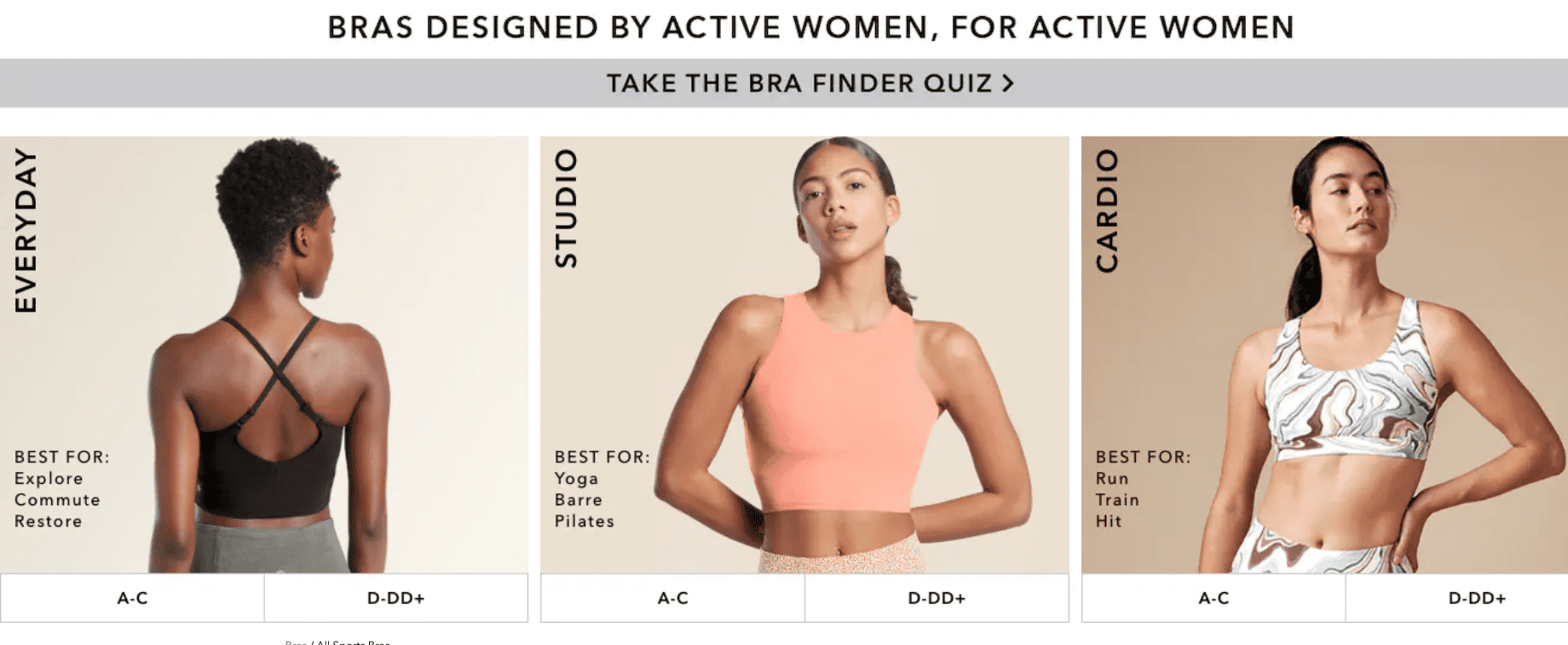 Does Athleta Offer a Subscription?
No, Athleta doesn't offer a subscription option to everyone. Unlike Fabletics, Athleta doesn't offer an option for you to pay a monthly fee that'll help you to save money on your order if you aren't a fitness trainer or instructor.
However, Athleta does offer a discount to people who are over the age of 18 and are certified fitness instructors, personal trainers, or fitness professionals.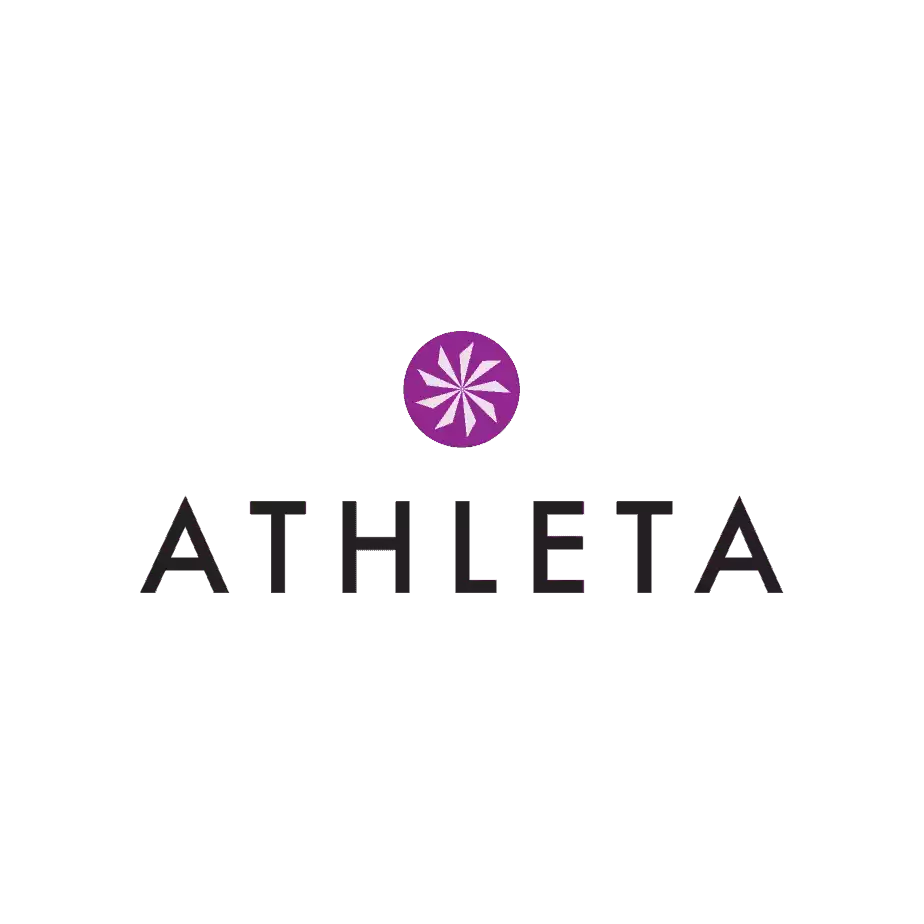 What my Athleta Experience was Like
When I went shopping on Athleta, I was looking around to see what their plus size models looked like in their clothing. While I am pregnant, I've been plus size for the most of my life. So, I know what I'm looking for when a company shows a plus size model wearing their clothes.
Not all of the clothes that were offered in Athleta's plus size section were worn by plus size models. But, this makes sense, because not all of the clothing they offered in their plus size section was exclusive to plus size bodies.
However,f from when I went shopping, there was a lot more clothing that catered to the straight size and plus size sections, rather than just plus size.
Now, this wasn't something I was happy with. Why?
It made me nervous. As a plus size fashion influencer, I know there are a lot of clothing companies out there that offer plus size clothing. However, it doesn't mean that the clothing was made to cater towards plus size bodies.
Sometimes, brands think they can "offer" plus size clothing by just adding on some extra fabric. But, this means the clothing wasn't made to specifically fit plus size bodies.
Also, when I went shopping around, it was really hard to find cute athletic wear that was supportive from Athleta. A lot of the clothing they offered in plus sizes was more along the lines of loungewear and wasn't genuine plus size clothing.
My Athleta Order
I ordered the Elation Pirouette 7.8 tight in riveria blue in a size 2x. This was for $49.99. I also ordered a matching bra to go with these leggings, which were the Solace Bra in size DD+, in shade rivera blue. I bought these for $39.99.
In total, my package came to $95.38. I wasn't able to find any plus size maternity options, so I didn't have super high hopes that this outfit was going to last me long into my pregnancy. I do think that this will be something I try again once I've delivered my baby.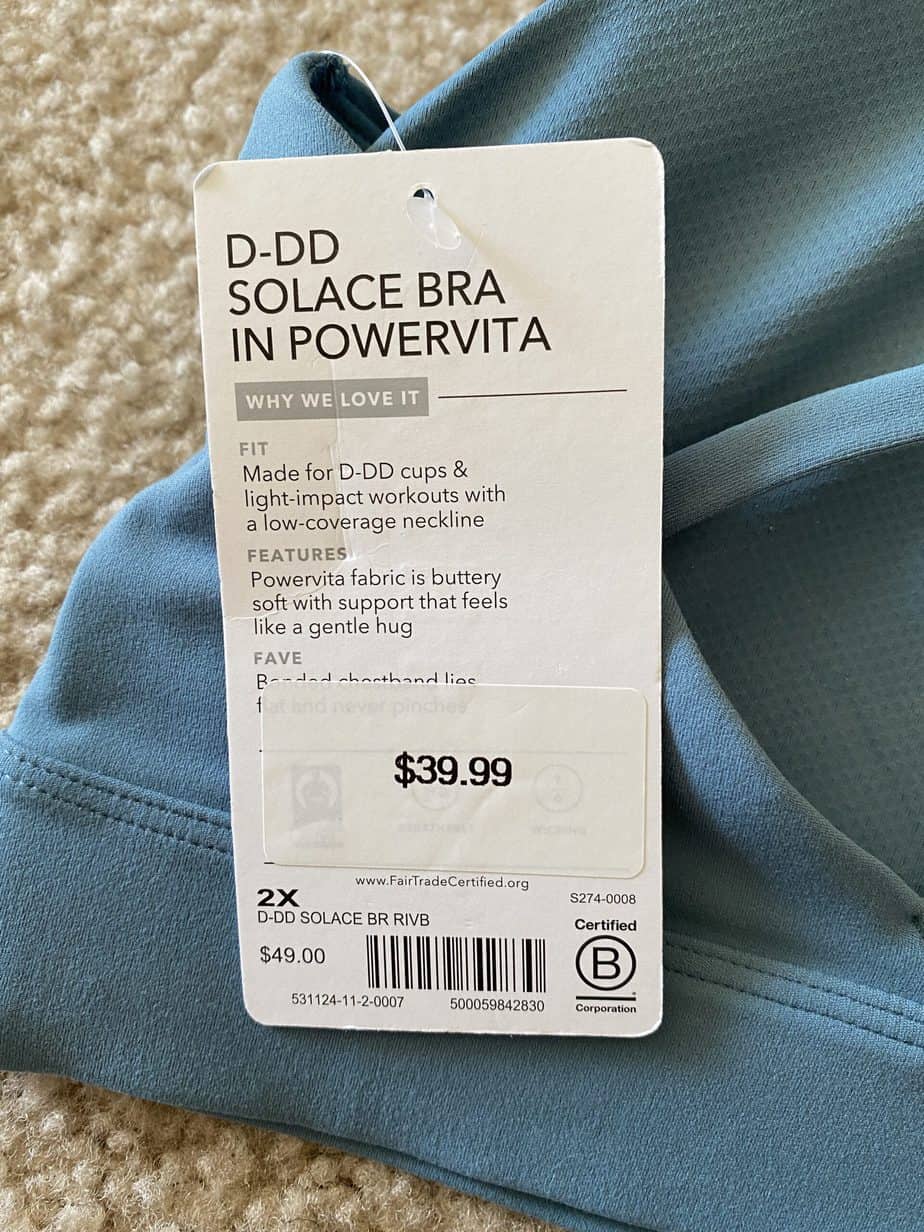 Unboxing my Order
I received my Athleta order in around one week, which was much faster than I received my Fabletics order. There wasn't anything special about the packaging, as I also received this in a grey polymailer.
I wasn't happy with how the inside of my order was package though. There wasn't any paper or plastic that the clothing was wrapped in. If my polymailer had been torn open, there was nothing there to keep my clothes protected from mud, dirt, or rain.
Also, the clothing wasn't folded nicely either. It was balled up. It was like someone had just thrown the $95 order in a bag and shipped it out without any care.
Outfit #1
I only bought one outfit from Athleta, so there's only one outfit I'm going to be reviewing here. However, I'm super disappointed in the quality of the material.
The sports bra had nice pads to it. I also liked the placement of the straps in the back. However, the sports bra had absolutely NO support to it.
I've got a large bust and this was literally just like putting a tank top over my bust. I chose this outfit because I was expecting it to have some support. But, this sports bra didn't deliver any support.
The leggings were nice. I like the length of the leggings, but also wasn't impressed with the quality of the fabric. They were see-through in the butt and thigh area. Also, I could tell that after a handful of uses, my thick thighs would rub through the fabric.
Overall, the Athleta outfit wasn't worth the $95. I'd pay no more than $20 for this.
FAQs
Do you still have a few questions about Fabletics that still haven't been answered yet? Don't worry! I'm going to break down the most frequently asked questions and give you the answers you've been searching for.
Question: Do Membership Credits Expire for Fabletics?
Answer: Yes, Fabletics states that membership credits do expire. They state that their membership credits expire after 12 months. However, Fabletics claims they'll remind you before your credits expire out of your account.
Question: Is Canceling Fabletics Easy?
Answer: Canceling Fabletics is easy, but it's not as easy as the cancellation process for a lot of other subscription companies. You don't have the option to simply click 'Cancel subscription' as you do with other companies. Instead, you have to reach out to their customer service.
You can choose to call their customer serviced representatives at 1-844-322-5384. They're available 24/7. Or you can choose to chat online with a customer service agent, which is what I chose to do. After about two minutes of chatting with an agent, I was able to cancel my subscription.
Question: How Often does Fabletics Restock?
Answer: Any styles that are sold out, Fabletics tries to restock within a week. However, this is partially the reason why Fabletics offers new style drops every week. You can follow them on their social media pages to learn about when your favorite styles are restocking.
Question: How do I Skip my Fabletics Subscription?
Answer: You can skip over your Fabletics subscription during a certain period of each month. Between the 1st and the 5th, you'll have the option to "skip this month" on your account or on your homepage for Fabletics. If you're unable to access their website, you can call their customer service.
Do you have a few questions about Athleta that weren't answered by this guide? Don't worry, I'm going to break down your FAQs and help you to find the answers to the questions you've been asking.
Question: Can You Return Worn Clothes to Athleta?
Answer: Yes, you can return any worn clothing to Athelta. You also don't have to state a reason behind why you're looking to return the clothing.
Question: Can Athleta be Returned to GAP?
Answer: Yes, you can return Athleta to GAP, Old Navy, or Banana Republic physical stores.
Question: Does Athleta do Free Hemming?
Answer: One perk that I wasn't aware of when shopping around Athleta is that they offer free hemming if something you ordered doesn't fit you properly.
Apparently, all you have to do is go into a GAP store and you can get free hemming done. Also, you can apparently get free fitness classes, but I haven't found anything on how you could access them.
Athleta vs Fabletics – Which One is Worth it?
Bottom Line Summary: Fabletics blew Athleta out of the water by a long shot. Not only is Fabletics a lot more size-inclusive than Athleta, but they're also a lot more affordable.
You can be on a budget and still be able to afford an outfit (or two) from Fabletics with their VIP membership. With the VIP membership, I was able to buy two outfits from Fabletics for less than the cost of what I ordered from Athleta.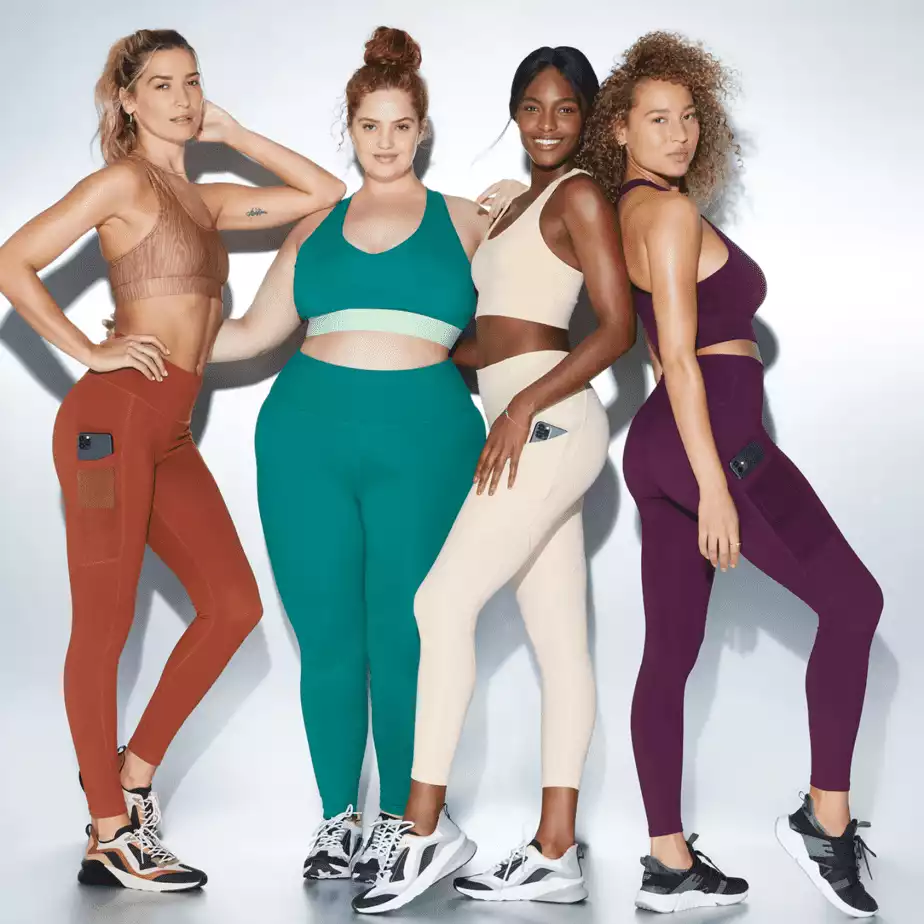 Plus, there were so many more exciting colors and prints. Athleta seemed to "skate" by offering plus size "active wear", but they just didn't have the options that Fabeltics offered.
Athleta had a lot of loungewear. Fabletics had plus size models showing off all of their pieces. Also, Fabletics had different outfits for activities.
There are so many more benefits that came with Fabletics, even without the VIP membership, than Athleta. I would highly recommend Fabletics over Athleta any day!
Fabletics & Athleta Competitors Compared
If you are still not sure, consider the follow brands as well: