Latest posts by Subscriboxerinchief
(see all)
Sun Basket and Factor 75 are both meal box services that can save subscribers time in the kitchen and the grocery store. Both of them are perfect for those of us with busy lives who want to find easy ways to stay on track when it comes to healthy eating. They make it easy to make healthy choices and are a great alternative to take out or freezer aisle junk food.
Despite the shared health and convenience factors, these two services are very different. I loved both Sun Basket and Factor 75, but I decided to compare them and see which subscription came out on top. Would it be Factor 75 or Sun Basket?
Sun Basket is is a weekly meal basket subscription service. Subscribers receive a box that includes all of the ingredients they need to make Sun Basket meals. The box also includes a detailed instruction booklet with recipes. This service made cooking dinner easy and fun. It inspired me to try new recipes that I never would have come up with on my own.
Everything was really delicious with flavors that came from fresh herbs and citrus instead of tons or salt and fat. Sun Basket provides organic ingredients grown by sustainable farmers. The service costs $69 price for 3 dinners with two servings each of their Chef's Choice recipes (check here for the latest prices).
They include meal choices that are paleo, gluten-free, soy free, vegetarian, dairy free and "lean & clean. They also have a family menu option so you can increase the number of servings to match the size of your family.
Factor 75 is a healthy meal delivery subscription service that provides food without gluten, soy, GMOs, hormones, antibiotics, and preservatives. The meals come to you fully prepared and never frozen. All you do is heat and enjoy. This service provided shockingly delicious meals!
I really doubted that steak out of a microwave would be something I would enjoy eating, but all of the proteins in my Factor 75 were juicy and fresh. I don't know how they did it, but all of their meals were great and the service made me indulge in healthy lunches that were way more elaborate than the things I usually made for myself.
All of their meats are pasture-raised and grass-fed. All ingredients are organically grown. I signed up for 4 individual meals for $60 (check here for the latest prices). The meals can be either lunch or dinner. I picked my meals from over a dozen choices based on what sounded the most delicious, but you can filter options based on dietary preferences and restrictions. They had paleo, vegetarian and ketogenic options.
Health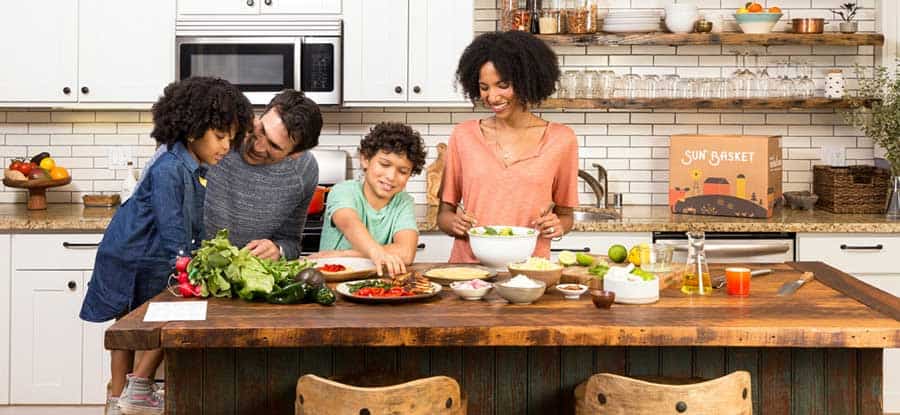 When it comes to these healthy meal delivery services which one was healthier? It's really hard to say. Both plans were focused on providing satisfying and tasty low carbohydrate meals. One of my favorite Sun Basket meals rang in at 520 calories per serving for the Italian sausages with warm cauliflower-kale salad and artichoke romesco.
One of the most delicious Factor 75 meals was about the same at 590 calories for Steak and Sweet Potato Fries. But, like Factor 75 says on their website, not all calories are equal.
The Sun Basket meal was loaded with veggies while the Factor 75 meal was high in protein and important fats. Both were healthy, but in different ways. One flaw that both services had was that they don't really do many vegan meals, so if that is your lifestyle you should probably look elsewhere.
Both services use organic ingredients and whole foods. They are also both earth friendly with easy to recycle packaging.
Tie
Price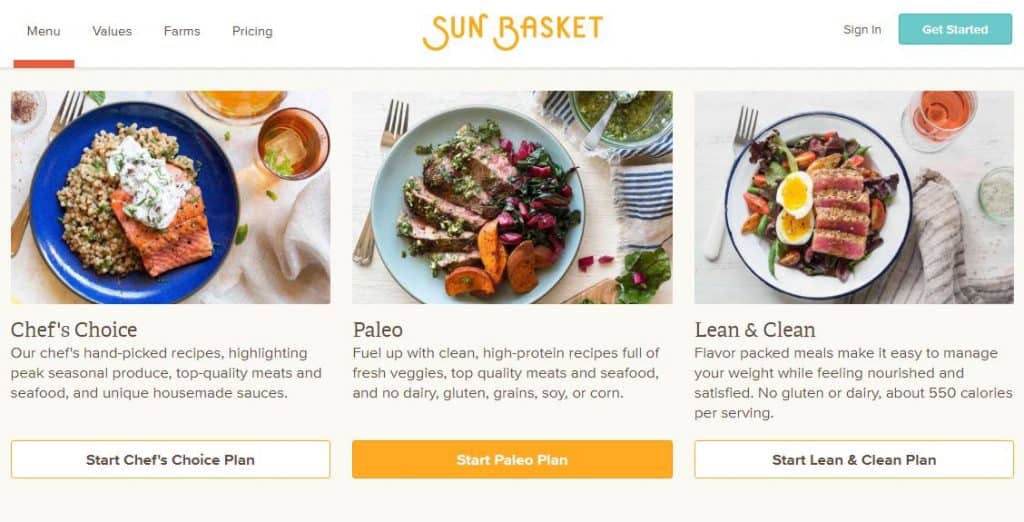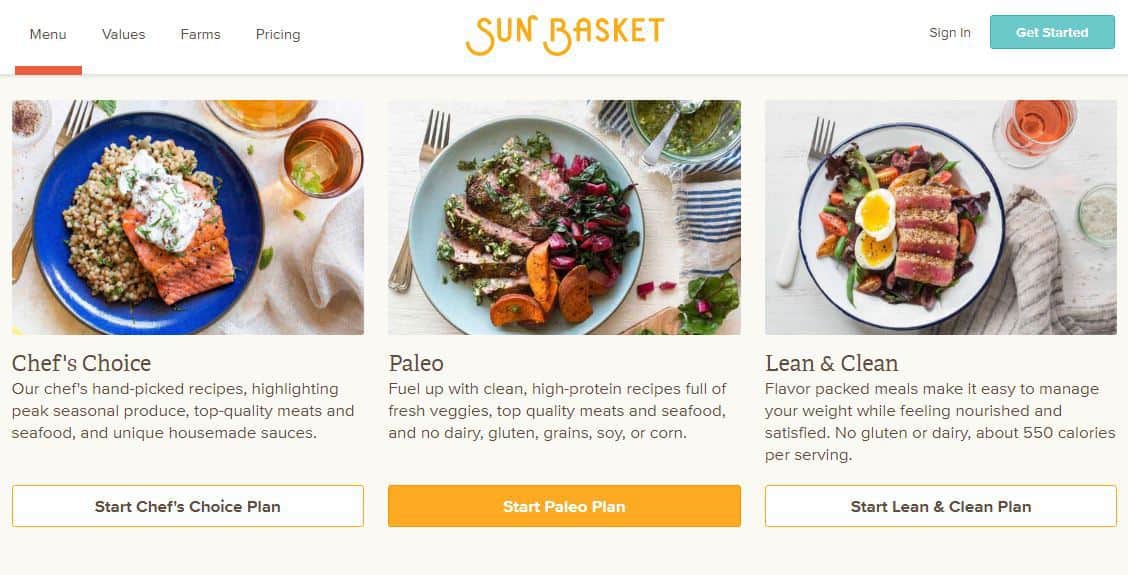 When you break it down to price per meal Sun Basket is the winner. Sun Basket breaks down to be about $12 per plate while Factor 75 is about $15. Despite this easy victory for Sun Basket there are a few other points to consider. Factor 75 provides ready made meals while Sun Basket requires a little more work.
You have to take the time to cook and clean up after your meal with Sun Basket. Maybe the extra couple of dollars is worth it for a meal that is ready to go from Factor 75? No matter what your opinion, Sun Basket is the more affordable choice.
Winner: Sun Basket
Customer Service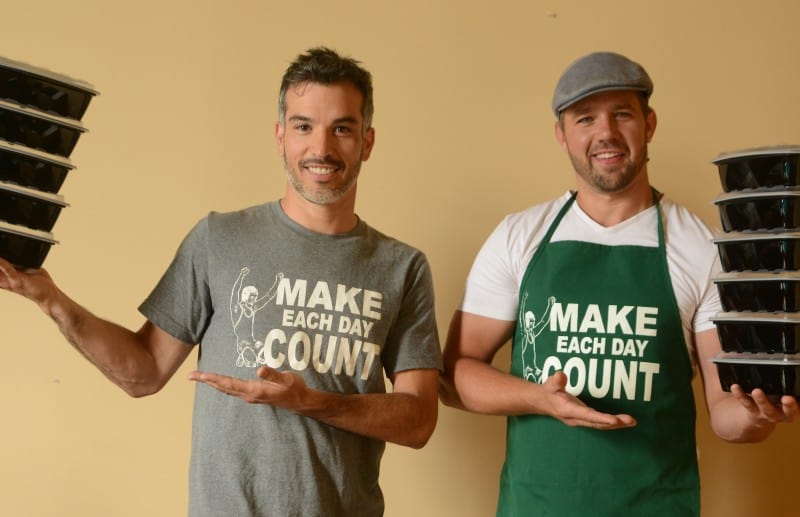 Both of these services were easy to sign up for, easy to customize and easy to cancel. They had customer service teams that were quick to respond to my questions via email. Factor 75 also included a complimentary 30-Minute Nutrition Consult with a registered dietitian on their staff. This service is always included for first time members.
You can talk to a registered dietitian on a scheduled phone call or Google hangout. It was awesome to be able to ask a professional all of my dietary questions. I thought that this really added value to the subscription.
I felt like it wasn't just a meal delivery service that I was using, but an entire health service that was there to answer questions, help me personalize my plan and stay on track. Plus, Factor 75 notes that a service like this would cost hundreds at a private practice.
Winner: Factor 75
What's Different?
The biggest difference between Sun Basket and Factor 75 was the amount of effort that it took to get each meal to the table. Factor 75 provides ready made meals so I was able to go from kitchen to table in minutes. Sun Basket came together quickly but definitely required more work.
To me, Sun Basket was a great dinner option for couples while Factor 75 was great for an easy, healthy lunch. When it comes to dinner, Factor 75 was great for nights that I was eating solo. These two services each meet such a different set of needs that it is really hard to rank them.
I love that both services encouraged me to eat healthier and have a meal that was a bit more extravagant than what I would throw together on my own. I had to call it a tie because it really all depends on what you're looking for.
Tie
Overall Assessment of Sun Basket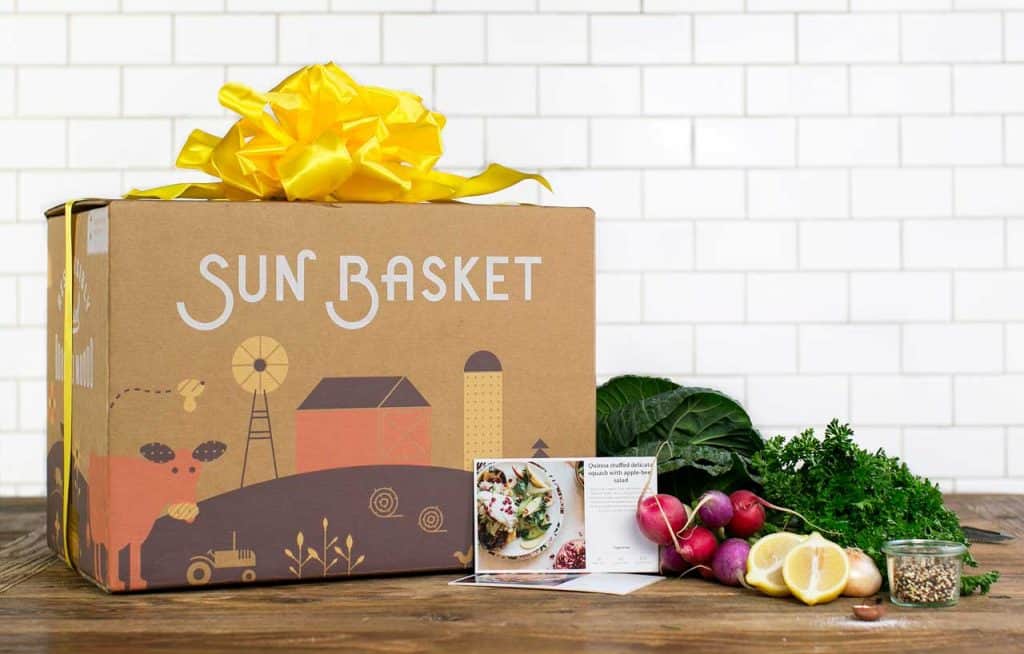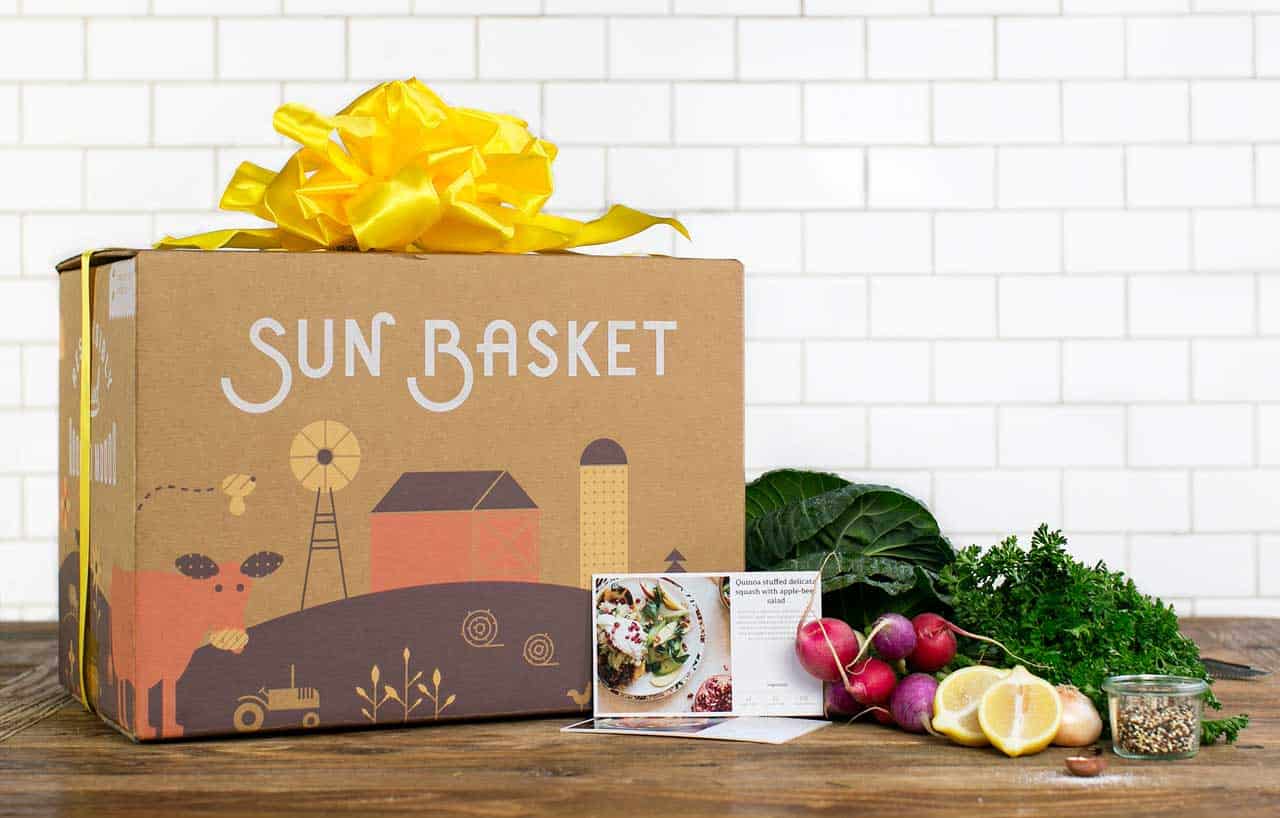 Pros
Saves time on shopping
Saves time on meal planning
healthy
great customer service
earth friendly packaging
less costly than Factor 75
Cons
You still need to cook.
There's a mess to clean up after dinner.
Overall Assessment of Factor 75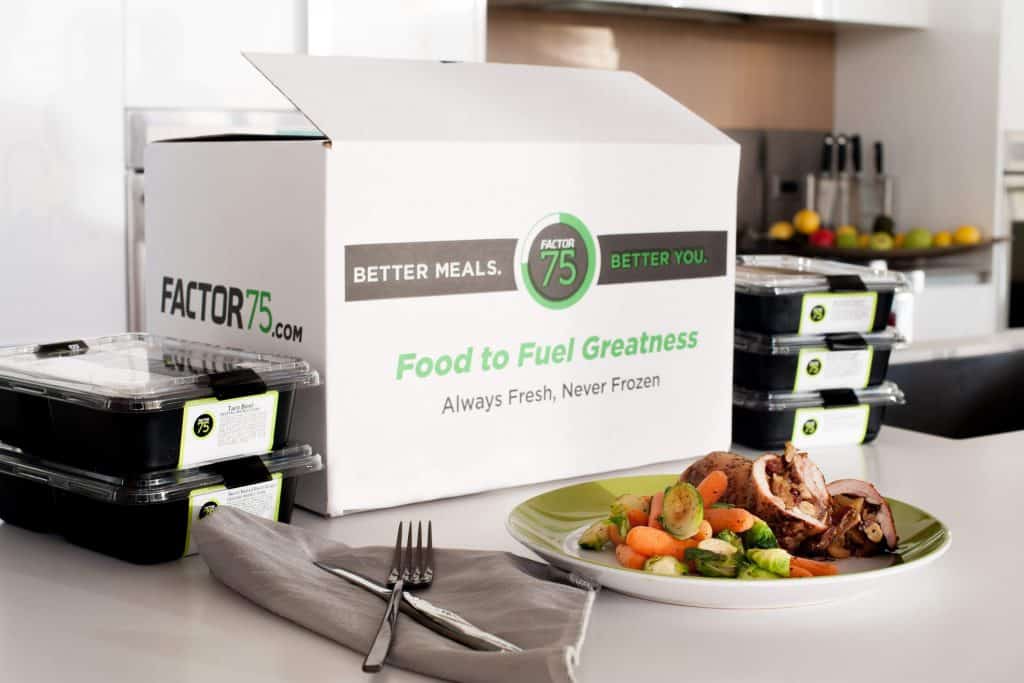 Pros
Saves time on shopping
Saves time on meal planning
No need to cook or clean up after!
healthy
Great customer service
I loved the dietician consult!
earth friendly packaging
Cons
Pricier than Sun Basket
Not as good for couples or families
Even though Factor 75 won me over with the nutrition consultation and super easy heat and eat preparation, I still adore Sun Basket. I think that the two services complement each other really well. I would love to subscribe to both and enjoy my healthy, easy Factor 75 lunches and then cook up my healthy, easy Sun Basket dinners.
That would be the life. Of course, I would sub in a Factor 75 dinner for nights when I eat alone. These two services were difficult to compare because, in my opinion, they each serve a different role. Both can be a crucial part of staying on track when it comes to your health and wellness.
I think that both plans are ideal for busy people who want to spend less time planning and shopping for food. With Factor 75 and Sun Basket you can be confident that maintaining a healthy lifestyle will be super easy!
Alternatives to consider.
Another meal delivery service that is similar to Factor 75 is Freshly. They also provide ready to heat and eat meals that are healthy. They boast that you can have your meal in 2 minutes or less, so they definitely understand that the fast and easy factor is important to their customers.
They also make low carb high protein meals. I would love to give this service a try. Their price point is a bit lower at around $50 for 4 meals per week (check here for the latest price).
Hello Fresh and Plated are two more services that are similar to Sun Basket. Hello Fresh is $9.99 per serving (check here for the latest price) while Plated is $11.95 per serving (check here for the latest price). Their recipes look just as enticing as the ones that I have tried with Sun Basket. I would love to give these two a try.
Final word on Sun Basket vs. Factor 75
Even though Factor 75 is the winner, I have nothing bad to say about Sun Basket! In fact, I still plan to use both services in the future and I fully recommend them both. I think that the meal delivery subscription box market has so many different options and they each fulfill a different purpose.
Why not try them all? To me, both of these services work together so it's hard for me to pit them against each other! I think that Factor 75 and Sun Basket are both winners, and each meal that I had with both was a total win.
To learn more visit www.sunbasket.com and www.factor75.com for details.
Further Reading on Meal Delivery Kits