Latest posts by Trevor Abbott
(see all)
People's eating has shifted with the fast-paced lifestyle as more are opting for the convenience of online meal kits. Not only that, but they are also becoming more conscientious about the ingredients and living a more sustainable lifestyle. Still, the online scene doesn't come without problems because not every meal subscription service is created equal. What works for some might not be suitable for you, so comparing them before you choose is the best choice.
In this case, we will examine the finer details of Green Chef & Blue Apron, both reputable and popular services. I recently tried Green Chef for a whole week and have to say it left a good impression that still lingers with satisfaction and perceived food purity. I'm your trusted expert because I've tried multiple meal services and can help you decide between the two. Ultimately, you may want to try them both as that is the most accurate way to discern taste.
There are different variables to consider, though, which may steer your decision in one direction, and I will bring them to light by discussing them both in depth so you can save time and make the right choice overall! Let's chew through the details together so you can digest what each service offers regarding versatile lifestyles and preferences. Everyone is different, but shedding light on the pros & cons will reveal the most suitable option for you. Green Chef was immensely compatible with my own, but let's weigh it against Blue Apron for a comprehensive comparison!
Bottom Line Up Front
Green Chef & Blue Apron are meal subscription services with key differences to explore to make the best decision for your health and lifestyle choices. Green Chef has a weekly menu that helps you stay fresh and motivated to tackle the day with increased variety, including many add-ons. They have healthful meals centered around your wellness, and you can create your personalized box. They are flexible with a dietician at your side to work through specific dietary challenges. Premium organic ingredients are used here with meals that are easy to cook. Blue Apron gives you an incredibly balanced menu. They also work with local producers to ensure fresh and professionally crafted ingredients for delicious meals with a convenient wine-pairing option.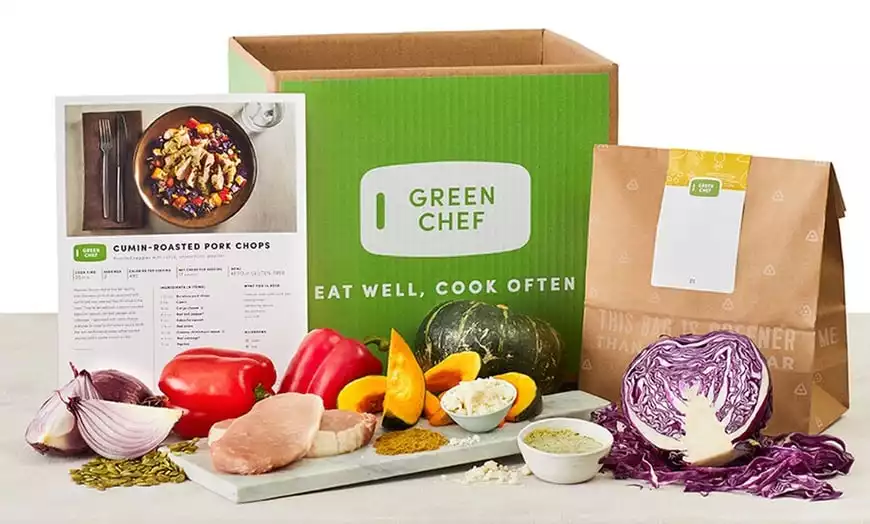 Why Go With Green Chef?
Green Chef is a meal kit service that delivers boxes filled with fresh ingredients on a weekly, biweekly, or monthly basis to make chef-curated meals. Diet and allergen friendly options, are one of the reasons I love Green Chef.
Choose Your Plan
$250 Off for Cyber Week Here
We earn a commission if you click this link and make a purchase at no additional cost to you.
Main Differences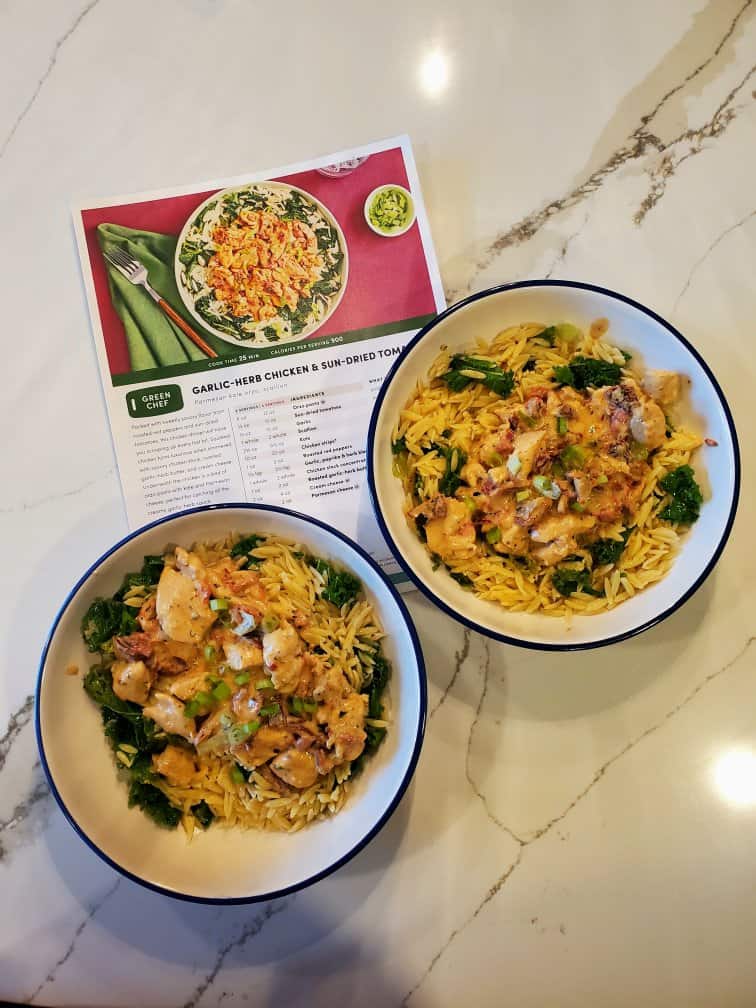 Green Chef offers three plans, whereas Blue Apron offers four
Green Chef has heart-healthy & gluten-free options, whereas Blue Apron is more limited
Blue Apron is moderately expensive, whereas Green Chef is on the higher side
Green Chef has meals that are denser in nutrients, whereas Blue Apron might not be as nutritious consistently
Blue Apron isn't the best option for sensitive eaters, whereas Green Chef has more options
Green Chef has recipes that are tailored for all skill levels, whereas Blue Apron is intermediate and may present problems for beginners
Meal options for Blue Apron include omnivore, vegetarian, & carnivore options, whereas Green Chef offers Plant-powered, gluten-free, omnivore, keto, & paleo
Blue Apron provides seasonal ingredients with a rotating menu, whereas Green Chef has a wider selection of options with many new recipes every week
Weekly Menu That Keeps Your Taste Buds Guessing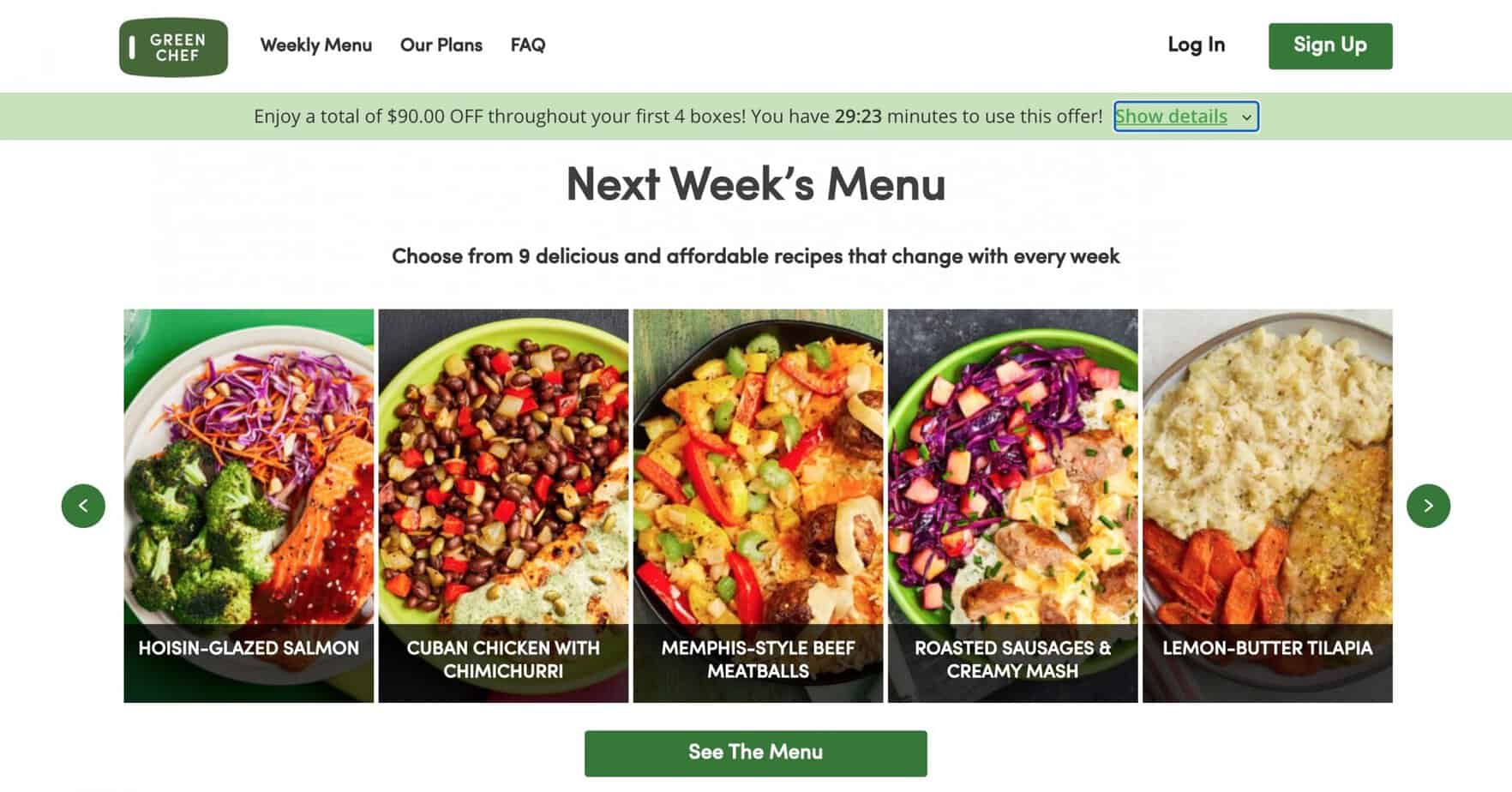 The weekly menu feature at Green Chef isn't a half-hearted process like you would expect from more affordable meal kit companies. You can access a versatile menu with forty-seven options to keep your tastebuds invigorated long-term. They are crafted by expert chefs who know how to make recipes that utilize unique ingredients while nourishing your health.
You will get various meals made with sustainable meals and multiple flavors. You can taste the difference because it's legitimate fresh organic produce, which is becoming exceptionally rare in stores. The versatile flavors stood out with each vibrant meal, and I never knew what flavors to expect next.
Multitude Of Add-ons to Encourage Versatility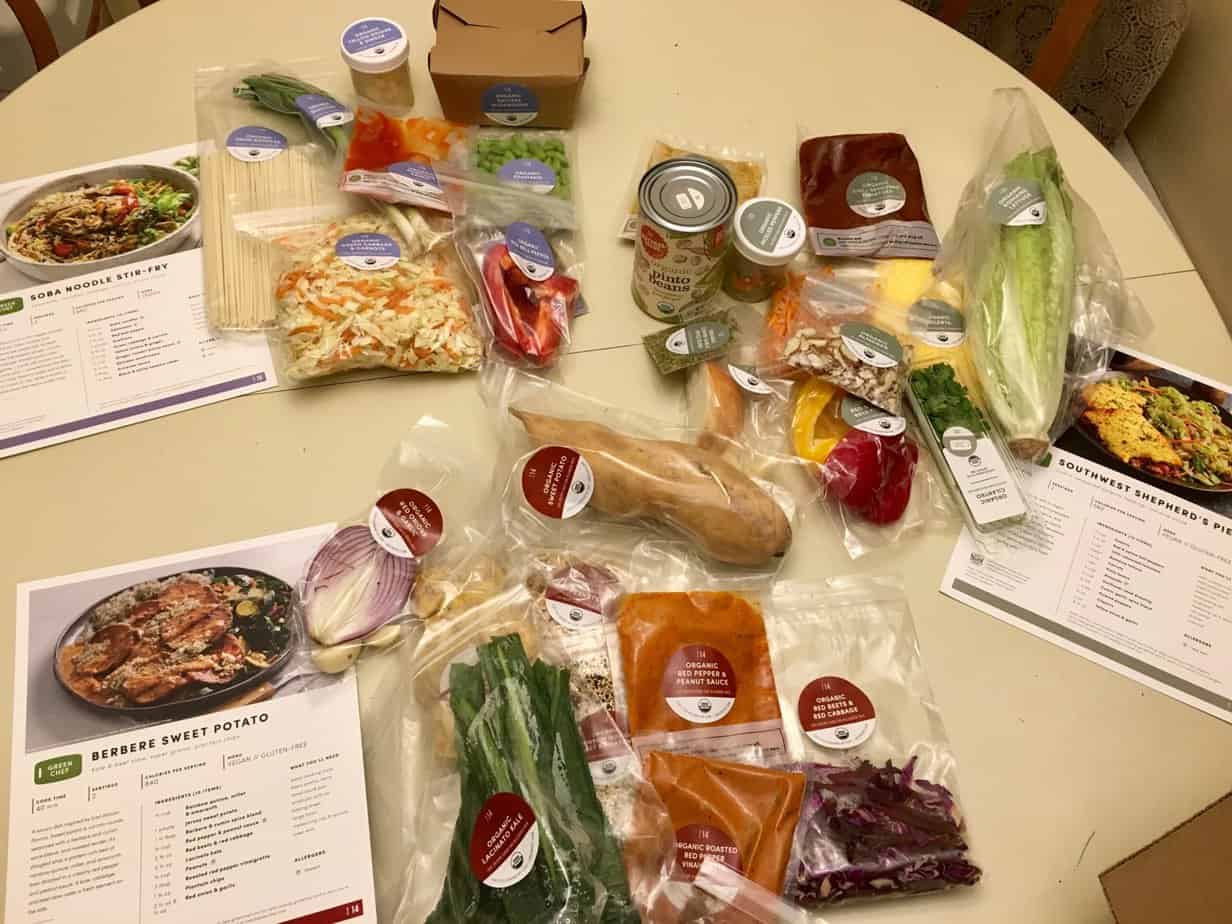 Everyone usually enjoys a side with their meal, be it a piece of bread or a side salad, and Green Chef recognizes the importance of giving suitable add-ons. They have some genuinely healthy & unique options to choose from, like the Basil Pesto Quinoa or Curry Cauliflower Rice. These also incorporate elements that make each meal nutritious and organic for a more enjoyable eating experience.
They uplift a dish to new heights with tasty flavors that help enhance your meals. I enjoy having something extra to fill up on the side because standard meals aren't usually enough. That's where the add-ons section from Green Chef comes to save the day with plenty of options, emphasizing using wholesome ingredients from the ground.
Option to Create Your Box Based on Lifestyle Preferences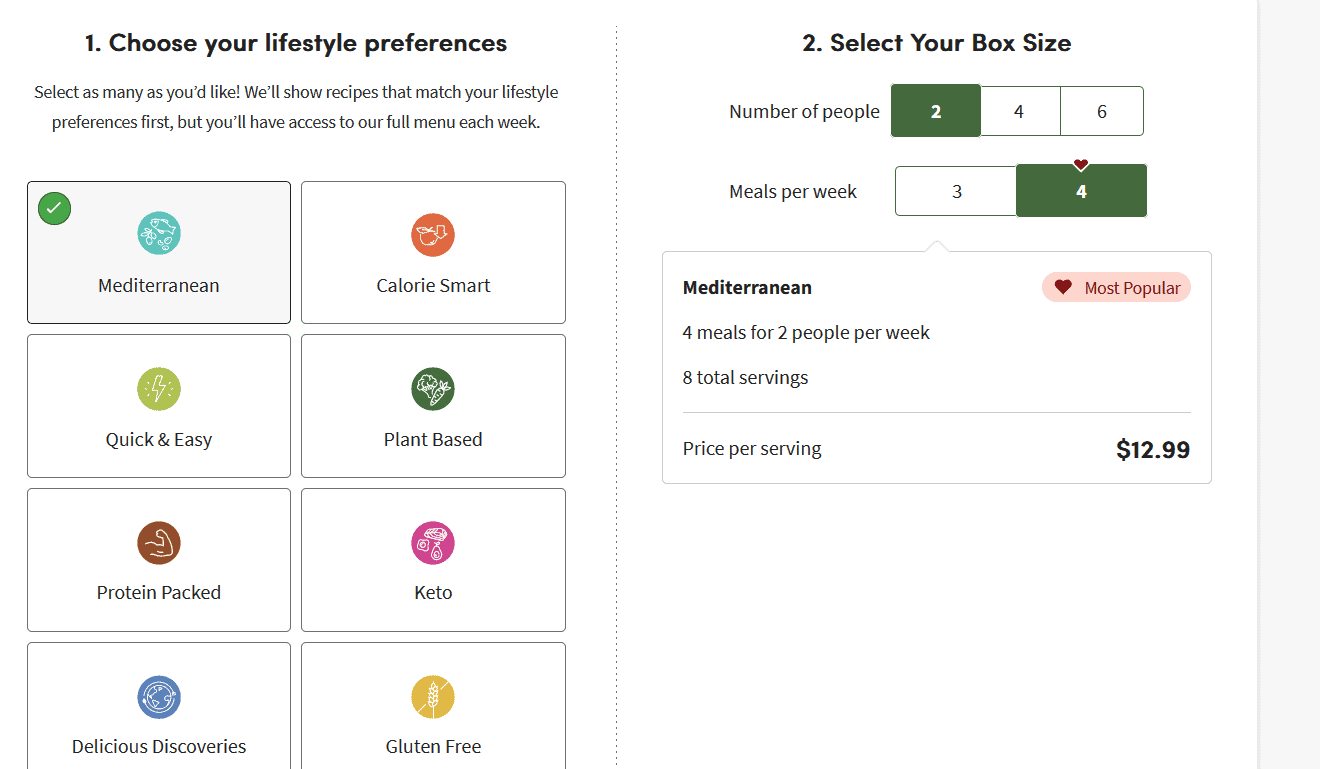 When you choose Green Chef, the door opens to a world of possibilities regarding lifestyle preferences. You can select one or many to suit your taste and create a more memorable experience that caters to your needs. They will present you with special recipes according to your lifestyle, but you can still access the others if you feel like stepping outside the box. There's tremendous freedom when crafting your meal kit at Green Chef.
Not only that but their meals are backed up by nutritional science to settle your mind regarding the appropriate nourishment you choose for your body. The ability to choose your lifestyle preferences speaks to their commitment to your health. You will find options with healthy fats and organic vegetables that uplift your body to the peak of wellness and vitality! Below are the lifestyle preferences they offer for your reference to get a preview of what they entail.
Meditteranean

Calorie Smart

Plant-Based

Quick & Easy

Keto

Protein Packed

Gluten-Free

Delicious Discoveries
Flexible In Adapting to Multiple People & Meal Frequency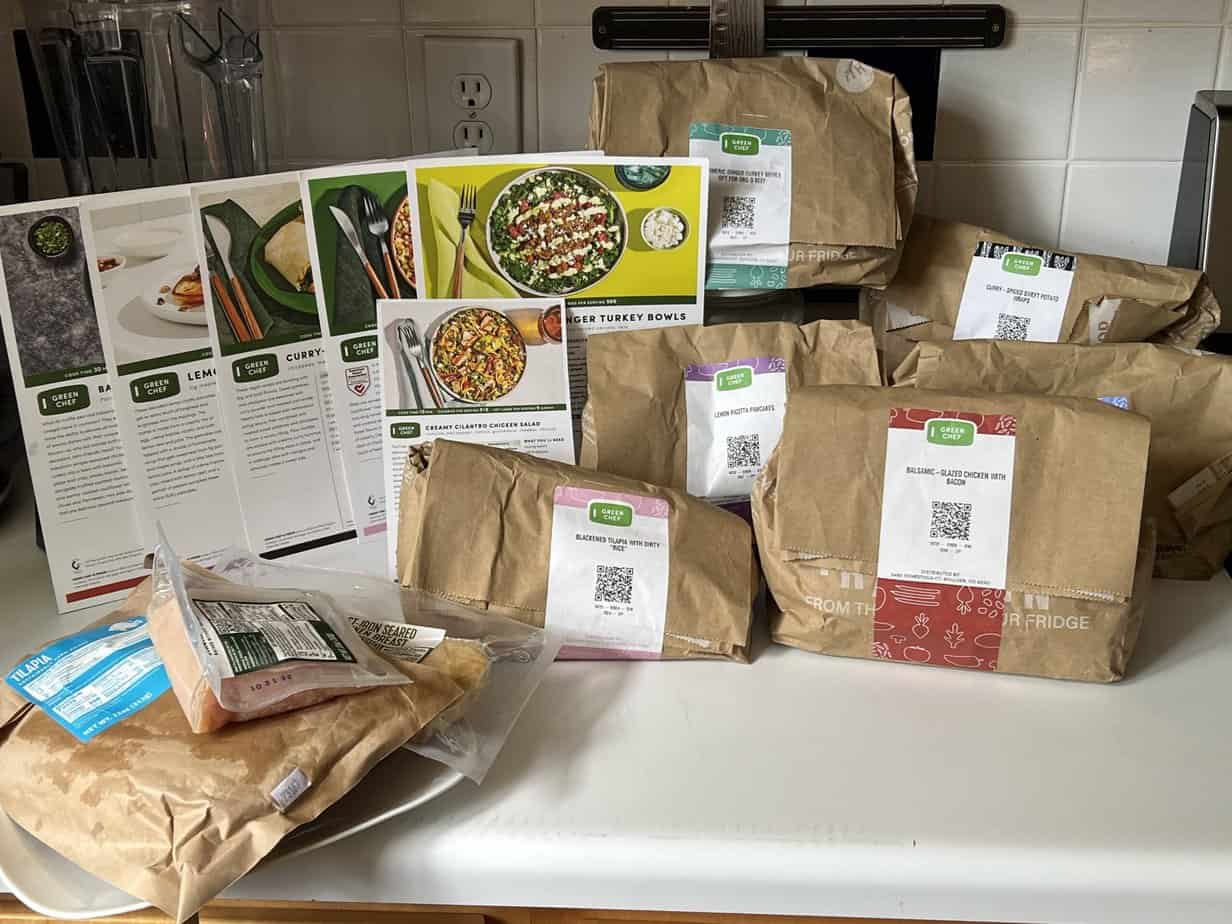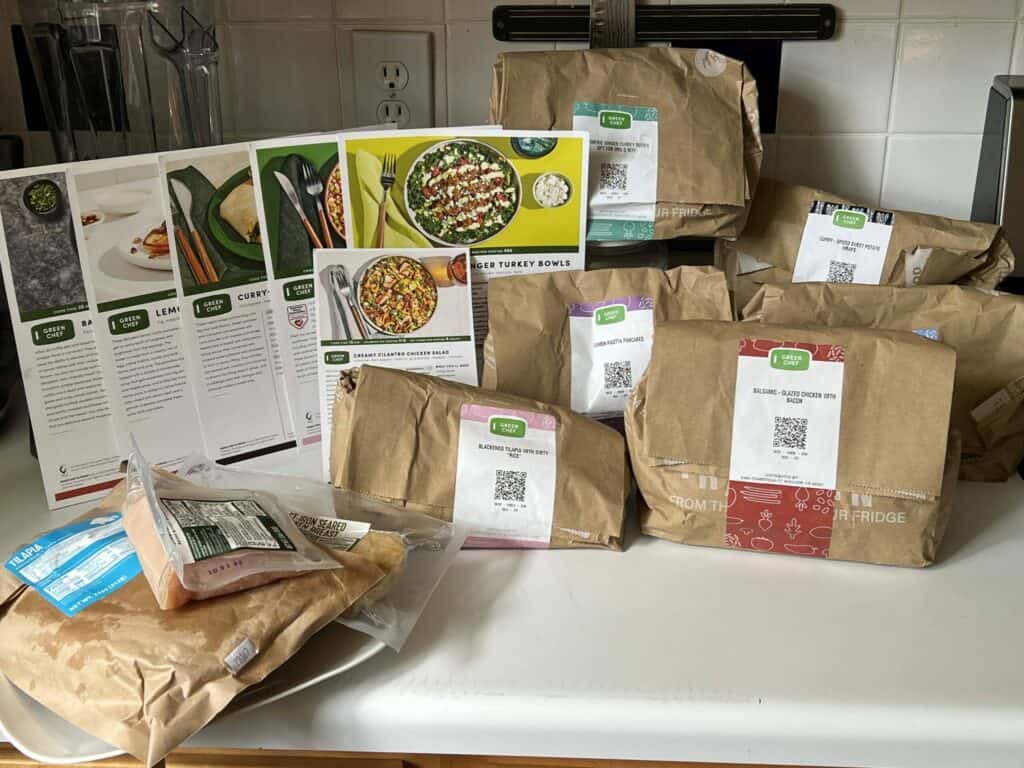 Green Chef works with your needs by giving you options to feed up to six people with each meal if necessary. They are flexible with your needs and can easily feed larger families or individuals. They also allow you to determine the meal frequency three or four times weekly. You have the power to ensure everyone is fed and satiated every week, which is a freeing feeling, instead of constantly being obligated to shop at the grocery store.
There is excellent control over the proportions, and you can easily set up your schedule with them because they're flexible and save you a ton of time. This adaptability is convenient if you're on a tight schedule and still want healthy restaurant quality food that appeases the whole family with healthful results! It's also fun to test the food with others and see what becomes a staple for future orders. You'll discover some excellent flavors with high nutritional value with Green Chef and their convenient meal plans.
Chat With a Dietician for Nutritional Coaching
One of the unique features of Green Chef is that you can gain some much-needed nutritional counsel from a certified professional who can guide you on the track to wellness. They will work with you to establish a unique plan of action to take control of your health and eat right according to your needs. You can chat with a registered dietician who knows all the facets of nutrition and how to coach you in the right direction properly.
There is a free 20-minute consultation for all customers that you can take advantage of right now and get you on the right path if you're uncertain. Utilize this resource to your advantage because it's a unique feature that makes Green Chef stand out. They will help you establish nutritional goals and stay motivated despite all the challenges of daily living. They will work with the Green Chef menu to help you thrive and live your best life according to the most appropriate meal plan!
Premium Organic Ingredients & Fresh Produce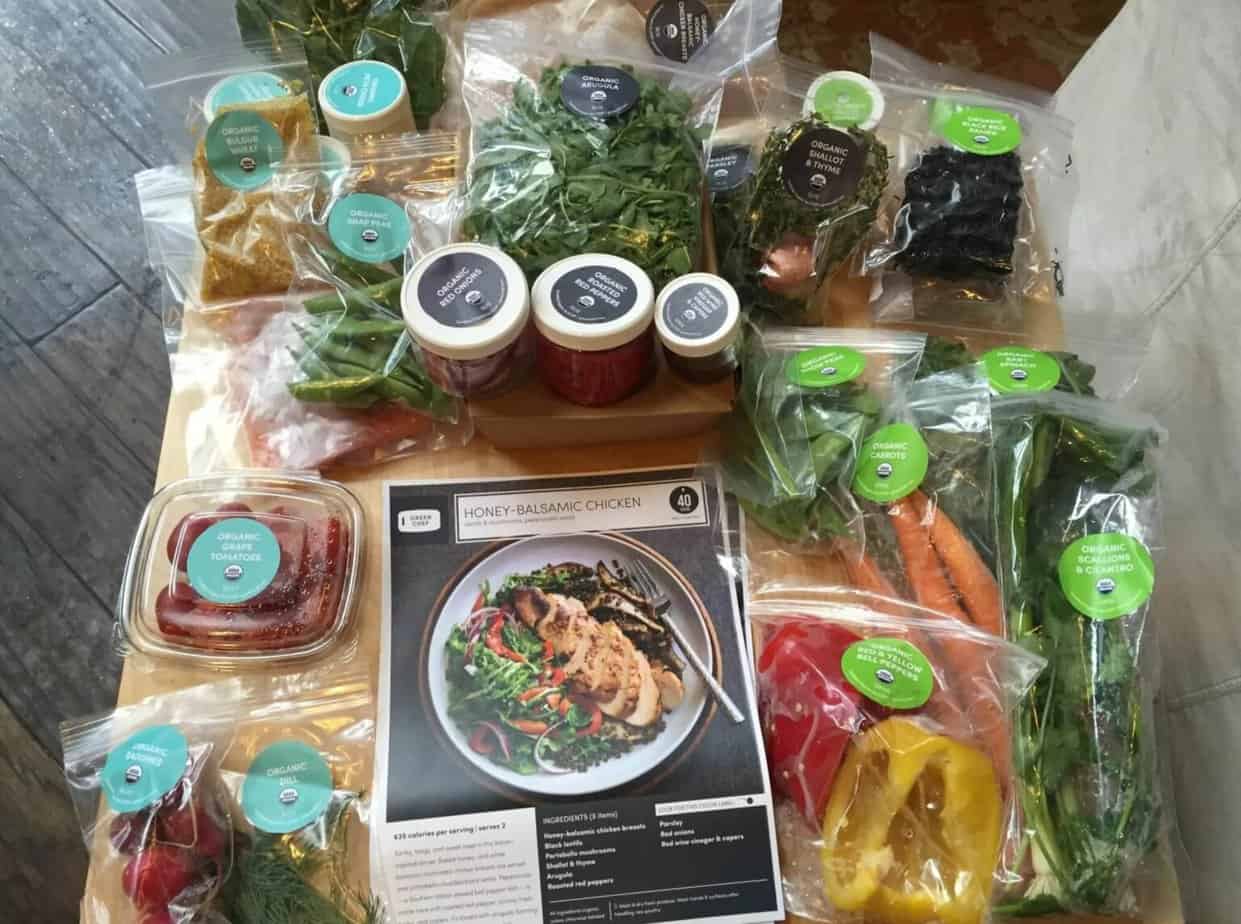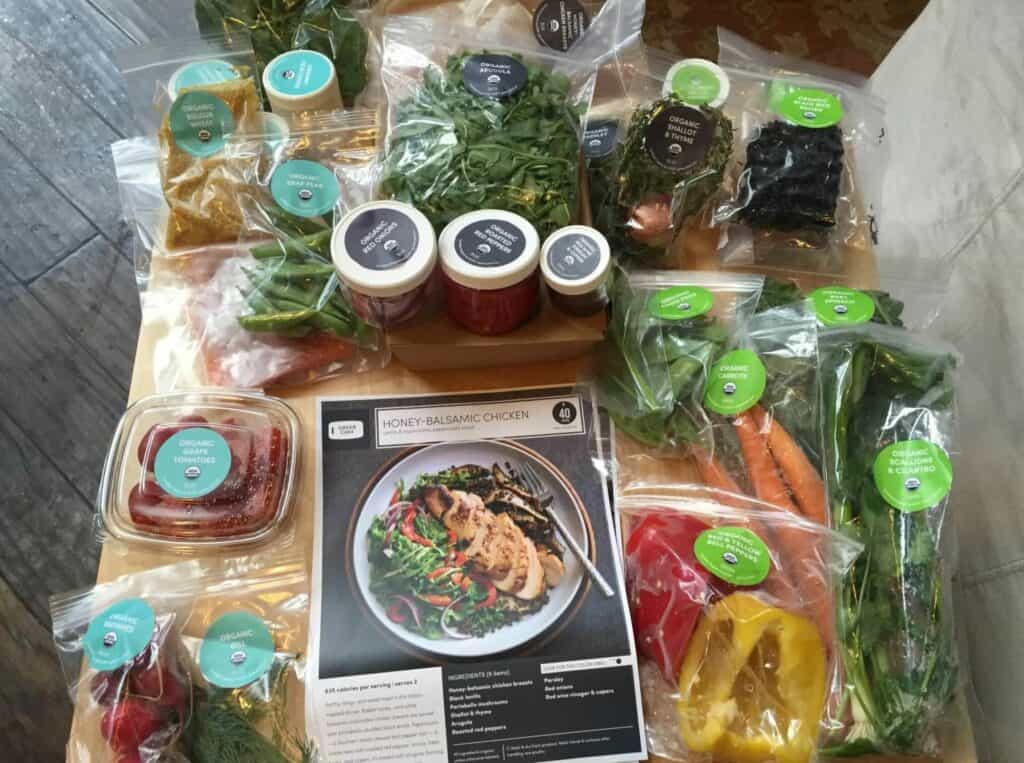 If you're looking to eat clean, Green Chef is in the higher echelon of the meal kit market with premium organic ingredients and produce that's to die for. Most are used to lesser quality produce, and that's unfortunate, but with Green Chef, you can enrich your life and taste the apparent difference. It's your chance to stop settling for less; your digestive system will thank you immediately. Sometimes compromising your health seems necessary to save a buck, but that's simply unwise with services like this available.
They have a greater standard regarding animal welfare, so you can have solace in each bite, knowing that most ingredients are organically sourced with integrity from reputable suppliers. Each component undergoes a screening process, giving you overall comfort that they operate with integrity and higher consideration than your typical meal kit service.
Beginner-friendly Meal Prep With Life-Enriching Results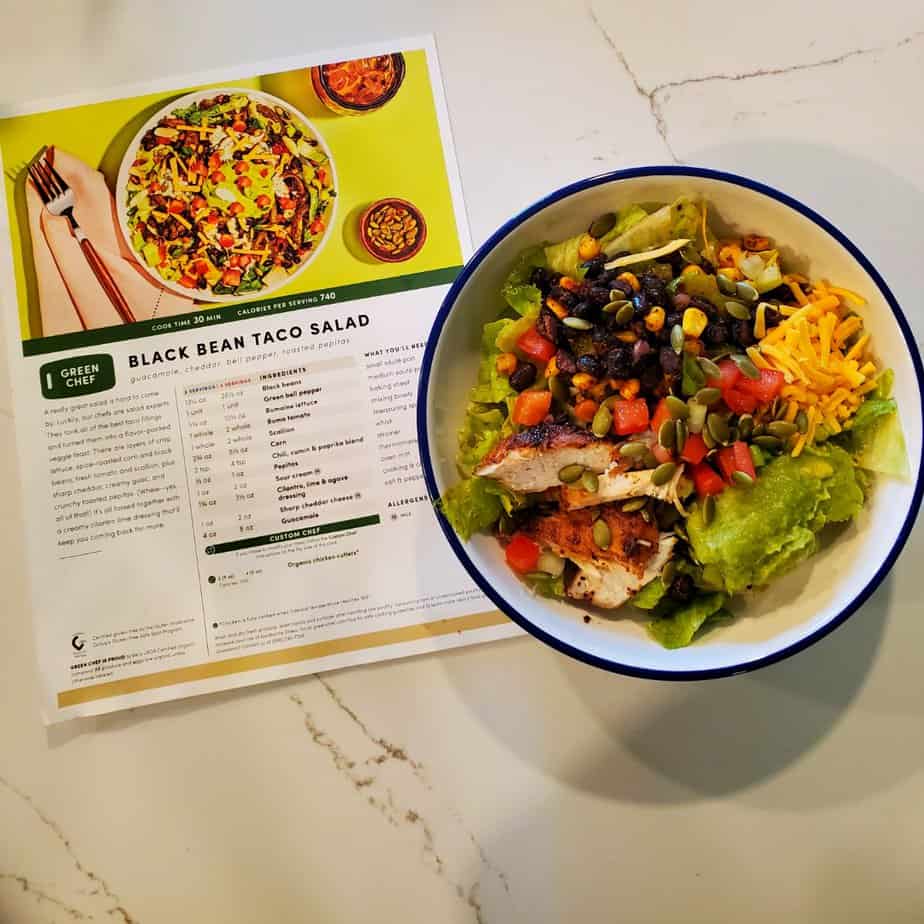 One of the best aspects of Green Chef is that the meals are easy and comprehensive for beginners. Some meals might take longer if you don't cook much and follow instructions meticulously. It's an excellent introductory exercise into cooking without the stress of gathering the ingredients.
Everything was easy for me, but it took longer than the average to ensure it was right. I noticed that the meats were mostly pre-cooked, reducing any anxiety behind the process because it's tricky to tell when meat is sometimes done. It significantly reduced the time, and the steps were easy to follow.
Green Chef Pricing
Paleo+Keto:

$12.99 a serving

Balanced Living:

$11.99 a serving

Plant-powered:

$11.99 a serving
Shipping & Delivery Process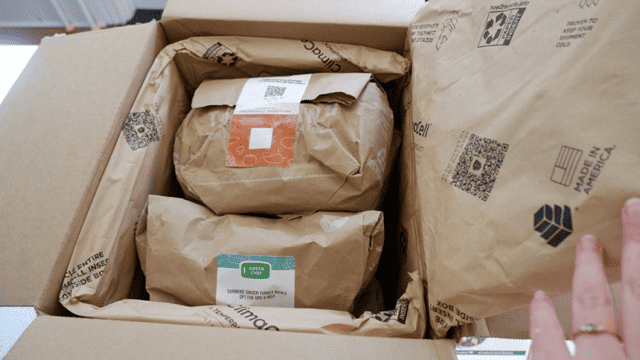 For shipping, you will get a flat fee of $9.99 as a separate charge to cover all the shipping and handling. They deliver to most places in the USA, but not Alaska or Hawaii. You can expect your package to arrive at the assigned delivery date between 8 am & 8 pm, Monday through Saturday. Depending on your needs, you can choose the exact date of delivery that fits your schedule best.
You do not need to be present to sign anything with Green Chef; they will leave it directly at your doorstep. You will also receive tracking information to make sure you know where the package is at all times and if there are any delays. Overall, It took some time for the parcel to arrive, but it was reasonable, and they kept their word without any disappointments. The package was tidy and had ice packs to keep things fresh.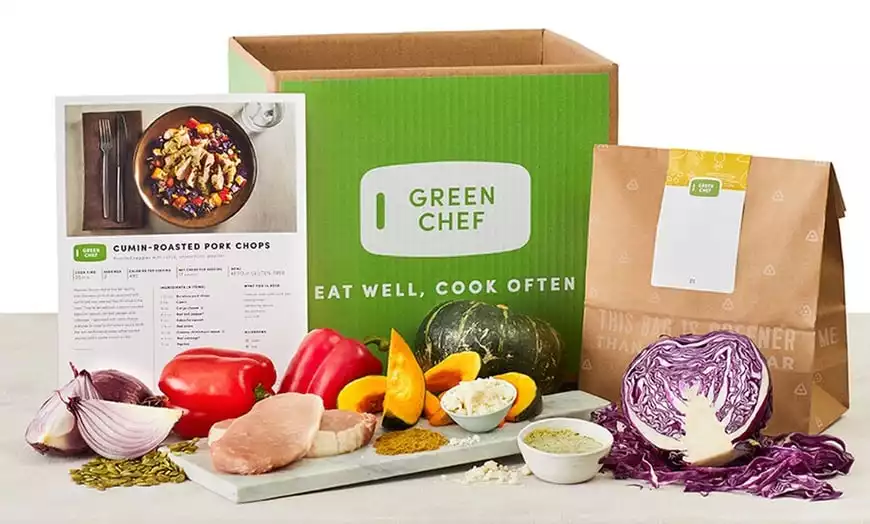 Why Go With Green Chef?
Green Chef is a meal kit service that delivers boxes filled with fresh ingredients on a weekly, biweekly, or monthly basis to make chef-curated meals. Diet and allergen friendly options, are one of the reasons I love Green Chef.
Choose Your Plan
$250 Off for Cyber Week Here
We earn a commission if you click this link and make a purchase at no additional cost to you.
Nutritional Highlights & Ingredient Practices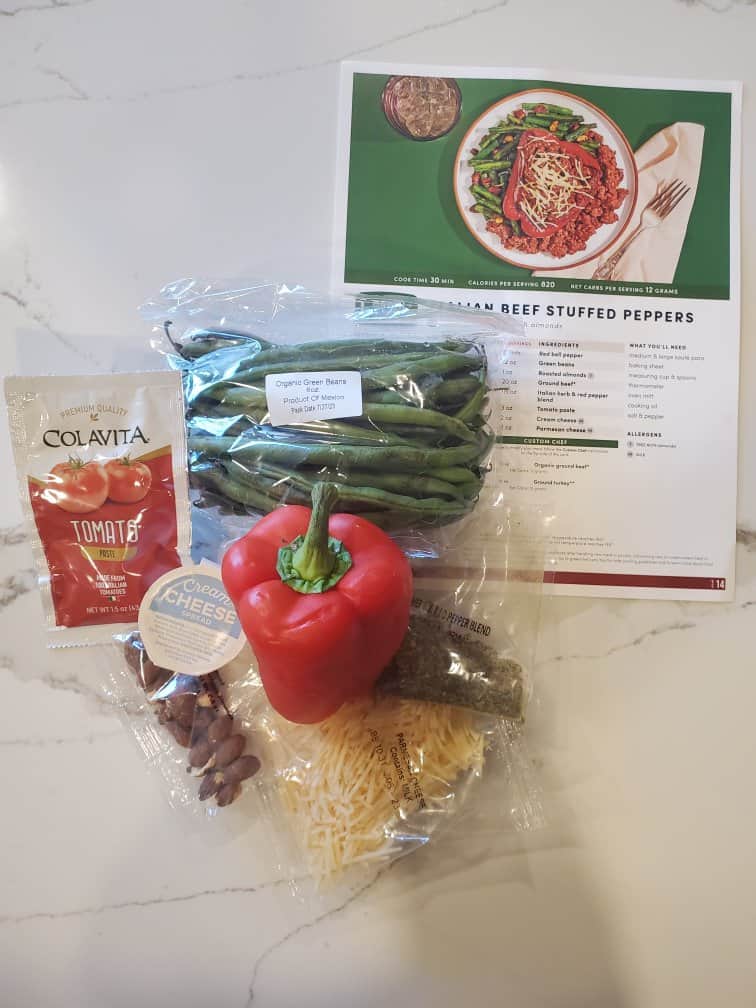 I was especially impressed with their emphasis on nutritional optimization, which shined with every meal. I was happy with how thorough they were with the items. For example, the Prosciutto Ricotta & Kale toasts gave nutritional information, including 660 calories per serving, what was needed to prepare, & the various allergens present such as wheat, tree nuts, & milk.
They also listed essential details like the net carbs per serving. The Italian beef stuffed peppers only had 12 grams of net carbs, which put my mind at ease. They give you sufficient nutritional information to choose wisely and have a well-rounded diet without sacrificing flavor. The ingredients are tried and true with excellent quality with each balanced meal that will have you returning for more of a cleaner and more appealing taste.
Pros & Cons of Green Chef
Pros
Certified Organic Foods
No additives or preservatives
Excellent variety & healthful options
Choose a meal plan based on your lifestyle preferences
Flexible sizing for small or large meals
Nutritional coaching to get you on the right track to wellness
Cons
Slightly more expensive than some other services
The weekly options are rather limited but still present
The shipping charge is separate from the base price
You will likely spend more time than expected on a few of the meals
Green Chef is not entirely exclusive to utilizing organic ingredients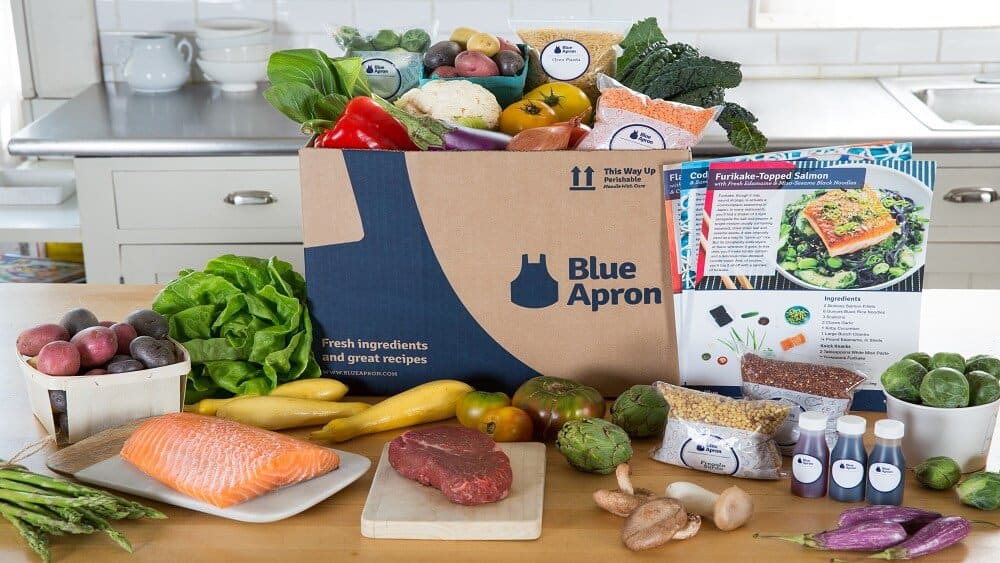 Balanced Menu With Meal Plan Personalization
Blue Apron has a balanced rotating menu that features low-calorie, weight-watchers, & vegetarian options that will help you lose weight and stay healthier than the traditional American diet. There are various menus to explore that will keep you engaged every week and enlighten your perspective with personalized meal plans.
Building this plan is easy and effective for one or multiple people, and you can change the options anytime if your diet shifts. There is also the ability to skip or pause at any time to have flexibility when charting your food course to wellness. Although not everything is the healthiest, it comes down to your decisions that will shape the final result. They offer different preferences so you can feel accommodated every step of the way, and they are listed below.
Wellness:

Meals centered around health and are nutritionist approved

Chef Favorites:

The top picks of their professional Kitchen Test Chef

Family Friendly:

Meals that hone in on families with kids

Veggies:

Plant-based meals that skip the meat

Fast & Easy:

Time-saving meals that keep you ahead of schedule
Works With Suppliers Who Utilize Sustainable Farming Methods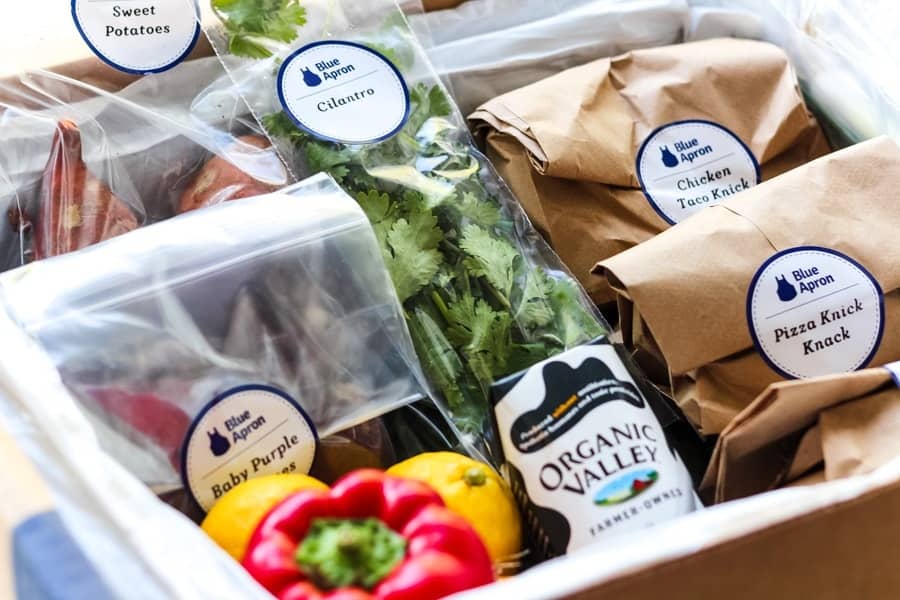 Blue Apron is in the habit of working with producers who are engaged in farming methods that are both humane and sustainable, with an emphasis on higher quality. They are practical and refined in their selection process, ensuring you only get healthful ingredients that will uplift your mood and body to a new level. This is all accomplished for an affordable price without compromise while working closely with the suppliers to ensure continuity in quality across all meal kits.
Although they are more limited in their lifestyle preferences, they still offer sustainable meals that are much healthier than shopping at the store. They are free from harmful chemicals and additives, which is reason enough to consider them over most grocery stores. Blue Apron utilizes Non-GMO ingredients while upholding high animal welfare standards that put your mind at ease. You know your food comes from a reliable source without any questionable practices.
Wine-Pairings for The Sophisticated Pallete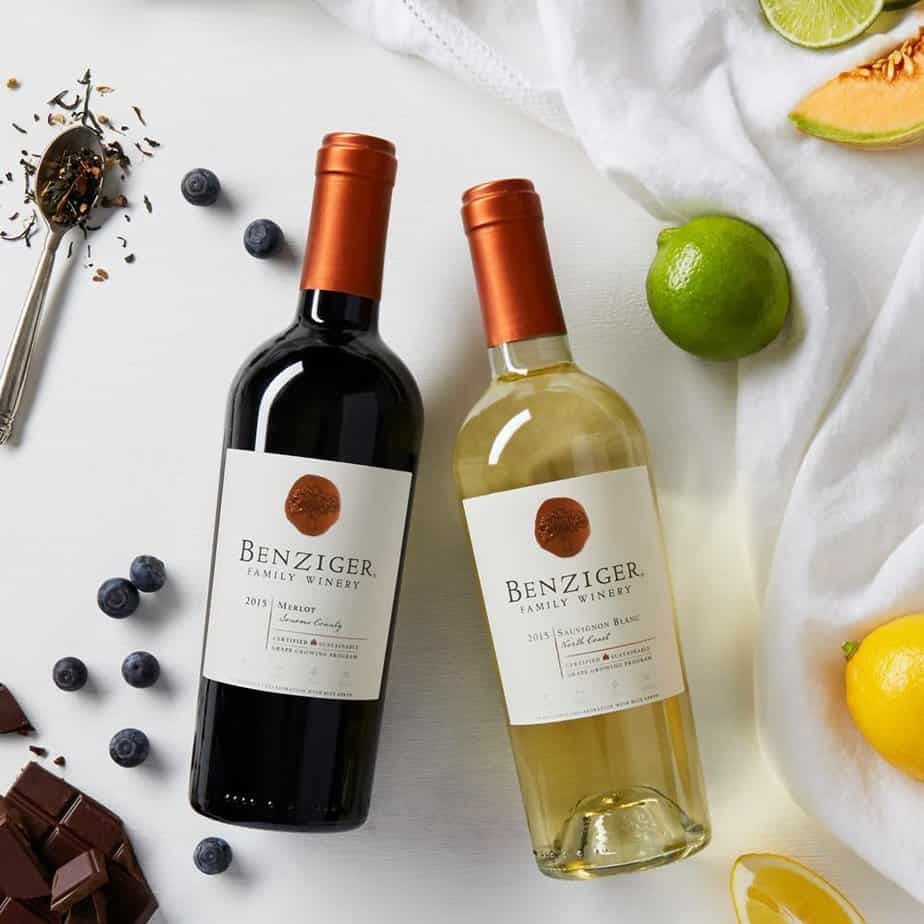 You don't see a wine selection every day from a meal kit service. Wine options for accurate wine-pairing are a nice treat to consider if you're an enthusiast of the savory vineyard. You can explore dinnertime pairings that will cater to a more refined taste and give you something to look forward to. After all, wine brings out the flavors and compliments a dish by enhancing it further with this convenient feature.
Exclusivity is the main perk of the wine pairings at Blue Apron because you can get exquisite wines from renowned winemakers that will make any meal that much tastier. You can select the wines that you adore without the burden of commitment. Additionally, each bottle fits two people, or you can upgrade to a larger bottle for special occasions. This is an excellent service if you're a wine lover because they meet your needs with delicious wines to explore and enjoy!
Recipes Specially Crafted by Professional Test Kitchen Chefs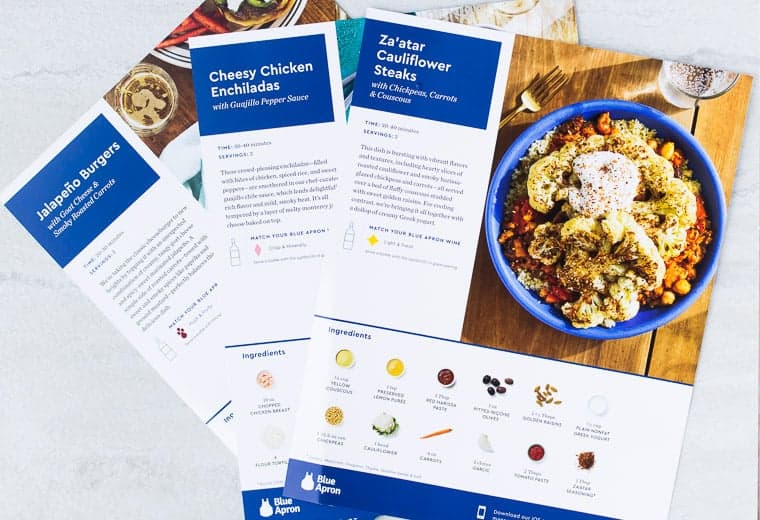 The meals at Blue Apron aren't just tossed together without consideration because they have trained test kitchen chefs who put effort into each combination. They consider the flavors carefully and make sure you have a wide variety to choose from. The chef's favorites preference will highlight some of their favorite dishes so you can witness firsthand the best that Blue Apron offers with exemplary taste.
They always bring something new with high standards that exceed expectations. They craft the recipes according to each category so you can choose easily and simplify the experience. It's much easier than selecting the ingredients by yourself, and you have the assurance of sustainable quality to back it up.
The Food Is Proportioned Perfectly to Reduce Waste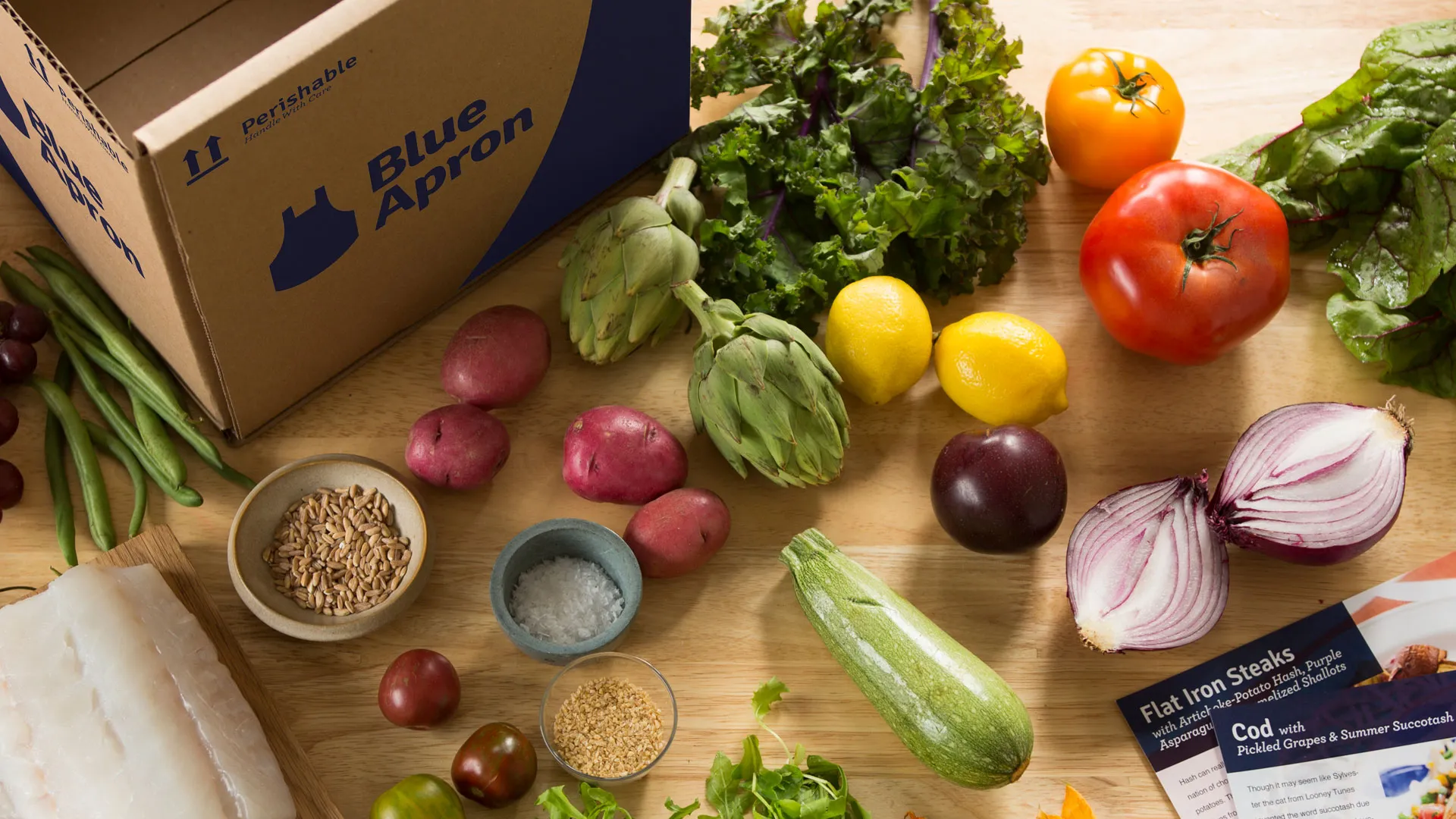 The ingredients are all pre-proportioned, so you don't have to worry about wasting anything. Waste has always been a cause for concern, especially among vegans. With perfectly proportioned food from Blue Apron, you will have the appropriate amount to consume without pesky leftovers. Of course, this depends on the individual, and you might have some if you're a single eater. Still, it will be enough to consume in time so that nothing goes to waste.
They care about things down to giving you specific proportions, which points towards their process being trustworthy. Each meal has the right ingredients to craft a specific amount of servings, up to four and up to five meals per week if you have more mouths to feed. Each week will yield new recipes, and it's fun to put them together for a professional quality meal that fits effortlessly on the plate and gives a sense of satisfaction knowing it will all be used.
Pricing Of Blue Apron
Signature:

$9.99 for a serving

Signature for four:

$7.49-$8.99 for a serving

Wellness for two:

$9.99 per serving

Vegetarian for two:

$9.99 for a serving
Shipping & Delivery Process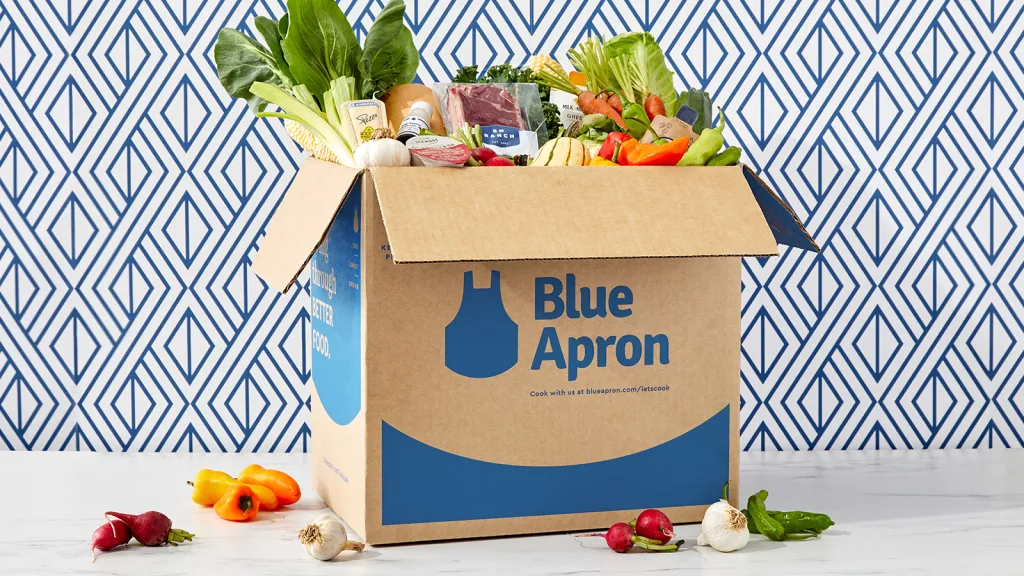 After signing up with Blue Apron, you will enter your zip code to select your preferred delivery date according to your location. There will be a list of available dates you can choose from that are suitable, and you can change it any time after selecting. They deliver anywhere in the United States, and the timeframe will vary, but they're generally reasonable in getting it delivered quickly. The shipping fee is slightly less than Green Chef at a flat rate of $7.99. The food is packed nicely with recyclable shipping materials. They make considerable effort to make sure your ingredients stay fresh during transit, and you can actively track the status online.
Nutritional Highlights & Ingredient Standards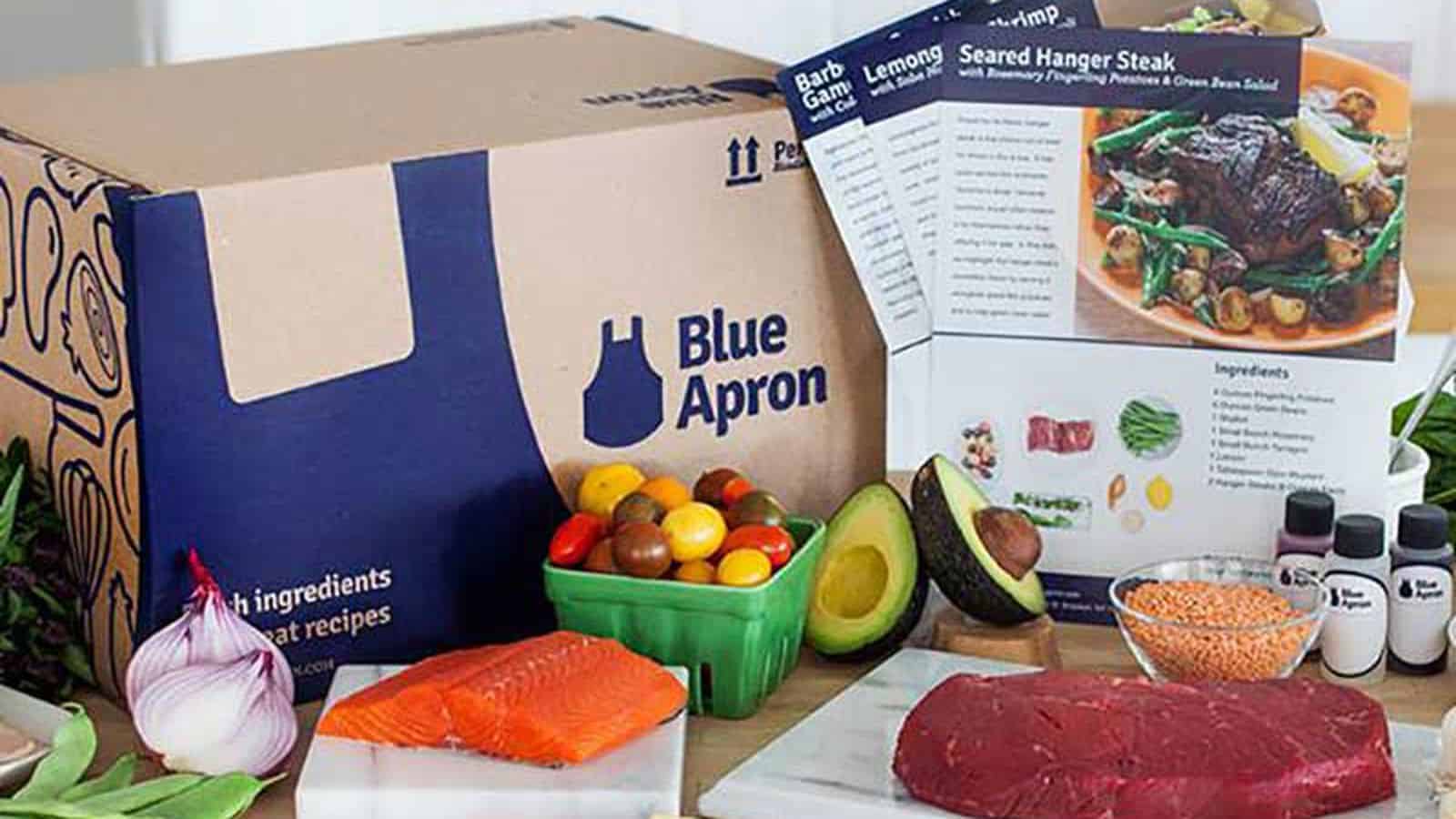 The nutritional standards at Blue Apron are higher than at the grocery store; that's a fact. First, they have an impressive animal welfare policy worth checking out if you care deeply about how animals are treated. They also have a freshness guarantee, meaning you get higher nutritional benefits from fresh food. Regarding nutrition, a big topic of discussion is the use of hormones and antibiotics.
Blue Apron is committed to working with farmers who treat their animals with the tremendous respect and care they deserve. Milk & cream is pasteurized. The ingredients are primarily USDA-certified organic quality because they are committed to working with farmers who don't cut corners. Sustainable fishing is also a staple practice here worth mentioning. Overall, the nutritional trend here leans toward healthy eating, but some questionable items are obviously for the family and serve as comfort food.
Pros & Cons Of Blue Apron
Pros
The meals are flexible for most lifestyle preferences
They listen to what you think and adapt to your needs
Works only with carefully selected suppliers because they care
Places emphasis on using unique ingredients to craft something special
Over 70 weekly options to choose from so you never get bored
A moderately-priced service with free shipping options on more substantial orders
Cons
It will be a heftier price tag than going to the grocery store
It doesn't cater to many food allergies or ingredient sensitivities (Gluten Free, Paleo, Vegan, etc.)
Most but not all of the produce is organic
They use excessive plastic in their delivery orders
I will likely get charged a high amount for smaller orders
Customization options are present, just fewer than Green Chef
Alternatives for Your Consideration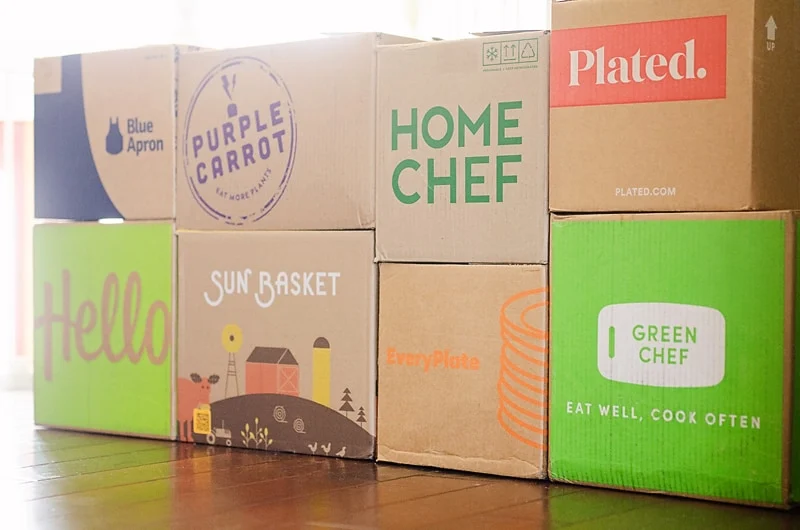 If neither of these options is appealing to you, you might like to try something else on the menu. That's perfectly fine because we all have different tastes and must adapt when something isn't suitable. These are some of the best alternative meal services for mouth-watering results. If you're on a budget and don't want to spend as much to eat well, these could also be worth considering.
The Verdict: Green Chef Is A Better Option For Your Health & Has More Variety Making It Worth The Extra Dough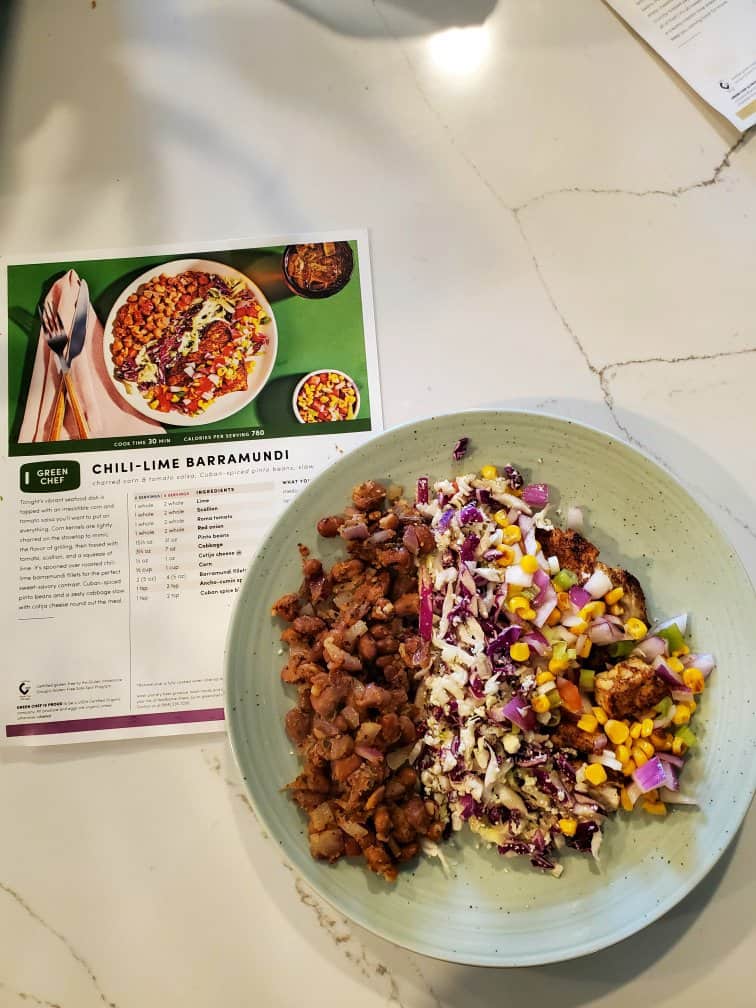 Green Chef may be the slightly more expensive option, but for good reasons that justify it. The quality and taste of Green Chef make it stand out as a higher-standard food service that delivers some delicious meals that also nurture your wellness to a considerable degree. I've tried a few other services, such as Purple Carrot and more, but I've been particularly impressed with Green Chef & can tell it's worth the extra pricing for a more refined organic experience with many options.
Blue Apron is a trustworthy service, but it shouldn't be settled on without giving Green Chef a shot first. There are pros & cons for each, but for your health, I suggest going with Green Chef after my pleasant experience enjoying a few delicious organic meals! They were exceedingly satiating & you can taste the difference with much better packing & is suitable for all dietary needs. They have more options regarding your specific needs and lifestyle choices.
Overall, they're very similar, but Green Chef comes out on top for me out of the two. I'll let you decide which is best because everyone is different. It was my pleasure cooking up this comparison for you, and either choice will leave you shocked compared to the standard foods found at the supermarket.
Green Chef vs. Blue Apron Compared: Frequently Asked Questions
Question: Are Green Chef meals healthy for the body?
Answer: At Green Chef, you get organic meals crafted with immense consideration outside the scope of standard modern eating from the grocery store or fast food. You get quality assurance with every meal because they care deeply for their customer's health and the planet's overall ecosystem. I enjoyed every bite knowing that it nourished my well-being and was not a hindrance to consuming synthetic chemicals that leave you feeling sluggish and unenergized. I also noticed the meals were digested quicker, absorbing more nutrients instead of sitting like a brick in my stomach.
Question: Are Blue Apron meals nourishing to optimize health?
Answer: There are many healthy Blue Apron meals if you hunt in the right section to get there, but some classic signature ones aren't so good for you, but you must live a little sometimes. That being said, there's a meal plan for everyone here, from vegetarian to exquisite craft foods, that will liven the taste buds. They obtain 80% of their ingredients from local producers, which speaks to their commitment to fresher meals. The meals are highly nourishing for increasing wellness if you are selective and choose the suitable options, but some meals hinder health.
Question: Does Green Chef & Blue Apron always use fresh ingredients?
Answer: Green Chef & Blue Apron are worthwhile regarding their fresh ingredients to craft meals straight from the farm with no funny business or strange additives that preserve freshness. They are reliable in giving a higher-class experience that delivers easy meals that would be hard to pull off at your local grocery store. The ingredients are optimal and arrive ready to prepare with a taste that can't be denied to be pure and crafted with care. They are certified organic, which means they also have a shorter shelf life, which is a worthy trade-off.
Continue reading: