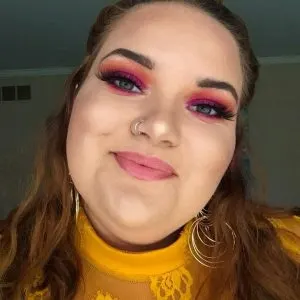 Latest posts by Alizabeth Swain
(see all)
You've heard of Home Chef, Hello Fresh, Blue Apron, Sunbasket, and even Everyplate.
But have you ever heard of RealEats?
If you're anything like me, you're probably skeptical about smaller name meal delivery kits.
That's why I wasn't too sure when I heard about RealEats for the first time. I'll admit, I was a bit afraid to trust them. I didn't see many reviews about RealEats online, so I didn't feel confident in what they offered.
And since I didn't feel confident, I decided to order. I mean, wouldn't it be wonderful if this meal delivery kit turned out to be good?
Now, here we are at this RealEats review! Let's get started.
Bottom Line Upfront
I would recommend RealEats to people who are busy and don't feel like cooking, if you don't have the kitchen appliances to cook, or if you're looking for a quick meal you can throw in the microwave to eat while you're at work!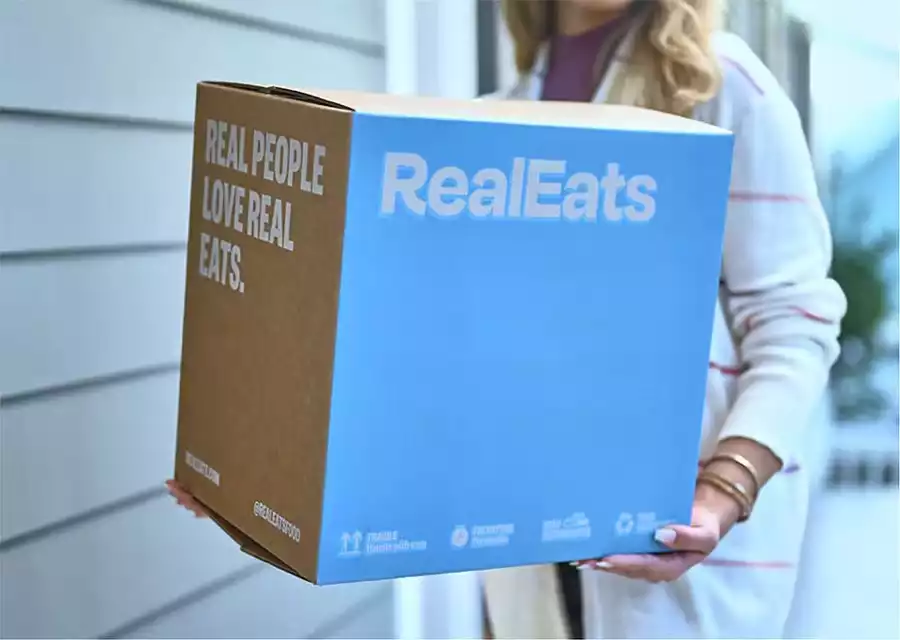 Before I get too far into this review, I think it's essential to look at RealEats. After all, who is this company, and what do they stand for? I always want to know about a company before I commit to subscribing to them. After all, I want my money to go to a company that does good for the world!
RealEats claims they offer chef-made meals with ingredients coming from local farms. Plus, they provide a healthy menu with customizable options! Plus, you don't have to sign up with a subscription, which is very different from other meal kit delivery subscriptions.
What isn't there to love?
I discovered RealEats was a company created by a single dad who wanted to provide families with a way to cook healthy meals without needing to spend an entire evening in the kitchen. And I would love to thank him for that!
Plus, all of the meals prepared by RealEats are already cooked. All you have to do is heat them up. The even better news is all of their meals heat up in six minutes! Each meal has three components to it (carb, veggie, protein).
I liked how you could freeze some of the RealEats meals you get too. For example, if you've ordered a box but find out later in the week you have a business trip and you'll be gone for a few days, you can freeze your meals!
I also love how you can customize your meals with RealEats. There's a surprising amount of customizable options with RealEats. You can swap out your proteins and your sides. This makes it easy to customize your meal options, especially if you're on a special diet (like a keto diet)!
You can choose between four, six, eight, or twelve meals. However, there aren't any family plans available. So, if you needed to buy six meals for two people, you'd be stuck with the 12-meal plan. You'll have to order two of the same type of meal instead of just picking out the meal selections for six days.
My Ordering Experience
I thought my ordering experience was really easy! I like how RealEats clarified that there's only one serving per meal. I also really liked how they had their menu setup; I could easily see the components inside of the meal. I think the labels RealEats had on their meals were also beneficial too. I liked how I was able to go around and see which meals were considered low-carb friendly, which meals focused on having more protein, and the caloric content inside of each meal.
As I was looking through the meals, I wanted to see if RealEats offered a more extended breakdown of their meals. I looked through their Shredded Chicken Fajitas to know if I could get a complete look at the ingredients and the nutritional breakdown. This meal has 420 calories, 27 grams of protein, 58 grams of carbohydrates, and 7.5 grams of fat.
I could also customize the meal by swapping out the shredded chicken for a bunch of different options! Those options included green chili beef, garlic-lime shrimp, greek chicken, honey sesame chicken, grilled BBQ chicken, cooked chicken breast, or honey mustard chicken.
I could swap out the Spanish rice that came with the meal for Cuban black beans, stir fry veggie rice, gently steamed broccoli, cheesy broccoli, glazed honey carrots, and green beans with spring pesto, or sweet corn with butter. Lastly, I could swap out the Cuban black beans that came with this meal for the additional side options I listed previously.
I love how RealEats offered the nutritional facts online for the protein, side option 1, and side option two separately. There were also allergen labels on the meal; for example, the Fajita Chicken wasn't soy, dairy, wheat, or nut-free. I never could've guessed about the nut and dairy, so this was nice to know!
Shipping/Unboxing
I loved how unique the shipping experience was. I had no problems with delivery accuracy, the timing of my delivery, or my order getting damaged. Everything came securely packaged! However, as I was ordering and going through the shipping options, I realized that RealEats doesn't deliver everywhere in the USA. Currently, RealEats only delivers to:
Connecticut

Delaware

Illinois

Indiana

Main

Maryland

Michigan

Massachusetts

Kentucky

New York

New Jersey

New Hampshire

Ohio

North Carolina

Pennsylvania

South Carolina

Vermont

West Virginia

Virginia

Tennessee

Rhode Island

North Carolina
As I was pulling my order out of the box, I realized all of the meals were vacuum sealed. I loved that they were frozen in clear bags! It made it very easy to sort through my meals the lazy way; instead of reading, I could look at the bag to see if it looked like something I wanted to eat that day.
Here's what I got:
Korean BBQ steak with gently steamed broccoli and stir fry veggie rice

Garlic lime shrimp with fire-roasted Southwest veggies and smoky mozzarella grits

Chicken tikka masala with vegetable korma and saffron basmati rice

Greek chicken with gently steamed broccoli, couscous, and vegetables

Chicken Asada with pinto beans with cojita and sweet potato brown rice

Green chile beef with Mexican street corn and steamed brown rice
I think my favorite part of the unboxing process was the little blue sheet I got! It told me when I should eat all of my meals by. This sheet also included instructions on how to freeze my meals if I wasn't able to eat all of them in time. I thought this was super helpful!
Plus, I love how the package was shipped. I usually complain about the amount of waste found inside these meal delivery kits, but I didn't have that problem (as much) with RealEats. The styrofoam inside of the box could be melted down with water. So, there wasn't anything going to the landfill, and there wasn't as much room taken up in my trash!
Cooking
Okay, but cooking was SO EASY! I loved how I could pop a meal in the microwave. If I wanted to get fancy, I could boil a pot of water and heat my meal in there. But, I work full-time and take care of my 8-month-old son full-time. Boiling my meal and creating more dishes?
Ain't nobody got time for that.
I was able to pop a meal in the microwave, wait six minutes, and I had a ready-to-eat healthy meal that wasn't fast food! Talk about a mom win right there. And it was still hot (sort of). As I was eating, I did notice that some of the components in certain dishes weren't warmed all the way through.
But, I do know this could be a problem caused by my microwave!
Taste
Since the menu RealEats offers is a bit limited, I figured it would be helpful if I broke down my thoughts on each of the meals I tried.
Overall, I thought the meals were decent for being prepared meals. They didn't taste like the store-bought microwaveable meals. There's freshness there that I noticed when I was eating. The one thing I didn't like about the meals is that they all had a certain smell and taste of being microwaveable meals. I don't know what it is; I couldn't describe it to you if you asked me.
But, you know that smell and taste microwaveable meals have? Like, I could pick a microwaveable meal out of a lineup from that specific smell they all have. Whatever it is, I noticed it with RealEats too. That was the turn-off for me, but I know I'm pretty picky when it comes to that stuff. I wouldn't say this ruined the entire RealEats experience for me, but I do think that it was a bit unpleasant.
Koren BBQ Steak
This meal came with gently steamed broccoli and stir fry veggie rice. I was shocked at how tender the steak was. I didn't think a steak would fall apart with just my fork, especially in a prepared meal delivery kit. I would expect that from Hello Fresh or Home Chef, not RealEats!
I also really loved how the stir fry veggie rice was seasoned. It was lovely! Of course, you'll already guess how the steamed broccoli tasted. But, I loved how there was still a little crunch in the broccoli. It wasn't overcooked, and it still tasted fresh!
Chicken Tikka Masala
The chicken tikka masala came with vegetable korma and saffron basmati rice. I loved the entirety of this dish. It's way out of my comfort zone, as this isn't typically something I would cook or even ever order out. But I figured I might as well try it since it's so out of my comfort zone. Thankfully, I was pleasantly surprised.
I thought the chicken was tender and juicy, and it didn't have that texture that a lot of other meal delivery services send out. I find that many prepared meal delivery services will send out chicken that wasn't made with chicken breast, so it has a weird (almost fake) texture. I didn't have that problem with RealEats, though!
Greek Chicken
I am a huge fan of a Greek chicken. I normally order chicken Gyros whenever I'm at a Greek restaurant. This was the meal that I had the highest hopes for. I enjoyed the plain sides to this meal because I believed the star of the show should be left to the Greek chicken.
The Greek chicken in this meal was nice, but it wasn't what I anticipated it to be. It gave me a different perspective on what I would consider whenever I hear someone talking about Greek chicken. I wouldn't say that it was terrible. It had a nice texture, and it wasn't dry.
Chicken Asada
The Chicken Asada came with pinto beans and sweet potato brown rice I love having the side of beans in this meal. It was kind of a nice change of pace, and I especially liked that there with a unique way these pinto beans were prepared. I also really liked the Chicken Asada in this meal. The chicken was flavorful without it being too salty.
Garlic Lime Shrimp
The garlic-lime shrimp came with roasted Southwest veggies and smoky mozzarella grits. I don't like grits, so I wasn't impressed with the smoky mozzarella twist on this side dish. I thought that the shrimp were a bit tough, and the garlic kind of overpowered the lime seasoning on the shrimp. I didn't mind the Southwest veggies, but I wouldn't say that they won the meal over for me either.
Green Chile Beef
The green chile beef meal was exciting. This meal came with Mexican street corn and steamed brown rice. I'd only ever had green chile chicken, so I thought that this was a nice change of pace. I like how there was brown rice included in this meal, as a lot of the other meals I had tried only used white rice. So it was nice to have that change of pace and have some whole grains in my meal.
I wouldn't say that brown rice had a lot of flavors, but it was well-made rice. I also wasn't a huge fan of the way the Mexican street corn was prepared. I felt like it was kind of mushy, and that didn't have as much flavor as I was hoping it would have.
What I liked (and what I didn't)
Are you unsure if RealEats is the best option for you? Here's a closer look at some pros and cons:
Pros
Great for people who don't want to cook/don't have the ability to cook

Locally sourced/farm fresh

Chef-made meals

Environmentally friendly packaging

Healthy and well-balanced

Great variety in flavors
Cons
Not a lot of variety on the menu

You have the same meals you get to pick from every week

Expensive

Not very vegan or vegetarian friendly

Only ships to certain states
Other alternatives
If you don't feel like RealEats is the best option for you, don't worry! There are a few other options I would recommend:
Home Chef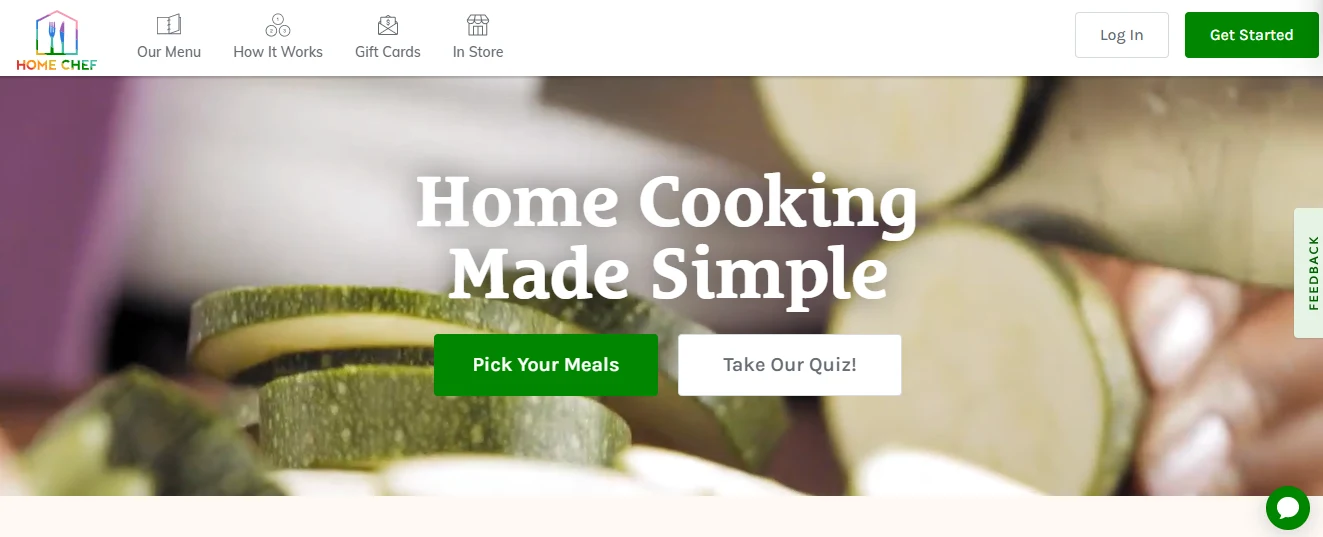 Home Chef is a higher-end meal delivery service. I would recommend Home Chef if you're looking for healthy meals (like you get with RealEats), but you want to learn how to cook!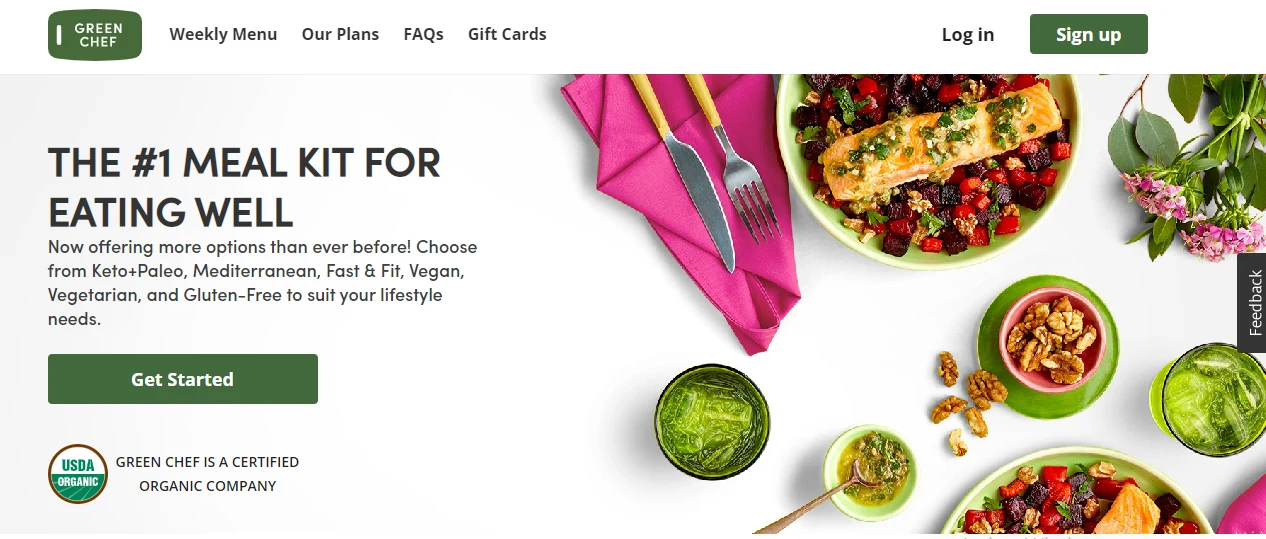 Green Chef is a great option to look into if you're looking to prepare meals for a special diet. Green Chef would be a great choice if you're focused on losing weight (or staying healthy) and want to learn how to cook. Like RealEats, all of their meals have been chef-inspired. But, you get to cook your meals with Green Chef!

Similar to Home Chef, Hello Fresh is another great meal delivery service if you're looking to cook your meals. I love the variety offered in Hello Fresh, but all of the ingredients in Hello Fresh are fresh, just like with RealEats! Check out our full review of Hello Fresh here!
FAQs
Question: Where does RealEats ship from?
Answer: All of their orders ship from New York!
Question: How long has RealEats been in business?
Answer: RealEats has been in business since 2017!
Question: Does RealEats charge shipping?
Answer: No! All of their meal plans ship for free.
Conclusion
I think RealEats is a great option for anyone who doesn't know how to cook, doesn't have the time to cook, doesn't want to cook, or doesn't have the appliances to cook. I do wish RealEats offered family plans, as I feel like that would open the opportunity to serve more people. I know I wish I could order a RealEats box and feed my family of three. But, with their current offerings, that isn't possible.
I loved how quick it was to make all of the meals. There is no way dinners could get any easier. I love all of the customizable options available for their meals. And I love how healthy (and farm-fresh) all of the meals are by RealEats. Overall, I'm happy!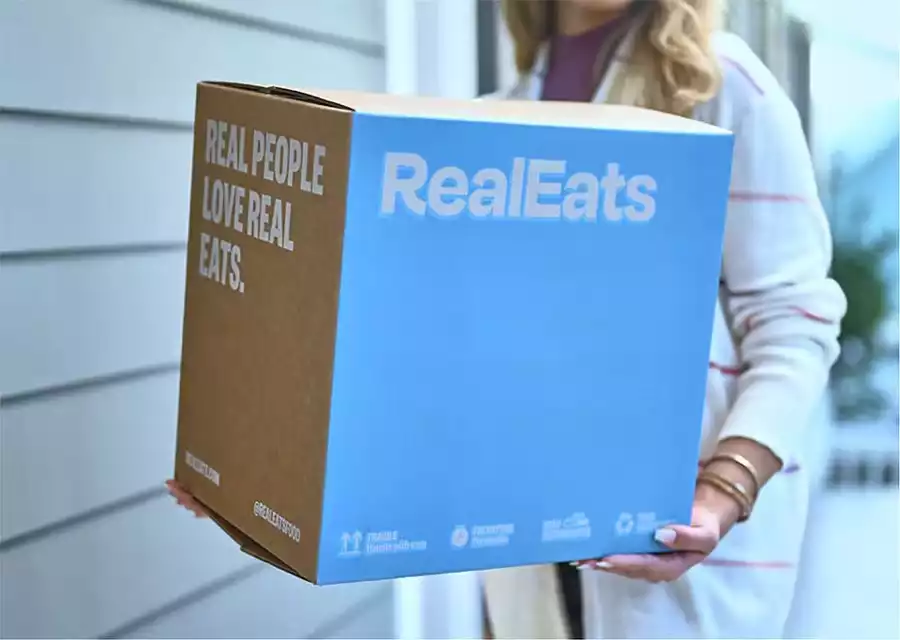 Recommended Reads: