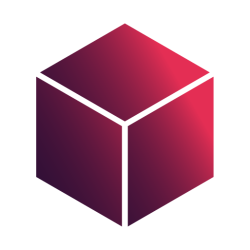 Latest posts by Subscriboxer Team
(see all)
MunchPak is a subscription service company that brings international snacks right to your door so that you can sample flavors from all over the world in a fun and convenient way.
You don't have to leave home and stand in the long lines at various international grocery stores if you're even lucky enough to live in an area that has them when you sign up for MunchPak. Plus you get the fun surprise of receiving threats that you might not have thought to try on your own.
MunchPak provides their subscribers with snacks from more than 50 countries around the world, so you are sure to receive something that you have never tried before. Get ready for a snacking adventure.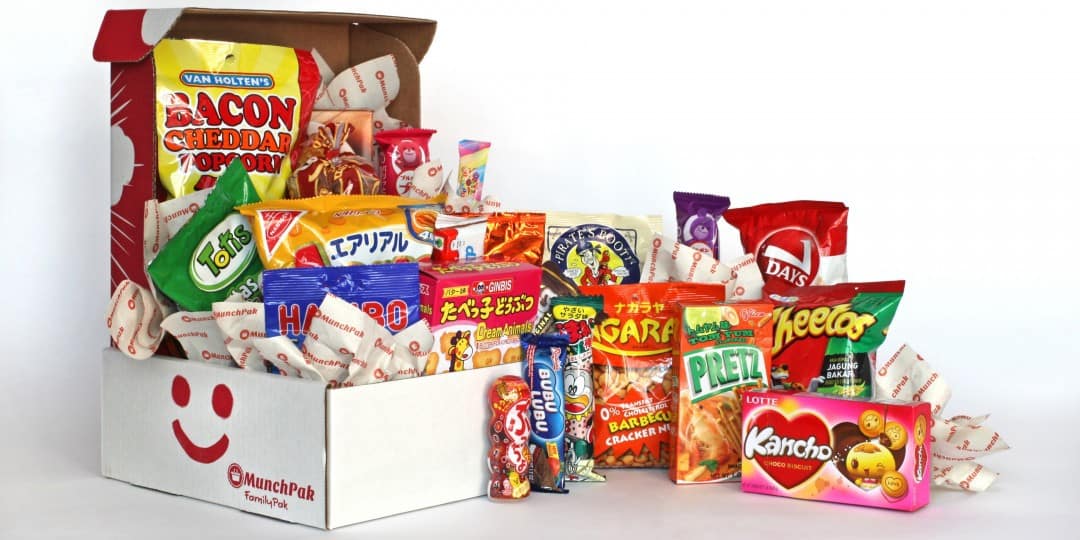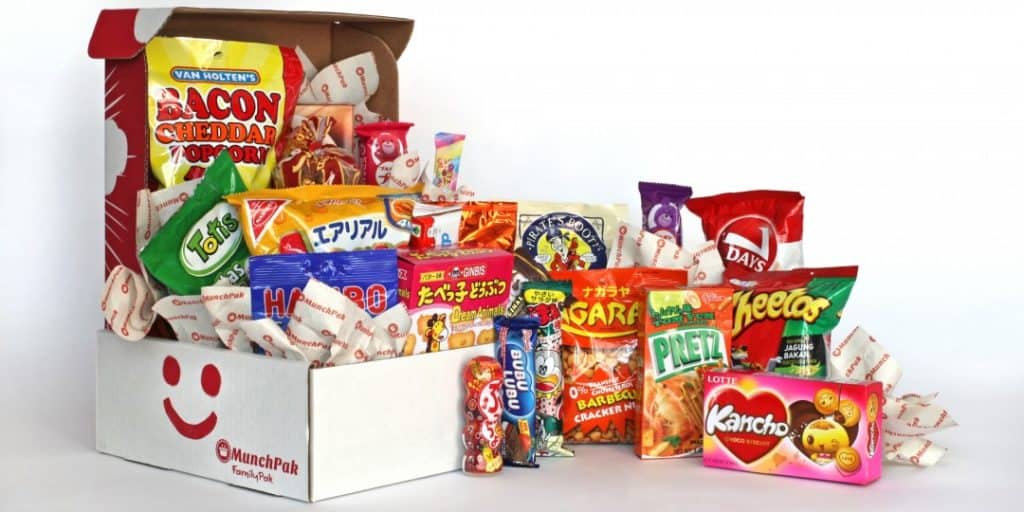 MunchPak subscriptions offer options of 5+, 10+ and 20+ snack options. Subscribers pick if they want to receive shipments weekly, biweekly or monthly. MunchPak also includes various pricing plans, so you choose if you're going to pay monthly or every 3, 6 or 12 months. The price per delivery lowers a bit with each increased time frame. Subscriptions start at just $9.95, and MunchPak offers so many options for every budget, but a 10+ box delivered and paid for monthly is $22.95.
The choices continue when you sign up for MunchPak, because subscribers are prompted to add or eliminate categories like Sweet or Sour based on your preferences. They also include things like Meat and Seafood so don't skip this step if you have allergies or if you're a vegetarian! I was impressed with this aspect of the sign up because I haven't seen it with any other snack box.
A lot of meal services let you specify any allergies, but the snack boxes, not so much. The catch is that it will cost you a dollar per item that you add or subtract during the customization process. However, if you have a food allergy or particular preferences, then it's well worth it. You can customize your box even more with add-ons like beverages for $5.
After that, the rest is up to chance. MunchPak won't give you any online spoilers about what's to come in your shipment. It seems like every shipment is different when it comes to this box, so don't even bother stalking the monthly box on social media.
It's truly a surprise every time. A recent Subscriboxer shipment included Serbian peanut puffs, crisps from the UK, spicy Canadian kettle chips, spicy Mexican lollipops, sour gummies from the Netherlands, Strawberry candies from Croatia, French berry bonbons, two types of Italian cookies and a Canadian chocolate waffle as well as Canadian watermelon candy. It was a full bounty of snacks, but not one with much of a theme going on. The snacks came out to about $2 each which made it a good deal and MunchPak has a retail aspect, so if you fall in love with something you can get it without having to book a flight to Croatia!
This subscription service was unique, so it got me wondering what else is out there is similar to MunchPak?
MunchPak Alternatives to Consider- What Else is Similar?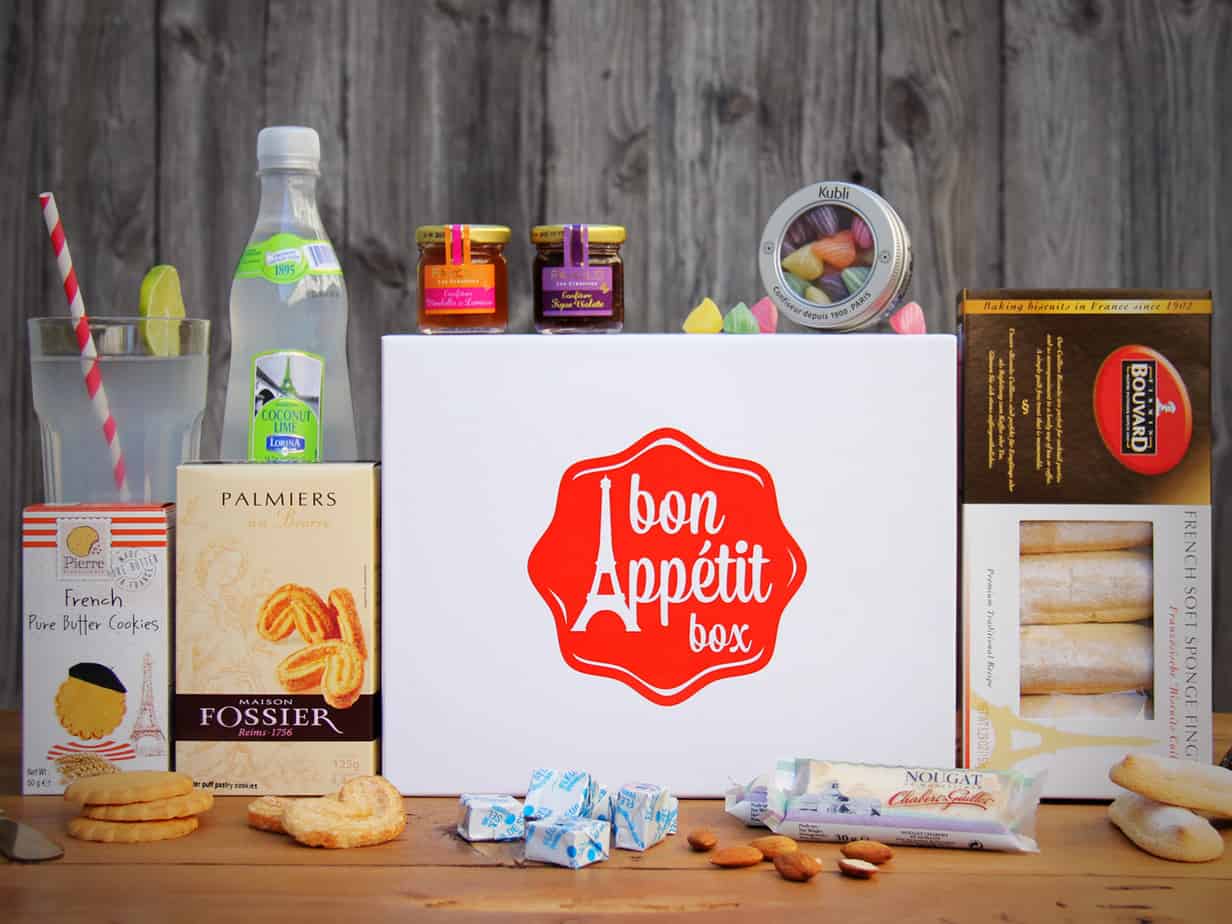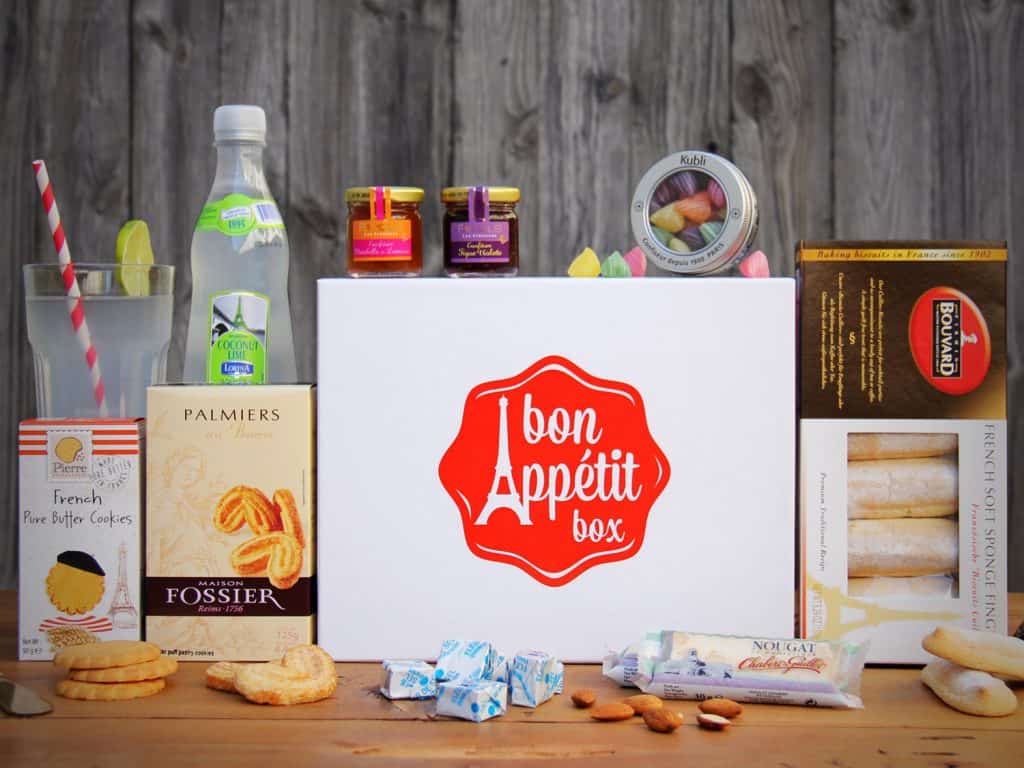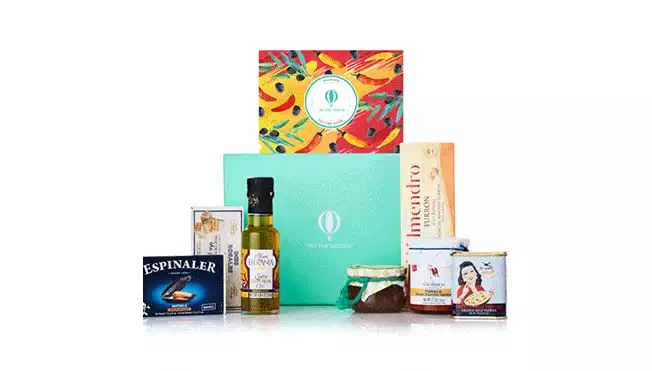 Try The World is another similar subscription service, but this one concentrates on one country at a time. Each shipment costs $39 if you pay per month, with a discount if you sign up for a longer period.
Subscribers receive 7-8 gourmet items from a specific global location each month. Two of their recent boxes were Moroccan and Portuguese themed. The Morocco box had tasty looking tea and cookies. If the long list of MunchPak snacks from all over the map would confuse your palette, then Try The World might be more for you.
I like the idea of a well put together a box that features a specific place in the world. It's second best to traveling there!
Universal Yums is a subscription service that costs $14 per month for 6+ snacks and includes options for larger boxes. They ship out snacks from one featured place in each box as well. They have had two recent boxes that included Brazil and Pakistan. The Pakistan box had ketchup flavored potato chips and a chocolate bar called Sonnet.
One thing that appealed to me is that Universal Yums includes an in-depth educational booklet with each box so that subscribers can snack and learn about the world! I think this box would be great for those with kids because of that aspect.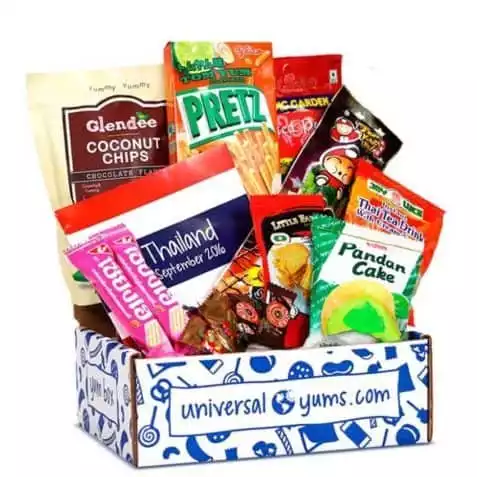 Is Universal Yum's Worth it?
I haven't been impressed with many snack boxes, but Universal Yums has cracked the code. Genuinely surprising snacks, new flavors, extremely high quality. No duds. The best snack box I've tried!
Check Prices
We earn a commission if you click this link and make a purchase at no additional cost to you.
3. Treats Box
Treats is a service that sends you 5+ snacks from a new country every month for $13.95. The box with 10+ treats is $25.95. Their online store includes items from Asia, Latin America, Australia, Europe, Africa, and North America, so I bet they include an excellent variety in each and every shipment. I was interested in trying some South African Fritos and Australian Tim Tam candies. They had so many items that I had never heard of before.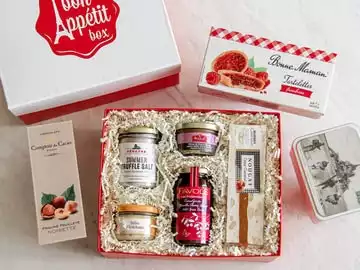 French Gourmet Boxes | Bon Appetit Box
Bon Appétit Box, the best gourmet foods from France, delivered in a box right to your door. Delight gourmet foodies with their Subscription Boxes!
Check Prices
We earn a commission if you click this link and make a purchase at no additional cost to you.
If you already know what region appeals to your taste buds, then you can seek out one of the many subscription services that feature the snacks of one specific country. France is very popular. Bon Appetit Box has plenty of subscription plans and one-time order boxes that offer beautifully curated French snacks. Each item truly compliments the next with this box.
In fact, I found it difficult not to eat everything in one sitting because it all went together so perfectly! Their Classic Box includes 7-8 items and costs $438 for a 6-month subscription. I loved the buttery mini toasts and spreads that I received. If you're obsessed with all things French than Bon Appetit is among several that you should try.
5. Expack Subscription Box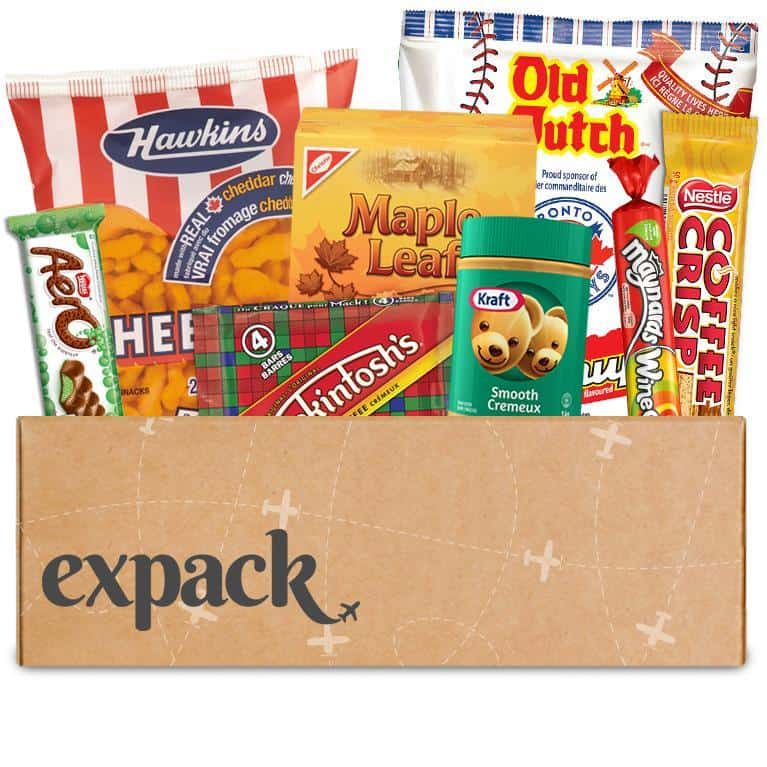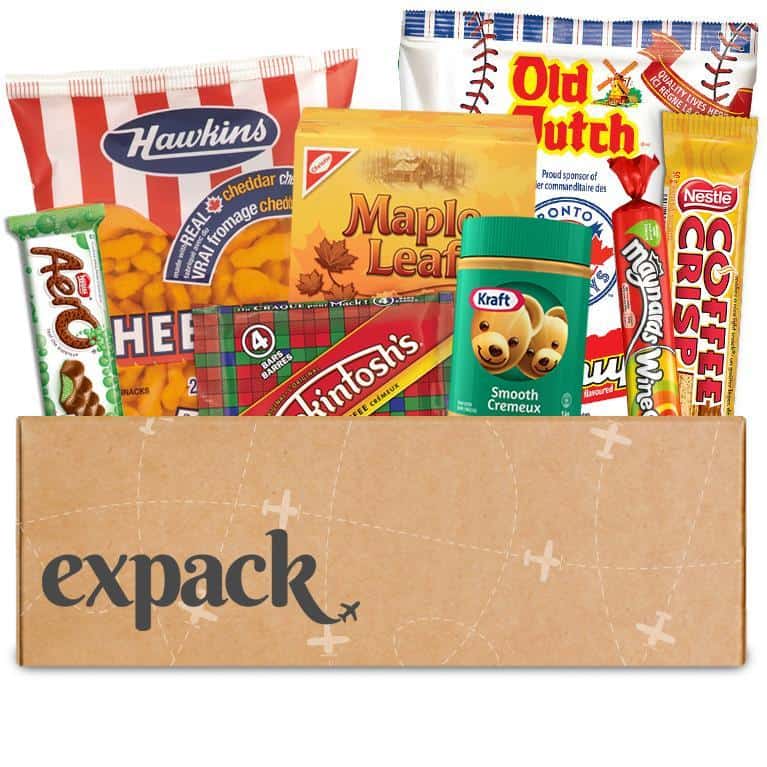 Another box that I really liked was Expack. This service is designed for Expats who miss the flavors of home. Like MunchPak, these snacks are of the humble grocery store variety, which I think are just the sort of things that you miss when you're away from the motherland!
You will receive candies, cookies, and other treats as well as the occasional drug store item for $35 per month from the location that you select. Option include Canada, USA, Germany, UK, and France. I tried Germany, and my package included everything from pancake mix and cough drops to Haribo gummies.
6. Malinka Box
One subscription that I have been interested in trying out is Malinka Box, which features Eastern European snacks. I have family from this area, and I always love when they bring me Russian candies and treats. I like the idea of paying $24.99 for a monthly box of various snacks rather than begging some off of traveling family members!
7. Snack Fever
Snack Fever offers a similar service to Korean snacks. If these are the snacks that you miss from home or just something that you would like to try, then give Snack Fever a shot. For $23.99 each month you will receive a nice selection of snack items both savory and sweet.
8. BoCandy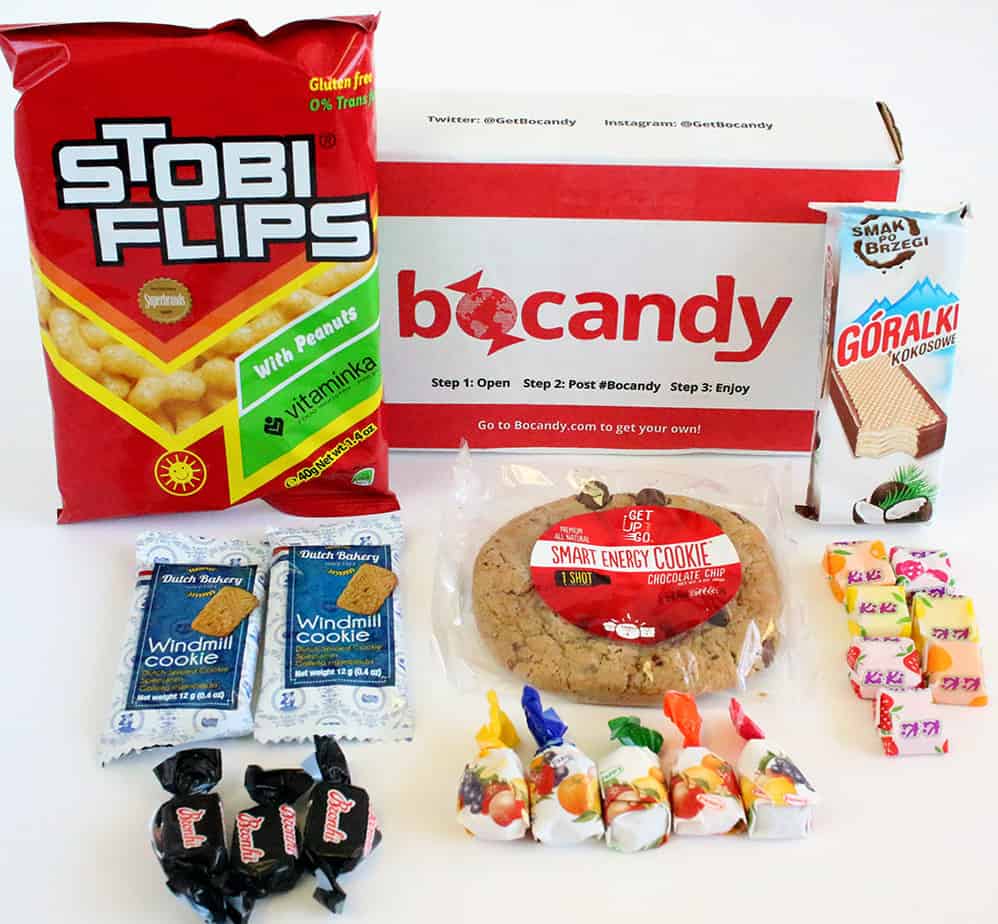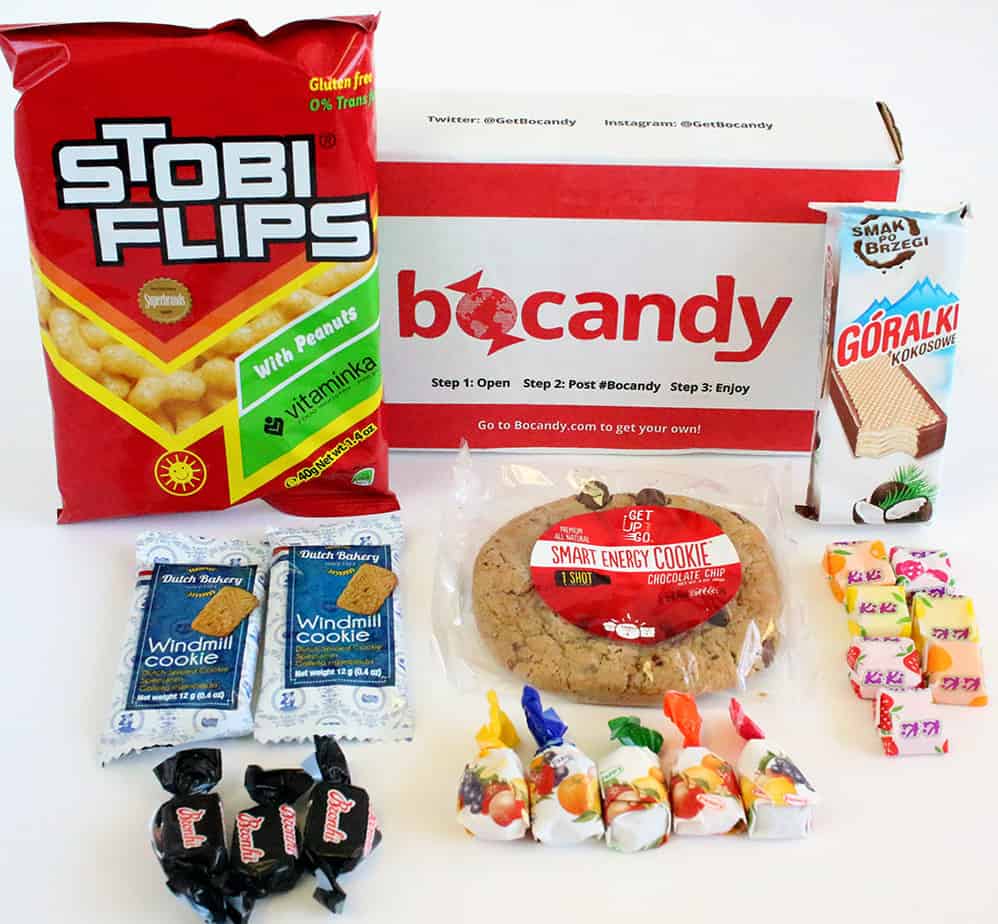 Bocandy is another company that offers a subscription box service of Asian snack items. For around $20 you can select either the Big Snack Box or the Asian Candy Box. The Big Snack Box includes snacks and beverages along with the candies.
Final Thoughts on MunchPak Alternatives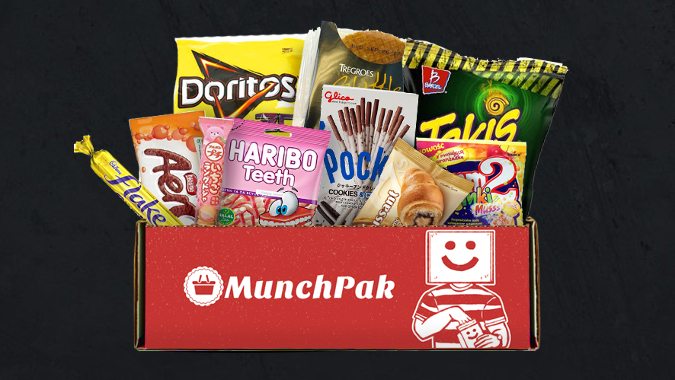 There's so much that's out there to try when it comes to international snacks, but there's no company that's quite like MunchPak. There's something enjoyable about receiving a random selection of treats from all over the world. With MunchPak it's always an adventure. In fact, I think when it comes to adventure MunchPak beats out all of the competitors.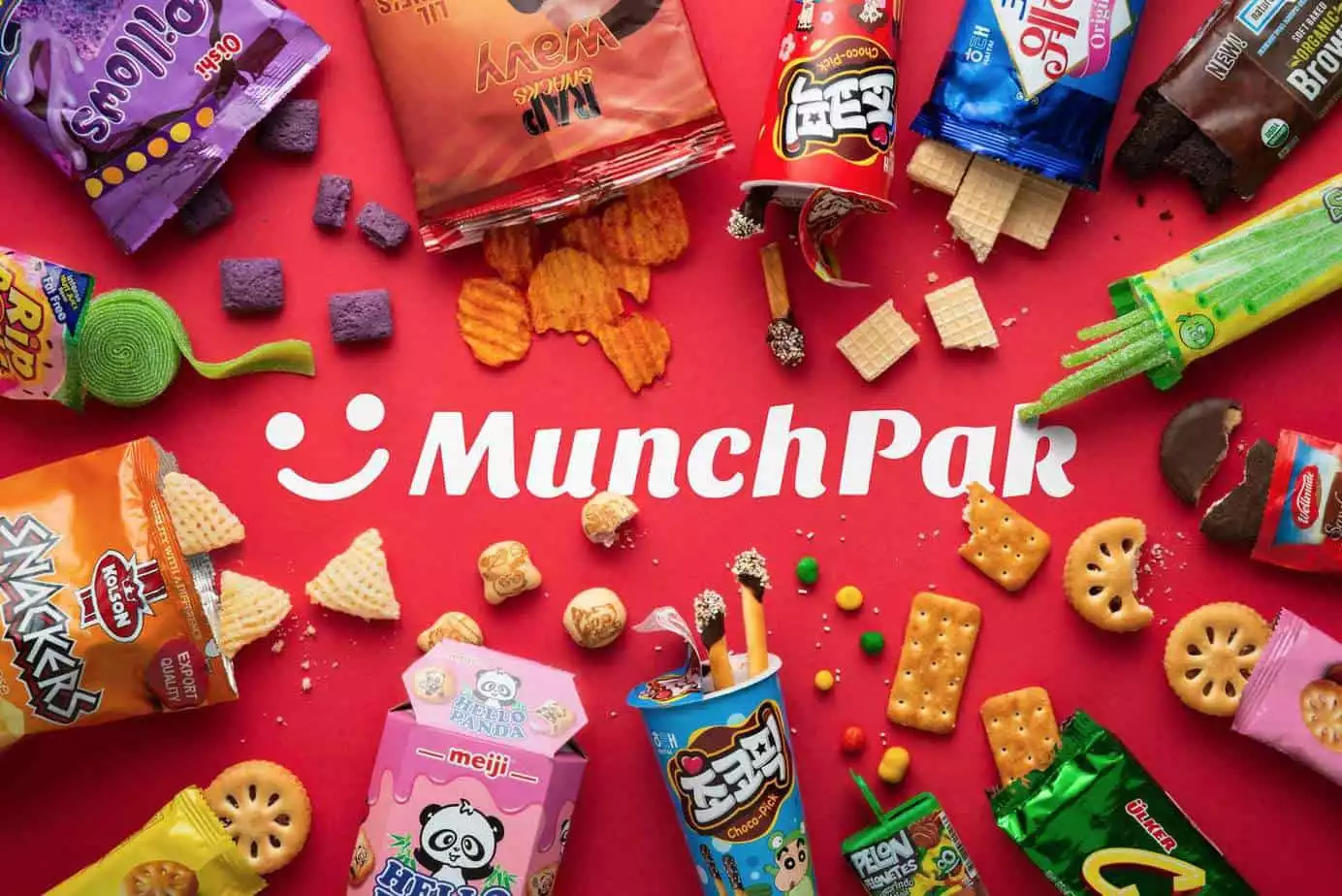 At the same time, it can be problematic when you get a box that doesn't seem to have any rhyme or reason to it. I mean, the Subscriboxer shipment included many spicy items even though that wasn't a selected preference as well as a bunch of Canadian and Italian items. It would be nice if they made a point to curate the boxes just a teeny bit more. Even if they just made a point to be sure that each item was from a different place it would be an improvement in my opinion. I think they need to pack the boxes with a bit more thought.
At the same time, the other international snack subscription box services might be overly curated since they always seem to focus on a specific region or country. Some companies change it up with each box, while others concentrate on one place that subscribers might either be missing or just a giant fan of.
Some of these super specific ones might be too niche to appeal to many potential subscribers. I am dying to try Malinka Box, but I don't think many people who have no connection to Eastern Europe would be compelled to sign up.
Personally, I love the way that all of these boxes make me feel as though I am traveling the world without ever leaving the comforts of home. I would love to give all of them a try in 2018. Check out some other reviews My Full Munchpak Review.