Latest posts by Crystal Schwanke
(see all)
I was mentally writing this Annie's Kit Clubs review as I went through the whole process, and I kept bouncing back and forth about whether I would recommend it. We got off to a rocky start, but it wasn't entirely their fault.
I expected to love it more than I did, no matter which project I chose, because I've been into arts and crafts – a little of everything – for as long as I can remember.
Yes, Annie's Kit Clubs is legit. The projects are fun to do, come with what you need to complete them, and offer a sense of satisfaction when you're done. I just had a few issues with ordering, communication, and shipping.
Bottom Line Up Front
Eventually, I decided: Yes, I think Annie's Kit Clubs is worth it, but don't click away yet. There were some twists and turns to my experience that you'll want to know about before you order.
I had a few issues getting my hands on a kit, then a few more when I started making the cards, but I was happy in the end. Some issues felt like they weren't my fault, but I "should've known better" (they didn't say that; I put that on myself). I needed better communication. The last (minor) struggle with was a combination of a need for more instructions and user error.
All that said, once I had the kit in hand, everything was right in the crafting world, and I was able to get started. Annie's Kit Clubs is legit, and I got everything I needed to make even more cards than I expected. It was fun to do once I got out of my head.
Features of Annie's Kit Clubs
There are projects meant for one month or to span across several months. If you're a commitment-phobe like me, start with a one-month kit and see how it goes.

There's something for every craft interest, from quilting to card-making.

There are written and video instructions.

Some projects are quick enough to squeeze in on a break from work if you work from home. Otherwise, you could do them to wind down at the end of a stressful day.

You can use your creations from the kits to brighten someone else's day, whether donating crocheted hats and scarves, mailing a card, or spending time with your little artist with the Creative Girls or Young Woodworkers kit. The Caring Crochet Kit Clubs tells you how to contact an organization to pass your crocheted gifts along.

Each club has a subscription fee. Depending on your chosen craft, you'll either get a fresh new set of materials and projects or more materials to continue with a larger project (like an afghan). Prices range from $14.99 to $39.99 per month, but as of this writing, you can get 50 percent off your first box.

This is welcoming for beginners and more experienced crafters alike. If you're new to crocheting or knitting, you can still get started with their projects. Or you can opt for something more approachable, with a quicker start-to-finish time and less of a learning curve, like the CardMaker or Creative Woman kit.
Pros
With a subscription like this, you get a monthly reminder to do something creative.

Clear instructions

Variety of kits (options for crocheters, knitters, card-makers, jewelry-makers, quilters, woodworkers, etc.)

Extra materials in case you mess up

Projects can take as little as 20 minutes to complete

Several kits encourage you to brighten other people's days.

Separate printed instructions on using the bone folder, acrylic block and stamps, and piercing stylus in case you're not familiar with these tools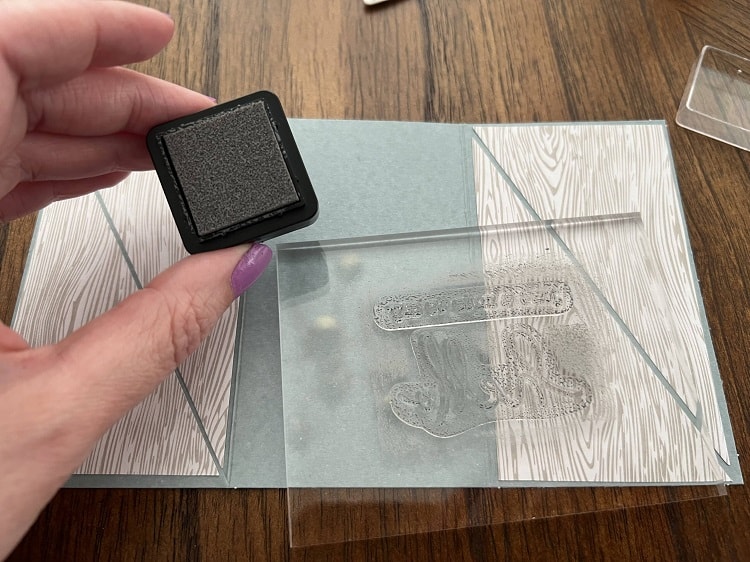 Cons
Shipping was slow and I didn't get updates.

They still had discontinued kits listed on the site

Some projects can take several months to complete, so you're locked into the monthly payment until you're done.

You can't work very far ahead on a large, multi-month project. Shipments come every two or four weeks.

Photos or drawings of the less familiar tools (like the piercing tool and bone folder) would have been helpful.

Needed more photos and explanations on some steps.

Needed videos for each type of card, not just one.

The lists of what was included in the kit vs. what I would need didn't match.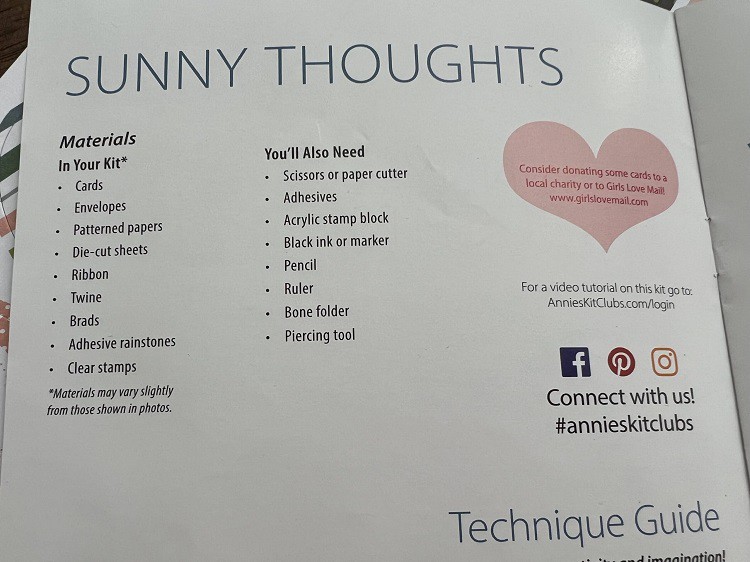 My Experience: Annie's Kit Clubs Review & Unboxing
Ultimately, I was happy with my Annie's Kit Clubs order, and I'll probably try another kit. It was a bumpy ride, though.
The Price: Worth It
Admittedly, my first reaction to the price was shock. It's not expensive (I paid $19.99, plus shipping), but it seemed like a lot for a card-making set (I also didn't realize how much material I'd have left for future projects until it arrived).
Then I thought about how much craft supplies cost when I go to a store.
Even once I thought of it that way, I was shocked once I did the math. All tiny details, like brads and twine, add up. Let's compare:
| | |
| --- | --- |
| Item | Cost |
| Cards/Cardstock | $6.99 (25 sheets) |
| Envelopes | $8.99 |
| Patterned papers | $19.99 (58 sheets of 12" x 12") |
| Die-cut sheets | $5.99 |
| Ribbon | $2.49 |
| Twine | $3.99 |
| Brads | $3.99 |
| Adhesive rhinestones | $3.49 |
| Clear stamps | $12.99 |
| Piercing tool | $14.99 |
| Bone folder | $6.99 |
| Acrylic stamp block | $12.99 (set of 2; only one came in the kit) |
| Ink pad | $3.99 |
| Total | $107.87 |
Keep in mind, when you shop at a store like Michael's (where I pulled these prices from) for these materials, you'll be getting more than what's in an Annie's CardMaker Kit. For example, you're getting an extra acrylic block, more paper, more envelopes, a larger ink pad, more ribbon and twine, etc.
Also keep in mind, Michael's has coupons almost every week, so you'll rarely be paying the full prices shown here. You'll probably get at least 20 percent off most of the time if you're on their mailing list and/or have the app.
For some people, it'll make sense to invest in the Michael's haul. For others who just want to dabble and do something creative in their free time, Annie's makes more sense.
Depending on the craft you've decided on, the instructions and video Annie's Kit Clubs provides could also be invaluable in getting the creativity ball rolling.
Ordering and Communication: Bumpy
When I first went to the site, I was overwhelmed by the sheer number of options, which is good. I found so many projects I didn't know where to begin. I like everything. At first, I was entranced by the idea of crocheting an afghan, but I managed to hold myself back.
Shopping and Checkout
I chose the Rise & Shine Chalkboard Signs (what I perceived to be a one-time project outside of a subscription) from the general Shop page to dip my toe in the water. After I ordered it, I found out it was discontinued. It was still on the site then, but they have since updated that page.
Once the refund was sorted out, I visited the Paper section under Choose Your Craft and chose the CardMaker Kit. I checked out with no issues. It was delivered in a cute, patterned, padded envelope.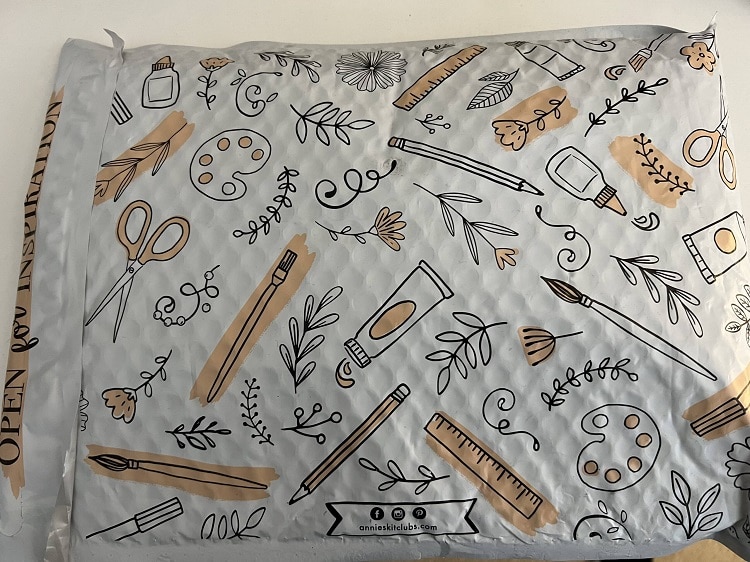 Communication
Though I heard back after a couple of days when there was an issue with my order, communication could have been better.
The email I received said my order was canceled and refunded because it was discontinued. However, the message showed a refund for the item and still listed tax and shipping, as if I wouldn't get a refund for those. I wondered if they were sending something similar in the kit's place, so I followed up via email.
They replied and explained what happened, and I received the full refund within a few days. Then, I ordered the CardMaker Kit.
How Long Does Annie's Kit Clubs Take to Ship?
A while. The shipping was fine, but it took about eight days. I wondered if my order had been canceled again because I didn't get a shipping notification. It just showed up in the mailbox the day I almost emailed to ask about it.
Later, I saw that the website says it could take six to 10 days for the CardMaker kit to arrive. Each kit has its own set of FAQs with this info, but it's easy to miss. Some projects could take a couple of weeks.
CardMaker: The Card-Making Project
The CardMaker subscription wasn't my first choice, but it was low-commitment, one of the least expensive projects, and not one that spanned several weeks or months. Perfect for giving Annie's Kit Clubs a try.
Because I know my brain doesn't always do well with paper-folding tutorials, I was surprisingly intimidated once I flipped through the project booklet. This was more than just cutting pretty paper, gluing it onto cardstock, and decorating it with pre-drawn punch-outs.
I'm glad because the projects weren't too simple or boring. I love a good challenge and enjoy strengthening my weaknesses, so I was excited, too. The way everything was presented helped me get comfortable with paper crafts again.
Time Commitment
Even with the mild terror that I'd mess something up, the cards were still quick to make. I appreciated that. It's easy to get started on a project you know will take around 20 to 30 minutes or less to complete, so you can fit more creativity into your life.
Embarking on a longer project might be too intimidating and keep getting pushed back to when you think you'll have more time. You won't have to worry about losing track of time and spending hours on a shorter project, so you'll be more encouraged to make time for creativity.
Some of the instructions in the CardMaker kit were confusing, and I wasn't sure I was folding the cardstock right. I would've liked to see more photos, more description, or a video that showed each type of card. There were four cards to make, split into two basic designs. The video showed two similar walk-throughs, so I had to muddle through the other design.
Though I struggled to visualize some folding instructions, which made the process feel more difficult than it should've been, I appreciated how the first two card designs were similar. Then, the following two designs were similar to one another. Messing up on one gave me the knowledge and experience to improve the next.
The Materials
The project made all the hiccups worth it. The paper, stamps, card stock, and other items I got were beautiful. Some of the materials, like the ink and stamps, can be kept and used well beyond the scope of the project they came with. The creativity continues after you've made a few cards. I barely even scratched the surface.
I was relieved to see extra cardstock, printed paper, and cutouts. I had issues with some cards, which boiled down to user error. Feeling dumb has never been so fun, though.
There's enough paper and cardstock here to make eight to 10 cards, but only four projects, so you can use the included instructions as jumping-off points to create your own. I love how everything's coordinated, including the things the booklet didn't have me use.
The kit had everything I needed besides the adhesive, a ruler, a pencil, and scissors. Even the clear acrylic block for the stamps was there. The stamps stick to it (you peel them back off and save them for later), and the block and stamps are clear, so it's easy to color them in and line up the words or pictures just how you want them on the paper or cardstock.
The piercing tool looked like a pen, so when I sat down to work, I dismissed the "pen" as something to mark the paper with so I'd know where to cut (I used a pencil instead, so I never took the cap off the "pen").
The instructions said I'd need a piercing tool, bone folder, acrylic block, etc., but those were in the kit, so the lists of what was in the kit vs. what I'd need to find on my own didn't match up. The way they didn't match was in my favor, though.
As for the quality, I have no complaints. The cardstock was thick enough to work with but still easy to fold. The colorful craft paper and cutouts were about what I'd expect if I went to the craft store and picked them out for myself.
The Instructions
I had trouble understanding some folding directions. My brain refused to compute the instructions for the last two cards at first (they're very similar, and I did one wrong, but it's still cute).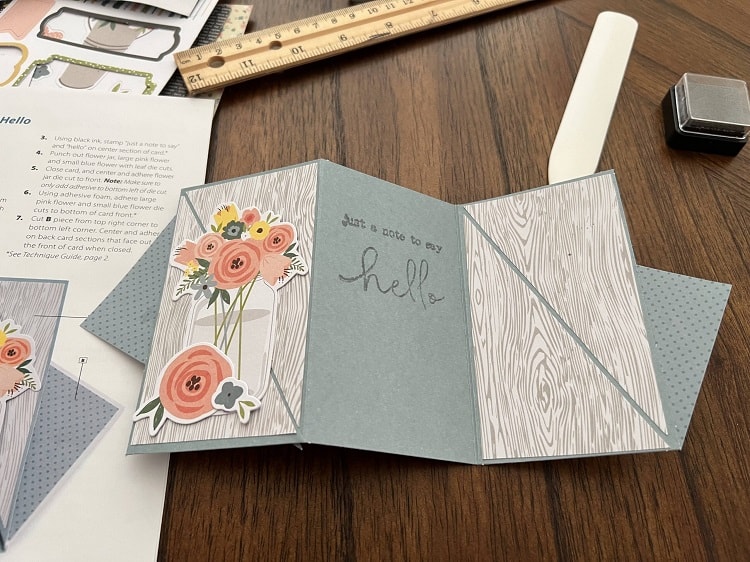 I checked the video for help wrapping my head around exactly how I was supposed to fold one of the more complicated ones. However, it only showed me how to make the first two cards, which were similar to one another but not to the second design. More photos or detailed instructions would've been helpful.
In the end, I figured it out.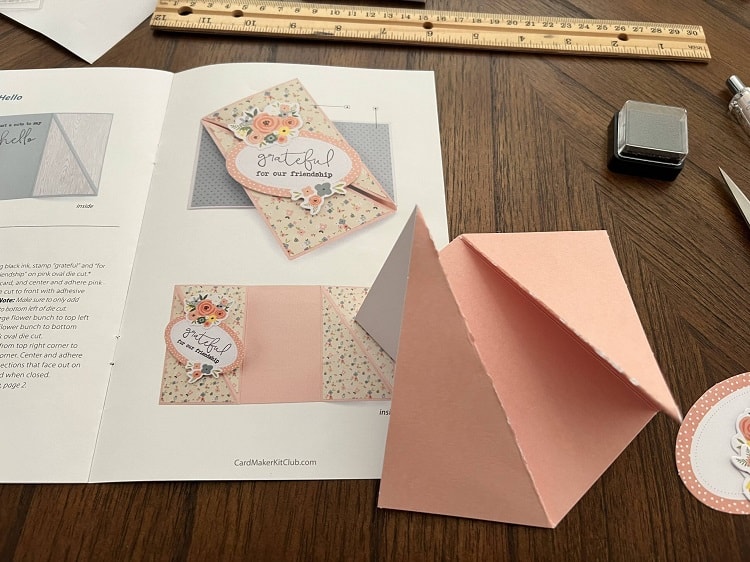 At first, I thought I'd have to improvise on the piercing tool because I didn't have one, but then I realized it was "disguised" (not really) as a pen. I used a mechanical pencil to pierce holes in the tag on the first card.
That didn't go how I wanted it to (in all fairness, I didn't have a foam block handy under the tag I was piercing, so it might not have gone well with the piercing stylus, either). I used a second tag and tried again. That one was better.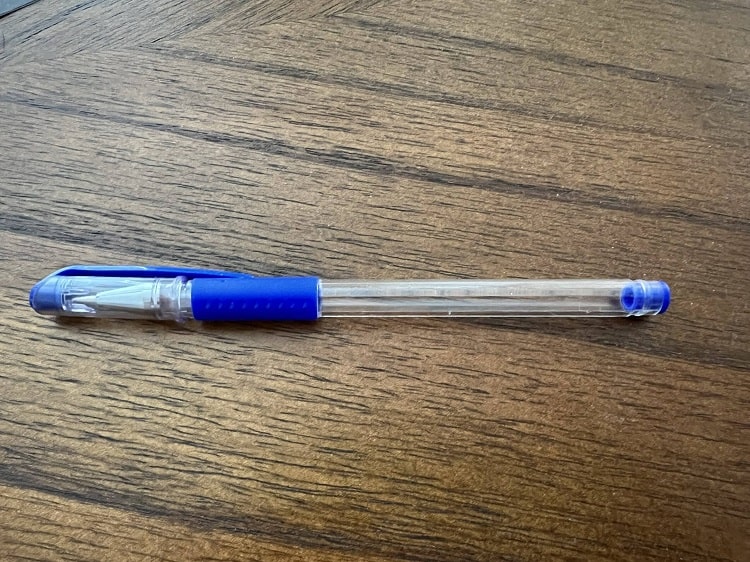 I was filming while making the first card, which made everything a little more complicated. Once I sat down at the table and made the other cards off-camera, the process was smoother and quicker. However, I didn't need to pierce anything else once I discovered the tool. It was only needed for that first card.
I didn't have the adhesive foam it recommended, so I just used a glue stick I had on hand. That worked fine, but it didn't have the 3D effect the instructions intended.
The Finished Cards
It's been a long time since I sat down to make a card, so I was proud of how these turned out, despite some mishaps. They were all adorable and fun to make.
I could see myself getting into the groove and making ten or more at once, but sitting down to do one at a time on busy days is a good break. It was a relaxing project once I got going, a nice re-introduction to paper crafts outside of the journaling/scrapbooking I do.
For some reason, I thought I'd be making full-size cards, but these were small at around four inches high and 2.5 inches wide when closed.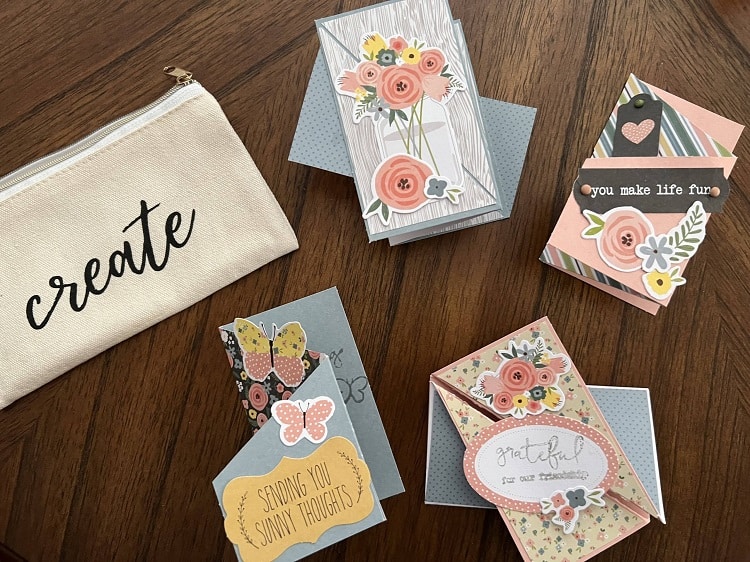 Annie's Kit Clubs Alternatives to Try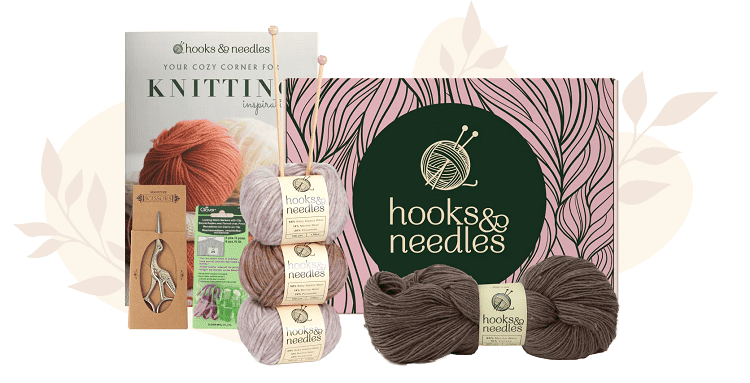 If you don't find what you're looking for at Annie's Kit Clubs, here are a few others to check out:
FAQs
Question: Are Annie's Crochet Kits Worth it?
Answer: That depends. Do you like buying all your materials and powering through a project, or do you pace yourself? The projects are beautiful, and I was tempted to commit to an afghan right off the bat, but I went with a shorter project my first time around because I didn't want to lock myself into several months' worth of boxes.
Waiting for more yarn as you work your way through will be irritating for some. For others, it'll be the perfect pace, something to look forward to each two to four weeks and keep beginners from getting too flustered by taking on too much at once.
Question: Is Annie's Crochet Clubs for Beginners?
Answer: Beginners and more experienced crocheters will enjoy the club. Some projects are smaller and better for beginners than others, but I'd say yes.
Question: Can You Cancel Annie's Kit Clubs?
Answer: It's easy to cancel from inside your account. I've canceled mine for now, and haven't been charged anything extra or sent anything in the mail.
Conclusion: Try a Short Project First
Based on my experience, I don't recommend immediately diving in with a multi-month project. I'd try a smaller project you can complete in one month to see how it goes.
This will give you a low-risk way to decide if you like it, see how long the shipping takes for where you live, and, if you need to contact them for something, find out more about their communication.
I love the idea of monthly crafting inspiration and the tools, instruction, and materials to make it happen. Still, I'd hoped for a smoother experience, especially for a company that'll be automatically charging me every month.
The project was fun to complete, and the materials were excellent, so I'd order again. I appreciate their variety because I can go from the CardMaker kit to something else altogether, then switch again to try something new.
Continue reading:
15 Best Yarn Subscription Box Services
Bombay and Cedar Review and Unboxing: My Surprising Experience