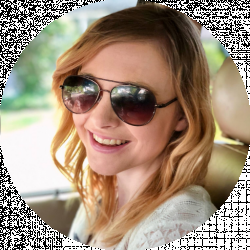 Latest posts by Erin Jamieson
(see all)
I have a confession: I'm not that great at relaxing. The few times I've tried yoga, I found my mind wandering and unfocused. Maybe it's just my struggle with anxiety, and maybe it's the pressure to always be productive, to always work just a bit harder to accomplish my dreams. Maybe that's why I was drawn to Bombay and Cedar, a lifestyle and beauty subscription box. 
Lifestyle boxes aren't new, of course. I've been seeing ads for FabFitFun, BeautyFix, Ipsy, PopSugar, and many others for a long time. I just never thought I'd take the step to make an order and review it myself. It's easy for me to give to others, and far harder for me to treat myself. 
That's why my unboxing of Bombay and Cedar was revealing to me, and in more ways than one. I went in unsure what to think when I ordered, and worried that my experience with this lifestyle box would be disappointing. 
Spoiler Alert:
I was wrong. Bombay and Cedar exceeded my expectations and even convinced me that I do deserve to relax more every once in a while. I recommend this service to anyone who cares about vegan and sustainable products and wants to pamper themselves. With flexible subscription options, excellent customer service, and beautiful packaging, I recommend subscribing to Bombay & Cedar. 
So if you're like me and find yourself constantly tense and overwhelmed, I can tell you two things. A lifestyle or beauty box can't solve your problems. But something like Bombay and Cedar may just remind you to be a little kinder to yourself and take some time to enjoy life. Want to know why this experience was so rewarding? Read on for my unboxing. 
What is Bombay and Cedar?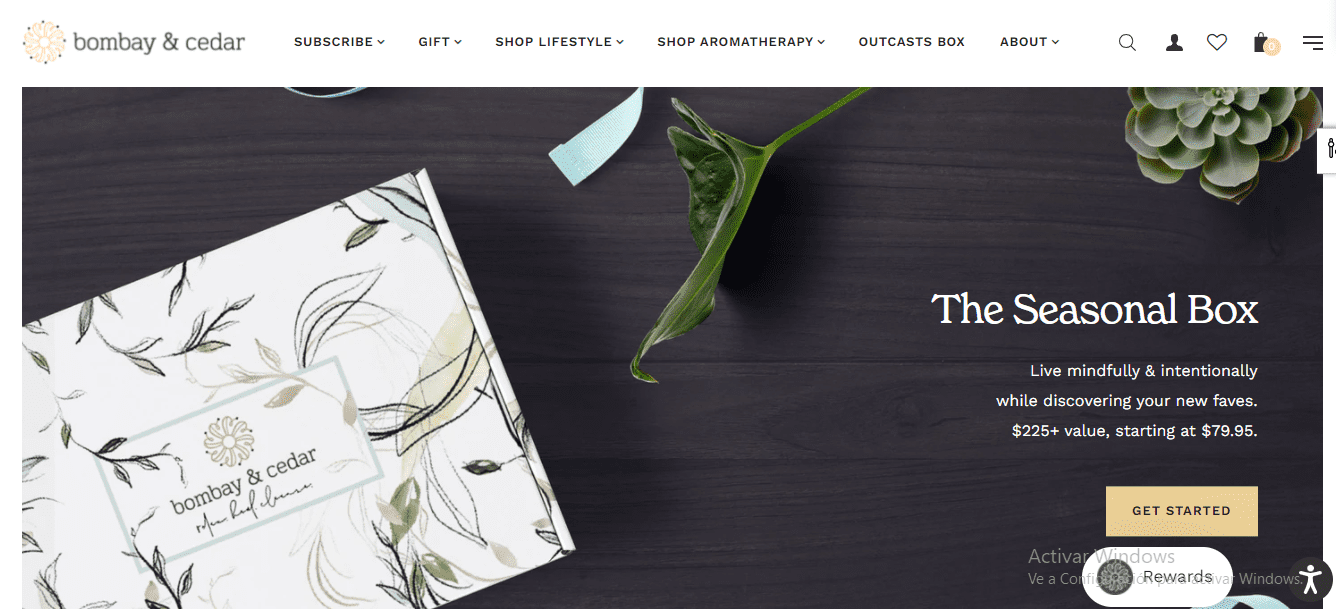 If you've considered a beauty or lifestyle box before, you've probably at least come across the name Bombay & Cedar. But if you haven't, that may be because it was only launched a few years ago, in 2017. 
The mission statement spoke to me: "[a] box to remind you to take some time to focus on yourself." Who couldn't use that, especially after the stress of the past few years? At the same time, I was skeptical. So many companies claim they can improve our lives. So I looked a little more into it before I ordered. 
Products
All products are vegan and cruelty-free! 
At its core, Bombay and Cedar is a curated lifestyle box– monthly or seasonal– packaged with unique lifestyle, aromatherapy, lotion, beauty, and other products. These aren't mass-produced products, but truly unique pieces you won't find at your local Target. You can shop the market and buy products individually, but the market is also a true representation of the types of products they ship in their seasonal and monthly boxes, including: 
Bags and Accessories

Lifestyle Books and Journals

Stationary 

Bath Lotions and Oils

Home and Office Decor

Coffee, Tea and Unique Snacks

Skincare and Makeup 
Charitable Giving 

All beauty and lifestyle companies are businesses and need to make money. But few give back to the community. This is just another reason why I was drawn towards Bombay & Cedar. 
Some proceeds of every purchase go towards non-profit organizations, including  :
MADD Georgia

National Breast Cancer Foundation

100 Black Men of DeKalb County

1% For the Planet

Rain-forest Alliance 

Others, including providing safe drinking water 
Pros and Cons
Pros
Vegan and Cruelty-Free
Unique Products
Excellent Customer Service
Beautiful Packaging
Cons
A Bit Expensive
Trial Sizes
Can't Select Products Yourself
Signing Up and Ordering
I think one thing that so often keeps me from ordering any lifestyle boxes is the hassle of figuring out what I want, making an account, and debating if I can trust a company. I am happy to say that Bombay and Cedar honestly make ordering easy. While I'm indecisive, even I knew which subscription was right for me. 
And remember: if you're hesitant, you can shop for individual products before (or during) signing up for a subscription. I opted for the lifestyle box, which the unboxing I'll share with you, but I want to show you your options, and explain a little about shipping. 
Subscription Options
Some beauty and lifestyle boxes only offer different subscription options based on frequency. That's not true for Bombay & Cedar. You can select from a monthly beauty box, monthly lifestyle box, or seasonal lifestyle box. 
Seasonal Box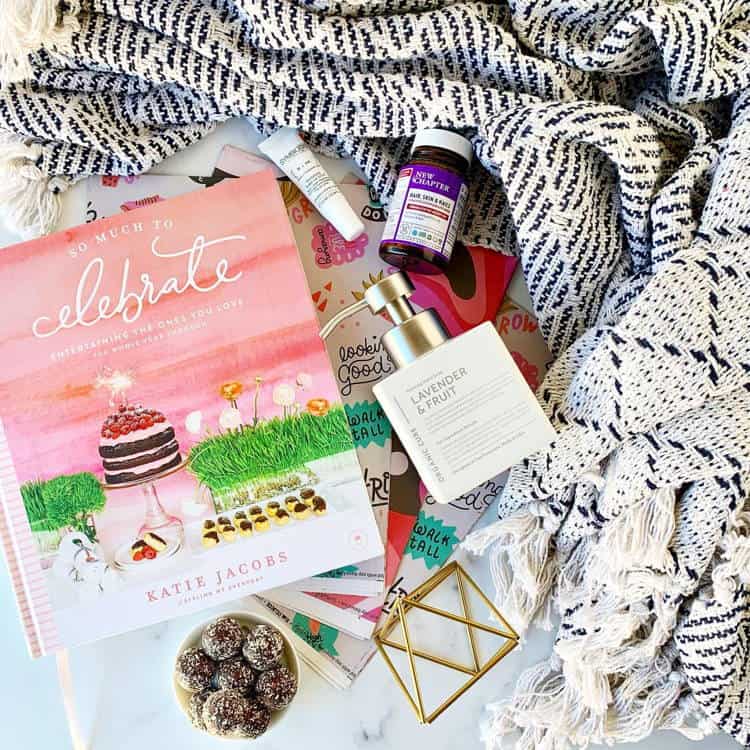 I may complain about living in Ohio- or make fun of its inconsistent weather. But I know for sure I love different seasons. I love the crisp smell of autumn leaves most. But I also love the wonder of freshly fallen snow and twinkling Christmas lights. I love the feeling of hope after a warm spring rain and the first seasonal blossoms, and the carefree ease of breathlessly blue Summer skies. So I love the idea of a seasonal box. The seasonal box ships four times a year: one for Spring, Summer, Fall, and Winter. Each box comes with lifestyle products that represent the season. The 2022 Spring box, for instance, features a garden kit, ear seed kit, cheery Spring tote, and more. You can subscribe to an annual plan or a quarterly subscription. 
Monthly Lifestyle Box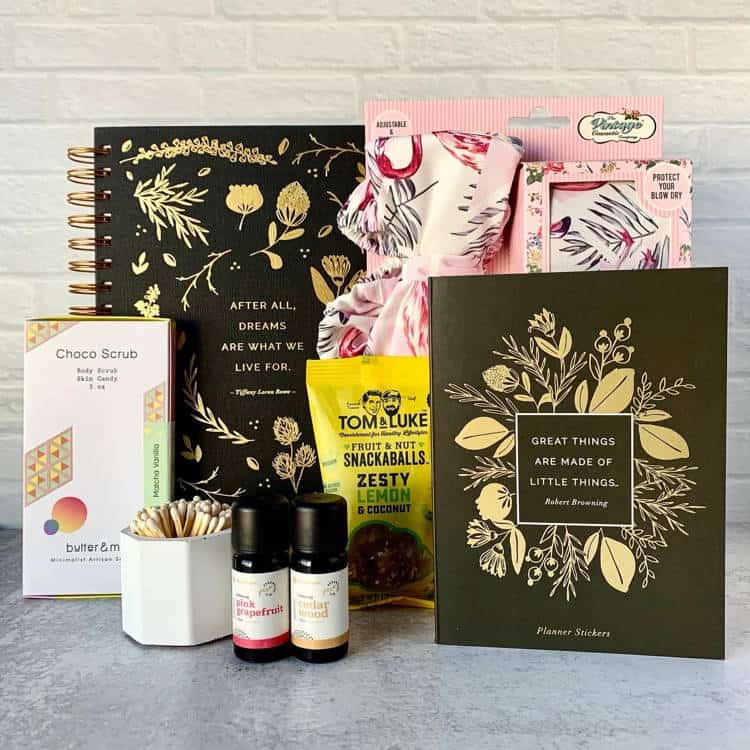 My choice was the monthly lifestyle box. While the concept of seasonal products is lovely, I wanted a box that reflected the stresses faced every month. The monthly subscription promised 7 to 9 vegan products. Pictures of past lifestyle boxes that included essential oils, journals, unique snacks, and body scrubs made it clear this was the right choice for me. I write poetry in my free time, and I love having inspiration. A unique snack and aromatherapy remind me to de-stress and feed my body– both things I've struggled with. The lifestyle box can be purchased as a monthly subscription, 3-month plan, 6-month plan, or annual subscription. 
Monthly Beauty Box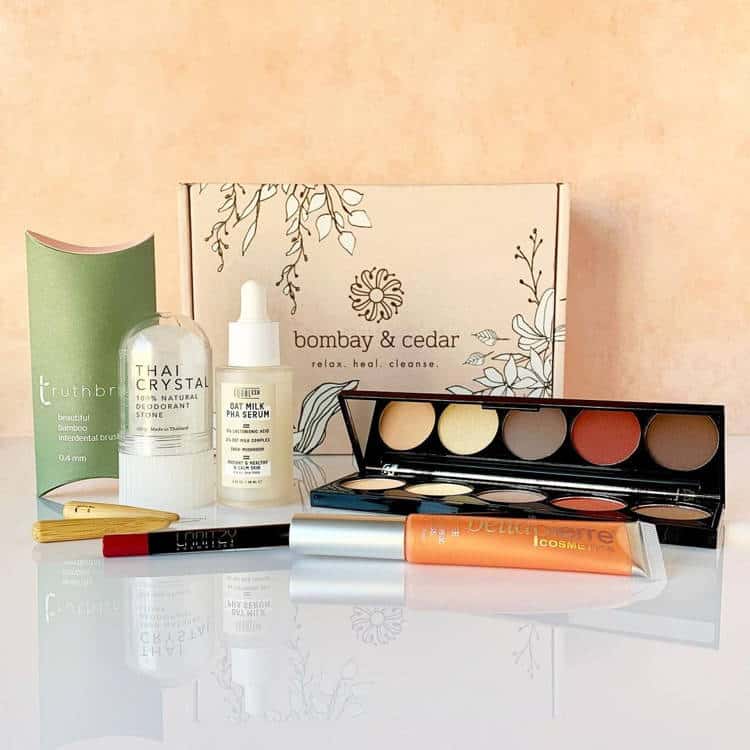 I'm pretty low-key when it comes to makeup and skincare. While I love trying new products, I decided the lifestyle box was a better fit for me. Still, I think this is a solid option, and I did heavily consider signing up for the Bombay and Cedar Beauty Box. Each box ships with 5 to 6 beauty items. This includes makeup, skin products, and application tools. What's interesting is that, while all products are vegan, there are a few well-known brands and independent brands in each box. Past boxes have included blush,  highlighter, mascara, eye shadow, lip products, serums, moisturizers, and more. The same subscription options (monthly, 3 months, 6 months, and annual) apply. You select your unique palette range to ensure you're receiving the right items for your skin tone. 
Shipping and Handling
Shipping and handling make me nervous at a time as crazy as now. There have been some shipping delays– my box arrived later than normal. However, Bombay and Cedar were honest about this. They have a COVID Shipping Update Page which you can check. I tested by contacting customer service and received a helpful, courteous reply in 24 hours. Once my box did ship, I was emailed a tracking number. While there may be a delay with your initial order, I can honestly say I'm impressed with Bombay and Cedar's customer service and honesty. What sets it apart from some other lifestyle and beauty subscriptions. All shipping is free and shipping is on a monthly schedule. 
My Monthly Lifestyle Box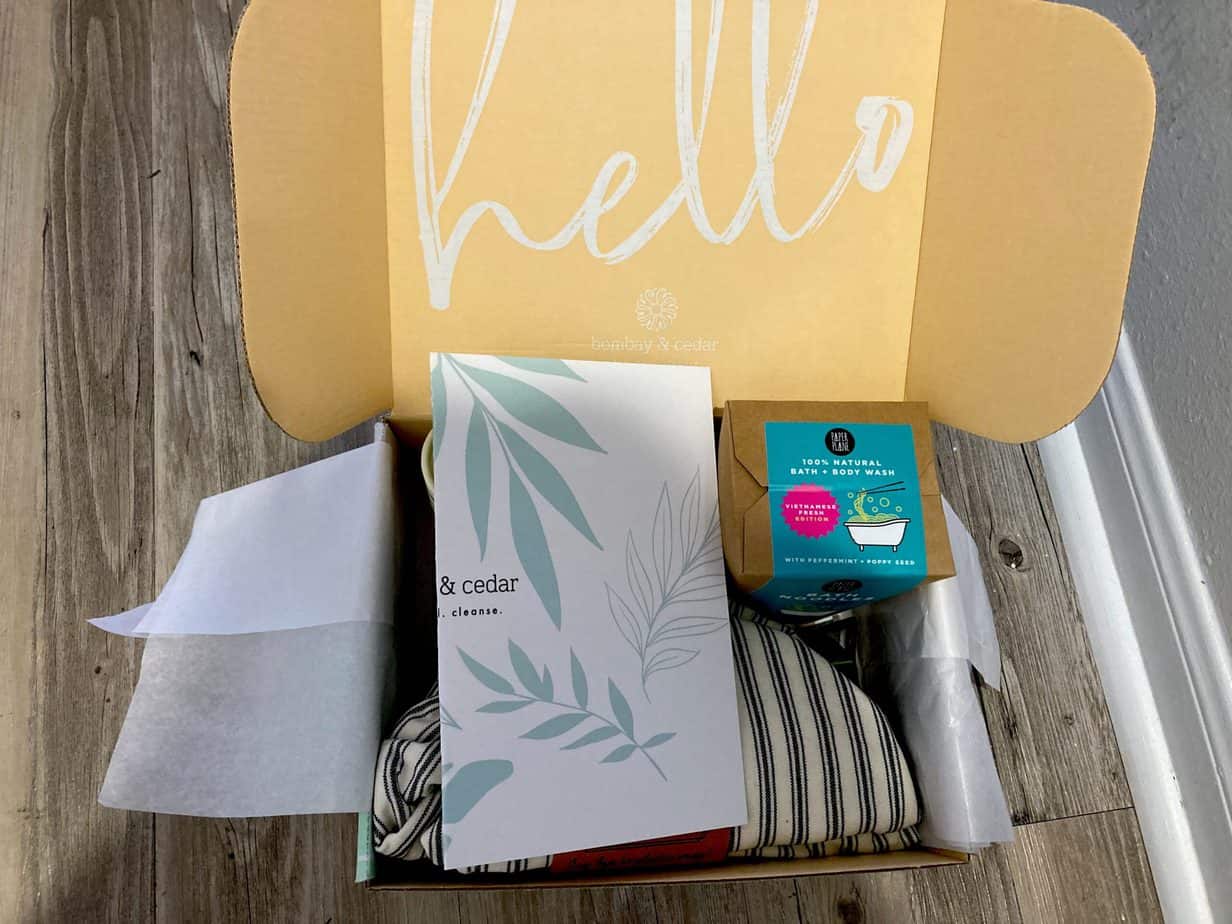 After I ordered, I waited a few weeks until I received my tracking number. I was eager to see what would come in my box and if it would be as thoughtfully curated as claimed. It arrived via FedEx and was dropped off at the mail room at my apartment. I was happy to see that my box arrived without damage, both inside and outside. But it's when my unboxing began that I realized this was no ordinary subscription. 
My box arrived with 9 products, all vegan, all unique, and all beautifully packaged. They even slipped in a pamphlet explaining the box and the products inside. Many of the items were a surprise to me– but in a good way. I can honestly say that some of these products I never would have bought on their own, but, with an opportunity to try them, I was surprised at how much I enjoyed them. 
Lime Essential Oil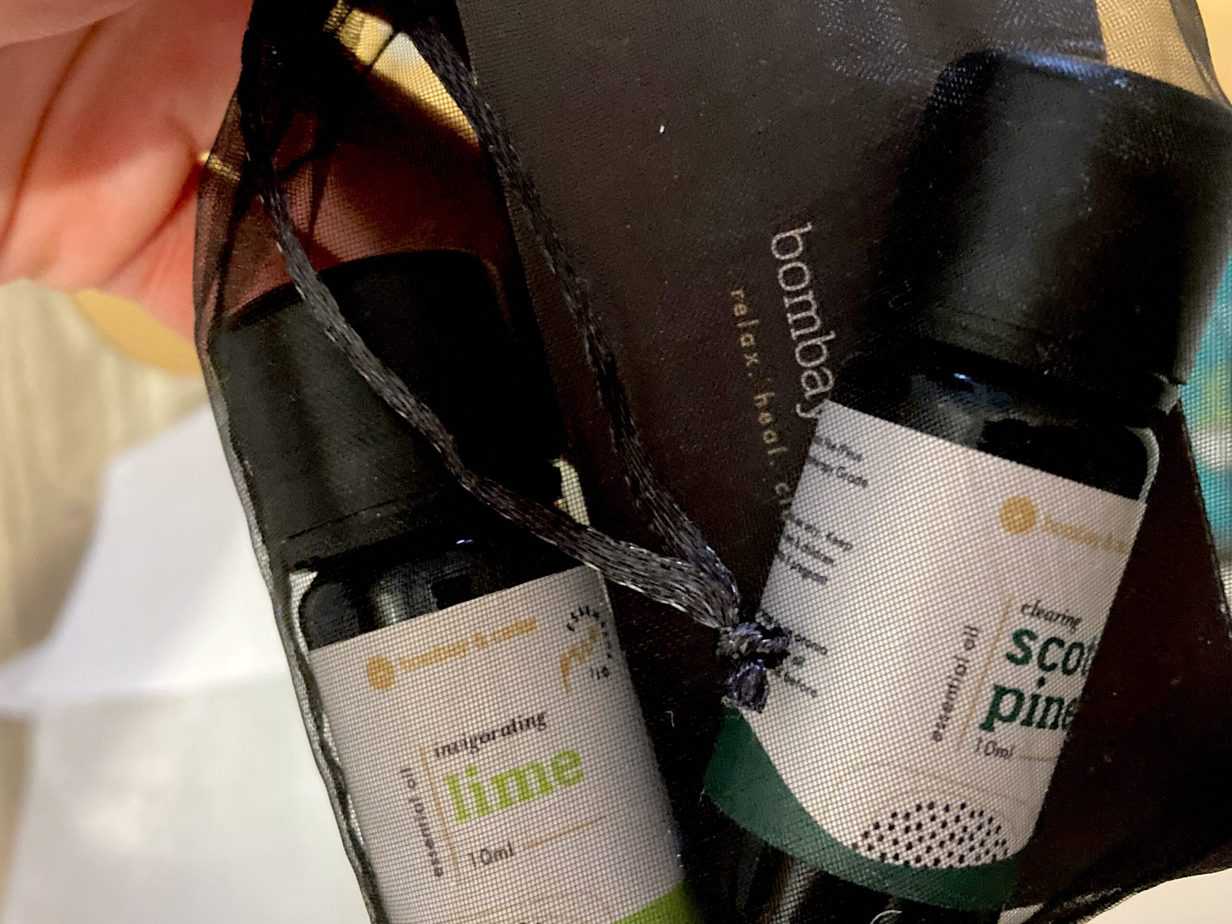 Essential oils all have unique benefits, but the goal is usually centering, relaxing, and energizing. The lime essential oil was zesty and bright, packaged with the scotch pine oil in a small drawstring bag. As someone who struggles with allergies, I can say it was a fresh, welcoming scent. I felt a bit more alert and focused. 
Scotch Pine Essential Oil
The second essential oil came as a surprise to me. Pine isn't the first scent I think of when I think about essential oils, so I was intrigued. The fresh pine scent was also refreshing, though in a unique way. One downside is that my box was supposed to arrive in January and was about a month behind, so by the time I received it, I wasn't in a pine tree mood as much. While I'd argue this is a more seasonal product, I did enjoy it, and it's nice that it added something that complemented and also contrasted with the lime essential oil. 
Toothbrush Set by Tooth-buckle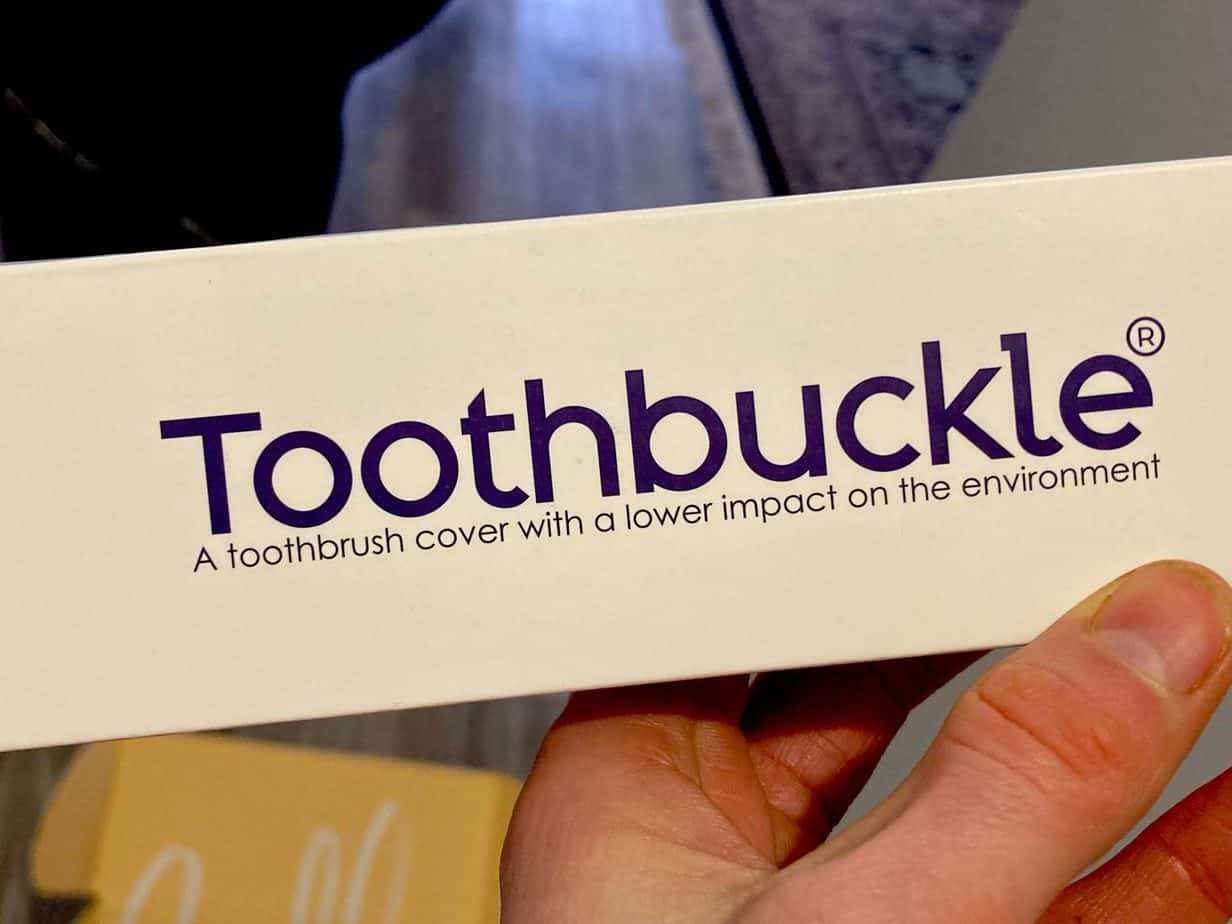 It took me a moment to fully realize how useful this product will be. This toothbrush set by Tooth-buckle is something I could see myself using regularly. Not only that, but it's a product that I wonder why I'd never thought to use! The simple cover fits my toothbrush perfectly. It's great for travel, but it's something I think should even be used at home. It's meant to keep your toothbrush clean and bacteria-free. While simple, it's a product I'd recommend to almost anyone. 
Bath Noodles by Paper Plane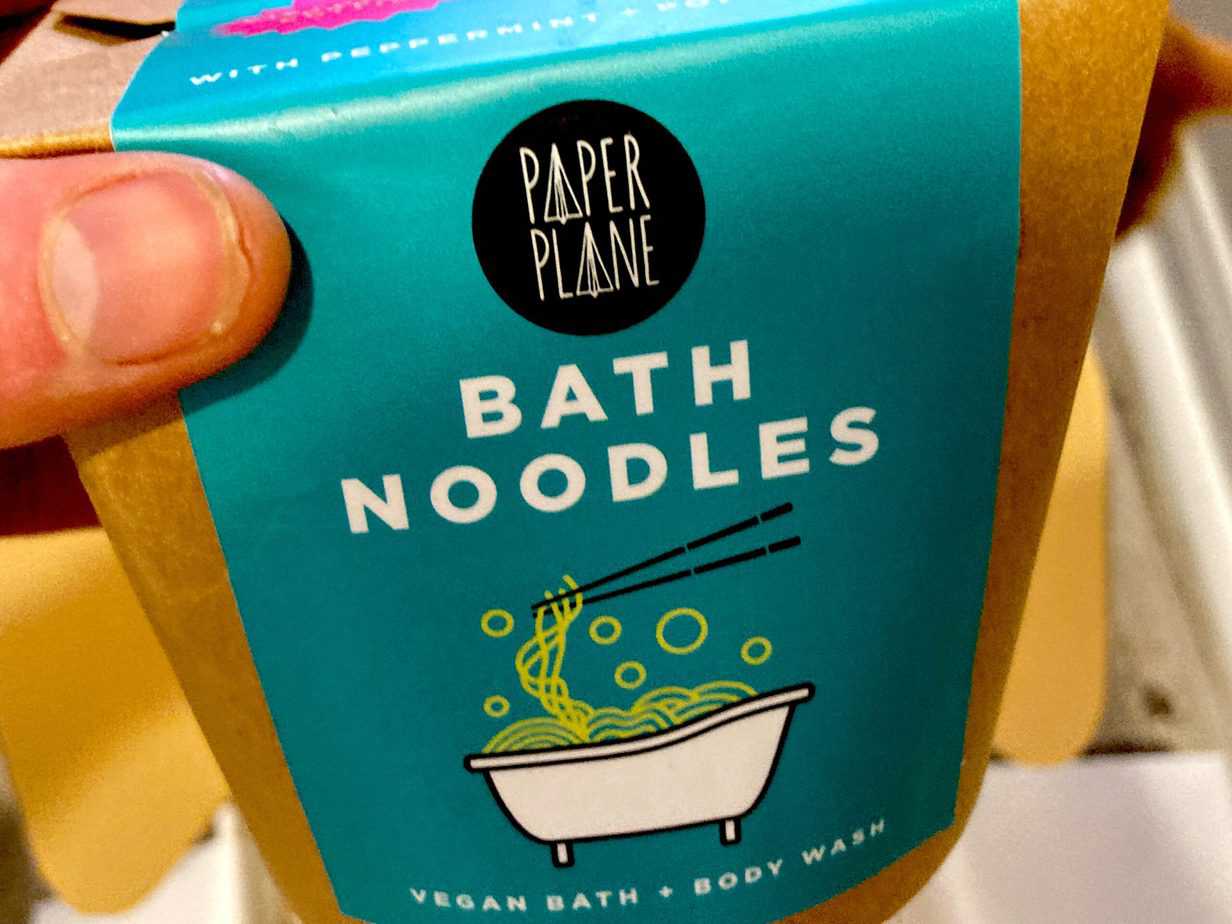 Of all the products in my box, this is the one that baffled me. When I first saw the rice-style box, I honestly thought these were edible noodles. They're noodles that are instead meant to be used for a bath. I admit: I take showers, not baths. I tend to value speed and efficiency– another sign I need to incorporate more relaxation in my life. 
The peppermint and poppy-seed scent was fresh and added a relaxing aura. The noodles did make me feel like I was in a bath of ramen, which was a whimsical experience. They're supposed to exfoliate and moisturize, too. I still have mixed emotions about this product. The noodles aren't quite the shape I'd expect, and they were a bit awkward to use. I love that it's a unique way to relax, but I don't think it's something I'd use again. 
Kettle Cooked Potato Chips by Uglies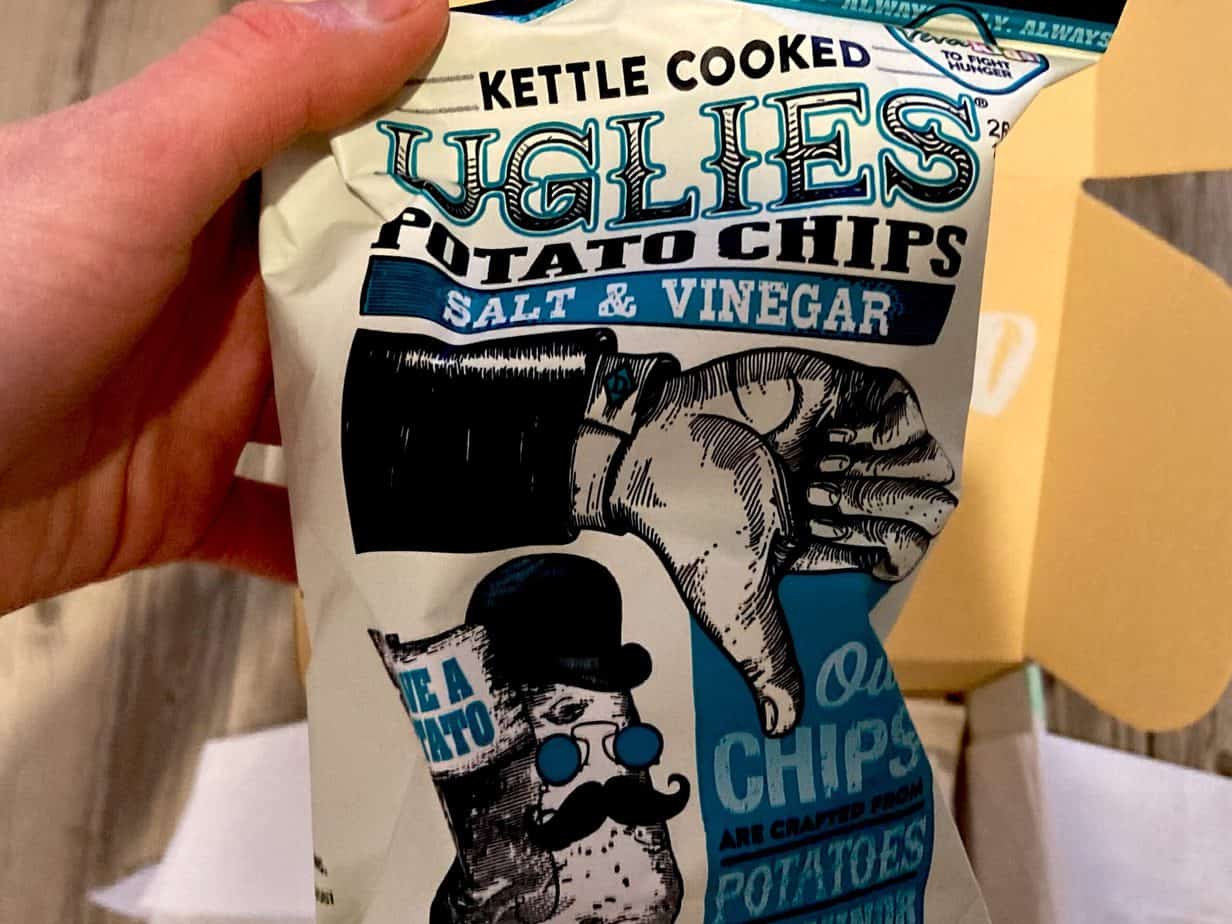 I'm not a huge chips person, but when I do have any chips, I like tortilla chips or kettle-cooked chips. My chips were salt and vinegar flavored. I've personally always loved that flavor, so it was a good fit for me. The chips were crispy and fresh, with a bright, zesty, and tangy flavor. Not everyone would like this flavor, so that could be a downside. I was a little surprised to see chips with the rest of the products, but have no complaints about these. 
Reusable Towels by Nimbus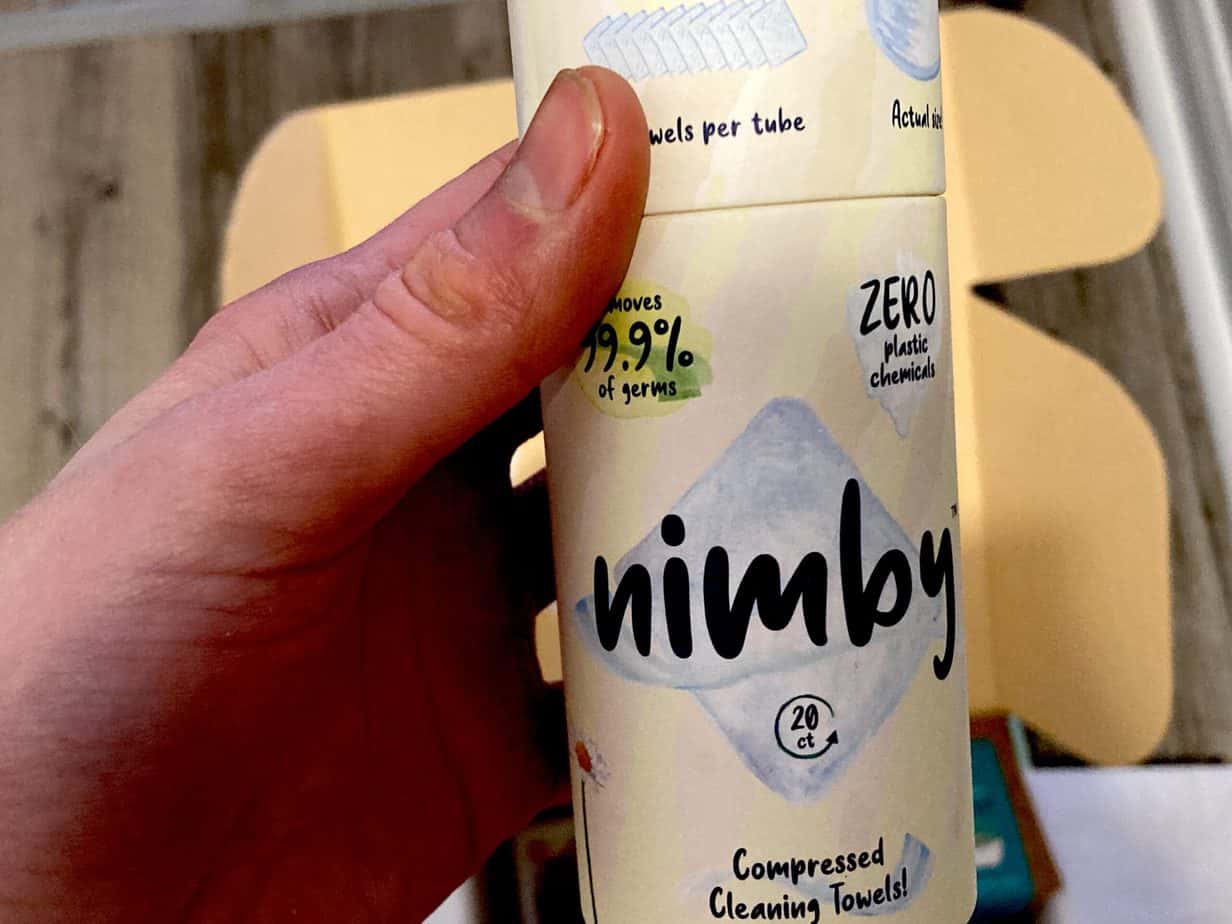 In addition to supplying vegan products, it's also clear that Bombay and Cedar are focused on sustainability. That's shown in all of its packaging, and some of its products. I immediately thought the concept of these reusable towels was clever. These towels are compressed for travel and made out of soft rayon. They naturally expand and are useful for wiping down surfaces. I also love that they are made with a eucalyptus blend. I have been guilty of reaching for disposable wipes, and these would be great for traveling. 
#FutureBoards by Sarah Centrella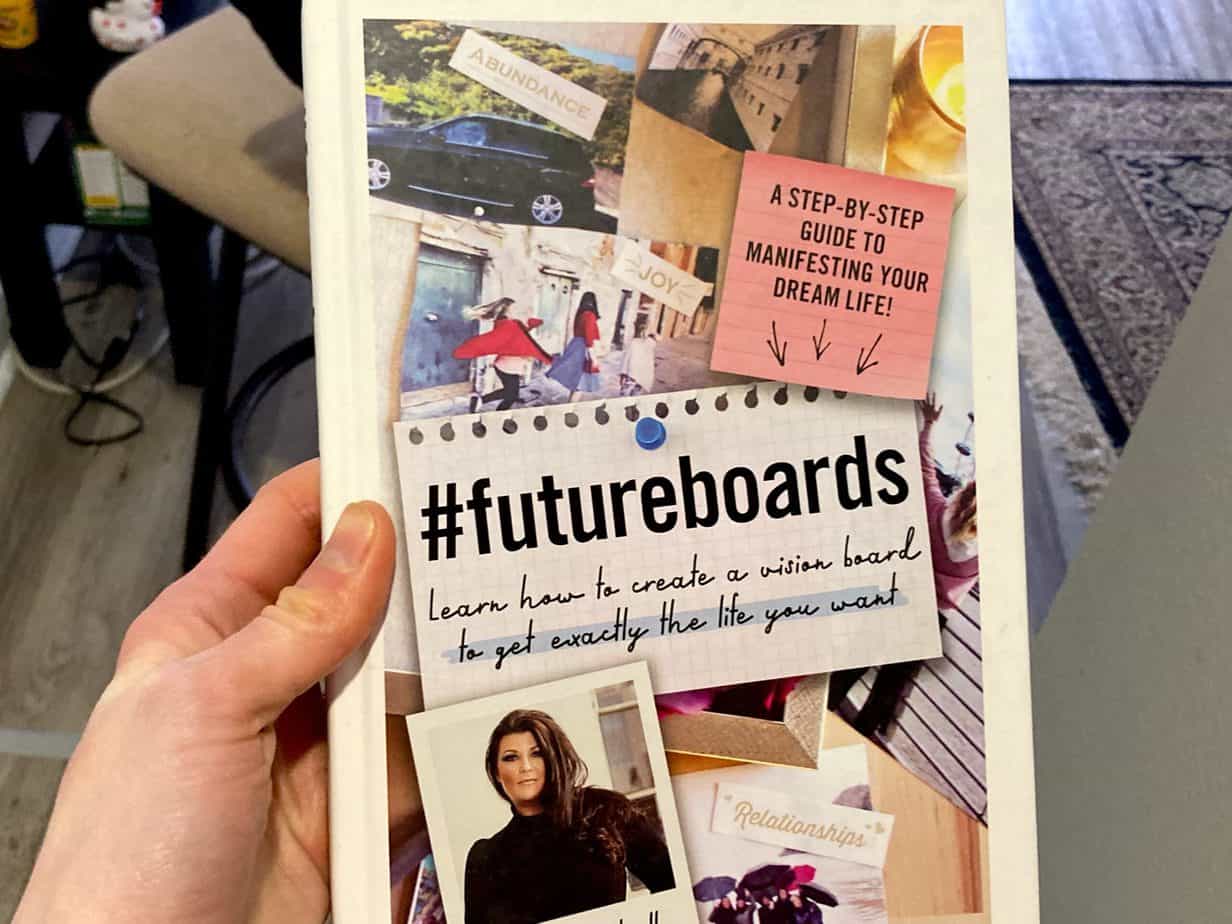 I admit: I'm a book nerd. While I may not find much time to relax otherwise, I do manage to squeeze in some reading time most days. This wasn't the type of book I'd normally reach for (I love contemporary and historical fiction). But part of why I love this book is exactly for that reason. Right now, I'm feeling a little lost with the direction of my life, my career, and finding what makes me happy. This book is focused on that. It asks you to envision your future, with helpful tips for staying focused and positive. It's a hardcover book, and this may just be my favorite item I received. 
Enlightening and Exfoliating Gel by Symbiosis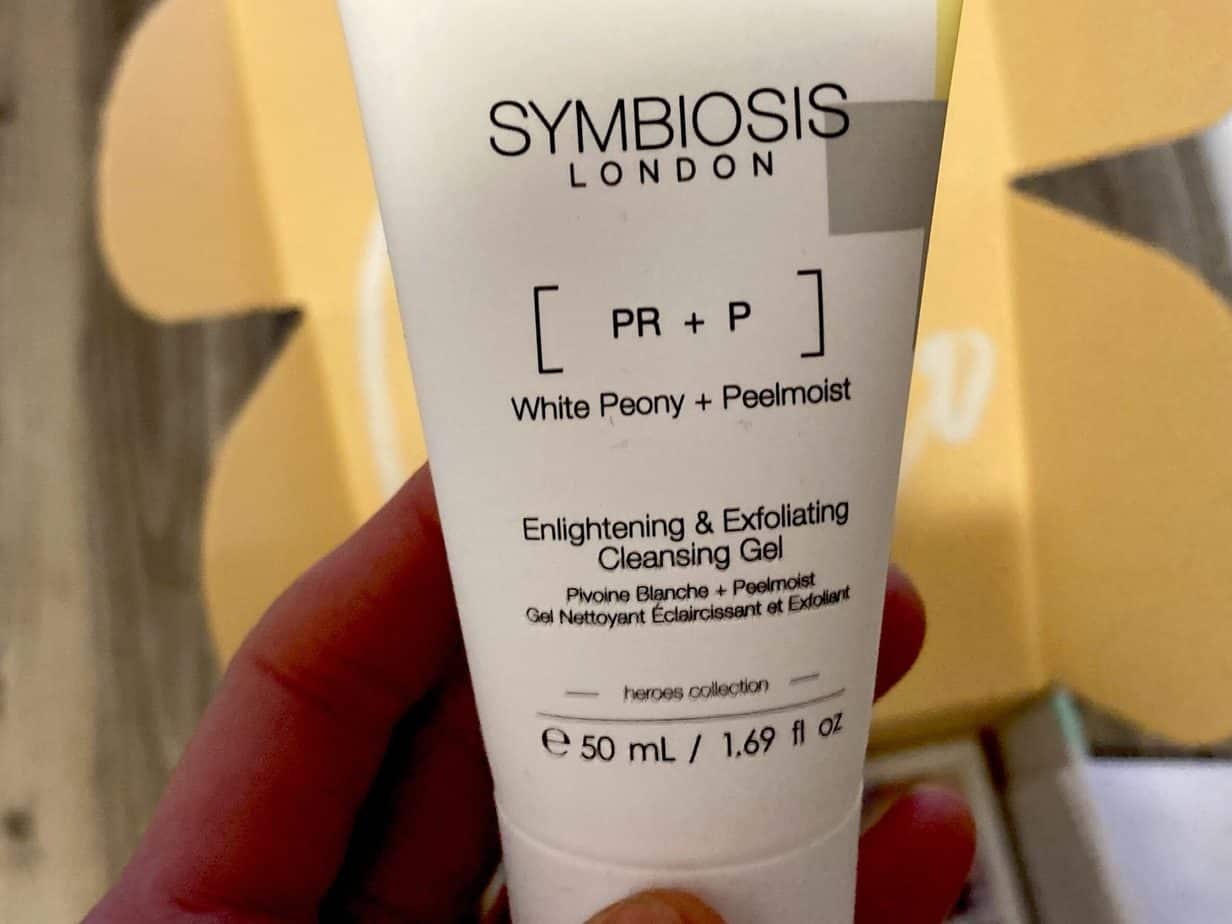 One thing I want to work on more is skincare. My skin is sensitive and dry, especially in the winter months. I sometimes get so busy I don't stop to think about my skin, let alone give it the care and comfort it probably deserves. This enlightening and exfoliating gel was easy to apply. Just a drop of gel was all I needed, right after a shower. It was soft, with a subtle peony scent. I can't say long-term if I will see results, but the smell, moisturizing, and high-quality ingredients all impressed me. 
Save It Bowl Covers by Danica Now Designs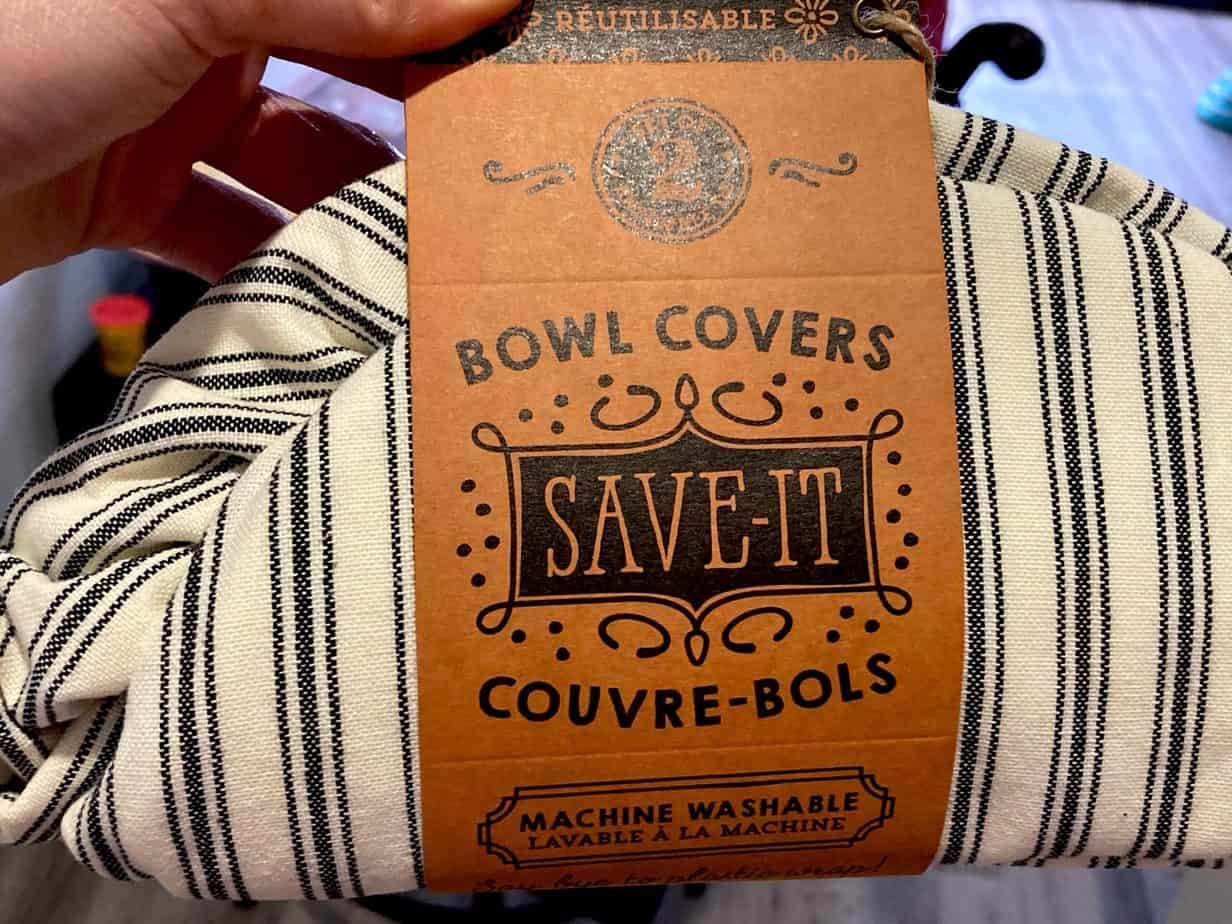 The final item in my Bombay & Cedar box was yet another product I simply never thought of. The package included two reusable bowl covers that are supposed to replace plastic wrap. Both of my covers are cream-toned, with black stripes. They sit most comfortably over larger containers and mixing bowls, and I think they're a clever, Eco-friendly solution. I do wish they'd included one other size, though. I love being alone with my cat, so I have more of a need for smaller bowl or container covers than larger sizes. This would be great for families, though, and they're made with quality in mind. 
Alternatives to Consider 
As I said, Bombay and Cedar is a solid choice for a beauty or lifestyle subscription– but there are alternatives if it doesn't feel like quite the right fit. I've checked for ratings to ensure that all of these are safe and reliable options– all have an  A to an A+ rating with the Better Business Bureau. Be wary of popular boxes like BirchBox, GlossyBox, and PopSugar, which now have a failing rating on BBB. 
FabFitFun
This is a great lifestyle box for someone who wants a mix of things and full-sized items. I love that you can get everything from makeup to lotion, books or journals, and even cozy robes. It's not a cheap service, but it's a useful way to pamper yourself or someone else four times a year. Subscribe Here.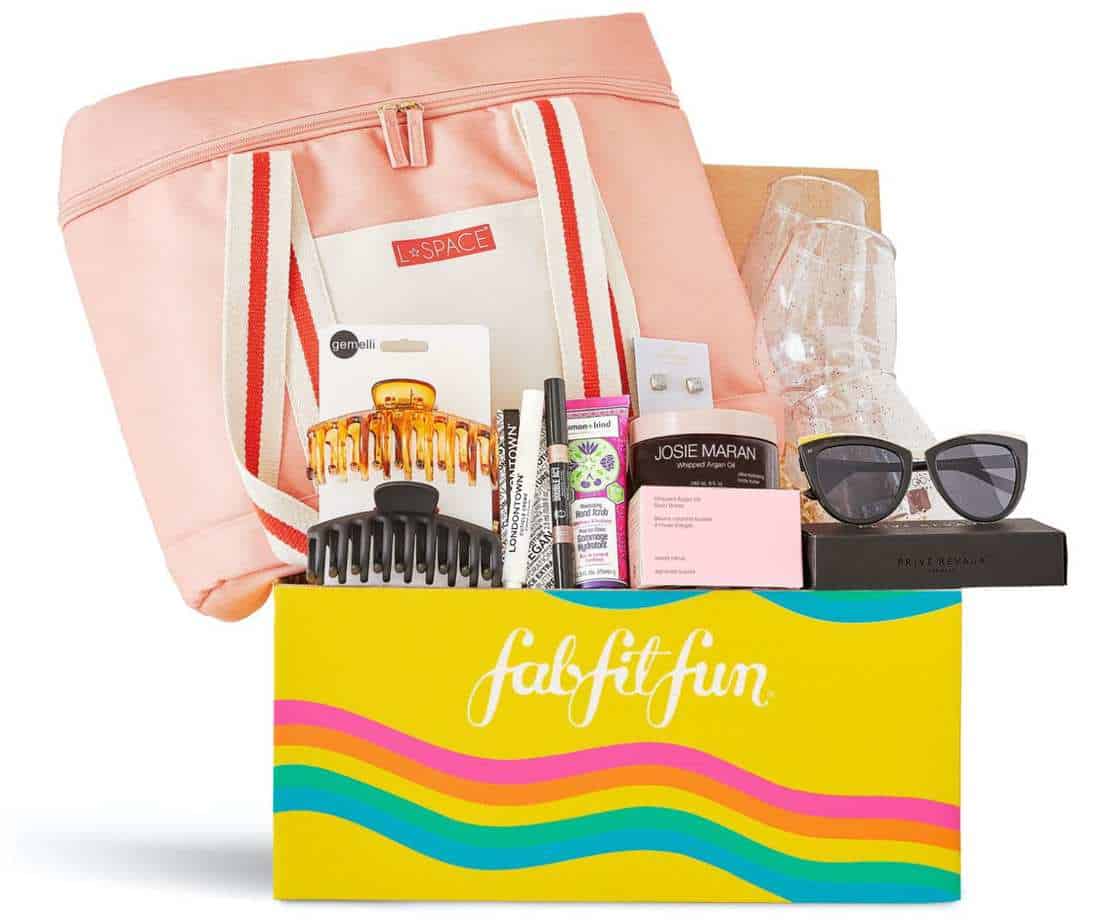 Pros
Full-Size Clothes and Accessories

Practical Journals, Lotion and More

A+ BBB Rating 
Cons
Not Cheap

Only Ships 4 Times a Year 
Love Goodly 
If you love that Bombay and Cedar are cruelty-free, chances are Love Goodly will be a great fit for you, too. Love Goodly sells cruelty-free and toxin-free products. Boxes ship with makeup, accessories, and travel cases. Subscribe Here.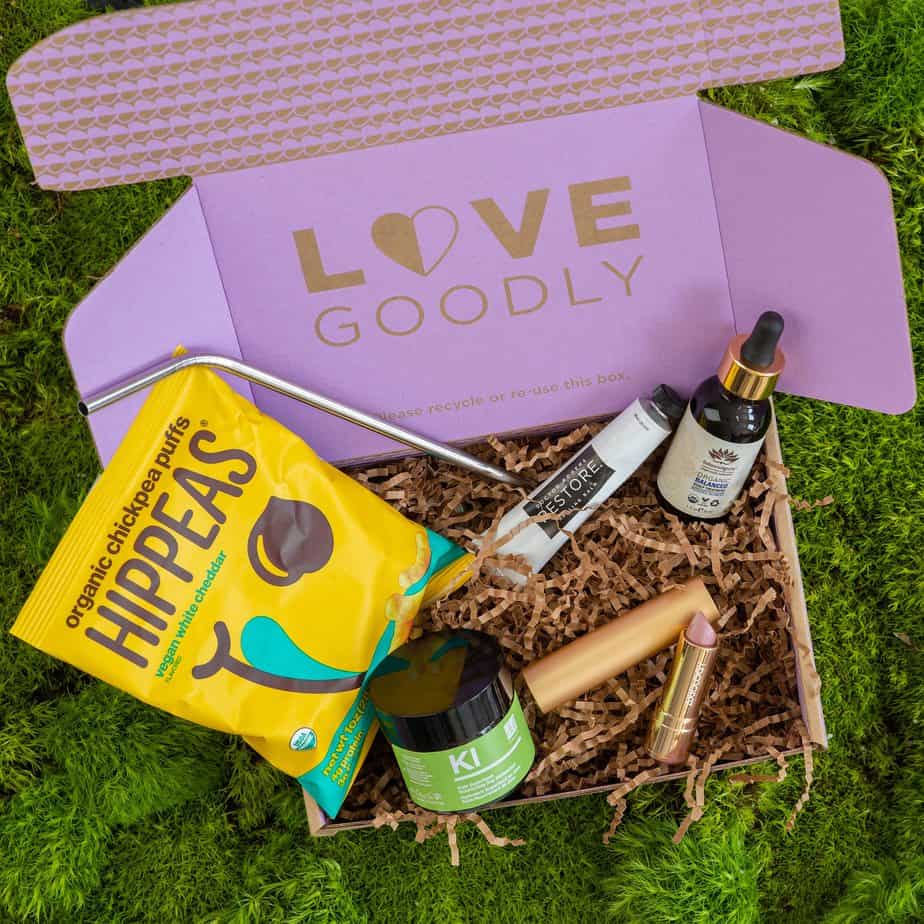 Pros
Cruelty- Free

Toxin-Free

Accessories and Makeup 
Cons
Slightly Expensive 

Trial Sizes 
Ipsy
My final choice is for makeup lovers. Ipsy has a personal beauty quiz to ensure boxes are curated just for you. Each box contains sample-sized makeup products, encouraging you to change up your look and discover new brands. Subscribe Here. 
You can also read our comparison reviews on Ipsy here: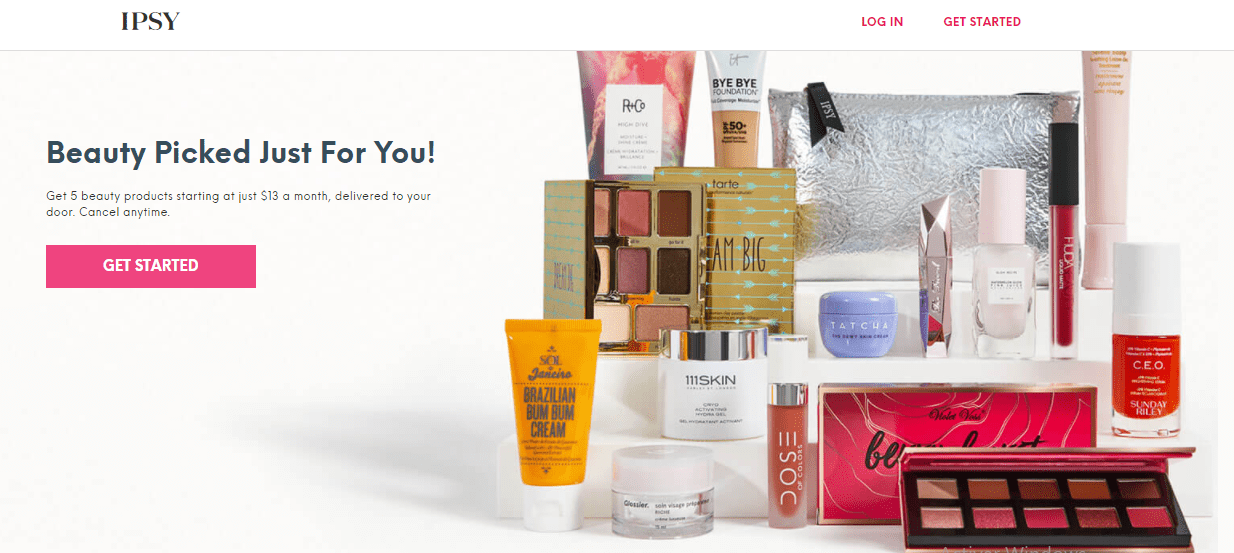 Pros
Curated Makeup for You

Great Variety
Cons
Slightly Lower Rating

Not Vegan 
Frequently asked Questions
Question: Are there any Bombay and Cedar discount codes?
Answer: I understand wanting to find a good deal. As someone who hates spending money on myself, I also love looking for discounts or coupons. However, I don't recommend looking for discount codes for Bombay & Cedar. These are almost always offered on third-party websites, many of them fraudulent or otherwise suspicious. Many codes don't work, and you could be directed to problematic websites. The best way to save money is to sign up for a longer-term plan. You also receive some discounts on individual purchases through the market after you sign up for a subscription. 
Question: Where can I see past Bombay & Cedar boxes?
Answer: The best places to see past Bombay & Cedar boxes is either their official website or the Bombay and Cedar Instagram Page. You'll see individual products and get an idea of what to expect. They often offer spoilers and teasers for their upcoming box, too. So while you can't control what you get, you can get an idea of what to expect- which is helpful if you tend to be hesitant about surprises, like me. . 
Question: Who is the owner of Bombay and Cedar?
Answer: Bombay and Cedar are located in Atlanta, GA and I love that it's women-owned and operated. What I wish I knew more about is the names behind the company. They're very hard to find. I assure you your customer service is excellent, but I think they could add some bio information, and I hope one day they add a phone number as well. Everything– including canceling a subscription- must be done via contact form or email. The good news is that they do respond in 24 hours. 
Final Verdict
I think Bombay & Cedar is an excellent lifestyle and beauty subscription, with some caveats. The products are unique, beautifully packaged, and vegan. There's a mix of useful and fun products, and I love how quick their customer service is. There's no doubt that it's a little expensive, though it doesn't seem exorbitant for the quality of the products I received. I don't think this is a box that is going to fit everyone, and that's okay.
In my box, there were two products I don't see myself using as often, but most of them I will. Even with the products I find less useful, there were no defects or anything specifically wrong with them. If you want a unique, vegan lifestyle or beauty box, I still think that Bombay & Cedar is one of the best ones out there. Who knows– I may even learn to relax a little more.
Recommended Reads: