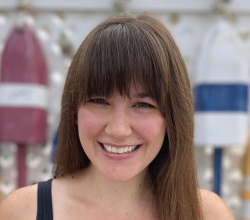 Latest posts by Lauren Vigdor
(see all)
A few years ago, my friend and I wrote a book called Drink Like a Bartender. We wanted to help novice and uninformed drinkers feel more comfortable and confident when ordering in bars and mixing drinks at home.
One of the key takeaways I hope people got from the book (spoiler alert!) was that it's never a bad idea to try new things, ask questions, and experiment when finding out what you like.
The problem is not everyone is comfortable trying new drinks in public. It's easier to order something that A) you know you'll like and B) you can order confidently—you already know exactly what to say to the bartender to get your go-to drink in front of you.
Cocktail subscriptions are a great way to experiment and try new things from the comfort of your own home. A monthly subscription will force you to try new flavors and spirits, or at the very least, to use the spirits that you already love in new and exciting ways—and as a former bartender, I think that's a really good thing.
Whether you're looking to get out of your go-to cocktail rut, want to learn how to make cocktails at home, or are looking for a gift for a cocktail-enthusiast friend, I hope this best cocktail subscription boxes guide helps you find what you need.
Bottom Line Up Front
While I love all of the cocktail subscription boxes on this list, I think my favorites are Shaker and Spoon (for a budget option) and Crafted Taste (for a premium option). What it boils down to, for me, are the cocktail recipes themselves, and I think both of these companies do an excellent job of creating cocktails that are interesting but still accessible.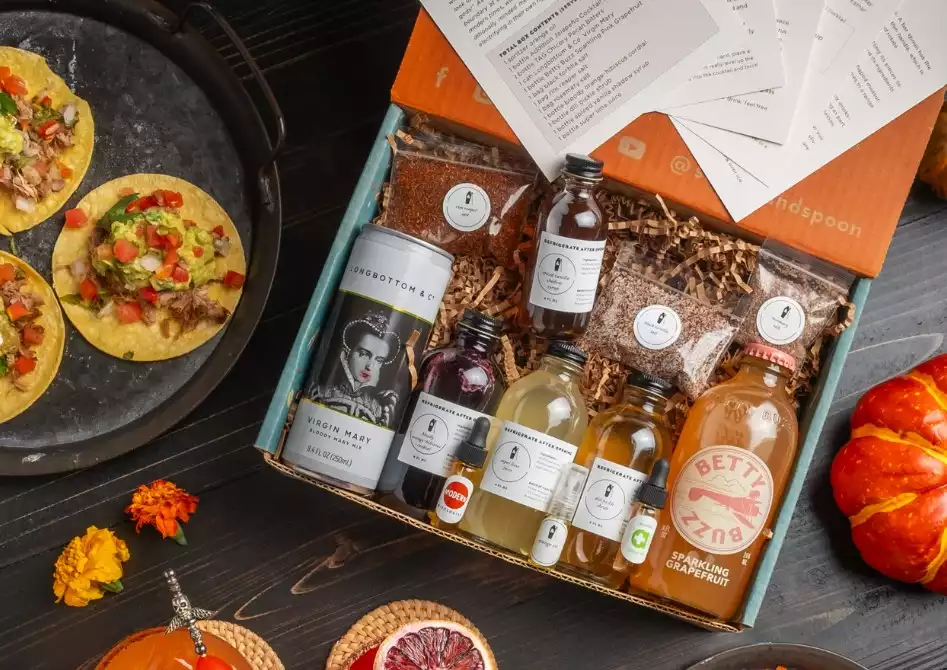 Make Great Drinks | Shaker & Spoon
Shaker & Spoon ships you ingredients for three specialty cocktails with enough supplies for 12 servings total. And they aren't your standard mixed drinks either. A rotating lineup of renowned bartenders curate each recipe, using house-made syrups, unique bitters, and more.
Subscribe Now
We earn a commission if you click this link and make a purchase at no additional cost to you.
How do Cocktail Subscription Boxes Work?
Every cocktail subscription box is a little different, but most of them follow the same basic formula. Every month you'll receive a package with a recipe for one or several cocktails and all (or most) of the ingredients you need to make those cocktails.
Some cocktail subscriptions include alcohol, whereas others will require you to purchase your own separately. Most kits will require you to have a few basic bar tools (a container to shake/stir in, something to measure out your ingredients, and of course, ice).
Beyond that, cocktail subscriptions vary—and that's where the fun of choosing your favorite comes into play! Some are meant to serve just two people, while others serve a crowd.
Some focus on classic cocktails, whereas others only give you recipes for creative signature cocktails explicitly designed for that subscription. Below I'll cover some of the key things to keep in mind while deciding which cocktail subscription box is best for you.
Selection Criteria
The cocktail subscriptions on this list are the ones that I consider the best in the business.
You'd be surprised at just how many cocktail boxes there are out there with sub-par ingredients, no information about their products, or no variety (I can think of at least half a dozen with between zero and three products currently in stock on their site—yes, zero). To even be considered for this list, subscription boxes had to meet specific criteria.
I looked at subscription boxes that included alcohol, as well as those that were mixers only or mocktail boxes.
I paid attention to both the number of cocktails per box, and the number of servings per cocktail. Rather than only choose boxes with a specific number of servings, I looked at boxes that were good value for their prices.

You had to be able to sign up for a recurring subscription. There are plenty of cocktail kits out there, but not all of them are available as a subscription, and most of them lack the variety to send you something new every month.

They had to require minimal tools. All of the kits on this list require some basic bar tools, but if you don't have them, you can get away with substituting basic kitchen tools—if you don't have a jigger to measure your ingredients, use a shot glass or a tablespoon.

Along the same lines as the bar tools, the kits had to require minimal additional ingredients. Some may require you to buy a bottle of alcohol or a bunch of mint, but you won't need a fully-stocked home bar before you can make these cocktails.
The Best Cocktail Subscription Boxes
Below are my picks for the best cocktail subscription boxes.
Shaker and Spoon: Best for Learning New Ways to Use Spirits

Shaker and Spoon will send you a kit that makes three cocktails each month. Alcohol isn't included in the kit, but each month's box focuses on three different drinks to make using the same spirit, so you only have to buy one bottle.
I like Shaker and Spoon because it's a great way to learn about the versatility of different spirits. For example, a box might be built around London dry gin, but all three cocktails will be wildly different in flavor profile and preparation. This is a great subscription for those who already know a little bit about cocktails and spirits but want to learn more.
Of all the cocktail subscriptions out there, I think Shaker and Spoon is one of the best at teaching you how to think about cocktail composition and how to craft your own cocktails.
What's in the Box
Each box contains recipe cards and ingredients (minus the alcohol) for three cocktails (four servings per cocktail). The ingredients include things like house-made syrups, bitters, mixers, and garnishes.
All of the cocktails are created by bartenders, and they'll each provide a recommendation for a particular brand of spirit to use in the cocktail, but what you choose to buy is ultimately up to you, and all three cocktails are designed to work with a variety of brands.
Key Features
Mixers only (no alcohol).

$50 to $59 per month.

Three recipes per box.

12 drinks per box (four of each recipe).

Signature cocktails created by award-winning bartenders.

Each box is built around one spirit.

Boxes themselves are not customizable, but you choose the spirit yourself.
Pros
I love that they do theme boxes, like their "Fruits of Fall" box or "Mezcaloween" box.

Before you receive your box, they'll email you some info so that you have advance notice on what booze and tools you'll need (they'll also provide a playlist recommendation!)

You get three different cocktail recipes in each box.
Cons
Shipping isn't included and costs $8 per box.

I don't love when services like this give me extra steps, like having to purchase the alcohol myself. It kind of feels like homework sometimes.
Who is Shaker and Spoon best for? Shaker and Spoon is best for anyone who wants to learn new things to do with that one bottle that's been sitting on their home bar.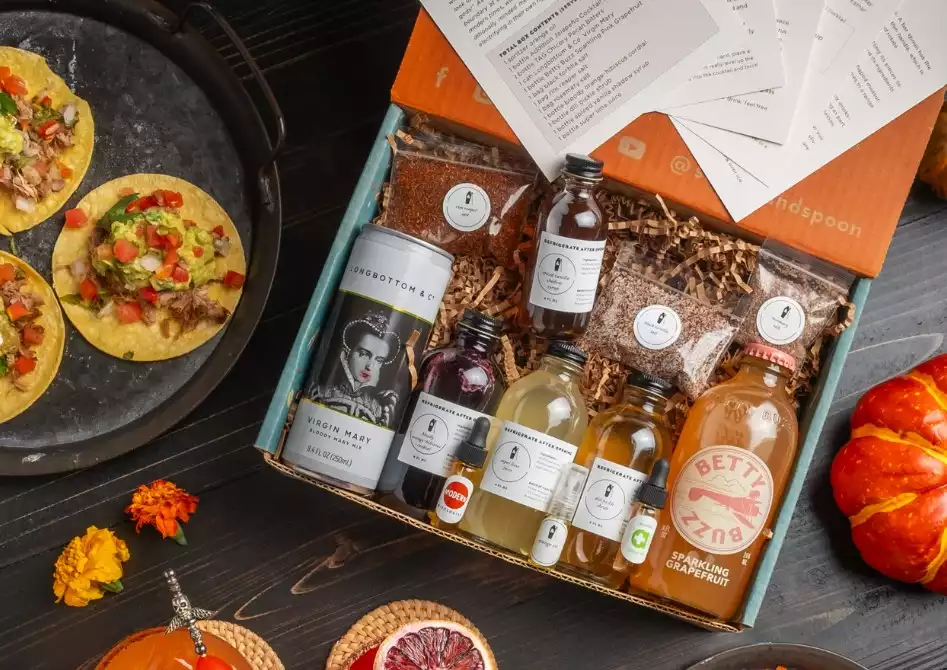 Make Great Drinks | Shaker & Spoon
Shaker & Spoon ships you ingredients for three specialty cocktails with enough supplies for 12 servings total. And they aren't your standard mixed drinks either. A rotating lineup of renowned bartenders curate each recipe, using house-made syrups, unique bitters, and more.
Subscribe Now
We earn a commission if you click this link and make a purchase at no additional cost to you.
Cocktail Courier: Best for Gifting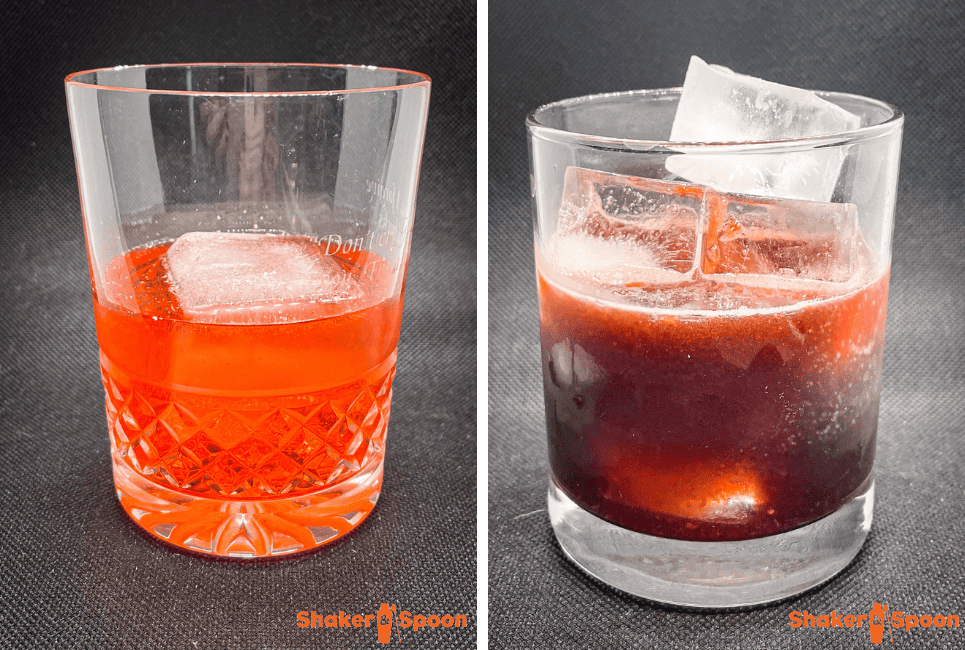 Cocktail Courier isn't exclusively a subscription service. They have a vast selection of cocktail kits available for a one-time purchase, a few pre-mixed, ready-to-drink cocktail "party cans," an online bottle shop, and a selection of curated bar tools and glassware.
If you order a subscription, however, you'll get one of their cocktail boxes each month, which includes all the ingredients you need to make one cocktail—including the alcohol. (If you're in a state where it's not legal to receive alcohol shipments, you can sign up for a "Just the Mix" subscription, which includes all the same ingredients minus the alcohol).
I like Cocktail Courier because they're one of the most versatile cocktail subscriptions. Unlike most of these subscription services, Cocktail Courier lets you set your spirit preferences when you sign up and will tailor your subscription to your taste.
You'll also know in advance what you're receiving and can swap out your kit with a different cocktail if you want. The fact that they sell bar tools and that alcohol is included makes this one great for gifting as well.
What's in the Box
Every box contains a recipe card and all the ingredients you need to make six to eight servings worth of one featured cocktail. You'll get mixers, bitters, fresh citrus, garnish, and brand-name alcohol.
Key Features
One recipe per box.

Six to eight servings per box.

Mixers and alcohol included (can order a subscription of just mixers).

Most cocktails are creative but are riffs on well-known classics (think signature-flavored margaritas and mule variations).

A regular kit is around $60-$70, depending on the cocktail. Kits are also available as "Just the Mix" kits for around $40, and some kits are available as "Mini Kits," which serve two to three people and cost around $40.

Drinks are built around brand-name spirits.

They also sell bottles and bar tools.
Pros
Everything is included (other than tools).

The subscription is somewhat customizable—if you don't like the kit they plan on sending you one month, you can swap it for something different.

I like that they also sell one-time-purchase boxes. They make great gifts when you don't want to give a whole subscription!

Shipping is free for subscribers, and you get 20% off the purchase price vs. buying a one-time box.

The cocktails offered at any given time are seasonal and use seasonal ingredients.
Cons
There's only one cocktail recipe per kit.

Some of the kits can cost around $80 or more.

This is totally me being a snob, but I wish they used more independent and small-batch spirits rather than just "call brand" stuff like Captain Morgan and Skyy.
Who is Cocktail Courier best for? I like Cocktail Courier for gifting and think it's great for anyone who is loyal to one or two spirits in particular. You can make sure that you only get that spirit in your subscription each month. The fact that you get six to eight servings of the same cocktail also makes this the ideal dinner party cocktail kit.
SaloonBox: Best for People Who Like to Experiment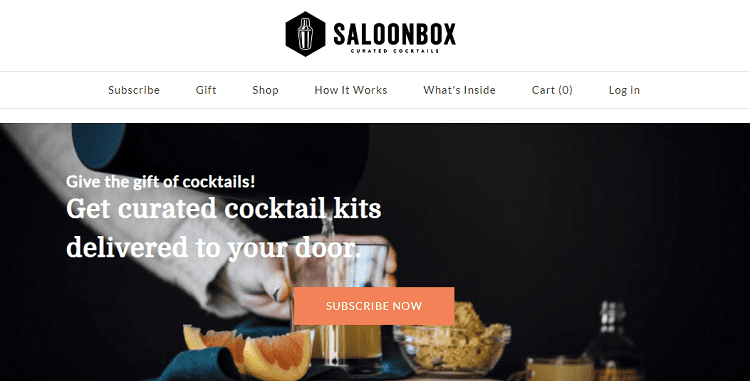 SaloonBox is a spirit-focused cocktail subscription box that teaches subscribers to make two cocktails a month. They also provide a way for people to try pricier and rare spirits without buying a bottle.
If you don't want to sign up for a subscription, you can also buy larger, one-time-purchase cocktail kits that serve at least 12. There are kits to make some of SaloonBox's most popular signature cocktails as well as classics.
I like SaloonBox because their cocktails are fresh and inventive. Unless you order one of their one-time classics boxes, you're pretty much guaranteed to get cocktails you've never tried before since all of their cocktails were created specifically for their cocktail kits.
I also really like that they provide background information and facts about the spirits you'll be using right on the recipe card. It makes the kit feel like a mini mixology lesson.
What's in the Box
Each SaloonBox cocktail kit contains all the juices, mixers, and bitters you need to create two different cocktails. You'll also receive a second shipment with small bottles of all of the spirits you need to make the two cocktails.
Occasionally, SaloonBox will add a bar tool to the box, but they may also require you to pick up an egg or some fresh herbs to add to your cocktail.
Key Features
Alcohol is included but will ship separately from a local distributor.

Subscriptions are three, six, or 12-month prepaid and will automatically renew. You'll get the deepest discounts with the 12-month plan ($54.67/month), but the three-month plan is obviously the lowest commitment ($57.66/month).

Two cocktails per kit.

Each cocktail makes two servings.

Cocktails are always signature cocktails created for SaloonBox.

You can order three, six, or 12-month prepaid gift subscriptions that won't renew after that time frame.

Boxes are not customizable. If something you don't like pops up one month, your only option is to skip it.
Pros
I love, love, LOVE that they offer gift subscriptions that don't renew. You would think more people would offer this, but you'd be surprised!

If you want to try SaloonBox without committing to a subscription, you can order the SaloonBox Favorites Collection—a one-time purchase that includes six of their most popular cocktails. (I also think this would be great to order for a cocktail-making party with friends!)

It's an excellent way to try rare or expensive spirits without buying a whole bottle.

Every once in a while, they sneak an extra gift into the box, like a fancy ice tray or bar tool.

Their recipe cards include fun information and history on some of the spirits/ingredients included in the kits.
Cons
When you sign up for a subscription, you must commit to at least three months.

Unlike some of the other cocktail subscription kits, SaloonBox never includes fresh citrus in their kits.
Who is SaloonBox best for? People who like to experiment—and aren't afraid of commitment!
Crafted Taste: Best for Parties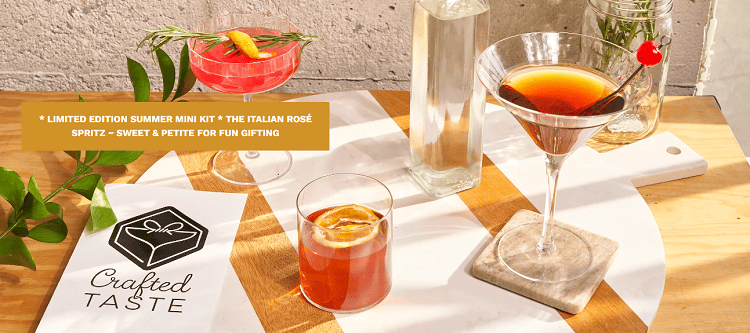 I would consider Crafted Taste a premium cocktail subscription service. Their kits make more servings than many of the others on this list (they come with a full-size bottle of booze).
They also offer the option to upgrade to a premium kit, which either includes an upgrade to a top-shelf bottle or an additional second bottle to modify your cocktails—think, upgrading from Espolon to Fortaleza or adding a bottle of dark rum to float on top of your light rum cocktails.
I like Crafted Taste because I think they have some of the most exciting and inventive cocktails in the cocktail subscription world. You're going to get quality ingredients and interesting cocktails, but they also don't take themselves too seriously—for the most part, all of the cocktails are fun and accessible.
As someone who spent more than a decade "behind the stick" and tended bar in a dive, an Irish pub, a craft cocktail bar, a distillery, and a resort beach bar (to name just a few), I know that striking a balance between creating a cocktail that's interesting, high-quality and that people actually want to drink is trickier than it may seem. Crafted Taste makes it happen.
What's in the Box
Each kit contains all the syrups, bitters, mixers, and garnish you need to make the featured cocktail and some key ingredients for the additional suggested cocktails.
You'll receive a recipe card for all four cocktails and some cocktail napkins for good measure. If you choose the Full Kit or Premium Kit, you'll receive one or two (depending on the kit) full-sized bottles of spirits or wine in a second shipment.
Key Features
Options for mixers only, alcohol included, and premium kits containing either a premium bottle or a second bottle of alcohol.

The alcohol ships separately, but you'll receive full-size bottles (unless you choose Mixers Only).

Each kit focuses on one featured cocktail recipe but provides the ingredients and instructions for making three additional recipes with the same spirit.

Each kit makes 12 to 16 servings.

The mixers only kit costs $100, the Full Kit is $150, and the Premium Kit is $200. There's no discount for subscribing vs. purchasing kits as a one-time purchase.

In addition to subscriptions, there are more than 30 kits available for one-time purchase, including this month's subscription kit and four to six serving "mini kits."

Most of the recipes are for creative twists on classic or signature cocktails, but you might find a few classics like the Clover Club or Mint Julep thrown in as well.
Pros
I love the three different tiers of product/pricing.

They give you plenty of ideas for how to use that full bottle (or two!) that comes with the kit.

Shipping and handling are included in the price, regardless of what you order.

They also offer bulk kits for events, virtual cocktail classes, and customized orders.
Cons
You get a full bottle in each kit, but that makes the kits pretty expensive. Kits run two to four times the price of some other cocktail subscriptions, but they do serve more people as well.

I feel like you should get a discount for subscribing.
Who is Crafted Taste best for? The full-sized bottles make Crafted Taste great for parties, but they also make them great for anyone trying to master the art of cocktail creation. You'll have plenty of product to play around with, and the additional suggested recipes in each box are a great jumping-off point for your own experimentation.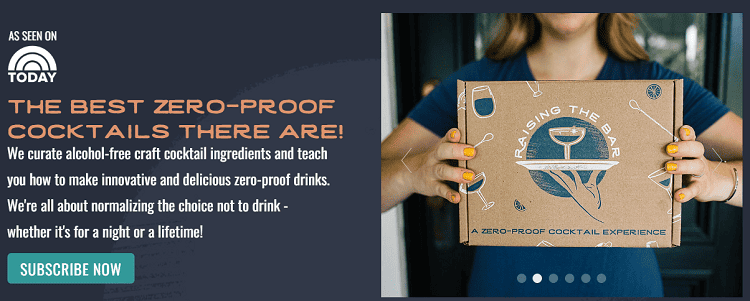 Raising the Bar is a zero-proof cocktail subscription kit, meaning all of their cocktails are alcohol-free. They operate just like many of the other cocktail subscriptions, but they include non-alcoholic spirits in each kit in place of alcohol.
I like Raising the Bar because it's refreshing to have a company cater specifically to non-alcoholic cocktails. There's been a big push in the beverage industry to create non-alcoholic cocktails that feel deliberate, not just like an afterthought.
There are so many people who choose sobriety for one reason or another, are sober-curious or are trying to cut back or take a break from alcohol consumption. This is a great option that allows you to enjoy a special beverage and keep a stocked home bar—minus the alcohol.
What's in the Box
Each kit includes everything you need to make three or four non-alcoholic cocktails, or "mocktails." You'll get a recipe card, alcohol-free spirits, mixers, syrups, garnish, and a gift or bar tool. You'll need to provide ice and the occasional perishable ingredient, like fresh lemon or lime juice.
Key Features
All of their drinks are non-alcoholic.

Each box makes at least three different mocktail recipes.

You'll get 10 to 12 servings per box.

A monthly subscription costs $58, but you can prepay for three, six, or 12 months to get discounts.

Shipping is $10 for subscription boxes.

Many boxes include a bar tool or special garnish.
Pros
These mocktails are better balanced and more exciting than working with a mixers-only box from a regular cocktail subscription.

I feel like I see new non-alcoholic spirits popping up on shelves every few months. This is an excellent way to get to try some of them!

I love seeing thoughtfully-crafted non-alcoholic drinks. You're not going to sip any of these and think, "This is good, but it would be better with vodka in it."
Cons
This is more expensive than ordering a mixers-only kit from one of the other subscriptions on this list. Non-alcoholic spirits are often distilled similarly to alcohol, which means they can be expensive. Many people might be unwilling to pay alcohol prices for a non-alcoholic product.
Who is Raising the Bar best for? Anyone who is sober, sober-curious, or just looking for a fun, alcohol-free way to imbibe.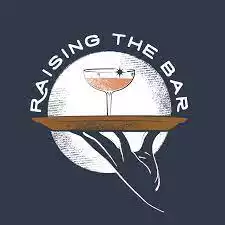 Loved By Many | Raising The Bar
Raising the Bar is a monthly subscription box for anyone who is interested in alcohol-free beverages, for whatever reason. Newly sober? Cutting back on pandemic vices?
Subscribe Now
We earn a commission if you click this link and make a purchase at no additional cost to you.
FAQs
Question: Is Alcohol Included in a Cocktail Subscription?
Answer: Some cocktail subscriptions include alcohol, while others do not. Most subscriptions that do include alcohol will ship the alcohol separately (and only to states where that's legal).
Someone 21 or over will have to sign for the alcohol shipment. Pretty much every cocktail subscription that contains alcohol will also have an option for a kit with no alcohol included as well. 
Question: Is it Cheaper to Make Your Own Cocktails? 
Answer: Ounce for ounce, it's almost always going to be cheaper to make your own cocktails at home rather than ordering them in a bar or getting them from a cocktail kit. That being said, both of the latter methods of imbibing are great ways to try new things without needing a fully stocked home bar.
Also, remember that when it comes to sitting at a cocktail bar or ordering a cocktail kit, part of what you're paying for is the experience. 
Question: Do Cocktail Subscription Boxes Have Mocktail Options? 
Answer: Almost all cocktail subscriptions have alcohol-free options since some people prefer to purchase their own alcohol, and some states have restrictive laws that don't allow alcohol shipments.
One thing to keep in mind is that you may need to adjust the recipe and add an alcohol-free spirit, water, juice, or a soft drink to end up with a balanced mocktail. (For example, an alcohol-free daiquiri would just be lime juice and sugar.) If you're looking for a mocktail subscription box, I recommend checking out Raising the Bar's zero-proof cocktail kits.
Final Thoughts
Cocktail subscription kits are an excellent way to try new things and learn a new skill. My favorites are Shaker and Spoon and Crafted Taste because their cocktails suit my taste, but you can't go wrong with any of the cocktail subscription boxes I chose for this guide.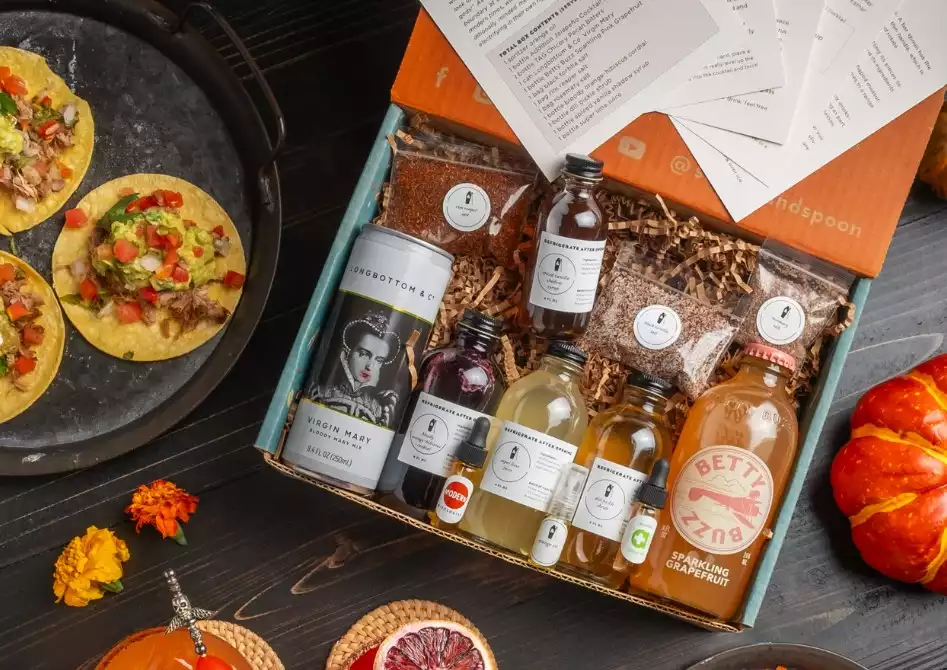 Make Great Drinks | Shaker & Spoon
Shaker & Spoon ships you ingredients for three specialty cocktails with enough supplies for 12 servings total. And they aren't your standard mixed drinks either. A rotating lineup of renowned bartenders curate each recipe, using house-made syrups, unique bitters, and more.
Subscribe Now
We earn a commission if you click this link and make a purchase at no additional cost to you.
Continue reading:
Tippsy Sake Review: I Tried & Tasted. Is This Worth the Investment?
Firstleaf Review: Is This Wine Club Worth it?