This wine subscription box offers an introductory box which contains three bottles of wine for $15 a month (plus $4.99 shipping). If you're not a devout lover of great wine (experienced wine lover) or you're just looking to dip your toes in the water with this wine club subscription, the introductory box is a great option (and often cheaper than the wine store).
However, I delved straight into the Firstleaf wine subscription and ordered their club box, which runs $79.98 and $9.95 for shipping. In my club shipment, I received a whopping six bottles of wine!
Before I get too deep into my Firstleaf wine subscription service review, I'm going to be discussing the overall value of Firstleaf wine club by looking at:
The quality of the wines (winning wines, double gold medal, etc…) and bottles I received with the wine subscription
The price point of each wine I received
Speed of shipping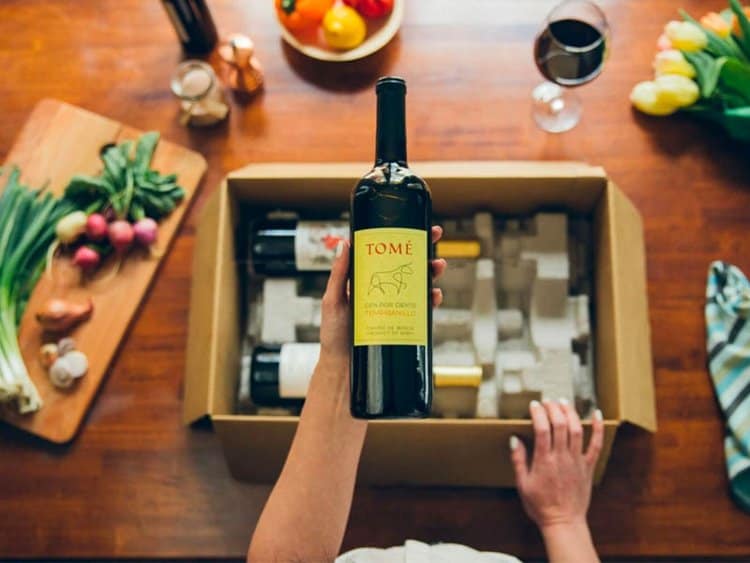 Take the Firstleaf Wine Quiz!
I'll admit that part of the fun is just taking the quiz and seeing what selections the system picks! My favorite parts about Firstleaf are the one-of-a-kind matching system PLUS the affordable price per bottle. We actually SAVED money!
Take the Quiz
We earn a commission if you click this link and make a purchase at no additional cost to you.
With all of that said, let's get started with my Firstleaf review!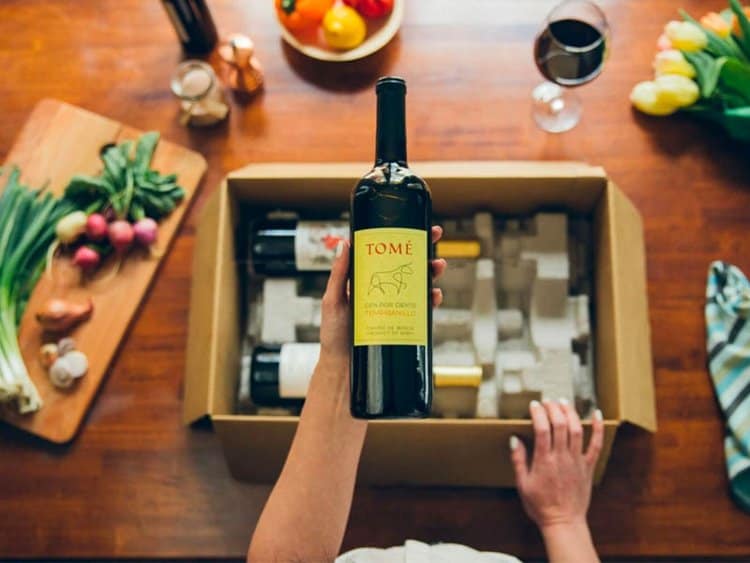 Firstleaf Wine Club Review
I ordered my wine subscription on a Wednesday and my package was delivered on Saturday with my 6 bottles.
I loved how much information was inside of the box as I was unpackaging it.
It made the entire unboxing process feel personal, but I've never seen packaging like this in a subscription box (outside of the beauty community). I was able to learn a lot about the company and what I should be expecting from their subscription box!
The first item that I pulled out of my Firstleaf box was an envelope with the Firstleaf logo on it that had a bunch of cards inside of it.
The collection of cards I received included a letter from the winemaker that thanked me for signing up for Firstleaf. I also received a card that explained how I could review each of the wines that I had received in my box so that the wine pickers for my subscription could pick better wines to fit my taste in wine preference! In addition, there was a card in this envelope that matched every wine bottle that I received, which gave me a detailed breakdown of each selection of new wine.
The first leaf also included a magazine newsletter in mywine subscription box, which I thought was a unique addition to this box for a wine lover.
As I flipped through the pages of this wine industry magazine, the content that was inside reminded me of the small articles that I would read in an email newsletter. There was a lot of interesting information about the wine choices in this newsletter, but it also helped me to better understand some of the finer points of winemaking and selecting.
I will admit that when I saw that my box had shipped, I was very nervous about one of the wine bottles in my box being broken or having shattered completely. I was even more nervous when I opened up my box that there weren't any packing peanuts or bubble wrap used around my wine bottles.
Thankfully, my Firstleaf wine bottles all arrived safely to my doorstep, nestled snugly in a layer of protective cardboard.
I ordered a mix of white and red wines in my first shipment, which I'm happy to say that Firstleaf delivered!
Here are the six bottles of wine that I received in my Firstleaf wine selection shipment.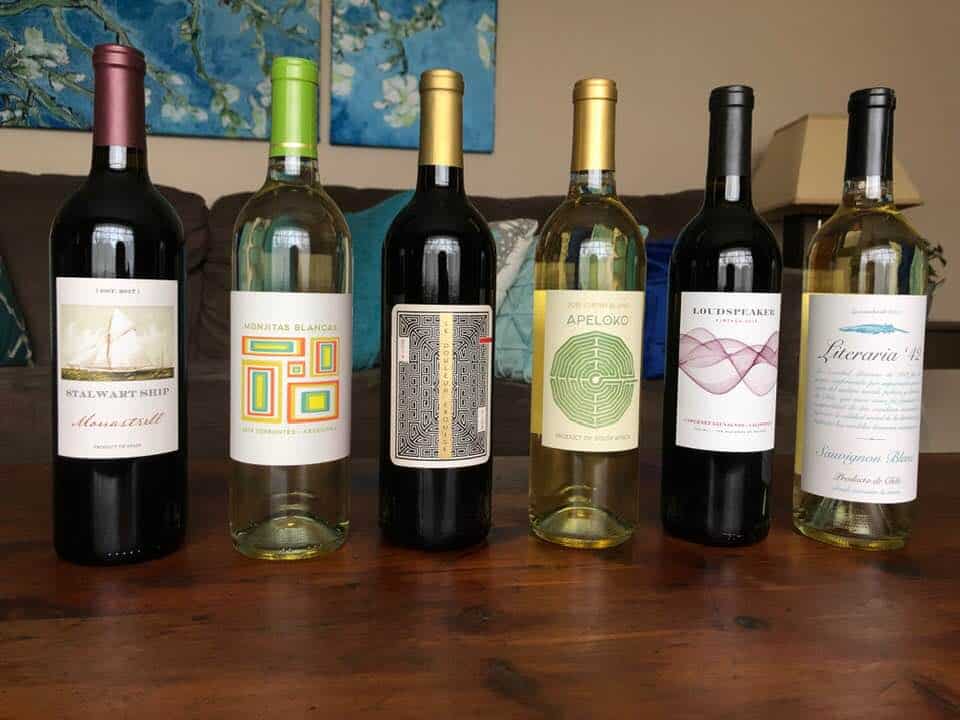 Enough with the unboxing, let's see what Firstleaf sent me in my first shipment!
Monjitas Blanacas 2018 Torrontes Argentina
Stats:
Varietal: Torrontes
Alcohol: 14.50%
Retail value: $19
Wine Region: Argentina
Vintage: 2018
The Monjitas Blanacas Torrontes was the first wine choice that I tried from my Firstleaf wine subscription shipment. As explained on my wine drinker tasting card, Torrontes is a white grape that's known to be a hidden gem in the wine community due to the striking aroma that it produced. When I first popped the cork on this bottle, I was first greeted with the delicious wine notes of orange blossom, hibiscus, and gardenias. 
While I did notice the floral notes in this wine upon my first sip, I was also surprised by sweet citrus (almost a sweet wines first impression). Firstleaf suggested that I pair Monjitas Blanacas Torrontes with complex palate dishes, thanks to the elegant and dry finish of this wine. Firstleaf did state that Monjitas Blanacas Torrontes stood well by itself, but that they also enjoyed pairing it with spicy Asian dishes.
Apeloko 2018 Chenin Blanc South Africa
Stats:
Varietal: Chenin Blanc
Alcohol: 13.4%
Retail value: $19
Region: South Africa
Vintage: 2018
As told by Firstleaf, the word Apeloko translates to 'the man who stays late at the farm', which I thought was a very personal touch to this wine. This South African Chenin Blanc comes from vintage grape vines that pair together with Fuji apple, candied lemon, and bright acidity to create this wine. While Firstleaf recommended pairing this acidic wine with rich foods such as fresh tuna or roasted chicken, I personally enjoyed drinking this wine by itself!
Stats:
Varietal: Cabernet Sauvignon
Alcohol: 14%
Retail value: $26
Region: California
Vintage: 2016
I personally enjoy the taste of white wine over red wine (or red blend), but the Loudspeaker 2016 Cabernet Sauvignon California was my favorite wine from my entire shipment! The Loudspeaker Cabernet Sauvignon has a bold oak and spice, mixed with an opulent boysenberry, with a hint of licorice and dark cherries! I didn't expect the slight mint flavor to this wine paired with a nuance of blue fruits but paired altogether, this wine is exceptional.
This was a very strong wine that Firstleaf club suggested pairing with equally fruit dishes, such as duck with fig, venison with dates, or plum braised pork. I took Firstleaf up on their suggestion of pairing this wine with duck and fig, which was absolutely delicious! However, I thoroughly enjoyed drinking this wine by itself as well – in my opinion, this wine had the most unique flavor profile of all of the wine selections I had received in my box!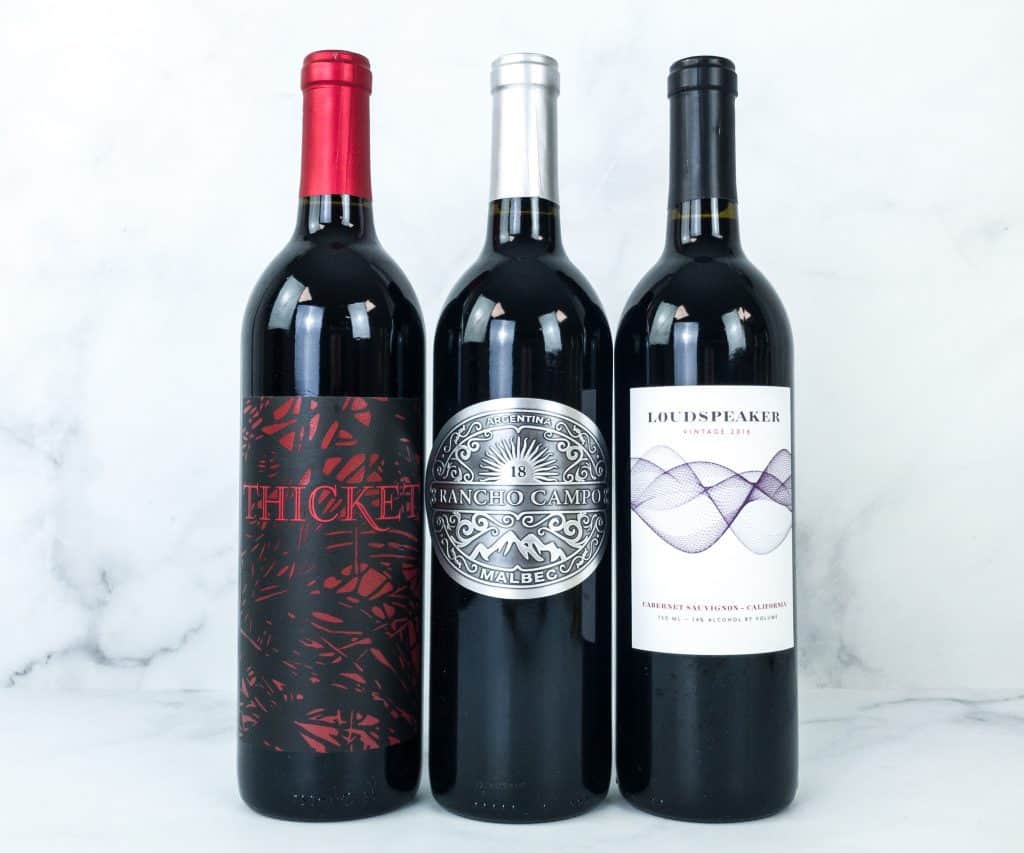 Stats:
Varietal: French red wine
Alcohol: 15.4%
Retail value: $24
Region: Cotes Catalanes
Vintage: 2014
The Le Douleur Exquise 2014 Cotes Catalanes is a unique wine (imported wine) in terms of where the grapes that are used in the creation of this French red wine are grown. Southern France and northern Spain are divided by the Pyrenees mountains. The eastern end of the Pyrenees mountains dips into the sea by Perpignan, which is where the grapes for this quality wine are grown.
Stalwart Ship 2019 Monastrell Spain
Stats:
Varietal: Monastrell
Alcohol: 14.5%
Retail value: $22
Region: Spain
Vintage: 2017
Commonly known by its French name Mourvedre, the Stalwart Ship 2019 Monastrell Spain wine has beautiful dark fruit flavors and firm tannins. I thoroughly enjoyed the luscious structure and the fleshy texture of this wine, but I will admit that I was surprised that Firstleaf recommended pairing this wine with chorizo, pizza, or burger and fries. Firstleaf didn't leave a detailed explanation of the food pairings or wine trends that they thought would be best with this red wine.
Stats:
Varietal: Sauvignon Blanc
Alcohol: 13%
Retail value: $19
Region: Chile
Vintage: 2017
The last wine that I tried in my Firstleaf shipment was the Literaria '42 2017 Sauvignon Blanc from Chile. This Sauvignon Blanc was crisp and refreshing, with an incredibly vibrant flavor. Firstleaf recommended pairing this wine with food that's recently come off of the grill, so I paired with freshly grilled octopus and salmon sashimi (raw salmon) and fell in love with this wine! This was the only wine that I felt like had to be paired with a meal and not drank by itself to 100% enjoy the flavor.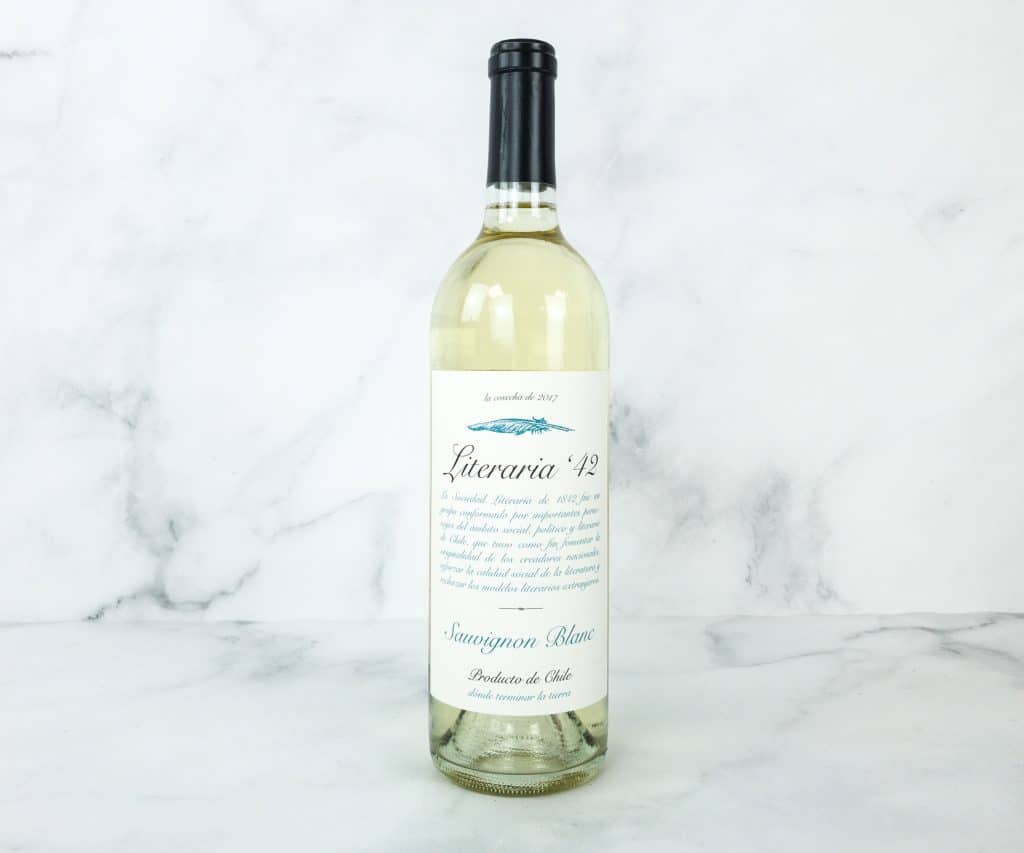 Firstleaf pros and cons
Let's Wine It Up
We get it- there are so many different wine subscription boxes out there that it can be hard to pick out which subscription service would be best for your personal needs.
Use this Firstleaf pros and cons list to get a better understanding of whether or not Firstleaf is the right wine subscription service for you!
Firstleaf pros:
You can choose to receive shipments everyone, two, or three months
Amazing curated options based on your quiz responses
Approachable for beginners or experienced wine lovers alike
Outstanding wine selection of affordable, yet high quality wines
Many of wines in Firstleaf's collections have been decorated with awards from a variety of tasting organizations
Offers a 100% satisfaction guarantee
Super fast shipping and orders are packaged with care (even for a wine delivery company)
Firstleaf was very customer centric (excellent customer service)
Ability to curate by domestic or international wine (or no preference)
Amazing background info cards on the wine regions and tasting notes
Firstleaf cons:
The rating system that Firstleaf has isn't super helpful at first. I wasn't pleased with the thumbs up and thumbs down ratings, as I felt like detailed feedback on what I did and didn't like about specific different wines could really help to personalize my Firstleaf profile (for example, if I wanted more Syrah, Paso Robles, Pinot Noir, etc… or if I did NOT want certain varieties).
Firstleaf FAQ
Are Firstleaf wines any good?
Yes, absolutely! I found the quiz-based system to be among the best I've experienced. I've discovered so many new wines that I might have overlooked (or just wouldn't have seen).
How much does Firstleaf cost?
After the first shipment (promo price), a shipment consists of six wines for $79 plus tax and $9.95 shipping). This works out to about $13 to $15 per bottle, for wines you might see from $20-30 in stores.
How does Firstleaf work?
After signing up, customers take an in-depth flavor profile quiz. Once this is completed, Firstleaf sends the shipments of 6 wines at a time (you pick the interval). After drinking these wines you can rate each bottle (thumbs up, down, or no rating) which then factors back into the logic to send you more interesting finds, increasingly aligned with what you like.
Conclusion: Firstleaf Review
Overall, I think that the monthly Firstleaf wine club is a very affordable personalized wine subscription!
Bottom Line Summary: Overall, I think that the Firstleaf wine club is a very affordable personalized wine subscription and I would highly recommend checking it out if you're looking for a great wine subscription service! Great experience, great customer service, excellent value. If you are on the fence, at least try taking the free quiz here to see how it works.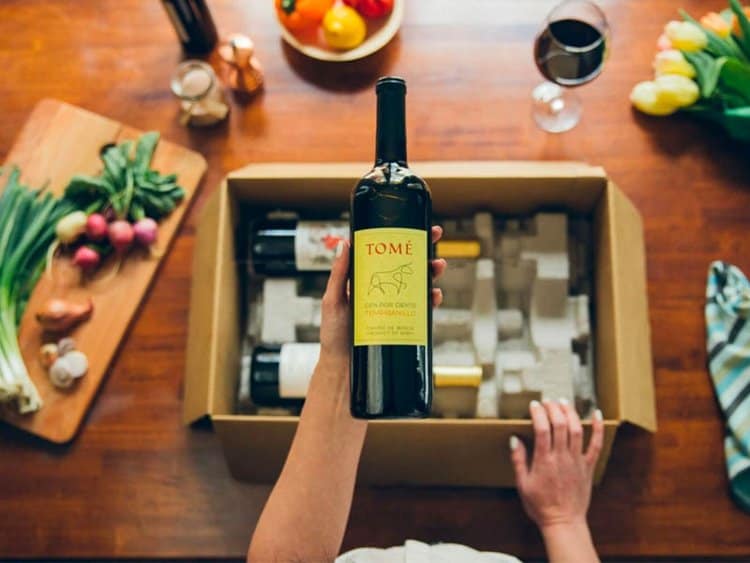 Take the Firstleaf Wine Quiz!
I'll admit that part of the fun is just taking the quiz and seeing what selections the system picks! My favorite parts about Firstleaf are the one-of-a-kind matching system PLUS the affordable price per bottle. We actually SAVED money!
Take the Quiz
We earn a commission if you click this link and make a purchase at no additional cost to you.
Firstleaf Wine Alternatives
While I loved Firstleaf, there are definitely some other monthly subscription options and wine clubs for affordable wine worth considering (some of which our wine expert team already reviewed).