Latest posts by Thea Engst
(see all)
It seems that there isn't much you can't get from a subscription box these days. From boxes of toys for your dog to soda that's actually good for you, we're in an age of exciting convenience. Today I'm going to talk to you about one of my favorite subscription boxes, Tippsy Sake.
Tippsy Sake is a subscription box option for sake drinkers, both seasoned sake enthusiasts, and newcomers. They offer a huge amount of options whether you're buying a box once, sending some to a friend, or subscribing for a year. The company aims to educate new sake drinkers, introduce fresh sake to seasoned sake drinkers, and overall support the sake industry in Japan.
Because sake and alcohol in general, can get quite expensive, investing in a Tippsy Sake box is not to be taken lightly. Lucky for you, I'm here to discuss sake, Tippsy Sake as a company, how it all works, and most importantly: whether or not this subscription box is worth your hard-earned money.
Bottom Line Up Front
The Tippsy Sake company is a great company and their boxes are worth investing in. As far as how many boxes or bottles you want to buy, it really is up to you and your experience with sake.
For newcomers, I'd absolutely invest in a year subscription box for optimal learning and tasting. For seasoned sake drinkers, I'd recommend exploring the expansive website for what you know you like. But my final decision is that this is one subscription box worth spending money on.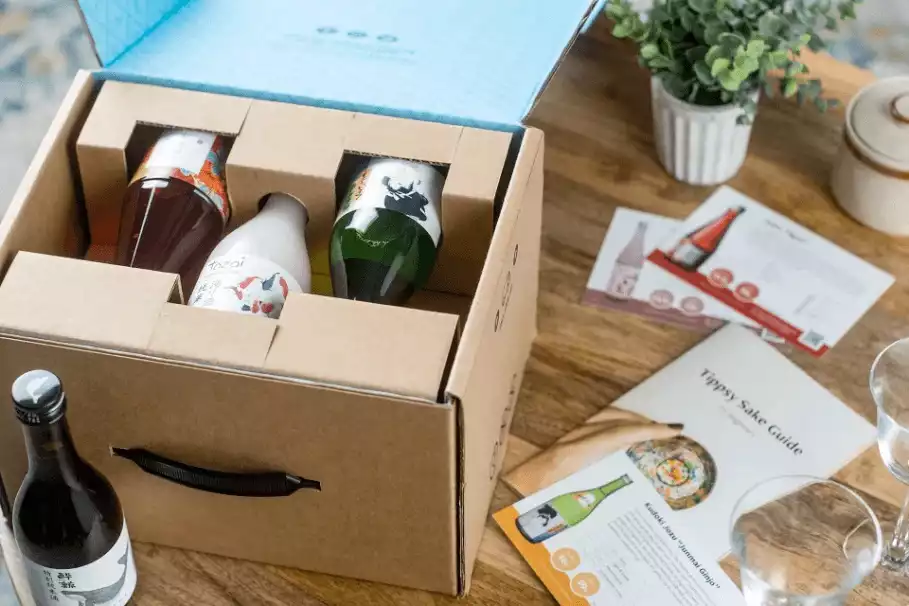 But Wait, What is Sake?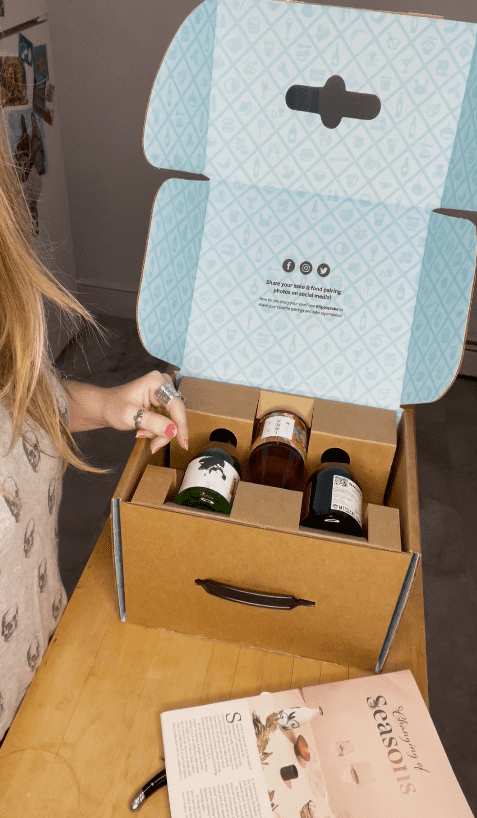 Sake is Japanese rice wine. That's right, a wine that is made with rice. But don't be fooled, just as whiskies and wines vary with terroir, grapes, grains, filtration, and aging, so does sake. This makes sake as a whole an expansive universe of tasty, interesting abundance. There are different rice varietals, which produce different sake.
And this huge universe of sake, which I am only going to brush on here, is one reason why I think Tippsy Sake is worth your time and money. Tippsy Sake breaks down the information of these wines, how they're made, where they come from, and even what to pair them with, and makes this overwhelming amount of information palpable and enjoyable.
Sake production dates as far back as the 8th century (as far as we know) and utilizes two of the abundant natural resources of Japan: clean water, and rice. But it's more than that.
Sake is made with water, rice, yeast, and something called koji, which is a mold. Koji fungus secrets enzymes which in turn then help to break down the rice starch and make that starch into sugar, which is then able to ferment to make alcohol. That alcohol is sake, and it's delicious.
But before all that, sake brewers also do something called rice polishing. This means that they break down layers of the rice before they wash and soak the grains for sake production. This process obviously makes the tiny grains of rice even smaller, which means they need a lot of rice to make sake!
Anyway, depending on how much rice is polished away impacts the taste of the sake. Tippsy does a great job of describing this process on their website, so I'm going to let them take it from here: "Higher rice polishing ratio represents the large amount of outer parts of rice remaining after polishing, which typically boasts rich umami from the rice with fuller body.
On the other hand, lower rice polishing ratio represents sake brewed with more milled rice, which often results in cleaner and fruitier taste notes. Many brewers make products with different rice polishing ratios under the same brand to cater to different preferences and occasions."
Some terms to familiarize yourself with sake are Junmai, which means the sake is more full-bodied and round, Ginjo and Daiginjo, which describe sakes that have a lower rice polishing ratio. The rice polishing ratio is the grade given that indicates how much rice was polished off each grain in order to create the desired sake.
You will also see Nigori often, which is a cloudy sake, meaning you can see the rice particles in the bottle still. There is also sparkling sake, which is more modern, and Nama, which means it is unpasteurized. There are lots of different styles to choose from, explore, and taste if you're not starting to already understand that!
The Tippsy Sake Box, Unboxed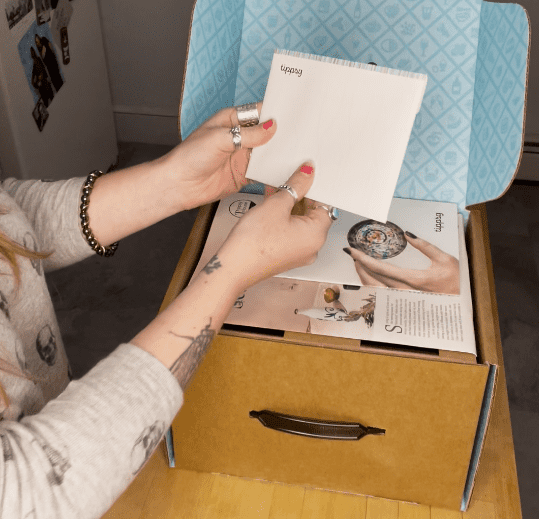 I got my Tippsy Sake box in a timely manner from having ordered it. I received assorted six bottles, having chosen the most current box, which is called Your First Box. It cost $99 and sakes inside were: Nanbu Bijin "Tokubetsu Jinmai", Jozen "Aged", Kudoki Jozu "Junmai Ginjo", Suigei "Tokubetsu Jumai", Tozai "Snow Maiden", and Dassai "45".
You can get Tippsy Box every three months with a subscription, and you can pay just once to see how you like it. Those six bottles, just like mine, are ten ounces each and the box costs around $99. If you want to pay for two boxes, which will come every three months, that is around $192, and for the whole year, you can get four boxes for around $372.
This may seem steep but the cost of sake has a huge range. Some of the ten-ounce bottles can go for upwards of $20 in liquor stores. So if you're paying a flat fee of $100 to have six high-quality bottles shipping to your house with informational pamphlets, I do consider this option worth it for anyone interested in sake.
Hot tip: if you're on the fence about this, I'd explore the Tippsy Sake website and take a look at their awesome, short, tasting videos. These are informative and will help to sway you one way or the other if you want to start trying sake. They even tell you what type of glassware to enjoy certain sakes in!
When you first enter the website, it greets you with a quick quiz asking you about other alcohol and cocktails you enjoy, even food you like. After you complete this quiz, you are told which sake is ideal for you, based on your tastes.
I really love this on the website, I think it makes the huge genre of sake more approachable. I got the Suigei "Tokubetsu Jumai", which I have had before, but I don't remember. So I am extra excited to try this sake (again) because it is coincidentally is in my box!
The box comes with some great paperwork. First, there is a newsletter, which is short and sweet. It has a cocktail recipe with sake as a base, an article discussing the yeast and process of culturing yeasts for sake, an interview with sake brewer Shin-ichiro Kodama, and some new sake releases to look out for.
Each sake included also has a postcard with a description of the brewery's accomplishments and awards, tasting notes, food pairing suggestions, what temperature to serve this sake at, and a map of Japan indicating where each particular sake was made.
They even each have a QR code on them for more information. The codes direct you to the specific brewery's website. Needless to say, Tippsy Sake is aiming to set you up for success with all this great information.
Finally, there is a larger booklet (of twenty-three pages) which is a beginner's guide to sake. Tippsy Sake Guide for Beginners has great illustrations, another map of Japan, and overall just coherent, well-described information on sake, rice, and yeast. I found this booklet very helpful, easy to understand, and informative.
Tippsy Sake has one extra postcard, where you can enter a contest to win their sake box for only $1. All you have to do is share a picture of yourself enjoying sake and tag Tippsy Sake, with the hashtag "ImTippsy". One person wins every single month! If you think I'm not doing this, you don't know me at all.
So now that we know Tippsy Sake is efficient, informative, and aiming to spread sake knowledge in easy-to-comprehend manners, let's get to tasting these amazing sakes!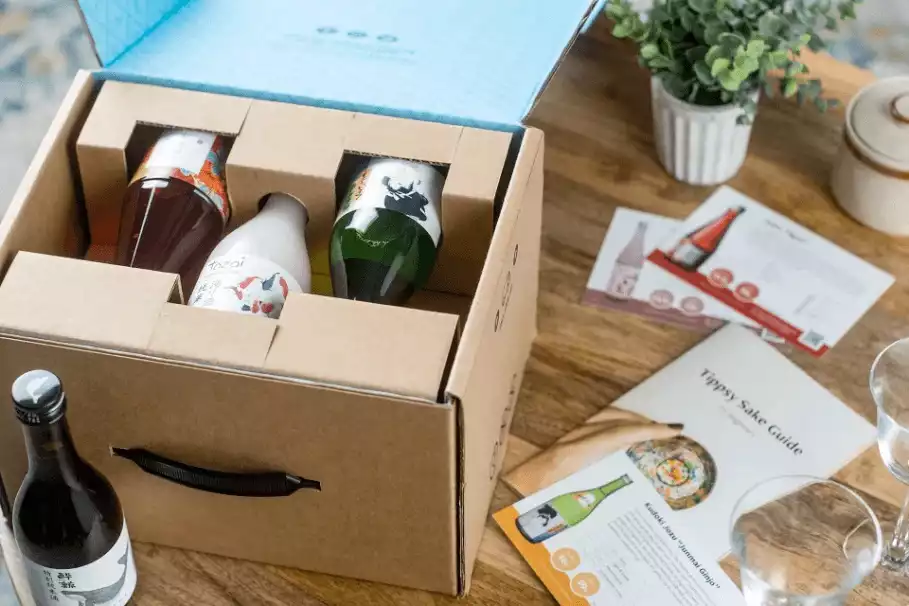 The Tasting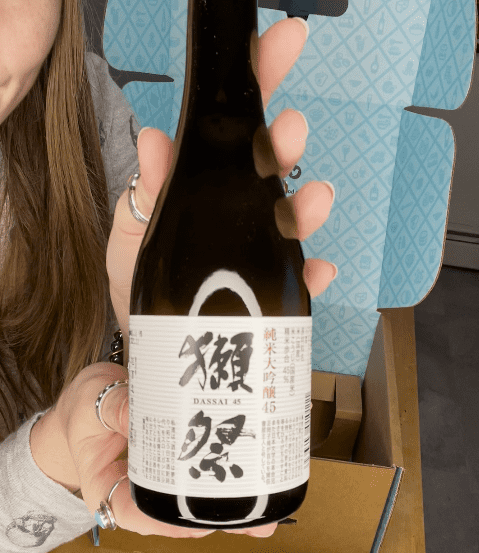 So the reveal has been revealed, on to the tasting! I did a little reading and a little watching on each sake and I decided I'd start with the Dassai 45 and the Suigei. I chose to taste two sakes at a time, to not tire out my palate.
Sake can be really subtle, and tasting too many sakes side by side can make the flavors blend and become less distinct. (In fact, tiring your palate can happen with anything.) So I exercised some self-restraint and tasted over a period of three days. Not all heroes wear capes!
I started with the Dassai 45 because both the Dassai 45 and the Suigei were described on the postcards accompanying them as being 'light and dry'. And because Tippsy Sake recommended enjoying this sake cold, I listened to the professionals and kept it in the fridge overnight to chill.
The Dassai was in fact light and dry, but it was also funky, almost barnyardy with hints of green apple skin. It had a lot of notes of fermented fruit on the nose, especially the smells of a cantaloupe fermenting. The palate was also funky, like a watermelon that is well past its ripeness. The finish was clean with no lingering aftertaste.
I realize that these descriptors might not be appealing to most people but if you already drink wine, you might understand what I'm getting at.
Natural wines often have a nice funk to them, and Spanish or French ciders are more good examples of that fermented, barnyard funk of some alcohol. If you enjoy a Saison beer, you would probably also like this sake. It is the funkiest of the six included in my Tippsy Sake box.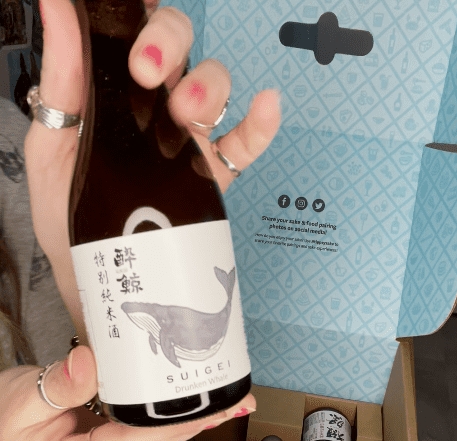 Moving on, I went to the Suigei, which translates to 'drunken whale'. Because Tippsy Sake recommended having the Suigei either warm, room temperature, or cold, I decided to try it two ways. First, I enjoyed it cold. Like the Dassai 45, this was also light and dry, but it was much lighter to me than the Dassai 45 because the Suigei was more fruity.
The brewers aimed to create a versatile sake and they definitely succeeded with this. I consider the Suigei more of a crowd-pleaser than the Dassai 45 because it doesn't have any fermented funk notes. While I have technically had this sake before, I did not remember it well. I was surprised at how fruity it was and how drinkable as well.
I heated up some water and left a glass of Suigei inside the water for forty seconds, as recommended by Tippsy Sake. Then I rolled the sake between two glasses and enjoyed it warm. This made the texture much creamier, and I felt all those fruity notes become more subtle and warming not just in temperature but flavorwise.
Tasting the cold Suigei next to the warm was super fun and interesting (they were so different) I found I actually preferred this sake warm! And remember that Tippsy Sake recommended this for me when I took the quiz on their website that first day, so they really nailed it!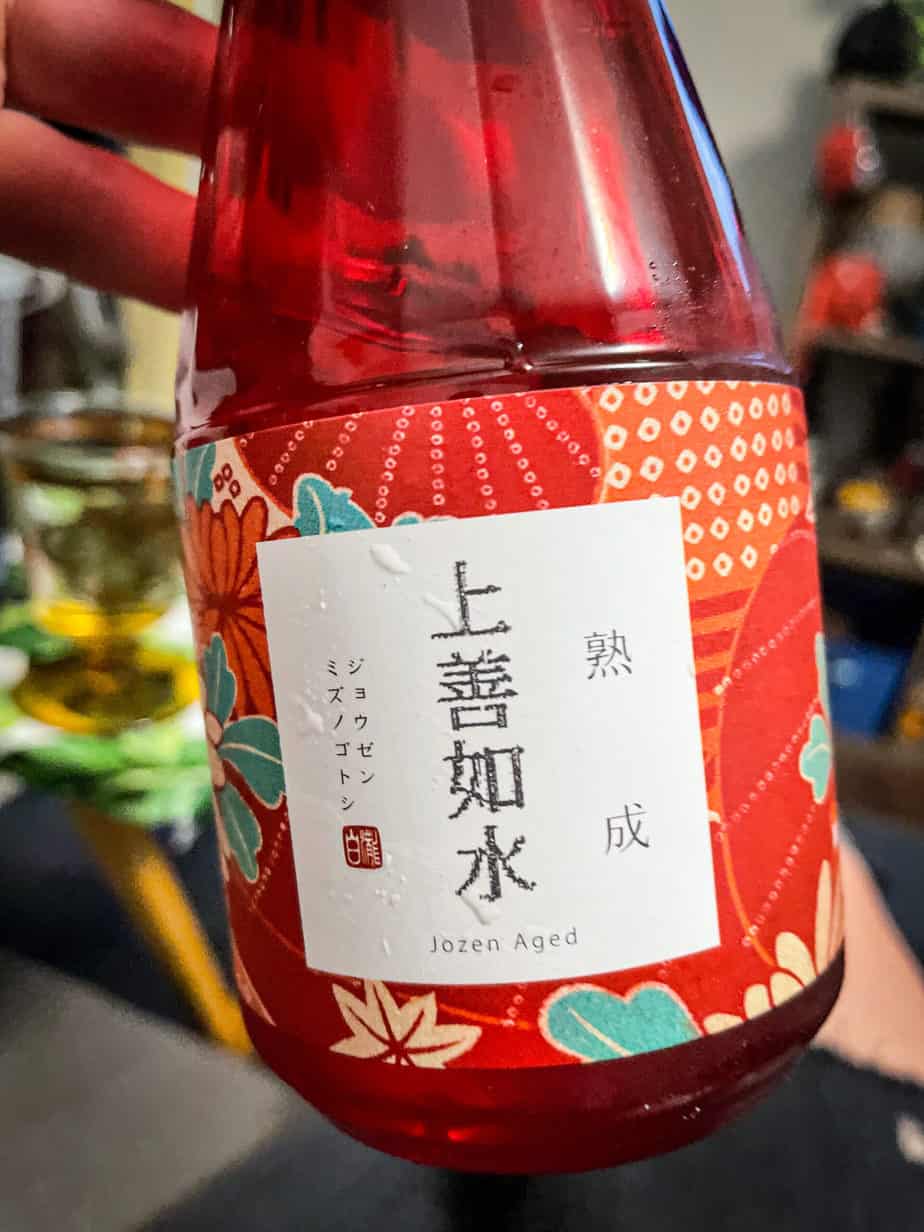 The next day I tried the Jozen "Aged" versus the Tozai "Snow Maiden". I started with the Jozen "Aged" because the postcard described it as being 'light and dry' and the postcard for the "Snow Maiden" described it as being 'rich and sweet', which sounded more appropriate as a nightcap.
Trying now the Jozen, I once again listened to Tippsy Sake and enjoyed it cold and – wow. I loved this sake! Light and dry, yes definitely, but very clean, crisp, and acidic. This subtle nose is green grapes and clean mineral water on the palate with no aftertaste but a huge thirst for more.
The palate is light and fruity without being sweet at all. This was definitely my favorite of the three I had tried thus far! If you're a wine drinker and like a Gruner Veltiner, I'd highly recommend this sake!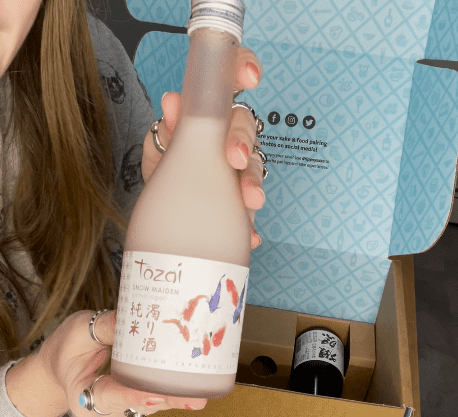 Needless to say, the Jozen was a tough act to follow. However, the "Snow Maiden" certainly held her own. Once again, Tippsy Sake recommended enjoying this sake cold or even over ice, so I kept it chilled as well. The nose of this cloudy sake or Nigori is more full than the Jozen and had a lot of creamy notes.
Unlike the other three I had tasted, when you swirl the sake in the glass, rice debris is left on the sides. The palate is light and sweet but not super sweet. The texture is also just nice and creamy, a really unique mouthful especially after trying the Jozen "Aged".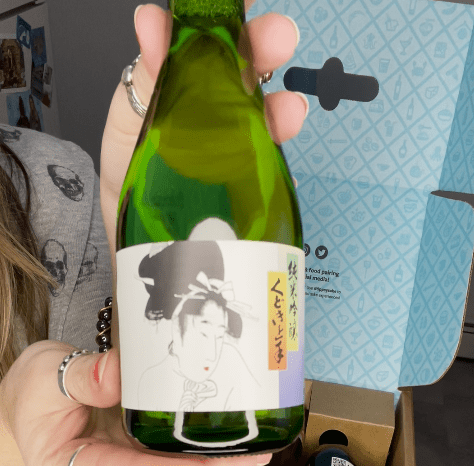 And for my final sake tasting evening, I reserved the Kudoki Jozu "Junmai Ginjo" and the Nanbu Bijin "Tokubetsu Junmai". I started with the Kudoki Jozu because it was described as 'light and sweet' versus the way the Nanbu Bijin was described as 'rich and dry'.
I chose to enjoy this cold, even though Tippsy Sake recommends it either chilled or at room temperature. The reason why I made this choice was that the Nanbu Bijin is recommended either hot, warm, room temperature, or cold. So I left the Nanbu Bijin at room temperature because I wanted to have two temperatures to taste side by side.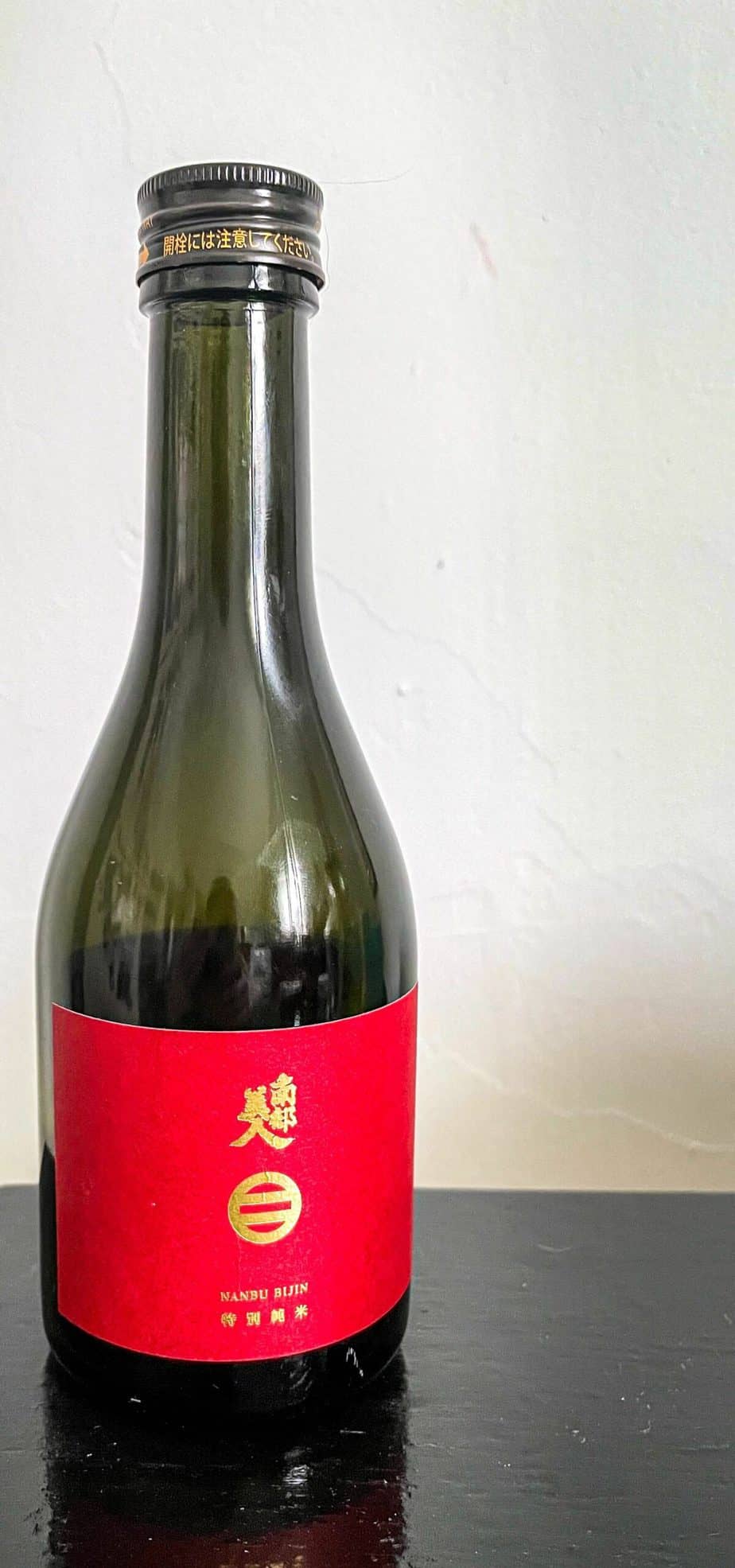 The Kudoki Jozu had a really nice green nose, with hints of fermented honeydew melon and just overall fruit. On the nose and palate, there's a nice sweetness to balance that funk of the fermented honeydew. The palate is light, not as funky as the Dassai 45 at all, so if you're intimidated by funky flavor but intrigued, I'd reach for this sake to dip your toes into.
I ended my sake journey with the Nanbu Bijin at room temperature. This was super dry, with a clean, pure nose. The palate was not at all fruity, with no fermentation notes as with the Kudoki Jozu and Dassai 45. The palate is rich and round, it really couldn't be more different than the Kudoki Jozu, which was only highlighted by the different temperatures I was enjoying them at.
And which sake did I like best? If I truly have to choose, my favorite sake from the six given to me by Tippsy Sake was Jozen "Aged". I loved how surprisingly rich it was despite being a clear spirit. It had a great mouthful despite being filtered, it was just overall a surprisingly, yummy sake.
That being said, there was no sake I didn't enjoy in some way included in this box. They all have a place in my heart depending on my mood, the weather outside, and the meal I'm enjoying.
Pros and Cons of the Tippsy Sake Box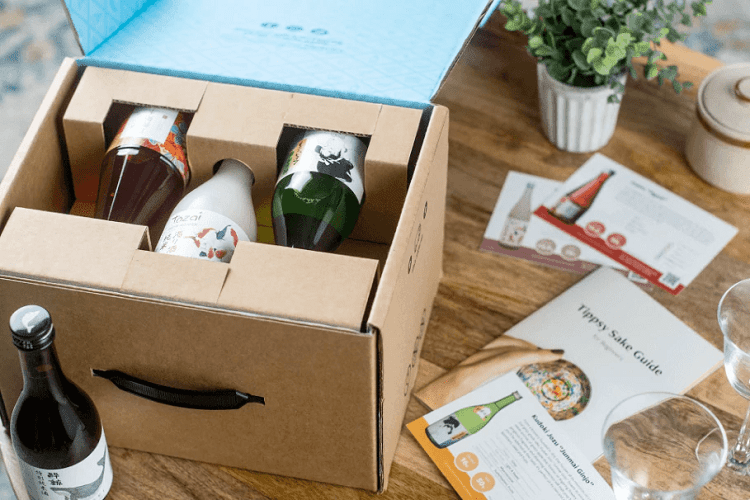 Pros
While the price tag of about $100 a month seems hefty for only six bottles, sake easily gets expensive and doesn't come with the literal and metaphorical maps that Tippsy Sake offers in their boxes. I consider this price worth it.
Signing up for a full year is worth the cost and you save if you do it all at once.
The boxes come with six unique, ten-ounce bottles with informational booklets and postcards.
This makes a great gift for the sake (or booze) nerd in your life!
This box is a great choice for people who are new to sake and who are already interested in sake.
Cons
Yes, this is a little expensive for a subscription box.
You always run the risk of not enjoying all the contents of a box that someone else has chosen for you. Unfortunately, in this case, it's an expensive item to not enjoy.
FAQs About the Tippsy Sake Subscription Box
Question: Is Sake Really that Expensive?
Answer: Yes. Remember that sake is made from grains of rice, which are often polished to be even smaller. Also consider that distributors are importing sake from Japan, which costs a lot of money. In short, this is a labor-intensive, work of art, imported from a far-off land so yes, it is expensive. Lots of beautiful things are.
Question: Is it More Cost-Effective to go to a Store and Choose Some sake for Myself?
Answer: It could be, but if you're just learning about sake, a service like Tippsy Sake takes a lot of guesswork out of the choices you make. The informational paperwork they give alone is worth money and remember that some ten-ounce bottles of sake can be $30 or more alone.
Question: Would you Recommend this as a Gift for Someone Who Doesn't Know Much about Sake?
Answer: If that person likes to drink and learn about what they're drinking, then yes. Anyone I know who doesn't order sake at a restaurant also hasn't had sake before. Think of it in the sense that introducing someone to a cool new wine is always fun, and that's what you're doing with the gift of sake.
Question: Would you Subscribe to this Box Yearly?
Answer: Yes. And that's only after experiencing this one box.
Question: Would you Recommend this to Someone who Enjoys Cocktails but has Never had Sake?
 
Answer: If you enjoy trying new things, whether it's beer, wine, cocktails, or whiskey – you will probably enjoy this box. It's a fun way to learn about sake and taste new things. Also, there is no reason why you can't make a sake cocktail, it's just not something you see on most menus!
Final Thoughts on the Tippsy Sake Subscription Box
In a world full of subscription boxes, finding the right one is difficult and challenging. In addition to that, the more expensive the boxes, the more hesitant we all become, which is understandable. Tippsy Sake is a risky box because of the price tag and the concept of sake, which many people don't know much about.
However, having tried just one of these boxes, I would not only recommend it to anyone on the fence about it but subscribe yearly myself.
I found that the Tippsy Sake box was full of great information and sake education. I love the informational postcards for each sake, which included the region the sake was from, tasting notes, food pairings, and even the right temperatures to enjoy it at.
Combine that with the wonderful tasting videos on the Tippsy Sake website, and the fact that their sakes are high-quality and delicious, and you have a recipe for success.
In short, I love this company and its mission and I'm excited to see what they do next.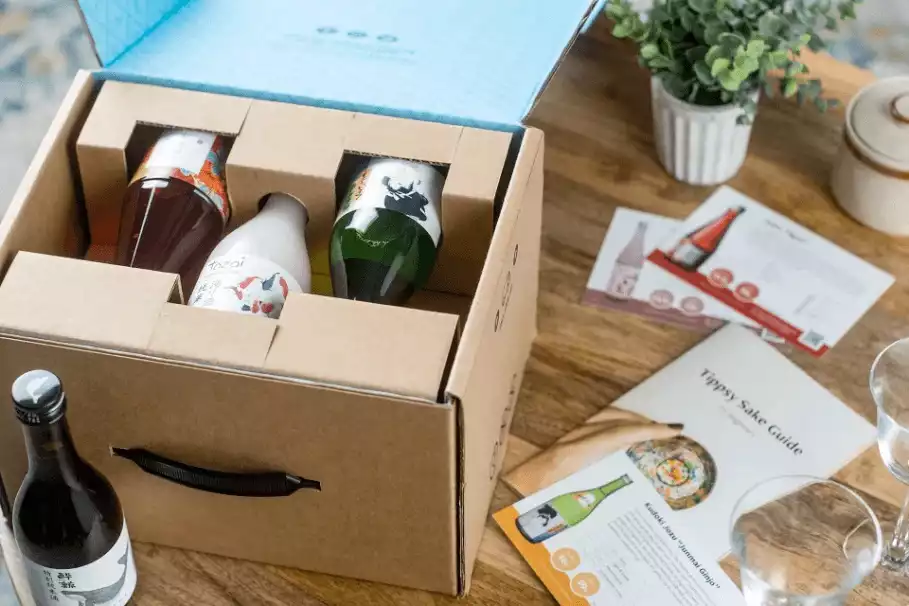 Recommended Reads: