Latest posts by Crystal Schwanke
(see all)
The best postpartum meal delivery services nourish your body with nutrient-dense foods and the extra calories you need in this phase of life.
Your body will still need to heal even if you have the best labor and delivery experience possible. You'll be tired and adjusting to a new normal. A steady stream of warm, nourishing foods and snacks to keep your energy and milk supply high will make the process smoother.
I could tell the difference during the weeks I was more supported with fresh fruits, vegetables, lean proteins, and whole grains vs. the weeks I was in zombie mode, trying to add meal prepping and cooking to my list of things to do.
You may not be in control of how much sleep you can get. Still, if you can choose meal delivery services that offer postpartum-supportive foods, I wholeheartedly recommend it. They don't even have to be specifically for the postpartum period if you'd prefer not to go that route, so you can choose dishes for the whole family that happen to have ingredients to help your recovery.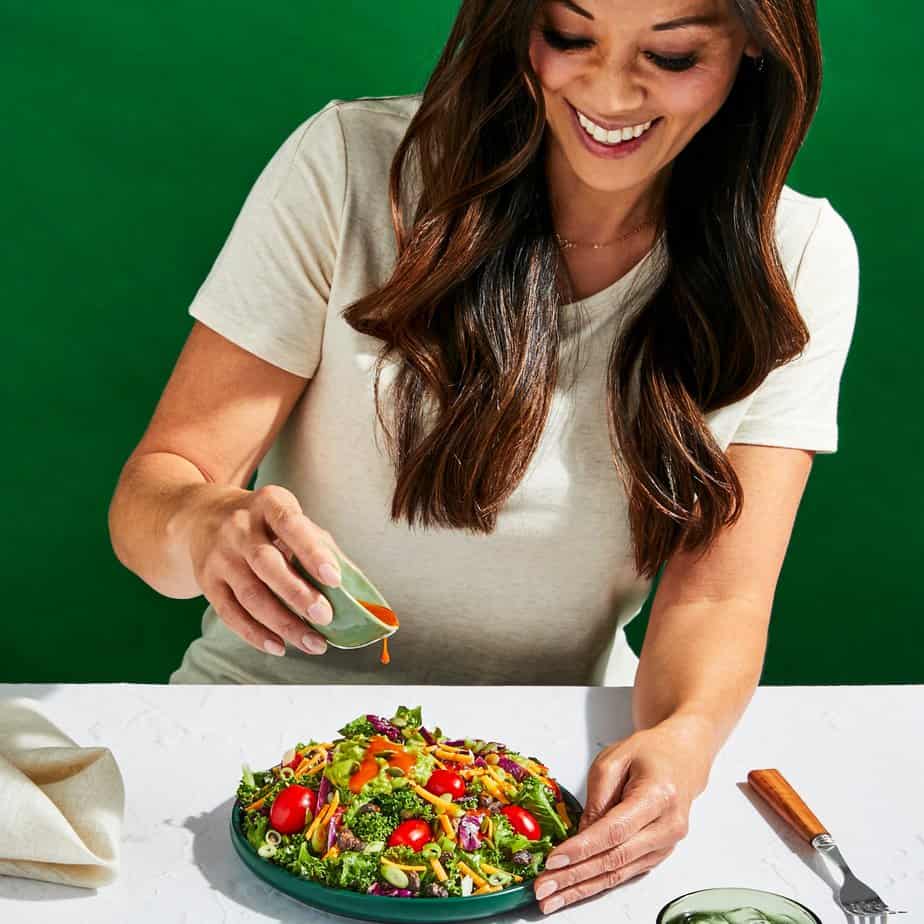 My Top Picks at a Glance
| | | | | | |
| --- | --- | --- | --- | --- | --- |
| Company | Price | Products | Delivery Area | Shipping/Delivery | Can you choose delivery date? |
| Territory: Best overall, mom-only plans | $14.99 to $16.99 | Pre & Postpartum plan. Lean proteins, veggies, and whole grains, delivered fresh. | Enter your zip code to see if they deliver to your area. | $10.99 | No |
| Kitchen Doula: Best for anti-inflammatory foods and soups/stews | $22.00 single item (2-3 portions) or $130.00+ for packages | Soups and stews (delivered frozen), anti-inflammatory tonics | Bay Area only | $5.00 to $20.00 | No |
| Nourish: Best for the first six weeks postpartum | $749.00 (Postpartum Starter Bundle) or Build a Box (price per box varies, but items start around $36.00) | Tonics, porridges, puddings, Ayurvedic postpartum oil, compote, snacks to eat with one hand, teas, stews. No soy or dairy except ghee. Delivered frozen. | Nationwide | Included in price of the order (UPS) | They recommend entering the date you'll be at 35 weeks so it can be delivered around that date. |
| Chiyo: Best holistic approach | $75.60+ per day | Fresh. Morning tonics, recovery broths, nutrient-dense meals, snacks | Nationwide unless you want Family Add-ons (in that case, it's Manhattan, Brooklyn, and Queens). | Free shipping nationwide | No |
| Gobble: Best for quick and easy meals | $11.99+ per serving | Fresh ingredients. Lean proteins, veggies, whole grains, healthy fats. Vegetarian swaps available. | Almost everywhere in the contiguous US | Free for the first box, then $8.99 | No |
| Green Chef: Best overall for feeding mom and the family | $11.99+ per serving | Fresh ingredients. Balanced dinners, healthy breakfasts, quick lunches | Continental US | $9.99 | Yes |
| Hello Fresh: Best budget option for feeding mom and the rest of the family | $8.99+ per serving | Fresh ingredients to cook meals yourself, ready-to-heat meals, 15-minute kids' lunches | Continental US | $10.99 | Yes |
How I Chose the Best Postpartum Options
First, I threw out all the weight loss meal delivery services. Be gentle with yourself. You're healing and possibly working to keep your milk supply up if breastfeeding. The meals for weight loss can come later; giving your body what it needs to recover from the last several months and the childbirth experience is essential.
That's not to say you need to increase your calories by over a few hundred above what you'd typically have. I looked for services that offer balanced meals with whole foods and meals in the 500-800 calorie range.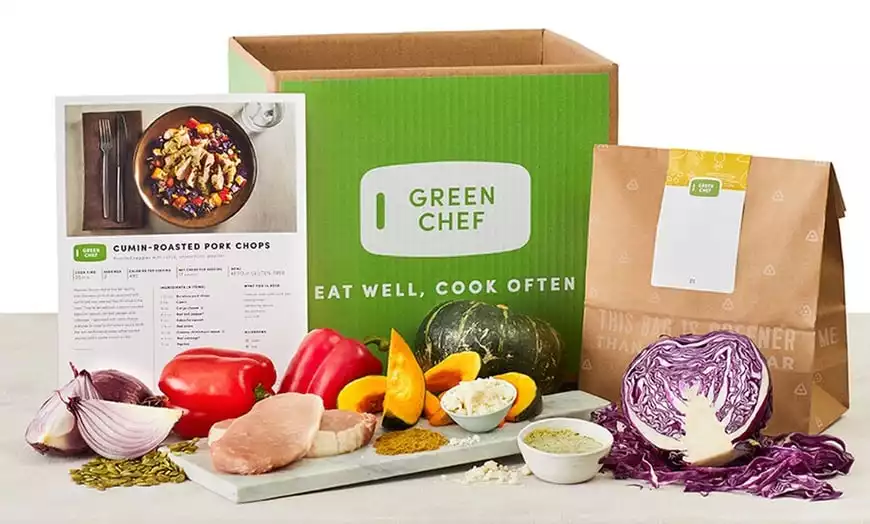 Why Go With Green Chef?
Green Chef is a meal kit service that delivers boxes filled with fresh ingredients on a weekly, biweekly, or monthly basis to make chef-curated meals. Diet and allergen friendly options, are one of the reasons I love Green Chef.
Choose Your Plan
$250 Off for Cyber Week Here
We earn a commission if you click this link and make a purchase at no additional cost to you.
What Should You Eat Postpartum?
Your body's trying to do a lot after you give birth. You're healing, possibly nursing, and taking on a new identity (even if this wasn't your first child, it's your first time being this child's mother). You're probably not sleeping as much as you need to. There could be postpartum depression to wrestle with, too, which can be exacerbated by poor diet (but please speak to your doctor if you are dealing with this condition).
When juggling all these changes, one of the best things you can do for yourself is ensure your body's getting the proper nutrition. Even better if someone else is in charge of the whole process, from planning to serving. That's where the best postpartum meal delivery services can help. Whatever makes life easier at this stage, right?
What Are the Best Meals for Postpartum Moms?
Keep things simple: Whole foods. Fresh fruits and vegetables, lean proteins, healthy fats, whole grains, and plenty of fiber.
If breastfeeding, snack more often or enjoy larger portions because you'll need about 300 to 500 extra calories daily.
Even if you're not nursing, this isn't the time to diet and try to lose weight, so be sure you're choosing nourishing meals.
BabyCenter recommends paying particular attention to:
Iodine and choline to support the baby's developing brain. To check this box, eat seafood (minus fish that are high in mercury), beans, peas, lentils, egg yolks, dairy, and even a little seaweed.
Iron and B12 for your own energy levels, baby's neurological development, and blood cell health. Meat, dark leafy greens, brown rice, and beans can help.
Anti-inflammatory foods for postpartum swelling. Stay away from processed foods and sugar as much as possible. BabyCenter recommends getting potassium from bananas, spinach, kale, collards, and avocados to help with swelling.
Fiber for constipation. Look to whole grains, beans, fruits, and vegetables.
Water for, well, everything from healing to milk production. Get a boost from foods with high water content, like cucumbers.
You'll also need Omega-3 fatty acids, which you can get from fish (again, choose low-mercury options, like salmon, tilapia, cod, and trout), to help your baby's brain development.
How to Know Which Service Is Best for You
That'll depend on your preferences, family, budget, and how much help you'll have. The best postpartum meal delivery service one week may not be the best choice for the circumstances the next.
Several cultures have particular guidelines for the first forty days or six weeks postpartum. Is that something you're interested in exploring?
What is your budget? I found that the more general meal delivery services had meals that would support your healing and feed your family simultaneously, and they were less expensive than the more specialized options.
How much help will you have? Will family be in town the first week or so and able to help with the cooking? You may prefer to start with a service that feeds several people but requires more time in the kitchen while there are people there to cook or hold the baby while you do (if cooking is enjoyable and helps you relax). You may switch to a different service after that or choose different, less hands-on meals.
The 7 Best Postpartum Meal Delivery Services to Consider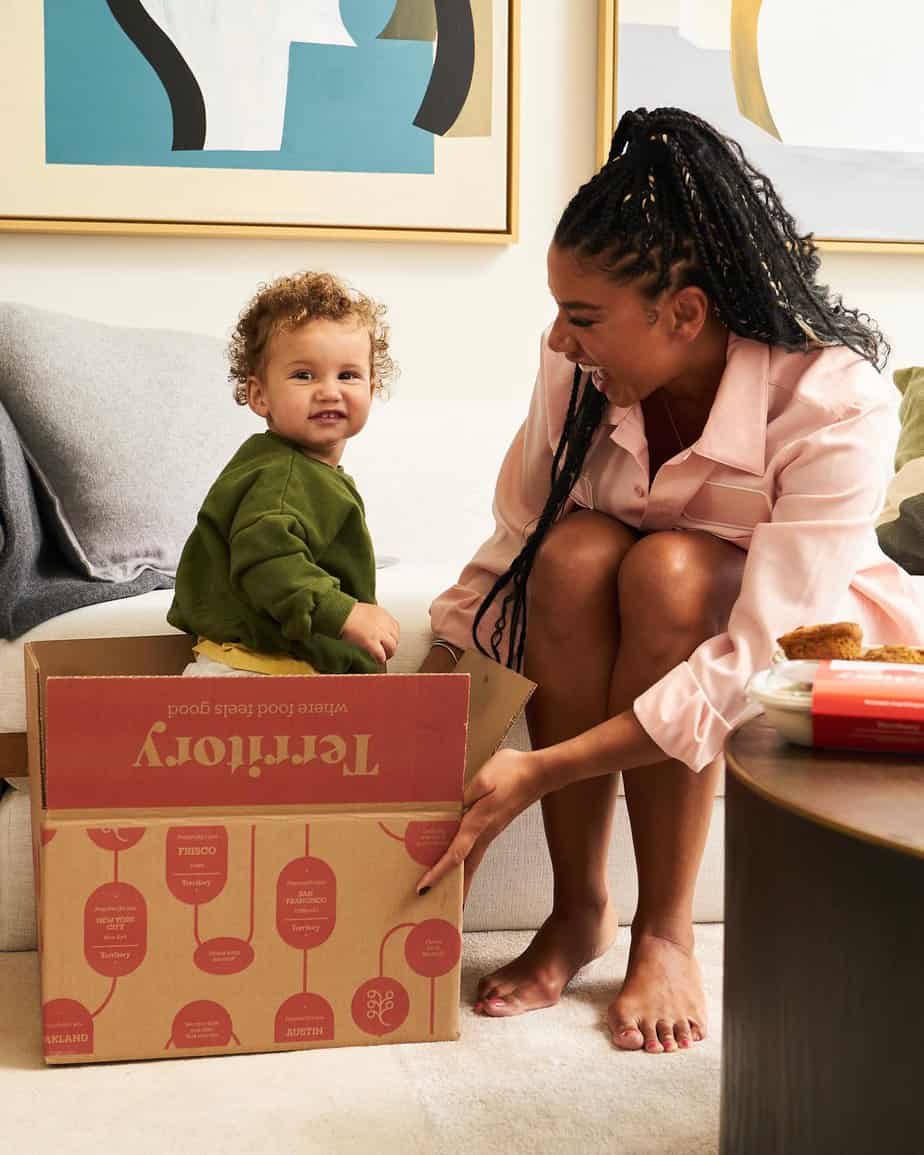 Territory has a whole Meals for Mama program, full of postpartum-friendly meals. You can get the calories and nutrients you need in easy, ready-to-heat meals. Breakfast and lunch/dinner options are available. Still, there are many more lunch/dinner options than breakfast as of this writing.
When you sign up, they choose 10 meals for you and put them in your cart, but you can edit them. You can filter for meal type, ingredients to avoid (11 options), and nutrition info (based on calories and sodium).
Pros
This is a specific Pre & Postpartum plan, but you can still access all meals or plant-based options from the page.
You can see the meals before you get too far into the sign-up process, so if they're not for you, it's easy to change your mind. Before seeing the meals, you give your name, email address, and zip code, but no payment information or a street address.
There's a lot of lean protein, vegetables, and whole grains.
Spicy meals are marked, so you'll know at a glance which ones to avoid if your baby reacts poorly when you have spicy food (or if you prefer not to eat spicy meals).
You can buy three servings of some items, like grilled chicken, to bulk up your meal and share with the family.
The meals have no gluten, dairy, or refined sugars.
Cons
I expected to see more options with higher calories. However, there are a few in the 600-700 range. Others are around 400 to 500 calories.
There's a lot of chicken. If you don't like chicken, you might have trouble finding 10 meals at a time. (I'd love to see some seafood!)
It's a little expensive, but still one of the most affordable postpartum-specific services. Most meals are in the $14.99 to $16.99 range.
Most of the healthy fat seems to come from olive oil, so you might want to mix things up with other meals or snacks.
The delivery fee is $10.99.
Kitchen Doula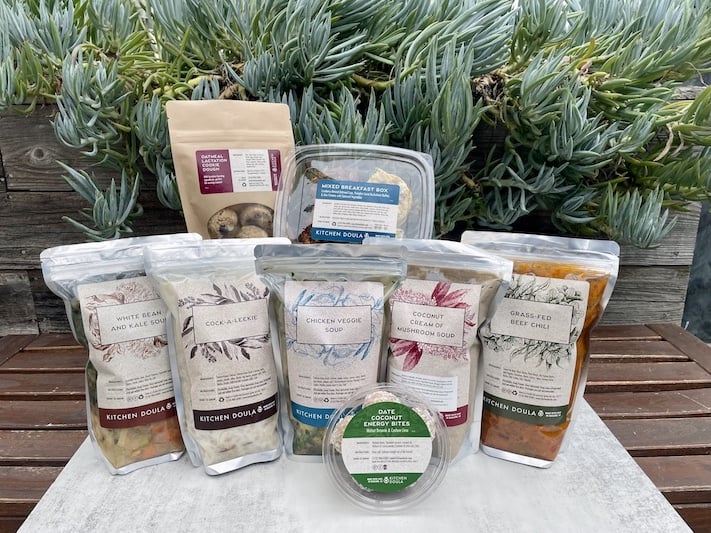 Kitchen Doula was created by Tali, a chef, farmer, and prenatal yoga teacher who values nutrient-dense whole foods. Kitchen Doula makes everything from scratch with pregnant and postpartum mamas' needs in mind.
Suppose you don't want to go through the menu and choose your meals. In that case, you can shop straight from the Pre & Postpartum Packages, which combine many of the ingredients you'll want to enjoy postpartum (there are meat and vegetarian options for each package type).
Pros
Soups and stews are frozen, so they're perfect to pop into the freezer for later.
Smart packaging: the pouches are BPA-free plastic. Other items come in recyclable or compostable containers; the insulated bags are reusable. When you return them, you get your $5.00 deposit back.
Is there anything that feels more nourishing than a warm soup? (These have quality ingredients, like chicken, grass-fed beef, coconut milk, beans, seaweed, lentils, etc., to back up that feeling.)
You can get healing tonics with anti-inflammatory ingredients, like the Turmeric-Ginger and Chicken Bone Broth with Turmeric & Ginger tonics.
Cons
It's only available in the Bay area.
It will take time to defrost the frozen soups and stews. You'll need to defrost them in the refrigerator or a bowl of warm water.
If you don't like soups and stews, you won't like this one, even though there are a few other entrees.
You can't choose your delivery day.
Nourish

Nourish meals are available in bundles, or you can build your own box. They're based around Ayurvedic principles (they'll even customize your meals around your primary dosha), Dr. Joel Wallach's guidelines, the book The First Forty Days, and contain organic, non-GMO foods. There's no gluten, soy, seed oils, trans fats, artificial colors or flavors, or added sugars.
Serious care is taken when choosing the best ingredients to support postpartum moms–and the best packaging to support the earth. Check out their standards.
Pros
I like that the bundles make it easy to get what you need without putting a lot of thought into it since you've got plenty of other things to juggle and take care of at the last minute, and you might already be feeling sleep-deprived. There's the Postpartum Starter Bundle with four healing lactation tonics, four porridges and puddings for breakfast, two lunches or dinners, an Ayurvedic postpartum oil, a compote for constipation, and six snacks you can eat with one hand. The Soup bundle has two weeks' worth of soups (14) to help you with milk production, strength, and vitality.
The delivery containers are compostable and made from bamboo fiber.
They ship nationwide.
Meals are designed to be easy on the digestive system, help with milk production, stimulate the lymphatic system, gently combat constipation, and ease inflammation.
Since dairy can be a problem for breastfeeding babies, their meals are dairy-free.
Cons
It's expensive. Fourteen soups in the soup bundle will cost you $679.00. The Postpartum Starter Bundle is $749.00.
The shipping could take longer than you'd like. You'll have to get in line, and if you haven't ordered ahead for week 35 of your pregnancy, you could be waiting one to two weeks for delivery.

I love that Chiyo combines Eastern food therapy with nutritional science, something I've always wanted to learn more about. They have different programs for fertility (Balance), prenatal (Nourish), postpartum (Restore), and general well-being.
You can pre-pay for six weeks, go week-to-week, or place a single order. You also get to choose whether you want meals for seven or five days, but I don't see a way to get anything but the full breakfast, lunch, and dinner package.
It's a set menu each week, so you won't be able to edit your meals or make substitutions. Here's a sample menu so you can get an idea of the types of meals they send.
Pros
They cover everything. You get morning tonics, recovery broths, nutrient-dense meals, and snacks.
Free shipping nationwide
They don't just send you food and forget about you. You can have health coaching check-ins via text.
There are pescatarian and vegetarian options.
There's a chat option on their site if you have questions.
There's a Family Add-ons option, so you don't have to worry about what everyone else is eating while you're enjoying your nourishing postnatal meals, broths, and tonics. Choose from three, five, or seven days. Then decide whether you want to order all three meals for each day, just lunch and dinner, or dinner only. Standard, Pescatarian, and Vegetarian options are available here, too.
Cons
It's expensive! If you choose the six-week plan for seven days, you'll pay $75.60 per day. Week-to-week is $79.80 per day. A single week will set you back $84.00 per day. If you choose five days, the cost is slightly higher per day. (Note: The site says to email them if you can't afford it, so there may be help available.)
I sent them a few questions over chat outside their regular business hours. They emailed me to say I'd get a response within 24 hours, but I never heard back (instead, I ended up on their mailing list!). I tried again during business hours, and the Concierge Bot told me someone would answer in about 11 minutes. I waited around 30 and…crickets. So they're not the most responsive, at least in the chat. I eventually left the site but noticed a response to the latest question in my email around an hour later, and they ended up being very helpful.
The delivery area for Family Add-ons is small–Manhattan, Brooklyn, and Queens. Local delivery for postpartum meals is larger. (There's also nationwide delivery.)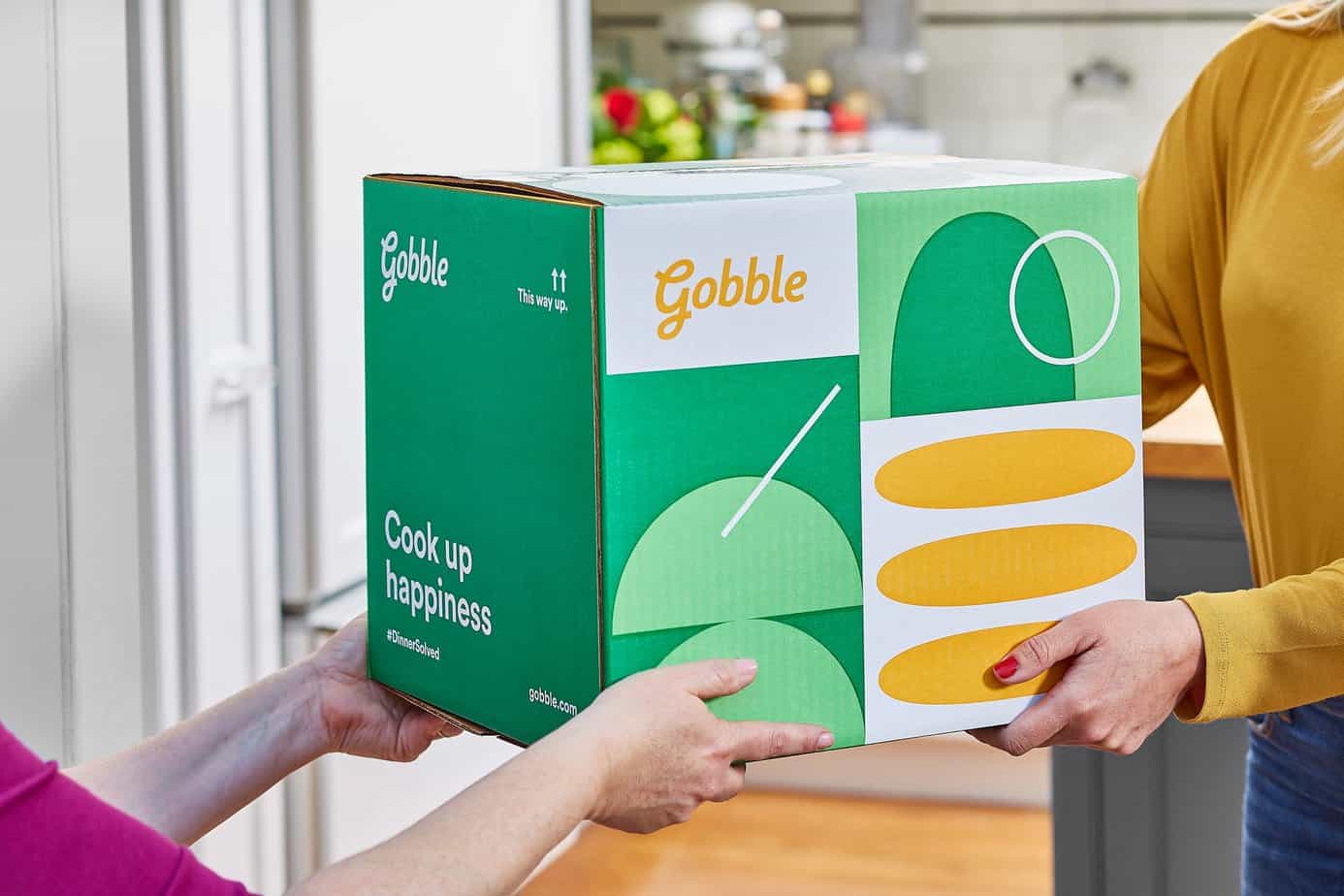 The beauty of Gobble meals is that they take about 15 minutes to cook. When you have a colicky baby, or you're running on almost no sleep, sometimes that's all the time you'll have to give. Anything with more of a time requirement could mean DoorDash, it is.
There are two plans, Classic and Lean & Clean. You can choose Dinner for 2 or Dinner for 4, and then opt for two, three, four, or five meals per week.
Pros
These meals are insanely fast to whip up because they've already done the prep work for you.
Even the Lean & Clean option has meals in a calorie range (about 400 to 600) that could support the postpartum period, especially when you have a couple of healthy snacks throughout the day.
They ship almost everywhere in the contiguous United States.
You can swap meat for vegetarian options.
These meals aren't just for mom, so you won't need to worry about what other household members will eat while you're enjoying your nutritious postpartum meals.
Some of the meals can be frozen for later.
Cons
These aren't explicitly designed for postpartum, though the ingredients should still work fine. There's a lot of lean protein, veggies, whole grains, and healthy fats (with omega-3s).
If you live in Montana, you won't be able to get these shipped to you. Some areas of Nebraska, New Mexico, and Kansas won't either.
It can be expensive, but it's nowhere near the priceiest one on the list. You can get meals as low as $11.99 per serving if you want five meals. If you're only ordering for two people and want two meals, it's $16.99 per serving. Dinner for four, but you only want two meals? It's $12.99 per serving.
Green Chef has eight different plans to choose from. One of the best for postpartum will be Mediterranean, but you can't go wrong with any of them, and you'll have access to all of the meals each week.
If you want more than dinners, you can buy add-ons that make healthy breakfasts as easy as popping something in the microwave.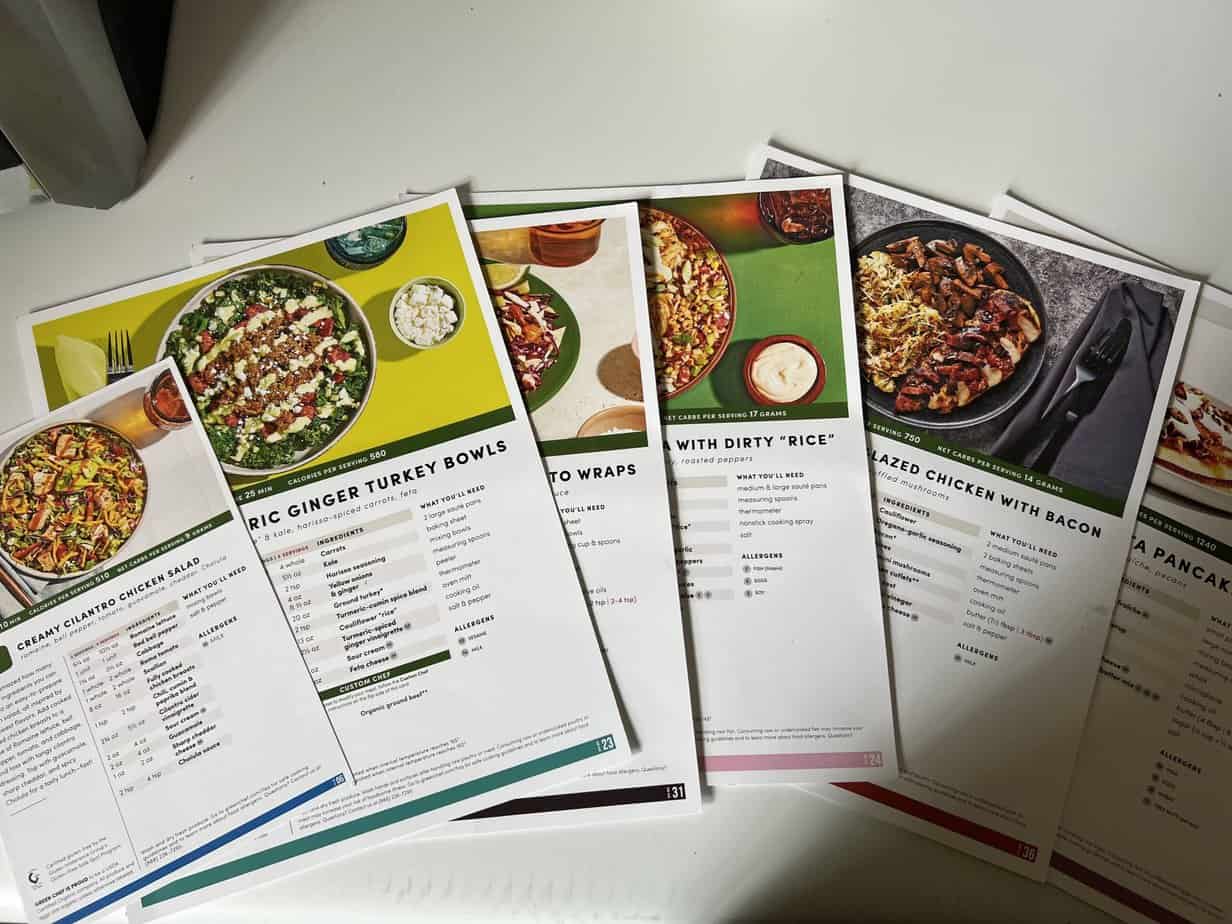 Pros
These meals are restaurant quality, but they walk you through how to create them yourself without leaving home to go to the grocery store.
Many postpartum meal services focus solely on the mom, but the rest of the family has to figure something else out. Green Chef feeds the whole family, up to six people.
The price per serving is reasonable, especially when starting out and taking advantage of their promo (it's currently $101.00 off throughout your first four boxes). The price per serving with the current deal starts at $8.61. Without the discount, price-per-serving starts at $11.99.
Suppose you're struggling to eat healthy and still get enough calories to keep your energy and milk supplies up because you're so busy. Some of these meals are higher in calories and can help you get more bang for your buck. For example, the Blackened Chicken Cutlets & "Grits" have 910 calories. I know I would've been better served to occasionally eat meals like that than having lighter meals and then snacking on whatever was convenient during my postpartum phase. My energy levels were up and down, and I was often too tired to make healthy snack choices.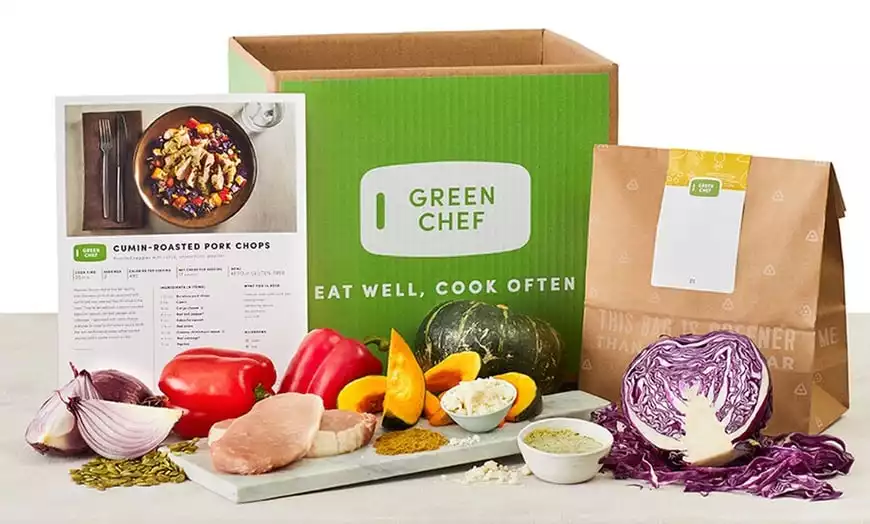 Why Go With Green Chef?
Green Chef is a meal kit service that delivers boxes filled with fresh ingredients on a weekly, biweekly, or monthly basis to make chef-curated meals. Diet and allergen friendly options, are one of the reasons I love Green Chef.
Choose Your Plan
$250 Off for Cyber Week Here
We earn a commission if you click this link and make a purchase at no additional cost to you.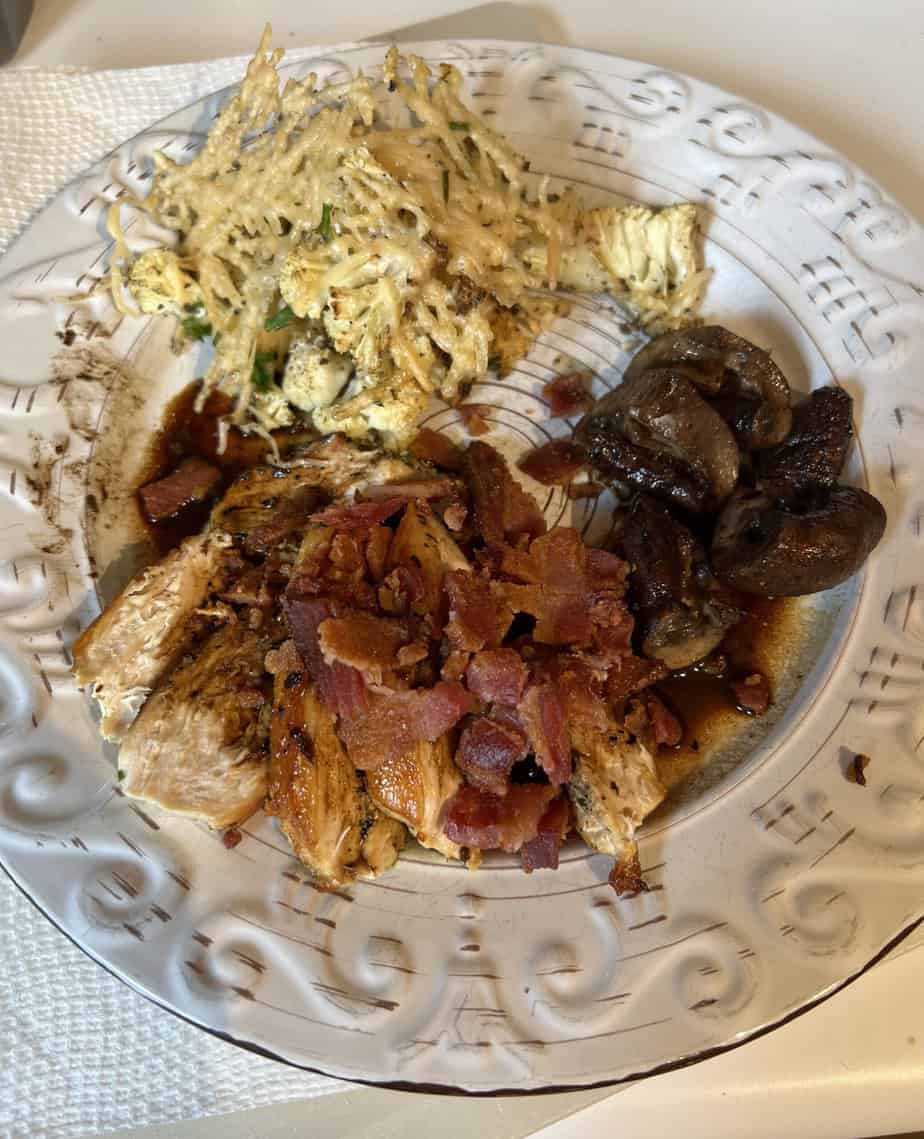 Cons
These are more time-consuming and involved on average than some of the others that have more of the prep work–and the actual cooking–done for you. If you have a family member staying over to help you adjust to life with your new baby, you'll want them to help you cook these meals in most cases.
There's no specific postpartum plan (but plenty of meals fit the ideal way of eating postpartum).
You can only get two, three, or four meals per week, so you'll be disappointed if you want something that'll cover seven days per week.
Those same high-calorie meals that can be helpful to some may be too much for others. However, most meals are around 600 calories, so don't let the high-calorie example scare you.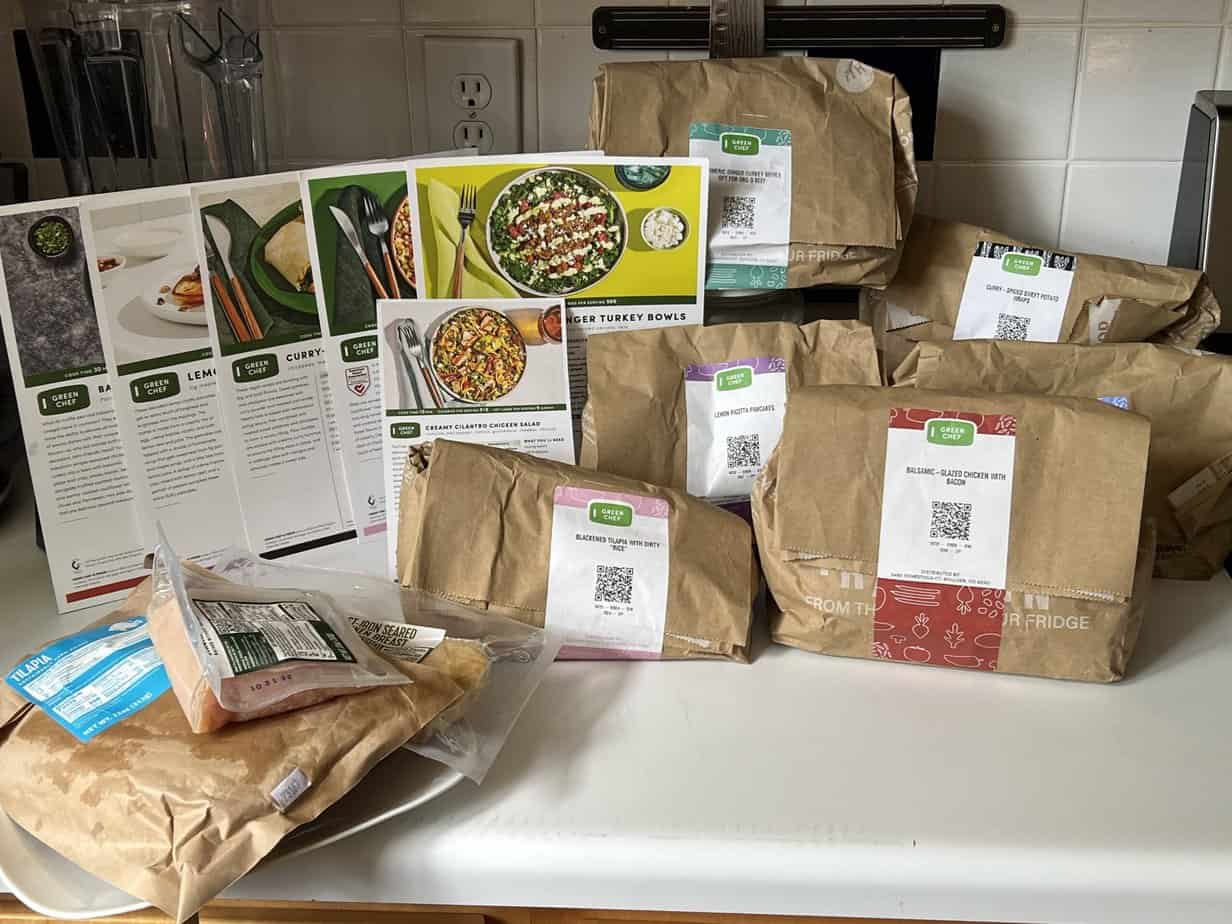 Read our complete Green Chef review and guide here!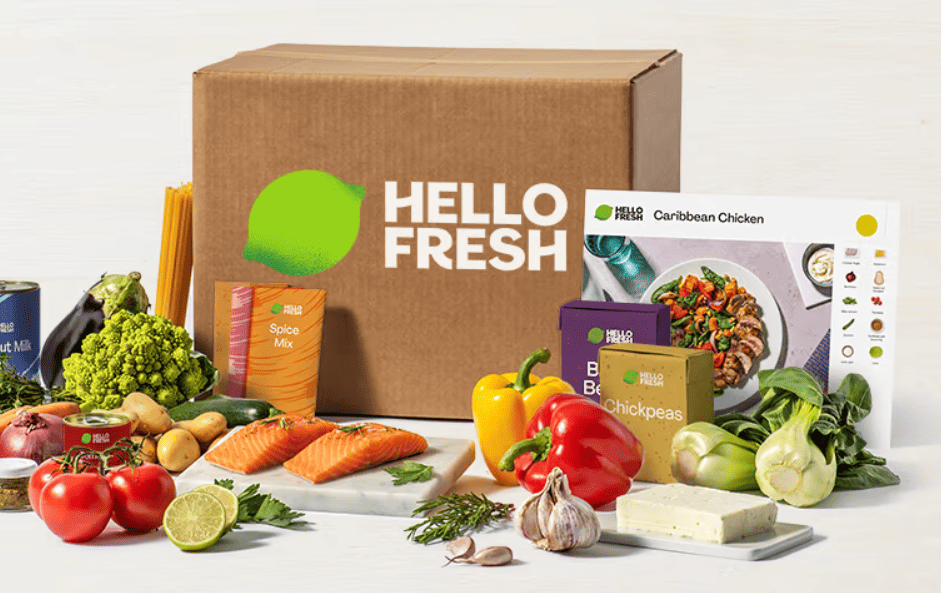 HelloFresh is nice because it has a ton of variety. There's no postpartum-specific meal plan, but you can choose from Family Friendly, Veggie, Meat & Veggies, Fit & Wholesome, Quick & Easy, and Pescatarian, so there's something for everyone.
HelloFresh made the list because of the number of quick meals, the few kids' meals that make things easier on moms of more than one child, and the option to choose from meal plans that meet the postpartum diet recommendations.
Pros
They offer several ready-to-heat meals that make perfect lunches and dinners when you only have a little time to spare.
I like the mix of easy meals and the ones you have to cook.
Sometimes, you can swap out proteins.
They even have 15-minute kids' lunches, which are helpful if this baby's not your first.
Several meals fit the guidelines above, like the Vegan Maple Carrot Power Bowls (with kale, walnuts, dried cranberries, turmeric, carrots, couscous, and more). There's also the Lemony Parmesan Shrimp Salad, which only takes about 20 minutes to make.
There's a never-ending stream of discount codes, making this way more affordable than it might seem initially. The price per serving starts at $8.99 on a regular box.
Cons
Every time I've had a subscription, I seemed to hit several weeks of pork-heavy meals, which I don't enjoy. If you're like me, you'll want to look ahead at the menu for a few weeks.
They use whole foods, but they have a lot of recipes with white rice and other ingredients that aren't bad but aren't as healthy as some other options I'd choose if I were shopping at the grocery store.
A lot of these meals are high in calories. It's not a big deal for the occasional dinner, but relying on them for most meals might be more than even a nursing mom wants.
Premium Picks cost more, and sometimes it feels like almost everything is Premium or too high-carb/high-fat for my taste.
Read our complete HelloFresh Review and Guide here!
FAQs
Question: When should I start postpartum meal prep?
Answer: If you're prepping meals and/or want a stash of meals on hand from delivery services that will be ready after you've had the baby, you can start freezing meals up to two or three months before your due date. That way, you'll have at least a few days' worth of meals ready to go after you've given birth. Then you can order more at your leisure.
Question: What not to eat right after giving birth?
Answer: Try to stay away from junk food as much as you can. Sugary snacks and drinks aren't the best, either. You'll need nourishing, nutrient-dense foods to recover and help with milk production.
If you're breastfeeding, there are more guidelines to follow, but sometimes that boils down to trial and error, depending on your baby. You'll want to minimize caffeine and dairy, avoid alcohol, and watch out for foods that tend to make everyone gassy (they can affect your baby that way, too, and cause discomfort).
If your baby seems especially fussy, you may be able to go back over what you ate to find additional things to avoid (at least for now) that are more specific to them.
Question: Is HelloFresh healthy food?
Answer: Generally, yes. They send you fresh produce, grains, and fats; their recipes are varied and flavorful. My usual complaint- that many of the recipes are higher in calories than I'd like- could be a plus here, since you'll need more calories than usual to heal and keep your milk production up. There could be a few things to dodge, depending on your baby, if you're breastfeeding, like spicy foods and dairy.
Conclusion: Green Chef and Territory Tie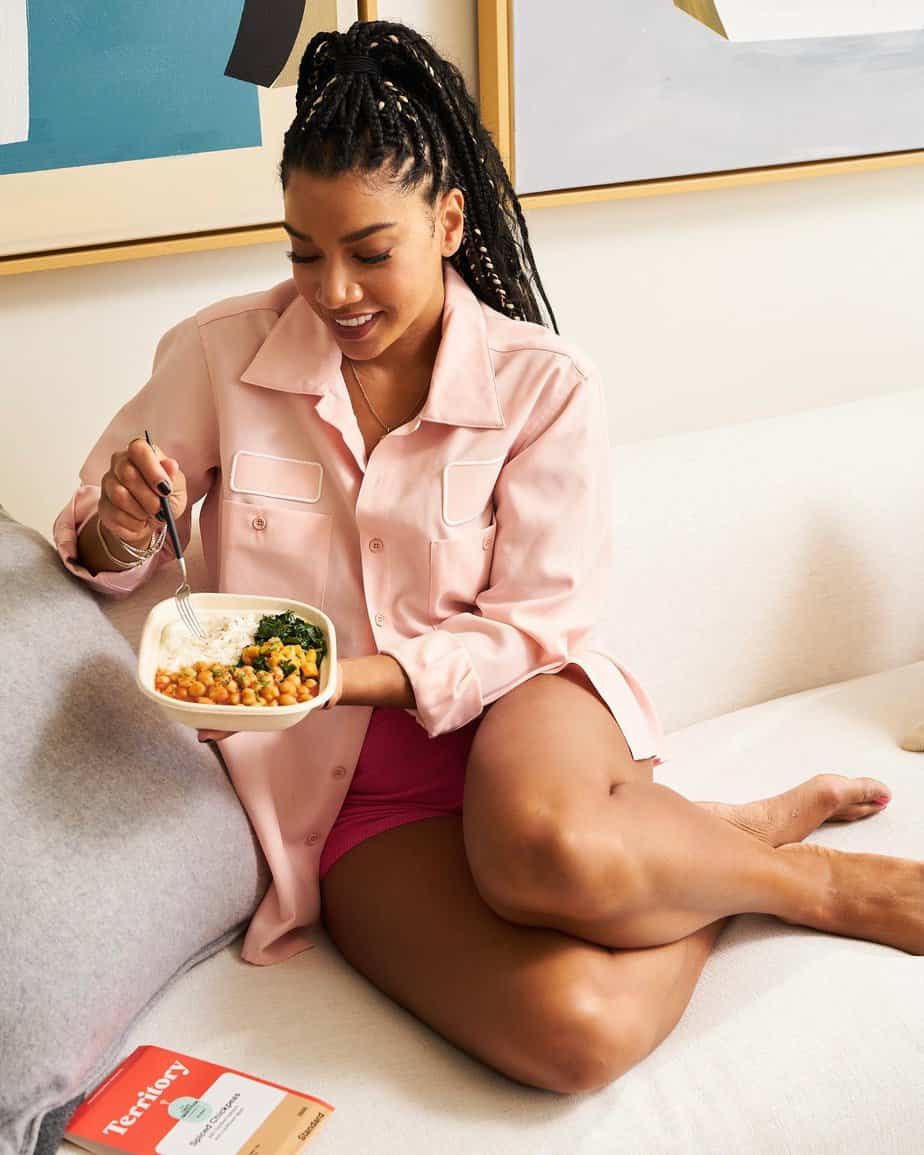 Green Chef checks the most boxes and is the most versatile option. It'll feed the family, it's balanced, it's not especially expensive, and some of the meals are quick to make (I still recommend having help in the kitchen–or have someone cook the meals for you while you recover).
That said, these aren't designed for the postpartum mom, and it'll take some brain power to select the best meals. I love all of the postpartum programs, but budget-wise, some can be out of reach for the average new mom looking for a meal solution. Territory's more affordable.
In most cases, Territory meals are for moms only, but there are some family-style protein options you could add quick sides to. Green Chef meals feed the family without any additional planning (you'll have to spend a little time finishing the prep and cooking them).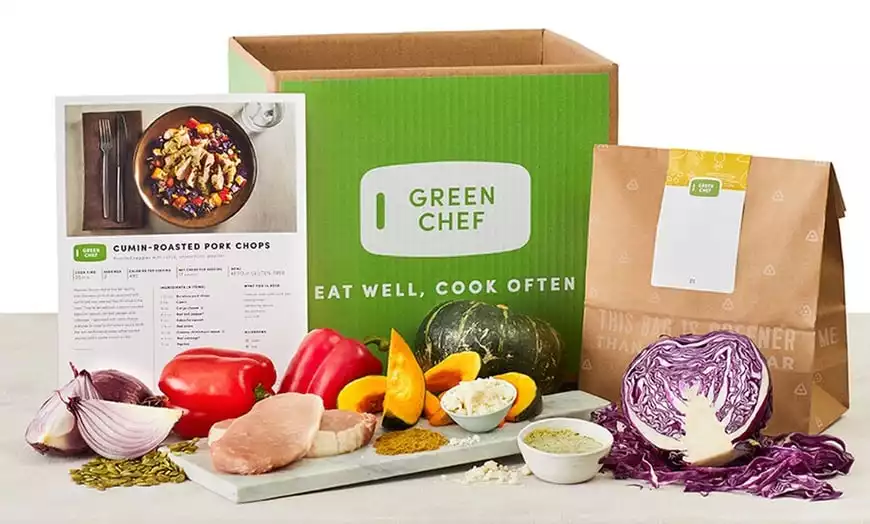 Why Go With Green Chef?
Green Chef is a meal kit service that delivers boxes filled with fresh ingredients on a weekly, biweekly, or monthly basis to make chef-curated meals. Diet and allergen friendly options, are one of the reasons I love Green Chef.
Choose Your Plan
$250 Off for Cyber Week Here
We earn a commission if you click this link and make a purchase at no additional cost to you.
Continue reading:
Green Chef vs Purple Carrot Compared
The 5 Best Family Meal Delivery Services for All Parenting Stages
Best Paleo Meal Delivery Services: The Paleolithic Diet at Its Best in the Modern Era of Delivery!