Latest posts by Crystal Schwanke
(see all)
Finding the best family meal delivery services is about balancing the foods your kids will eat, the time it takes to cook the meals vs. how much time you have to spare, and finding the companies that offer enough meals and servings per meal for your needs.
I'm rarely excited about cooking, so I'm interested any time the planning, shopping, peeling, and chopping are done for me. My family and I have tested several meal delivery services with mixed results. In some cases, the food was just bland. In others, it was too salty.
Some took way too much effort to make a single meal, and then I'd have to turn around and do it again the next night. A few have hit that sweet spot between nutrition, convenience, and flavor.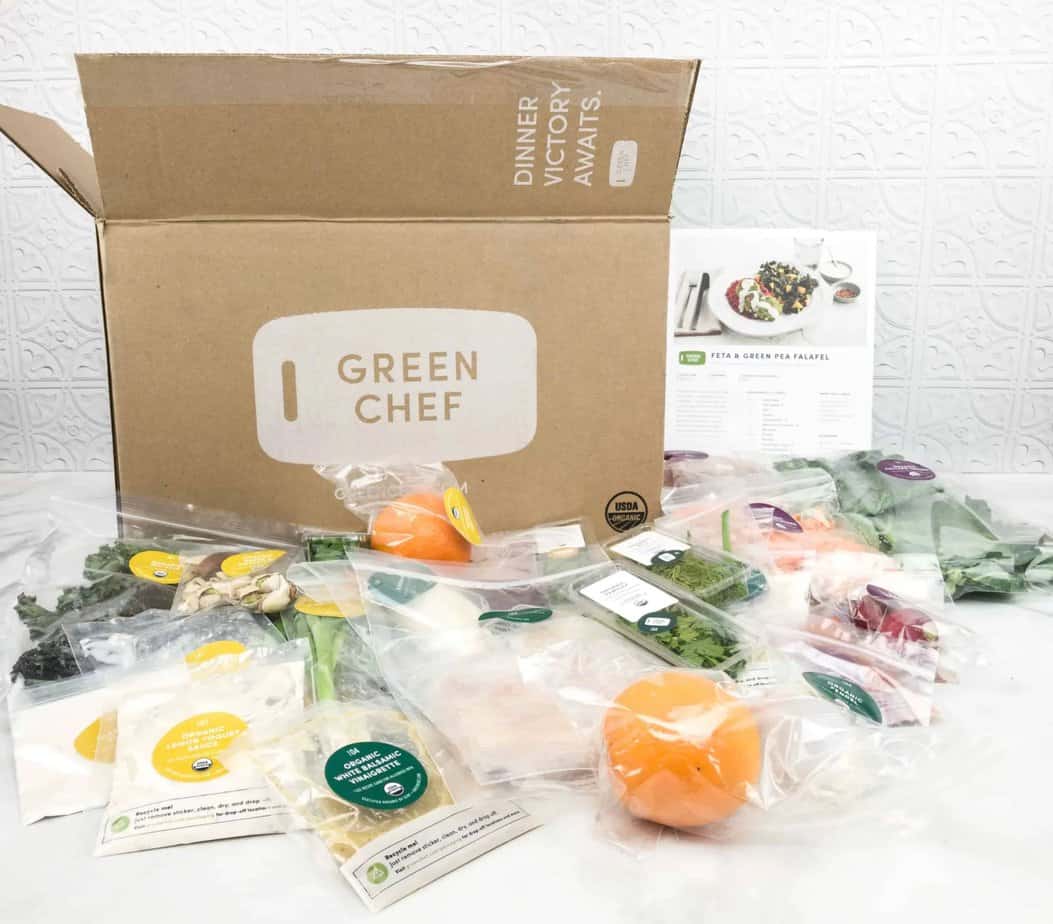 My Picks at a Glance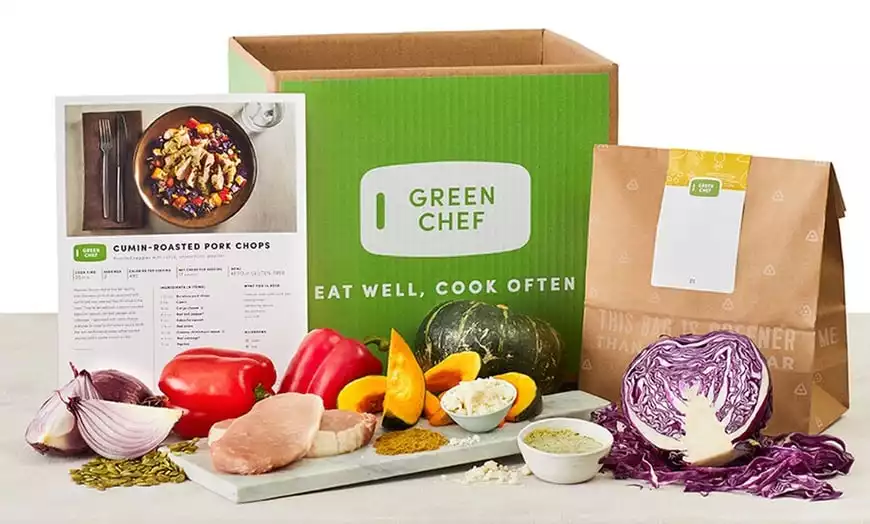 Why Go With Green Chef?
Green Chef is a meal kit service that delivers boxes filled with fresh ingredients on a weekly, biweekly, or monthly basis to make chef-curated meals. Diet and allergen friendly options, are one of the reasons I love Green Chef.
Choose Your Plan
$250 Off for Cyber Week Here
We earn a commission if you click this link and make a purchase at no additional cost to you.
How I Chose the Top Family Meal Delivery Services
To find the best family meal delivery services, I looked for balanced meals with meal plans to fit a range of preferences.
I also looked for options that would cater to families with toddlers and teens, in case there are particularly picky toddlers or ravenous teenagers in the house.
I tried to find options that would work for various family sizes. I'm part of a family of three, so most will work for us, but larger families may struggle to find options that work for them. Of course, you can double up on a recipe to get the desired servings as long as you're not too limited in the number of meals you can order.
How to Decide Which Meal Service Is Best for Your Family
Honestly? At the end of the day, and among these options, it's trial and error unless you have any specific dietary restrictions. But here's how I've approached it for my family:
Which ones let you choose enough servings to feed the whole family?
How much time do you have (or want to spend) cooking the food? Are there quick and easy or ready-to-heat options for jam-packed evenings? Do you need there to be, or are you okay as long as some of the chopping and prepping is done for you?
Which ones have substantial enough meals and serving sizes to keep hungry teens who play sports (if you have them) full and happy? Which ones have foods your toddlers (again, if you have them) will eat?
Are there any dietary concerns? Do you need to look for specific meal plans (like vegetarian, Paleo, or Mediterranean), manage a health condition that requires low-carb and/or low-sodium options, etc.?
Which ones have the best discount codes at the time you're looking? I've saved so much money and enjoyed so many meal delivery services just by caving to the temptation of $100.00+ off (and similar) coupons. Choosing one doesn't mean it's joining your family for good, and experimenting is fun.
If you love one, keep the subscription until you feel like exploring more options. If you don't, try another one, again at a discount (woohoo!). Shop around until you find the perfect combination of flavors, time spent in the kitchen, types of recipes your family loves, and cost.
The 5 Best Family Meal Delivery Services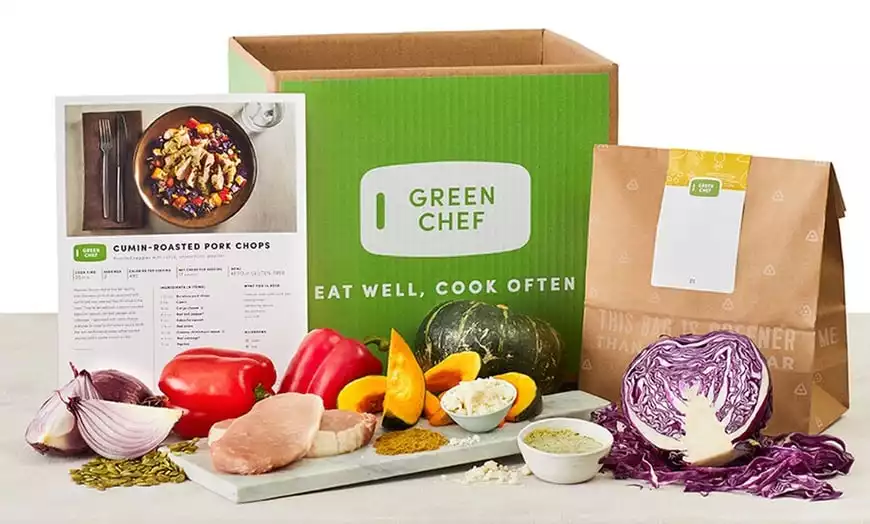 Why Go With Green Chef?
Green Chef is a meal kit service that delivers boxes filled with fresh ingredients on a weekly, biweekly, or monthly basis to make chef-curated meals. Diet and allergen friendly options, are one of the reasons I love Green Chef.
Choose Your Plan
$250 Off for Cyber Week Here
We earn a commission if you click this link and make a purchase at no additional cost to you.
Green Chef is one of my favorite meal delivery services to order to feed my family. I don't know how they do it, but their meals expertly walk the line between flavor, nutrition, and (sometimes) ease.
Other than a bit of chaos in the kitchen when I cooked certain meals alone, I never felt like I had to sacrifice one thing for another.
With other meals (kits or recipes I've found online), I've made meals that looked easy to cook and like something my family would gobble up even if the calorie, fat, or carb count was higher than ideal for me.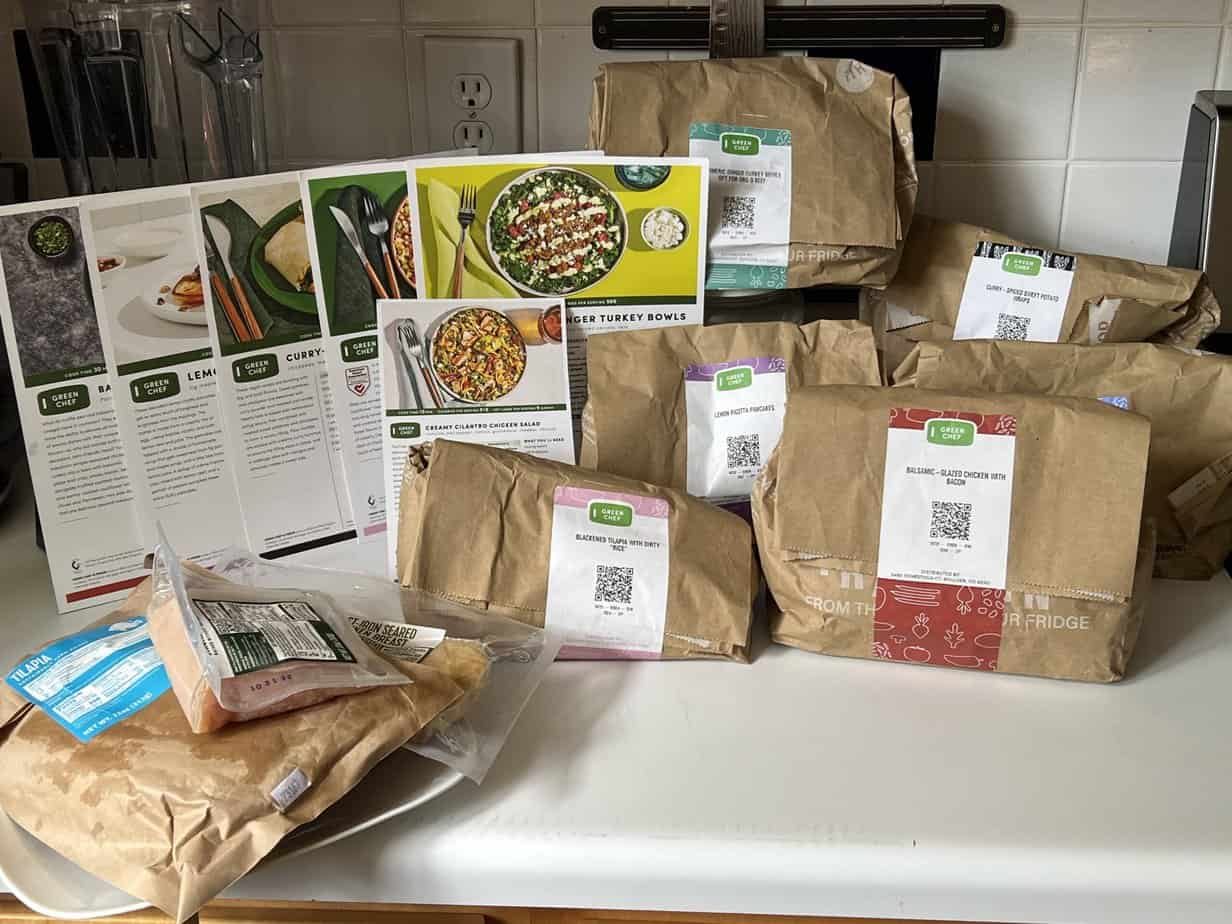 Pros
Balanced nutrition and flavors to fit a variety of preferences
The meals have reasonable calorie counts (around 600 to 800) and quality ingredients, which makes me wish I'd found this while I was a nursing mom.
Much prep work is done for you (like peeling and chopping sweet potatoes).
Organic ingredients
There are lots of plans to choose from: Mediterranean, Calorie Smart, Quick & Easy, Plant-Based, Protein-Packed, Keto, Delicious Discoveries, and Gluten-Free, which is perfect for a family with a range of preferences because you'll always have access to the whole menu no matter which plan you pick.
You can get up to four meals per week, with six servings each, so it's good for larger families.
The prices are pretty decent. As of this writing, a discount takes the cost per serving (for two people, at three meals per week) down to $7.66, with the regular price being $13.49. If you have a large family or want leftovers, you can get four meals per week with six servings for $10.53 per serving with the code ($11.99 each at the regular price).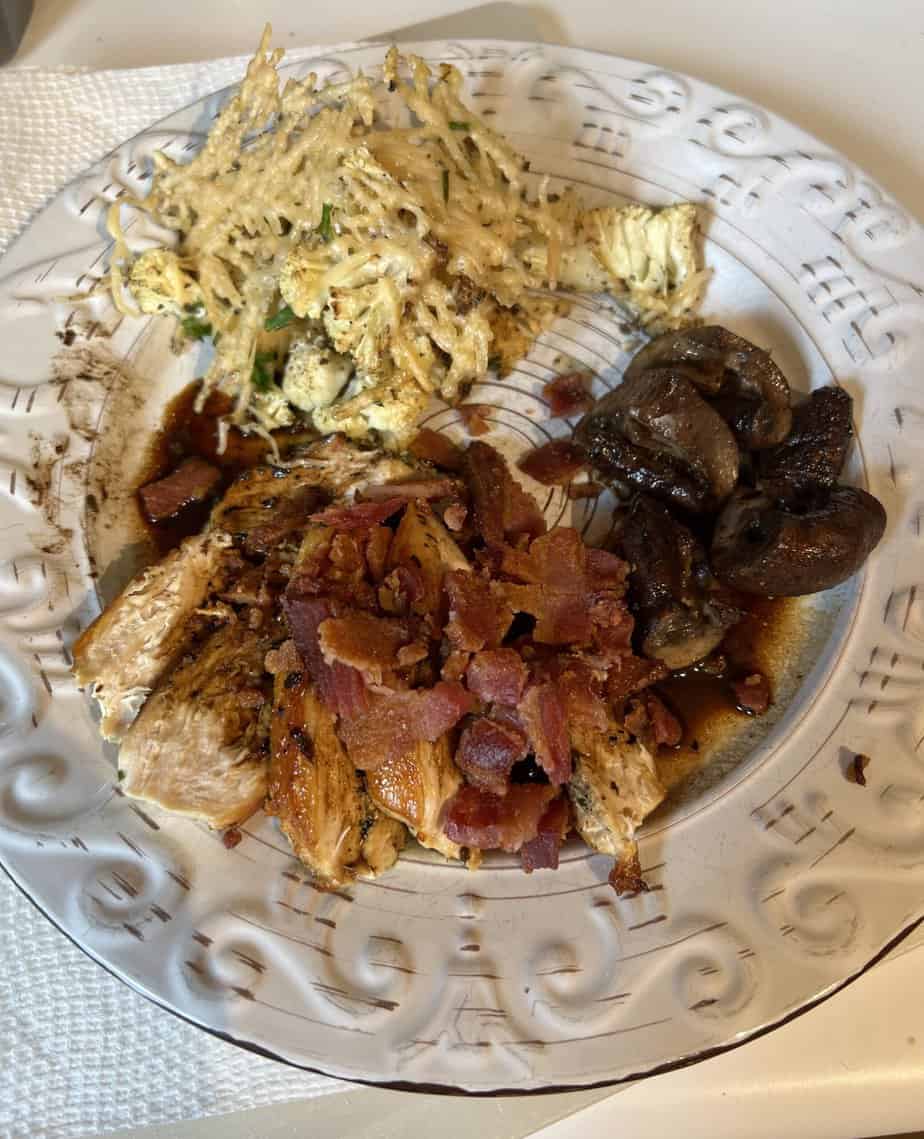 Cons
Meals took me longer to make than the recipe cards said they would.
Even the Quick & Easy meals took me longer than it said, but I could still slap a lunch together before hanger entered the chat.
The kitchen was usually a mess by the time I was done because I used a lot of dishes, and a lot was going on at once throughout the cooking process.
There were some frantic moments on a few recipes (so be sure to read the recipes before you order the meals if you won't have any help cooking).
You know that feeling when you embark on a new project that you think will take hours, but then you're done in much less time and are surprised you still feel relaxed by the end? That's what cooking Home Chef meals felt like. I didn't expect it to take hours, but I thought it'd be a much more mentally draining activity. However, one step flowed into the next, and the prepping steps (like rinsing and cooking quinoa) that would've felt like mountains to climb were already done.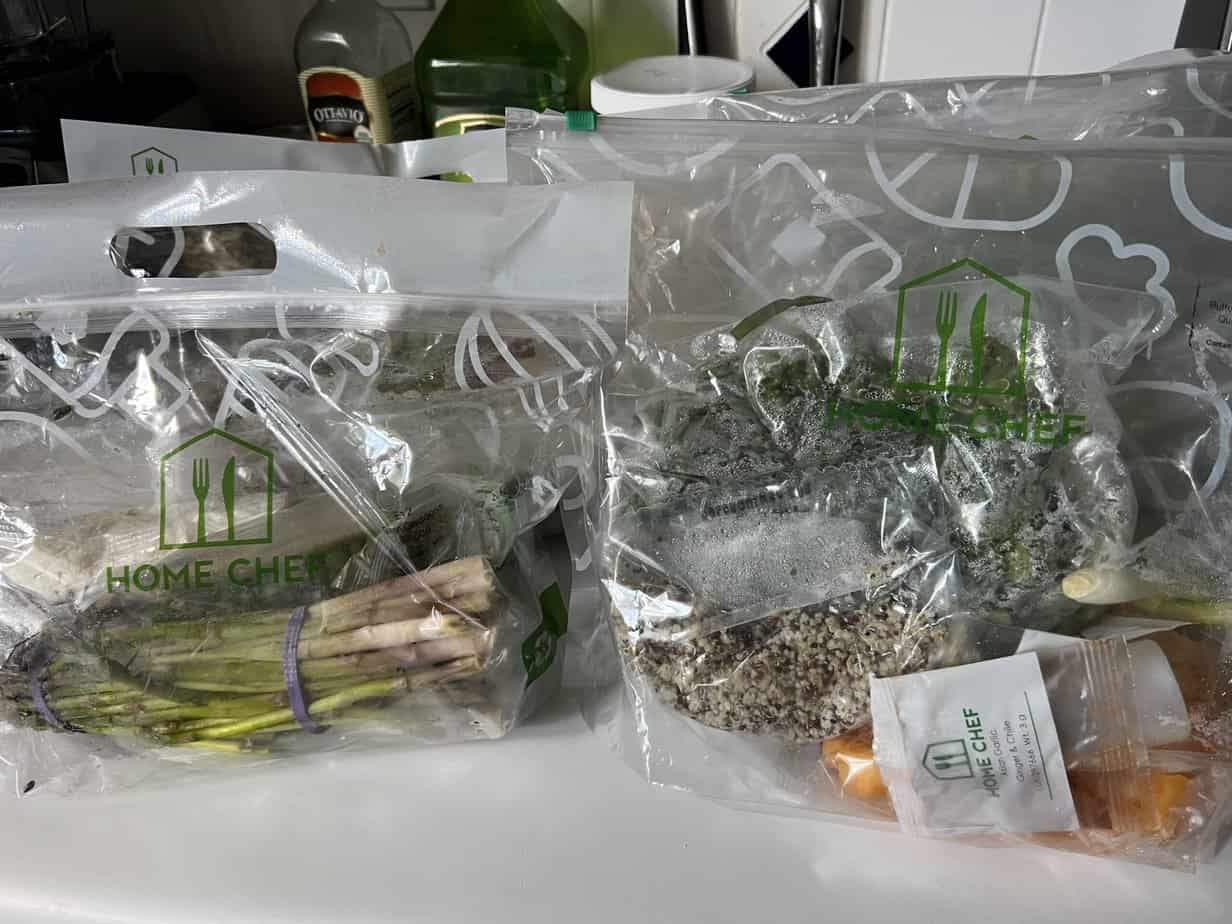 That's not to say everything's always done for you, so be sure to check the recipes before you check out to ensure you're choosing recipes that match your schedule or current stage of life. Some options, like Express and Oven-Ready, would be great for someone with babies and toddlers. (You're exhausted and don't have a lot of extra attention to go around. I've been there, and I totally get it.)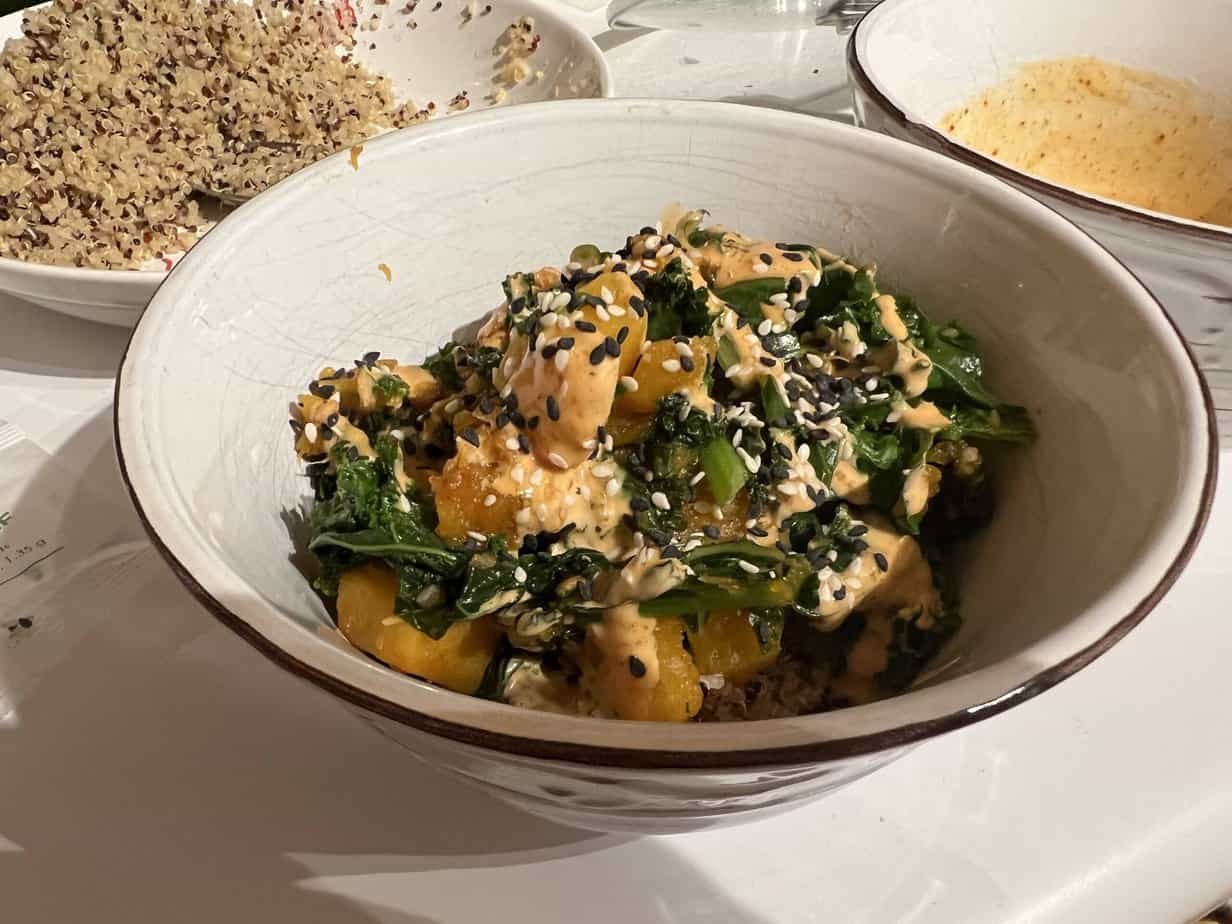 Pros
These meals had much prep work done for me, which was a pleasant surprise. I was blown away when I realized the quinoa was cooked for me (it was an Express meal, but I didn't realize it when I ordered it). I was all set to boil water and wait for it to cook, but there was no need.
These took about the amount of time they said they would and seemed quicker on average to whip up than recipes from other meal delivery services.
All the recipes from the meals you purchase are saved in the My Cookbook section of your account so you can easily find and make them again. I love this because I don't have to save printed recipes or risk not being able to find them online again.
This may have boiled down to the recipes I chose, but my kitchen was not as much of a wreck when I finished cooking as it has been with most other meal delivery services for the family.
I liked seeing through the packaging and getting an idea of how good the produce was. It made it easy to decide what to cook first.
You can exclude certain ingredients your family doesn't love from within your account.
There are many quick meals, tagged Express, Express Plus, Fast & Fresh Plus, Fast & Fresh, Oven-Ready Plus, and Oven-Ready. Double-check the pricing on those since some fall under the Premium Options category and will cost more than the average meal, which starts at $9.99 (up to $18.99 per serving). The extras and bundles are quick, too. Lunches are also, but they only serve one, so they're not ideal for families.
On the Family Plan, you can get four or eight servings per meal, even if you choose six weekly meals. With Fresh and Easy and the Home Chef plans, you can get up to six servings per meal.
Cons
The recipes I tried were a bit on the bland side, but not so bad that I wouldn't try them again. My family has always been adventurous regarding flavors and trying new foods and recipes, so take my definition of bland with a grain of salt.
Speaking of salt… One of the meals I tried could've been summed up in one word: salty. I probably should've skipped the steps that said to add salt when the dish already contained soy sauce. (Something to consider if you find yourself in a similar position.)
There are only a few options to filter your recipes on the Home Chef plan: Calorie-conscious, < 30min, Carb-conscious, and Vegetarian. When shopping the Family Plan, you'll see Oven-Ready, Desserts, Cook Time, Meal Type, and Protein.
Shipping is $10.99.
Even when I changed my plan, I kept seeing the same meals.
A lot of these are high in sodium. Even the Chickpea Taco Salad with Guacamole Dressing, which sounds innocent enough, has 1370mg. The calories aren't all that high, and the ingredients are fresh, so it's still a step up from fast food. Still. I don't want all that, that many nights per week.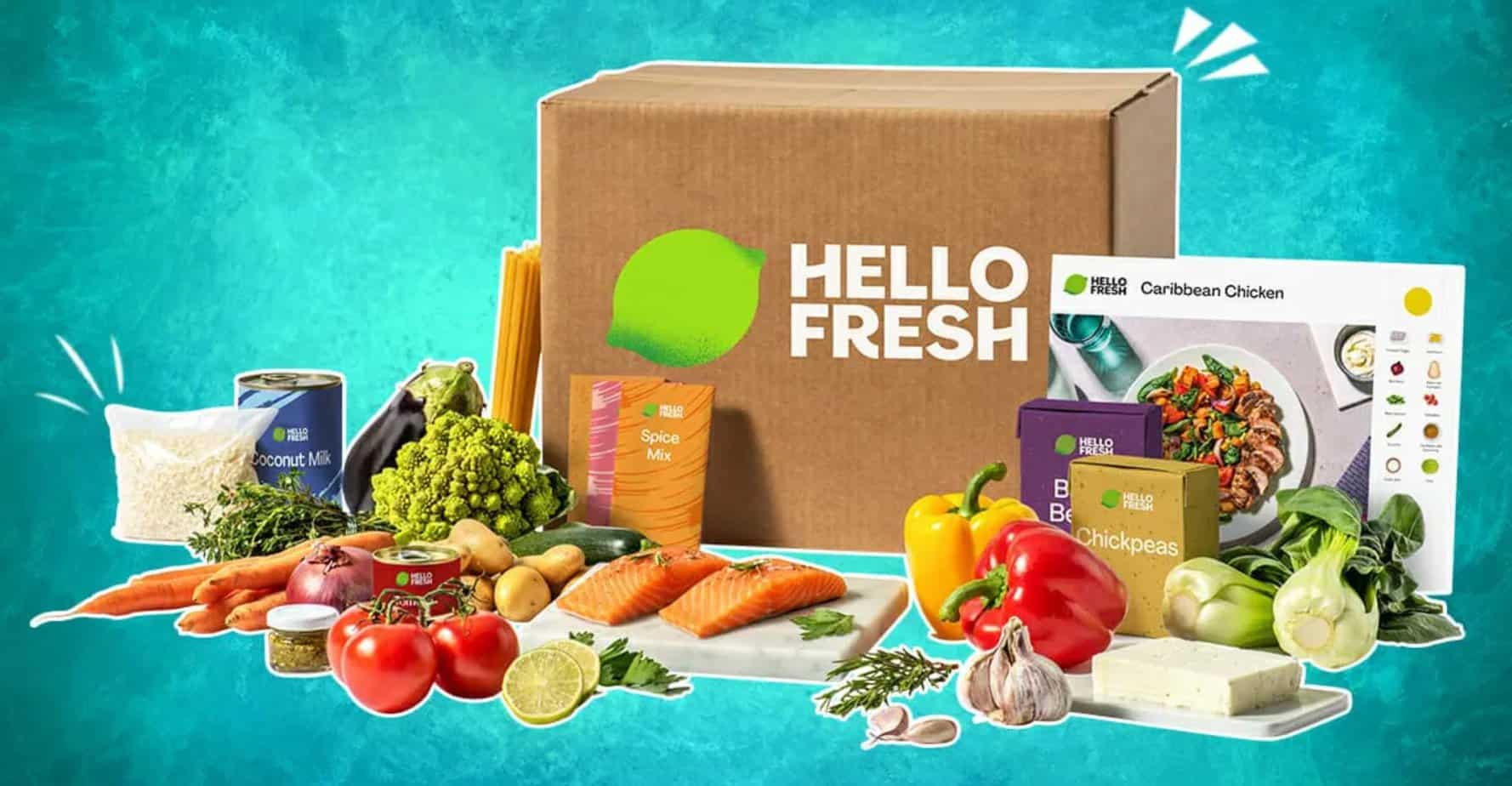 HelloFresh is a good option for families in all different stages. They have some quick and easy recipes that are perfect for parents with babies and toddlers.
They also have more involved recipes that will work when you want to turn cooking a family dinner into an activity where everyone participates. Or you could hand the recipe card with its step-by-step instructions and photos over and let your older kids cook for everyone so they can learn before they're out on their own.
Pros
There's almost always a promo code that will save you tons of money. When you sign up for the first time, you can usually find a discount code. Sometimes, I've spent less reactivating my membership and buying meals for the week from HelloFresh than I would've at the grocery store. Right now, meals start at $8.99 per serving.
There's a good mix of new flavors and ingredients, familiar staples, and comfort foods.
You can get up to six weekly meals and almost cover all the dinners. Add a couple of soup and garlic bread bundles for a lazy night of comfort food, and you're all set.
Special "Kids Eats" options, like Kids' Sesame Chicken Dumplings, make perfect lunches.
The labeling of the recipes is thorough on the site. You'll see Easy Cleanup, Spicy, Seasonal, Protein Smart, Carb Smart, etc., so you can quickly decide what you might want in your next box.
Some of these meals have a few things happening simultaneously, so you can turn them into a family activity if you have older kids. I've done this a few times.
Cons
Serving sizes sometimes seem small. My family can split most of a four-serving meal three ways and feel like we ate a regular dinner.
My husband and I don't get as much exercise as we used to, so some of the meals are higher in calories and/or protein than I'd prefer. Still, the higher calories could be great for growing kids and more active teens and adults. For reference, their Calorie Smart section averages about 650 per meal.
In many cases, less of the prep work is done for you than it is with services like Green Chef (at least in my experience), so there might be more peeling and chopping involved than with some others, which means more of your time is required to get dinner on the table. A lot of the meals took me longer than average to make–about 50-60 minutes.
You can get two or four servings of each meal, so you'll need to double up if you have a large family.
The number of Premium Picks frustrated me because they cost more than the average meal. It could be because of the plan I had selected at the time. However, they aren't as prevalent in the next few weeks' menus.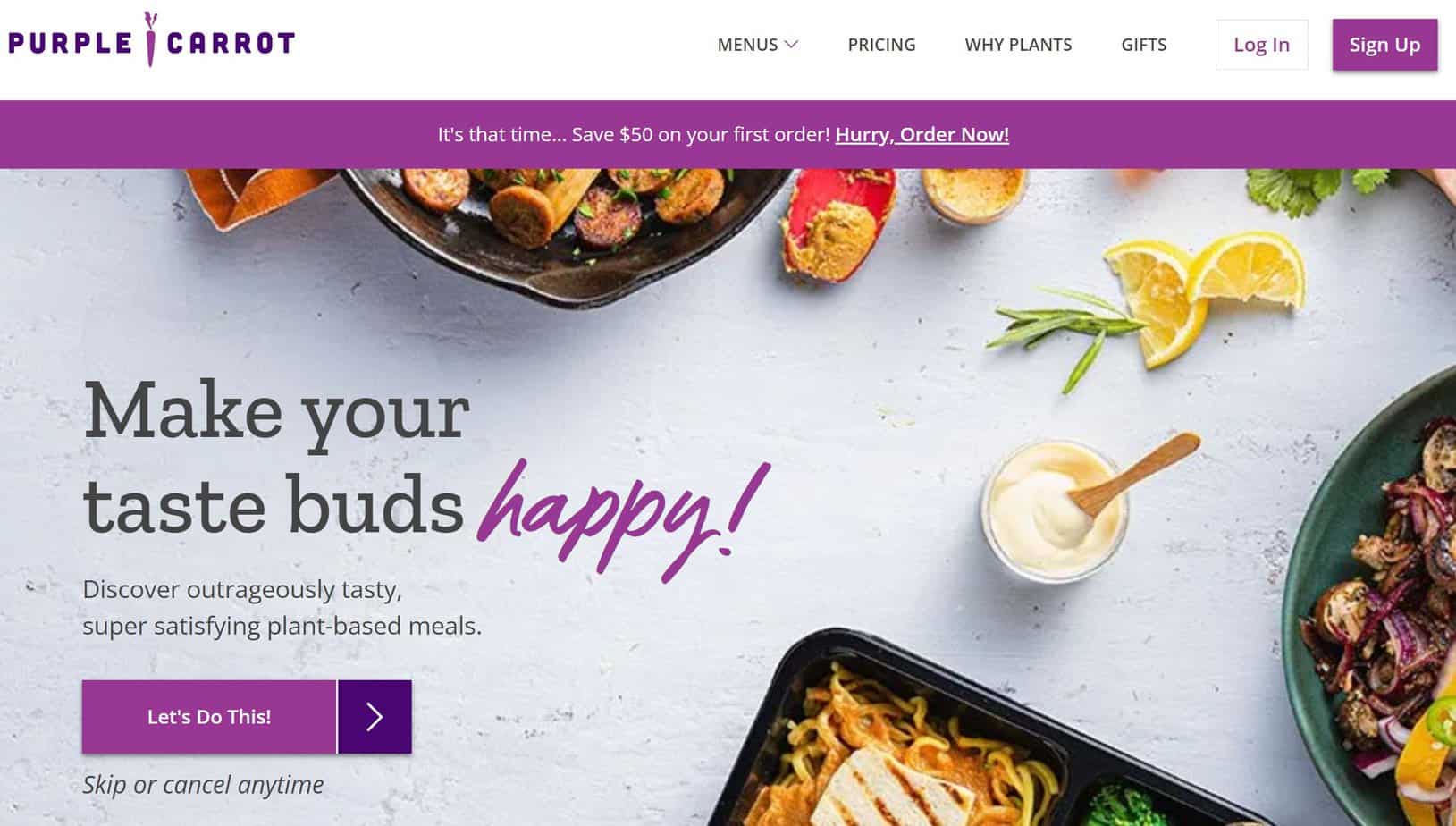 Vegan families will love Purple Carrot. Even if you aren't 100 percent vegan, this can introduce new meals and recipes into your routine. If you're just looking to get more plant-based meals into your diet, you could supplement your usual fare with meals from Purple Carrot.
One of the challenges when someone in my family decided to be a pescatarian was figuring out how to create filling, nutrient-dense, balanced meals without meat (none of us wanted to eat fish every night!). Options like Purple Carrot can help you figure it out without so many headaches.
Pros
Everything's 100 percent vegan.
You can choose from dinners, breakfasts, and lunches and add a few items from the "Plantry," too.
Meals are in the 300 to 800 calories-per-serving range. Breakfasts and lunches tend to be on the lower end, while dinners have more of a range. Breastfeeding moms may love meals like the Za'atar Roasted Root Vegetables with Pistachio Couscous and Tzatziki (810 calories) if it's hard to get the extra recommended 300 to 400 calories per day while taking care of a newborn. Like the other meals, it has healthy fats, whole grains, and root vegetables.
The Plantry allows you to grab snacks or add extras like plant-based burgers you might want on hand for quick, easy meals that aren't part of a whole meal kit.
The Less Prep section has meals you can make in 25 minutes or less because they've prepped more for you ahead of time, and the recipes involve fewer steps.
These are colorful, flavorful meals that are packed with nutrients.
Cons
If you're serving four (the only other option is two), you can only get three meals per week with the meal kit.
If you max out the number of servings you can get (12, across three meals), you'll be paying about $132.00 per week. That's about $11.00, which is okay, but it's higher than some other options, and you'll still need to plan out the rest of the week's meals and shop for them.
Suppose you like to prep meals on the weekends or wind down with new recipes on those days. In that case, you might be disappointed to see that deliveries only come on Mondays, Tuesdays, and Wednesdays.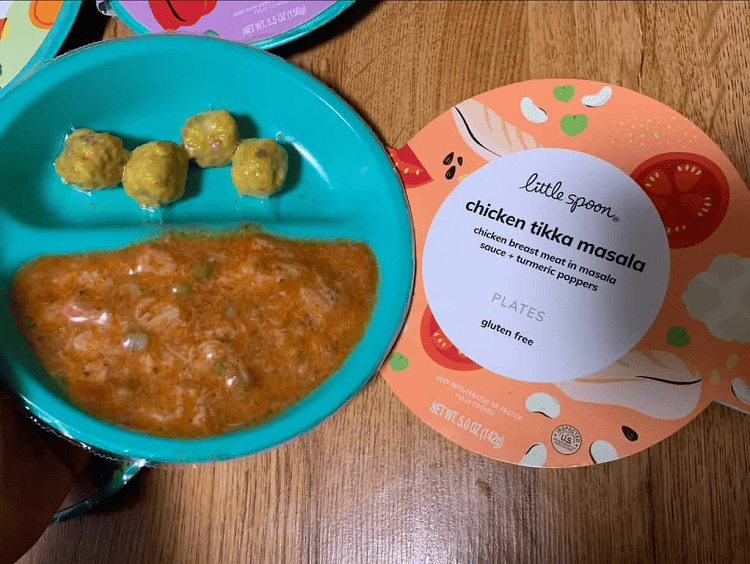 Little Spoon is different from the others listed so far because they focus exclusively on the kids' food. They offer these options: Baby Food, Early Finger Foods, Toddler + Kids Meals, Build + Eat Meals, and organic pouches for snacks.
Suppose you're making different meals for young children and older kids/adults. In that case, you can take some of the stress out with these (and maybe even try one of the other best meal delivery services for families for yourself and/or older kids).
Pros
These are divided into categories so you can get age-appropriate meals for your children. They even go so far as to break the baby food category into different stages based on how many months your baby is. Single-ingredient, two-ingredient, three-ingredient, four-ingredient, and five-ingredient options lead to transition meals before little ones get bumped up to the next stage.
You can filter out ingredients you want to avoid, like coconut, wheat, and meat.
A lot of these meals are free of common allergens. You'll see several meals marked meat-free, nut-free, egg-free, sesame-free, egg-free, etc.
The meals are nutrient-dense (but veggies are often hidden, so they're more likely to be eaten) but fun to eat and full of foods that make even picky eaters happy.
These aren't like your average frozen meals designed for kids (they're not even frozen, and they stay fresh in the fridge for up to 14 days). These keep nutrition as the focal point, without all the unnecessary "junk" (but the kids won't notice).
Cons
Since they're all about the kids' food, you can only feed part of the family with what they sell. Sorry, parents, you're on your own.
There's a lot of packaging.
It's expensive. The Build-It-Yourself meals start at $7.92. Toddler plates start at $5.83 per plate. Baby food starts at $2.96 per blend. These are quality ingredients, and they take almost all of the work (like cutting everything into tiny pieces or blending your own baby food) out of it for you, so you save time and a little bit of your sanity.
FAQs
Question: Which meal delivery service is best for a family of five?
Answer: If I had to choose just one, I'd say Home Chef because their family plan has meals with up to eight servings.
Question: Are meal kits worth it for families?
Answer: They definitely can be. They take a ton of the work off your shoulders. Sometimes, all you have to do is open it, heat it up, and serve it. In other cases, you'll have to do the cooking, but all the planning, shopping, and some/all of the prep is done for you. It's such a relief to have some or most of the work done for you when you're juggling jobs, school, homework, family time, nighttime meltdowns, etc. when all you want to do is get a healthy meal on the table for your family.
Question: What are the disadvantages of meal kits?
Answer: They can be expensive (but plenty of discount codes exist to take the edge off). You're paying for delicious recipes you didn't have to scour the internet or a wall of cookbooks for, make a grocery list, or shop for. Some services will have all or most of the prep work done for you. It's a total win if you're struggling to find the time to cook, but you'll pay for the convenience.
Another disadvantage is that most of them don't make enough to have leftovers for families, so you could find yourself on a treadmill of making dinner every night when you could've made one big pot of soup or stew or a casserole that'd last at least two nights.
Conclusion: Green Chef's the Overall Winner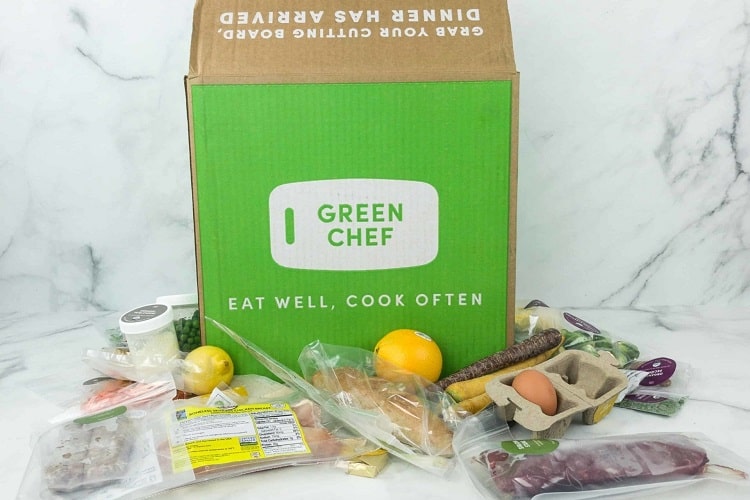 If none of the best family meal delivery services jumped out at you to try first, I recommend Green Chef. They use quality (organic) ingredients, the recipes are teeming with flavor without absurd amounts of salt and fat, and they're balanced overall.
Though these aren't always the absolute quickest meal kits to cook, some others still take longer. I'd say they took a reasonable amount of time, considering they weren't pre-cooked or ready to go straight in the oven. They're definitely faster than starting from scratch with your own grocery list.
You can focus on one or more of their eight lifestyle preferences while still having access to all the recipes. Be adventurous, or stick with more familiar flavors. There's plenty of variety.
You can get up to six servings per recipe (and if your kids are young and eat smaller servings, you may even be able to feed seven).
Depending on your life stage and how old your kids are, you still may need something faster or more hands-off; that's the main reason this one might not be the perfect one to start with. Everyone else can probably find meals they love here.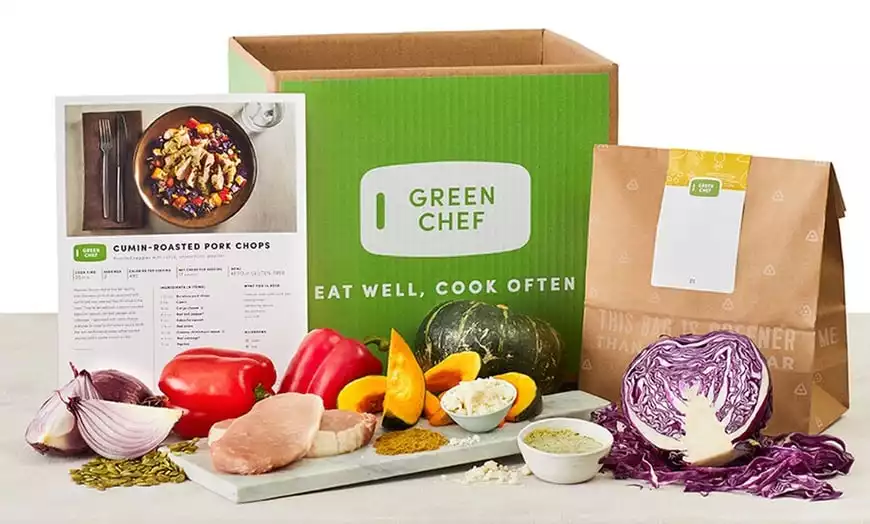 Why Go With Green Chef?
Green Chef is a meal kit service that delivers boxes filled with fresh ingredients on a weekly, biweekly, or monthly basis to make chef-curated meals. Diet and allergen friendly options, are one of the reasons I love Green Chef.
Choose Your Plan
$250 Off for Cyber Week Here
We earn a commission if you click this link and make a purchase at no additional cost to you.
Continue reading:
Green Chef vs Sunbasket Compared
Green Chef vs Instacart Compared