Latest posts by Nicole Taylor
(see all)
From the daily grind to the unexpected stressors, life has a way of being difficult. It can be a challenge to find a moment to breathe, let alone savor a moment. For me, I never seem to have the time to really enjoy something. This is especially true for getting together with friends. Everyone has their own schedule and their own busyness that keeps them occupied.
Looking for a way to capture a moment, I began my search for a subscription box that would force me to take some time and catch up with my friends. After looking through various food-focused subscriptions to no avail, I switched my process. I may not have much of a taste for alcohol, but wine does have a certain cultural pull behind it.
When I think of wine, I think of a moment savored with a glass in my hand while being surrounded by good company. It's very picturesque. With this new criterion in mind, I stumbled across Wine Down, a wine-based subscription box that comes with a sharable amount of paired cheese, meat, and crackers.
At last, I had found what I sought! After ordering my box I planned a get together with some friends.
Why a Wine Down Box Subscription?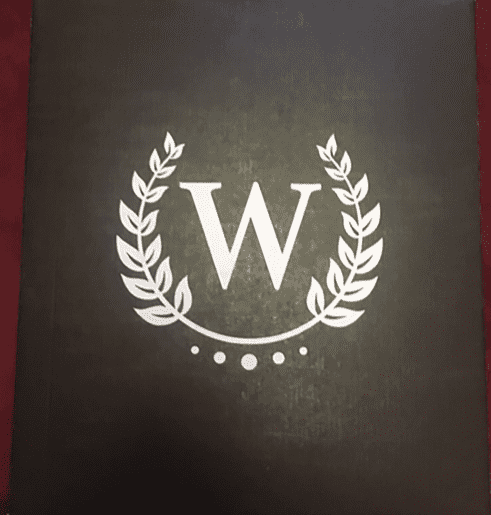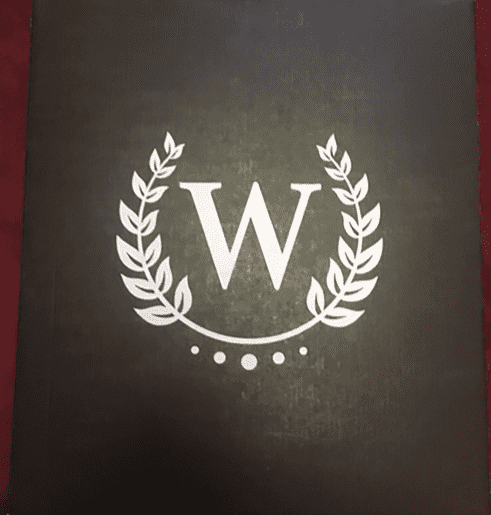 What drew me to Wine Down was that their message echoed my feelings. Their only goal is not to deliver wine to people, but to provide them with a high-quality experience that builds meaningful relationships. A subscription box founded out of passion, Wine Down was created by Andrew, a clinical researcher who gave up his medical career to bring high-quality wine to people.
By delivering a quality product, Wine Down also seeks to create a space where people can enjoy time with the important people in their life. The importance of their service starts with the value of the food and drink. That is why Wine Down works with family-owned, independent, artisanal suppliers.
From a more personal perspective, I always try to support independent and small business partnered subscription boxes when I can. The more diversity and originality on the market, the better the products procured for boxes like Wine Down.
What Comes in a Wine Down Box?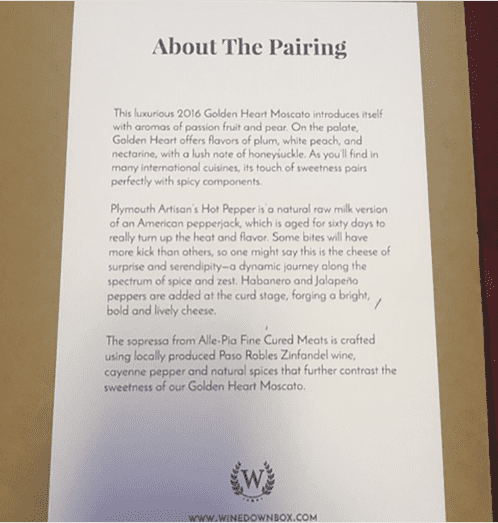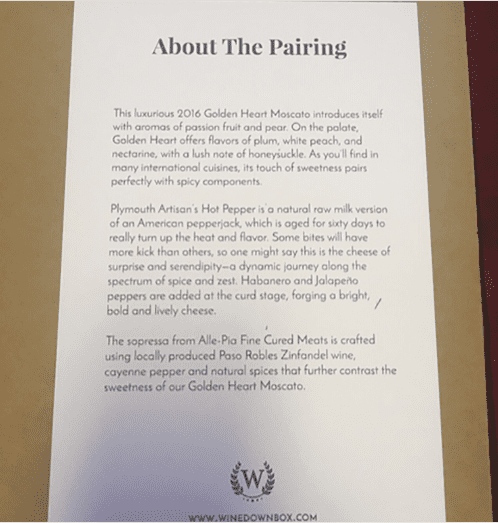 Each box comes with a brick of wax-sealed artisan cheese, some cheese crackers, a pack of fine cured meats, and a bottle of wine.
Every single box has a different combination of flavors and is curated to provide the most satisfying tasting experience.
What Came in My Box:
A bottle of 2016 Golden Heart Moscato.
A block of Plymouth Artisan's Hot Pepper Vermont Cheddar Cheese.
A bag of Nita Crisp Flattened Wheat Bread Crackers.
This box paired spicy cheese and rich meat with a gentle, sweet wine for a diverse tasting.
Individual Product Reviews
2016 Golden Heart Moscato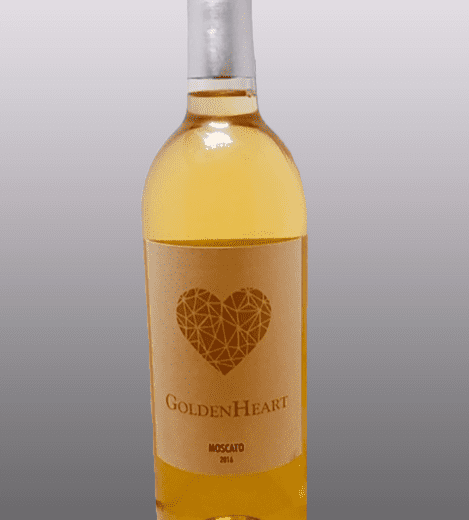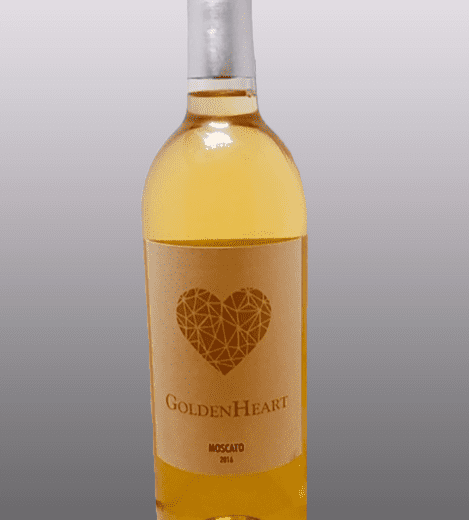 Size: Not listed on the bottle. Standard wine bottle size.
Look: A gentle yellow hue.
Taste: Gentle sweetness with a hint of tartness.
Artisan Details: N/A. Wine Down provided this wine for the box.
Highlights: This 2016 wine features aromas of passionfruit and pear with flavors of plum, white peach, nectarine, and honeysuckle.
Review: I'm not too deep in the wine scene, so I don't have an extensive history of wine tastings to pull from when enjoying this wine. It was sweet, which is understandable given that it is a Moscato, but it still had the tartness of wine I expected. I've tried other varieties of Moscato that were way sweeter and earned the title of dessert wine.
This Golden Heart did not earn that title in my opinion. The after taste was overpoweringly tart and diminished the sweetness. It did pair well with the meat and cheese, but I think another, milder cheese may have been a better pair for this wine.
Plymouth Artisan Hot Pepper Vermont Cheddar Cheese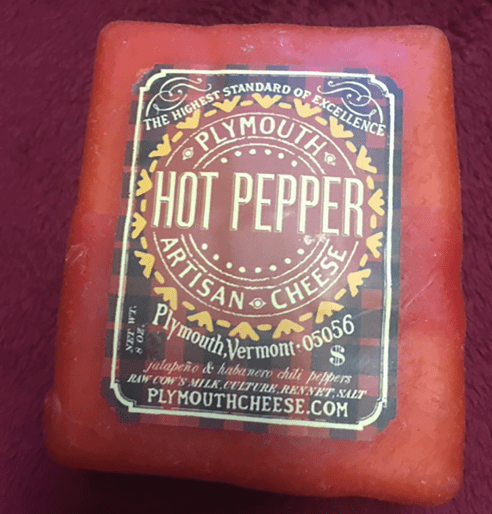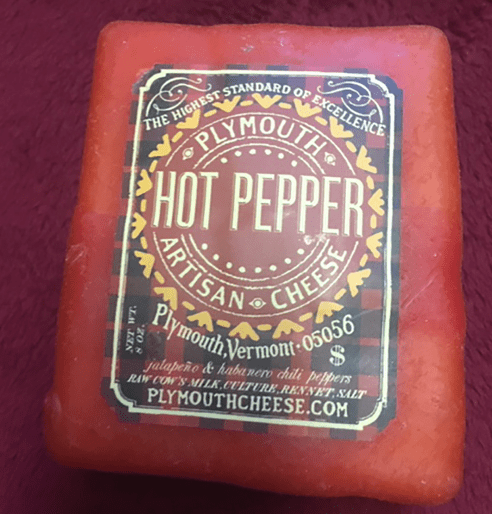 Size: 8-ounce block
Look: Pale, off-white cheese with color bits of green and red peppers throughout.
Texture: Extremely creamy and smooth, with the occasional bit of soft pepper.
Taste: Rich and indulgent cheddar taste. The cheddar is accented by the slightly spicy addition of the peppers. Only when you get a bite of pepper does the spiciness of the peppers dominate the creaminess of the cheese. It contains both habanero and jalapenos peppers.
Artisan Details: Plymouth Artisan Cheese was founded in 2009, and their goal is to bring back cheese created with a traditional European recipe brought over from the settlers in the 1600s. They are Vermont based and deliver, high quality, wax sealed, aged cheeses across the country. Their cheeses are made from raw milk and aged 60 days.
Review: I enjoy spicy food and was pleasantly surprised by this cheese. Honestly, I was a little hesitant when I saw that this cheese had both habaneros and jalapenos. I do not like the taste of habanero peppers and thought that it would dominate the cheese. Thankfully, I was proven wrong.
This cheese was tasty and indulgent, and the hint of spice was lovely with each bite. It did pair well with the wine and meat, but because it coated the mouth in a spicy tang, the wine did not come through as strong as it could have.
Alle-Pina Fine Cured Sopressa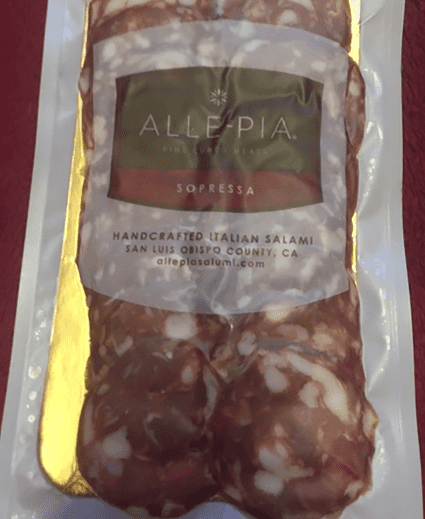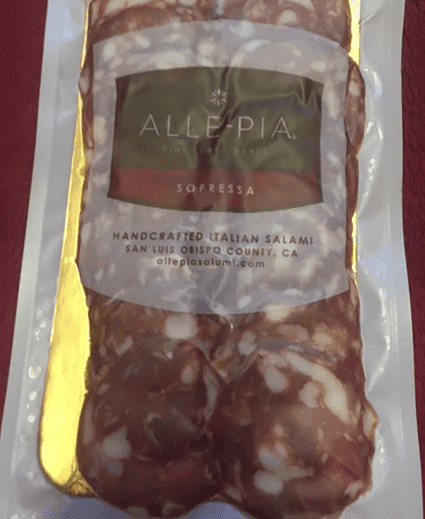 Size: Not listed on the packaging. The package came with 15-20 small slices.
Look: Each slice is a rich red mixed with spectacular white fat marbling.
Texture: Soft but a bit chewy. One of those salamis where it takes more than just one bite to tear through a piece.
Artisan Details: Alle Pia Salami is a California based company that makes their sausage and salami products in small batches. Their pork is vegetarian fed and raised in pastures. To provide their customers with the best quality of meats, there are no antibiotics, hormones, nitrates, or artificial preservatives used. They also use Paso Robles Zinfandel wine in every batch of their meats.
Taste: Rich and lightly spiced with cayenne pepper and other spices.
Review: Oily and delicious, it balances the heat of the cheese and the sweetness of the wine well. It made each bit savory and delicious. Personally, I think that this salami was the star of the pairing. The cheese went with the wine well enough, but this meat really tied the whole experience together.
Nita Crisp Flattened Wheat Bread Crackers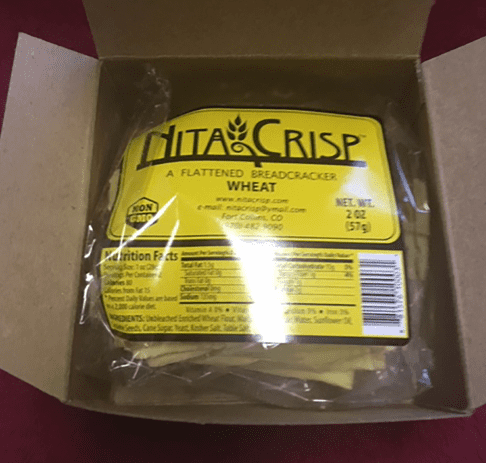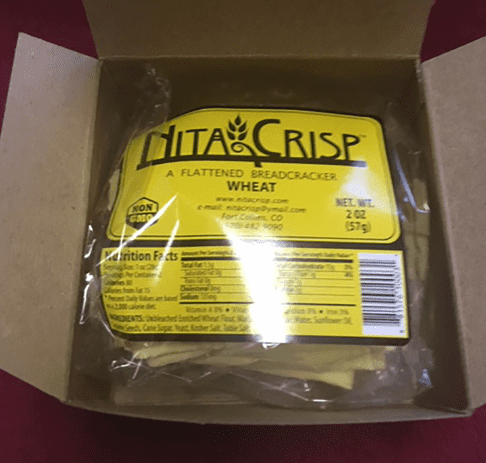 Size: 2 ounces (56 grams)
Look: Large 2 ½ to 3-inch crackers, light yellow in color. Very thin crackers.
Texture: Very crispy and crunchy.
Taste: Bland with intention so that the toppings are the star of the show.
Artisan Details: Nita Crisp Crackers is a company based out of Colorado who makes their crackers in small batches. Each batch is hand cut and packaged.
Review: Not much to review about these crackers. They are a standard cheese cracker that lets the topping do the talking. By themselves, they are crunchy and snap well when you bite them, but overall bland. There were not enough crackers provided in this boxed compared to the amount of cheese and meat. I do wish this box came with more crackers.
What Does Wine Down Cost?
Like most subscription services, Wine Down offers a variety of different subscription options and the more months you subscribe to, the cheaper the price per box.
They offer four types of subscriptions, the 1-month, the 3-month, the 6-month, and the 12-month.
The 1-month option starts at $70 per box, the 3-month is $68 per box for a savings of 3% per box, the 6-month is $65 per box with a savings of 7% per box, and the 12-month is $63 a box with a savings of 10% per box.
Shipping Process and Fulfillment
Delivery Issues
All the subscription types that Wine Down offers come with free shipping. However, one thing to note that is very important, especially for people purchasing their first alcohol-based subscription service, is that an adult signature is required for delivery.
This makes logical sense, give the nature of the box, but it does make receiving the box extremely difficult.
In my situation, I was home the day it was scheduled to be delivered, but the delivery person did not knock my door loud enough for me to hear. I live in an apartment; it isn't hard to knock audibly. I can hear my neighbors coming up the stairs every single time they leave their units, but I never heard a knock that day.
Due to this, my package got delayed because no one could sign for it. The delivery person didn't even attempt to go to my office building to get a signature. I ended up rescheduling it to be delivered to the local drugstore so that they could sign for it there.
That worked out perfectly, as I could pick up my box after signing for it at the store. I was rather displeased when I opened my box at home, however. Wine Down includes no insulation or cooling in their box for the cheese. This irritated me a bit given the shipping issues, especially since this is such a pricey subscription box. Can you imagine if the cheese had spoiled because of these issues? That would be so frustrating as a customer.
Shipping Times
Because of the cheese in the box and the lack of cooling contained in the packaging, they restrict their delivery times to the cooler months of the year, April to September. That's half the year they are not delivering their boxes. Given their shipping policy, I can't help but wonder what a 12-moth subscription looks like. Is it technically a two-year subscription? Do people get double the boxes? There are no clear answers on their website.
When they do deliver as scheduled, they deliver by the 25th of each month. Another thing that I wonder is how do customers who are in the states that are hot year-round, like California and Arizona, fair with this service? I would imagine they have a much smaller window to receive their box before it starts to spoil.
Wine Down Box Customer Service
I had ordered my box in one of the hotter months, so I had to wait until they resumed shipping. It was scheduled to be delivered by the 31st of the month, but my package gave no indication it had shipped. It was listed as "unfulfilled". I contacted the customer support and heard nothing back for a bit, but then was suddenly getting updates emailed from FedEx on the status of my delivery. It took till mid-month, around the 14-16 for me to get my box.
Even after I started receiving these emails from FedEx, I never received any communication from Wine Down's customer support, neither in my email nor on my profile on their website. This was disappointing and turned my experience with this service even sourer, especially because my profile says my box is still "unfulfilled".
Their lack of communication and updates combined with the lack of cooling packaging in the box formed a lot of my opinions about the service.
Wine Down Box: Is it Worth It?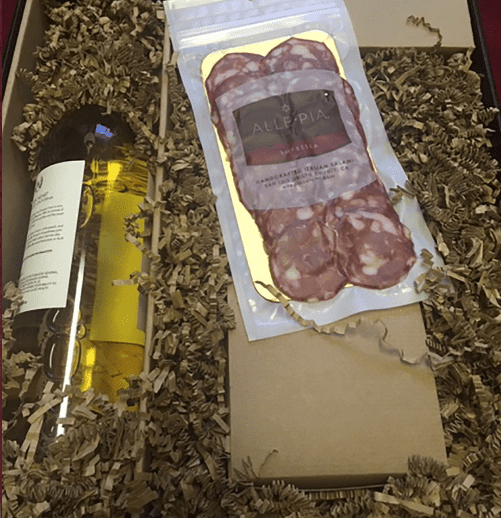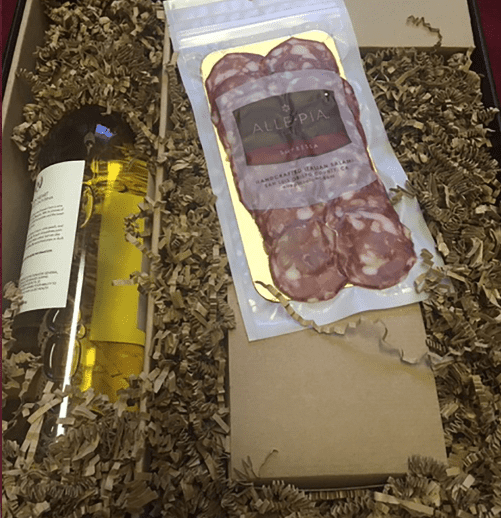 The short answer is no. I would not recommend spending money on a Wine Down box. Due to the lack of care in the packaging (lack of cooling) and the absent customer service alone, I wouldn't recommend this box in the slightest.
Because of the issues I had with this service, I decided to look up what the vendors included in this box charge for their products and was further disappointed.
The Nita crackers can be ordered in a case of 48 for the price of $49, you can get a whole 5-10-ounce Alle-Pia salami for $12-22 (the amount of salami I received was minuscule compared to a full salami) and almost every variety of 8-ounce Plymouth cheese is sold for $10.
Let's assume that individually the crackers run at $3 individually without the bulk buy discount to be fair.
If you got the $3 crackers, a whole 7-ounce sopressa salami for $14, and the same 8-ounce cheese for $10 that would equal a grand total of $27 dollars.
To be generous, if we add some pricing for the packaging and shipping to bump it up to $40, that leaves $23-30 for the wine depending on the subscription type.
There are wines that go for that type of price, so that's not entirely unreasonable. But for me, I feel that this box was a waste of money.
I could get more product directly from the companies and pair it with a wine from my local wine store. Plus, if I built these types of wine experiences myself, I could pick the flavors I want to have and not be disappointed.
Conclusion: Things to Consider Before You Buy
When ordering any type of alcohol box, always account for the need for an adult signature upon delivery. As you search for these types of wine boxes, look at the products they offer and see if they are worth your money given the amount that comes in each box.
There is no harm spending a bit more money for convenience but consider how much you are willing to spend to save time. Do research on subscription services you are looking into. See what their websites stipulate for shipping, look for reviews from other customers, and take your time before deciding. I would not recommend Wine Down for those seeking a paired wine subscription box.
FAQ's About Wine Down Subscription Box
How much does the Wine Down cost? 
For the first time, you will be charged with $70 per month, however, if you like the subscription and you continue using it, you get a discount which sums up to $63 in the fourth month.
How do I cancel my Wine Down? 
Let be realistic, at some point, you might just get curious to try other wine subscription and cancel this one, so the easiest way to cancel the plan is to go through your account, and possibly cancel before the order ships.
When does Wine Down ship? 
In comparison to other wine subscription boxes, Wine Down only ships from October to March so during these months you will be surprised with different wine and food pairing s that will be easy to enjoy.
Recommended Reads: