Latest posts by Nicole Taylor
(see all)
Across the aisle, it catches your eye. The perfect piece of décor to match your home, a beautifully crafted artisanal-looking plate.
You walk over and pick it up, turning it over in your hands to admire it. But then you spot it. On the bottom, in tiny font, it reads "Made in China." Slowly you notice the signs of industry; the flecking paint, the chipped corner, the lack of detail.
Disheartened you put it back.
If you are like me, then this is not an uncommon experience. Finding that seemingly perfect piece only to discover that the quality is lacking. It can be hard to procure décor or dishware that is both stylish and well-crafted, especially at an affordable price.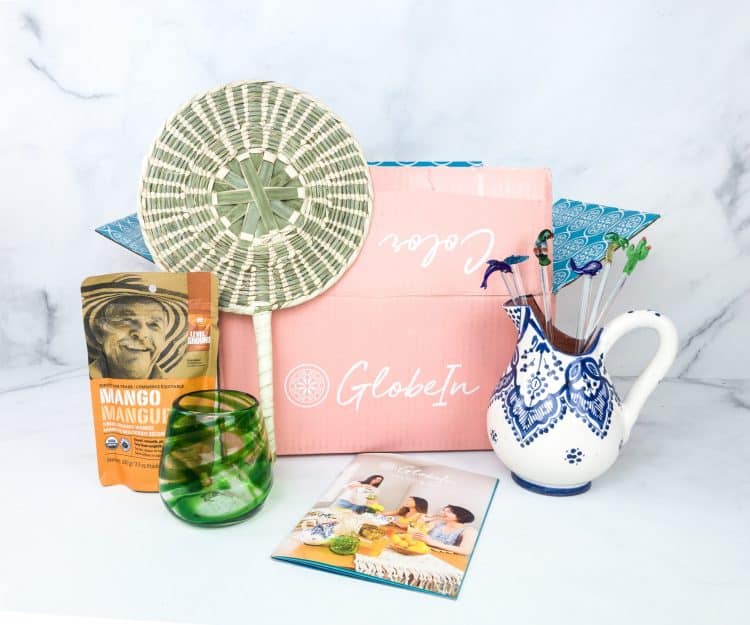 The good news is that there is a subscription box for that. The GlobeIn box is a premium artisan subscription service that provides ethically sourced, handmade goods straight to your doorstep.
A reasonably priced box that you can customize by picking themes or additions to suit your unique brand of interior design.
Why Choose GlobeIn?
GlobeIn is a company that touts itself as providing "handmade and ethically sourced goods from around the world." They support artisans across the globe by contributing to job creation and fair wages for beautiful products.
Right on their website, they list contributions they have made by providing work, empowering communities, and partnering with artisans to create unique goods and foster fair wages across the world.
The items that they procure for their service are workshopped and then ordered directly from the craftspeople they work with. In addition to this process, they also tier the payment system to benefit the artisans directly.
Unlike a traditional format where payment comes later and it is paid in full, they break up the payments so that the producers get paid immediately rather than having to wait.
If these steps weren't enough, they also release a yearly impact report with more specifics. In this report, GlobeIn also outlines the company's values which are empowerment, gender equality, and responsible consumption.
I personally enjoyed their commitment to upcycling and the usage of natural materials. It shows that they aren't just a one gimmick company and are focused on tackling complex global issues with their service.
What Comes in a GlobeIn Box?
Perhaps the most distinctive feature of a GlobeIn box as a subscription service is their transparency for the contents of their boxes.
Most subscription boxes on the market, whether they be beauty or food, tend to be mystery boxes. Their contents are not known prior to receive the box.
GlobeIn is different. They offered a plethora of boxes with a ton of different themes to choose from. Each theme has décor and products associated with that theme, and you can browse each option to pick the one best suited to your needs.
In addition to the box I chose, they also had options like the GlobeIn cozy box or the GlobeIn bathe box.
Even if you are the type of customer who prefers the unknown nature of subscription boxes, they do offer a mystery box as well each billing period.
I personally enjoy having both options. Sometimes I feel like being surprised, where other times I prefer picking out my own products.
Another thing that makes this service unique is the ability to add more products to your box from their online shop. If you see something you can't live without, then you can just add it to your box order.
This is another standout feature for me, as most other companies that offer add-ons ship then separately from your subscription box. It's much more convenient to get everything all at once.
Why I Chose the GlobeIn Delish Box

One of my favourite parts of GlobeIn is that they offer many different themes for their boxes each month. On top of their themes, they also let you peek inside of each box, so you know what to expect (aside from their mystery box of course).
Personally, I found that reviewing each theme and box was a more engaging experience compared to other mystery subscription box services. It allowed me to explore what they had to offer and delve into their optional store.
The box that I ordered, titled the Delish Box, contains all the necessary supplies for a lovely ice cream party. All the pieces in it tie well together, so not only is it functional but it is also aesthetically appealing.
What's in the Box?!
Two iridescent ice cream sundae glasses.
Two stainless steel straws in rose gold.
One stainless steel ice cream scoop in rose gold.
Two ceramic topping bowls in cyan and eggplant.
BONUS: Two stemless mosaic wine glasses.
Individual Product Reviews
Iridescent Ice Cream Sundae Glasses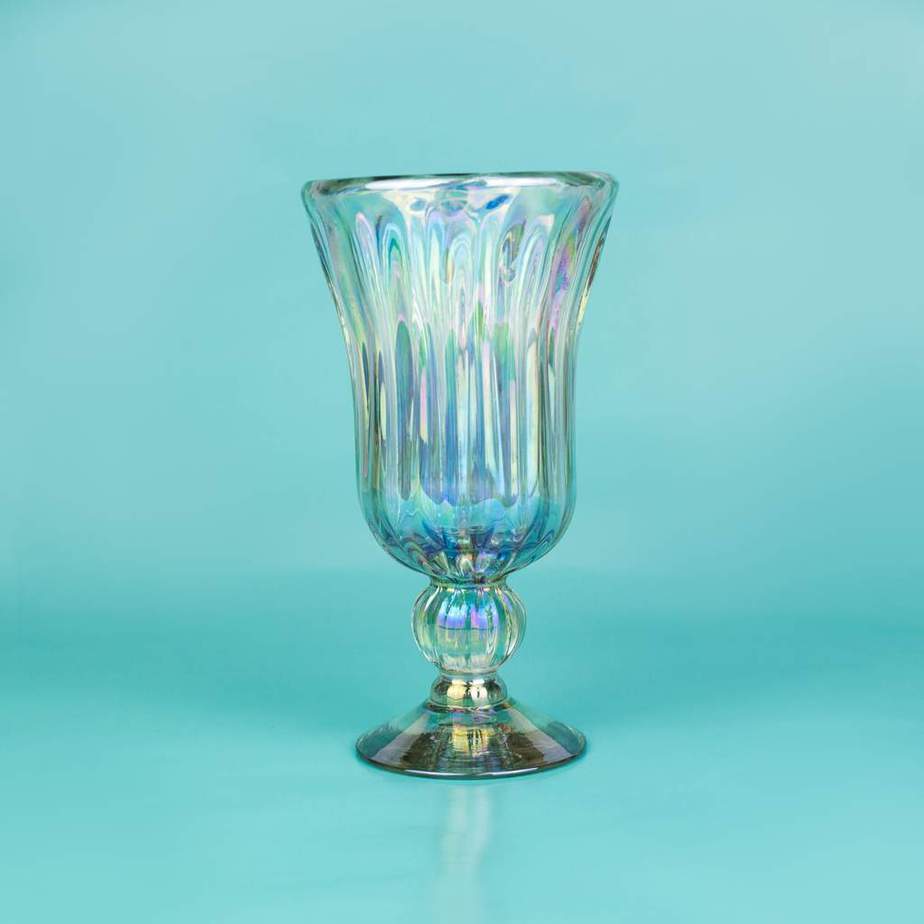 Measurements: 7" by 3.5"
Capacity: About 8-12 ounces.
Look Traditional diner-style sundae cup with a twist (literally)! Handmade glass with a lovely incandescent shimmer, reminiscent of an opal. The thick glass swirls inward and is streaked with beautiful colours of pink and green that dances in the light. An elegant take on a favoured classic.
Quality: Thick durable glass. The base provides stability for the top. The top of the cup is wide and allows easy access.
Artisan Details: Handmade in Tonala, Mexico. The artisan who helped craft these is 21-year-old David Herrera Hernandez who has studied glassblowing since 2015. He dreams to start a family with his girlfriend one day
Highlights: Made from recycled handblown glass. Large capacity. Easy to clean. They can be functional or decorative.
Review: I love this cup! It brings a whole new meaning to treat-your-self by pairing stunning craftsmanship with a tasty treat! It is durable, simple, and beautiful. One of the only downsides to this piece is that it is not safe for hot liquids and thus should probably be handwash only.
Stainless Steel Straws in Rose Gold
Measurements: 8" long
Capacity: N/A
Look: Slender, sleek, and stylish a reusable option has never looked so classy. Shining, gentle finish that reflects light with a sweet copper-pink hue. Standard straw size.
Quality: Tough, durable steel. Long and hefty.
Artisan Details: Crafted in Bilari, India by Dilshad Hussain at his home-based workshop. He supports his wife and children with his steel working.
Highlights: Made from easy to clean stainless steel. Easy to clean with a simple straw cleaning brush.
Review: A reusable utensil with class—this is now one of my favourite on-the-go pieces. Sustainability is important to me and this straw makes my personal goals easier to obtain with its sleek design and cleanability. As this pack came with two straws, I can have one for at home and one for out-of-the-house.
Stainless Steel Ice Cream Scoop in Rose Gold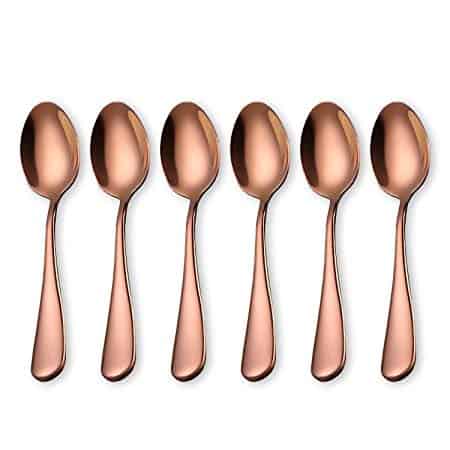 Measurements: 7" by 2"
Capacity: The perfect scoop!
Look: Gorgeous rose gold colour and reflective quality. Matches the straws.
Quality: Heavy and durable.
Artisan Details: Just like the straws, these are two other pieces made by Dilshad Hussain in India. Metalworking is a family trade, and he learned from his father and two brothers. Touting 13 years in the profession, he is now a master at the craft.
Highlights: Easy to clean; the ice cream rinses out with just a dash of soap. Made from stainless steel. It heats up fast when ran under hot water which makes it an ideal ice cream scoop.
Review: I enjoy this piece, I think it really ties the whole box together. It has a satisfying weight that helps the user dig into the ice cream. Plus, if you run it under hot water the heat transfers over nicely. I do like its traditional shape, but the shape doesn't make it the best for scooping harder ice cream varieties.
Ceramic Topping Bowls in Cyan and Eggplant
Measurements: 4.5" x 4.5"
Capacity: About 2-4 ounces.
Look: A smooth, crisp white with splashes of colour in the middle painted with a crosshatch pattern. The eggplant is a lovely deep purple and the cyan is an elegant light blue. Instead of having a rounded top, each bowl has four gentle corners that slope inward. Each corner has an X of the same colour as the pattern inside.
Quality: Durable. Bowls are smooth all around and you can notice signs of the handmade nature.
Artisan Details: The artisan of these bowls is Abdelhak, a Moroccan craftsman who has been working with ceramics for 50 years. He has studied under the tutelage of Moulay Ahmed Serghini since he was 18 years old. Serghini passed on his techniques which Abdelhak now teaches in other countries.
Highlights: Ceramic. Simple to clean. They can be used for décor purposes or functionality.
Review: These bowls are so cute. They came with this set as topping bowls, so if you wanted to create an ice cream bar set up you have everything you need. But due to their size, they would also make excellent small portioned ice cream bowls for a late-night treat!
BONUS: Two Stemless Mosaic Wine Glasses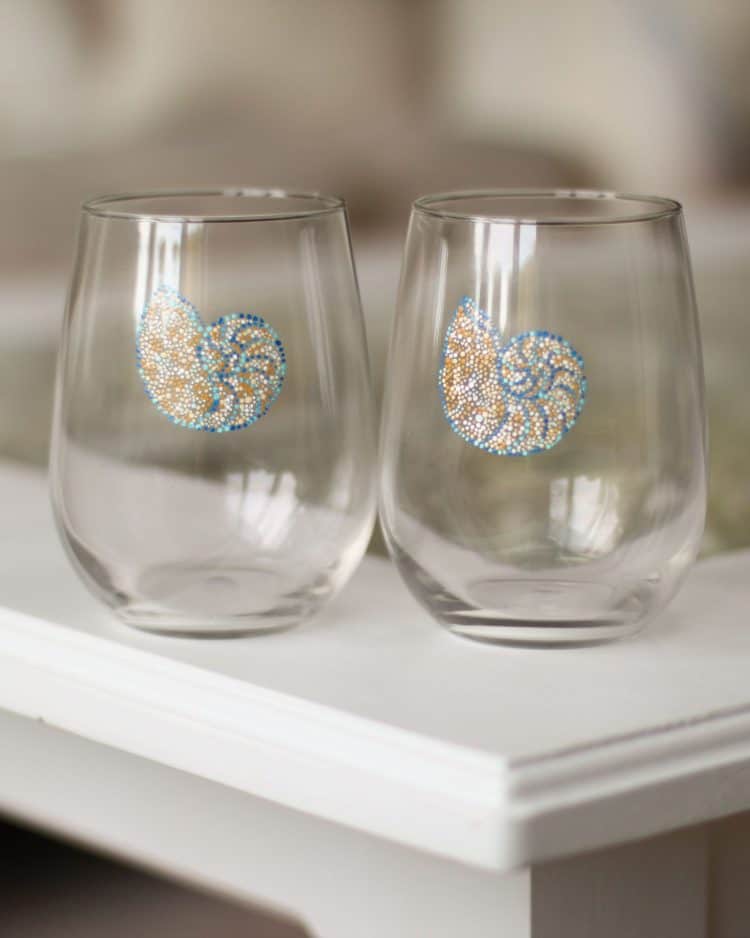 Measurements: 3.5" by 3.5"
Capacity: About 8-12 ounces.
Look: Smooth finish. Beautiful mosaic on the bottom of the glass that is a kaleidoscope of colours from red and orange to blue and white.
Quality: Durable, heavy glass.
Artisan Details: Crafted in Mexico these stemless wine glasses were handblown.
Highlights: Easily cleanable. Individual markings from the creation of the glass make each one unique.
Review: As a promotion to complete my purchase, these wine glasses were added for free on my order. By themselves, they cost $30, and considering I got them for free is fantastic. Heavy, beautiful, and classy—I adore these glasses. Usually, wine glasses are flimsy and I'm afraid they might break, but not these. They are crafted with a thick glass that holds up well. Unfortunately, they are handwash only and not designed for hot liquids.
The Main Features of GlobeIn
Cost of GlobeIn
With the quality and quantity of products that each month comes with, I find that the price of this box is amazing. When I ordered my box, the price came down to $40 for a month-to-month subscription. Shipping was included in this order.
Given that each piece of this is handmade by an artisan and is Fairtrade, I can honestly say that I will be coming back to GlobeIn because their price is so affordable.
Shipping
Free shipping is always a perk for a subscription box service. That said, free doesn't always mean fast. GlobeIn's shipping functions much like other subscription boxes in that they only ship on a certain day each month.
This means that for all those impatient people (including me) if you order after the cut off date of the 10th, then you won't see your box till the end of the following month.
Obviously, this is only for the first box and not the subsequent ones if you continue your subscription.
GlobeIn Membership
Membership at GlobeIn is a bit different than membership with some of the previous services I have reviewed. In many cases, when you sign up to get a box delivered, you enrol in a point-earning membership automatically.
This is not the case for GlobeIn. You must opt-in separately for their program and you can only earn points when you sign up. Signing up will cost an additional $5.99 a month.
Becoming a member allows you to select your products each month as well, so you can completely customize each box.
But like other membership type programs, the points you earn can be applied toward ordering more products.
If you happen to miss a product for one month, you can buy it with points once you earn enough.
Another thing that GlobeIn offers that is quite different from other subscription services, is that they have a community on Facebook. A GlobeIn world of its own, this allows an opportunity to connect with other people and discuss the boxes, the products, and the impact that GlobeIn has on the artisans it works with from around the globe.
GlobeIn Deals

GlobeIn loves deals. When you first go to their website to explore, they offer free wine glasses with the purchase of a 3-month package.
Also, if you add an order to your cart and then leave the page at any point, they will offer the free wine glasses again on any subscription type. This is how I received my wine glasses.
Their membership also offers exclusive deals and insider access to news about their products. If you are looking for the most bang for your buck, make sure to sign up as a member as well for an additional $5.99 a month.
How Does GlobeIn Contact You?
It is common for subscription services to send you emails with discounts and offers, but GlobeIn goes one step further. In addition to emails, they also send out texts.
These forms of communication would be fantastic for people that are engaged with the service, but for me, they were a bit of an annoyance.
Luckily, you can opt-out of texts and emails just by clicking a link in the message you receive. There is no additional hassle if you decide to unenroll.
GlobeIn Review FAQS
How much does GlobeIn cost?
It costs between $40 and $45 depending on any promotional sales or discounts they are offering.
How do I cancel my GlobeIn?
Simply log into your profile before the next billing period and cancel the service.
Which subscription boxes are the best?
Well, that's up to you! Generally, the companies that have both good reviews for their products and work with reputable manufacturers are the best subscription box, providers.
What subscription boxes are worth it?
GlobeIn is worth it! You get quality products for your money while making a difference in the world.
That's a Wrap – Final Thoughts
As this was my first subscription box that involved non-edible items, I can honestly say I am impressed.
Both the contents, the company's goals, and the quality of the 24/7 customer service are all exceptional. I would happily recommend GlobeIn to anyone searching for artisan home goods.
Plus, I love the variety of boxes you can choose from each month, it adds a level of customization that isn't available with other subscription services.
I loved exploring the world through artisan goods and would encourage you to do that same.
Thanks for checking out my GlobeIn box review!
Have you tried GlobeIn? Let us know about your experience in the comments down below!